'Tis The Season, and With that Comes… The Decorating
Christmas truly is one of the most magical times of the year. The hustle, bustle, crispness in the air, holiday shopping, holiday celebrations, and – of course – Christmas Decorations. One of our favorite offerings in the Seasonal Decor section this year is this collection of stunning Christmas Tapestries.
These seasonally-inspired tapestries are a type of wall art that comes with tapestry designs specifically related to the festive season, often depicting traditional nativity scenes or Christmas icons. They are somewhat akin to Christmas wall art in their design but they are much more versatile in use for decorating both home and office. One advantage of using holiday-themed wall hangings is that they are quick and easy to hang around the house to provide a heartwarming touch of festive decor. This is especially true if you have other woven tapestries that hang in that same space the rest of the year.
In fact, tapestries are so easy to switch out that you can have a different tapestry in place for each season!
The richly woven texture of Christmas tapestries provides an elegant touch to holiday decorations. Plus, with proper storage (keep them dry and out of reach of the moths) they will last for generations.
Decorating with Christmas Tapestries
Tapestries have a rich tradition and history, so they suit perfectly with the celebrations of the hearth, home, and family that take place during the holidays. However, modern tapestries also use a variety of exquisite imagery, both traditional and modern – and this is also true with the Christmas Collection.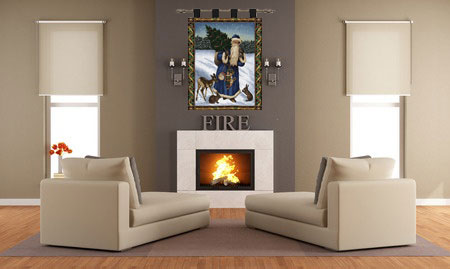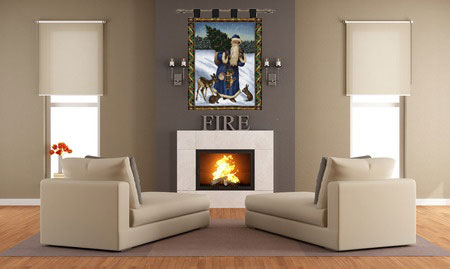 Plus, if you're anything like me and already have a few tapestries on display around the home, putting them up during the Christmas season is very, very easy – year-round tapestry down, when the holidays roll around simply hang your Christmas & Holiday wall tapestries up.  Voila – you're done.
Read More: How to Hang a Tapestry
The great thing about Christmas Tapestries is that they don't – necessarily need to keep in theme with your year-round decor. You can have a very modern design, but a full-figured Santa Claus will be right at home when the holiday season rolls around. Granted, going from Ultra Modern to a very, very country-style Christmas tapestry may backfire on your overall decorated look.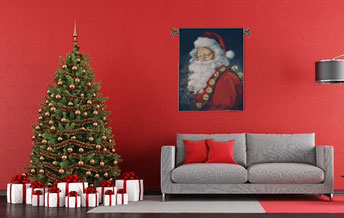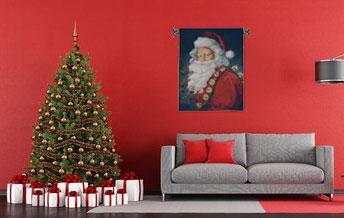 Christmas Tapestries come in a variety of designs, styles, colors and sizes. From the petite accent tapestries that can hang just about anywhere to showcase pieces that are nearly 7 feet wide, such as this gorgeous piece just released for this season: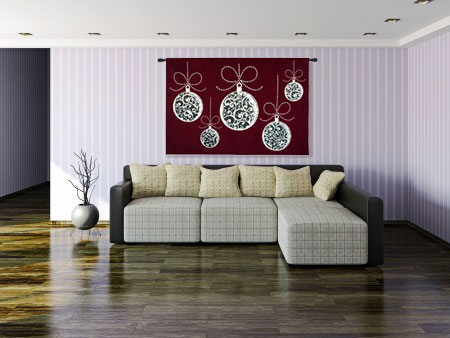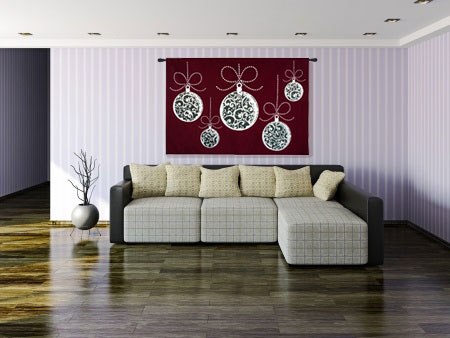 For a slightly more traditional look, while still providing an impressive display, we love the 12 Days of Christmas tapestry. At nearly 3 feet wide by over 6′ tall, it's a can't miss Holiday decoration.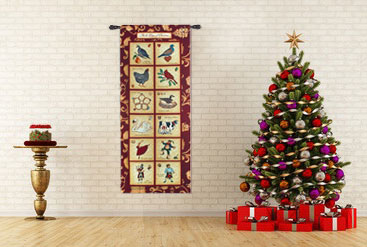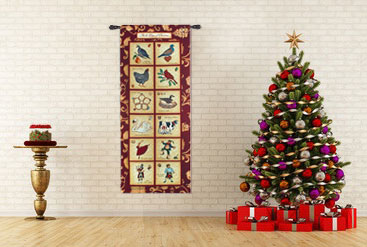 Whatever your personal Christmas Decor style, you're sure to find something special woven into these Christmas Tapestries.
---
Shop the Art & Home Collection of Christmas Tapestries
BROWSE THE COMPLETE CHRISTMAS TAPESTRY COLLECTION >>
---
Christmas tapestry art has been around for centuries – ancient Egyptians produced some beautiful pieces during their celebrations. The history of creating such artworks was revived during the medieval period which gave birth to some stunning pieces that can still be admired today in museums across Europe. Nowadays, artists specialize more in using modern illustrations that are then jacquard woven into a stunning and heirloom-quality tapestry.
Originally conceived as wall hangings for private use within homes, Christmas tapestries soon evolved into commercial applications including use as church decorations and trade show displays for merchants specializing in the finest holiday wares. Now you can find a wide selection of tapestry designs to choose from, with some offering both secular and biblical symbols that have been adapted to fit into today's homes, perfect as decoration pieces for an elegant Christmas.
Enjoy… and Happy Holidays!
Looking for More Christmas Decor Ideas?