Looking for some delightful DIY Christmas Decorations & Decor ideas to spruce up your home this holiday season? You've come to the right place!
You've got the Christmas tree fully decorated and ready for guests. A Gingerbread house is being baked and ready to be assembled and decorated, and now you're feeling like you've got sooooo much time on your hands that you want to get crafty.
Well, fear not my fellow Christmas enthusiast, we've scoured some of the best home decor sites to curate this marvelous collection of festive DIY Christmas decorations & decor projects that can tackle at home.
Pick one, or make 20 of them – whichever you choose!
And please tell us which of these DIY Christmas decorations & decor projects is your favorite in the comments below!
Each of these projects is easy to make, either by yourself or as a fun project for the entire family. And there is something so lovely about knowing that your home is decorated with love and your unique personality.
Full Disclosure: For some of these items where the visual inspiration was available without a tutorial (such as Pinterest finds), I have speculated on how they have created the decoration, but I may not be 100% correct in all cases. Use my how-to notes at your own risk. I doubt any of my instructions, even if they are completely wrong, will cause catastrophic failures or explosions, but you never know…
And most of them can be crafted using found objects, thrift store treasures, or dollar store bargains, so these DIY Christmas decorations won't end up costing you more than if you'd just bought them yourself.
Of course, if you like the look of DIY, hand-crafted Christmas decor but don't enjoy all of the time and effort it takes to make it… you can always skip this article and head right on over to Etsy's Christmas Collection. I won't judge, I swear.
But for those who are strong in the Christmas spirit, I invite you to explore all of these DIY Christmas decorations & decor craft projects housed on the following pages.
And so we begin…
Aluminum Tea Light Foil Cup Christmas Decorations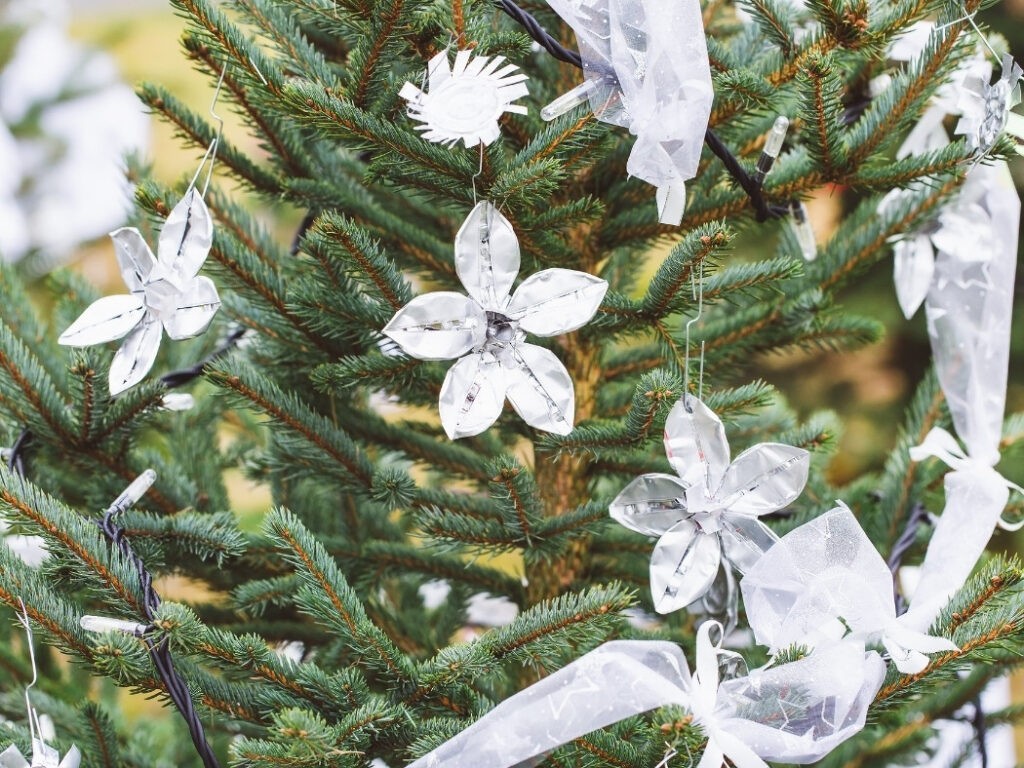 ---
Mason Jar Toy Car Snow Globe
These delightful little DIY snow globes feature a toy car or truck (red, of course) a Christmas Village pine tree from the dollar store and some artificial snow. All wrapped up with some ribbon and bells.
So easy and so cute!
---
DIY Skiers Christmas Ornaments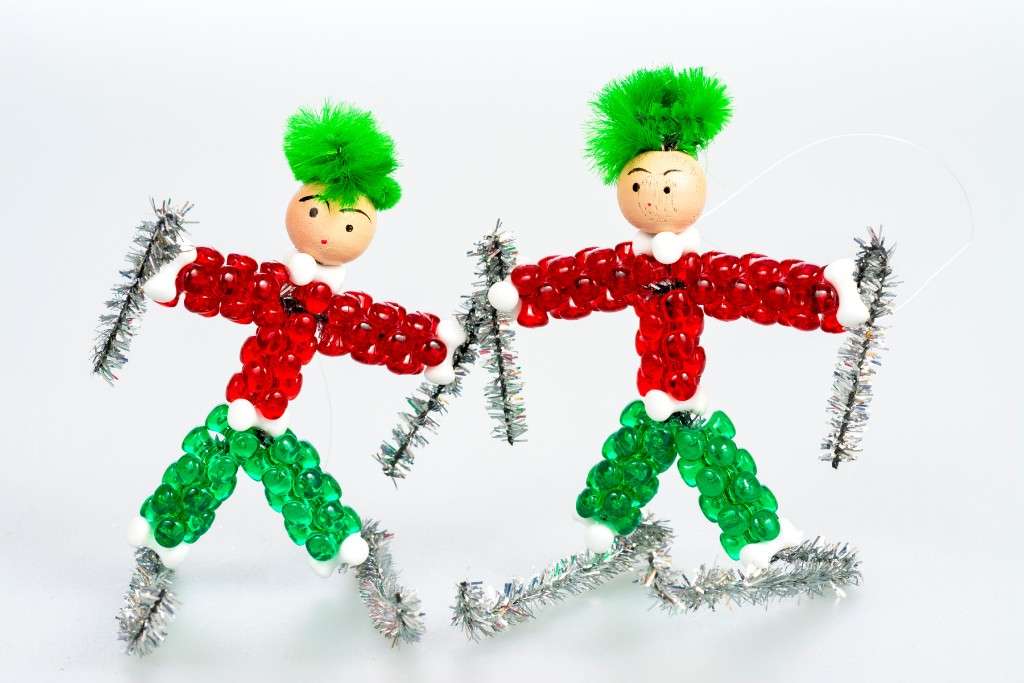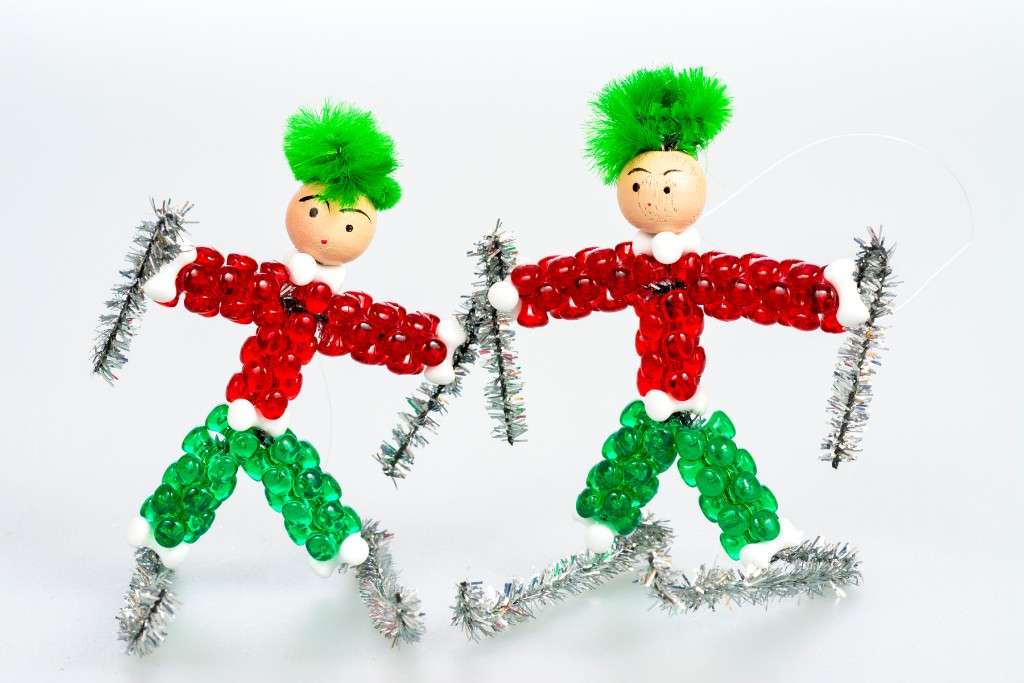 All you need are some dollar store materials and a bit of creativity to create these super cute DIY Skiers Christmas Ornaments.
---
Coconut Christmas Candle Holder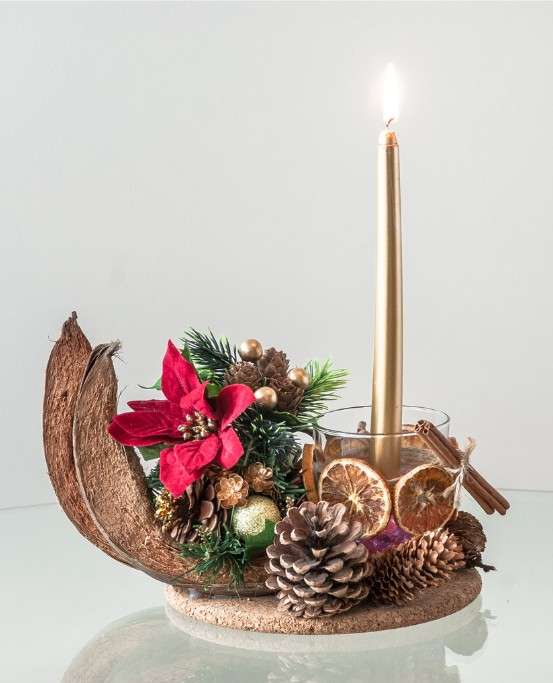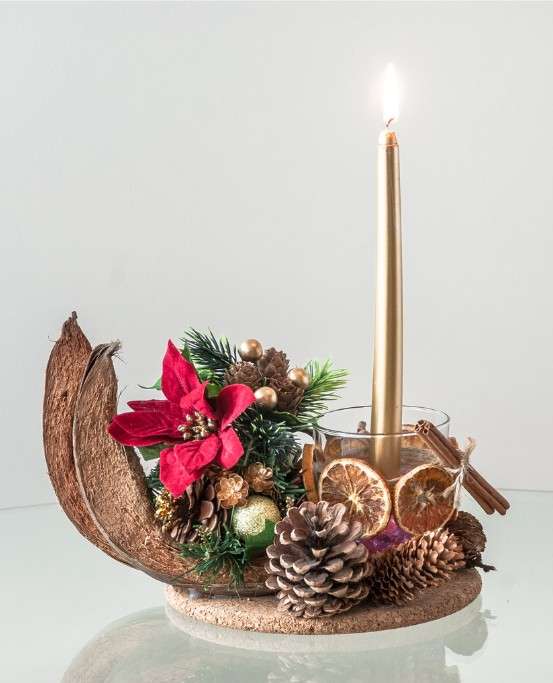 For something with a bit more of a tropical feel, how about an elegant Christmas candle holder that features a chunk of coconut husk? That is blended with some of the more traditional elements of Christmas, including pine cones, poinsettia, and – of course – candles. The result is a uniquely rustic but welcoming centerpiece.
---
Pasta and Couscous Christmas Angels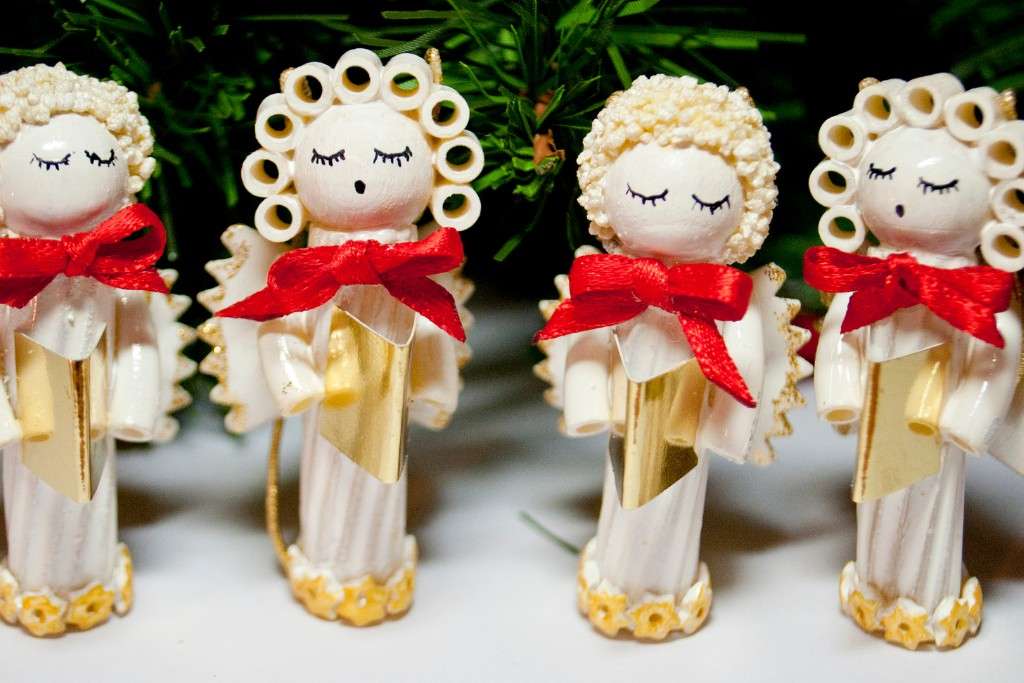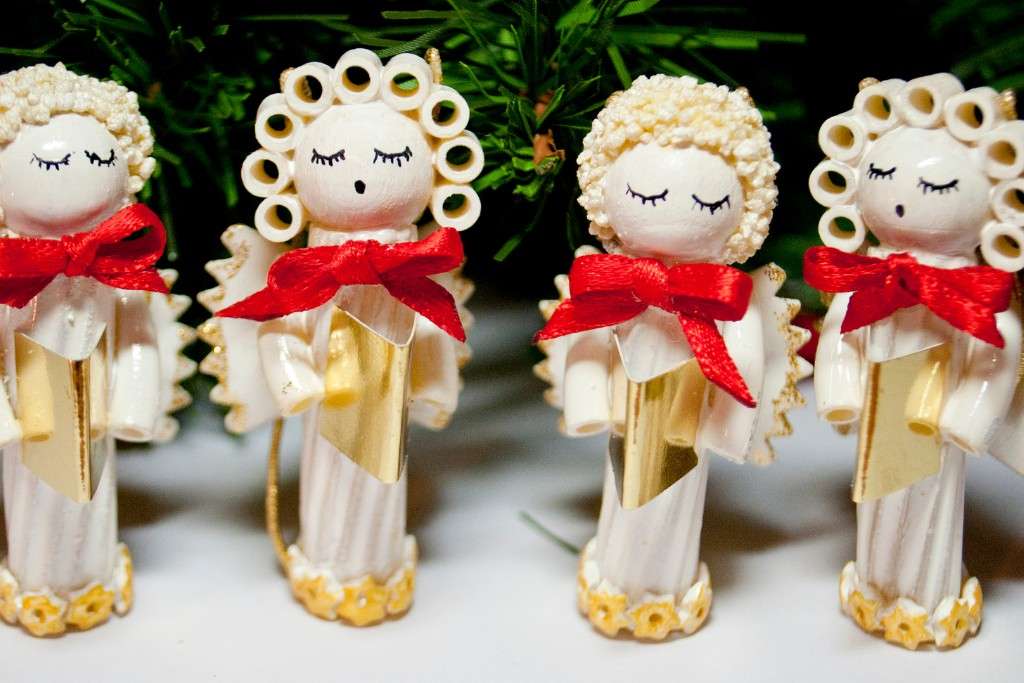 You wouldn't realize it when you first spot these delightful angels, but they are crafted using various types of pasta with a little bit of couscous.
---
Knitted Christmas Clock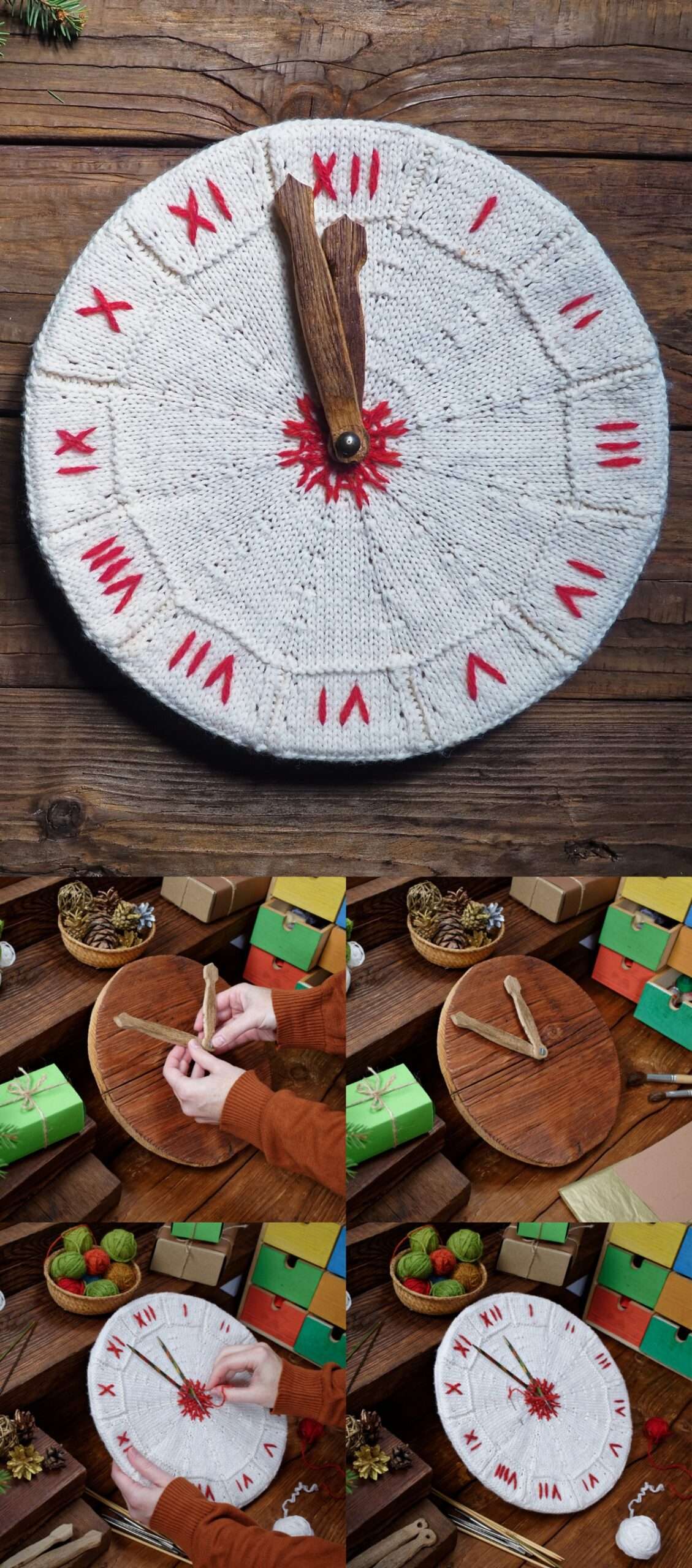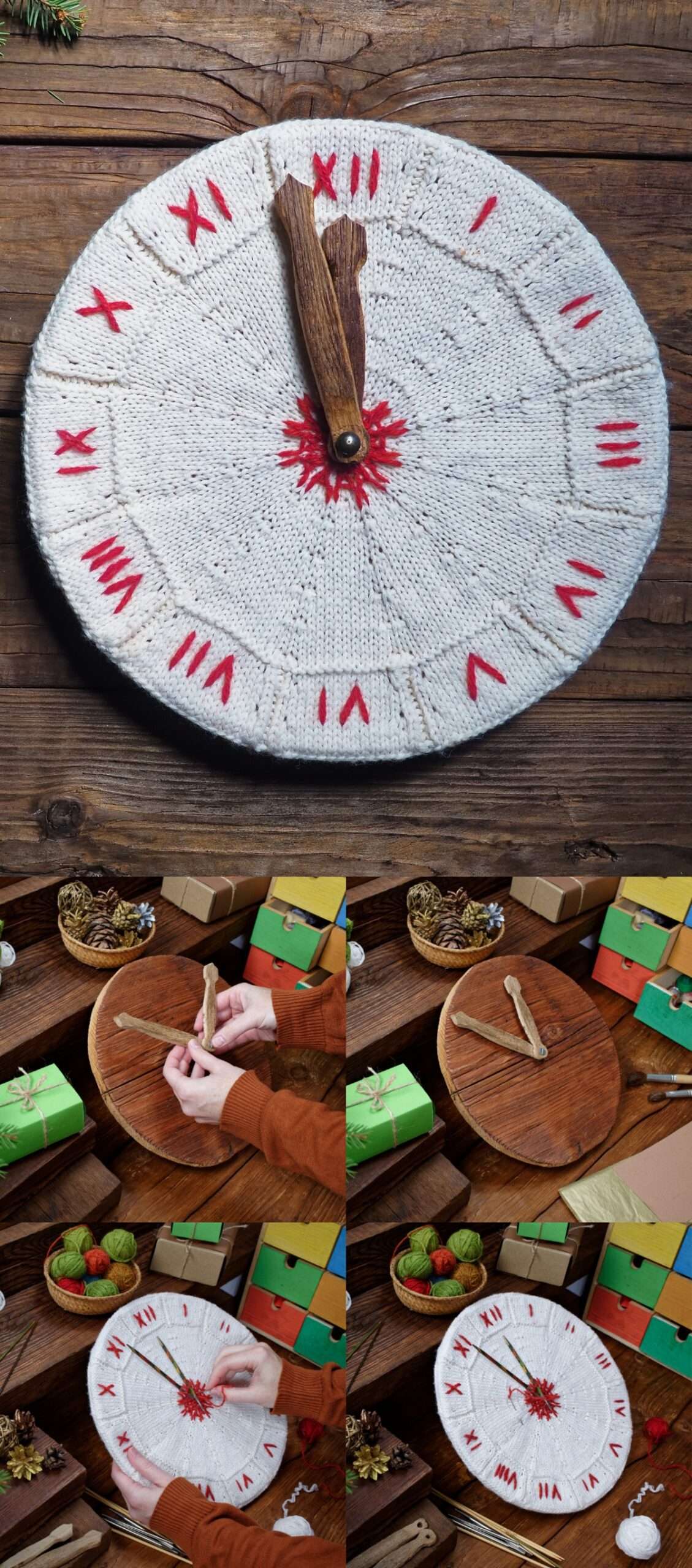 A simple wooden base and some battery-operated clock hands are transformed with this delightful knitted clock face that turns time into a delightful DIY Christmas decoration. You can pick the type of clock hands that you want. I prefer the chunkier wooden hands that ended up as the final clock.
---
Covid-19 Face Mask Angel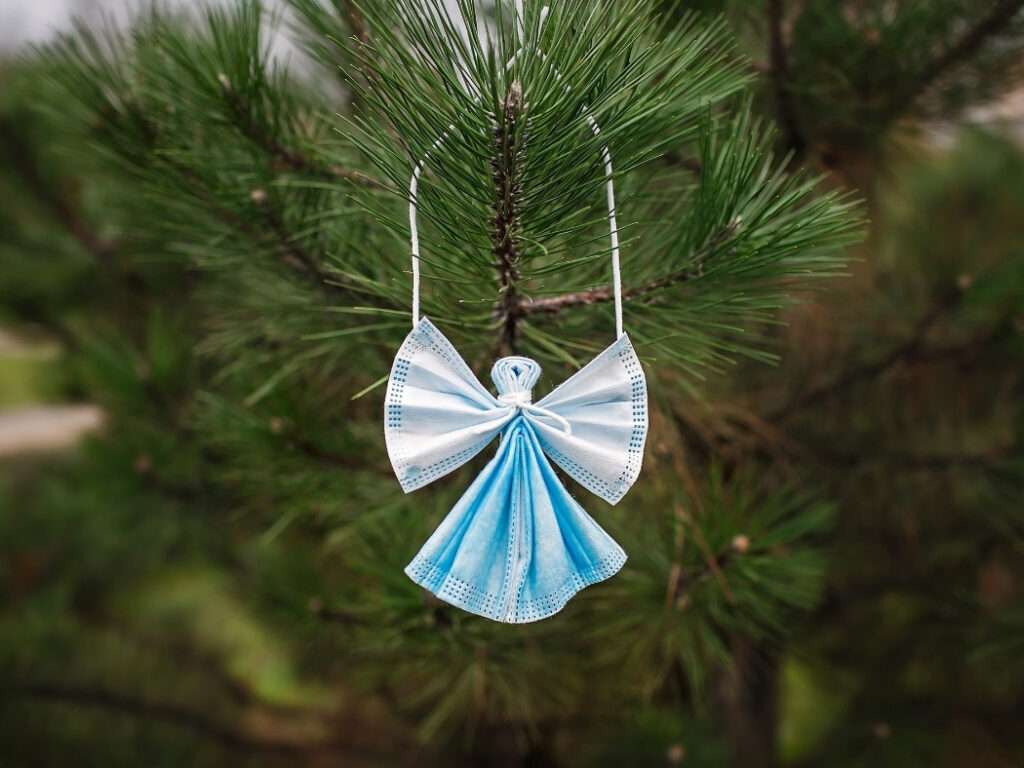 ---
Painted Santa Bottles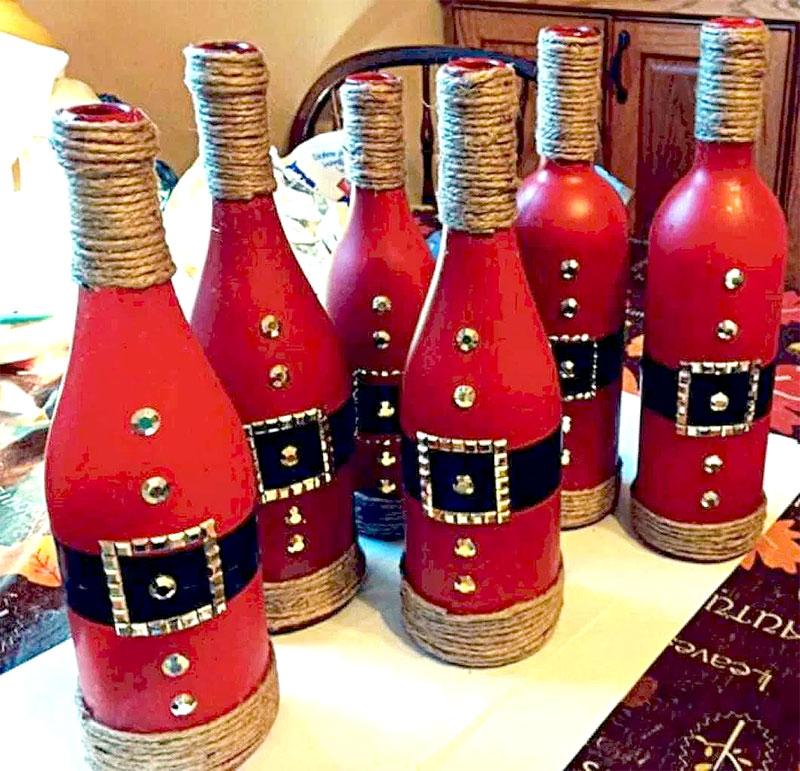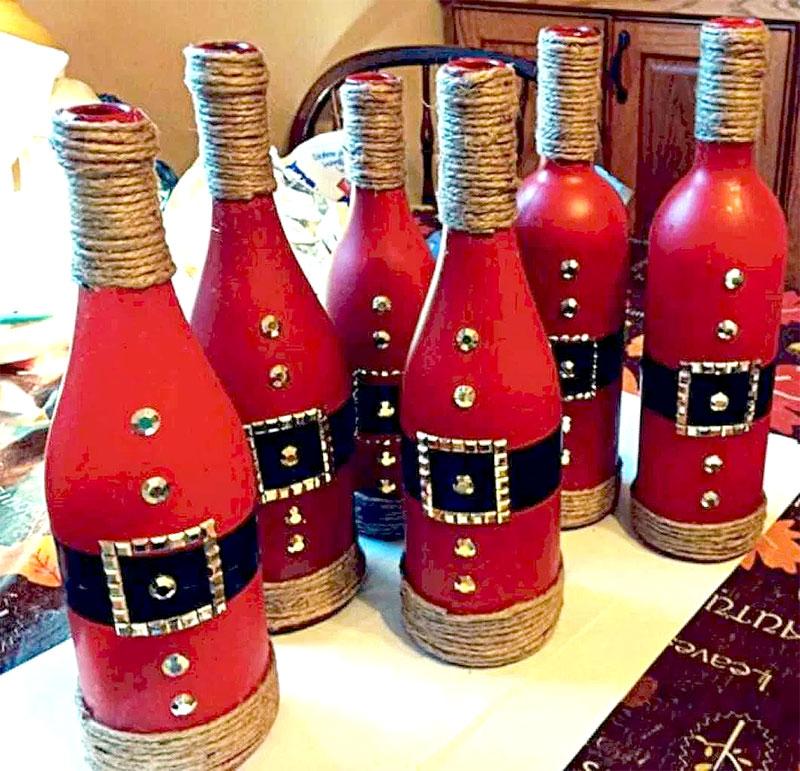 All you need are some old wine bottles (if you're anything like me then I'm sure you have one or two of these around), some red paint, twine, black fabric, and some glue-on decorations to create the belt buckle and the buttons.
---
Elongated Hearts DIY Christmas Decor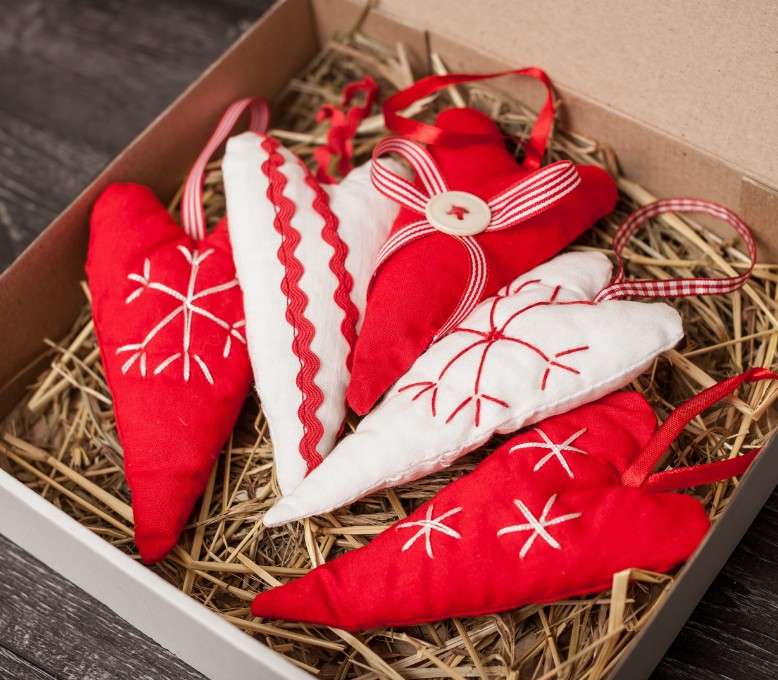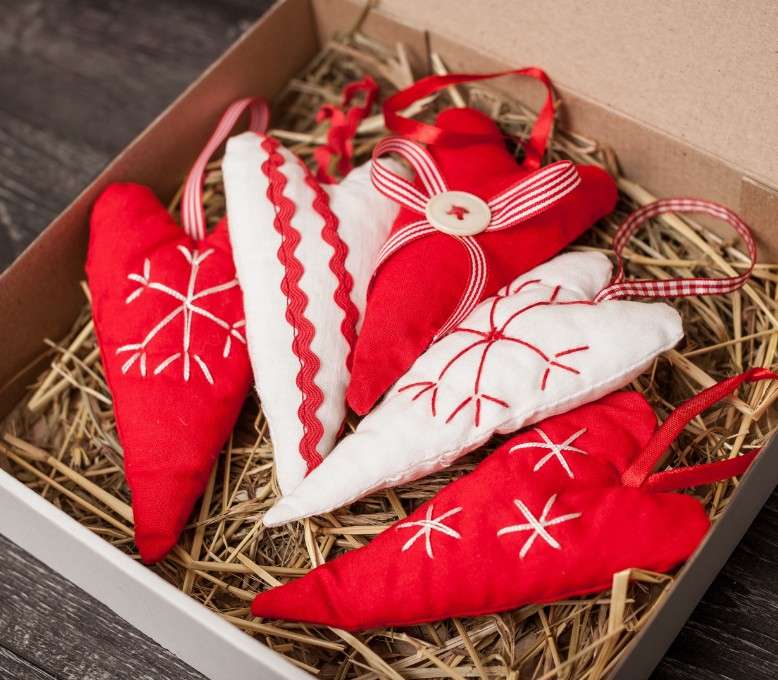 I love the rustic look of these elongated hearts. They are perfect for adding a touch of Farmhouse Country charm to your own Christmas decorations or boxing them up as a DIY Christmas gift.
---
Creste di Gallo Dry Pasta Christmas Trees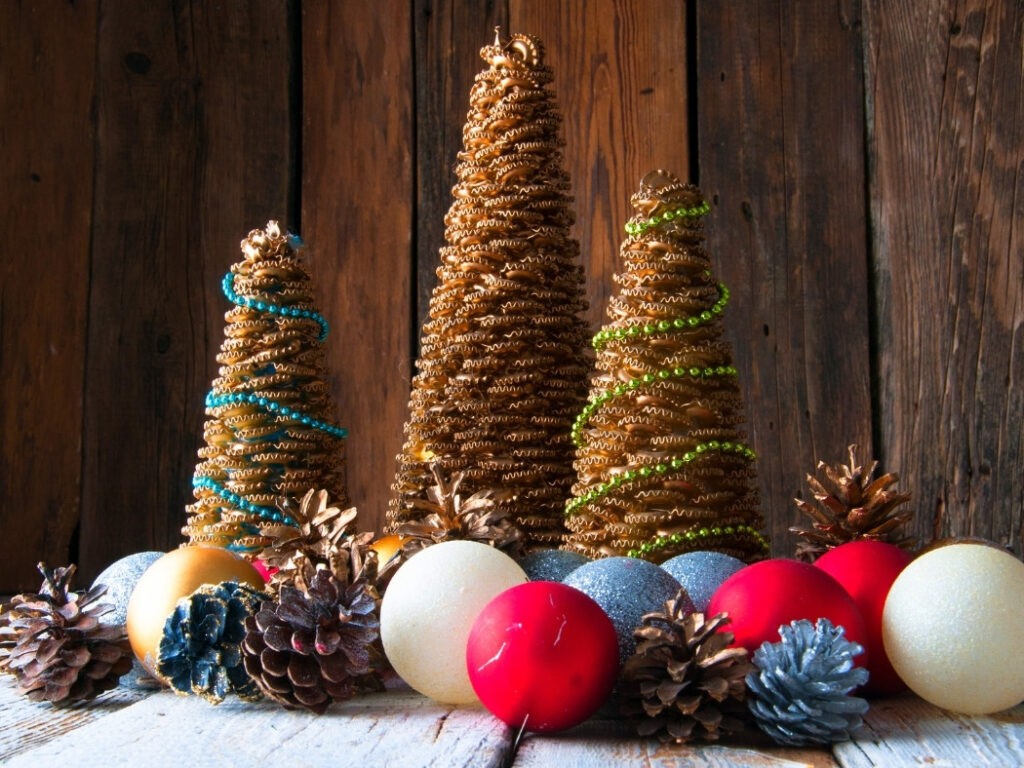 ---
Buttons and Bows DIY Christmas Ornament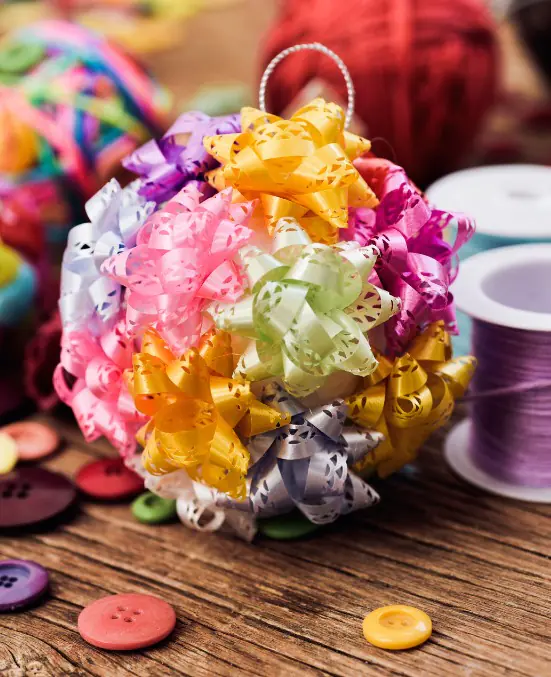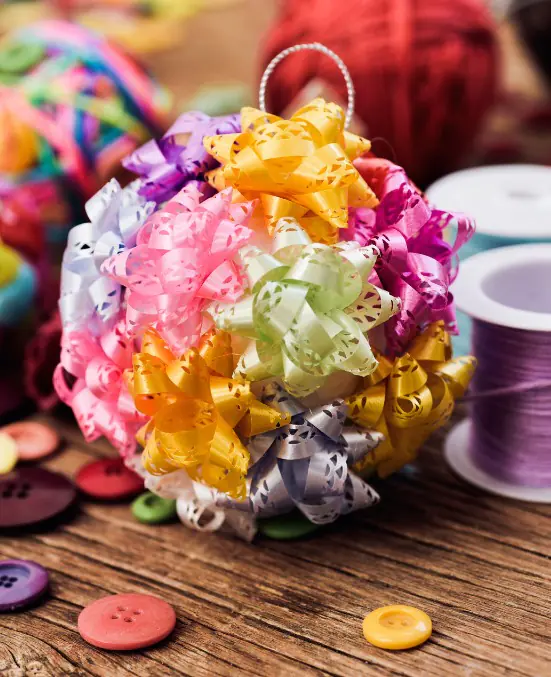 Have some extra buttons and bows just hanging around taking up space? Pull out a styrofoam ball and the glue gun and turn them into a lovely DIY Christmas Ornament.
---
DIY Cardboard Christmas Houses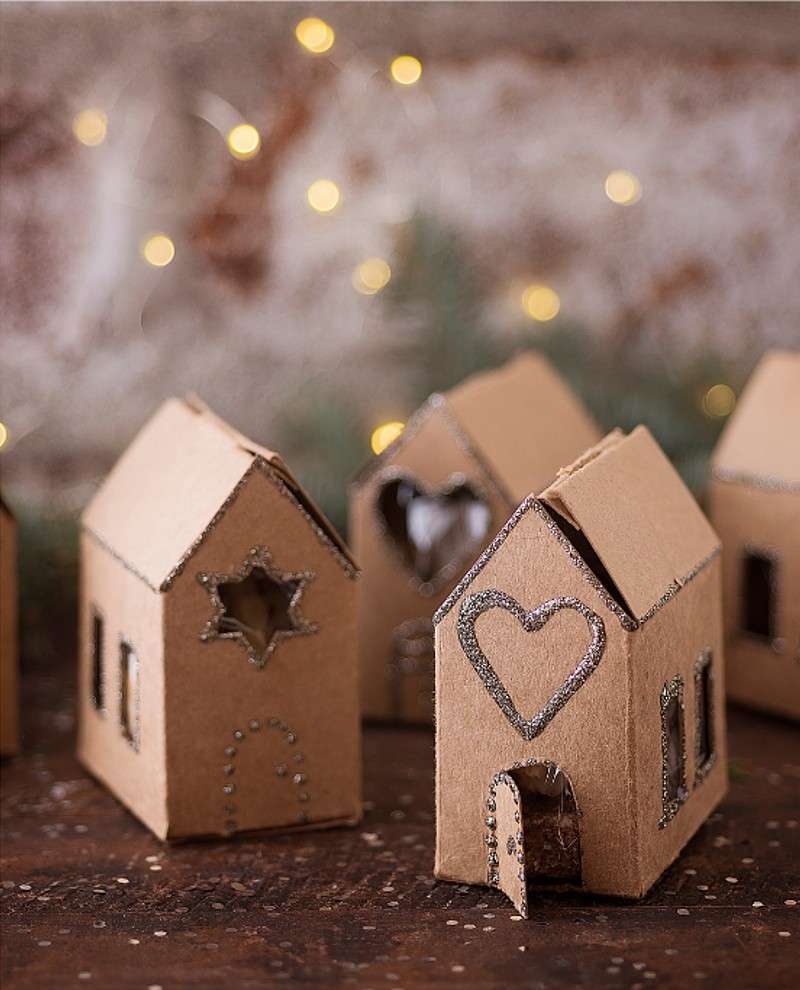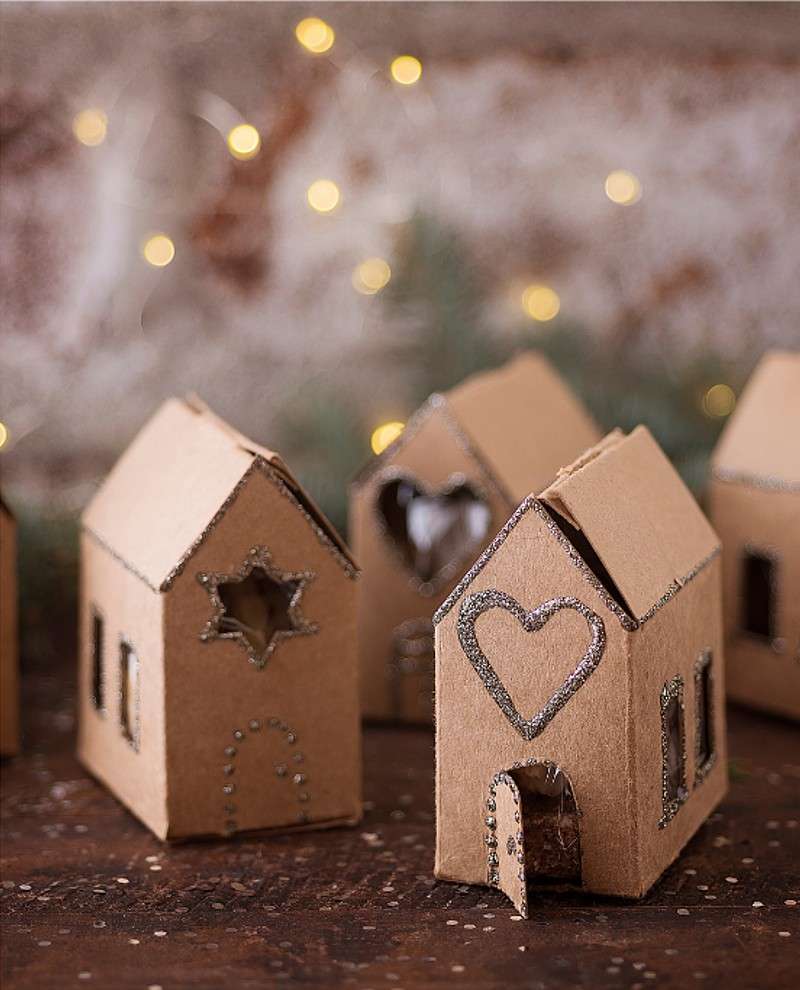 A super-cute project to make with the kids, these DIY Cardboard Christmas Houses are easy to make and a lot of fun to display on the mantle.
---
Rustic Merry Christmas Block Signs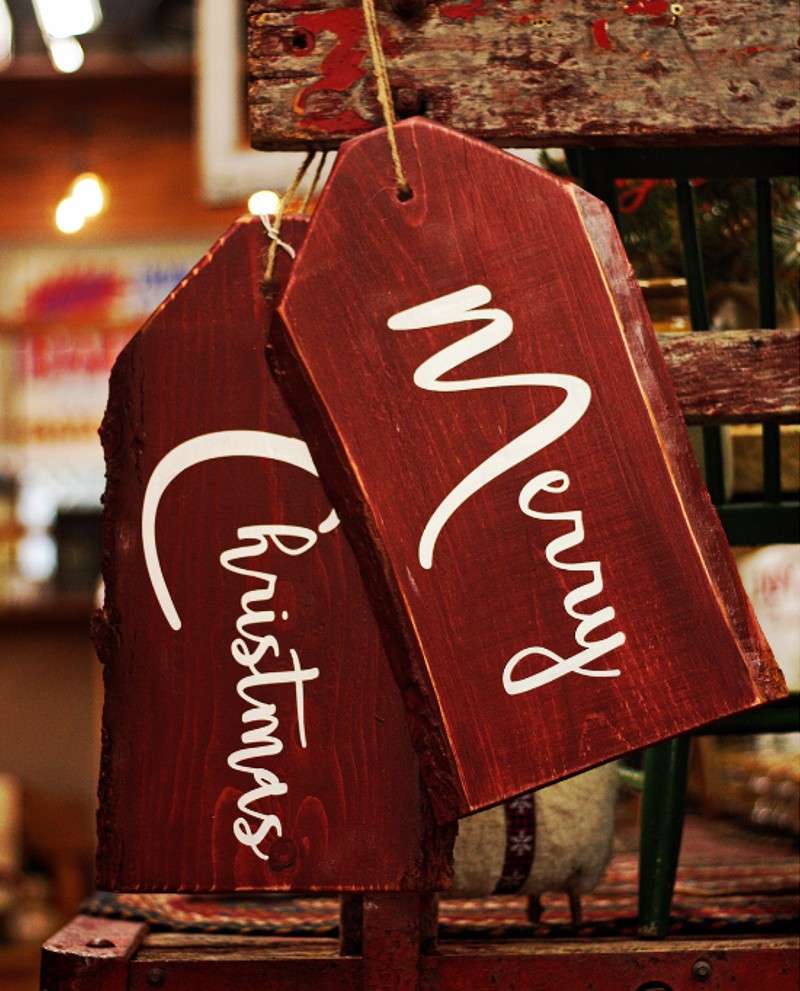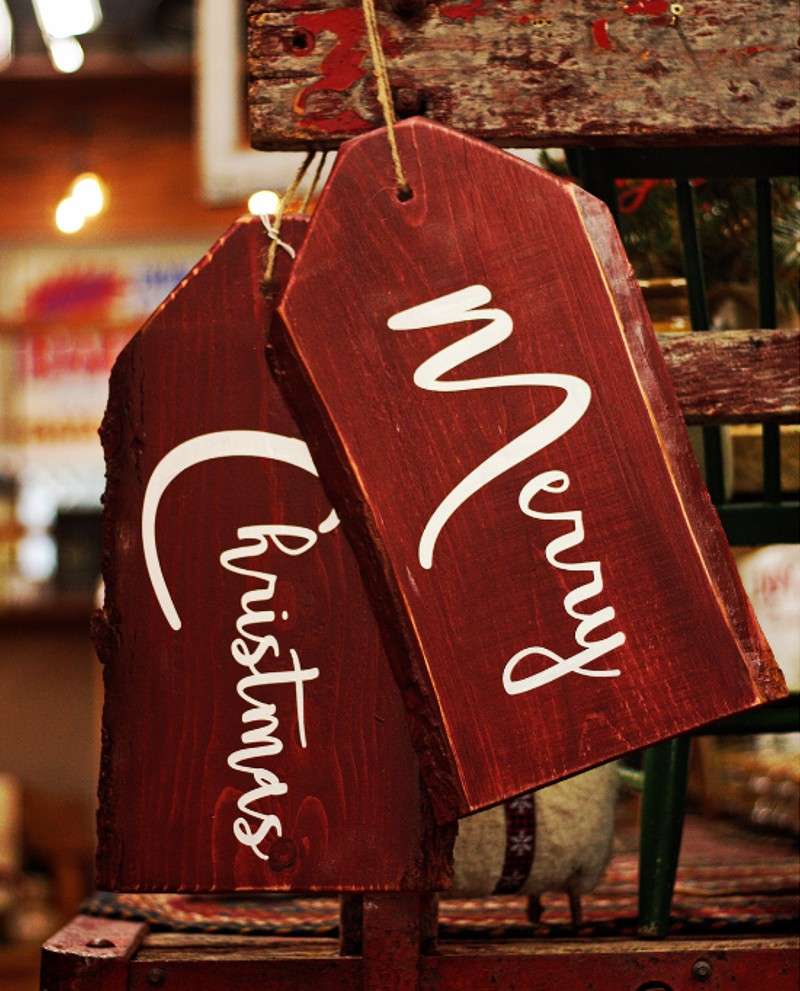 A couple of warm and wonderful wooden blocks are transformed into a delightful DIY Christmas sign pair.
---
DIY Wrapping Paper Christmas Tree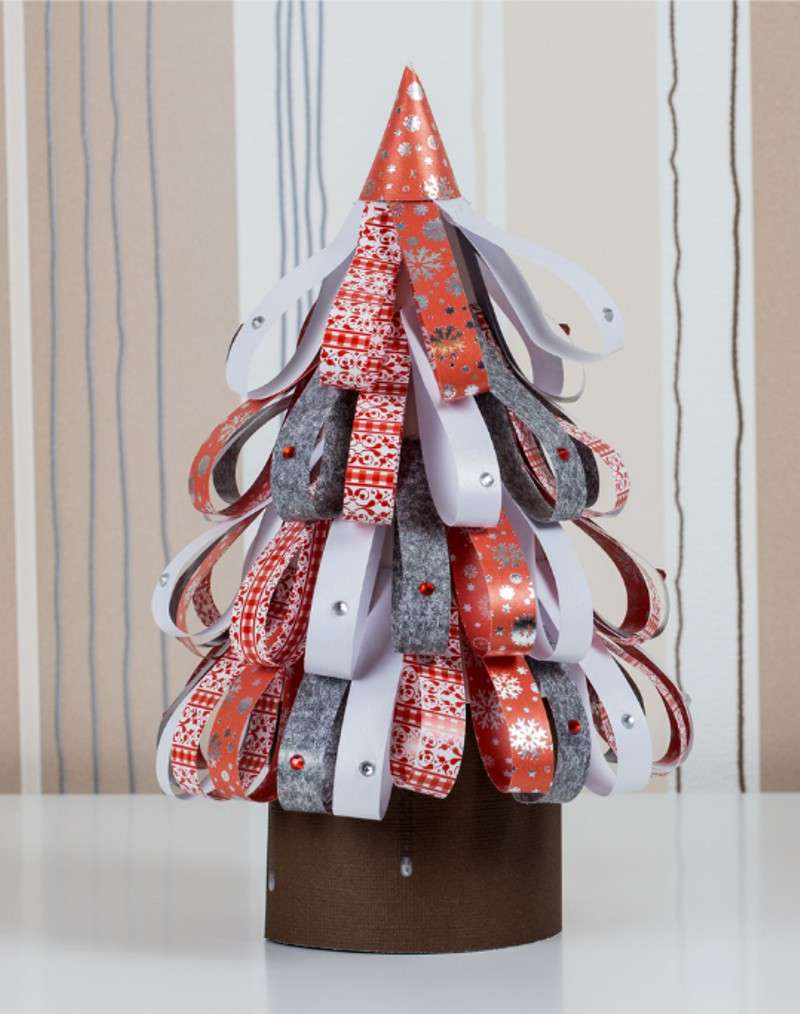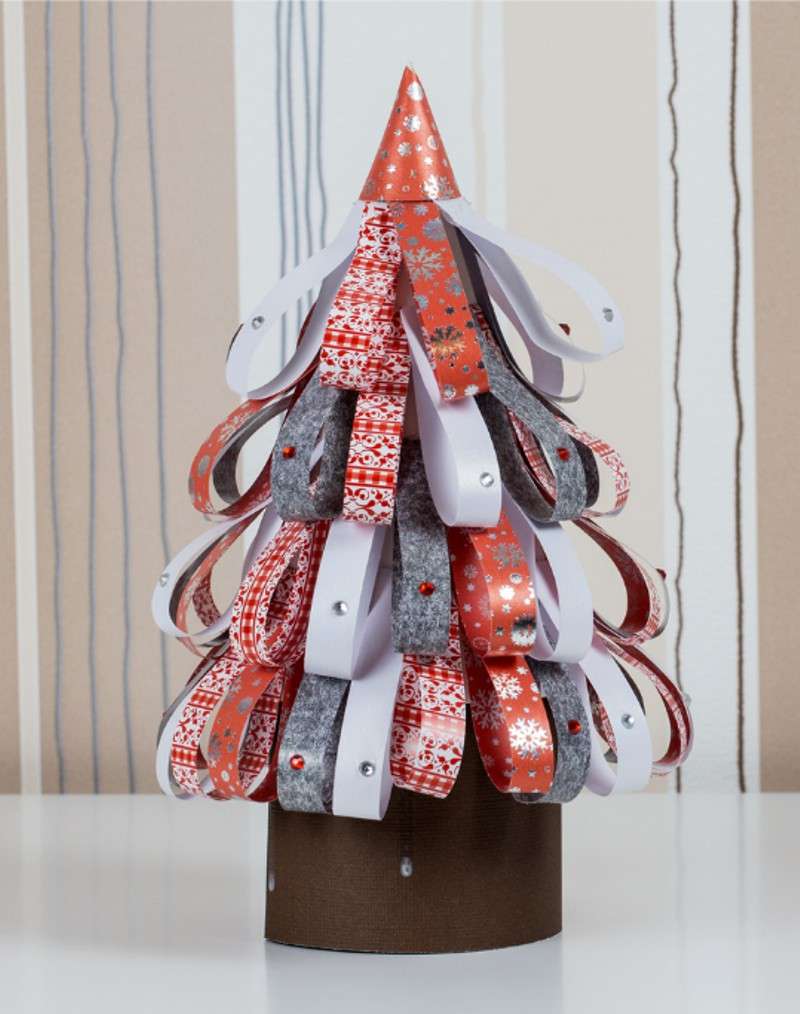 Strips of wrapping paper and a few decorative stones combine to create this wonderful and simple Christmas paper tree.
---
DIY Snowman Wine Bottles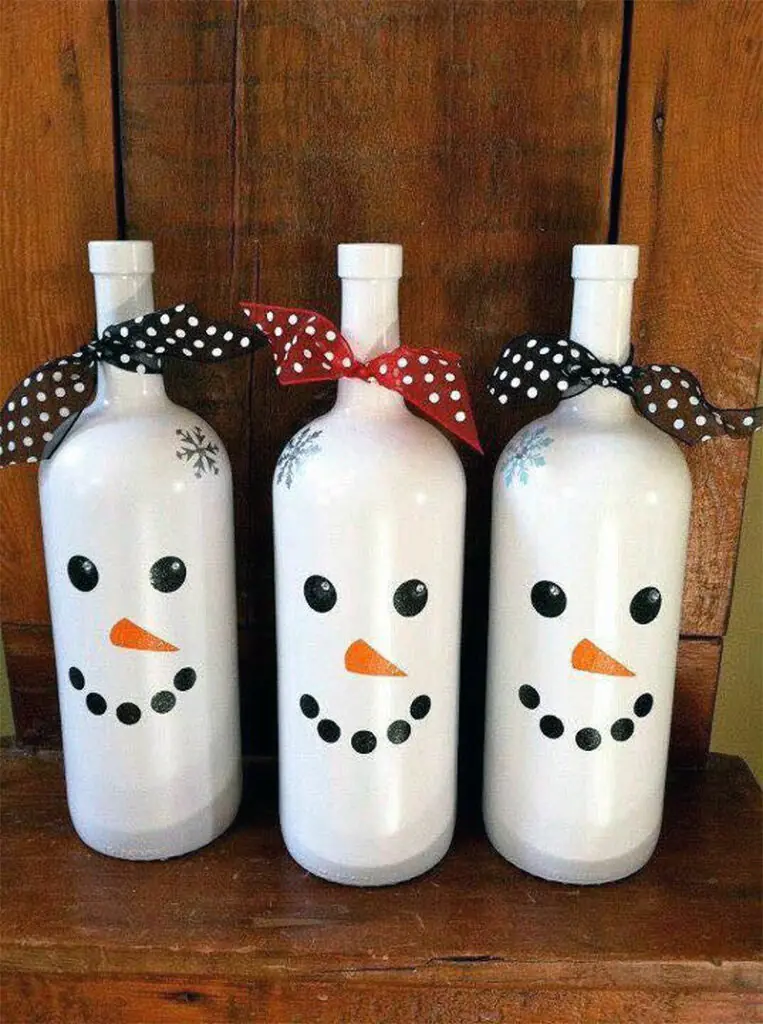 If you have any more wine bottles left (if you're anything like me then you definitely will), you can turn a few of them into companion snowmen (and snowladies).
These creations will take a little bit more of a steady hand when it comes to applying the paint, as it's almost entirely hand-painted (although some peel-and-stick decals could be used in a pinch and likely have the same overall effect).
---
DIY Lemon and Star Anise Tree Ornament
---
Holiday Salt Shakers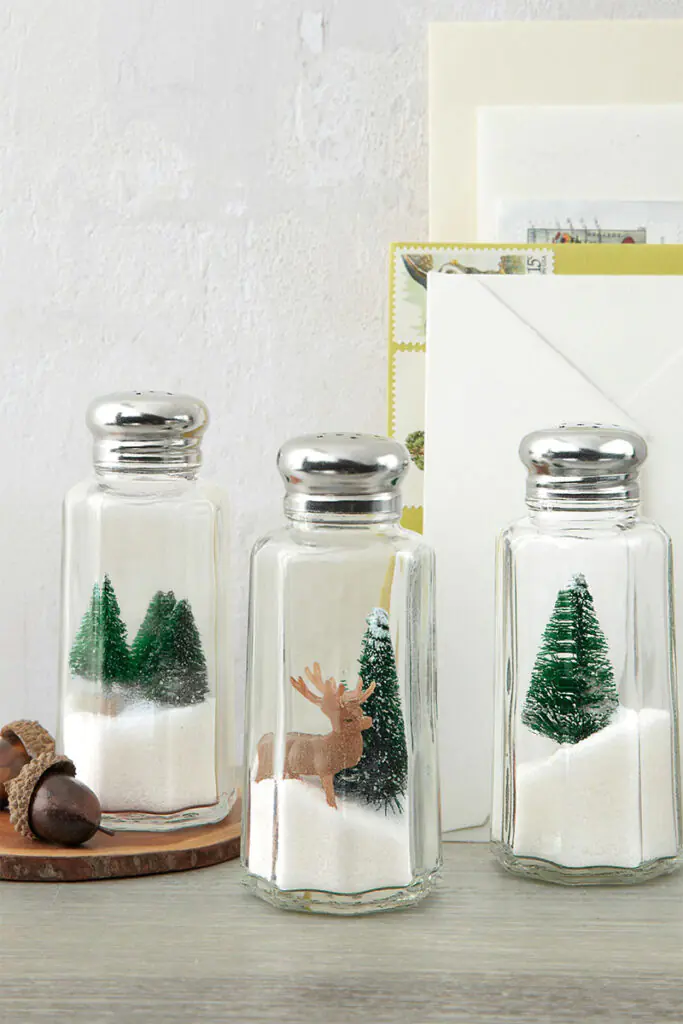 An intriguing way to shake up your table setting, these delightful little vignettes are created using dollar store toys and trees nestled atop snowdrifts of pure driven table salt.
Of course, these little designs aren't meant to last so you may need to reset them after use if you're planning on having more than one Christmas dinner.
And for sanity (I mean sanitary) sake, wash the toys thoroughly before adding them to something edible.
---
---

---
---
Painted Christmas Spoons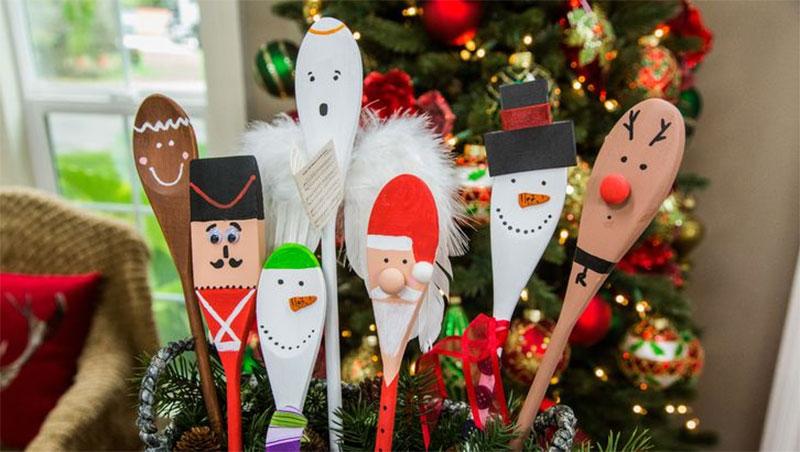 Why settle for ordinary wooden spoons when you can have this festive collection of Santa Claus, Frosty, Rudolph and other Christmas favorites.
---
Lace Christmas Jar Votive Candle Holders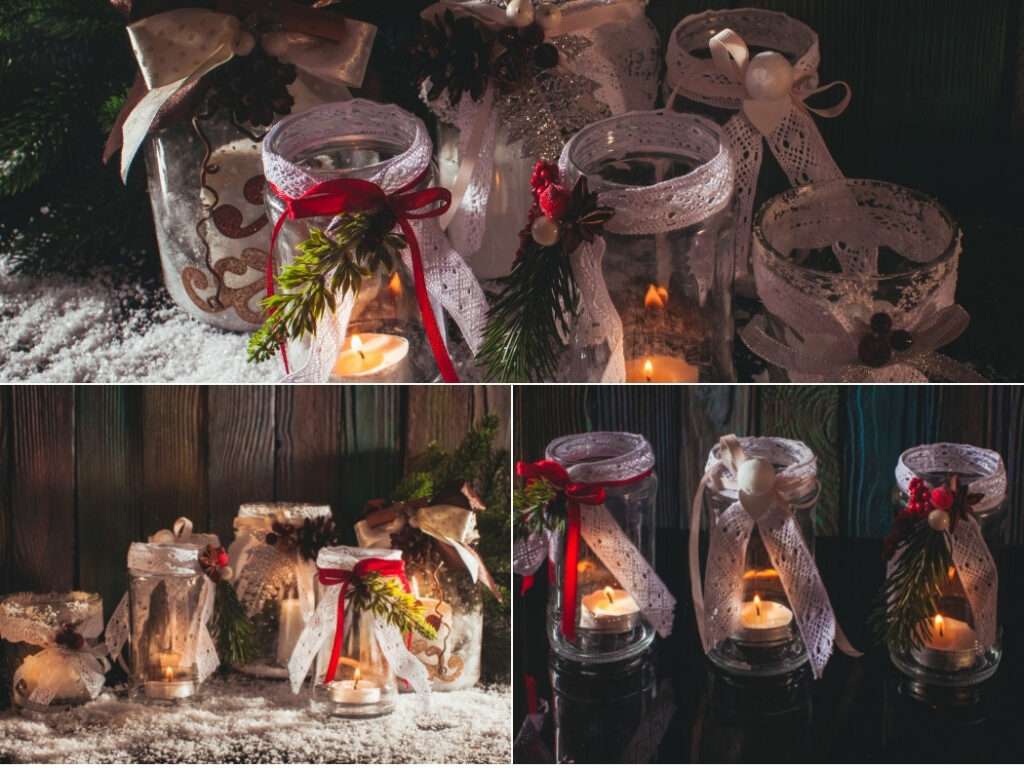 ---
DIY Glass Christmas Ornaments
Create your own DIY Christmas ornaments by filling some clear glass ornaments with the decorative objects of your choice, letting you create the most personalized Christmas ornaments possible.
If you wish to hand-blow the glass, you are welcome to do so. However, I wouldn't normally recommend it, especially when there is a wide array of clear glass Christmas ornaments available on Amazon.
---
Framed Christmas Ornaments
A thrift store find can be painted in a wonderful Christmas red (or green, or even blue if you prefer). Then suspend a few decorative Christmas ornaments on ribbon within the frame. Top it all off with a festive bow and you've got a fun and easy DIY Christmas decoration that everyone will ask about where you bought it.
---
Golden Acorn Christmas Wreath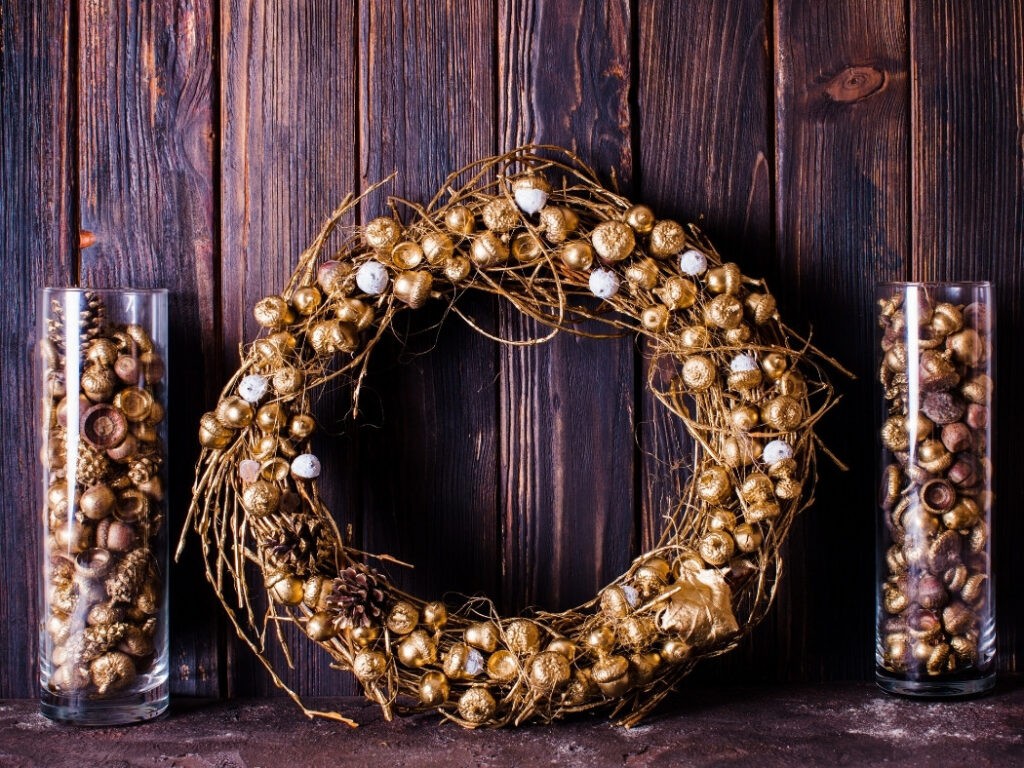 ---
DIY Upcycled Sweater Stockings
Found in CountryLiving Magazine
Turn some vintage Christmas sweaters into delightful and unique stockings to hang during the holiday season. All you need is an old sweater, a stocking to use to trace out a template, and then some cutting and sewing skills. You can add a monogram using metal house letters.
---
Shop the Art & Home Collection of Christmas Tapestries
BROWSE THE COMPLETE CHRISTMAS TAPESTRY COLLECTION >>
---
O Holy Night Mason Jar Display
It's almost impossible to create a list of DIY Christmas craft projects without at least one of them utilizing the good old Mason jar. In this version, some gold-painted mason jars are filled with dollar store poinsettia flowers.

The box is the craftiest part. Built simply but sturdy, the wood box is stained and then hand-painted with the O Holy Night wording. As the last step, some holes are strategically drilled through the face of the box to allow the light of some hidden battery-operated lights to shine through.
---
Linen DIY Christmas Ornaments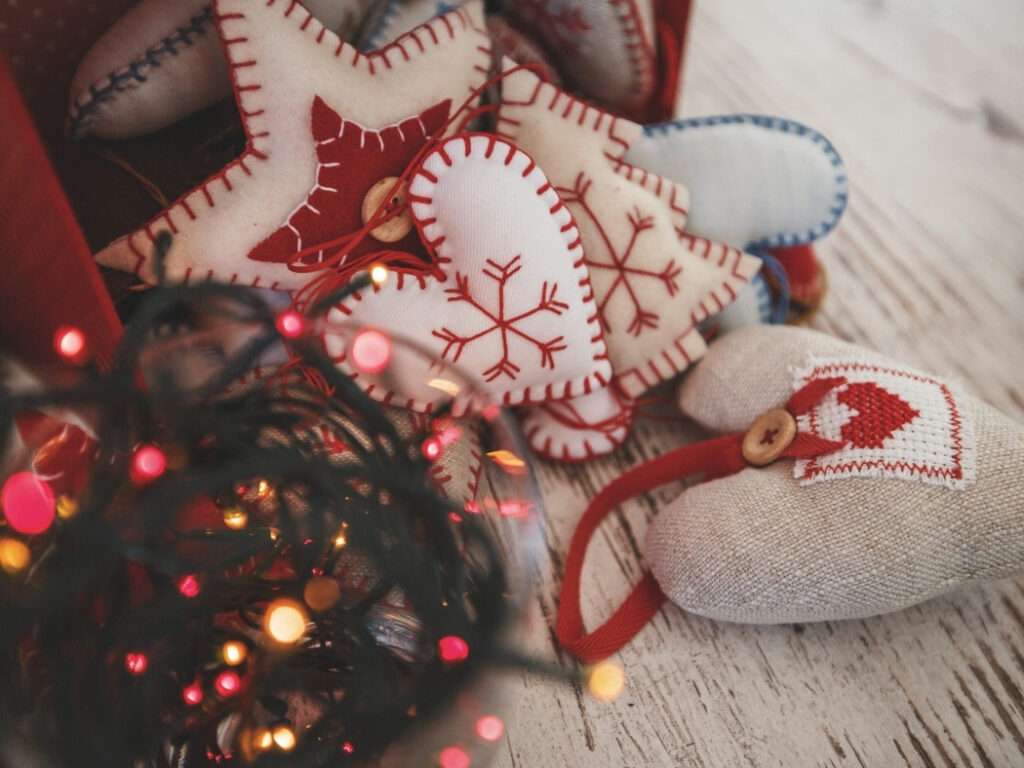 ---
DIY Christmas Wreaths
There is something quintessentially Christmas about the Christmas wreath, and no self-respecting Christmas decorator would be caught dead without at least one (ok, four… don't judge!!) well-designed Christmas wreaths in their home.
The trick is to find the inspiration for each of them.
Well, worry not my Santa-loving friend, here is an entire Gallery dedicated to DIY Christmas Wreaths. Surely something from this list will inspire your creative juices!
If you want a closer look at any of these DIY Christmas Wreath ideas, just click on the thumbnail to view the larger image.
And this is JUST what we found on Pinterest!
Still need more DIY Christmas wreath ideas? We created an entire post dedicated to DIY Christmas wreaths which you can also check out!
DIY Cork Board Advent Calendar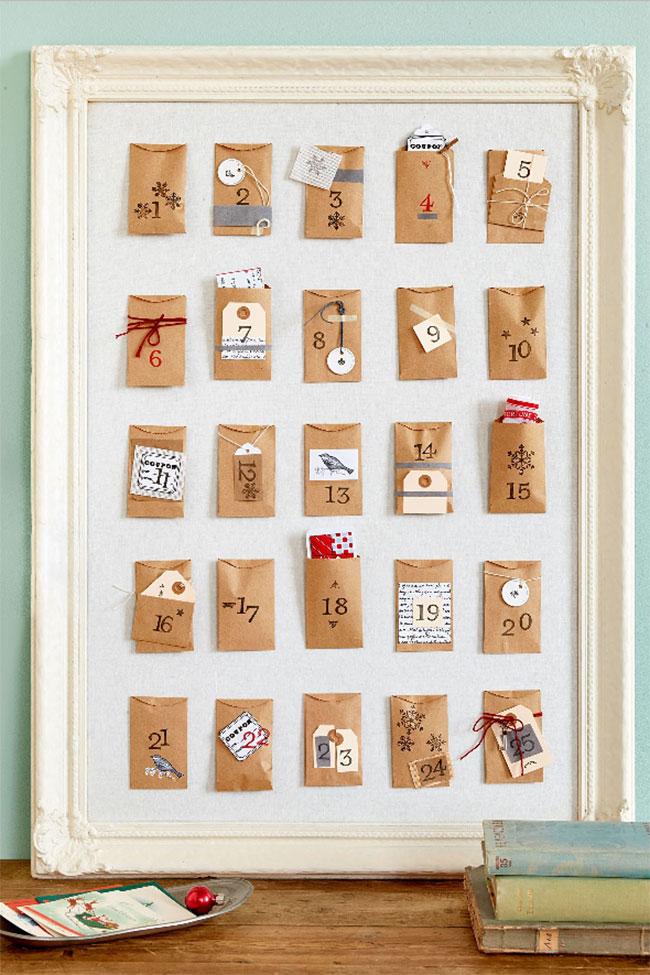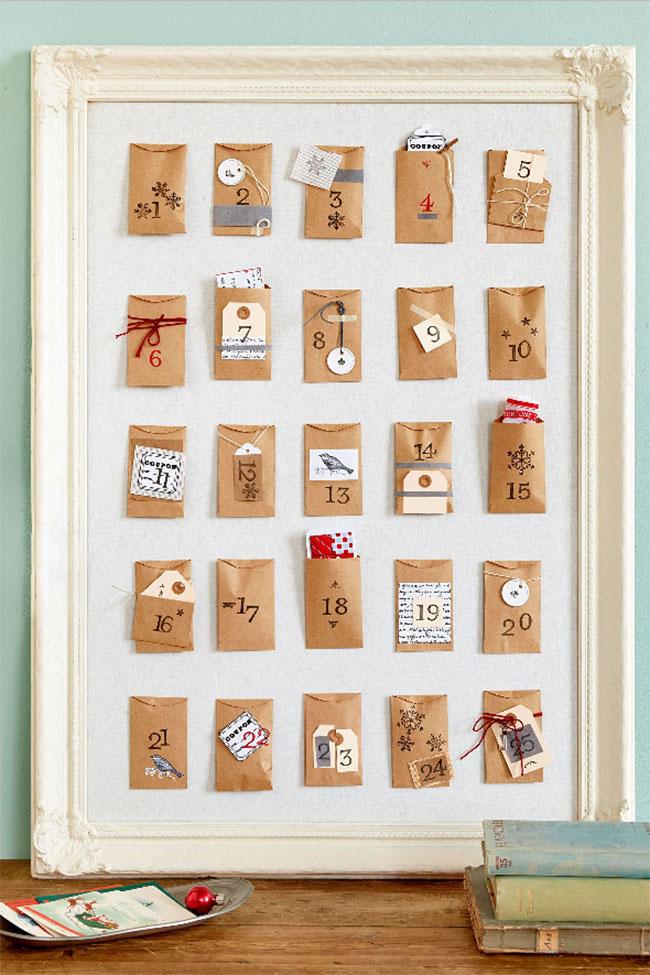 This easy-to-make Christmas craft uses paper coin envelopes pinned to a lovely framed cork board. Each of the envelopes is decorated with rubber stamps, tags, strings, buttons, and more & then filled with a variety of treats and trinkets to create a unique countdown.
---
Old Chandelier Christmas Tree Ornaments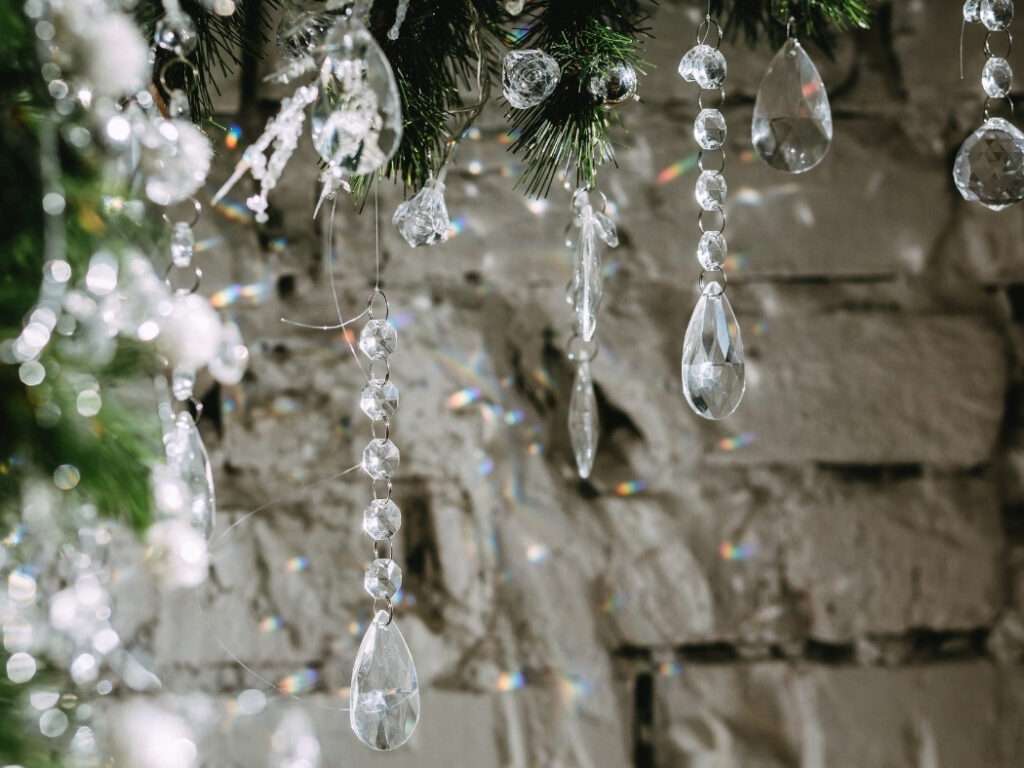 ---
Christmas Present Wrapped Wood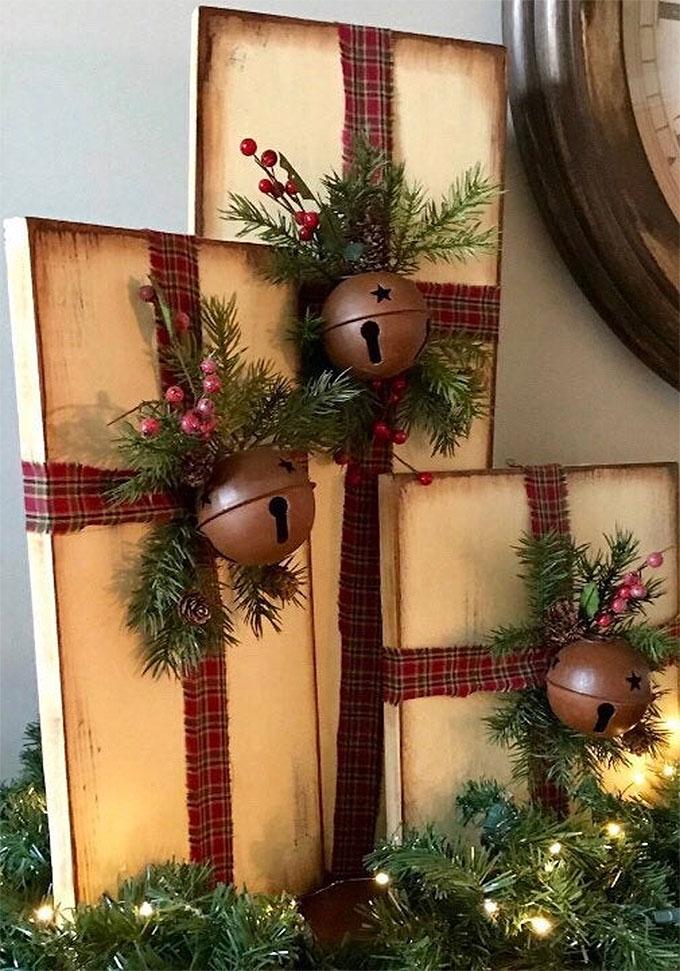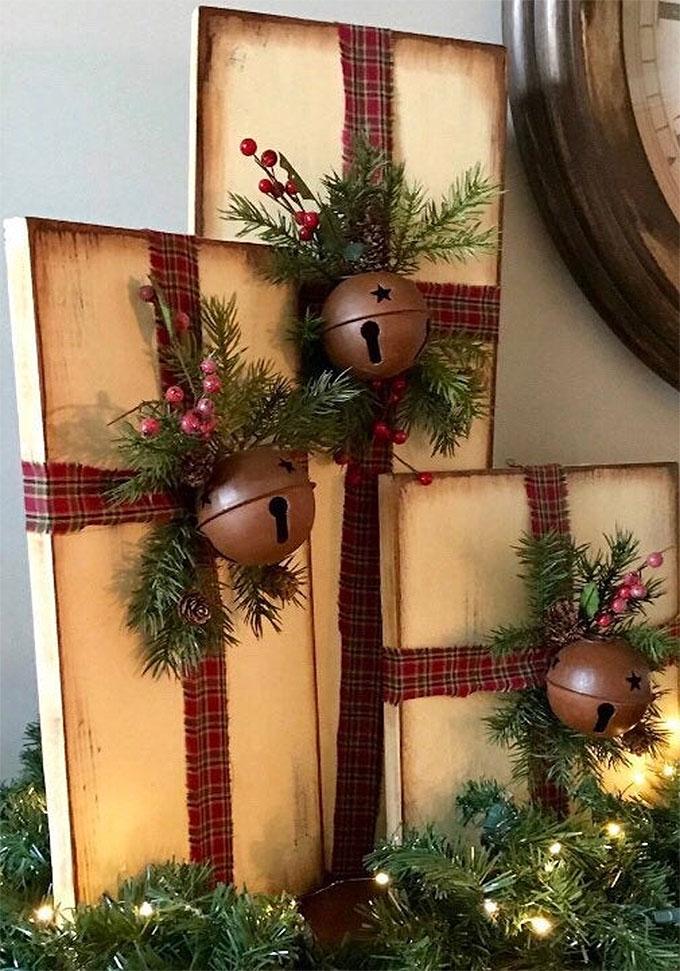 These wood blocks are distressed and then wrapped in festive ribbon. Rustic garland and big metal bells add the final touch. These create a wonderful rustic accent in front of the fireplace, and you can make them in any dimension you desire.
Or, if you don't feel like making them at all, you can hop on over to Etsy and purchase the complete set already made for you and you can just pretend you made them yourself (don't worry, we'll never tell!)
---
Fusilli Pasta Christmas Tree Ornaments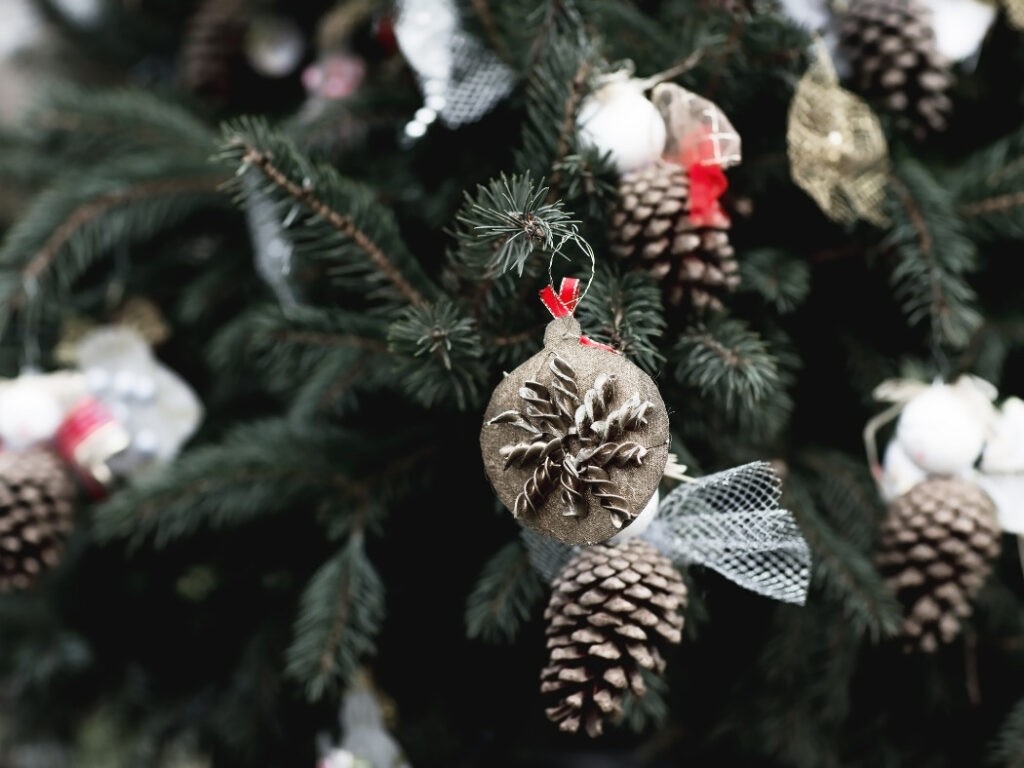 ---
Joy Mason Jar Planter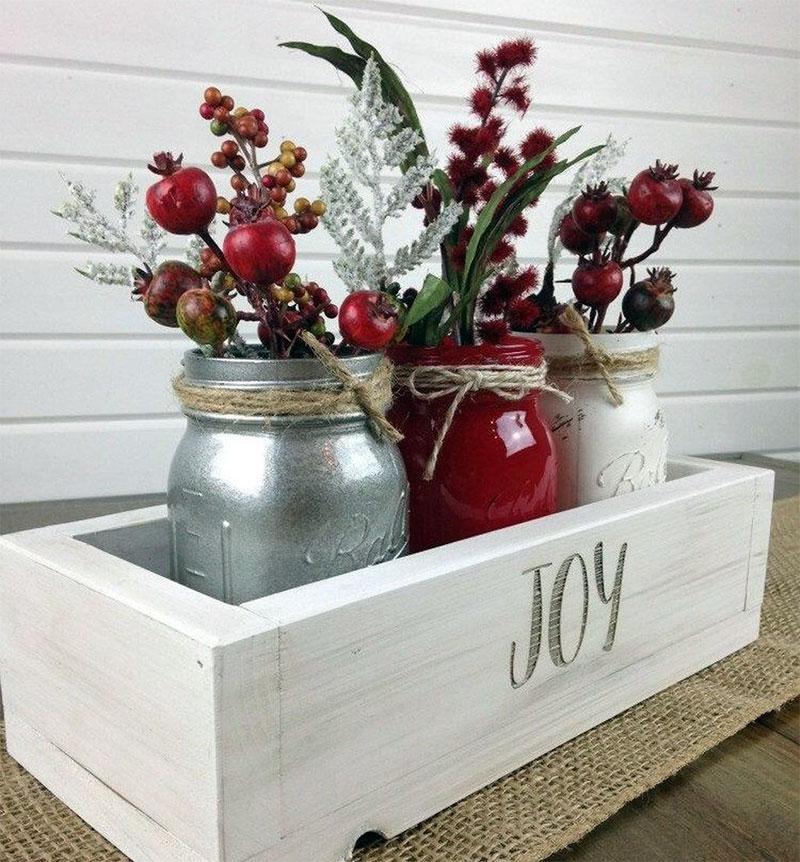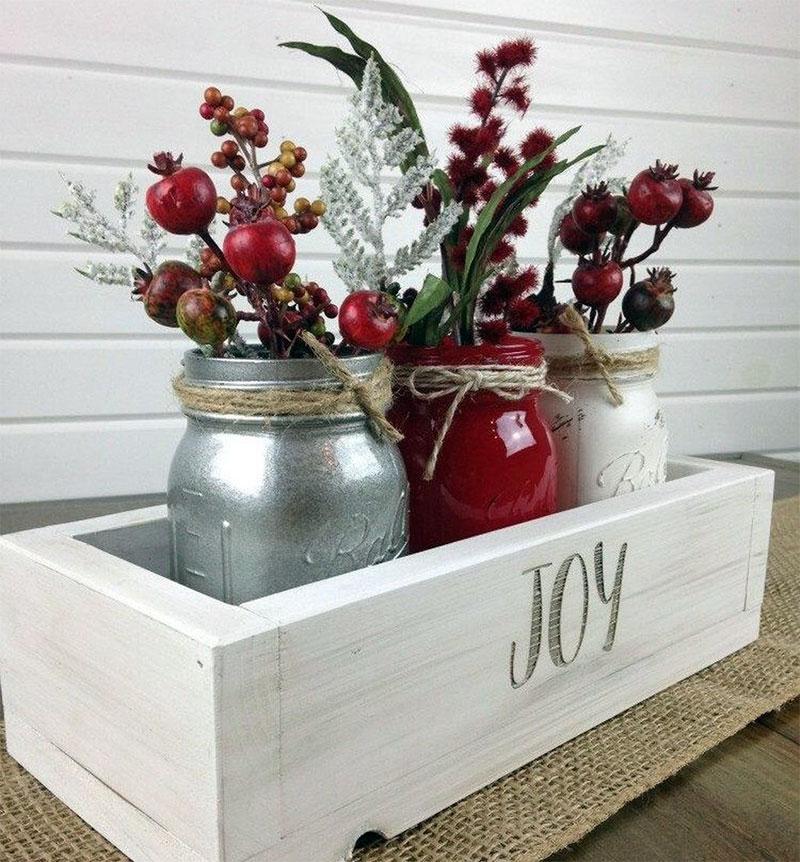 Yes, another Mason Jar craft. But can you blame me? This version is so festive that it absolutely had to make it onto this list.
A simple wooden box, with the word "Joy" etched into is whitewashed and then filled with three brightly colored mason jars. The finishing touch includes some artificial twigs and berries, creating a very festive display.
---
DIY Glitter Candles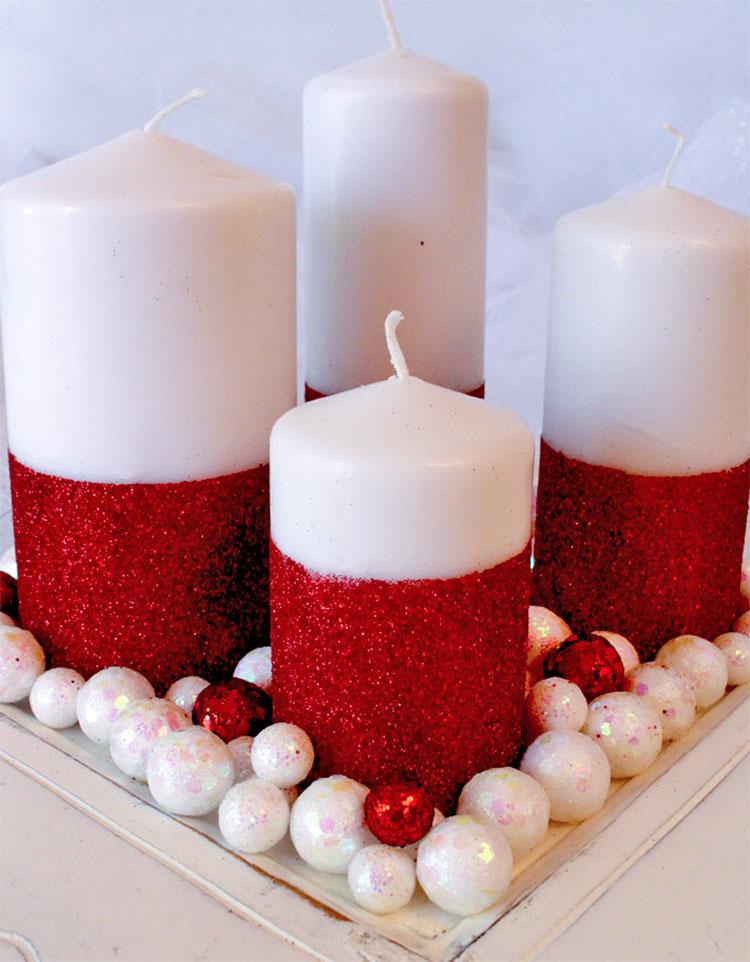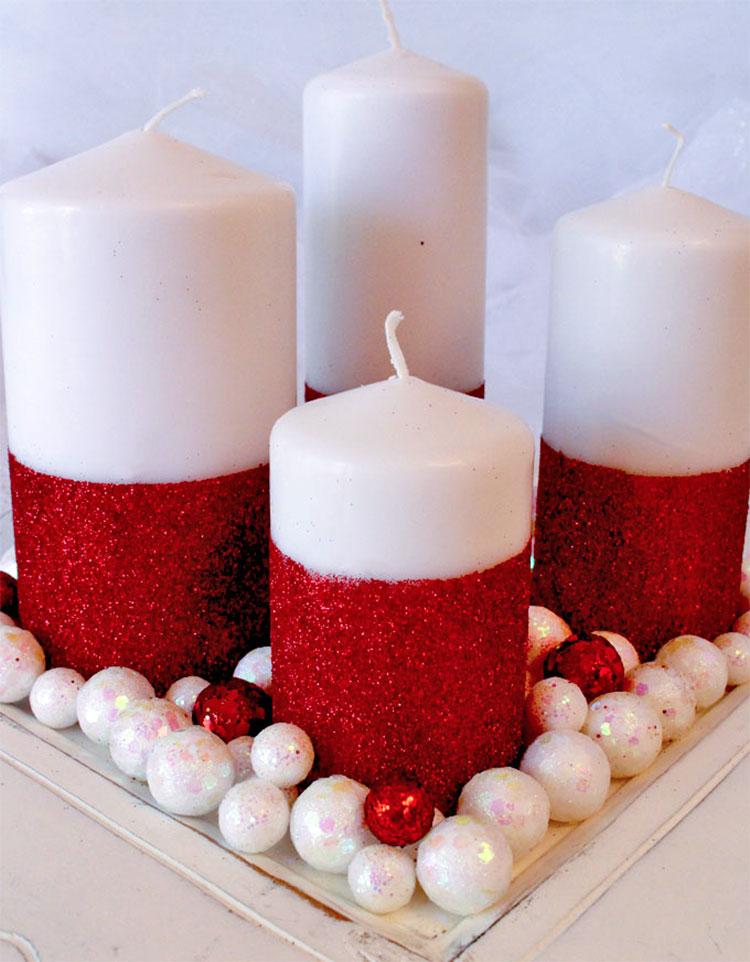 Christmas without candles is like summer without a bathing suit… you can get by without them, but why would you want to?
Your basic white pillar candles are quickly transformed into beautiful Christmas glitter candles.
---
---

---
---
Wood Christmas Ornament Wall Hangings
These lovely little wall hangings are easy to make, with some wood strips and a bit of galvanized metal. Add some twine, greenery and red bows, and you have yourself a delightfully rustic wall treatment that's perfect for the holidays.
---
Mini Plant Pot Bells DIY Decoration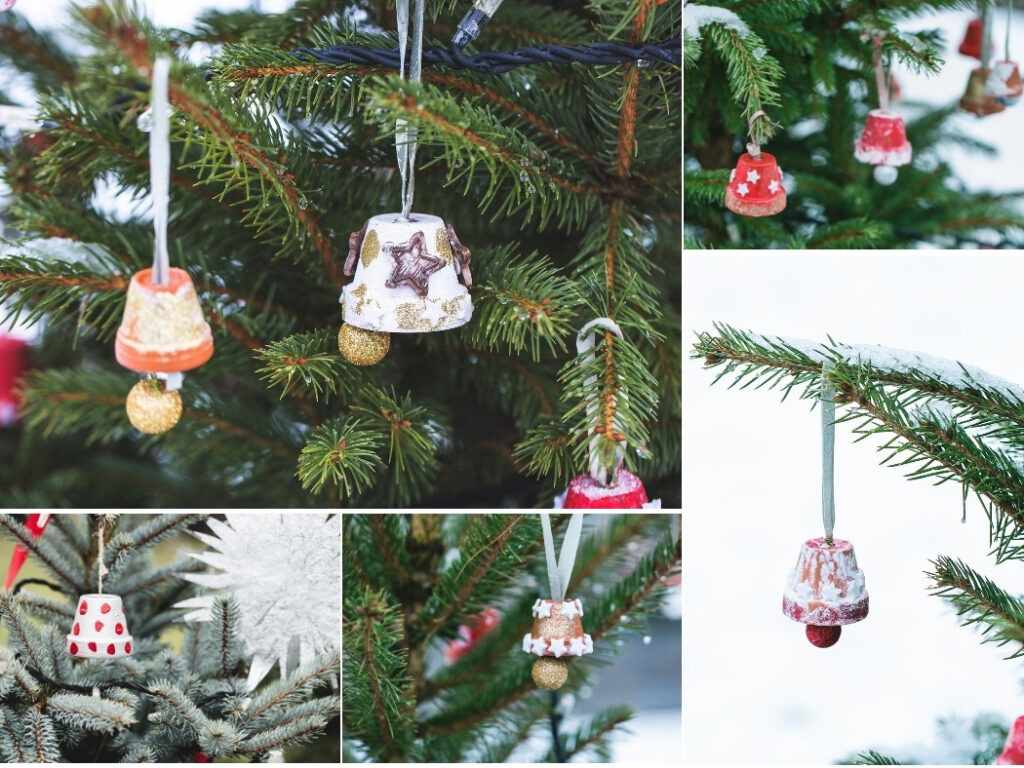 ---
DIY Nordic Sweater Trees
Hobby Lobby is a fantastic source for unique and wonderful ribbons that can quickly be turned into delightful holiday crafts. This example shows a Nordic sweater ribbon that has been attached to Styrofoam tree forms to create these wonderful & warm Christmas accents.
---
Bowtie Pasta Christmas Tree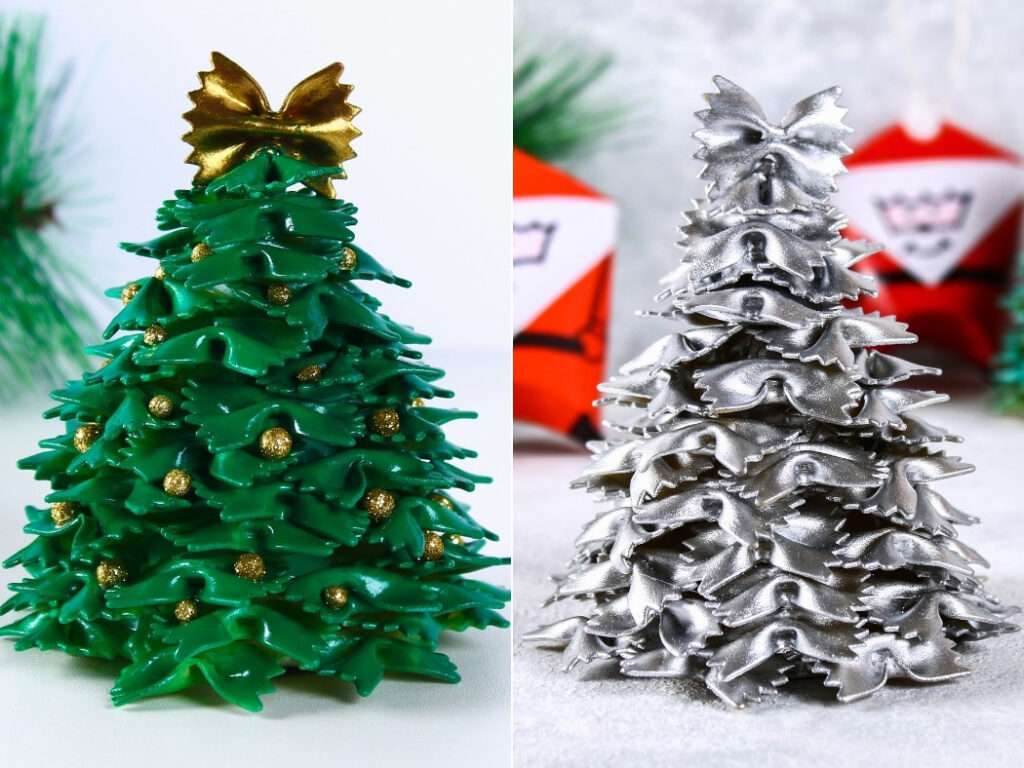 So many wonderful DIY Christmas decor ideas, so little time! But why not spend a lazy afternoon exploring fun craft ideas that can transform your home into a winter wonderland??
I couldn't think of a good reason either…
---
Eucalyptus Mantle Garland
This unique Christmas garland adds a modern farmhouse touch to your Christmas decorations.
---
Rustic Twig Snowflake Ornaments
These cute little rustic ornaments are so easy to make with some found twigs plus some artificial greenery, buttons, and red berries. They are perfect for adding a bit of rustic charm and the outdoors to your Christmas decor.
---
Vintage Christmas Window
A great way to reuse an old window (they are NOT energy efficient, so they really shouldn't be on your actual house anymore). Simply add some pine boughs, ribbons, and decorative ornaments along with a spray or 5 of artificial snow and you've got a wonderful festive piece of art that can be used indoors or out.
---
Christmas Bulb Apothecary Jar
A great way to recycle old Christmas lights! Just toss them (gently, of course, they are glass bulbs after all) into a glass apothecary jar and dust it with a little bit of artificial snow.
---
---

---
---
DIY Rustic Christmas Sign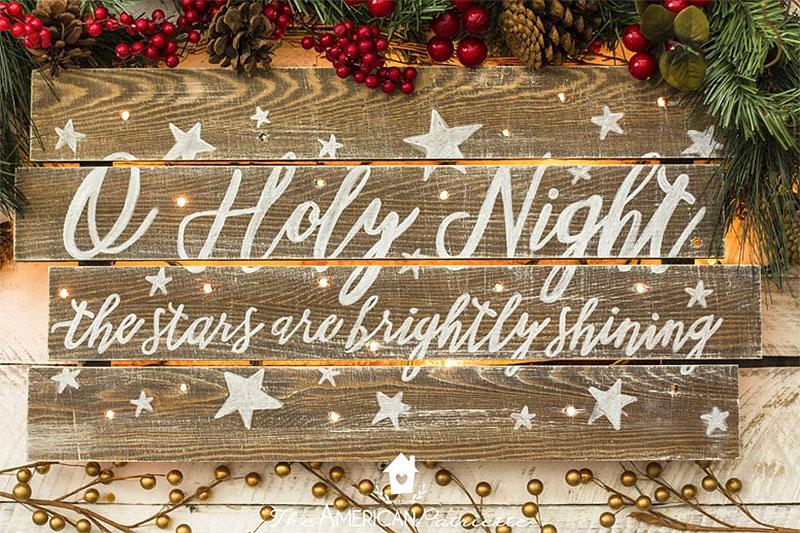 This inexpensive homemade Christmas craft creates a delightfully rustic holiday accent. Plus it lights up!
---
Warm Winter Dishes DIY Christmas Sign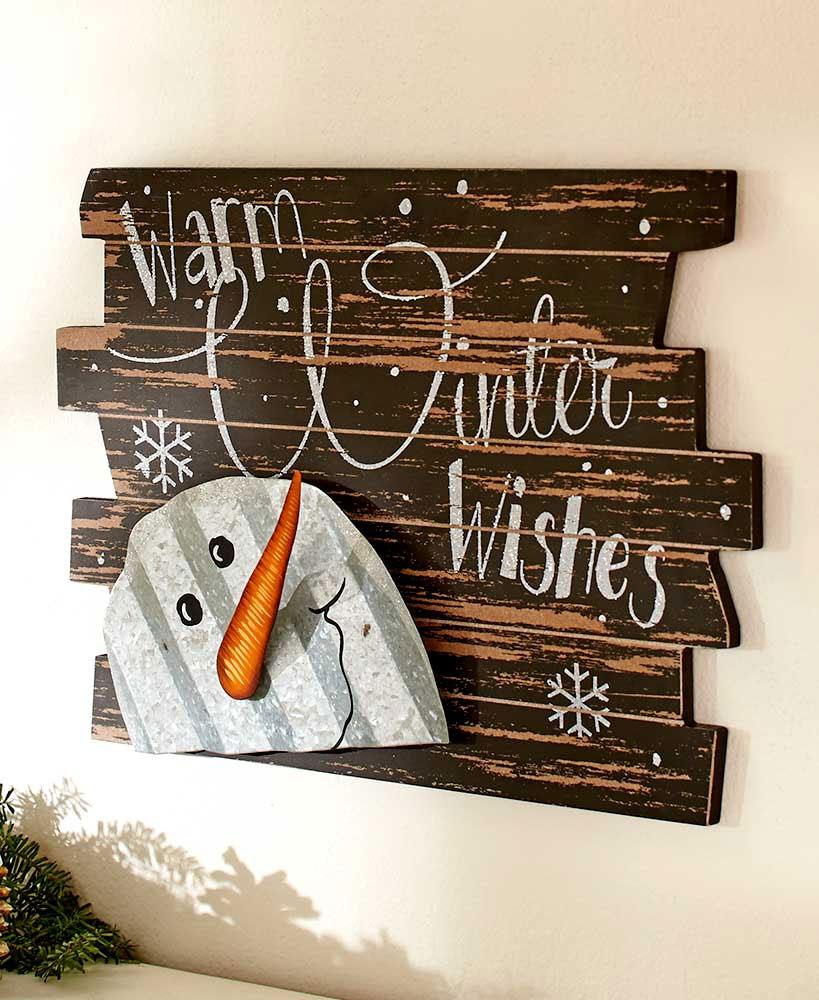 Another delightful Christmas sign, this one is crafted using MDF wood that has been painted to look distressed and a metal snowman, complete with a painted carrot for a nose.
---
Salt Dough Christmas Ornaments
You can create your own handmade ornaments using this easy to follow salt dough recipe. Simply combine 4 cups of all-purpose flour with 1 cup of salt and 1 1/2 cups of warm water. Mix thoroughly, kneed until the dough is smooth and firm, cut the desired shapes using Christmas cookie cutters. Use a straw to create a hole for hanging and then bake at 300° F for about 1 hour (until they are thoroughly dry).
---
Christmas Village Stocking Hangers
A festive vignette is the perfect mantle decoration to also hold your family's stockings with care. Some plywood and some precision cutting skills are all you really need to make this wonderful decoration.
---
Twig Wreath Snowman
Two twig wreaths of different sizes create the body of this adorable snowman decoration. The rest is all a little bit of fabric and some pine branches and berries.
You can make it large or small, depending on the size of the twig wreaths that you start with.
---
DIY Wrapping Paper Ornaments
If you ever wondered why that one aunt always INSISTED on keeping the wrapping paper after carefully removing it from her gift, this is exactly that reason.
These delightful ornaments are so simple to make! All you need are some hanging picture frame ornaments which you then fill with a variety of different colors and patterns of wrapping paper.
---
---
---
---
Rustic Wood Christmas Candle Holders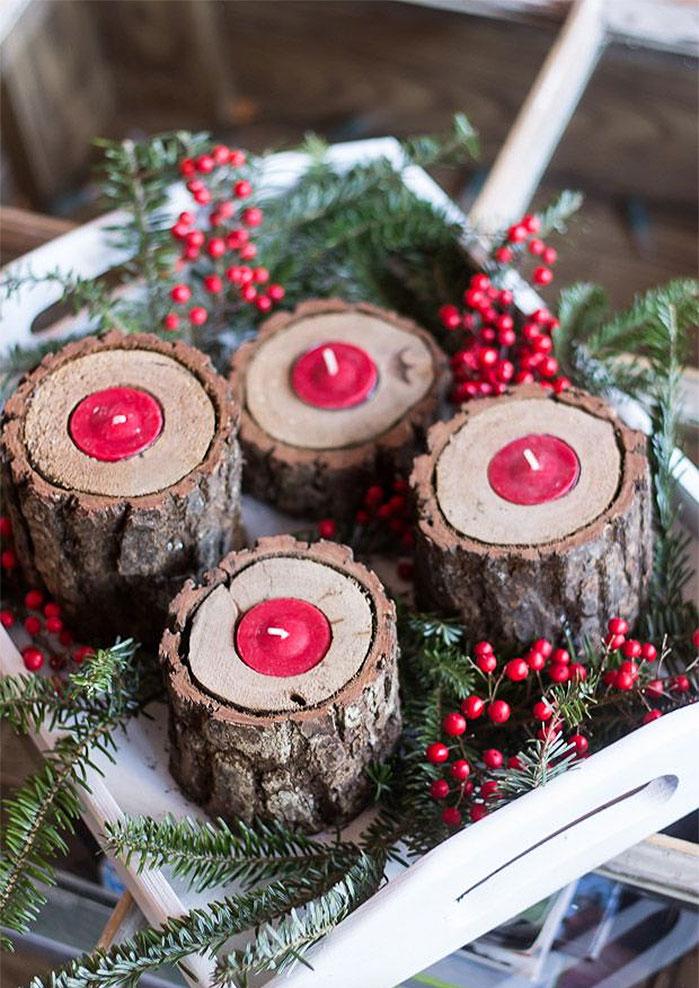 Who needs expensive Christmas candle holders when you can make your own using a fallen branch and some votive (otherwise known as tea light) candles?
---
Rustic Wood Welcome Signs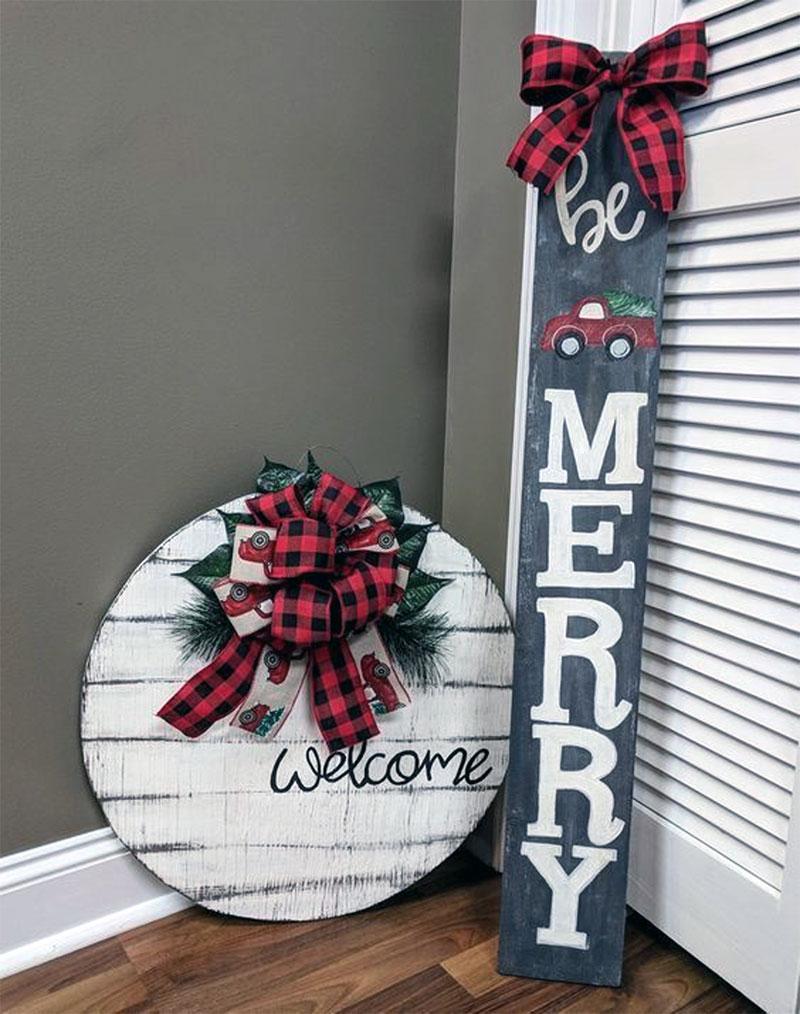 These hand-painted Christmas signs are perfect for the front entrance so that they can greet guests as they arrive.
Purposefully rustic, the signs are crafted from simple pieces of wood that are hand-painted and adorned with matching ribbons. Notice how car that was painted on the tall sign matches the red truck ribbon on the round sign? So cute and so clever!
And, yes, that Red Truck ribbon is available on Amazon!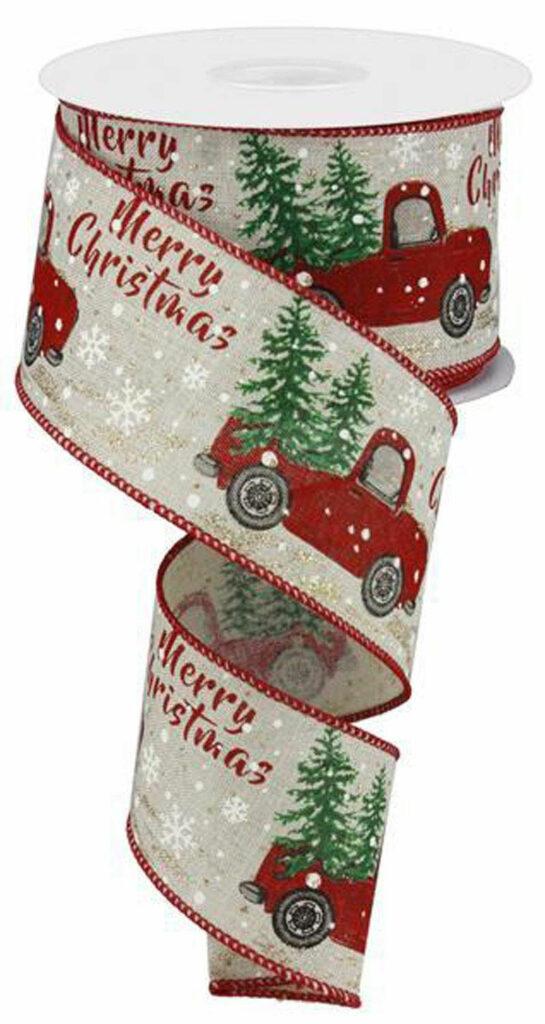 ---
Farmhouse Tomato Cage Christmas Tree
A great alternative Christmas tree, this fun creation uses an old tomato cage that has been painted Christmas red and then adorned with a variety of ornaments. A galvanized metal tub and some greenery create the base and a lovely bow adds the tops off (literally) this wonderful creation.
---
Outdoor DIY Santa Logs
Simple but fun, all you need is a fallen branch that you can cut into three pieces. Cut the top on an angle and apply red and white paint, some sharpie-marker eyes, and a little pom-pom nose. Wrap it together with some festive ribbon and you've got the perfect rustic accent for your front step.
---
DIY Mini Christmas Village
I love my Christmas village, but it's a very painstaking process to put it all together. This cute little version is so fun and easy to put together using brightly painted birdhouses from Amazon and the end result is perfect as a mantle decoration.
---
DIY Wood Advent Calendar
This lovely wooden advent calendar features changeable number blocks that your kids (ok, let's be honest… YOU… because if there's not chocolate involved, do you really think the kids will do this??) can have fun switching around to create the countdown to Christmas.
And you can adorn the little calendar house however you choose!
---
Penguin Snow Slide Banister
This easy-to-make snow slide uses dollar store penguins along with some cotton batting to create a magical winter wonderland for the banister.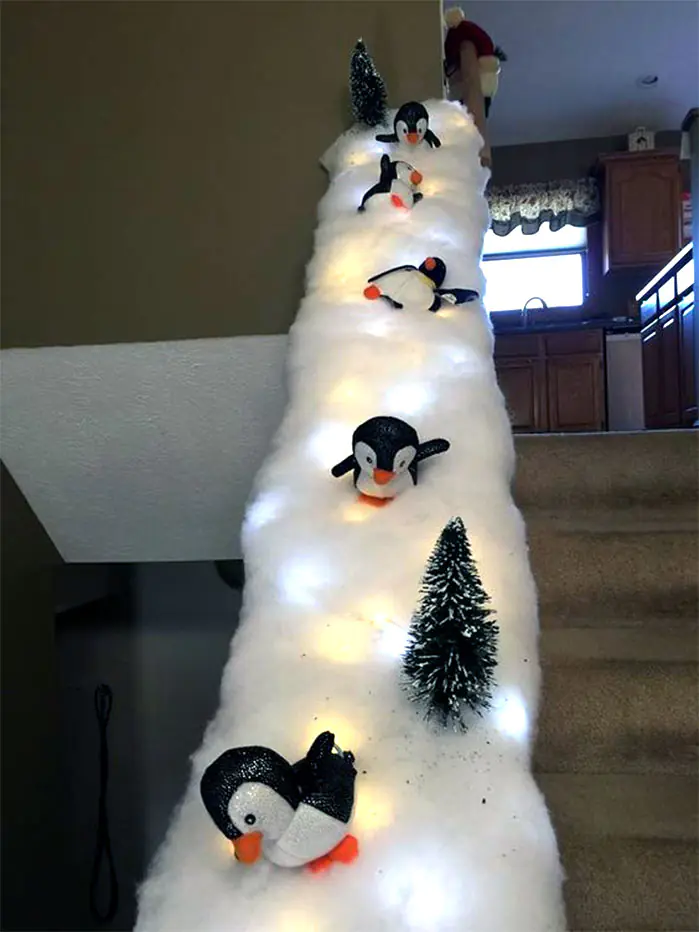 Put some LED lights underneath to help the snow glow at night for an extra-special effect.
---
DIY Christmas Forest
This adorable little forest is crafted using various bits and pieces that you can pick up at Michael's if you don't have any leftovers hanging around from other projects.
---
DIY Wrapping Paper Christmas Table Runner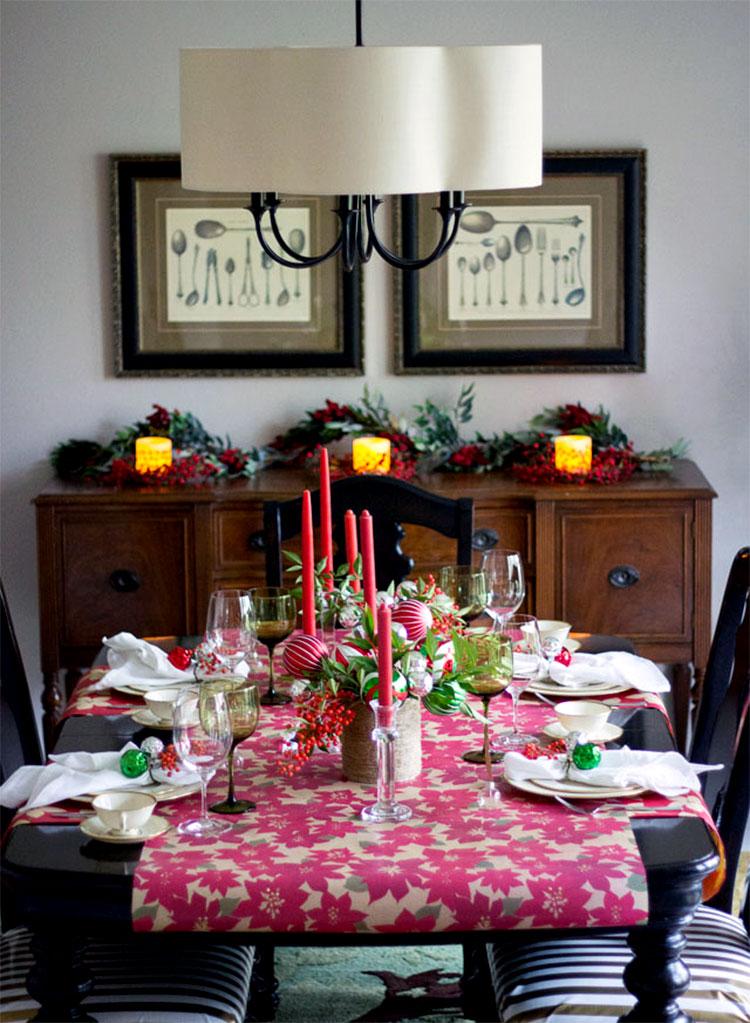 This gorgeous table utilizes some kraft wrapping paper down the middle as well as across the table at each place setting, providing a lovely alternative to cloth (which needs to be washed, and who has time for THAT) or paper (which are rarely THIS pretty!)
---
---
---
---
Pine Cone Luminaries
Some glass vases from the thrift shop or the dollar store, some straw, a few pine cones that you can pick up on your fall walk, and some battery-operated LED lights are all you need to create these delightful Christmas luminaries.
---
Vintage Baking Mold Christmas Ornaments
Thanks to CountryLiving.com for this idea
If you know someone who loves to bake, these vintage baking mold ornaments are must-have for their tree! All you need to do is hot glue a little bit of ribbon onto some classic baking molds and hang them on the tree. It's that easy!
We continue exploring some delightful DIY Christmas crafts that can be used to create some equally delightful Christmas decor and decorations.
At this point, folks, we are rounding the corner and nearing the end of our exploration of DIY Christmas Decor ideas.
But you'd better not cry and you'd better not put because there are still plenty more exciting ideas to discover.
Are you ready for even more fantastic DIY Christmas decor ideas???
I thought so…
---
Tea Light Candle Snowmen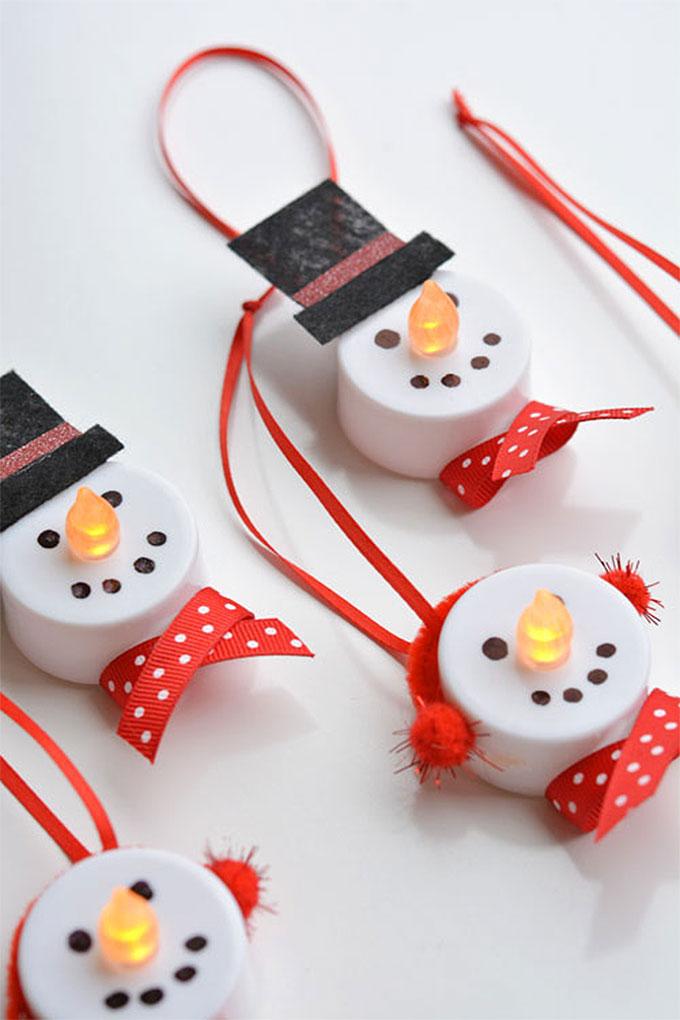 An easy craft that even the kids can help with. Simply take some votive (otherwise known as tea light) candles and adorn them with sharpie market faces and fabric cutouts to create cute little snowmen that you can hang on your tree.
---
Christmas Printables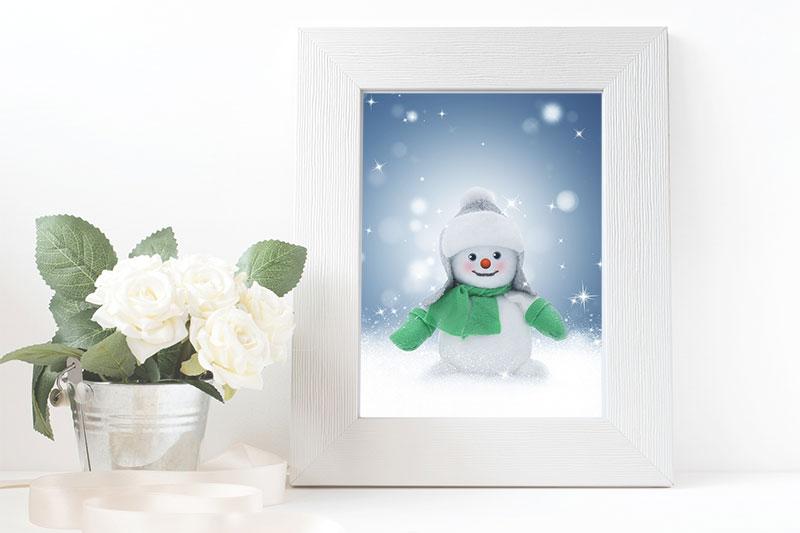 You can turn any frame in your house – or one you manage to find at the thrift shop or the dollar store – into a delightful little Christmas decoration by adding a free Christmas printable to the frame.
Here are a handful of delightful little printables that you can use for your Christmas decorating.
To download any of these printables, simply click on the thumbnail to open the larger image and then right-click and select "Save As" to save the printable image to your computer.
Still need more Christmas Printables? No need to fret! We will be creating even more Christmas Printables before the Holiday season is done!
Snowman Cube Ornaments
These cute and easy-to-make DIY ornaments use small wooden blocks that are painted and then distressed. The snowman faces are added with a bit of black market and some orange-painted slices of wood to create the carrot nose.
Little eye hooks are then fastened so that they can be hung on the tree with care.
---
Scrap Wood DIY Framed Ornaments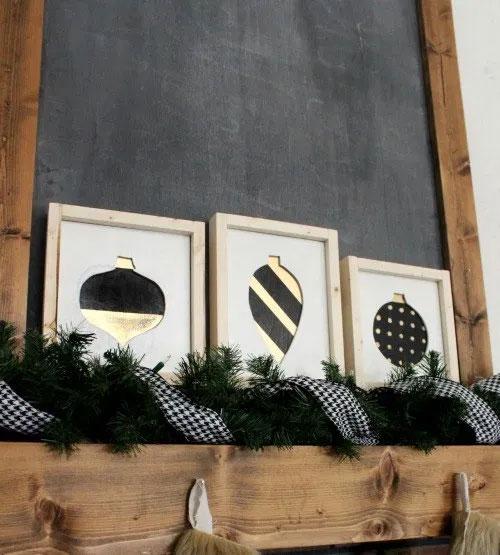 Some pieces of scrap wood are turned into lovely framed artworks in the color scheme of your choosing.
---
Candy Cane Place Card Holders
These easy DIY place card holders make a wonderful accent for your Christmas table.
---
Simple Burlap and Pine Wrapped Candles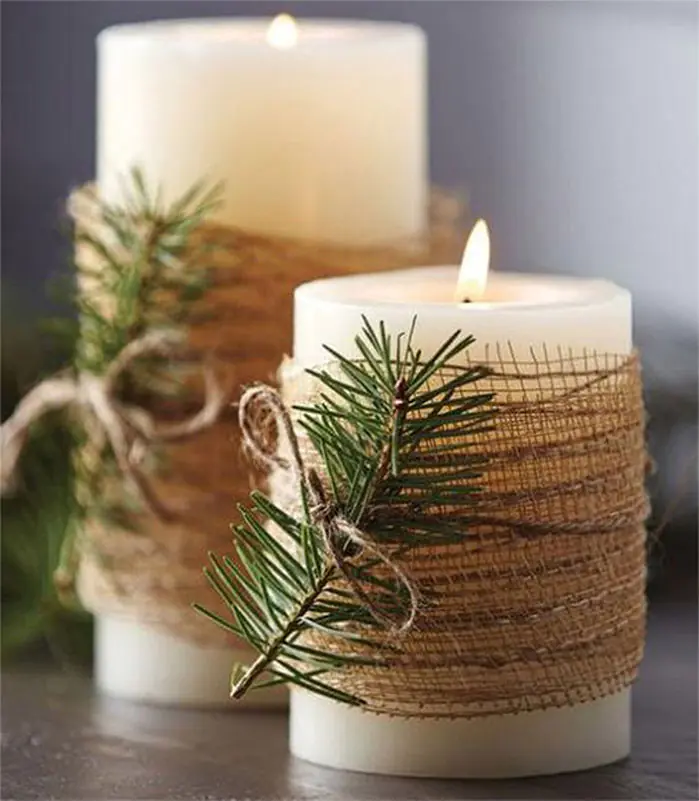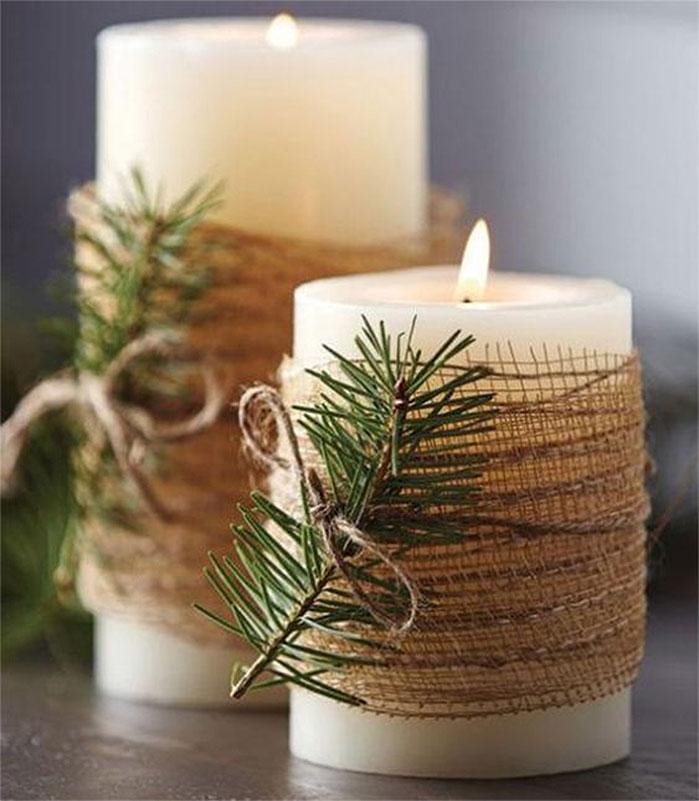 This DIY project would only take a few minutes to create but will provide hours of enjoyment looking at your finished creation. Simply wrap some pillar candles with burlap and fine twigs and then tie it all together with twine.
Use caution, however, when using the candle that you don't allow it to burn unattended as the burlap is flammable.
---
Hand-Drawn Christmas Decor
If you have artistic talent, now is the perfect time to show it off. Some simple drawings on colored paper can make for absolutely adorable and complete personal DIY Christmas decor.
---
---
---
---
DIY Wooden Pallet Christmas Tree Sign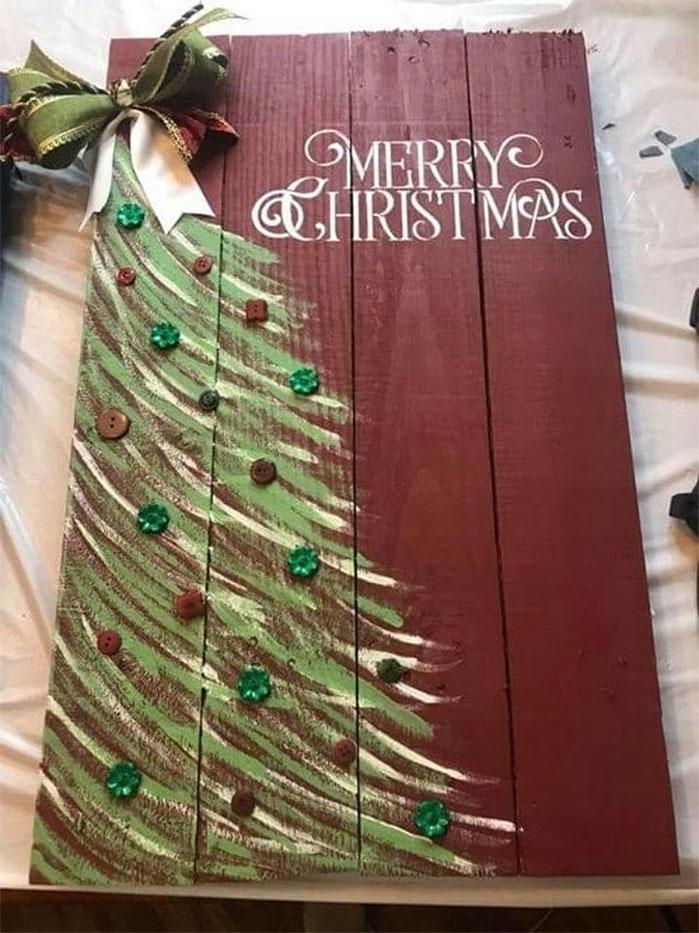 Take some old pallet wood and create this delightful DIY Christmas sign. A stencil design for the lettering would be best, but the Christmas tree itself can be done with rough hand strokes of various shades of green.
The last step is to adorn the tree with some buttons and bows.
---
Bake Up Some Christmas Cookies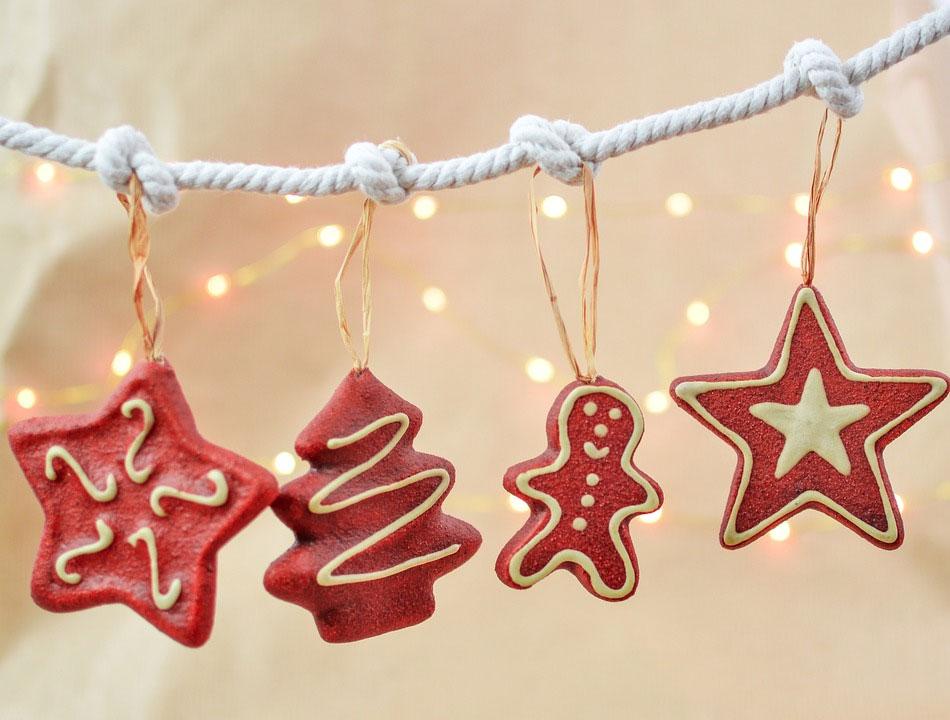 Christmas cookies make for excellent and easy-to-bake DIY Christmas decor. You can bake them to hang, as shown above, but even a tray of beautifully designed and decorated Christmas cookies creates a festive (and delicious) accent.
Just make sure to bake extras so that you can refill the platter as other people (not you…. never you… you'd NEVER do such a thing!!!!!) sneak a cookie or six from the tray.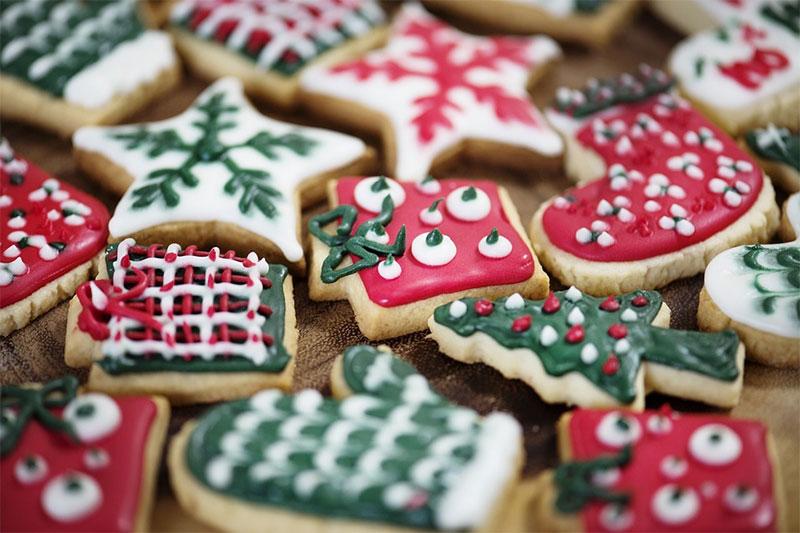 And when company is over for a visit, you can serve up some of these delicious decorations with a lovely cup of hot chocolate.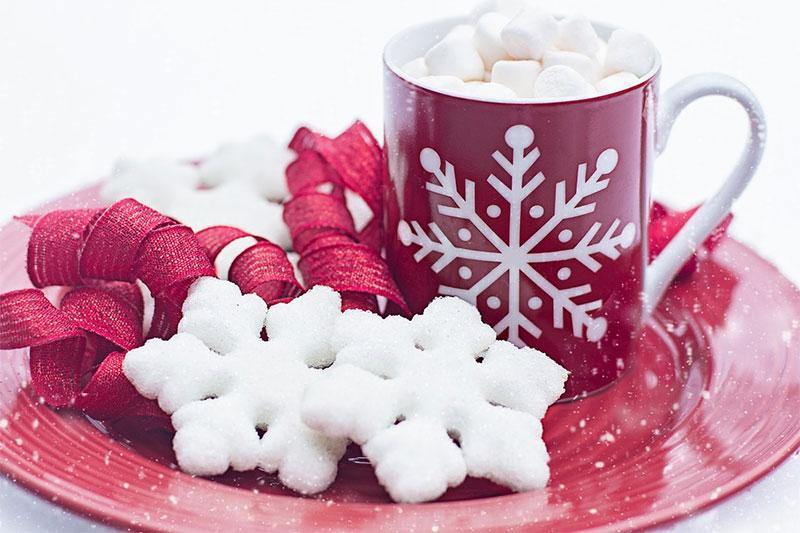 ---
Christmas Celebration Vases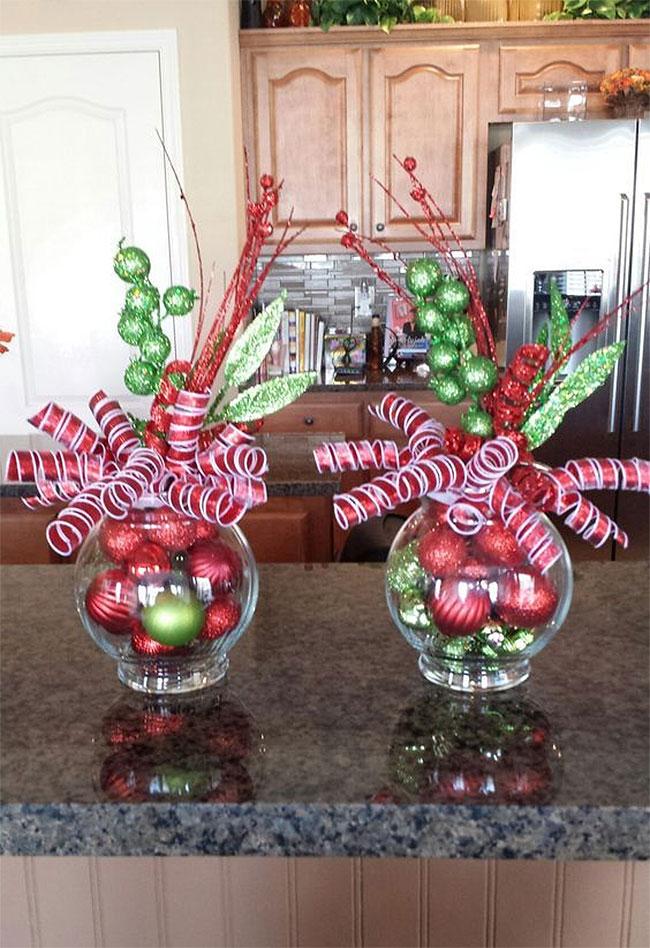 These super fun vases use simple white jars from the dollar store (Apothecary Jars without the lids will work just fine for this DIY project). Fill the bases with some Christmas ornaments and then top with some ribbons and other garnish.
A showy display that takes less than 5 minutes to create!
---
Let It Snow Outdoor Welcome Sign
Such a cute sign! You might want to use some printable stencil or transfer paper to create the letters and snowflakes, as this would be VERY intricate work to try to freehand.
Or, if you want to skip the hard work you can purchase the original work that inspired this idea right from Etsy.
---
DIY Vintage Mitten Garland
If you have a box of mismatched winter mittens (you know you do!!!), now is the time to finally put them to use. Just take a large needle and some yarn and stitch them together into a delightfully rustic garland.
---
Pallet Wood Christmas Tree
Found on the Crafts Unleashed blog
This easy-to-make rustic Christmas tree uses reclaimed pallet wood so it's perfect for indoor or outdoor use. Plus, with some drill work and a string of mini lights, it can light up to create a delightful accent at night.
---
---

---
---
Christmas Cup Rack
A sturdy wrought iron cup rack is transformed into a lovely DIY Christmas display full of lots of large and small details. Look closely at the cute wreath, the red, white, and black towels, the mason jar full of black and white striped straws, and even the teacup that's holding a few small candy canes.
Delightful.
---
Vintage Scale Christmas Display
See more from this cozy Christmas cottage
Perfect for the kitchen, this wonderfully rustic Christmas display uses a vintage kitchen scale with some lovely greenery, a cute reindeer, and some pretty red Christmas dishes that can be used later to serve up some Christmas treats.
Even if you don't have a vintage scale handy, I love the idea of using a pretty little plate rack to display the Christmas dishes as decor until they are needed.
---
Candle Stick Snowmen
A set of old, carved-wood candlesticks is given a festive upgrade by adding a round wood ball on top that has been painted with a happy snowman face. The scarf and garland help hide where the old candle-holder meets the new snowman.
---
Cookies for Santa Serving Tray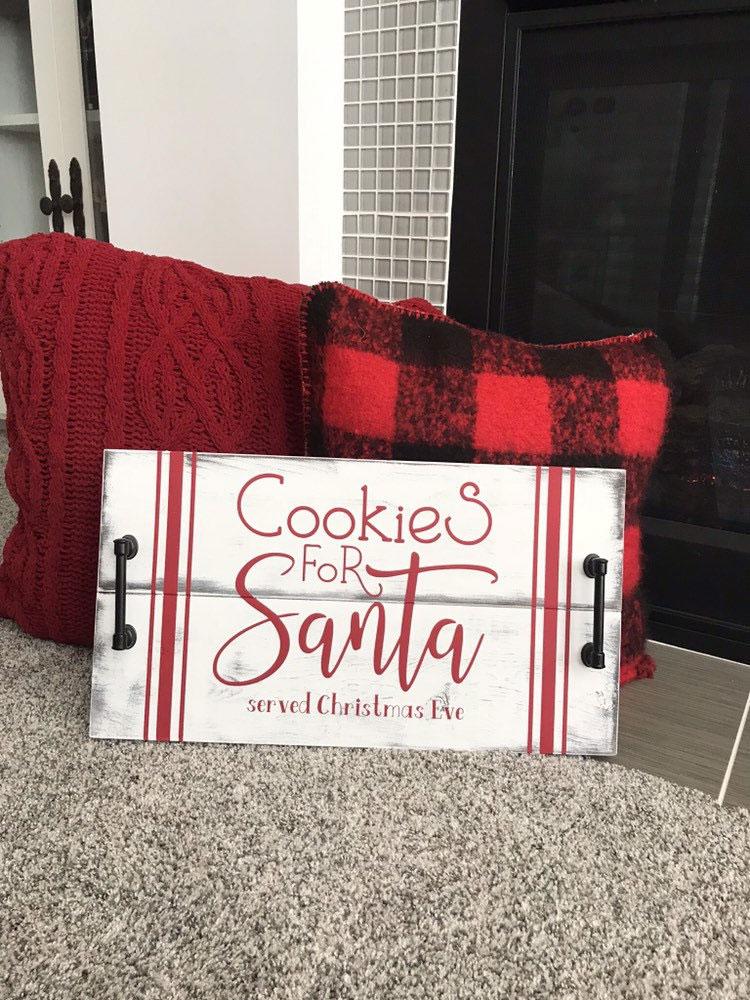 Inspired by this design from Etsy, this cute tray is just a wonderful resting as decoration as it is when it's being used to serve up some holiday treats.
---
DIY Noel Wood Sign
This super-simple wood sign uses painted plywood as the base, some wood letters that have been painted a festive red, and then a simple wreath with a red and black plaid bow as the "O" in Noel.
---
---
---
---
JOY Banister Garland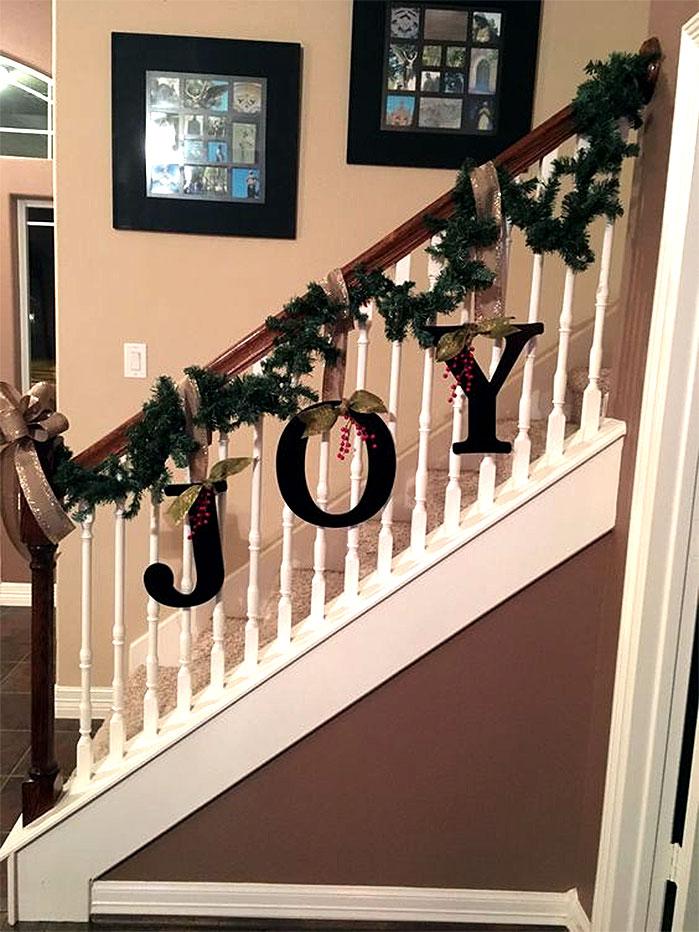 A simple addition of some painted wood letters makes all the difference to this traditional banister garland. In this case, they've gone with black to match the banister post, but you could pick whatever color you desire to match the color palette of your other Christmas decorations.
---
DIY Reclaimed Wood Joy Sign
Speaking of Joy, this reclaimed wood sign brings us much joy. Old planks of wood are glued together and then painted in a distressed white. The letters J and Y are hand-painted in red and then the O is crafted using old Christmas ornaments.
---
Joy DIY Framed Wall Art
And just in case your Holiday season doesn't have enough Joy already, here is one more lovely DIY "Joy" sign for your consideration.
The Joy inside the frame is meticulously cut out in a cursive script and then covered with some festive fabric.
---
And So… we've reached the end of these amazing DIY Christmas Decorations
As amazing as it may seem, we have now completed our tour of all 101 fantastic DIY Christmas Decorations & Decor Ideas.
I hope you have found some inspiration for your own home from this list. Make sure to give some love to the brilliant minds behind some of these designs!
And please… let us know which was your favorite in the comments below!