From time to time, Art & Home works with top-quality commercial brands to provide advertising opportunities of added value to our readers through various advertising opportunities and banner placement.
We receive a lot of requests every month and carefully review each offer to ensure:
Quality brands that Art & Home is willing to be associated with
The advertising opportunity will meet the brand's needs
---
Advertising Opportunities
---
Ad Banners
Place your brand's advertising banner in the right sidebar across the Art & Home website. Limited spots are available each month.
Product Listings
Add your product to one of our existing product categories with the "Unlock Current Deal" button linking to your site. (Min. 10 products)
Collaborations
Share your brand's expertise through well-crafted, informative, non-commercial placements on our site and social media channels.
---
Our Audience
---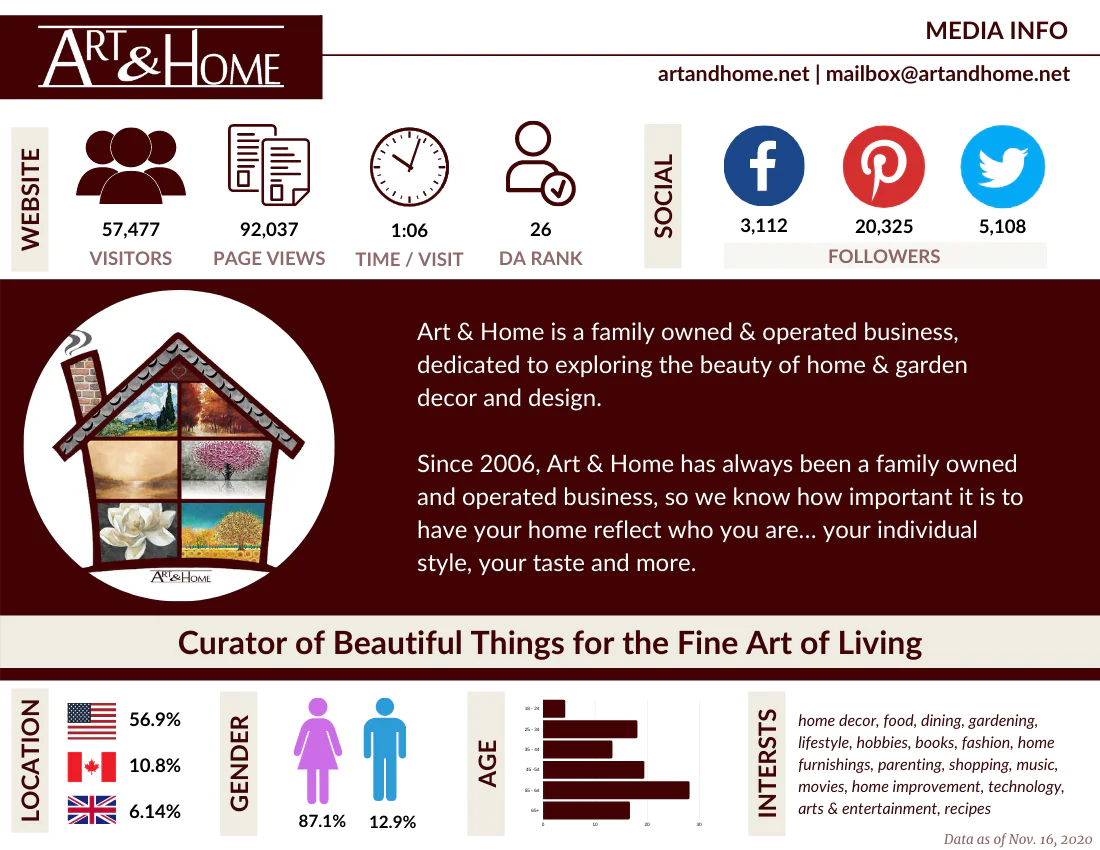 ---
Advertising Details
---
Promotional Banners
Promotional banners will be placed on the sidebar of internal blog and category pages of At & Home. We do not offer banner placement on the Art & Home homepage or on individual product pages.
Banner advertising size options include:
300 x 250 – Inline Rectangle | 2 Slots Available | $100/month

300 x 600 – Half-page Ad | 1 Slot Available | $150/month
300 x 680 – Custom Featured Image | 1 Slot Available | $200/month
---
Product Listings
Art & Home currently carries over 5,000 home decor products from a variety of suppliers and product partners.
To add your products to one of our product categories, we will require:
A unique product description that provides details about the product
Optimized images that are at least 900 pixels wide
Current MSRP for all products
Product category
The information can be delivered in an excel spreadsheet, with the matching images provided in a ZIP file or through FTP download.
All product listing packages are charged based on a minimum of 10 products.
---
Collaborations
Art & Home handles brand collaborations in a variety of ways, and we are open to discussing opportunities that work for your brand and our audience. Our primary focus for social media has been Pinterest, where we enjoy a following of nearly 19,000 followers and over 24 million impressions each month.
Please reach out to us for additional details.
---
Affiliate Partner Advertising
Art & Home is a family-run website, but we need compensation to operate just like any other website on the internet. In addition to the direct advertising opportunities, we may receive consideration for any traffic and/or sales referred by us to our retail partners and may include relevant affiliate links within our content.
---
Ready to Advertise on Art & Home?
---
If you are a commercial enterprise looking to partner with Art & Home to provide exposure to our dedicated readers, please feel free to contact us for additional information.