It's a Charles Wysocki Christmas! Wysocki's beloved Christmas paintings have been lovingly woven into tapestries by the artisans at Pure Country Weavers.
Even though his settings often seem all-too real, all of beloved American artist Charles Wysocki's paintings are considered abstracts. That is because instead of a portrait or landscape depicting actual people or actual places, he was known to take aspects of the many people, places and things he had known and merge them together into one fantastic yet somewhat realistic whole.
Wysocki was known for taking these bits and pieces of different settings and threading them together to express more of the emotion of the place he was taking us too, rather than just the setting itself. Even in his most abstract collages, you can see the real elements of everyday life and everday emotion scattered among the fantasy. Humor, warmth, kindness, romanace, and – what seemed to enfuse most of his work – love & sentimentality. And he did all of this in painstakingly crafted detail, which is one of the reasons why his works are such a joy to behold.
While Wysocki's method of working was methodical, his training was a little less structured. He was once quoted as saying, "I received most of my training as a 'painter' in my own studio under my own plodding direction. I took painting classes but the time spent in these classes was limited and just covered the basics. Time, and what seems like thousands of brush miles later, I still feel I have just scratched the surface. Another influence that has affected my personal style is my love for pattern. Fitting patterns together piques my interest."
This is certainly evident in his beloved collection of Christmas paintings, which how now been lovingly recreated into woven Christmas tapestries by the talented artisans at Pure Country Weavers.
Art & Home is product to feature these wonderful works by Charles Wysocki as part of our Christmas Collection.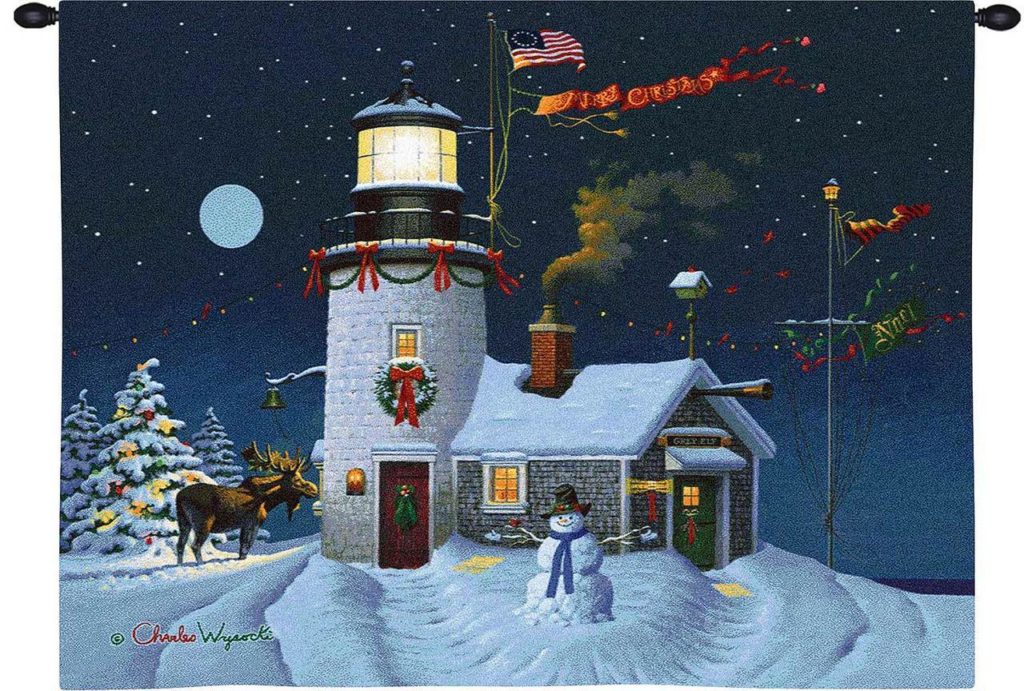 Take Out Window features a stray moose paying a visit to the local lighthouse. It's wonderful whimsy, especially in Tapestry Wall Hanging form, will make a great addition to your Christmas Decor.
This delightful image is also available as a throw blanket or pillow!
---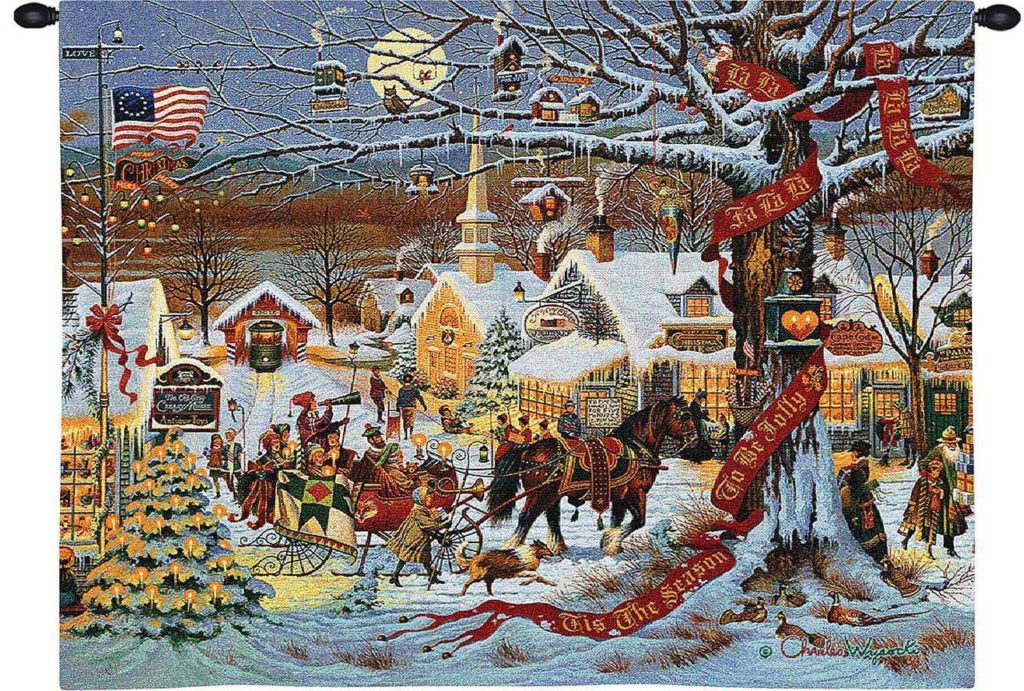 Small Town Christmas brings together all of the chaos, excitement, joy and pure fun of Christmas and squeezes them all into one festive and wonderful canvas.
This delightful image is also available as a throw blanket or pillow!
---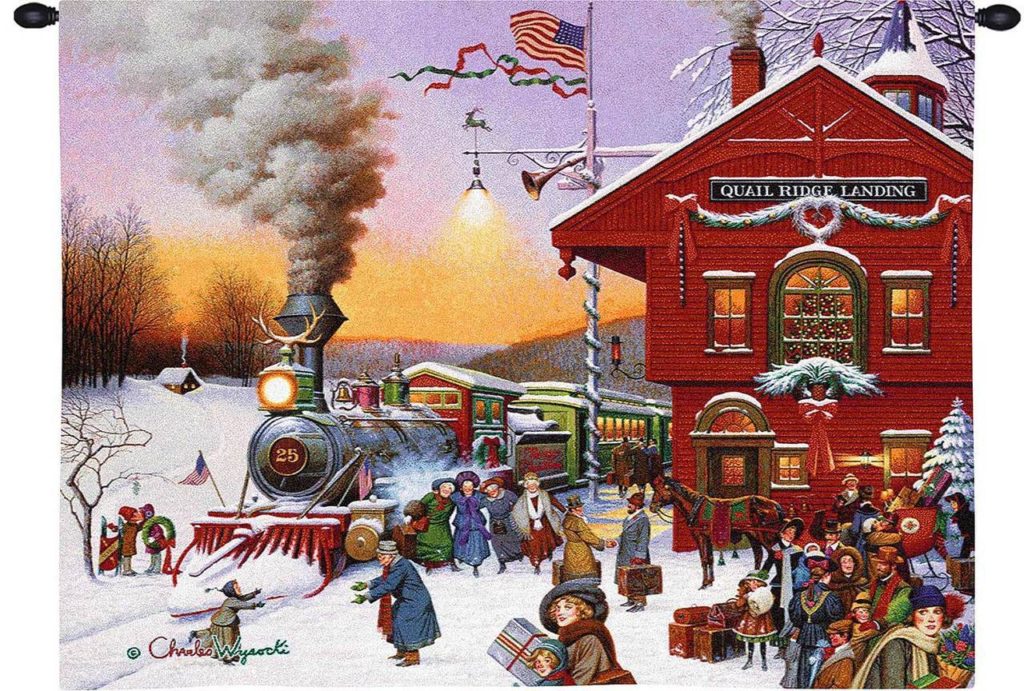 The pure joy of coming home for Christmas, along with a little bit of the hectic frenzy required to make the trip, takes central focus in his wonderful Whistle Stop Christmas. Each little vignette tells its own story, but it's the way he brings them all together that is just so alive with the Christmas spirit.
And, you guessed it, this is also available as a pillow or throw blanket!
---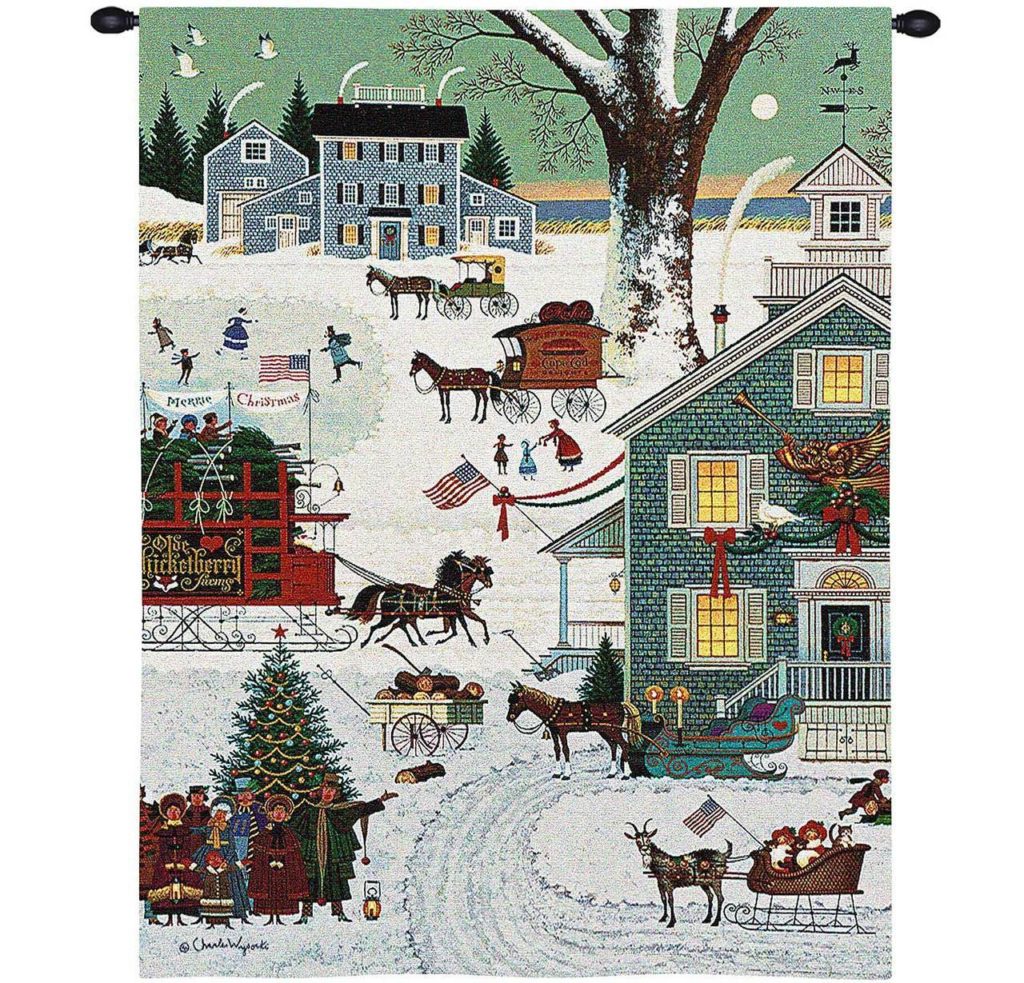 New England was the source for many of Charles Wysocki's favorite subjects, which is very clear in his enchanting in Cape Cod Christmas. All of the iconic parts of a Cape Cod Christmas spring to life in Charles Wysocki's fantastic artwork.
Unfortunately, this beautiful image is not available as a throw blanket or pillow. JUST KIDDING… of course it is!
---
"I feel the serenity of this life, and it became enhanced on our vacations to New England. We fell immediately in love with this section of our country because the pace so closely resembled our way of thinking – a love for the very small personal closeness of each other's company and being content with 'little' things, happy in activities city folks might find boring." – Charles Wysocki
Whatever else anyone may say about Charles Wysocki's art, I doubt anyone could ever call these delightful slices of Christmas life "boring".
---
For more of the wonderful world of this wonderful artist, browse the entire Charles Wysocki Collection.