When you are short on space, storage can be at a premium. These clever and creative DIY storage ideas will help you maximize your space and minimize the clutter in your home by giving you a place to store things until they are needed.
It is always a struggle to find storage solutions for your home. If you're anything like me, you'll have realized – by now – that there are so many things that need storage, but storage spaces are few and far between.
In this article, we will offer some creative storage ideas and DIY storage projects you can do in order to maximize the storage space in your home.
After all, your storage solutions should be unique to your home. Yes, you will need storage for items that are on the floor, such as shoes and heavy coats, but you also might want storage ideas if you have tall furniture or a large house where space is at a premium. No matter what kind of storage solution you choose, it needs to work with your decor budget and not just add clutter in another part of the house! Let's look at some creative ways to organize your spaces better.
But before we get started, it's always important to note that if you have too much stuff to store, this might be time to reassess what is important and get rid of some junk.
As Marie Kondo would say, if something brings you joy and can fit in your storage space, by all means keep the item! However, if an item does not bring you happiness it may not be worth keeping around. You can always pass the items on to someone else who wants or needs them more than you do.
Taking this step will help with clutter issues as well as freeing up mental energy so that when storage solutions come along for your home they are always welcome because there's less stuff competing for space!
When deciding how to organize your home based on storage ideas, think about what items typically need a place and what you need storage for. If a storage unit is going to be large, make sure it isn't going to block your windows or walkways, and consider the space around it so that you don't have any furniture obstructions either.
You can also create storage solutions by using things such as crates or baskets as storage areas in closets, hallways, and even kitchens! There are a lot of ideas like that below!
Another clever storage solution is installing hooks all over your home. This works well for storing coats, robes & other seasonal clothing items, and even kitchen utensils; since they need to be accessed more often than other items.
You can also use storage ideas to make your home look like it has more storage than it actually does! For example, if you live in a studio apartment or smaller house with minimal storage options then you will want storage units that are very narrow but deep. This makes the unit appear larger and store more items without taking up too much space visually.
Stylish storage solutions are not always expensive or difficult to achieve. You just need creativity! If you can think outside the box when considering storage ideas, chances are you will end up with several creative storage projects that work well in your home.
From some of the brightest minds in DIY storage solutions, we have pulled together some truly unique and clever ways that you can create storage areas in almost any room in your home.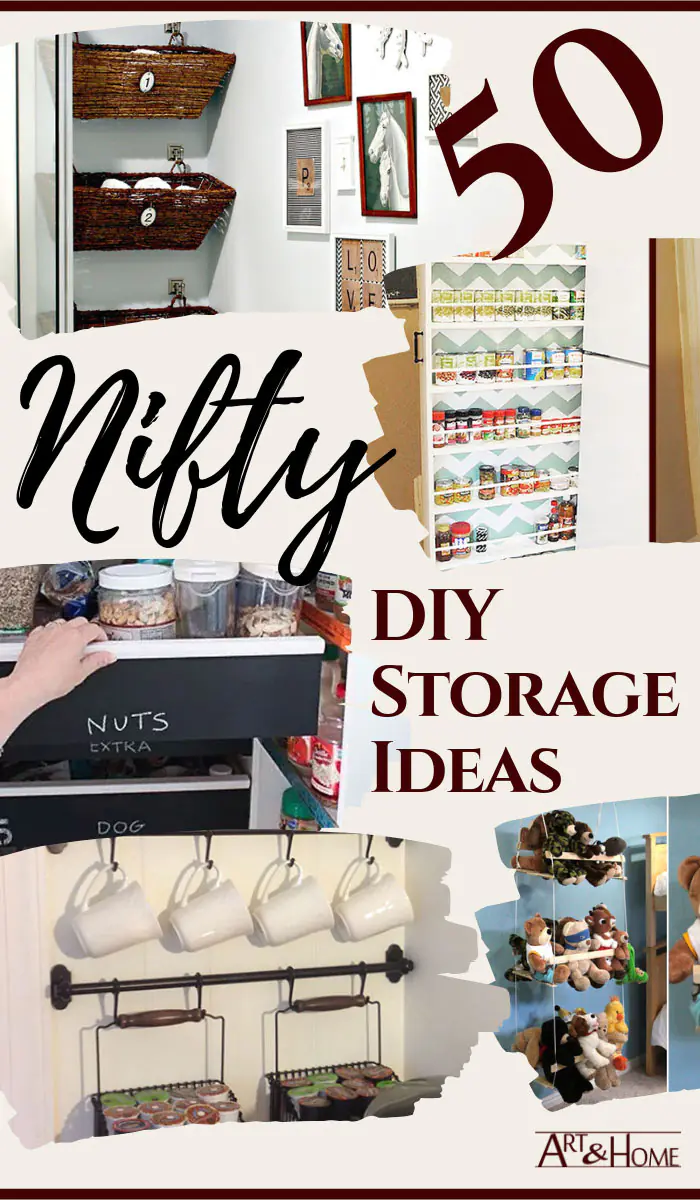 DIY Storage Coffee Table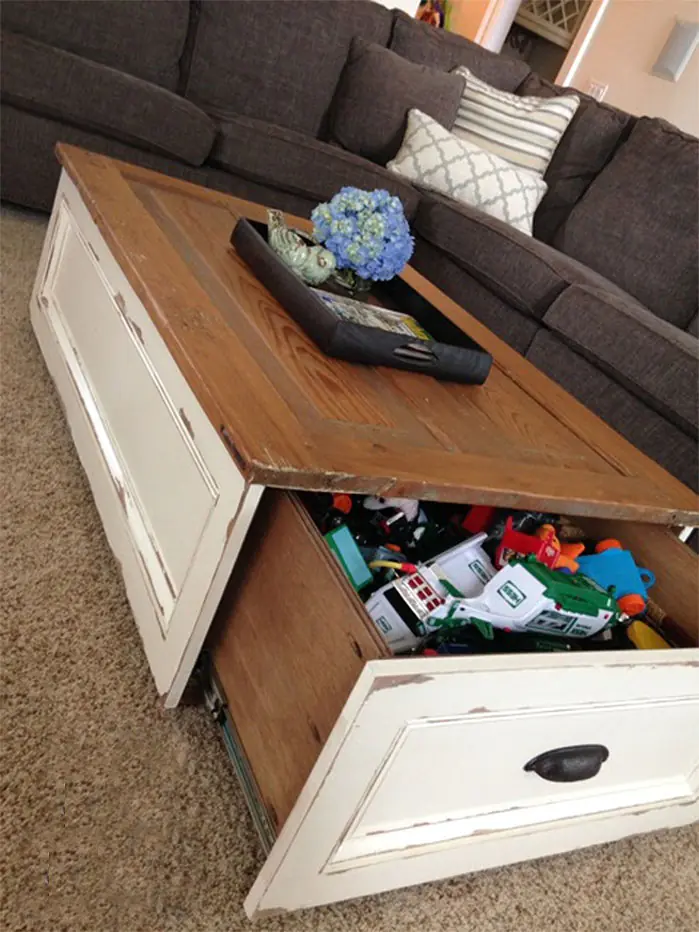 This rustic, distressed coffee table uses an old wood door as the tabletop and some DIY drawer construction to create a hidden storage area, perfect for kids' toys.
---
DIY Shoe Cubby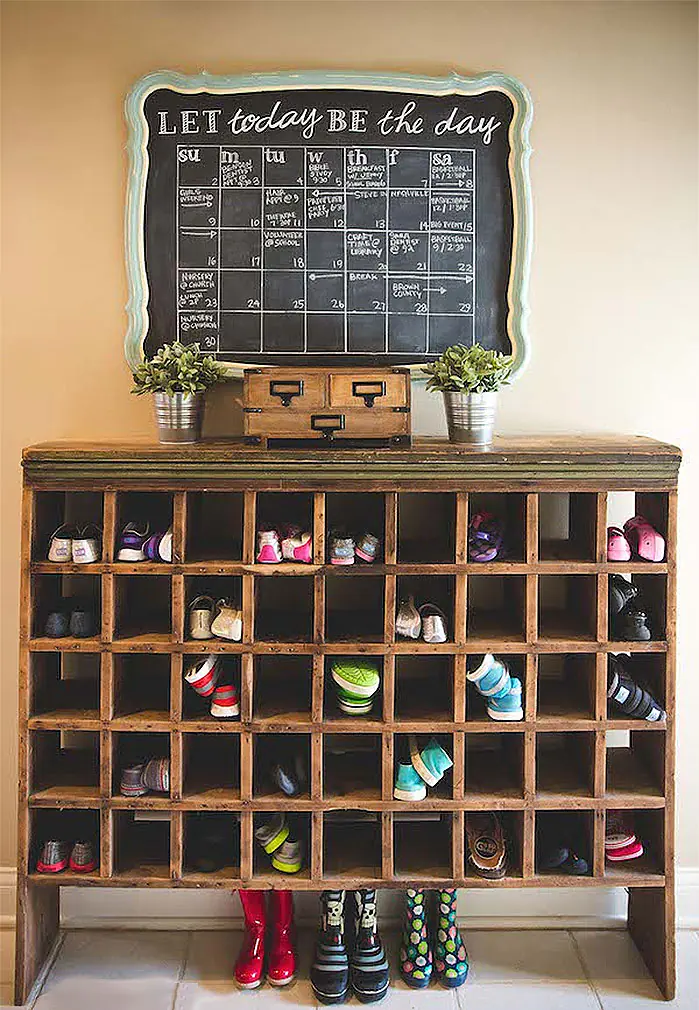 The classic look of an antique mail sorter, the functionality of shoe storage, all take up minimal space in the front hallway.
---
DIY Faux Apothecary Cabinet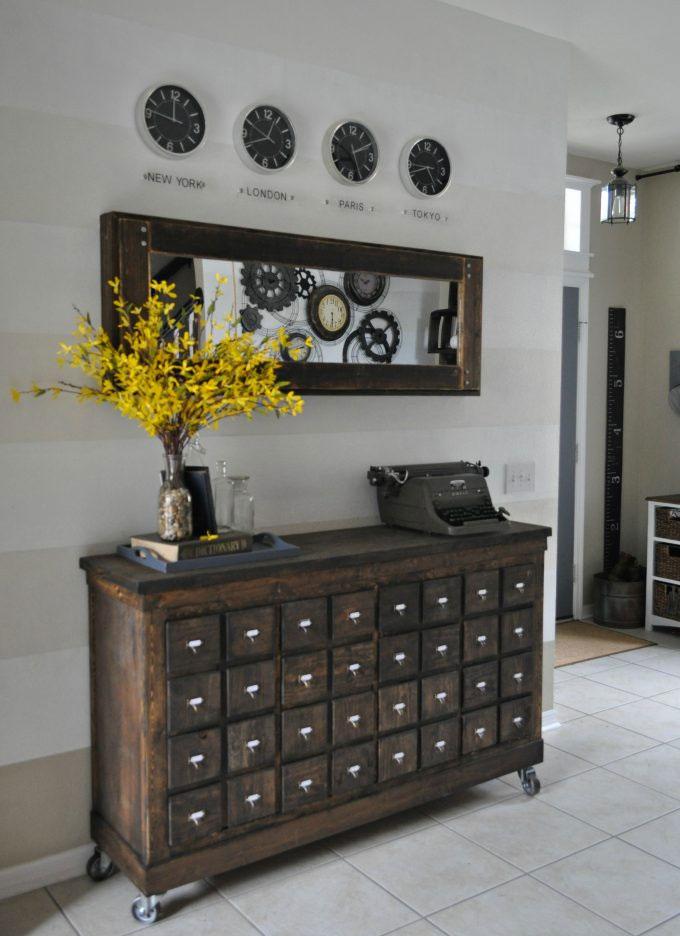 A basic IKEA cubby shelf gets a dramatic makeover with some faux-apothecary-style doors. Tons of storage behind the doors with a stylish look on the outside
---
DIY Coffee Cup Storage Cubes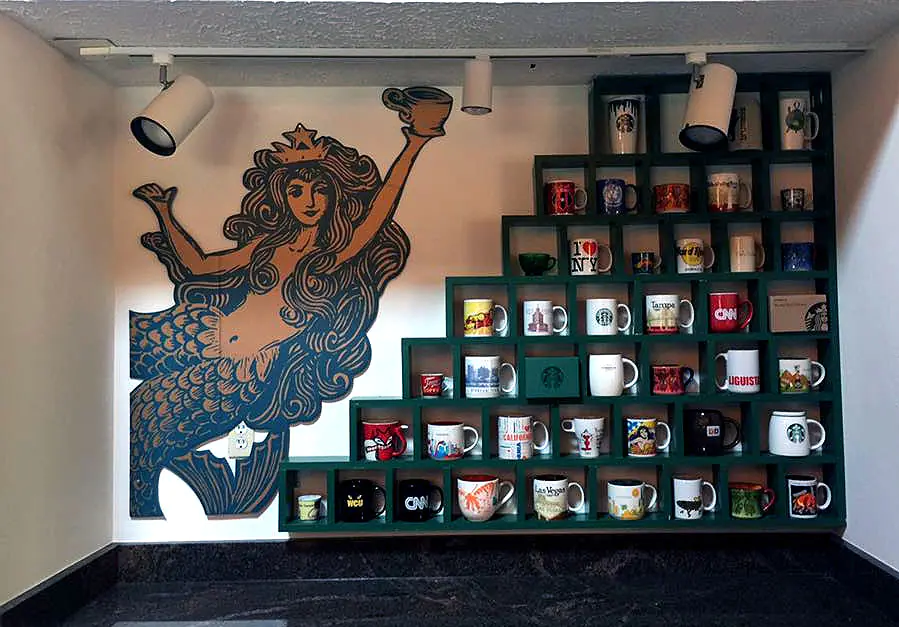 Inspired by the Starbucks Mermaid, this stair-step shelf holds 44 coffee cups in an attractive and space-saving design. The cubby-holes are different sizes to fit smaller and larger coffee mugs appropriately.
I came across this clever idea when I went to the home of artist Kemly Verde to interview her for one of Art & Home's artist profiles.
---
Wine Crates Turned DIY Rolling Storage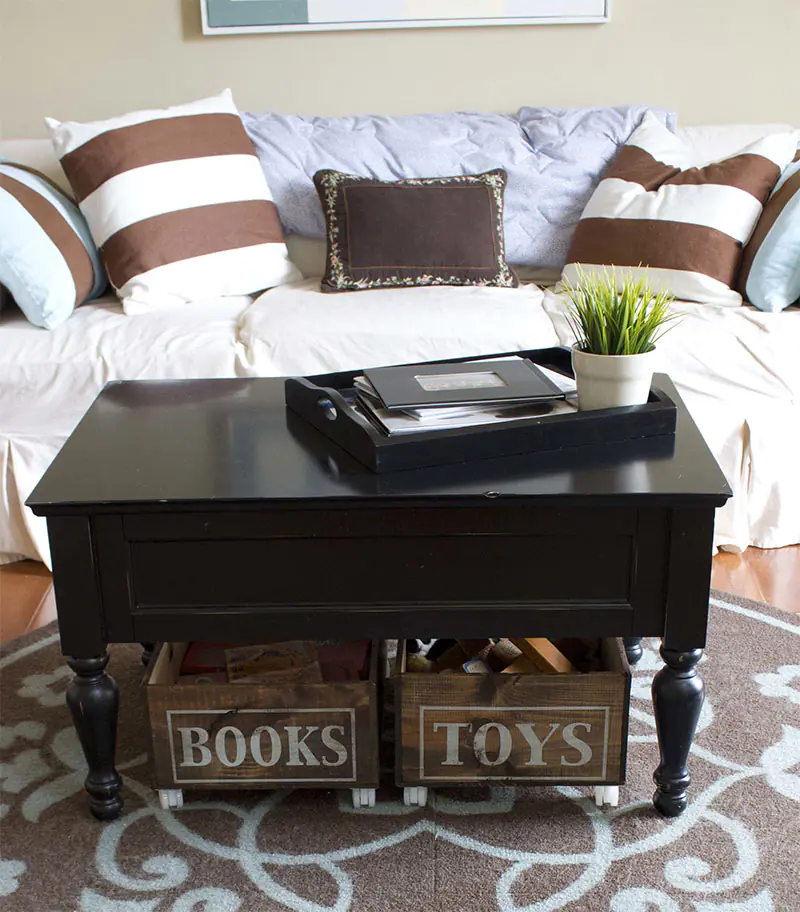 These clever storage bins are upcycled from old wine crates. With a bit of DIY magic, they become quaint and attractive storage for books, toys, chargers, magazines… anything you want.
If I could change anything about this project, I probably would have gone with black wheels to better match the coffee table.
---
DIY Farmhouse Spice & Oil Racks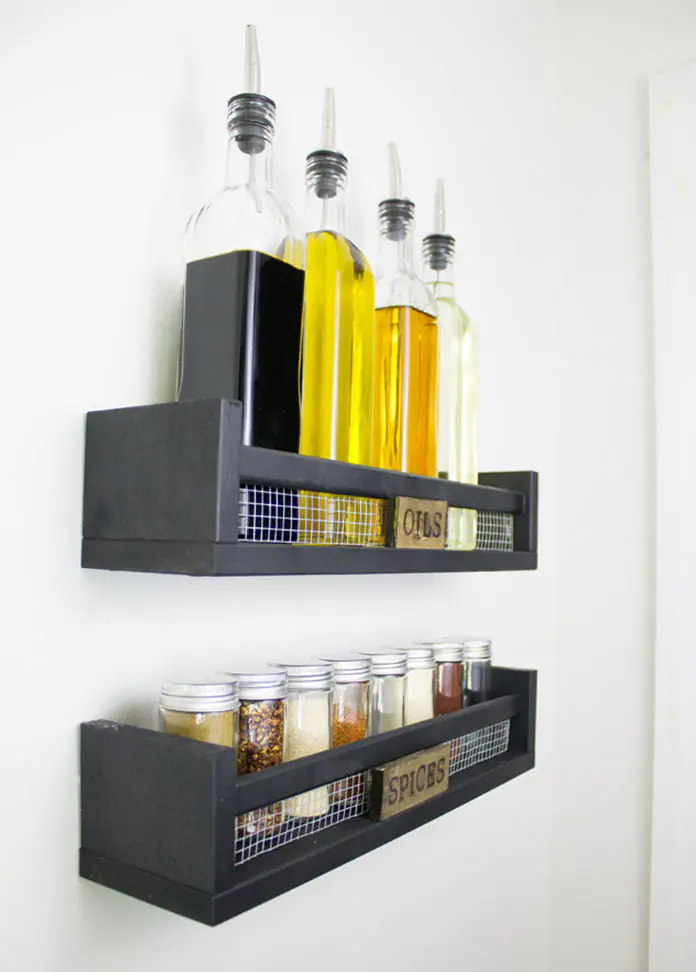 Simple, clean, and exuding Farmhouse charm (although they could just as feel at home in an Industrial Decor setting), these racks take your common spices and cooking oils and keep them readily at hand while freeing up cupboard and counter space.
---
DIY Garage Storage Bin System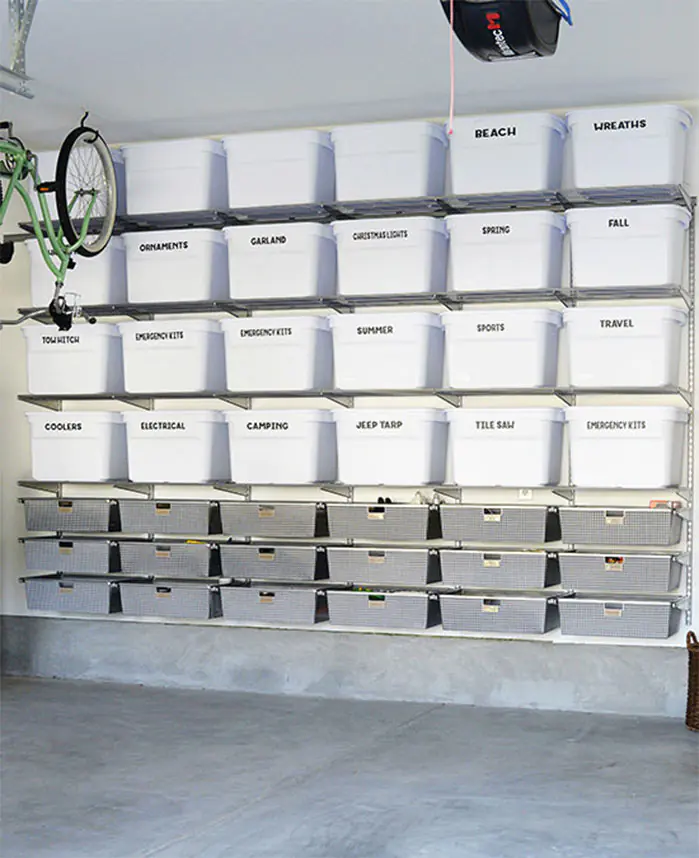 This handy system uses some basic bins in two sizes (and two colors for a bit more of an aesthetic appeal) that will let you organize everything you need in the garage.
---
Colorful Wooden Crate Shoe Shelves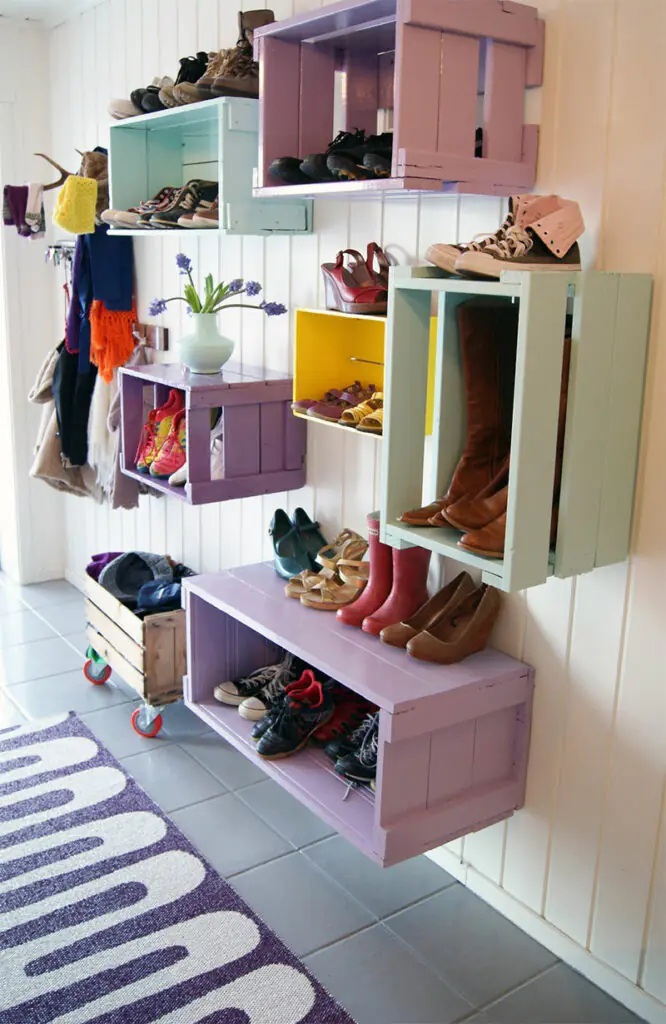 Multi-colored wooden crates in different sizes combine to create a delightful set of shoe shelves that provide additional storage in the mudroom.
---
IKEA Hack Under Stairs Book Shelves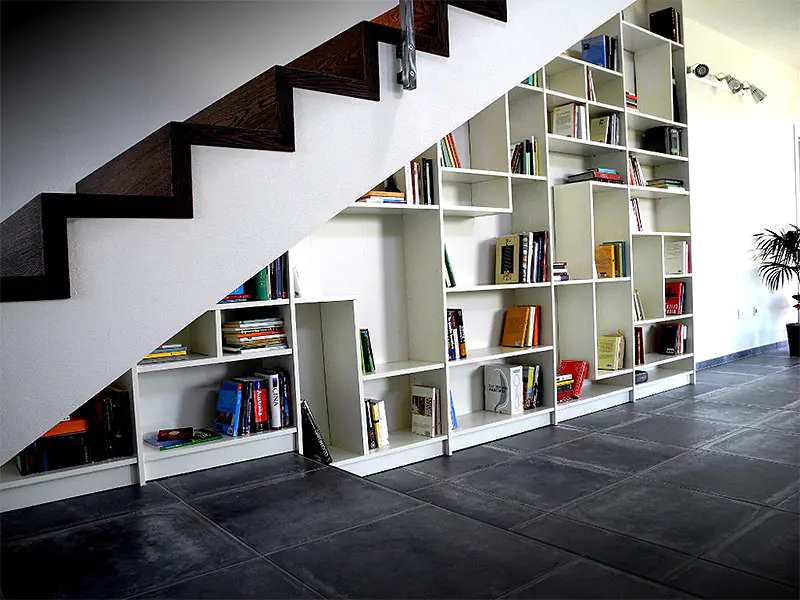 Hacking the simple and affordable Billy Bookcases from Ikea, and turning them into a unique storage solution for under the stairs. So clever!
---
Under-Cabinet Hanging Mason Jar Storage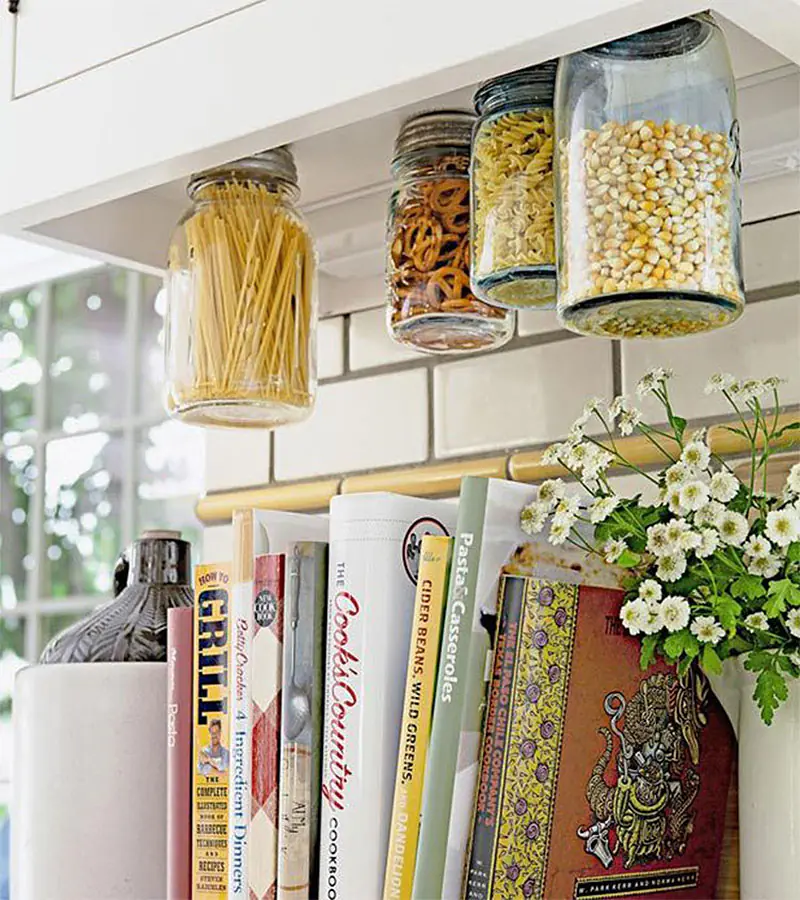 If you need to free up some counter or cabinet space, simply screw the lids for some large mason jars into the underside of the cabinets (make sure your screws are large enough to secure the lid, but not too long that they poke through the other side). Fill the jars and then simply screw them onto the secured lids.
The great thing about mason jars is that you can easily see what's inside when you need it, plus they give a delightful farmhouse feel to a kitchen.
---
DIY Vertical Kitchen Cabinet Organizers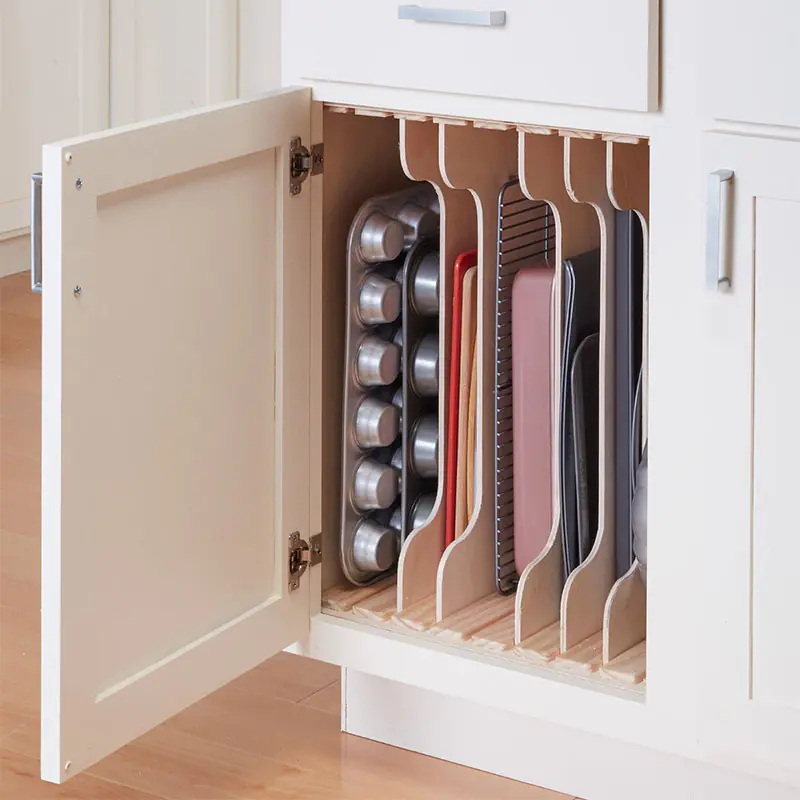 Tired of digging through the cupboard to find that baking sheet at the bottom of the pile? This clever and easy DIY vertical cabinet organizer helps you clean up that mess and make things easier to find.
---
Old Dresser Drawers Upcyled as DIY Under Bed Storage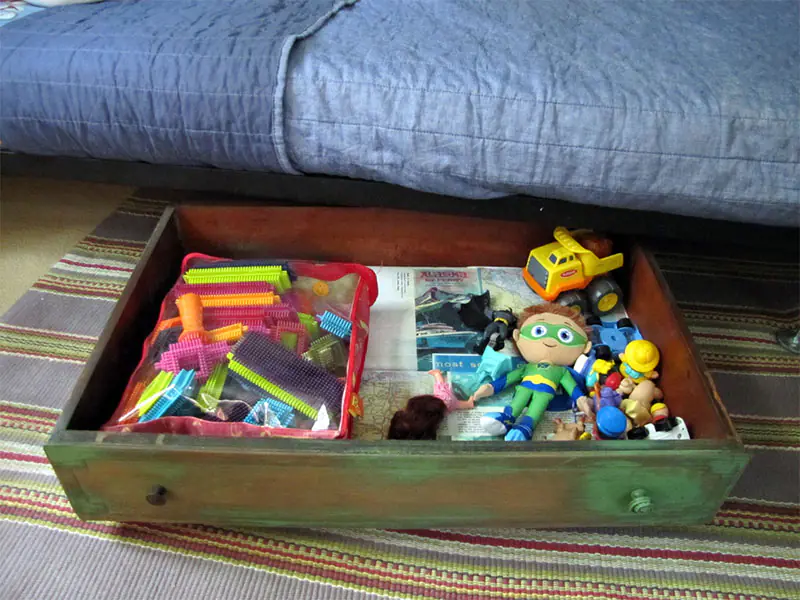 If you've got an old dresser, but don't have a place to put it… you can keep the storage benefit by turning the dresser drawers into rolling under-the-bed storage bins. A bit of creativity and some wheels and you have a clever DIY storage idea!
---
DIY Coffee Mug Rack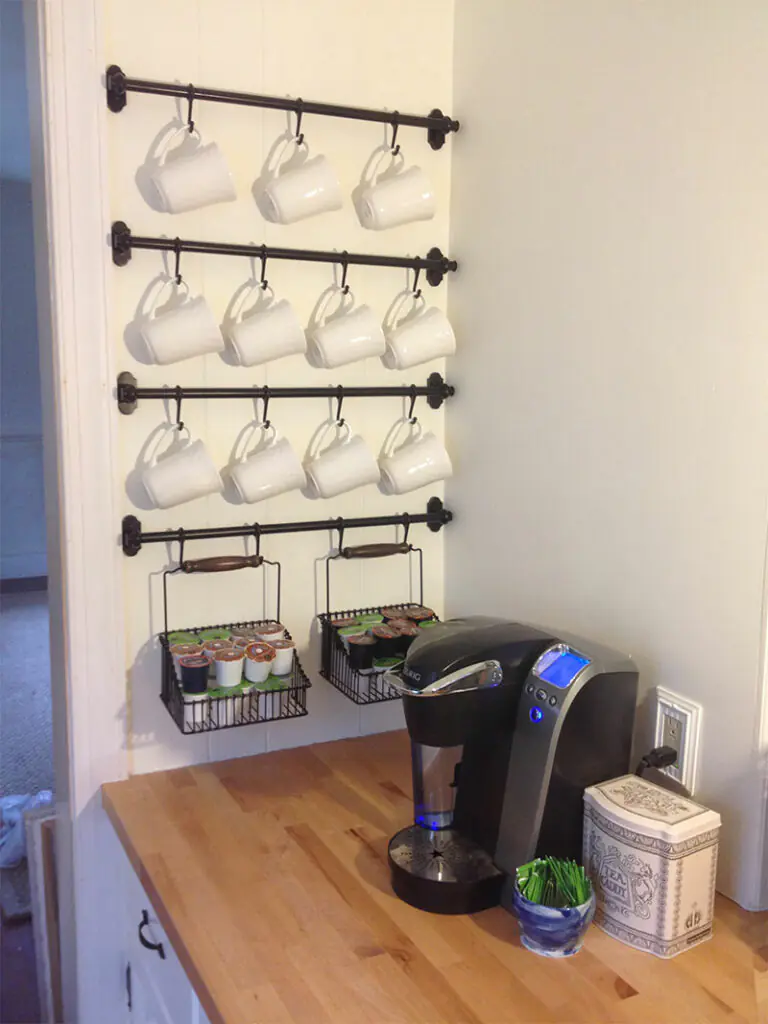 Crafted using some IKEA hooks and rails, this clever coffee station gets all of those mugs off the shelf and into a little corner of the coffee nook.
---
DIY Cordless Tool Caddy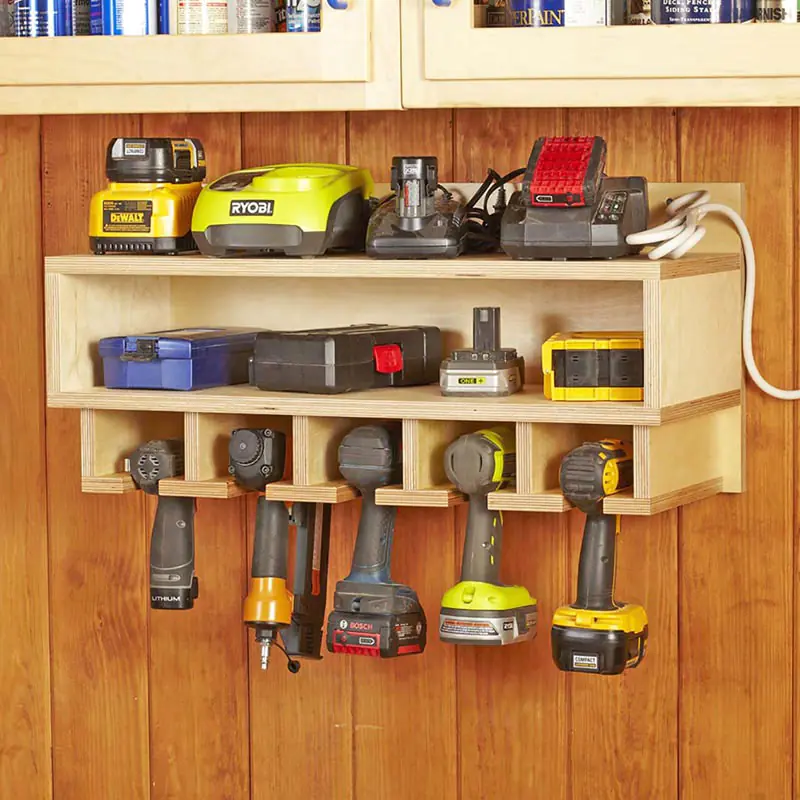 Keep all of your cordless tools organized and easy to reach with this clever wall-mounted tool caddy.
---
Paint Can Sandal Holders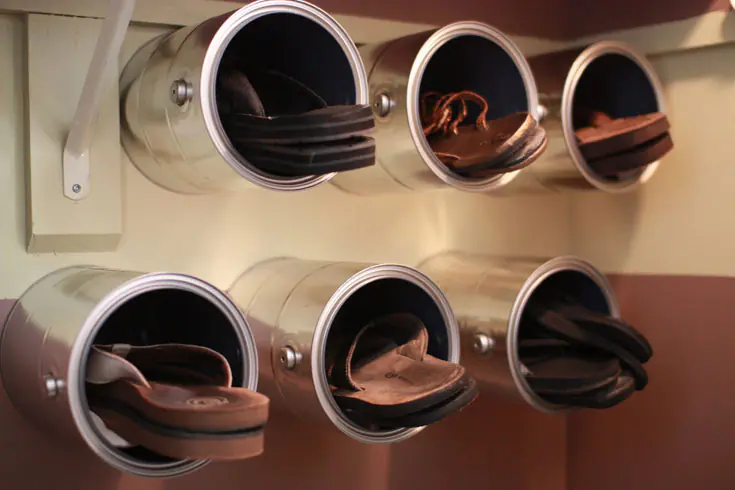 Empty paint cans can quickly and easily be upcycled into Industrial inspired sandal and slipper holders that attach to the back or sides of any closet.
---
Secret Compartment DIY Wall Shelf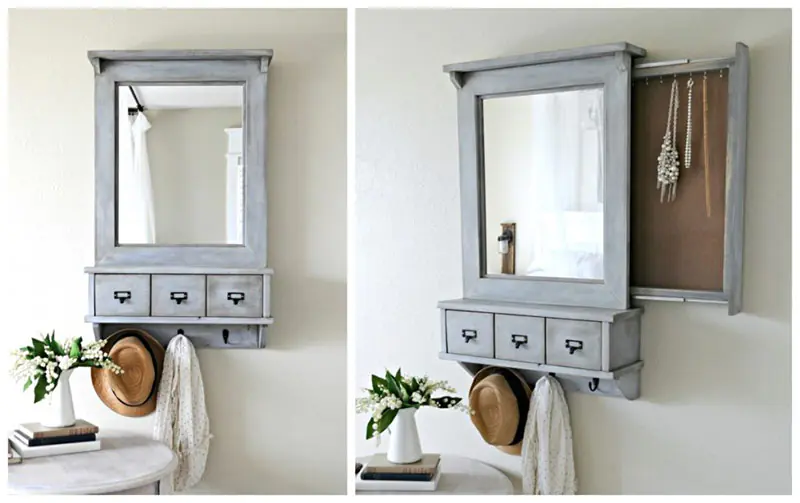 I love it when one piece can serve two purposes. This decorative wall shelf with a mirror serves as a nice focal point in the entryway, and a place to store keys, hats, scarves, and more. Add to that a "secret" jewelry or keys slide-out and you have two storage units for the price (or work) of one!
---
DIY Farmhouse Produce Rack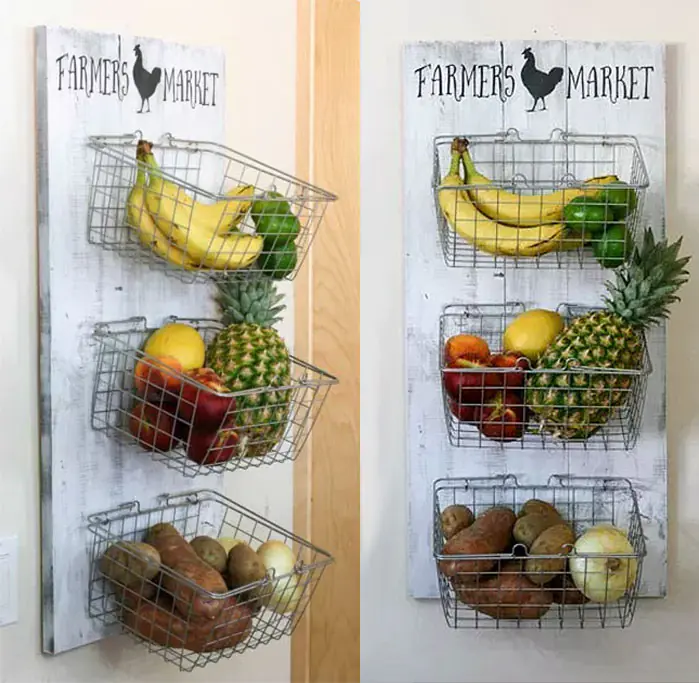 A clever and charming way to get fruits and vegetables off the counter and out of the way!
---
Easy DIY Wood Crate Bathroom Shelves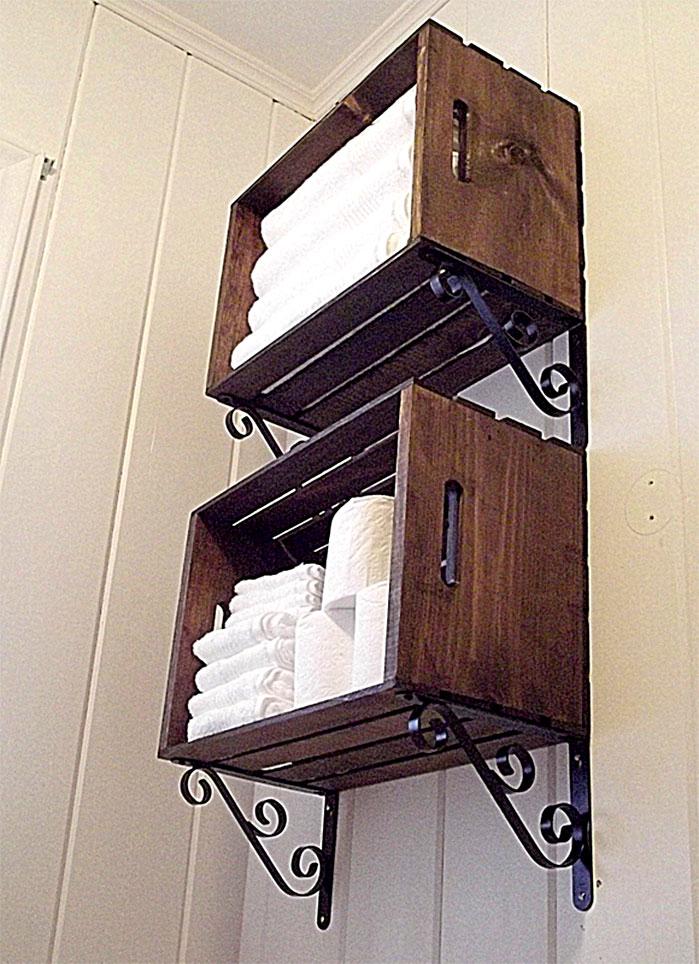 Quick and easy project to make some rustic bathroom shelves that add a bit of over-the-toilet storage for hand towels, toilet paper, and more.
---
 
DIY Playroom Toy Storage Bench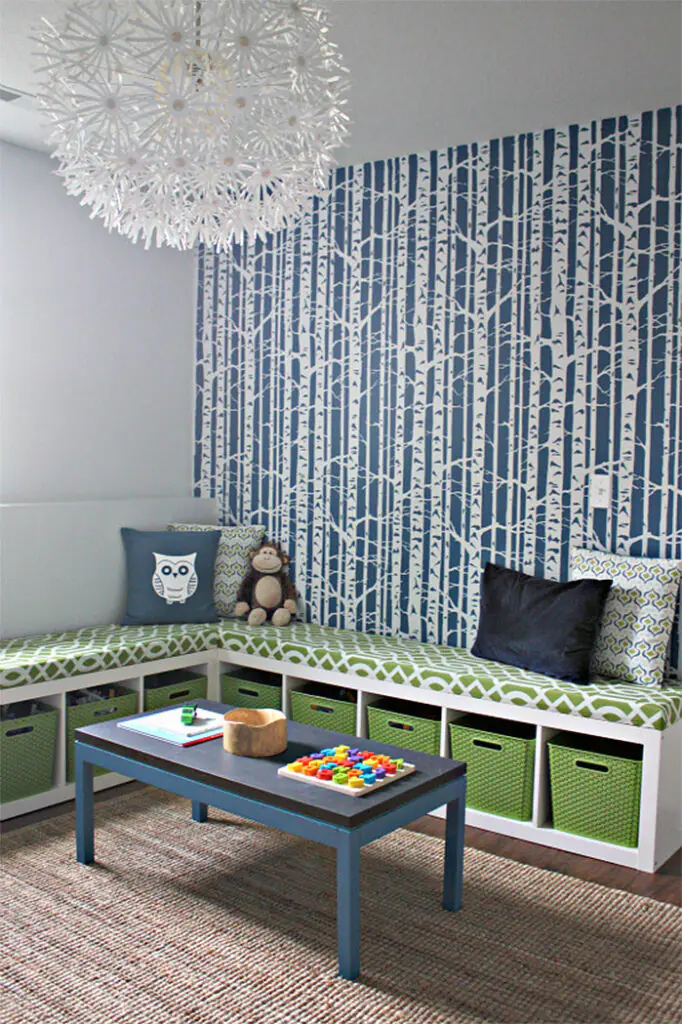 Storage for a WHOLE LOT of toys, plus extra seating. This is a 2-for-1 storage powerhouse!
---
DIY Craft Supplies Organizer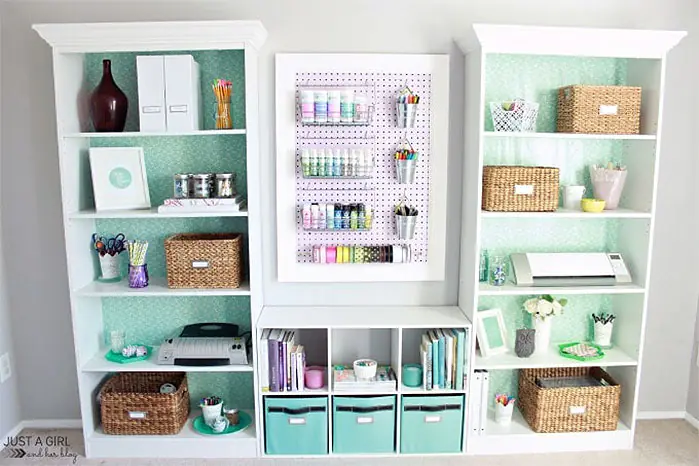 All of your crafting supplies are neatly organized in one place with this IKEA hack bookcase, cubby, and peg-board combination.
This would also work just as well for office supplies, sewing supplies, and much, much more.
---
DIY Mason Jar Organizer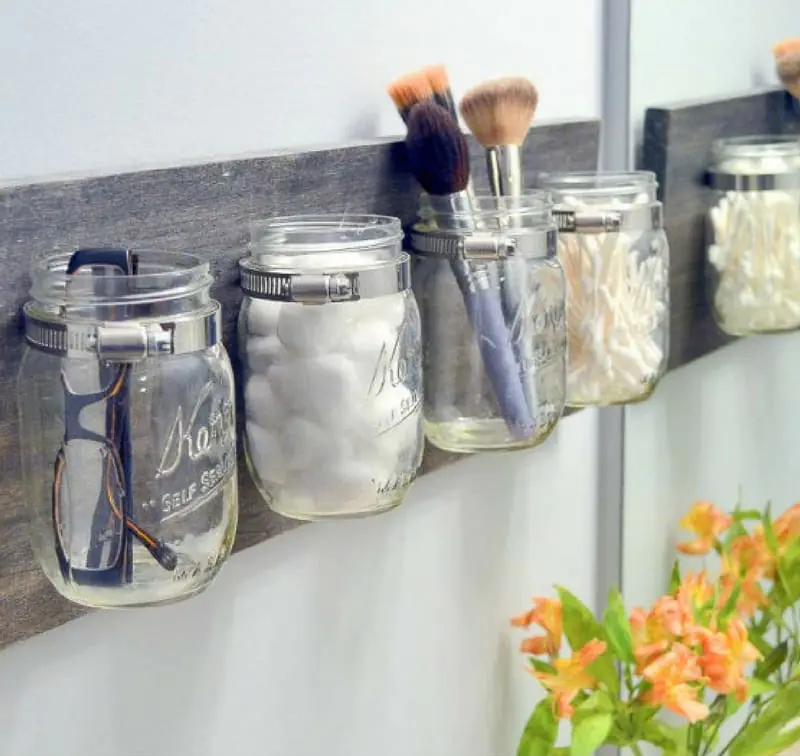 Perfect for the bathroom or the kitchen, this rustic mason jar organizer helps you get stuff off the counter or out of drawers, but still provides a rustic appeal that would be pleasing to the eye.
---
DIY Hanging Stuffed Animal Storage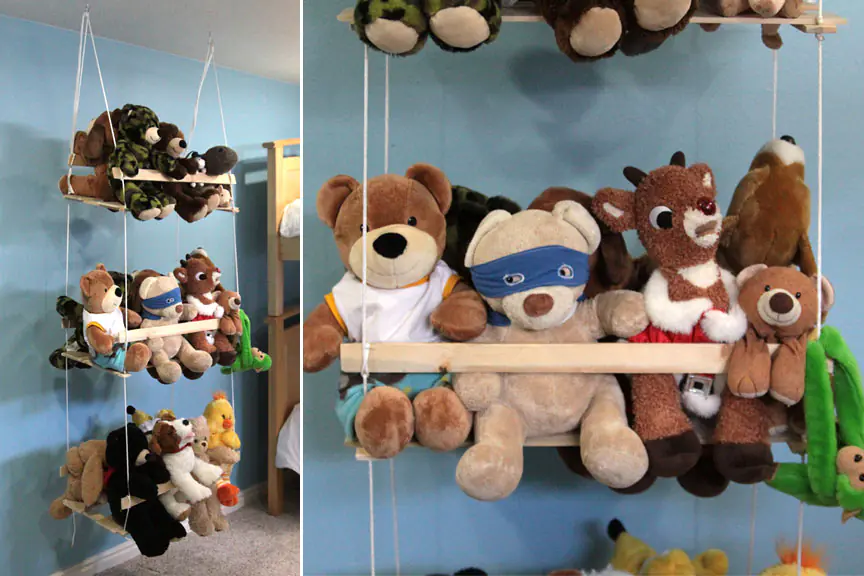 Source: It's Always Autumn
This cute and easy-to-make stuffed animal swing lets you fit a bunch of stuffed animals in one clever and attractive storage space. Although this storage solution would not be appropriate for younger children who might be tempted to climb on the swings themselves, if you're kids are old enough to not play with the swing, but young enough that they want to keep their stuffed friends around, this idea could work perfectly for you.
Alternatively, you can create several 1 or 2-tier shelves that would be out of reach of young toddlers but still provide significant hanging storage.
---
Skateboard Shoe Shelves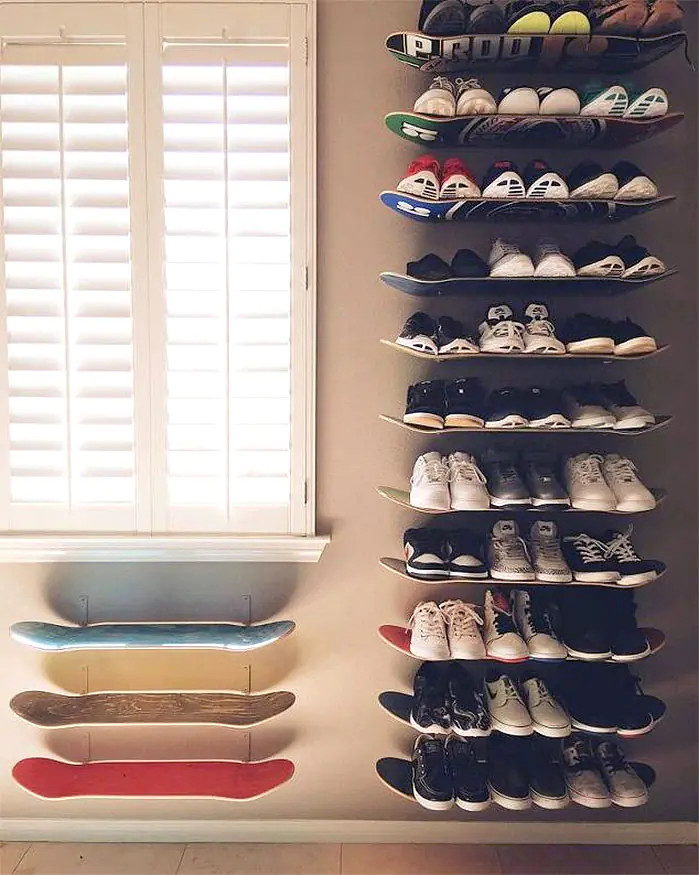 He's just a Skater Boy, I said see ya later shoes laying all over the floor!
---
Art Covered Storage Cupboard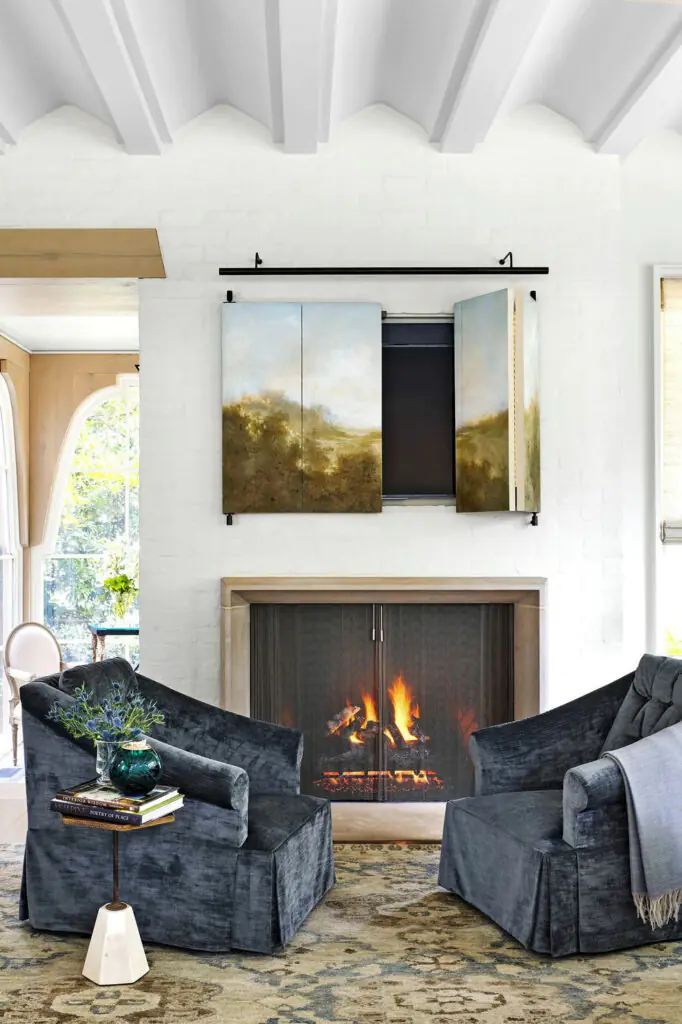 Cupboard doors can often be an unsightly part of a wall, especially in a highly used area of the home.
Replacing unsightly doors with a 4 piece canvas art set that has been hinged together can provide both art and storage in one space.
---
DIY End-of-Counter Spice Rack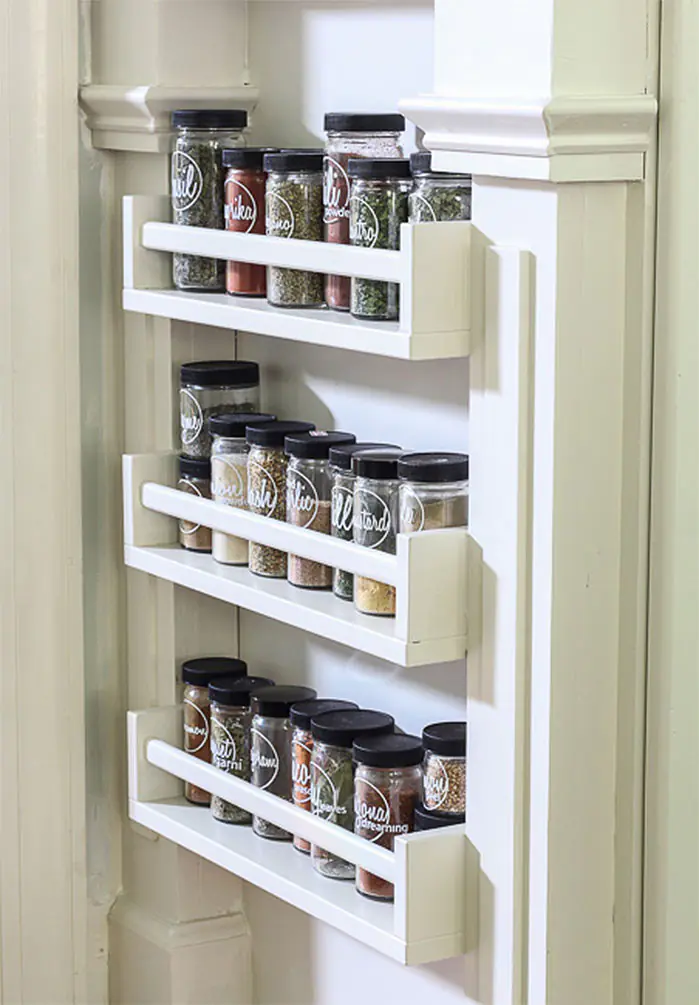 Take that unused space at the end of a counter and turn it into a handy, and decorative, spice storage area.
---
Full Length Bathroom Mirror Cabinet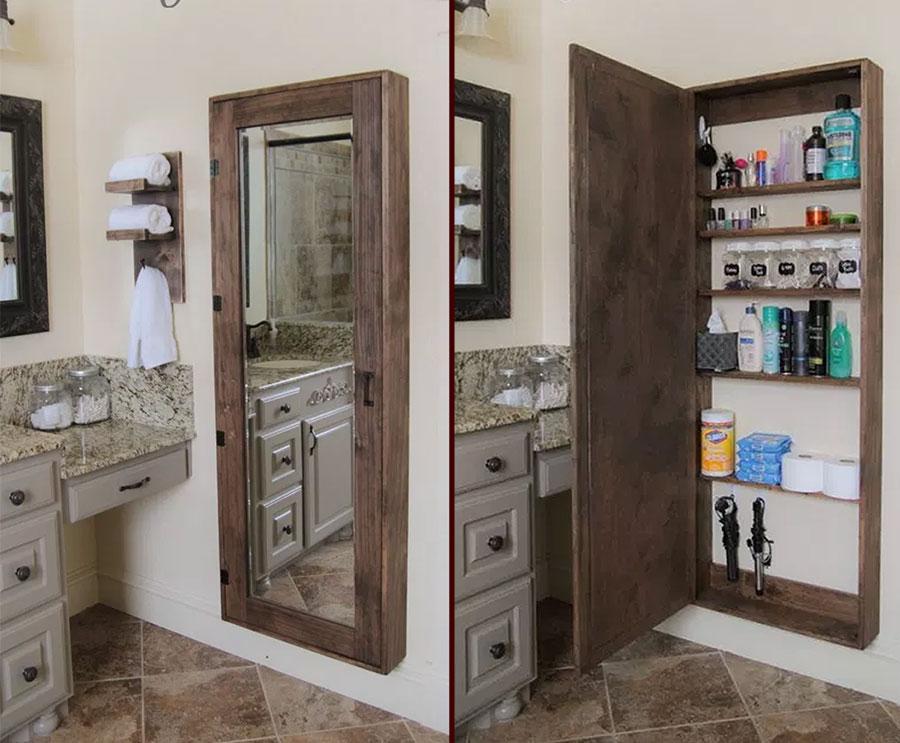 Supersize your bathroom medicine cabinet with this full-length mirror version that provides ample additional storage for all of your toiletries while taking up minimal floor space.
---
Wooden Crate Floating Mudroom Cubbies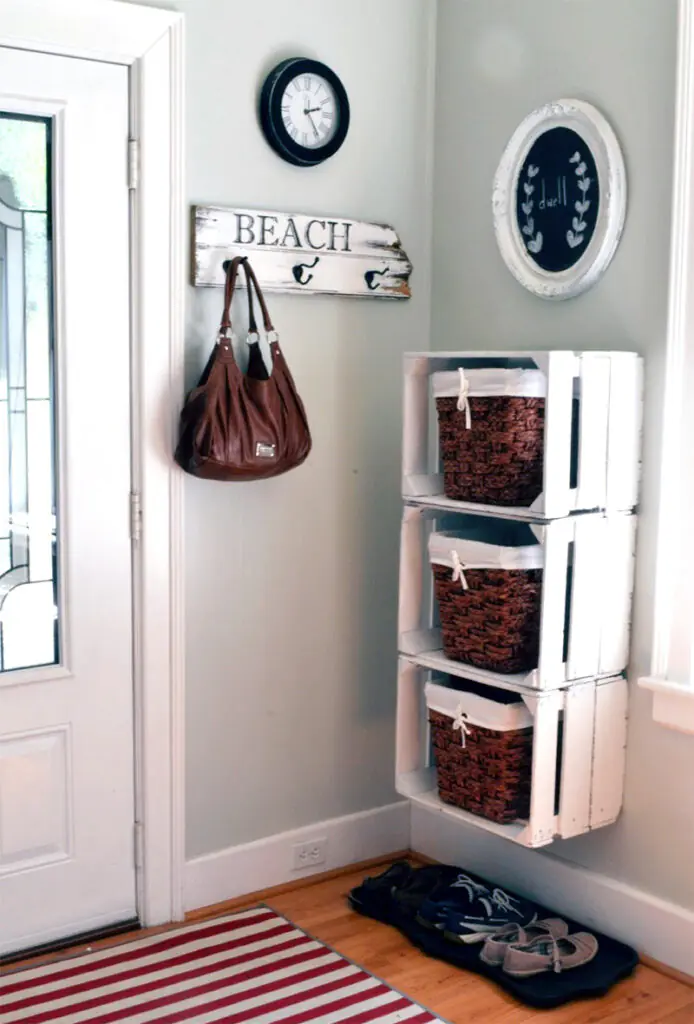 Floating cubbies are a great way to add storage space without taking up floor space. These rustic cubbies are made from painted wooden crates, with some woven baskets that slide in perfectly to help hide the clutter contained within.
---
Hot Wheels DIY Parking Garage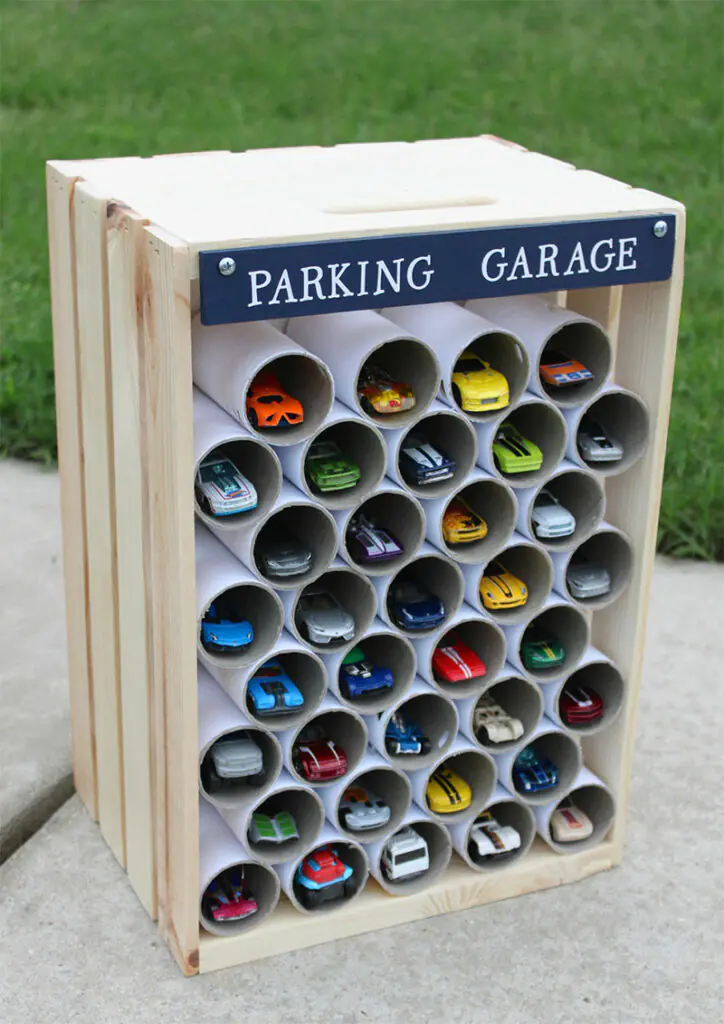 If you're tired of stepping on these micro-machines, this fun DIY parking garage is easy to make using an old wooden crate and some sturdy mailing tubes or PVC tubing.
---
Shoe Picture Boxes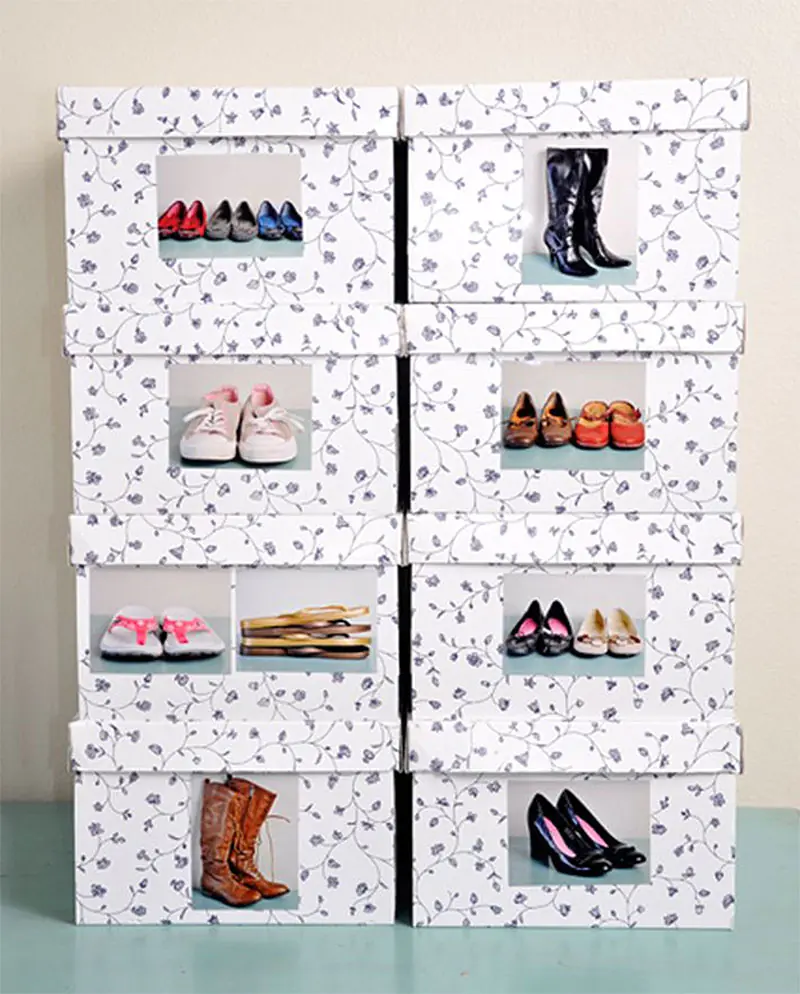 Take a picture of the shoes that you are keeping inside each storage box so that you can quickly and easily access the shoes (or boots) that you want without having to dig through and open each box.
A clever hack to make shoe storage easier!
---
DIY Broom Closet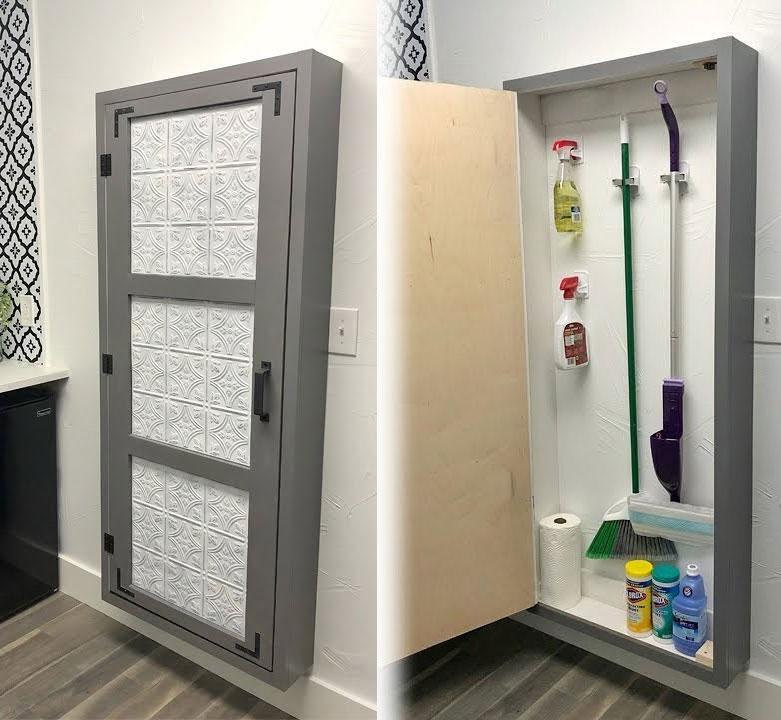 This slim-line storage cabinet is perfect for storing your broom, mop, paper towel, and other cleaning supplies.
---
DIY Chalkboard Pantry Drawers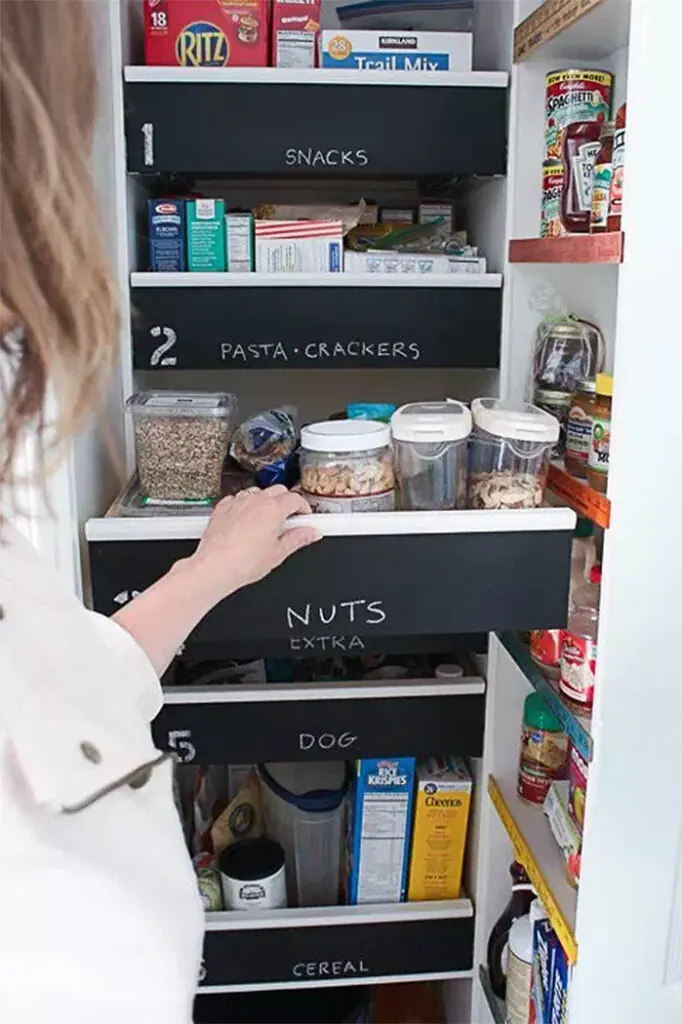 Keep things organized in your pantry with these clever DIY Chalkboard pantry drawers that let you store your goods and CLEARLY label what is in each drawer.
---
Window Box Bathroom Storage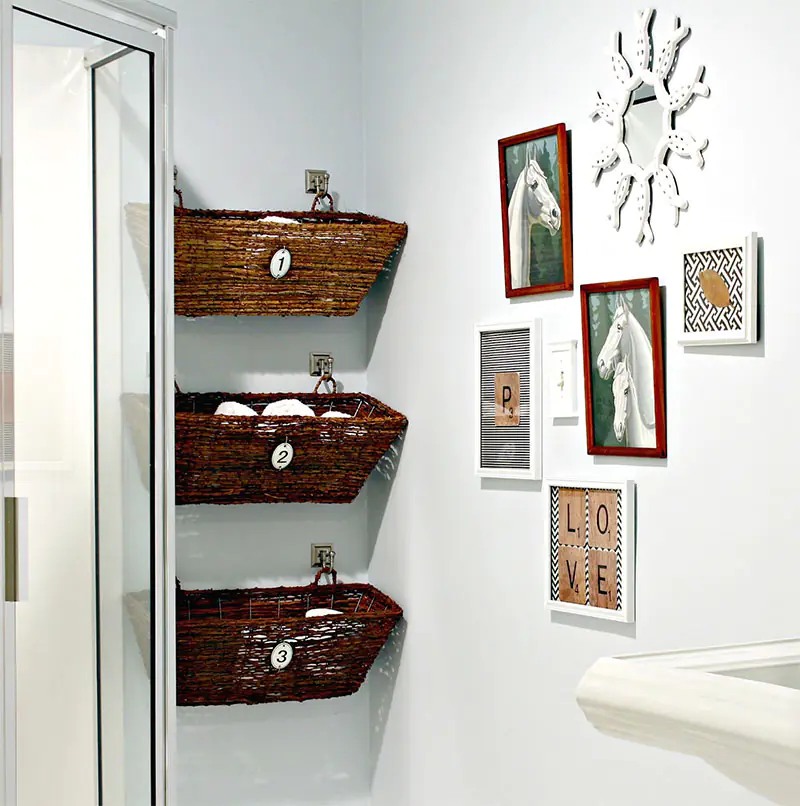 Some window planter boxes (you can usually pick these up on sale at the end of the gardening season) are cleverly converted to rustic bathroom storage bins to hold hand towels, toilet paper, and more!
---
DIY Wooden Crate Shoe Rack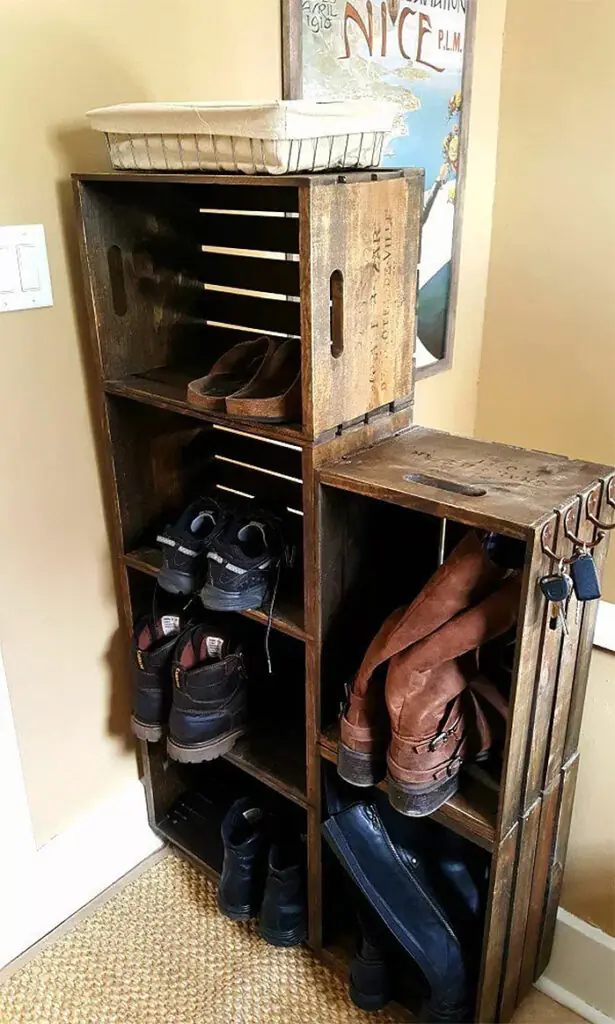 Oozing with farmhouse charm, this DIY shoe rack is crafted from old wooden crates. Notice the added detail of the key hooks on the side! So clever!
---
DIY Wine Bottle and Wine Glass Holder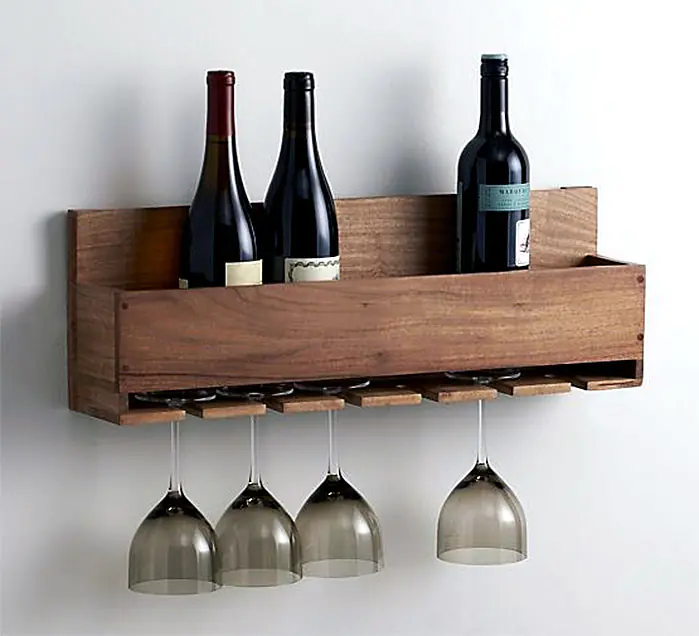 An easy-to-build DIY wine rack that includes room for up to 5 bottles of wine and 6 wine glasses.
---
DIY Storage Ottoman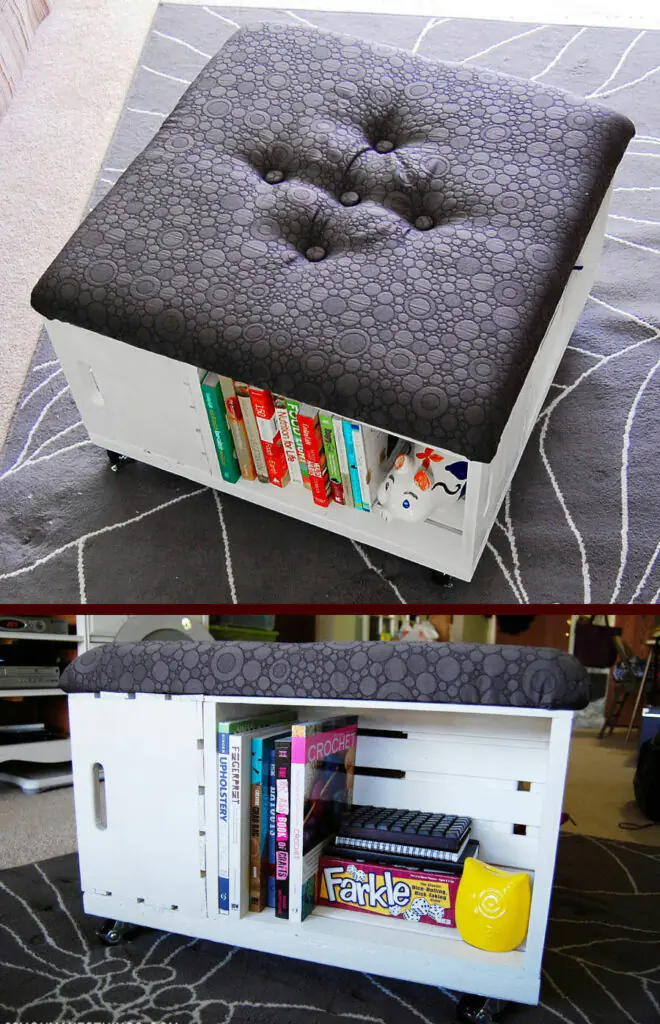 Storage Ottoman's are a great way to add comfort AND storage into a room in one single piece of furniture. Practical, and fun to make, this DIY storage ottoman would make a great addition to any active family room.
---
Cabinet End Panel Storage Center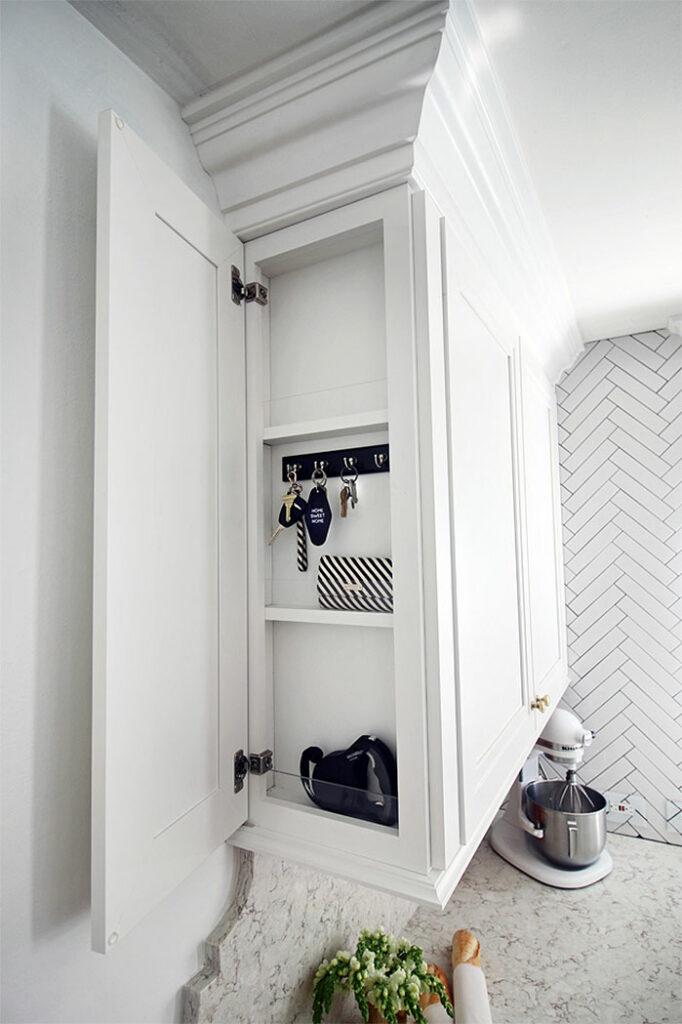 The otherwise useless side of an end cabinet is extended by a few inches turned into a secret storage area perfect for tucking away small items such as keys, mail, and more.
When closed, it simply looks like an end panel, so nobody would even know it was there!
---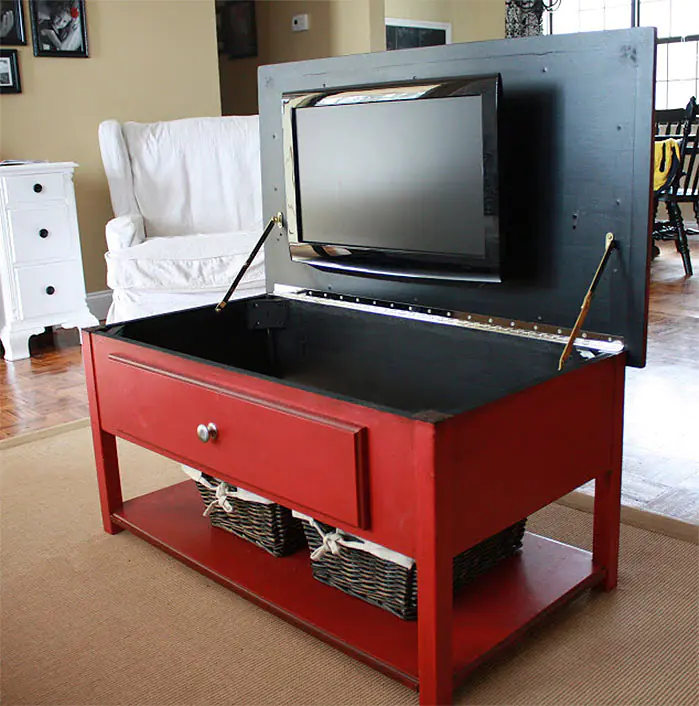 You can tuck the TV away until you need it by mounting it onto the "lid" of this upcycled storage coffee table.
---
DIY Chevron Storage Cabinet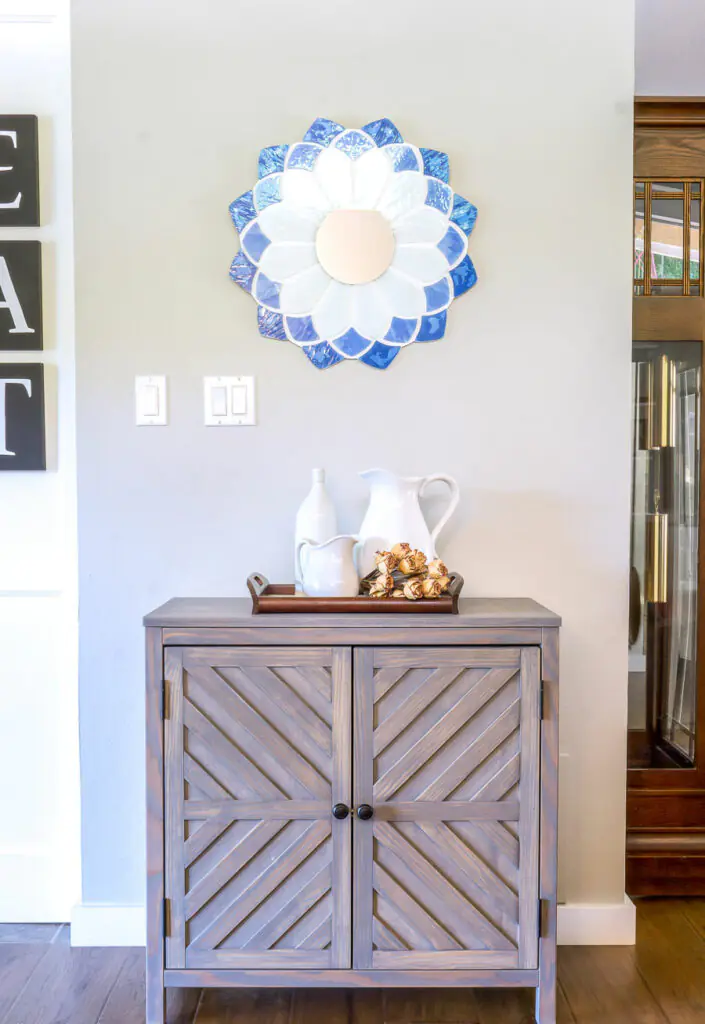 Who said storage has to be utilitarian and it can't be pretty? Not the designer of this DIY Chevron Storage Cabinet!
---
DIY Basket Ladder Storage
An old ladder that was gathering dust in the garden shed is transformed into a handy bathroom storage ladder.
---
Dry Goods Storage Shelf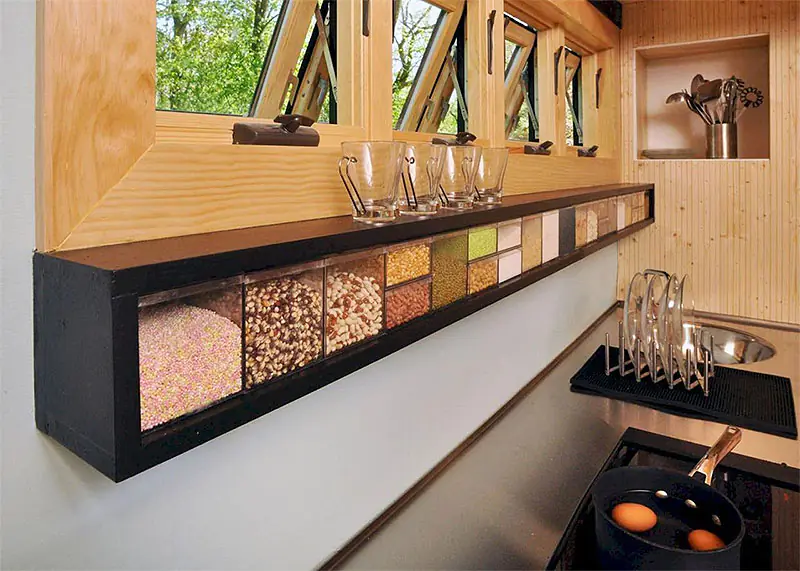 A simple box shelf with some acrylic boxes and you have a clever way to store and display your dry goods. The colorful array of dried spices, rice, grains, and more add an aesthetic appeal to this homey kitchen.
---
DIY Canned Food Pull-Out Organizer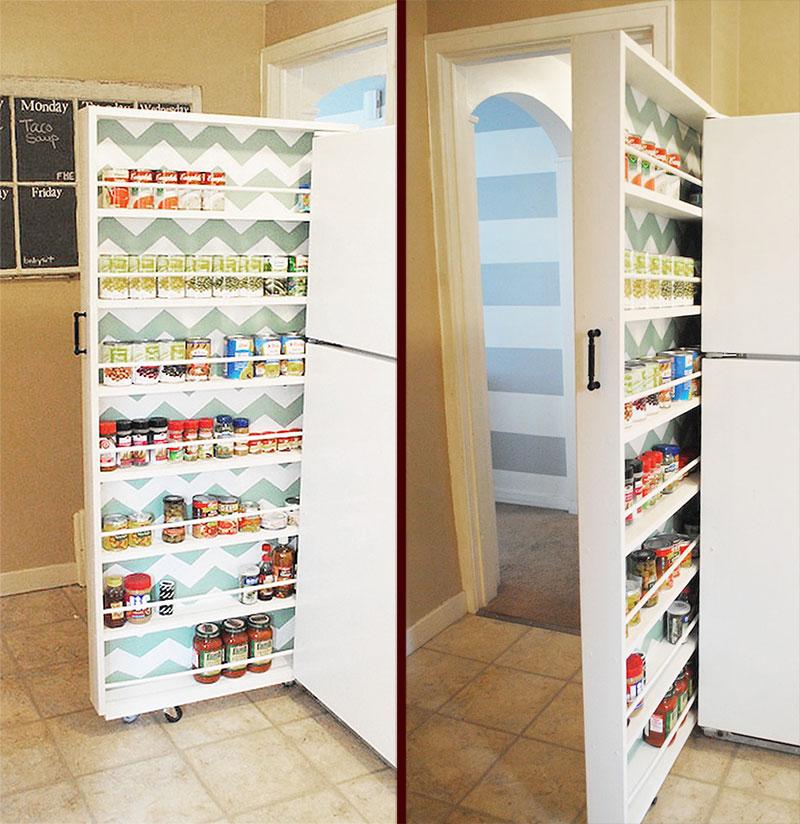 Designed to fit nicely between the fridge and the wall, this pull-out organizer helps you store a LOT of canned goods in a LITTLE bit of space.
---
Family-Sized Electronic Charging Station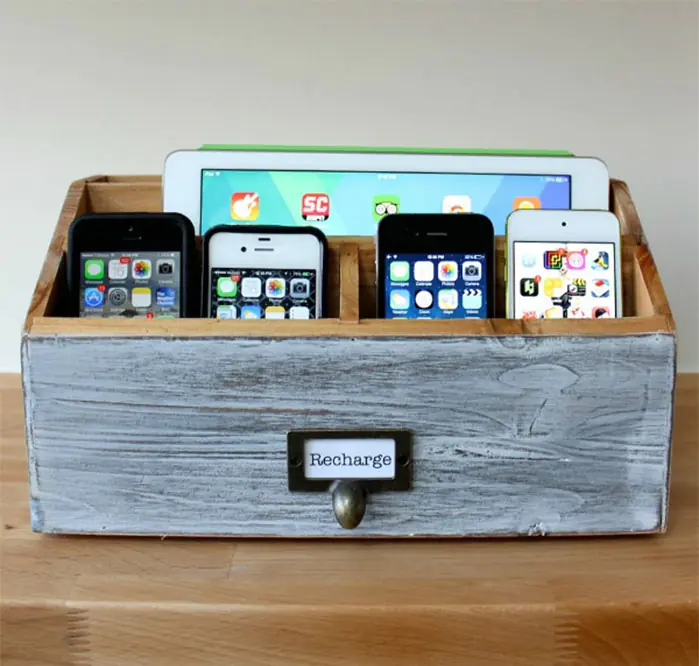 No more fighting over the charger OR having electronics strewn all over the counter or coffee table! This clever and farmhouse-chic box can hold multiple devices while letting you charge up to 4 at a time!
---
Hanging Spice Rack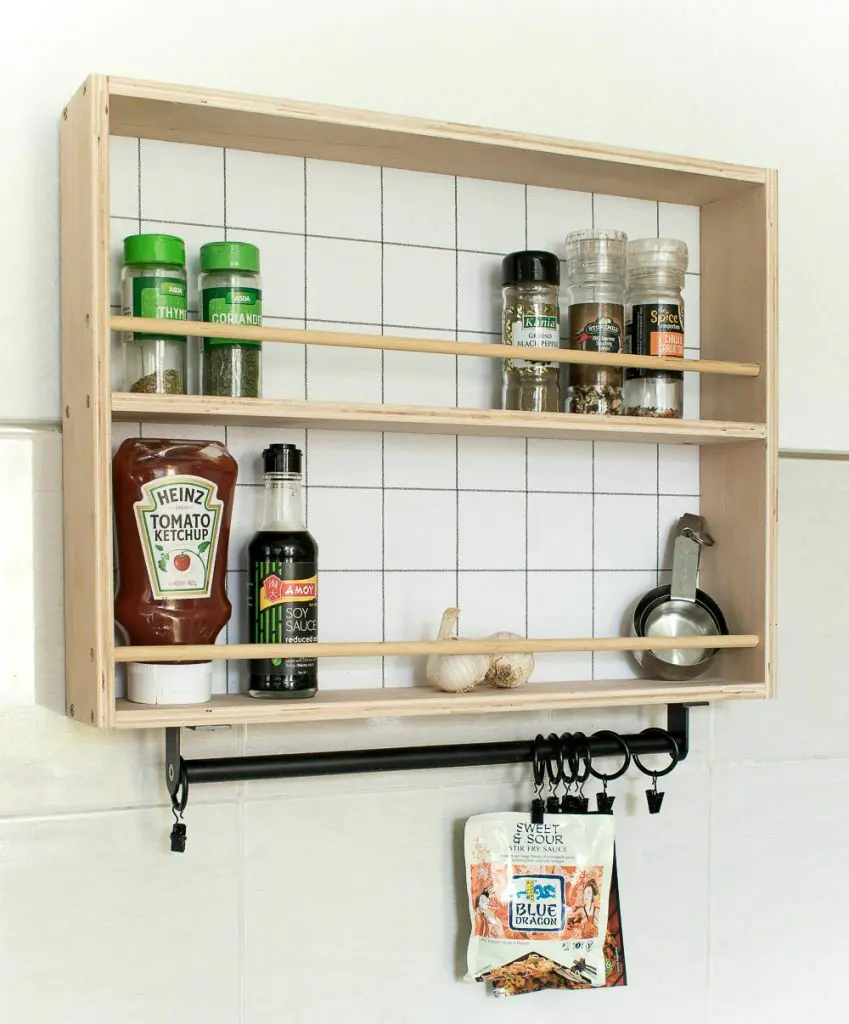 What I like about this particular spice rack is the addition of the bar with the curtain clips along the bottom to hang spice and seasoning packets. So clever!
---
PVC Tube Shoe Cubbies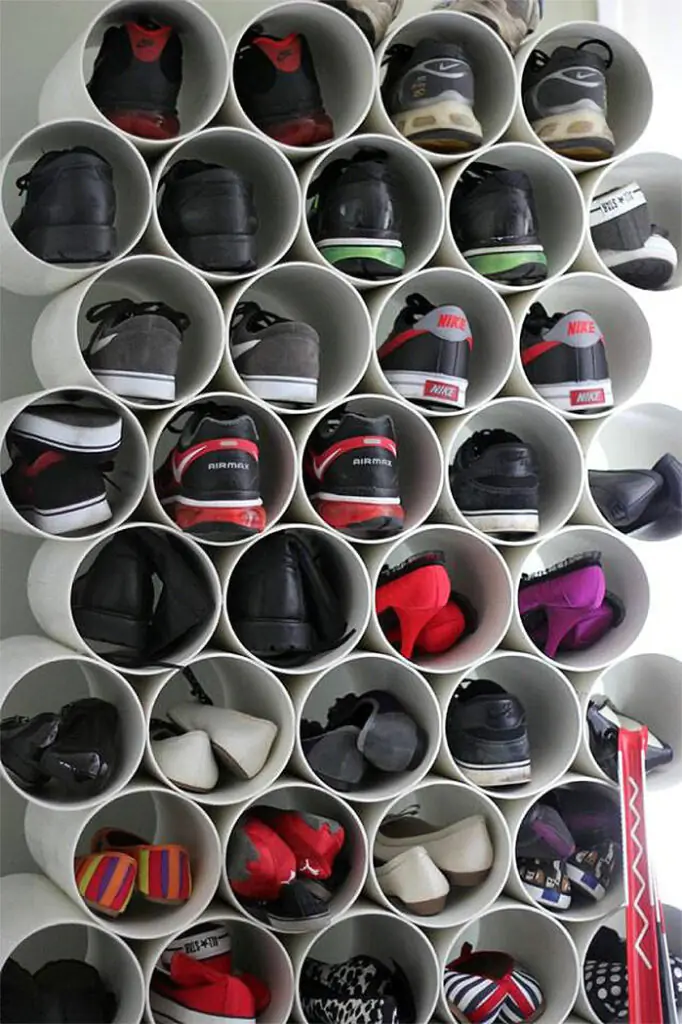 A clever way to keep shoes from becoming a huge pile at the bottom of the closet or at the front door, these easy-to-make PVC Tube Shoe Cubbies are perfectly adaptable so you can have as many or as few as you need.
Smaller shoes can bit two-per-cubby, but larger or heavier shoes may require a cubby for each foot.
---
DIY Industrial Farmhouse Storage Coffee Table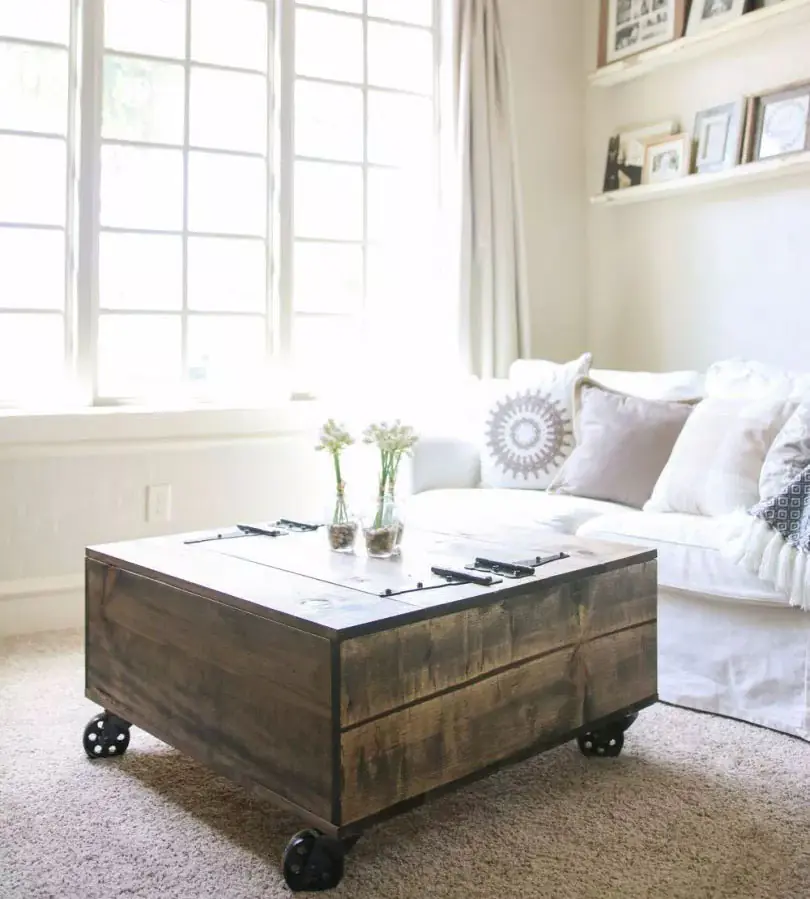 Storage coffee tables are the perfect way to combine design with functionality. This DIY storage coffee table provides an Industrial Rustic look that would perfectly match the farmhouse decor aesthetic.
---
DIY IKEA Hack Garage Workbench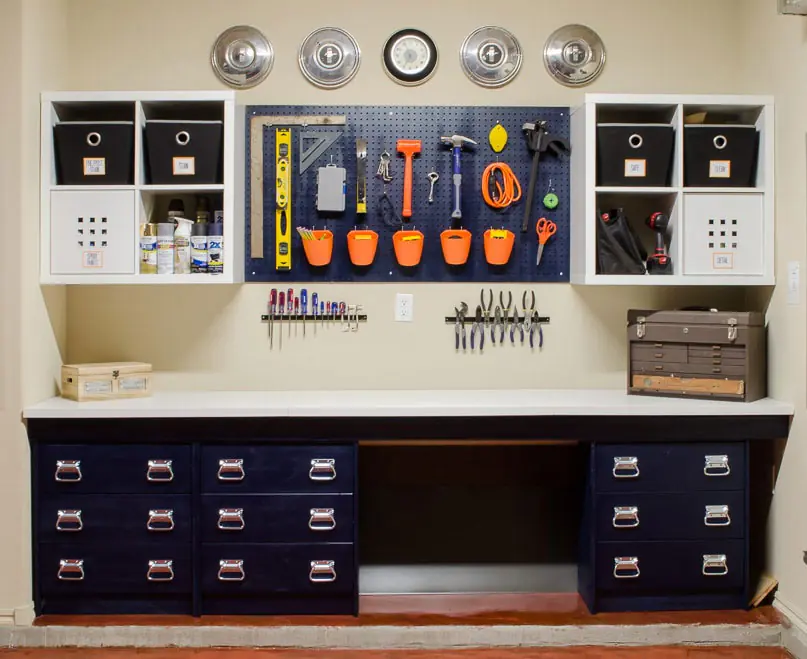 Hacked IKEA pieces are turned into that awesome custom garage workbench.
---
Rustic License Plate Storage Cubby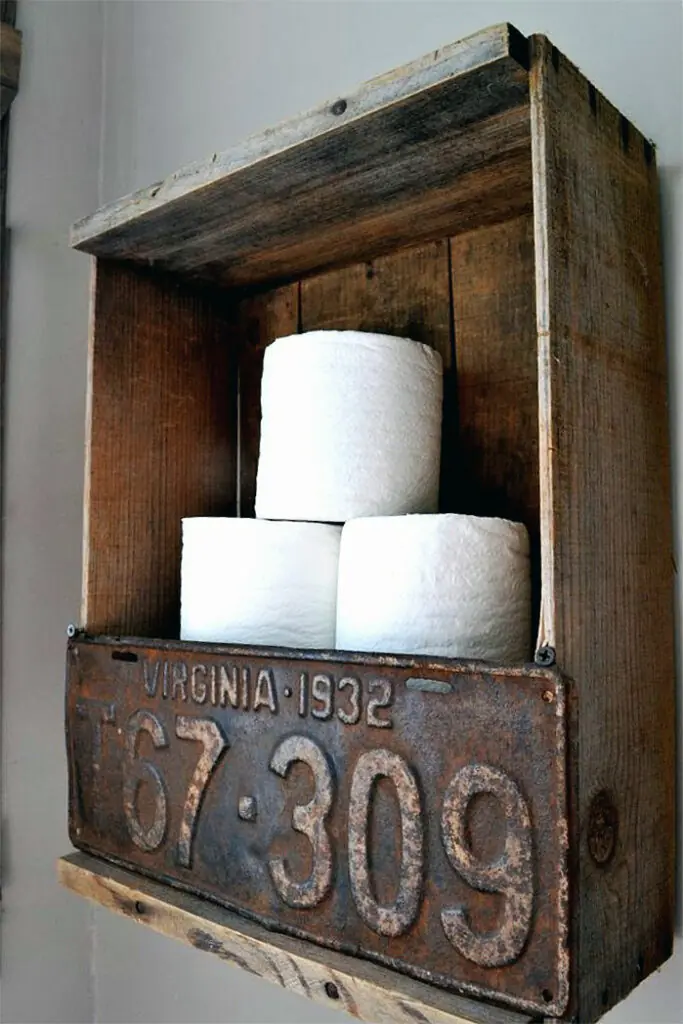 This rustic bathroom storage cubby (although it could be used practically anywhere) uses an old wooden crate and a vintage, well-rusted license plate. Together, they create a unique rustic look that would be perfect in any country, lodge, farmhouse, or even industrial style.
---
DIY Campaign Style Storage Boxes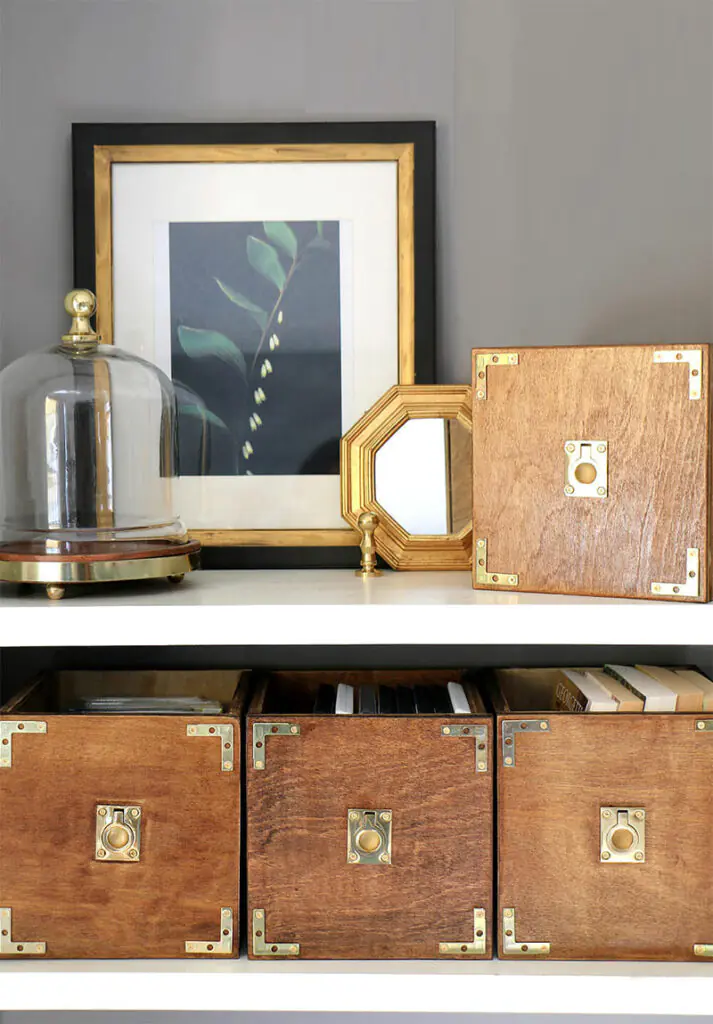 These cute campaign-styled DIY storage boxes create a decorative accent that provides additional storage for all of those little bits and pieces that would otherwise be scattered around your home.
---
Vintage Suitcase Storage Bench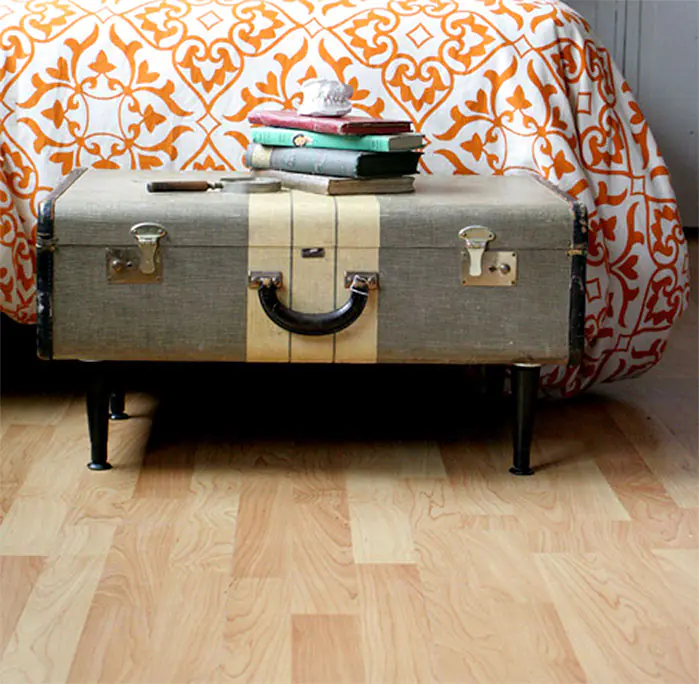 An old suitcase gets new life as a storage bench (or coffee table, depending on how sturdy the suitcase is).
Granted, this is more of a decorative bench, as the suitcase itself is likely not sturdy enough to support human weight. But it makes a unique addition to this bedroom and provides some much-needed storage.
---
DIY Storage Headboard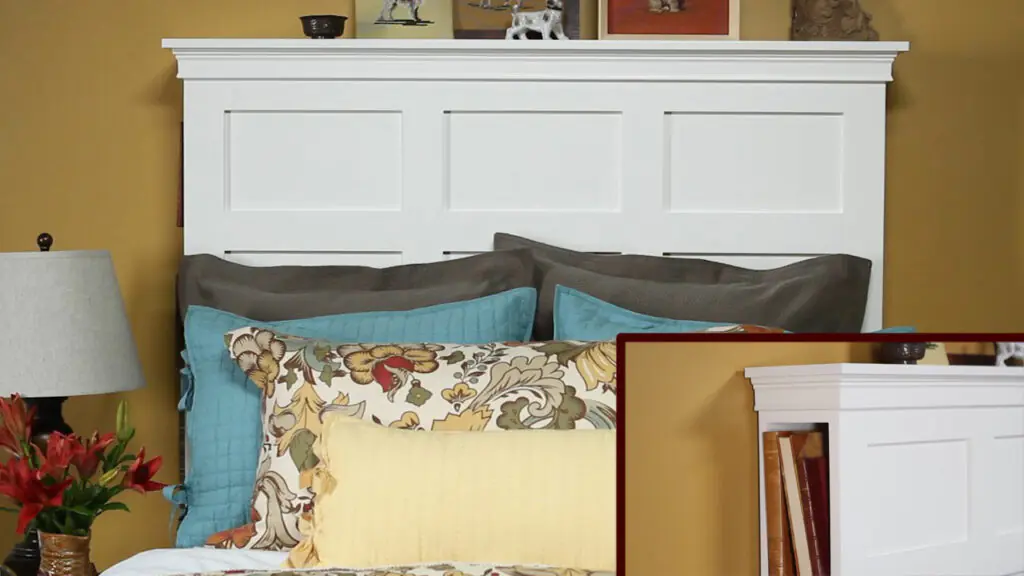 This DIY headboard design not only allows you to store items on the top of the headboard, but the handy side cubbies are a perfect place to store books, electronics, and more.
---
Additional DIY Storage Ideas & Resources
---