Beautiful Christmas Trees are the cornerstone of holiday decor. They create a seasonal focal point that reflects both your personal style and your love of the Christmas Holidays. If you're looking for Christmas tree ideas, you've come to the right place!
The Christmas tree was first mentioned in 1419, when residents of the town of Riga, Latvia decorated the cathedral with evergreens as a symbol of their love for Christ.
But the tradition of using evergreen trees during winter-time celebrations goes back to very early times in Northern Europe and Scandinavia. One can say that this tradition has its roots deep into the past, even before there was such as thing as "Christmas."
For example, there is a 4000-year-old rock drawing from Scandinavia depicting a hunter who went out hunting reindeer by using holly wood spears – holly wood being used because holly trees stay green throughout winter and hunters believed that nailing such wooden spears into living trees would bring luck.
But it was German-born Prince Albert who popularized decorated trees in Britain at Windsor Castle. Queen Victoria and her husband had a Christmas tree put up every year during the mid 19th century, and people began following this example. Eventually, Christmas trees started popping up all over England! Soon after that, bringing home an evergreen branch or tree to decorate for Christmas became a tradition across UK and Central Europe.
What many people don't know is that – as a custom – what we now refer to as a "Christmas tree" did not originate from Christianity, but rather from German beliefs and customs about Winter Solstice. In fact, the tradition of using candles to decorate trees for winter celebrations goes back all the way into pagan times. And, this is probably the reason why we have been using candles to decorate trees for centuries.
Since then, putting up a Christmas tree inside your house during winter solstice celebrations has become a common practice in most countries of European descent. At first, people associated Christmas with bringing in light during winter solstice which is why they used candles on trees but today this tradition has branched out into one where lights and stars are used instead for decoration purposes.
By the time the Christmas tree was popularized as a tradition in North America, nobody knew where it originated from so both Christians and non-Christians accepted it as a part of their celebration without any arguments about its origins.
But no matter how they got started, a beautiful Christmas tree is now entrenched as part of our holiday celebrations.
To help inspire some wonderful Christmas Tree decor ideas, we've scoured the internet, including our affiliate partner sites, to curate this wonderful collection of beautiful Christmas trees.
The Wintry White Christmas Tree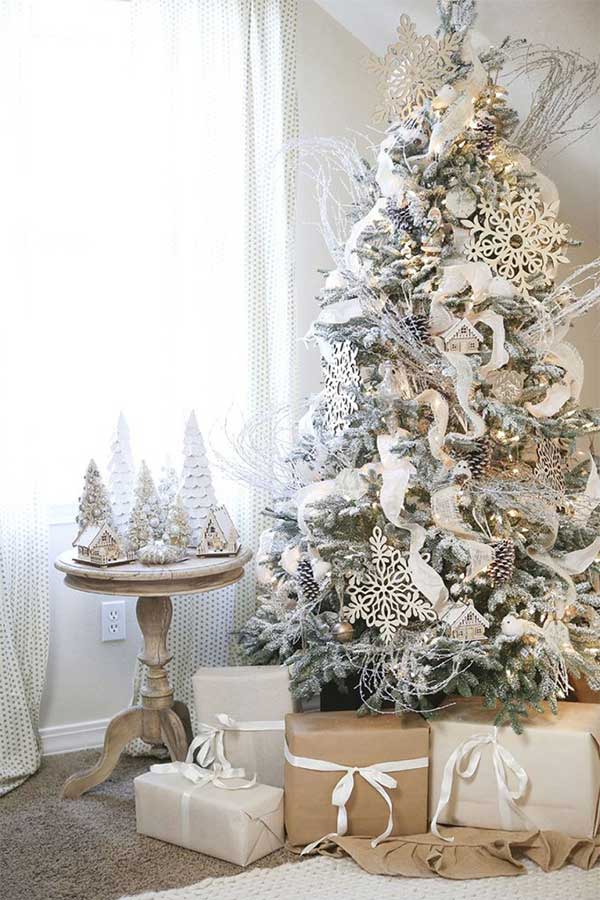 Source: World Market
I love the feeling of winter that this entire scene creates, including the frosted tree and the little village on the table.
The Golden Christmas Tree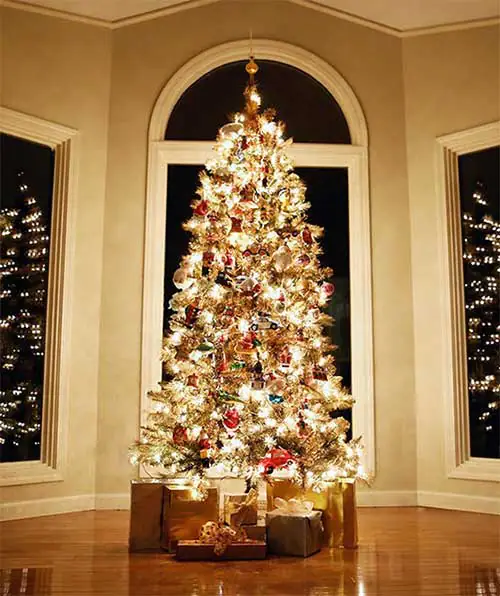 Source: SkiptoMyLou.org
Sometimes, all that glitters IS Golden, especially when it comes to this beautiful Christmas tree. This clever decorator painted the tree gold so it would truly set off their collection of hand-blown glass Christmas ornaments. The entire effect was completed by having all of the presents wrapped in gold paper. Stunning!
The Icicle Christmas Tree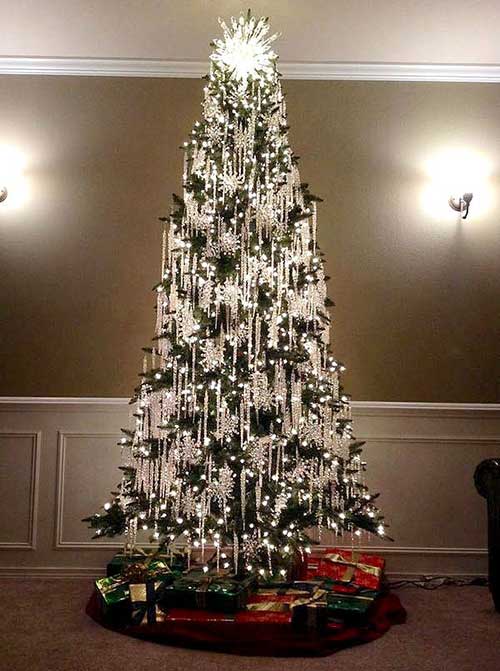 Source: Pinterest.com
I love the simple infusion of icicle decorations and white lights. Sleek and so effective.
Rustic Christmas Tree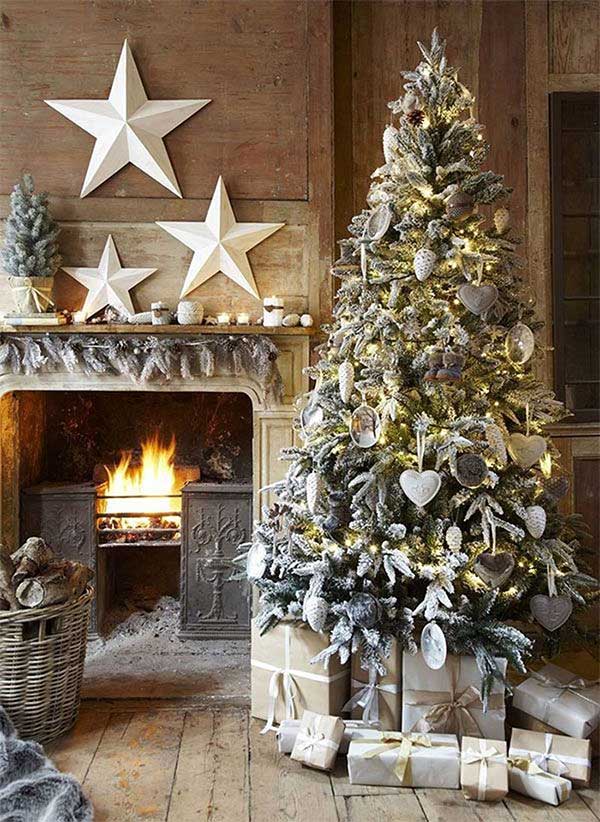 Source: EasyIdea.org
The rustic charm of this Christmas tree is complete with heart-shaped ornaments and brown paper packages tied up with string. These are a few – as we know – of my favorite things.
---

---
The Lady in Red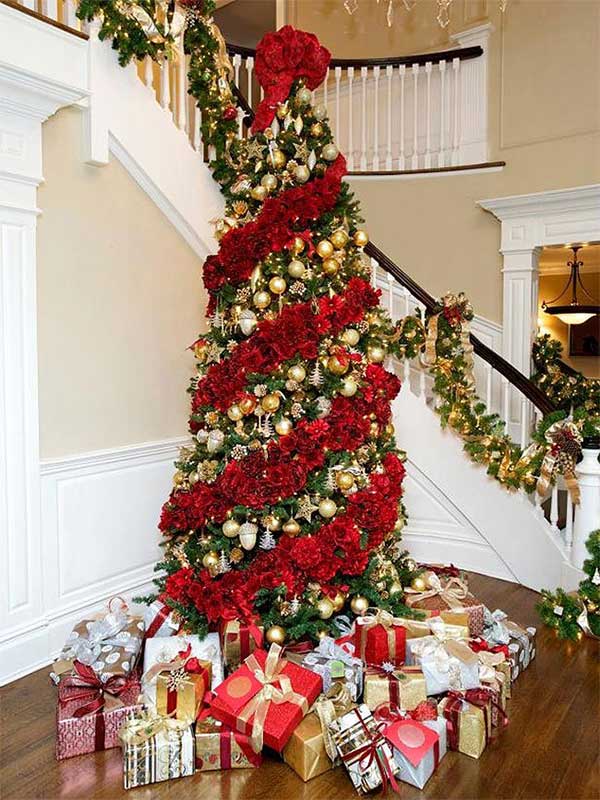 Source: HGTV
The bold red wrapping all the way up this traditional green tree makes for a classic yet dramatic statement during the holidays.
Gold Lanterns Christmas Tree
Source: Bordines Nursery
I love the usage of Gold Lanterns as accent pieces on this delightful tree that could either go rustic or regal depending on the surroundings.
The Most Lit Up Christmas Tree in the World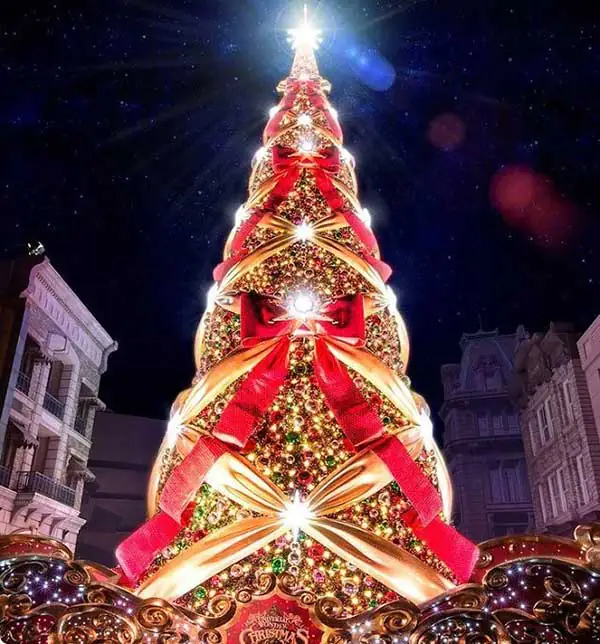 Source: Citi.io
Perhaps this is setting the bar a little too high in the way of Christmas tree ideas, but I could not create a collection of Beautiful Christmas Trees without including this stunner from Osaka, Japan. The Guinness World record holder for "Most lights on an artificial X-mas tree", this tree boasts 550,000 lights. I can't even begin to imagine the electric bill!
Rustic Stars Christmas Tree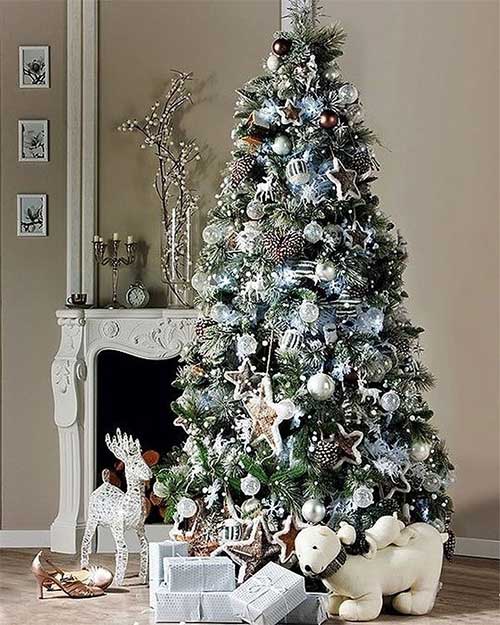 Source: Pinterest.com
The rustic stars, in a variety of sizes, that adorn this charming tree are absolutely charming.
---
---
Blush Pink Christmas Tree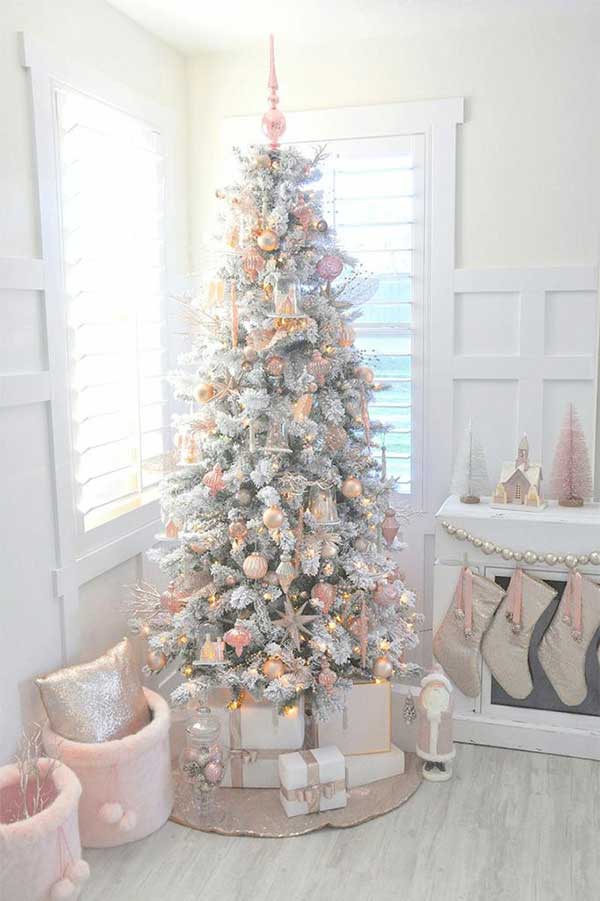 Source: Southern Living
Christmas looks Pretty in Blush Pink in this delightful and charming Christmas tree.
Woodland Wonderland Christmas Tree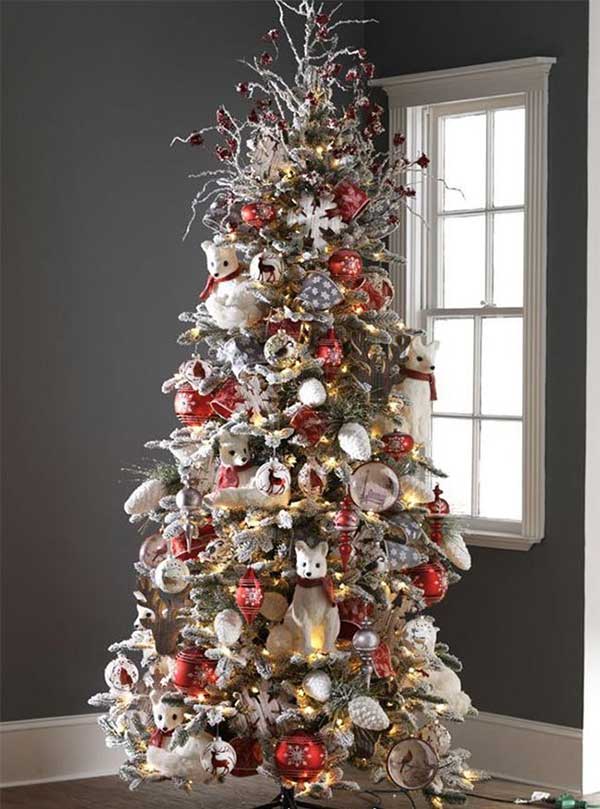 Source: Pinterest.com
This tree features a lot of woodland creatures through its unique design.
Cozy Crochet Christmas Tree
Source: SkiptoMyLou.org
If you're crafty, what better way to express your love of crochet AND your love of Christmas than to combine them into a stunning and unique crochet Christmas tree.
Frosty The Snowman Christmas Tree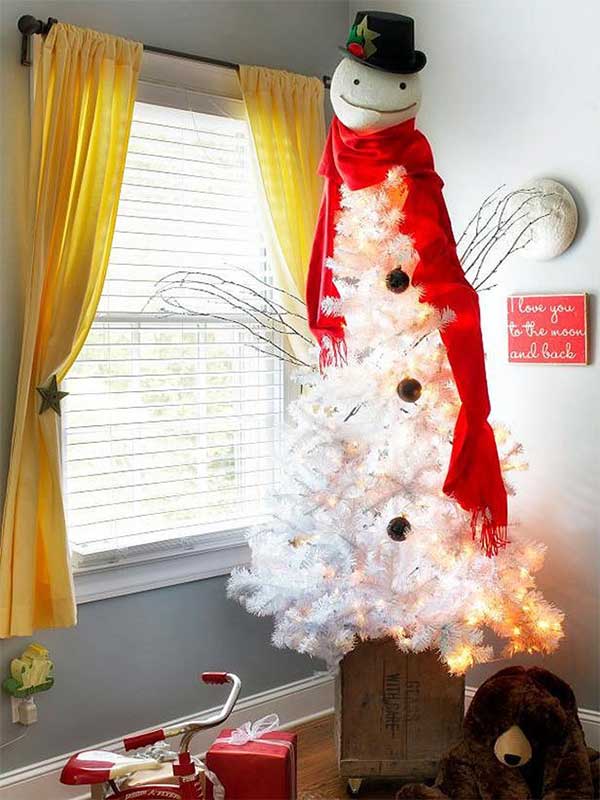 Image: HGTV
What a clever idea! A white Christmas Tree takes on a magical new life, just like Frosty himself! I think there might just be some magic in that old silk hat…
Silver and Gold Glass Christmas Tree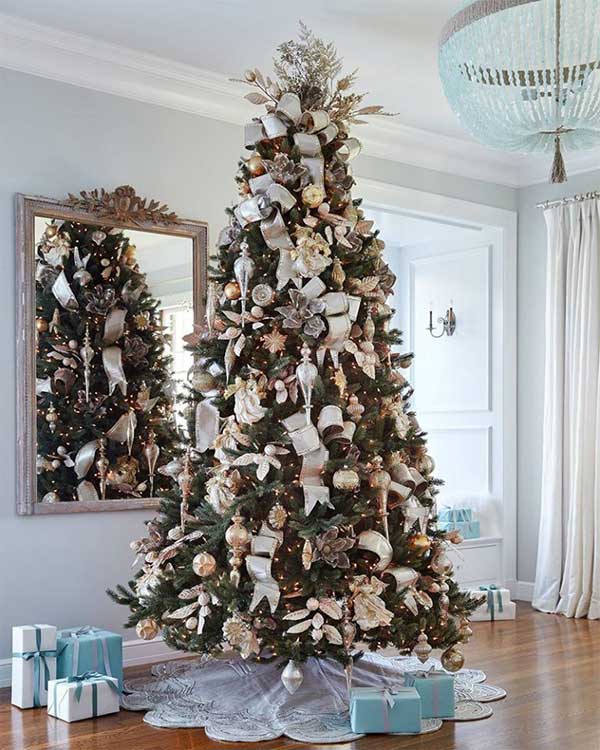 Source: Balsam Hill
Inspired by finely crafted jewelry, this exclusive collection features highly decorated glass Christmas ornaments. The varied shapes and sizes of these heirloom-quality ornaments add depth to the holiday decor, while elegant tones of gold, silver, and platinum lend a lustrous touch to the tree.
The Seaside Tree
Source: Elle Decor
For a touch of coastal charm, this delightful Christmas Tree was decorated with swags of beach-colored ribbon and starfish ornaments to create an airy, beachfront decor scheme.
The Charming Farmhouse Tree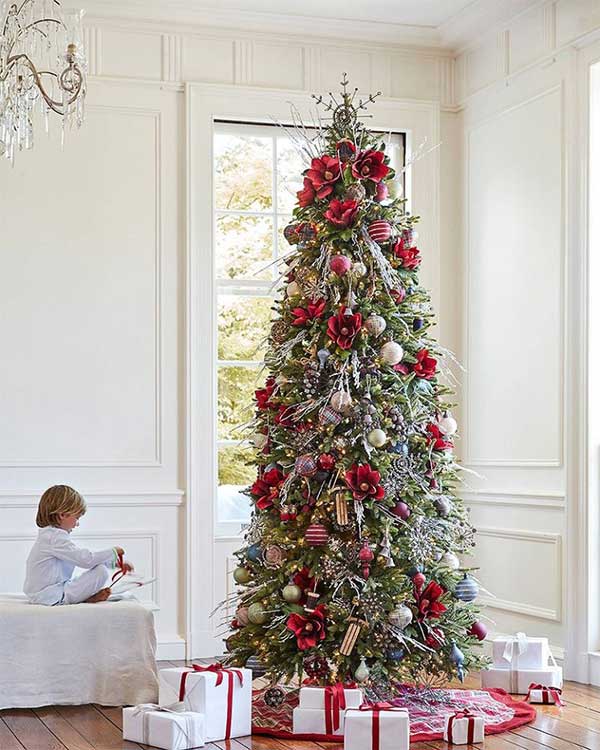 Source: Balsam Hill
This delightful farmhouse tree offers an eclectic mix of traditional designs combined with rustic charm. These decorations include assorted glass ornaments hand-painted in an updated Christmas color palette of sage green, burgundy, and blue plus some lovely ornaments featuring miniature sleds and ice skates, fabric reindeer, vintage sleigh bells, trucks, thimbles, and a whole lot of charming pieces that evoke the cozy look of a wintry countryside cottage.
---
Shop the Art & Home Collection of Christmas Tapestries
BROWSE THE COMPLETE CHRISTMAS TAPESTRY COLLECTION >>
---
Pink Country Floral Christmas Tree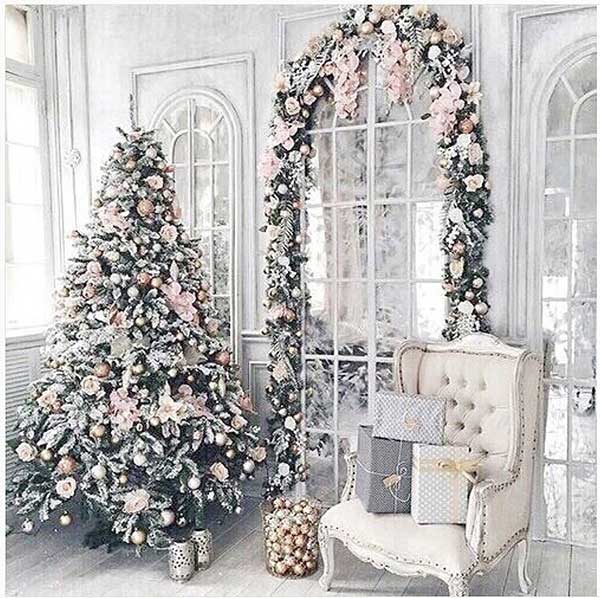 Source: Instagram
This charming tree looks like it came straight out of a Fairy Tale.
A Whole Lotta Gold Christmas Tree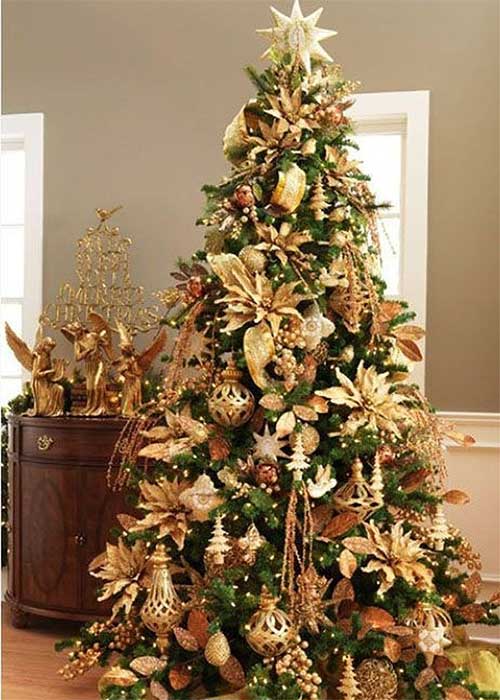 Source: Pinterest.com
Gold, Gold, and More Gold. This glamorous Christmas Tree is festooned with a lot of gold to create an amazing total look.
A Dream in Lavender Christmas Tree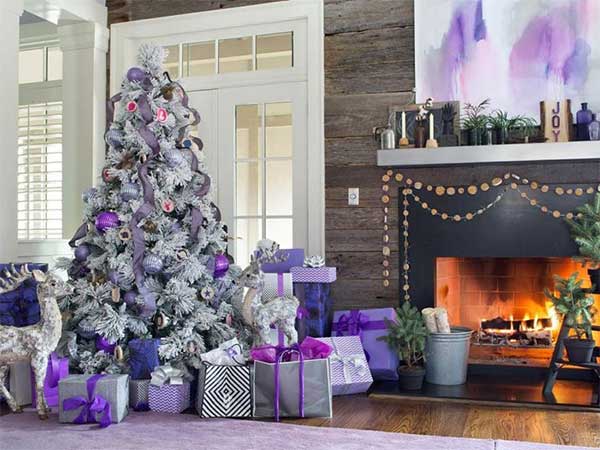 Source: HGTV
An absolute dream, in Silver & Lavender, these tree bucks the traditional red and green color palette in a delightful way that integrates the rest of the home's decor.
Ombre Christmas Tree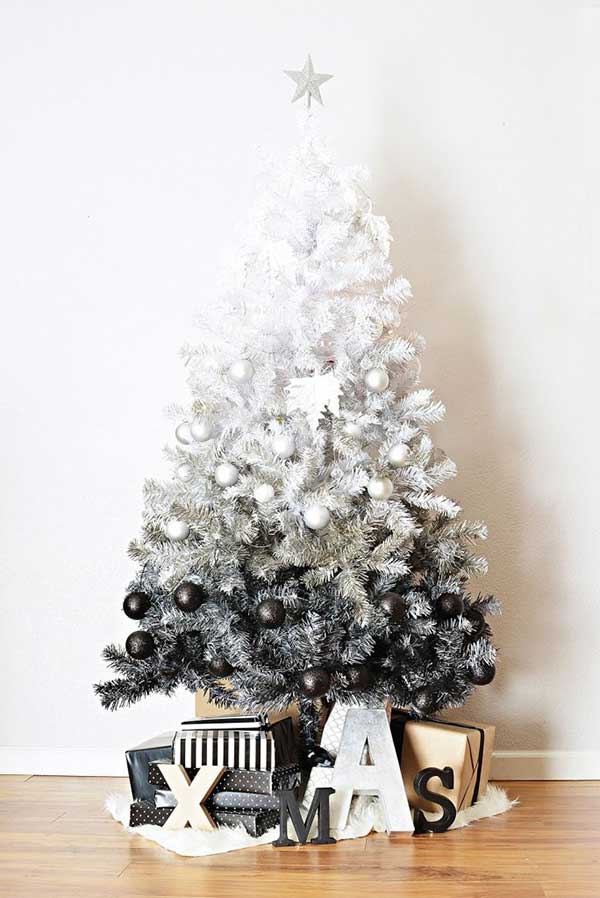 Source: Little Inspiration
For a bit of modern drama during the holidays (apart from the traditional drama of families, that is), this Ombre Christmas Tree creates quite the visual impact. Created by using a mix of black, dark gray, and metallic gray paint on the lower branches and then using contrasting black and white ornaments. The Black and white "Xmas" sign at the bottom completes the overall look.
---

---
Christmas Fiesta Tree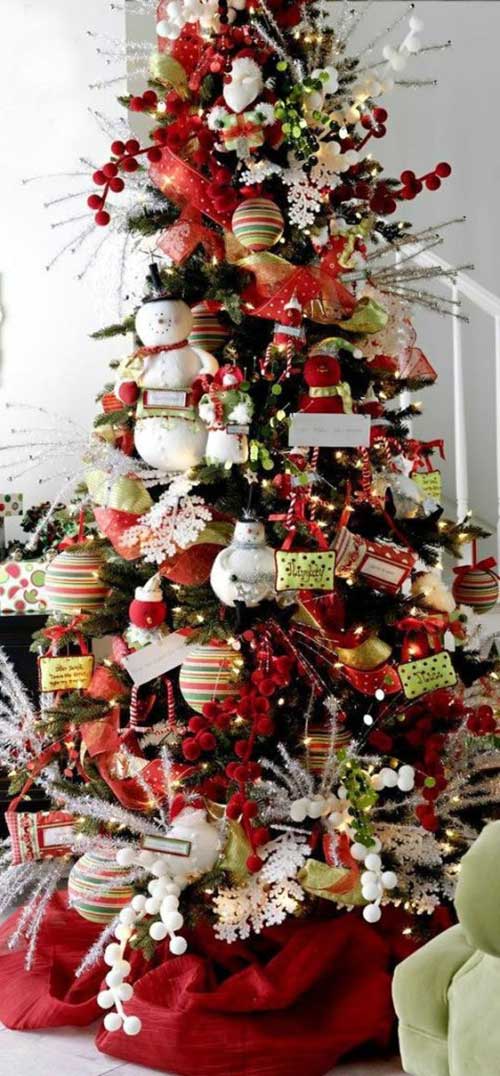 This Christmas tree looks like the most fun Christmas Party EVER!
Frosted Glam Christmas Tree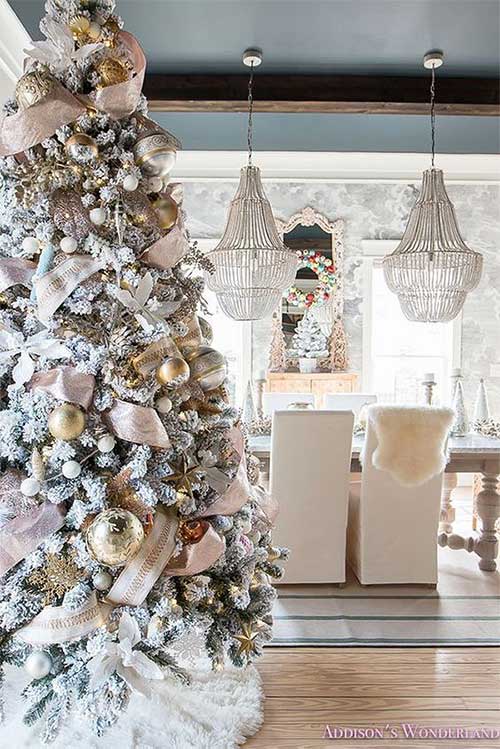 Source: Addison's Wonderland
Frosty, and Glamorous… this is the perfect tree to Glam up the Holidays.
Geometry Lover Christmas Tree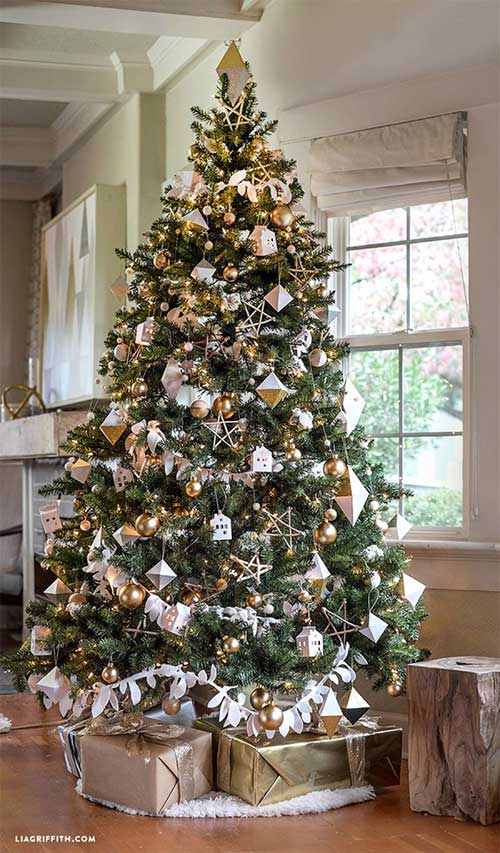 Source: Lia Griffith
If you love Christmas in all its various shapes and colors – particularly shapes – you'll love this geometry-inspired Christmas tree. The hand-made ornaments maintain crisp lines, accented by some traditional gold balls. It has a delightful, angular appeal.
---
---
Lovely Poinsettia Christmas Tree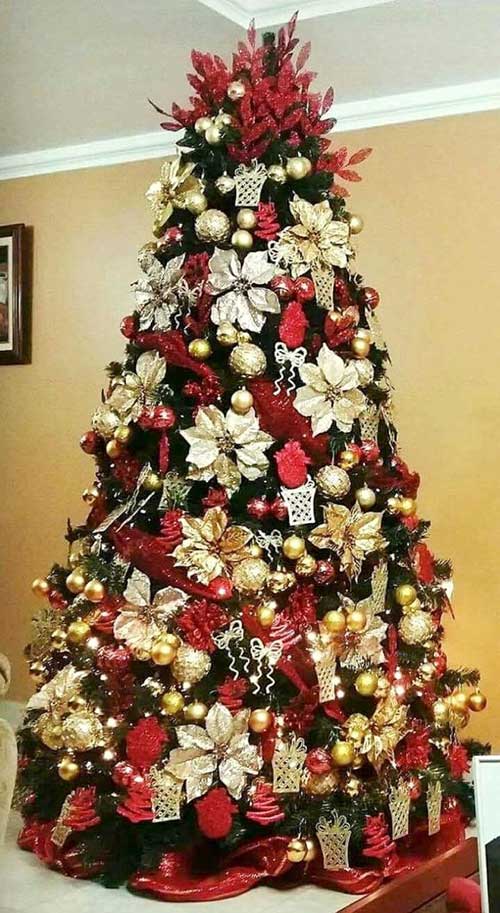 Source: Pinterest
A mix of silver and gold poinsettias takes center stage in this strikingly designed Christmas Tree.
Snowy Owl Christmas Tree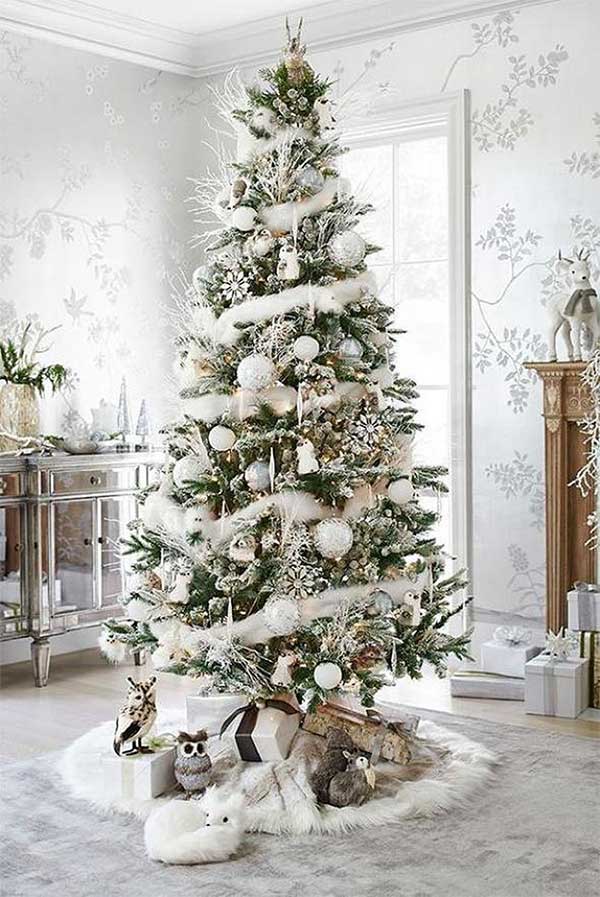 Source: Correia
This tree makes me think of a snowy owl. Perhaps it's the use of several owl decor pieces used within and across the bottom of the tree, but maybe that's just me.