To help you set the stage for the perfect Christmas dinner, we've pulled together some tips on how to create the perfect festive table as well as over 30 positively delightful Christmas Table Settings to help inspire a bit of holiday cheer.
The Christmas season is here! And with it comes the holiday spirit, the Santa Claus outfits, the half-hour you spend looking for your cell phone each morning so that you can find out where you are supposed to meet your relatives who are coming over for dinner.
There is a certain amount of work involved in having everyone sit down at their designated seats and eat some delicious food. If this is not something new to you then all is good; but if this has never occurred to you before or you need some helpful tips about setting up your table, then let us be of assistance to you.
Paper napkins – You could use regular white linen napkins but paper napkins are just so much easier and it is not like they don't look pretty. Just make sure you get the right color so that everything ties in together nicely.
Plates – If you picked out something with a pattern on them already, go for contrasting colors so that everything looks nice. This also includes plates for desserts if there are any because the last thing anyone wants is a dessert plate ruining their Christmas table!
Silverware – You may want to think about what you're using as silverware. Make sure that they come from the same set to make the whole thing look even more polished. If you don't have enough of the same set to fill the entire table, alternate the silverware between each setting rather than a random mix and match.
Flowers & Greenery – If you can, try and get a flower arrangement that will compliment your dinnerware/tablecloth pattern since they are the center of attention on your table. You could also color coordinate with flowers but it is an added hassle that we would rather do without.
That is all that you need to set up a nice-looking Christmas table for about 10 people unless of course, you want to go all out and add a few elegant touches here and there. And, for that, we've collected some wonderful examples of how to up your Christmas table game below!
Just remember not to put too much pressure on yourself or else everything will start going wrong including the meal itself! All in all, don't sweat it if things turn out less than perfect because at least everyone enjoyed themselves in the end. And as for next year, well you can always take up a few pointers from this article and make things better than ever!
Christmas Table Decor Ideas
There's something special about this time of year when loved ones gather to celebrate the year that has passed and get ready to explore the year ahead. When entertaining family and friends, how you serve the holiday feast is often just as impressive as the feast itself. To that end, we've pulled together over 30 positively delightful Christmas Table Settings to help inspire a bit of holiday cheer, and maybe a couple of Holiday Decor ideas.
And don't forget to add your own personal touches to the table and make sure everything matches nicely so it doesn't look like something out of a Christmas play set.
Frosted Cottage Christmas Table Setting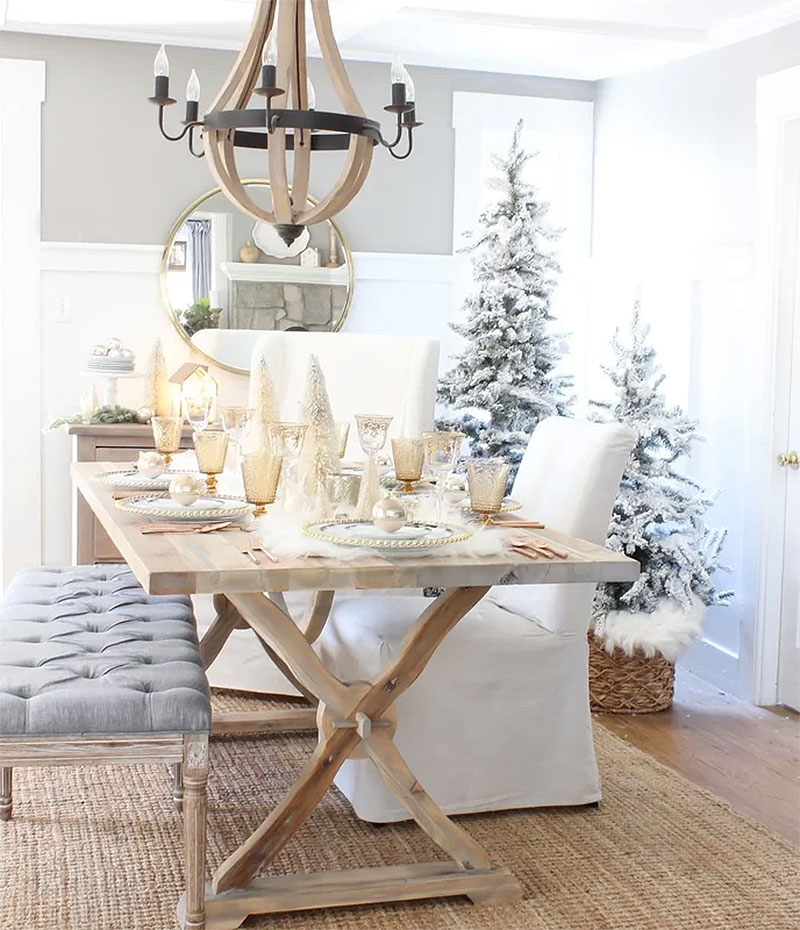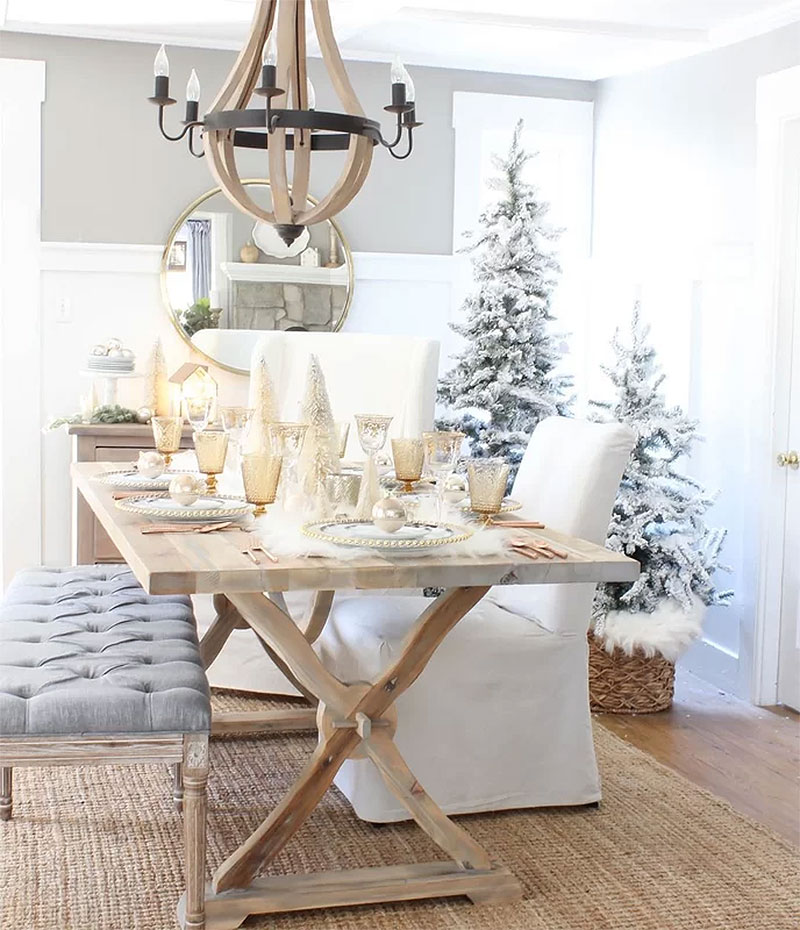 Everything on this table looks frosty, from the white Christmas trees to the frosted gold on the wine glasses. Together, they create an elegant look on this Cottage Christmas Table.
Big Things Come in Golden Packages
This delightful Christmas table setting uses festively wrapped decorative boxes as the core of the centerpiece.
My Christmas Table Runneth Over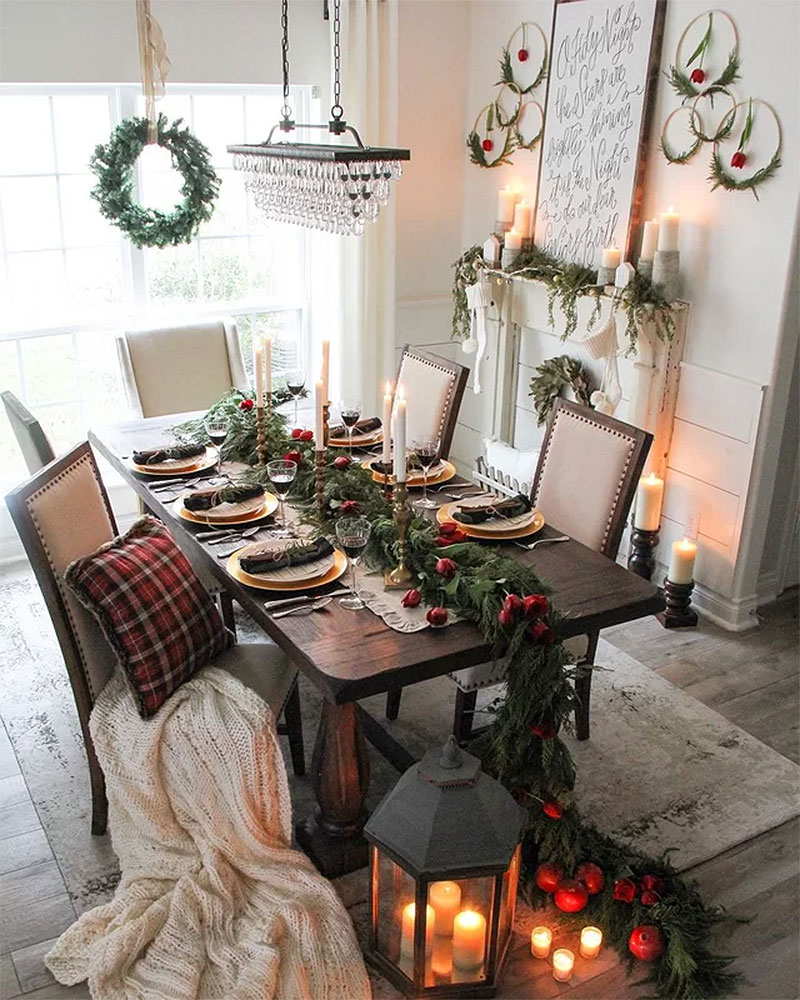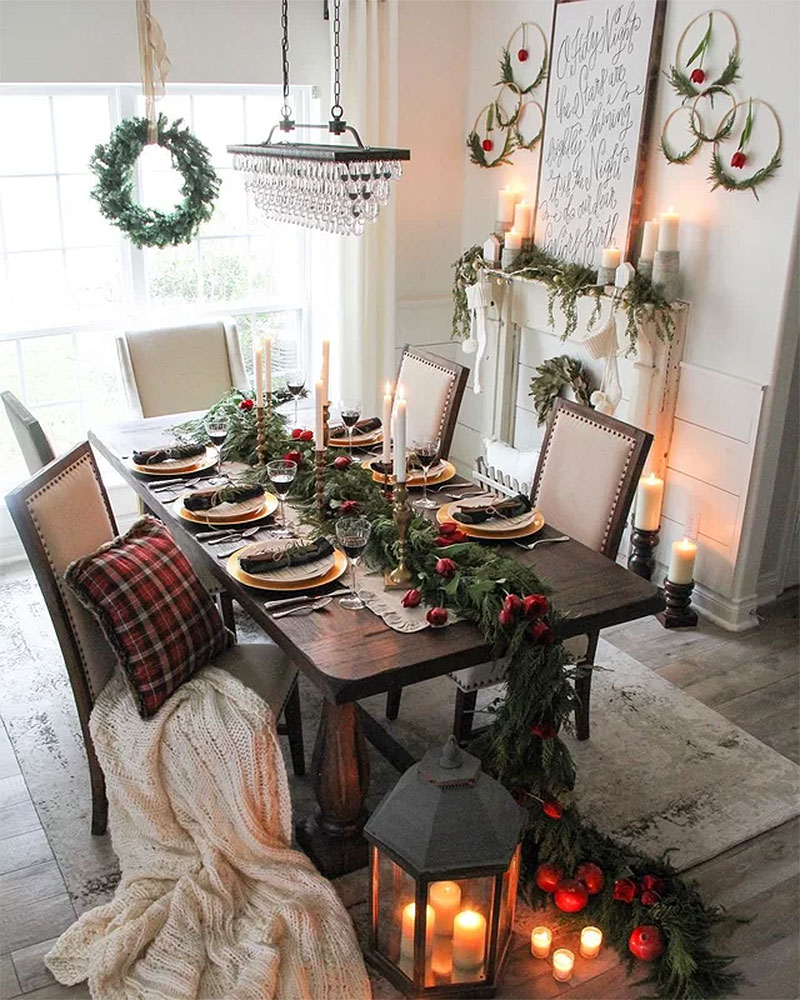 I love how the oversized garland spills off the Christmas Table and pools on the floor, creating an opulent yet farm-friendly tablescape.
A Traditional Red & Green Christmas Tablescape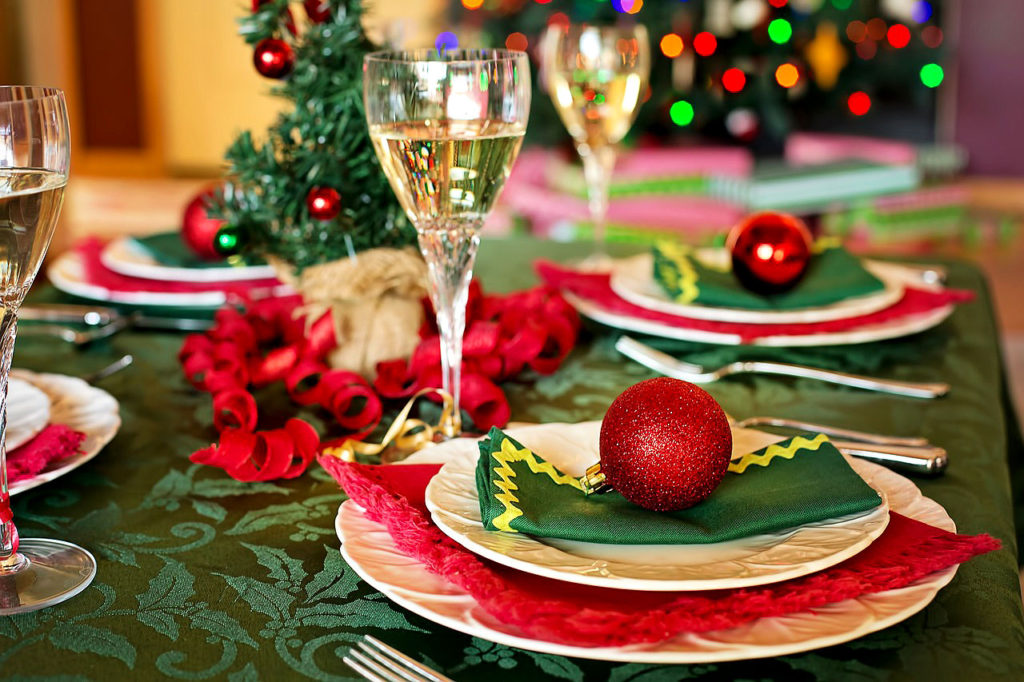 This table setting embraces the traditional green, red, and gold colors that are commonly associated with Christmas in an uncommonly delightful way.
---
---
Pretty in Pink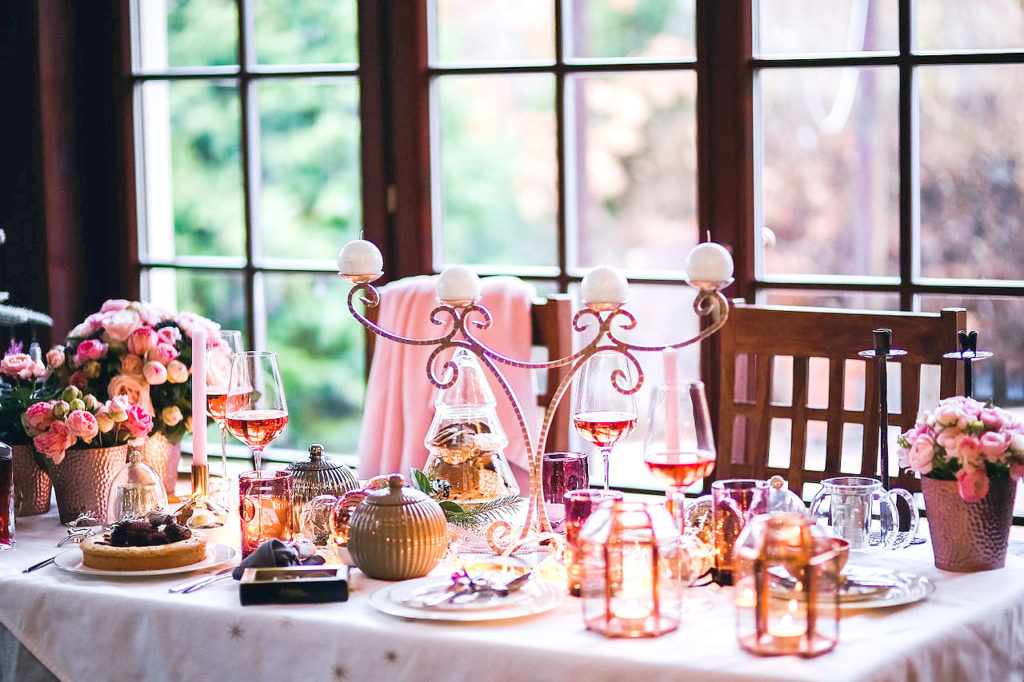 For those who want to buck the traditional Green and Red, this lovely pink Christmas table setting is as charming as it is festive.
This Christmas Table Setting Looks Good Enough to Eat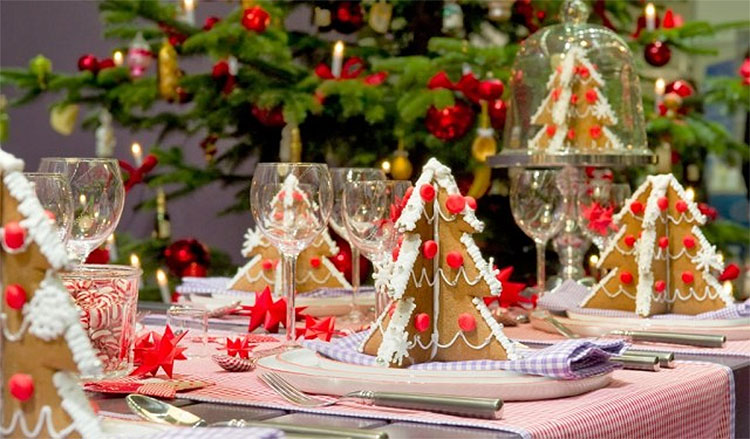 Source: Rare Delights Magazine
This delicious Christmas Table features individually baked gingerbread Christmas trees on each plate for a festive and edible look. Looking for more ideas featuring Gingerbread, check out our article on Spectacular Gingerbread Houses.
Wintry Warm French Country Christmas Tablescape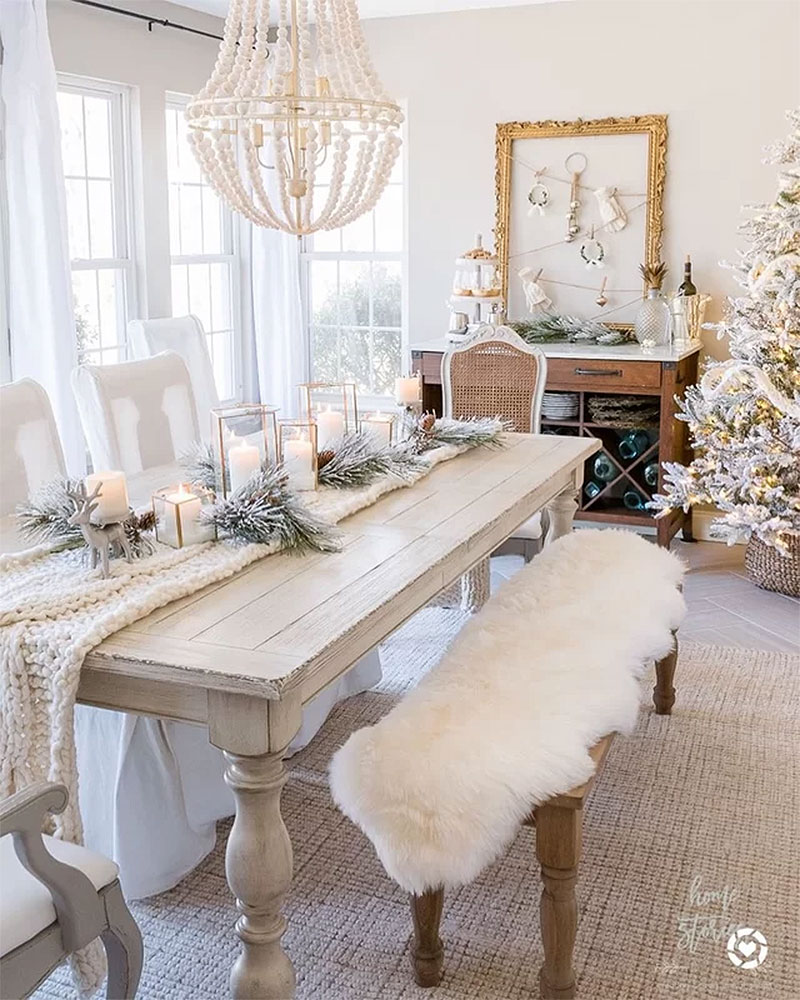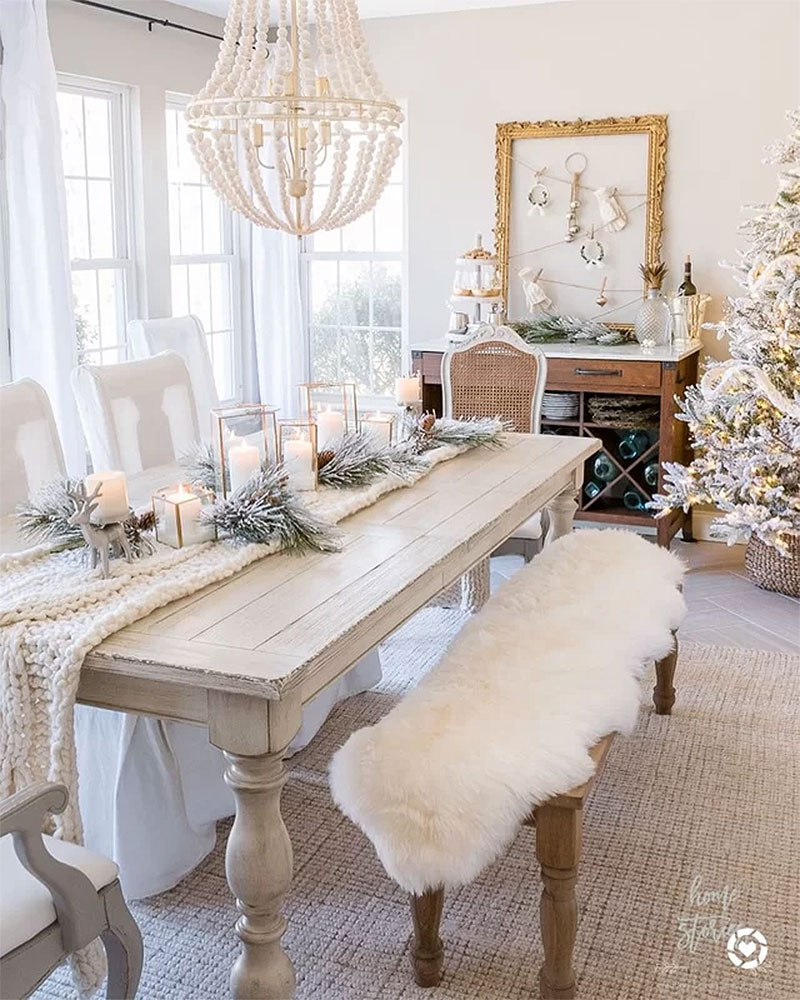 White textiles play a huge part in this delightfully wintry white tablescape. A chunky knit table runner, faux fur rug, and sheer chair slipcovers create the base, which is accented by white candles and frosted pine branches. Simply delightful.
A Slice of Rustic Charm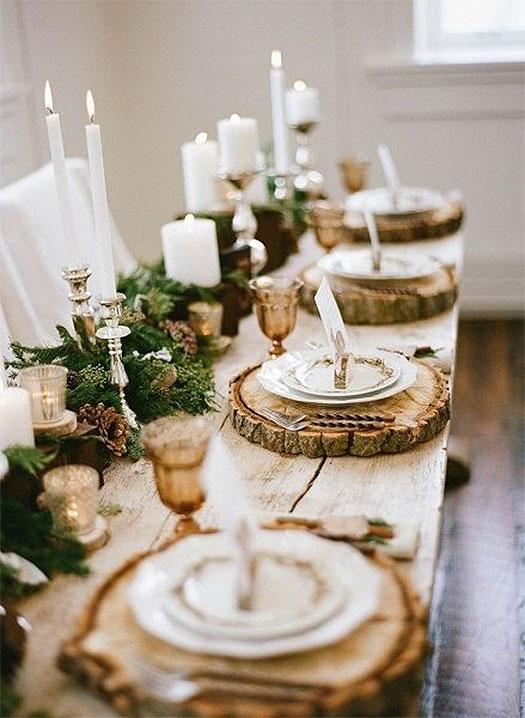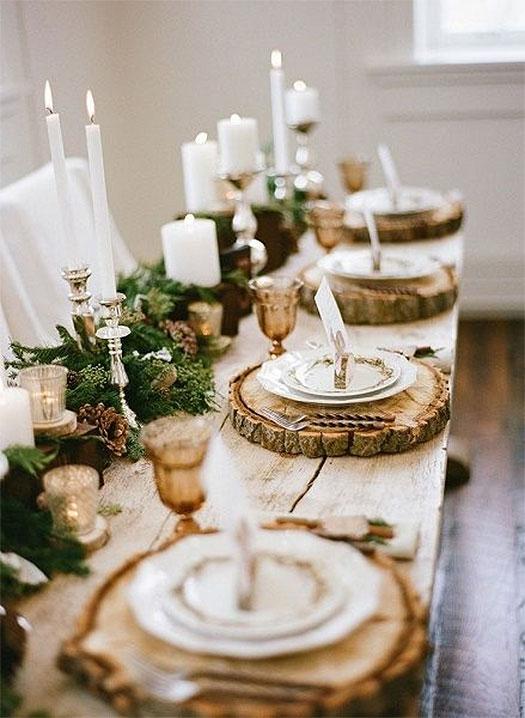 Images: Pinterest.com
Slices of natural edge wood are the backdrop for this absolutely delightful and rustic Christmas Table Setting.
Glamorous Christmas Table Setting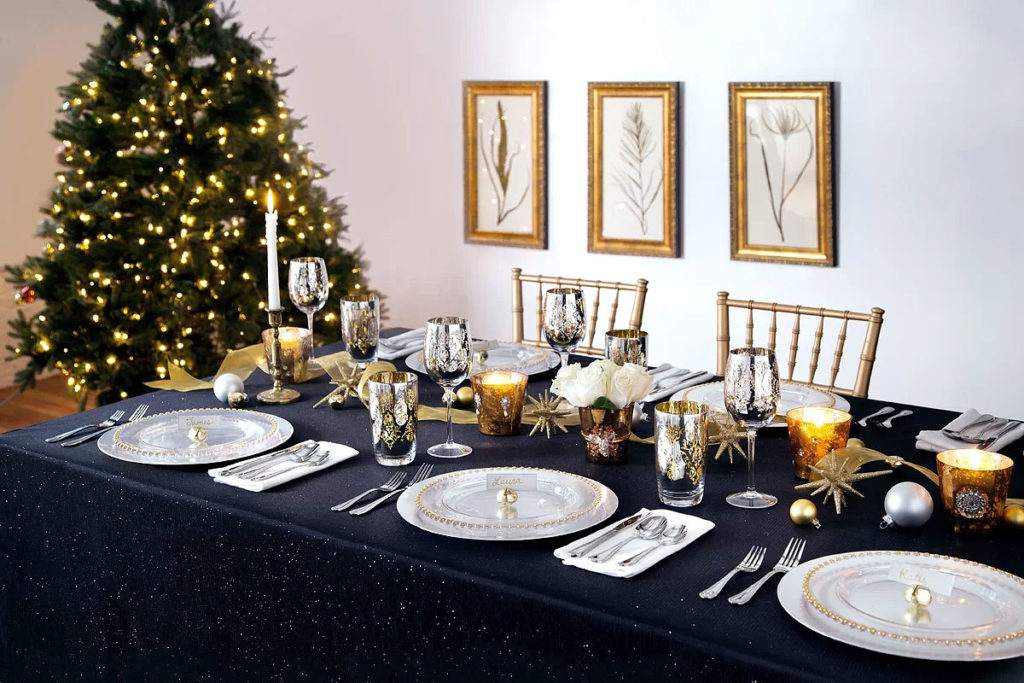 An elegant, deep blue tablecloth with glittery stars sets a midnight backdrop to this elegant, glamorous Christmas table.
Santa Claus is Coming to Your Table Setting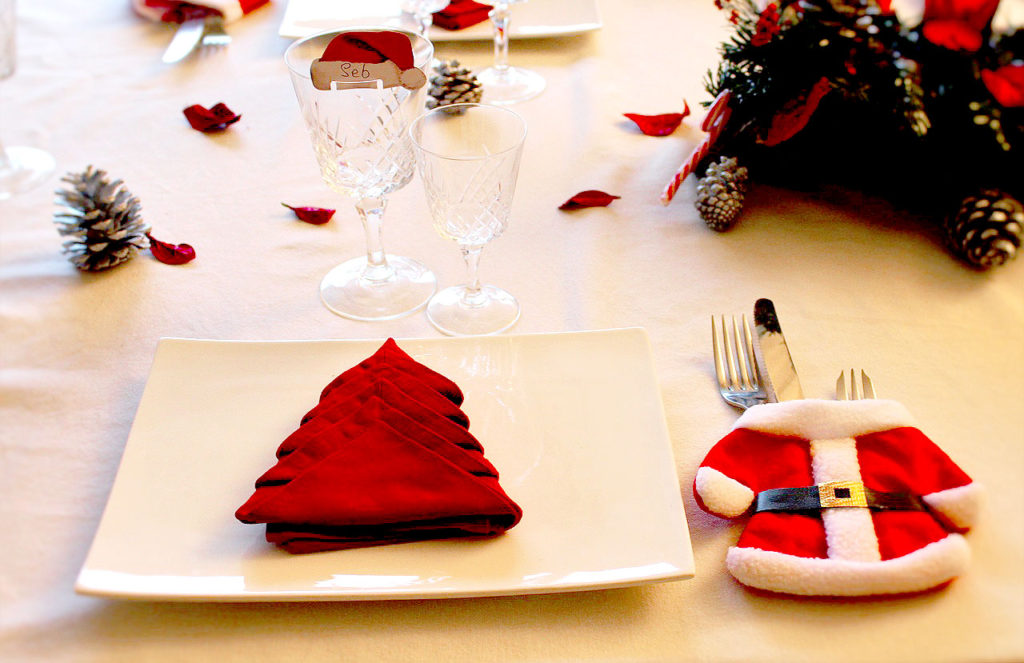 Check out the delightfully charming Santa Suit utensil holders on this festive tablescape. Sometimes, it doesn't take a lot to make a table setting special. The Christmas tree made of red napkins adds an extra layer of charm.
Serving Dessert on a Christmas Tablescape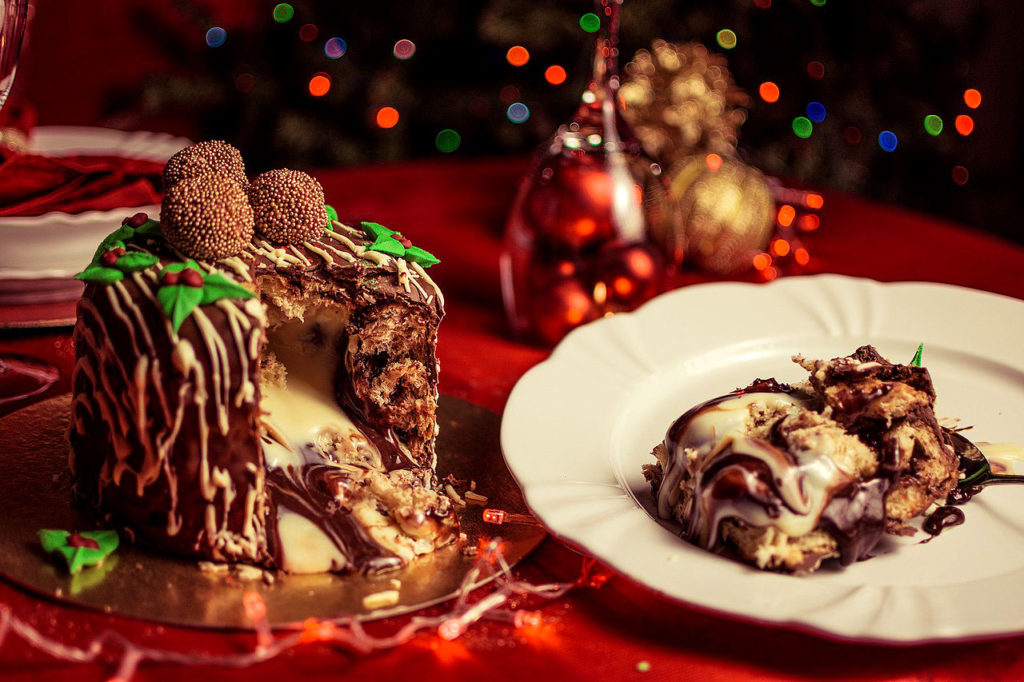 Sometimes the food being served becomes part of the gorgeous Christmas tablescape, as is the case with this delicious and decadent-looking molten lava cake.
The Outdoor Christmas Table Setting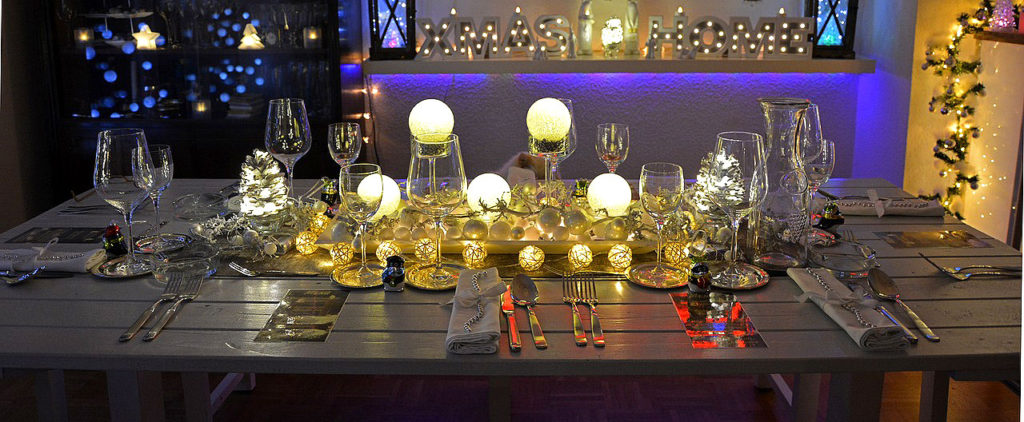 When and where weather permits, serving Christmas dinner outdoors is a unique and wonderful treat. But just because you're not buried in a Winter wonderland, doesn't mean you can't layout an absolutely beautiful Christmas table setting.
Simply Sophisticated Christmas Table Setting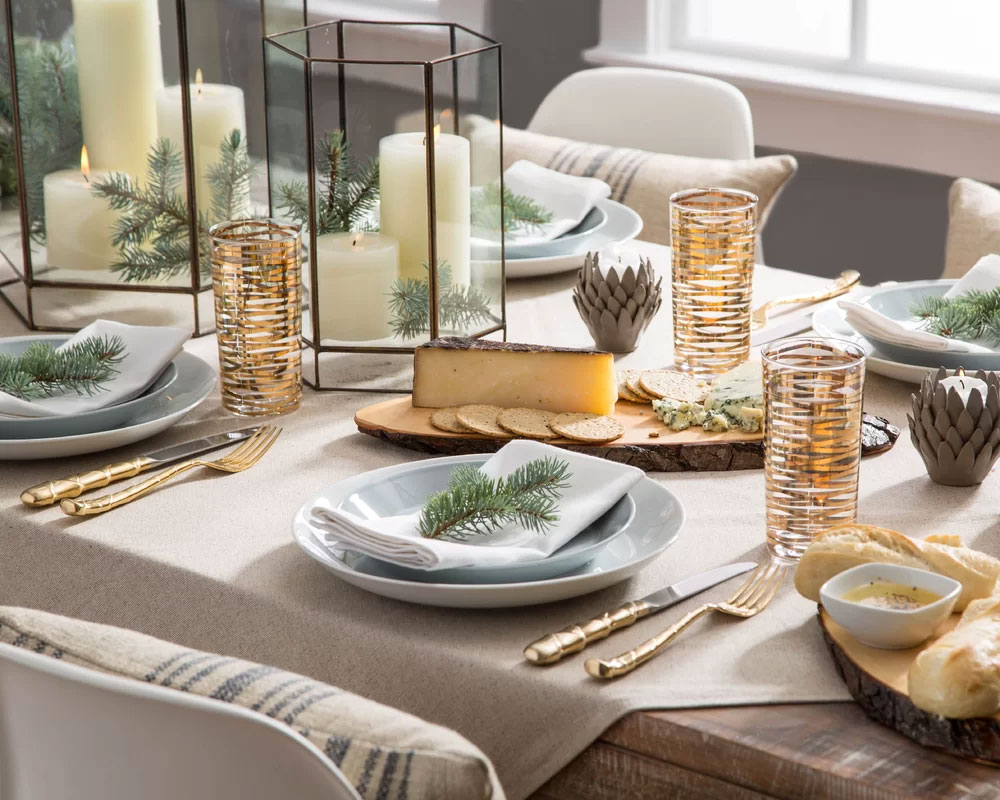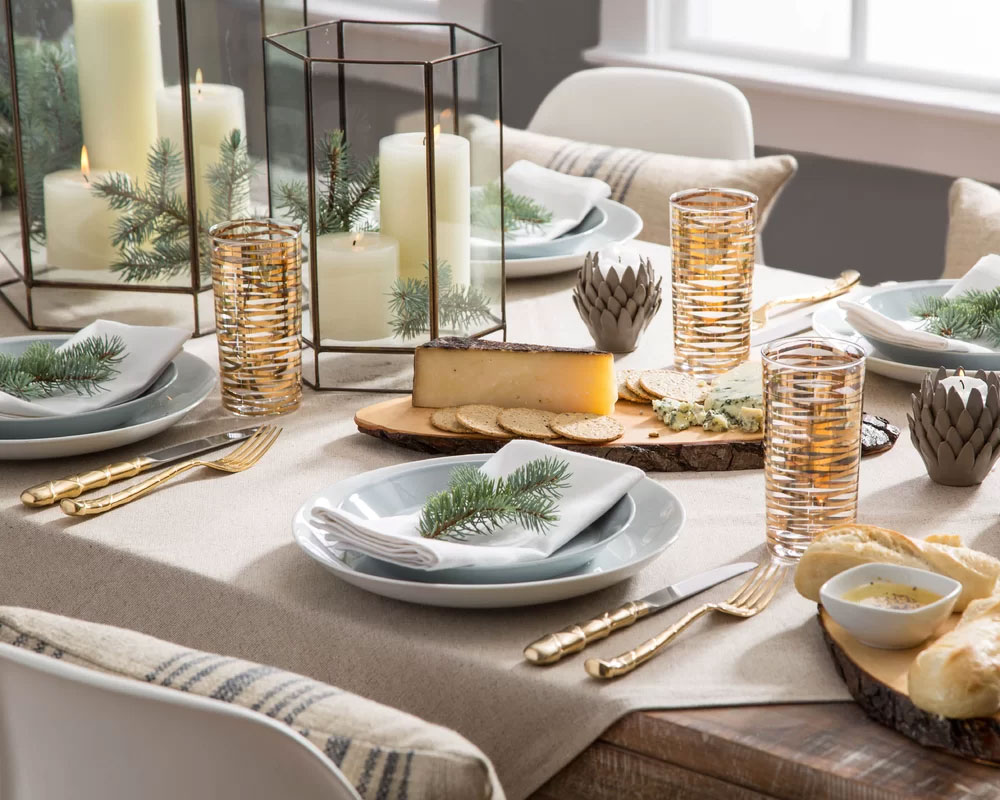 It's the simple touches that make this Christmas table setting elegant and sophisticated. Simple, natural bits of pine are scattered across the table and on each white place setting. Elegant golden glasses and pine cone candle holders complete the overall look. Perfect for a sophisticated yet casual Holiday Get Together.
A Pine-tastic Christmas Table Setting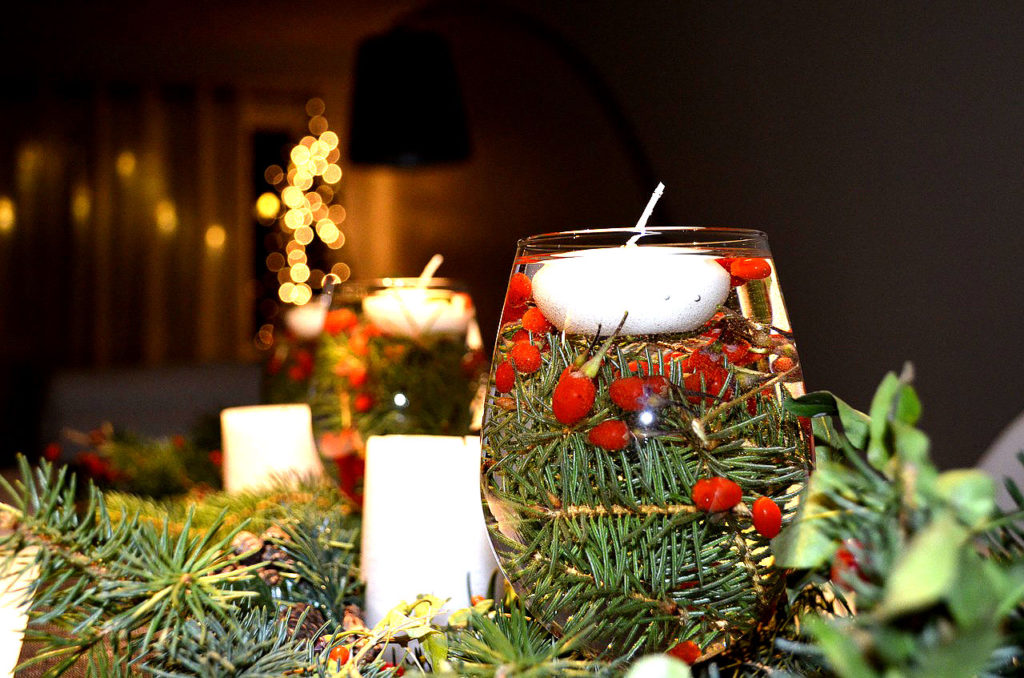 I love the use of nature in this delightful tablescape filled with lush green pine boughs and brilliant red berries, offset by a simple white floating candle. Wonderfully charming, and I can bet that it smells amazing!
Trucking In A Fantastic Rustic Christmas Table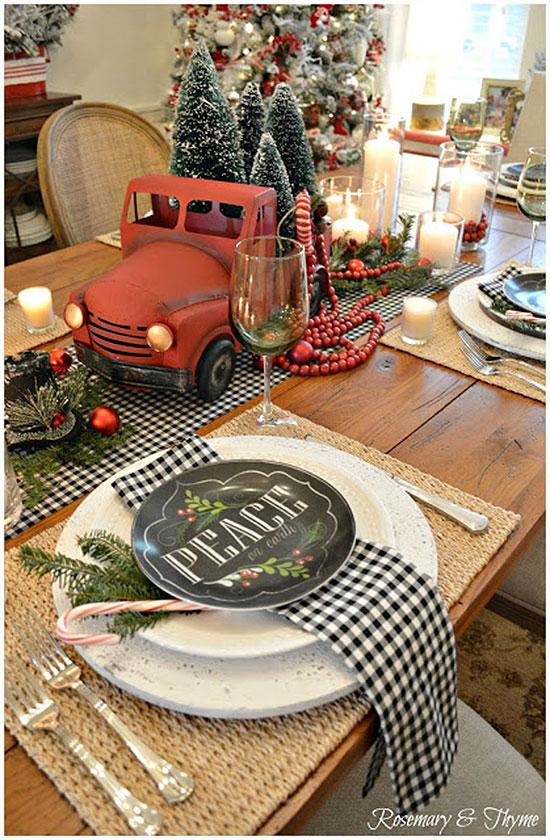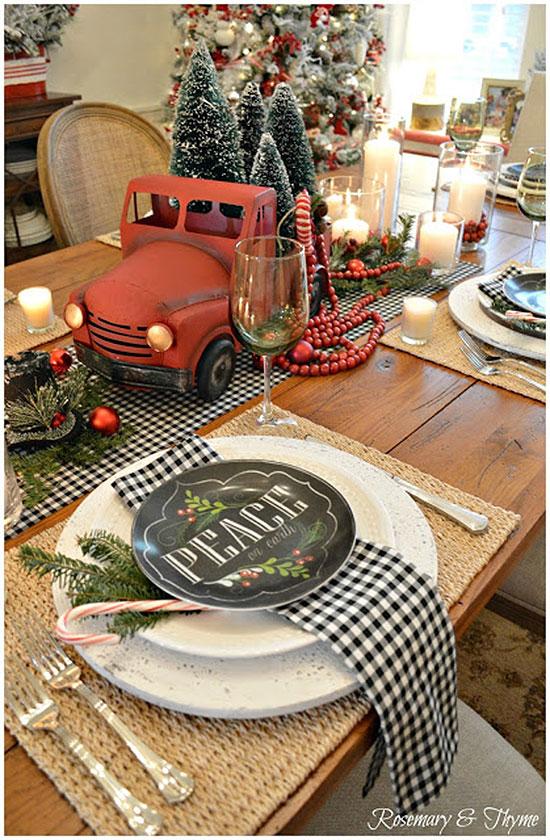 Image: Rosemary & Thyme
Love, love, love the use of the tin truck at the center of this gorgeous farmhouse Christmas table from Rosemary & Thyme.
Crisp Red, White, and Green Christmas Table from Bright Bazaar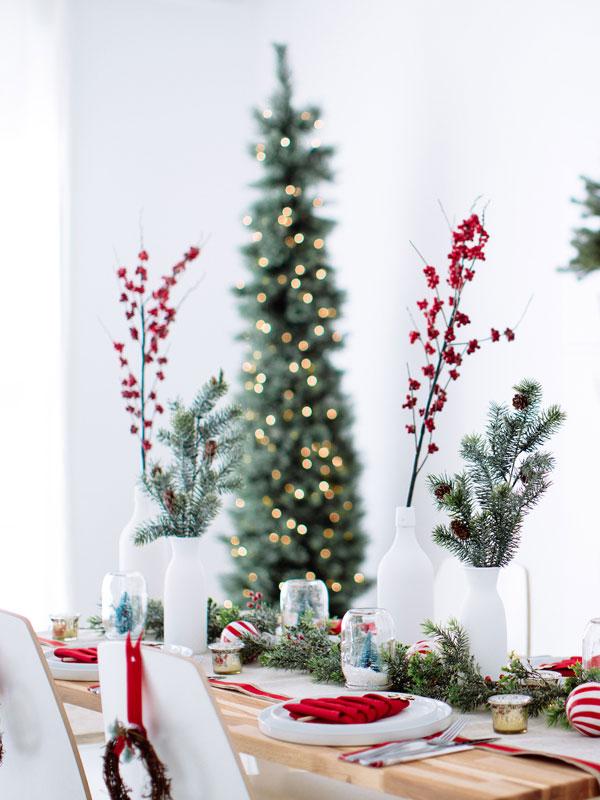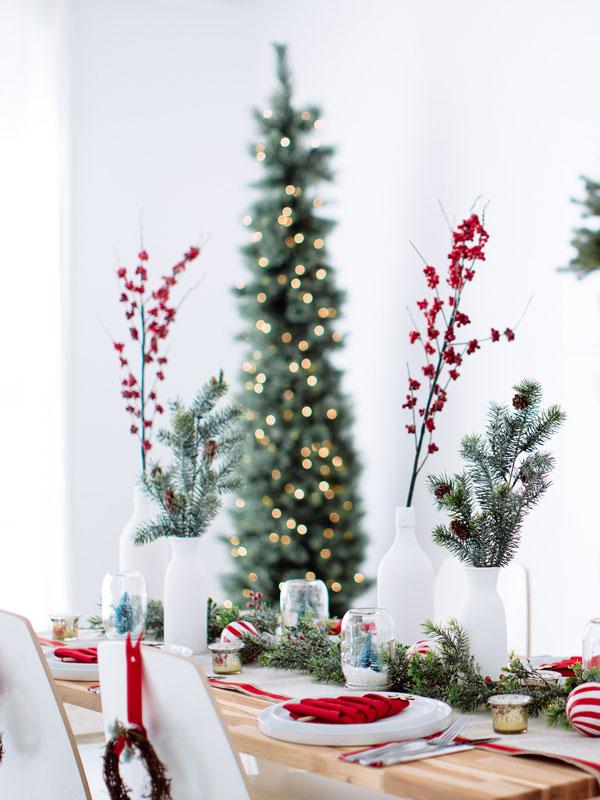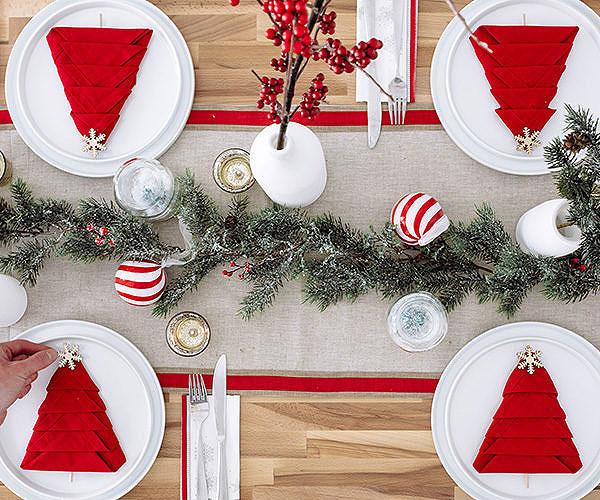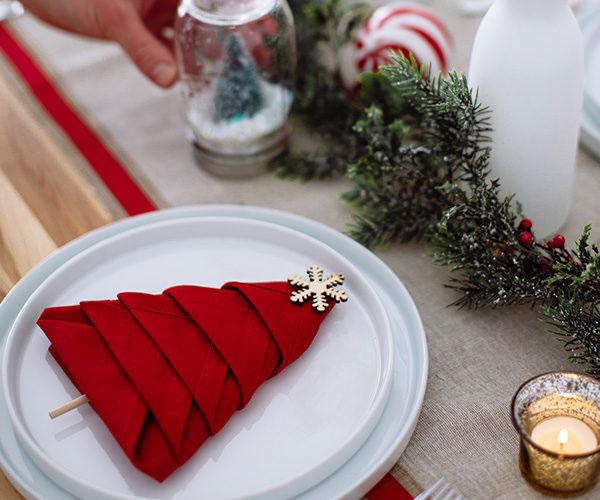 Images: Bright Bazaar
The crisp contrast of traditional Christmas colors Red, White, and Green make for a lovely table. Additional details, including the folded napkin trees really pop on this delightful Christmas table.
---
---
Charming Country Christmas Table Setting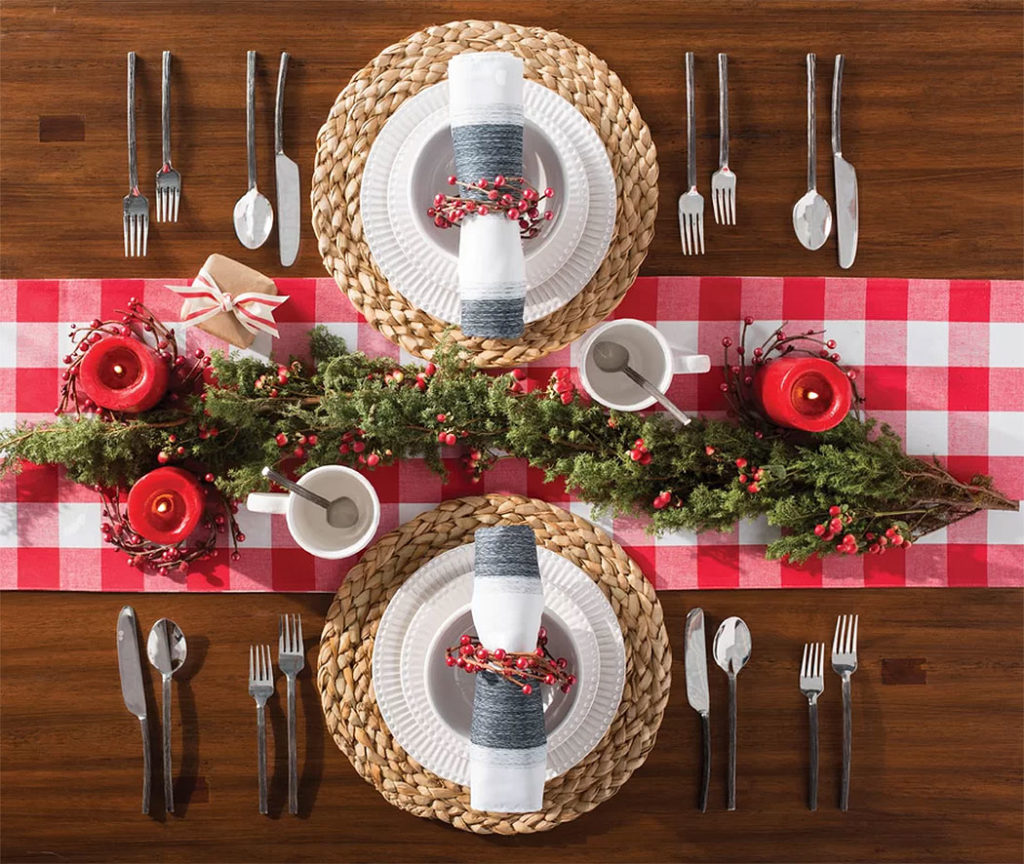 A very charming Country Christmas Table Setting featuring a red plaid table runner, a delicate garland, red candles with twig & berry accents, and woven placemats.
You Know Dasher, and Dancer…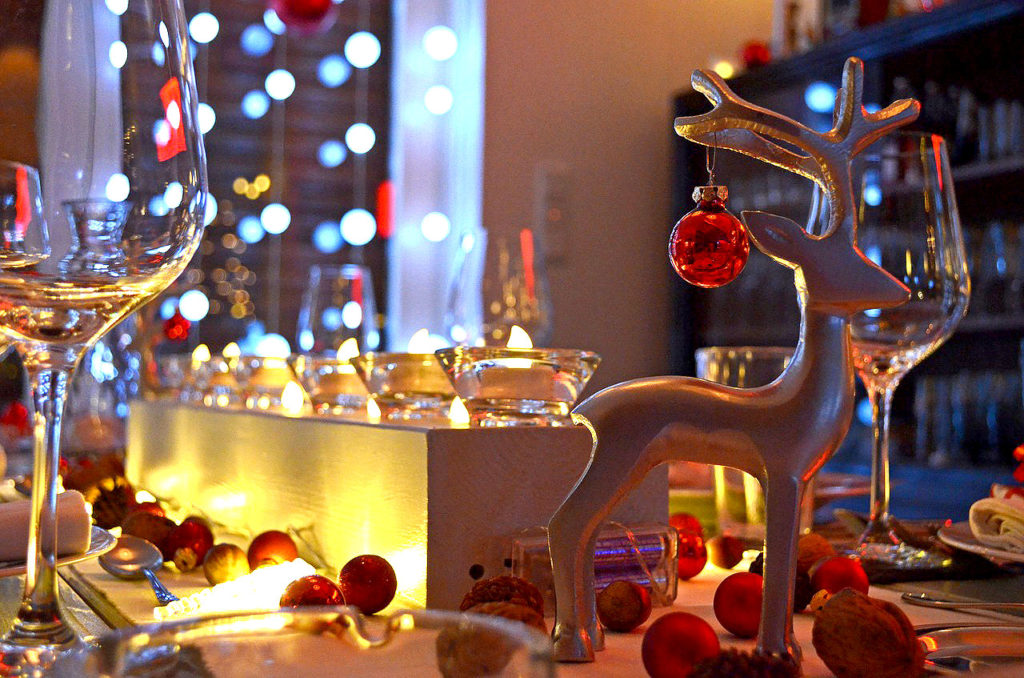 A wonderful golden reindeer takes center stage in this lovely Christmas table setting. Gold and red accents abound, creating a wonderfully elegant yet relaxed dining scene.
A Subdued Christmas Table Setting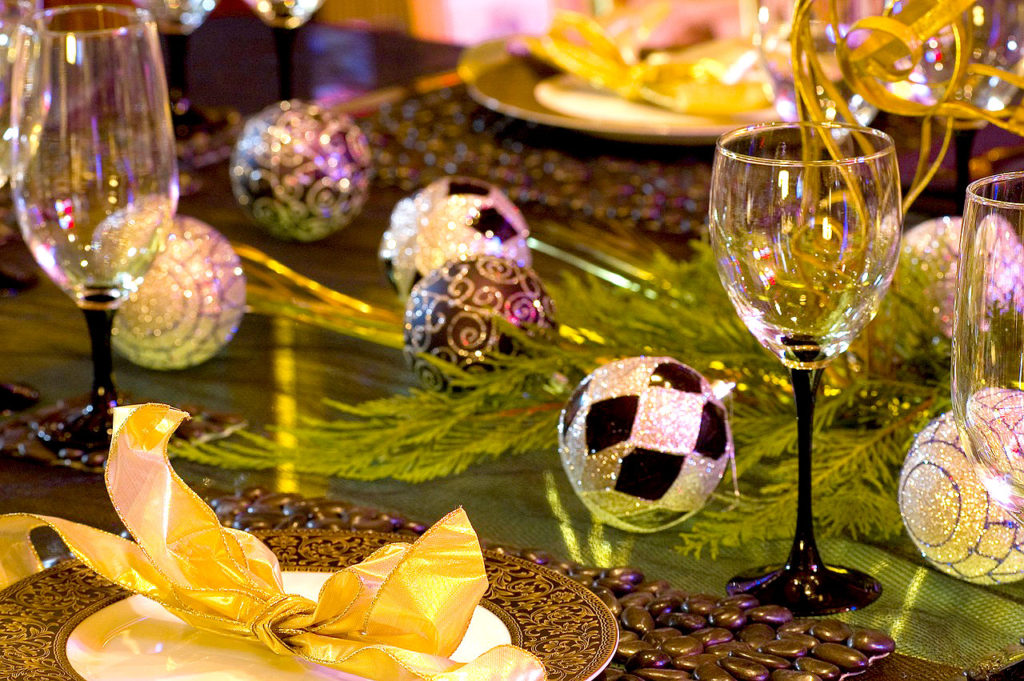 This setting is far less colorful than your standard Christmas Table, with Silver, Gold, and Black playing the lead in the decor.
I love how they've used non-traditional ornaments, such as black and silver, to play against the vintage glassware and ornate plates. This has an old-Hollywood feel to it, a modern touch, and a bit of 80s styling. But, isn't that what Christmas is about… several generations coming together to celebrate?
French Country Elegance Christmas Tablescape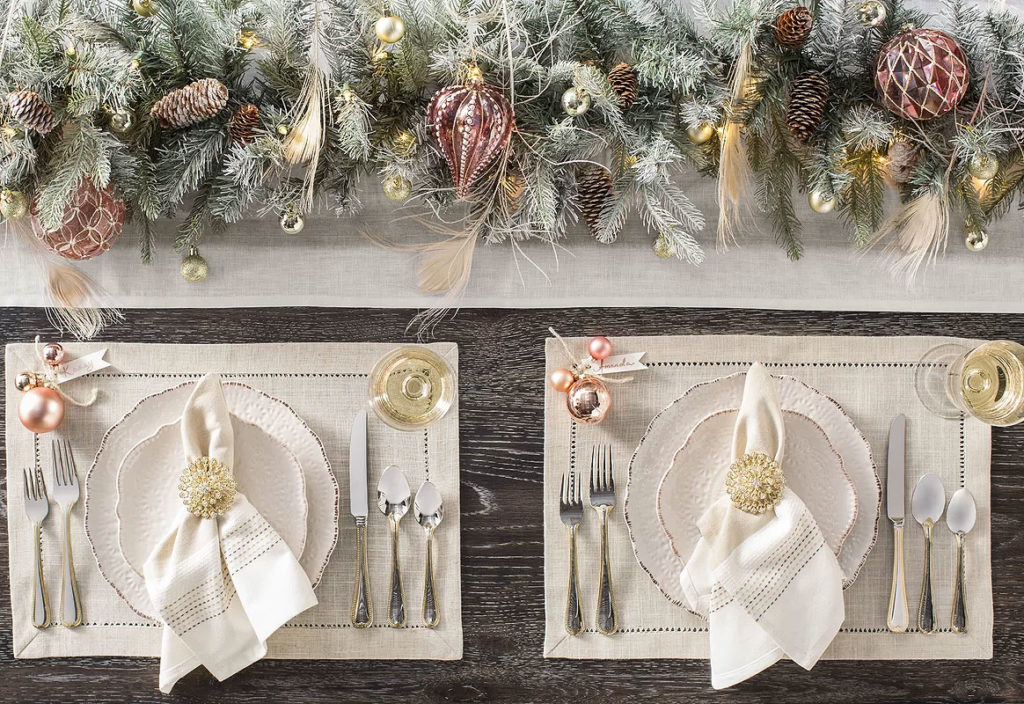 Subdued colors and delicate accents help set the stage for this elegant French Country Christmas Tablescape. However, it's the delightful Pfaltzgraff Chateau dinner plates that really steal the show.
Naturally Rustic Christmas Table Setting
Image Source: TLC Interiors
The perfect Christmas table if you love nature and rustic interior design while wanting to stay away from the traditional festive colors and design cliches.
---
---
The Messy Farmhouse Christmas Table Setting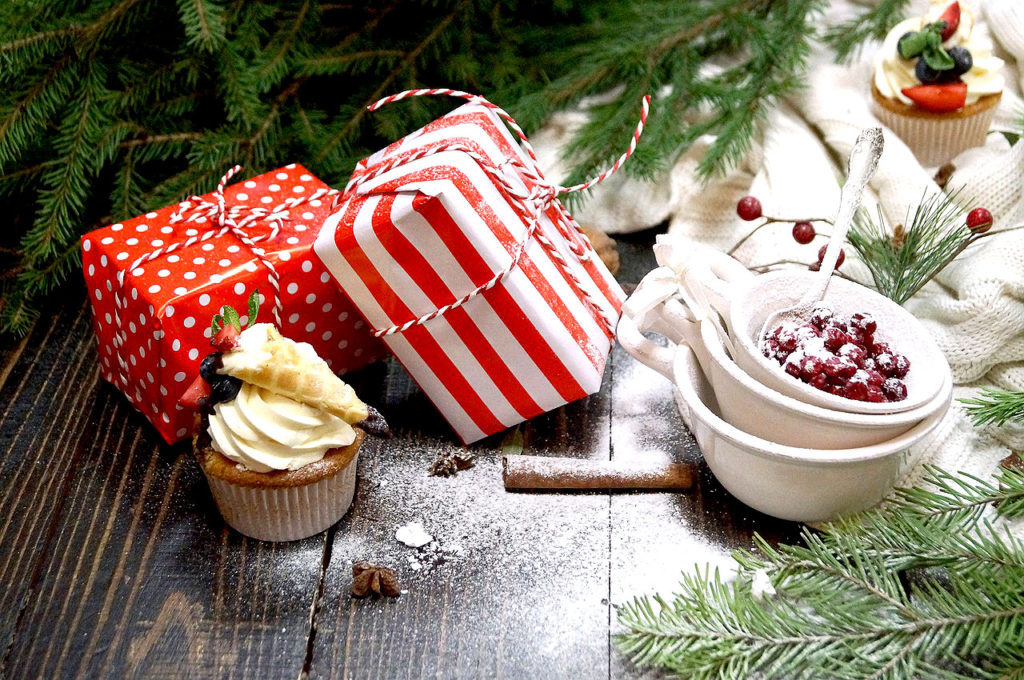 I love the natural messiness of this particular table setting. It's like they not only decided to accept the fact that the holidays are a hectic and messy time, they decided to fully embrace it and create magic with it.
The wool cloth, the powdered sugar sprinkled onto the rustic farmhouse table. The abandoned cinnamon stick. It makes one feel at ease, while still providing a lovely feeling of home, family, and the Christmas spirit.
An Angelic Christmas Tablescape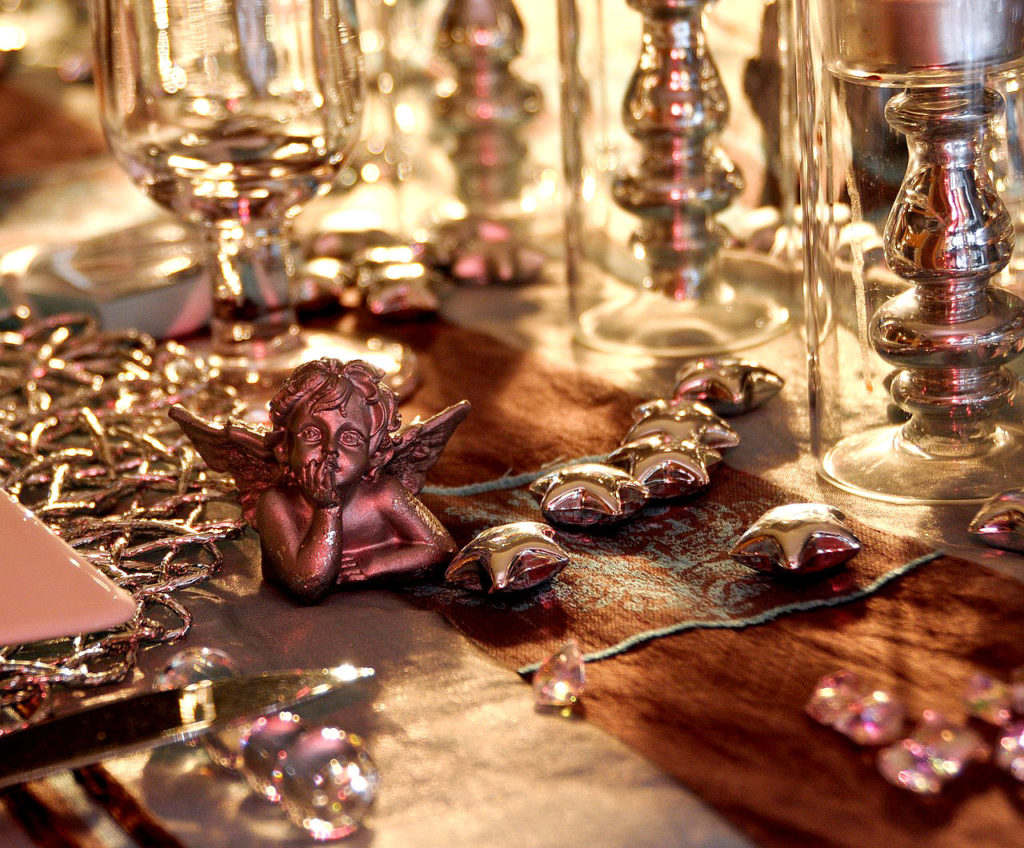 The use of tiny cherubs and other small Christmas Decor elements are paired with large decorative candles that festoon the middle of this table. The result is magical.
The Simplicity of Glowing Christmas Candles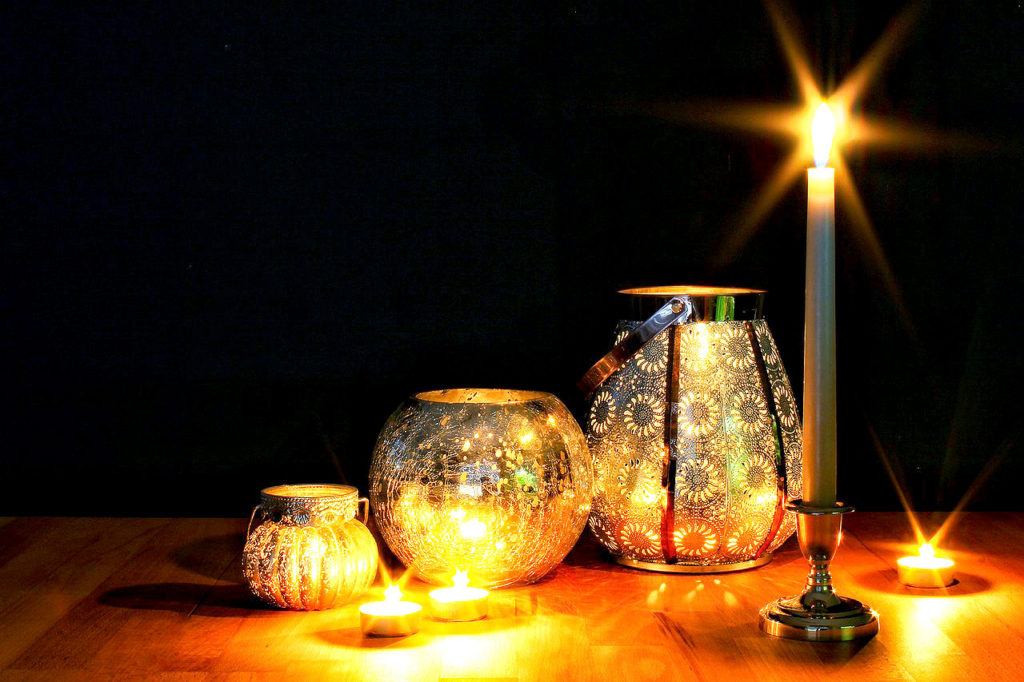 Sometimes, all you need is something simple. A few candles of varying sizes really set a wonderful and warm mood on this simple harvest Christmas Table.
It's Battery-Operated Christmas Table Decor, Charlie Brown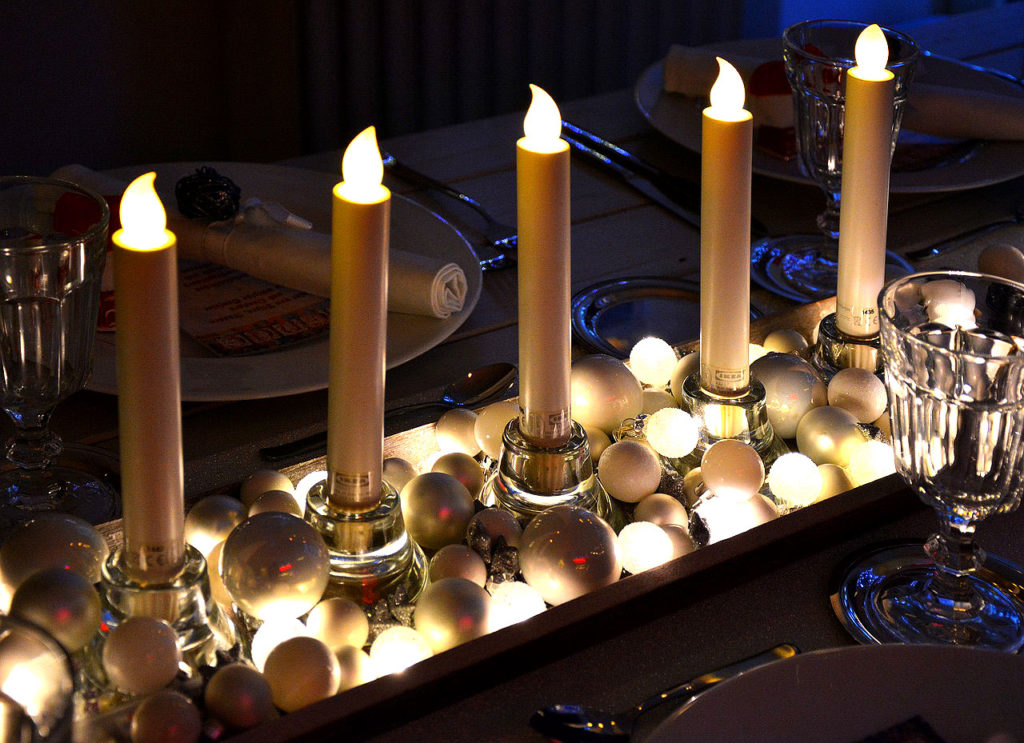 Sometimes, you don't have the luxury of real candles. Perhaps you are entertaining outdoors, where the wind would become an obstacle. Or, you have young children at the table and don't want a table full of fire hazards. In that case, these lovely battery-operated candles in a boat of Christmas ornaments and smaller lights do just the trick.
Candy Cane Christmas Table Accents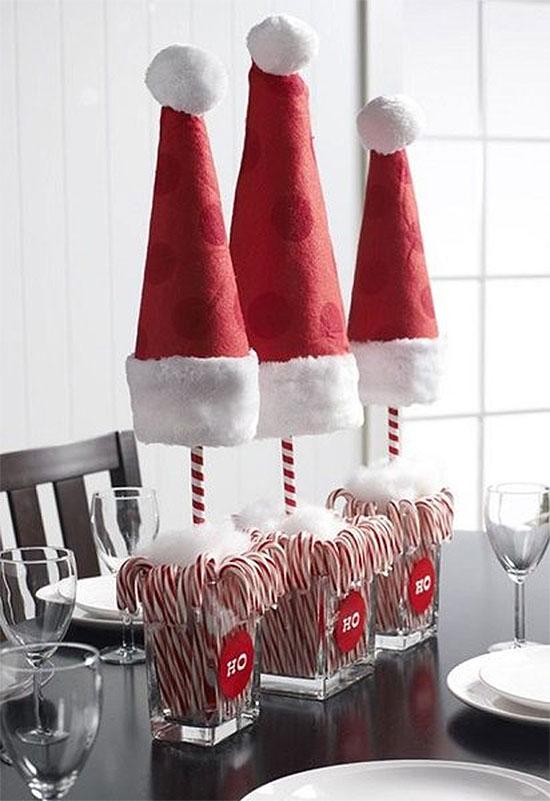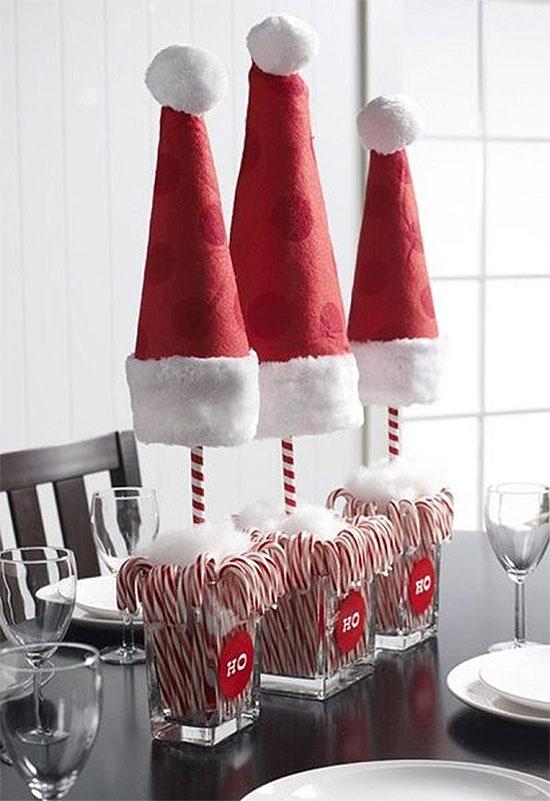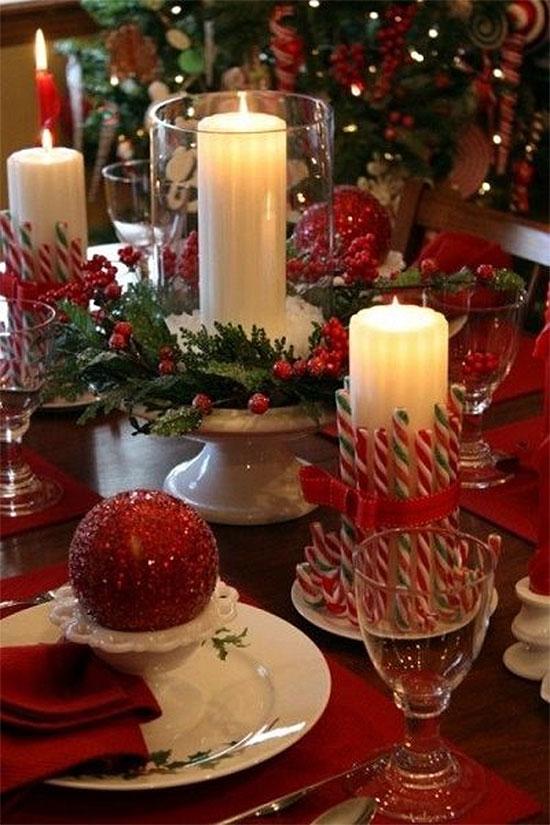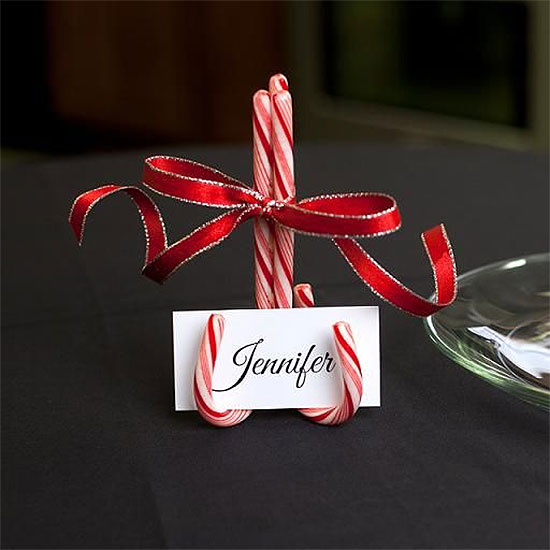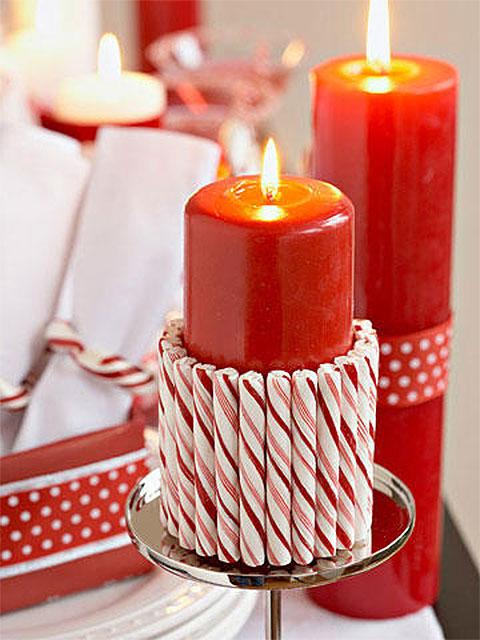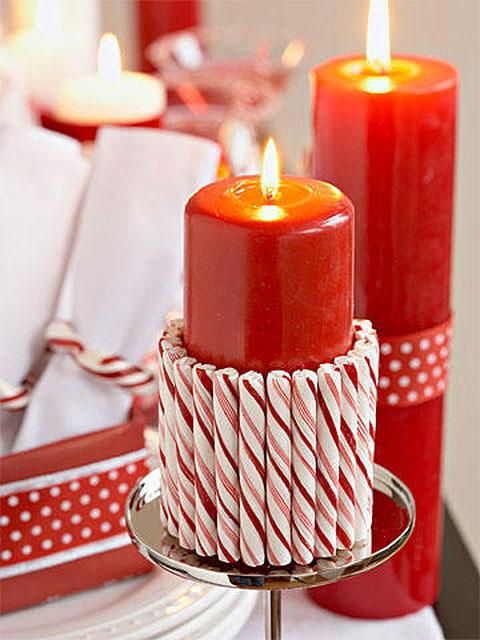 Even if some of them are just Candy Cane Inspired, they are still quite lovely.

Images: Pinterest.com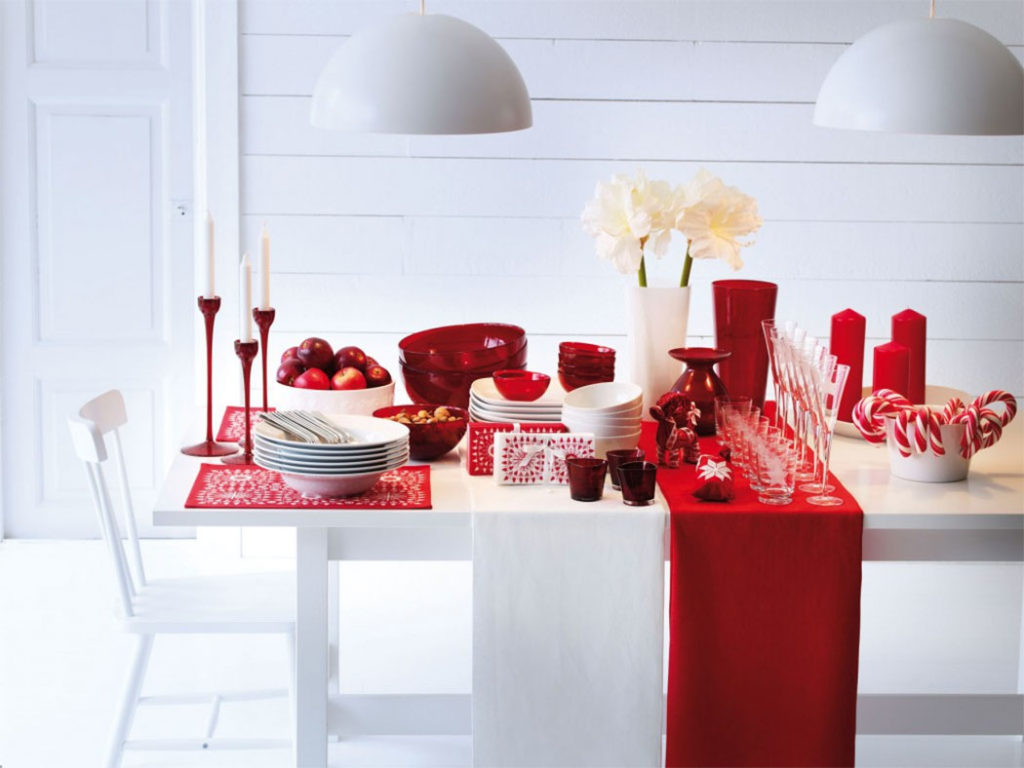 Source: Rare Delights Magazine
You have to appreciate the creative uses of Candy Canes to help set the festive spirit at a well-decorated Christmas Table.
All that Glitters is Golden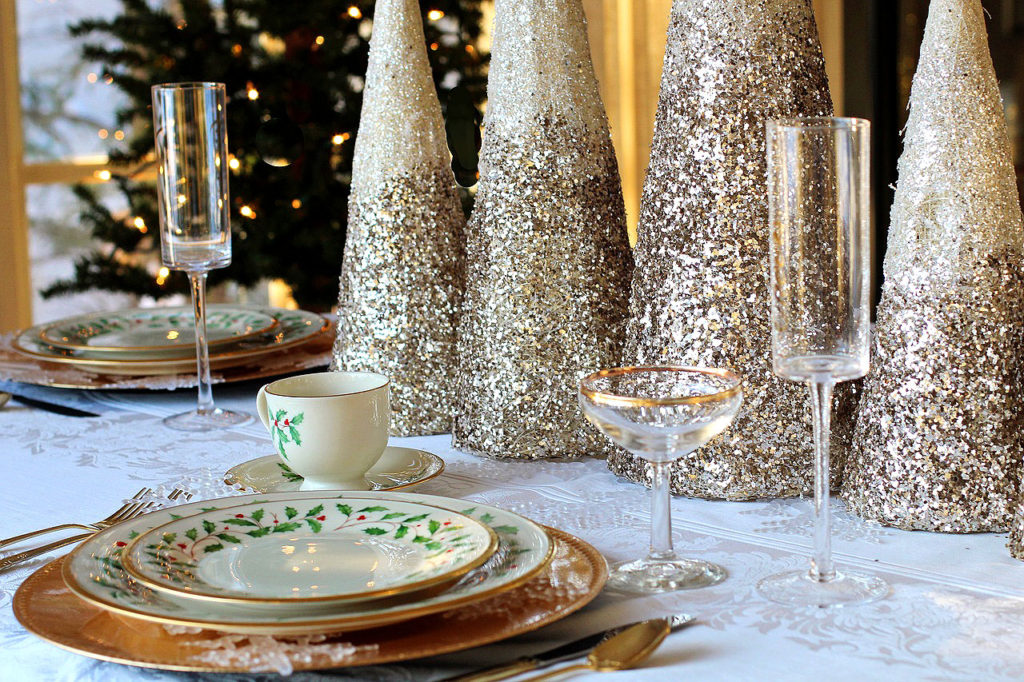 I love the hint of glamour blended with a mix of vintage charm in this delightful Christmas tablescape. If you look closely, you can see some lovely additional touches, such as the snowflake ornaments placed between the dishes for an added layer of decoration.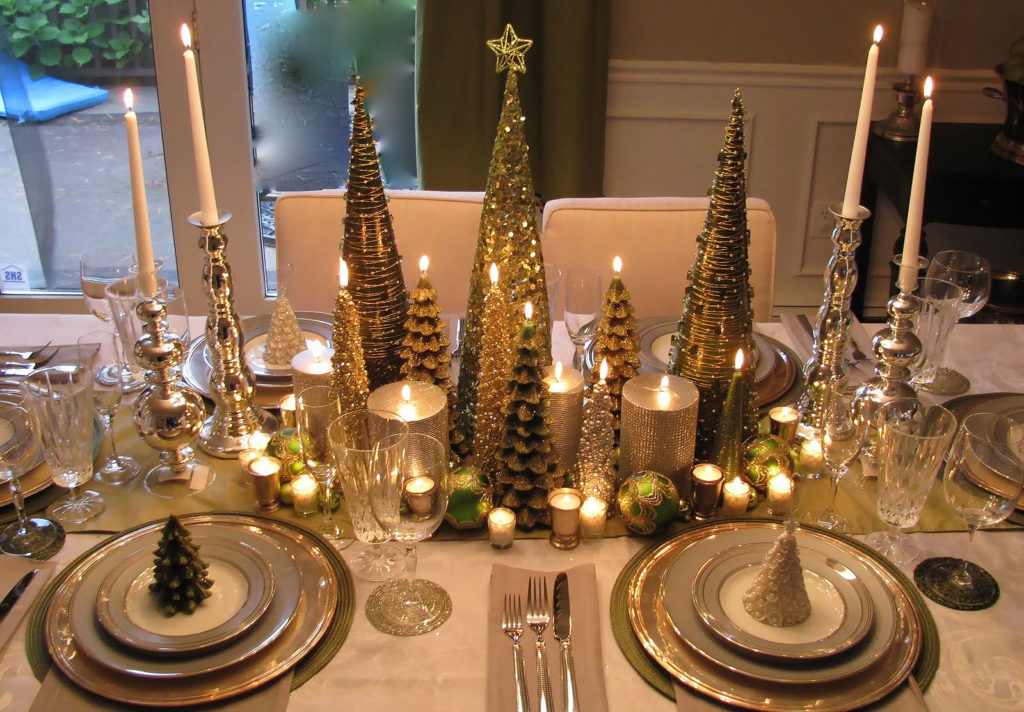 Source: Decorating Files
This table explores the beauty of gold in a variety of ways, from the trim on the plates to the gold-painted trees that decorate the centerpiece.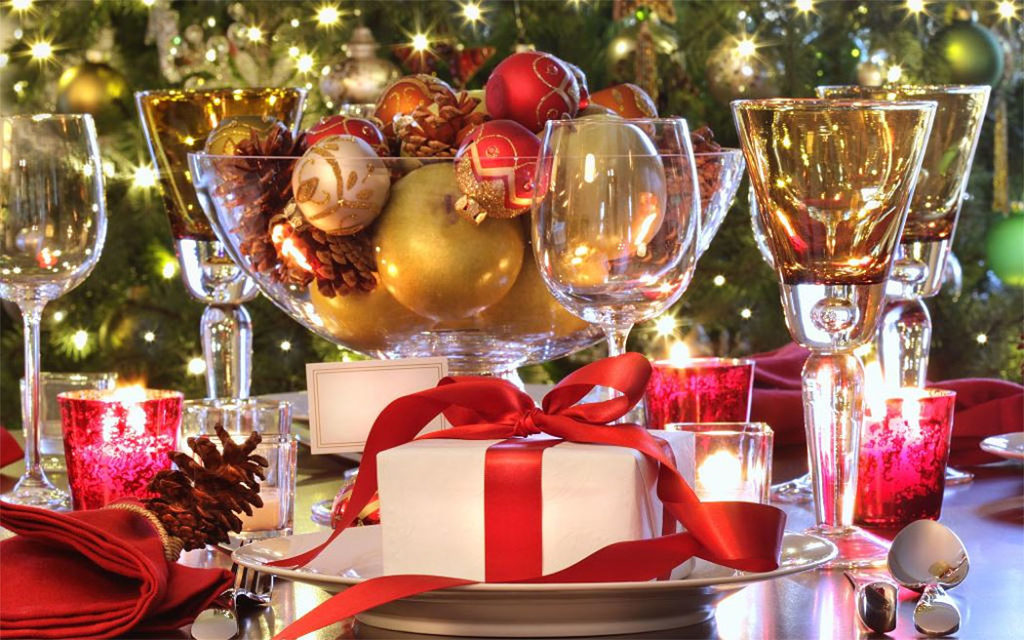 Gold ornaments and gold-topped glasses create the perfect, luxurious touch on this delightful table.
Source: Rare Delights Magazine
---
---
None of these table settings would be difficult to recreate. With the right touches and a bit of imagination, you can create your own magical table setting to help celebrate the season.
Merry Christmas!!
All the best!
Art & Home
Looking for More Christmas Decor Ideas?