As the holidays arrive, so do Holiday Guests. It's easy to give the guest room or your own bedroom a Christmas Bedroom Makeover to help you ring in the Holidays in style.
It doesn't take a lot to bring the spirit of Christmas into the bedroom A touch of red here. A garland there. A decorative Christmas throw pillow. Some wall art. Maybe some soft twinkle lights to set the Holiday mood.
Below are just a few examples to provide inspiration on how to incorporate your love of the Christmas Holidays into your bedroom decor. If any of these particular designs intrigue you, you can follow the Shop the Look links to see more details at our affiliated retailer websites.
To All a Good Night Christmas Bedroom Decor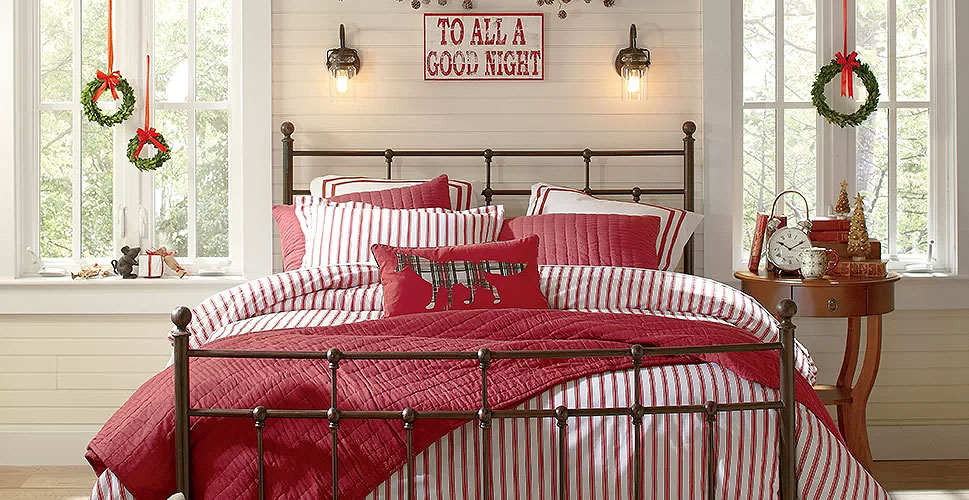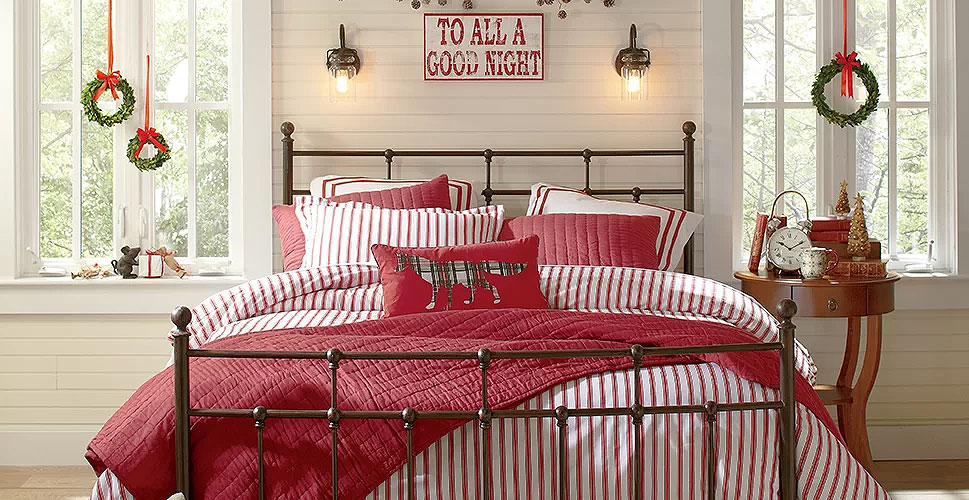 Red bedding is a really quick and easy way to add some festive touches to the bedroom. This country cottage room is updated with some candy cane striped bedding with a solid red quilt for extra comfort. Additional touches, such as the set of 3 wreathes handing in the window, the gold Christmas trees, and the gift mouse on the window sill add to the charm of this room. To finish the look of the room, a simple red & white wood sign reads "To All a Good Night", which is a classic Christmas phrase.
Here are a few other examples of how this simple Red & White "Candy Cane" Striped bedding set has transformed a bedroom from every day to Holiday.
Candy Cane Red & White Striped Christmas Bedding Set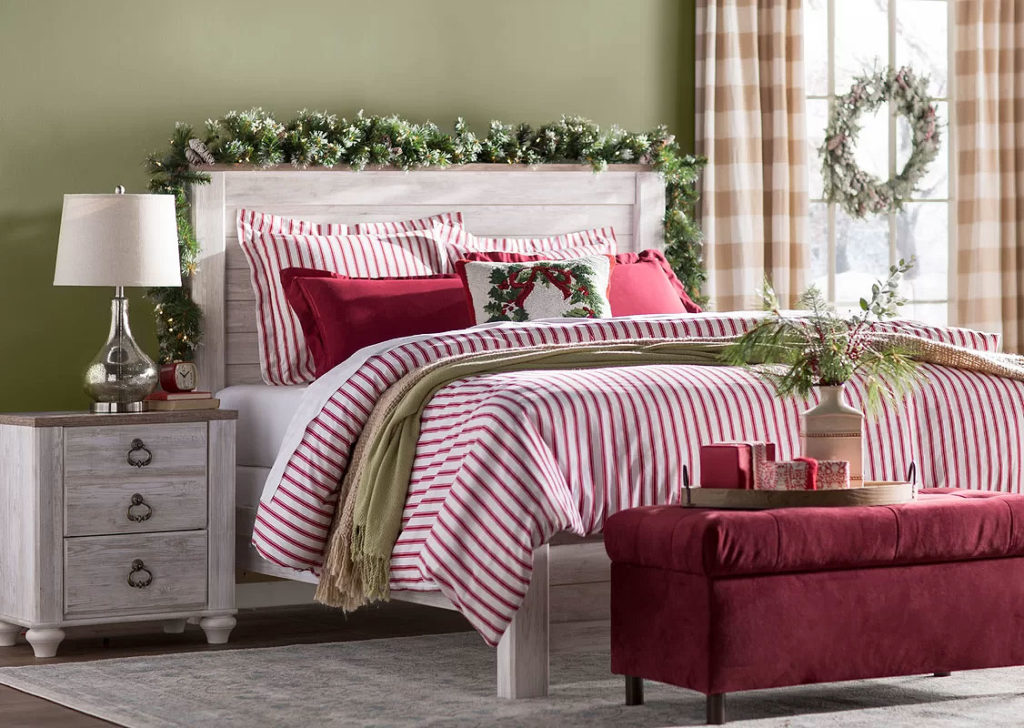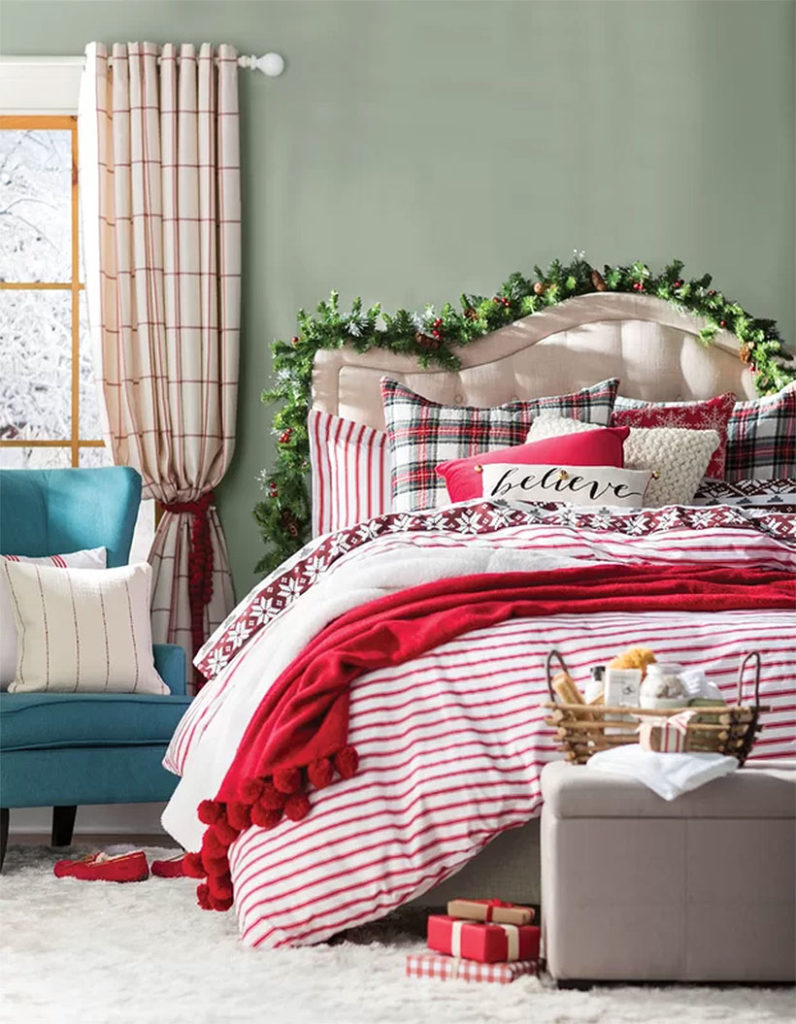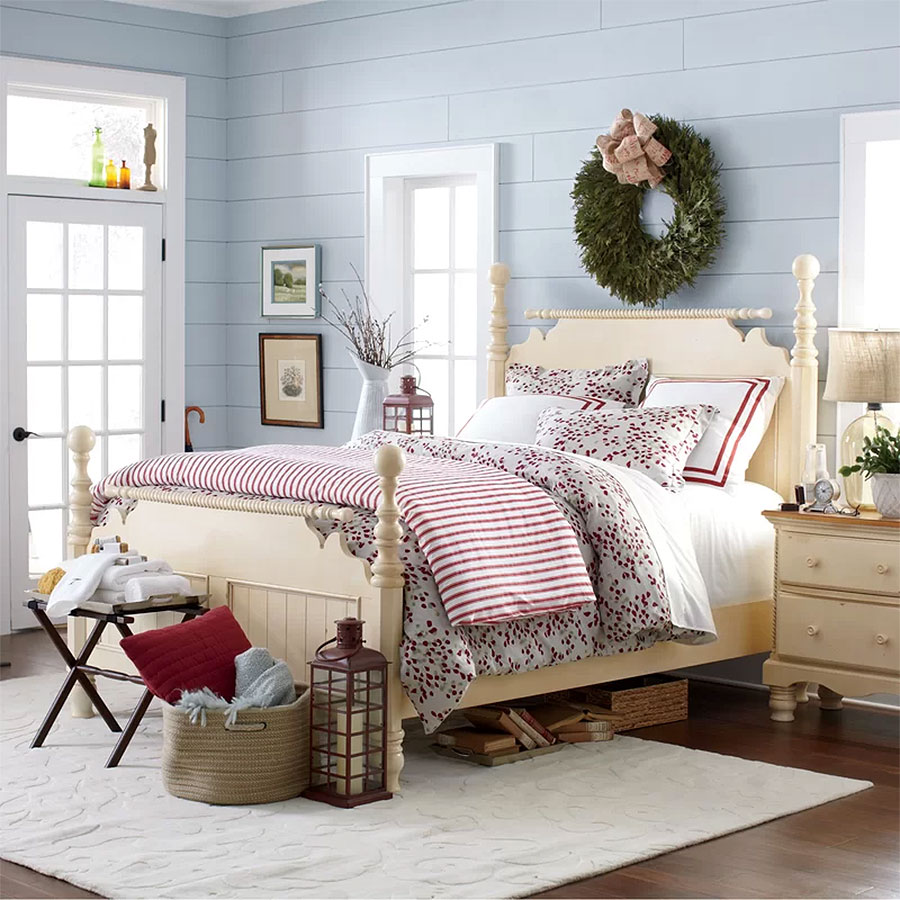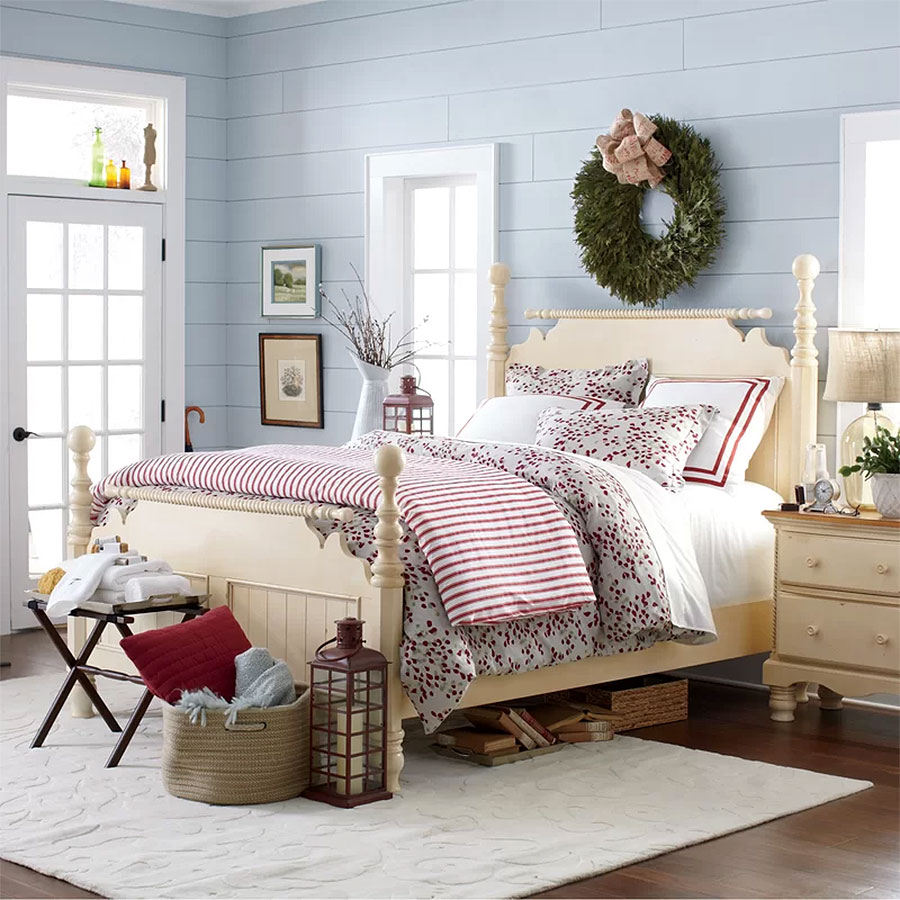 It's easy to see, from these examples, how quickly and easily you can transform a bedroom to include simple touches of Christmas Bedroom Decor that make a big impact.
An Elegant Christmas Bedroom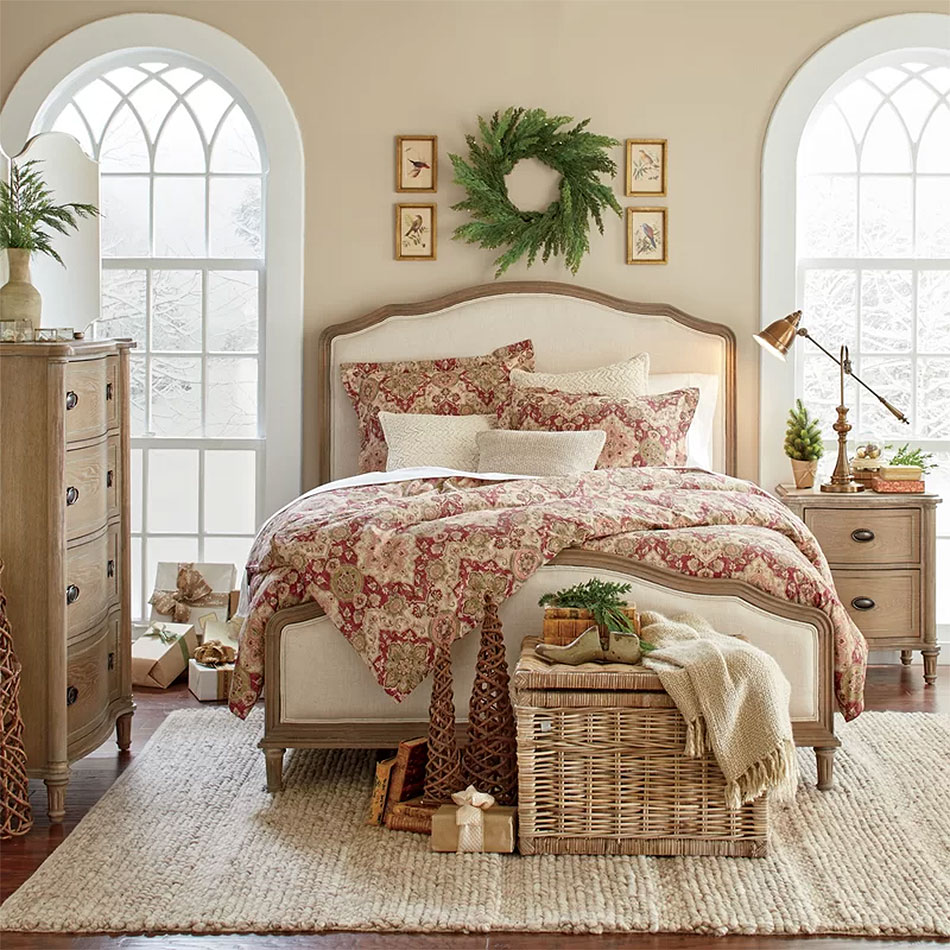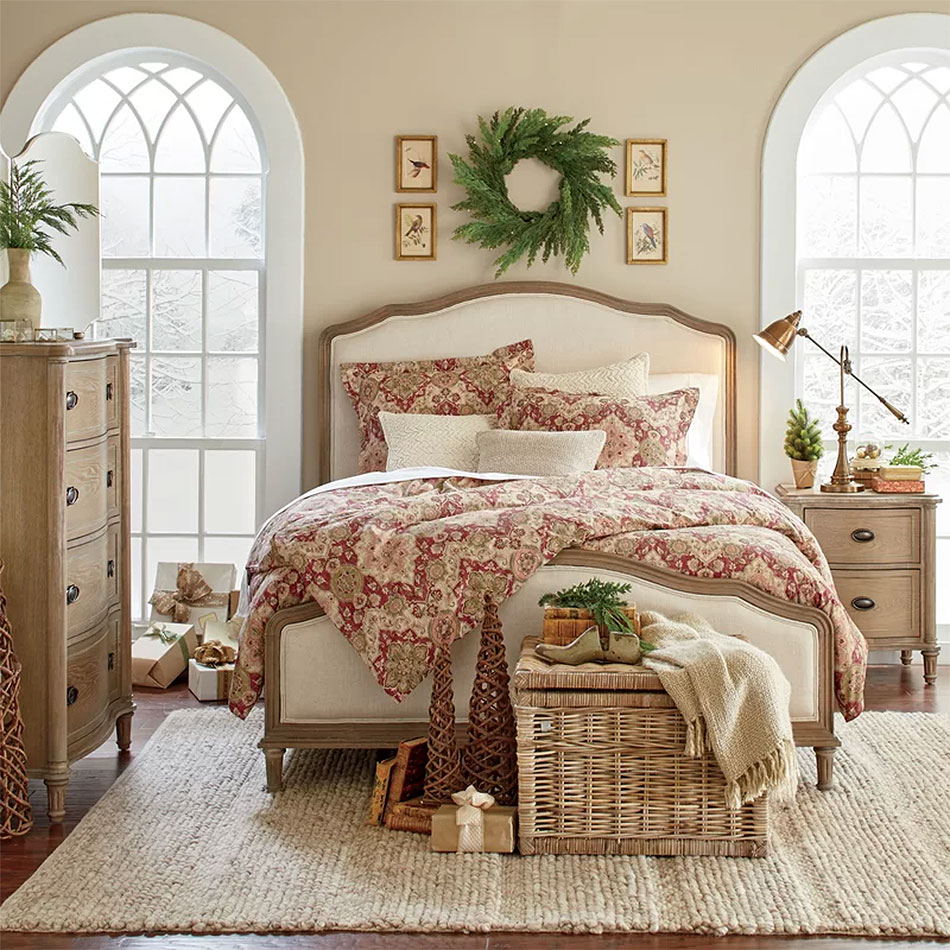 A warm and inviting comforter brings an elegant touch of deep red to the bedroom. A simple green wreath adds a touch of Christmas flair. And gold wrapped gifts and wooden Christmas tree sculptures add a lovely bit of charm to this elegant and inviting Christmas bedroom.
Country Plaid Christmas Bedroom Decor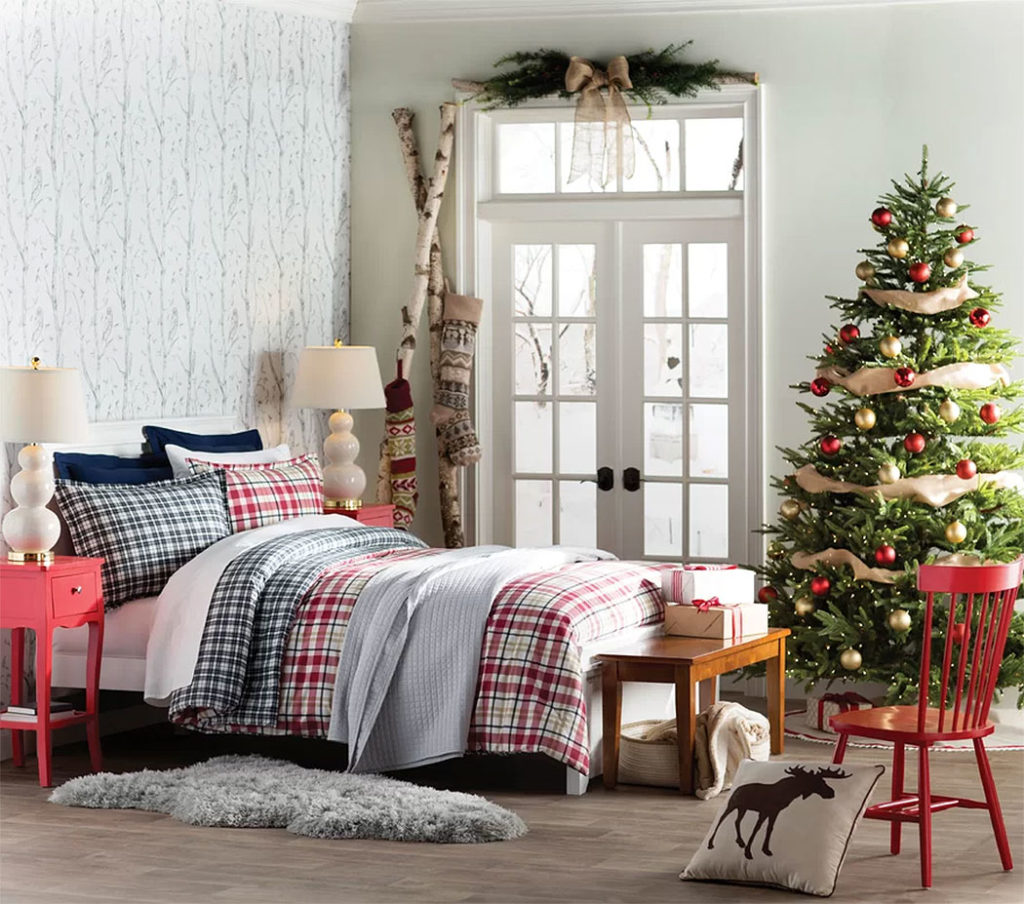 This room is probably the most labor intensive Christmas Bedroom Makeover of the bunch, simply because an entire artificial Christmas Tree is installed in the corner of the room. Beyond that, a simple green garland above the door, two rustic stockings hung on birch stalks, and a few wrapped gifts are the only pieces of "true" Christmas that would need to be removed at the end of the Holidays. If you really want to have a complete makeover, the red accent furniture pieces and red plaid comforter set can be swapped out for more neutral tone or blue pieces for the rest of the year.
Rustic Daybed Guest Christmas Bedroom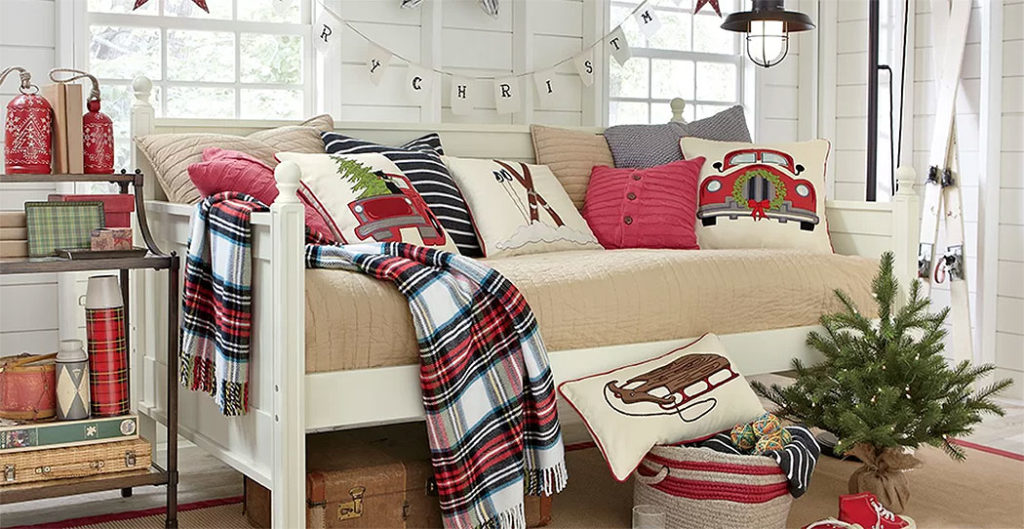 The flexibility of this room, both from a design and a functionality standpoint, works well for a Christmas makeover. The use of a Daybed lets this room serve double-duty as a bedroom or cozy sitting room. The delightful Christmas additions are abundant in this room, from quaint decorative pillows, to a cozy plaid throw blanket, to a red plaid thermos that literally infuses warmth into the room.
Christmas Touches in an Industrial Bedroom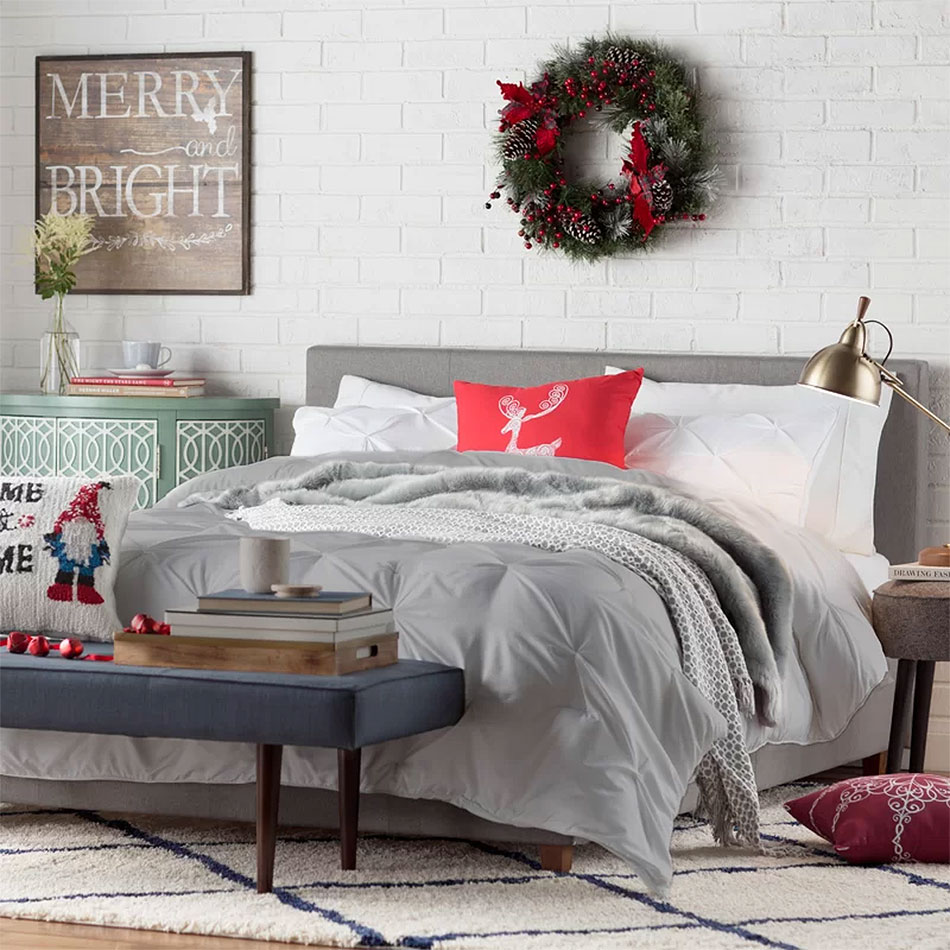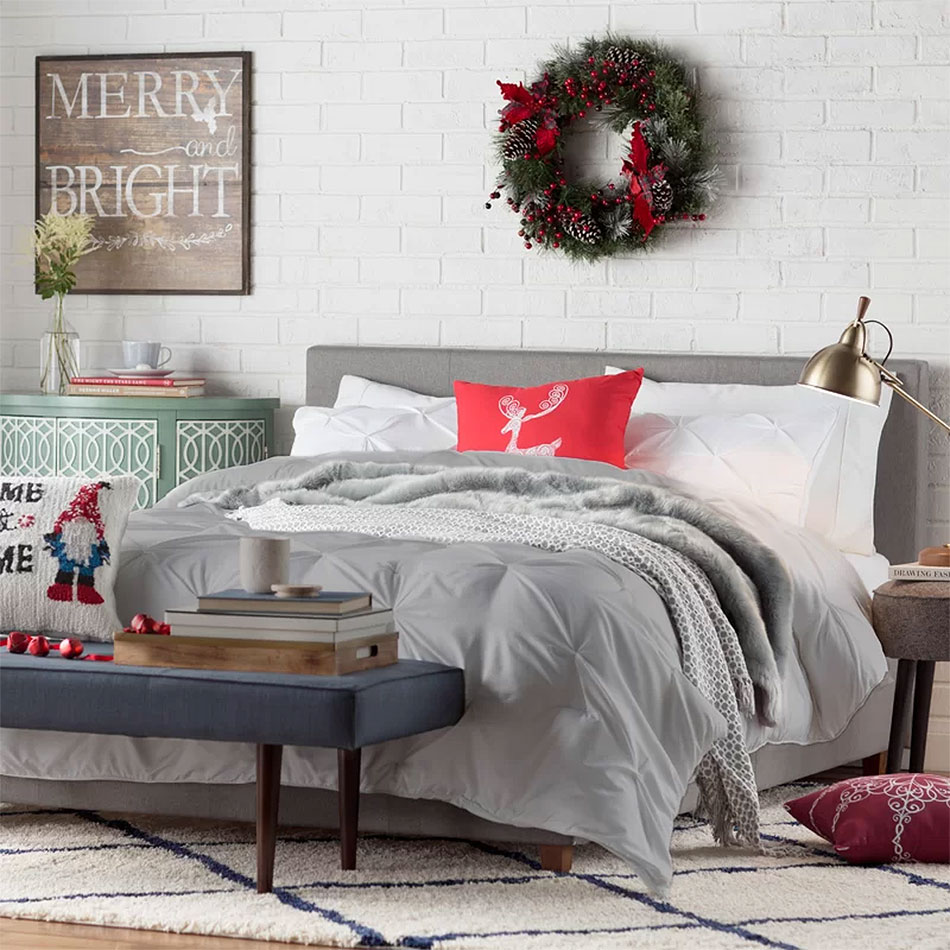 Simple Christmas touches give this Industrial Bedroom a charming Christmas look. From the traditional wreath to the Merry & Bright Christmas Wall art which fits perfectly into this room's overall aesthetic, to the quaint Christmas pillows. Each piece helps add a lovely bit of Christmas to the guest or master bedroom.
Cozy Cottage Bedroom with Red Christmas Accents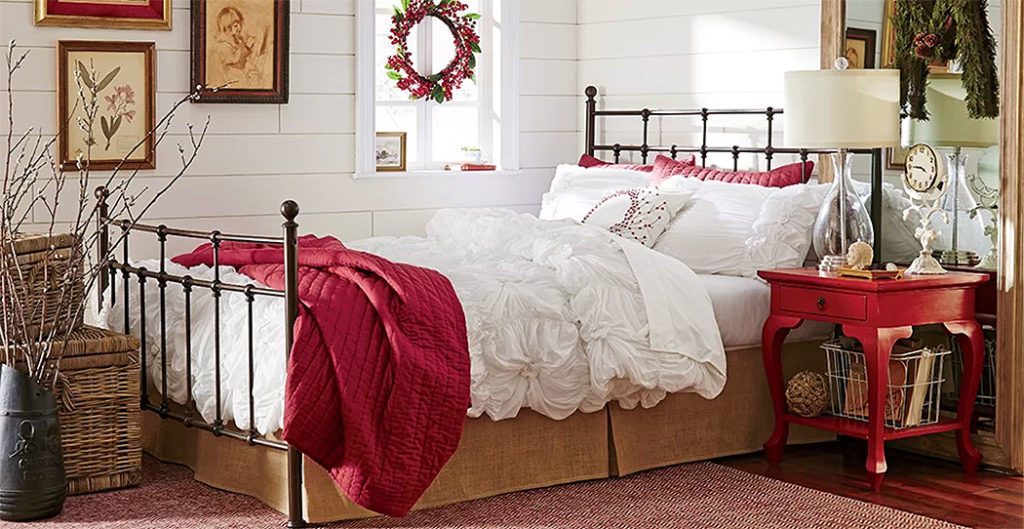 The White Ruffle bedding is truly delightful. This, combined with the red quilt and decorative throw pillows makes this room almost instantly Christmas themed. Additional touches, including the holly & ivy wreath, create a quick and easy makeover that's perfect for the Holidays.
Cool Rustic Christmas Bedroom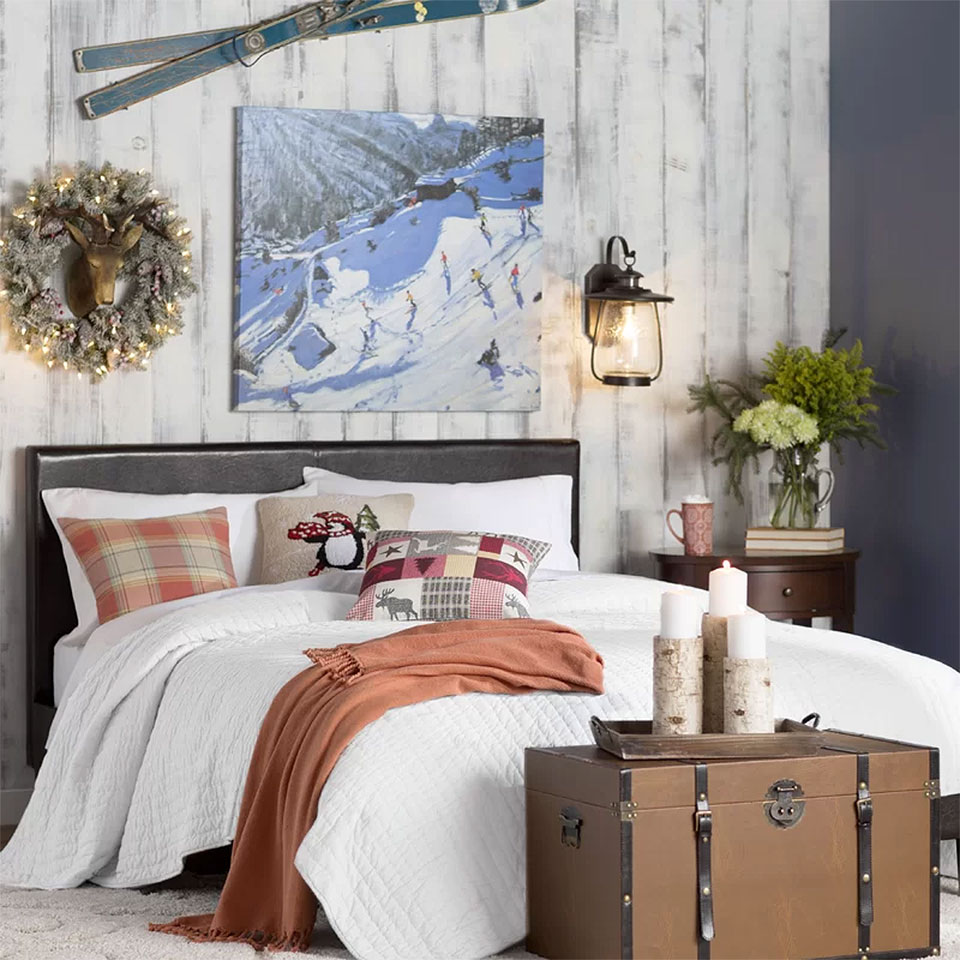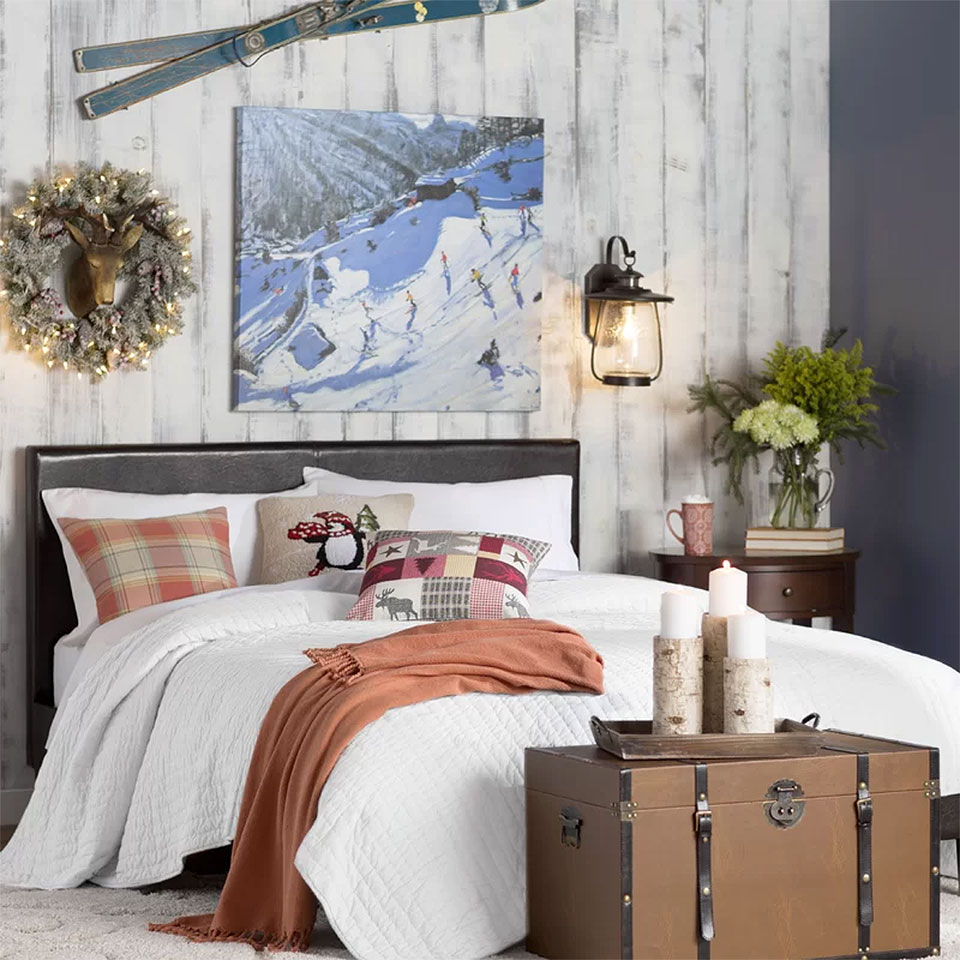 Forgoing some of the more traditional Christmas colors, this room features a delightful winter scene and some rustic Christmas decor accents, which work perfectly against the whitewashed wall, to create a delightful Holiday look.
A Wintergreen Christmas Bedroom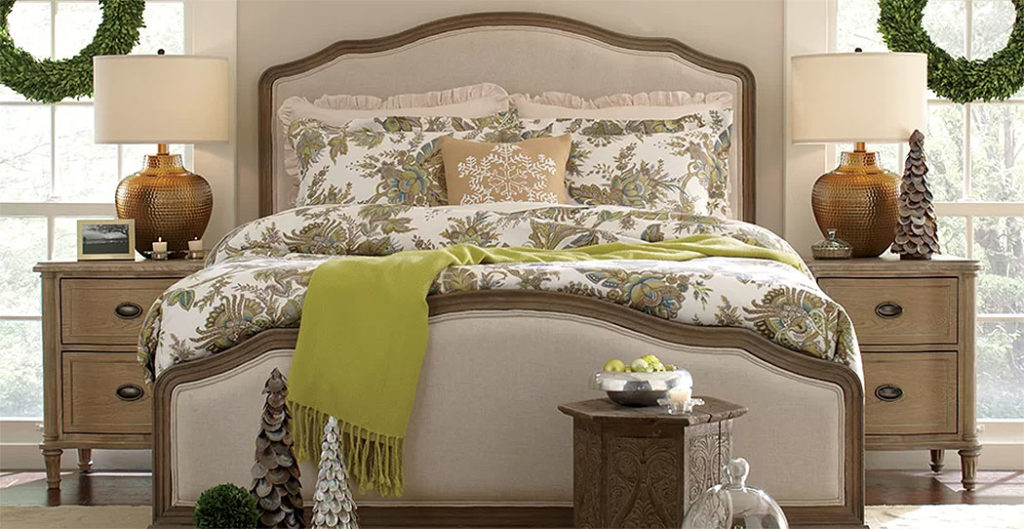 This room has a subdued and elegant look, while maintaining that Christmas feel through the use of green and gold.
Peaceful Plaid Christmas Bedroom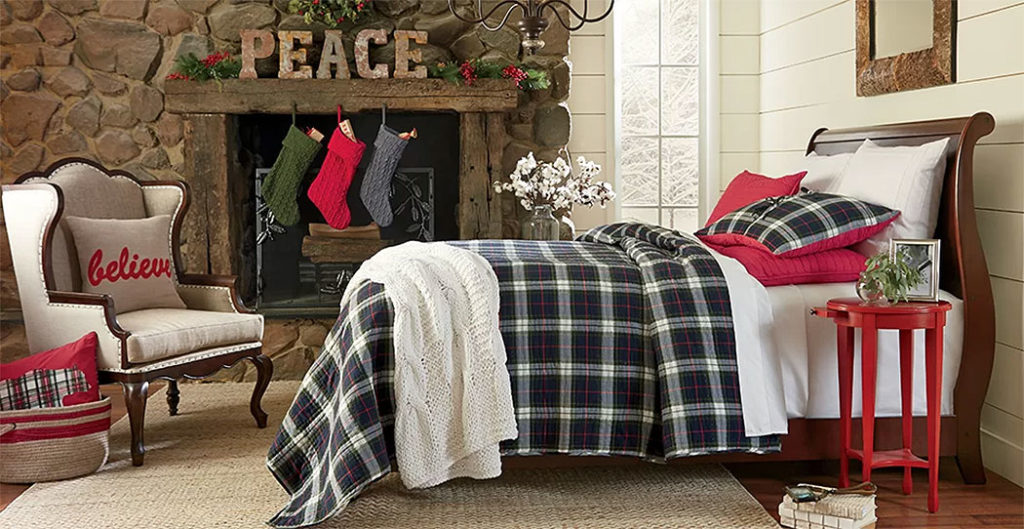 The rustic fireplace makes this room, and the Christmas additions simply add an extra layer of charm and comfort to this already wonderful bedroom.
A Pop of Modern Christmas Color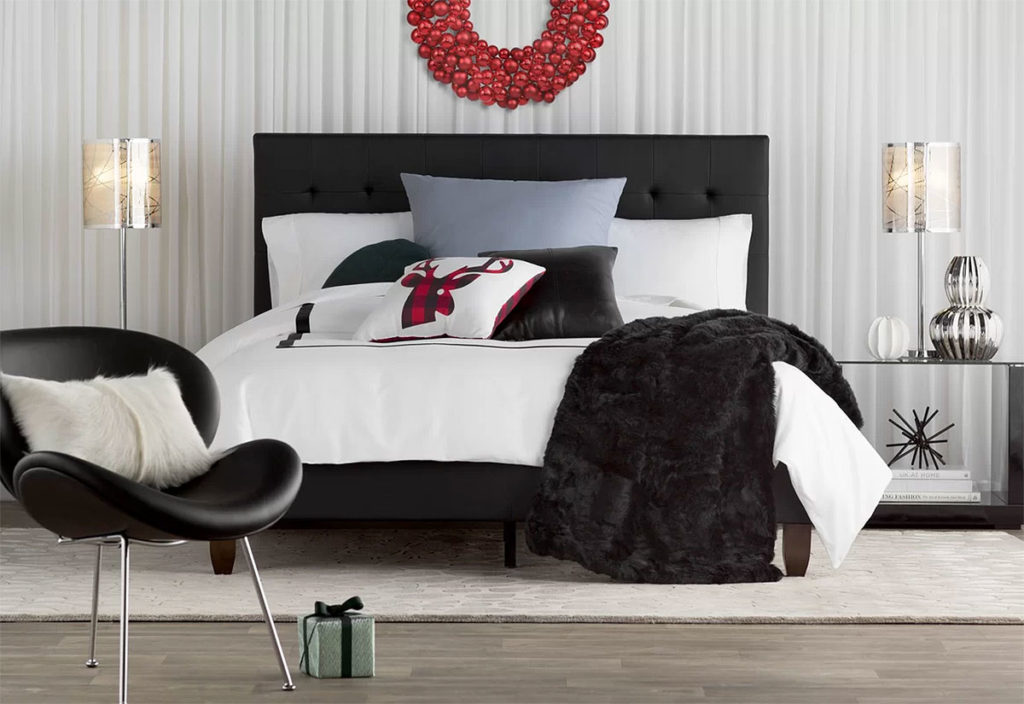 In possibly the quickest Christmas Bedroom Makeover in the bunch, this thoroughly modern bedroom is infused with a couple of small pops of Christmas color. These small additions would take less than 5 minutes to install, but the strength of their contrast against the mostly black & white bedroom is enough to add a touch of modern Christmas spirit.
Red & Gold Brocade Christmas Bedroom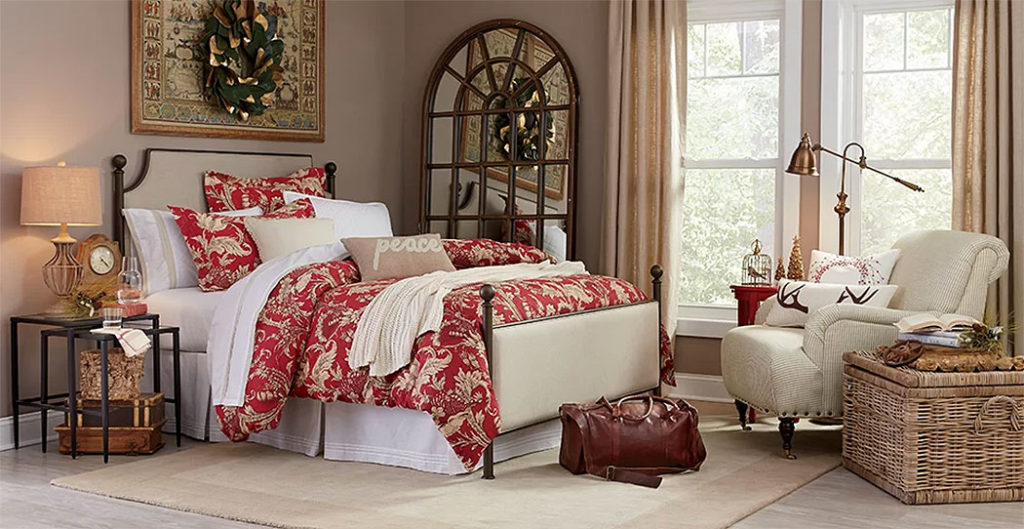 This elegant bedroom features a beautiful Red & Gold Brocade bed set.  With the addition of some quick and easy Christmas decor accents, in less than 30 minutes this muted room feels warm, inviting, and full of Holiday spirit.
Christmas Reindeer Bedroom Decor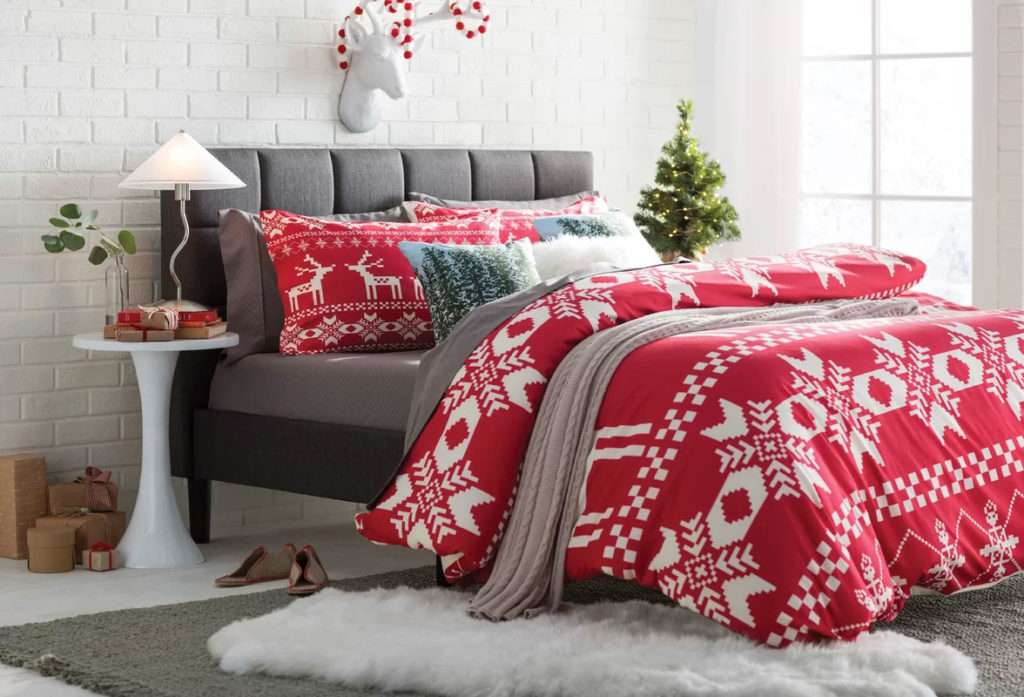 Reindeer take center stage in this quick Christmas Bedroom makeover. A wonderful red Christmas Reindeer comforter set adds a lovely and warm pop of red with a Reindeer motif tot he bed. Above the bed, a faux deer head has been decorated with red Christmas ornaments to create a delightful seasonal touch.
A Christmas Ski Chalet Bedroom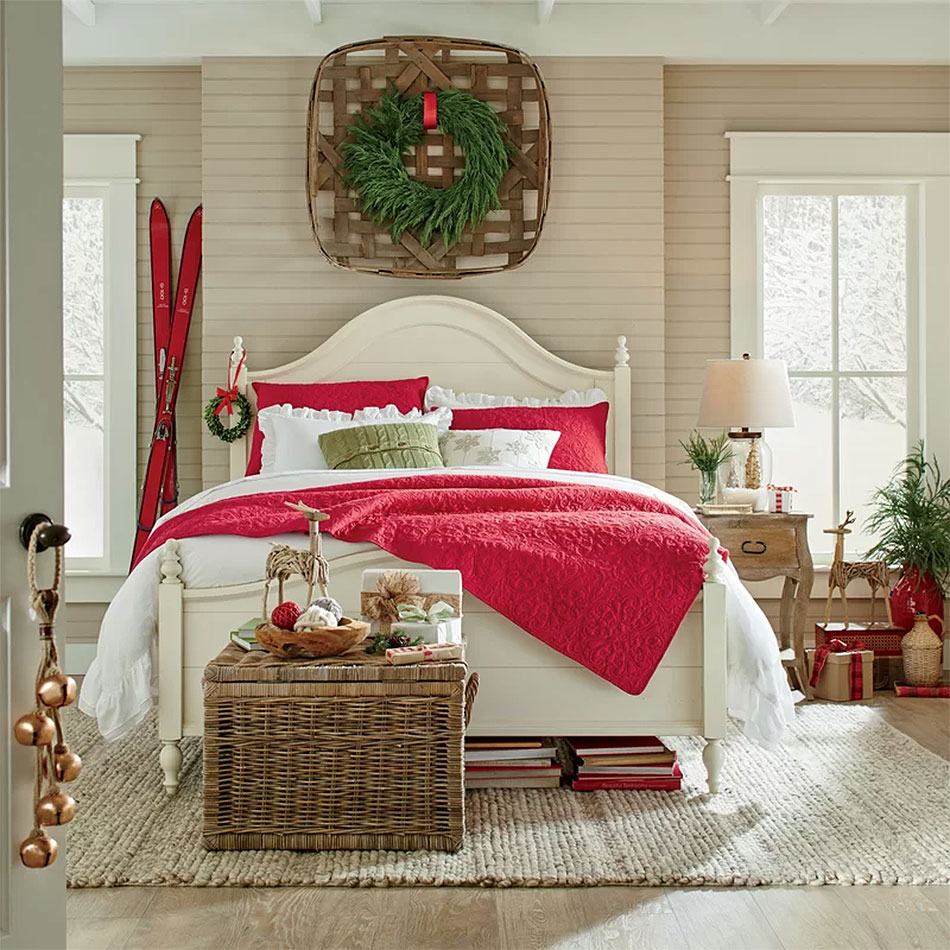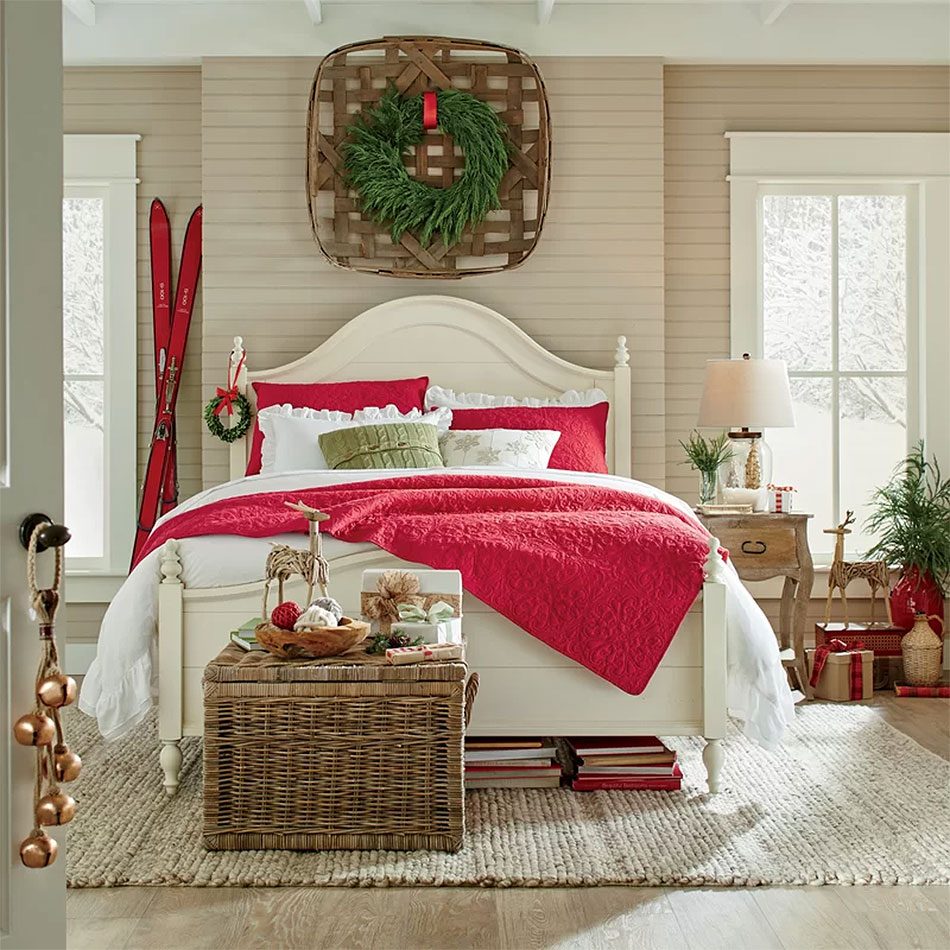 This charming bedroom gets a Christmas Makeover by adding some delightful red accents, including a pair of red Skis in the corner, which bring a bright pop of Winter color into the room. The wreath and other greenery brings a touch of Christmas green. Finally, a couple of wooden reindeer and set of Christmas bells help tie the room together in a delightful and charming way.
Rustic Plaid Christmas Bedroom Decor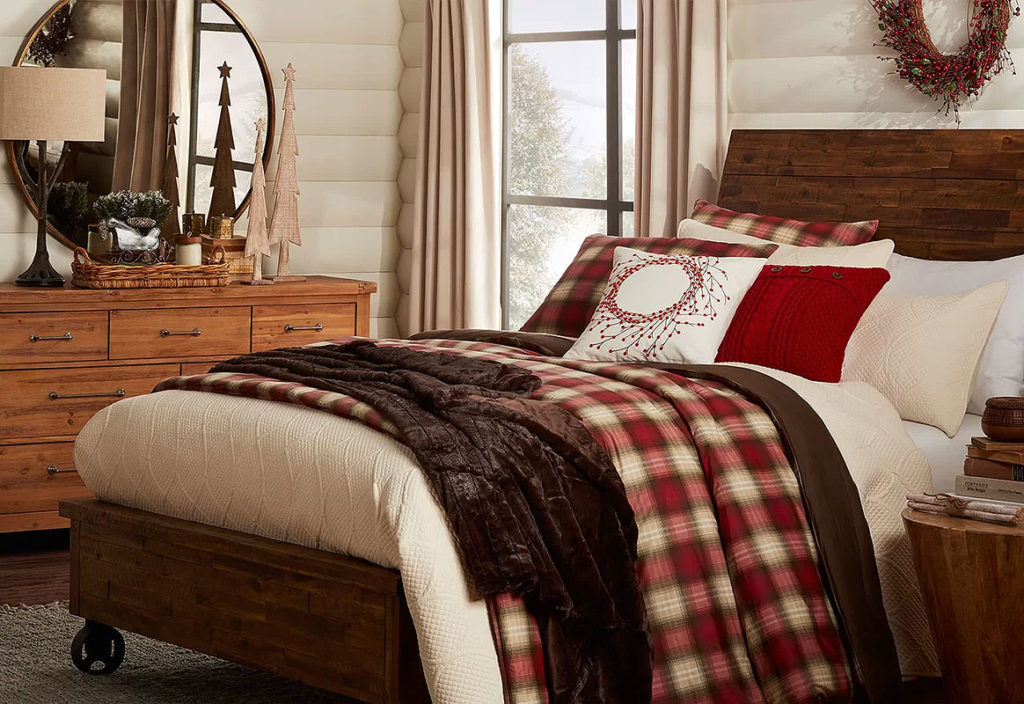 This warm, rustic bedroom is given a quick Christmas makeover through the infusion of a red plaid comforter set, which perfectly balances against the warm, rich browns in the rest of the bedding. A holly embroidered throw pillow adds a simple yet charming touch to the bedding ensemble.
Wintry White Christmas Bedroom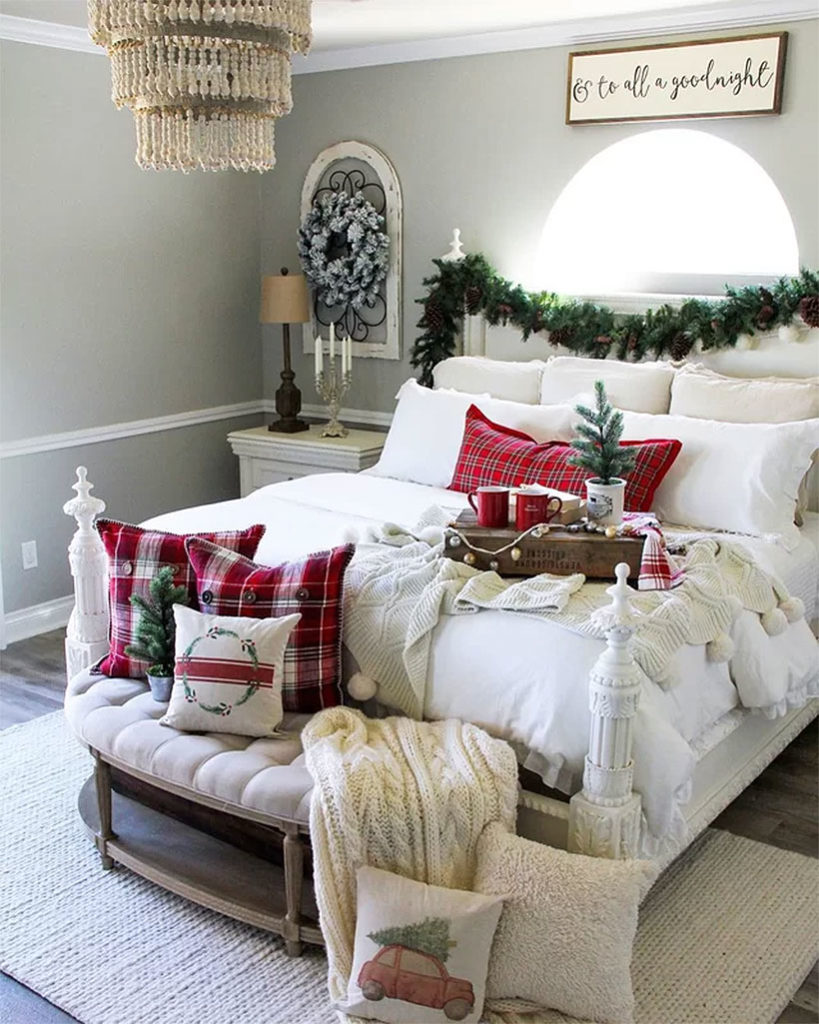 The white bed and bedding create a clean background that lets the Red & Green from the Christmas Decor additions really pop. To change this room from everyday to extraordinary, all it took was a delightful garland along the headboard, a Christmas themed plaque above the arched window, a couple of seasonal throw pillows and some additional greenery through a frosted wreath and a small potted Christmas tree. Quick, Easy, and Delightful!
Country Cottage Christmas Bedroom Decor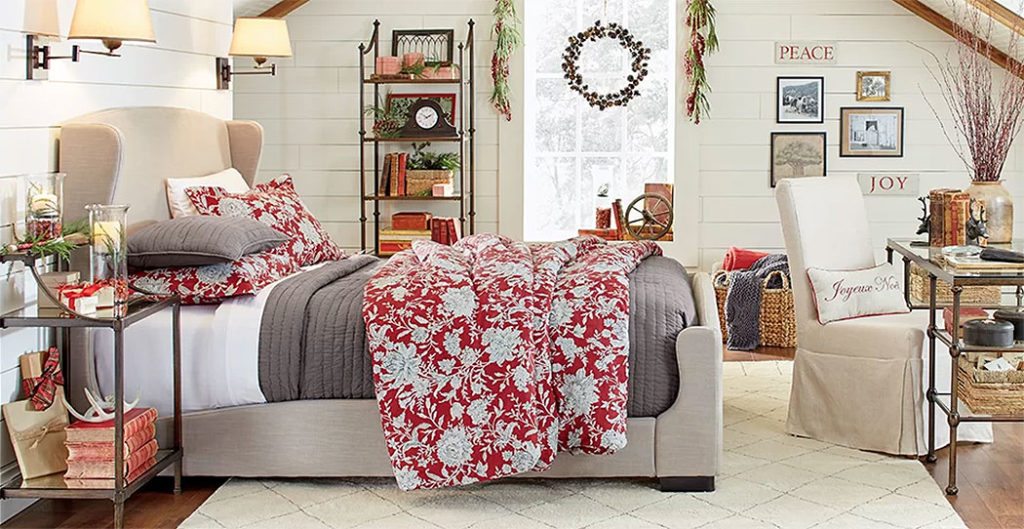 The pop of red in the floral comforter set could just as easily be used beyond the Holidays, but it does bring a sense of Christmas red to the bedroom. This is augmented by small touches of Christmas throughout the room, including some garland and a wreath to adorn the window, a lovely two piece "Joy & Peace" wall art set, a Christmas throw pillow, some delicately wrapped gifts on the nightstand and a couple of seasonally updated candle holders. When Christmas is over, these items can easily be packaged away into a single storage container and put away until next year.
A Subdued Christmas Bedroom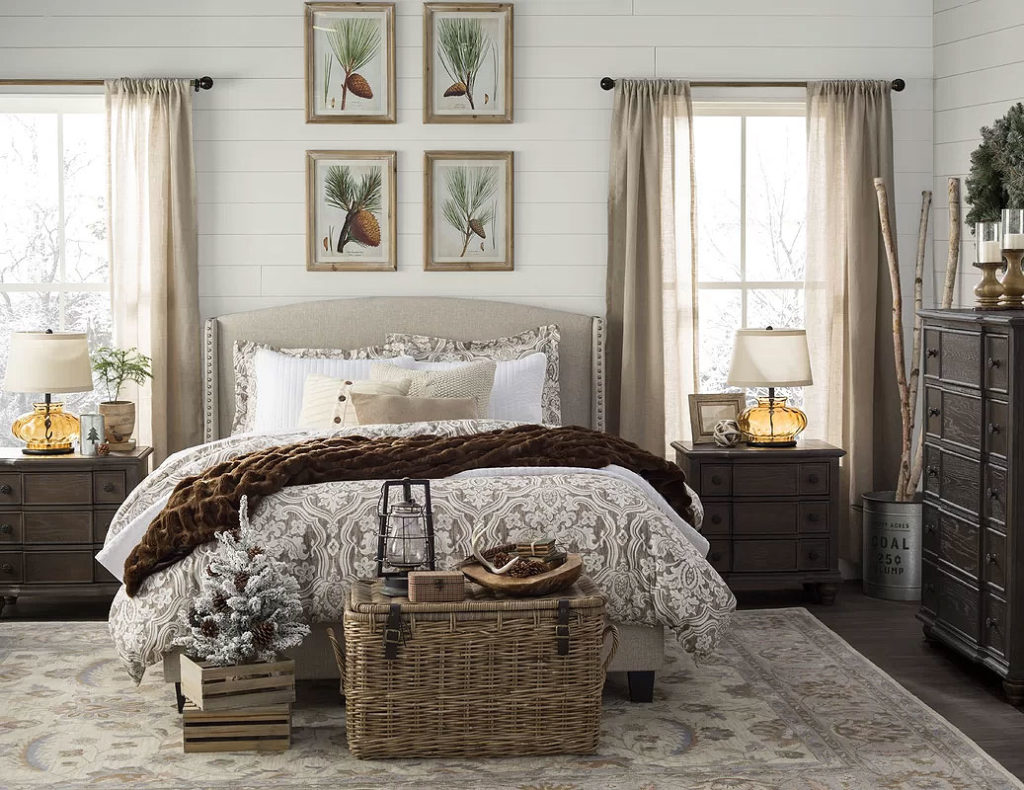 The softer side of Christmas colors are infused into this room, with pine accents taking the lead from a Holiday decor perspective. The softer colors mean that these changes can be accomplished quickly and easily without dramatically changing the overall look of the room. The Evergreen Botanical 4 piece wall art set placed above the bed could just as easily be displayed year round, but all provides a subtle nod to Christmas.
Red & Green Traditional Christmas Bedroom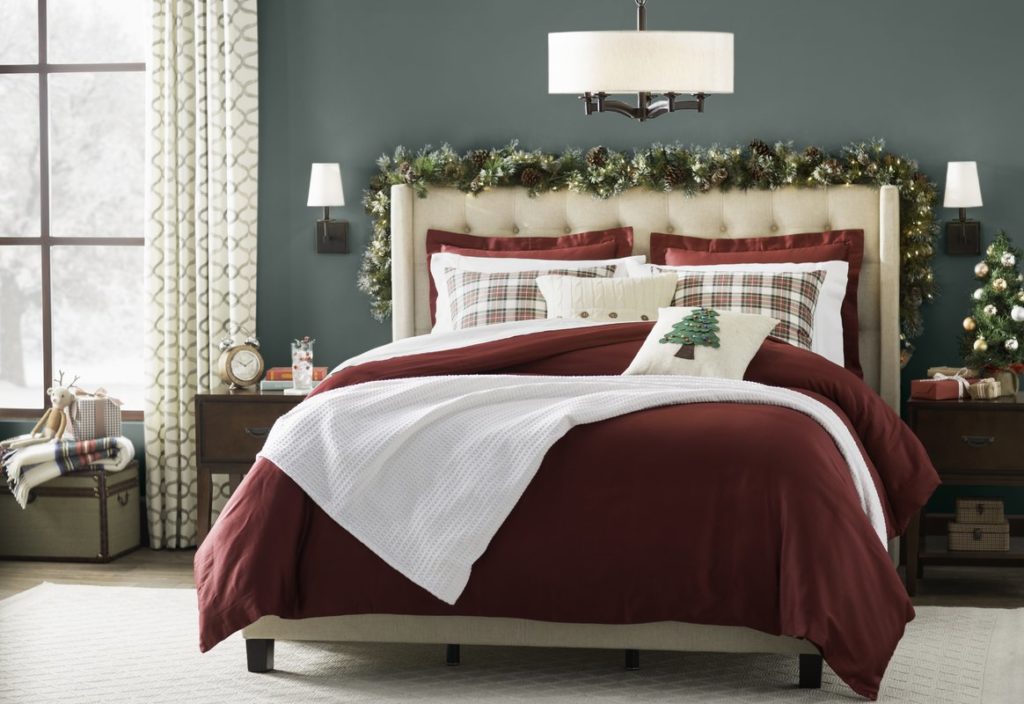 The green hue to the walls really lends itself to a quick Christmas bedroom decor makeover. A solid red comforter and some red plaid pillows are the main focus in this room. Some additional Christmas greenery around the bed and a couple of small Christmas accents finish the look. This makeover would take less than 30 minutes to complete in your own home and give the room a new and festive look for the Holidays.
Cozy Rustic Plaid Christmas Bedroom Decor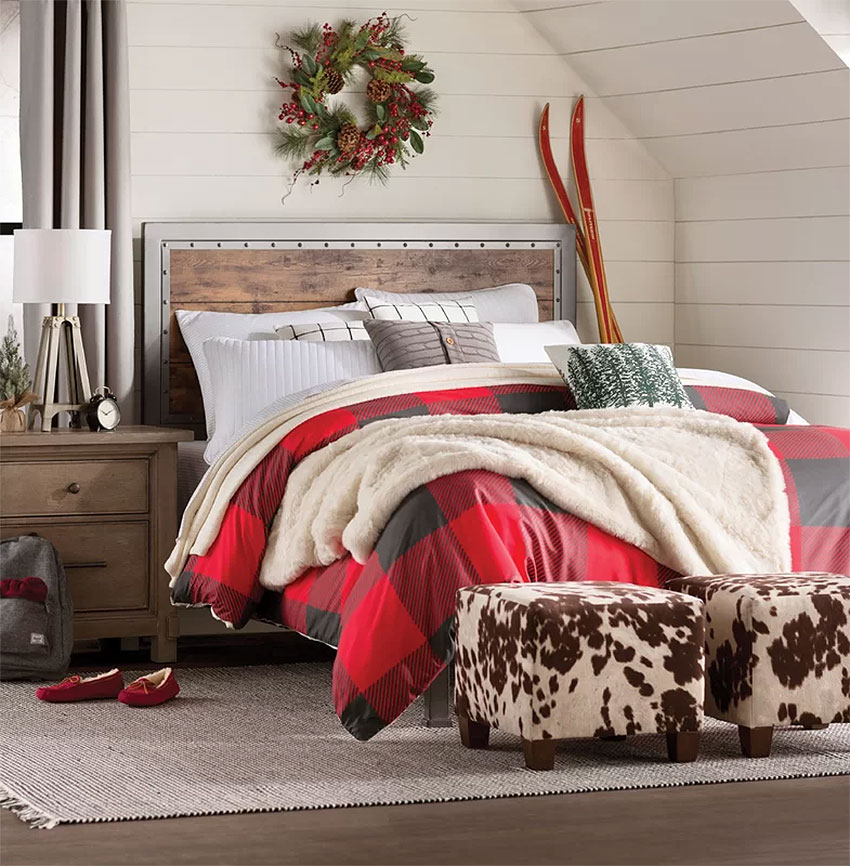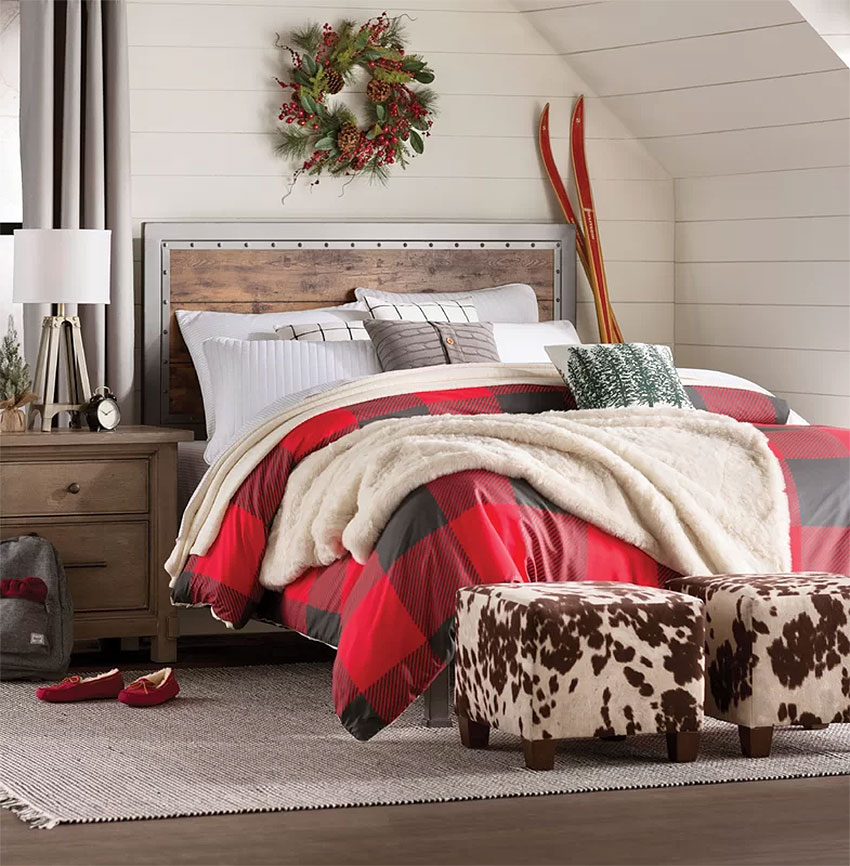 Red skis make another appearance in this cozy rustic Christmas bedroom, featuring a very comfy looking red & black plaid comforter. That, plus the Christmas Wreath, the small Christmas Tree on the nightstand, and a Pine Tree throw pillow easily turn this bedroom into a Holiday Haven.
Kids Christmas Bedroom Decor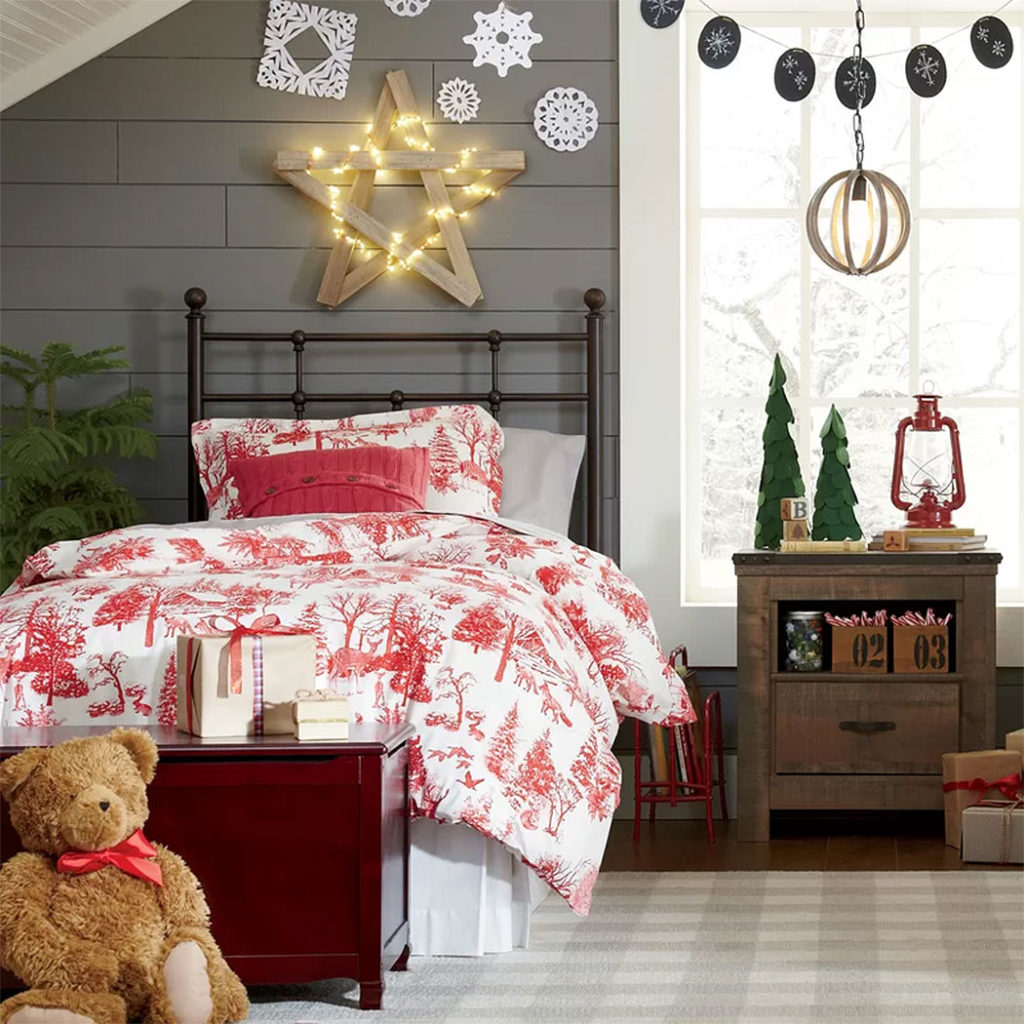 Although the Red & White forest bedding takes center stage in this Christmas Bedroom, I love all of the little touches in this room. The quaint Christmas trees, the live pine in the corner, the lit star on the wall, and the teddy bear at the foot of the bed make this room delightfully charming, and perfect for the younger generation coming to visit for the Holidays. Except, perhaps, for the buckets of Candy Canes… you might want to hide those before any children arrive. No child would be able to resist, and no adult wants to put up with a child on a permanent sugar high.
Simply Elegant Burgundy Christmas Bedroom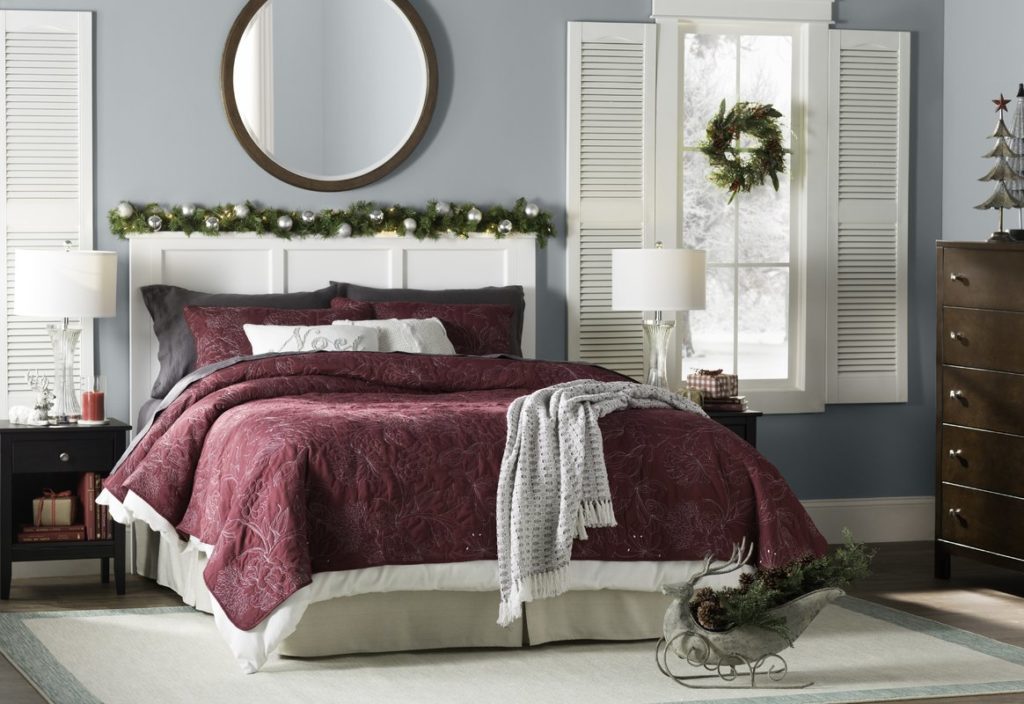 By simply adding a beautiful burgundy quilt, a couple of metal Christmas trees and other small accents, some decorated garland on the headboard and a wreath in the window help transform this bedroom for the Holidays.
Looking for More Christmas Decor Ideas?