If you're new to the world of tapestries, don't worry – we're here to help! In this blog post, we'll outline how to hang a tapestry like a pro.
If you're looking for a way to add a touch of personality and style to your home, consider hanging a tapestry. Tapestries are a great way to inject some color and life into a room, and they can be used to create focal points or add visual interest.
Because of the flexibility of tapestry wall hangings, there are a variety of options for hanging a wall tapestry, from the very basic to the intricate and complicated.
BTW – If you're a fan of the tapestry shown above, you should read all about the fascinating history of William Morris Tapestries.
Why Hang Tapestries?
Before we get into how to hang one of these beautiful artworks, let's talk about why you might want to. Tapestries have been around for centuries, and they've long been used as a way to add color, texture, and pattern to a space. In addition to being visually interesting, tapestries can also be used to inject some personality into your home décor.
Tapestries come in all shapes and sizes, so whether you're looking for something small and understated or large and bold, there's sure to be a tapestry that fits your needs. And because tapestries are relatively easy (and inexpensive) to find, they're a great way to experiment with different styles without breaking the bank.
So, how do you hang a tapestry? Read on for our tips.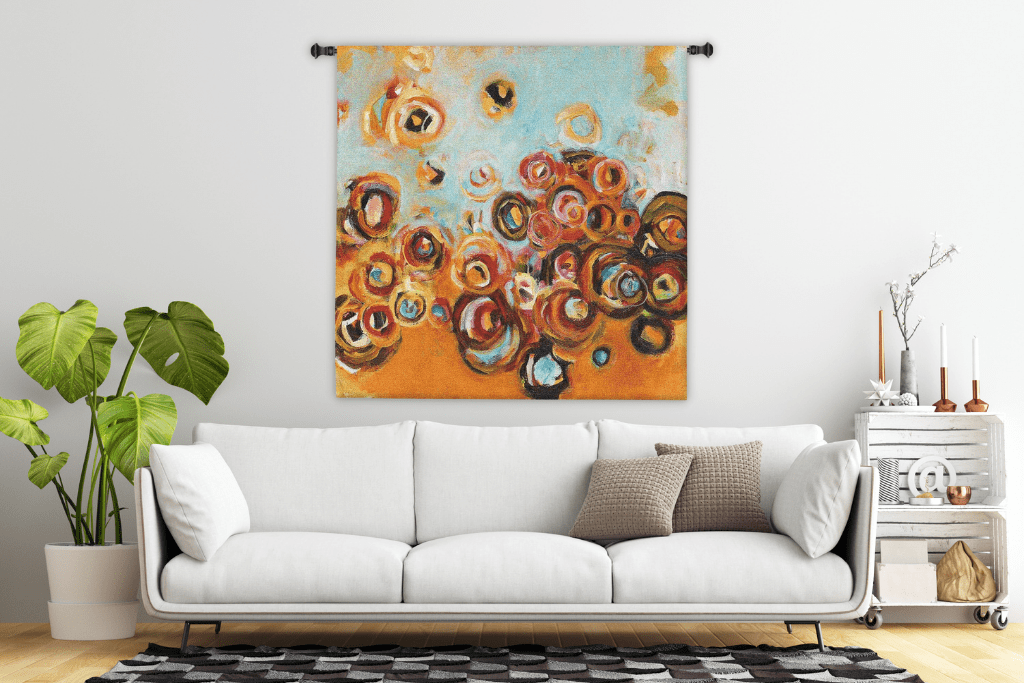 How to Hang a Tapestry: The Basics
There are a few things you'll need before you get started:
A tapestry of your choice! It's important to consider the size of the tapestry in relation to the size of the wall space you're working with. You also want to think about the style and colors of the tapestry, and how those will look in your space.
A measuring tape so that you can place the tapestry correctly for maximum effect (and put fewer holes in the wall from having to remove and rehang the tapestry because it's a little bit too far to the left. Believe me, I've been there.
Scissors (just in case you need to do some modifications based on your selected hanging method)
Something to attach the tapestry to the wall. This can be as simple as tacks, nails, or adhesive hooks (depending on the type of wall you're working with), or fancy it up with a hanging rod.
A hammer, drill, and/or screwdriver (again, depending on the type of wall)
Now that you have everything you need, let's talk about how to actually hang your tapestry. Depending on the size and weight of your tapestry, as well as the type of wall it will be hung on, there are a few different options for how to proceed.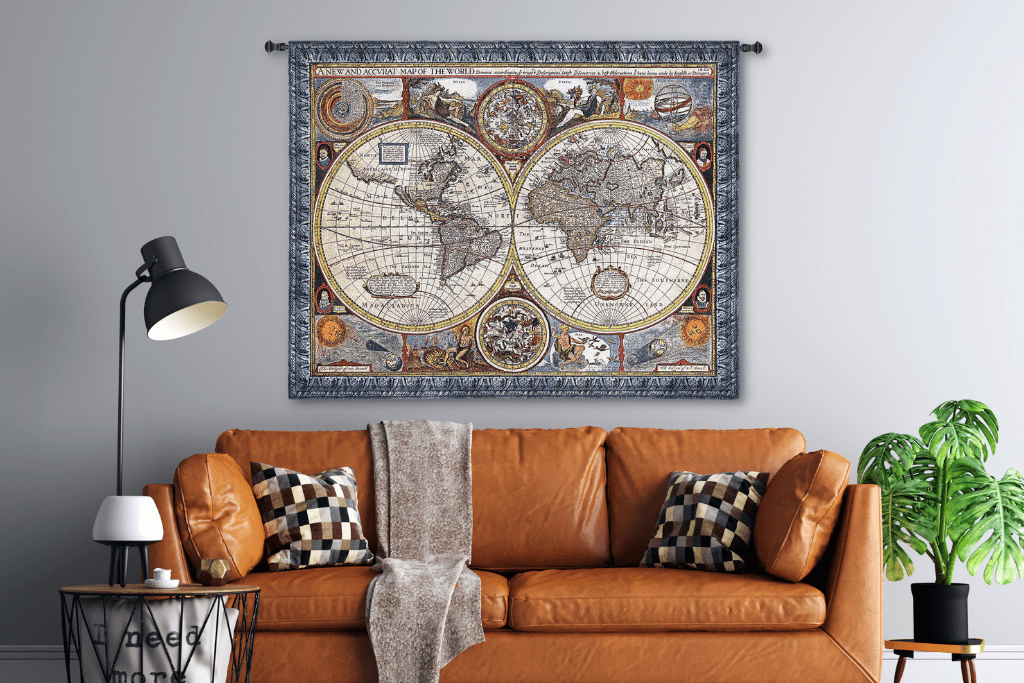 8 Ways to Hang a Tapestry
Although printed tapestries are very lightweight, woven tapestries are heavier than you might expect, especially those that include built-in handing rods at the bottom to weigh the tapestry so that it hangs properly. These larger pieces need something to keep them properly secured to the wall.
Hanging a Tapestry on Hooks
If you're working with a lightweight tapestry on a drywall or plaster wall, you can use adhesive hooks to hang your tapestry. Adhesive hooks are easy to use – simply peel off the backing and stick them to the wall where you want to hang your tapestry. Once the adhesive has had a chance to set (usually overnight), you can then hang your tapestry by looping the loops or fabric tabs over the hooks. If the tapestry doesn't already have loops, you can use those handy scissors to create loops that you can use to hang the tapestry.
Most quality woven tapestries have a fabric backing and a sewn-in rod pocket. If you are careful about it, you can create small hook loops in the rod pocket to attach the tapestry directly to the hooks.
I will say that this is not our recommended method for hanging a tapestry (read on for some other ideas). And be careful! Once you've cut holes in the tapestry, you won't be able to return it. So make sure you're happy with the tapestry before cutting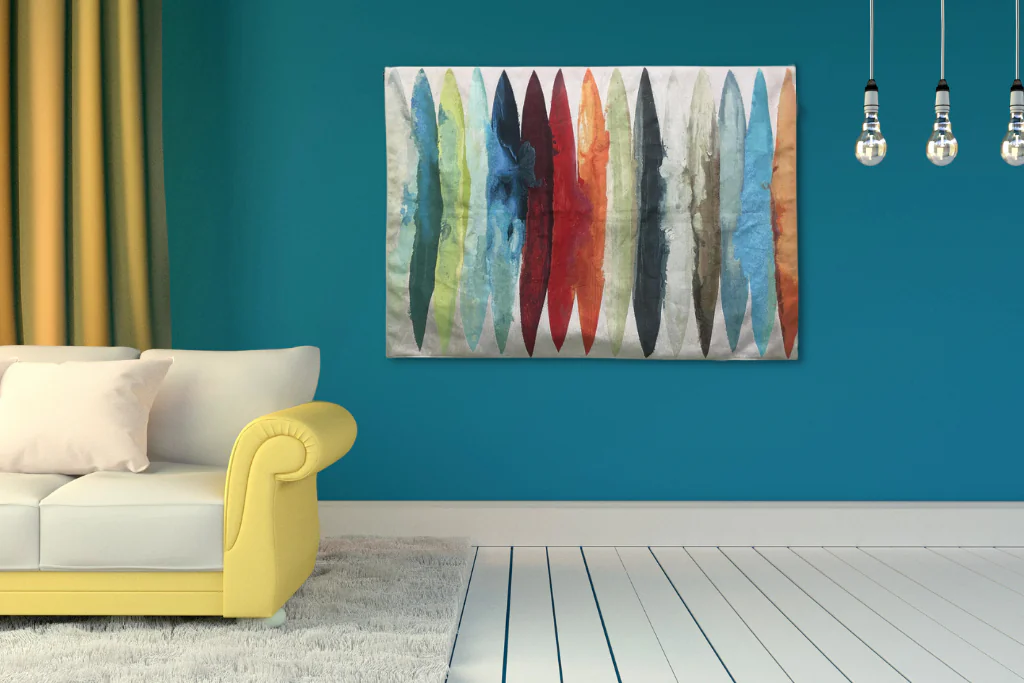 Nails, Tacks, or Push Pins
For heavier tapestries (but not too heavy), nails, tacks, or pushpins can be used to hang the tapestry right on the wall – no muss, no fuss. Again, you want to be careful to avoid damaging your tapestry, and this method is best used when hanging a woven tapestry where the pin or tack can slip through the weave instead of a solid fabric tapestry.
Make sure that you use enough tacks, nails, or pushpins to support the weight of the tapestry evenly. Too few, and the weight could eventually stretch the tapestry around the nails or tacks causing those wholes to grow larger and unsightly over time.
Using a Rod or Dowel
The recommended method – particularly for larger tapestries – is to use a rod or dowel for hanging. This method is similar to how you would hang a curtain, and it's a good choice if you're worried about damaging your walls. To hang a tapestry using a curtain rod or dowel, simply thread the top of the tapestry onto the rod (or dowel) and then Hang it on your chosen wall space using brackets or screws.
If you want something a bit more discreet, you can use the built-in rod pocket (in most tapestry wall hangings) but use a square or rectangular piece of wood – often painted the same color as the wall – to support the tapestry itself.
This uses the same method as a rod or dowel, but the is less showy than having a separate rod.
Hanging a Tapestry Using Velcro
This is a good option if you're working with a larger, heavier tapestry, or if you want to be able to easily remove and rehang the tapestry without damaging your wall.
To use this method, simply adhere strips of hook velcro to the tapestry and the other part of the velcro to the wall where you want to hang the tapestry.
Depending on how well the velcro adheres to the fabric, you might want to add in a few stitches to keep it secure. If you do this, make sure you are sewing through the fabric backing only and not the woven tapestry itself – you don't want those stitches showing.
Stretching or Framing a Tapestry
A relatively new and unique way to hang a tapestry that has been popping up lately is to stretch it like you would a canvas painting.
Transform the tapestry fabric into a different kind of artwork by wrapping it around a wood frame or plywood board. Over the frame, stretch and fold the tapestry. Picture hangers with sawtooth blades can be used to hang on the wall.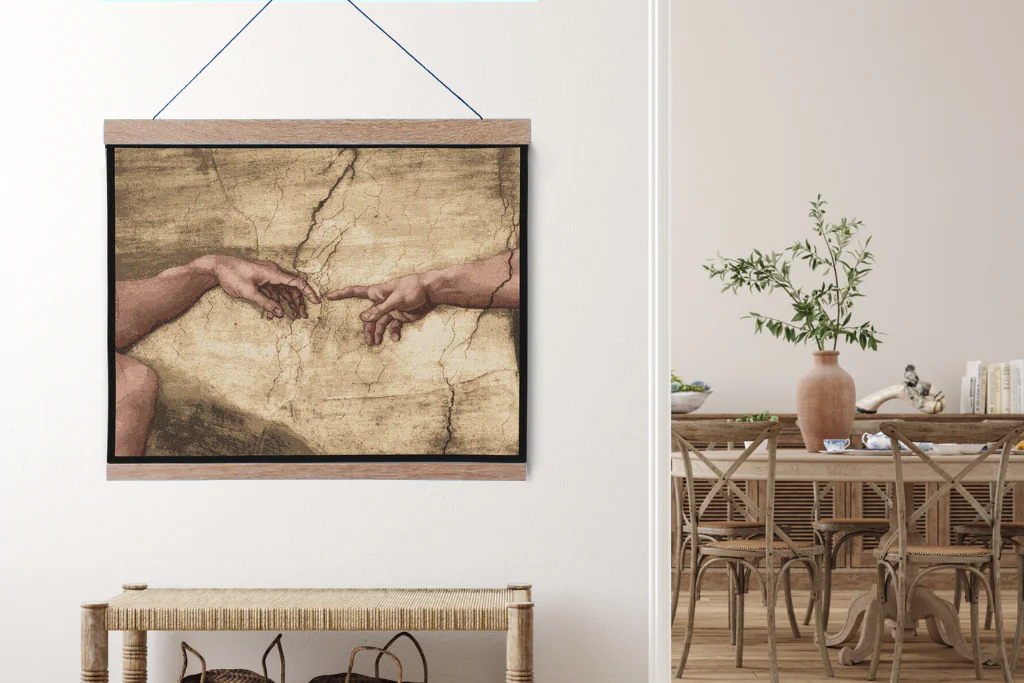 Using Poster Hangers
Poster hangers are a good option if you want something that is both inexpensive and easy to use. They're also great because they don't require any damage to your tapestry or wall.
To use this method, simply slide the poster hangers onto the top of your tapestry (you might need someone to help you hold it in place), and then hang it on your chosen wall space.
This is a great way to add even more visual interest to your tapestry installation and works best with modern tapestries, rustic tapestries, or floral tapestries.
Command Strips
Command strips are another good temporary option for hanging a tapestry. They work in a similar way to poster hangers, but they're a bit more expensive.
To use this method, simply adhere the command strips to the top of your tapestry (you might need someone to help you hold it in place), and then hang it on your chosen wall space.
As with poster hangers, if you want to remove the command strips, they can sometimes leave behind a sticky residue.
Hanging a Tapestry With Curtain Rings
If you've ever hung a curtain on rings before, then you know how to use these rings to hang a tapestry. This is probably one of the easiest ways to hang a tapestry, and it can be combined with some of the other options above.
To hang a tapestry using curtain rings, simply clip the rings to the top of the tapestry and then slide those rings over hooks, a rod, a dowel, etc.
Where to Hang a Tapestry in Your Home
Now that you know how to hang a tapestry, where should you put it?
Tapestries can be hung almost anywhere in your home – from the living room to the bedroom to the bathroom. They also make great statement pieces in entryways and hallways.
If you want your tapestry to be the focal point of a room, hang it over a piece of furniture like a sofa or bed. If you want it to blend in more with its surroundings, choose a wall that doesn't have too much going on.
Have a blank wall that needs some love? A large tapestry is a wonderful way to fill that space quickly and beautifully.
However, as with any natural fabric, you should try to avoid hanging a tapestry in direct sunlight. As with any work of art – oil, paper, etc – direct sunlight will fade the art over time.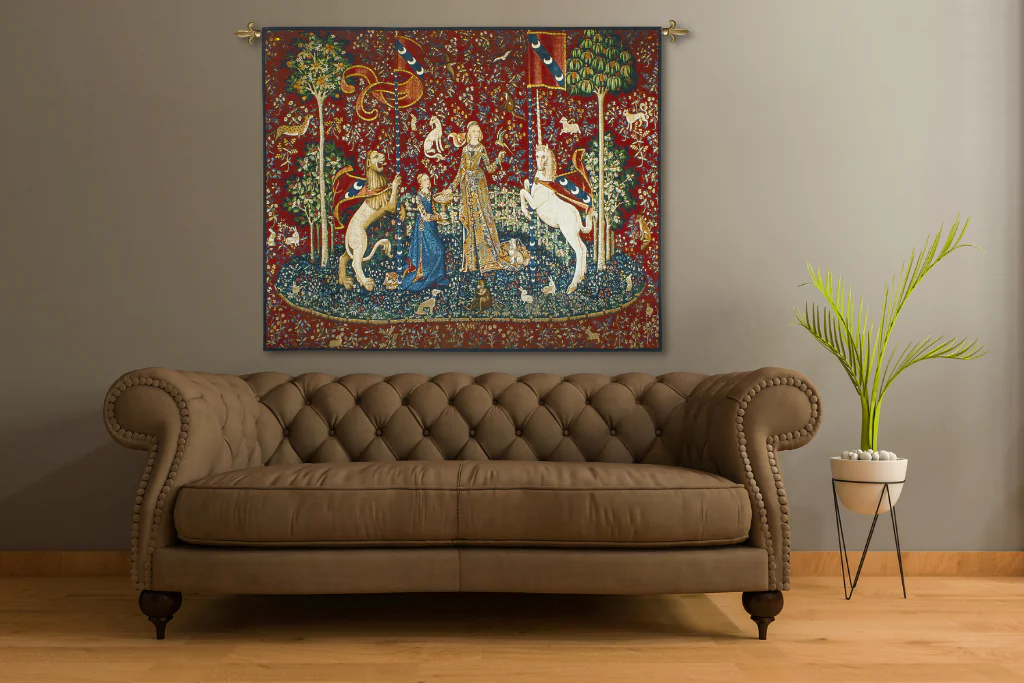 You also want to make special accommodations if you have sheetrock walls. Sheetrock has a high lime content, so you should not hang your tapestries directly against this kind of wall. Over time, the lime in the sheetrock will adversely affect your tapestry.
It is also a good idea to keep tapestries away from places where they are more likely to get soiled or stained. Although it's easy to give a woven tapestry a light dusting or a gentle vacuum, they are not typically something you can easily take off the wall and throw into the washing machine.
If you're hanging a tapestry in the kitchen, keep it away from the stove or cooking areas so that it doesn't absorb any grease or smoke. Plus, of course, you don't want a fire hazard close to your cooking area!
Hanging a tapestry is a great way to add visual interest, texture, and color to any room in your home. With these tips, you'll be able to hang your tapestry like a pro in no time!
Summary and Key Takeaways
When it comes to hanging a tapestry, there are a few different methods you can use. The easiest (and most common) way is to use nails or tacks, but that doesn't always provide the elegant or finished look you might want. You can also use poster hangers or command strips for a more contemporary look or hanging rods from a classic look associated with heirloom-quality tapestries.
Just be sure to avoid hanging it in direct sunlight or near any areas where it might get dirty or stained.
No matter which method you choose, always be sure to measure, level, and center the tapestry before hanging it on the wall.
Now that you know how to hang a tapestry, it's time to get out there and start shopping for the perfect one for your home! When you're ready to hang it, just follow the steps outlined above, and you'll be enjoying your new tapestry in no time. Thanks for reading!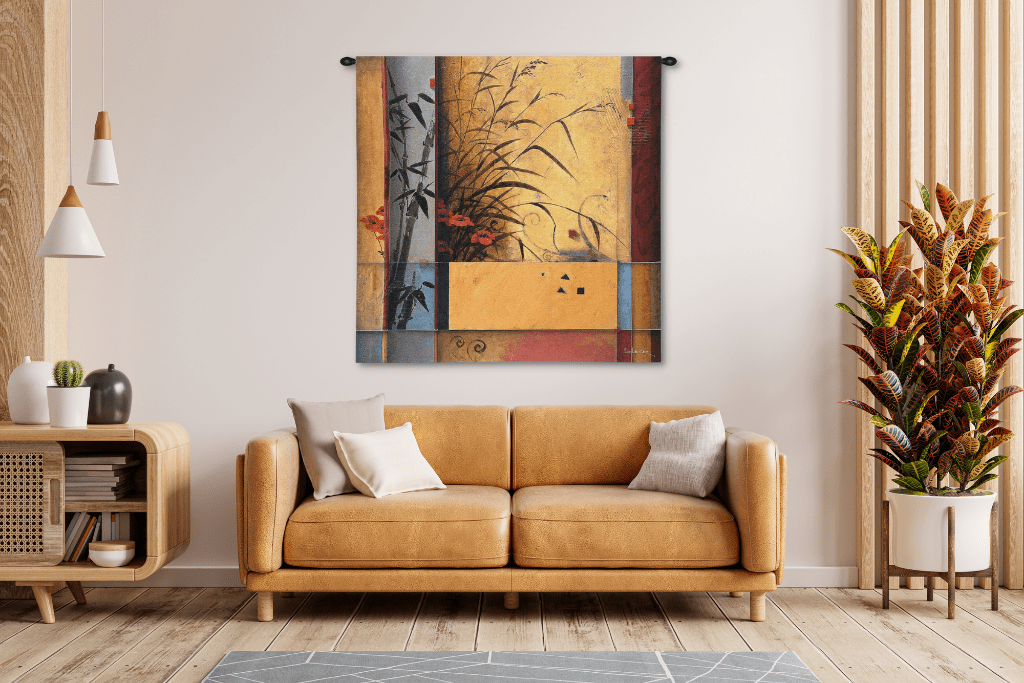 Have any additional tips on how to hang a tapestry? Share them in the comments below!
Are you ready to experience the joy of Tapestry Wall Hangings?
Take a look at a small selection from our massive collection of tapestry wall hangings.