When greeting Holiday guests, it is important to make a festive first impression. That's where Christmas Hall Tables & Festive Foyer Decor come into play.
Please note that Art & Home has an affiliate relationship with some of the merchants listed below and we may receive a small referral fee – at no cost to you – for any purchases that you make utilizing the links provided. We use those funds to continue building Art & Home's unique collection of home decor articles and inspiration. And, you know, to buy stuff.
As guests enter your home, the first piece of Christmas decor they will likely spot is your hall table or foyer display. These intricate displays can take a bit of time to set up, especially if you are creating your own Christmas decorations to go on them, but they make for a lovely way to greet your guests during the holidays.
We've pulled together some of our favorite displays that you can use for inspiration while creating your own Christmas masterpiece.
Jingle All The Way Christmas Hall Table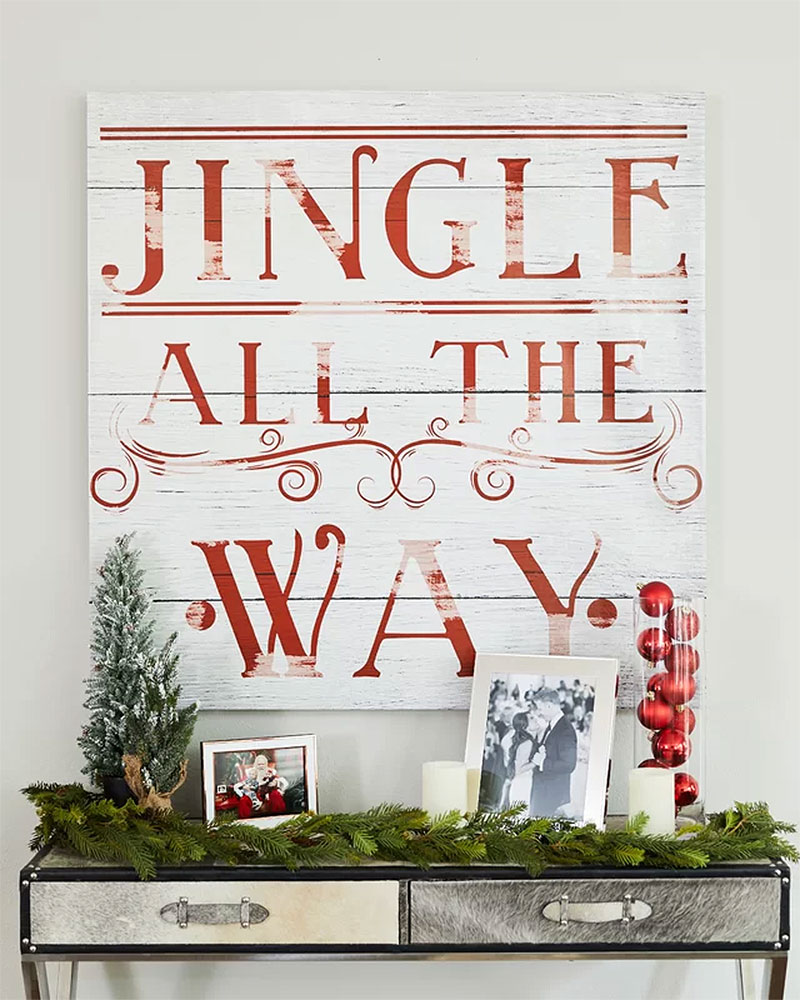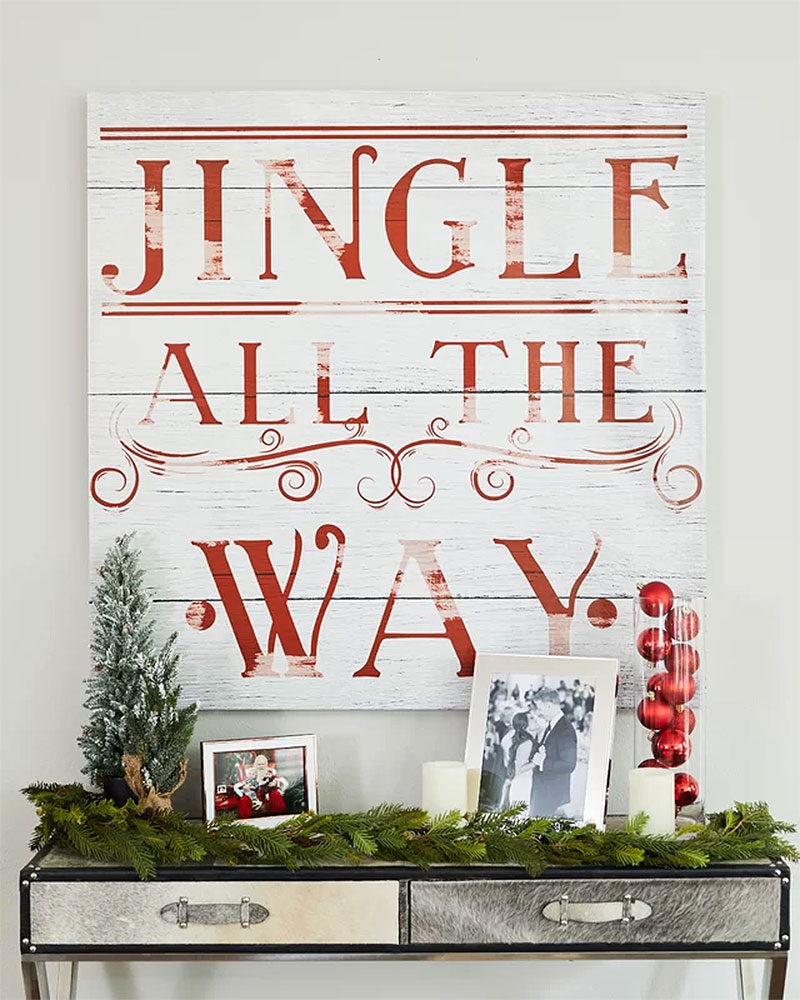 A quick and easy way to infuse some holiday decor into your front hall or foyer. A delightfully rustic bit of Christmas Canvas Art takes center stage and then is accented with artificial pine trees and boughs. A couple of white candles, family photos and a tube of red Christmas ornaments complete the look. Lovely and festive!
Rustic Winter Wonderland Christmas Hall Table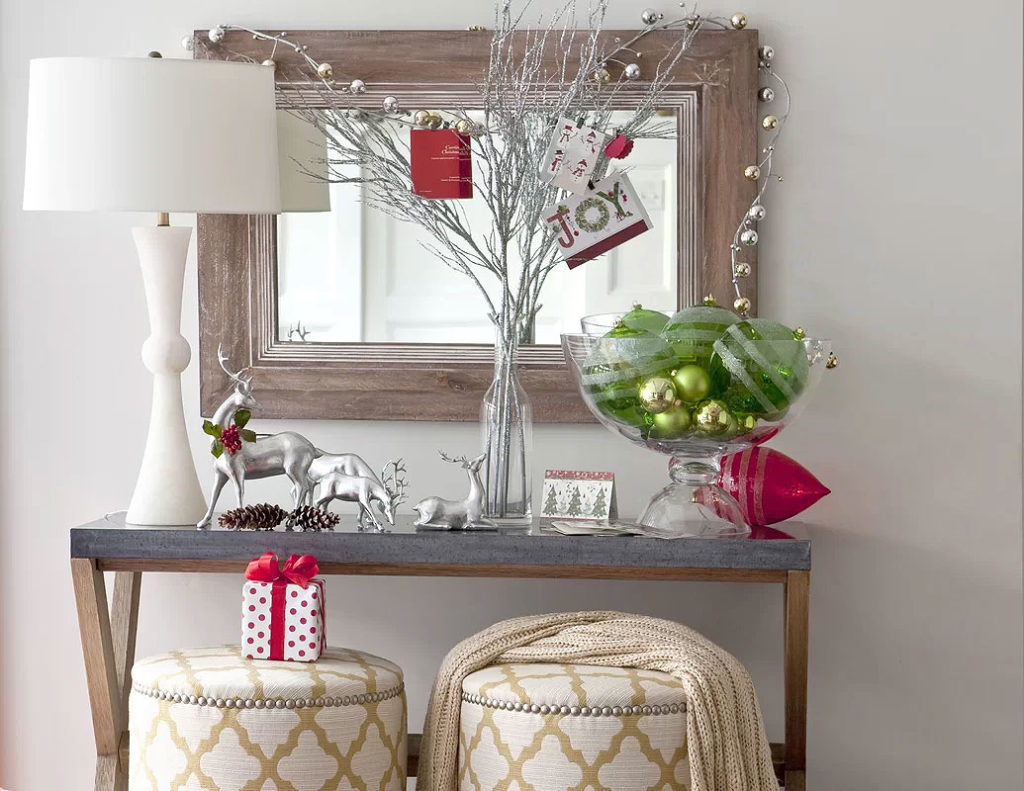 The slightly whitewashed mirror is already a perfect backdrop, so all that was needed was some wintry accents to create this festive hall table. A white lamp, silver accents (including some delightful silver reindeer), and some Red & Green Christmas ornaments create a delightful first impression with this Christmas Hall Table. The look is completed with some Holiday Cards nestled in the silver branches and a single, brightly wrapped faux present on the ottoman stools.
Christmas Collage Hall Table Decor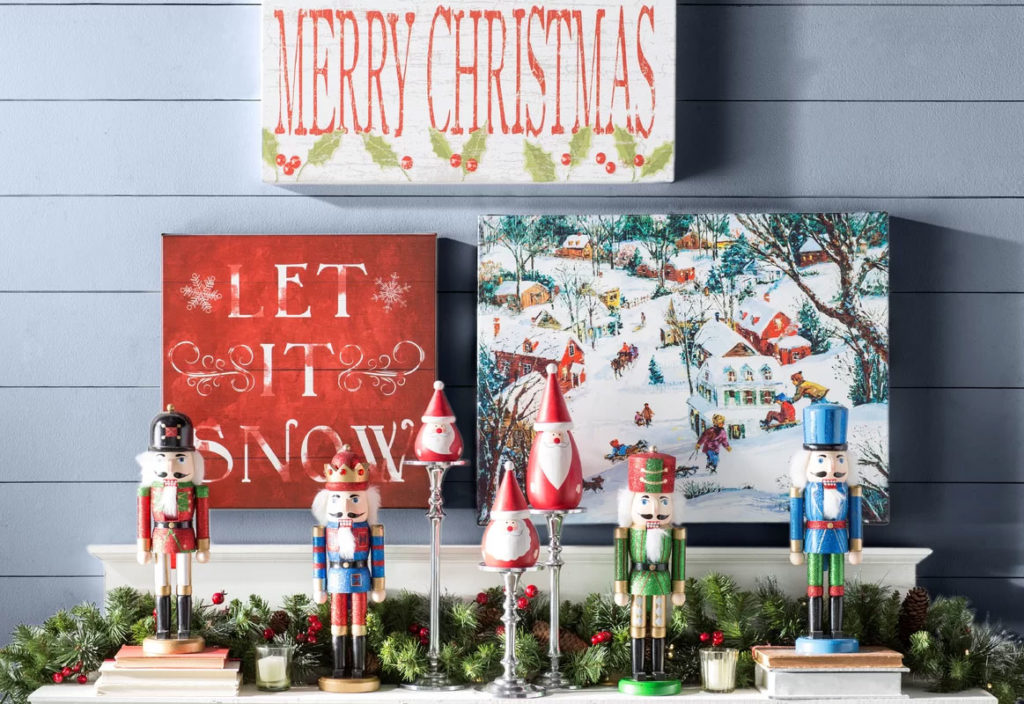 A collage of Christmas Canvas Art pieces creates a delightful background for a collection of Nutcrackers and decorative Santa Clause figurines. For added drama, the Santa figurines are placed on silver candle sticks to give them additional height. The entire look is finished with a delightfully rustic garland.
Festive Foyer Hall Tree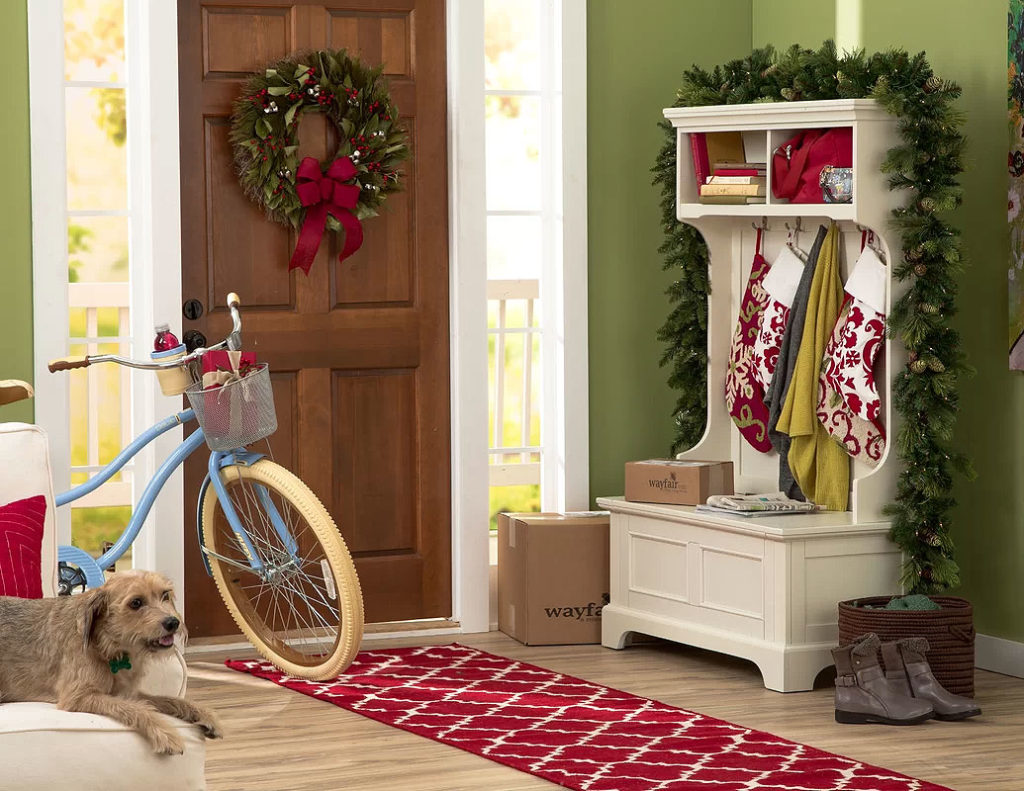 In this case, a Hall Tree is decorated using lovely Christmas Stockings and some simple red decor accents. The entire presentation is wrapped in a full garland that extends all the way around the Hall Tree. To complete the look, and red and white area rug brings a festive touch to the flooring.
Hollywood Glam Christmas Entryway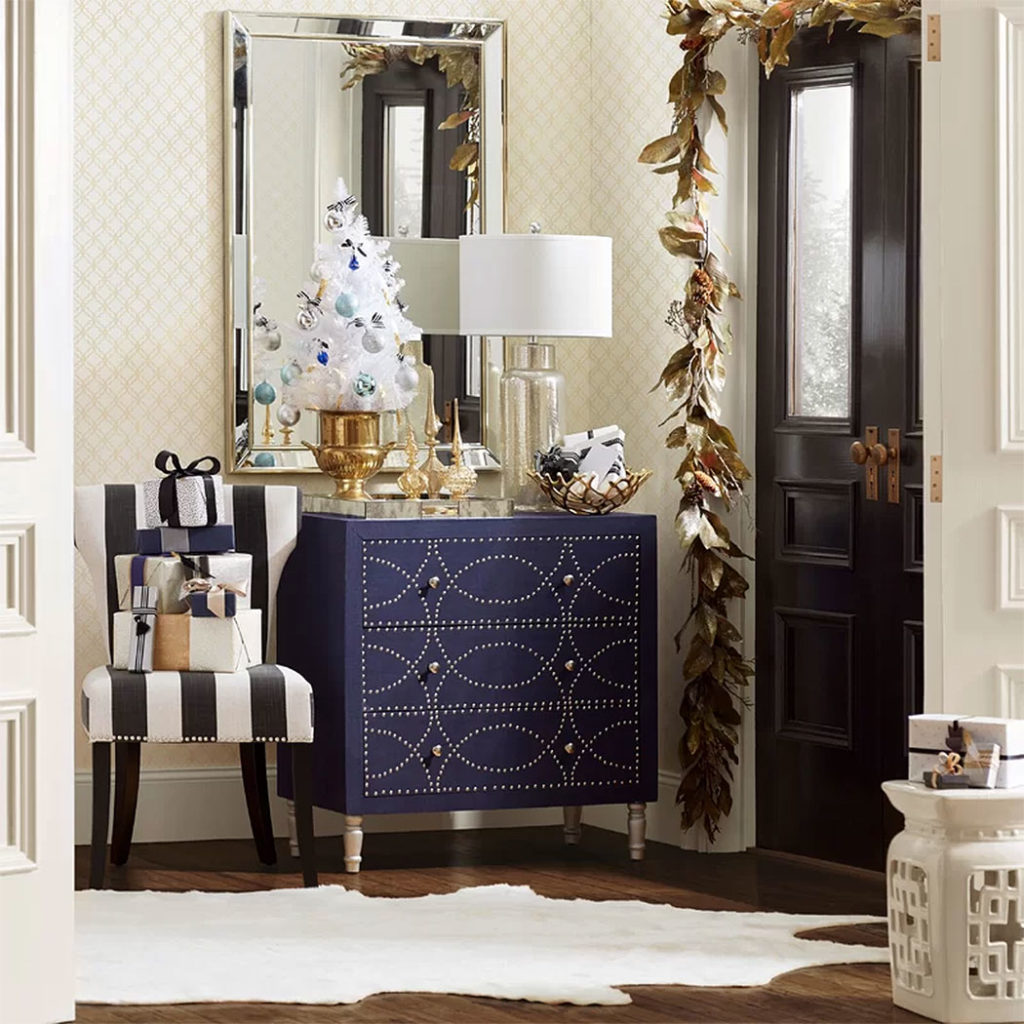 For those who want to take their Christmas decor into a more glamorous direction, this decadent Holiday display is for you. Playing off the Royal Blue Hall table, the accents are a luxurious mix of Gold, White, Black, and Blue.
French Country Festive Hall Table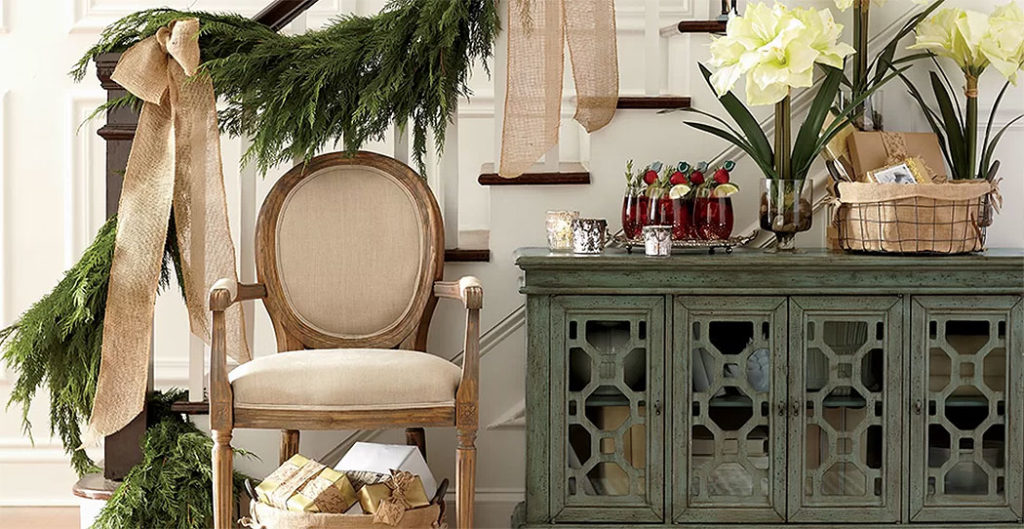 The existing French Country decor is accented by some delightful Christmas boughs and burlap bows. On the Hall Chest, a couple of beautiful white amaryllis can be seen in full (faux) bloom. A silver tray of brightly colored Holiday drinks awaits your guests.
Rustic Christmas Hall Tree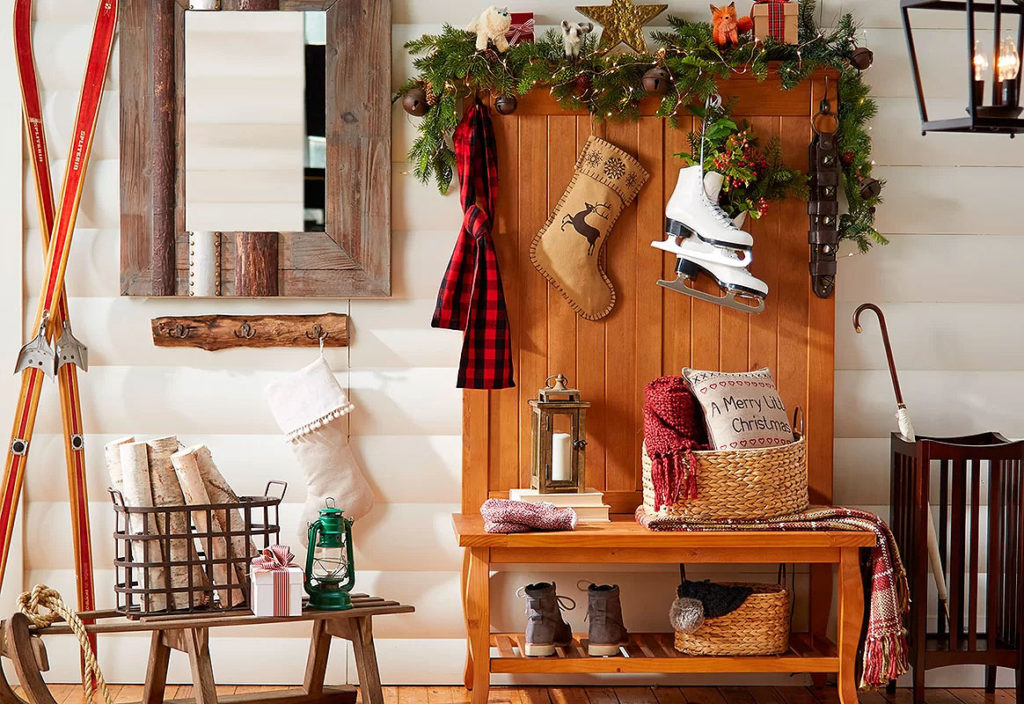 For me, it's some of the "found" objects, including the pair of white figure skates, the red plaid scarf, and the old wooden skis that help make this Rustic Christmas Hall Tree so special. There are so many delightful elements to this Holiday display!
Joyous Mid-Century Modern Christmas Hall Table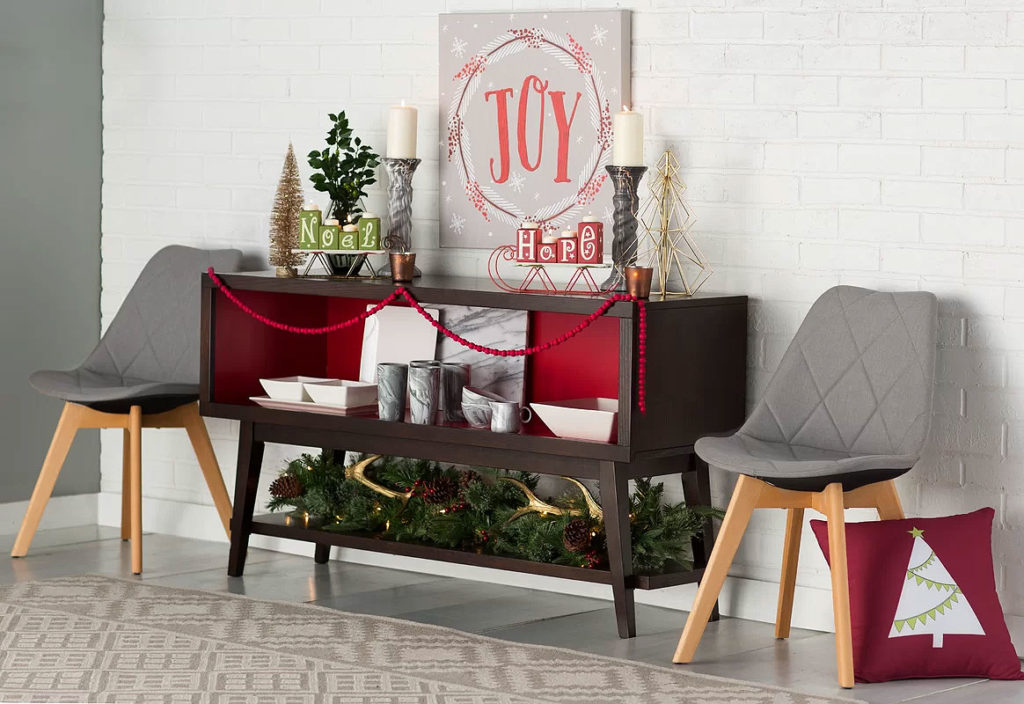 The red lining of the Mid-Century Modern hall table perfectly lends itself to being decked out for the Holidays. By adding some Gold Christmas Tree accents, a decorative Christmas canvas art piece, and the Noel & Hope Sleighs, this table becomes an instant Christmas Classic.
Country Cottage Christmas Hall Table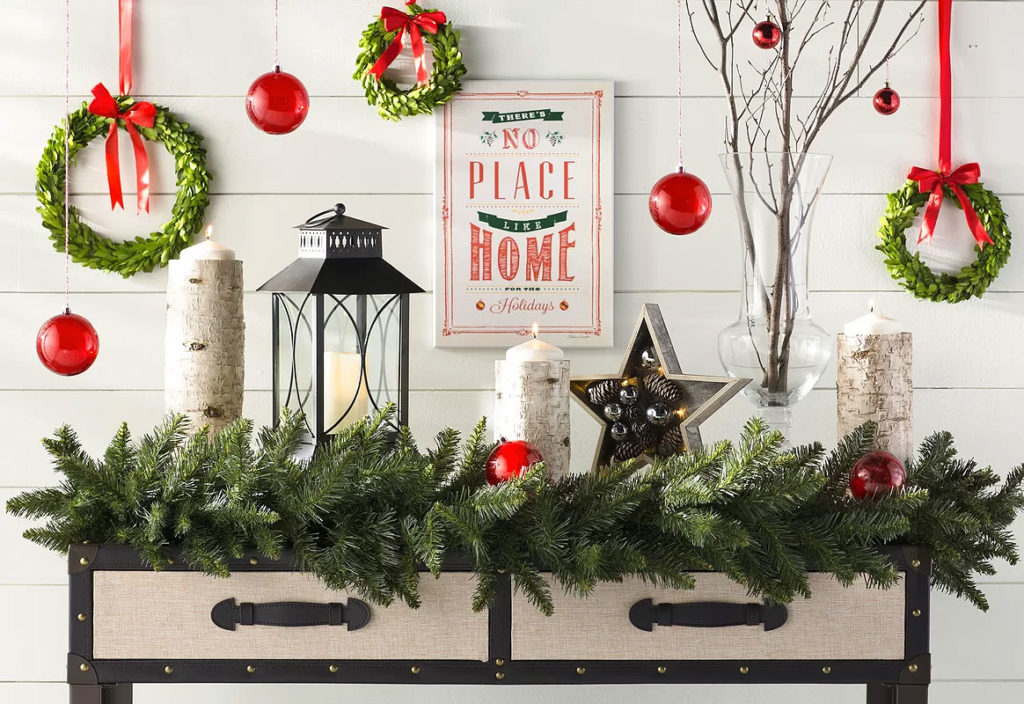 There truly is No Place Like Home for the Holidays, and that is made evident by this delightful Country Christmas Hall Table. Rustic Birch candle holders, a black Hurricane lamp, garland, wreathes, and hanging Christmas ornaments create a cozy feel for Christmas. And I love the lighted Country Christmas Star, loaded with pine cones and ornaments.
Traditionally Elegant Christmas Wreath Hall Table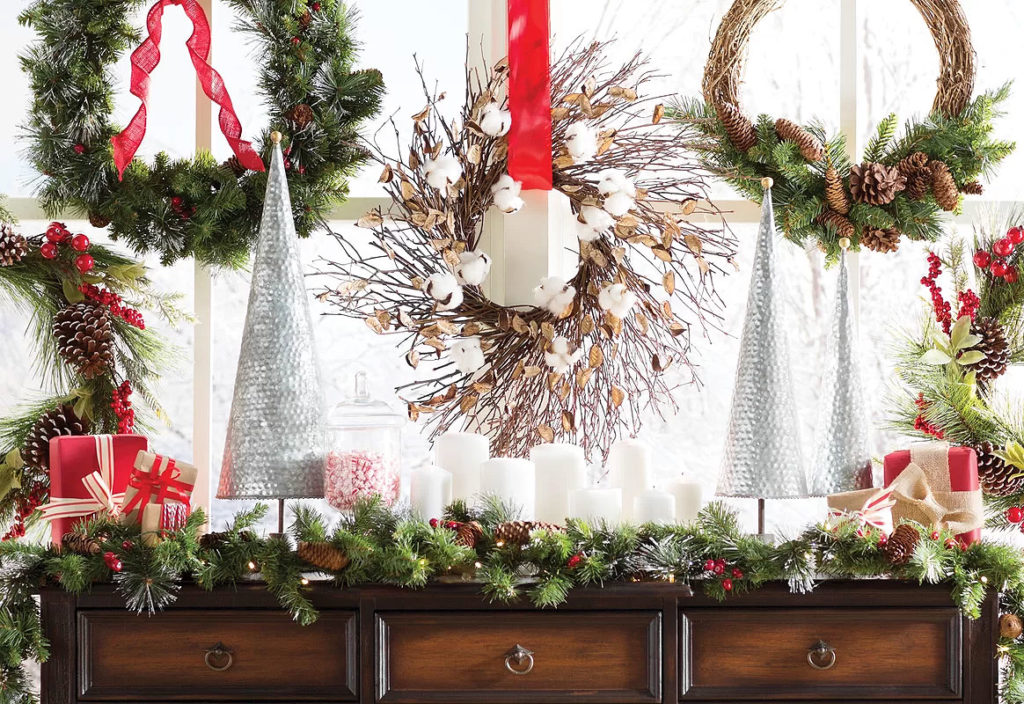 Christmas Wreathes abound in this delightfully decorated Christmas Hall Table. A total of 5 different Christmas wreathes, including a delightful Wild Cotton Christmas Wreath in the center, surround this traditional table, which is festooned with white candles, Christmas candy, wrapped gifts, and a set of three Zinc Christmas Trees.
Modern Stockings Christmas Hall Table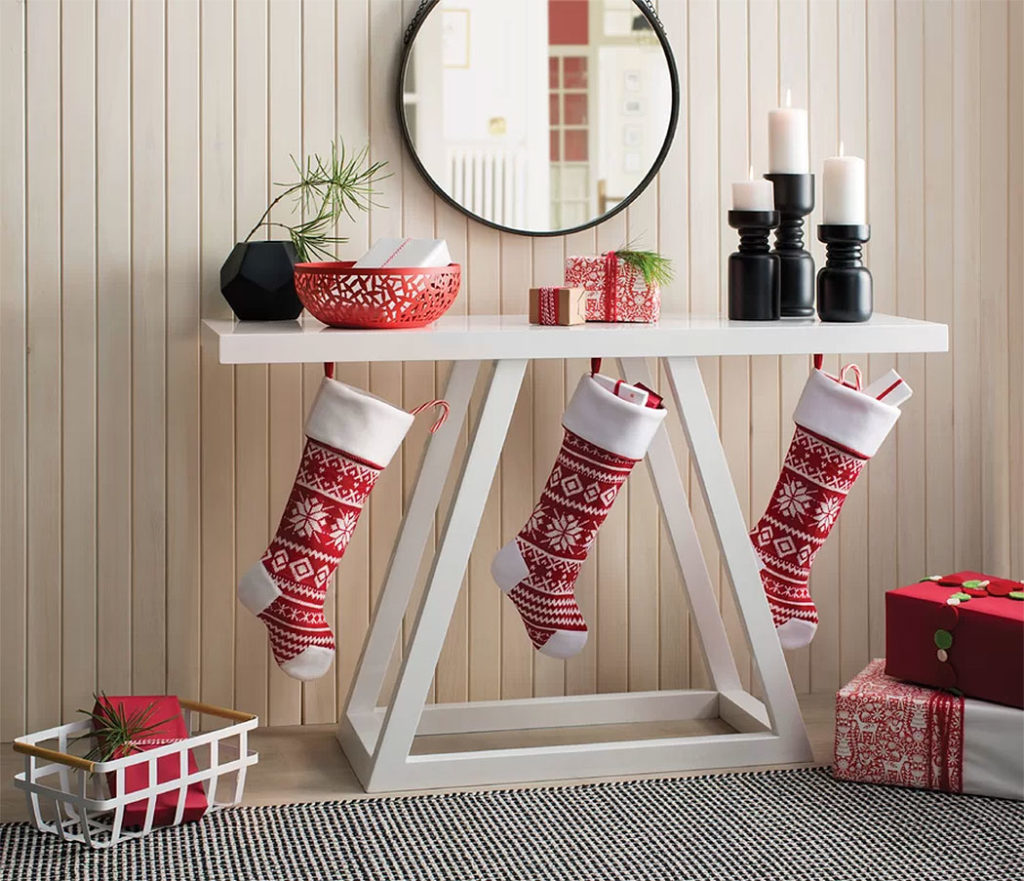 This modern white table is the perfect base for a delightful Christmas display. Red & White Christmas Stockings are hung from the table, which is adorned with some additional red accents – both modern and classic Christmas. The Red & White wrapped Christmas packages at the base complete the overall look. This is also a great alternative if you don't have the traditional fireplace mantel to hang your stockings from.
Mountain Ski Lodge Christmas Foyer Design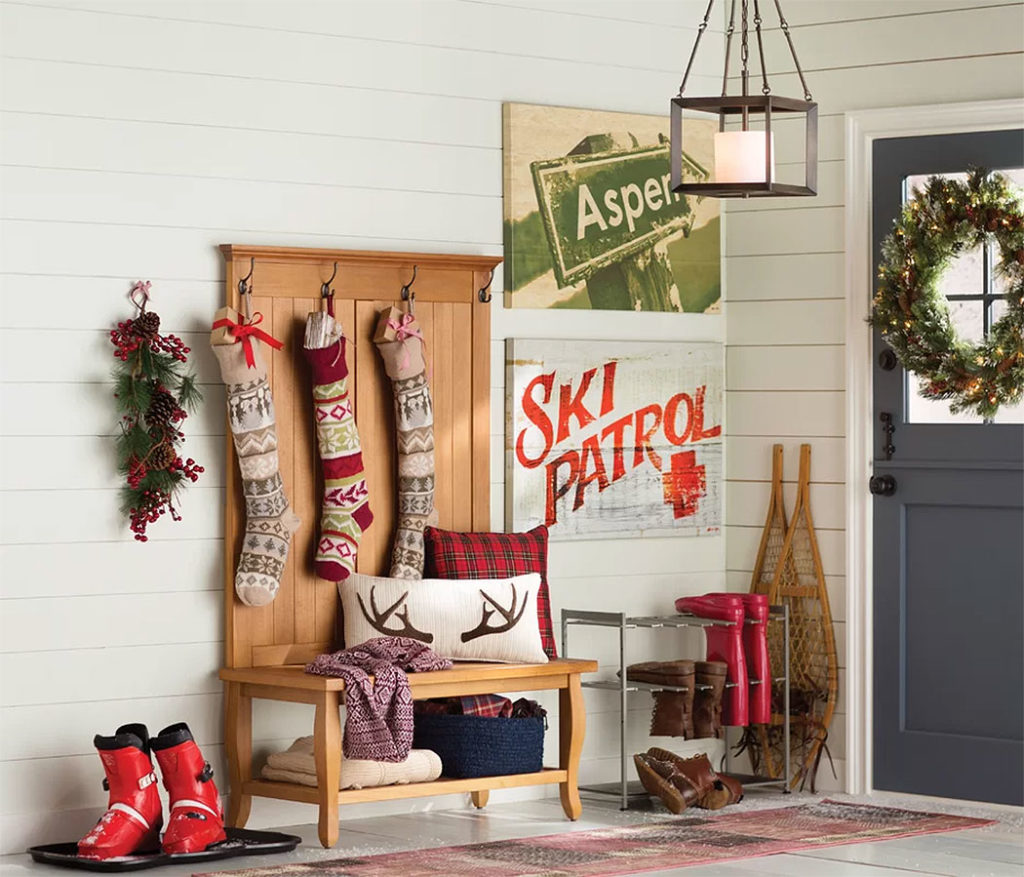 For those who love the outdoors during the Holiday Season, this delightfully warm and wonderful Christmas Foyer display is perfect. Warm, woolen stockings are hung from the Hall Tree, which is accented by some Antler & Plaid Christmas Pillows. Some Winter-themed artwork hangs on the wall as well as a garland and a wreath. To finish off the look, a pair of bright red ski boots and red rubber boots provide a functional AND decorative addition.
Modern Minimalist Christmas Hall Table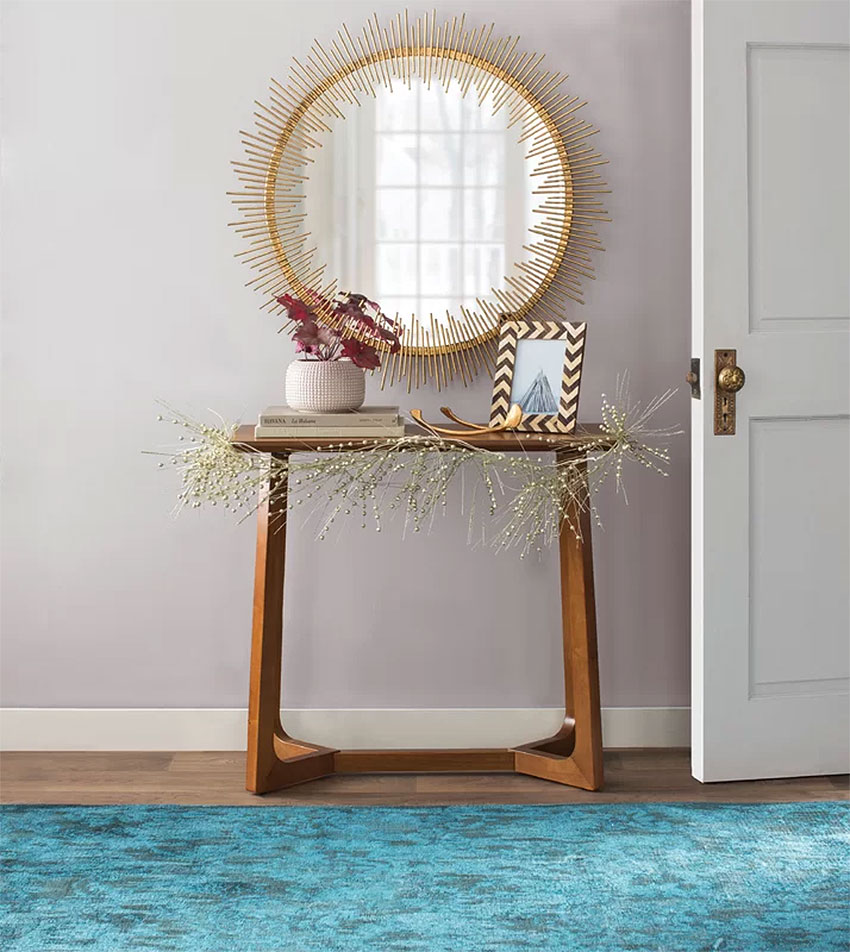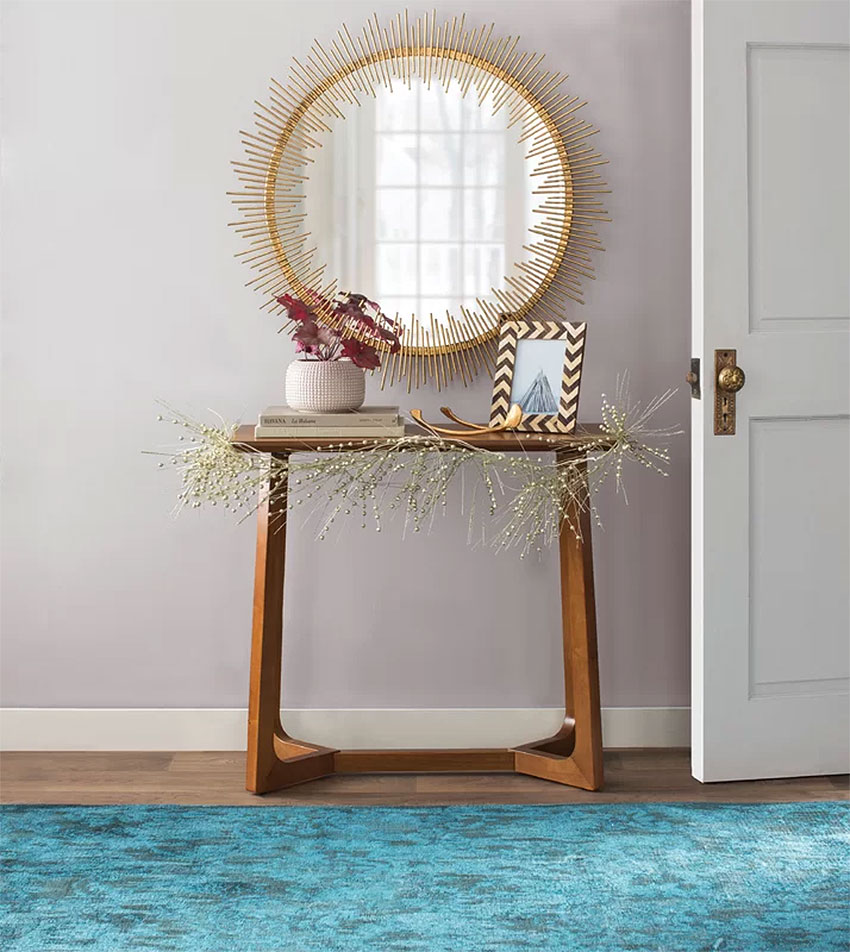 For those who want to keep their Christmas Decorations on the smaller scale, this simple yet effective table display uses a delightful Beaded Garland and a potted Poinsettia to add some seasonal touches to this Indi Console Table. An additional, subtle, addition is the sculpted Wish Bone, which is a part of many Family Christmas Traditions.
Classic Country Christmas Foyer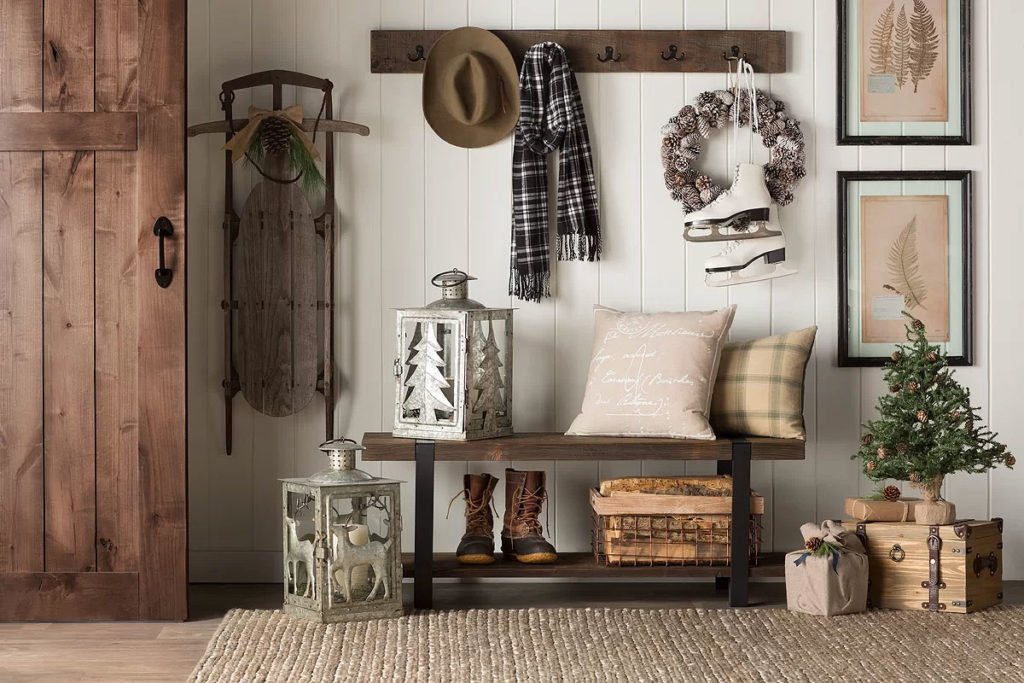 There is something so warm and "down-home Country" about this foyer design, even though the colors are very neutral and muted. Elegant galvanized metal Christmas-themed hurricane candles, a rustic burlap-wrapped Christmas Tree, and a frosted pine cone wreath add a lovely, festive addition to the already richly decorated foyer. Add a couple of found Winter-themed objects, such as the antique sleigh and the white figure skates, and you've got a perfectly delightful Christmas display to help welcome guests into your home.
Looking for More Christmas Decor Ideas?