For your viewing pleasure, Art & Home has curated a collection of over 40 Unique Christmas Trees & Christmas Tree Alternatives to help you create your own unique take on the traditional Christmas Tree.
Years ago, I decided to forgo the traditional Christmas Tree for something a little bit smaller and more unique. After looking at different, unique Christmas Tree alternatives, I purchased and outdoor topiary, something intended for the front porch. Bucking the intended purpose, I placed it in my front hall and then decorated it like you would a traditional Christmas Tree. The end result is a compact version of your standard Christmas Tree, still very festive… but far smaller. I get a mix of reactions to my mini tree, some think it's perfect. Some don't think it's not a "real" Christmas Tree.
I will fully admit that my tree is not special enough to feature in this post, but it did make me think about other unique Christmas Tree ideas, and therefore is the inspiration for this post. Maybe, someday, I'll add it just for reference.
Here are some of the most unique Christmas Tree Ideas I could find online.
This collection includes a wide variety of DIY and other unique Christmas trees that may provide inspiration on how to create your own unique take on the traditional Christmas Tree.
The Treeless Christmas Tree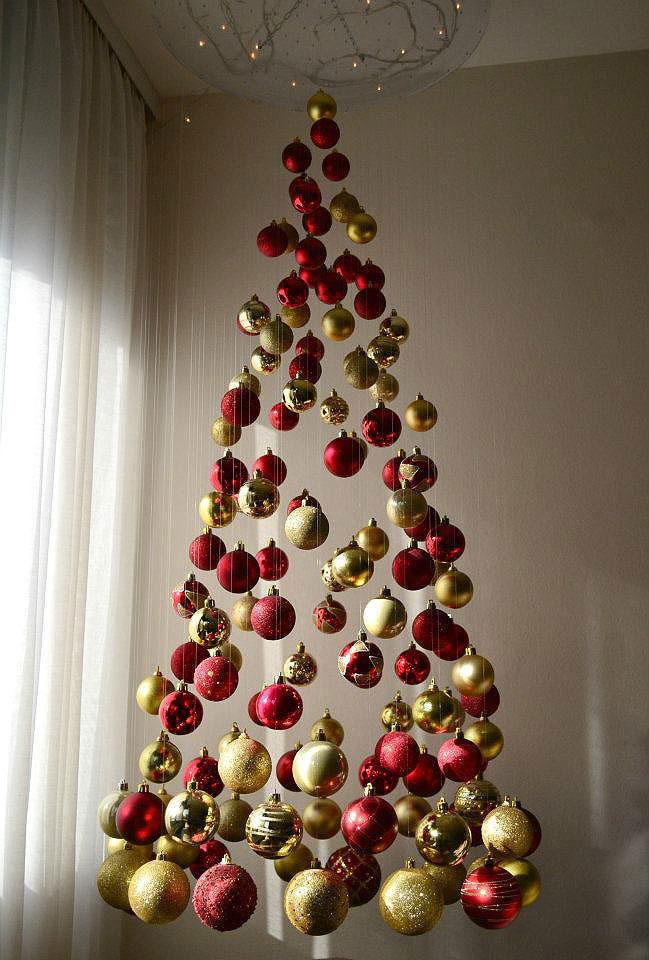 Image Source: trajkoska.deviantart.com
This unique Christmas Tree skips the tree all together. Instead, the Christmas ornaments are suspended from the ceiling using fishing line. I love the idea of this, as long as you don't have cats. This design and cats would be an absolute nightmare.
DIY Wall Tube Christmas Tree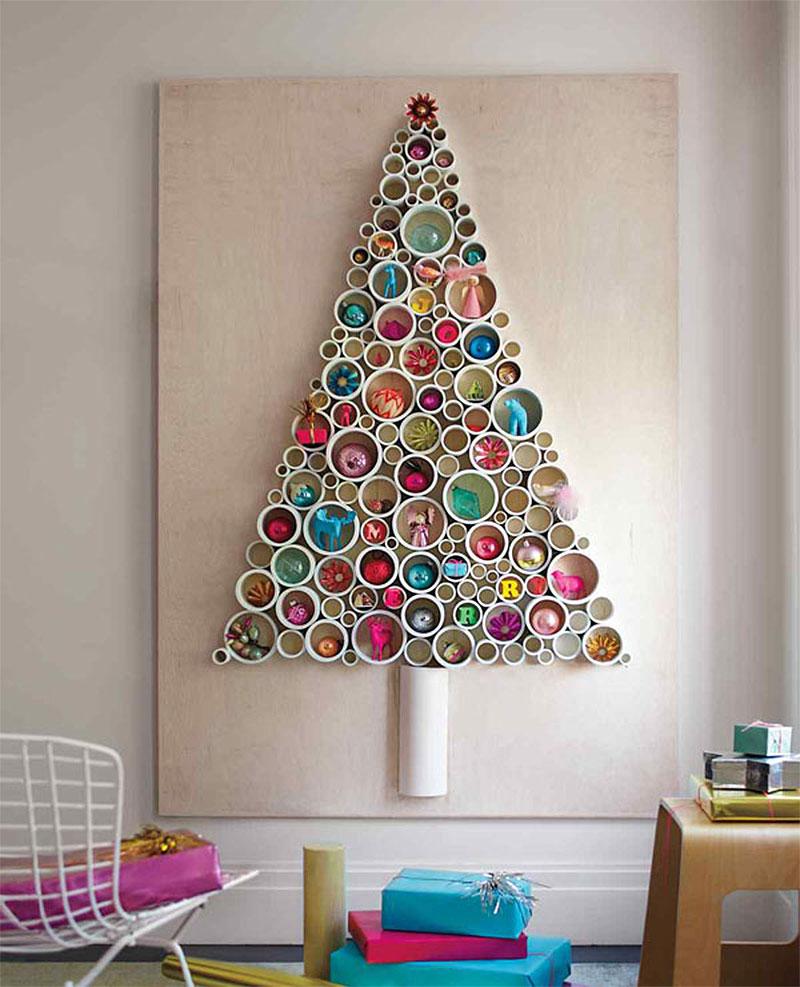 Image Source: All About Christmas
This unique DIY Wall Christmas Tree uses cut tubes of various sizes to create a wall mounted tree that holds the individual Christmas ornaments. Perfect for small spaces where it would be otherwise impossible to place a full-sized tree. I could see variations of this with the tubs painted in various Christmas colors.
Santa Boot Advent Calendar Tree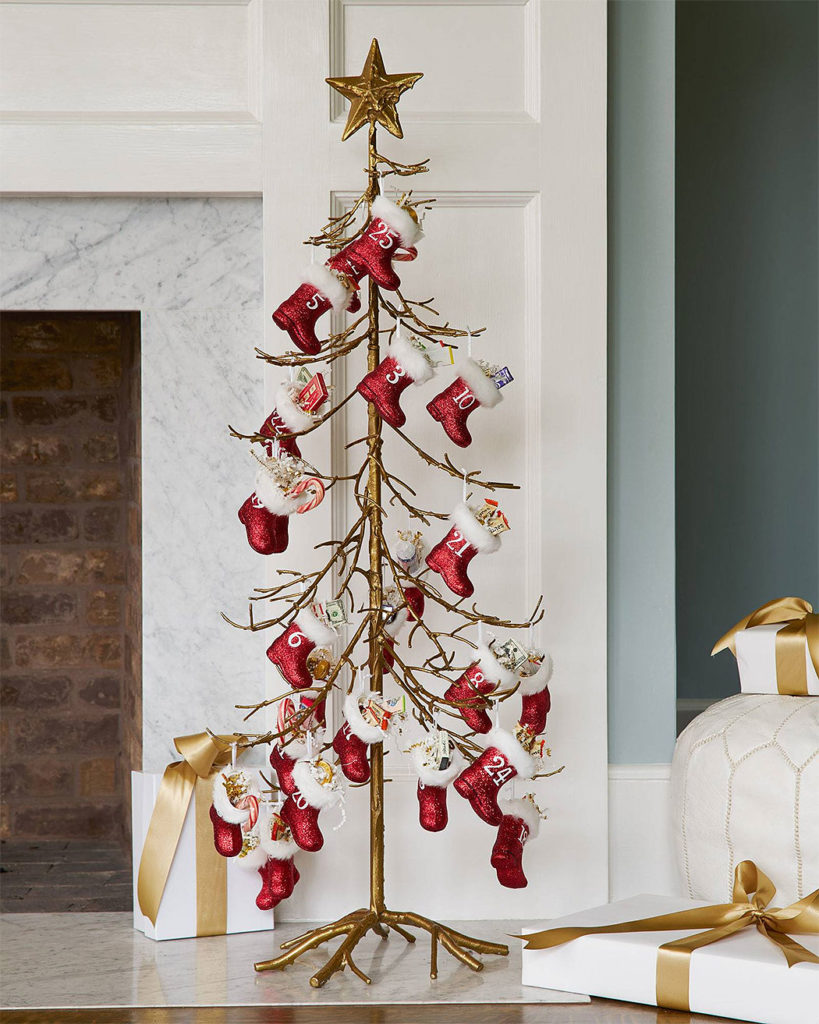 Source: Balsam Hill
Exclusive to Balsam Hill, these red mini boots are festive ornaments that represent Father Christmas himself. Made from glass, each small boot is numbered and accented by a white faux-fur cuff with string ribbon. Hung on a Gold Twig Christmas Tree, they make for an amazing and festive display.
The Painted Pallet Christmas Tree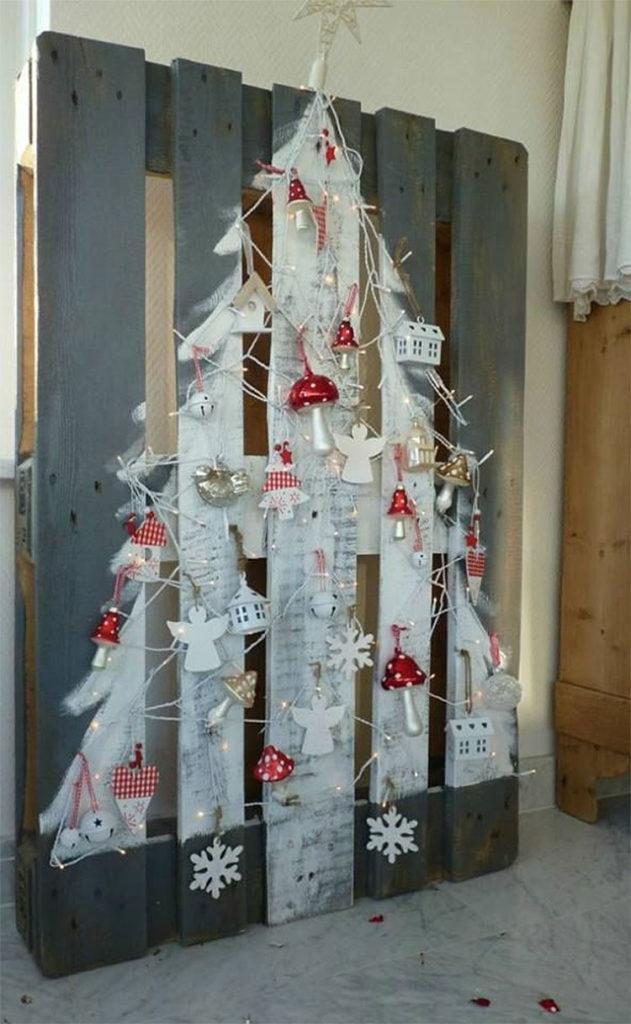 Image Source: Architecture Art Design
Another example of a flat Christmas tree. This time, a recycled pallet has been painted and decorated to create a rustic Christmas display.
---

---
Wood & Berries Christmas Tree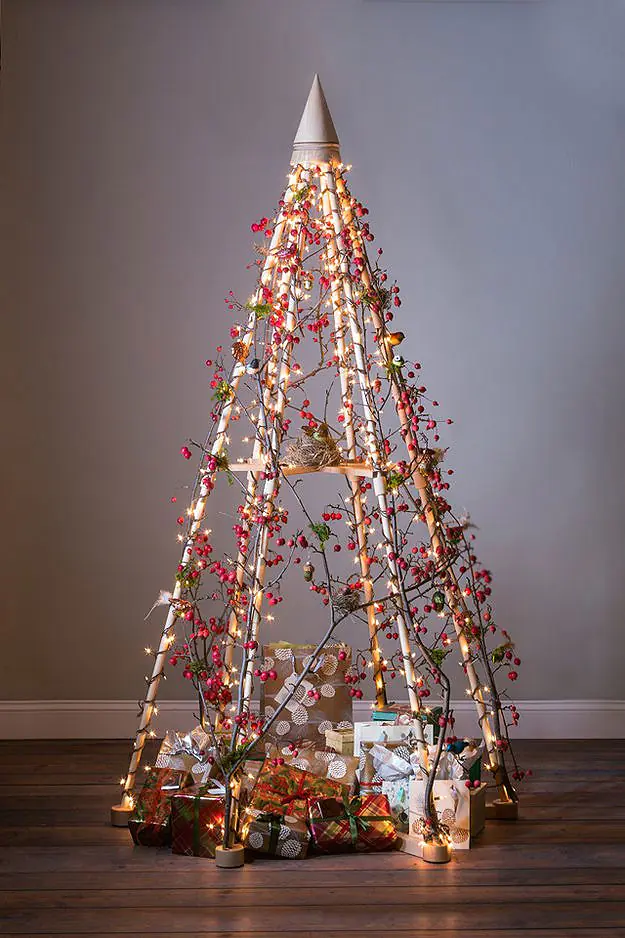 Image Source: Architecture Art Design
The simple design of this wood Christmas Tree is festooned with colorful berries to create a festive display. If you look closely you can see a bird, perhaps a Partridge, perched on the middle support. A very quaint Christmas Tree, perfect for a farmhouse or country home.
Wall Mounted Corner Christmas Tree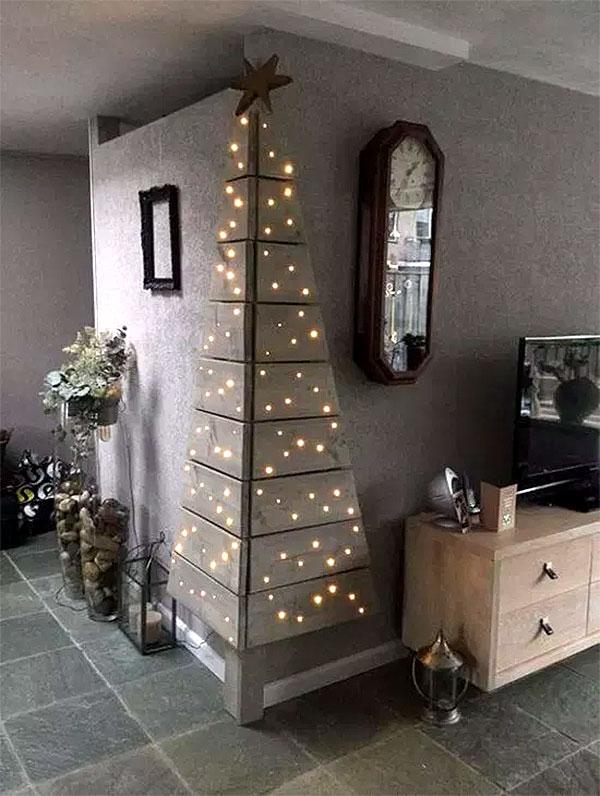 Source: Pinterest.com
This industrial, space saving design is simple yet effective. It's made out of various sized boards to create the tree form. Holes are drilled in order to hand the lights while burying the wires behind the boards. A fully lit "Christmas Tree" that takes up almost no floor space.
Modern Circles Alternative Christmas Tree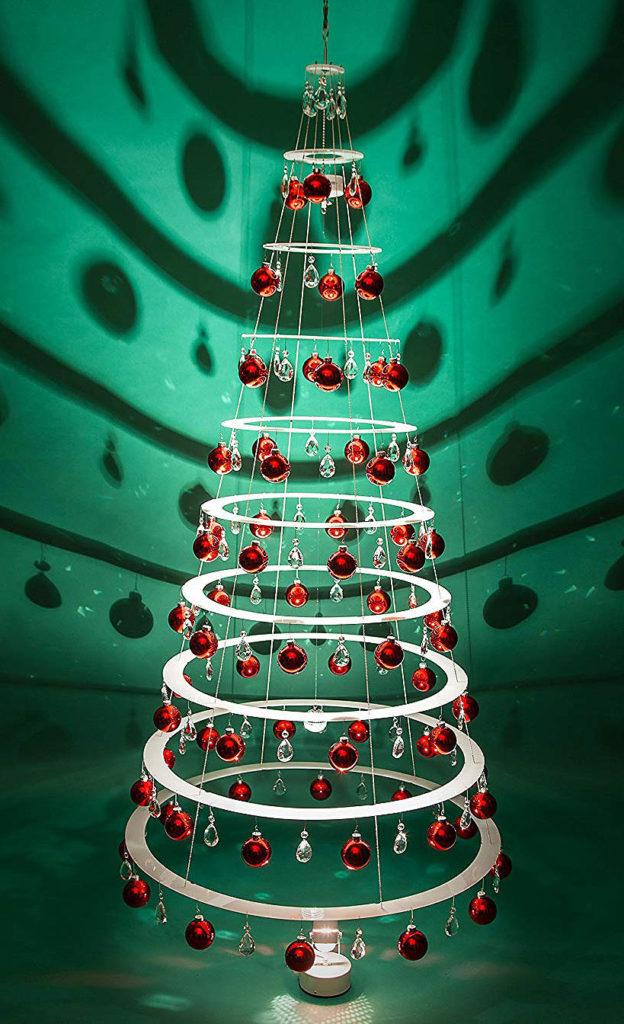 Source: Amazon.com
Easy to put up and take down, this modern take on the traditional Christmas tree collapses completely flat for space saving storage. Includes a mirror ball and spotlight to create a dazzling light show.
DIY Ribbon Christmas Tree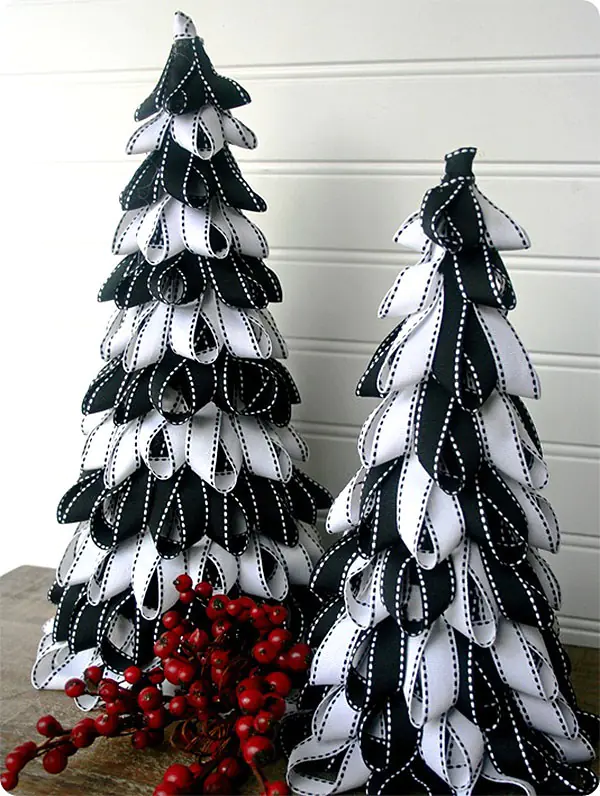 Image Source: WhipperBerry.com
This version, crafted using black and white ribbons, creates a modern, dramatic take on the traditional Christmas Tree. Check out the full tutorial at WhipperBerry.com.
Wood on Wood Lit Indoor or Outdoor Christmas Tree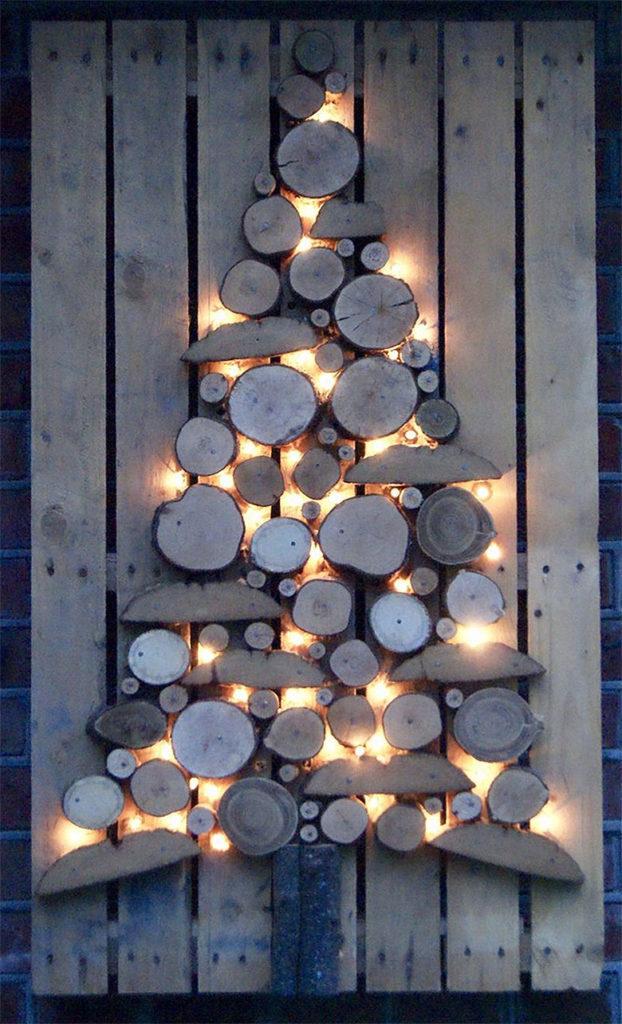 Image Source: Pinterest
Simple, yet so effective. A wood "pallet" background is layered with cut branches and small logs, interspersed with Christmas lights to create a de-lightful (pun intended) display. This unique Christmas Tree alternative can be used indoors or out, depending on the types of lights that you use.
Asian-Inspired Bonsai Christmas Tree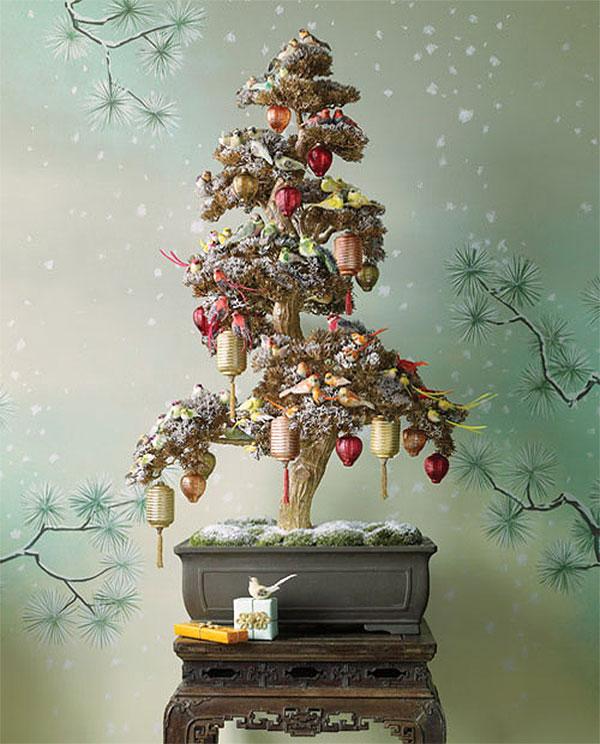 Source: Martha Stewart
Inspired by the bonsai collection at the Arnold Arboretum in his native Boston, Martha Stewart Living's Kevin Sharkey created this enchanting roost using an artificial bonsai that he spray painted with gold paint and then accented with glitter.
Galvanized Bucket Christmas Tree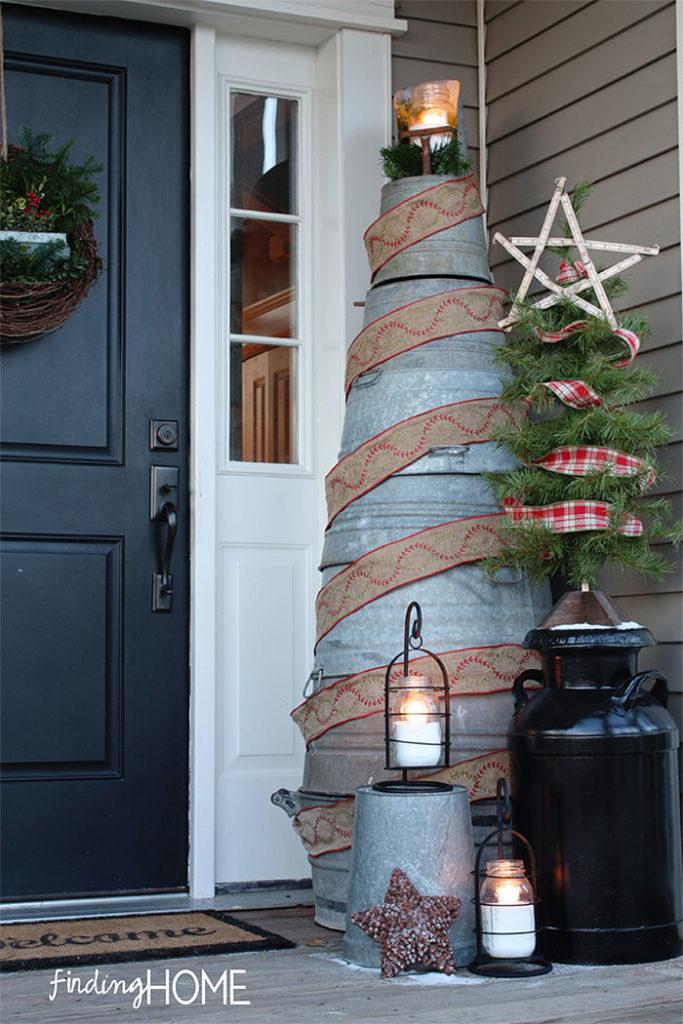 Source: Finding Home Farms
A delightfully rustic Galvanized Bucket Christmas Tree with loads of country farmhouse charm.
The Wine Bottle Christmas Tree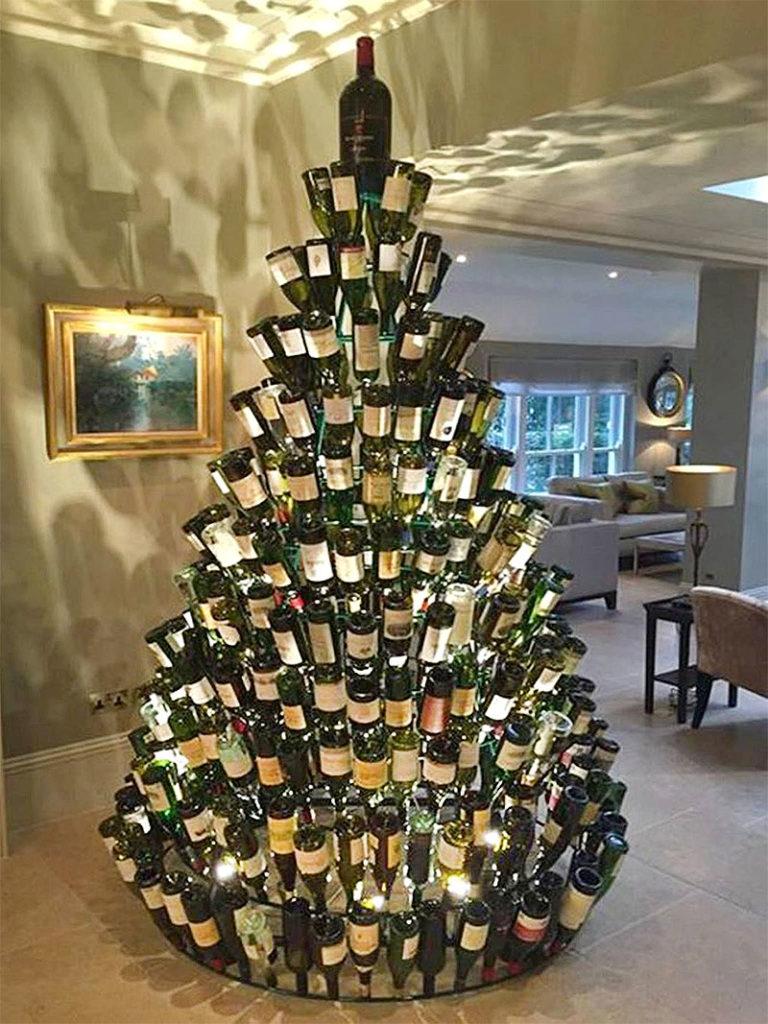 Image Source: Pinterest.com
A take on the Beer Bottle Christmas Tree, but with a twist aimed at Wine lovers, this unique Christmas Tree celebrates your love of fine wine. This version uses old wine bottles, although I've also seen version that can hold full wine bottles so that you can enjoy the look of the tree and then drink the wine when the holidays are over!
Wine Cork Christmas Tree Alternative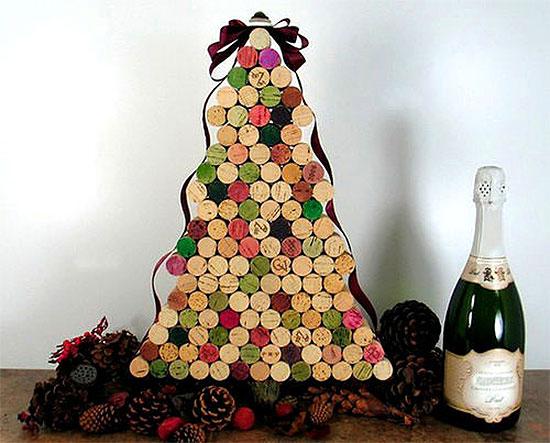 Source: Pinterest
Another option for the Wine Lover is the Wine Cork Christmas Tree. Fashioned using old wine bottle corks, some hot glue, and some ribbon. Add some rustic berries and pine cones around the bottom for added flair. This is definitely a table-top alternative, unless you feel like being VERY ambitious with the glue gun!
Ladder Christmas Tree
Image Source: Pinterest.com
I love the combination of an old Ladder, some Christmas lights, and Christmas Ornaments that this tree creates. A delightful and unique Christmas Tree that looks like it would be sooo much fun to create! In this case, they've used a painted/distressed metal ladder because it provides a smaller frame than the more rustic wood ladder Christmas trees. This allows the Christmas Ornaments to take center stage.
---
Shop the Art & Home Collection of Christmas Tapestries
BROWSE THE COMPLETE CHRISTMAS TAPESTRY COLLECTION >>
---
Wooden Ladder Christmas Village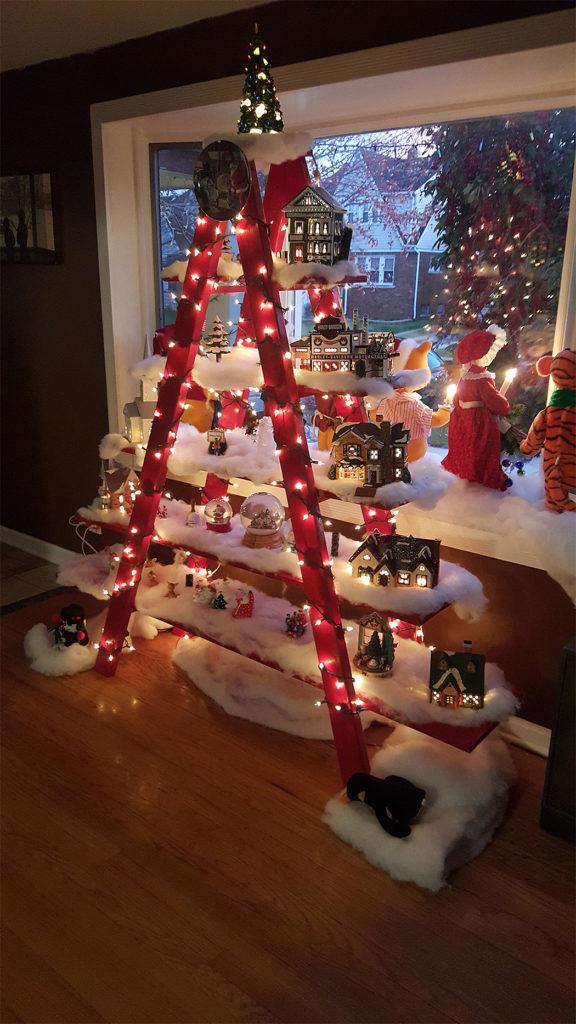 Image Source: Imgur
This is a take on the Ladder Christmas Tree, but adds an extra layer by displaying a beautiful Christmas Village on each step of the ladder.
Wood Slices Christmas Tree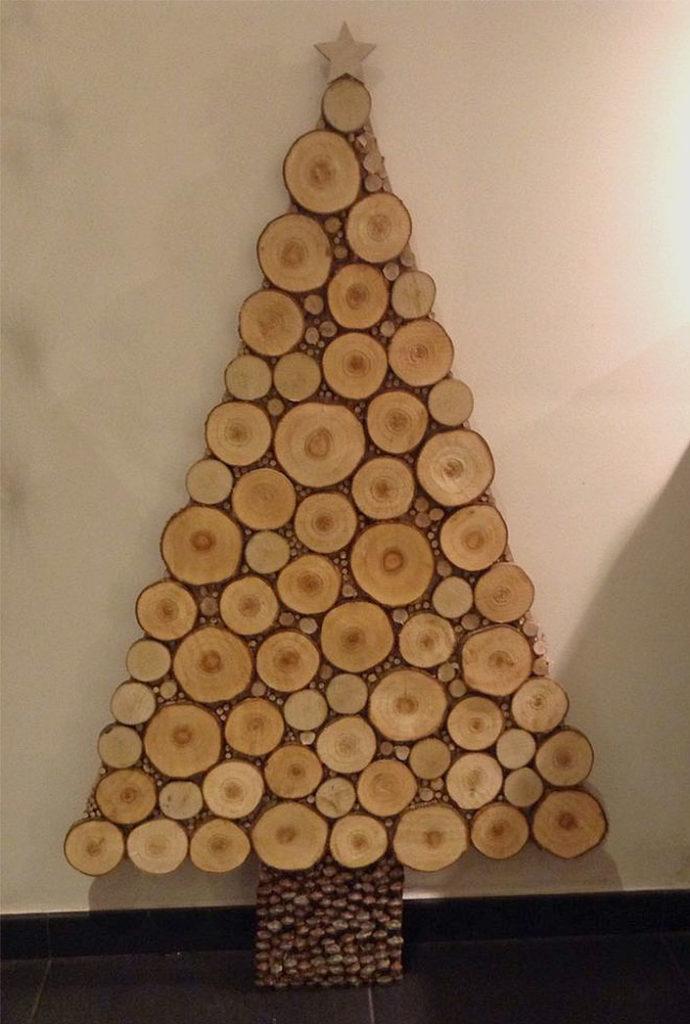 Source: Pinterest
Using slices of wood in varying sizes, this extraordinary creation is both rustic and festive and all sorts of other amazing things. Once the base is built, you could feed mini-lights throughout to create a lit version, and could tack on some simple decorations, such as red bows, to add a bit of Christmas color. Or, leave it exactly as is and the let the glory of the natural wood speak for itself. Your choice.