There are few things quite like the elegant drama that a black & white art piece can add to your home. That's where these unique and wonderful pieces of black & white wall art come in very handy.
The very first piece of Black & White wall art that I ever owned was the classic – if perhaps slightly overused – "Moon and Half Dome" by Ansel Adams, which featured a moon rising over a huge rock-face.
I'm not sure what it was about that picture that appealed to me at the time, but it was when I first started noticing the importance of adding quality artworks to the home.
Before this point, I will admit, I had mostly decorated with movie posters and some IKEA rugs tacked up to the wall.
But once you discover a love of art, even if your taste changes over time, I don't think you ever go back.
So today we celebrate the unique and stunning drama that is always provided by beautifully designed black and white art.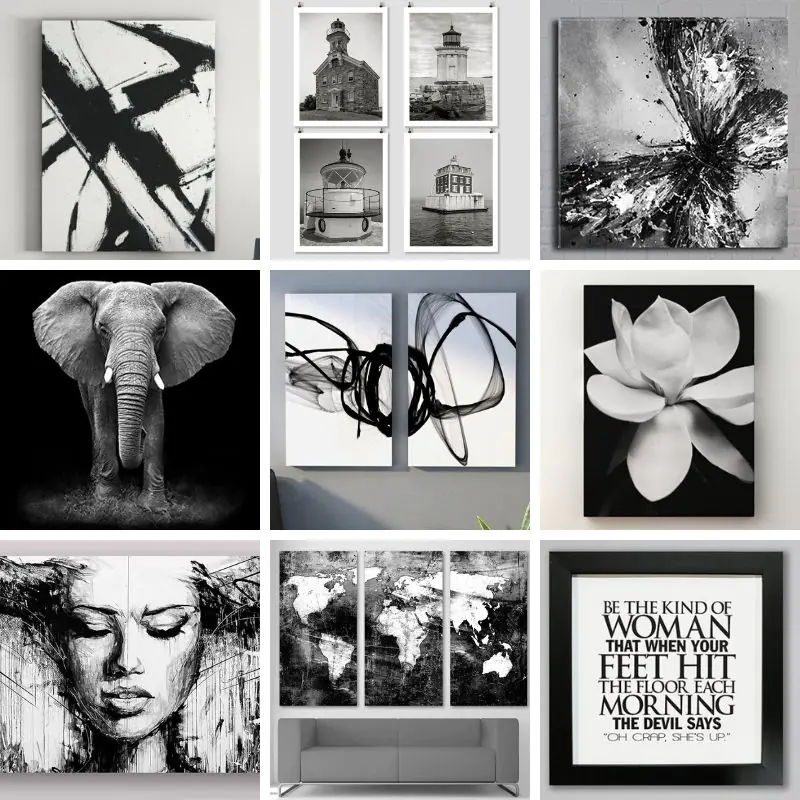 From contemporary to classic to country to just plain COOL, these black and white art pieces come in a variety of shapes, sizes, and colors… well, not colors… but they come in a variety of options that are neutral enough to fit into almost any decor scheme.
If you're trying to find the perfect black & white wall art piece to add to your home, you've come to the right place. We hope that we can make that search easier by collecting some of the best black and white art and putting it all together in one place.
Our Picks for Stunning Black & White Art
We've scoured through our retail partner sites at Wayfair, Amazon, and Etsy to uncover some of the very best, most striking, and most dramatic pieces of black & white art for your home. We hope you can use this collection to find just the right piece for any room.
Please note that Art & Home does have an affiliate relationship with the merchants listed below. We may receive a small referral fee – at no cost to you – for any purchases made at these retailers after following one of the links provided below. We use those funds to continue creating unique and wonderful content for you to enjoy. And to buy stuff.
White Magnolia Photographic Print on Canvas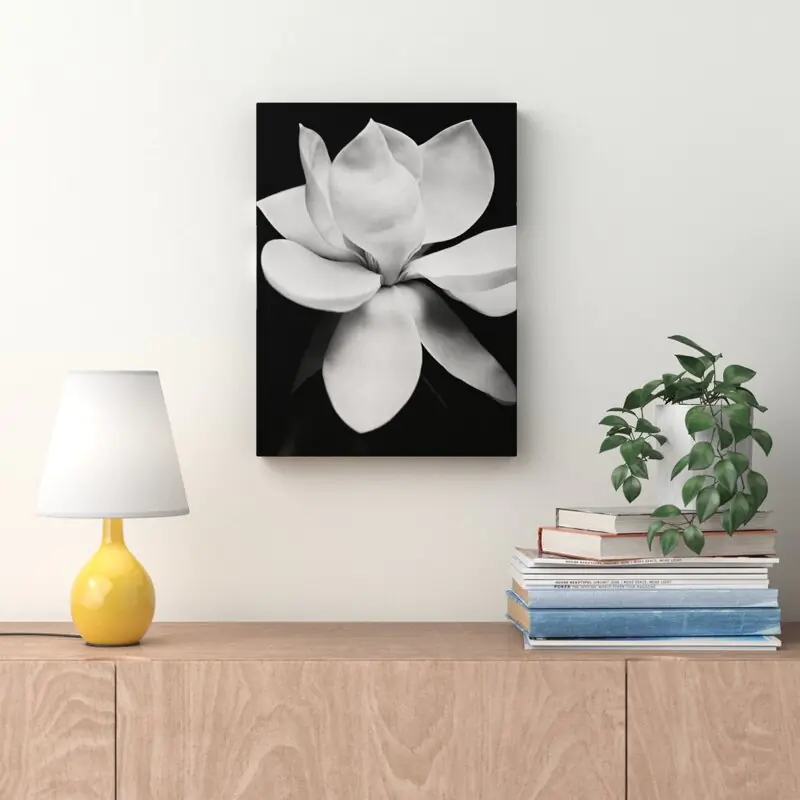 Bring floral beauty to your walls with this photographic print by Michael Harrison. Featuring a close-up shot of a white magnolia against a rich black background, this giclee art printed on canvas is a museum-worthy display piece.
---
Abstract Black and White Splash Canvas Art Set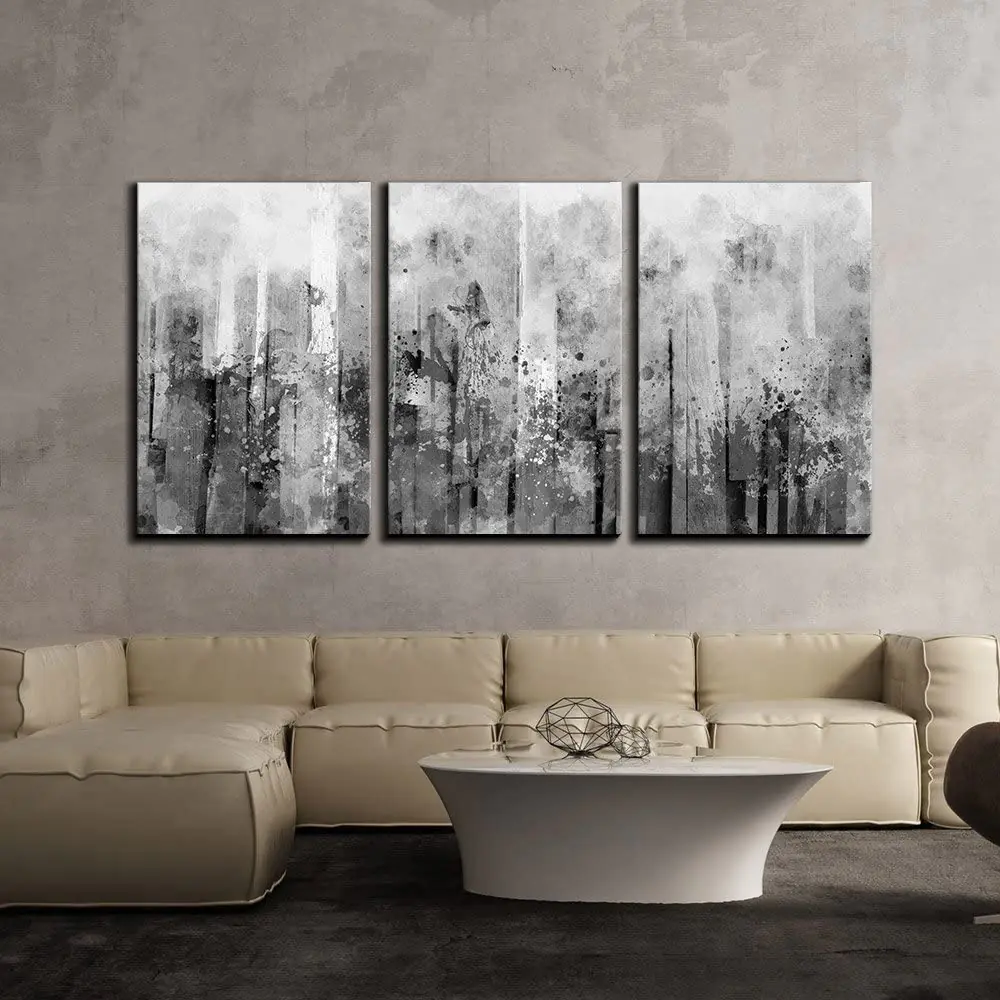 This 3-piece canvas art set creates drama using splashes of black, white, and gray across a series of canvases.
---
Brooklyn Bridge Photographic Print on Canvas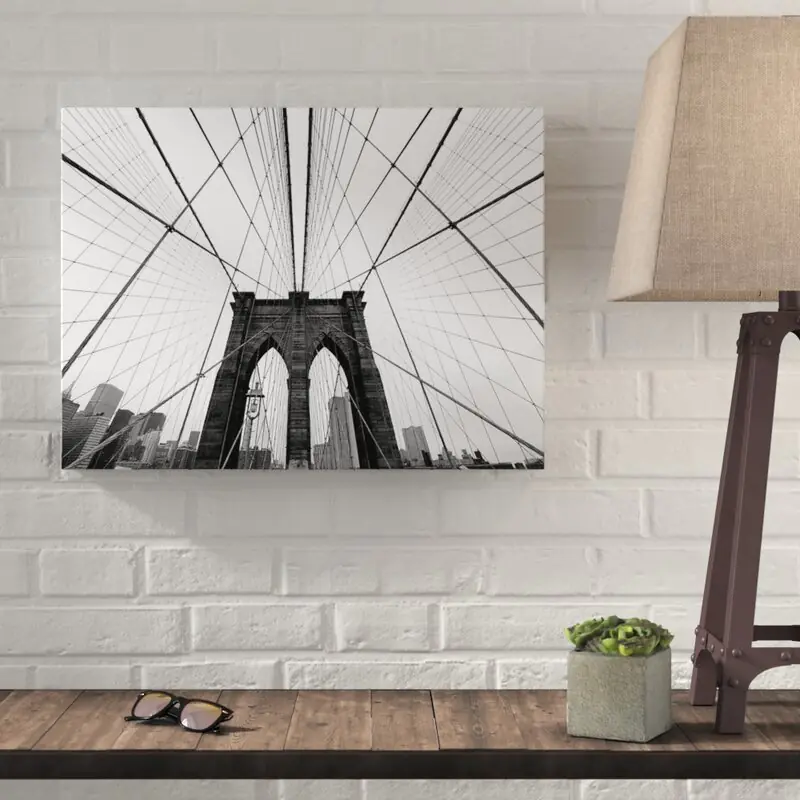 The steadfast New York landmark of the Brooklyn Bridge is the focal point of this dramatic black & white photographic art print.
---
Scenes from Paris 6-Piece Framed Photographic Art Prints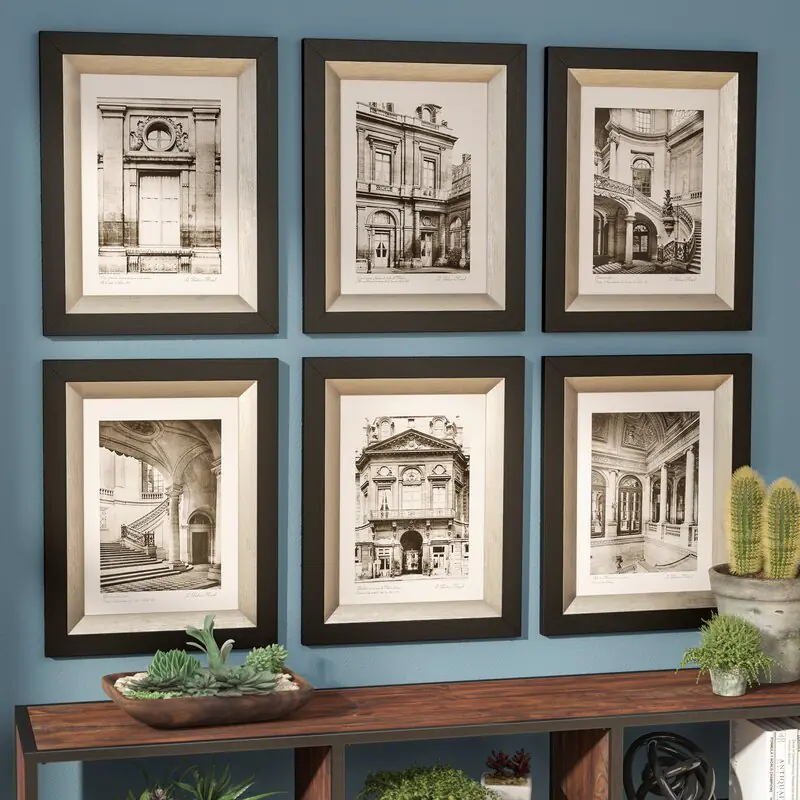 Welcome antique inspiration and French flair into any ensemble with this six-piece print Scenes from Paris photographic print set. Each print showcases a different scene of Paris in neutral black and white hues for a vintage vibe.
---
Abstract Poetry in Black and White 100 by Irena Orlov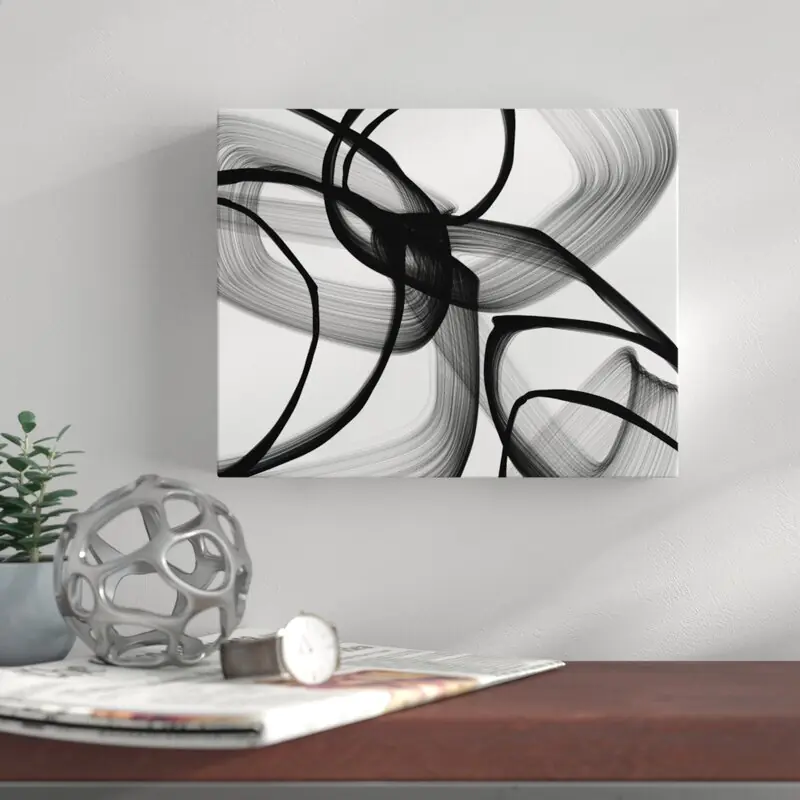 Install a contemporary & dramatic focal point to any room with this graphic art print by Irena Orlov which features an abstract image in contrasting black and white tones
---
Loving Hands Black & White Sketch Art Set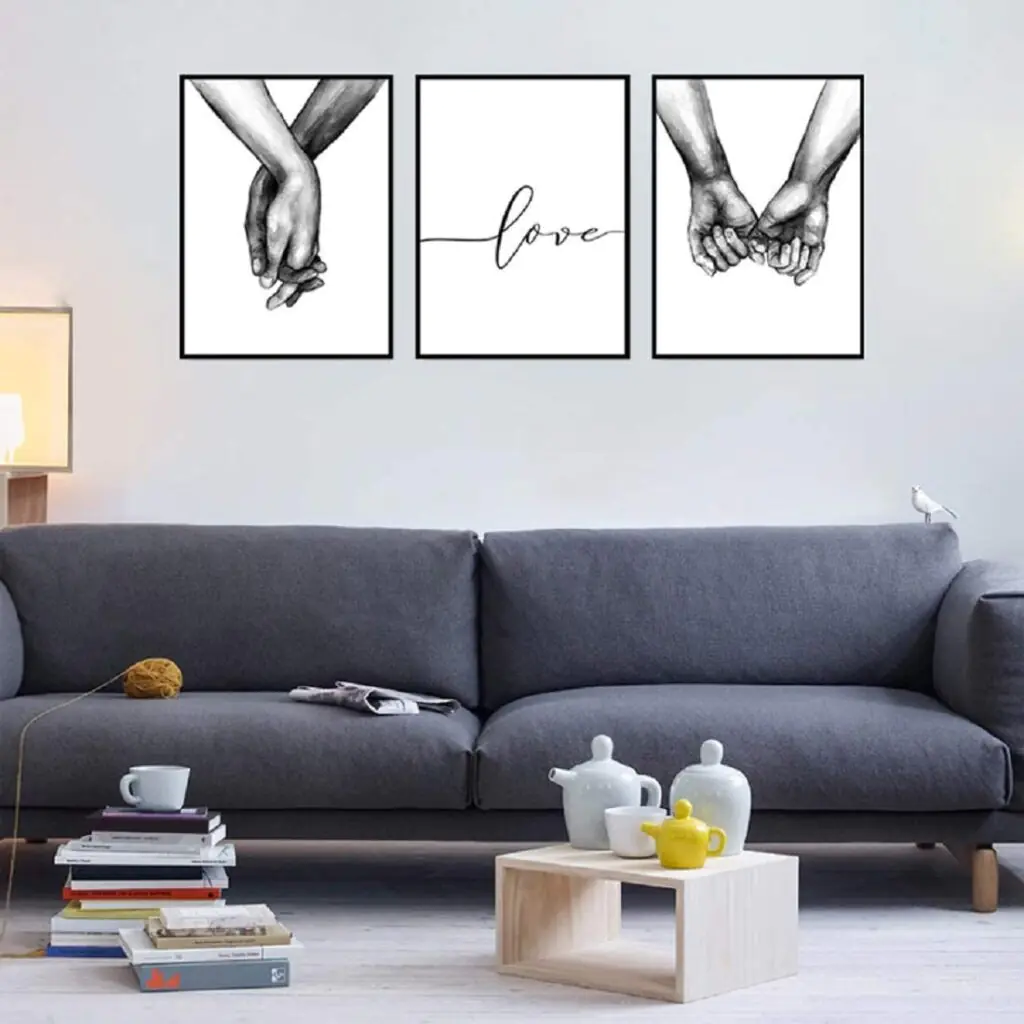 This 3-piece romantic art for a couple features two sketched of sketched hands connected by the word "Love".
---
Mountains Black and White Watercolor Art Print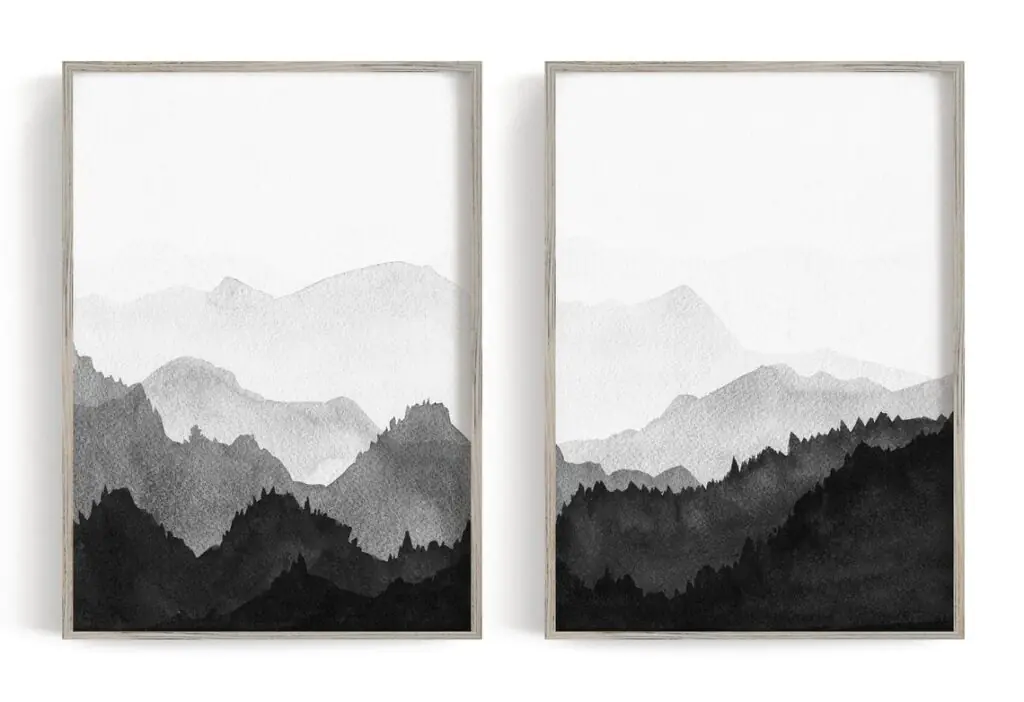 A serene view of mountains both near and in the distance is translated into surreal black and white watercolor that is perfect for the living room, home office, or bedroom.
---
Here Comes the Bride by J. Cameron Miller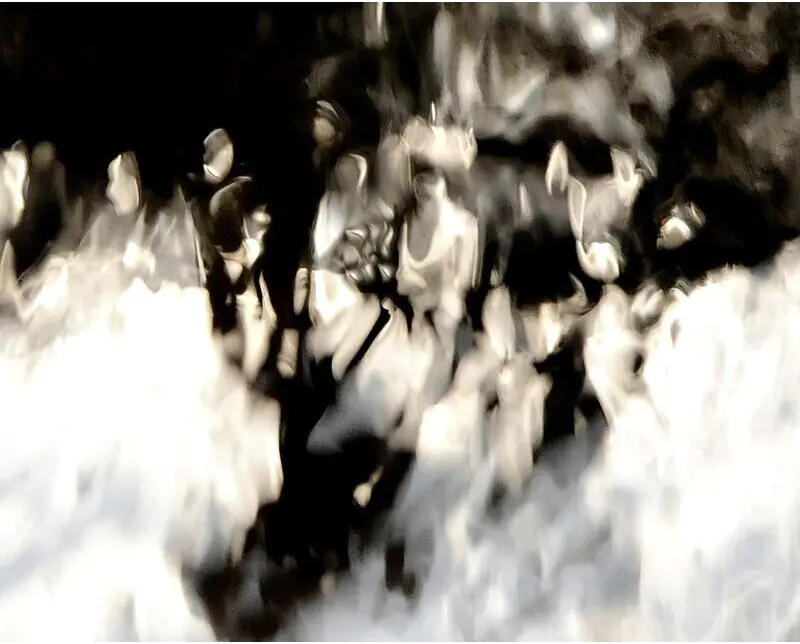 Look at the image for a few moments and you will spot the beautiful bride on her way down the aisle. Created by the unique aleatoric photography of J Coleman Miller.
---
Be the Kind of Woman Framed Textual Art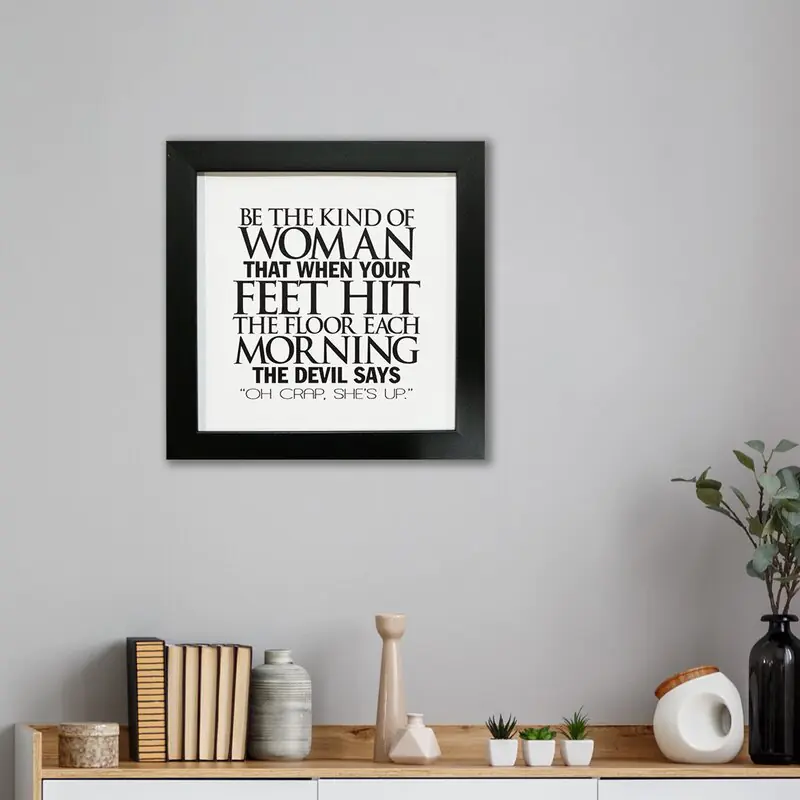 Not your average inspirational piece of wall art, this framed typographic print reminds you to make the most of each day (and maybe make a little trouble while you're at it.)
---
Black and White Tree 5 Pieces Modern Art Set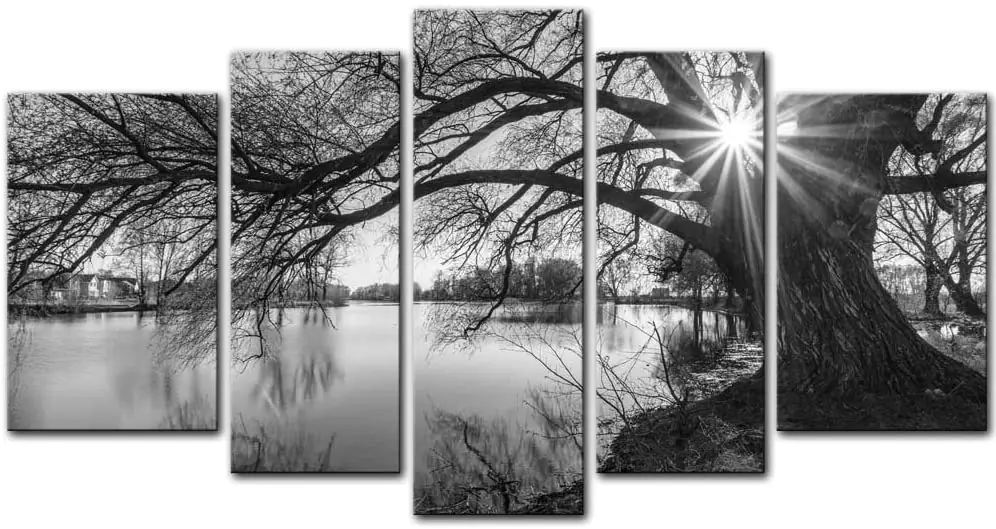 A majestic tree at the water's edge is the focus for this strikingly beautiful 5-piece canvas art set.
---
Black & White World Map Canvas Art Print Set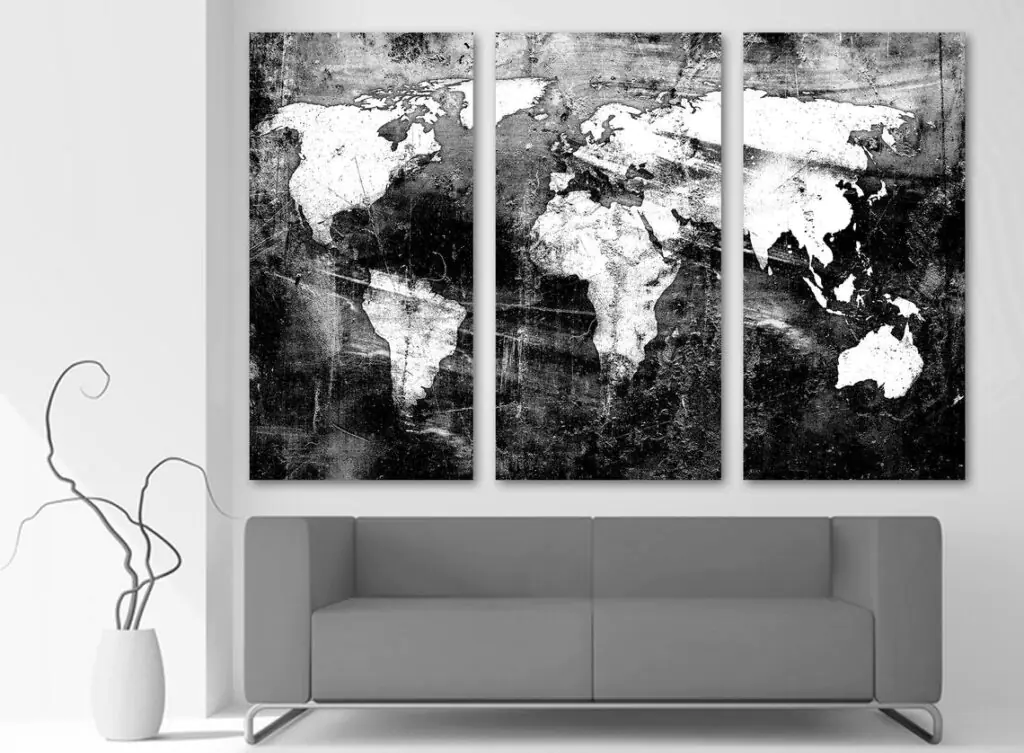 3 Panel Split (also known as a Triptych) features an abstract world map in black & white. This giclee print includes beautiful digital texturing and it's great for home or office wall decor and interior design and as housewarming gift.
---
Live, Laugh, Love, Coffee Canvas Art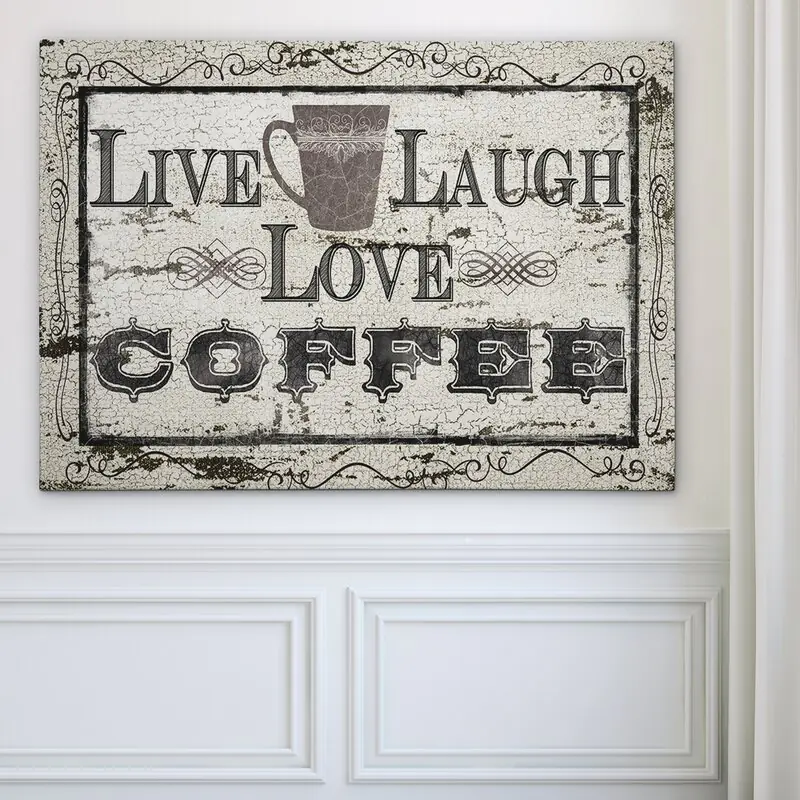 Perfect for the coffee lover in your home (in this home, that would be me), this piece celebrates your deep appreciation for caffeine.
---
Orchid Opulence I Framed Graphic Art Set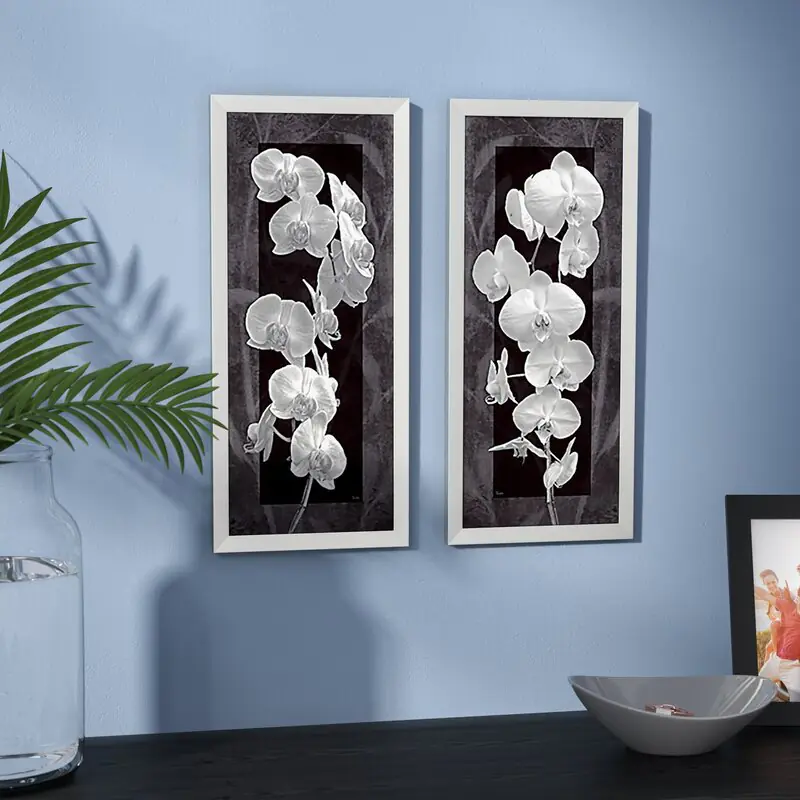 Boasting a set of two orchid-inspired black & white prints awash in hues of silver and black. Truly stunning!
---
Abstract Zen Black & White Art on Canvas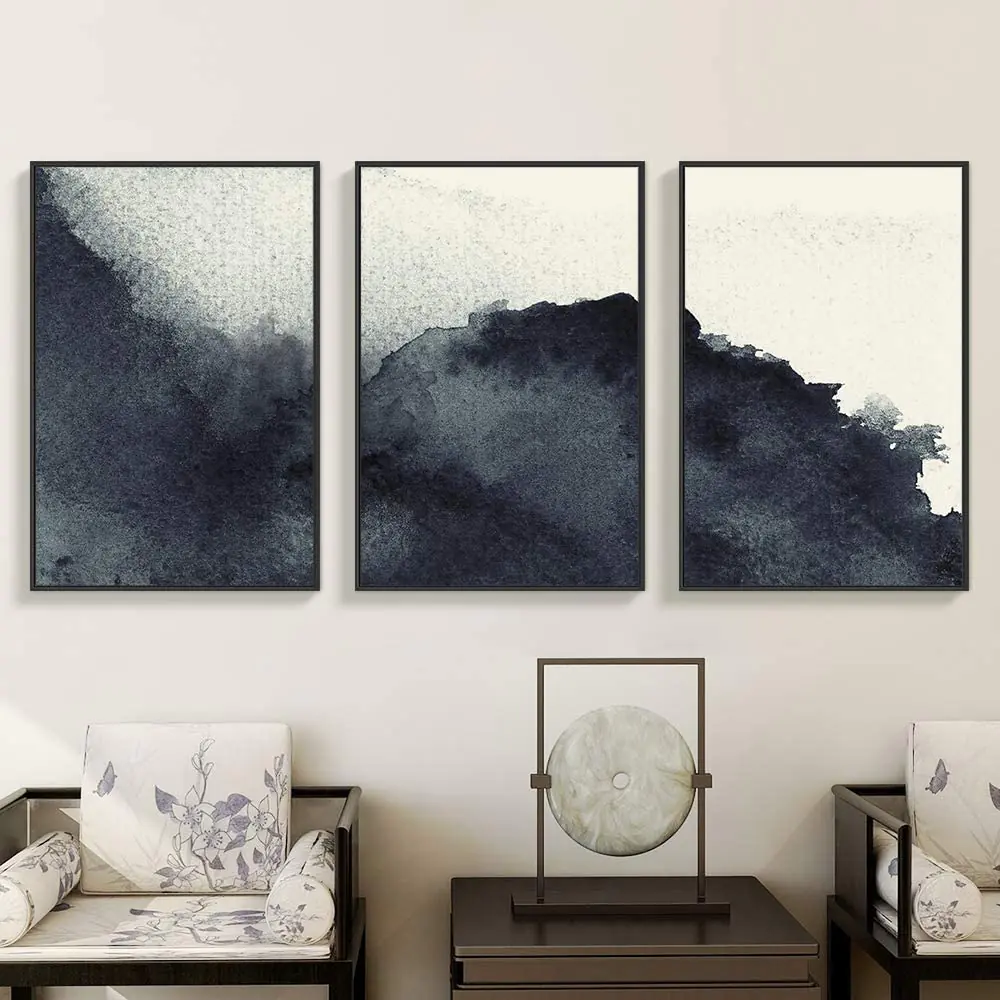 Is it an ink blot? Is it a peaceful mountain range? Is it the surf coming in at night against a white sand beach? Or is it something completely different? You decide!
---
Chalkboard Kitchen Signs 4-Piece Art Set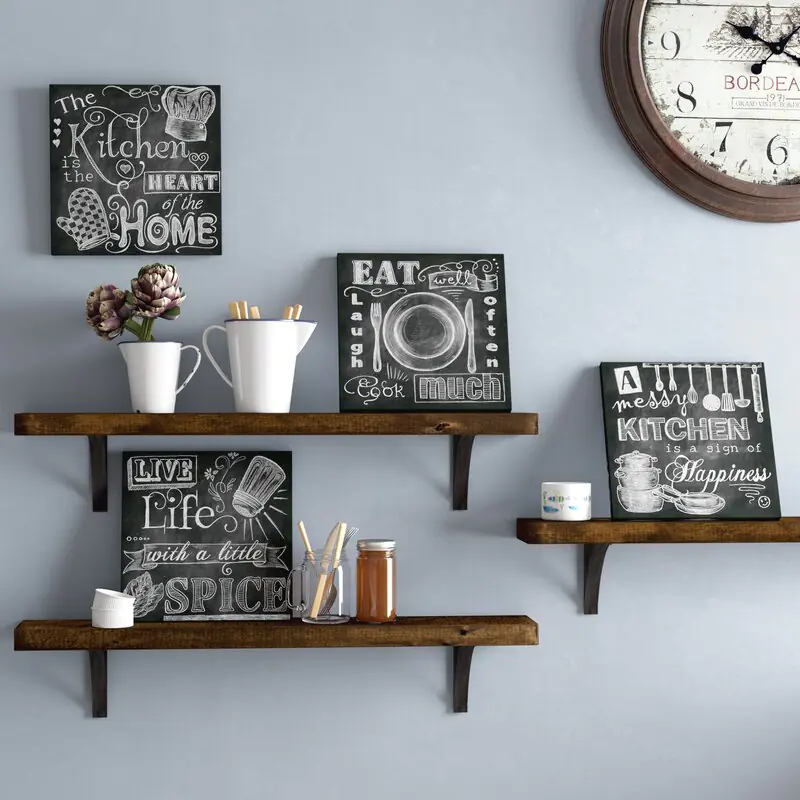 Showcasing a chalkboard design, these whimsical art pieces add an element of fun and a pinch of personality to your kitchen.
---
Black and White Abstract Art Print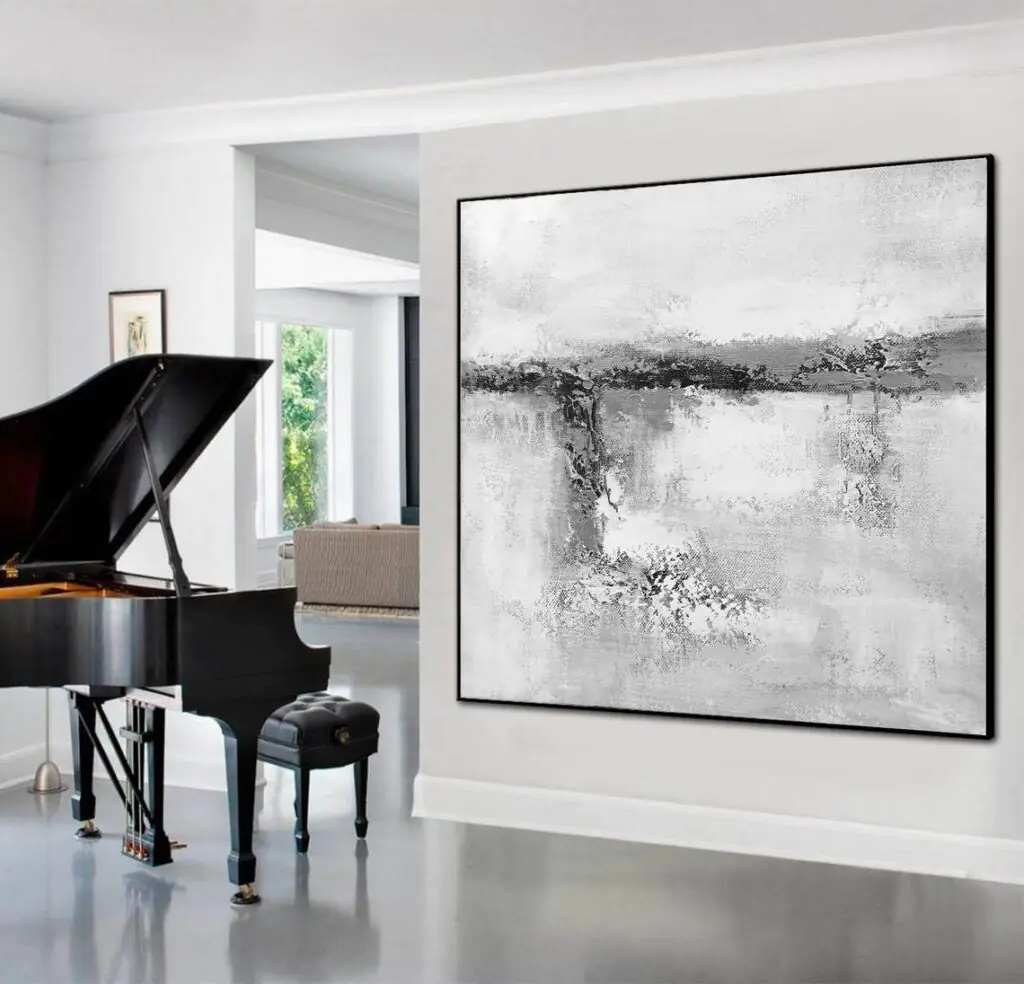 This extra-large abstract black and white oil painting creates a stunning focal point, and is perfect for any contemporary home.
---
Black Flowers on White Background Art Print on Canvas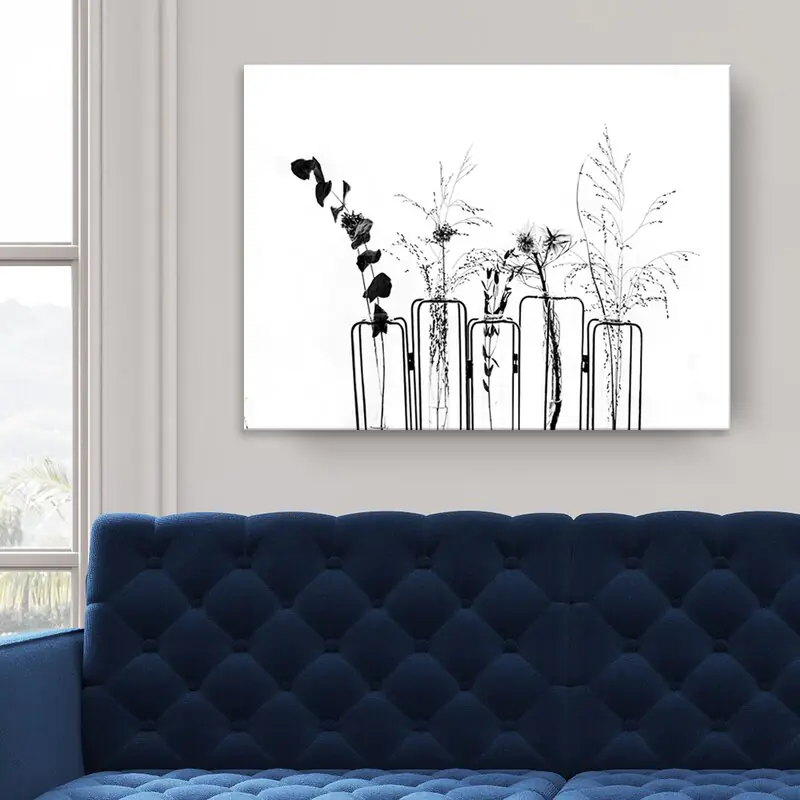 Bring the beauty of nature to your wall decor with this stunning canvas print. Black floral stems contrast on a pure white background, creating a modern work of art.
---
Robert Mapplethorpe Framed Calla Lily Art Print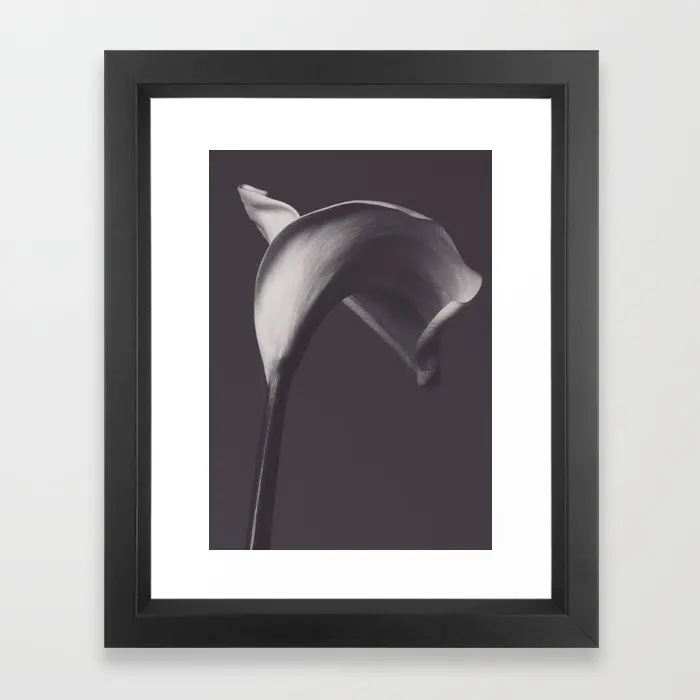 From our Calla Lily Art Collection, this piece by Robert Mapplethorpe is part of his timeless and elegant Calla Lily series. A gorgeous piece that takes a unique, profile angle on the stunning and sleek shape of the Calla Lily.
---
Expression Abstract I & II Painting Print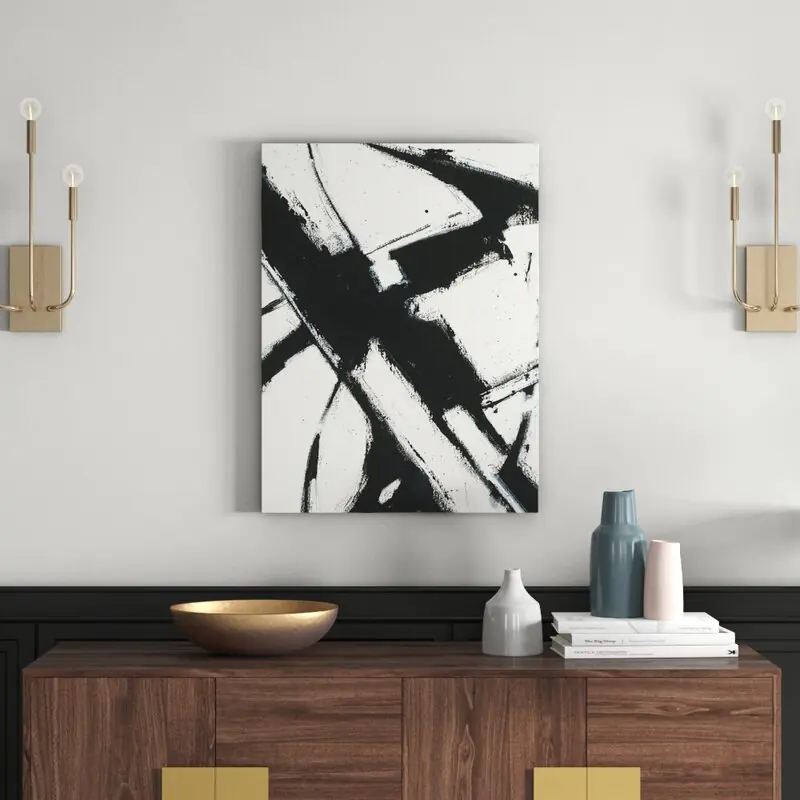 An abstract motif takes center stage for this modern art set, while black and white hues create crisp contrast. Thanks to its neutral tones, these artful accents can blend easily with any decor palette.
---
Set of 4 Ink Blot Prints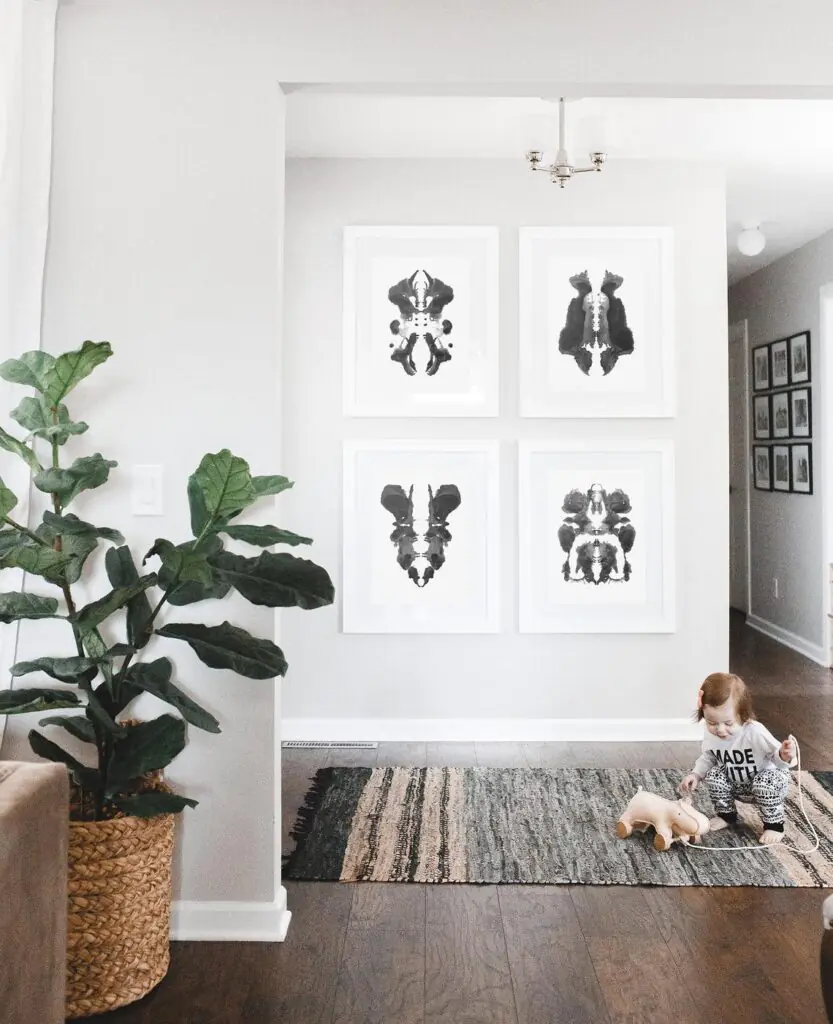 Original ink blot designs from artist Megan Burges Gilliam.
---
Dandelion in Black & White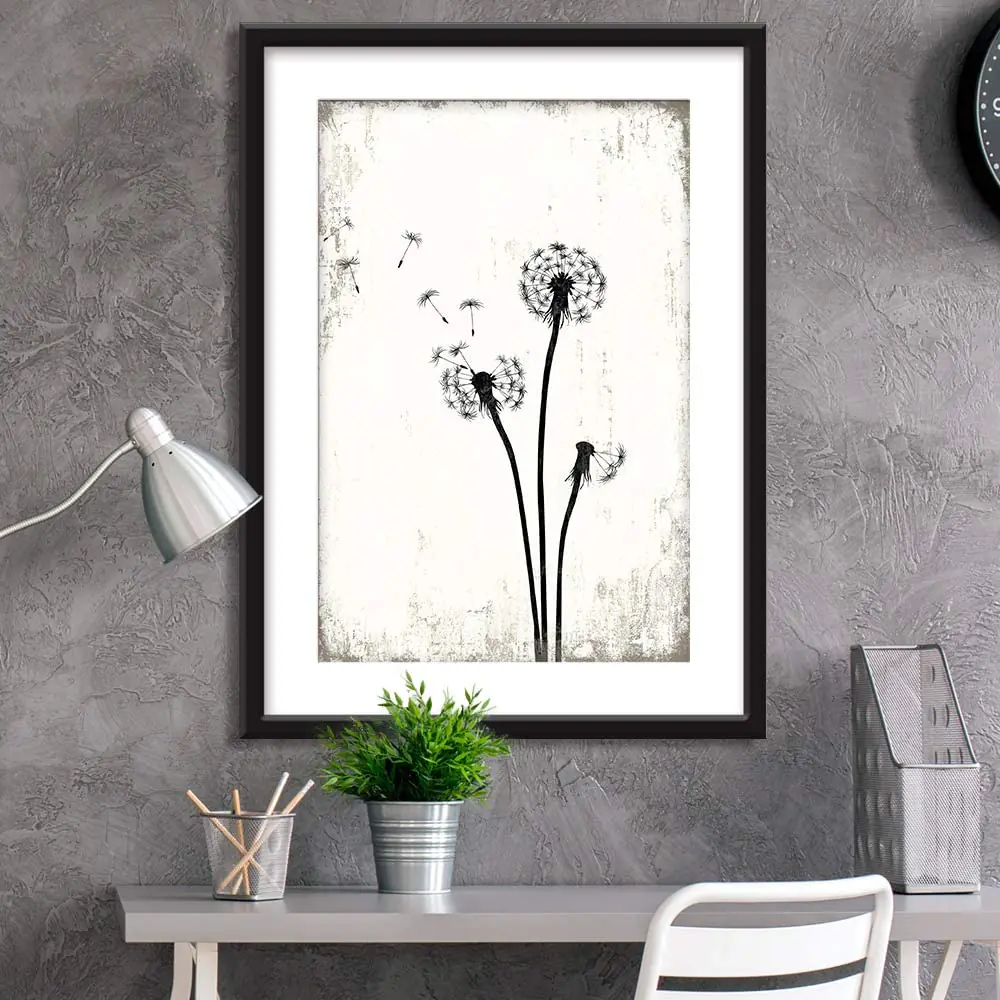 The wind starts to take away the dandelion seeds, creating a whimsical piece of black & white wall art that would fit both contemporary or rustic settings.
---
Contentment 2 Modern Black & White Art Print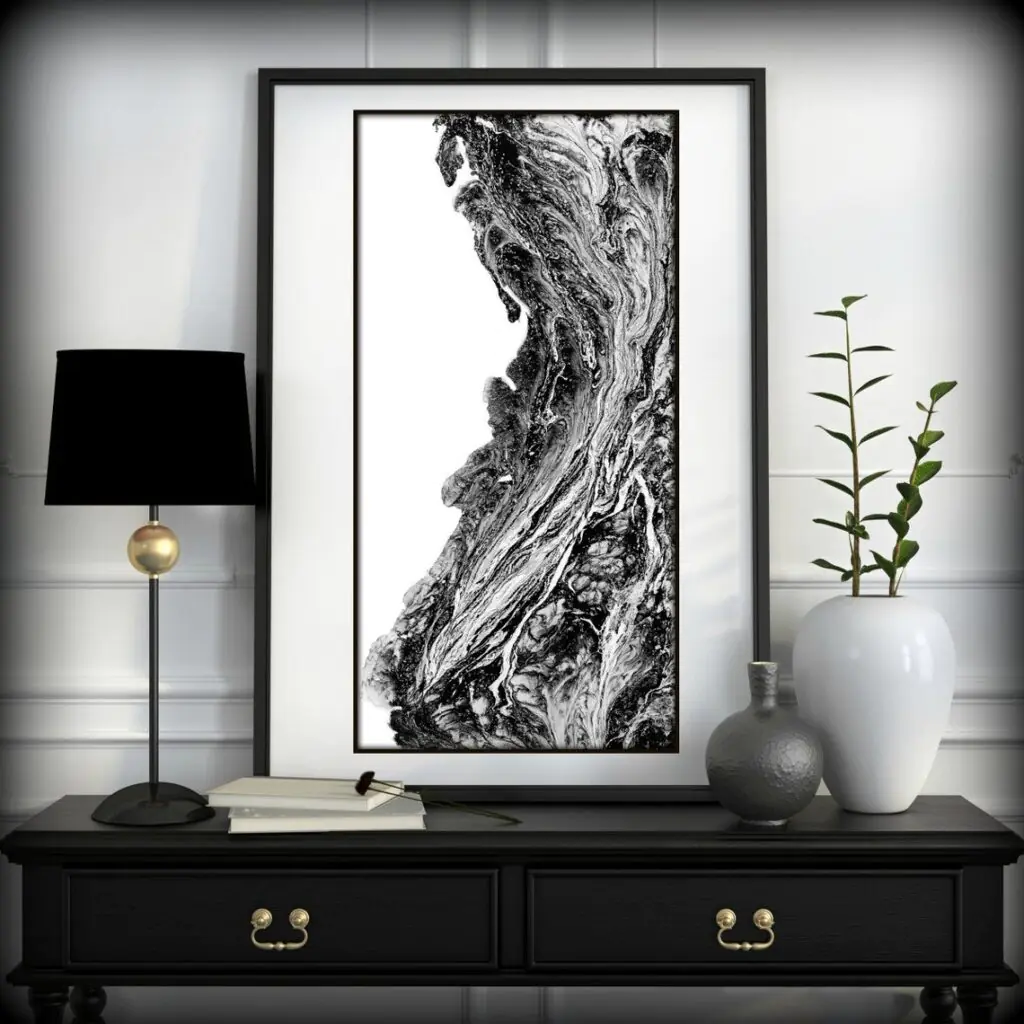 A unique modern art piece, this framed print looks just as dramatic no matter which way you hang it.
---
Botanical Black and White 2-Piece Acrylic Print Set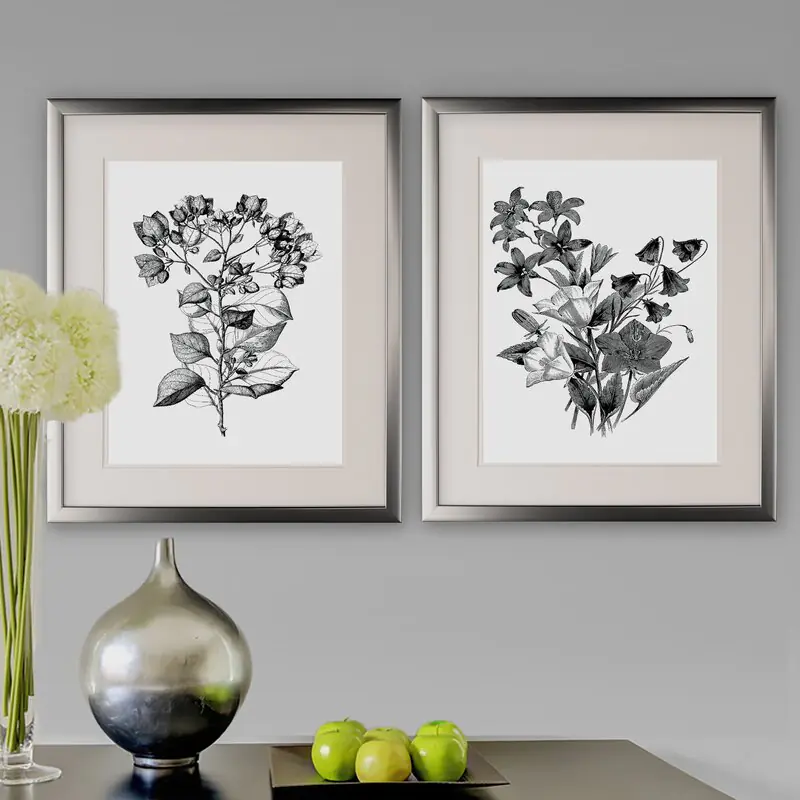 Featuring two black and white images of flowers, this two-piece acrylic painting print set is a great option for adding an understated botanical touch to your walls.
---
African Elephant Black & White Art Print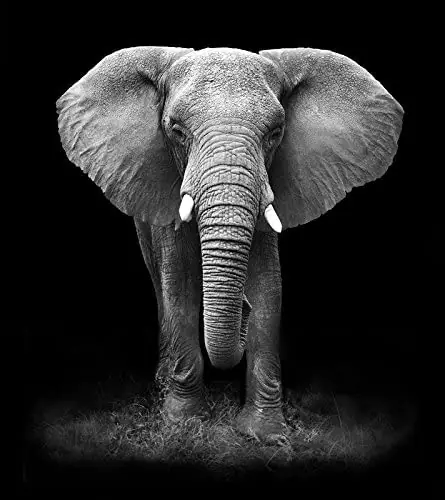 The majestic elephant takes center stage in this awe-inspiring black & white art print.
---
Infinity Framed Photograph Print on Wood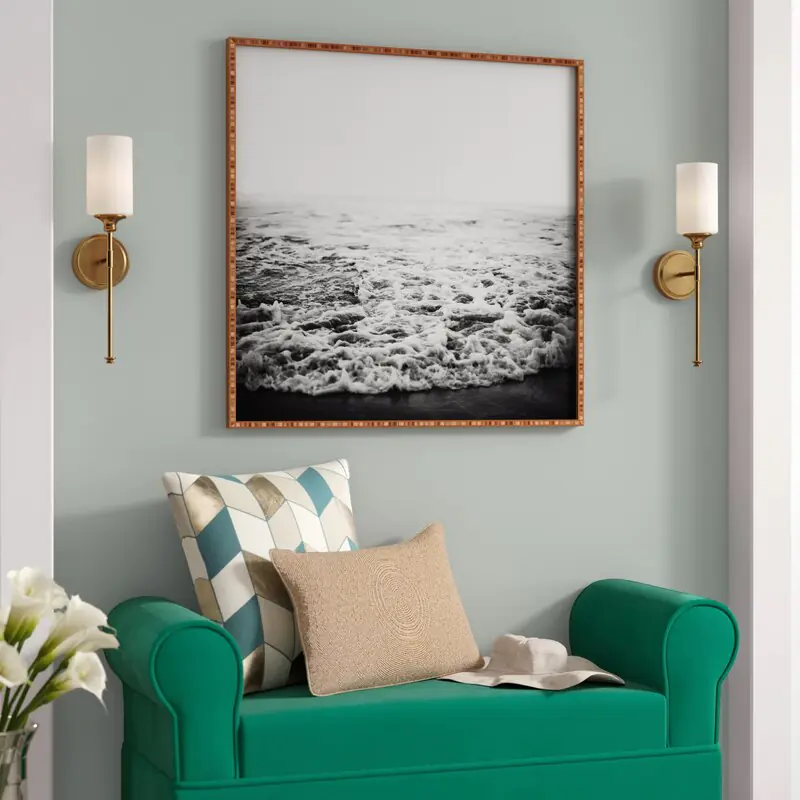 The waves crash in on the beach, with a view to infinity across the horizon beyond.
---
The New Mistral by Loui Jover Wrapped Canvas Art Print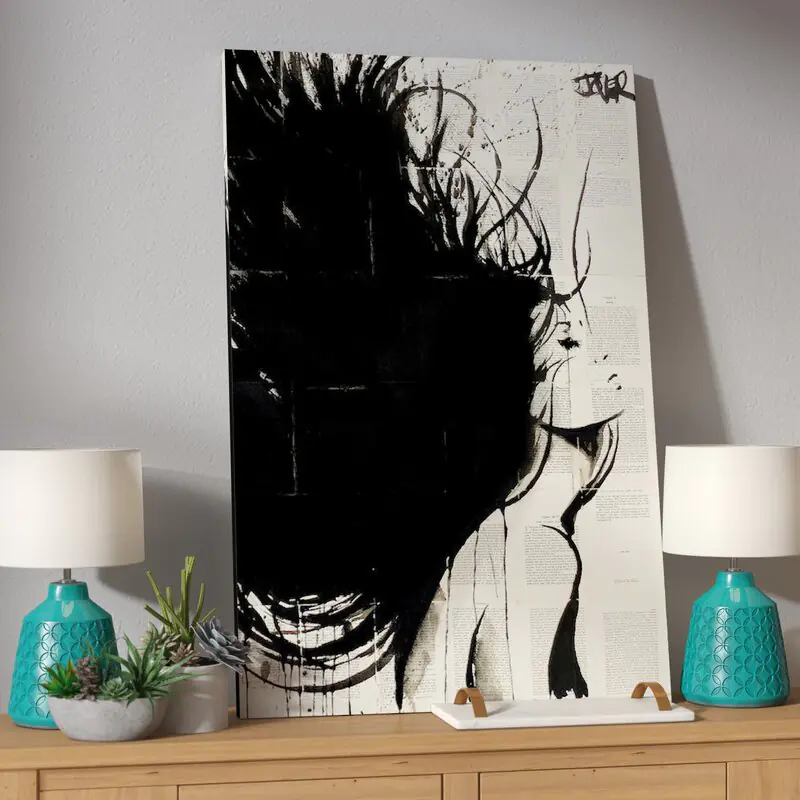 Showcasing a powerful illustration of a woman against a novel page background, this art piece offers drama while utilizing neutral hues.
---
Large Gray Flower Canvas Wall Art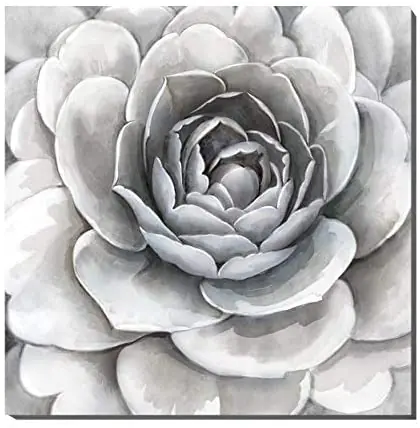 The soft and subtle textures of a flower are converted into a muted study in black, white, and grey.
---
Stormy Collection Original Black and White Oil on Canvas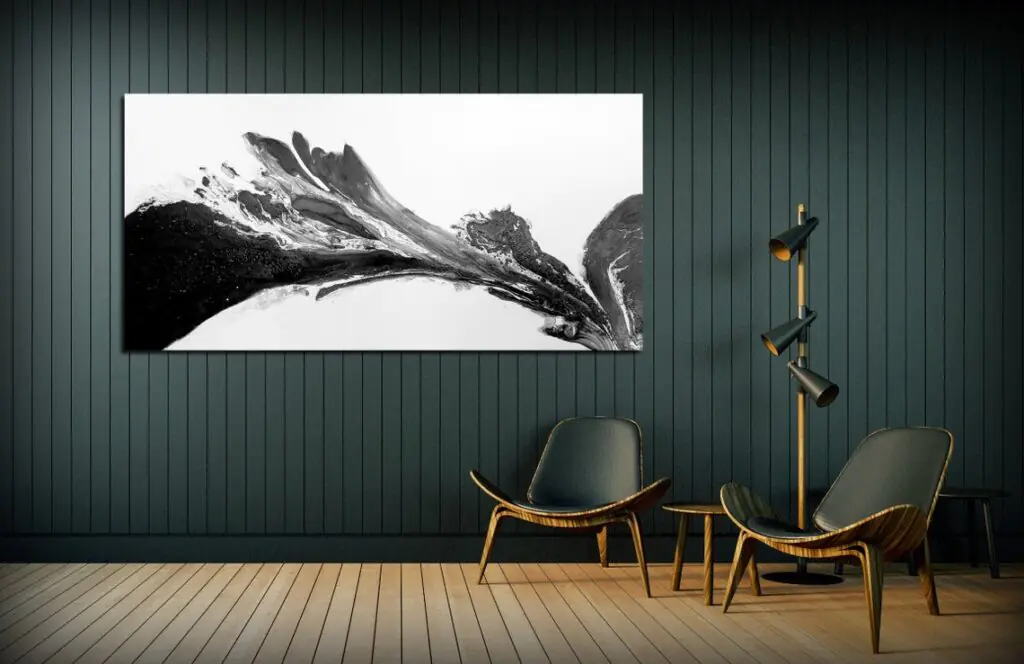 This 6' wide modern art piece is signed and dated by the artist, making it a truly collectible art piece.
---
Winter Tree Black & White Canvas Art Print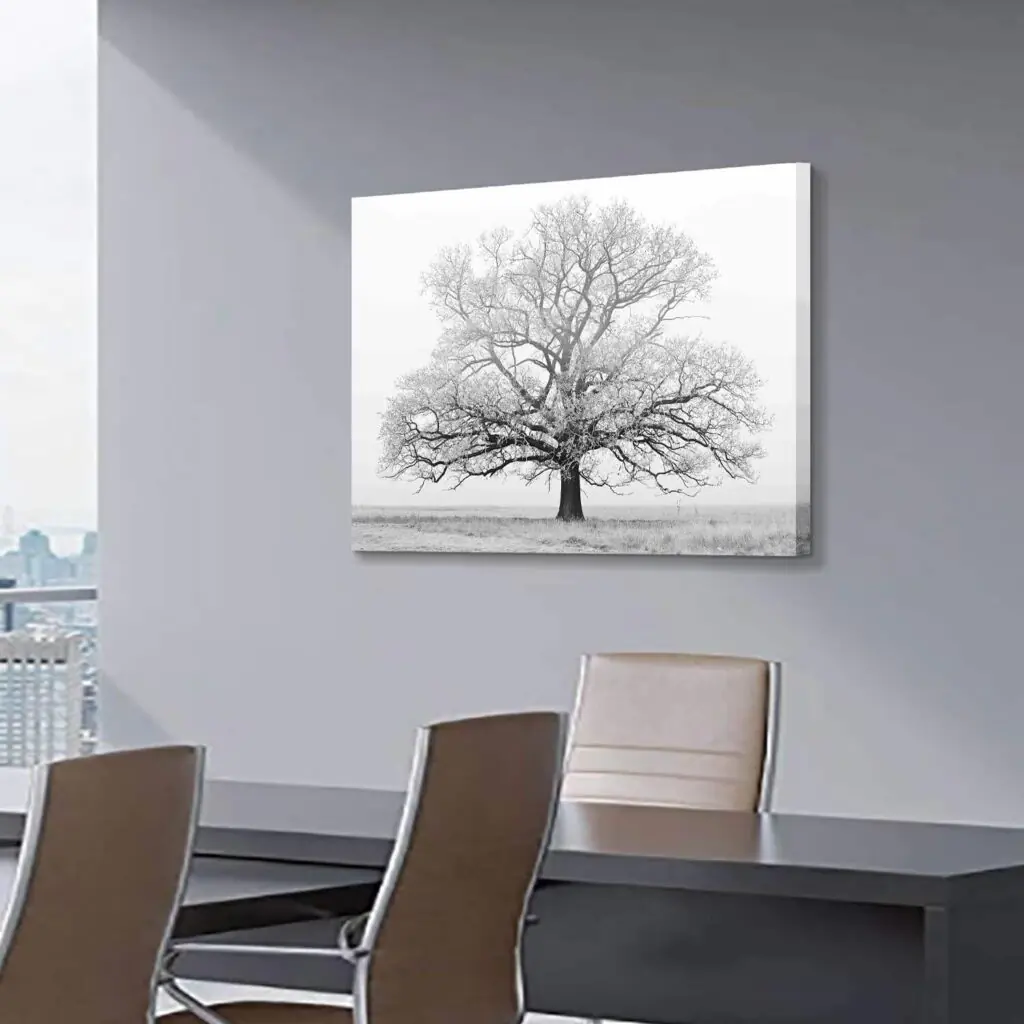 A stark winter's landscape creates a dramatic focal point in this wonderful photographic study that would be perfect for the office or contemporary living room.
---
4 Piece Black & White Inspirational Sayings Art Set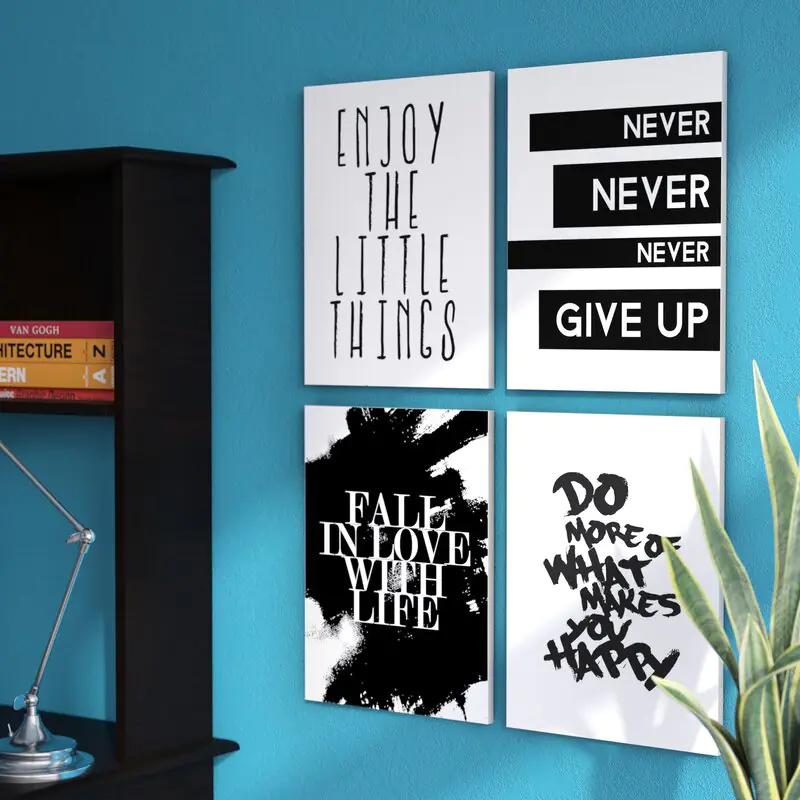 For an inspiring touch, this 4-piece set includes four distinctive black and white prints with sayings that encourages you to go further, do more, and never, never, never give up.
---
Better Days 3-Piece Photographic Art Print Set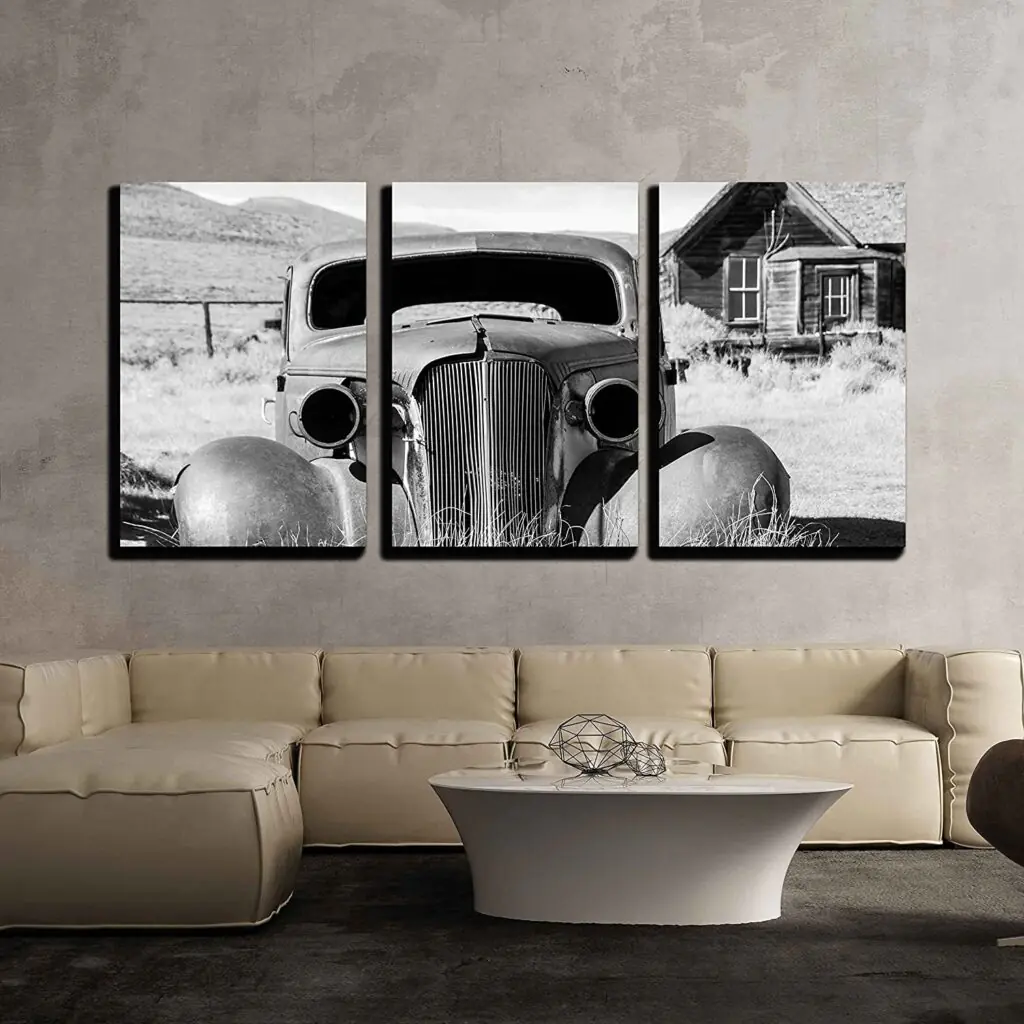 Featuring a melancholy photo of an abandoned car, this dramatic art piece creates a sense of wonder and a reflection of days gone by.
---
Phases of the Moon Black & White Art Set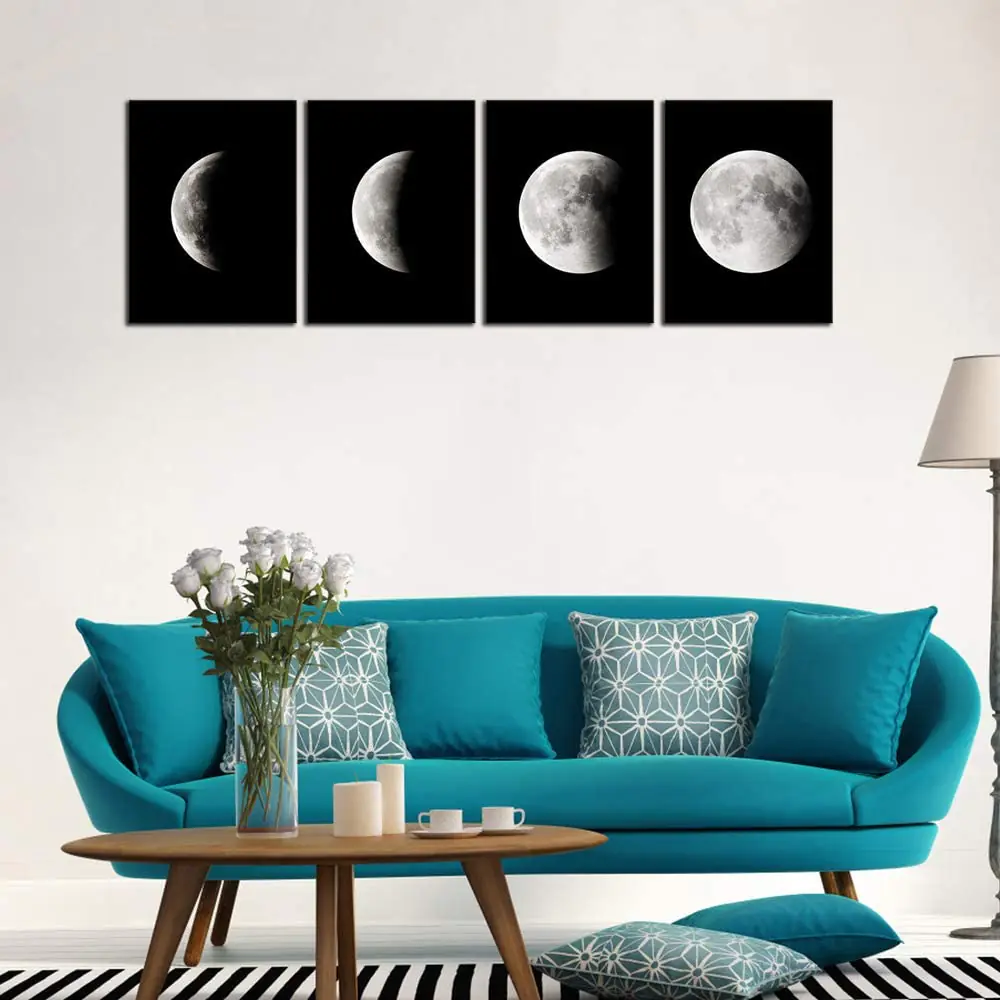 From New Moon to Full Moon, this 4-piece art set chronicles the different phases of the moon.
---
Rocky Beach Black & White Abstract Art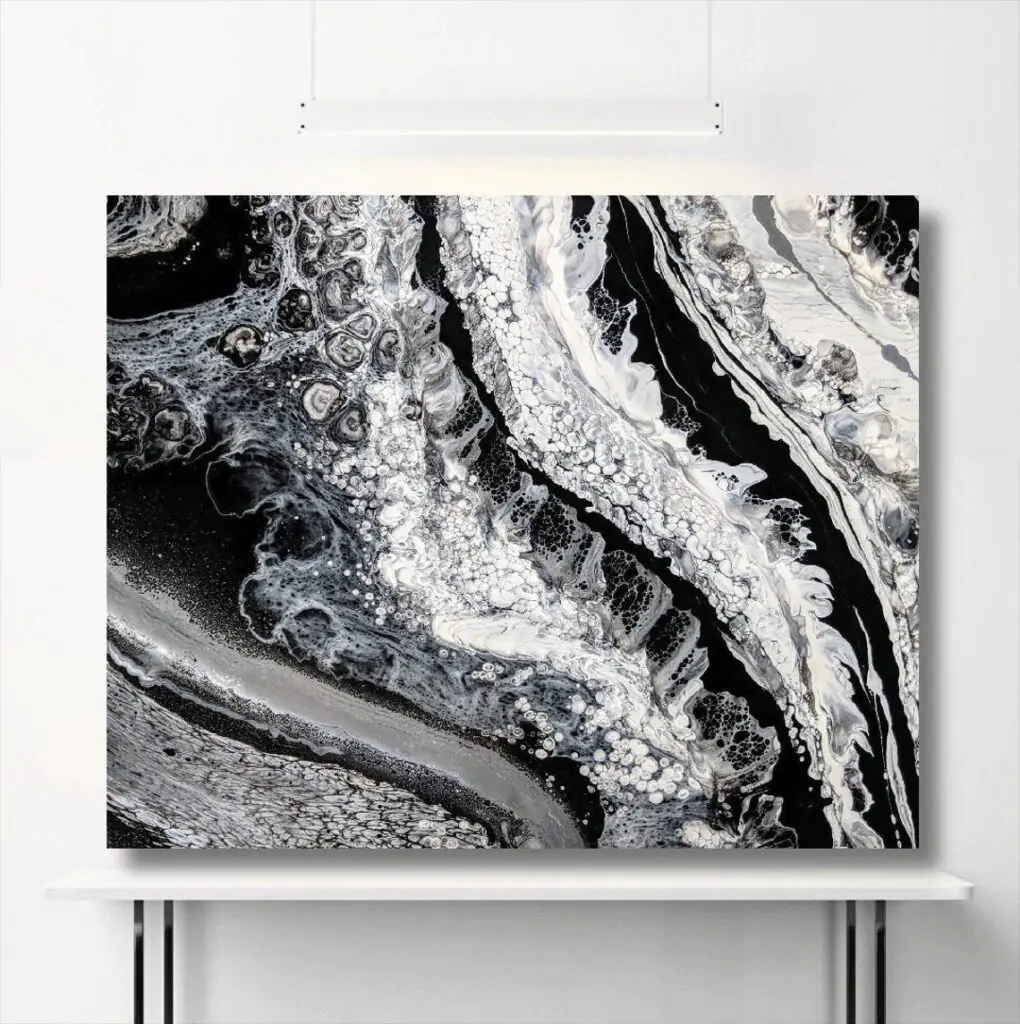 Rocky Beach is an original impasto painting by artist Amber Elizabeth Lamoreaux. This piece has beautiful shades of black, white and silver and will add a beautiful pop of art to enrich any space.
---
Calla Lily Flower Unfolding Art Print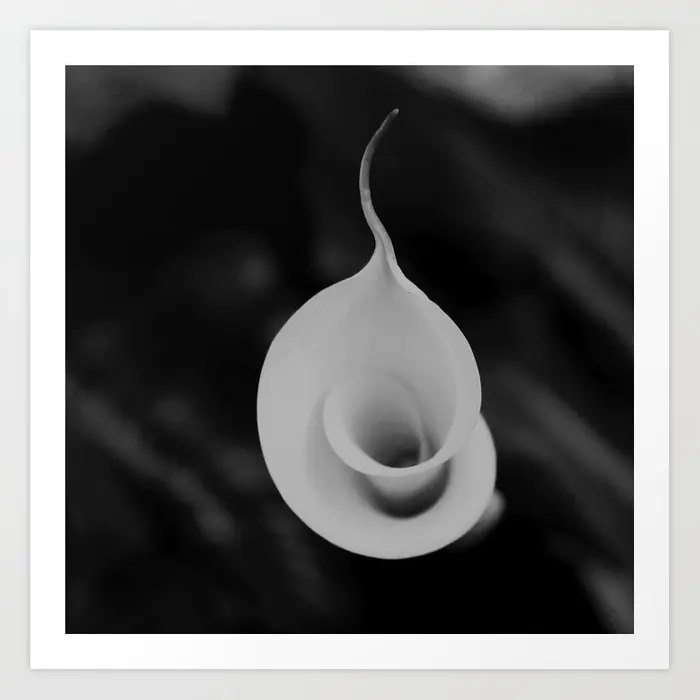 An beautiful black and white study of a Calla Lily just before it enters its final and most glorious phase
---
That Energy 2-Piece Graphic Art Set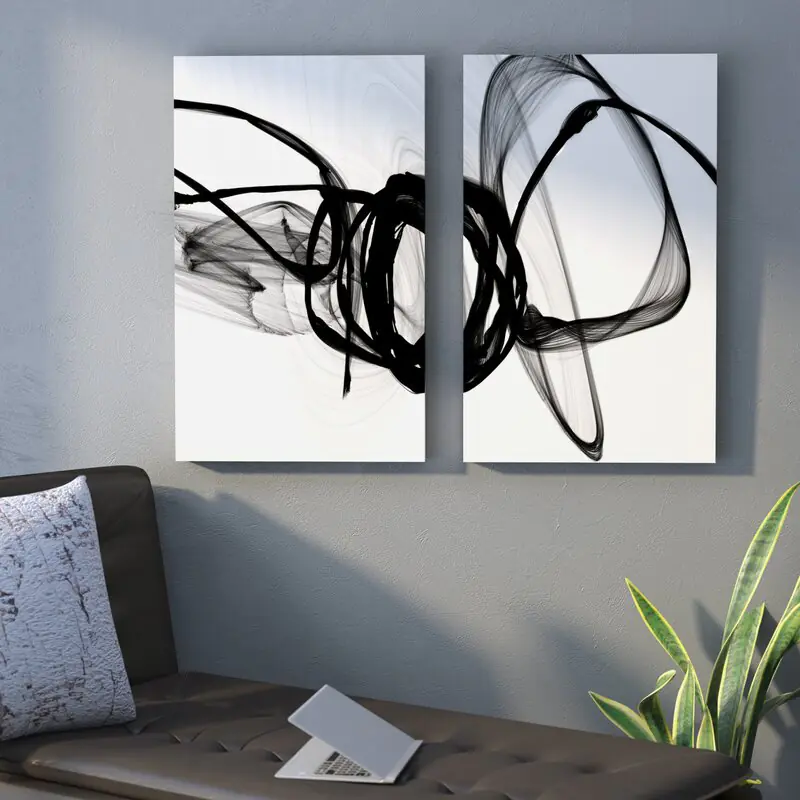 Adding this striking art set to your home will instantly elevate your space. Showcasing a circling motif spread across two canvases, this intriguing design is the perfect finishing touch for any contemporary space.
---
Sunflower in Black and White Canvas Art Print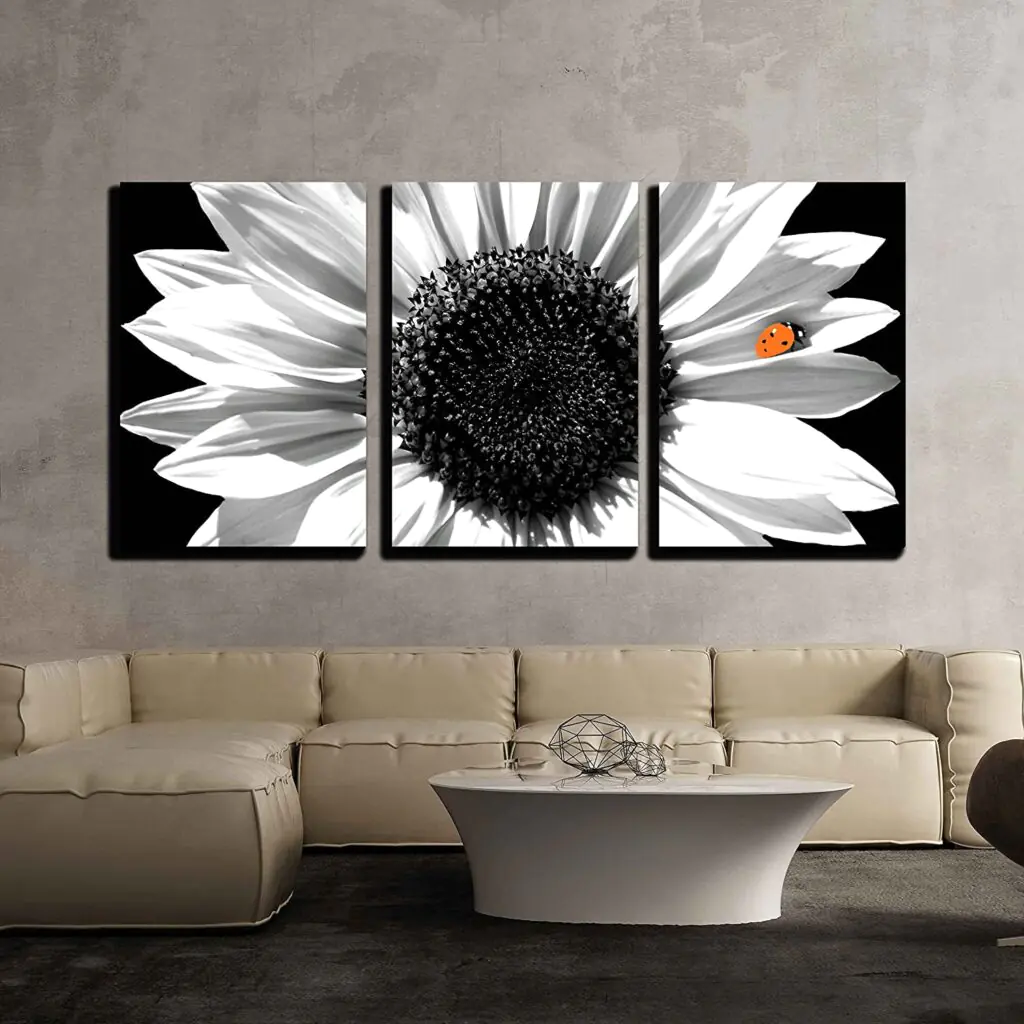 A black and white study of a sunflower is accented by the tiny pop of color provided by the ladybug on a single pedal.
---
Numbers by Erin Ashley Art Print on Canvas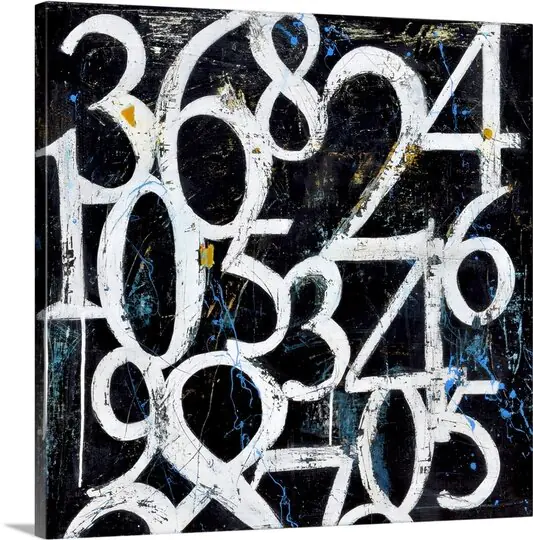 This contemporary painting by Erin Ashley of white, grungy numbers against a black and blue background provides a classic and distinctive look.
---
Sneaky Cat Black & White Art Print on Canvas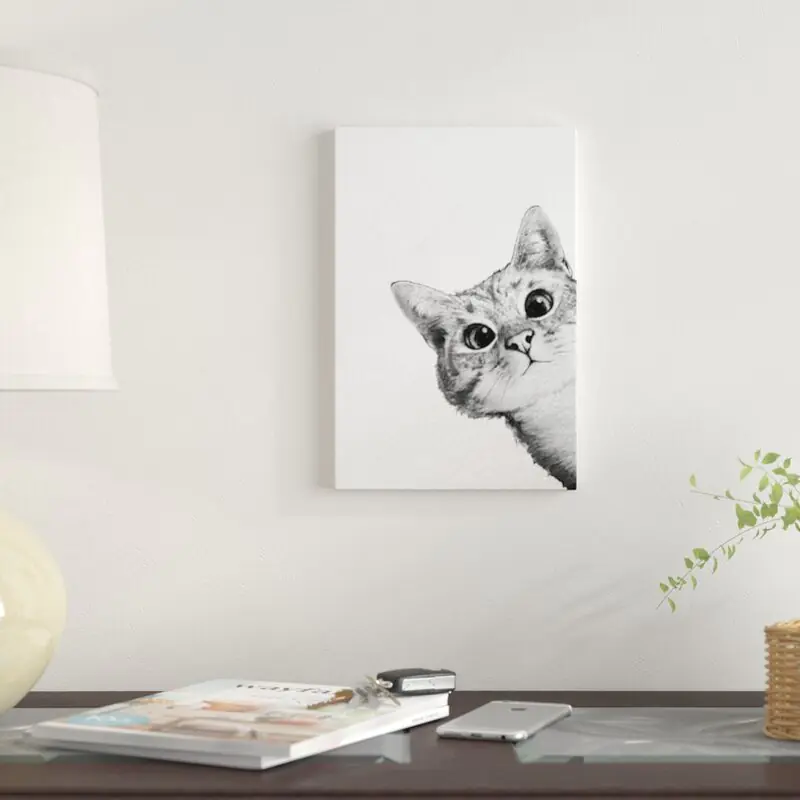 A fun piece for the cat lover, this cute black & white canvas print features a cat peaking around the corner, with a bit of a mischievous look on its face.
---
New England Lighthouse Black & White Photo Collection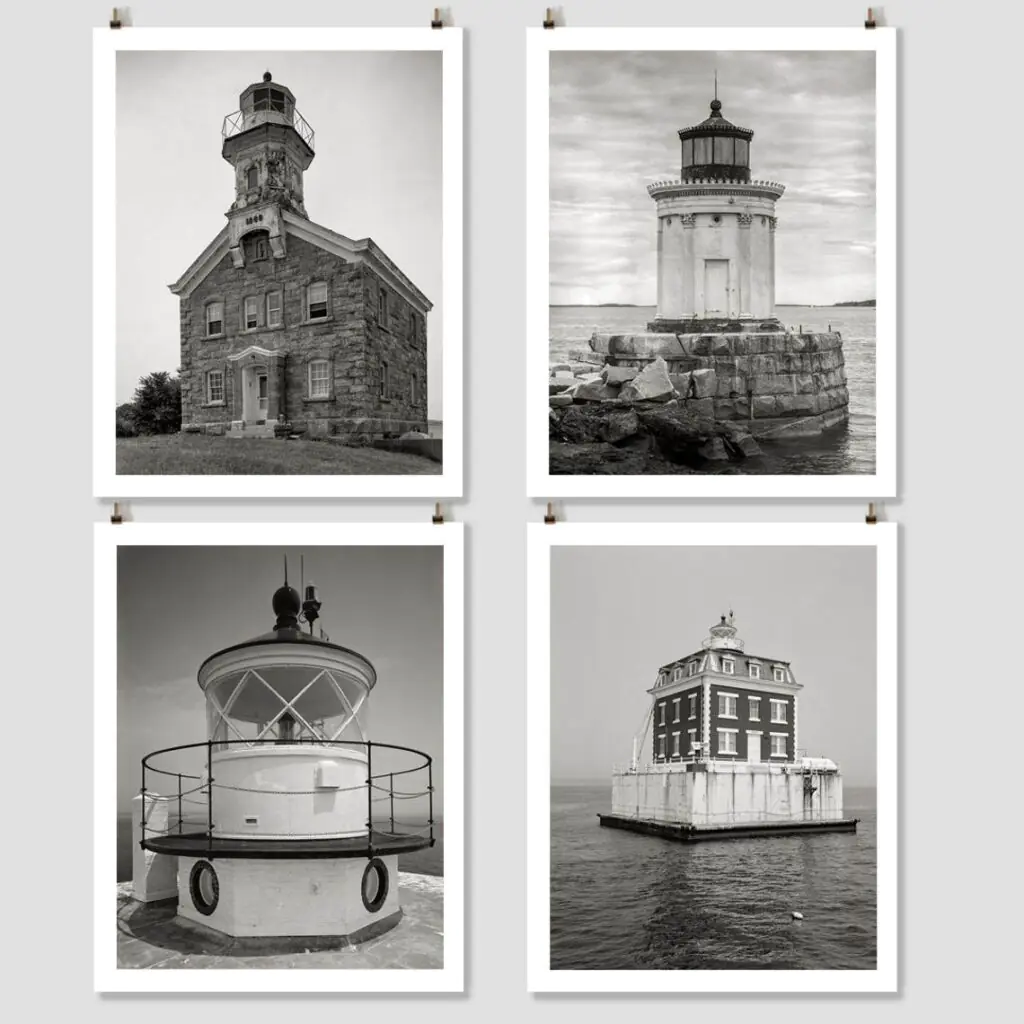 A beautiful collection of four historic New England lighthouses, captured in stunning black & white photos. These would create an intriguing installation on any wall, regardless if you live by the ocean, or just have a love for the sea or lighthouses.
---
Startonight Dual View Canvas Wall Art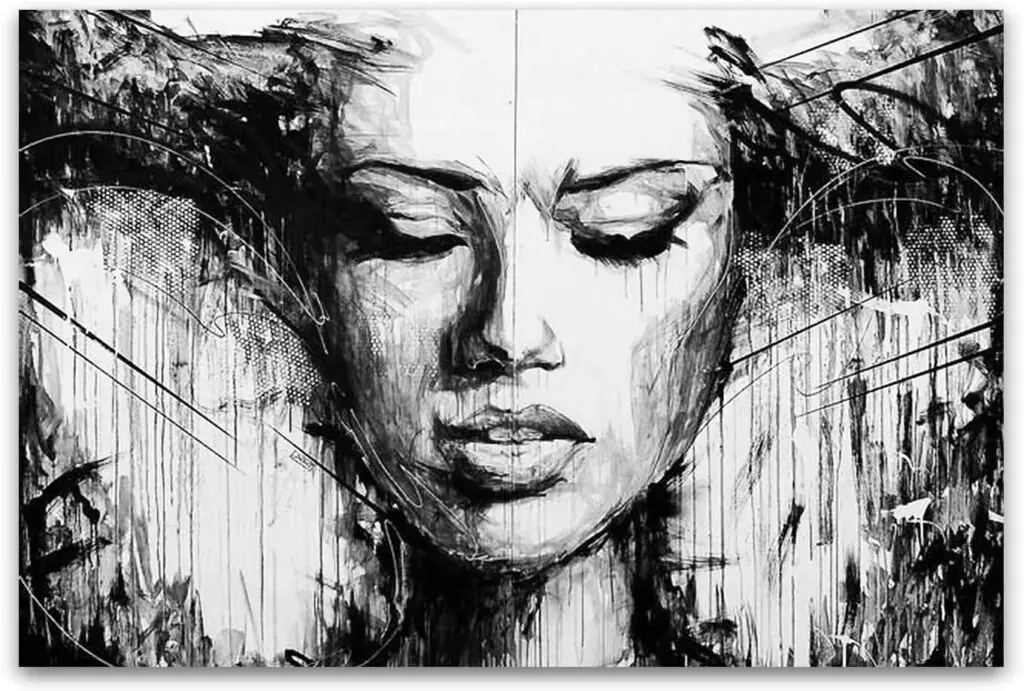 Startonight's art is distinguished by unique artworks that have a special feature created with Eco Light technology. This technology makes the art on your wall gently glow in the dark (night view shown in the last photo), without using any electricity.
---
Black & White Leaf X-ray Art Print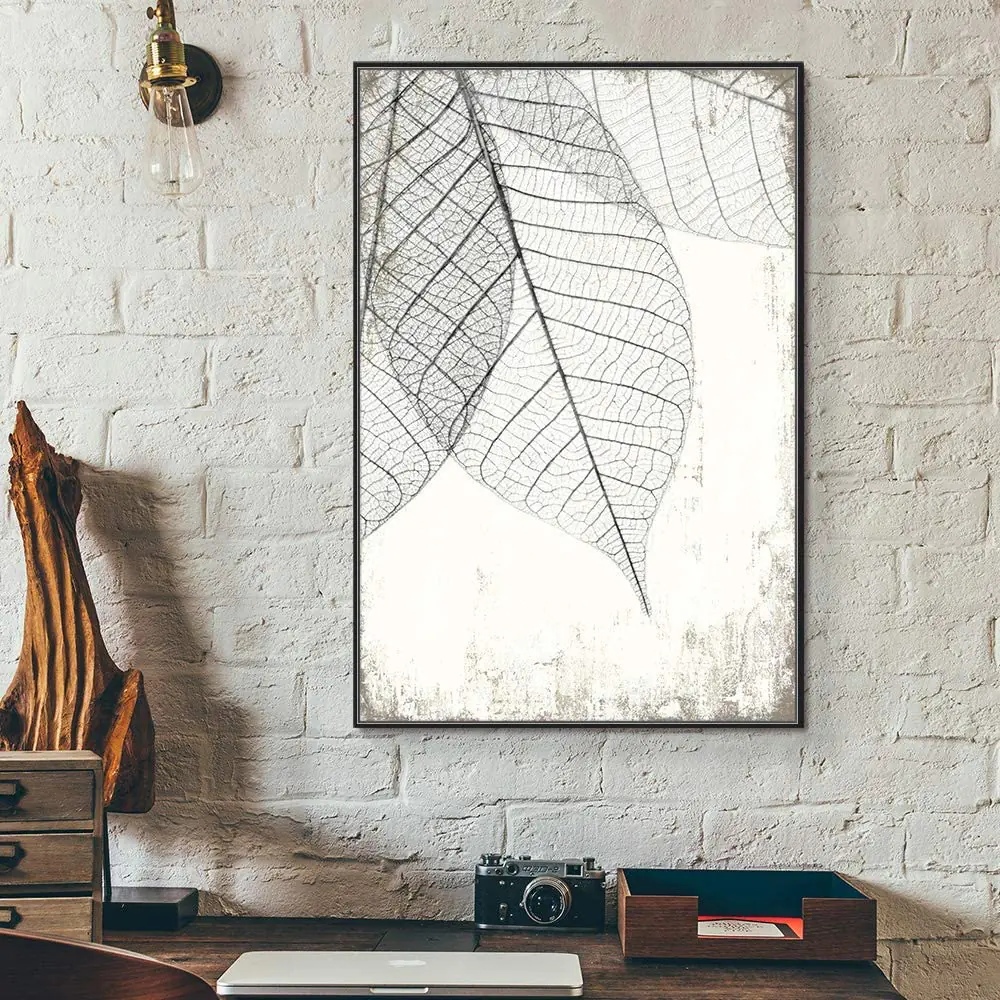 Rustic, industrial, and contemporary… all at the same time… this understated piece takes a close look at the intricate details of a leaf.
---
Diamond Shower Classic Graphic Art on Canvas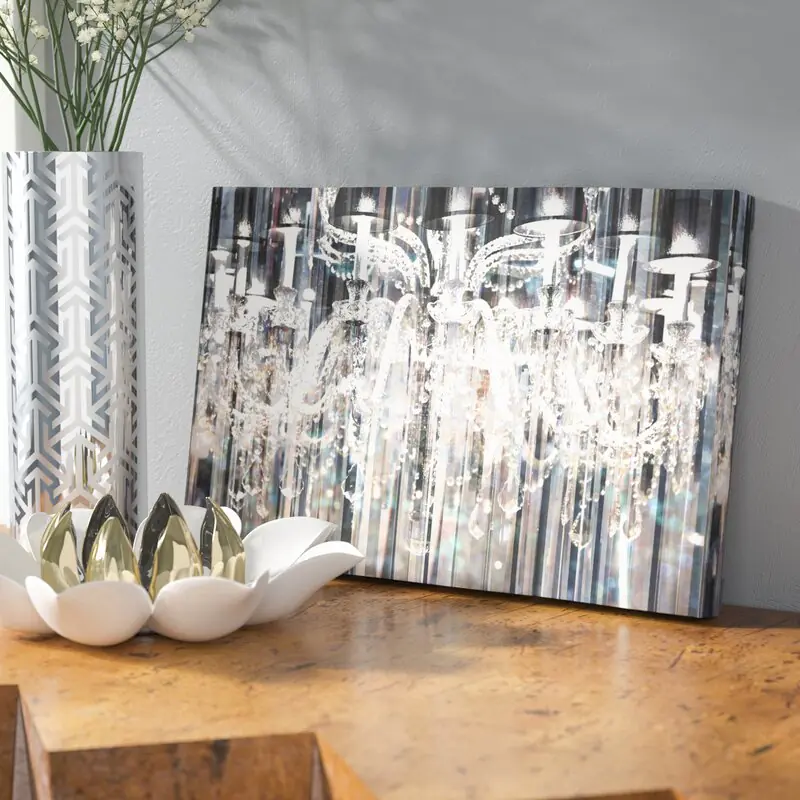 This glam art piece features a crystal chandelier exploding in shimmering lights, brought to live in a holographic black and white art piece that will add a dynamic feel to your homes decor.
---
Things We Learn from a Dog Textual Art Print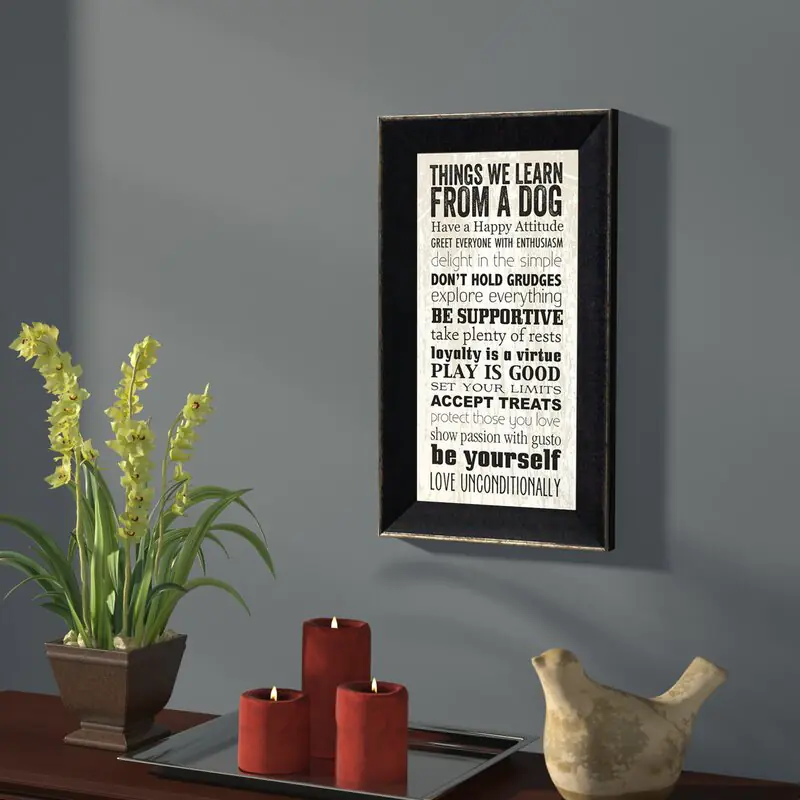 This print showcases a textual art motif that starts with "Things we learn from a dog. Have a happy attitude. Greet everyone with enthusiasm. Delight in the simple…" and continues with all of the wonderful lessons our dogs could teach us (if we'd only listen). The varying black fonts add an extra touch of classic appeal to this art.
---
Flowers Black & White Oil Painting on Canvas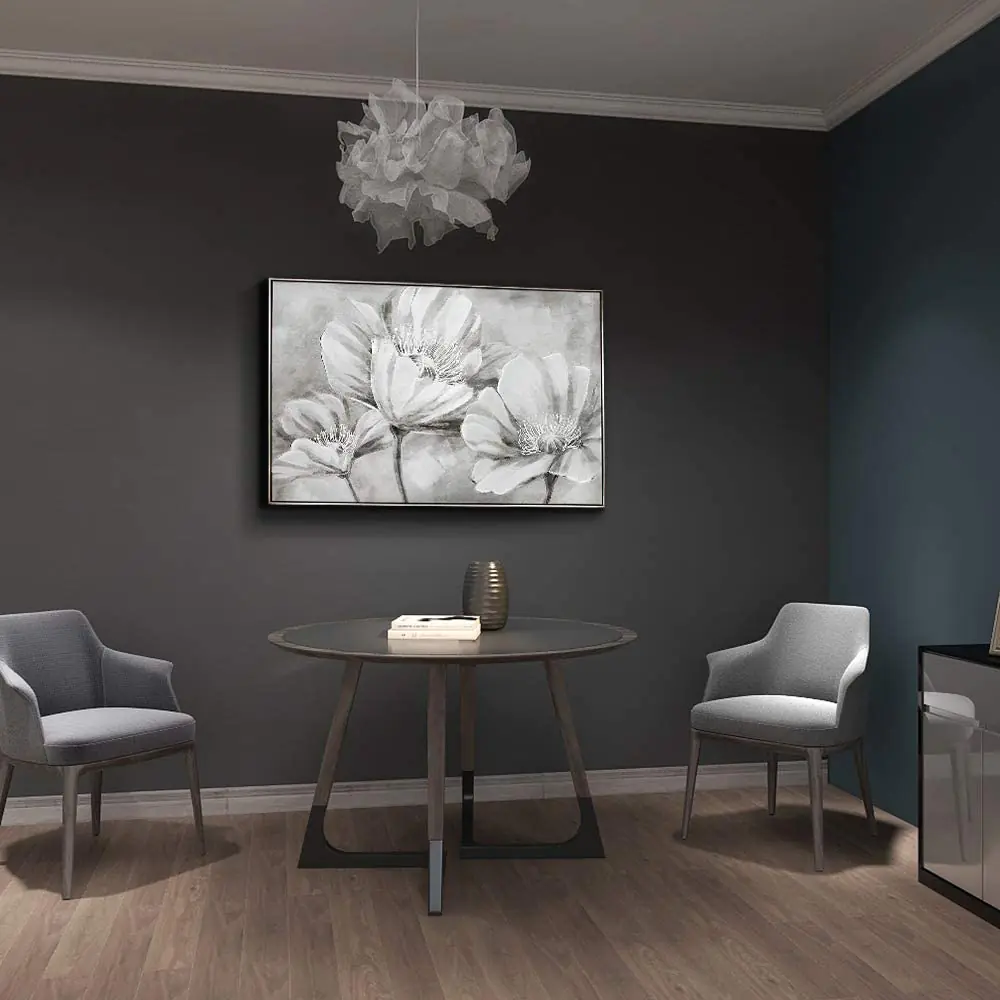 The delicate flowers transform into a soft and serene black and white study of nature that is perfect to add a subtle touch of nature to your decor.
---
Ken Moody and Robert Sherman Robert Mapplethorpe Photographic Print on Canvas
Striking contrast and a unique perspective combine in this unique and powerful artwork by Robert Mapplethorpe. This gorgeous piece was recently featured in our collection of LGTBQ+ Inspired Art.
---
Birch Forest 3-Piece Black & White Canvas Art Set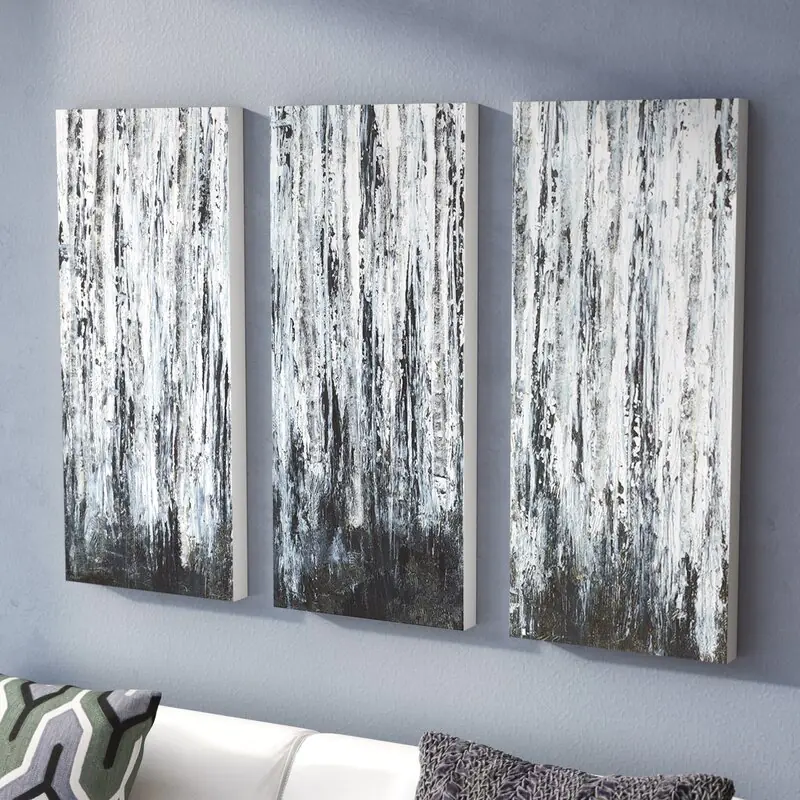 Perfect for a modern touch, this three-piece painting print showcases an abstract composition that mimics a forest of birch trees, created in elegant black & white.
---
Wild Black Stallion Canvas Art Print
A gorgeous black & white reproduction featuring a majestic stallion with its mane blowing in the wind.
---
Le Chien (the Dog) by Pablo Picasso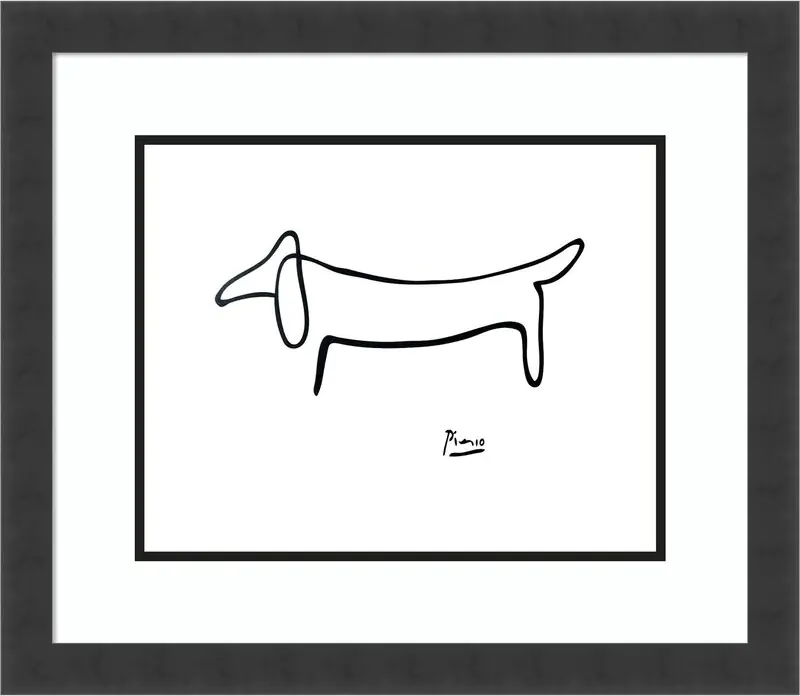 Picasso's minimalist drawing style has never been more charming than in this line drawing of a dachshund.
---
Dramatic Entrance Night Fashion and Glam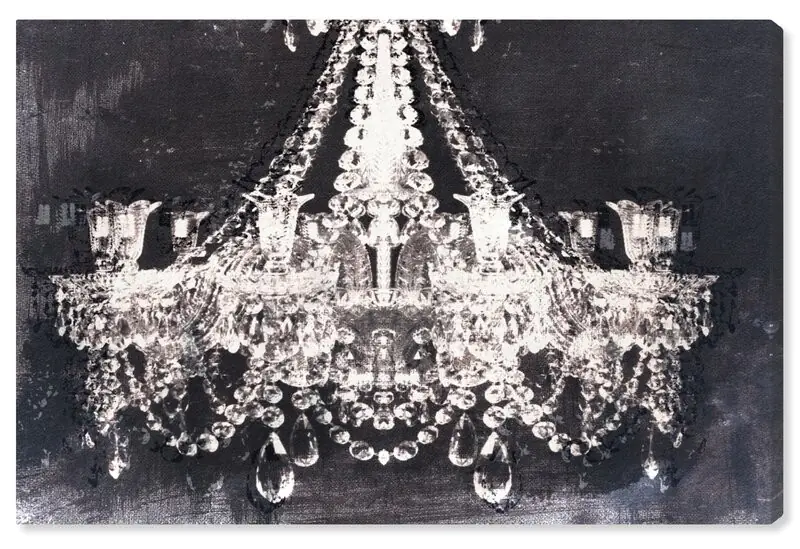 If you like the idea of a chandelier art print, but the one above doesn't quite fit the bill, maybe this one will do the trick.
---
Trumpet by Daniel Grant Black & White Photographic Print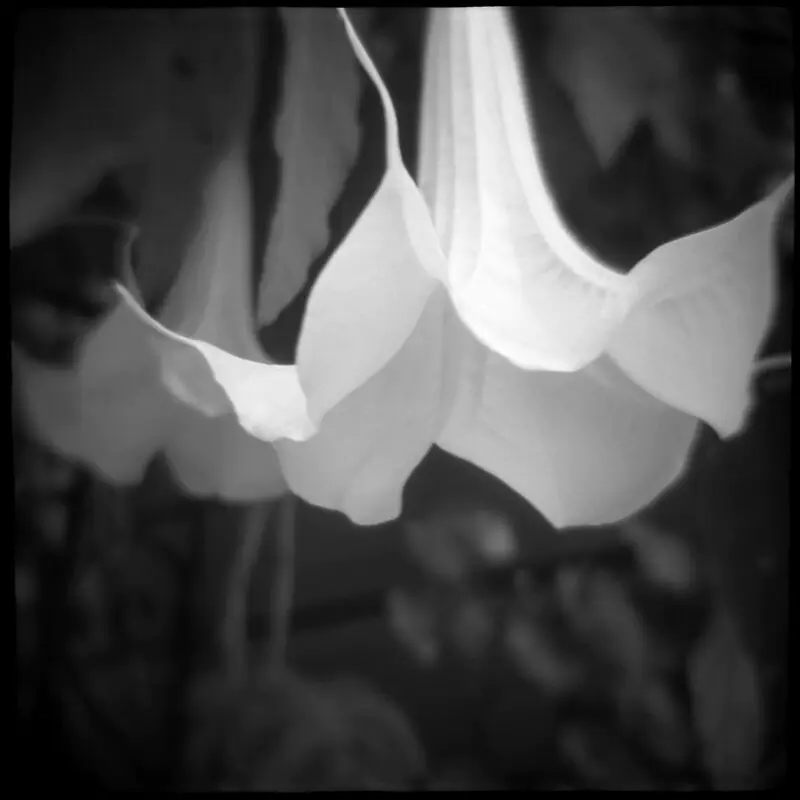 From our Daniel Grant artist profile, this gorgeous study of a white trumpet flower was taken with a tiny toy camera.
---
Pinky Swear Line Drawing Couple Art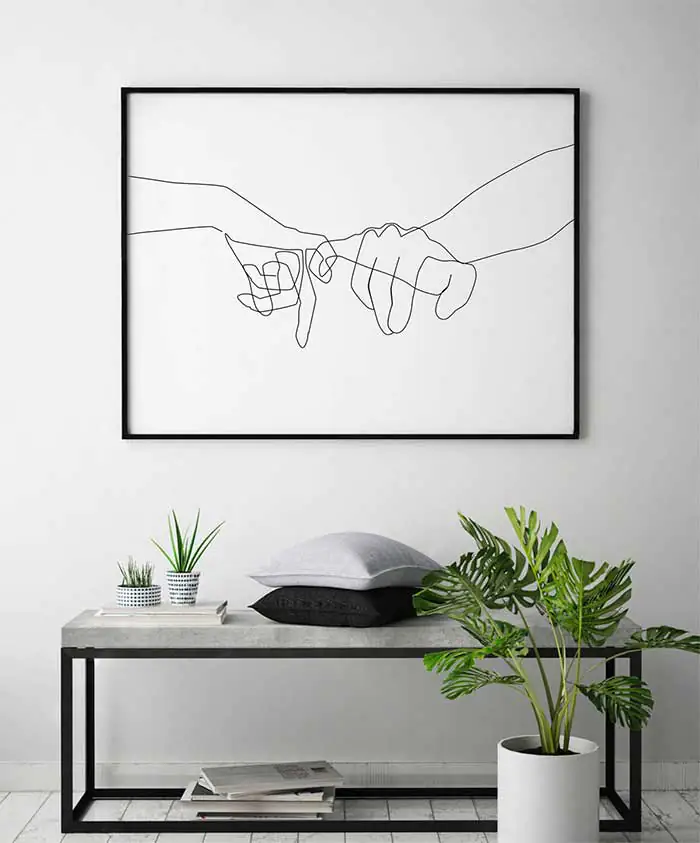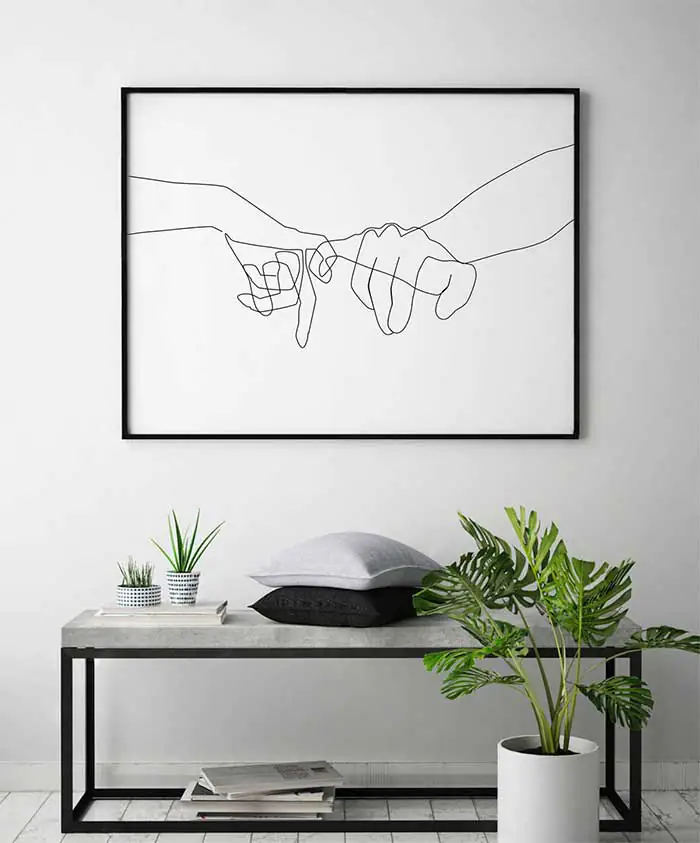 A simple but black and white line drawing showing two hands connected by the pinky fingers provides a touch of romantic art to the living room or bedroom.
---
Tulipa Double Black White Photographic Print on Canvas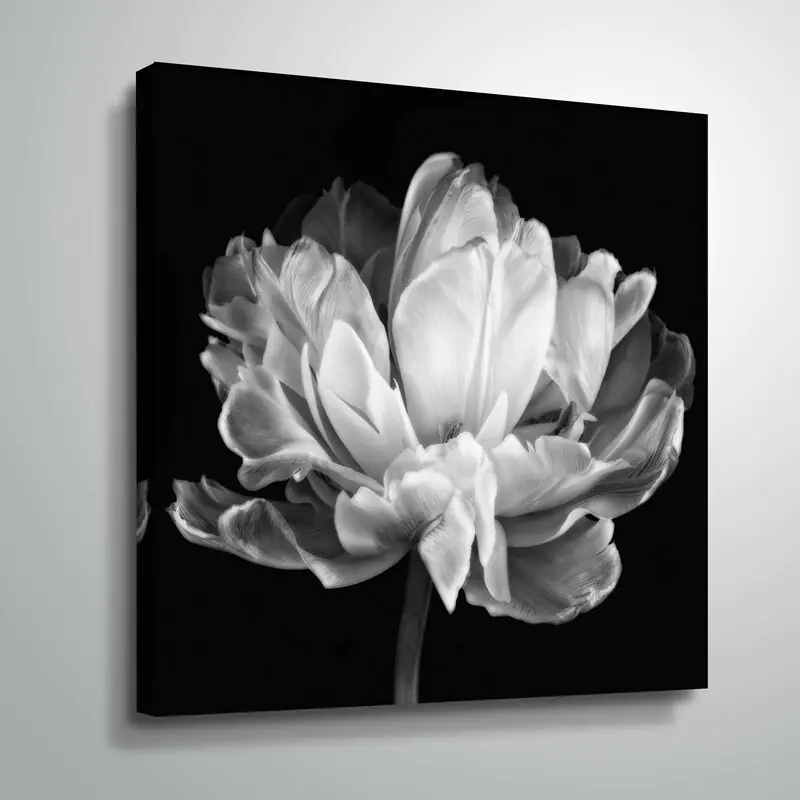 Featuring a vivid image of a beautifully delicate tulip, this canvas art piece will add a touch of warmth and serenity to any home or office.
---
Need Even More Black & White Art?
These are just our favorite picks. If you didn't find what you wanted, feel free to browse the complete Black & White Art Collections at each of our partner retailers below:
---