Even though most Pride festivals have been cancelled this year because of Covid-19 outbreak, you can still celebrate Pride at home with some fabulous LGBTQ+ Art.
In recent years, June has marked a month-long series of events and festivals to celebrate the LGBTQ+ community. Known by many as Pride Month, it is – in part – to commemorate the Stonewall riots, which occurred at the end of June in 1969.
Normally, these events are held during the month of June to recognize the impact LGBTQ+ people have had in the world and to continue to foster inclusiveness and equality.
However, with the Covid-19 crisis putting the world in lockdown, most (if not all) of these Pride festivities have been postponed or cancelled outright.
This will leave many in the LGTBQ+ community without the annual Pride Celebration. But that doesn't mean one has to forgo Pride entirely.
In the spirit of social distancing, we have collected some unique and wonderful Pride-Inspired LGBTQ+ art that you can enjoy in the privacy and safety of your own home.
Some of the best Pride Inspired LGBTQ+ Art For Your Home
From pieces that celebrate the colors of the rainbow to romantic and even erotic art pieces, these LGTBQ+ art pieces will make a unique and fabulous statement in your home during Pride month or all year round.
We've scoured through our retail partners at Wayfair and Etsy to pull together this wonderful collection of beautiful art pieces.
Please note that Art & Home does have an affiliate relationship with both Wayfair and Etsy. We may receive a small referral fee – at no cost to you – for any purchases that you make on those sites.
Modern Pride Graphic Art on Canvas
The pride flag is interpreted with inclusive circles to create a modern take on the classic rainbow pattern.
---
Ken Moody and Robert Sherman Robert Mapplethorpe Photographic Print on Canvas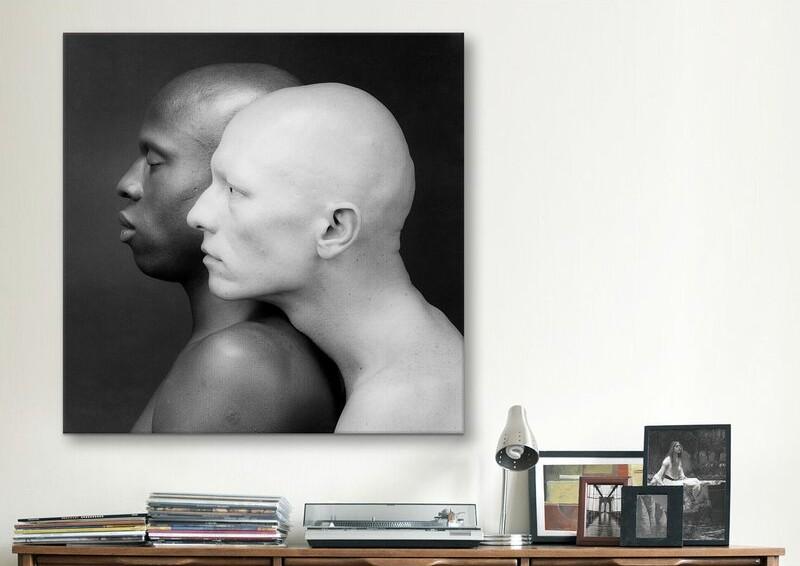 Striking contrast and a unique perspective combine in this unique and powerful artwork by Robert Mapplethorpe. In this luminescent black-and-white photograph, Robert Mapplethorpe renders a portrait of a black man (Ken Moody) and a white man (Robert Sherman) in profile. The subjects appear unusually still, which is a quality that would later mark Mapplethorpe's still-life photographs.
This photographic print on canvas comes in 8 different sizes, so you can pick the one that works best for your space.
---
'Gay Batman and Superman' LGBTQ+ Graphic Art Print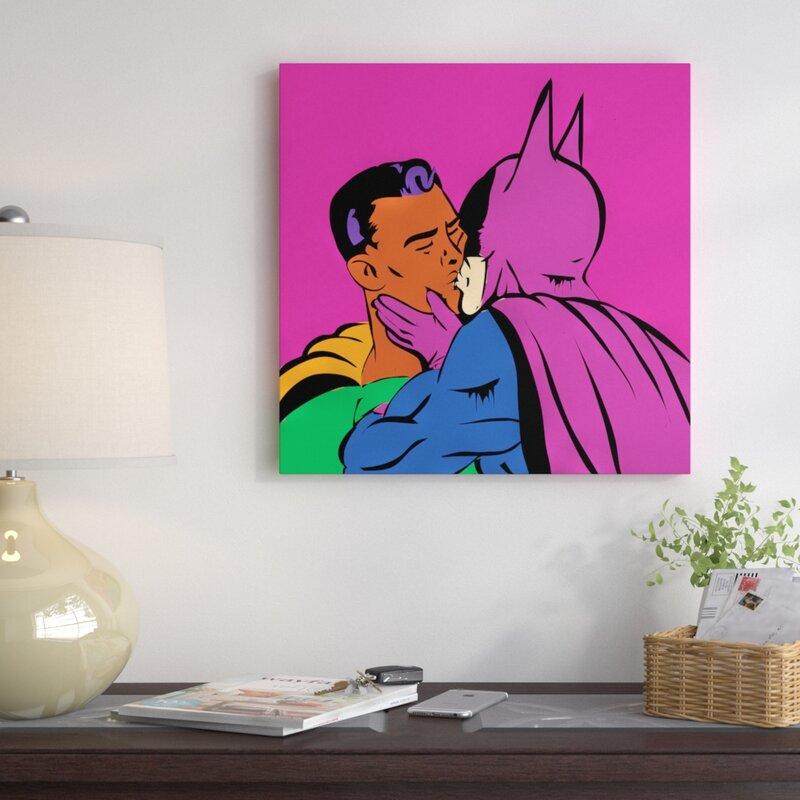 The gay superheroes of pride, this comic inspired graphic art piece is perfect for those who love Pride as much as they love comic books.
Add brilliance in color and exceptional detail to your space with the contemporary and uncompromising style.
---
Redhead Girl Wall Art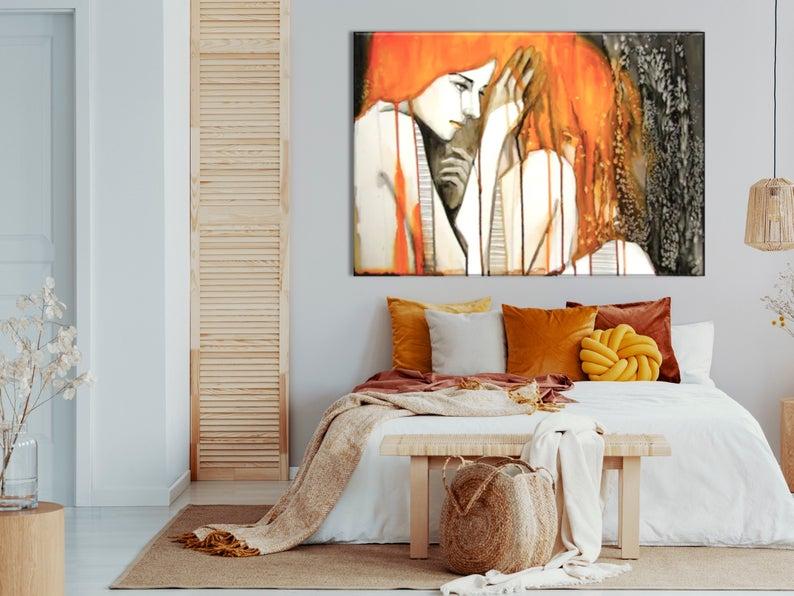 A glorious exploration of the beauty of the ginger, this erotic piece is subtle yet stunning.
---
'Rainbow Heart' Pride Art Print on Canvas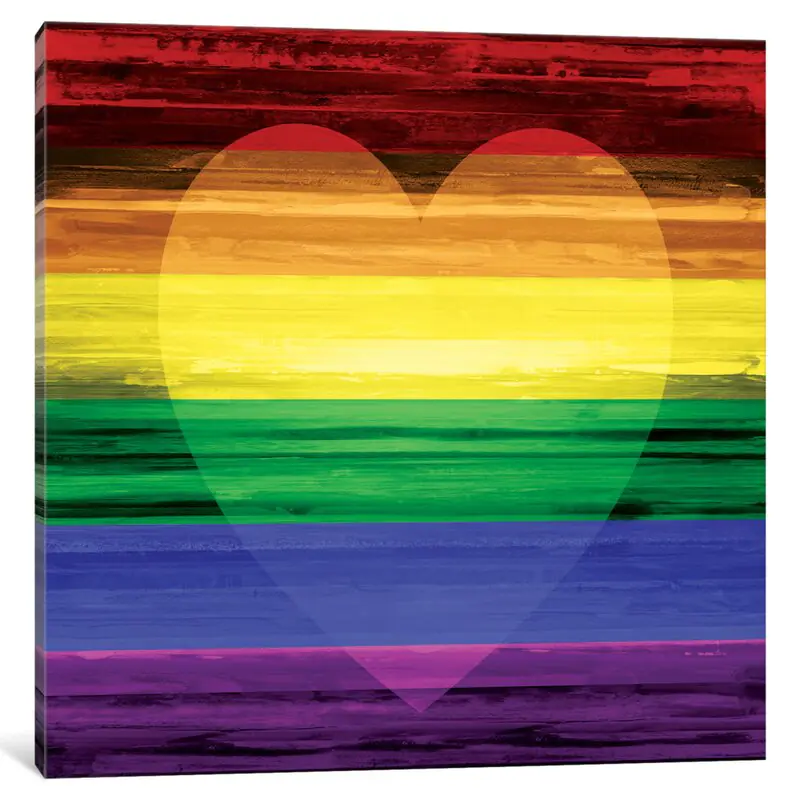 Celebrate your love of Pride with this colorful 'Rainbow Heart' Pride Art Print on Canvas.
The artwork is crafted with 100% cotton artist-grade canvas, professionally hand-stretched and stapled over pine wood bars in a gallery wrapped style.
Fade-resistant archival inks guarantee perfect color reproduction that remains vibrant for decades
---
Forbidden Love Water Color Study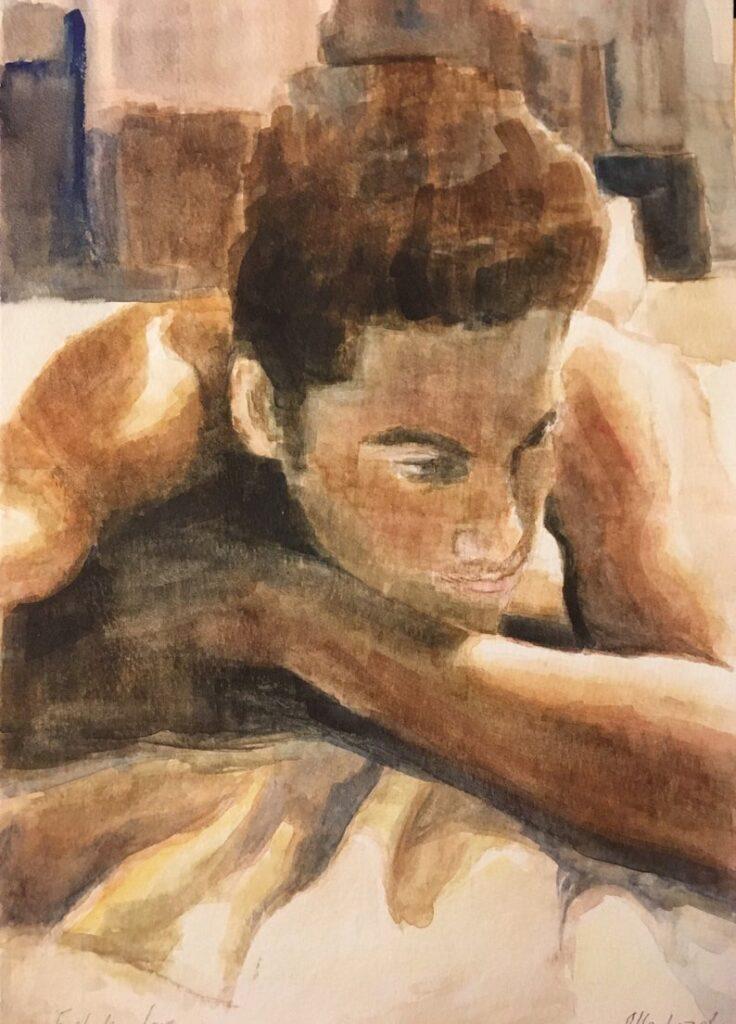 This one-of-a-kind watercolor study is beautiful in its details and its simplicity.
This was available for purchase when the article was published, but there is no guarantee that it will still be available by the time you are reading this!
---
Dripping Rainbow LGBTQ Oil Painting Set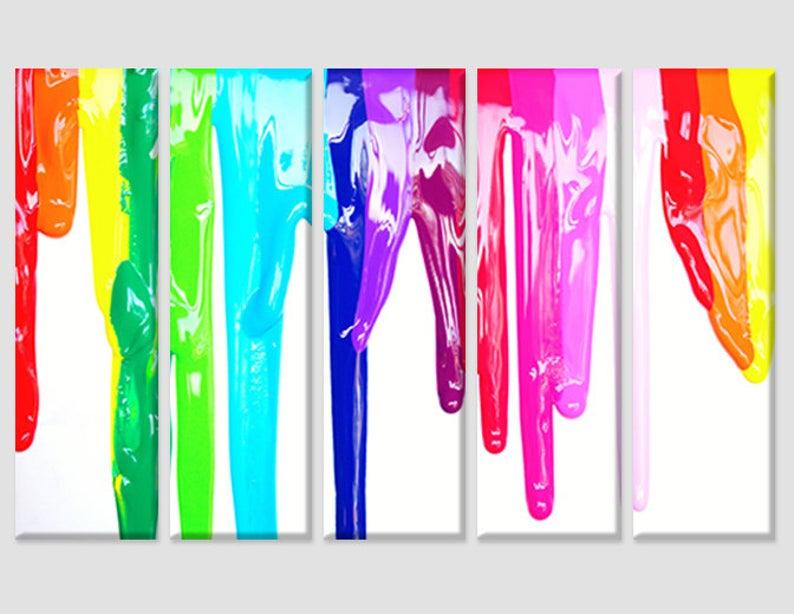 This 5-piece art set features the colors of the rainbow in a dripping glory. Available in a variety of fixes and panel choices, but the 5-piece panel – I think – makes the most dramatic impact.
---
Rainbow Expression Medallion | Stained Glass Window
This Rainbow Expression Medallion stained glass window is handcrafted utilizing the copperfoil construction process and stained art glass encased in a solid brass frame. Mounting bracket and chain are included.
---
Lesbian Love Pop Art Canvas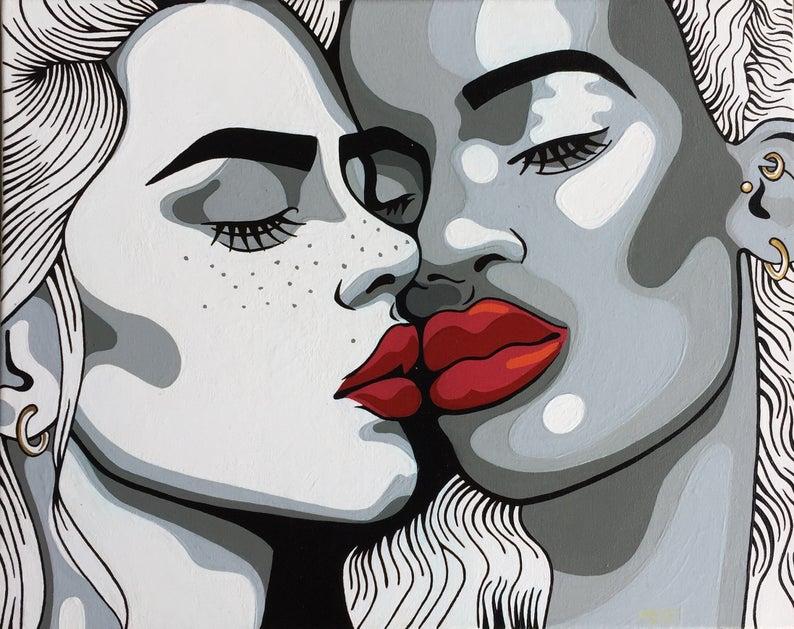 A striking black and white pop art piece is accentuated by the bright red lips of these two women in love.
---
'Pride' by Daniel Grant Limited Edition Photographic Print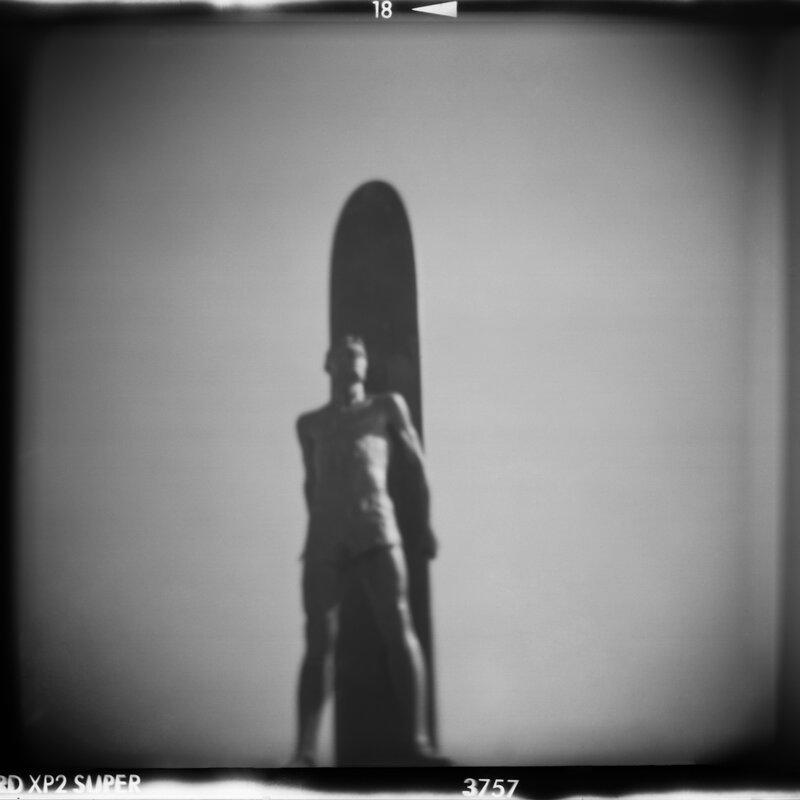 This black and white image comes from the 'Homeland' by Daniel Grant. Printed on hahnemuhle bamboo sustainable paper and using soy based ink, each print is limited to an edition of 50 and is signed and numbered.
Daniel Grant's unique voice was found through the novel and unique views of the toy cameras: 'Holga' and 'Diana'. These cameras were first produced in the 1960's as promotional give-always, carnival prizes, and children's toys. Today they have a cult following with photographers, not because of their perfection, but for their lack of precision, control and focus.
---
'Pride' Graphic LGBTQ+ Art Print on Canvas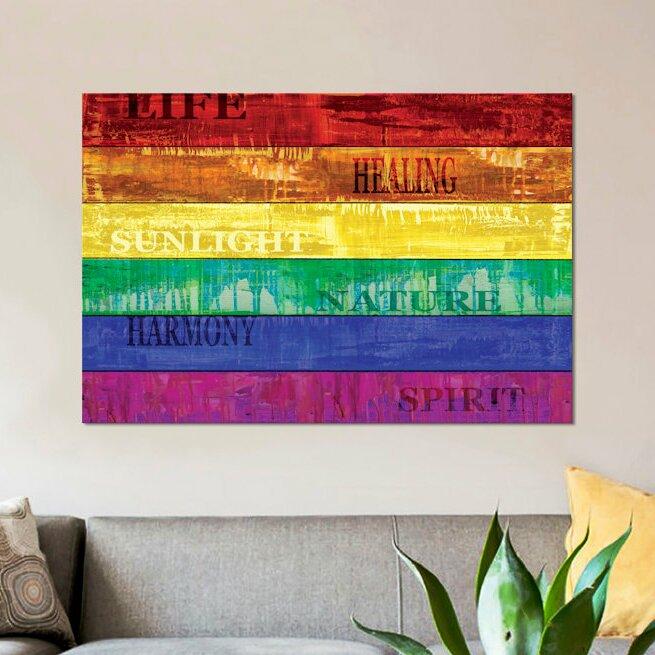 The colors of pride are intermixed with inspirational words about life, healing, harmony, and spirit, to create a wonderfully unique and original art instalation.
---
Nude Male Pride Study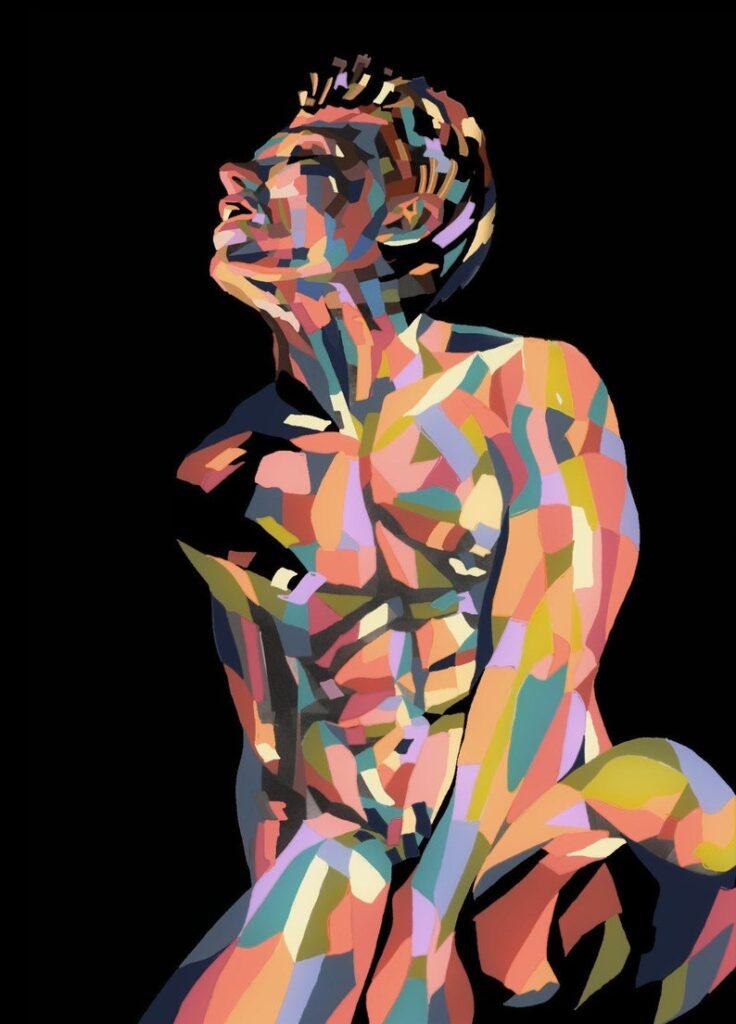 A beautiful Oil Painting original of a nude male created from shapes.
"Jason's paintings make great gifts, and a great way to show a loved one that you care about them. The quality and attention to detail are always amazing."
---
Rainbow Pride LGBT Lips Pop Art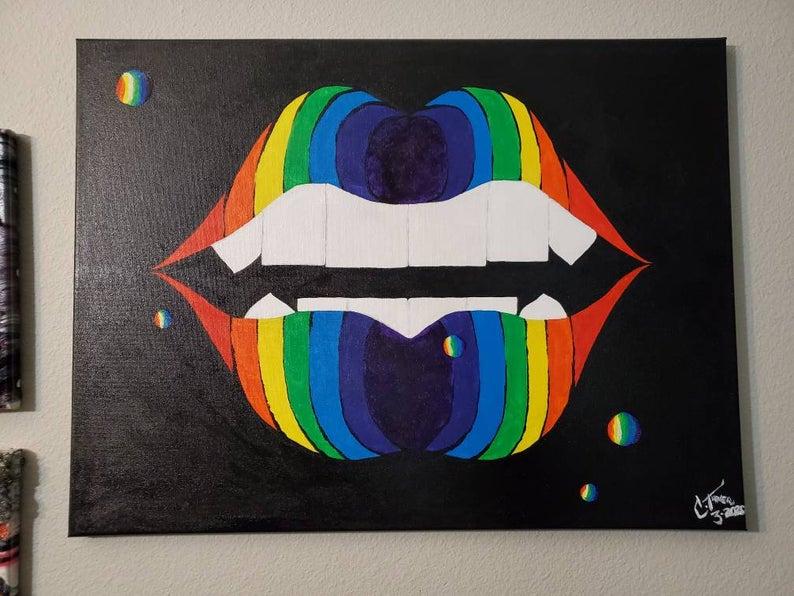 This modern pop art piece is acrylic paint on a 18″ x 24″ gallery wrapped canvas.
Features rainbow lips and rainbow bubbles floating around them.
It is a hand painted original, signed and dated by the artist.
---
Be Mine Gay Couple Bronze Sculpture Set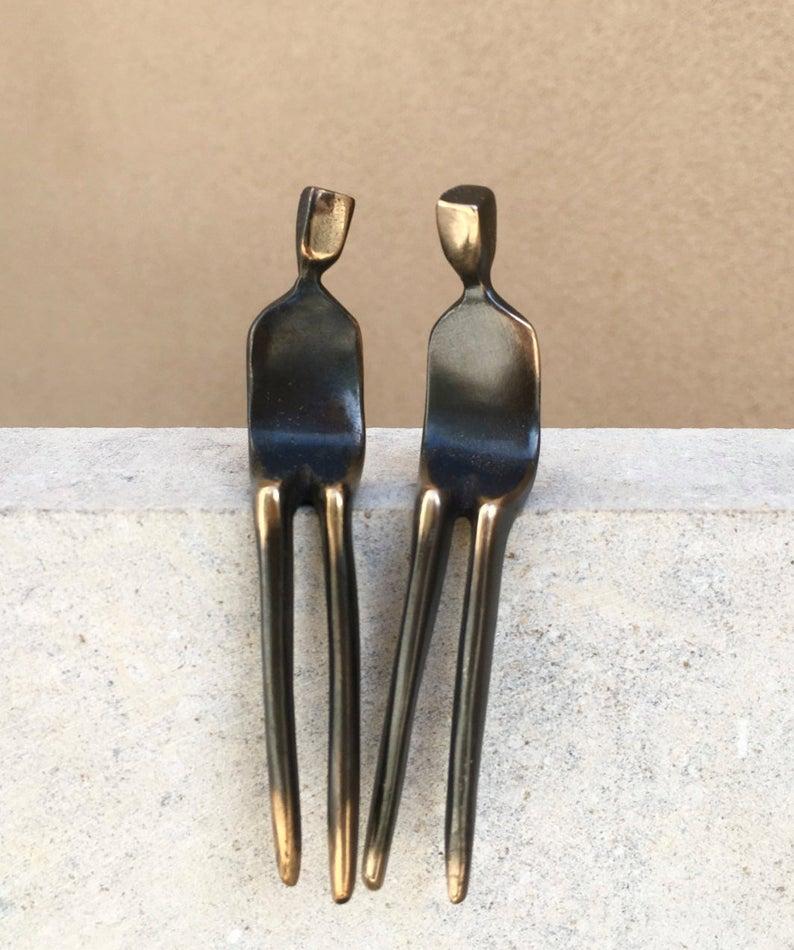 His foot playfully touches his partner's. Perhaps they are holding back tears of laughter from an inside joke. Perhaps they are sitting in silence after an argument. Or, perhaps, they are just quietly enjoying each other's company. This elegant yet whimsical bronze sculpture is an enduring keepsake that makes a wonderful wedding or anniversary gift for a loving couple.
---
Night Sky Lesbian Galaxy Artwork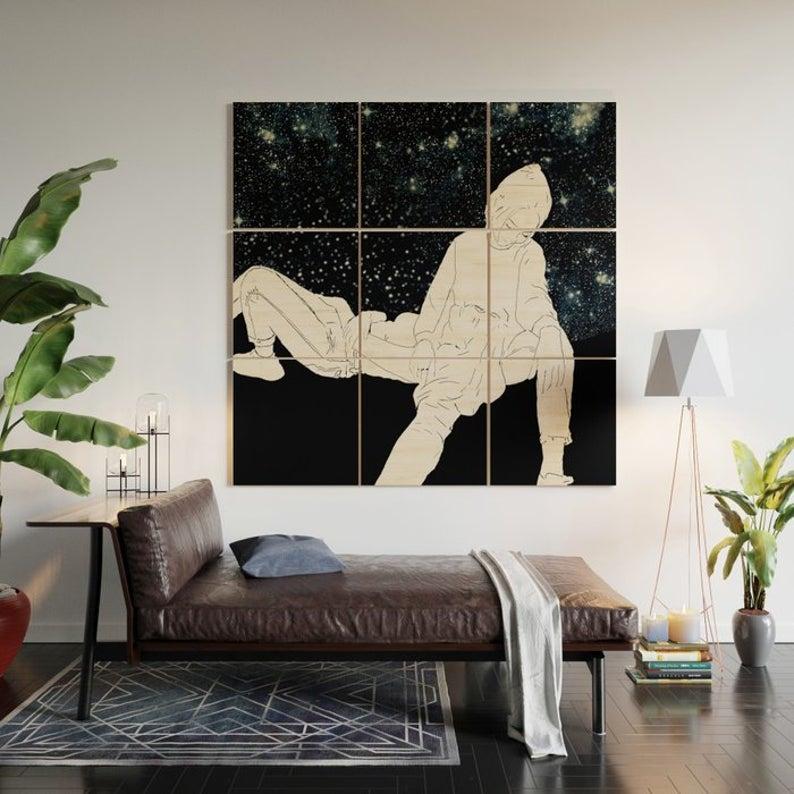 A loving embrace is immortalized in the night sky.
With this wood wall art's multi-square design, you have the power to adjust the spacing between each section to form exactly the right look.
Created by Brandy Mars Designs, which makes these original designs in their studio in Vancouver, Canada.
Brandy Mars Designs also creates unique & funny greeting cards for all occasions, hilarious mugs, cool tote bags, apparel, and more. Love sassy gifts? So do we!
---
LGBTQ Love in Lights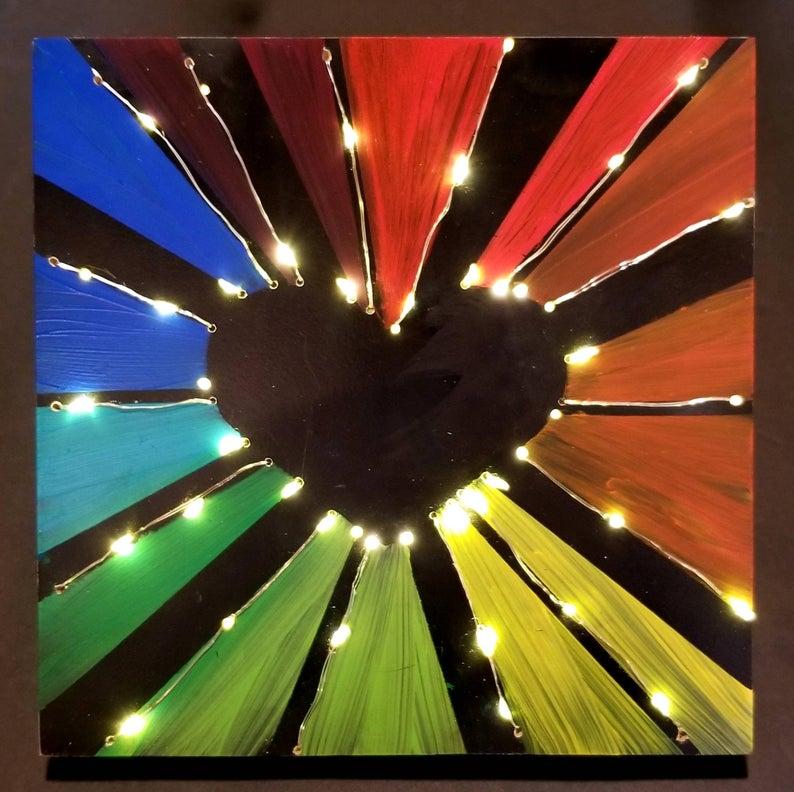 This 8″ x 8″ acrylic painting of love bursting with the Pride colors responds to sound, and allows any music to transform into a light show.
It has 4 light modes: light show (sound responsive), slow pulse, blinking and steady on.
---
'Matador Pride' Graphic Art on Paper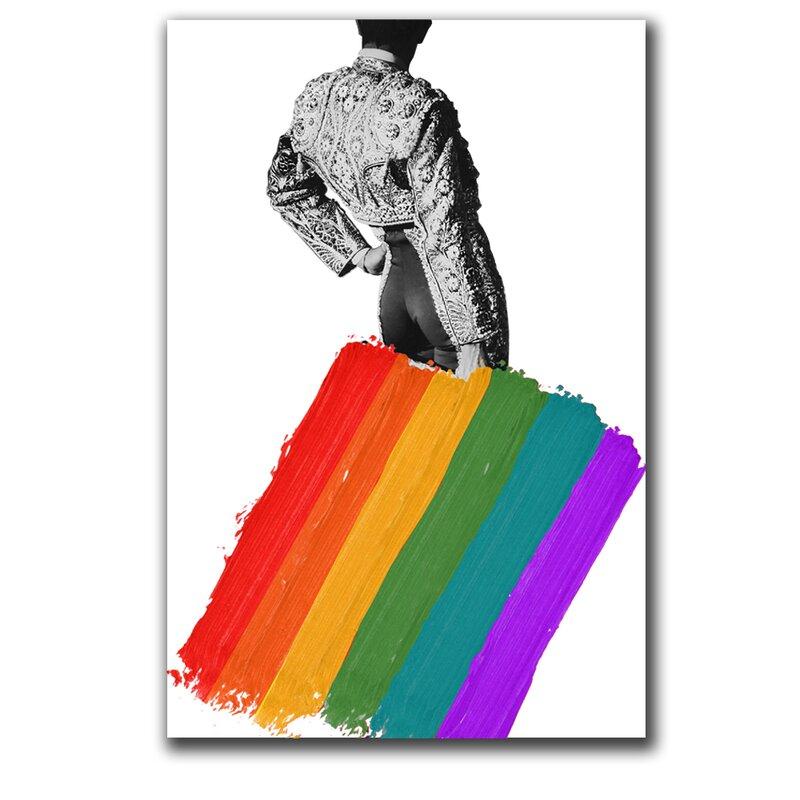 Show off your personality while making an impactful statement to your décor with this stunning museum-quality art piece.
Each piece is printed in ultra-high resolution on premium photo paper and mounted under acrylic glass. The results are a completely realistic ultra-HD photo print which has vivid colors & bold contrasts.
Available in a variety of sizes so that you can pick the one that is right for you.
---
Love Wins Melted Crayon Art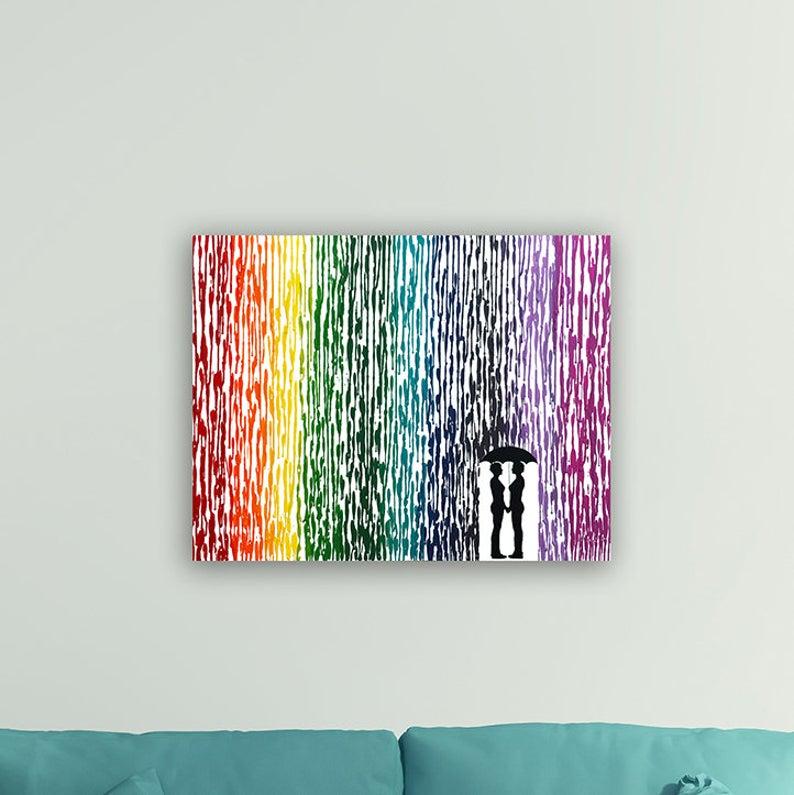 This wax painting is the perfect way to put a pop of color into your home, and show everyone the love that you have for your girl, and the love she has given you.
This is not what you usually think of when you think "painting'…. The artists uses hot wax to form the rain instead of acrylic paint. This encaustic painting features a beautiful silhouette of two beautiful women holding hands in the rain, sharing one umbrella.
---
Pride Rainbow Dimensional Wood LGBTQ+ Art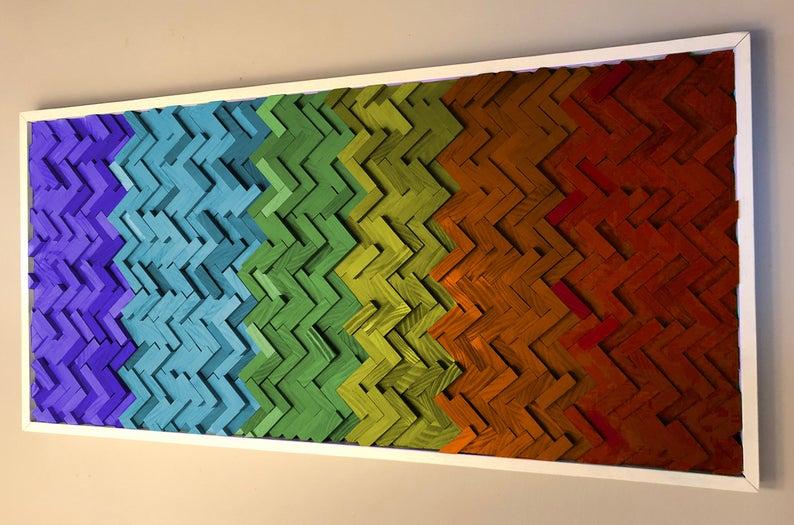 This Work is a bold statement of color, and is very eye catching for that reason. Wether it be LGBT Pride, simply loving color, or the rainbow, This piece is for you.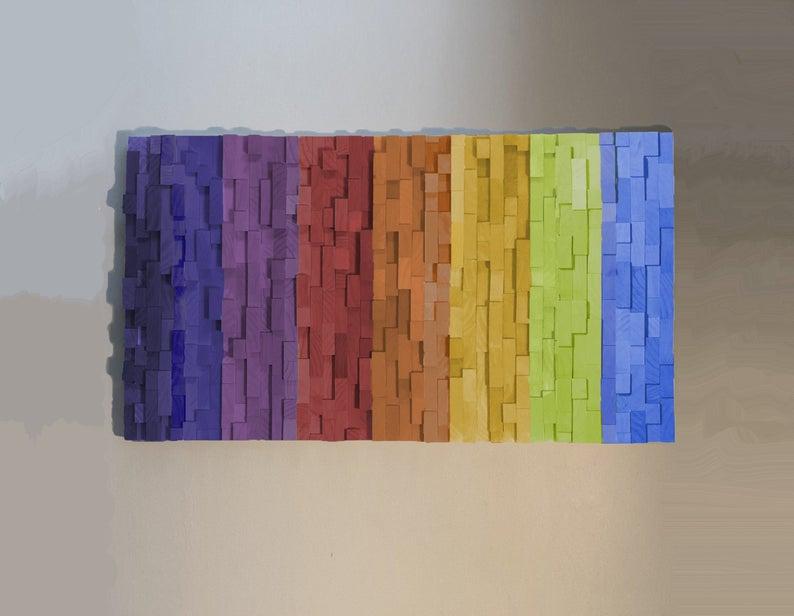 Available in a herringbone or classic brick pattern, depending on which you prefer.
---
Find the right LGBTQ+ art for your home
When it comes to picking art – any kind of art, not just LGBTQ+ art – there is one hard and fast rule that everyone should follow.
Choose. What. You. Love.
If it inspires you, moves you, challenges you, intrigues you, or delights you… then you've made the right choice.
The above is only a small selection of the massive selection of LGBTQ+ art on Wayfair and Etsy. Feel free to browse their entire collection using the links below.