I have always loved the elegance of Calla Lilies. There is something sensual yet sophisticated about Calla Lily wall art that can add a unique and dramatic touch to the home.
I have always found Calla Lilies to be profoundly elegant and – yes – a little bit sensual.
Perhaps it's the portrayal done by Robert Mapplethorpe that heightened the sensual aspect of this sophisticated flower, or maybe they've always held a certain sensual appeal.
But, either way, I have found a place for some type of Calla Lily decor accent in my home for many years. And I have even grown them – sometimes successfully – in my own garden.
If you don't have any Calla Lily art in your home… perhaps it is time.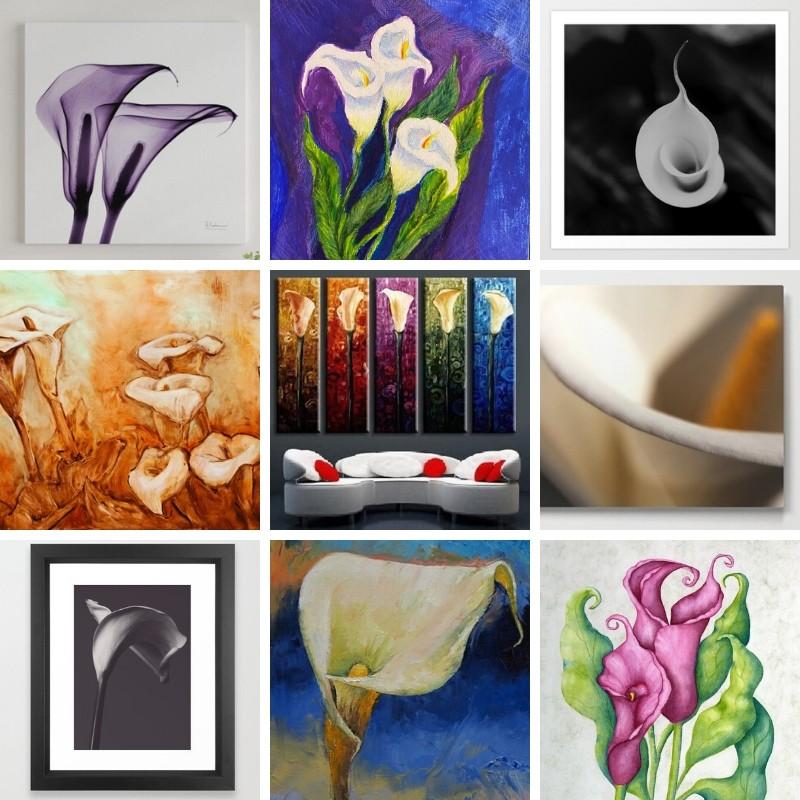 To aid you with this quest, I have scoured through Art & Homes affiliated retail partners at Wayfair, Amazon, Etsy, and Society6 to help you discover some of the most beautiful Calla Lily wall art and decor pieces available.
I hope you enjoy perusing this collection as much as I enjoyed curating it.
Calla Lily#1 Art Print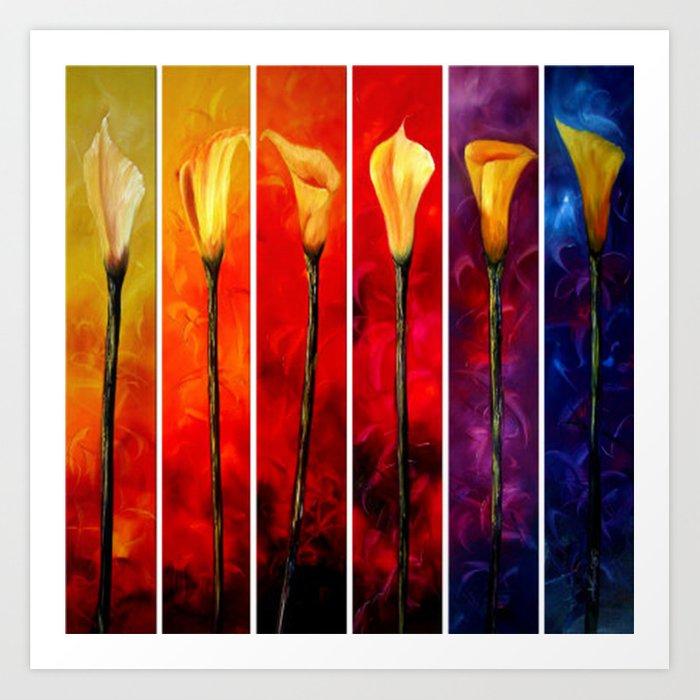 A series of 6 Calla Lilies on a progression of rich, deep colors creates a striking and dramatic contrast.
---
Calla Lily Photographic Art Print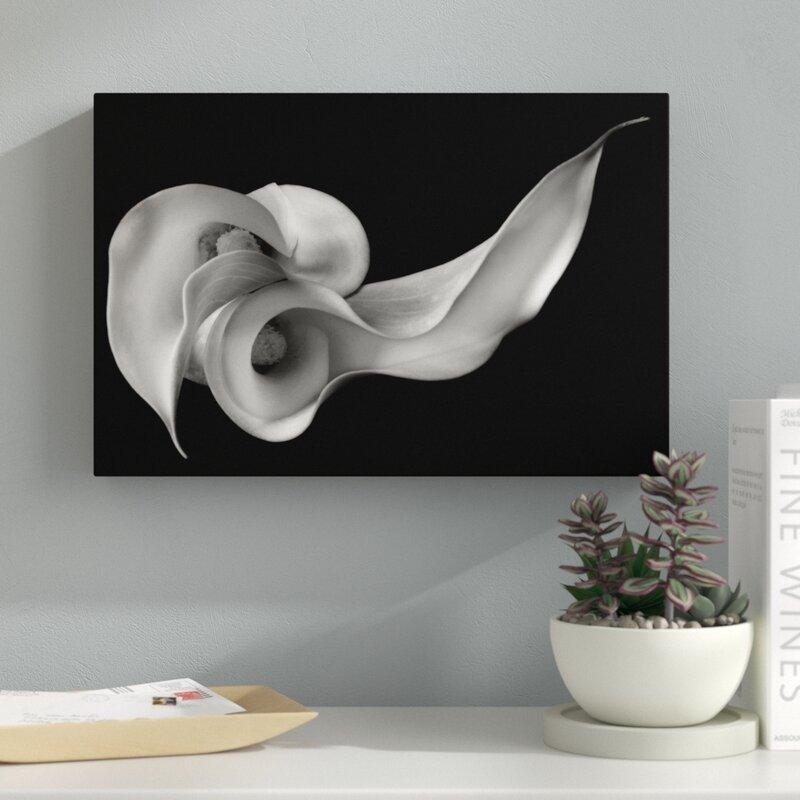 This gorgeous Calla Lily art piece showcases a black and white print of two Calla Lilies locked together as if in an embrace. It creates a striking look that is perfect for a modern or contemporary home.
---
Soft White Calla Lilies 4-Piece Poster Print Set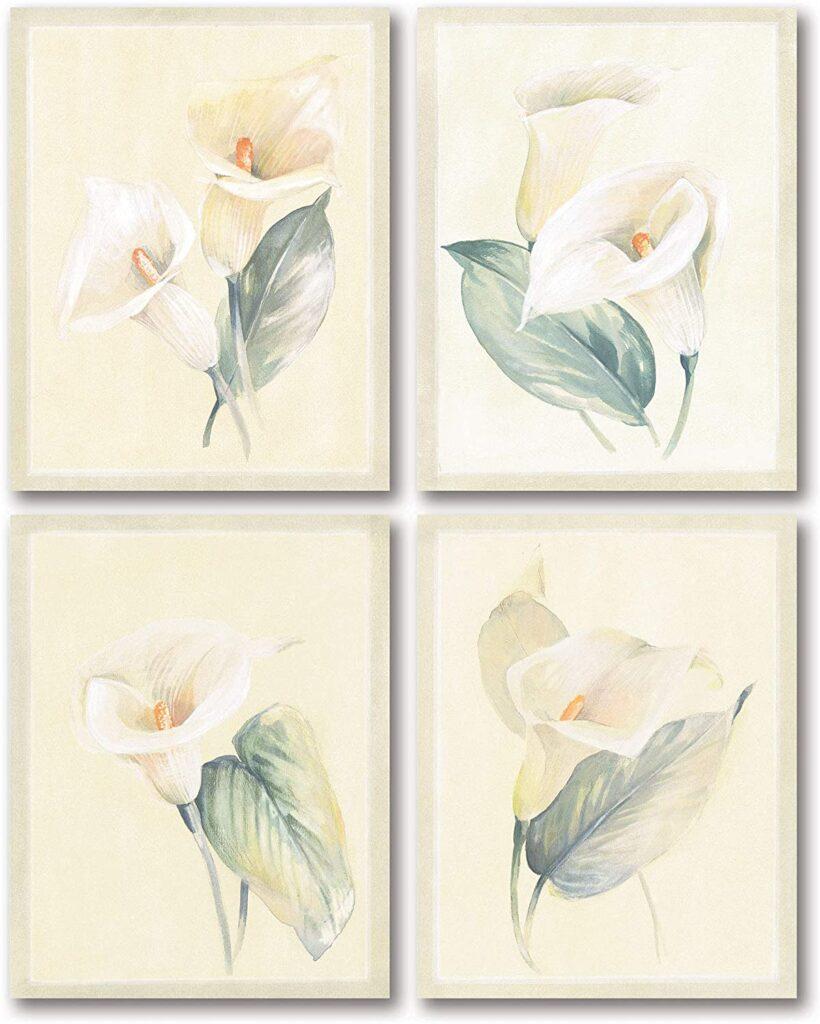 A lovely collection of four 8×10 poster prints that you can frame and hang in your home to create a delicate and lovely art installation.
---
Calla Lily Painting Print on Canvas
Rich colors contrast beautifully against the crisp white of the Calla Lily flowers in this wonderful canvas art print.
---
Black and White Calla Lily Art Print by Kaitlyn's Nest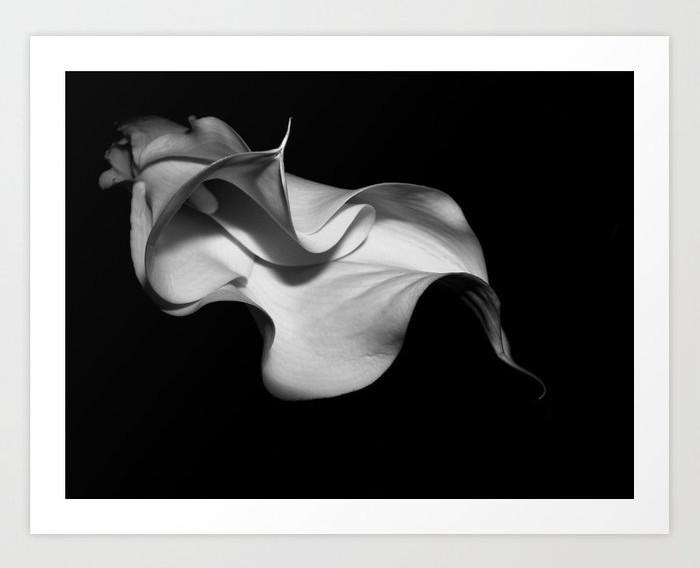 An elegant portrait of the beautiful Calla Lily bloom.
---
Calla Lilies Original Colored Drawing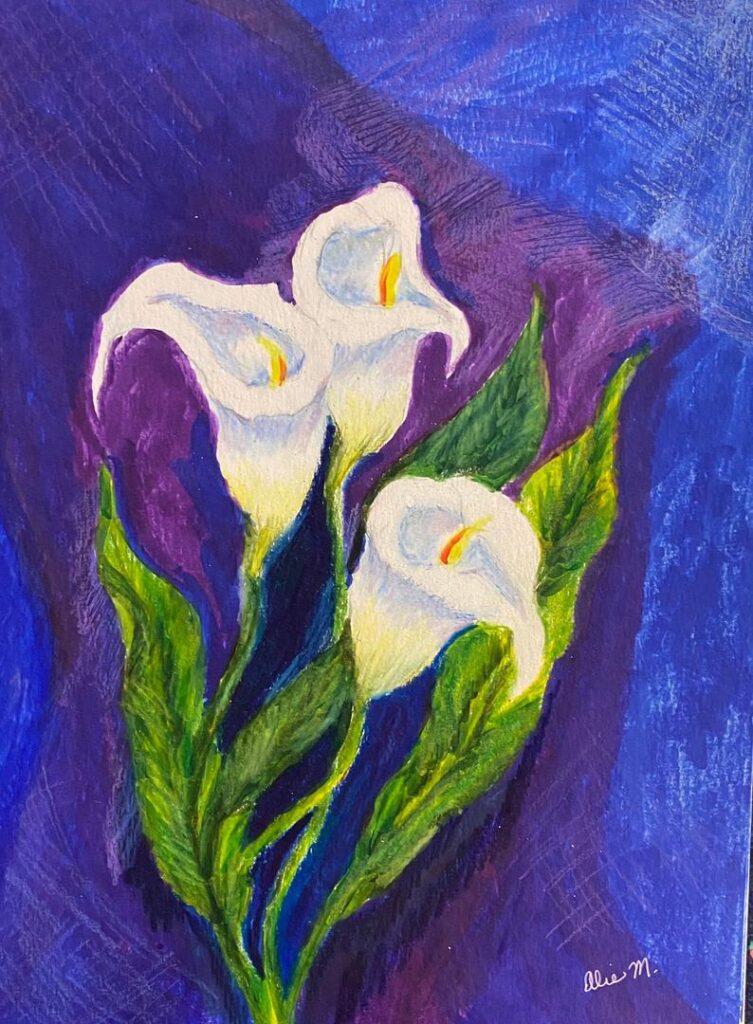 This is an original 12 x 9 drawing done in colored pencil and marker on watercolor paper.
---
The Edge of Glory
A sliver of a Calla Lily becomes the focus on this detailed abstract art photo.
---
Robert Mapplethorpe Framed Calla Lily Art Print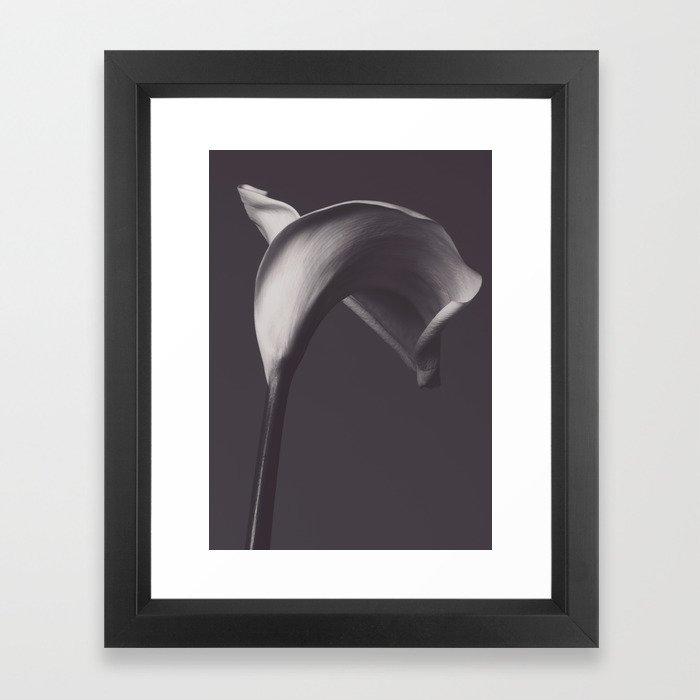 Part of Robert Mapplethorpe timeless and elegant Calla Lily series. Mapplethorpe took pictures of flowers – especially the sensual beauty of the Calla Lily – throughout his career, perfecting the photographic expression of biological beauty.
---
Calla Lily Expression I & II Canvas Wall Art
Handcrafted and made-to-order in the United States using high quality artist-grade canvas and archival inks that prevent against fading and preserve as much fine detail and vivid color as possible.
---
Calla Lily Still Life Original Oil Painting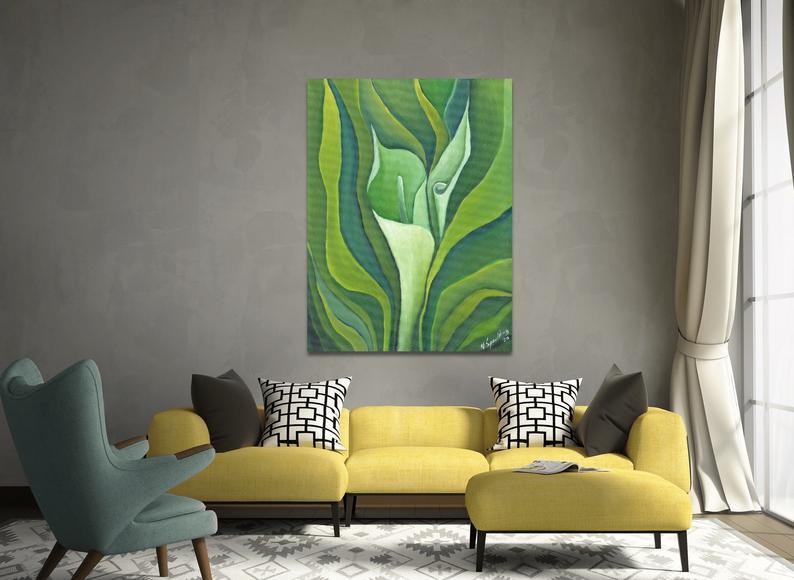 An original oil painting of White Calla Lilies on a backdrop of green foliage by Nicky Spaulding. This lovely piece featuring two Calla Lilies and lush green leaves will make a beautiful additional any home.
A Certificate of Authenticity signed by the artist accompanies each piece.
---
White Calla Lily Original Watercolor Painting by Debi Garcia-Benson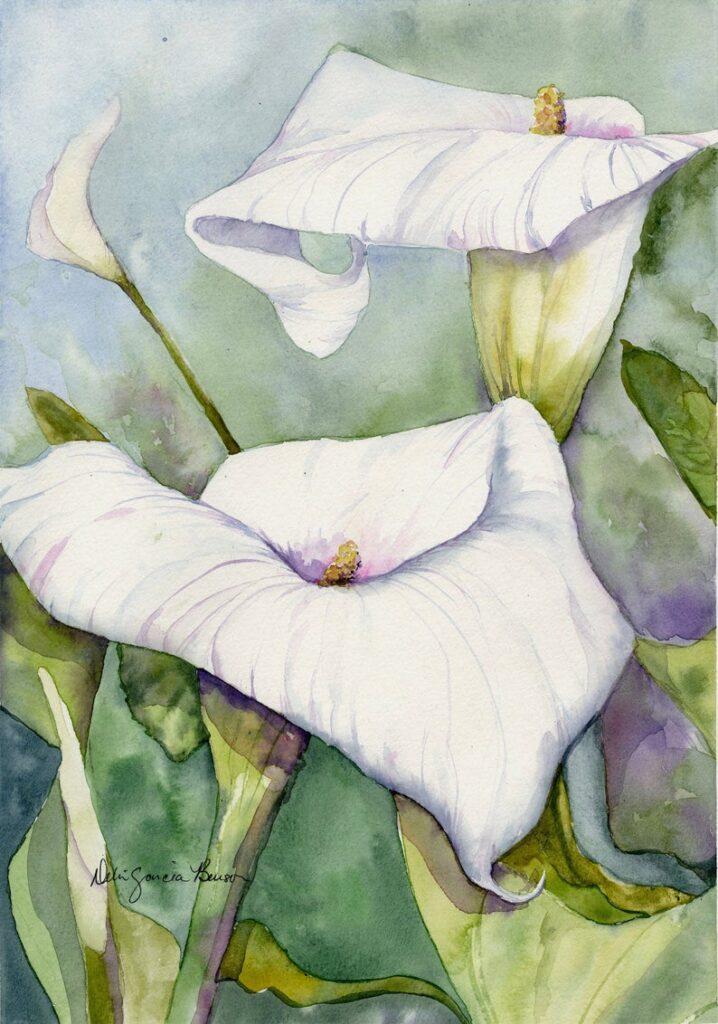 Quality Giclee Print from an Original Watercolor by Debi Garcia-Benson.
---
Essence Calla Lily Photographic Print on Metal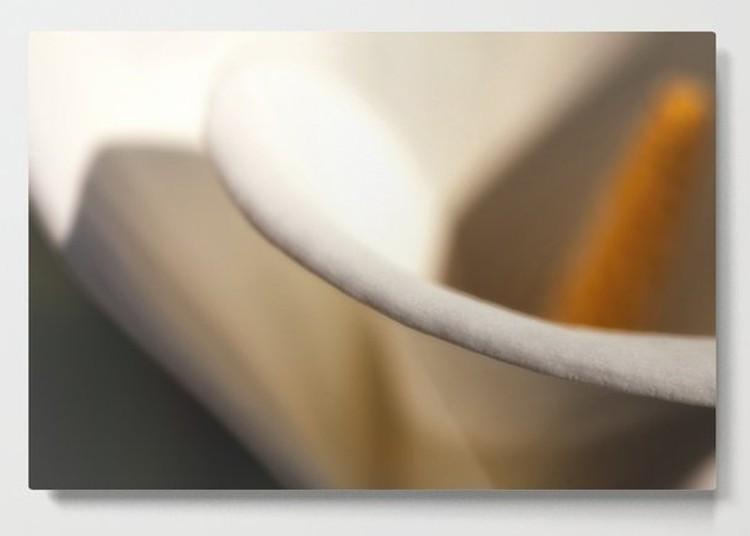 This gorgeous close-up detail of a classic white Calla Lily is showcased in this metal art print. Printed on 1/16" thick aluminum sheet canvas which is then finished in a high-gloss which enhances the image and the colors. Each piece is then mounted on a wooden frame to offset the artwork from the wall for proper hanging and display.
---
Classic Calla Lilies on Parchment by Shelly Ziska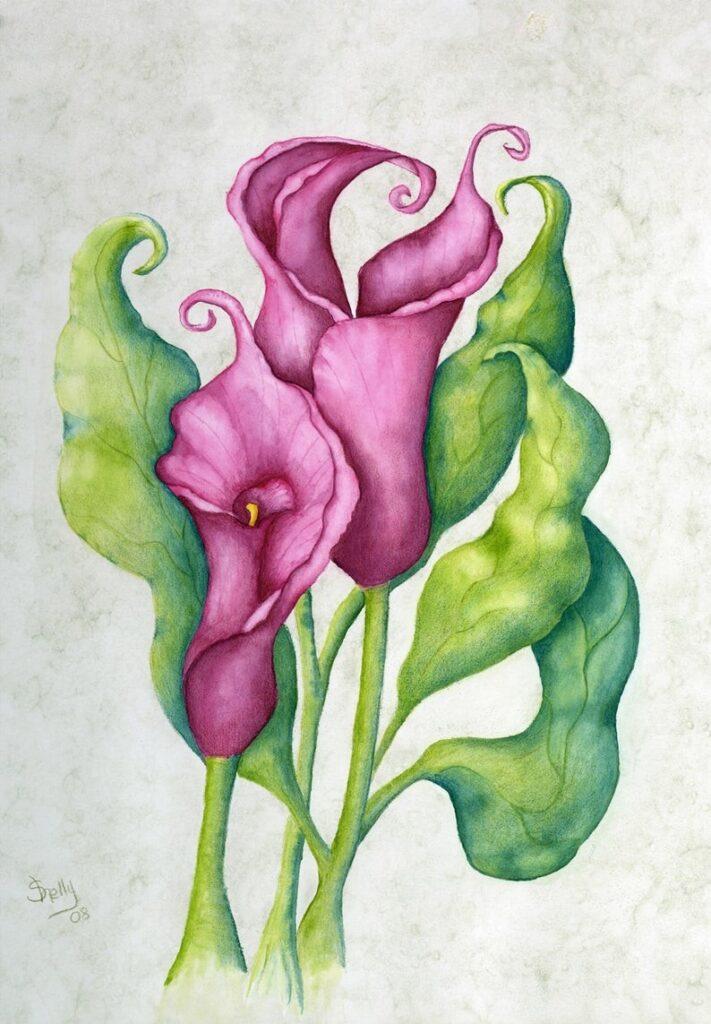 This gorgeously crafted painting by artist Shelly Ziska would make a be just as home in a Victorian-style home, or a modern decor scheme looking for a pop of mauve and cranberry colors.
---
Hand-Forged Metal Calla Lily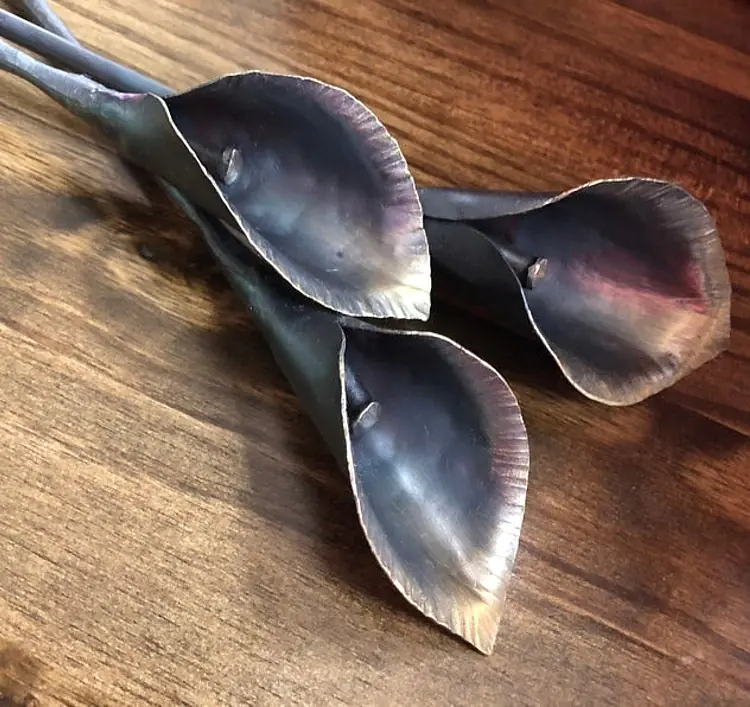 Although not – necessarily – wall art, these hand-forged steel Calla Lilies were too beautiful not to include in this list. And, yes, you can absolutely hang them on the wall if you so desire. Made in a small shop in central Maine with traditional blacksmithing methods, these metal Calla Lilies feature hot brass brushing to accent the highlights of the open petals. A bees wax Finish is applied for a rustic and rust resistant finish. Sold individually.
---
Calla Lily 5-Piece Rolled Canvas Modern Art Set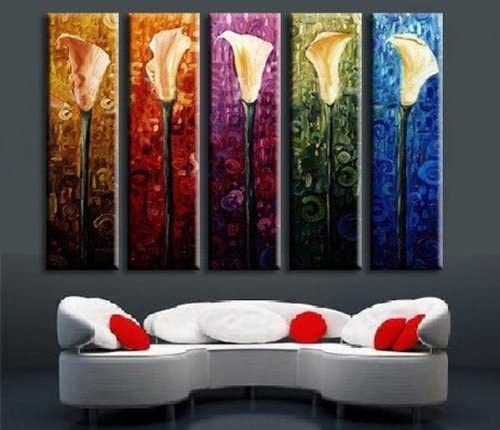 Similar in theme to the Calla Lily#1 Art Print featured above, this collection of Calla Lilies on different colored background combine to create a unique 5-piece canvas wall art set.
---
Calla Lilies I & II Art Print by East Urban Home
Add brilliance in color and exceptional detail to your home with these two matching Calla Lily wall art pieces.
---
Calla Lily Oil on Canvas 5-Piece Art Set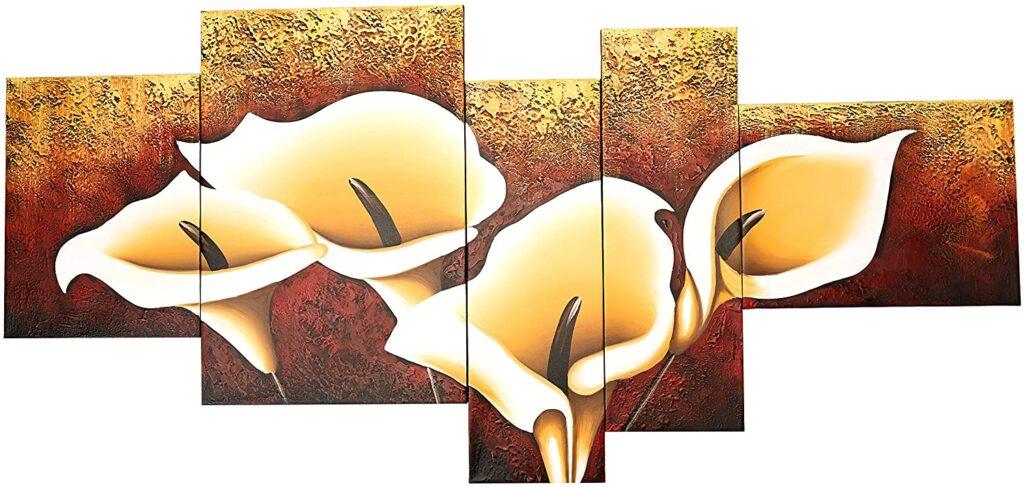 This is hand-painted oil painting on canvas by Wieco Art will add a dramatic touch of Calla Lily decor to your home.
---
Calla Lily Metal Wall Art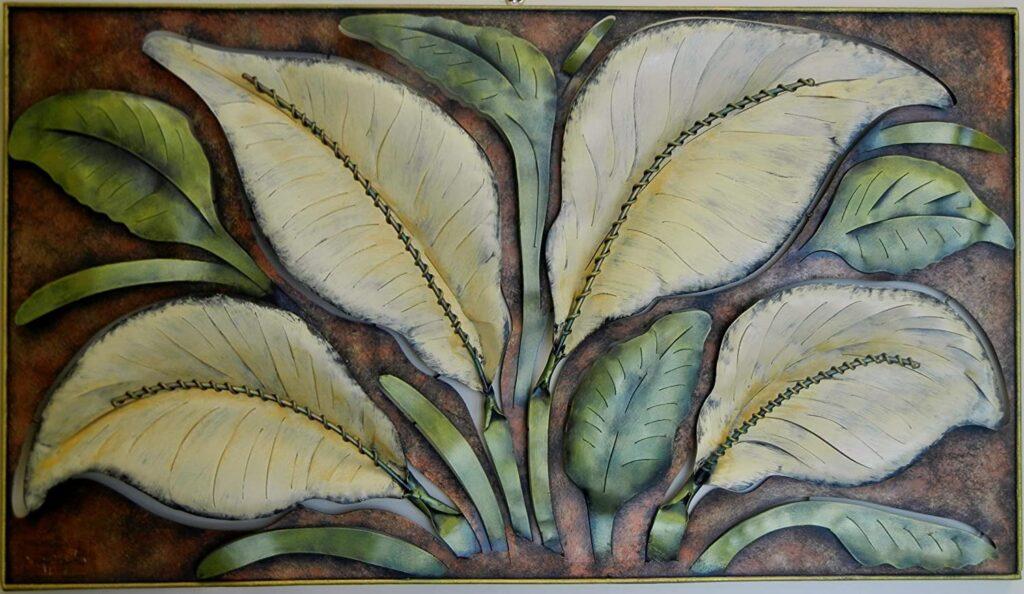 Hand-crafted in Mexico, this large Calla Lily Metal Wall Art piece featuring a gorgeous spray of Calla Lily leaves is sure to impress!
---
Yellow Calla Lily 3-Piece Canvas Art Set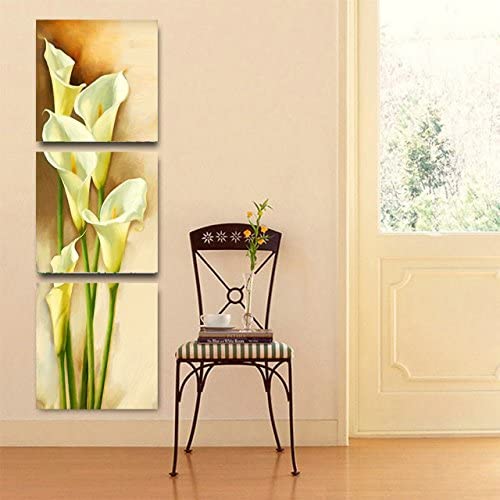 Vivid color on high quality canvas to create the look and feel of the original nature and masterpiece.
---
Calla Lily Digital Art Prints
A beautiful collection of digital Calla Lily art paintings by Gates Gallerie.
---
Composition with Calla Lily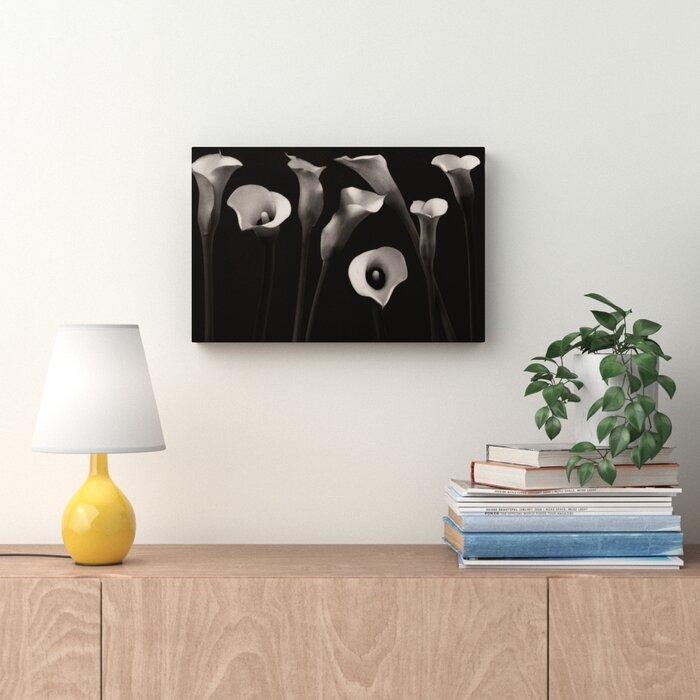 Bring elegant floral flair to your home with a gorgeous Calla Lily photographic print! This striking black & white photo features a row of eight calla lilies in bloom.
---
Calla Lily Flower Unfolding Art Print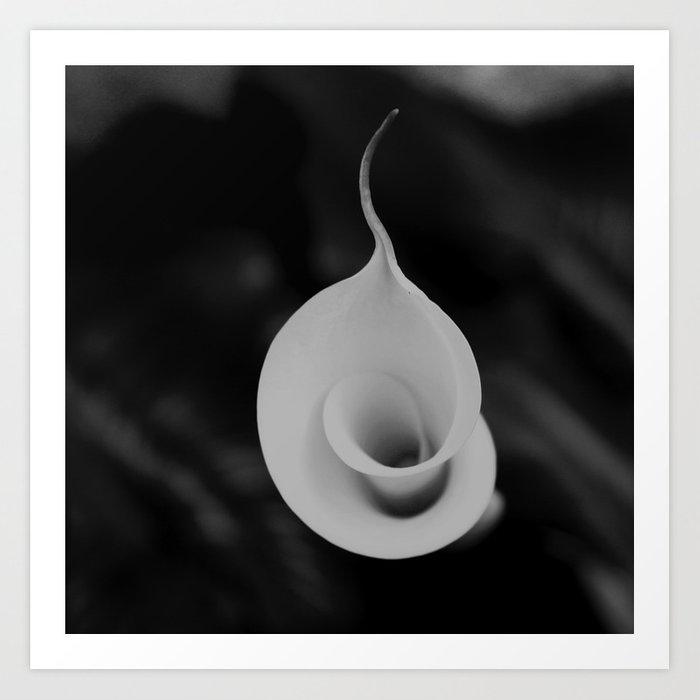 An absolutely beautiful black and white study of a Calla Lily just before it enters its final and most glorious phase.
---
Black Calla Lily & White Calla Lily by Michael Creese
Whether you pick just one or pair the two for dramatic contrast, you can't go wrong with these gorgeous paintings by famed artist Michael Creese.
---
Calla Lilies by Olivia Joy Photographic Canvas Print
Part of the Olivia Joy photographic art collection, this stunning piece shows a bouquet of gorgeous white Calla Lilies against a rustic wood background.
---
Blushing Calla Lilies Cheri Blum Wrapped Canvas Print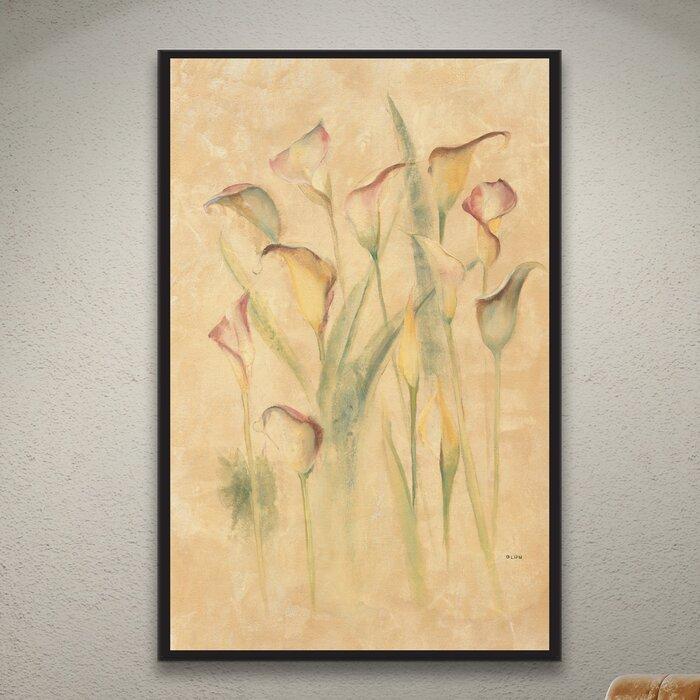 Artist Cheri Blum creates a lovely and romantic art showcase of a collection of pastel Calla Lilies in bloom on a warm, neutral background. This piece could just as easily fit into a modern decor setting as it could in a country farmhouse.
---
Calla Lily Stained Glass Window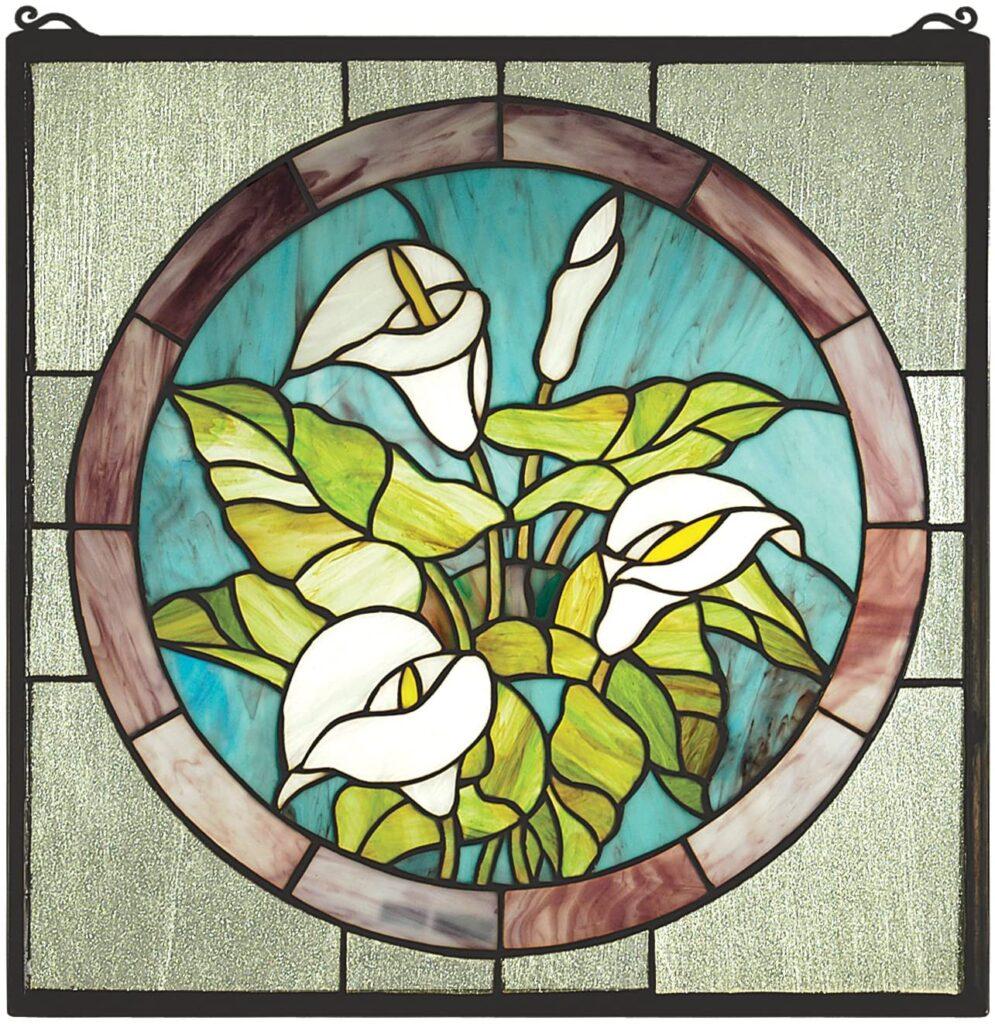 Technically, more of a window art piece than a wall art piece (but what can you do), this gorgeous stained glass window from Meyda Tiffany features a bunch of elegant Calla Lilies in a square frame.
---
Closed Calla Lily Wall Art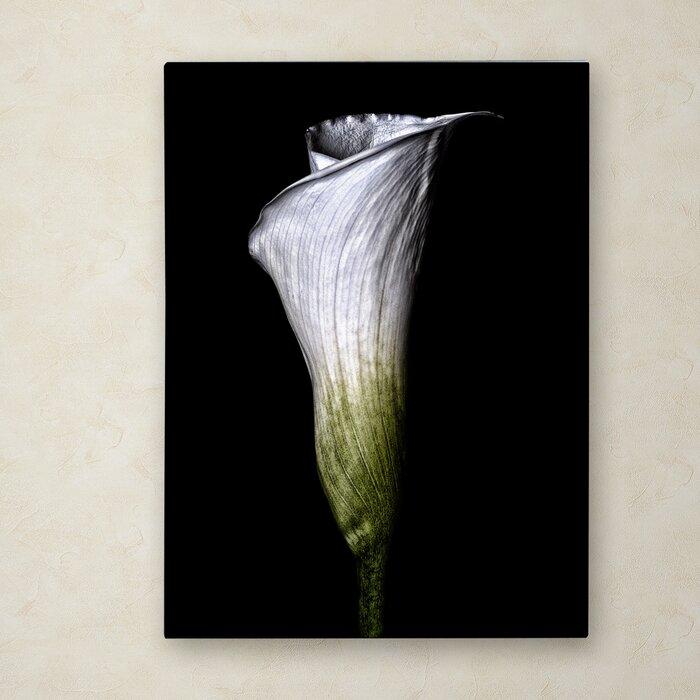 This unique photographic print creates a dramatic portrait of a Calla Lily before it is has fully opened its beauty. The contrasts and texture are truly phenomenal.
---
Calla Lily Abstract I, II, & III
This gorgeous set was created by a photographer known as "The Photo-Guy Darren". Darren began his photography career in his mid 30s and has become an award winning photographer for his pieces that use the magic of natural light.
---
Black and White Calla Lily Photograph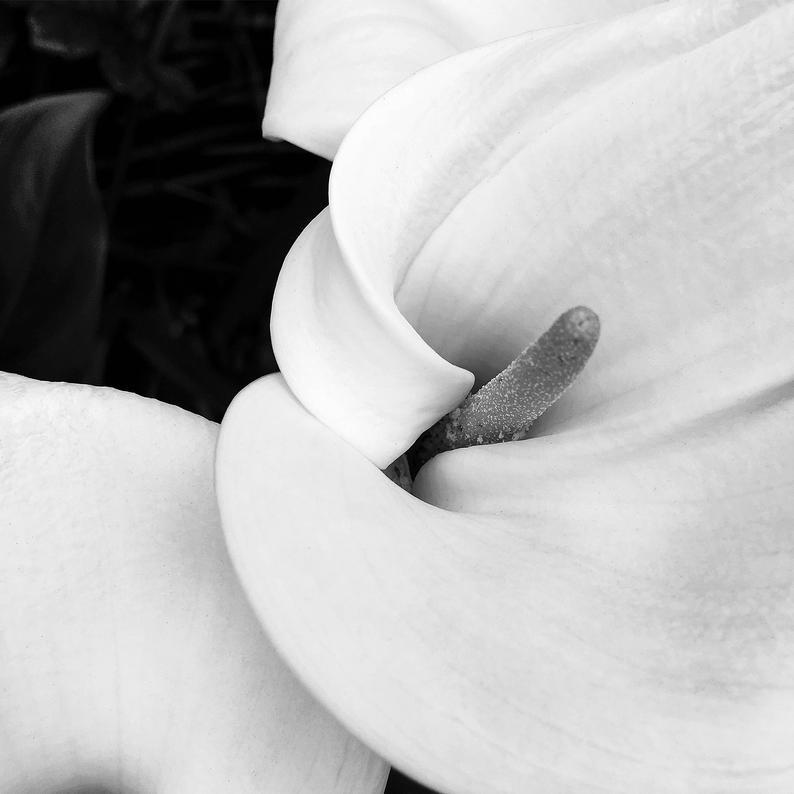 An elegant black and white photograph of a Calla Lily, whose name stems from the Greek 'Kallos' meaning beautiful. Ideal for for so many occasions or even just for you!
---
Consider the Lilies Limited Edition Giclee Painting Print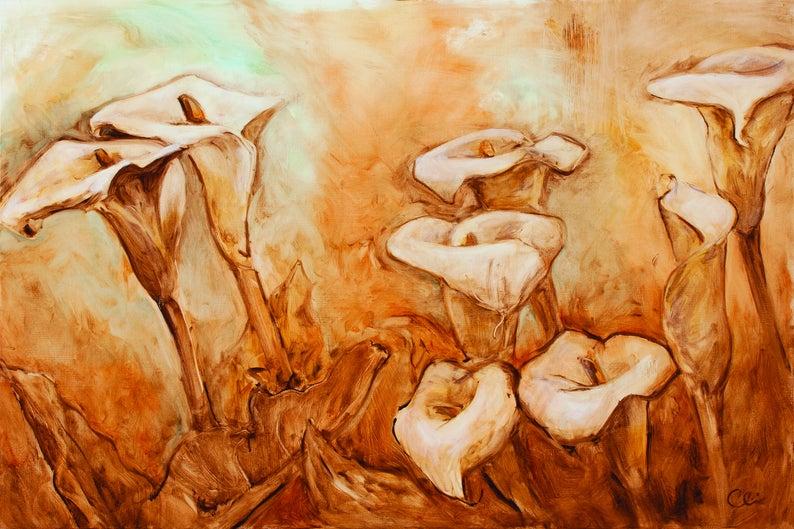 A fine art giclee reproduction of an original oil painting by Claire MacKenzie in a limited edition of 200.
---
Calla Lily Wall Art & Decor FAQs

Where does the name Calla Lily come from?
The beautiful Calla Lily gets its name from the Greek word for beautiful — calla. According to the Greek legend, when Zeus brought his son from another women – Hercules – to drink her milk, she pushed him away and drops of milk fell to the ground and grew into beautiful lilies.
Is it true that Calla Lilies aren't actually lilies?
Yes, that is true. And it's not a Calla either. Swedish botanist Carolus Lunnaeus made an error naming the plant. Although the error was eventually corrected, the common name for the flower has stuck.
What do Calla Lilies symbolize?
The most common meaning for Calla Lilies is purity, holiness, and faithfulness. That is one of the reasons they are often used in bridal bouquets.
What are the most common Calla Lily colors?
White is the most common and most popular color for Calla Lilies, however they grow in a variety of beautiful colors including pink, purple, yellow, and black.
Do different colors of Calla Lilies mean different things?
Yes, the classic White Calla Lily symbolizes purity but each color has a different meaning. Yellow Calla Lilies symbolize gratitude, Purple symbolizes passion, Red symbolize courage, Black symbolizes mystery, and Pink symbolizes appreciation.
Are Calla Lilies good luck?
White Calla Lilies are considered to be a good luck charm when it comes to weddings and can lead to wedded bliss, which is why they are often seen at weddings.
Are Calla Lilies toxic to pets and people?
If ingested, live Calla Lilies can be highly toxic. Calla Lily wall art, depending on the materials used to create it, can also be highly toxic. So don't eat your art!