If you LOVE coffee, the way I LOVE coffee, then you'll understand why the idea of adding some fun & wonderful coffee decor to your home has a certain 'caffeinated' appeal.
My morning doesn't really begin until I'm sitting on my back deck, enjoying my morning cup of coffee. And it doesn't matter if it's in the humidity of mid-summer or the deadly cold of winter, my ritual remains the same… except for how much I am currently bundled up against the elements.
I am one of those folks that requires a good 30 – 45 minutes of peace, quiet, and coffee before I can even begin to think about facing the world.
There's a saying that hangs in my kitchen. "There aren't enough coffee beans in Columbia to make me a morning person."
And anyone who knows me well, knows how true that is.
When I was younger, I could sleep in so easily that I required 3 different alarm clocks in order to make sure that I woke up on time for work, and even those often failed. Now that I am older, I don't seem to have as much trouble waking up at ridiculously crazy early morning hours – like 7 a.m. – but that doesn't in any way, shape, or form make me a morning person.
That's one of the reasons I love my coffee. It's not just the flavor, or the warmth, or even the caffeine. It's the ritual of sitting quietly, not letting anyone talk to me, while I acclimatize myself to the fact that another blissful night of sleep is over.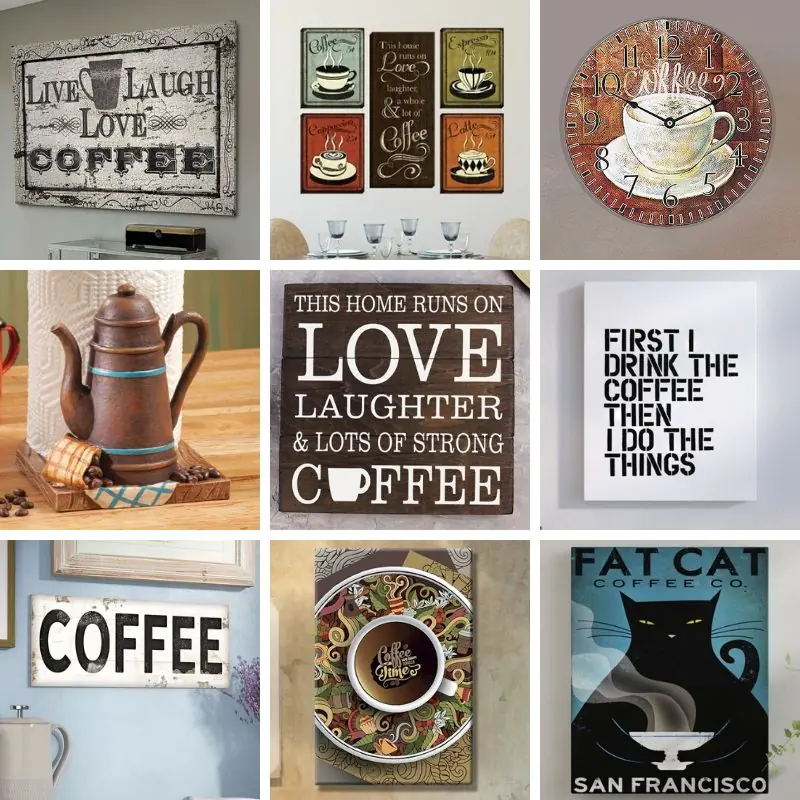 If you're a coffee lover, like me, then you are sure to appreciate some of these fun and fanciful coffee art & decor pieces.
You don't have to decorate with a particular style in order to infuse some coffee art or decor into your home. There are pieces that suit any home, from contemporary canvas art to the cutest little coffee pot paper towel holder you could hope to place in your country kitchen.
Our Picks for Stunning Coffee Art and Decor
To aid you in that quest, I have done the legwork for you and gathered some of my favorite pieces of coffee art, coffee decor, and other coffee-related accents that can add a touch of fun and interest to your home and help you celebrate your love of fine coffee.
I hope you can use this collection to find just the right piece to compliment your morning coffee.
Please note that Art & Home does have an affiliate relationship with the merchants listed below. We may receive a small referral fee – at no cost to you – for any purchases made at these retailers after following one of the links provided below. We use those funds to continue creating unique and wonderful content for you to enjoy. And, you know, to buy stuff… like coffee.
First I Drink the Coffee Textual Art on Wrapped Canvas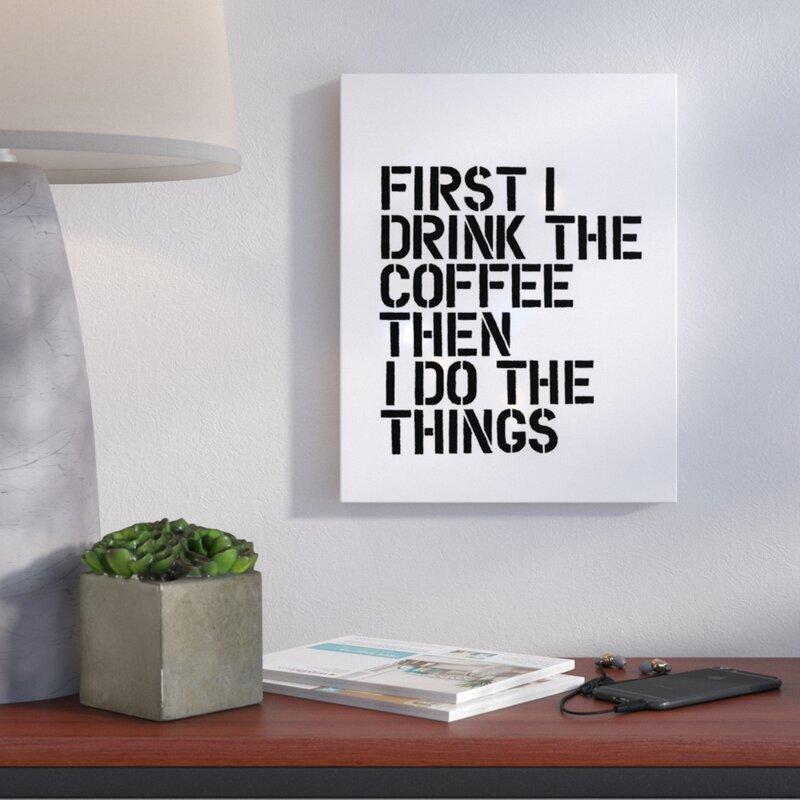 This textual canvas art piece features bold, black letters spelling out my morning mantra. First I drink the coffee, then I do the things.
---
Drink Coffee. Do Stupid Things Faster and with More Enthusiasm Wood Plaque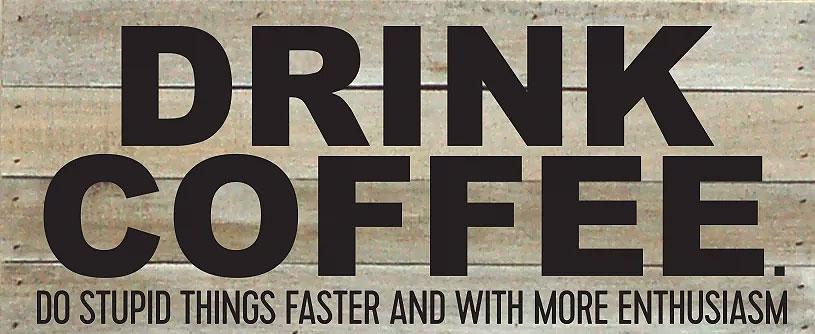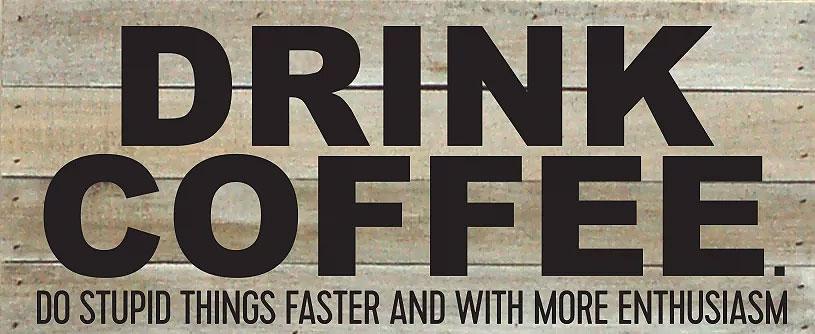 This sign pretty much sums up my relationship with coffee. This unframed wood plaque would suit both a Farmhouse or Industrial decor. Or, really, anyone who understands coffee's impact on our speed, and enthusiasm… if not always on our sanity.
---
Damask Coffee Tapestry Set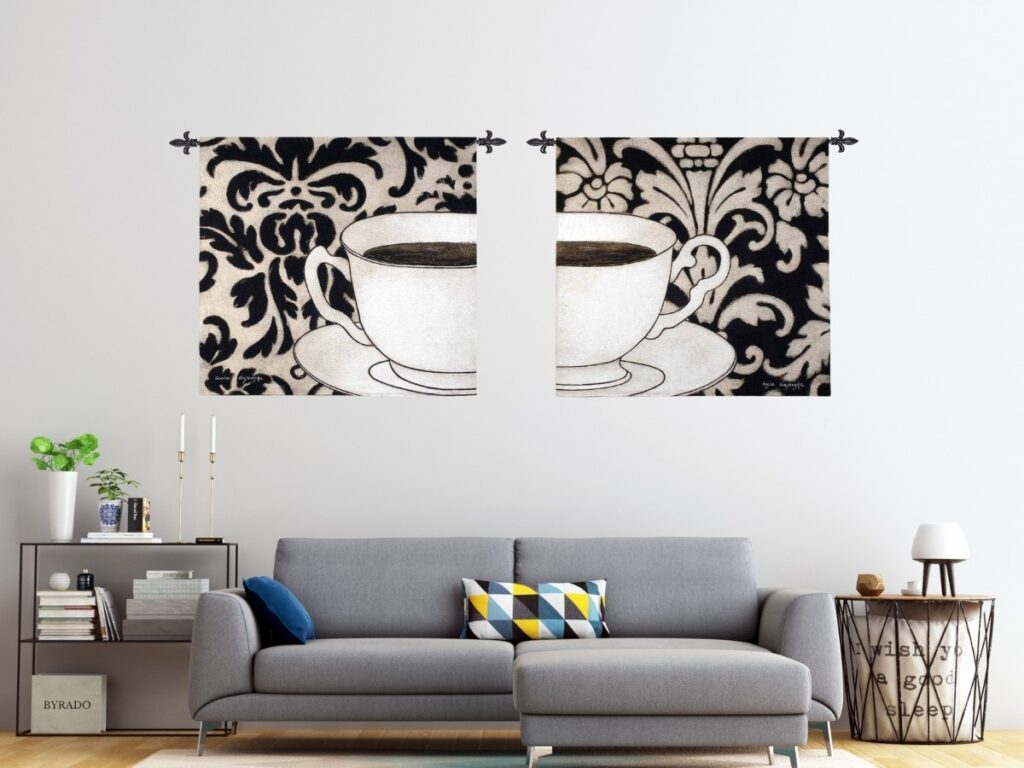 Rich, elegant and contemporary, the combination of stunning damask with a simple cup of coffee make for an intriguing art piece. Part of a 2 piece set, these tapestry wall hangings can be hung alone or combined with the match for an impressive display.
Live, Laugh, Love Coffee' Textual Art on Wrapped Canvas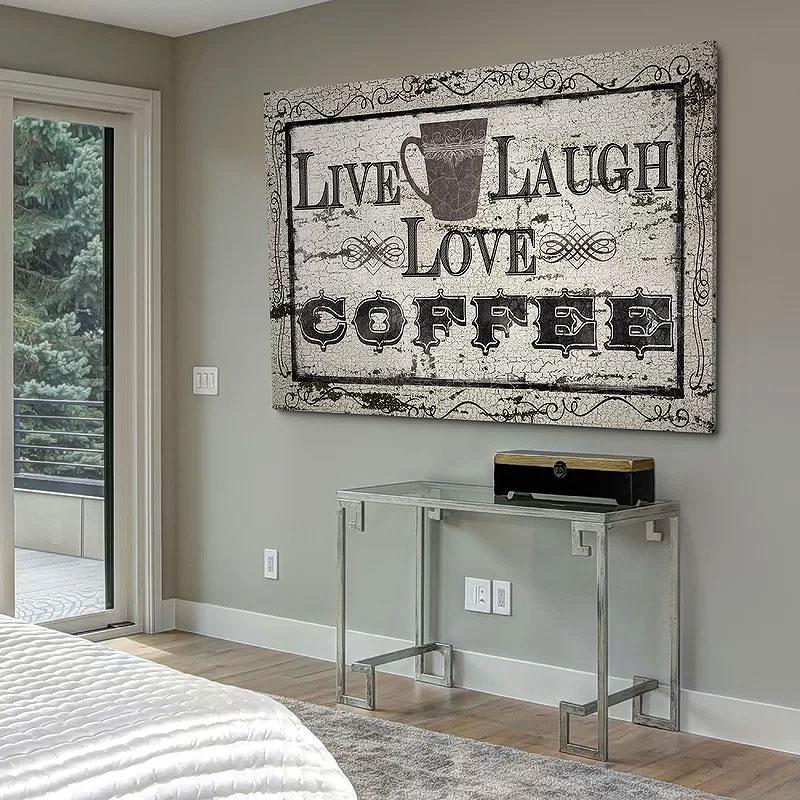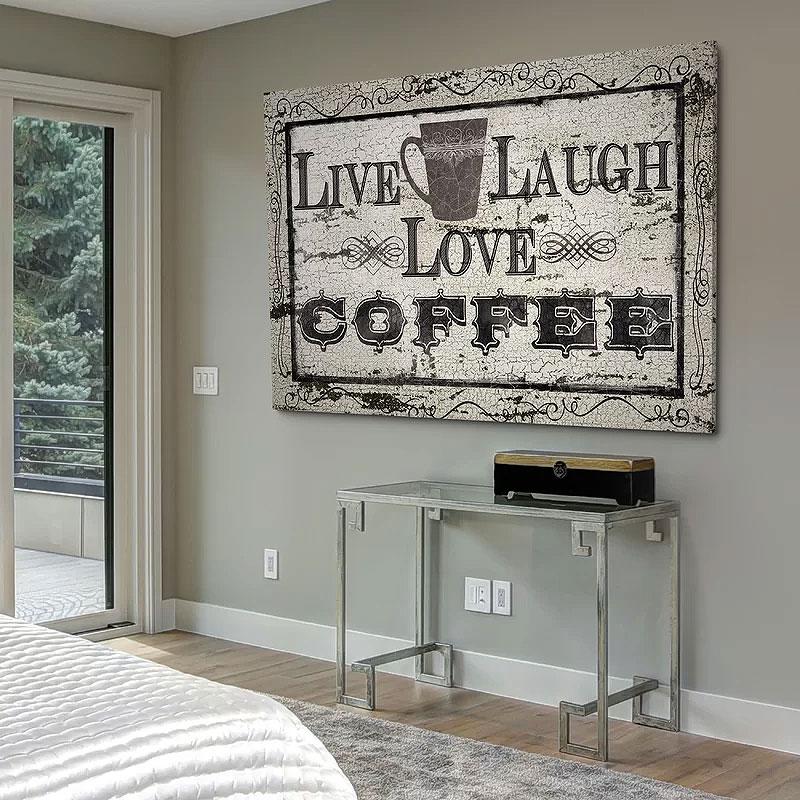 I love the distressed look of this piece, combined with the lighter weight of gallery-wrapped canvas that makes it easy to hang, even if you haven't had enough coffee yet. Plus, it's available in 4 different sizes, ranging from 12″ x 18″ up to 32″ x 48″, so you can add it as a nice coffee decor accent or as a featured piece.
---
Scrolled Silhouette Coffee Cup Mug Metal Wall Art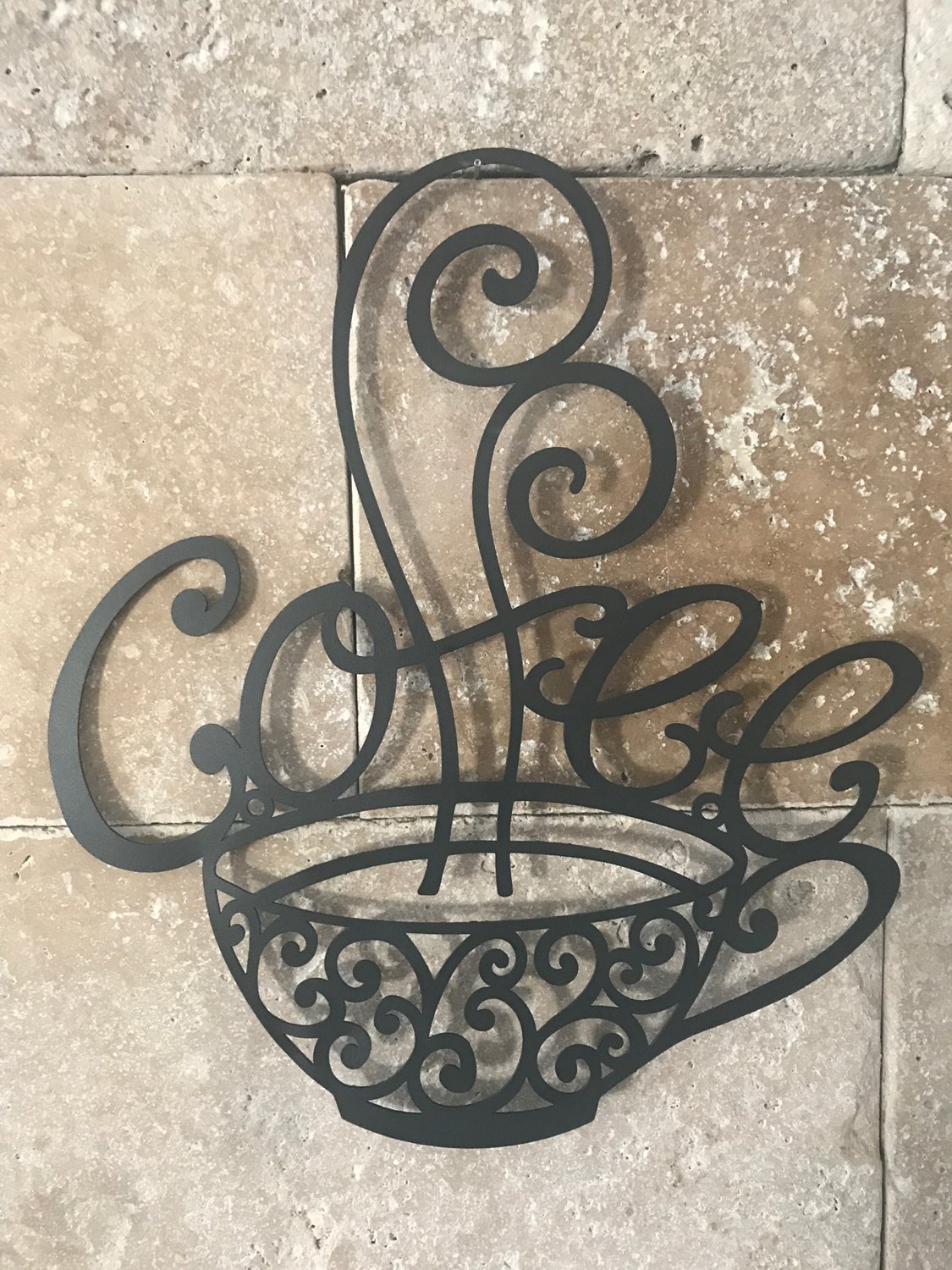 This delightful Coffee Scroll metal wall art piece is crafted from matte black metal and shaped like a coffee cup with the word "coffee" inscribed above it. It is the perfect finishing touch for a kitchen, patio or bistro area.
---
Coffee Typography Vintage Sign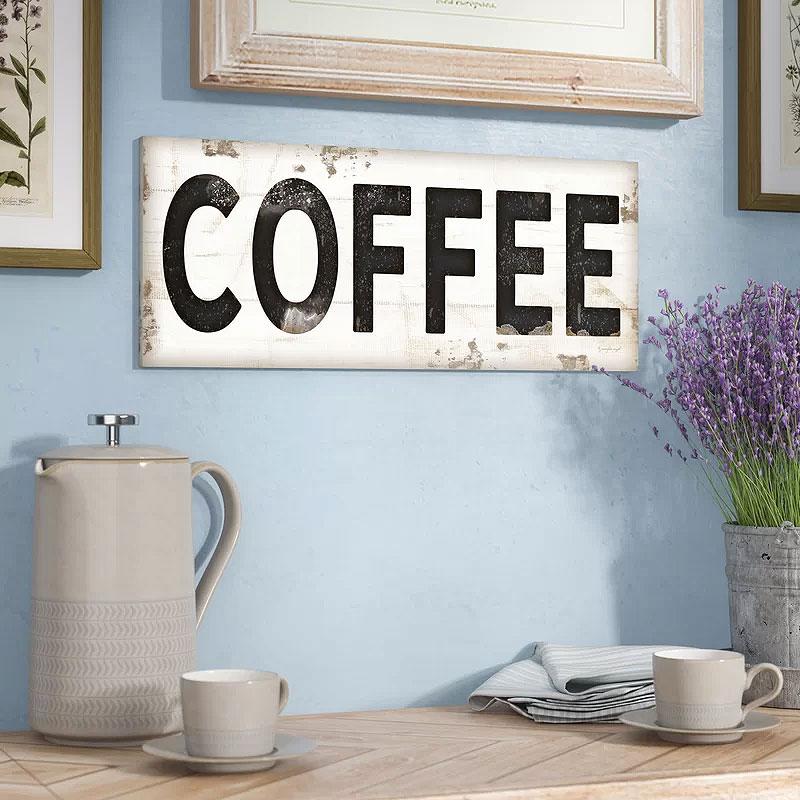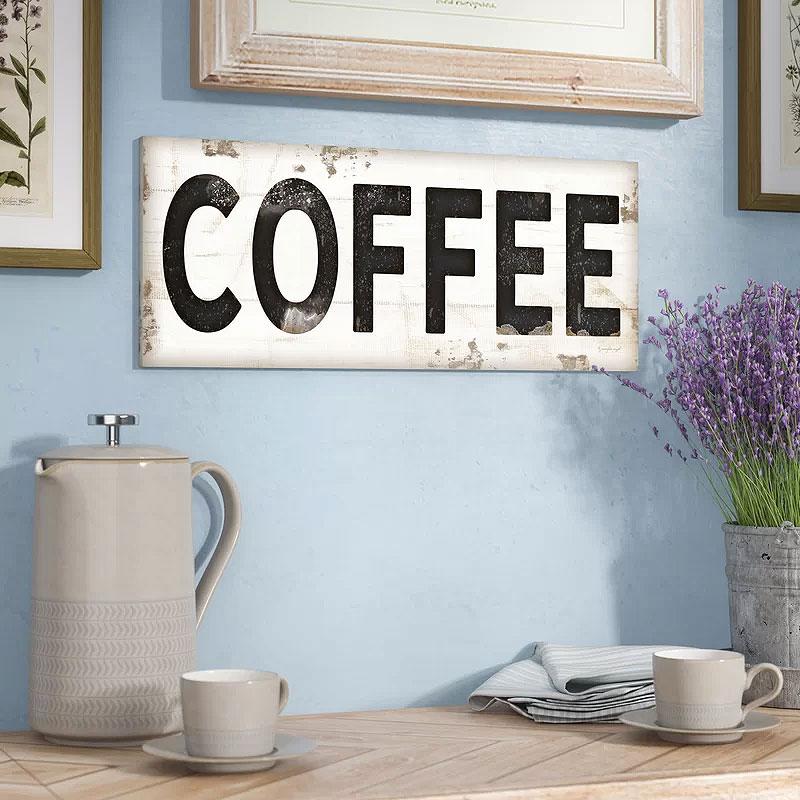 Coffee. Need we say more? With bold typography and lightly weathered details, this artwork pays tribute to our favorite beverage on any wall. Printed on wood, this accent brings a rustic touch to your decor.
Some of these coffee decor and coffee art pieces would also make great gifts for the coffee lover in your life (if that isn't you).
---
Truer words were never before written on a kitchen floor mat!
---
A Steaming Romance by Jennifer Lommers Art Print on Canvas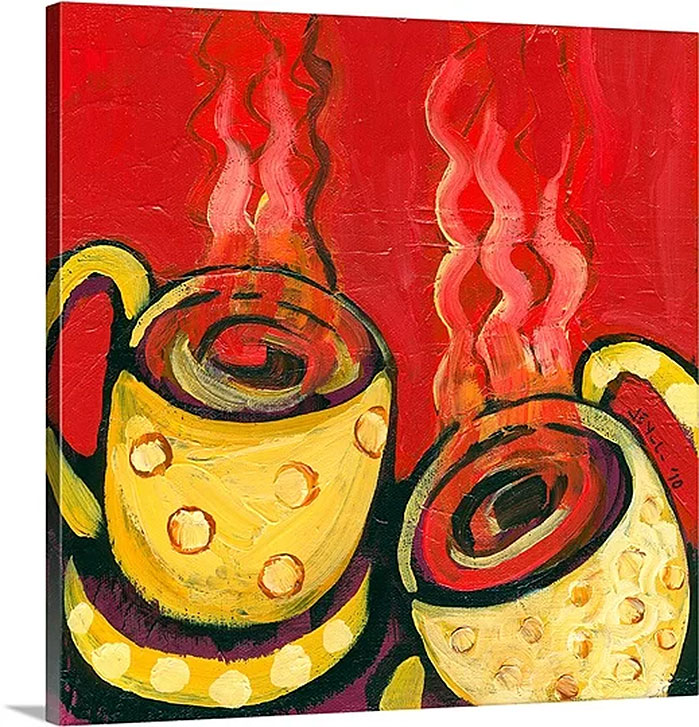 Jennifer Lommers is known for creating bright and vivid slices of life in her art. Here, she tackles morning coffee in a delightful and romantic way.
SOOO many different kinds of coffee are celebrated in this wonderful metal coffee art piece.
---
I Like My Coffee How I Like Myself Strong Bitter And Too Hot For You Wall Decor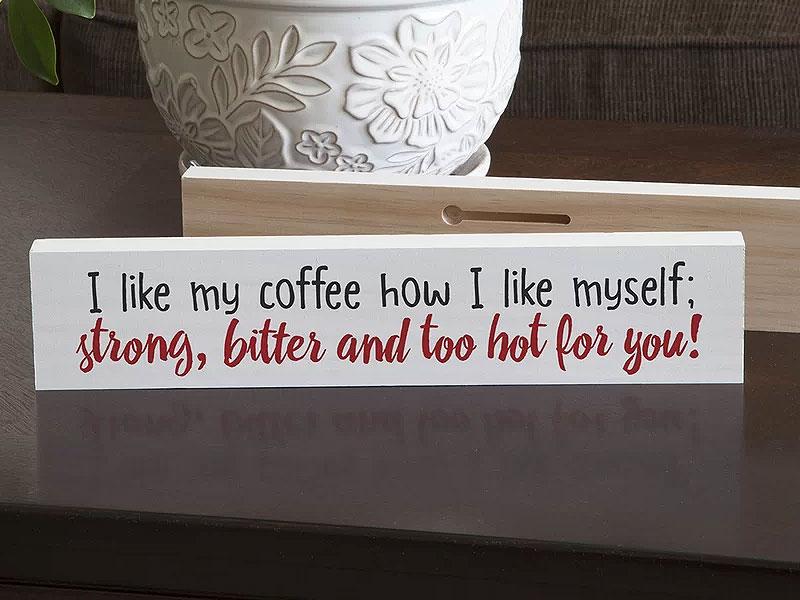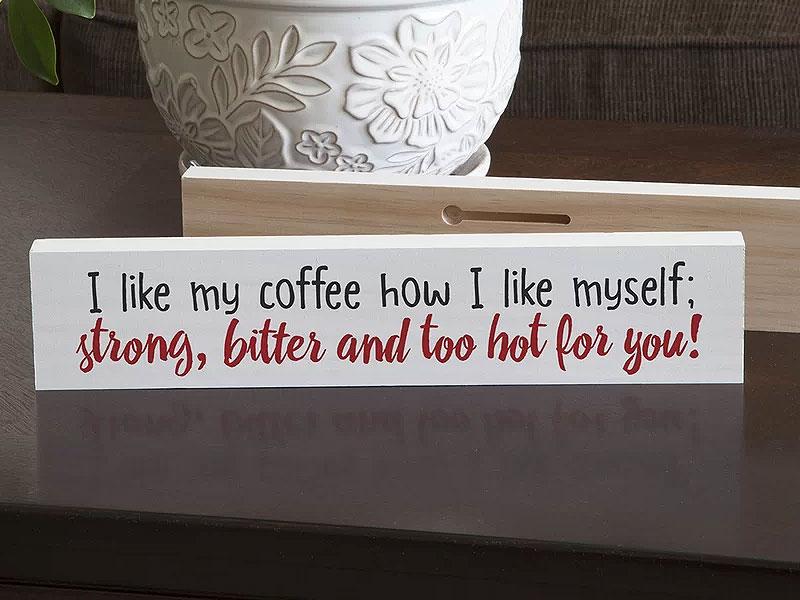 This humorous plaque can be hung or rested practically anywhere to create a fun piece of coffee decor for your home.
---
Stacked Coffee Cups Silhouette Metal Wall Art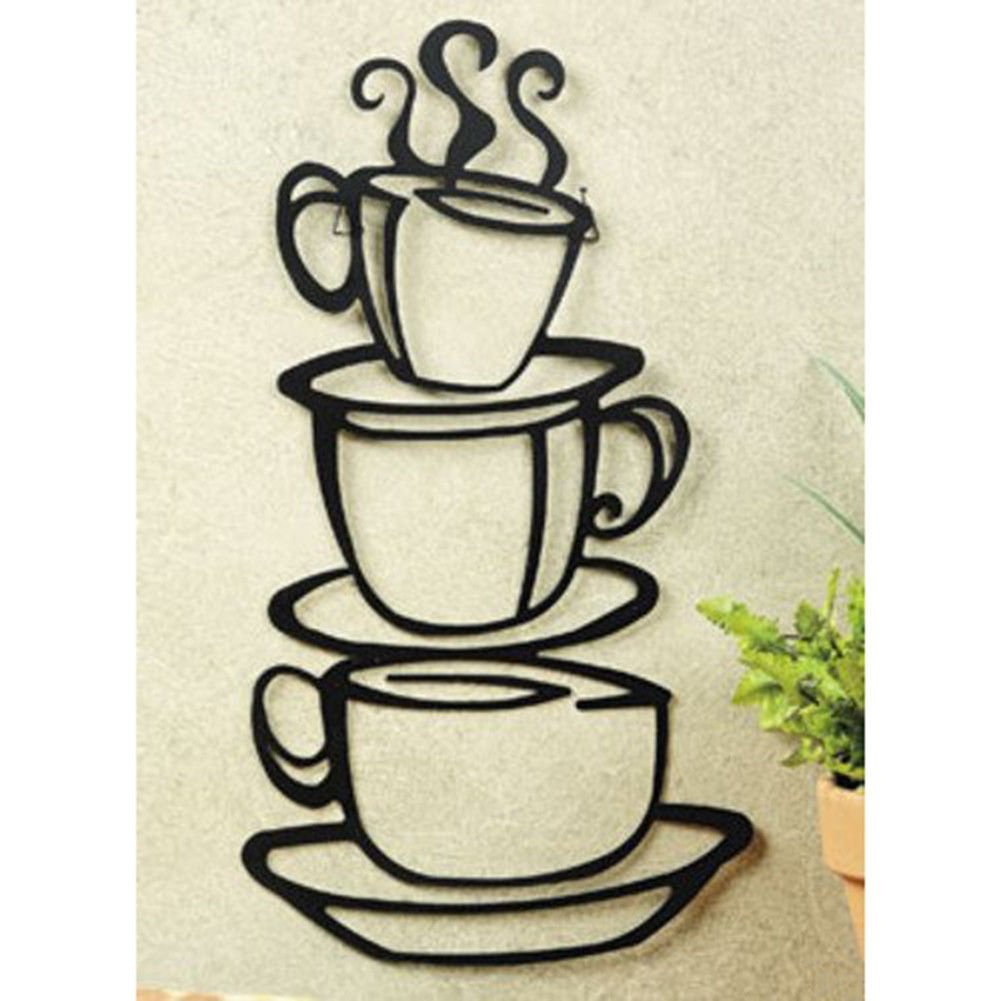 A simple outline of stacked coffee cups makes this coffee wall decor piece charming and delightful.
---
Coffee House Stack Metal Wall Art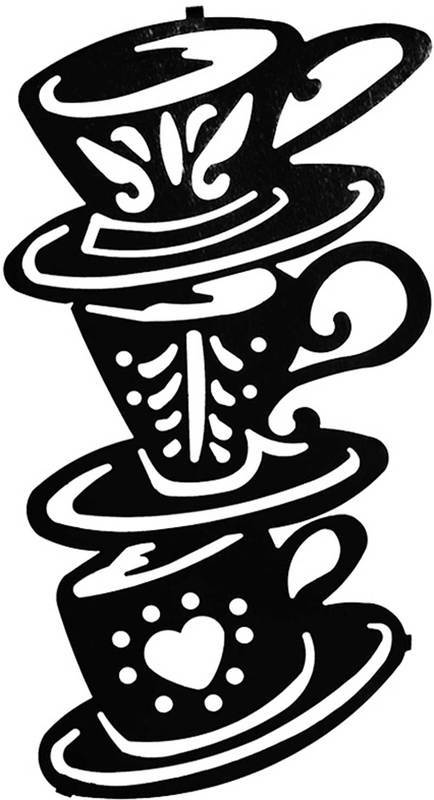 Coffee decor has a solid place in the metal wall art world. There's something about the visuals of a coffee cup that can be created in so many unique ways using metal.
---
Coffee Cup Collection Metal Wall Art
Another delightful example of coffee-themed metal wall art.
---
Coffee Time Graffiti Style Giclee Art Print
I love the vibrant fun of this graffiti style coffee art.
---
4 Piece Vintage Style Coffee Canvas Art Set
Although most of the coffee decor pieces we've selected would be best suited for a kitchen, there are a few select pieces that could be used in either a dining room or living room. This is one of those pieces.
---
Coffee Pot Kitchen Paper Towel Holder
This, however, is not one of this pieces that can be used anywhere in the home. The coffee pot paper towel holder has only one proper home… the kitchen.
---
3 Piece Black & White Canvas Coffee Art Set
One of the great things about this 3 piece coffee art set is that you can hang the pieces however you want to create the coffee-themed focal point. Hang them together, as shown, to create a delightful triptych. Or you can space them out to add a touch of coffee decor to different spots in your home.
---
Paris Cafe 2-Piece Textual Art Set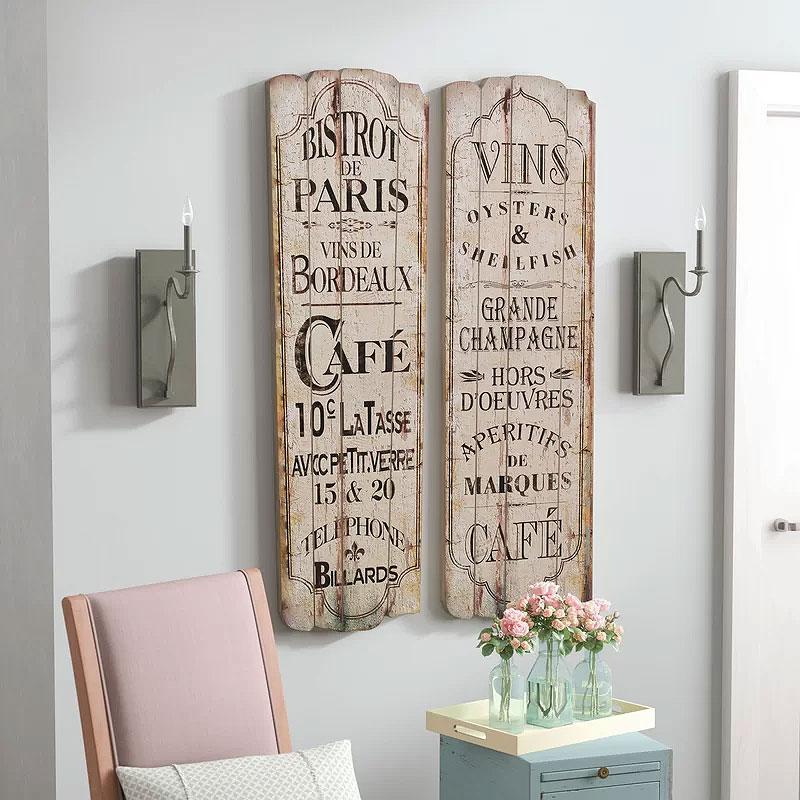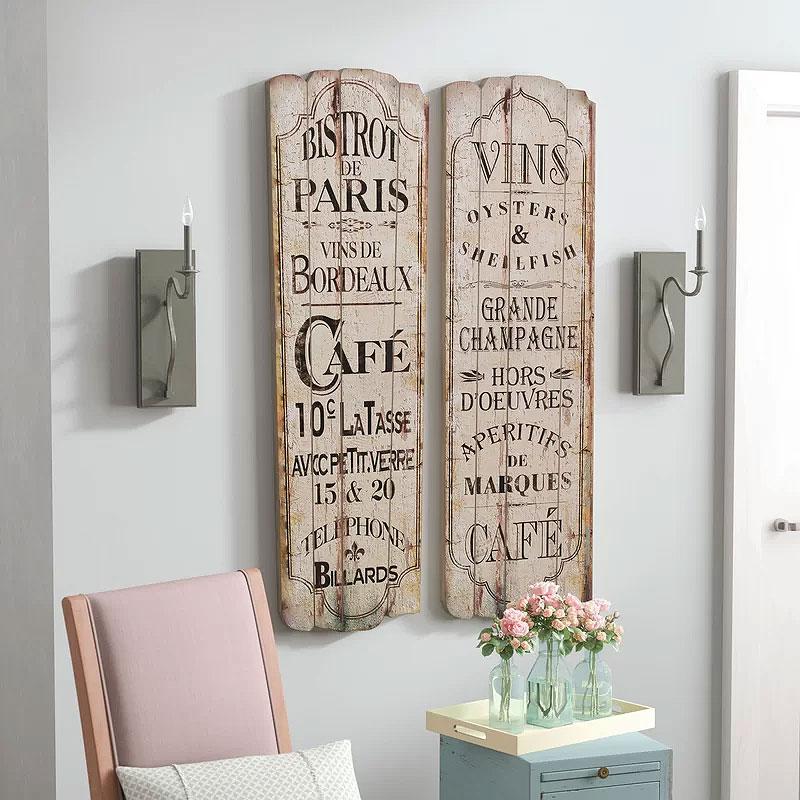 For those who appreciate their morning cup of coffee, and their evening glass of wine… this set is the perfect combination of both! Inspired by a trip to your favorite French countryside bistro, this two-piece textual art set lends Provencal charm to any wall in your well-appointed home.
---
Take Life One Coffee at a Time Kitchen Wall Clock
Both the shape and the words on this coffee-themed clock ring true to my coffee-loving life. This functional piece of coffee decor would be perfect in the kitchen!
---
Cup Size Matters by Tara Reed Coffee Cup Metal Wall Art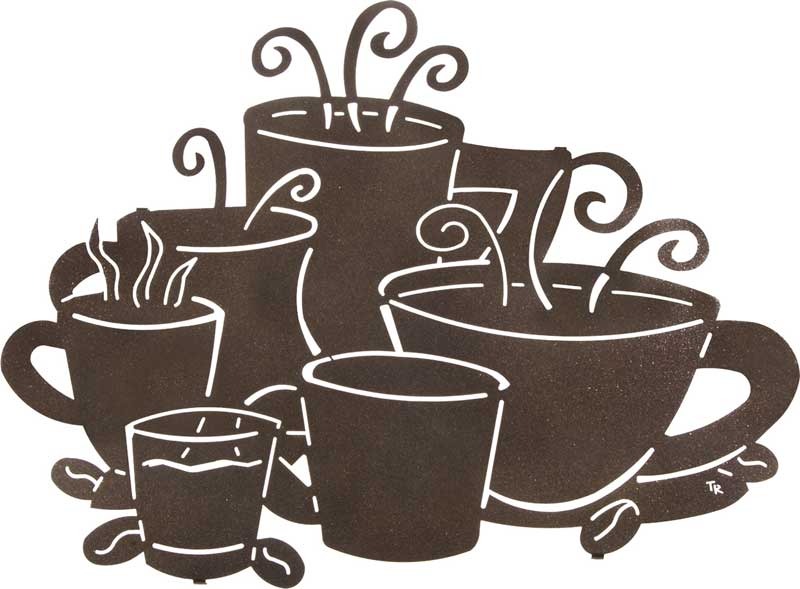 Metal Artist Tara Reed has created some truly delightful coffee decor pieces that would suit any style home.
---
Coffee To Go by Tara Reed Metal Wall Art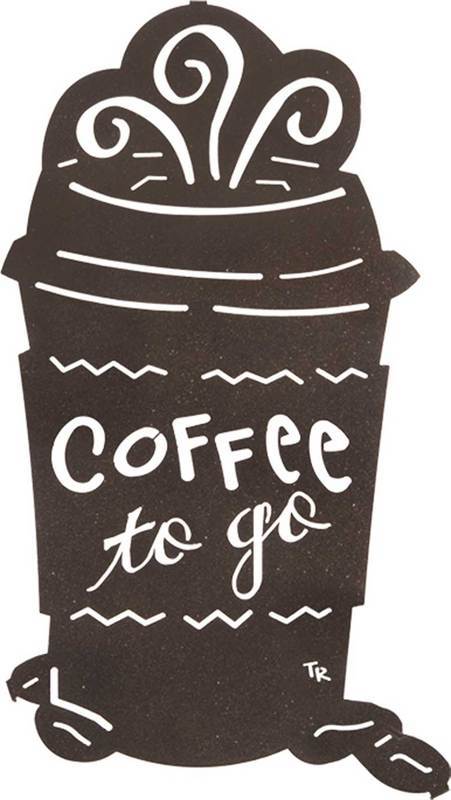 Tara Reed's pieces are simple, yet delightful. Perfect for yourself or as a fantastic gift.
---
Classic Retro Coffee Art Print Set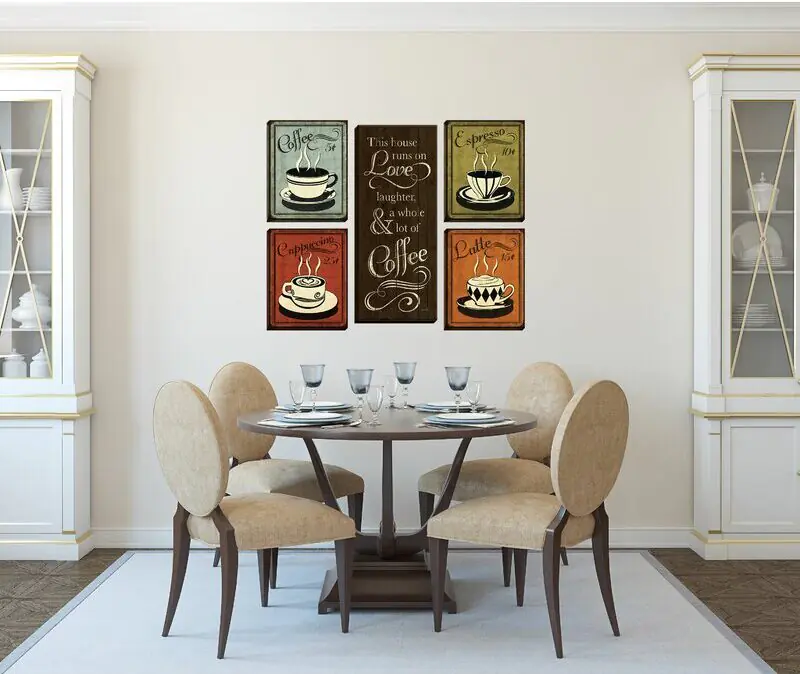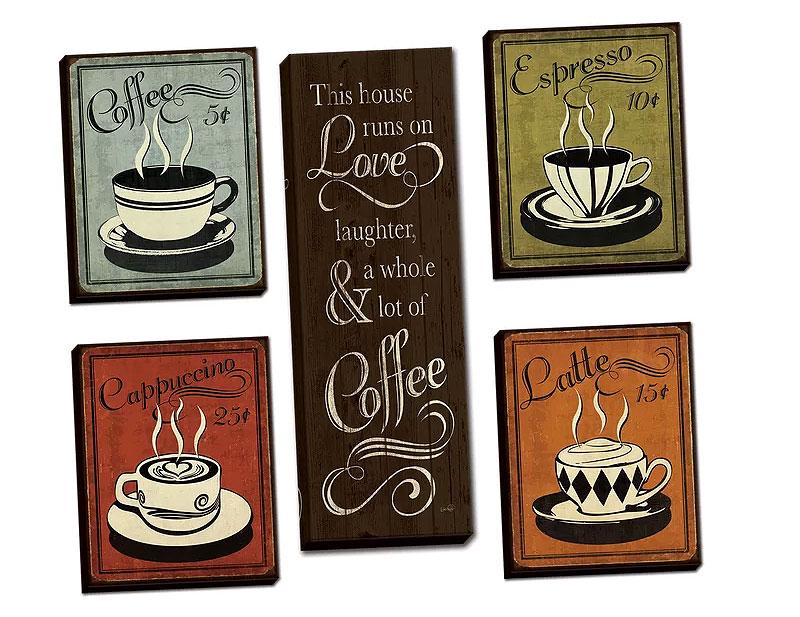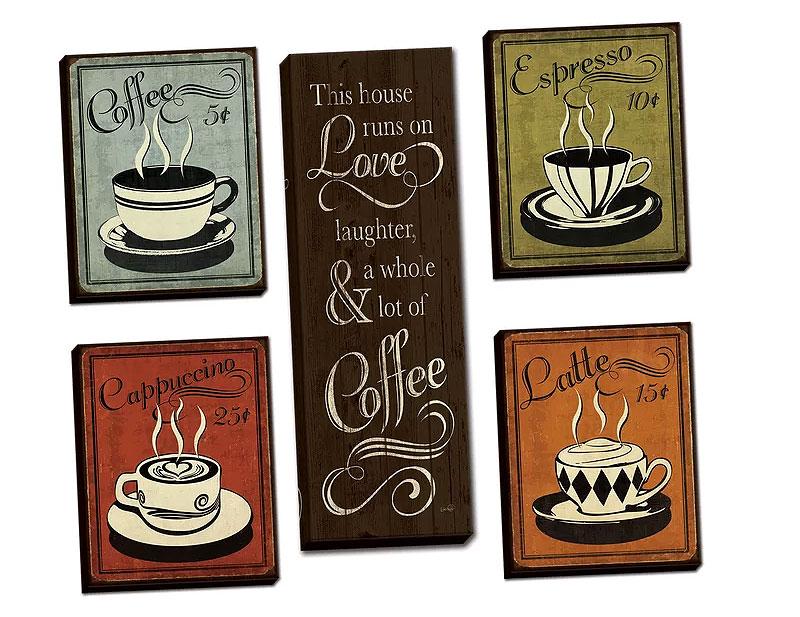 A 5-piece coffee-themed wall art set featuring an individual stretched canvas print for Coffee, Espresso, Cappuccino, and Latte as well as a central "This House Runs on Love Laughter and a Whole Lot of Coffee" art print.
---
Vintage Poster Style Coffee Art
These vintage posters make a perfect display over the breakfast table!
---
Coffee Analog Wall Clock
Another one of our favorite coffee clocks, this piece is simple yet effective in how it celebrates our love of coffee. You'll know when it's coffee time with an accurate quartz movement and durable material, it continues to last year after year.
---
The Urban Cafe Series by Silvia Vassileva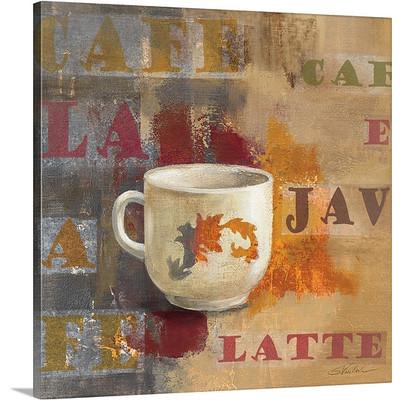 The Urban Cafe series by Silvia Vassileva is a wonderful celebration of coffee. Each piece is sold separately, so you can pick your favorite or purchase the entire set to create a complete display.
---
Double Doodle Coffee Company by Ryan Fowler Framed Graphic Art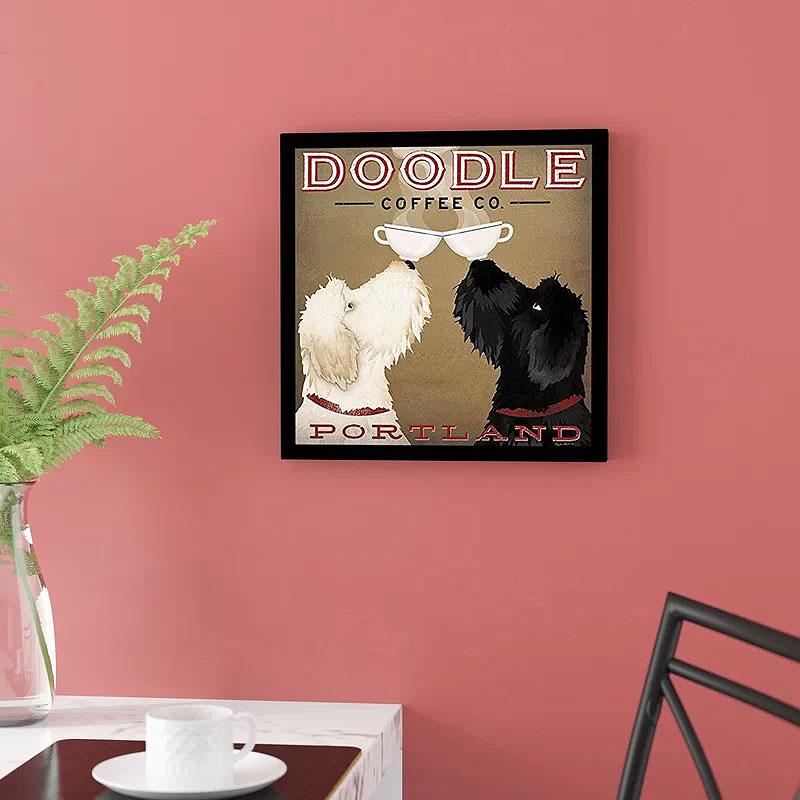 Inspired by our love of the Pacific Northwest (and they're love of a quality cup of Joe), this graphic coffee art print by Ryan Fowler depicts a pair of caffeine-loving canines balancing cups of steaming dark roast on their noses.
---
Fat Cat Coffee Co. Graphic Art Print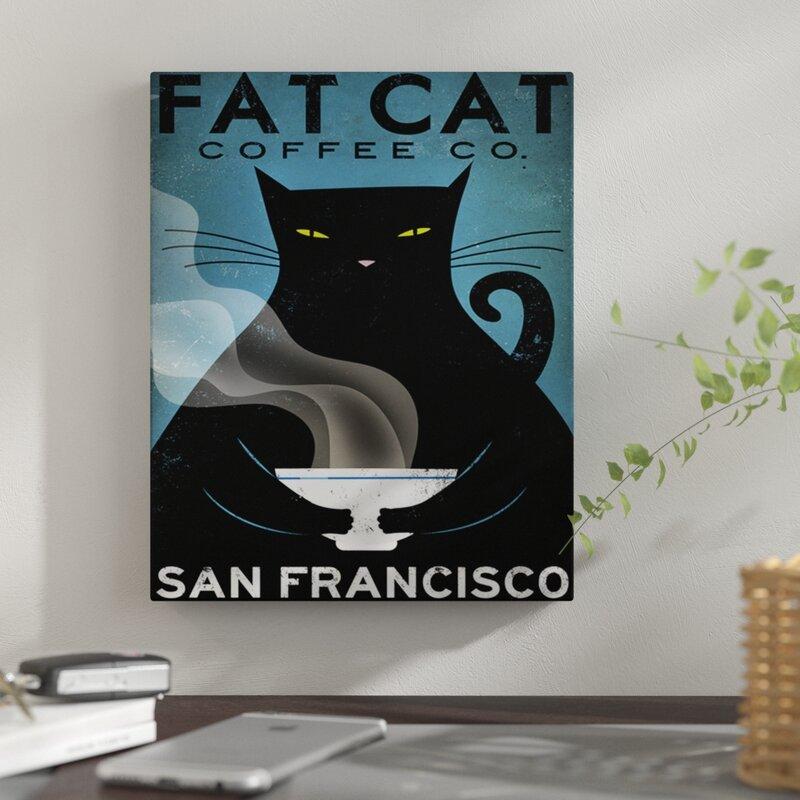 If you're more of a cat person, this stunning print design created by Wild Apple will provide just the right touch of feline-infused coffee art for your modern or urban home.
---
Grunge Style Coffee Concept Art
This piece absolutely screams "I LOVE COFFEE!" This would not be an appropriate gift for the tea lover in your life. You have to appreciate coffee to truly appreciate this coffee decor piece.
---
4-Panel Coffee Canvas Art Set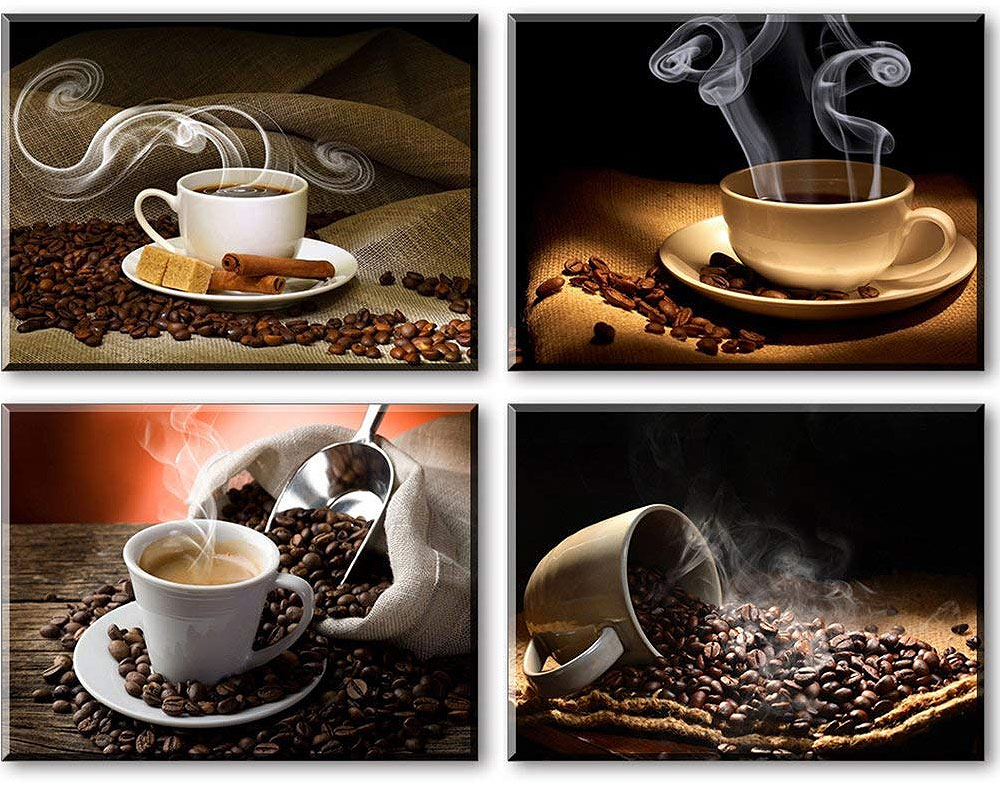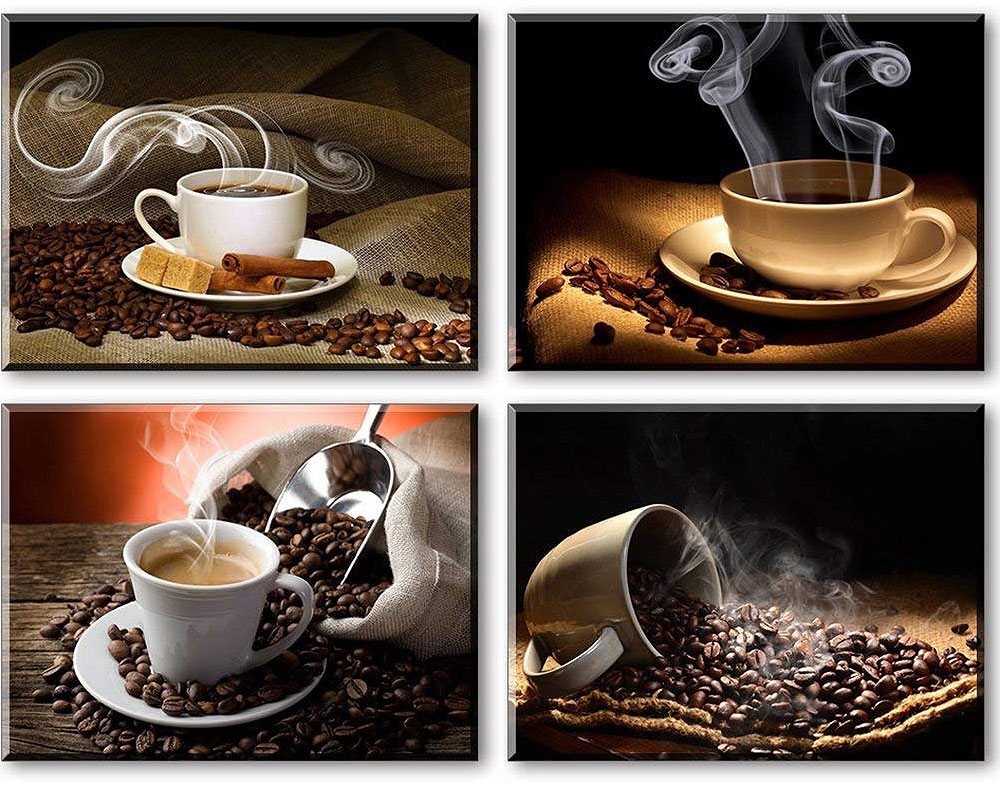 You can almost smell the fresh-brewed coffee coming off this 4 piece art set. It's so warm, rich, and inviting that it's hard to imagine anyone NOT wanting a delicious cup of coffee after seeing these art prints.
---
This Home Runs on Love Laughter & Lots of Coffee Decor Sign
As many houses do, my house runs on coffee. And this sign is the perfect reflection of that fact.
Whether you can't start your day without a caffeine fix or you're just going for a java-inspired aesthetic in the kitchen, you're sure to appreciate this four-piece plaque set. Showcasing four different types of coffee shop favorites like espresso and cappuccino, they offer coordinating neutral tones of brown and beige. Each delightful coffee decor plaque is crafted from wood and measures 12" square.
---
---
You don't have to drink the most expensive coffee in the world to prove that you are a true coffee lover. Whether you love fancy coffee or normal coffee, the important thing is that you love coffee.
Warm, Rich, Bold, or Sweet? How Do You Take Your Coffee Decor?