A properly designed and executed home office design aesthetic creates a better business environment for you, your business, and your future successes. Whether the office space you design is large or small, traditional or modern, it is important that it somewhat resembles an office.
Shop the Look: Traditional Office Design
Why Home Office Design Matters
Research has shown that an "empowered office environment" can increase employee productivity by 25 percent. Although these studies are often centered around how a larger company can boost employee productivity, those same rules would apply to boosting your own productivity within your own small business, whether you're creating it for yourself or establishing an efficient co-working space in your home.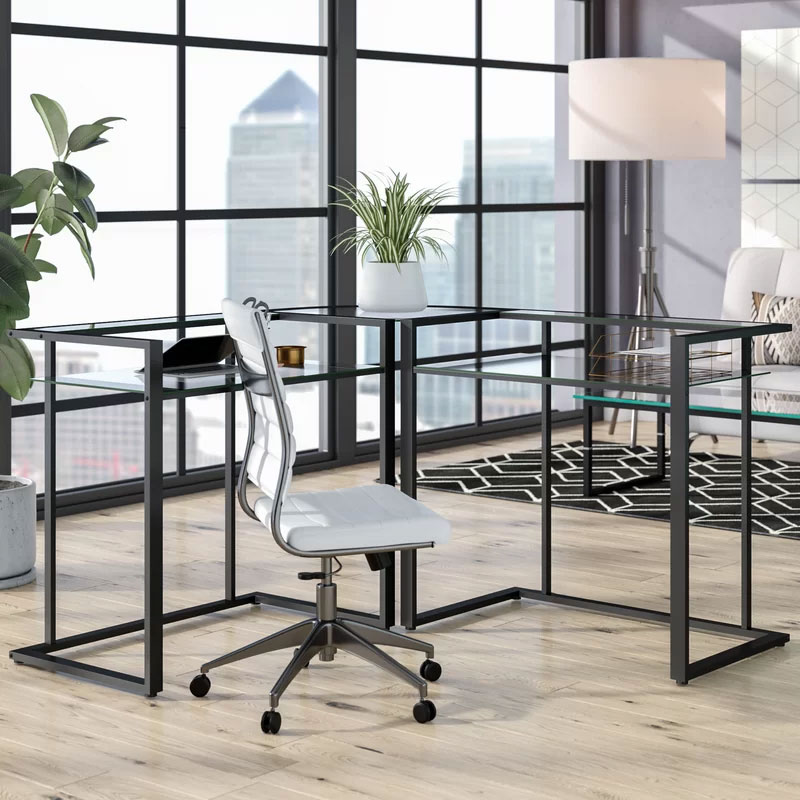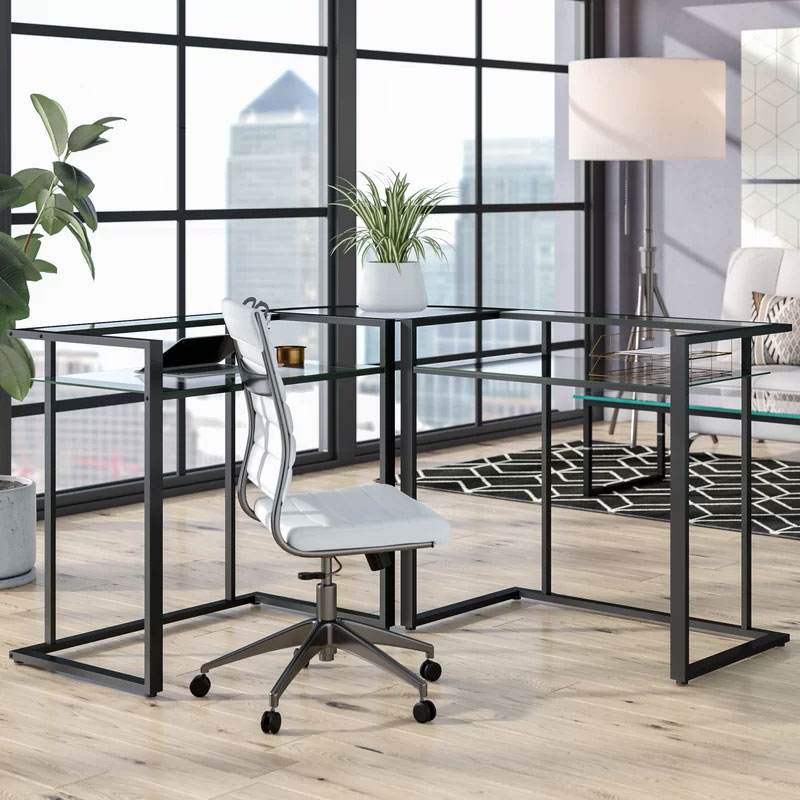 Shop the Look: Modern Office Design
There are plenty of cliches in the world when it comes to making a strong first impression in the business world. Dress for Success. Dress for the job you want, not the job you have. Etc. What people don't always realize is that these also apply to your home office design.
A comfortable and inviting space has proven to boost productivity. – Small Biz Trends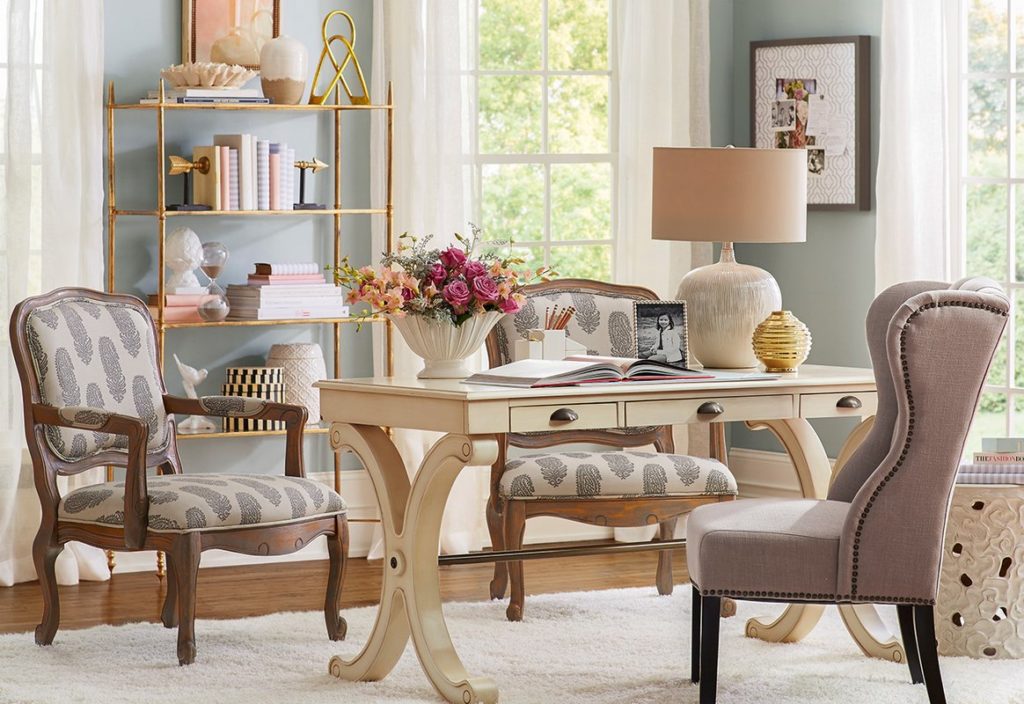 Shop the Look: Glam Home Office Design
By creating a professional looking space, you are giving your own mind the signal that you mean business – literally.
7 Home Office Design Tips to Increase Your Business Productivity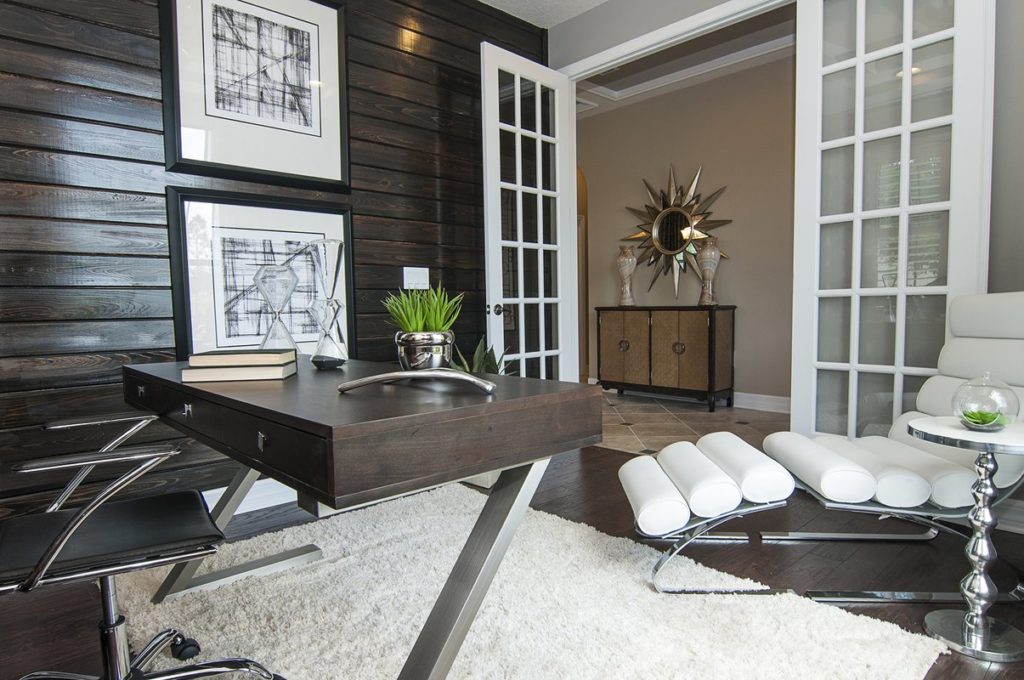 Shop the Look Modern Office Design
To aid in the overall design of your home office and in the overall success of your business, we have pulled together 7 of the best tips on how to create a professional, functional, and inviting home office space.
---

Carve out a dedicated home office space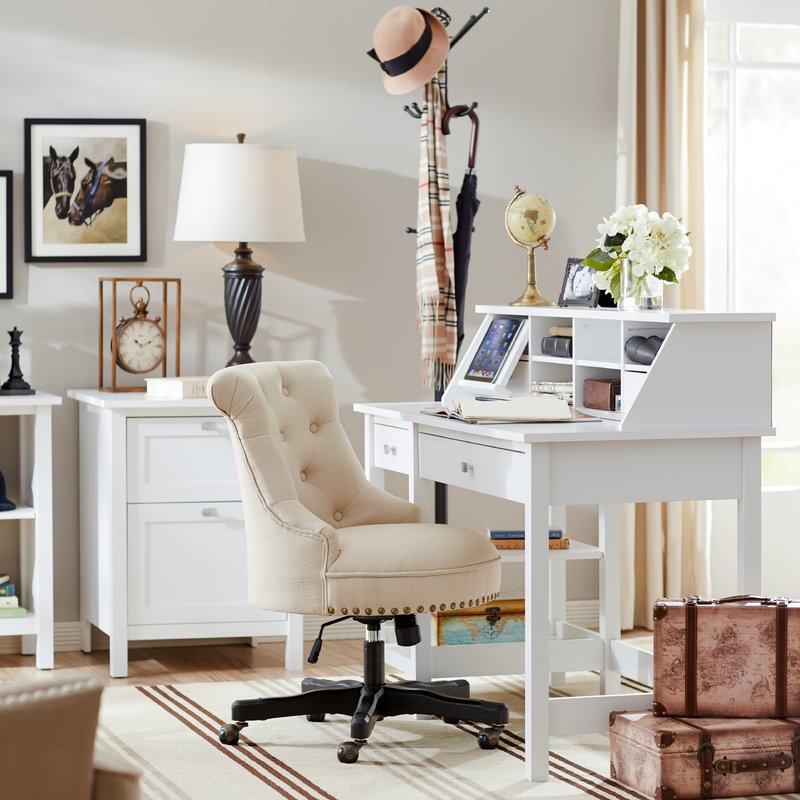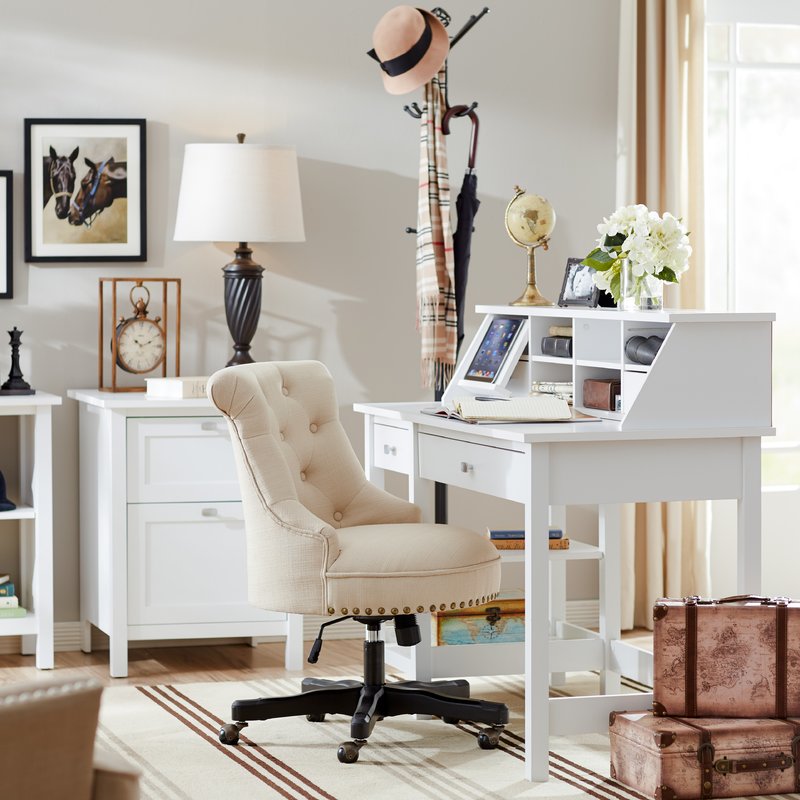 Shop the Look: Cottage Country Office Design
If you absolutely must, setting up your home office on your kitchen table is better than not setting one up at all. However, if you can, set aside a dedicated space that becomes your office. It doesn't have to be a separate room, just a space that is dedicated to performing business duties that can be designed and decorated appropriately.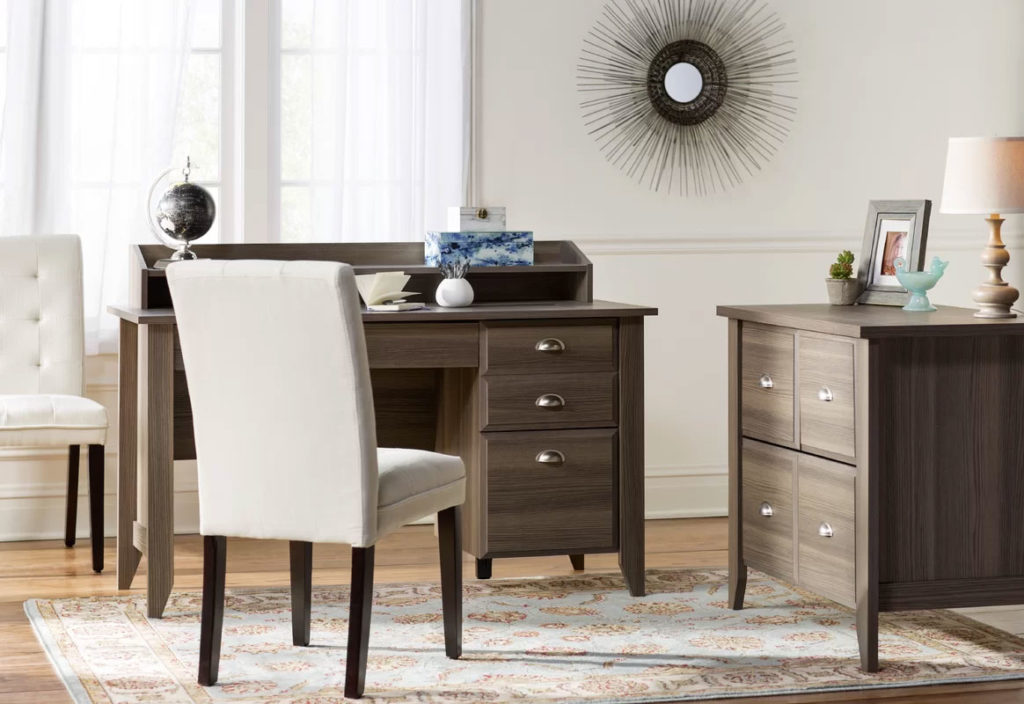 Shop the Look: Streamlined Traditional Home Office Design
Having a dedicated space legitimizes your home business, not just to friends and family, but to yourself.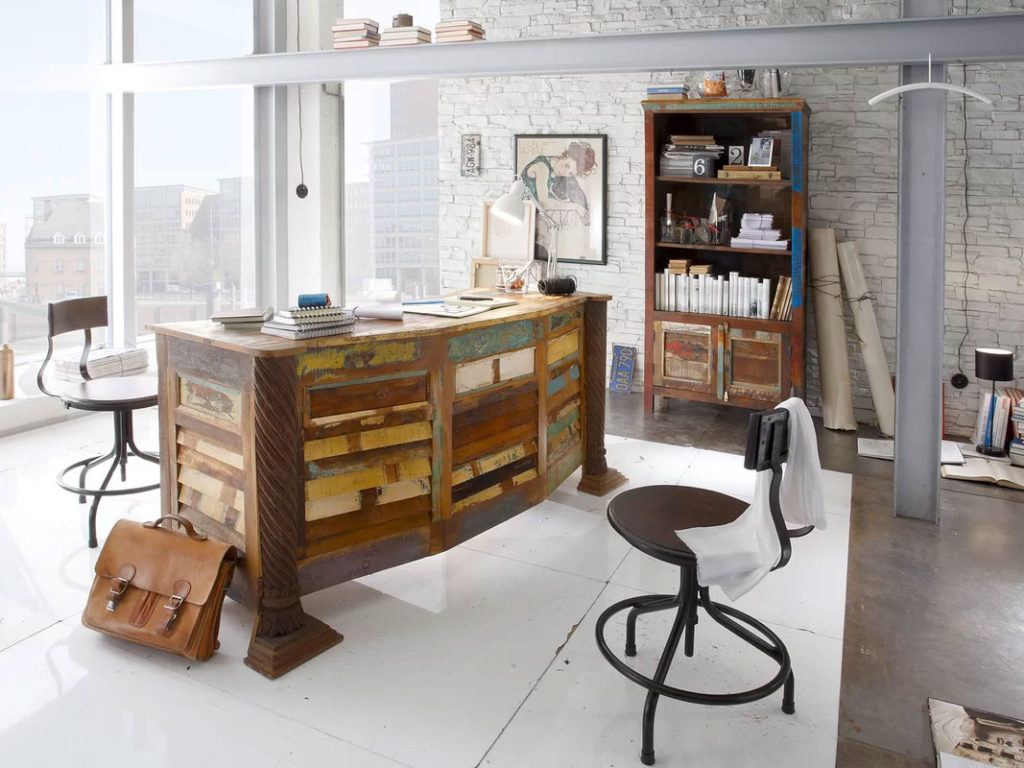 Shop the Look: Industrial Reclaimed Wood Home Office Design
---

Make it professional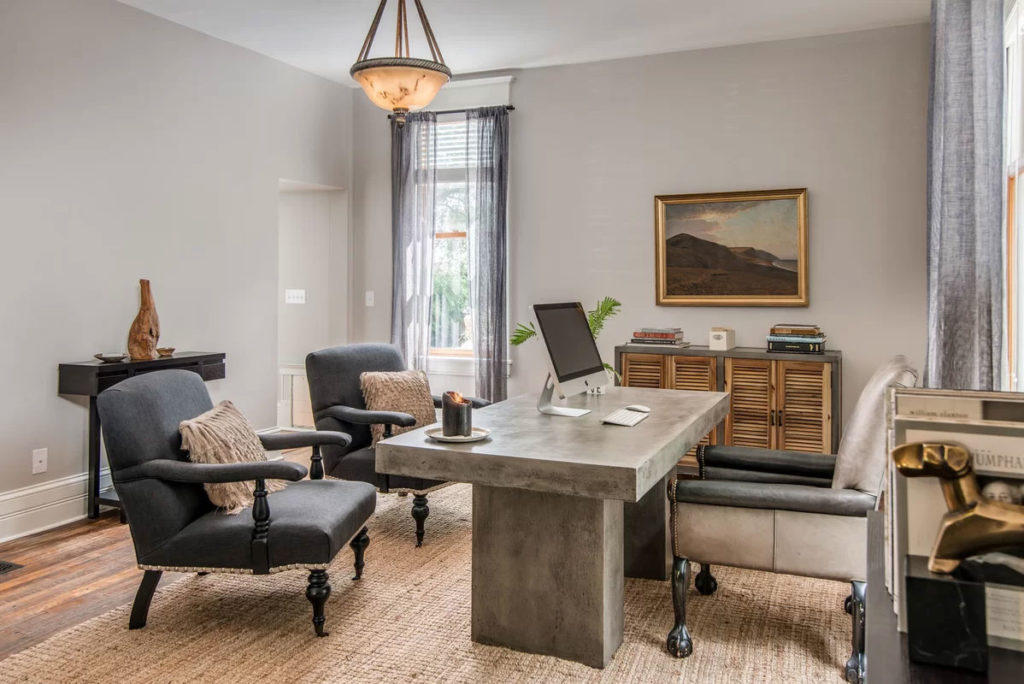 Shop the Look: Eclectic Office Design
You want your home office to reflect the business you are trying to build. Think about the difference between the amount of interior work and landscaping you would be willing to put into a house you rent versus a house you own.
If you're home office is made of hand-me-down items and make-do furniture, it sends a signal to the world – and to your own self – that you're not expecting your business to last.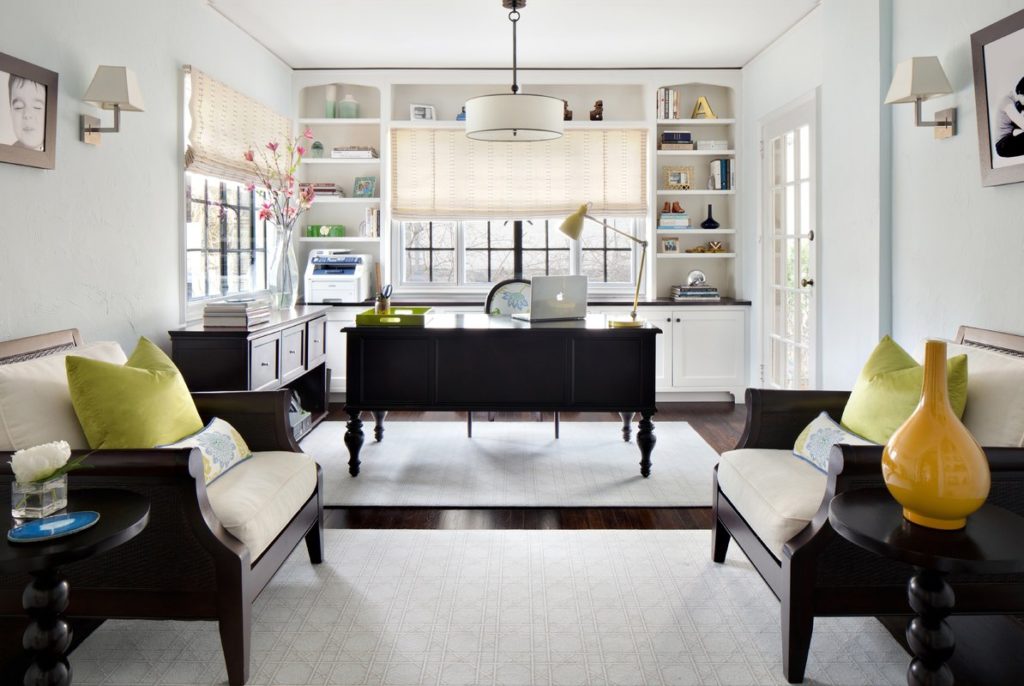 Shop the Look: Traditional Home Office Design
Making it look professional shows your intentions that you're in it for the long haul.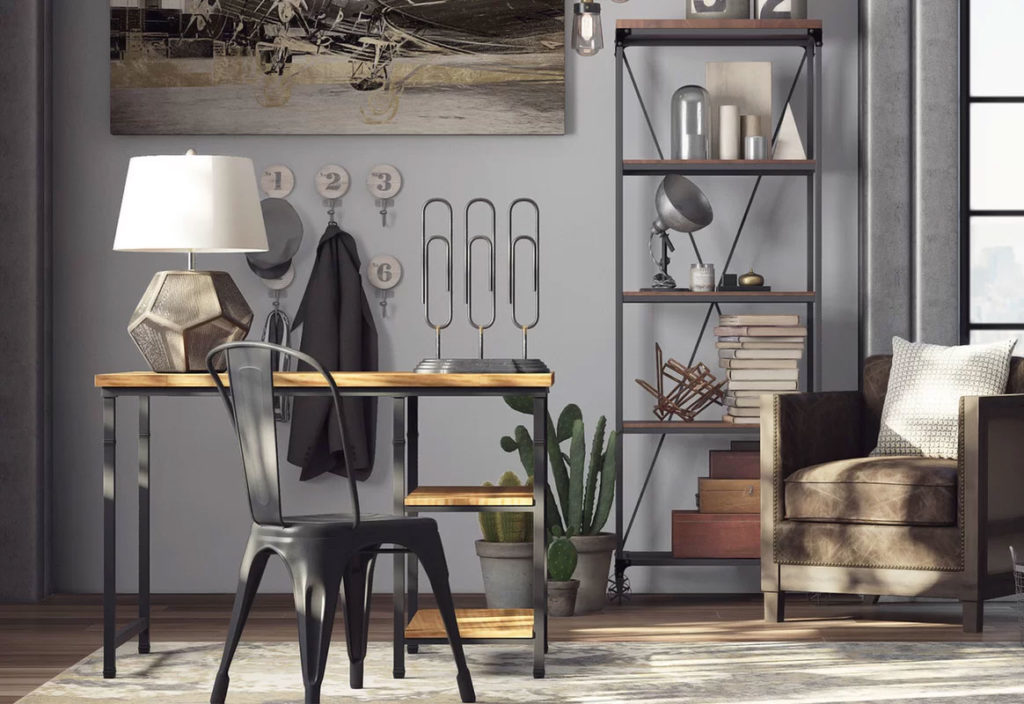 Shop the Look: Minimalist Industrial Home Office Design
Keep in mind that "professional" can differ based on the profession. A contractor's home office may look different than a lawyer's home office which may look different than an interior designer's home office. You can still infuse your personal design style into the office, in a professional way.
---

Paint it a purposeful color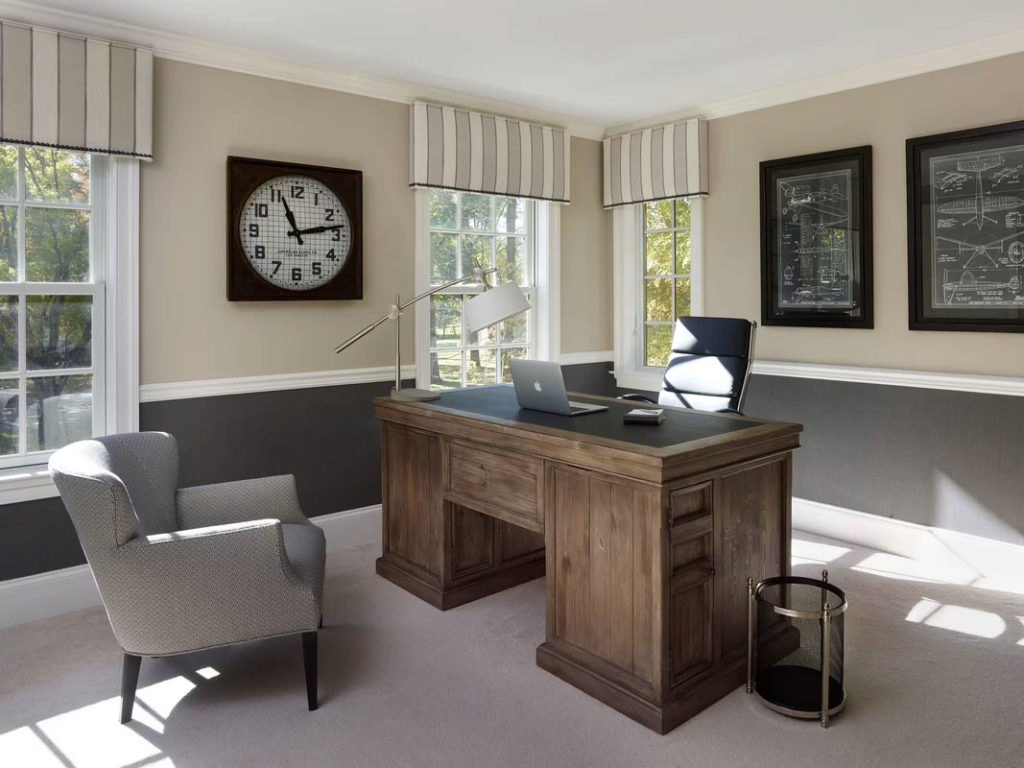 Shop the Look: Napa Chic Cottage Country Office Design
The color of your home office space can affect your mood and your business outlook in subtle but important ways. Certain colors encourage calm and peace, while others bring out energy and enthusiasm. No matter which direction you lean, the right color (or the wrong color) can influence your productivity.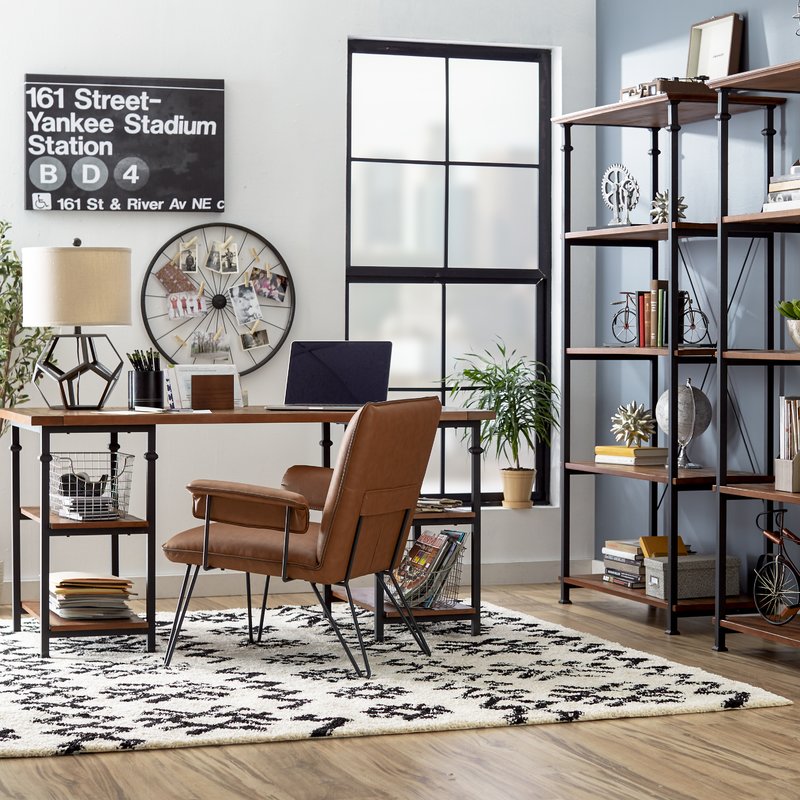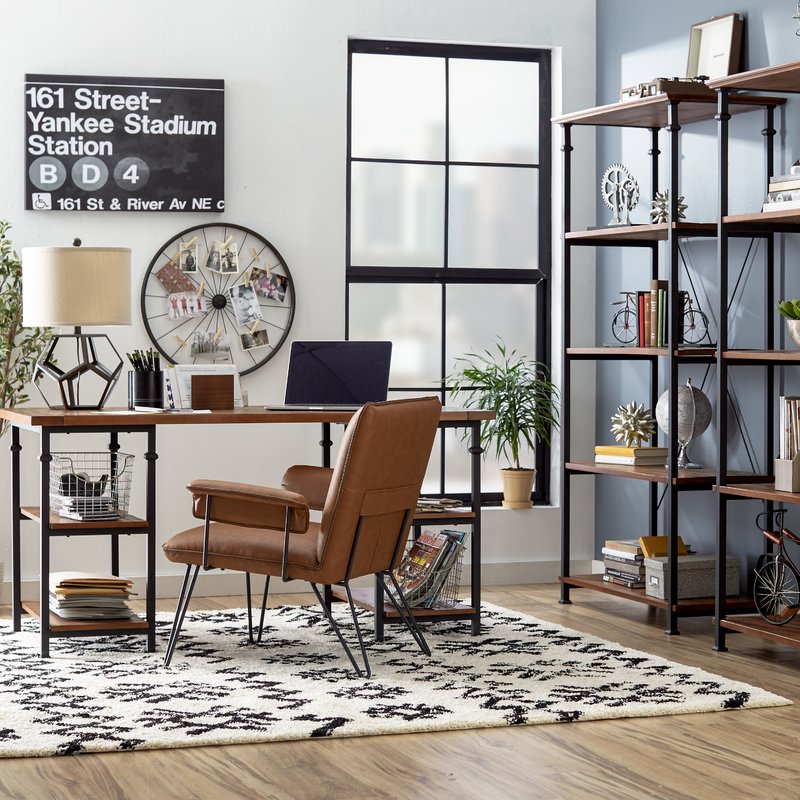 Shop the Look: Industrial Home Office Decor
Target colors with the right color psychology to set the mood for your business. For example, here are some tips from Small Biz Trends on picking the right colors for your office space.
Blue Home Office Design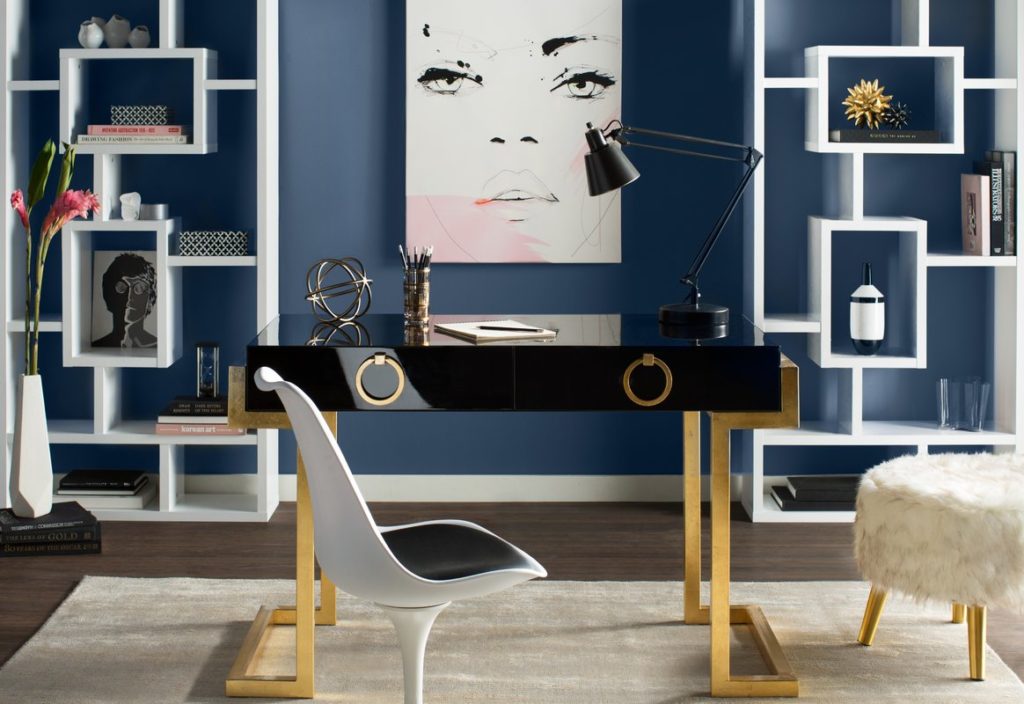 Shop the Look: Blue & White Office Design
Shades of blue tend to bring out calm, clear thought and promote a sense of peace and focus.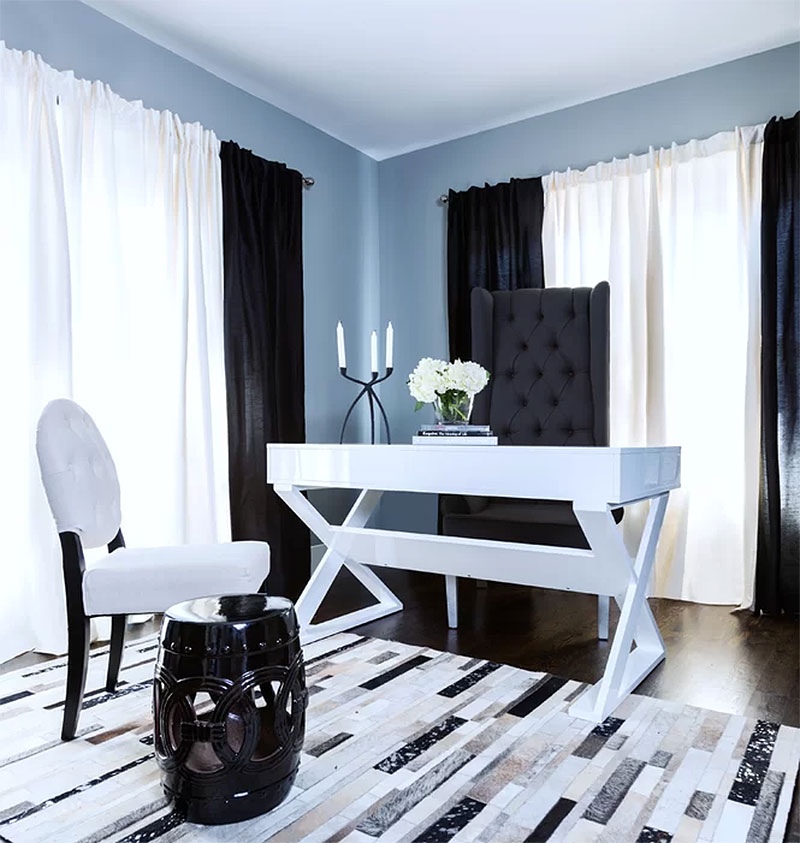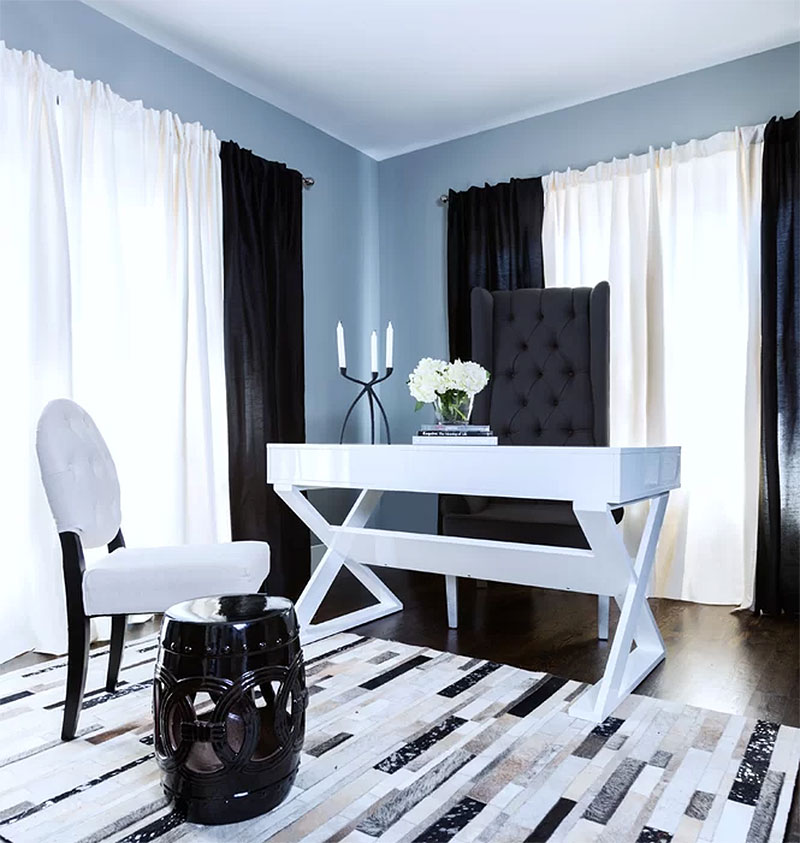 Shop the Look: Modern Blue, Black, and White Office Design
Red Home Office Design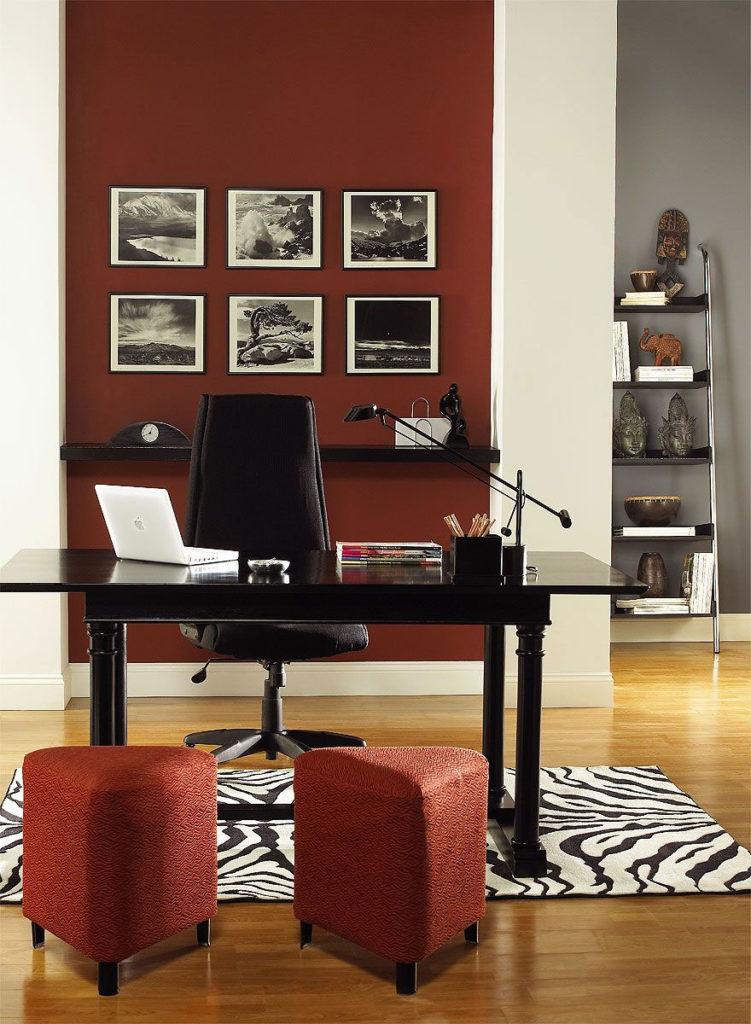 Source: Benjamin Moore
Decorating in reds will tend to increase your employees' heart rate and give a sense that time is passing faster than it really is.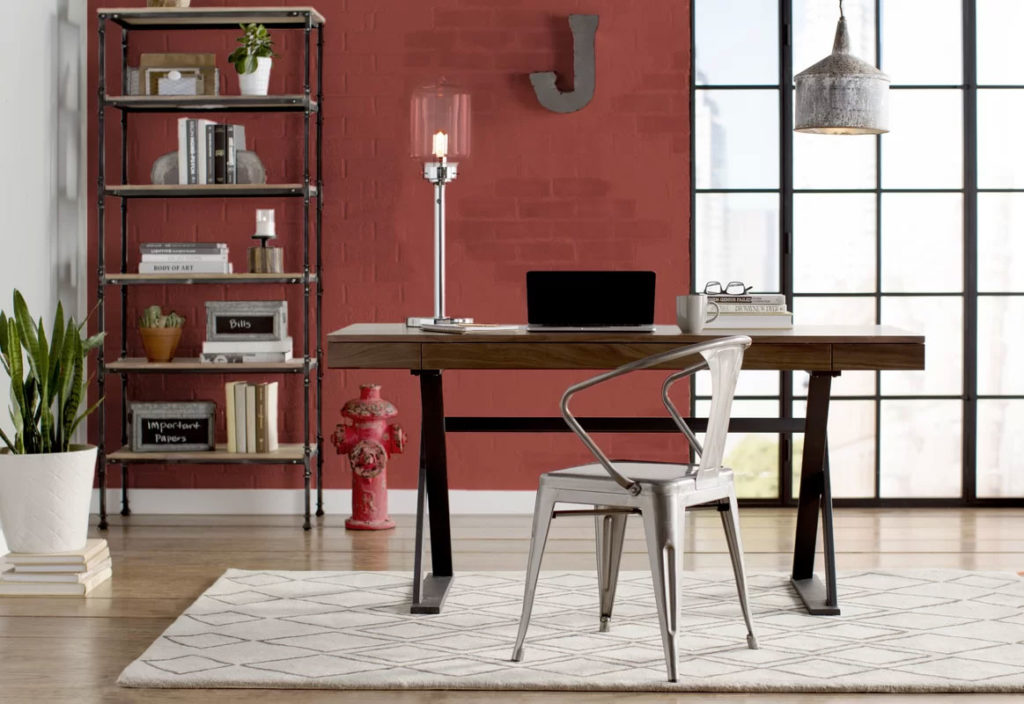 Shop the Look: Red Industrial Office Design
Green Home Office Design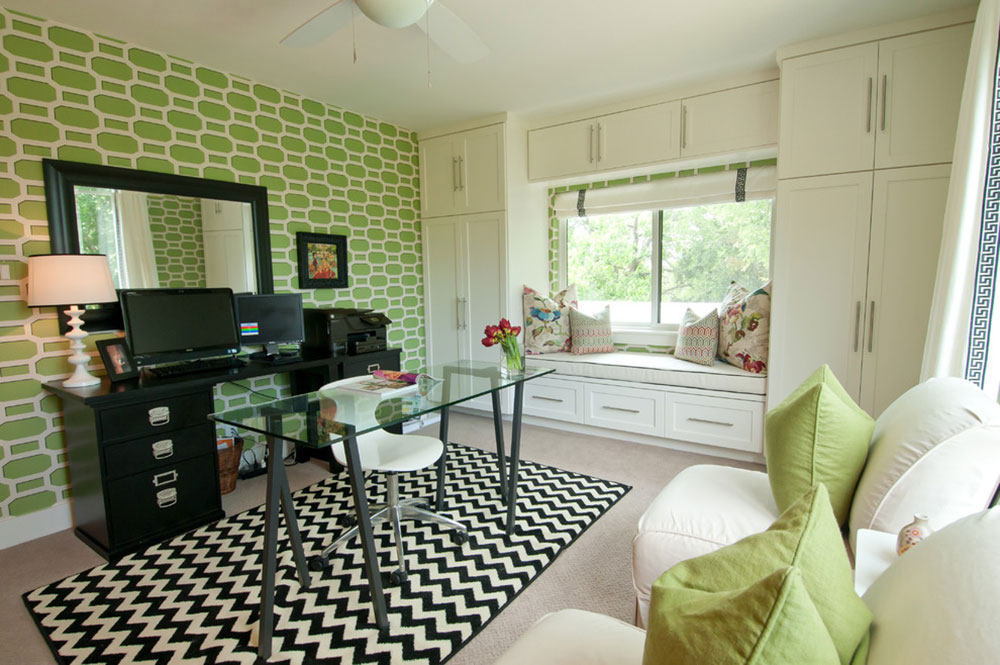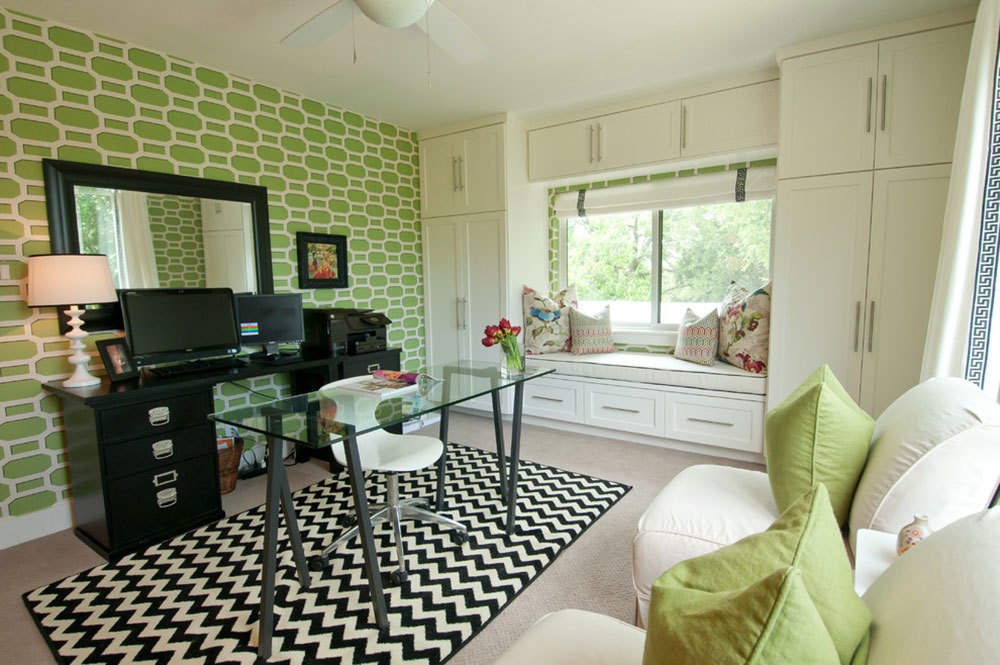 Source: Impressive Interior Design
Most people react to greens by feeling calm and soothed.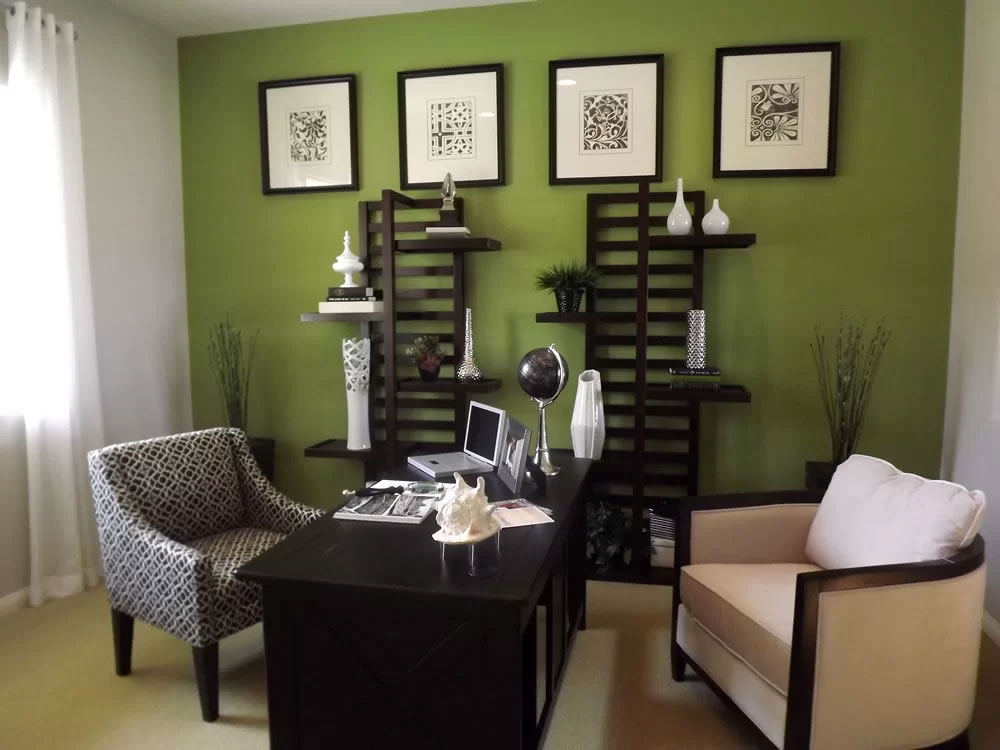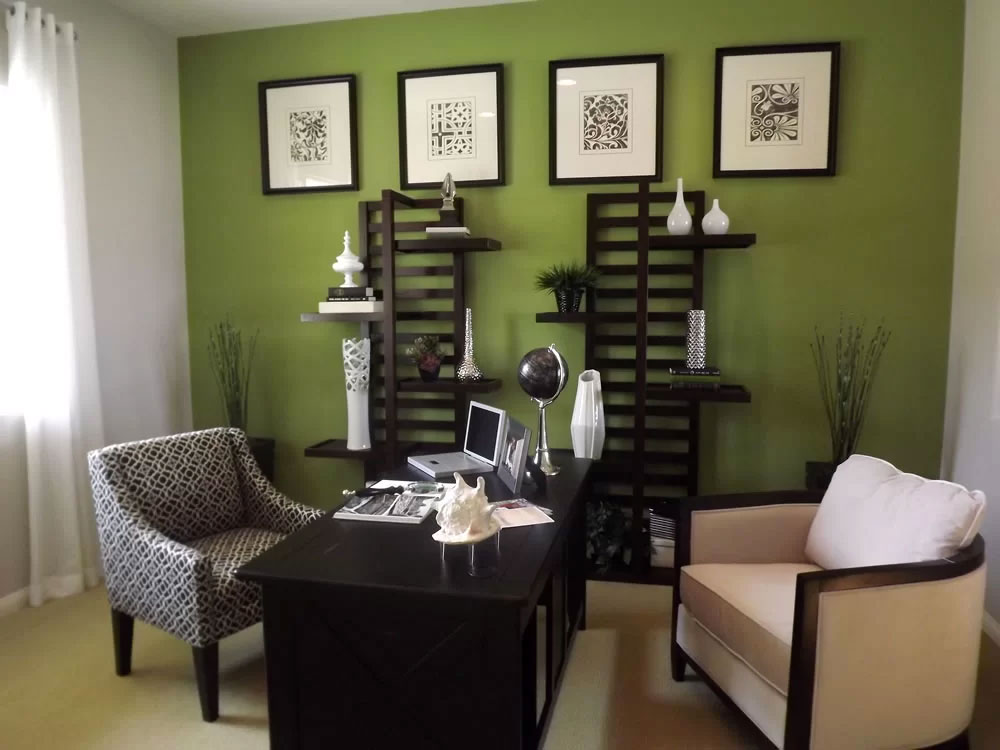 Shop the Look: Green Office Design
Yellow Home Office Design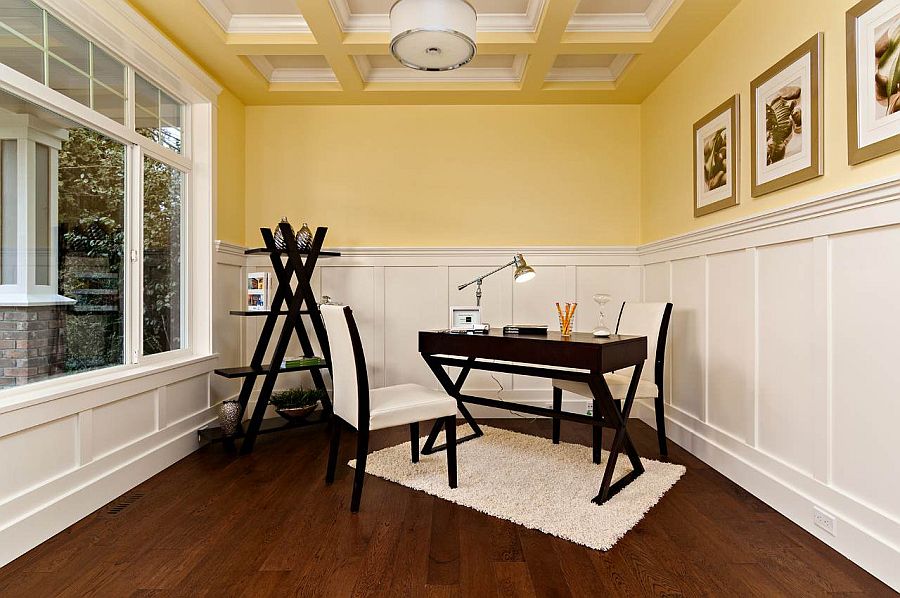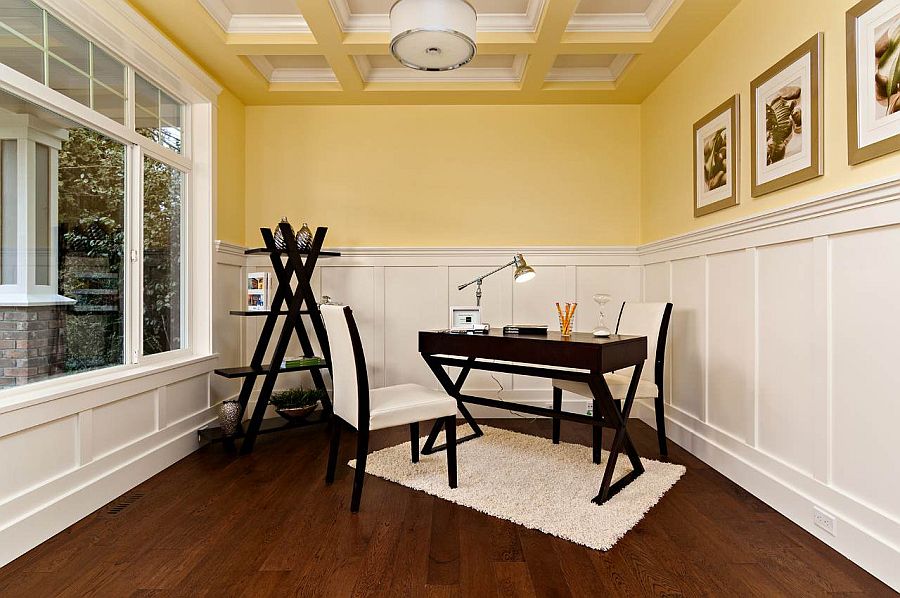 Source: Decoist
Yellow can be a good choice for creative fields, where you need to be consistently generating new ideas.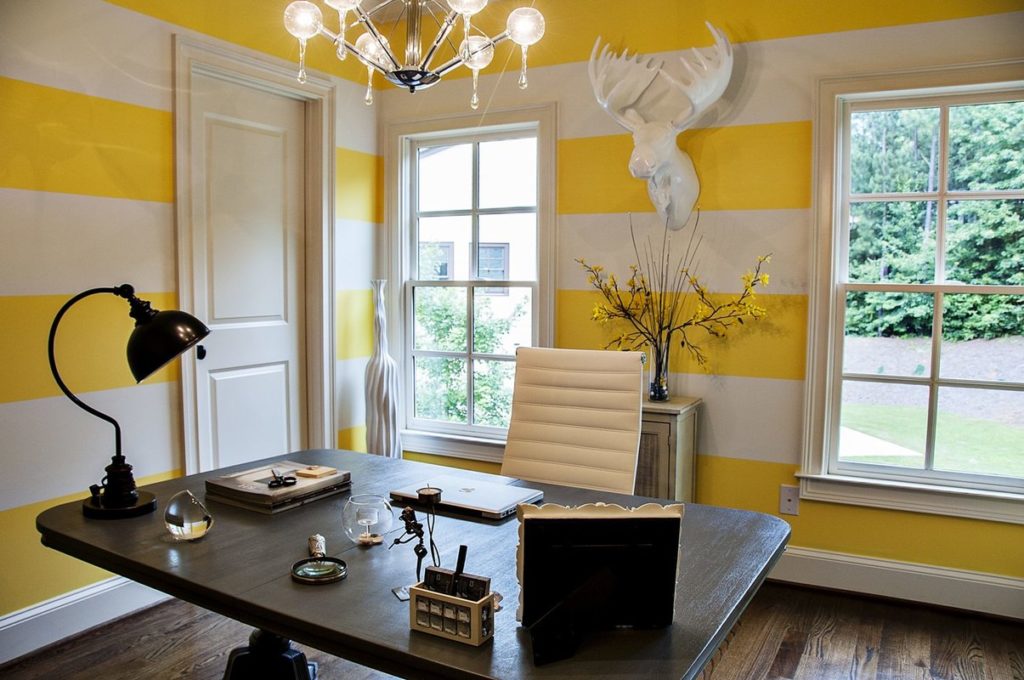 Shop the Look: Modern Yellow Office Design
Brown Home Office Design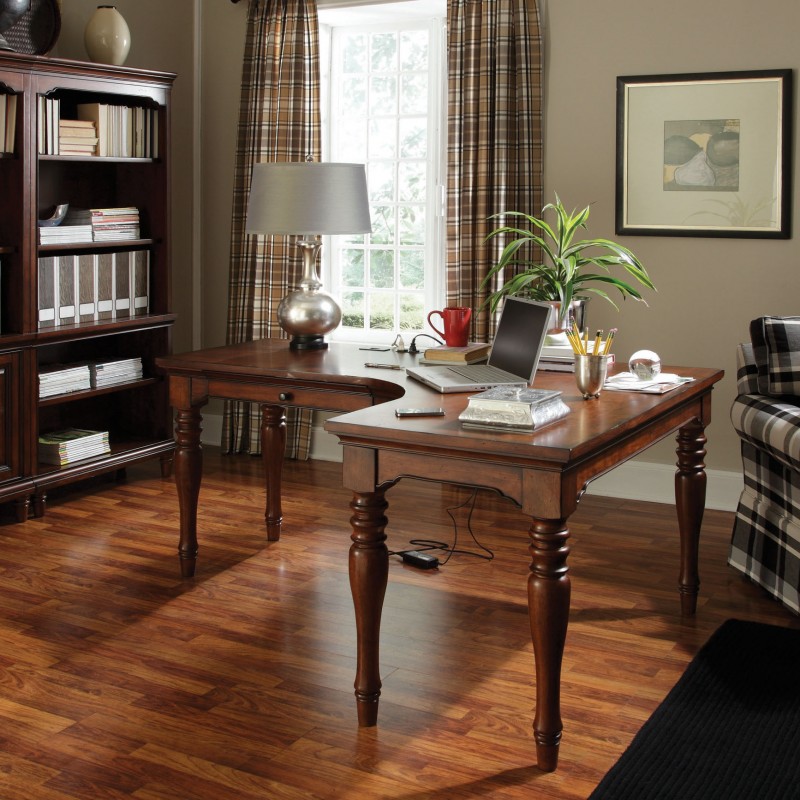 Image: Aspenhome Villager E2 Curve L Desk with Hutch
Brown is a natural color that evokes a sense of strength and reliability.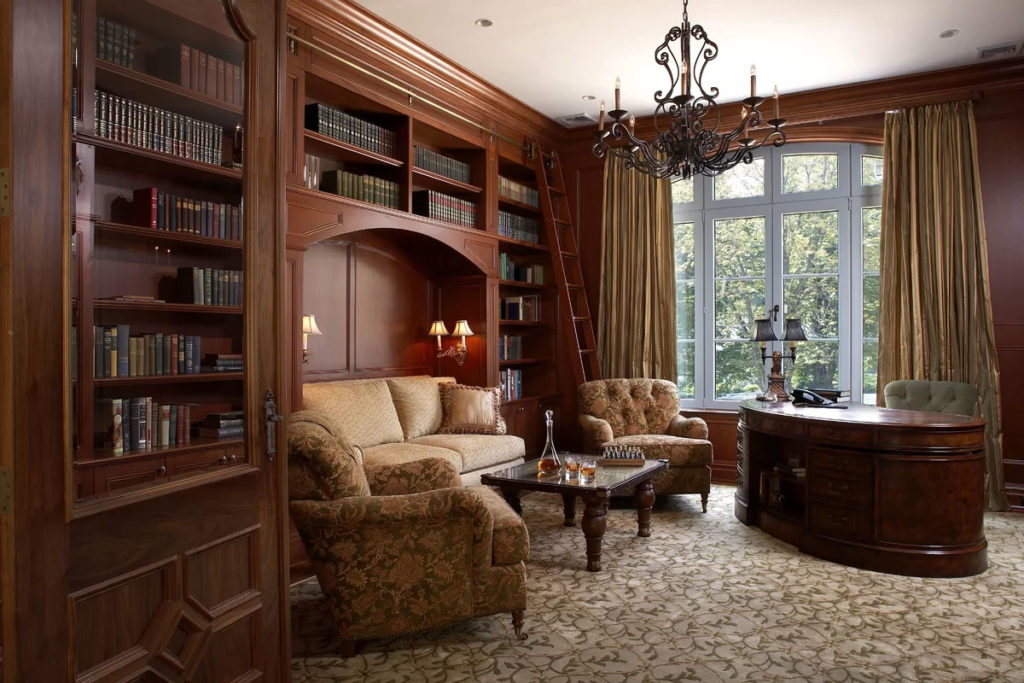 Shop the Look: Brown Home Office Design
Purple Home Office Design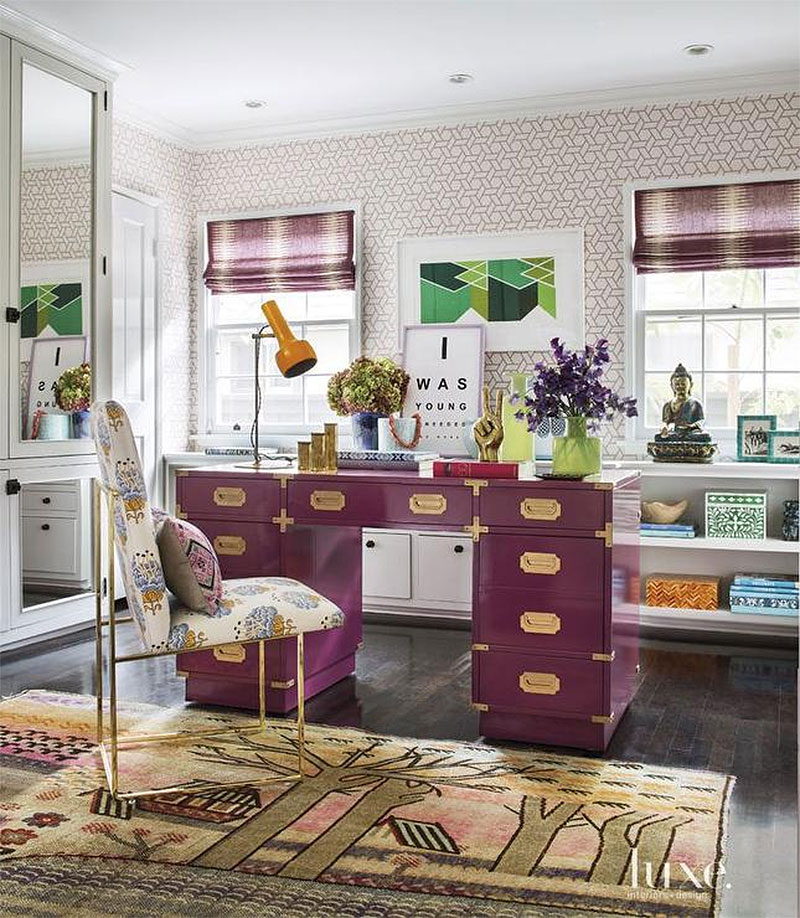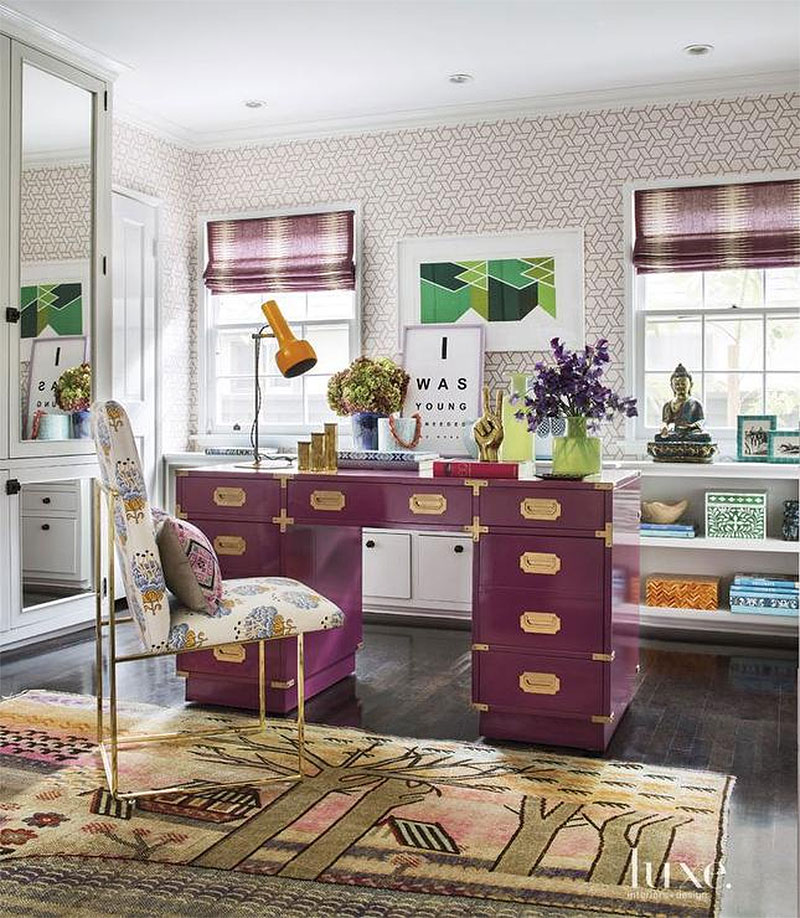 Source: DecorPad
In its darker version, such as eggplant, Purple is a rich, dramatic, and sophisticated color that is associated with luxury and creativity.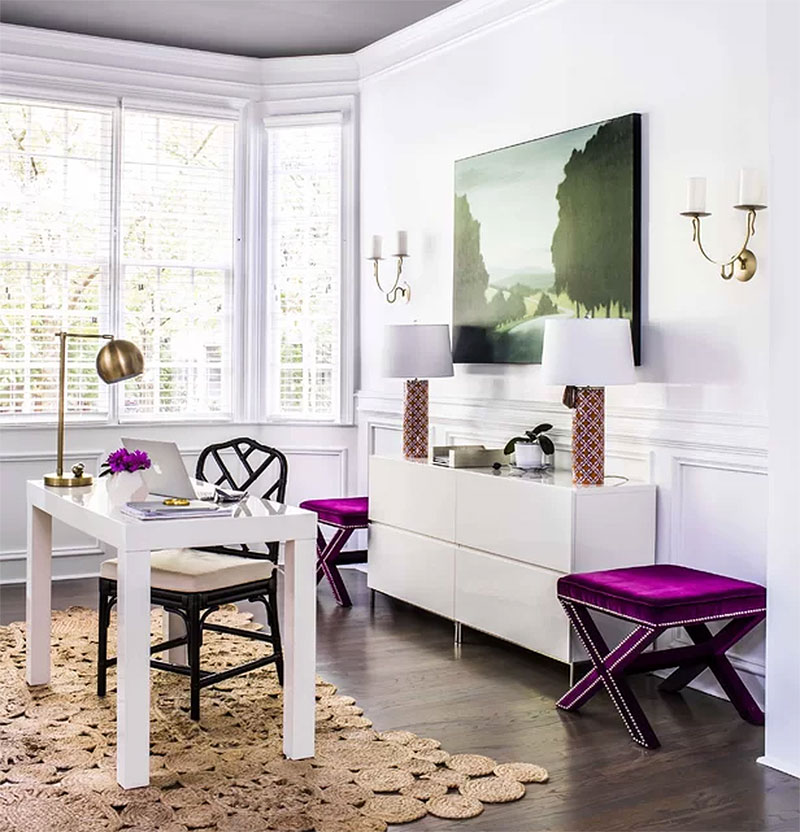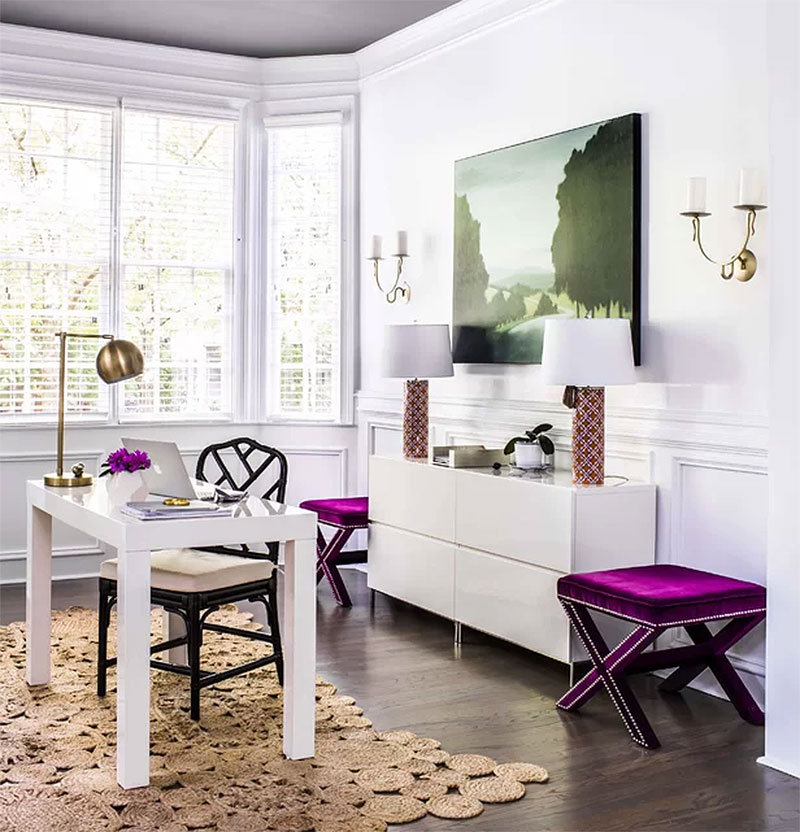 Shop the Look: Purple and White Home Office Design
Keep in mind that you don't have to go overboard on any one of these colors. Subtle additions of the right color can make a big difference.
---

Decorate it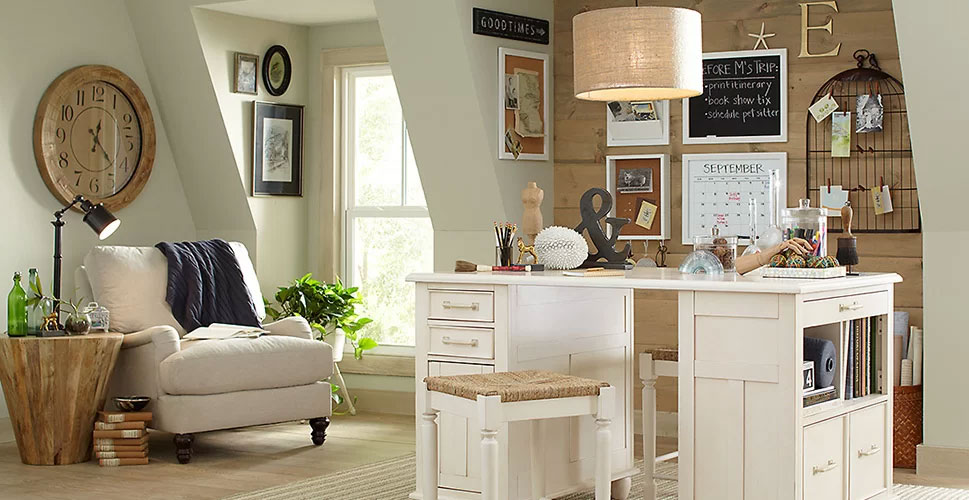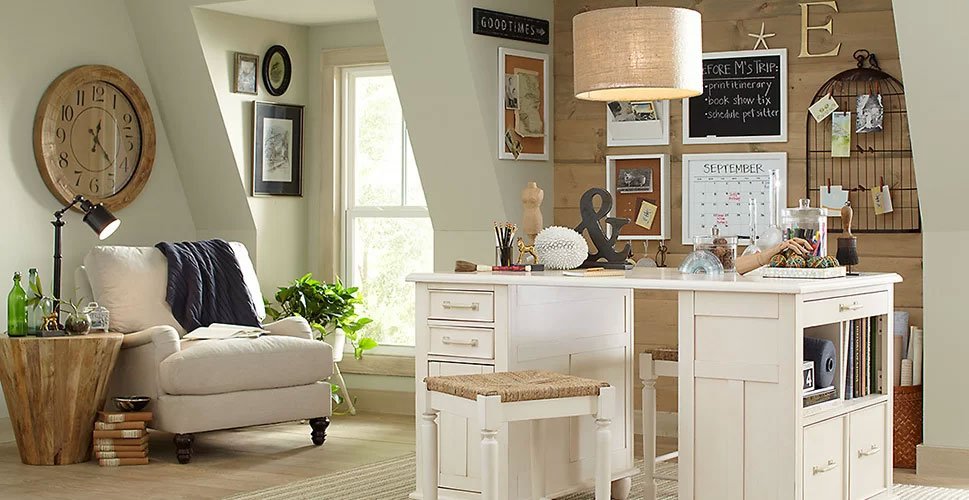 Shop the Look: Country Cottage Office Design
Even if you have a nice office desk and a nice office chair, and cold and impersonal space will not inspire your ambitions nor your creatively. You don't have to go crazy with photos and knick-knacks, but you do need to add some personal touches to the space.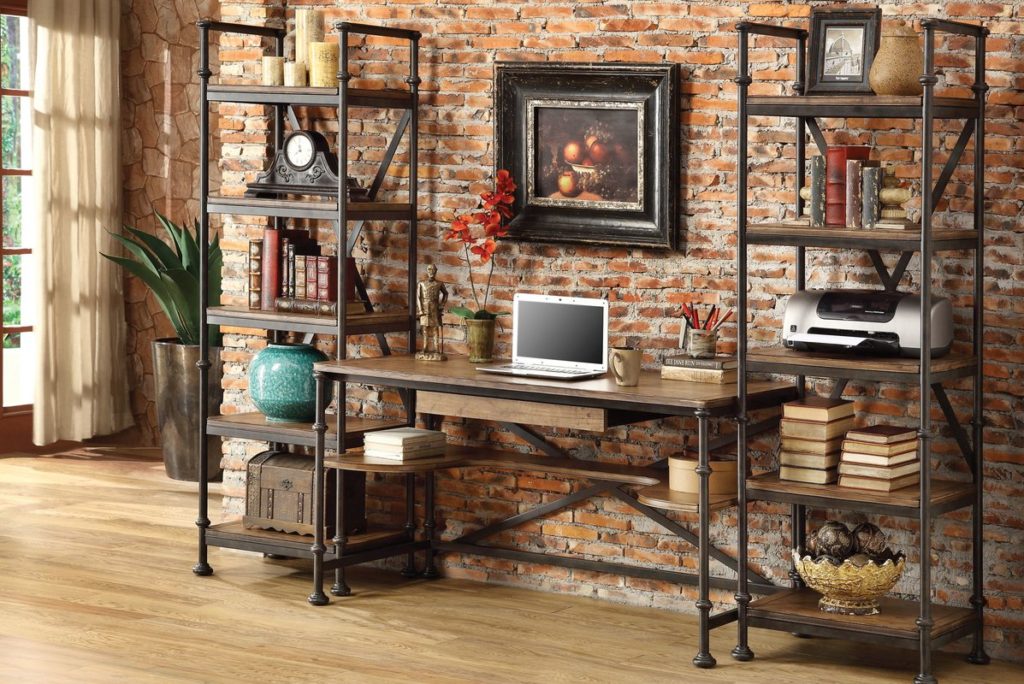 Shop the Look: Industrial Home Office Design
You can choose from motivational quote posters, impactful wall art, functional wall clocks, and so much more. The options for how you decorate are as varied as the types of home-based businesses that thrive in modern America. The trick is to create a space that you will want to work in.
---

Keep it organized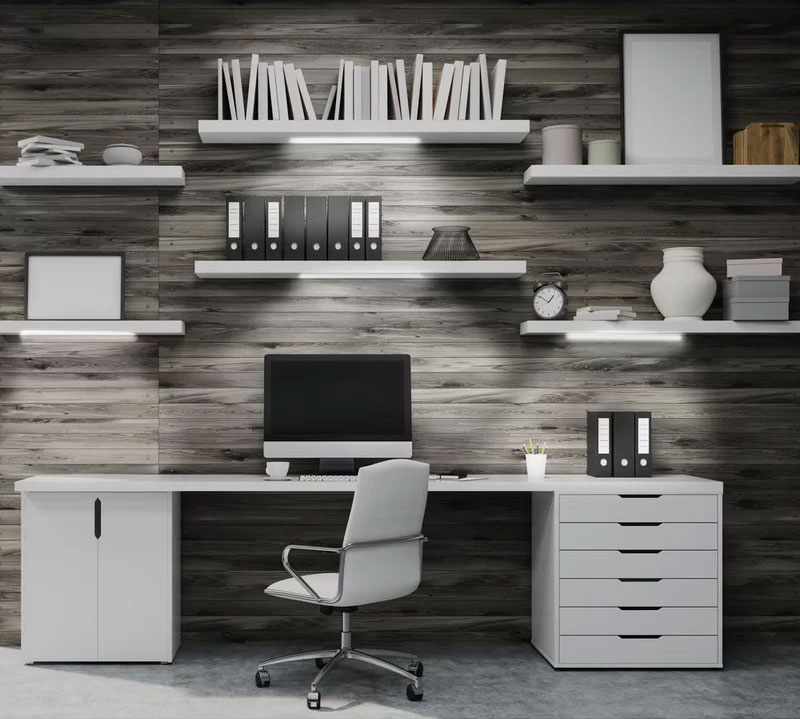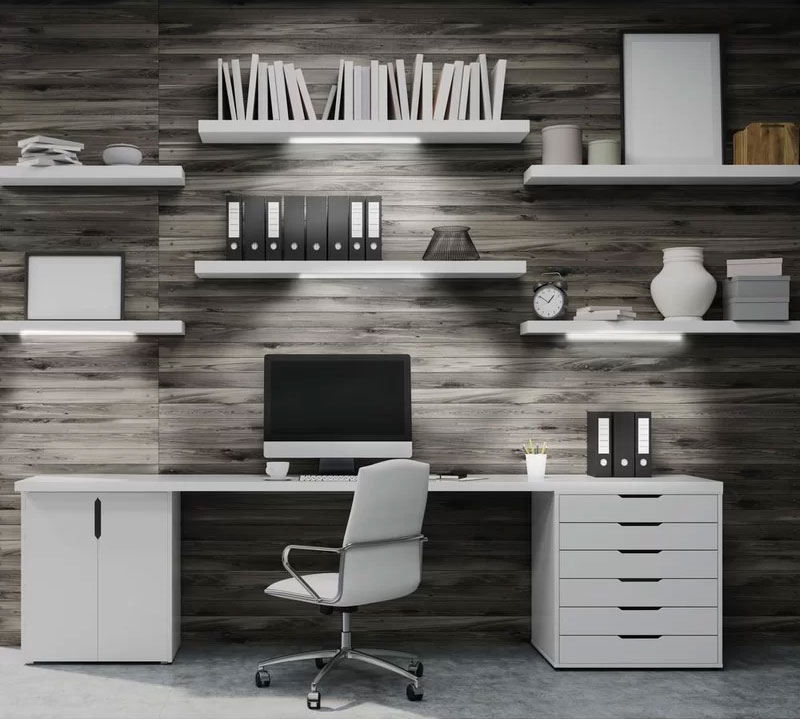 Image: Shop the Look: Organized Home Office
I know that running a business can be hectic. Been there. Done that. Still Doing It. But that's no excuse to let the paperwork, reminders, mail, notes and to-do lists take over your office.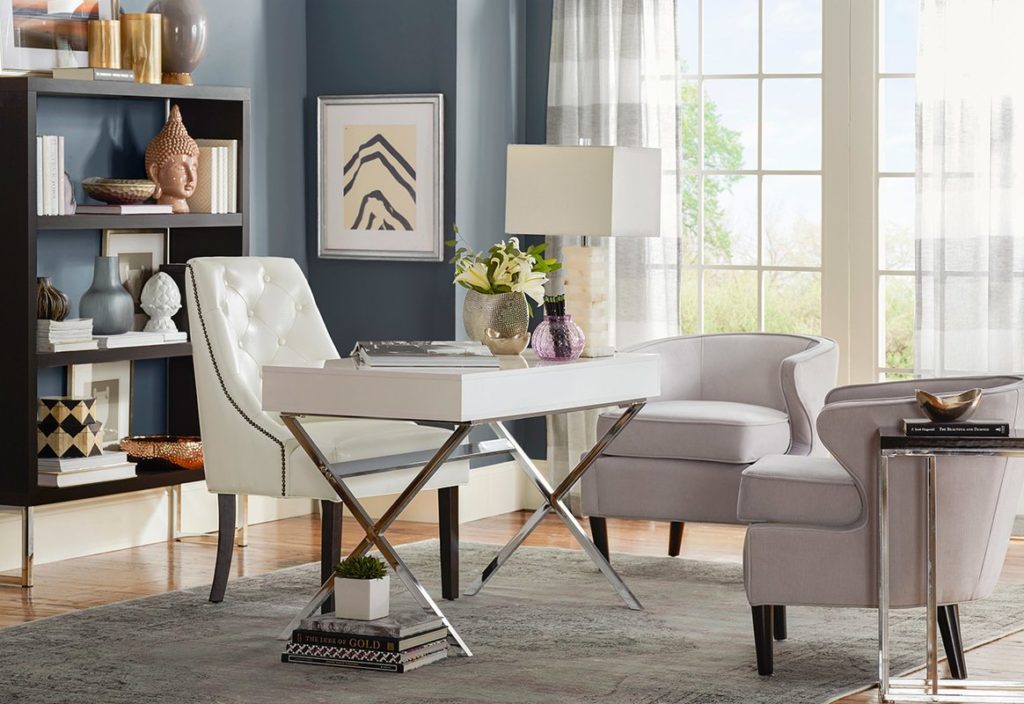 Shop the Look: Sleek Modern Home Office Design
Create a habit of organizing your space. Perhaps it's a daily filing routine. Perhaps it's a weekly cleanup. Whichever works best for you and your home office. Of course, you'll need the right tools to organize and file what you need to keep and shred what you don't.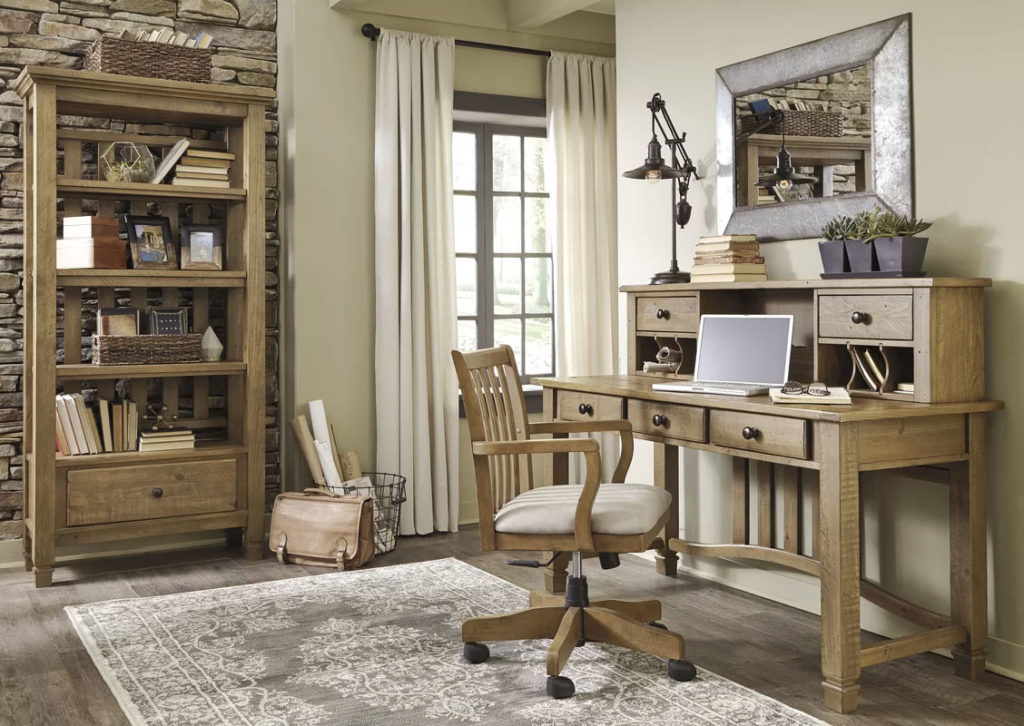 Shop the Look: Rustic Country Home Office Design
SIDE NOTE ON SECURITY: Don't just throw away or recycle sensitive, confidential, or proprietary information… shred the CRAP out of that stuff first.
You never know who might find what in your recycling that could cost you. There are two quotes that I feel are most appropriate that reflect this fact.
One man's trash is another man's treasure.
Unfortunately, in today's day and age or identity theft, that rings truer than ever before.
Just because you're paranoid, doesn't mean they're not after you.
You may think you're being over protective. You May think that nobody would even bother trying to steal stuff from you.
I thought the same, until I got the call from The Tax Man asking me to confirm information on a tax return I HAD NOT FILED. Since that day, I shred EVERYTHING.
---

Light it Like You Mean It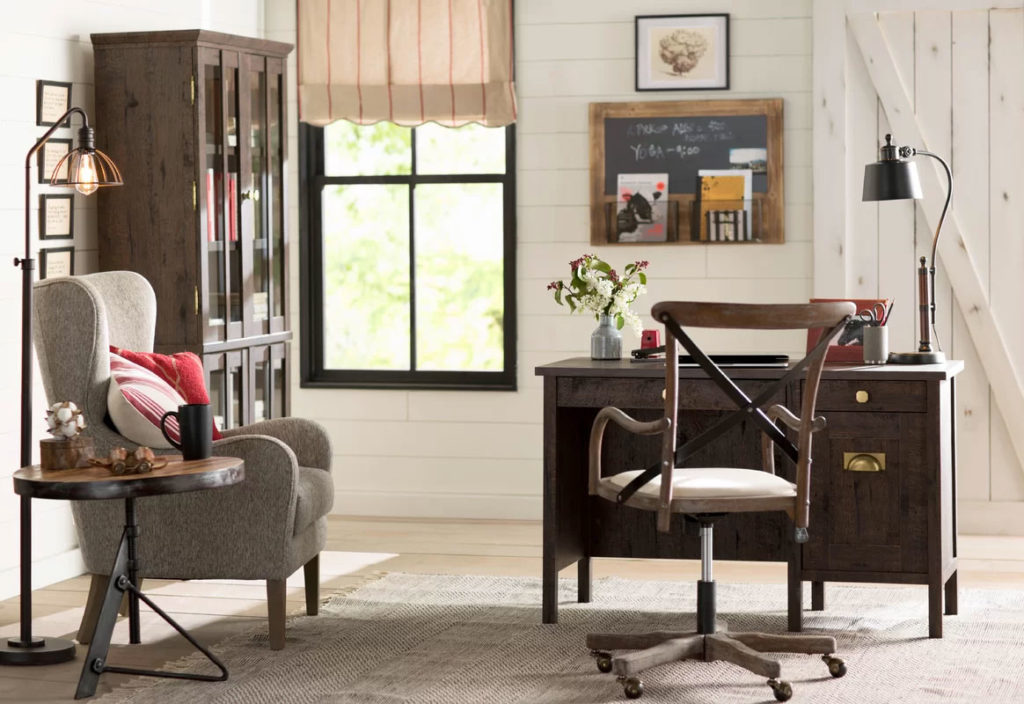 Shop the Look: Comfy Country Cottage Home Office Design
Nobody wants to work in a place that is dark and dreary. Keeping your office space well-lit can make a big difference, either using natural lighting through windows and skylights, or though the thoughtful placement of table, floor, and wall lights.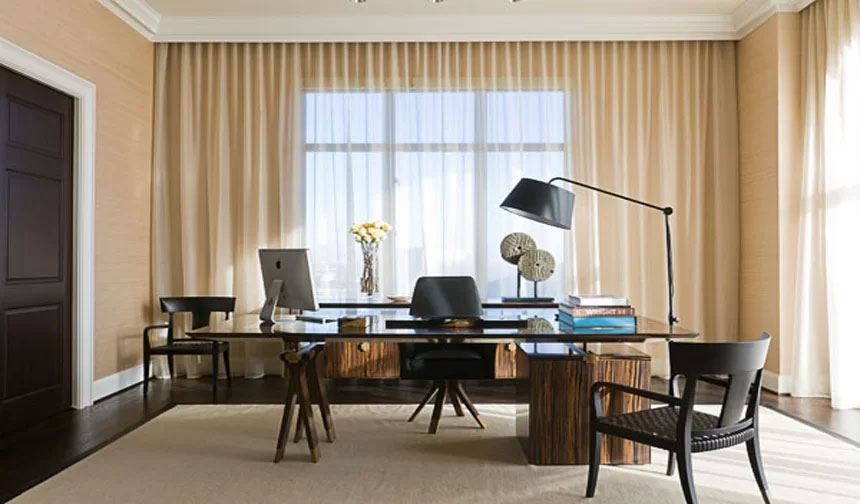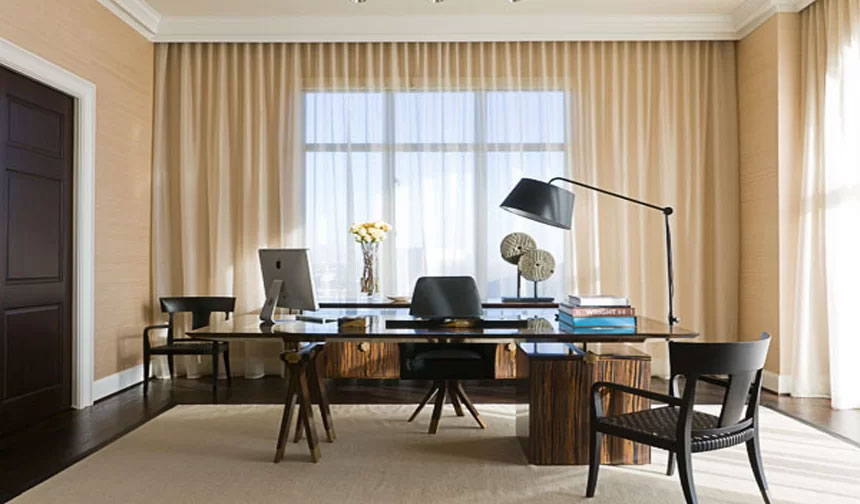 Shop the Look: Modern Rustic Home Office Design
Multiple sources of light are also better than one industrial, hanging fluorescent light that produces as much of a hum as it does unnatural looking light.
---

Invite others to see it
Once you're finished creating your ideal work space, show it off!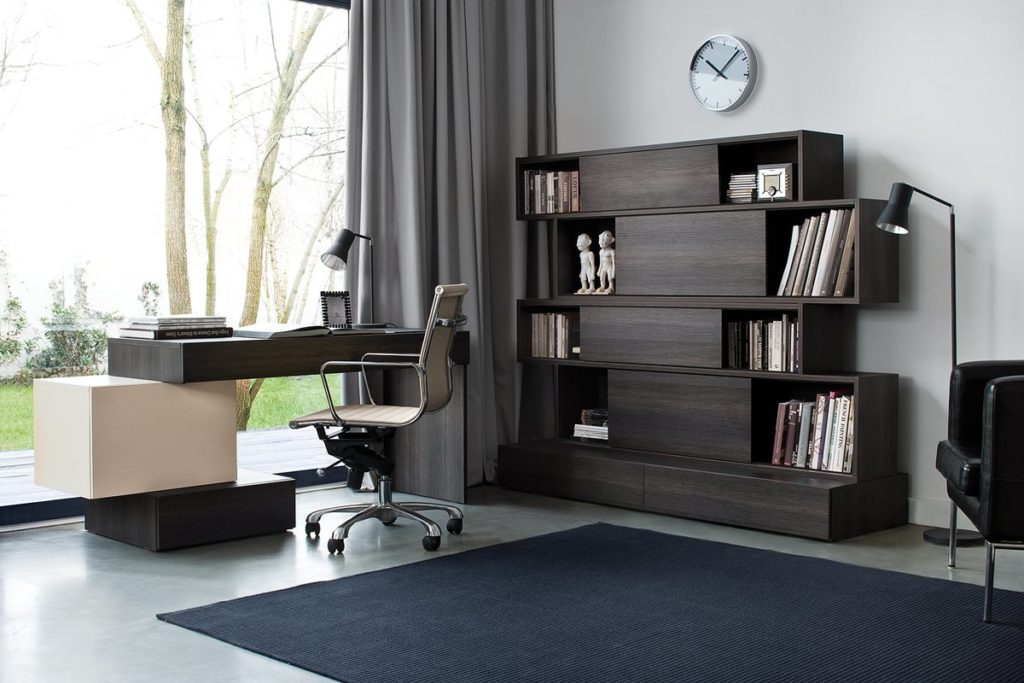 Shop the Look: Modern Modular Home Office Design
They say that nothing makes a goal or a dream more real life than sharing it with someone else. While it's still a secret in your head, it's easy to change your mind, convince yourself that you're being foolish, or simply discard the idea all together.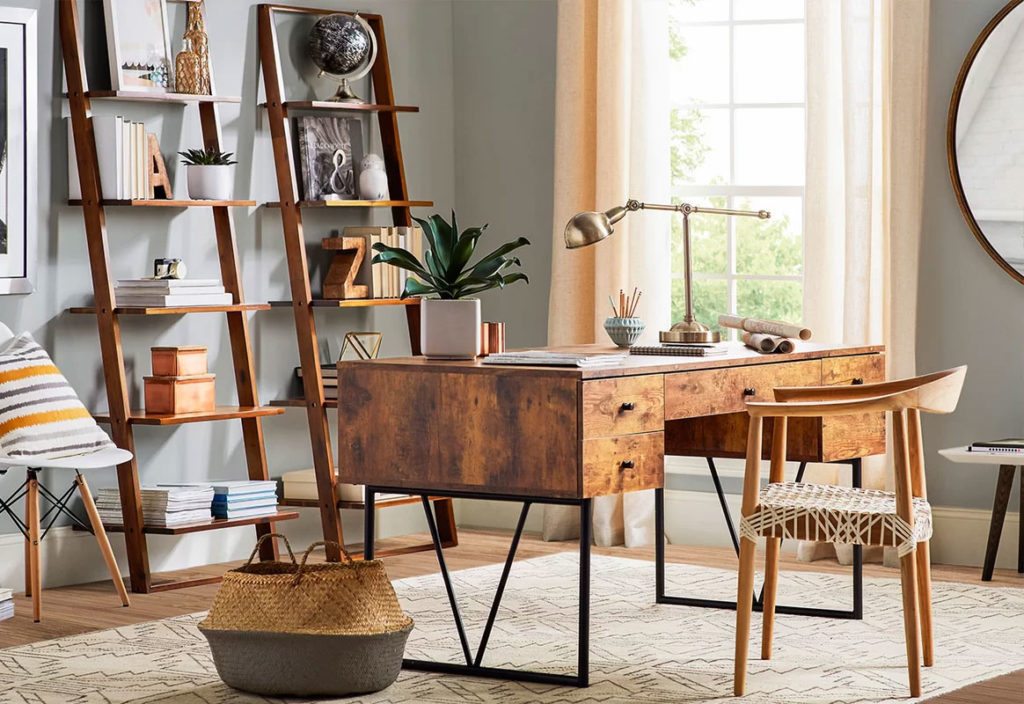 Shop the Look: Eclectic Rustic Wood Home Office Design
By sharing your home office with others, even if you aren't ready to talk about what you do, is a way of putting a stake in the ground.
I'm here. I have a business. It's real. It's important to me.
And those four statements – if nothing else – helps create a sense of purpose to help you turn that dream into a reality.