There is something truly splendid about looking at the world as seen in these World Map Tapestries.
Not only does a world map tapestry provide a unique piece of artwork, but it can also bring a bit of the whole wide world home for you to enjoy every single day. After all, it's a great big world out there – and one should explore it, every day, even if you do so from the comfort of your own living room.
That's why we hope you will enjoy the splendor of this grand world that we live in through these stunning world map tapestries.
Perfect for the world traveler, or the want-to-be-a-world traveler, these tapestries celebrate the world around us – old and new. But even if you are not a traveler at heart, these tapestries provide a rich and elegant decor accent that will suit any well-appointed home.
Here's a quick peak at some of these wonderful World Map Tapestries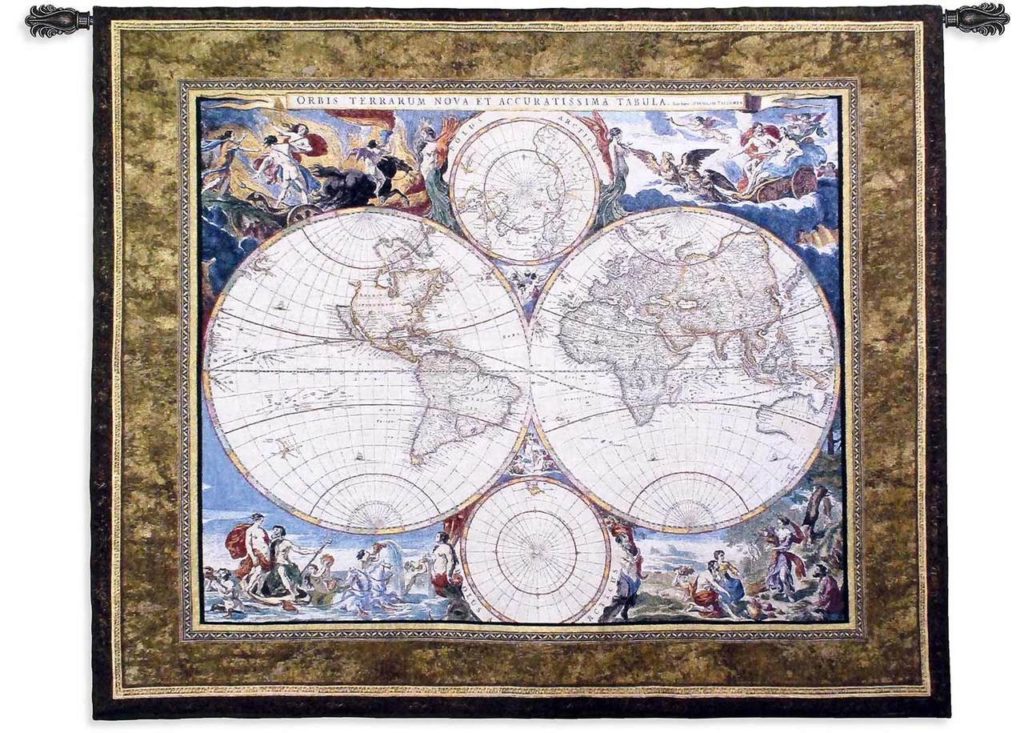 Talented tapestry artisans gathered their inspiration from ancient maps of the world to weave a magnificent wall tapestry for your home. This vintage atlas is infused with beautiful mythological scenes to create a tapestry that is strong, masculine, and rich in lush colors. Matted with golds and browns, this tapestry wall hanging is finished with an elegantly simple border.
This World Map contemporary fine art tapestry can be hung on its own, or combined with other tapestries to make a stunning display.
---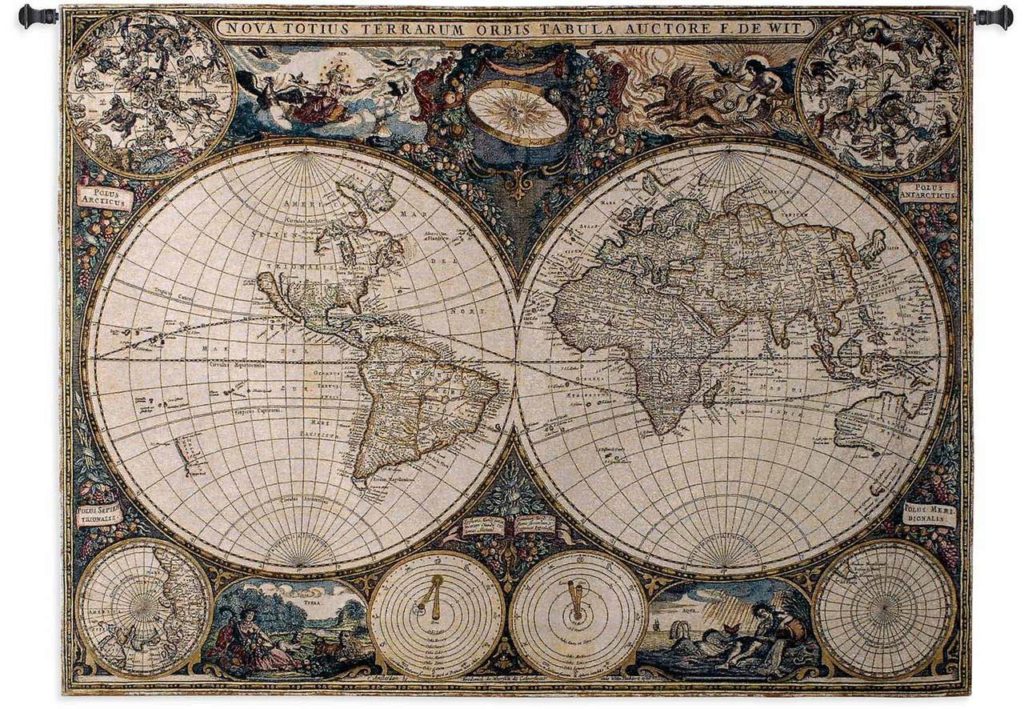 Add a touch of the past to your home with this unique historical piece, which re-creates Frederik de Wit's 17th-century double hemisphere map. Polar maps, constellations, and depictions of Aristotle's four elements fill the background. Sophisticated and antiquated, this wall tapestry is bound to lend any space an erudite air and will also surely spark conversation among your guests.
Frederik de Wit was an internationally known and respected Dutch cartographer and artist during the height of the Dutch Golden Age.
100% cotton woven wall tapestry. Olde World Map measures 53″ x 38″. This tapestry wall hanging will add a touch of textured color to your wall decor. Inspired art, this richly woven tapestry wall hanging brings together texture and design.
---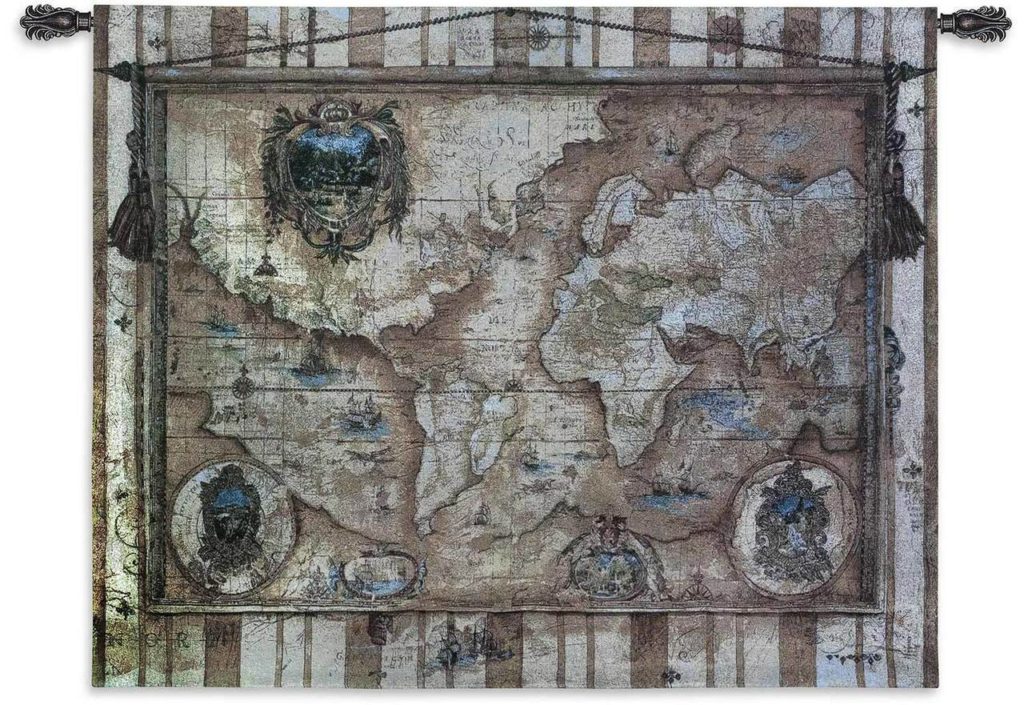 This 18th Century European style world map features a tropical map and is woven in a way that makes it appear aged. The use of browns and tans further adds to the effect. A striped border completes this magnificent wall hanging.
This Souvenirs des Voyage (World Map Fine Art Tapestry) tapestry, a finely crafted fine art tapestry wall hanging, has a texture not found in any other art form. Set yourself apart and experience the fine art of a tapestry wall hanging in your world.
---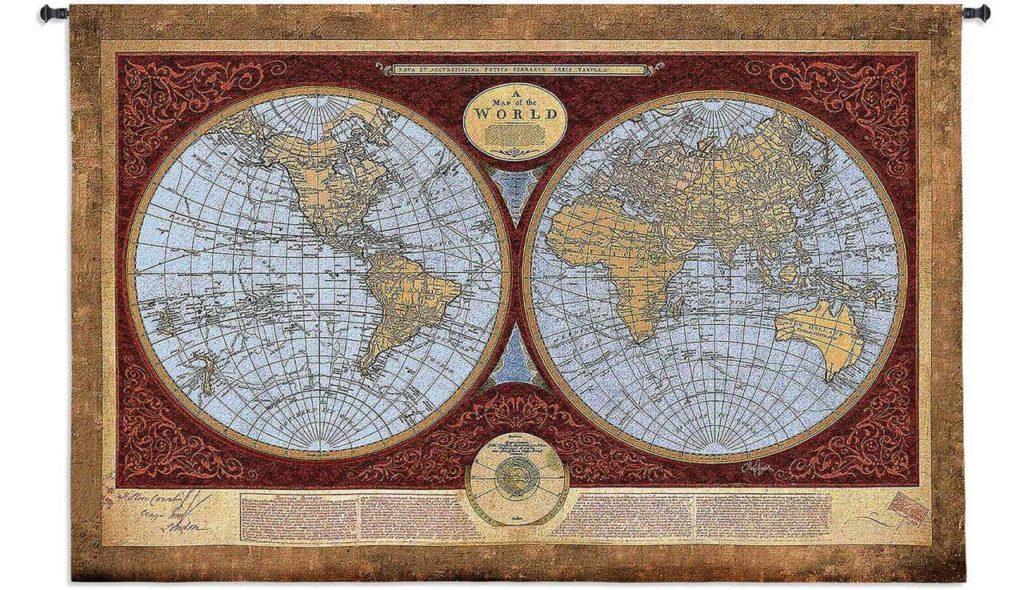 This exquisite world map is intricately woven into a stunning tapestry wall hanging. A Tapestry Wall Hanging can bring the stunning beauty of a fine art tapestry to your home, for less than you'd expect.
This fascinating map of the world boasts a rich, crimson border. Unique and erudite this wall tapestry is an excellent addition to any home. Perfect for the office, living room, or home library.
---
Old world cartographers made map making an art form. This particular old world map, rendered into a wall tapestry, lifts the world off the wall and brings the viewer into the art itself. This particular wall tapestry is woven using almost eighteen miles of cotton thread. This particular piece is based on the work of Jan Janssonius, a Dutch cartographer and publisher who lived and worked in Amsterdam in the 17th century.
---
A New and Accurate Map | 45″ x 37″ | Tapestry Wall Decor
An olde world style map is pictured on this wall tapestry. Vibrant blues are prominent in this stunning wall hanging. This tapestry, based on the Bassett And Chiswell designs, provides an intricate 17th century English atlas that you can proudly display on your own walls.
Thomas Bassett and Richard Chiswell were booksellers in London during the late 17th century. While Bassett specialized in legal books, Chiswell was a well-known publisher for the Royal Society. They joined forces to create the Publication of the Speed atlases.
The Beauty of Antique Maps
There is something truly fascinating about antique maps. It's a way of looking at the world the way people did centuries ago. Long before the time of airplanes and satellites, the world was explored and charted by hundreds of different people. Creating a map that pulled all of those documents together into something that resembled the world as it was is truly a phenomenal feat.
That's one of the reasons these world map tapestries are so wonderfully unique, and make for such an amazing focal point in the home.