A wonderful collection of 60+ delightfully pink living rooms that can get your creative decorating juices flowing. From fully pink rooms to those with just a splash of pink to add some softness to the room, these pretty in pink living rooms are sure to inspire!
Decorating With Pink
Pink is everywhere these days, including in your living room. With pink velvet couches and easy flowy fabrics, pink living rooms are perfect for anyone who has a great deal of love for pink.
Pink is a beautifully warm and traditionally feminine color (although the gender roles of colors are rapidly changing) and can be used to add warmth to a living room. Pink is seen as a strong color but can be used with many softer, subtler colors such as white, grey, and beige to create a flowing decor scheme. Pink is also commonly used in accessories, furniture, and wall art to add a splash of color, texture, and charm. Pink living rooms can be so cozy so make sure to decorate with luxurious fabrics in pink to really make it homey.
The Different Shades of Pink
Pink is a vibrant and versatile color. Pink living rooms can be created in all different shades of pink, from the softness of light pinks to the richness of deep pinks. What could be better than one of the most versatile colors in the world?
These gorgeous living rooms are in shades of pale pink, champagne, peach, salmon, and more. Take a look at the inspirational photos of some beautiful pink living rooms below, and take a few tips and tricks from them for your very own pink living room.
For some advice and hints on how to design a well-designed, high-quality pink living room or how to select the right colors based on color psychology, also check out these posts:
Selecting Pink Decor Accents for the Living Room
Pink décor can be cute and charming – but it can also be a bit of a headache, which is why it's better to choose wisely. For example, does pink look too girly? Are pink accessories too matchy-matchy for the living room? If your home is a combination of neutral and feminine rooms, such as in a French country home, go ahead and splurge on some pretty pink accessories.
But in a large, modern home, I'd suggest going for a pale pink sofa, or a pink vanity that doesn't scream "Little Girls Love Pink!" When choosing accessories to decorate your living room, make sure they fit in with the rest of your room and won't compete. For instance, if you have an earthy or natural theme, use pinks that are more in the earth-toned range as well natural fabrics.
Sometimes, when you think of the color "pink" it instantly brings to mind that princess pink that all little girls love. But pink is one of the most versatile colors in the home decor market. It can be light and airy with just the softest hint of a refined pink, which is perfect for French Country homes, or it can be a vibrant, neon pink that gives off a more eclectic or retro vibe. The combination of pink with different hues of color in the color spectrum is always going to keep it interesting!
And while you might think that adding pink to the decor will overwhelm the room, it will actually give it a bit more softness and femininity.
Would you like to know more about that? Keep reading to find out the pros and cons of incorporating pink into your living room design, and then check out the pink living rooms below to inspire you!
But in case you still haven't figured out that pink is a great color choice for your living room, we hope that this article will show you all the different ways to add
Pink Color Psychology For The Living Room
The color pink has a mild soothing effect and is believed to elevate one's mood, promote happiness, reduce depression and anxiety. Many believe that the color pink can enhance feelings of love, caring, and nurture and support all aspects of life including relationships. There is something about pink that can raise your spirits.
Pink is a very warm and romantic color. It has always been used to express tenderness is commonly associated with youth and sweetness. But pink is also the perfect tone for romantic interiors and for expressing your feeling. Pink can help to create intimacy and warmth in the atmosphere.
Pink is known for its softness and femininity, so it can be used in many ways in interiors: as an accent, to define spaces. Pink decorating is a lovely choice for making your home an oasis of tranquillity and well-being.
Painting Your Living Room Walls Pink
Painting your walls pink (or wall, if you want to focus exclusively on a pink accent wall) is definitely an on-trend way to update your living room, giving it a beautiful touch that just can't be achieved with a more neutral color palette. These pink living room ideas are modern and totally feminine, without – in my opinion – being too "little girl" chic. So, if pink is your signature color, or if you want to incorporate some of this wonderful color into your home, you are sure to be inspired by these beautiful pink living rooms that will instantly make you say, "Ooh!"
With pink being the ultimate color for women, it seems only natural that it'd be a good choice in interior design. For the longest time, it was not something women would opt for, but now pink rooms are in vogue all over the world.
60+ Pink Living Rooms To Inspire
Want to see a whole bunch of chic, sophisticated pink living room ideas to brighten up your home? From clean and modern to lived-in and eclectic, there are a variety of pink living room ideas for every style and taste.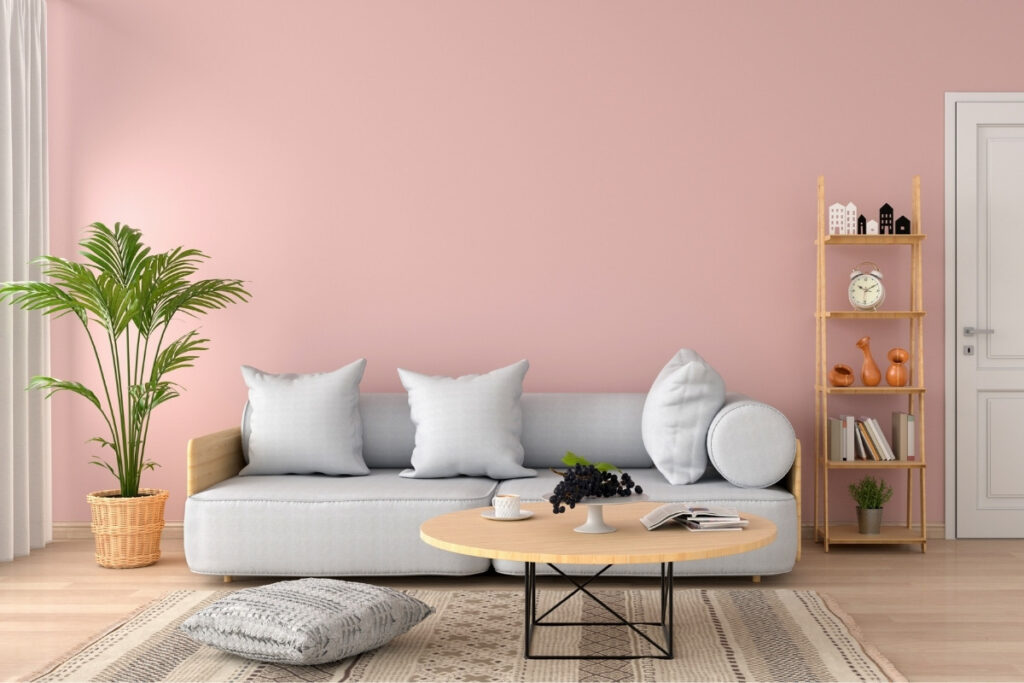 This living room has lovely, soft pink walls that mix beautifully with warm grey & neutral tan tones to bring this room together. The combination of the walls and the furniture creates a sophisticated yet welcoming atmosphere.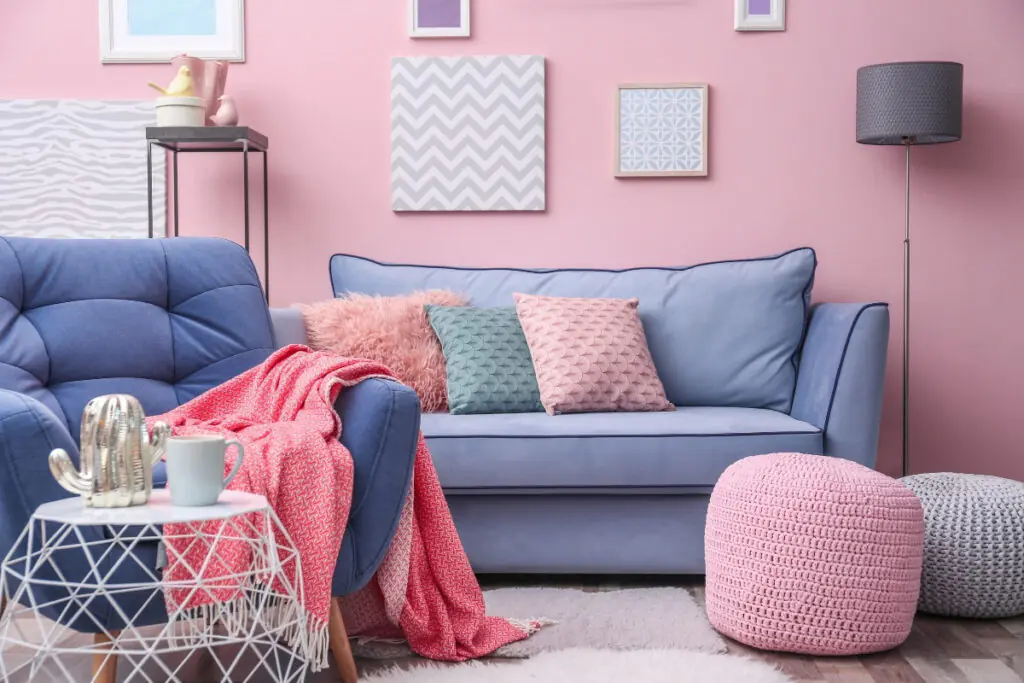 You might initially think that a blue sofa in a pink living room would seem out of place, but they seem to go together perfectly. The neutral accents help pull everything together and make this look a real head-turner.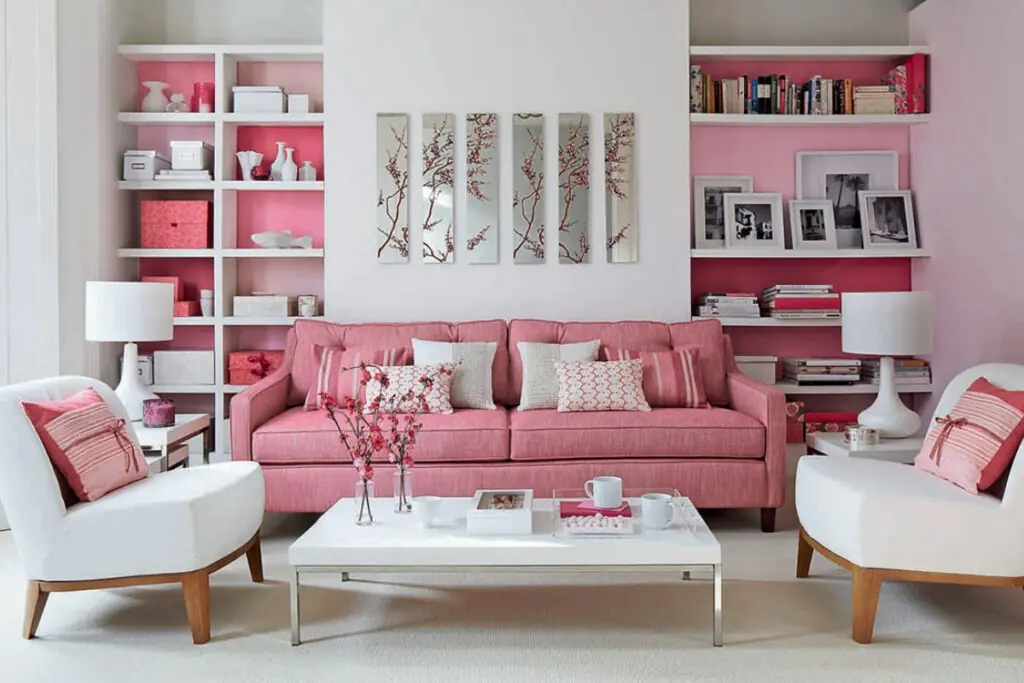 There are so many brilliant uses of the color pink in this living room. From the contrasting shades of pink behind the shelves to the pink sofa to the dark pink and silver art installation.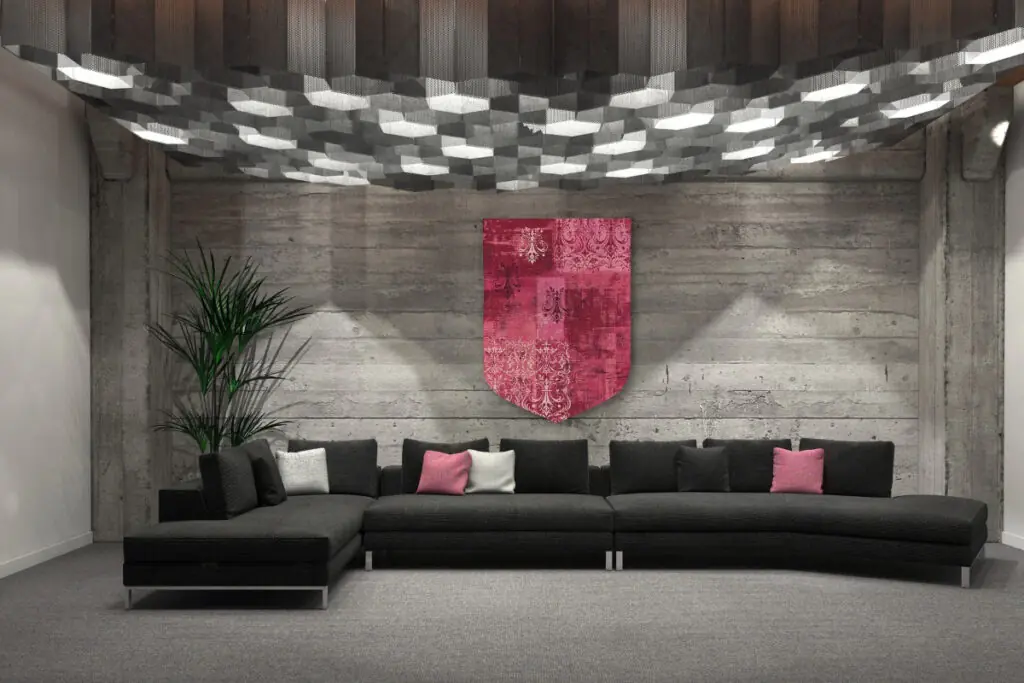 This modern black and grey living room gets a pop of color through the beautiful pink tapestry and some black, white, and pink accent pillows.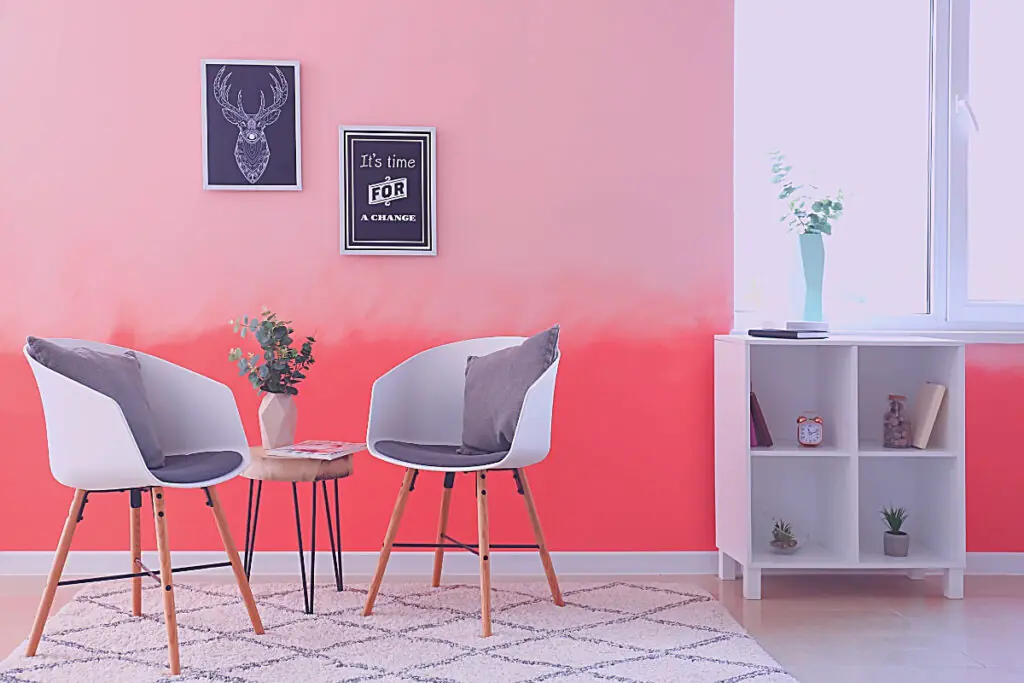 The two-tone wall of bright pink and warm salmon complements this neutral living room perfectly. If you agree with the artwork on the wall and it is time for a change, perhaps something like this bold design will work for you.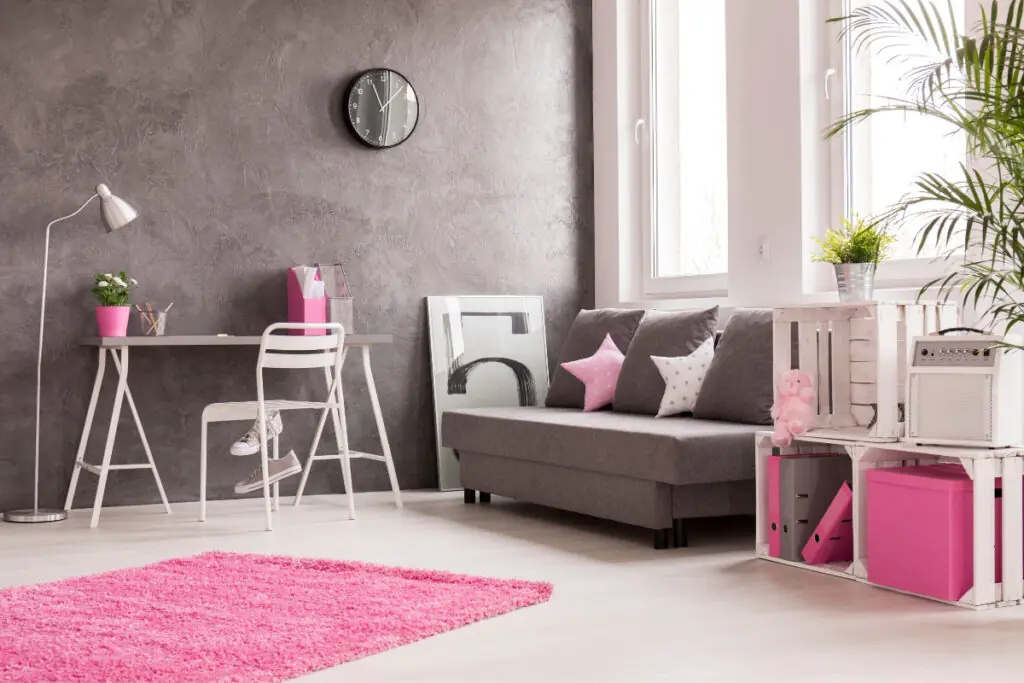 In case you haven't realized it yet, Pink and Grey go together beautifully in the living room (they also work really nicely in the bedroom). This room has an industrial feel that is softened by playful pops of pink throughout.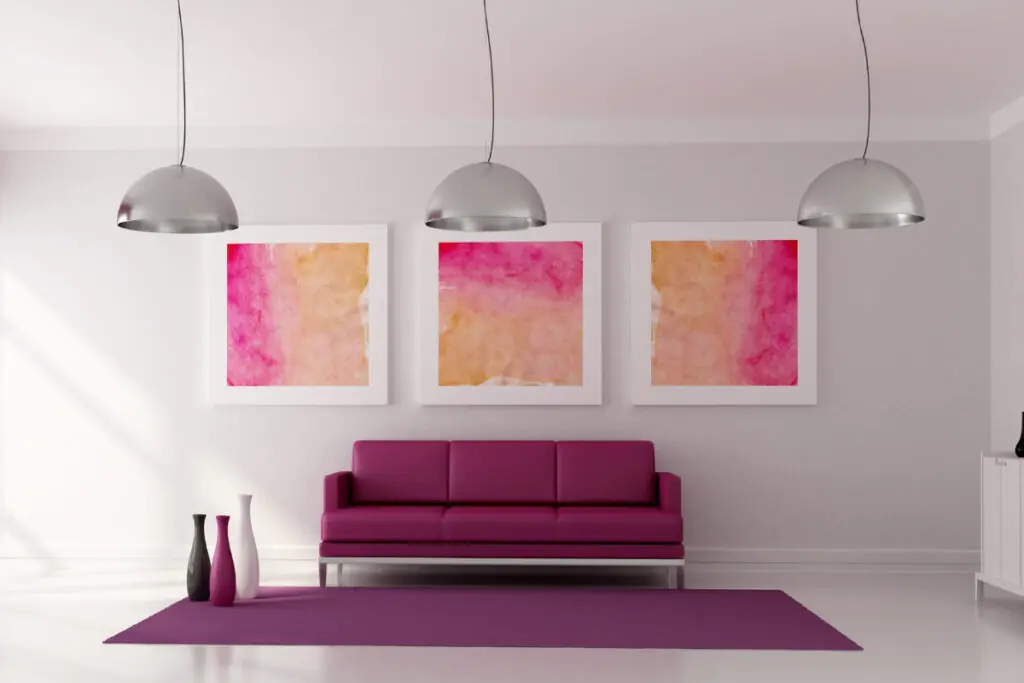 If you want bright pink, here it is. This pink is almost coral in shade and gives a decidedly nautical or beach theme to the room (the beach hat doesn't hurt!). A simple design that is wonderfully executed.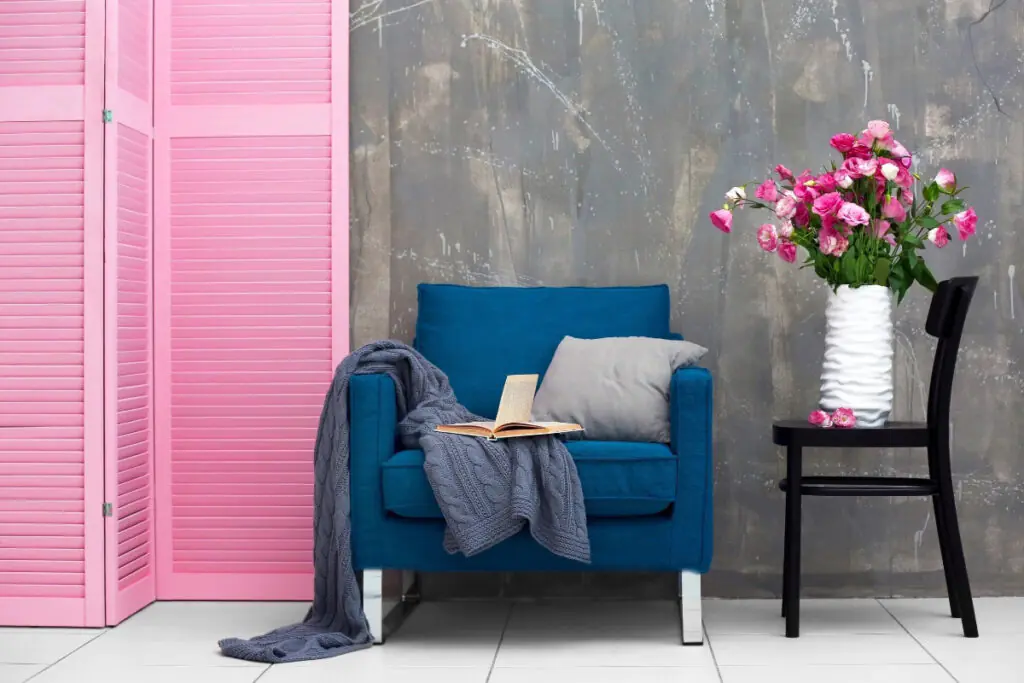 Sometimes, you just need a splash of pink to make the difference. This living room could have been a bit drab if it weren't for the reclaimed wood shutters that were painted a marvelous shade of bright pink. And the vase of roses doesn't hurt either.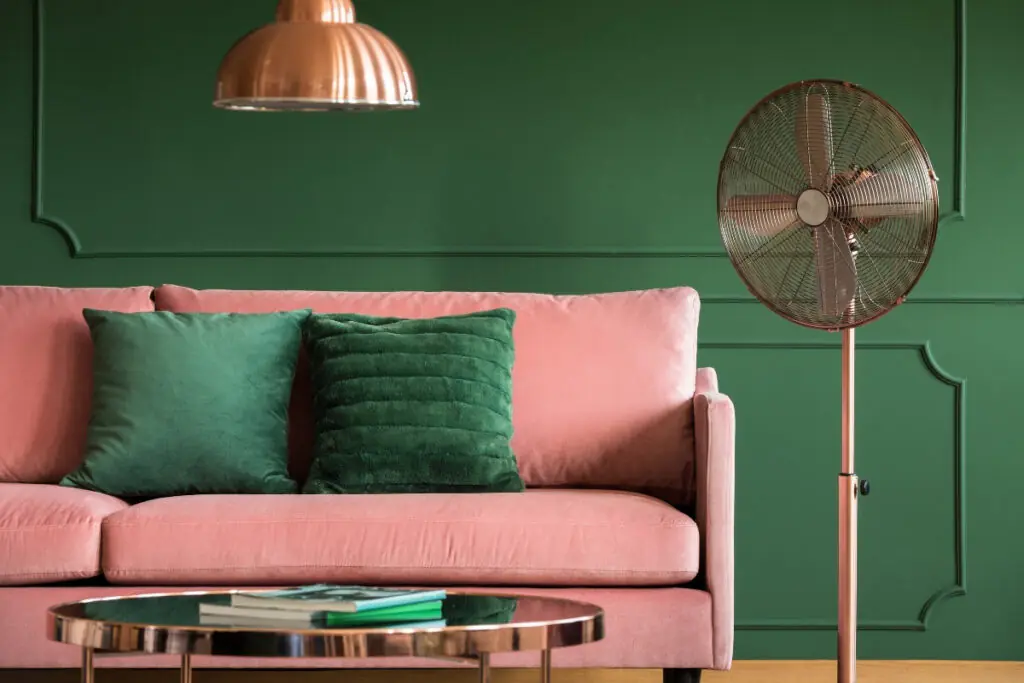 You wouldn't necessarily think that Pink and Green would go so well together, but they blend perfectly in this stylishly designed living room. The brass tones in the light fixture, fan, and coffee table pull this together into a cohesive look.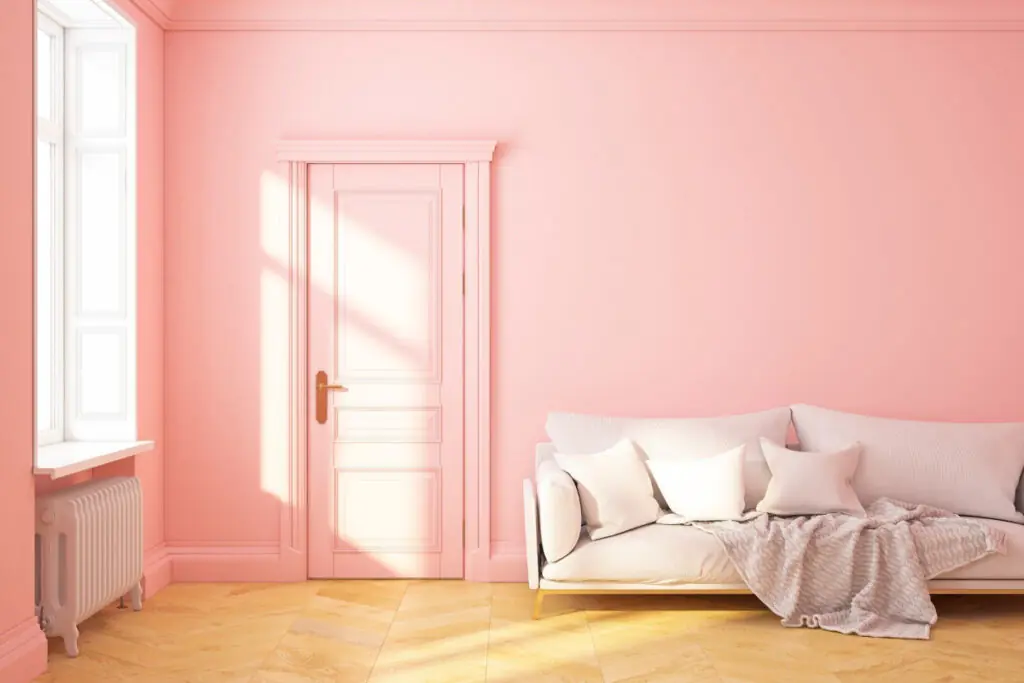 Sometimes, you want to go full-on pink, like this living room that is painted from baseboards to ceiling in a lovely, soft shade of pink.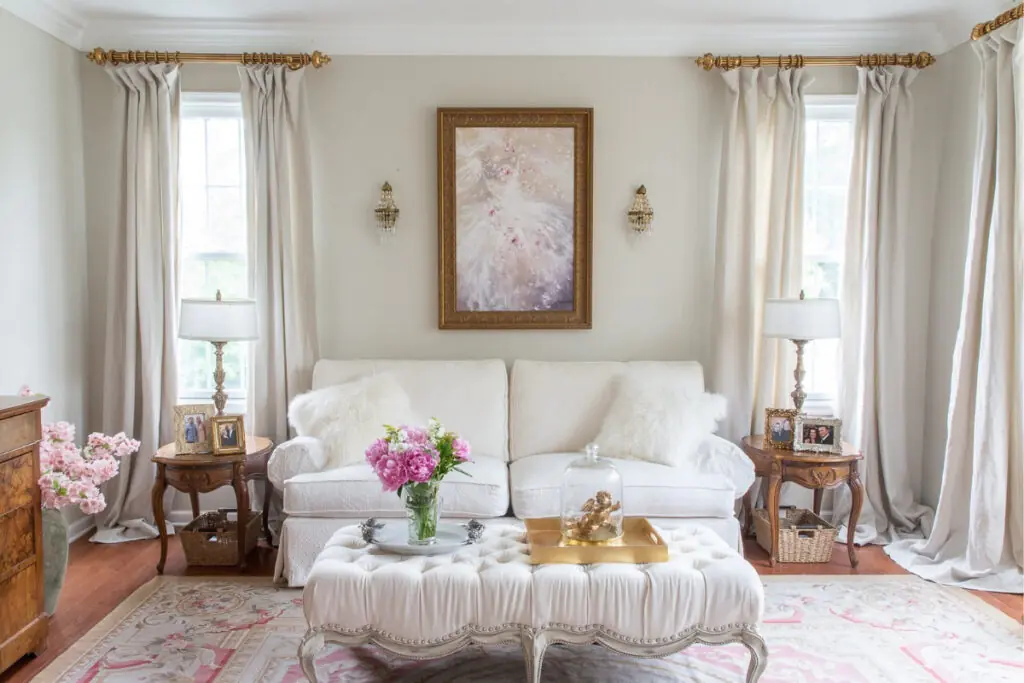 For something a little less subtle, you can go the full French Country fantasy with a bunch of pink florals.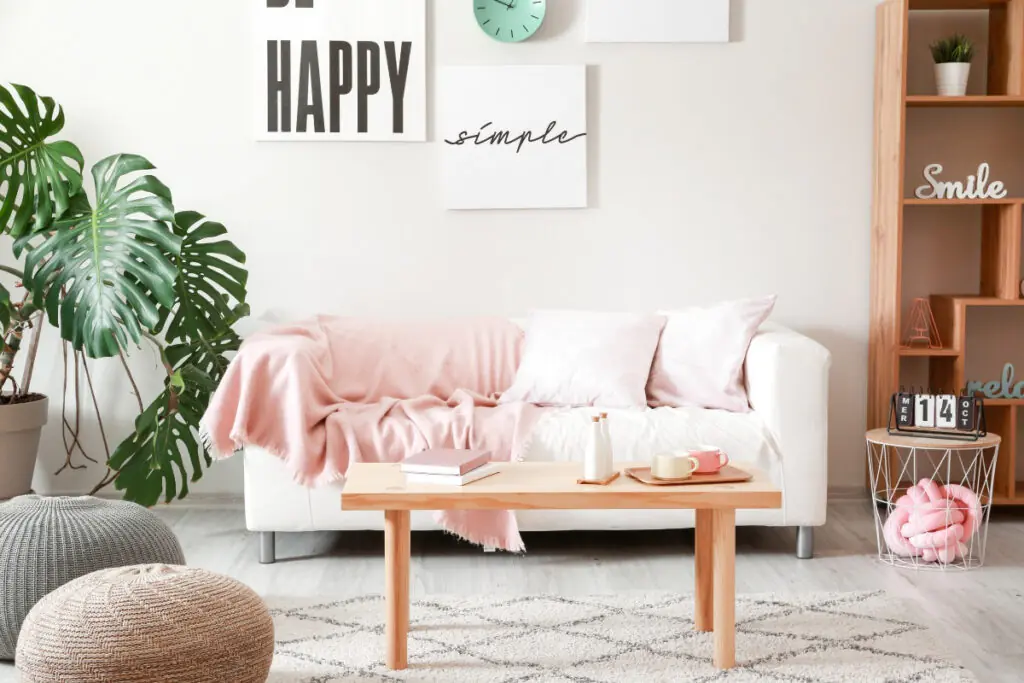 Sometimes, you might just want a bit of pink in your living room without making the whole room and decor look over the top.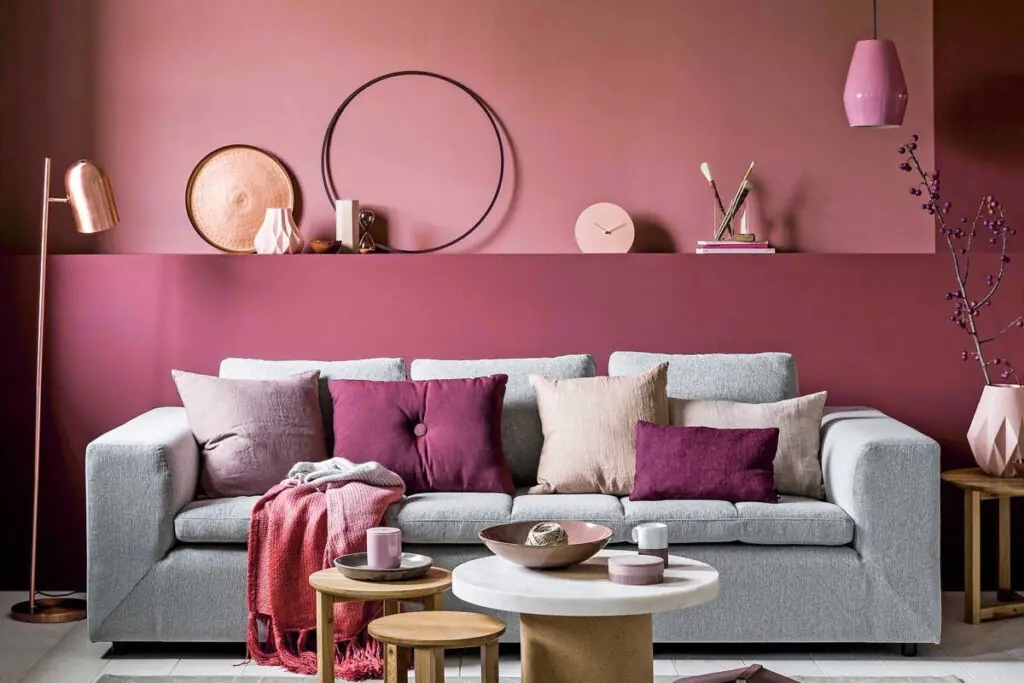 Various shades of pink are used throughout the decor of this living room, from the dusty pink vase to the deep pink throw cushions.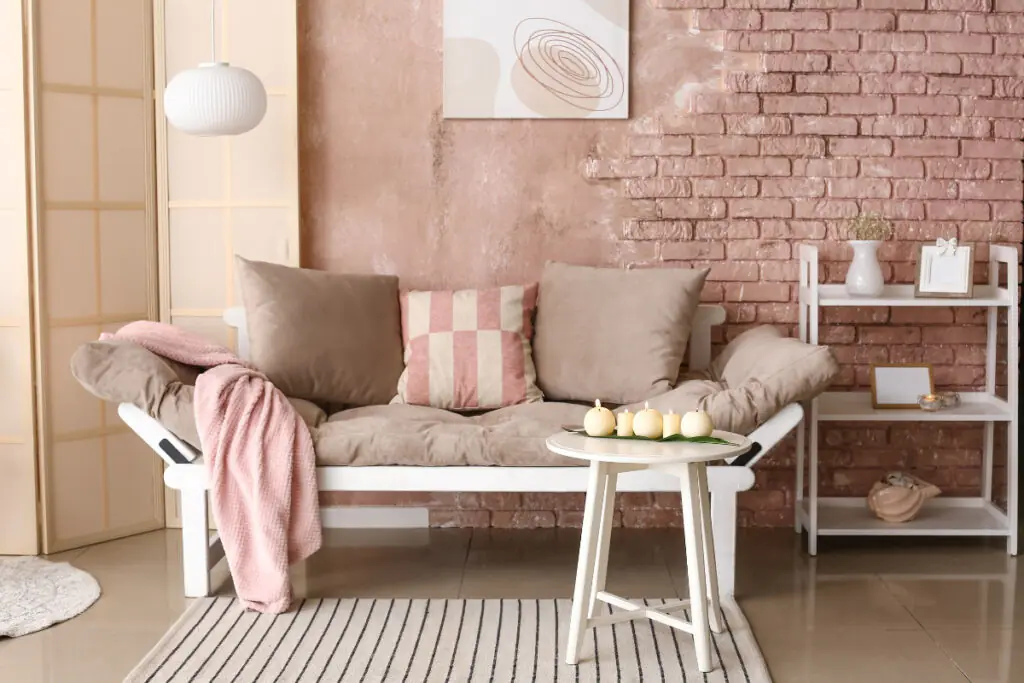 The soft, blush pink used on the exposed brick walls in this living room makes it very charming and inviting while maintaining a bit of a rustic look.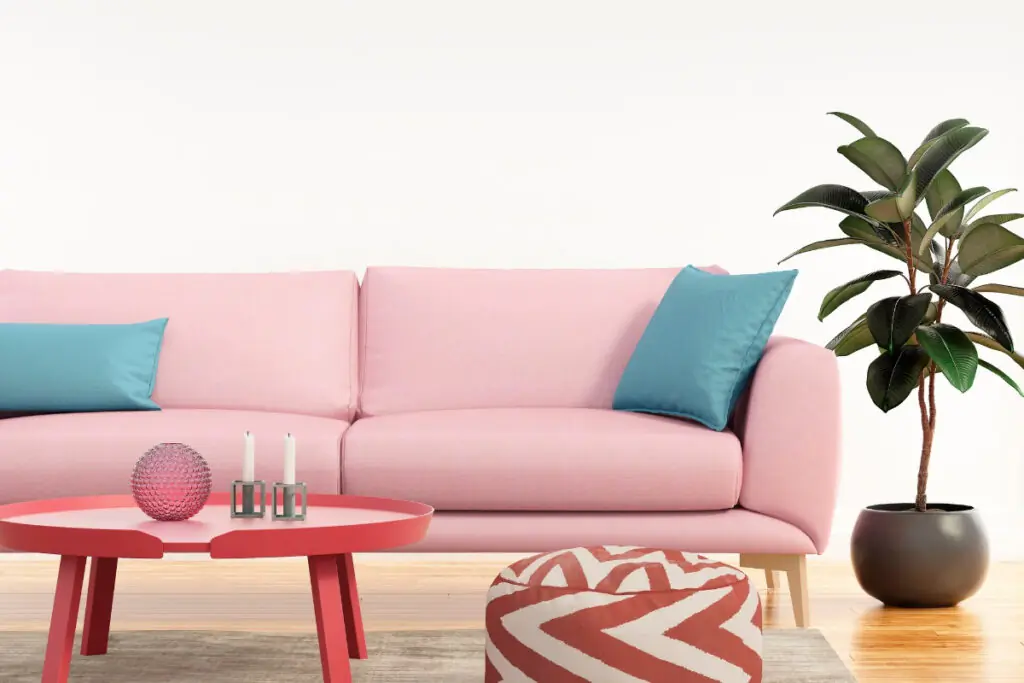 This pink sofa blends perfectly with the red coffee table and red and white (which – when mixed – create pink) ottoman. The blue throw pillows add just a little something extra to the room and balance against the pink color palette perfectly.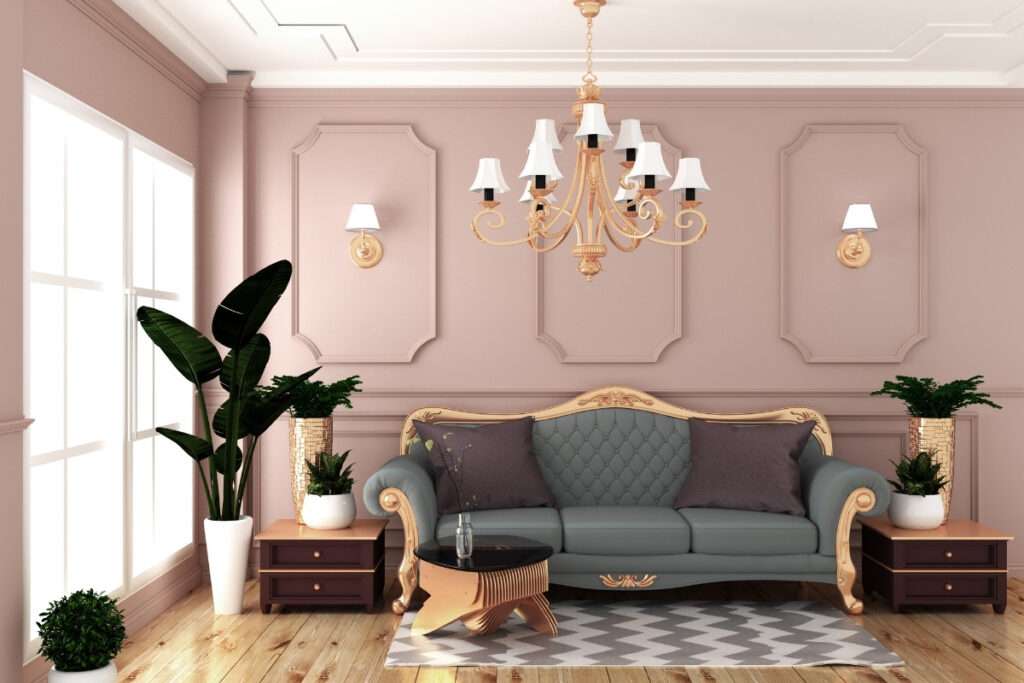 This classically styled living room uses a very soft, almost tan, shade of pink to create a rich and sophisticated look.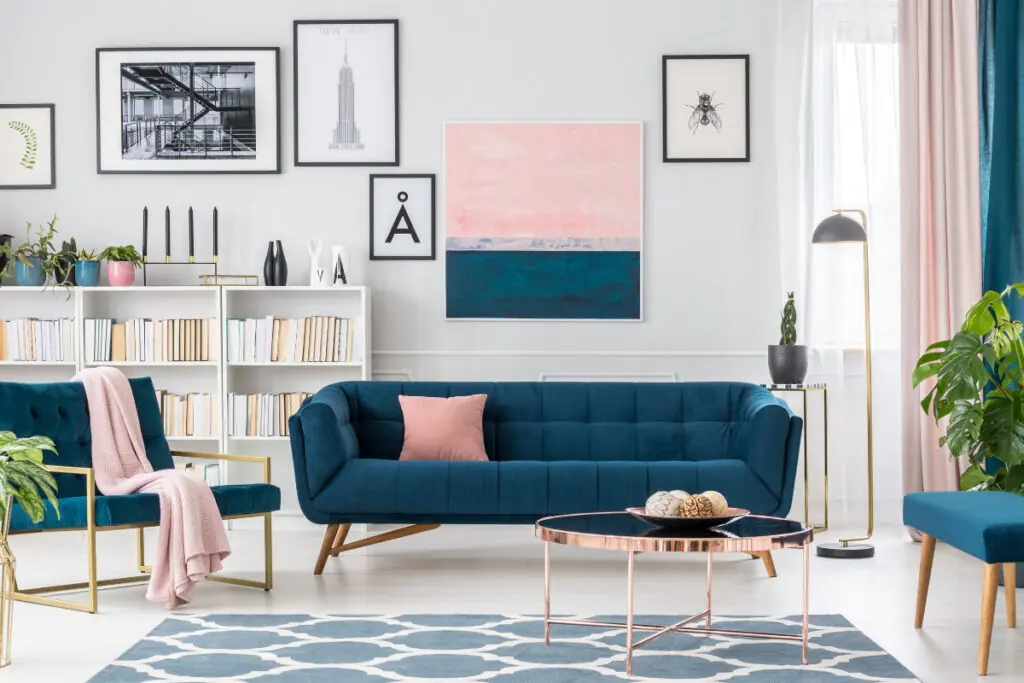 For a more eclectic look, pink accents have been added to this beautifully designed living room. See the small pops of pink in the plant decorations, the wall art, the throw blanket, accent pillow, and curtains. Even the rose gold coffee table adds to this sophisticated look.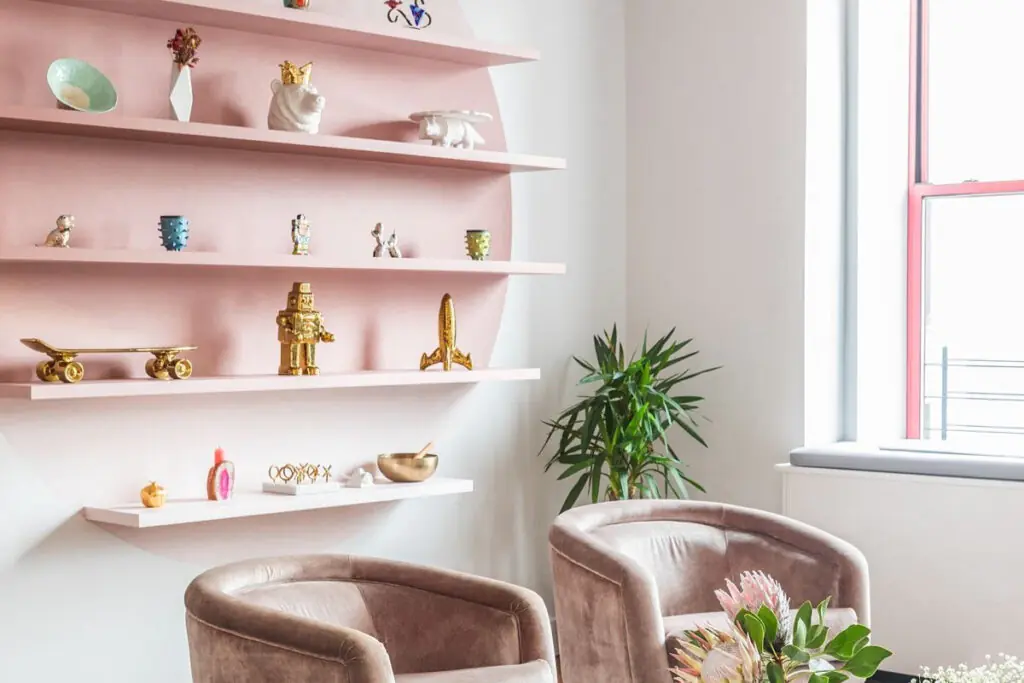 It's the custom pink wall shelf that anchors this lovely living room.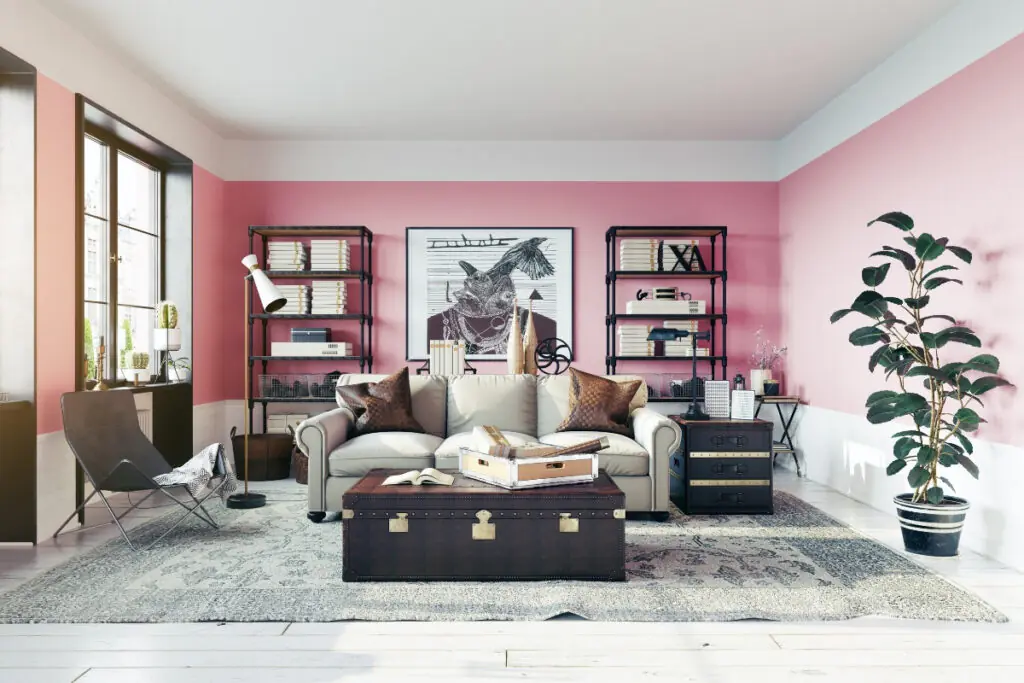 This design balances masculine furnishings with the femininity of pink walls perfectly. The result is a wonderfully balanced living room that anyone would be happy to call home.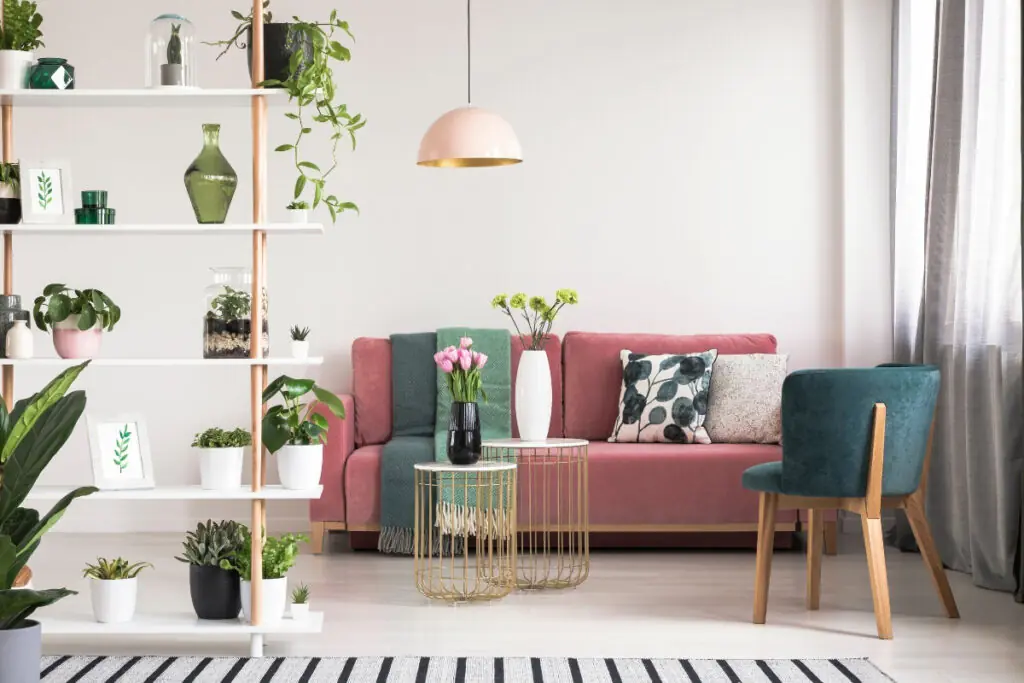 I love the subtle whimsy of this room. Not only have they taken decorating with plants to a new, highly refined level, but the mixture of colors is practically perfect in every way.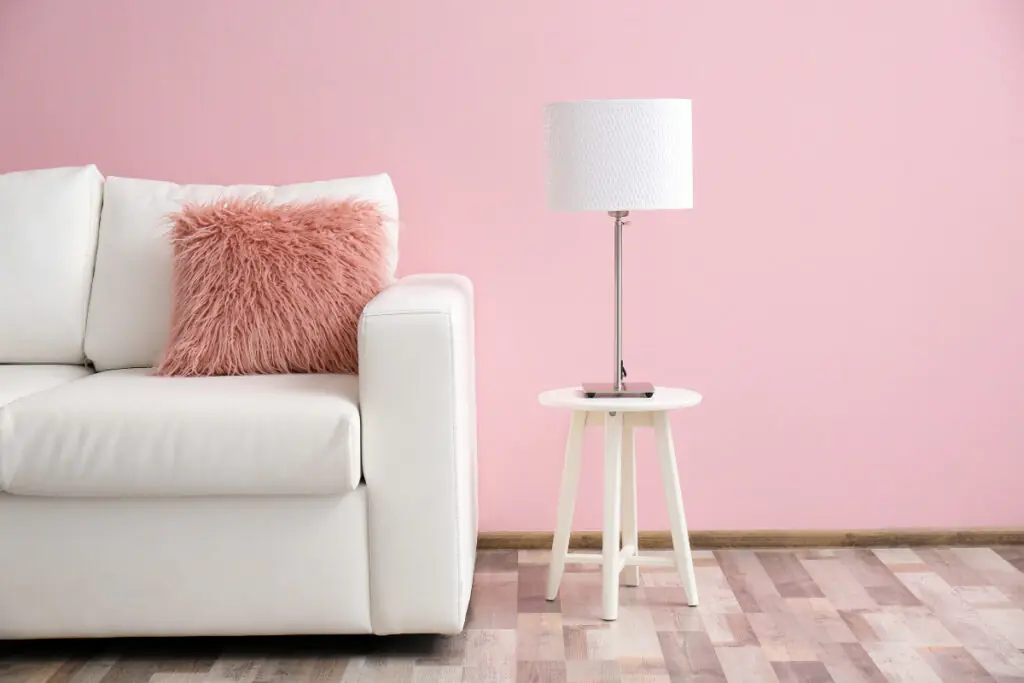 Simple, yet elegant this room features a light and airy pink wall that provides the perfect backdrop for simple, white furnishings.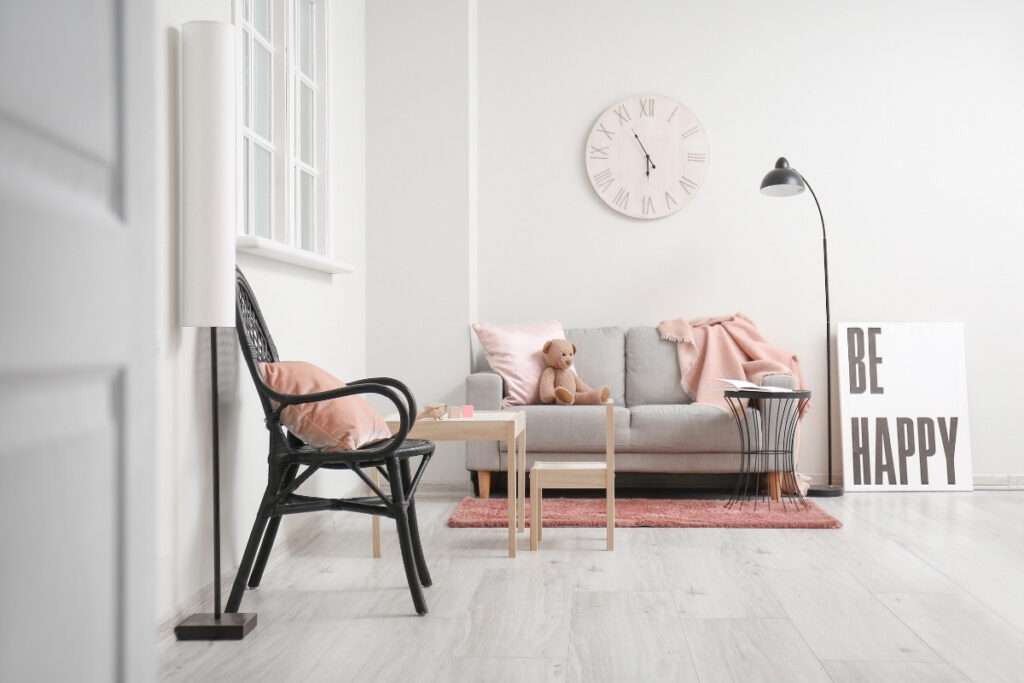 Be Happy seems like a perfect piece of art for this simple yet tasteful living room that uses different shades of pink and grey to create a stunning living room that is fit for the whole family.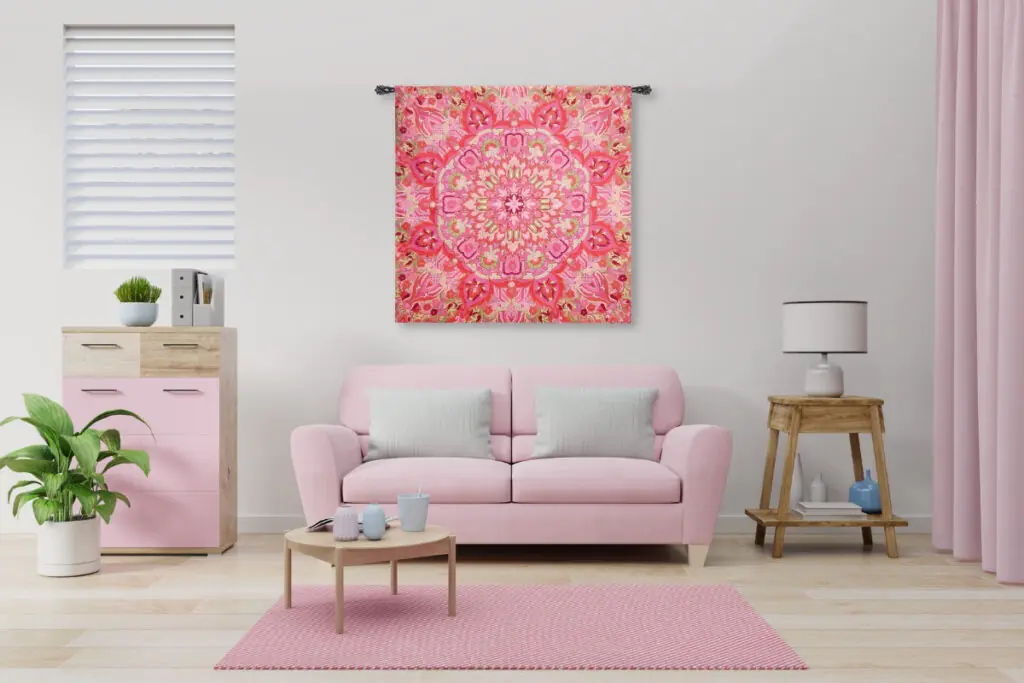 Soft pinks are used throughout this warm and welcoming living room, which are offset by the bright and colorful Rangoli Raspberry Pink Wall Tapestry.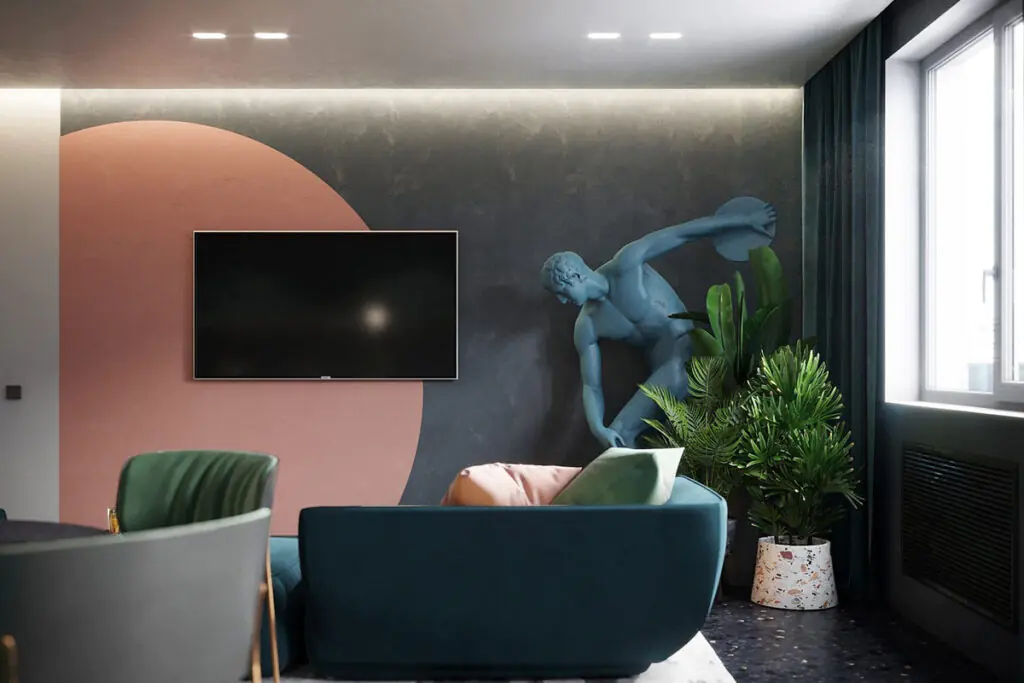 A peachy splash of pink adds an interesting dimension to this modern and masculine living room.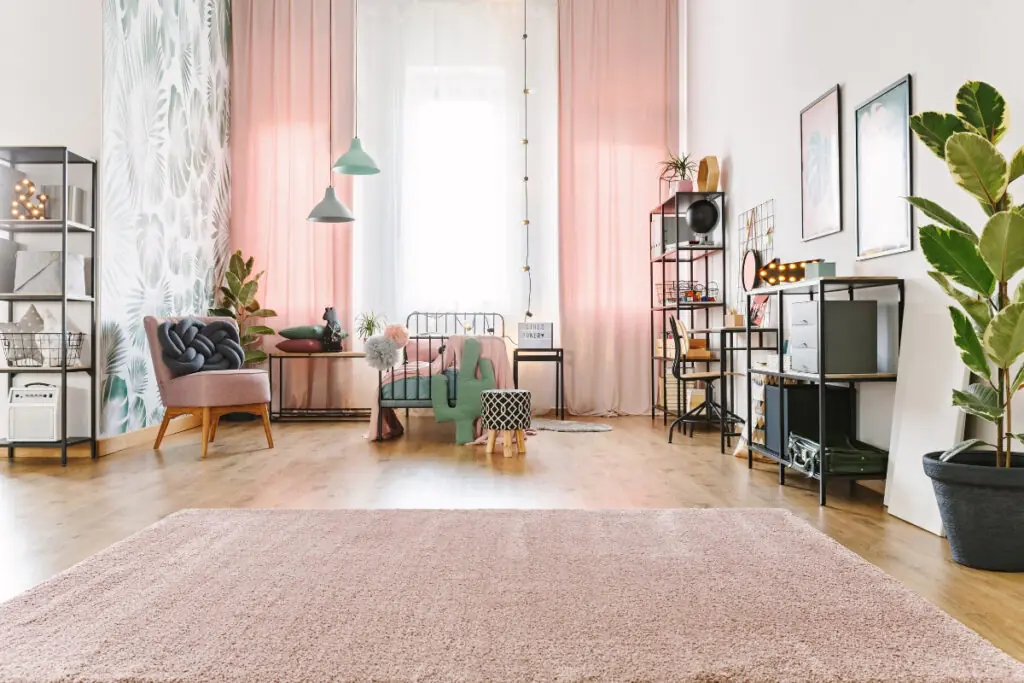 Ok, so – technically – this is a studio apartment so it's the living room, bedroom, and home office combined into one. But I love the airy feel of this room. It just feels naturally elegant and welcoming.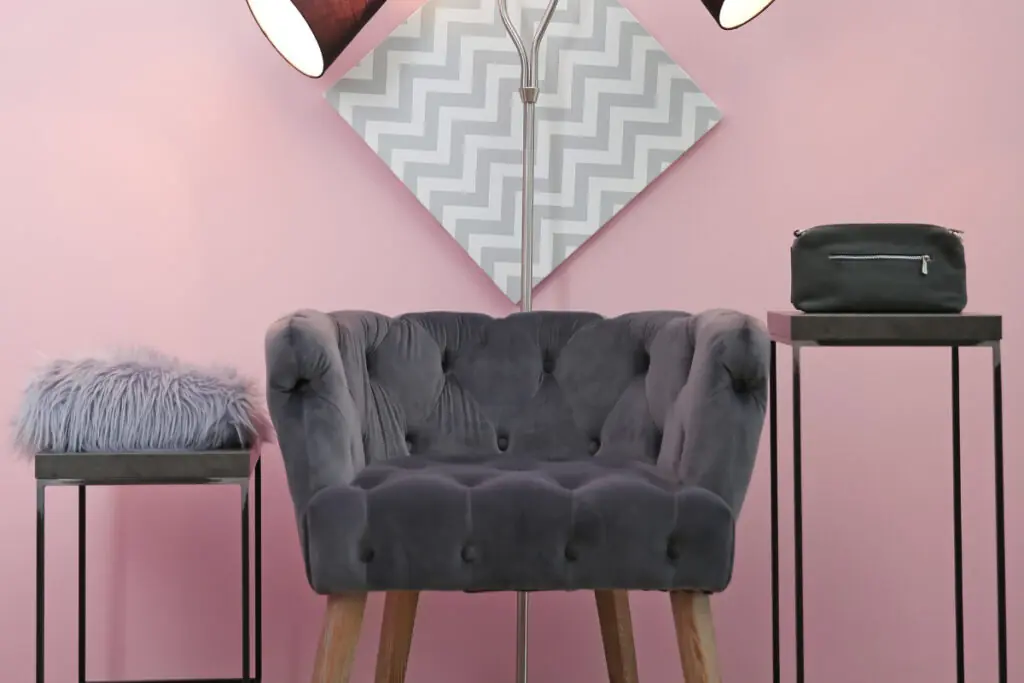 Another fantastic example of how pink and grey balance each other perfectly in the living room.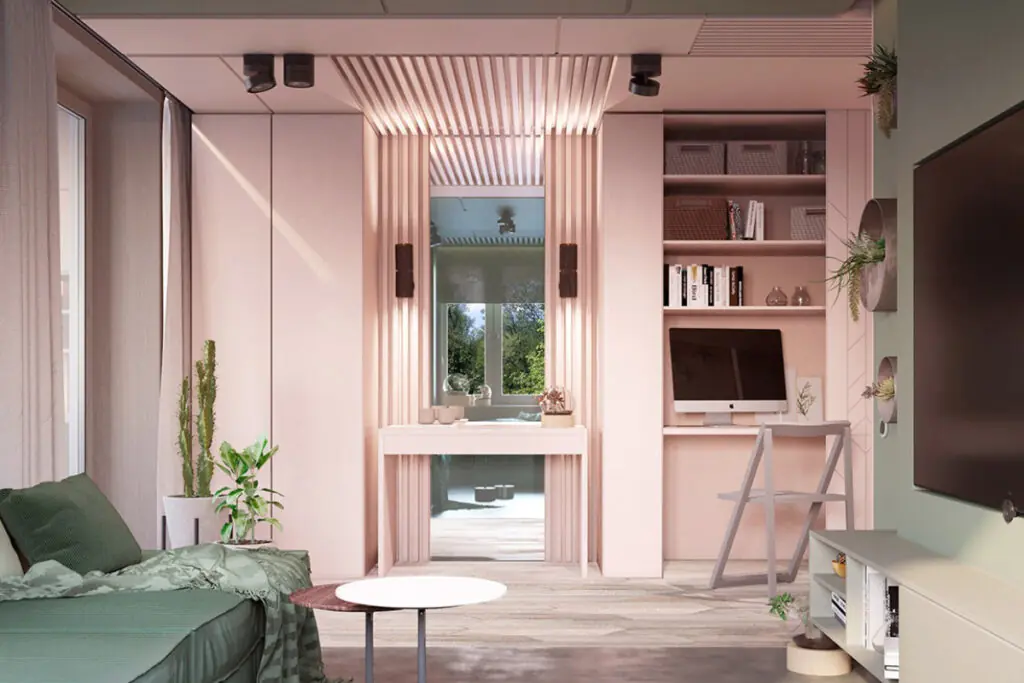 Sage green and soft pink combine beautifully in this sleek and sophisticated living room.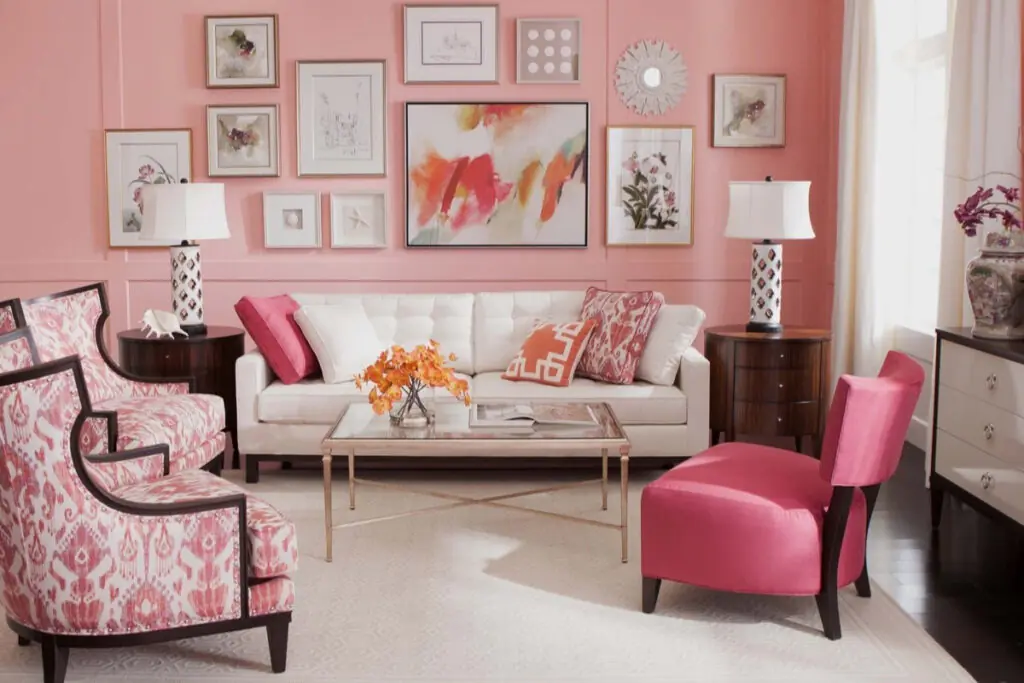 A paradise in pink, there is so much to explore in this beautiful pink living room.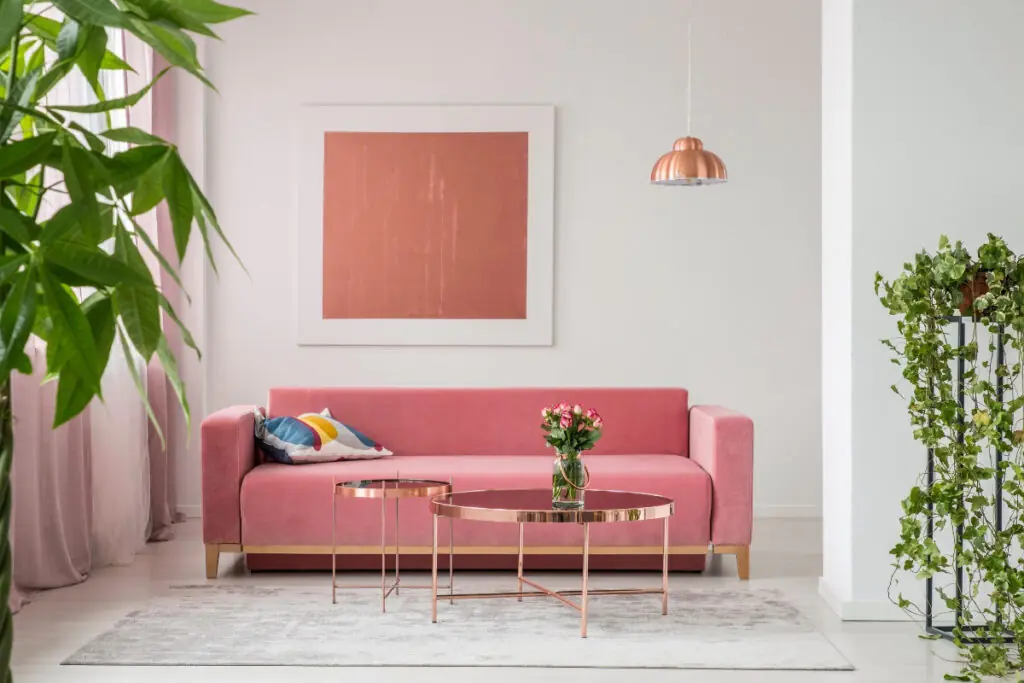 This living room features multiple shades of pink in the curtains, sofa, artwork, and even the rose-gold fixtures.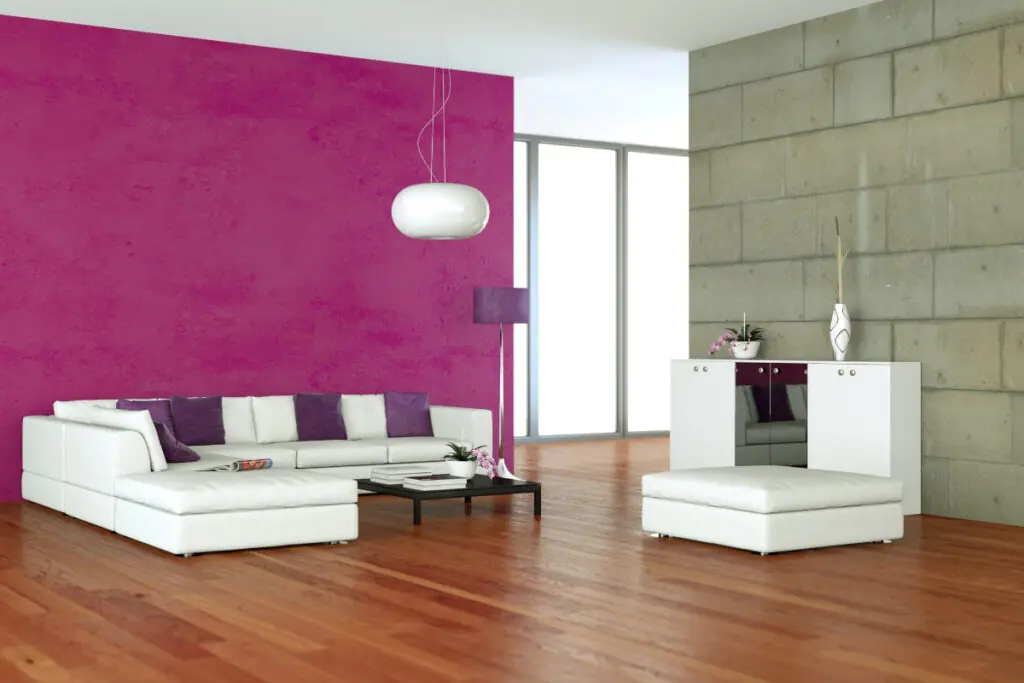 This rendering was intended to show how a dark pink feature wall could bring warmth into this industrial loft.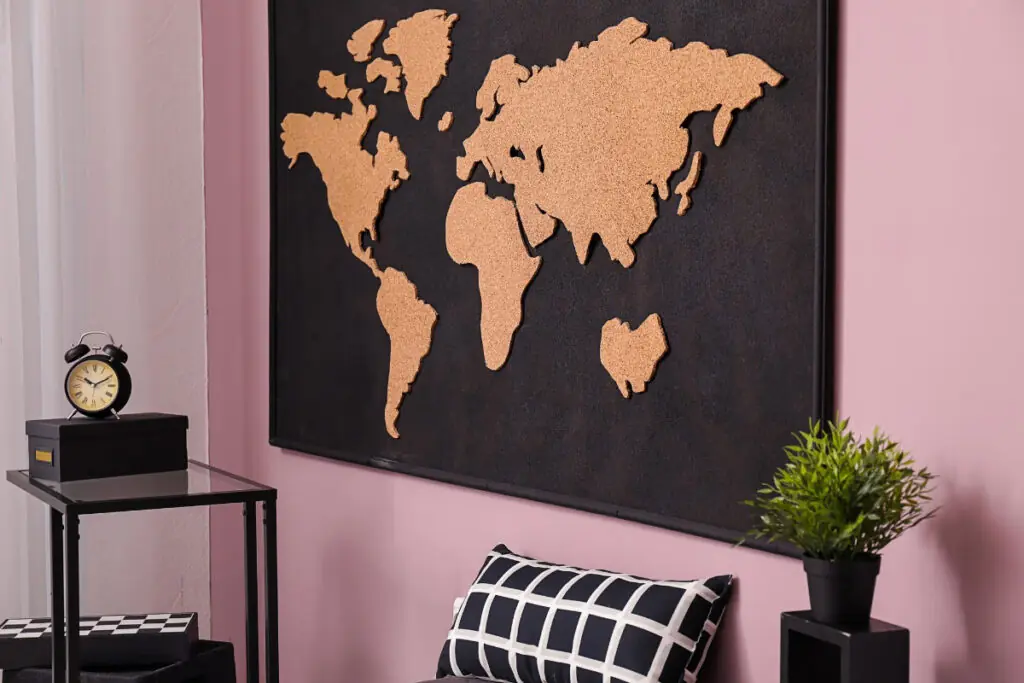 There is something about how beautifully pink, black and gold go together that makes it a stunning and glamorous palette for the living room.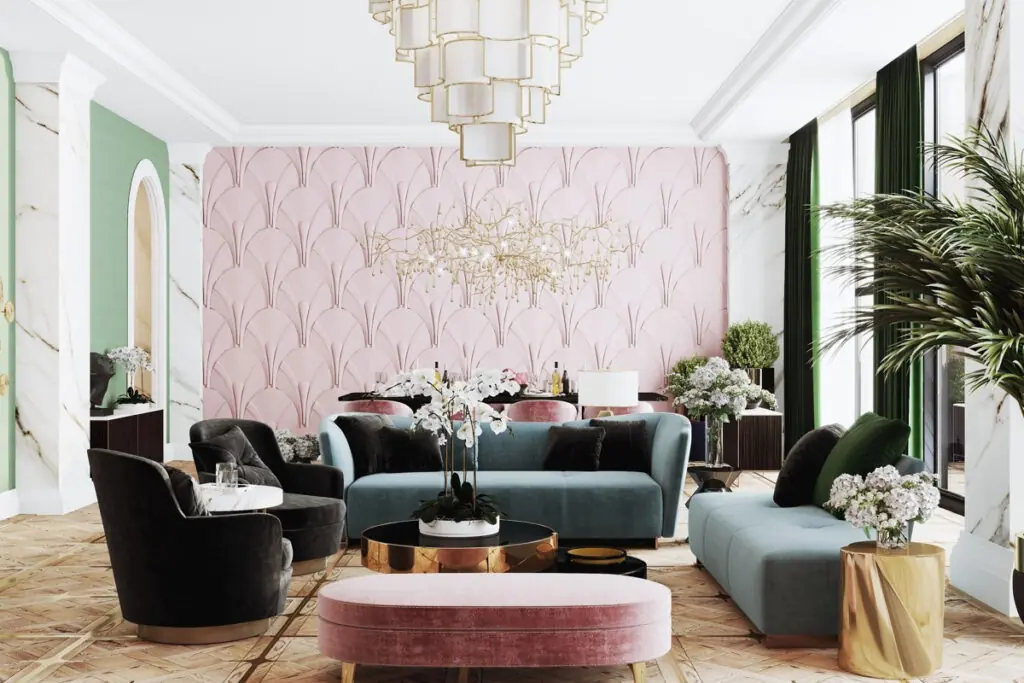 A touch of pink and a splash of Hollywood Glam combine to create this distinctive and elegant living room.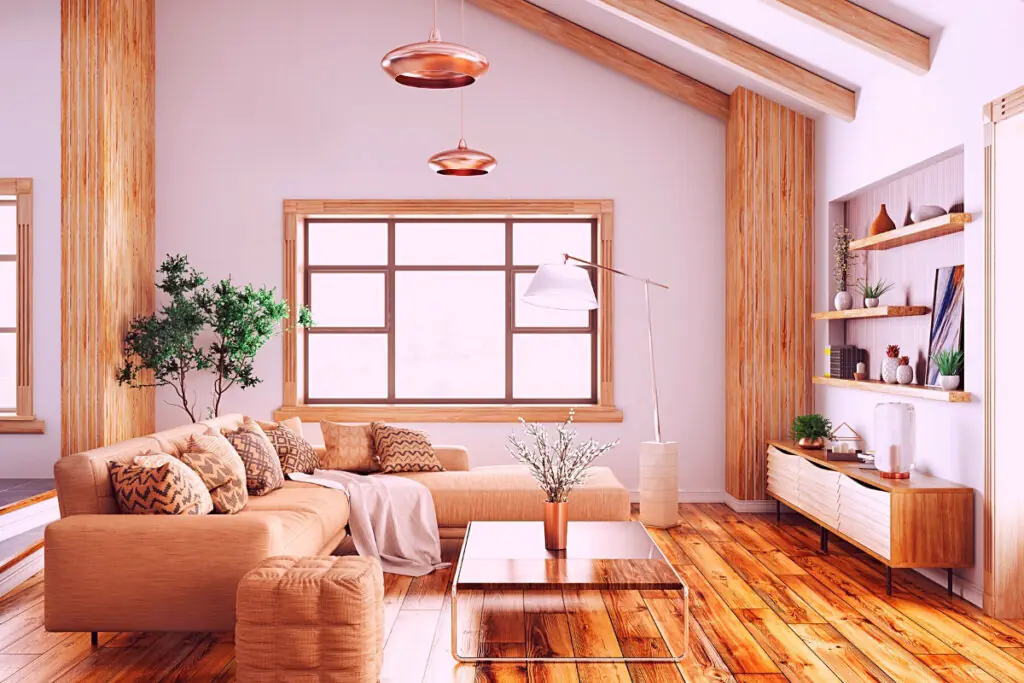 Pink walls also help bring out the natural beauty of wood. The exposed beams, copper fixtures, and tan sofa blend perfectly with the soft pink, almost lilac-colored walls.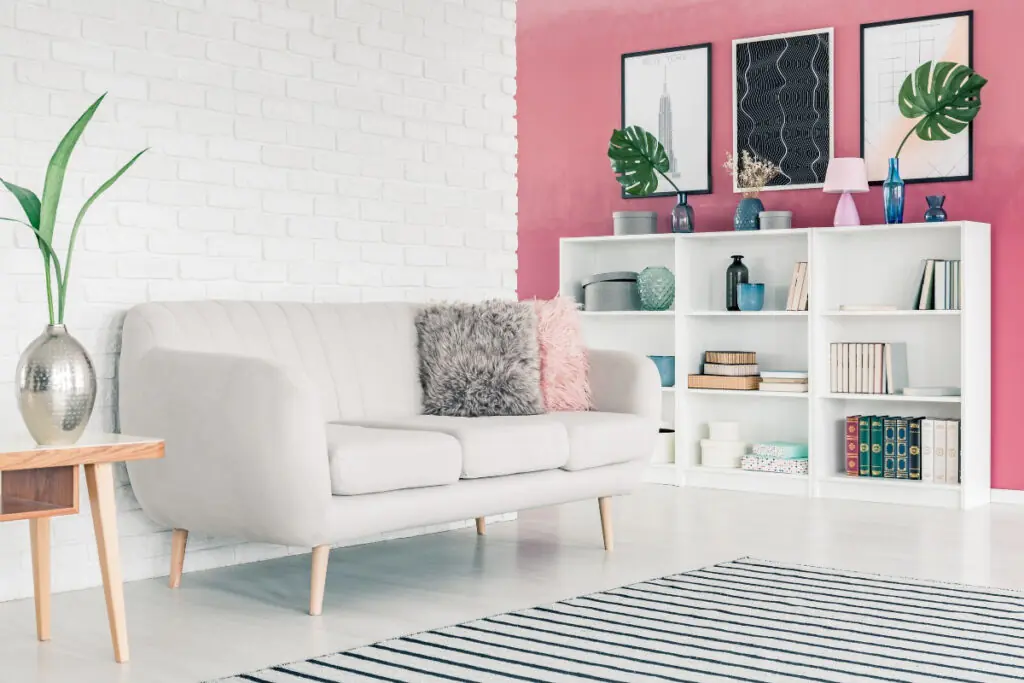 You don't always need a lot of pink to make a statement. An accent wall, a throw pillow, and some decor accents in the right shades of pink take this living room from drab to fab instantly.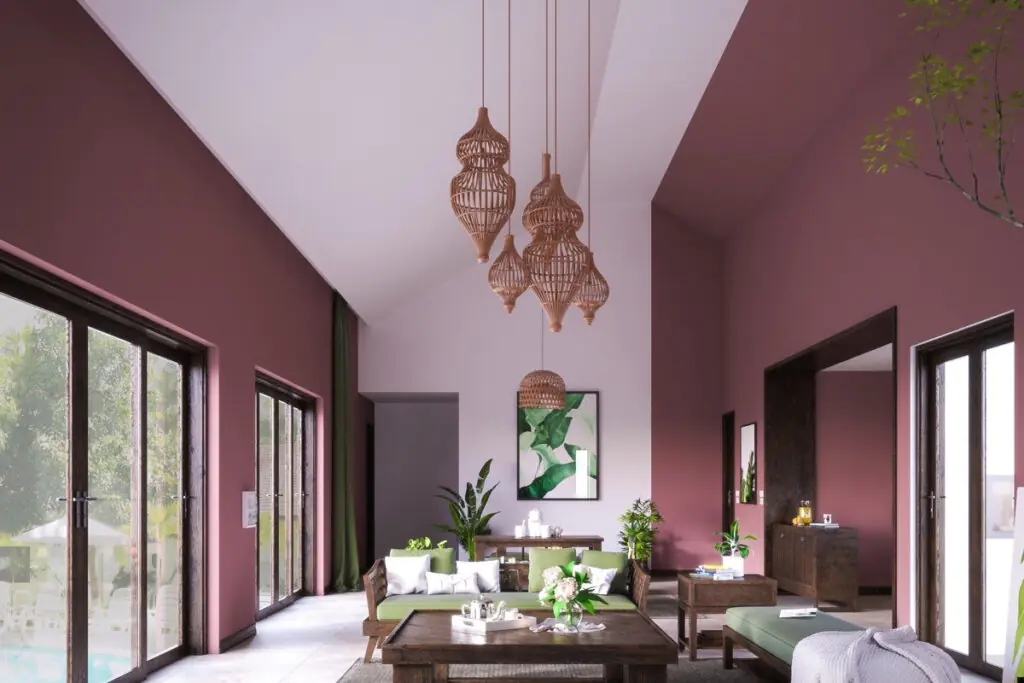 A gorgeous shade of dark pink is offset with a slice of white to create a dramatic contrast. And, based on how the light hits the room, the white adopts some of the darker pinks to give it the illusion of light pink.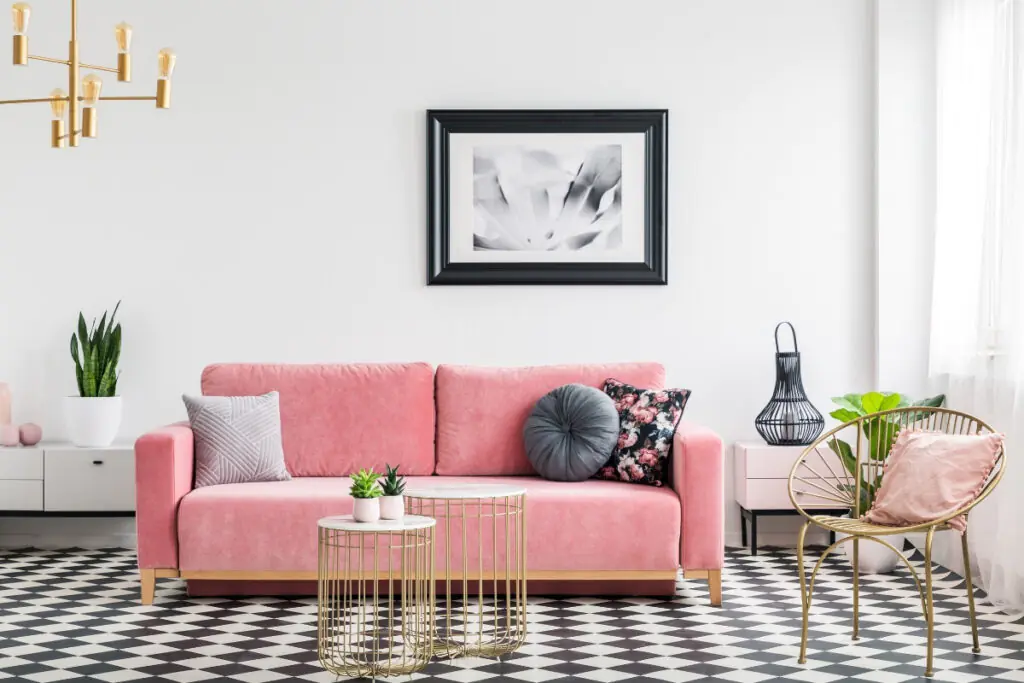 If you're not sure about pink furniture and how it could blend into your home, this is the perfect example of how it can blend in perfectly.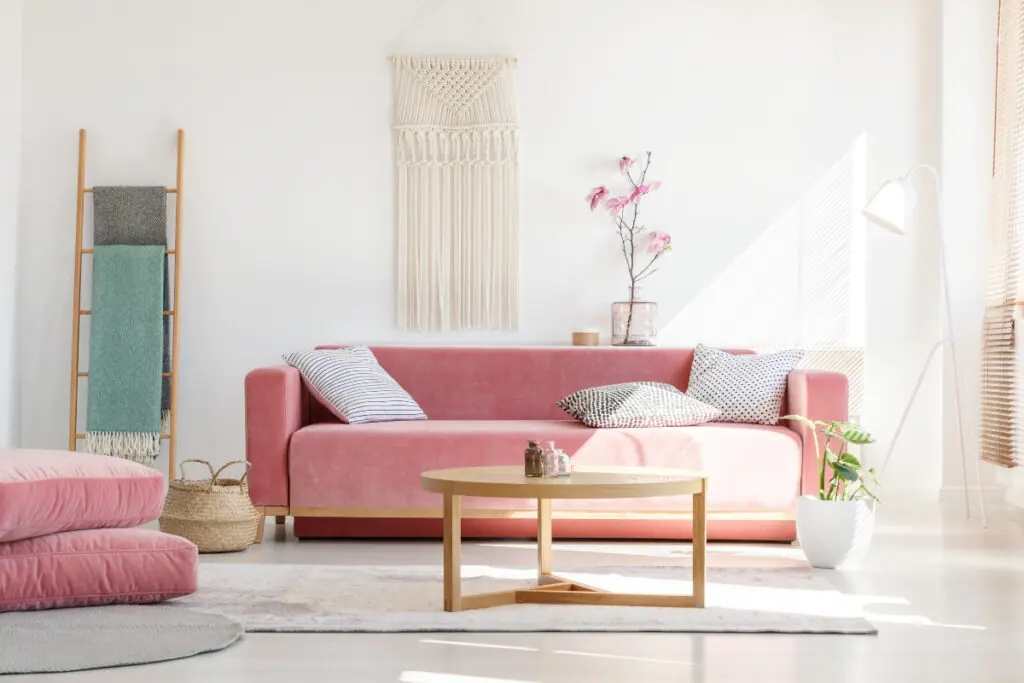 Almost the exact same sofa takes on much more of a Bohemian Chic look, just by changing up the artwork and the accessories.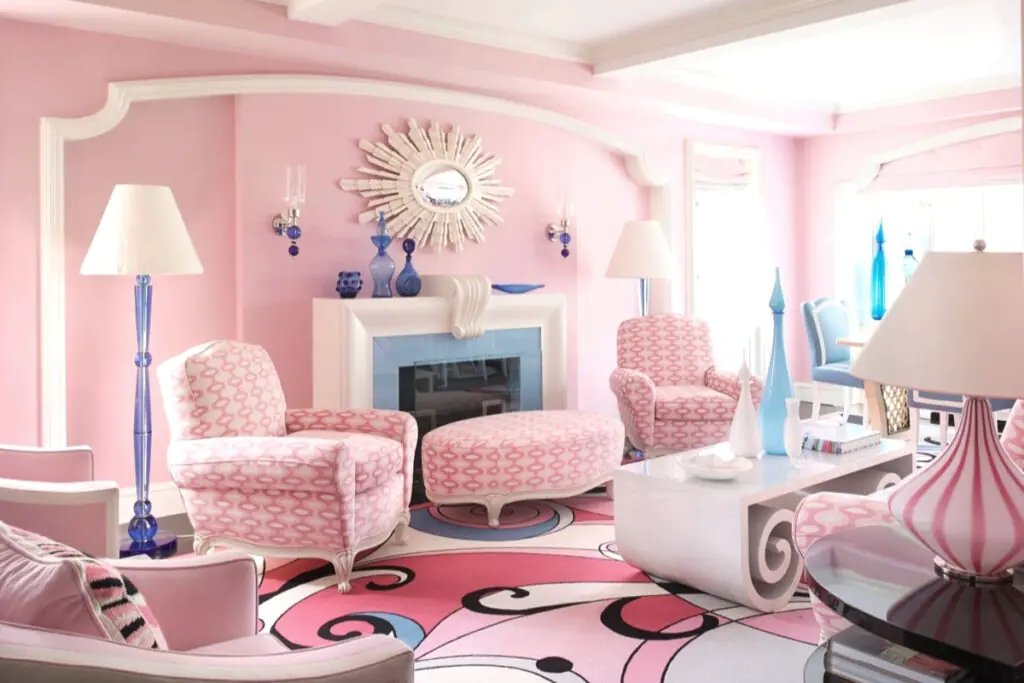 So very, very much pink! Pink walls, pink chairs, pink ottoman, pink lamps, pink sofa, and a pink rug fill this room with all sorts of pink. These are perfectly complemented by the pretty blue and white accents that pull from the carpet's contemporary design.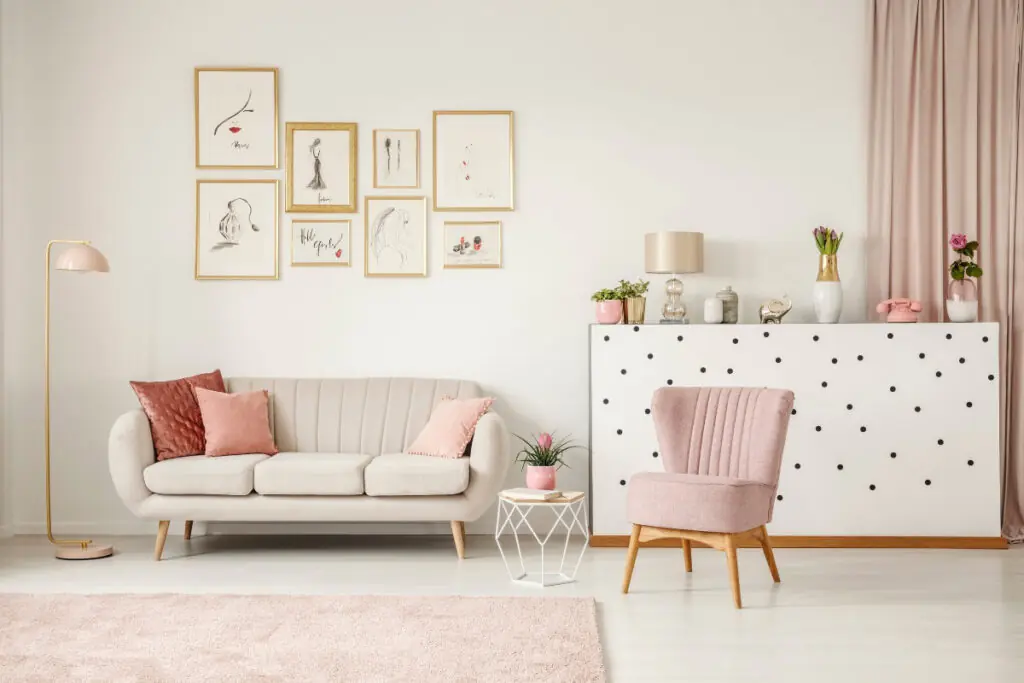 Simple, yet stunning, the pink accents work perfectly in this living room. I especially love the retro pink phone on the credenza! But I think it's the unique collection of framed artwork that brings this entire room together so beautifully.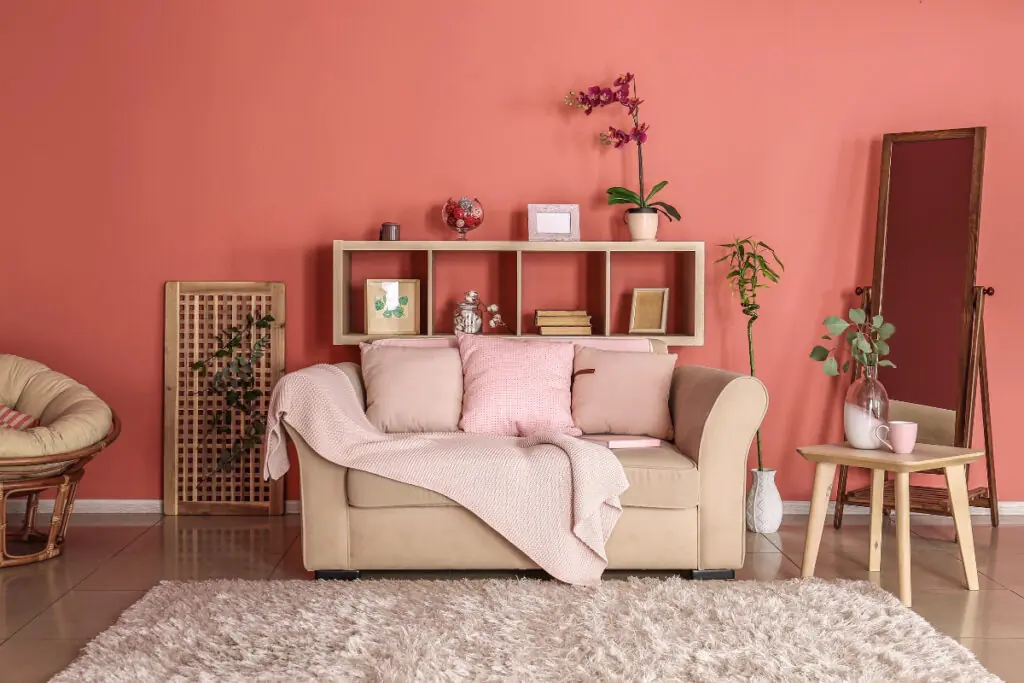 A very warm, rich, dark salmon wall is complimented by some soft pink decor accents to create almost a tropical feel in this gorgeous living room.
A true testament to how well pink can complement any decor is that it can go with practically any decor style, such as this mid-century modern living room.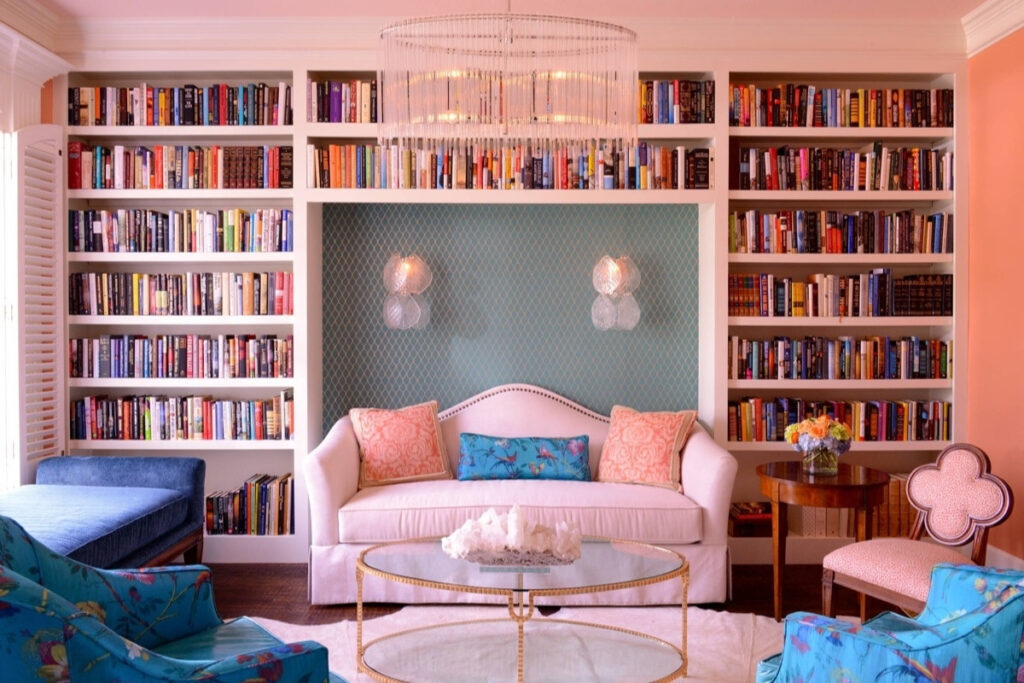 Wall-to-wall bookshelves in a soft, blush pink create a lovely focal point that literally (pun intended) surrounds the soft pink sofa.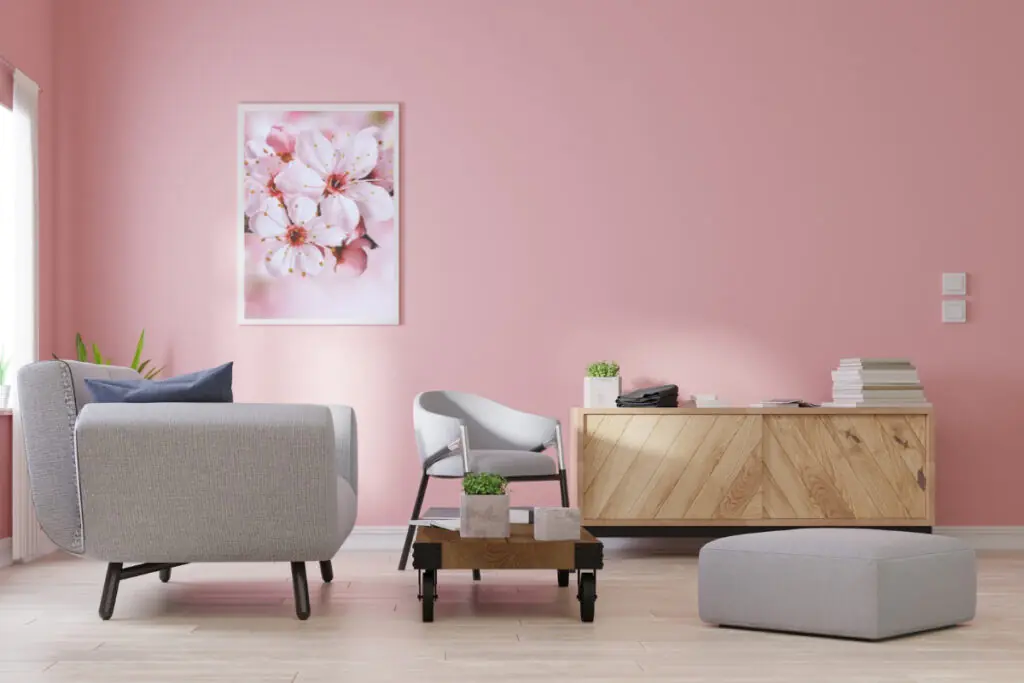 Soft pink walls and neutral furnishings combine beautifully under a gorgeous photo of cherry blossoms.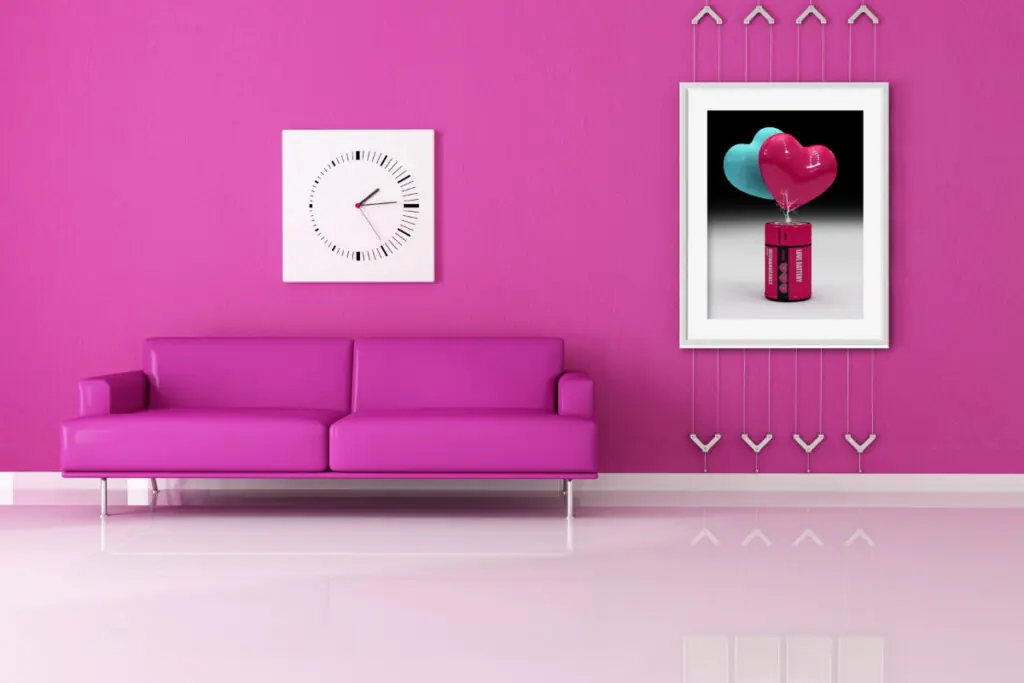 Did someone say HOT, HOT, HOT pink? This very modern living room takes pink to a whole new level!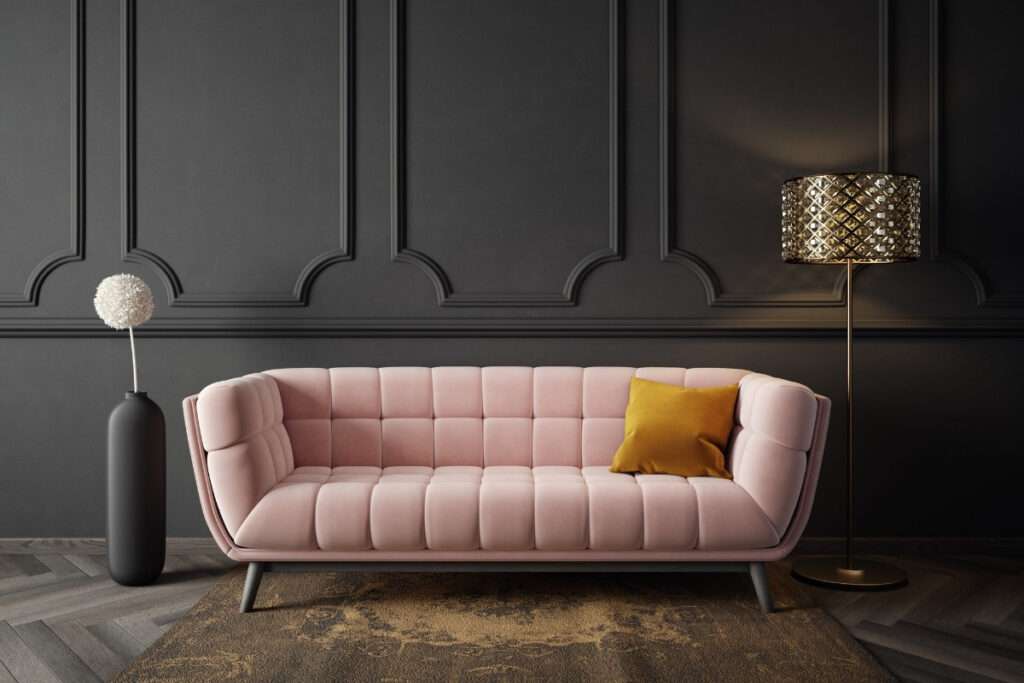 But for extreme contrast, this dark and somber living room is brightened by a blush pink retro sofa.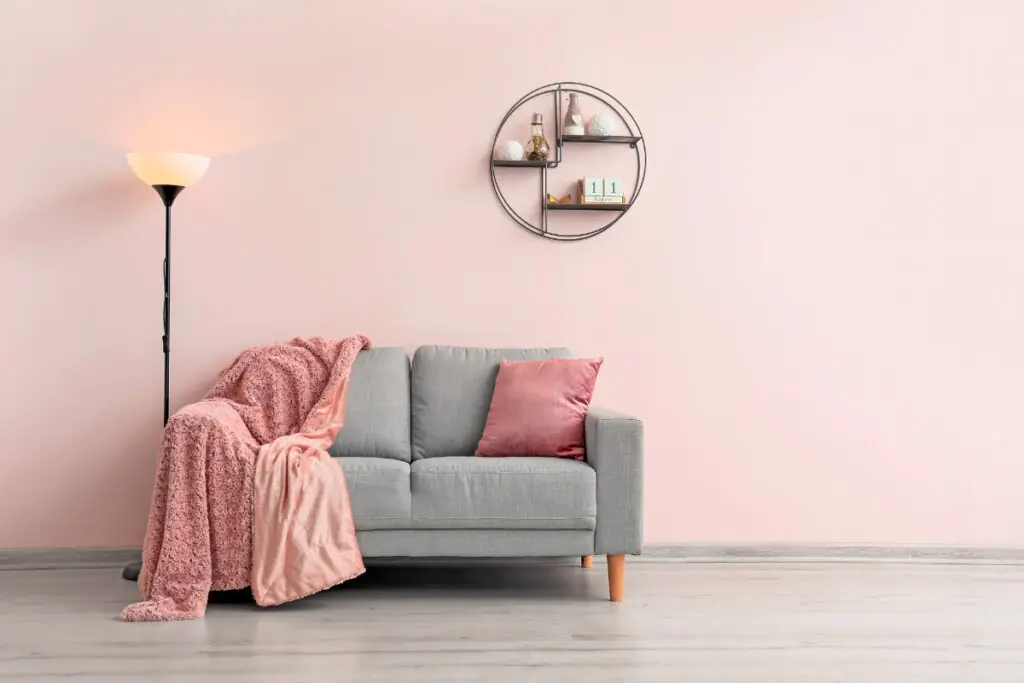 A minimalist's living room decor dream in pink and grey.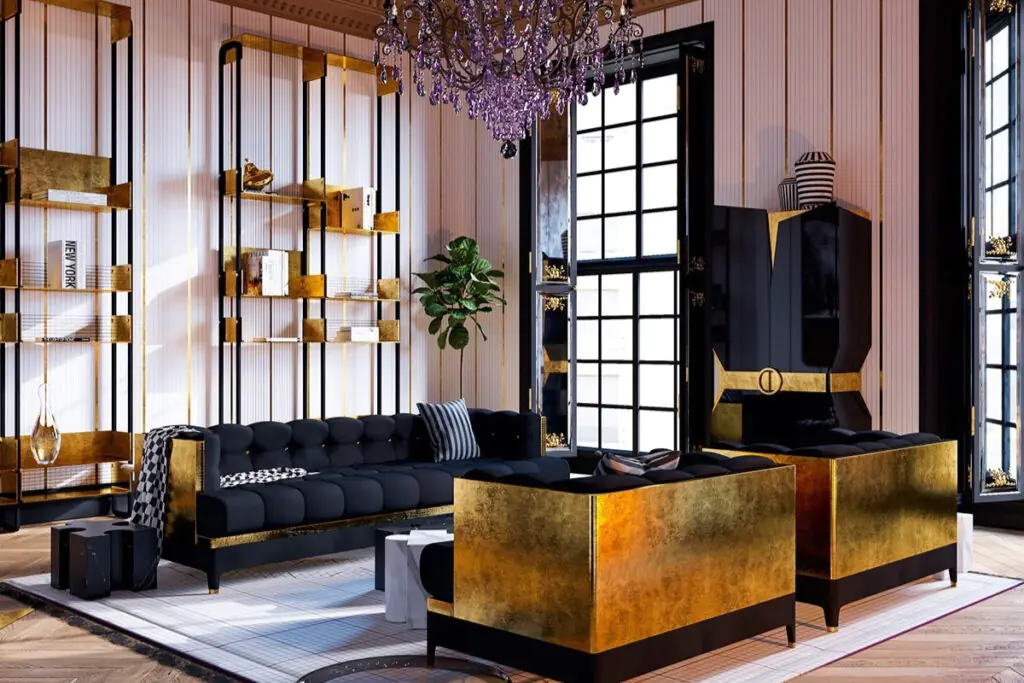 This opulent living room features soft pink walls that are offset by a plethora of black and gold furniture and decor accents. The pink/purple crystal chandelier provides the perfect finishing touch. You can almost imagine the sophisticated cocktail parties that are regularly being held in this exceptionally designed living room space.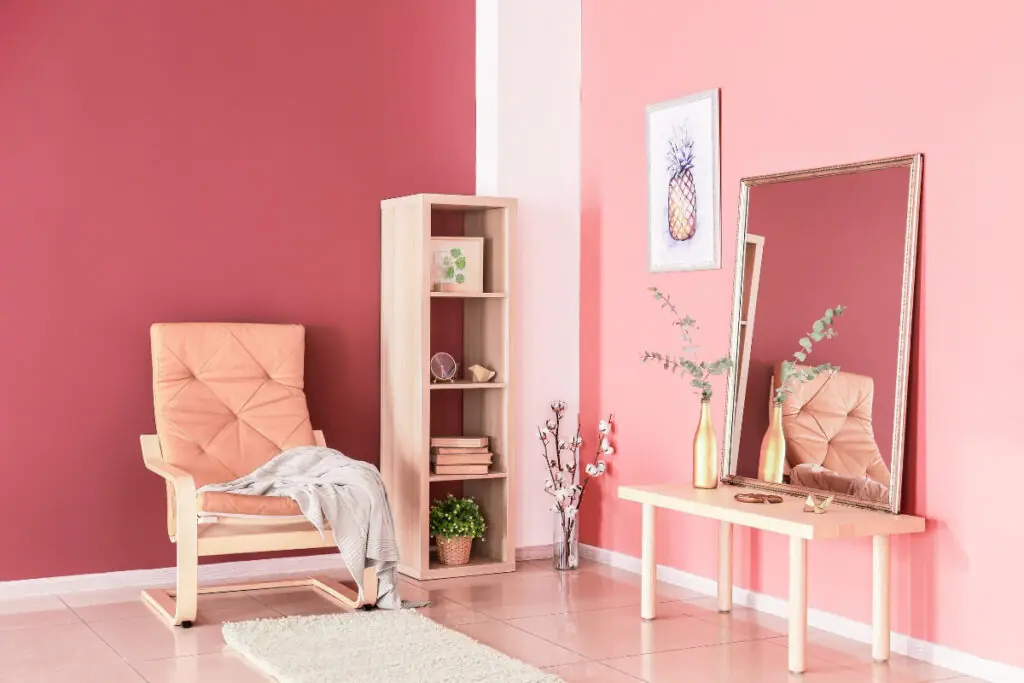 Different shades of pink complement each other perfectly, from the dark – almost red – of the one accent wall to the lighter pink on the other. The corner appears to be white in contrast, but it – too – is very, very light pink.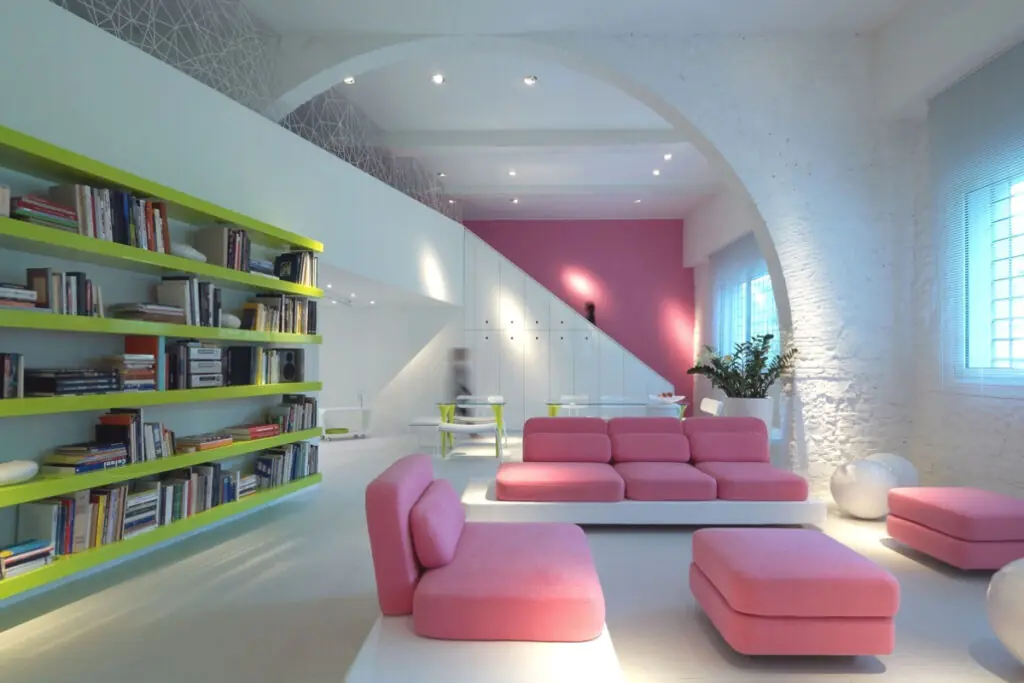 The unique geometric designs help create pops of both shape and color.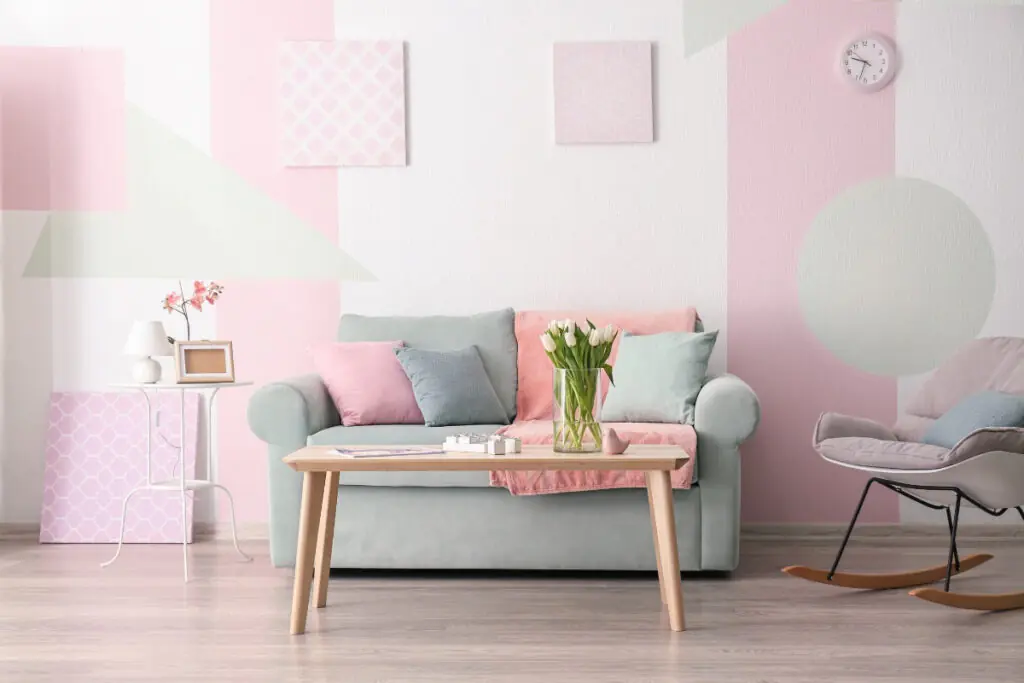 A bit of an abstract take, the wall treatment in this living room is truly delightful. The best part is that you can take this idea and expand it however you would like to create the perfect combination of colors and shapes to express your personal style.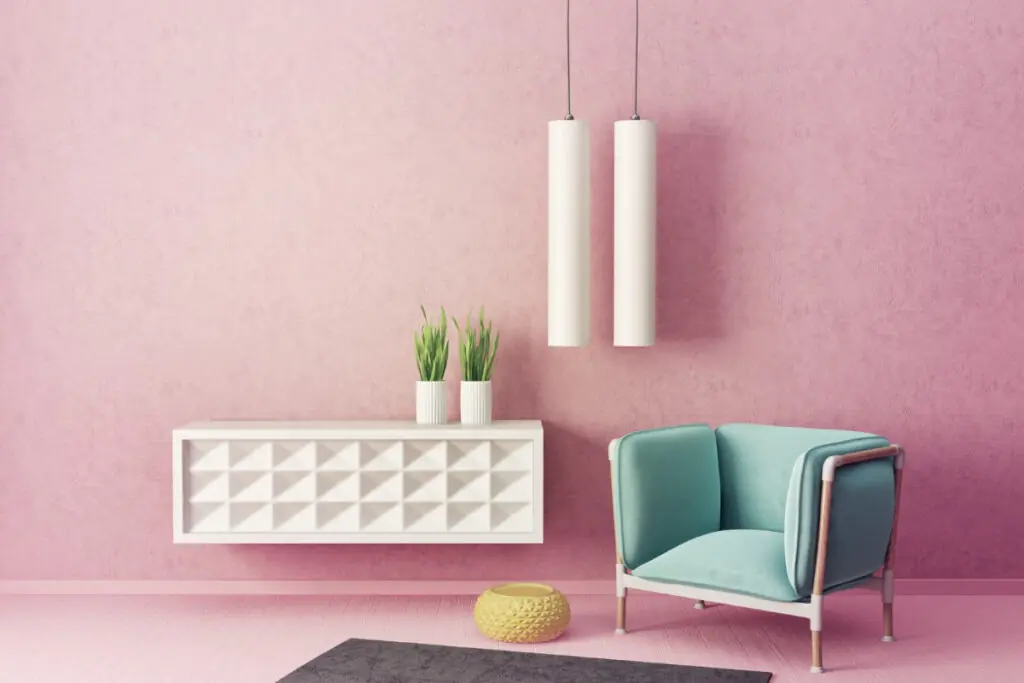 The idea behind this pink living room design was to create an airy and dreamlike feeling, hence the pink walls, floors, floating shelves, and suspended light figures.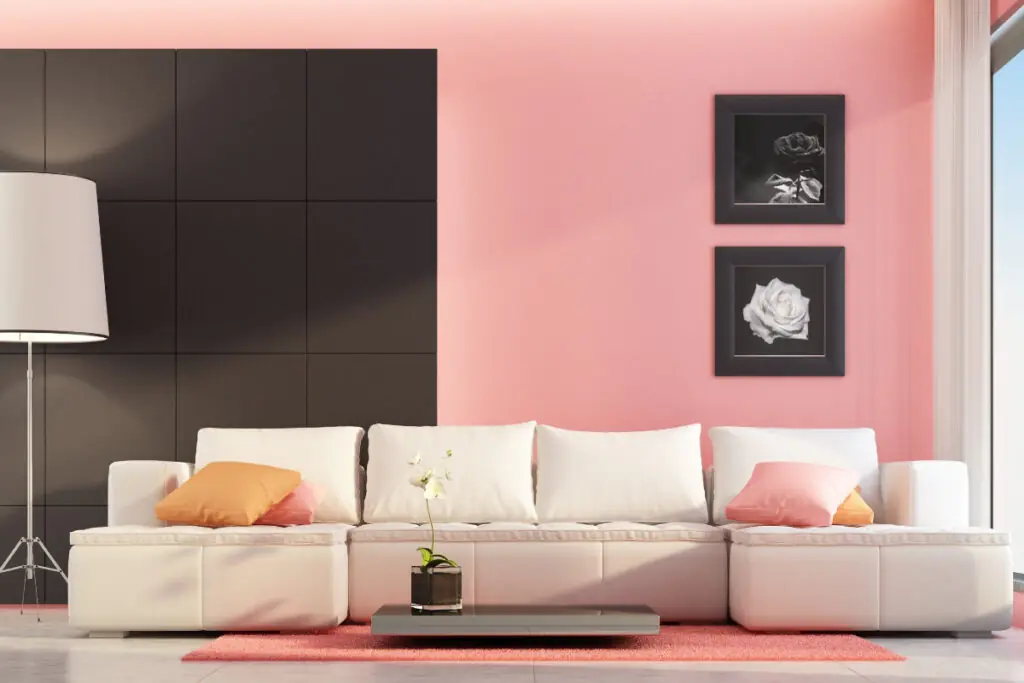 The mix of pink into an otherwise black and white living room creates the perfect balance in this contemporary decor.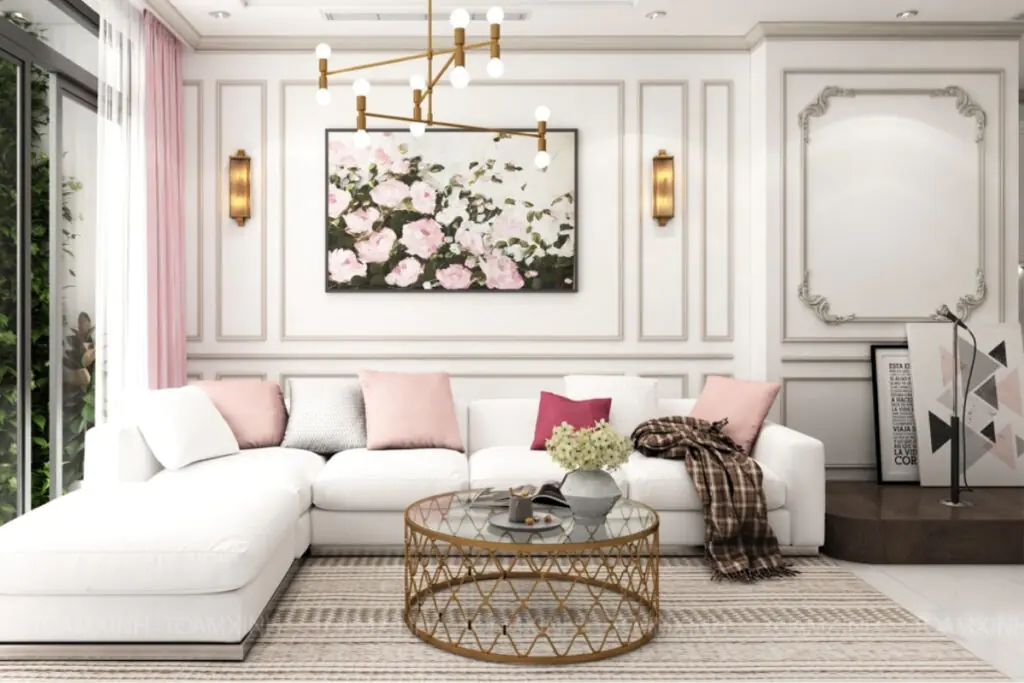 Elegance and femininity abound in this wonderfully designed space that infuses both classic and contemporary elements with just enough pink to create a punch of "Wow!"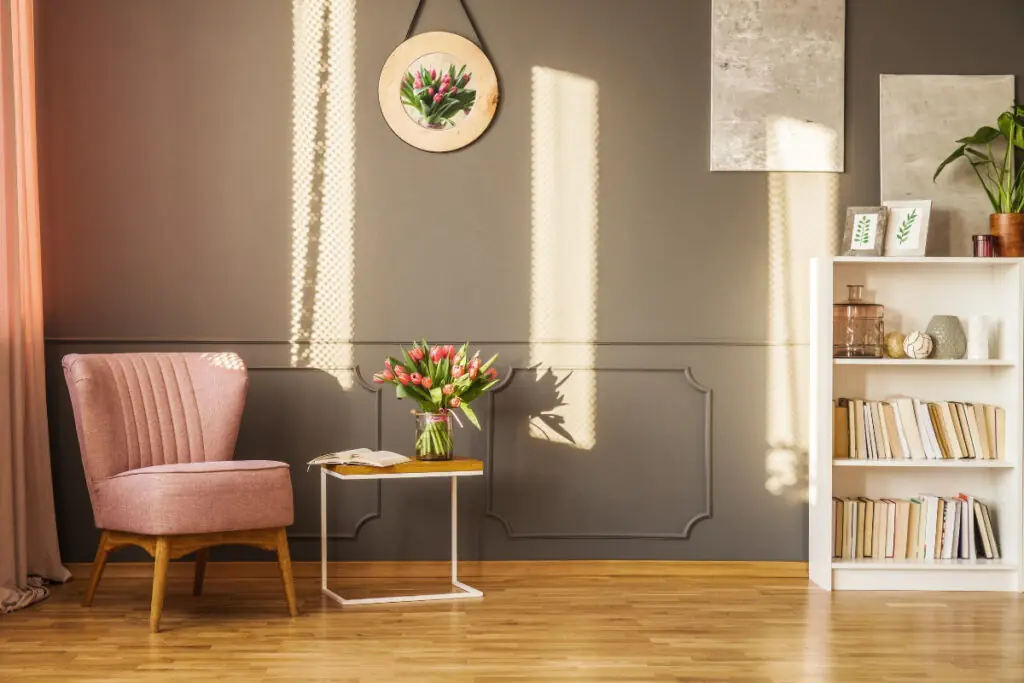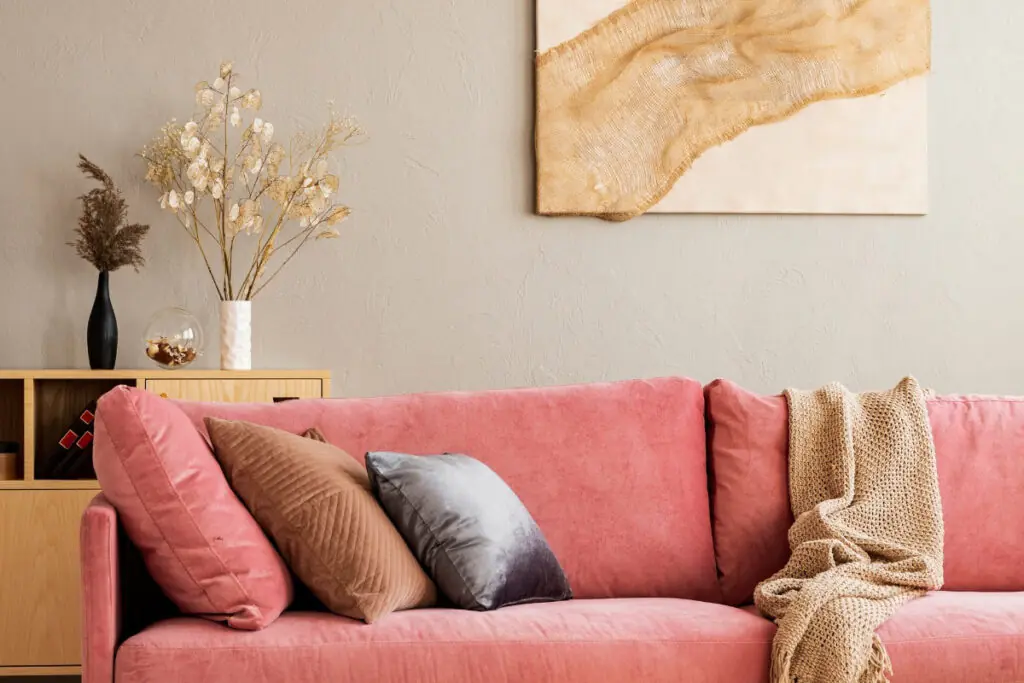 Pink sofas can be so wonderfully warm and inviting. This neutral living room takes on a fresh and wonderful perspective thanks to this rich pink sofa.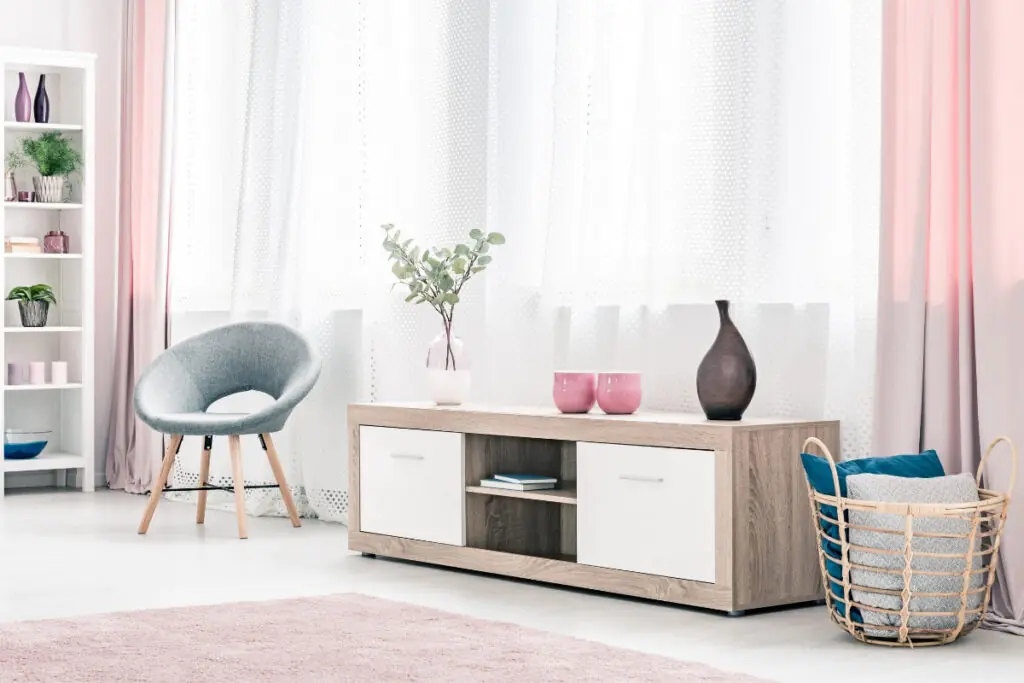 Pink living rooms have a natural lightness to them that works beautifully if you want to create a simple yet sophisticated look.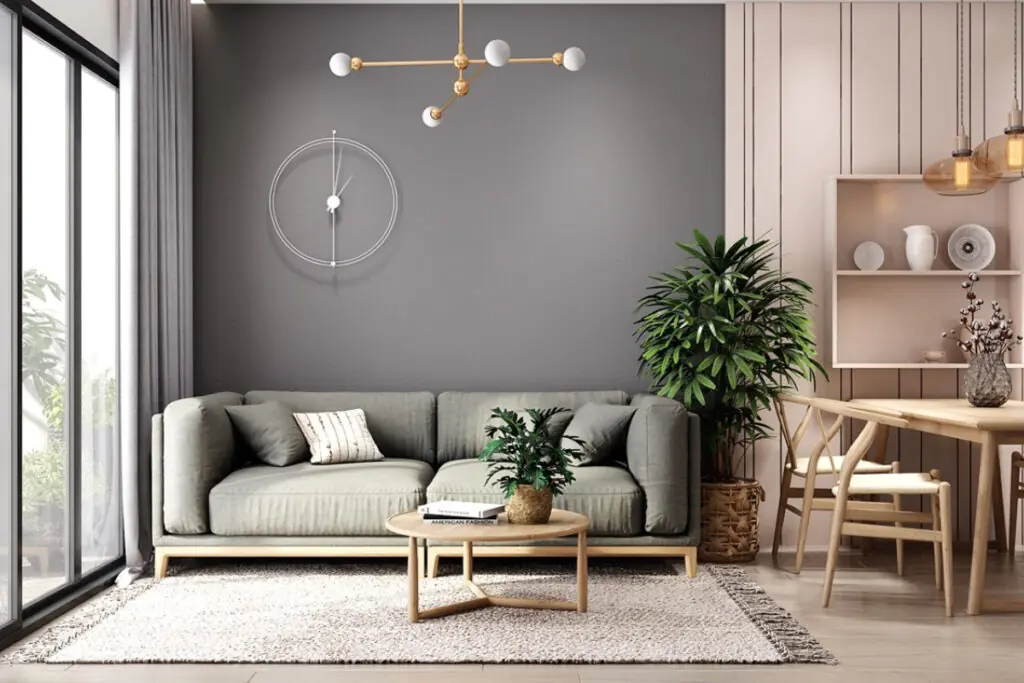 Technically, the living room itself is not pink, but I love how the contrasting colors of grey and blush pink are used to create a visual division between the living room and the dining room in this small space.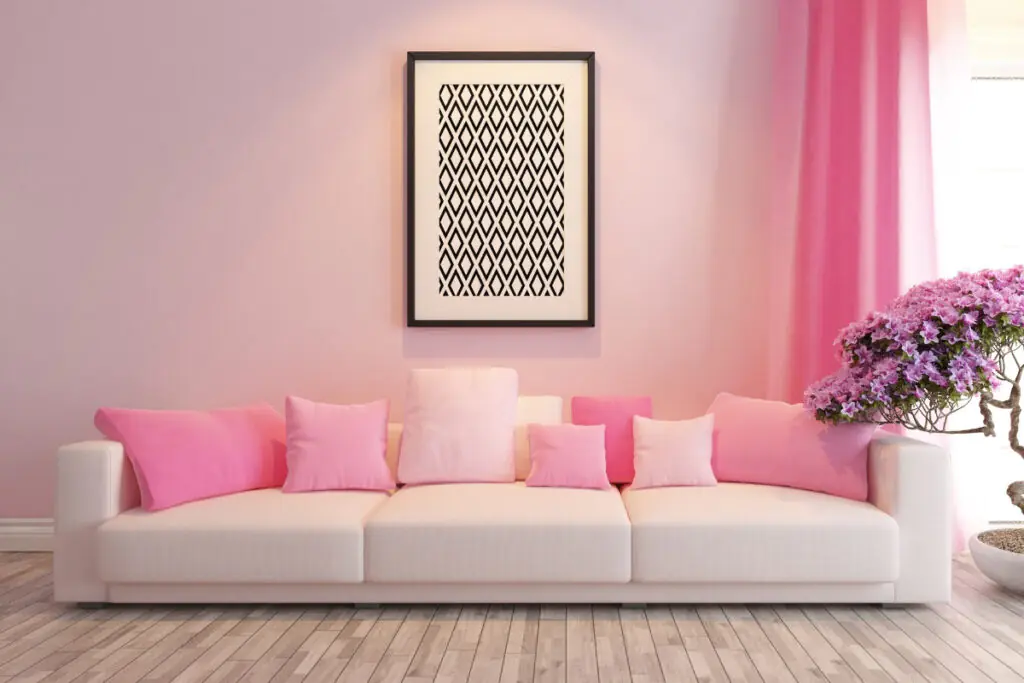 Sometimes, you just want to be as girly as possible… with lots and lots and lots of pink.
The Prettiest of Pink Living Rooms
Many people think pink is a color for little girls but, as you can see from the collection of living rooms above, it is perfectly suited for adult living rooms as well. In fact, it's one of the most popular colors in the world, beloved by men and women of all ages.
Pink living rooms can be soft & inviting or stylish and sophisticated, depending on how you approach the use of this versatile color. No matter how you use it, pink is the perfect color to dress up your living room and create a mood.
After all, pink is an iconic color. From soft pastel shades to vibrant hues, pink continues to be one of the hottest trends in design. I hope these 60+ pink living room decor ideas helped inspire you to create your own pink-themed paradise.
Want Some Inspired Living Room Decor & Design Ideas?
Check Out Our Inspiration Galleries!