Do you want to create a green living room? If so, then this article is for you! This post will provide 28 different green living room decor ideas plus some great tips about how to create a welcoming green living room.
Green is a color that can be used to create balance in your living room. It's also great for meditation, relaxation, and creating a calm environment.
Green is also great for creating the illusion of more space because it absorbs light rather than reflecting it like brighter hues would do, so if you want your living room to feel bigger then this color choice will help tremendously! It's also less harsh on the eyes too which means people won't be as likely to get tired after looking around at everything – making it a much better option for spaces where you'll need everyone to stay focused and attentive.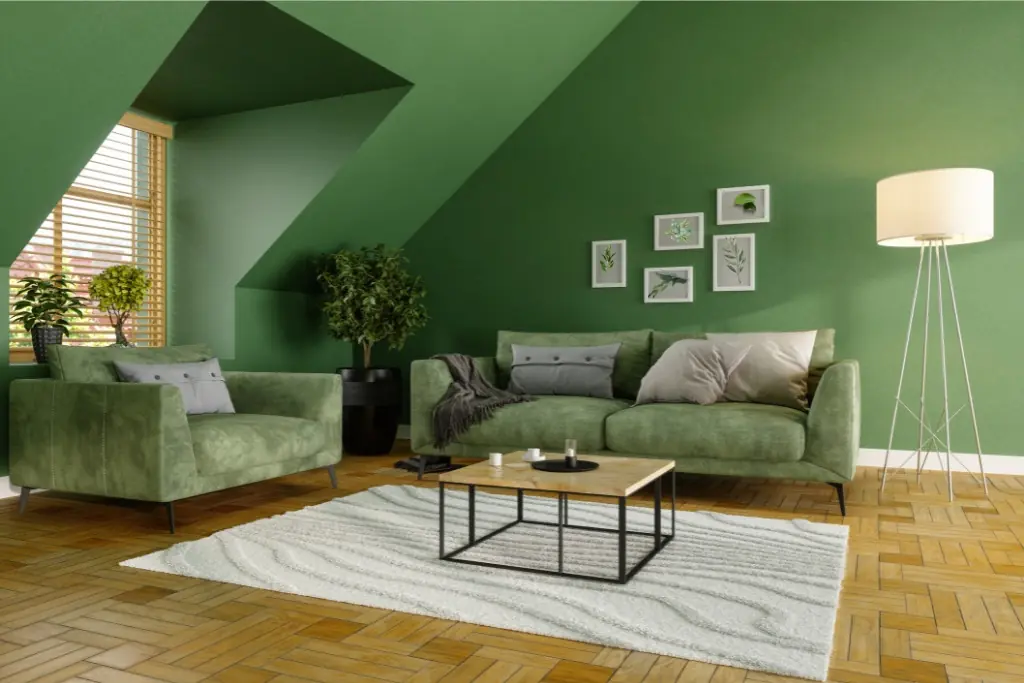 The Color Psychology Behind Green Living Rooms
The color green is associated with nature, health, and tranquility. It's also known for representing balance.
Green living rooms are ideal for people who want to create a calm environment where they can relax or meditate. People often consider green to be the most restful color on the spectrum because it balances out all of the other colors in your home (especially blue).
If you're feeling tired or rundown then this room would be perfect for you! If you have trouble sleeping at night then this will help too since green helps promote better sleep patterns by slowing down metabolism and reducing stress levels.
Different Shades of Green Living Rooms
When thinking about creating a green living room it's important to know which shades you want to use. There are various types of greens out there, each with its own unique feel and colors that go along with them. Here is an overview of the different kinds of Greens: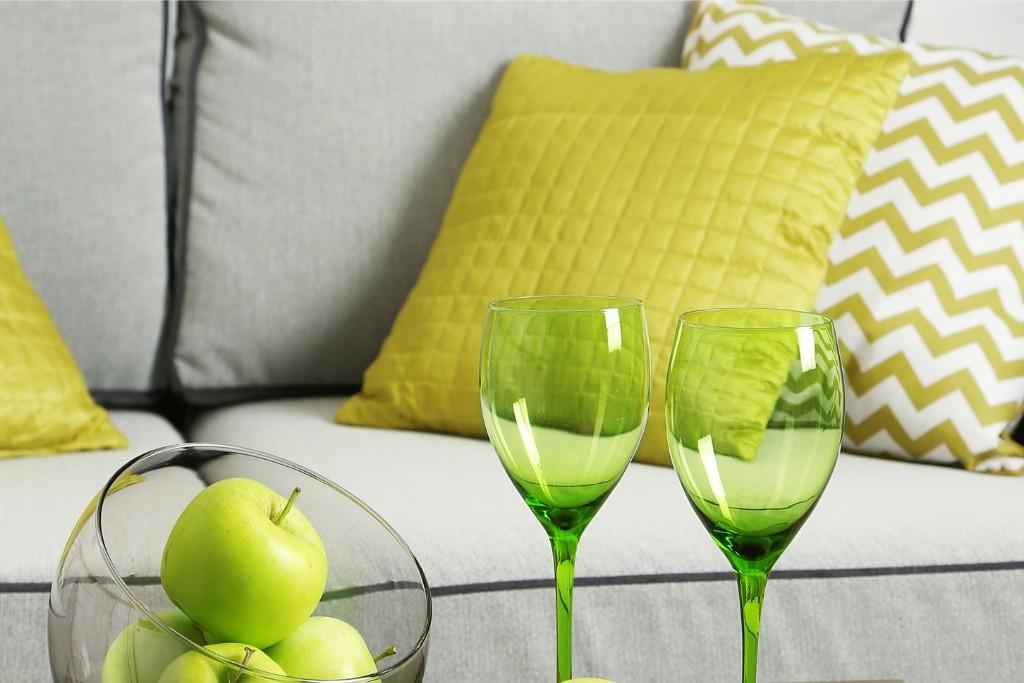 Forest Green (Dark)
This type has dark undertones making it excellent for grounding darker furniture pieces like black or brown leather couches. It creates balance in your color scheme because both lighter and darker hues can be used around this shade without clashing very much at all. A forest green wall will also create spaciousness as opposed to claustrophobic walls painted entirely in one hue.
Emerald Green (Lighter)
With lighter undertones, this type of Green is great for creating a sense of openness in your living room. This shade can be very versatile because it pairs well with both warm and cool colors (although I would recommend darker hues). If you want to incorporate more red into your color scheme then pairing Emerald green with Terracotta or Burgundy will complement that palette nicely.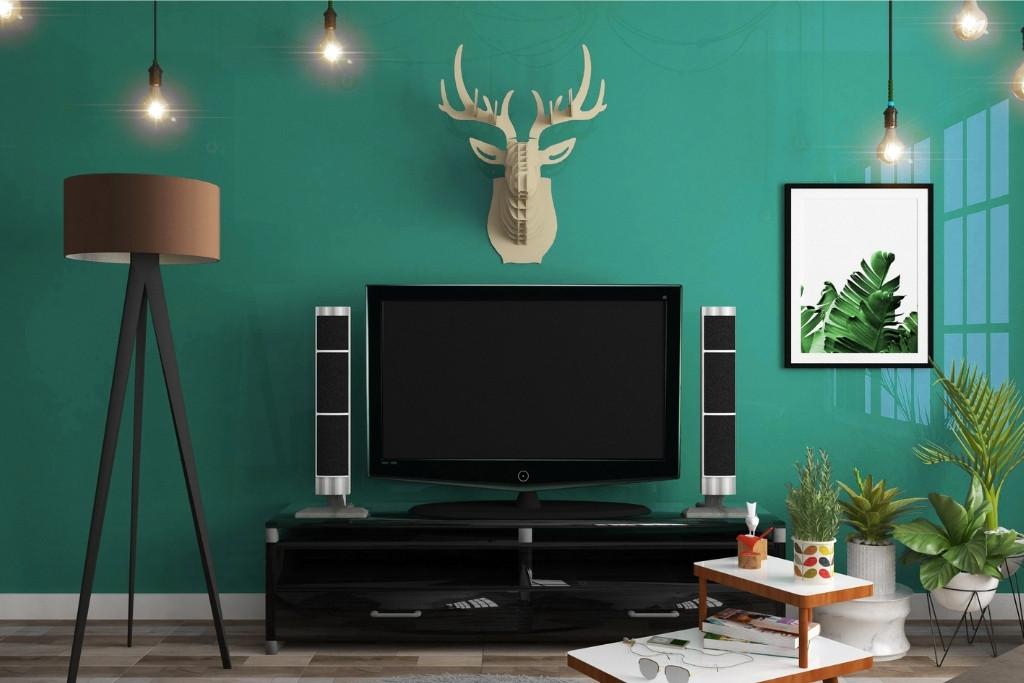 Mint Green (Lighter Still)
Another light hue, mint green has similar characteristics as emerald green but has less yellow than the other one does making it not so ideal if you are trying to use warmer tones like orange or red. It's also much better suited for people who have cooler skin tones since there aren't too many shades of Green that work well with warm undertones.
Kelly Green (Darker)
This shade of green has a little bit more yellow than forest green and is an excellent option for those who already have dark furniture pieces in their living room design. The darkness balances out the lighter hues making it great if you want to make your space appear bigger too since darker colors are known to absorb light rather than reflect them as brighter hues would do.
Teal Green (Darker)
A dark hue, Teal green is excellent for creating a sense of mystery and seclusion in your living room. It creates an aura of privacy which can be beneficial if you have children or adults who still need time to themselves even while being surrounded by other people.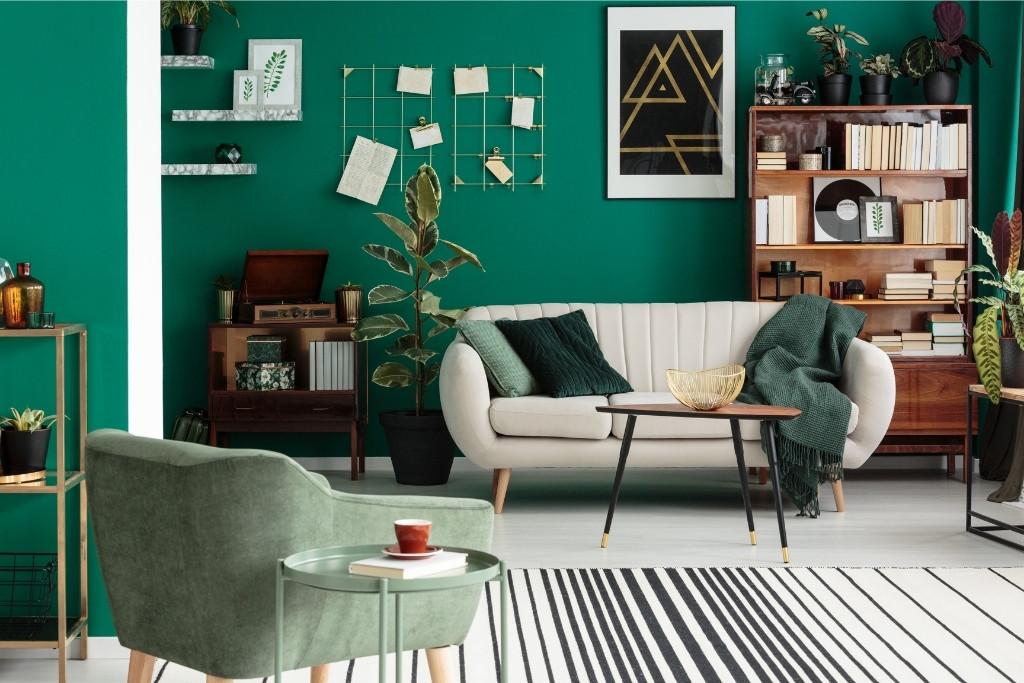 Lime Green (Lighter)
Another very bright variation, lime green can be used effectively as an accent color because its brightness will draw attention towards it without clashing with most other types of color schemes due to its high contrast against most soft neutrals but also earthy tones.
Sage Green (Medium)
This is a great option for people who already have dark floors or darker paint colors in their homes. It's also perfect if you want to create the illusion of more space because it will absorb light rather than reflect it like brighter hues would do, just like with Kelly green above.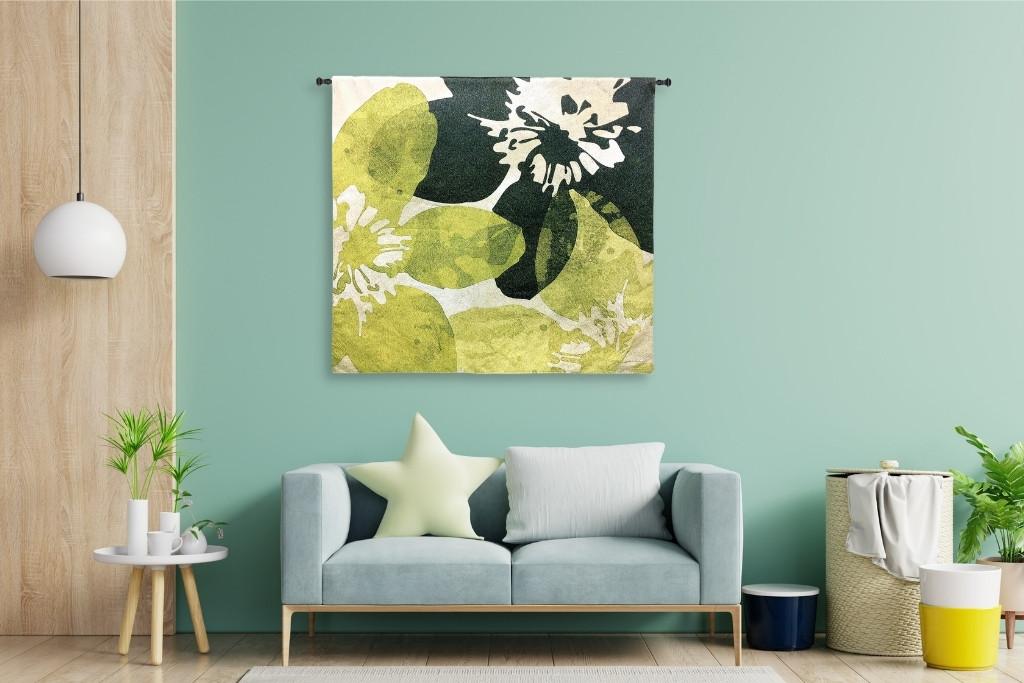 What colors should you use with Green in your living room decor?
The color green is an excellent choice if you want to create a serene and calm-looking room. However, it's important that the other colors used in your decor contrast well with green so as not to overpower or clash with this main tone.
If you want to use contrasting colors in your living room design but you're not sure where to start then consider using neutral tones such as grays and earthy browns. These colors work well because they're easy on the eyes yet still help balance out brighter hues when used in small amounts which is why pairing them against Green makes a lot of sense!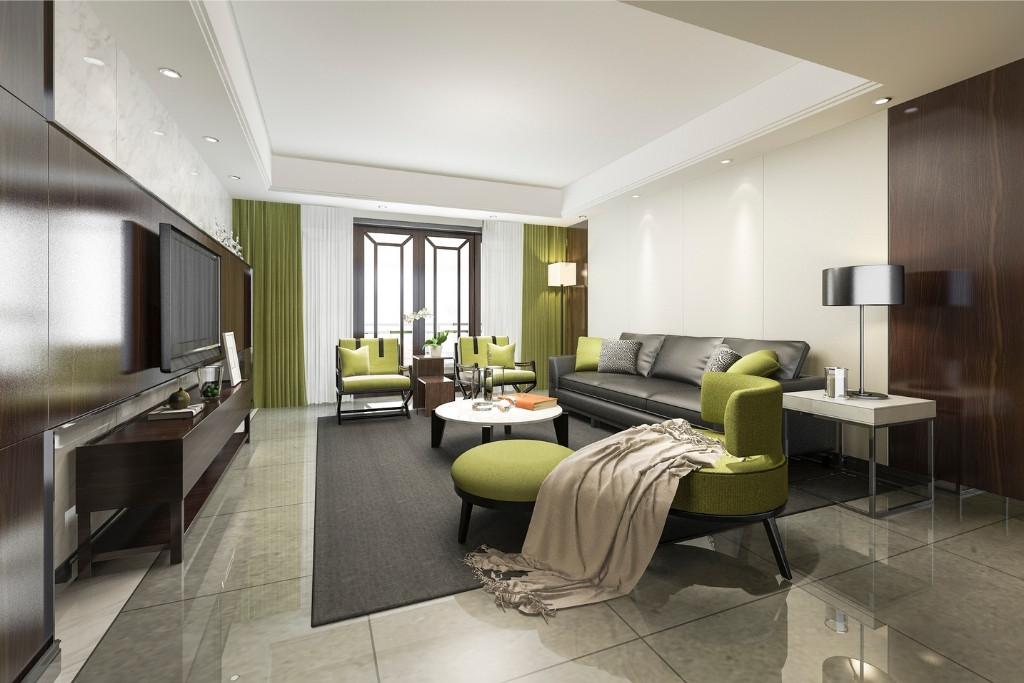 White
This will be one of the best choices for painting walls because there are several variations from cream all the way up to pure white depending on what look you're going for (light vs bright). A predominately white palette creates plenty of light which makes any space feel bigger than its actual square footage due to how reflective these surfaces are! If you love brighter hues then pairing them against white walls will help make those hues pop even more without cl too much since they'll reflect light rather than absorb it.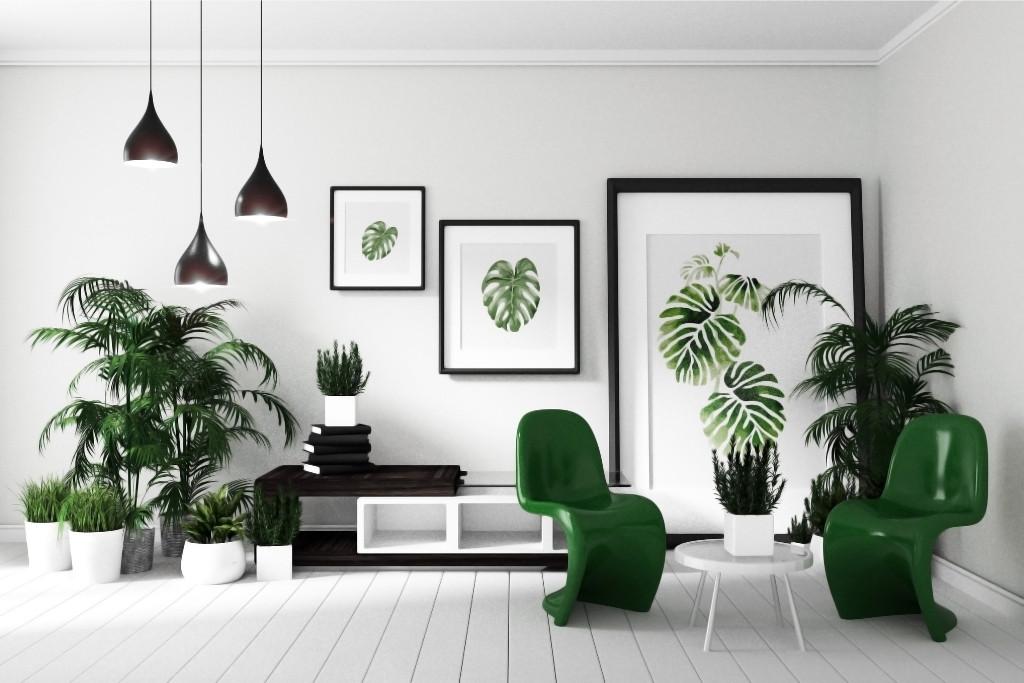 Black
If you want to use black as more of a secondary color and not directly against green then pairing dark browns or blacks will work well with this hue because they both have cool undertones whereas green has warmer ones. This type of contrast is perfect for creating a balance between the two colors but also helps create an elegant look that isn't too harsh on the eyes.
Gold
Gold is a great choice if you want to make your space feel luxurious and rich without going too far with color. If you choose gold accents against green walls then the earthy quality of this hue will help ground it in a way that isn't too flashy or busy looking, plus it's also perfect for those who love neutral palettes as well since most other colors work very nicely with these two!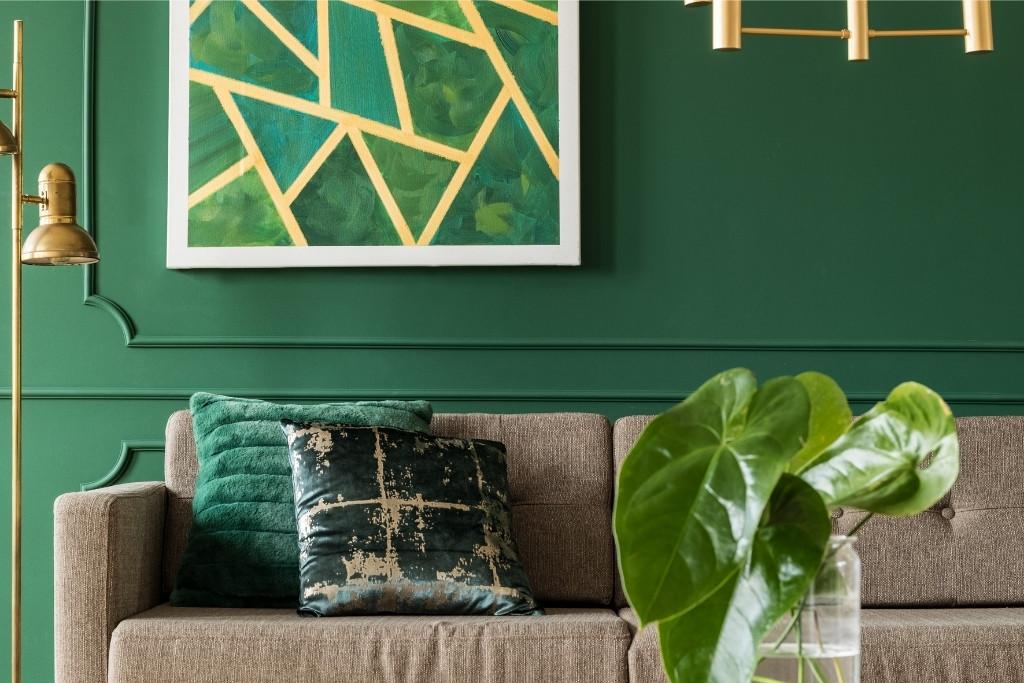 Gray
Depending on what shade gray you decide to go with, lighter grays such as silver can be considered very serene while darker ones like charcoal are slightly bolder despite having similar characteristics otherwise. Experimenting with different shades helps make your space feel unique due to how versatile these types of hues really are! Try using lighter grays as accents if you're pairing them with green to make your room look more spacious.
Yellow
Similar to gray, using yellow as an accent can help make your Green living room look more light and airy. This hue is also great when paired with earth tones such as browns or beige so if you want a unique twist on neutrals then consider these options!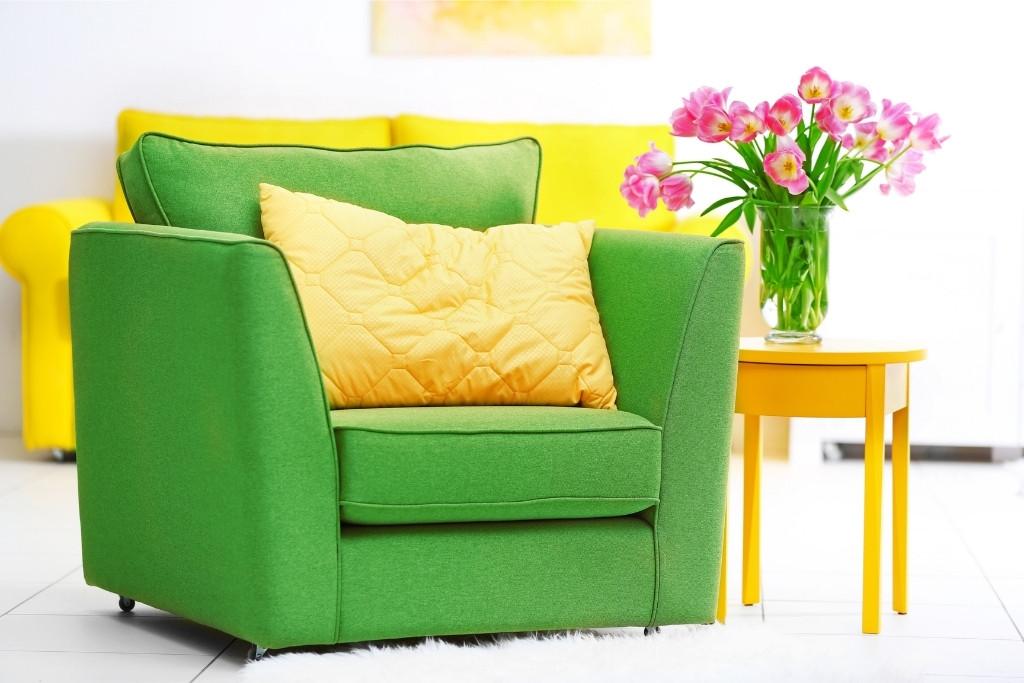 Blue
The color psychology of green tends to lean towards feelings of freshness and new beginnings while blue represents calmness and peace which makes it the perfect complementary pairing in terms of colors too! One shade that's particularly beautiful against this main tone is periwinkle since both hues have similar brightness levels yet contrast well enough to not appear monotonous whatsoever.
Earth Tones
If you want to avoid brighter hues then using shades of brown, beige or taupe are all great options that will still complement the other green decor choices in your living room design! They have similar characteristics so they'll work well together without clashing too much but also won't distract from each other due to how neutral these tones are.
Using softer hues like lavender and beige are also great ways to make your space feel warmer and inviting which helps balance out any brighter tones that might otherwise overwhelm your living room design concept. These types of hues are easy on the eyes because they aren't overwhelming but will help tie everything together nicely so it looks intentional rather than haphazard!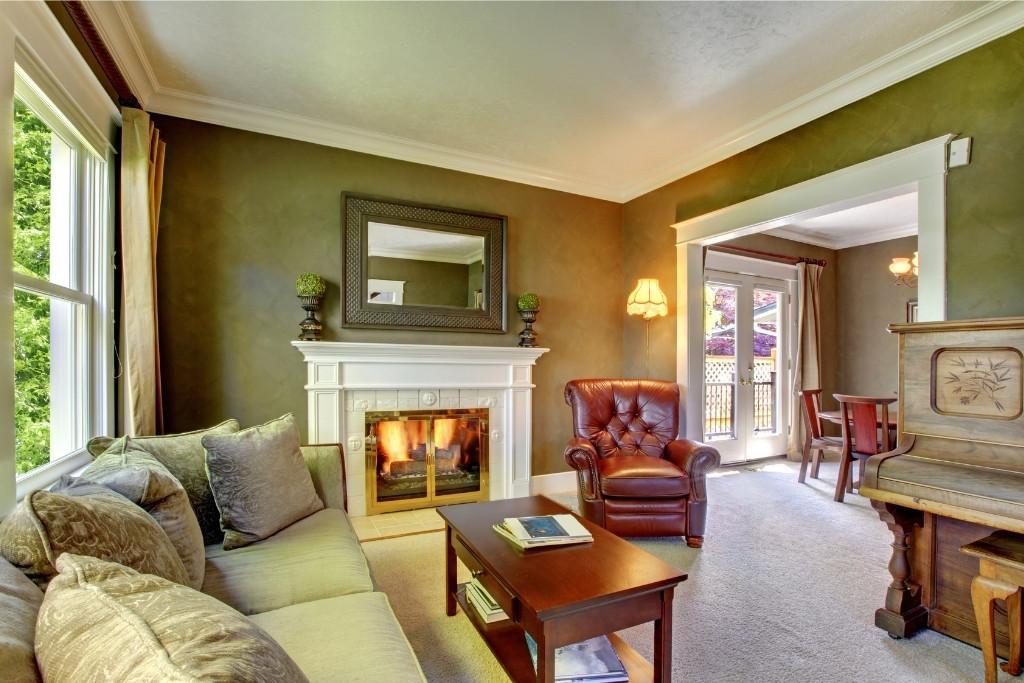 Red
You want to be VERY careful when combining red and green in your living room, otherwise, your space will look like it's Christmas all year round. Not that there is anything wrong with Christmas decorations, but there is a place – and a time – for them. However, subtle accents of rich, rustic reds (with more of an orange base) can work very nicely with green.
Pink
While this color may seem very feminine, pink can still work well with other colors as long as the shade itself is not too bright. If you're going for a pop of lighter hue then consider using light pinks or even dusty roses to create an interesting contrast against Green walls without appearing too girly!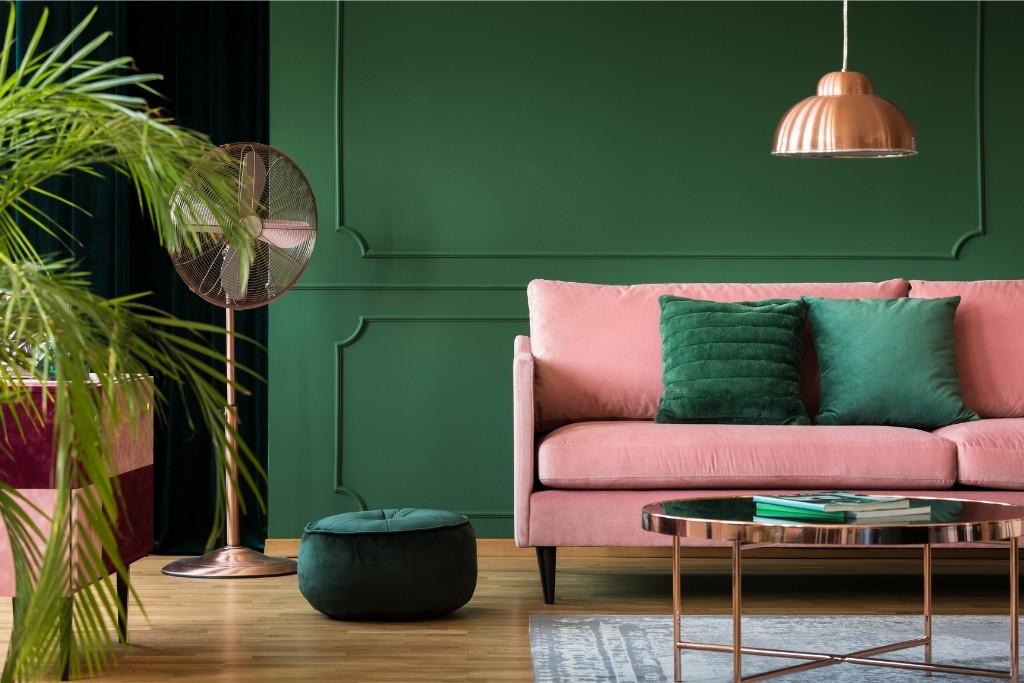 Tips For Creating A Beautiful Living Room In Green
Now that we've covered all of these different types and shades of Greens let's go over some tips on how to make your living room stand out even further! We'll include examples from other people as well so you can get inspired by what others have done before you too:
Don't forget to decorate! Although green is known as a very restful color, you still want your room to look beautiful. This means that it's important not just to have great furniture pieces in there but also other elements that fit the theme of your living room design.
If possible use real plants in your decor since they help make the space feel greener by bringing nature indoors.
Keep an eye out for any possible patterns when choosing your decor items because this can sometimes be overwhelming and take away from the beauty of both each individual item and the overall space too.
Since green is a restful color it's important to think about what that means when choosing your other décor items. You want things in there that are soothing, clean, and fresh.
Bring other aspects of nature into the living room by using outdoor elements like stone statues or metal stools for additional seating if necessary. This way everyone who visits feels more at home because it reminds them of their own backyards out on nice days – plus these materials are typically very durable which is great since you'll probably use this area often whether during parties with friends or just, in general, to have family hang out together.
If you are decorating with only green shades then don't forget that there are several different types within its category including lighter ones, darker colors and even some that fall into both categories depending on bright they actually appear when compared against other colors. This means that you can really get creative with your color schemes for this room because there are so many different options to choose from!
Remember that no decorating style is automatically better than another when it comes to creating a green living room, but rather the most important thing is choosing what will work best within the space and also with any other elements (like furniture) already inside too. If you want something very simple then go for it! However, if you like more decorative pieces or colorful accents in general then don't be afraid of adding some into the mix – just keep them balanced against everything else instead of having them take over completely which would defeat the purpose of picking green in the first.
If you don't want to use real plants then there are also artificial ones available for purchase that will work just fine too! They look almost identical but without all of the maintenance required with real ones. Beware, though, some types can be toxic if ingested so it's important to double-check before purchasing them and keep them out of reach from children or pets (who may try eating them).
When choosing your paint color always think about how light affects each hue differently because this is where most people go wrong when decorating their living room. For example, lighter Greens like Mint green or Lime actually absorb light rather than reflect it which darker hues in your scheme stand out more and appear bigger.
Mixing patterns can be a very good idea if you want to create interest in your living room but don't want it to seem too busy or overwhelming. Just remember that prints with high contrast will usually work the best! For example, a beautiful green tapestry wall hanging could be the perfect addition to add warmth, color, and texture.
If possible, use green accessories such as pillows or rugs since these give people an easy way of changing their look without needing to repaint walls which is much more costly than just getting some new throw cushions for instance instead. It's also easier because they tend to come in many different styles and at reasonable prices, so there should be something out there no matter what price range you are working within.
Make sure everything else around you works well with green too. If you can pull off a room that's mostly one color, like the examples we've shown, then this should be fairly easy to do since everything will match and flow together nicely (just remember that patterns work best here).
Don't worry if your design is not perfect as it may take some time for you to find what really fits in your space but once you do people will notice! They'll also enjoy how calm and relaxing they feel when being inside of it which makes their entire home more inviting overall whether they have guests over or just want to relax on lazy weekends at home.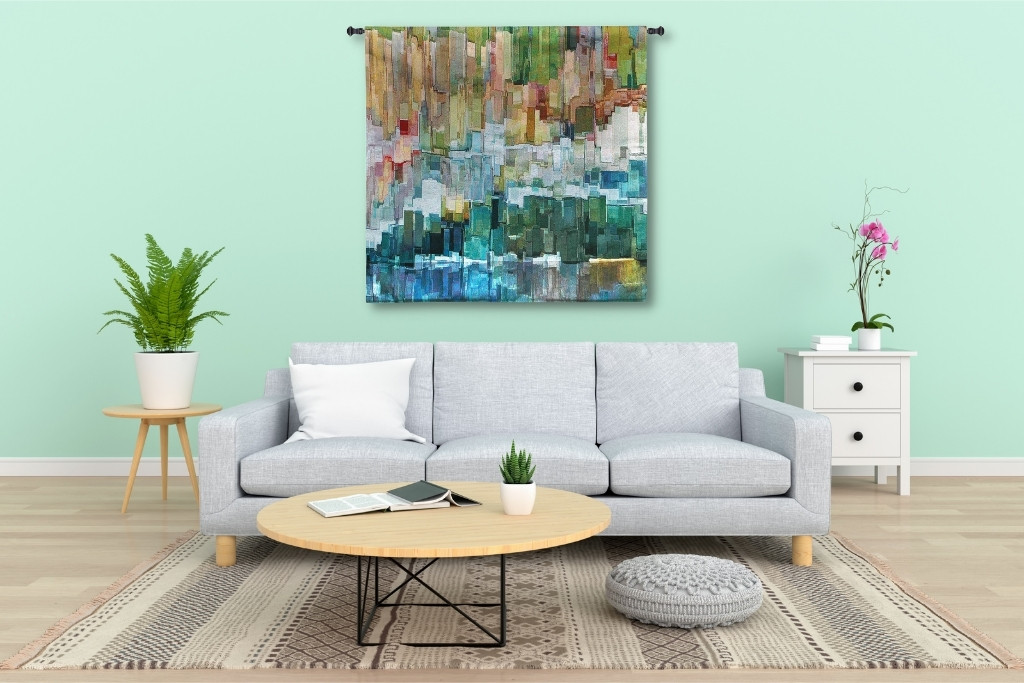 Benefits of Green Living Rooms
One of the best benefits of using green as your primary color choice is that it's very easy to find ways of incorporating it into every room! It doesn't matter if you want a bright and vibrant living space or something calmer with muted tones since this tone can fit anywhere. If you have children, for instance, then having some lighter shades is great because they'll be able to play around without being distracted by colors too much.
People who like spending time in green spaces feel more relaxed when they're inside their own house which reduces stress levels significantly during hard times.
Using different types of plants in your decor enhances productivity at home since people end up feeling less lonely due to how calming these are which gives them more energy to do everything they need.
Green living rooms work well for people who want a peaceful atmosphere at home since these are actually proven to reduce cortisol levels in the body during stressful times, giving you that calming effect that makes it easier to deal with your problems without feeling overwhelmed by anxiety or stress.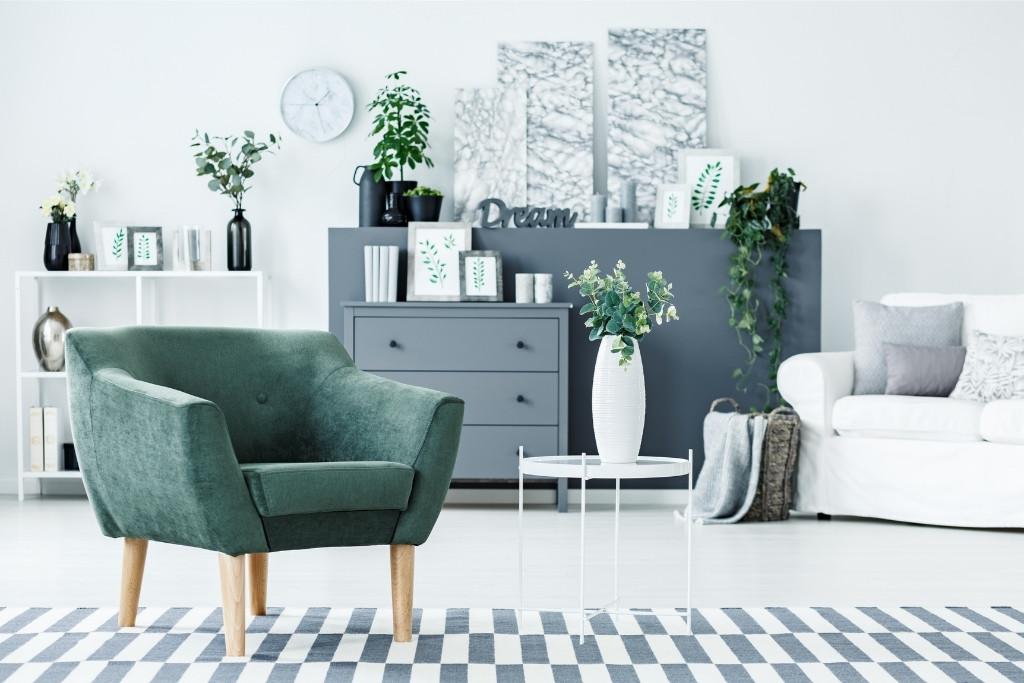 Now It's Time To Create Your Own Green Living Room!
Think about what you want first. Do you simply want a place where your family can relax together? Or do you also want to practice some yoga or meditation practices on the side which will require different lighting & furniture placement?
Once you know this, start choosing furniture that will work well with each other and then think about adding color accents based on how much time people plan to spend here as well as whether they'll decorate it mainly themselves or if there are multiple members of the household who like changing things around often. It's always better to choose things that match rather than trying too hard since most times people won't notice anyway so just having something simple but beautiful works perfectly fine!
If you want to create your own space but can't decide what would look best, take some time and study other people's living rooms for inspiration! Remember how we said patterns were great? Well, see how they use them in order to enhance their overall style. Just remember to always start small if you're not sure about something since are no limits when creating things yourself.
In the end, you want to make sure that whatever you do is going to be good for your family and yourself so don't rush it. Look at other people's rooms closely in order to see what works best with a color palette like this one since they'll have some interesting ideas if they've already experimented around enough!
Need help or have any other advice about creating a beautiful green living room? Let us know by leaving a comment below. We're always happy about being able to provide assistance whenever possible.
More Green Living Room Ideas
Still need more inspiration? Browse this gallery containing even more unique and wonderful green living room decor ideas.
Want Some Inspired Living Room Decor & Design Ideas?
Check Out Our Inspiration Galleries!