Sometimes you just need to add a playful pop of pink to your home's decor. That's where these unique and wonderful pieces of pink art come in very handy.
Pink is a delicate color that is often connected with the ideas of sweetness, youth, romance, and tenderness. Considered by some as a "feminine" color, those gender norms have slowly been washed away and anybody – young, old, male, female, straight, gay… or anywhere in between all of those spectrums… can add a playful touch of pink to their home.
Considered as the universal love that represents loving oneself and others, the color pink often symbolizes harmony, affection, friendship, and inner peace.
Although both red and pink are known to represent love, unlike the heat & passion that the color red tends to represent, the color pink leans more toward the more romantic and charming aspects of love.
That's why pink wall art makes for a playful, charming, romantic, and harmonious addition to any decor scheme.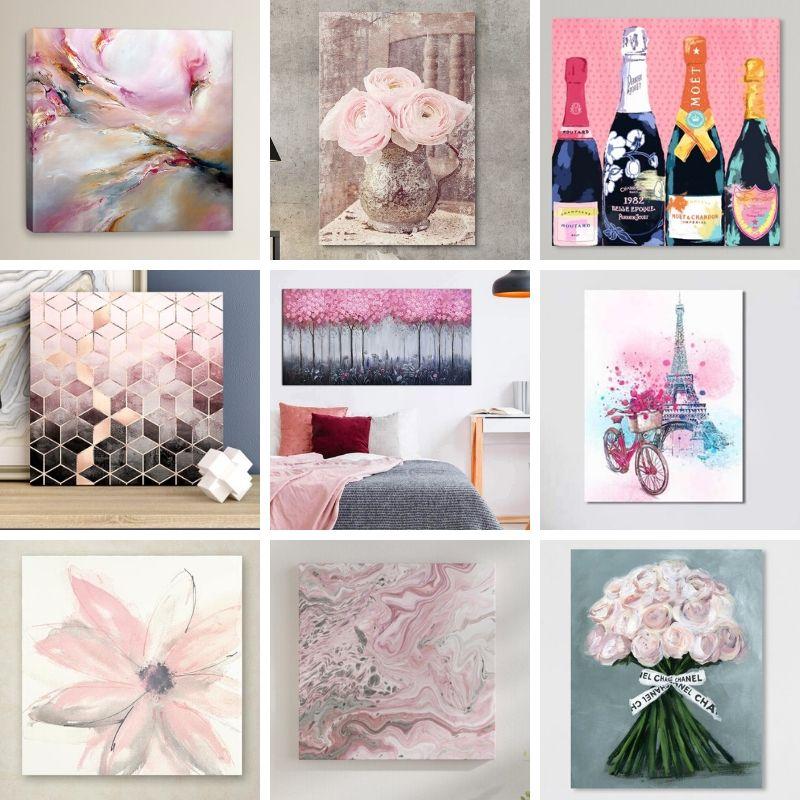 From abstract art sets to beautiful floral prints, there is a way to add a luscious and lovely touch of pink to any home.
If you're looking for a way to add a pop of pink to your walls, you've come to the right place. We've made finding pink wall art easier by doing a lot of the leg work for you.
Our Picks for Beautiful Pink Art
We've scoured through our retail partner sites at Amazon, Etsy, Wayfair and more to find the very best and the brightest pieces of pink wall art for your home. We hope you can use this list to find just the right piece.
Please note that Art & Home does have an affiliate relationship with the merchants listed below. We may receive a small referral fee – at no cost to you – for any purchases made at these retailers after following one of the links provided below. We use those funds to continue creating unique and wonderful content for you to enjoy.
Pink Flowers Canvas Wall Art Set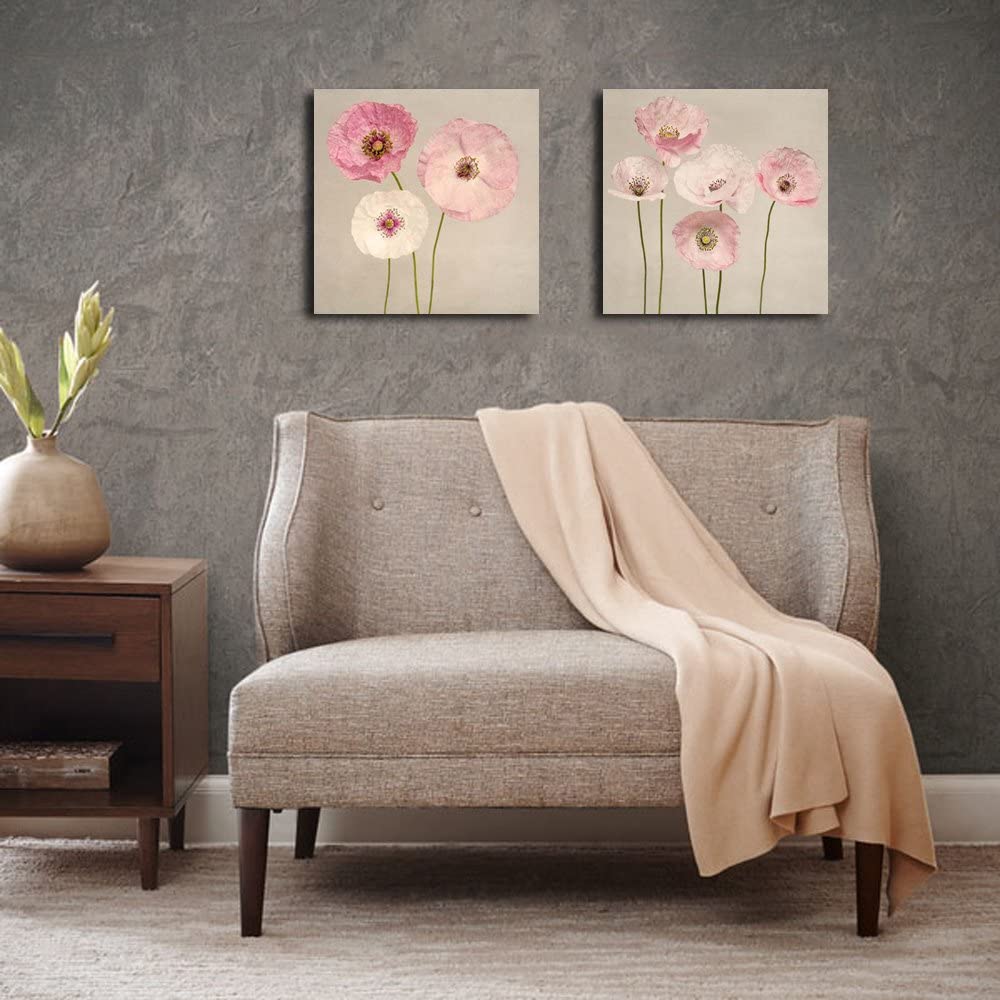 This lovely 2-piece art set features delicate flowers in shades of pink from light to dark.
---
Pink & Gold Abstract Art Set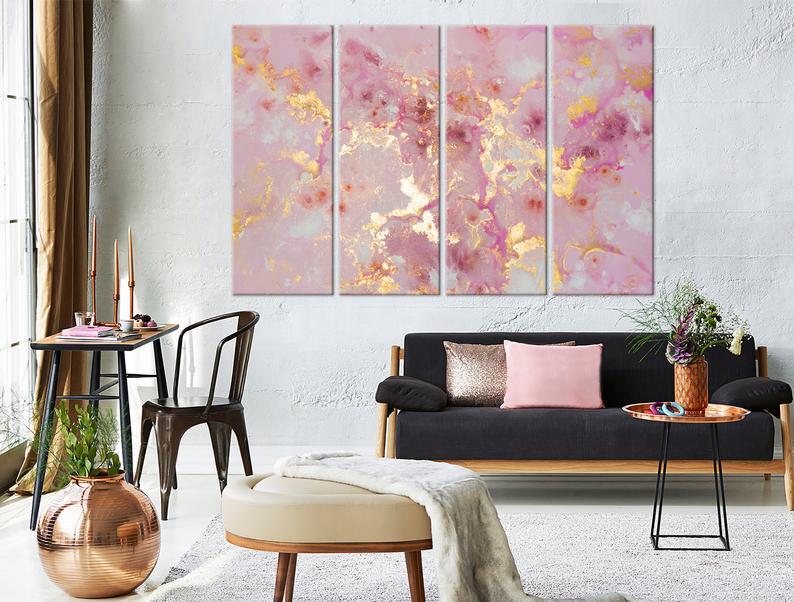 This striking 4-piece pink wall art set features hues of light and dark pink intermixed with stunning gold veins to create a dramatic installation.
---
Misty Pink Rose Photographic Print on Canvas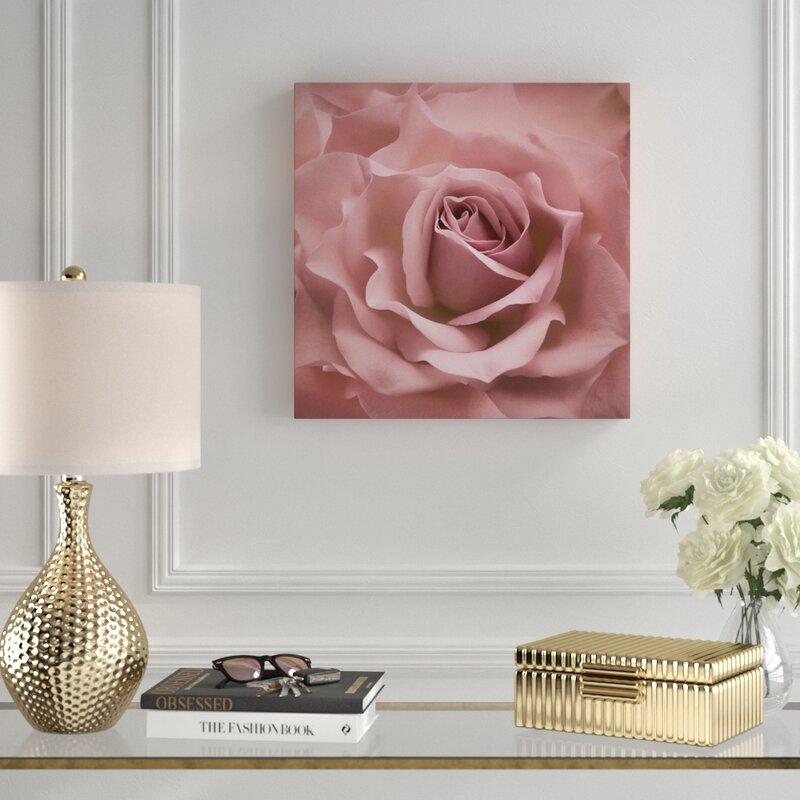 This ready to hang, gallery-wrapped piece features the delicate, ruffled petals of a dusty rose.
---
Pink Flowers Palette Knife Painting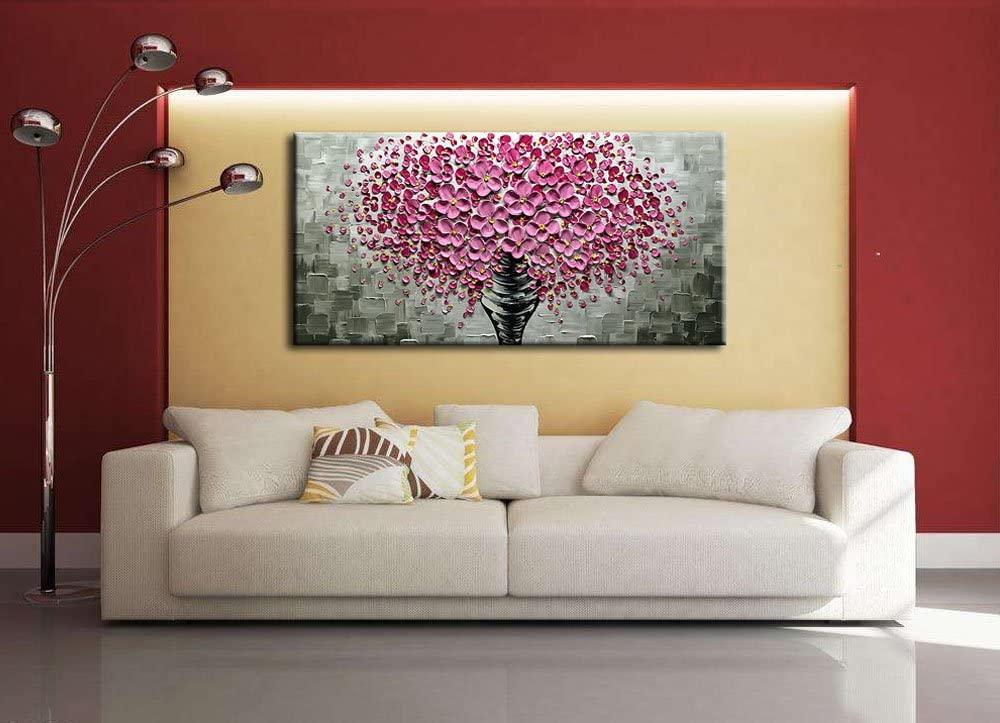 The unique textures of palette knife painting come to life in a stunning display of textured pink flowers. This gorgeous floral bouquet would be at home in any living room or bedroom.
---
Blush Clematis I & II by Chris Paschke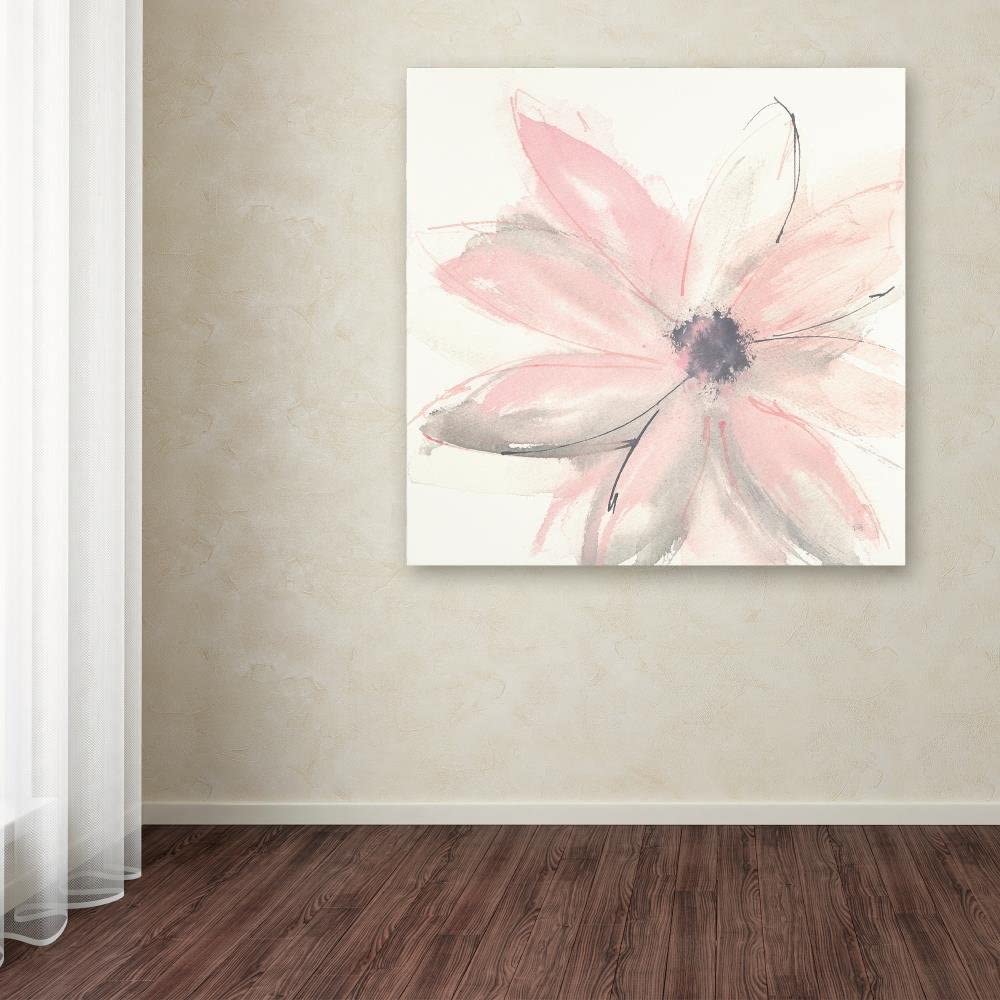 Chris Paschke's comfort with the Sumi brush and continuing study with Asian masters have brought her 'lovingly into the world of passive, peaceful Zen concepts, and the simplicity of an Asian artist.' the minimalism she brings to wild Apple in her soft grasses, floral, characters and handmade papers continues to flourish with new visions, colors and textural studies.
---
Colourful Love II by Eric Waugh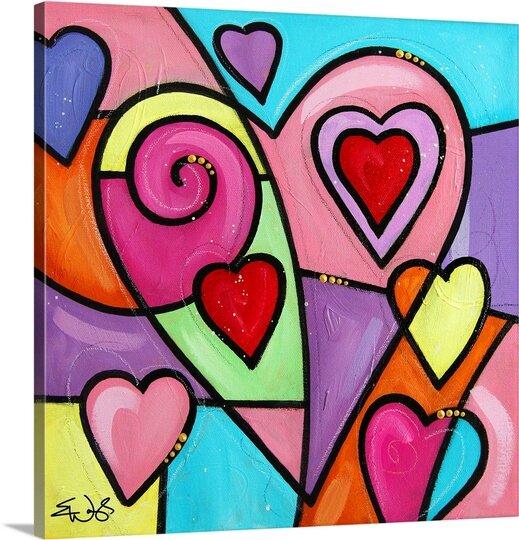 Love abounds with multi-colored hearts in this bright and lovely piece by contemporary artist Eric Waugh.
---
Fading Flower Painting on Wood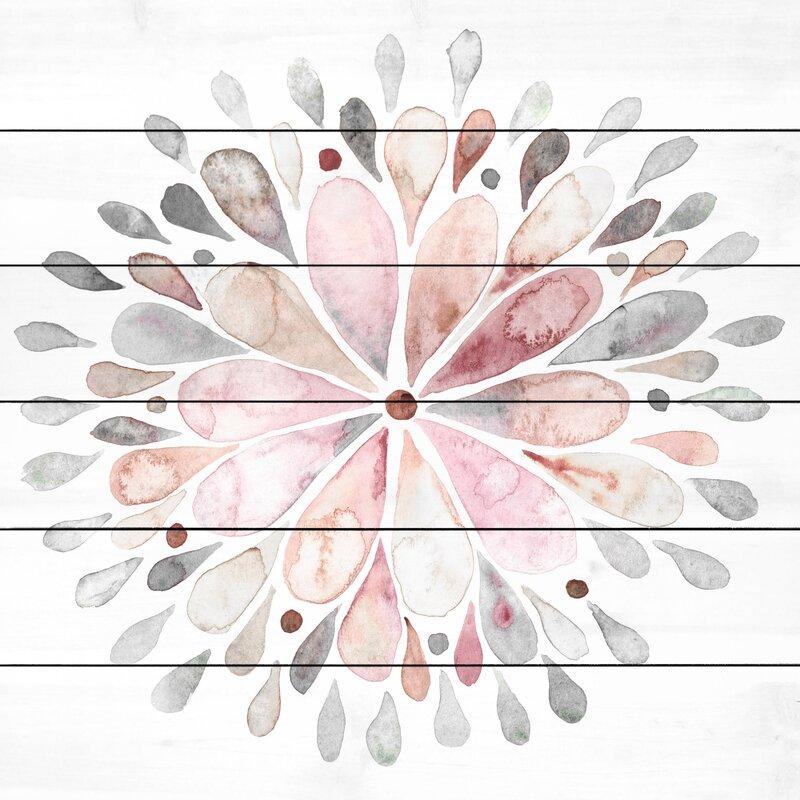 A lovely abstract splash of pinks and grays, this gorgeous painting print is crafted on hand-selected planks of wood for additional texture and visual interest.
---
Pink Magnolias in Black and White Vases Art Print Set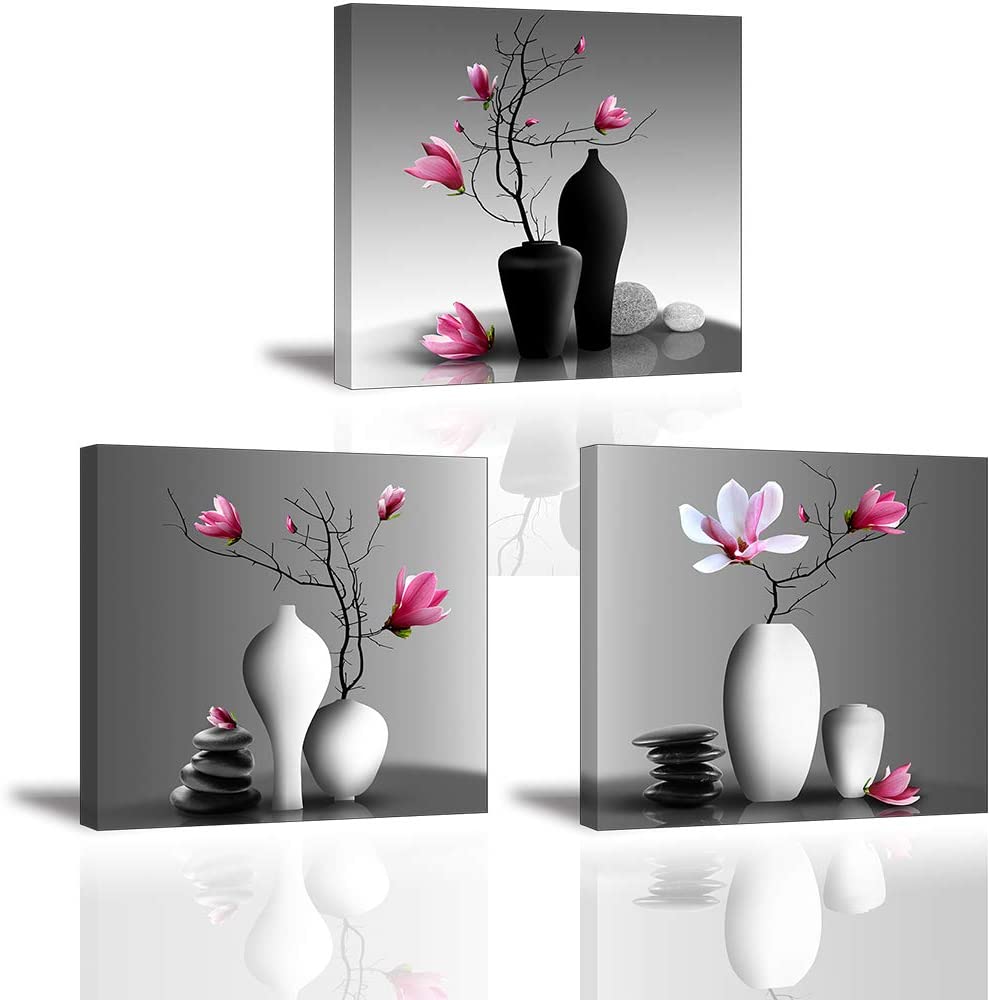 Black and white art prints are offset by the pops of color provided by the gorgeous magnolia blossoms.
---
Palace of Winds Pink Art Print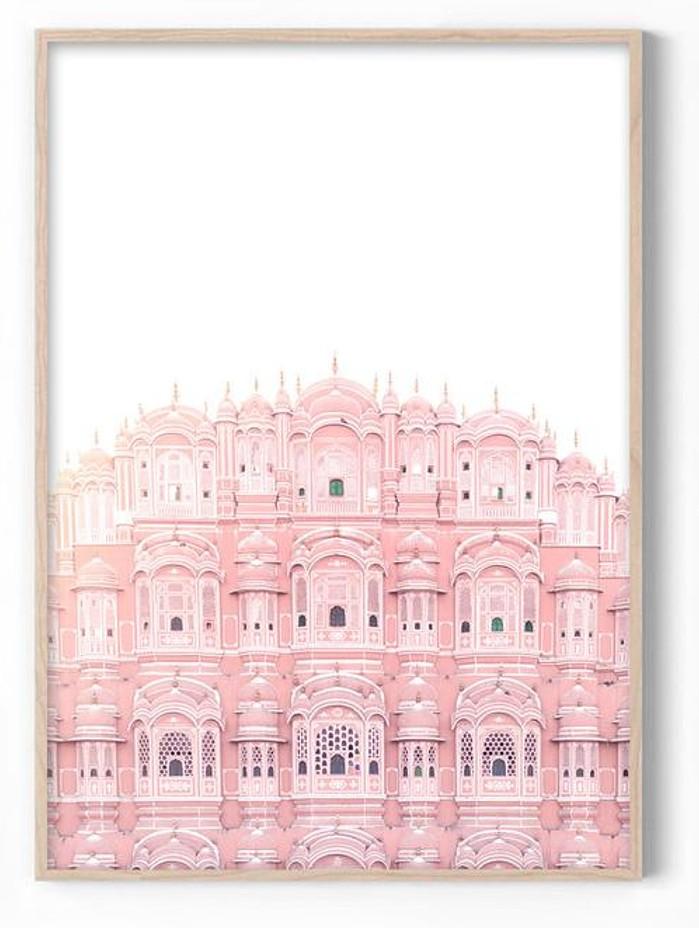 The magnificent Hawa Mahal Palace in Jaipur, also know as Palace of Winds, is Indian architecture at its finest. This beautiful blush wall art is sure to become a favorite feature in your home.
---
Pink Peony Petals II & V Photographic Art Prints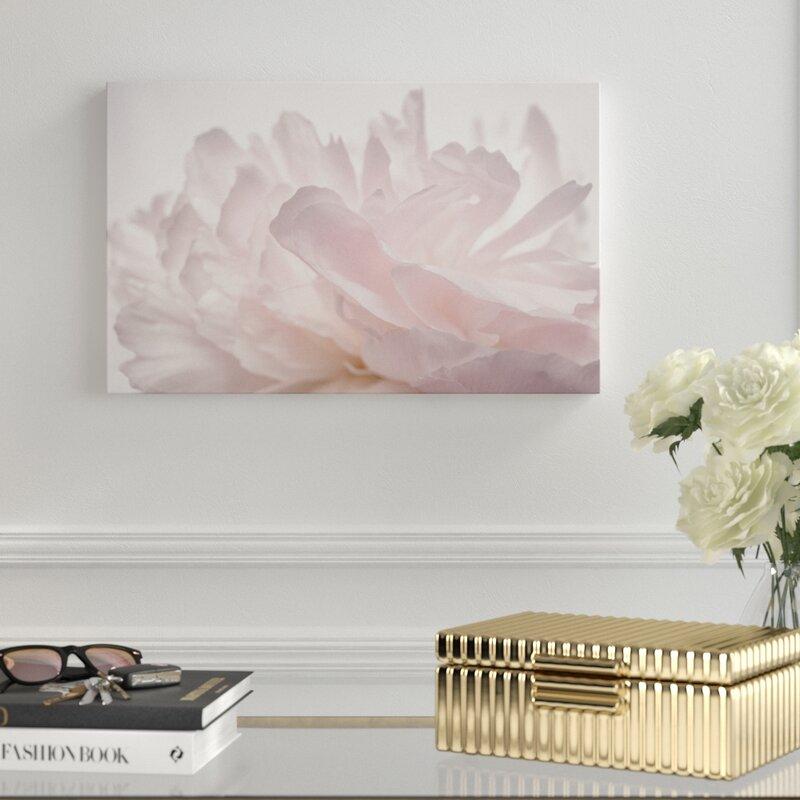 Highlighting two of a 6-piece series showcasing the delicate, frilly petals of a pale pink peony. Perfect for adding a soft and lovely touch of pink to your home. Choose one, both, or more from the 6-piece set.
---
Blissful by Erin Ashley Pink Painting on Canvas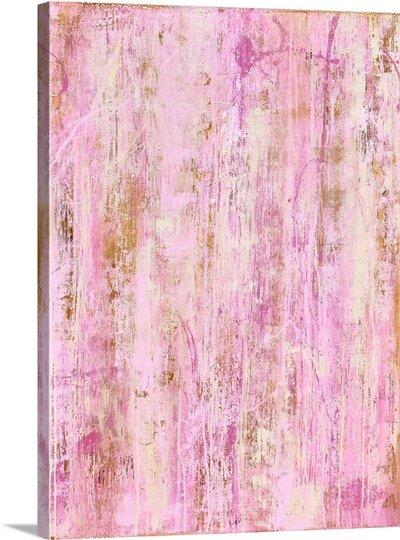 Pink up your home's wall decor with the lovely abstract painting of a color-field of weathered soft pink by Erin Ashley.
---
P. Graham Dunn Always Remember You are Braver Than You Think Pink Wall Sign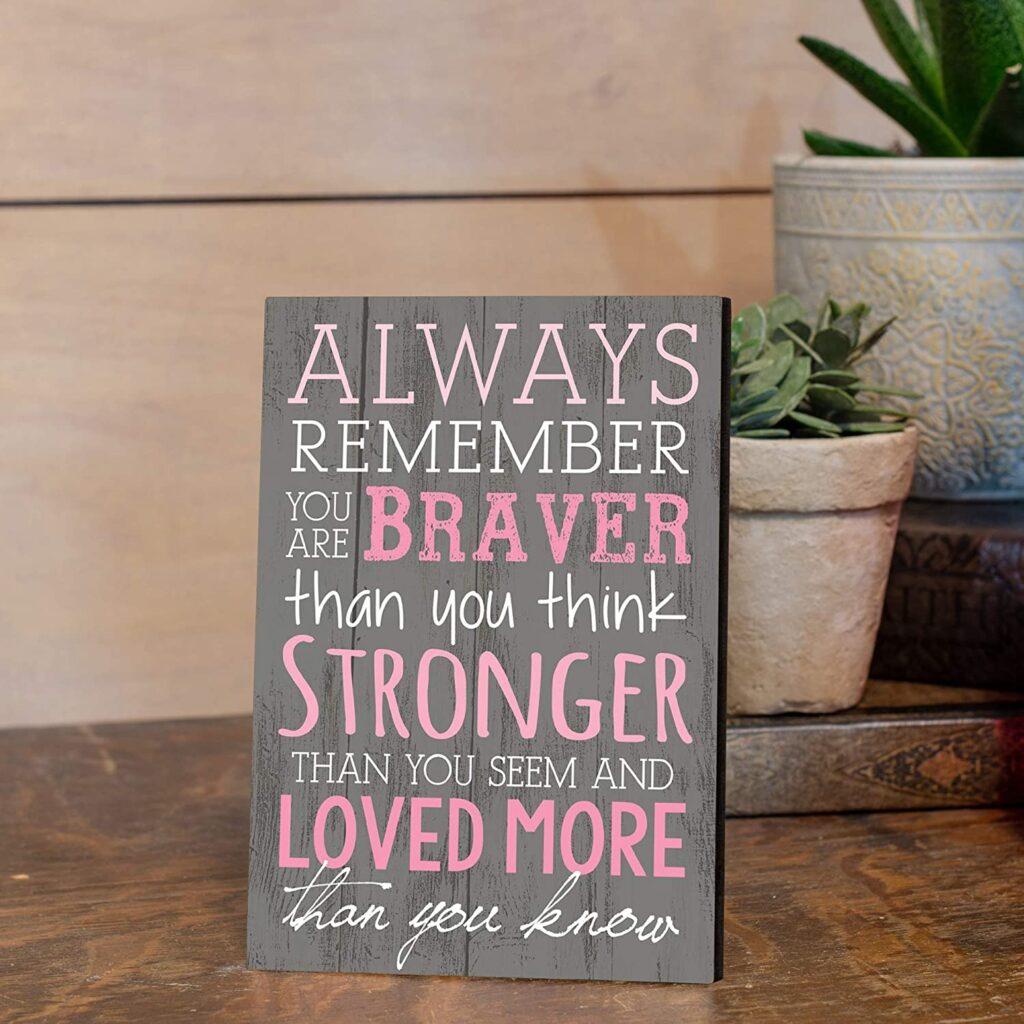 Features the sentimental and powerful reading "Always remember you are braver than you think stronger than you seem and loved more than you know." By P. Graham Dunn. Mounted on MDF wood with pink lettering and Includes a keyhole cut out for easy hanging.
---
Rose Embrace Pink Oil Painting on Wrapped Canvas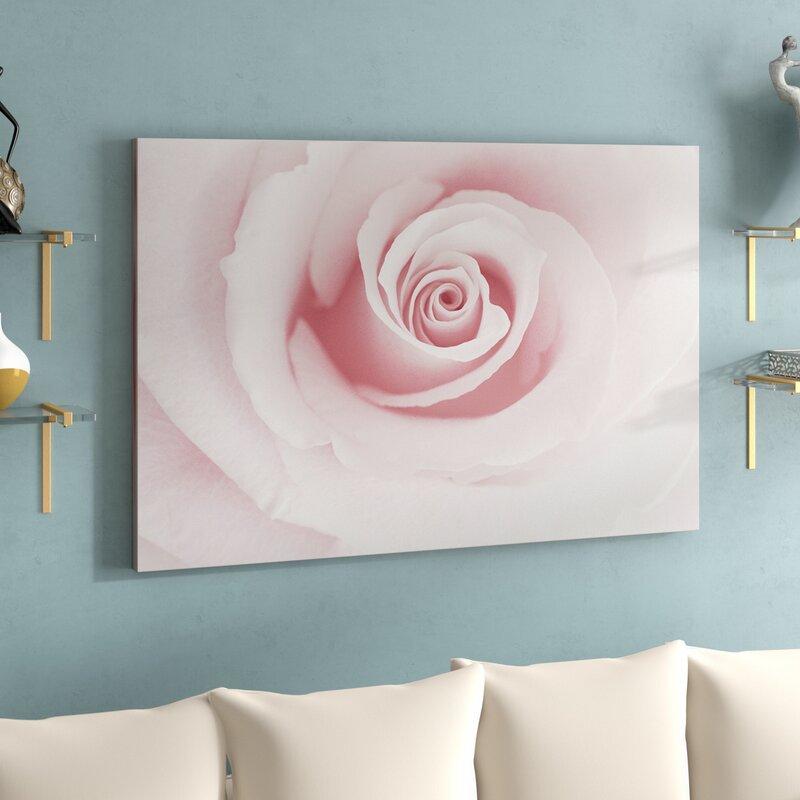 A close up, detailed look right into the very heart of a light pink rose. This pink wall art piece is perfect for hanging in a bedroom, living room, den, and more.
---
Pink Infusions Abstract Landscape Painting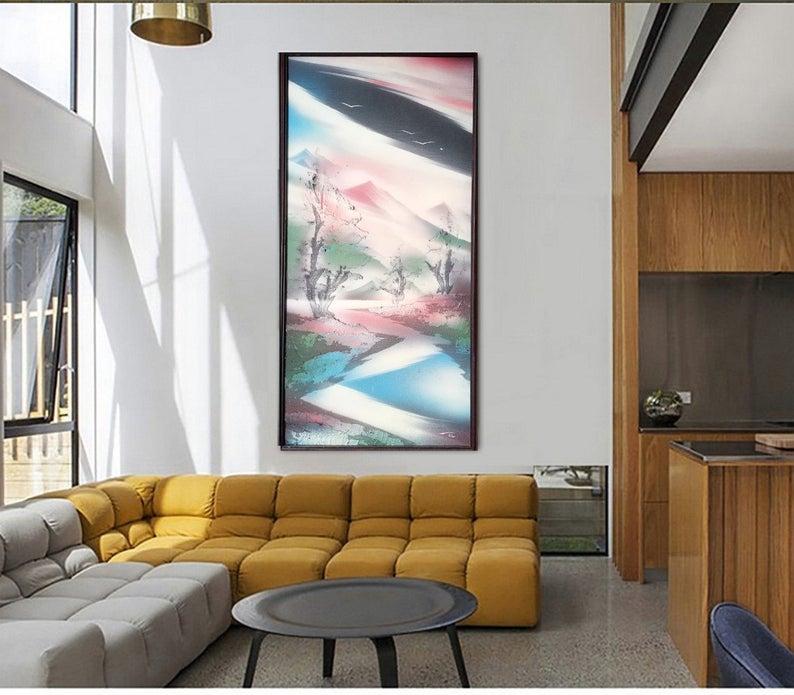 Soft hues of pink, blue and green dominate this abstract landscape painting.
---
Pink Poppy on Canvas by Marion Rose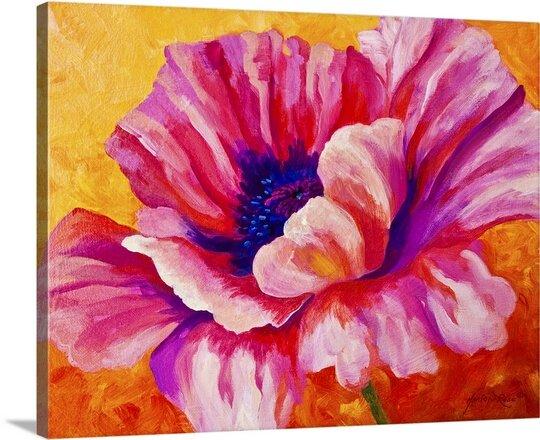 Artist Marion Rose creates an eye-popping floral painting of a giant blooming pink poppy flower on a bright, textured background.
---
Baby Animals with Bubblegum Art Set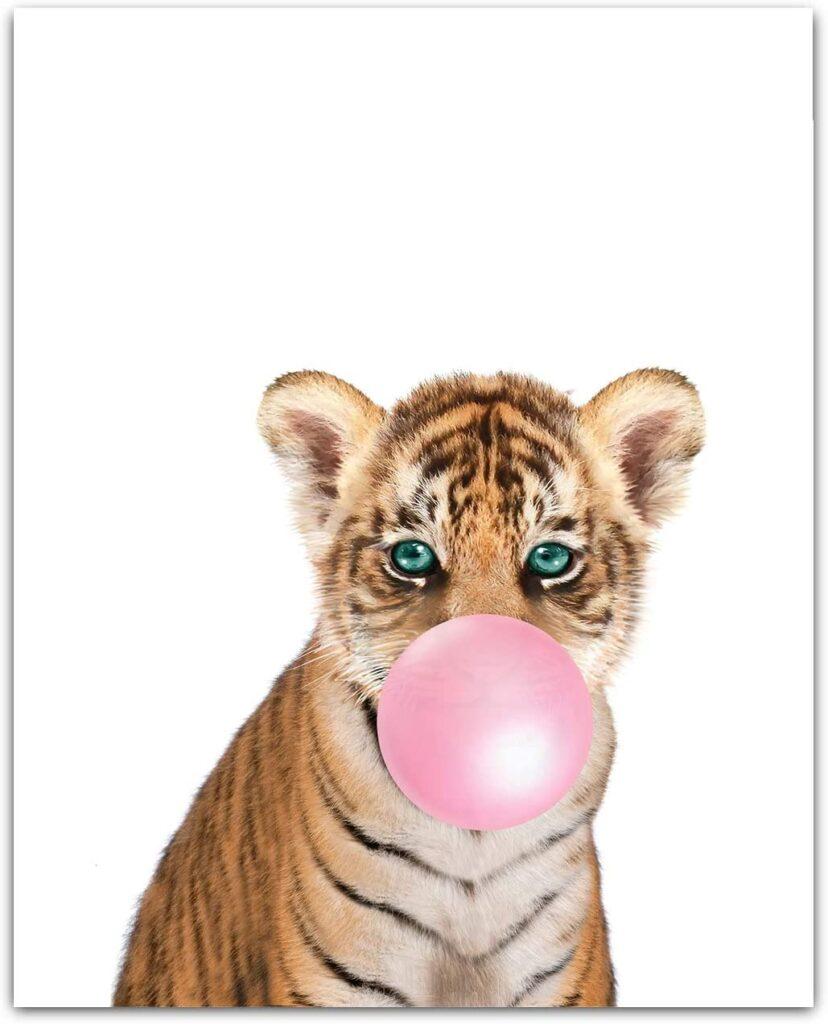 Just as perfect for a kid's bedroom as it is for a fun-loving adult's living room, this fun set features a collection of baby animals, each blowing a big bubble of brightly-colored bubblegum.
---
Pink and Gray Cubes Art Print by Elisabeth Fredriksson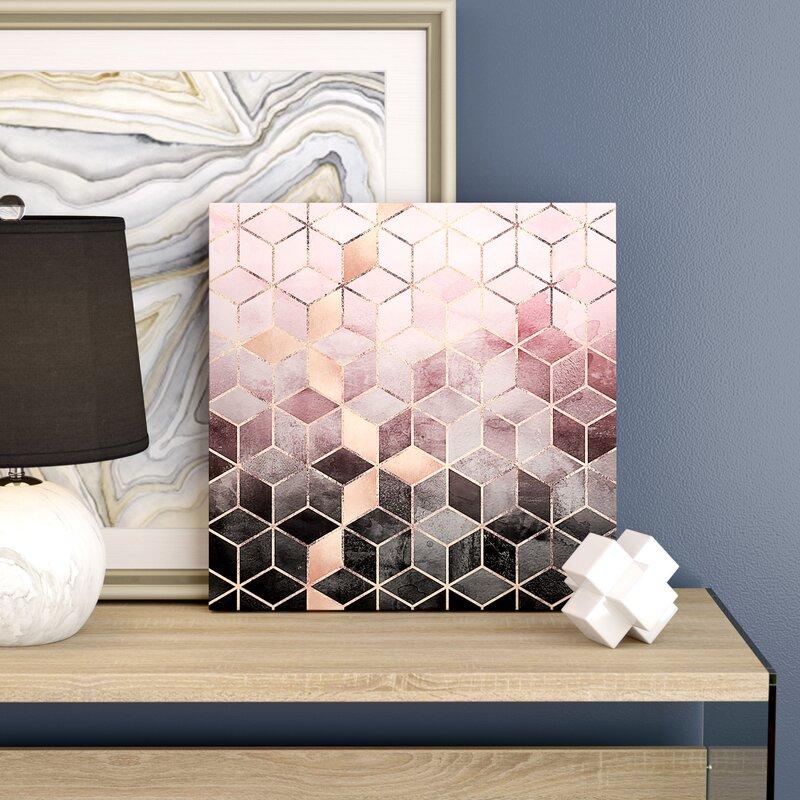 Featuring a three-dimensional cube pattern in pink and gray, this modern graphic print by Elisabeth Fredriksson will make a statement no matter where you place it.
---
Peace and Namaste 2 Piece Pink-Washed Canvas Art Set
Showcasing tranquil hand symbols adorned with henna and bangles, each offers neutral hues of brown, washed with a blush plush pink and adorned with starry details.
---
Pink & Blue Marble 5-Piece Canvas Art Set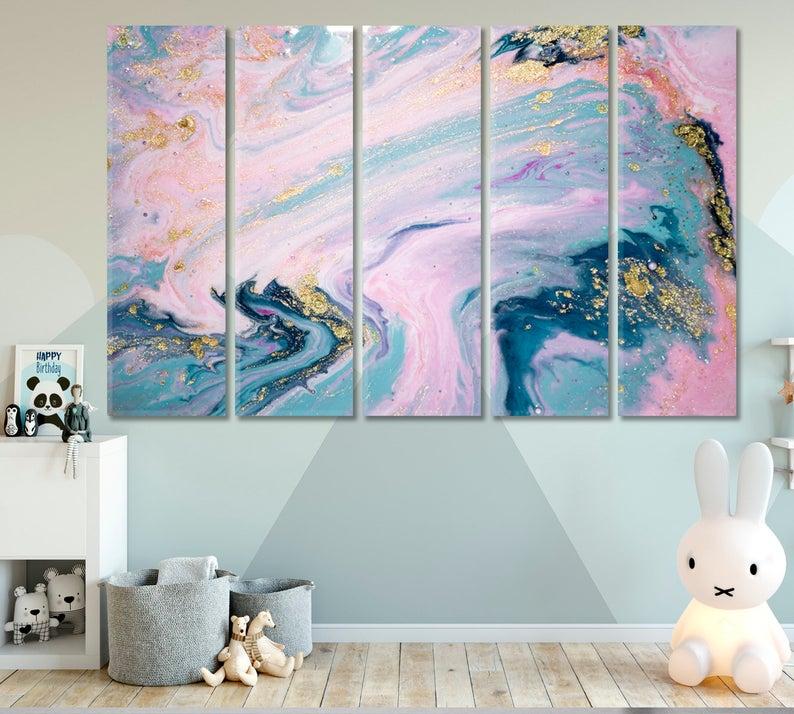 Gorgeous swirls of pink and blue are intermixed with a splattering of gold to create a marble look that works perfectly on this 5-piece art set
---
Pink Champagne Canvas Art by Erin Ashley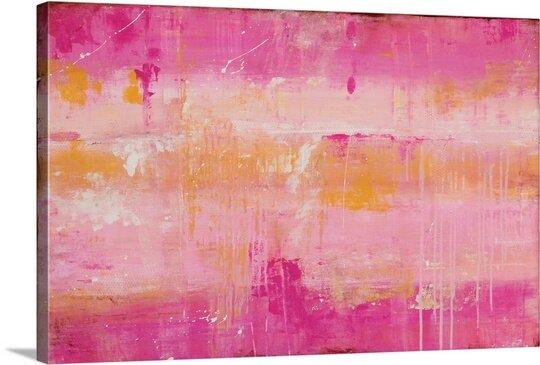 Another gorgeous pink wall art piece by contemporary artist Erin Ashley, is sure to make any wall – no matter how drab it currently be – come to life instantly!
---
Pink Haze Graphic Art Print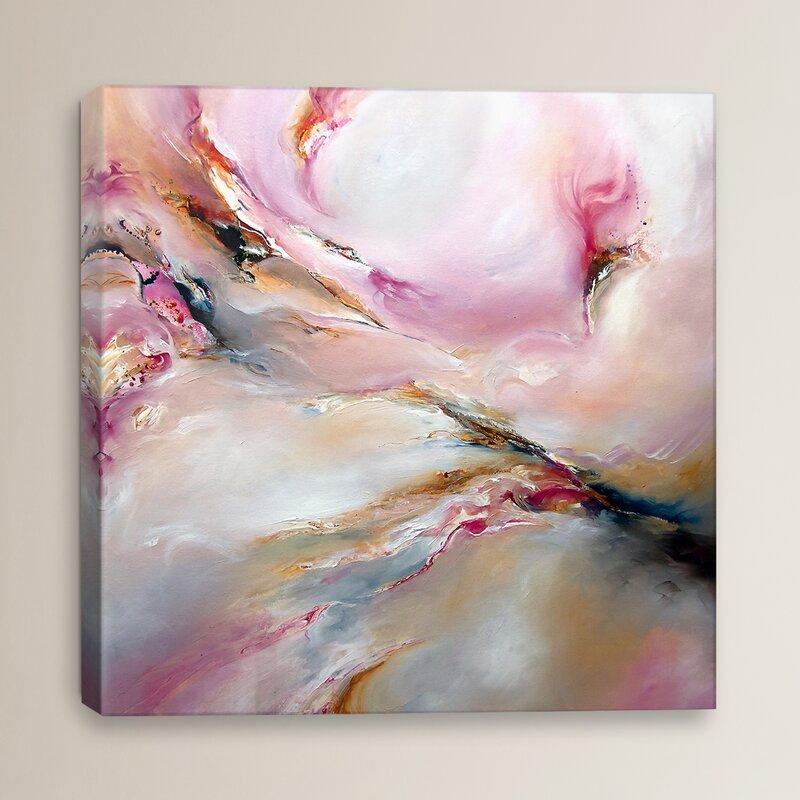 This abstract art piece showcases bold pinks and dramatic blues, creating an eye catching composition. A great option for adding some pink to your palace.
---
Pink Heirloom Roses in a Metal Vase Giclee Print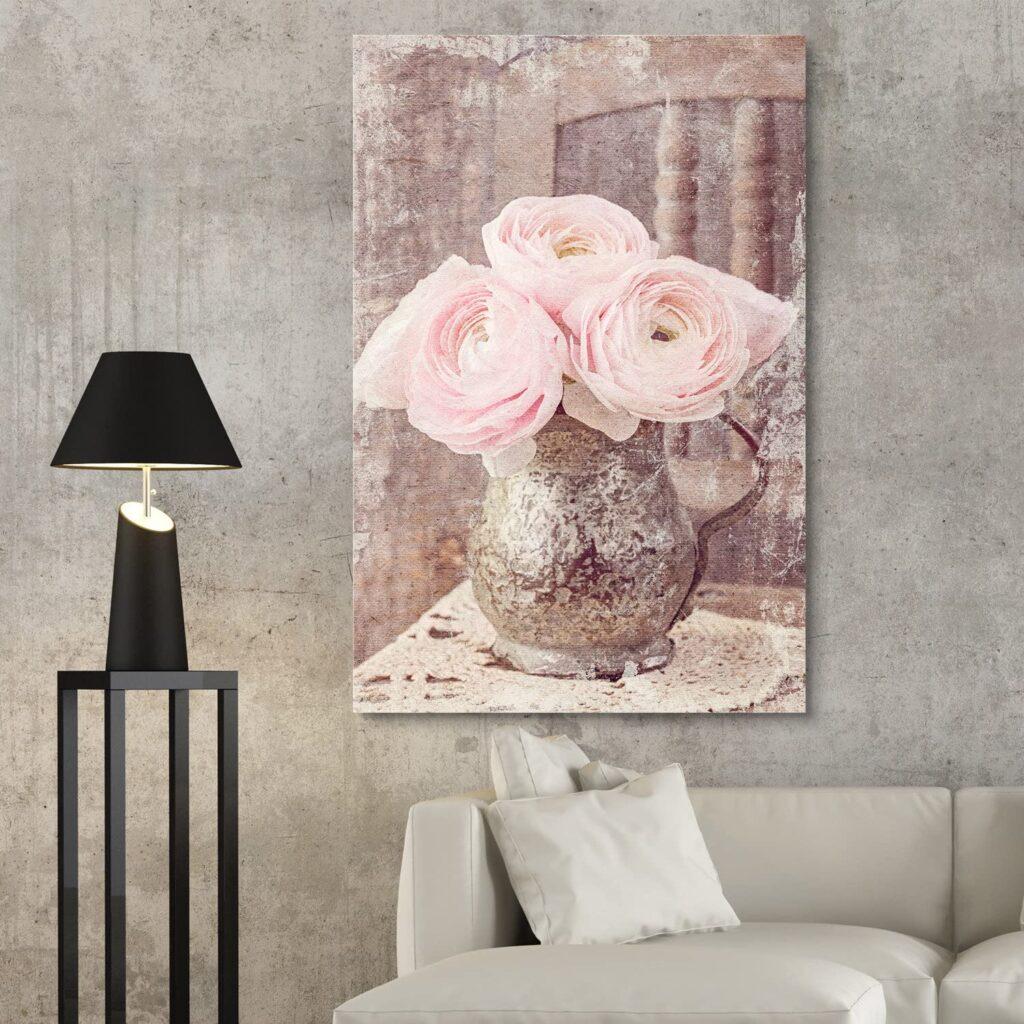 A great way to soften the walls without sacrificing your industrial look, the combination of the background, the metal vase, and the neutral tones provide the perfect backdrop for a soft and lovely bouquet of pink heirloom roses.
---
Street Scenes with Pink 3-Piece Art Sets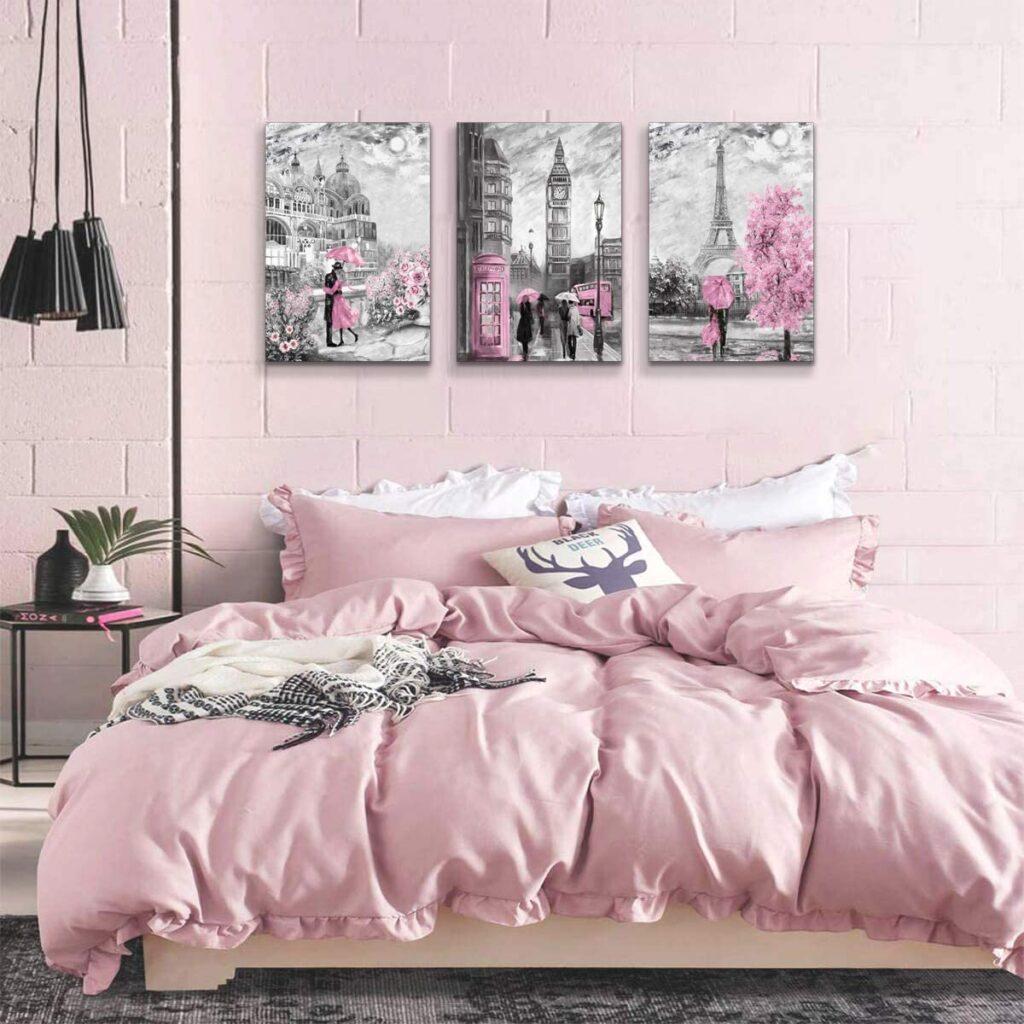 These wonderful art sets, perfect for the world traveler, feature street scenes from around the globe that have been highlighted with beautiful pops of pink.
---
Couture Road Sign Rococo Gold Blush Graphic Art Print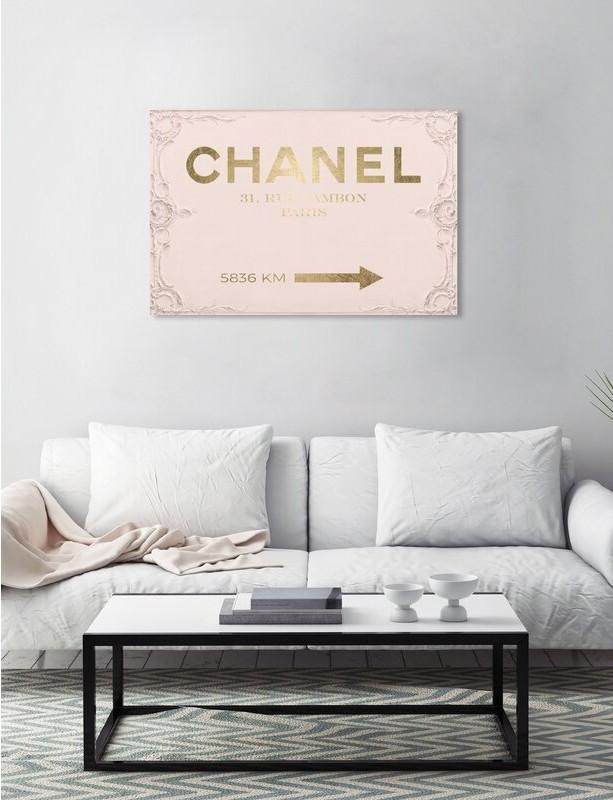 Combine your love of pink with your love of couture with this typographic road sign on a blush background.
---
Pink Flowering Trees at Spring Landscape Painting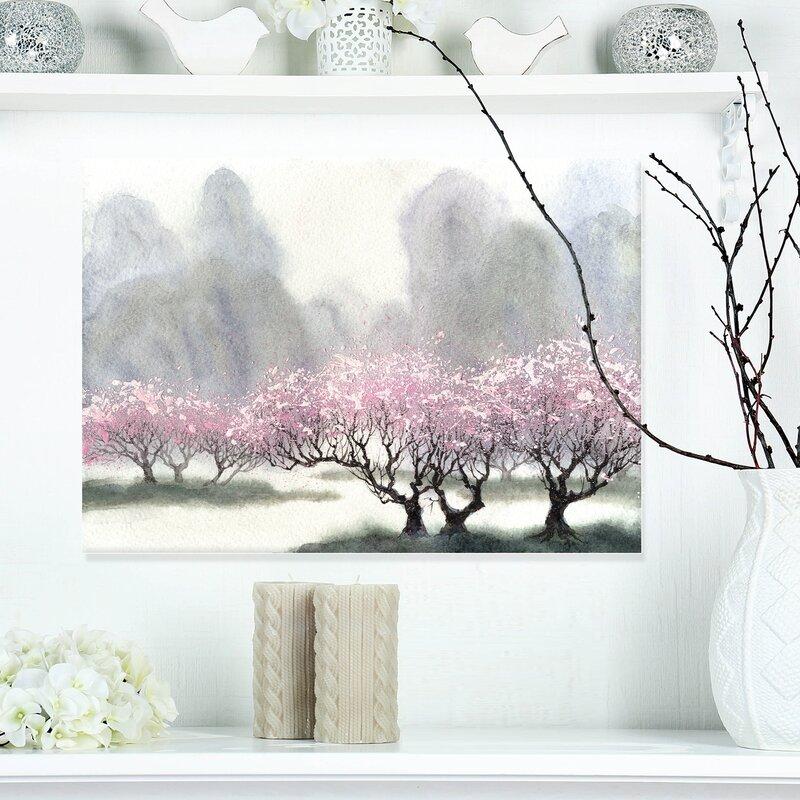 A gorgeous spray of flowering trees covers an otherwise barren spring landscape, creating a unique and colorful contrast.
---
Gently Marbled Pink Canvas Wall Art Set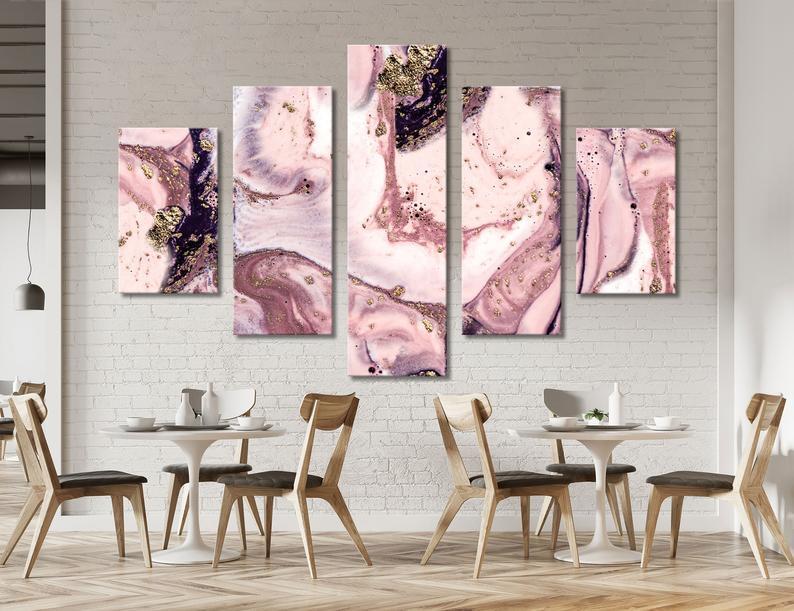 An impressive 5-piece wall art set featuring oversized swirls of dark and light pink marble.
---
Pink Bicycle in Paris Art Print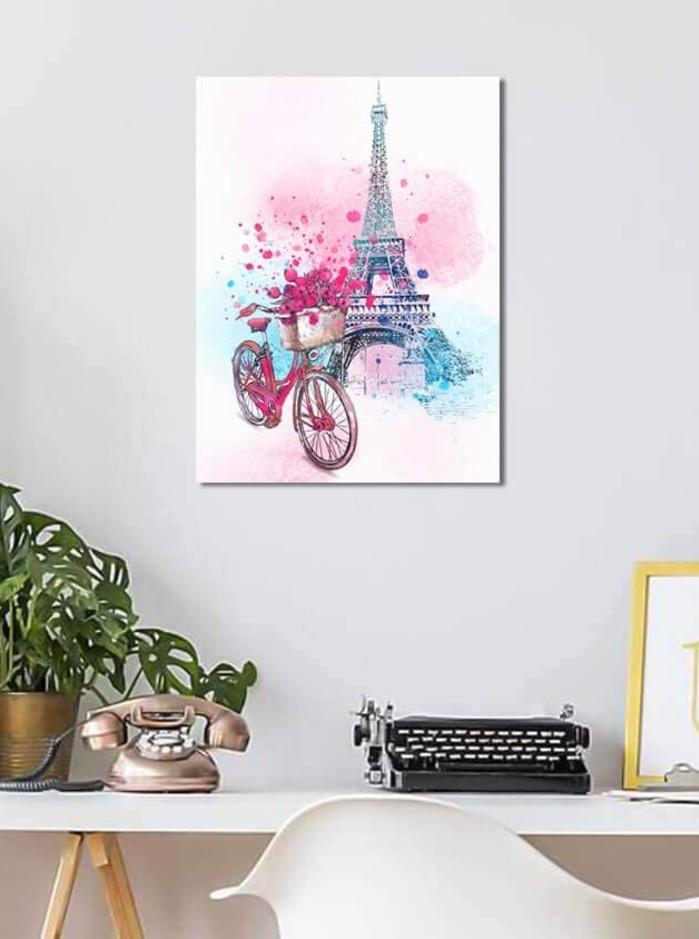 This original design, printed on premium canvas, provides a whimsical and colorful pop of pink that is perfect for the office, bedroom, or living room.
---
Pink Lipstick Collection Glam Canvas Print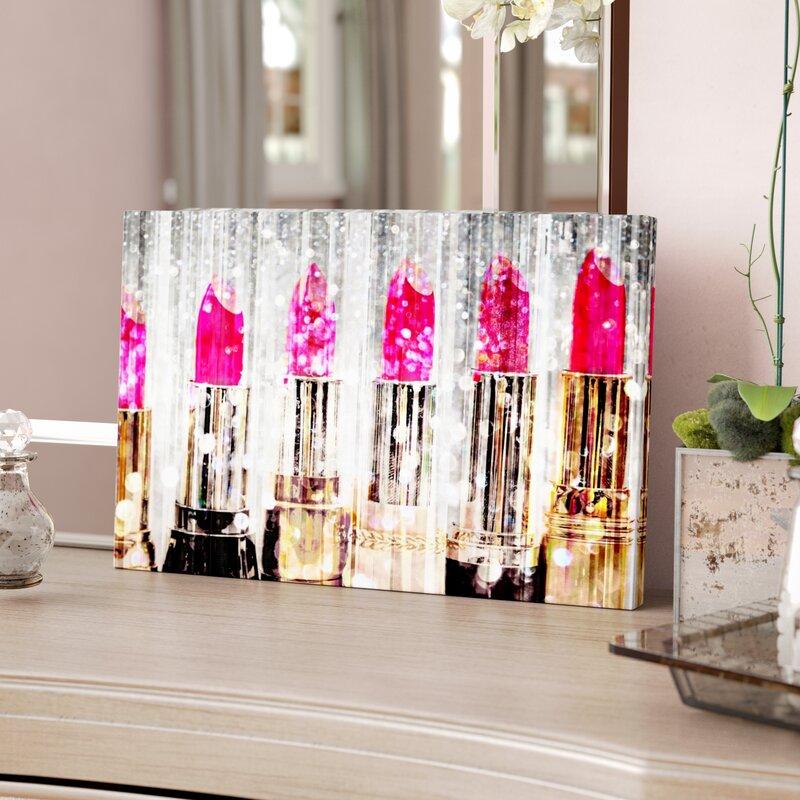 Girly to its core, this modern, glam canvas print features a set of bright, bold pink lipsticks in a row, being showered with drops of light.
---
Jolie Pink Floral Art Print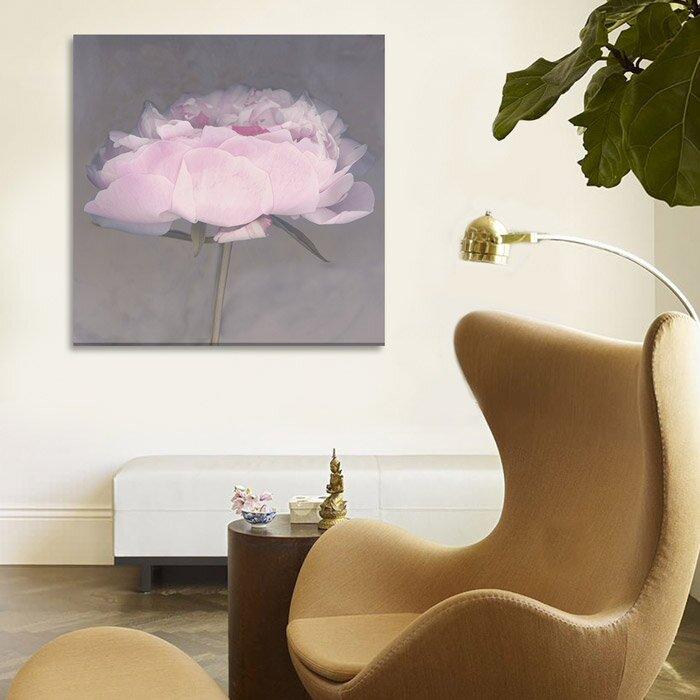 This floral motif adds a soft touch to your bare walls, showcasing light hues of gray and pink.
---
Blush Minerals I & II Graphic Art Prints on Canvas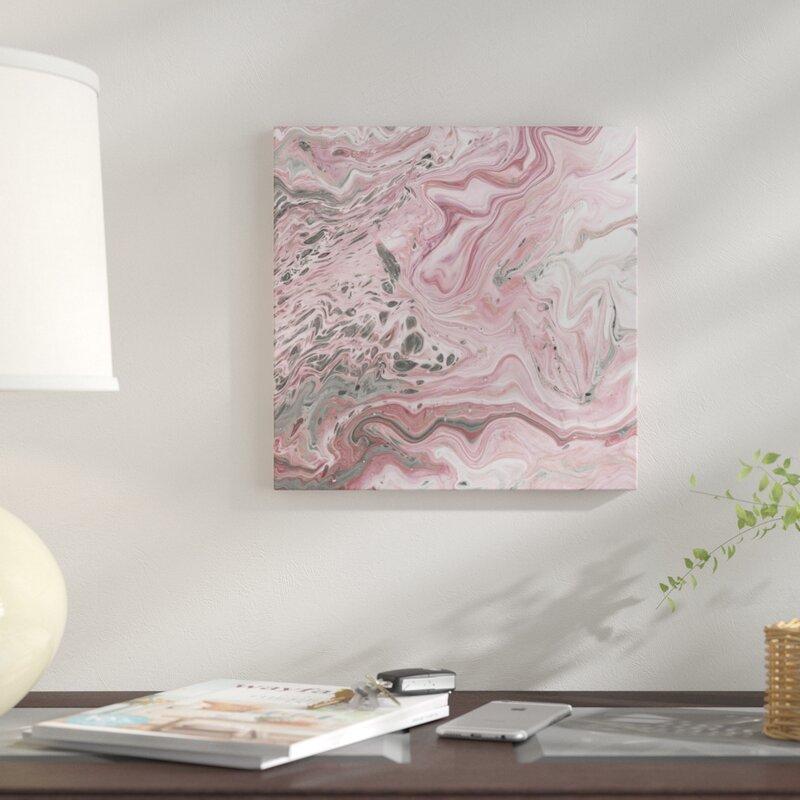 Swirls of pink, white, and gray combine in a canvas print that looks like natural stone.
---
Pink Phases of the Moon Wall Art Set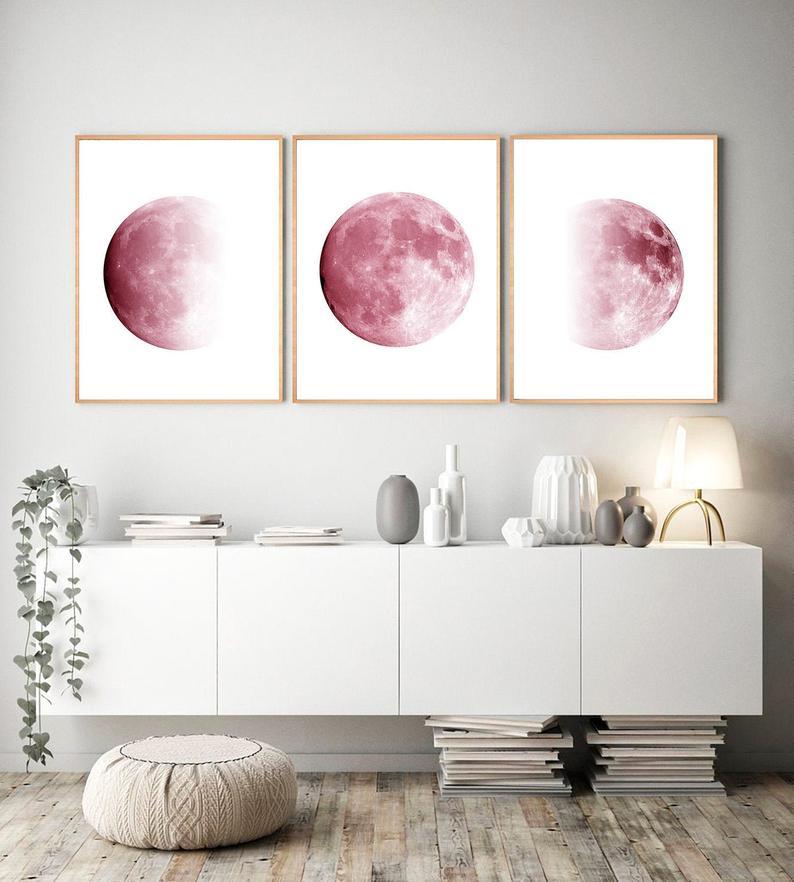 Blush pink art set featuring the waxing, waning, and full moon phases in progression.
---
Pass the Bottle! Pink Champaign Art Print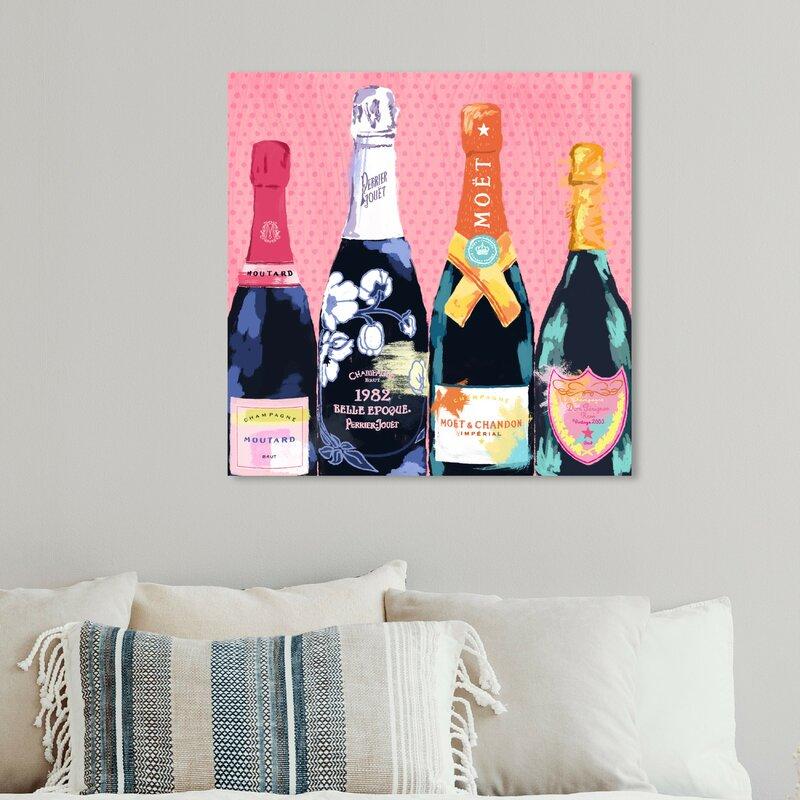 Celebrate life in all of its glorious color with this fun, contemporary art print featuring 4 Champaign bottles on a spotted background.
---
Large Abstract Pink Forest Wall Art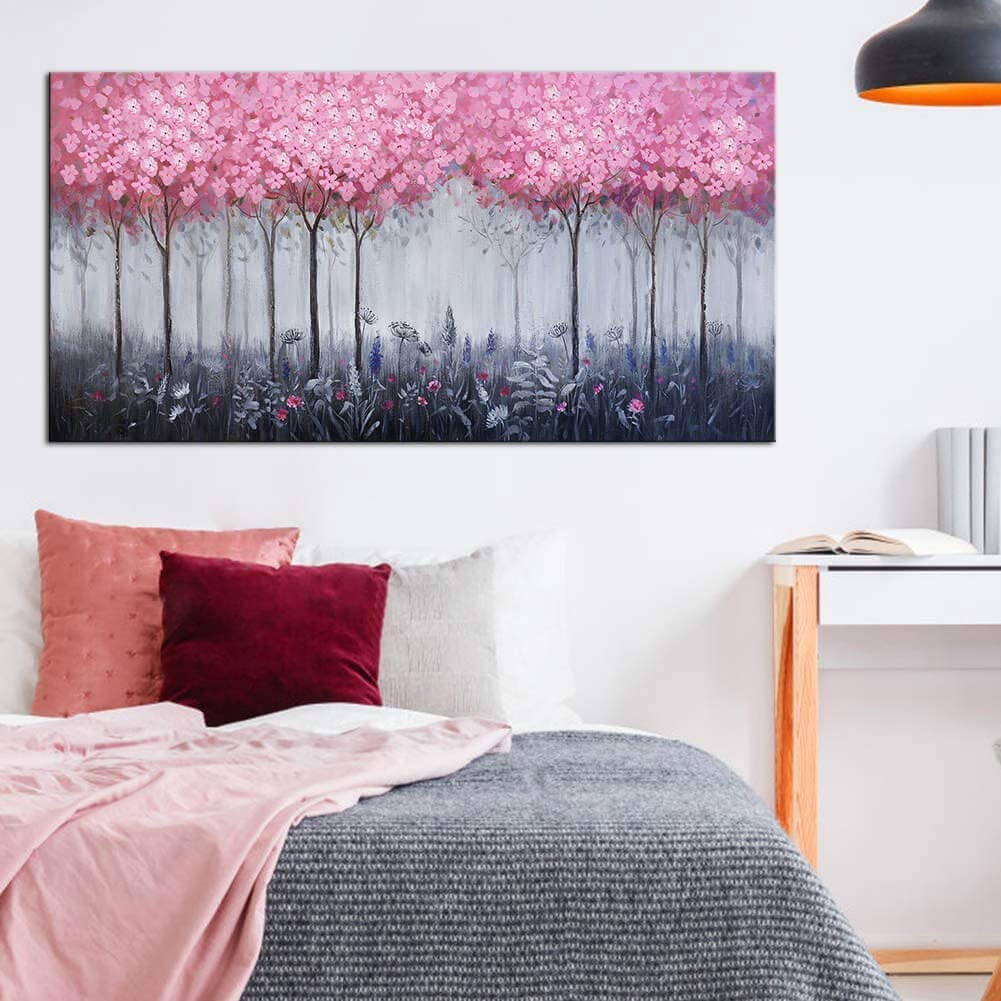 A gorgeous pink forest, perhaps made of spring-flowering crabapple trees, spreads across this extra-wide canvas print. The dark gray landscape below the flowers provides wonderful contrast and really lets the pink blooms stand out.
---
Pastel Pink Peony on Gray 3-Piece Art Set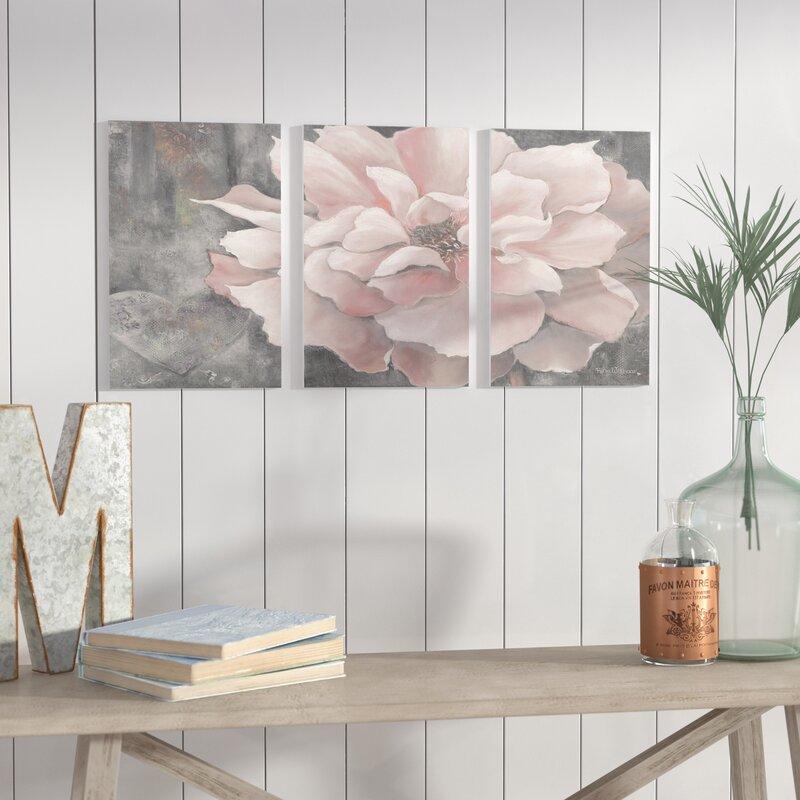 This lovely soft-pink art piece features a graphic print of a pink peony with a soft-hued background that is spread across three panels to create a striking that you can customize for your own wall.
---
Pink Geometric Heart Graphic Art on Canvas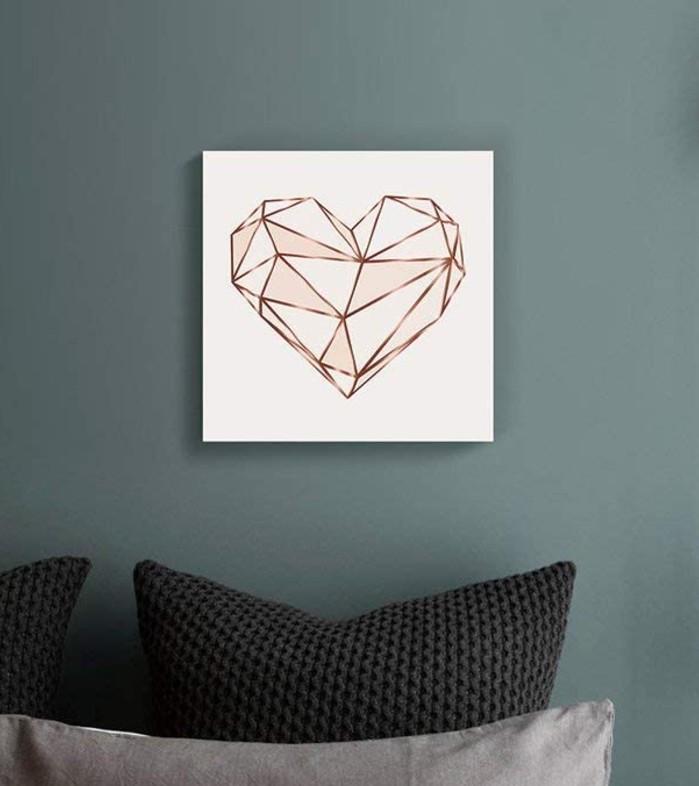 Simple but beautiful, this geometric heart reminds me of a cut diamond, but washed with a blush pink light.
---
Pink Flamingos Watercolor Painting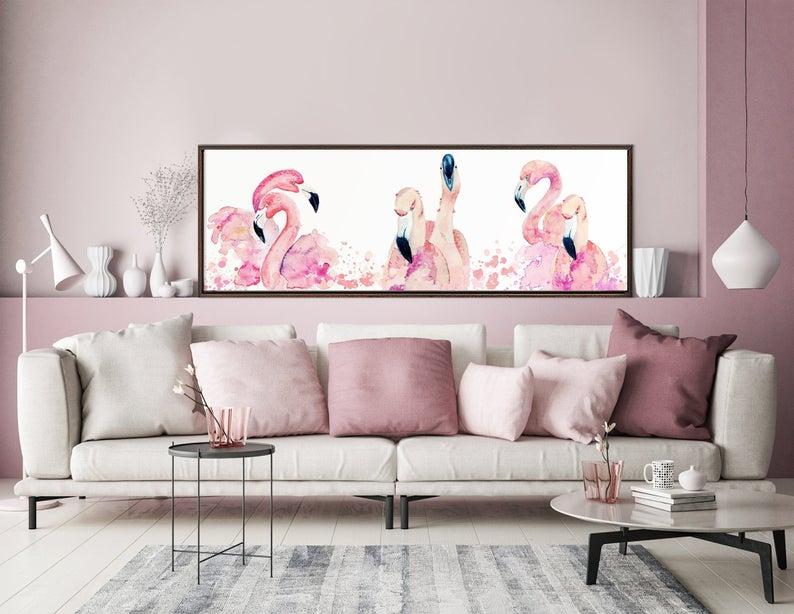 No collection of pink wall art would be complete without at least one entry that includes Pink Flamingos. So here it is!
A large, panoramic gallery-wrapped canvas wall print featuring a collection of – you guessed it – pink flamingos. Perfect for adding a bright and lively splash of pink to the living room or bedroom.
---
Pink Cactus Botanical Canvas Wall Art Set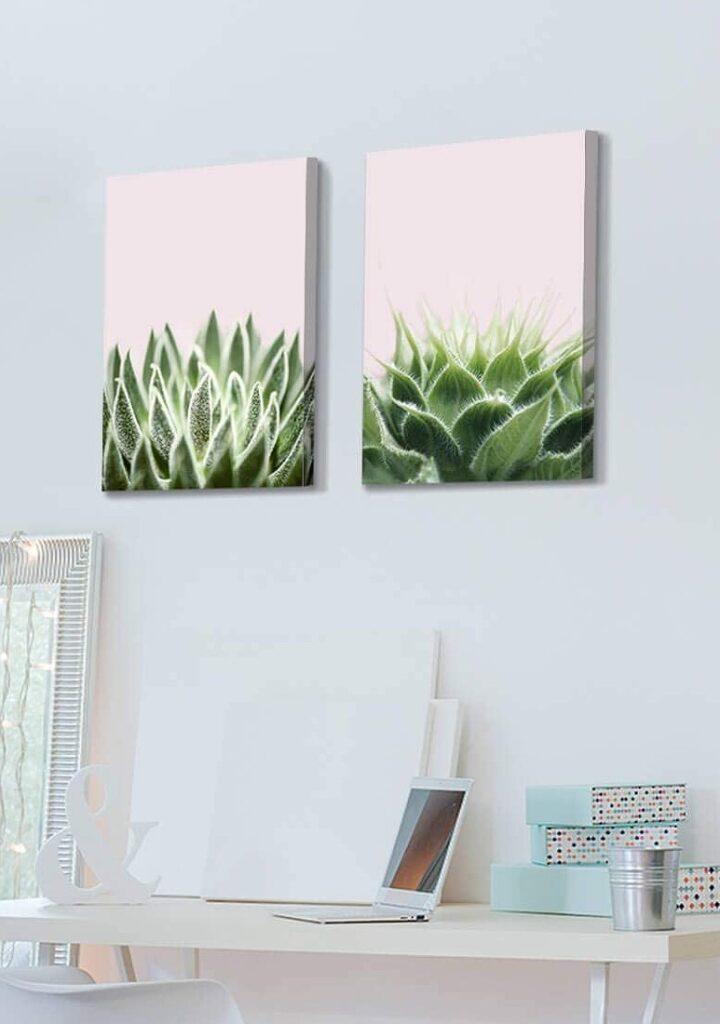 The rich green of the cactus is perfectly offset by the blush-pink background, making this a simple but effective pop of color and nature for your wall.
---
The Perfect Bouquet Pink Floral Wall Art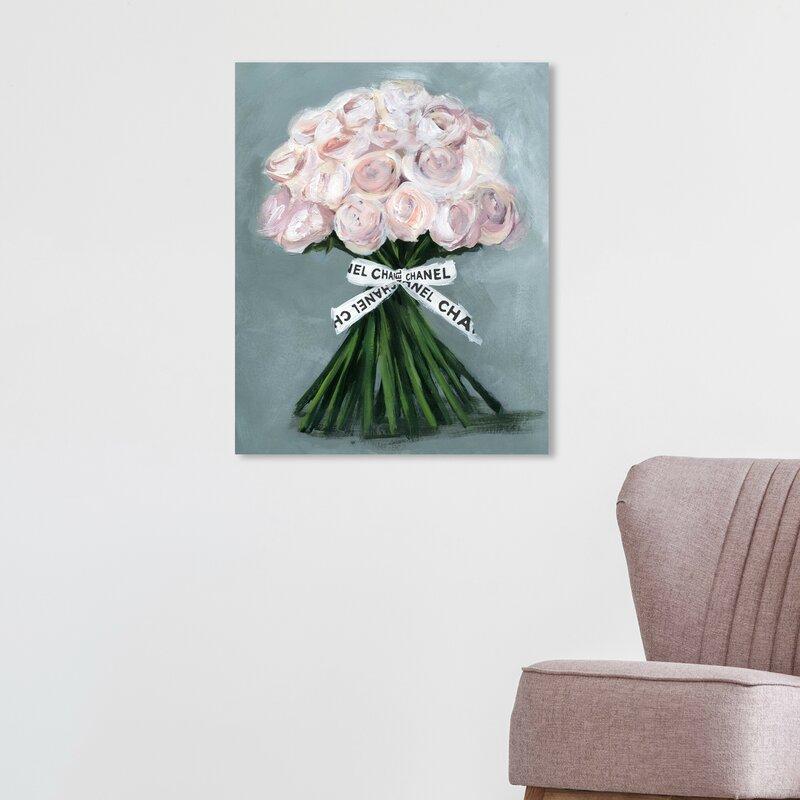 A stunning bouquet of pink roses is wrapped with a single white bow imprinted with the Chanel name. This creates a simple yet striking piece that will add a delightful touch of pink wall art to your home's decor.
---
Large Pink Swirls 3-Piece Wall Art Set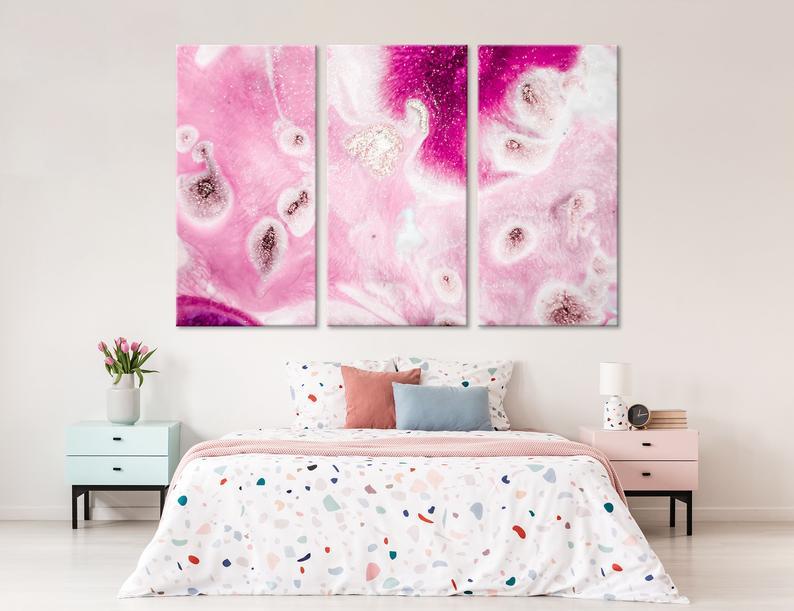 Bright bold pinks swirl across 3 panels in this contemporary art set that is perfect for adding a bright & lively splash of pink decor to the bedroom or living room.
---
Pink Roses Canvas Wall Art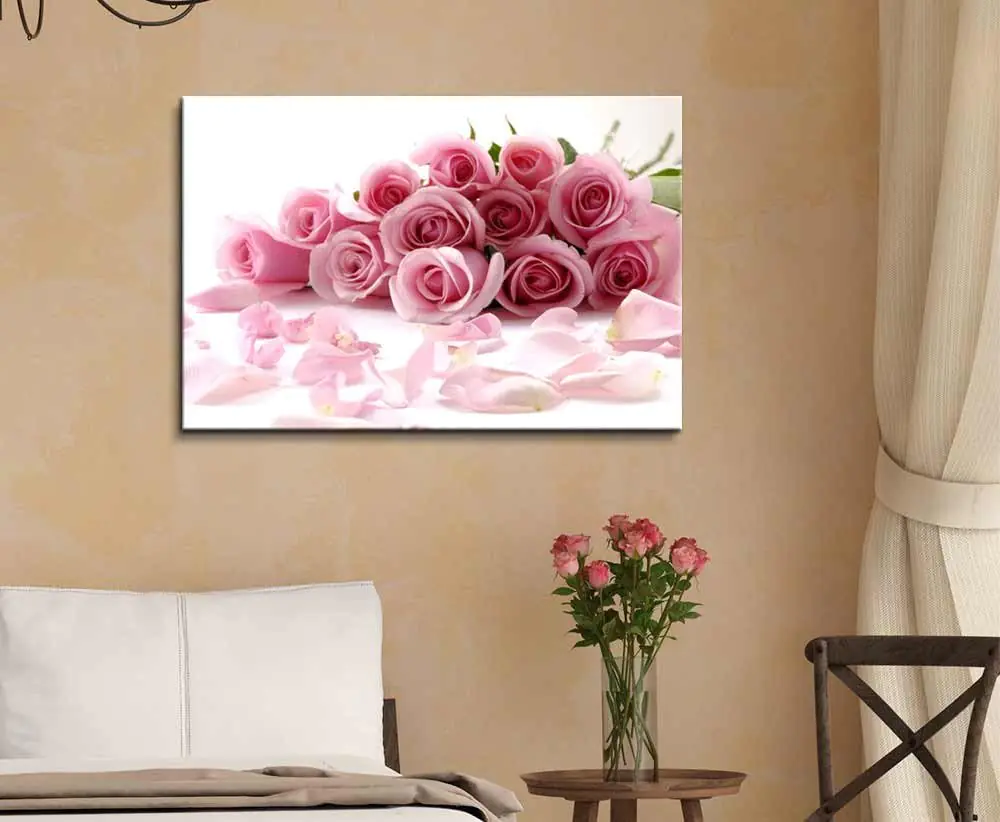 A lovely bouquet of pink roses, with some scattered petals, take central focus in the warm and wonderful print.
---
Pink Alcohol Ink Art Print on Yupo Paper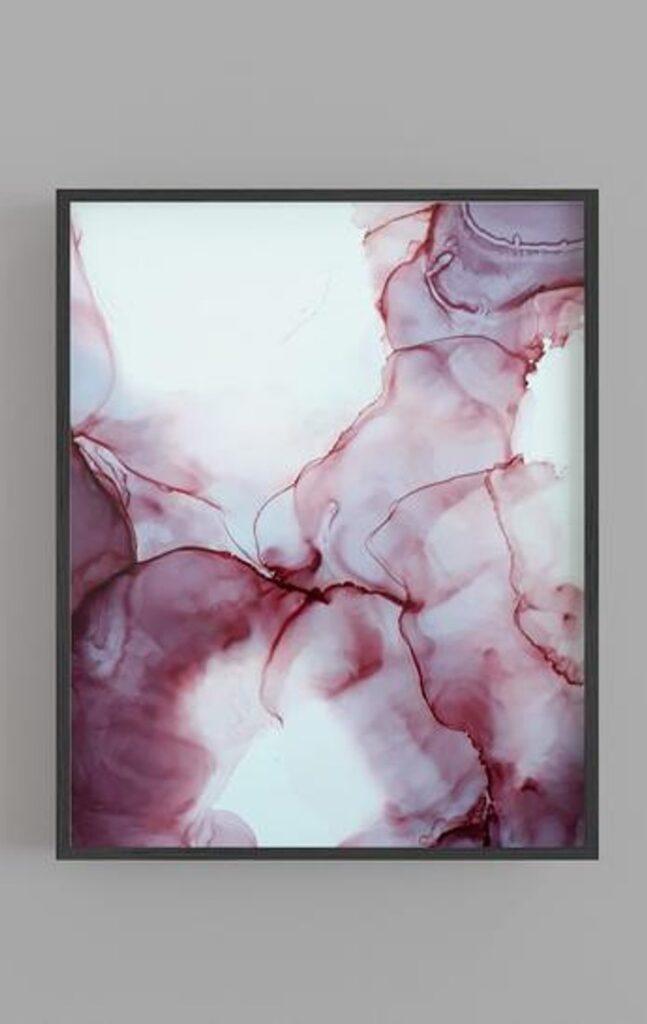 An original abstract alcohol ink art piece on Yupo paper by Emily Roth. Finished with a Krylon Kamar Varnish and UV spray for extra protection.
---
Forest Path with Pink Blooms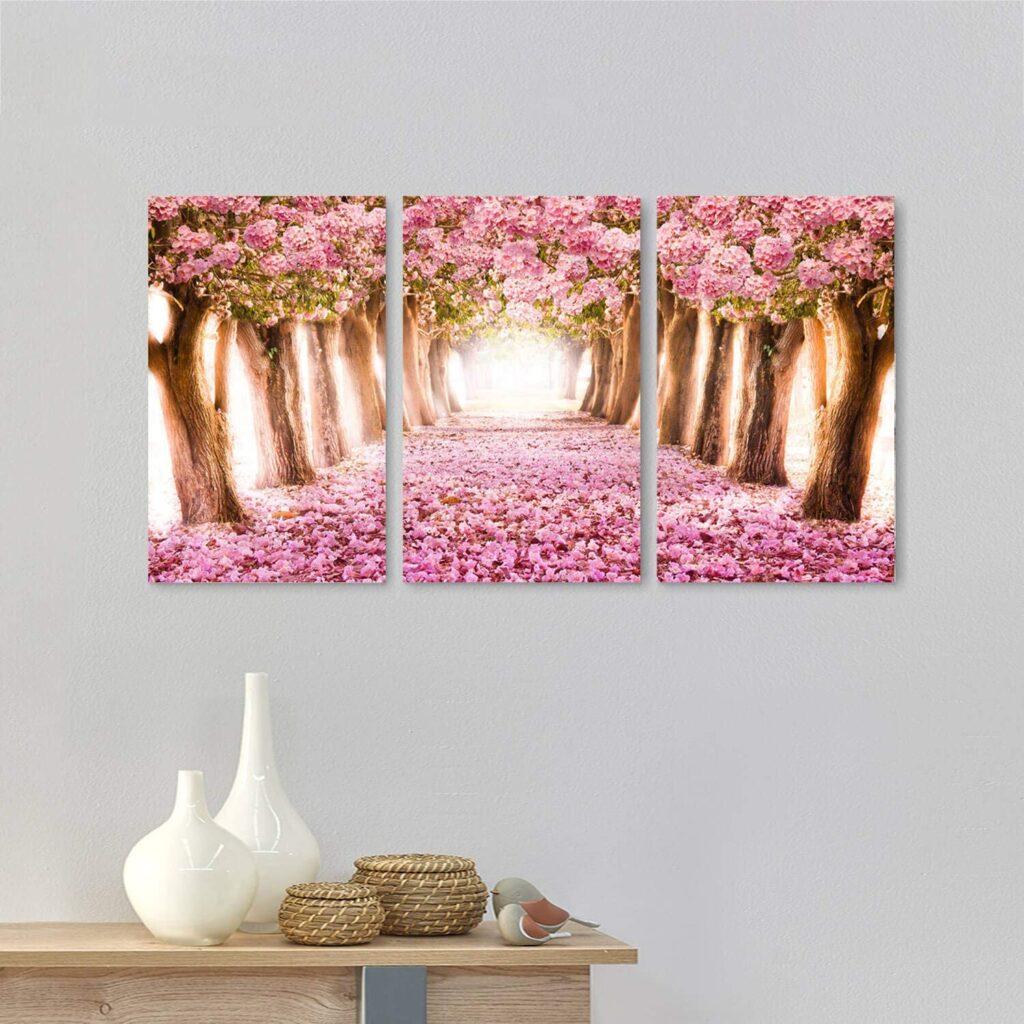 Imagine yourself walking down this forest path absolutely littered with gorgeous pink blooms above and below. How magical would that be!
---
Pink, Purple & Silver Glitter Acrylic Painting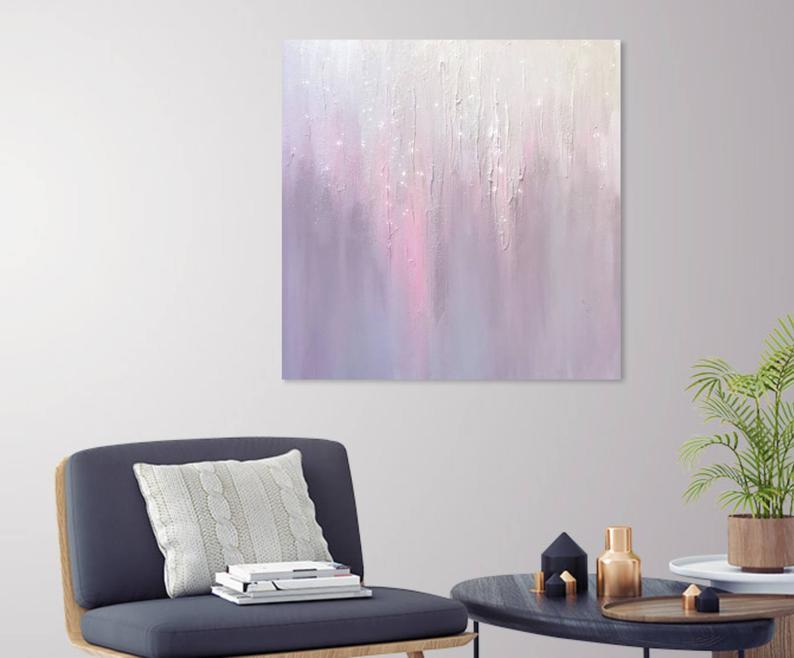 Discover a new detail every time you look at the shiny painting. This work is one of a kind and was created by hand from a blank canvas in Chicago, Illinois. The colors seamlessly melt together to form a calming effect, and the glitter adds vibrancy. Paintings are protected by a coat of varnish that keeps colors crisp and vibrant for many years.
---
Pink Tulips Oil Painting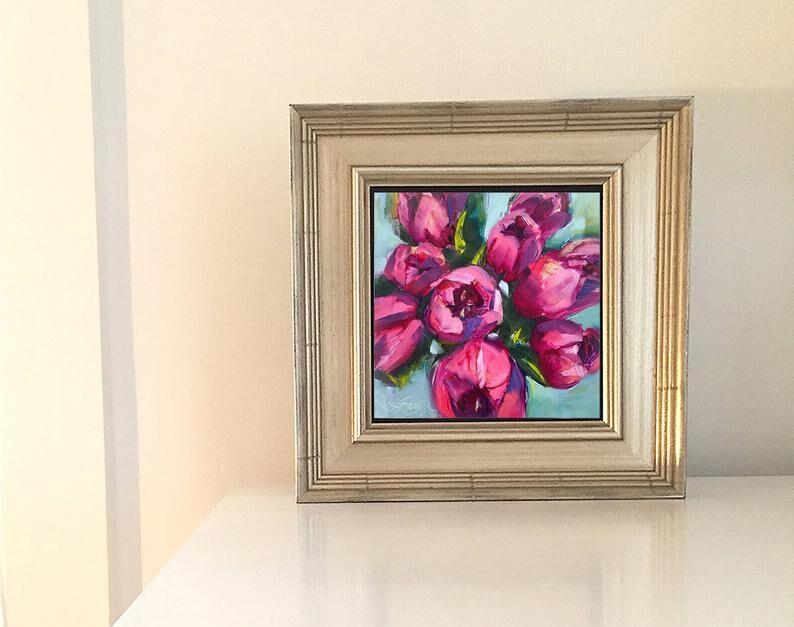 A big, beautiful, bright pink bunch of tulips are the centerpiece of this gorgeous oil painting that is sure to brighten your day and your home's decor.
---
Black Coco Chanel Perfume Bottle with Pink Peony Flower Art Print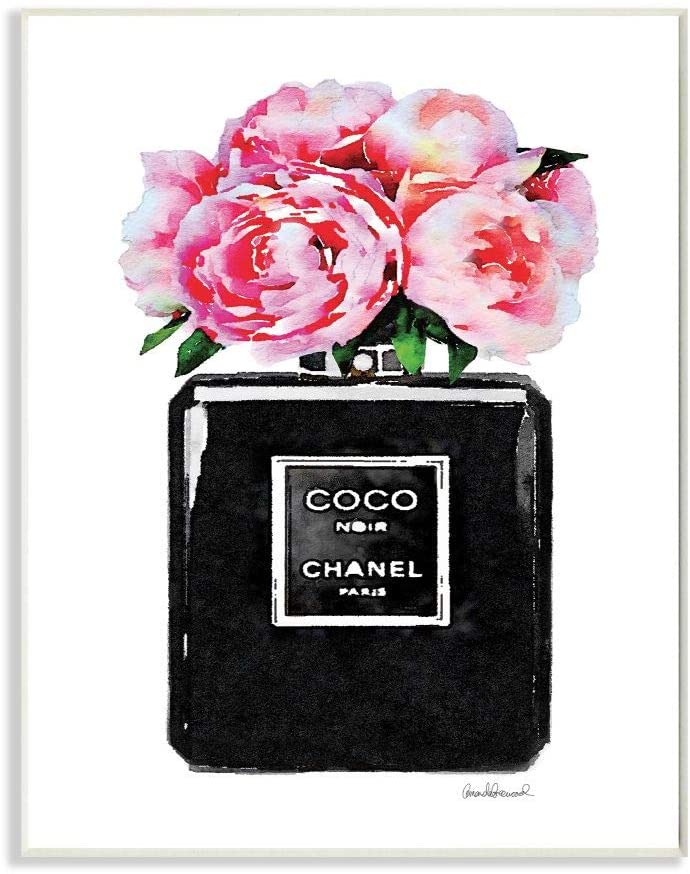 A classic black Coco Chanel perfume bottle becomes a vase for a spray of beautiful pink peonies in this contemporary and glamorous print.
---
Looking for More Pink Decor Ideas?
If your love of pink goes beyond the walls, no need to worry. We also have a wonderful collection of pink furniture and home decor accents for you to explore.