Gold living room furniture adds a sleek & sophisticated touch to your decor style. From gold coffee tables to gold sofas & more, this collection is pure gold!
If you've ever wanted to be the interior designer with the Midas touch, now is your chance to add some gold furniture into your living room design.
We've searched through Wayfair's extensive collection of living room furniture and picked out some of our absolute favorite gold pieces – the Gold Star pieces, you might say.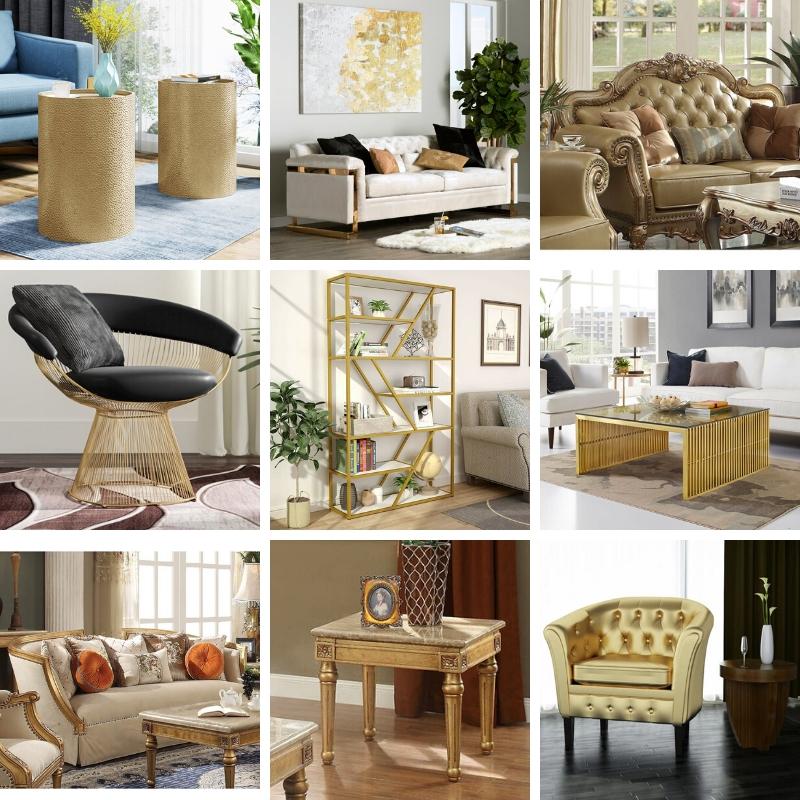 What we've discovered during this golden journey through gorgeous gold living room furniture is that gold living room furniture can range from classic to contemporary, opulent to funky, and a variety of stops in between.
But whatever style you choose, gold living room furniture can add a lavish touch of elegance to any decor scheme.
Here are Our favorite picks for Gold Living Room Furniture
From luxurious gold sofas and love seats to sleek gold coffee tables to gorgeous gold bookshelves, we've got the full range of gold living room furniture covered!
Please note that Art & Home has an affiliate relationship with some of the merchants listed below and we may receive a small referral fee – at no cost to you – for any purchases that you make utilizing the links provided. We use those funds to continue building Art & Home's unique collection of home decor articles and inspiration. And, you know, to buy stuff.
---
Gold Sofas and Love Seats

Welliver Rolled Arm Gold Sofa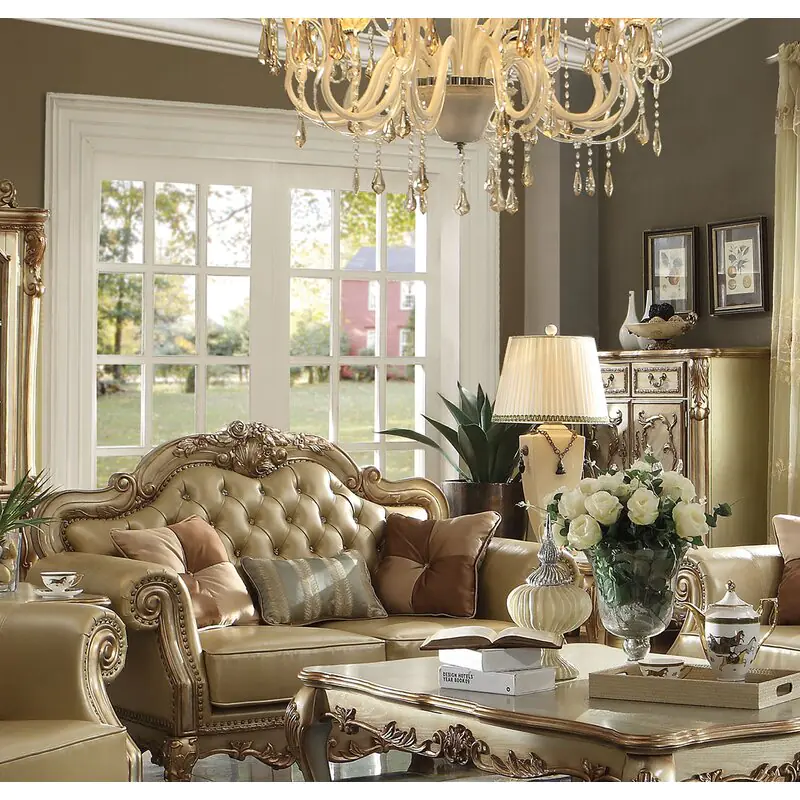 One of Astoria Grand's most famous sofa collections now has a new and golden finish, which will create something new and special in your living room. This traditional collection has decorative carving, inlay veneers, as well as ball & claw feet to perfectly suit any traditionally designed room.
---
Jaylan Curved Gold-Trimmed Loveseat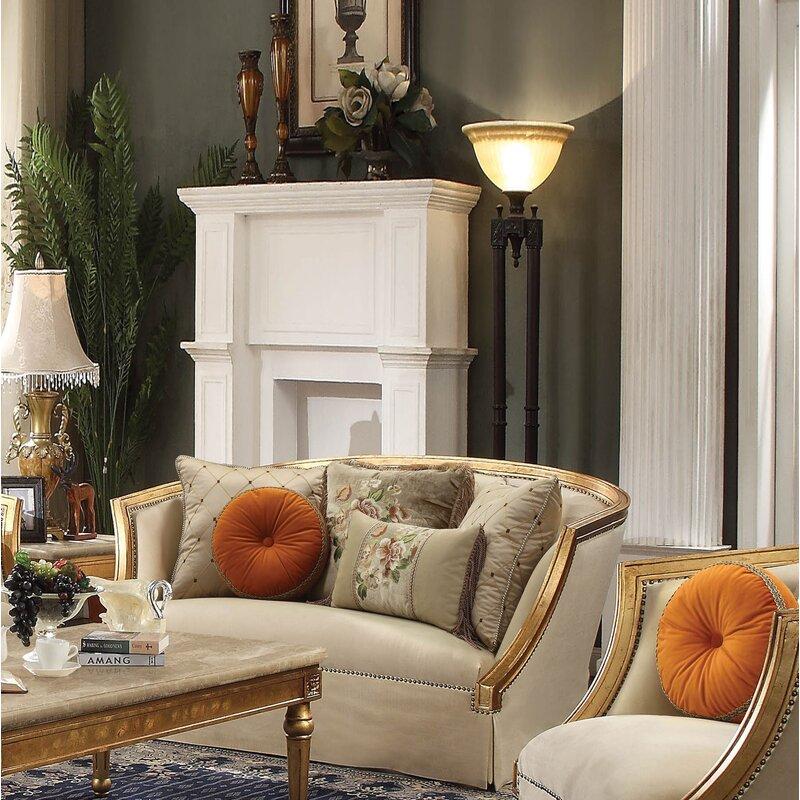 An updated rendition of a classic piece, this beautiful loveseat is perfectly suited for any room decor.
Crafted with a penchant for Old World artistry and French Provincial inspired, this loveseat is the perfect addition to traditional living rooms. Balancing comfort and style, this shapely barrel back loveseat features an elegant bone upholstered seat back and cushion with sloped arms. The carved molding and nail head accented trim in antique gold finish heightens its classical appeal. A pleated skirt and five accent pillows in coordinating colors and patterns add comfort and visual appeal.
---
Eloi Gold-Footed Loveseat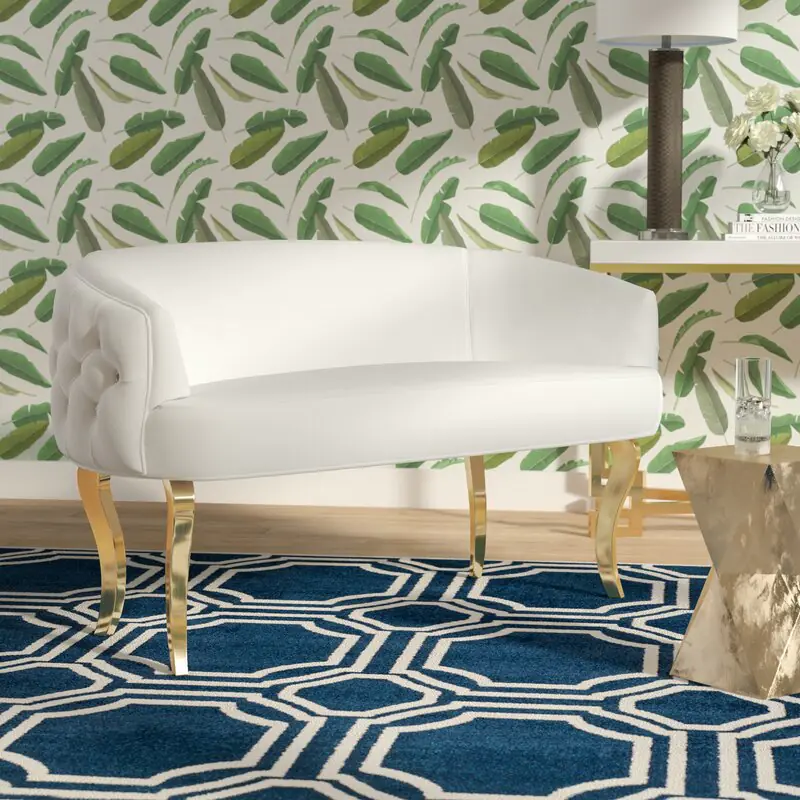 Be it a glamorous living room look or just an everyday den ensemble, this loveseat always makes an eye-catching anchor for your entertaining space. Founded atop four curved gold legs, its frame is crafted from stainless steel and features a rounded silhouette. Foam padding adds comfort to the piece along with solid-hued velvet upholstery wrapping around, lending a dash of distinction with button tufts dotting the exterior.
---
Everly Quinn Northfield Gray & Gold Sofa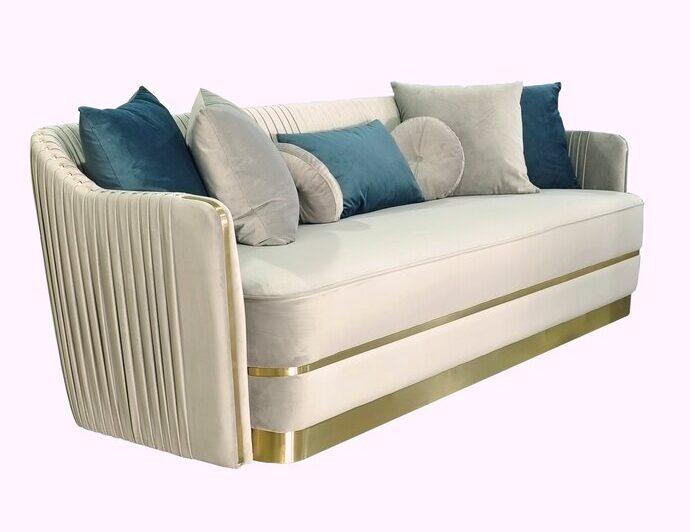 A striking, spacious sofa that provides comfortable seating for three, this modern design delivers luxury and style to any living space. With deep, comfortable cushioning in luxurious, soft gray velvet, contrasting with bright gold metal accents and nailhead trim, this is a sofa that makes a style statement.
---
Perlita Flared Arm Gold-Trimmed Sofa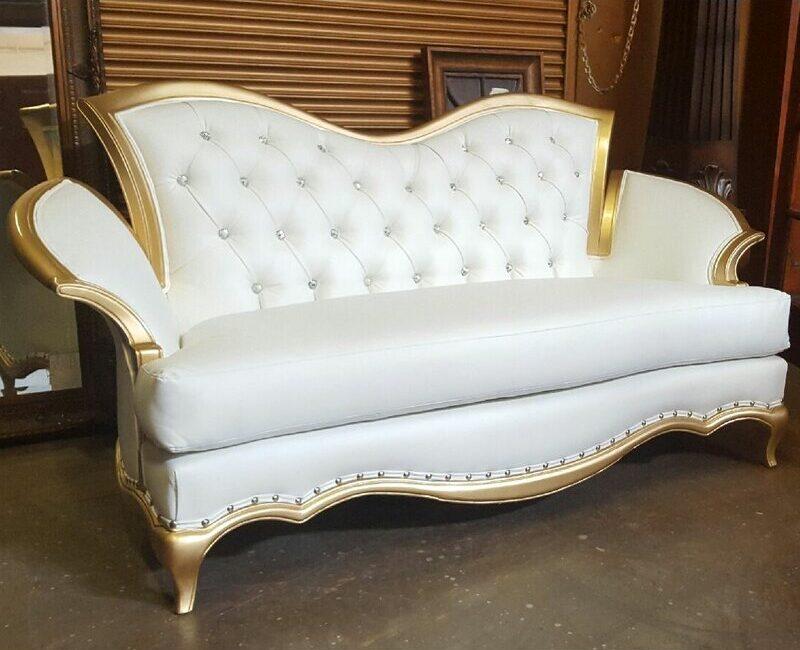 Benetti's Italia offers the finest Home Italian Designer Furnishings available. Including wholesale furniture, high-end hand-carved, antique reproductions, wood exposed, designer and Italian sofa, factory direct, and custom furniture including this gorgeous piece.
---
Neece Gold Sofa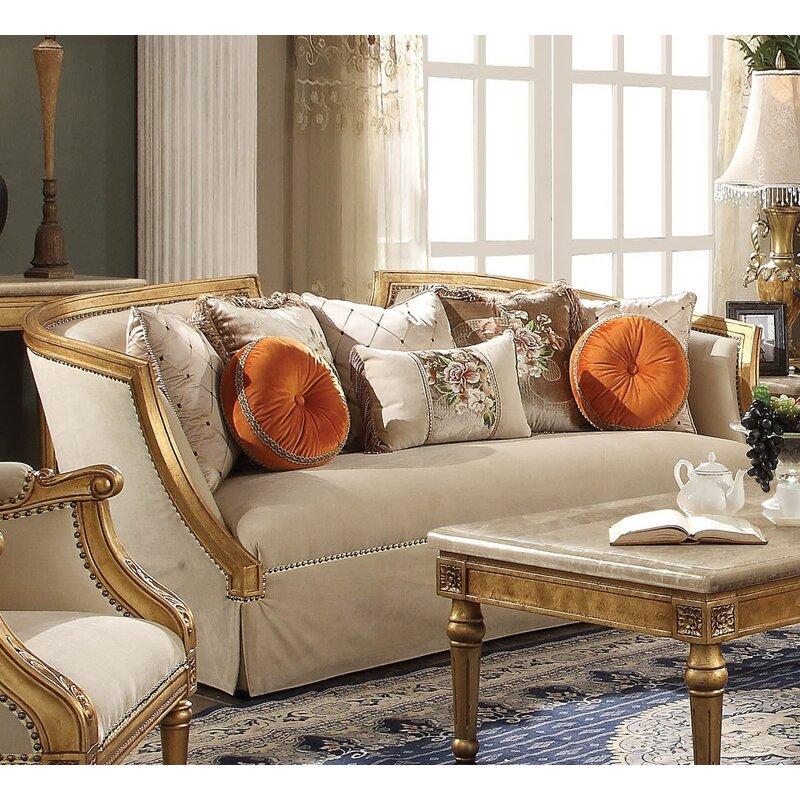 This inviting surround appeal is accented by loose pillows upon coil seat cushions to allow for any configuration for a comfort level desired. The sofa is highlighted with a solid wood rail that flows into a concave arched front arm which creates a great visual silhouette. The detail of the wood trim is emphasized by sporting a skirted base and allowing the contrasting wood trim to be more prominent.
---
Montoya White & Gold Sofa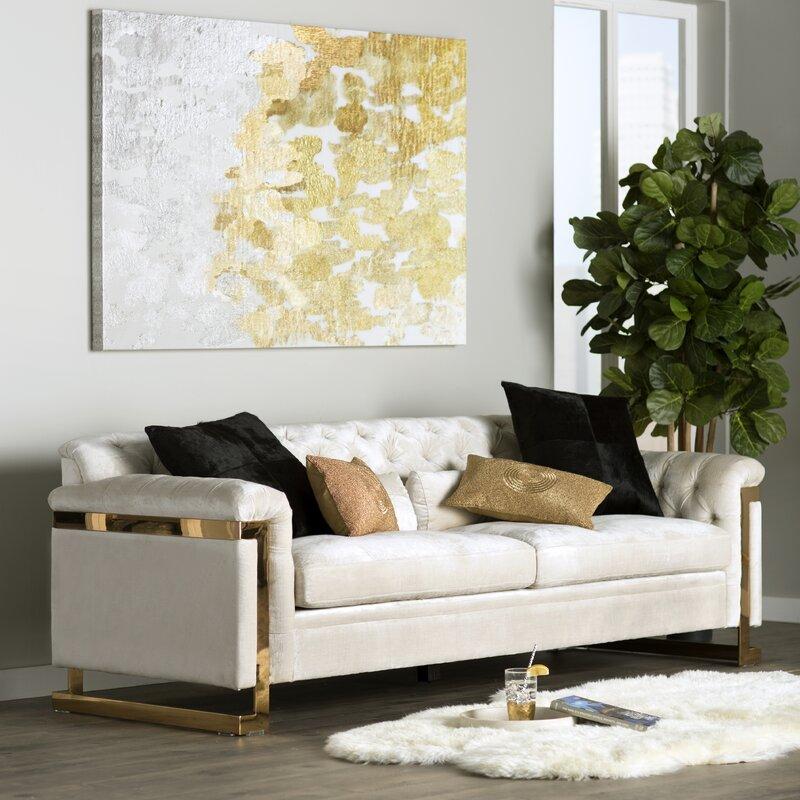 The right sofa can change the look of your whole living room or den. Often used as the centerpiece of rooms, sofas bring both convenient seating and must-have style. Try setting this lovely sofa in your living room, then add a plush shag rug, mirrored coffee table, golden artwork, and beaded pillows for an inviting and glamorous display. Or use this piece in your den for a classic aesthetic.
---
Rother Gold Chesterfield Sofa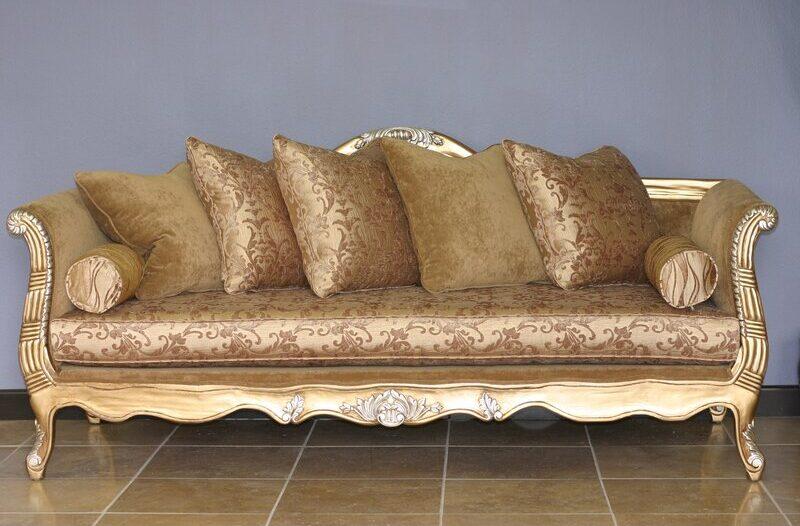 This Rother Chesterfield Sofa is hand-carved with a unique design complementing any setting or decor.
---
SHOP GOLD SOFAS & LOVESEATS >>
---
Gold Chairs

Tarver Gold Wire & Black Upholstered Side Chair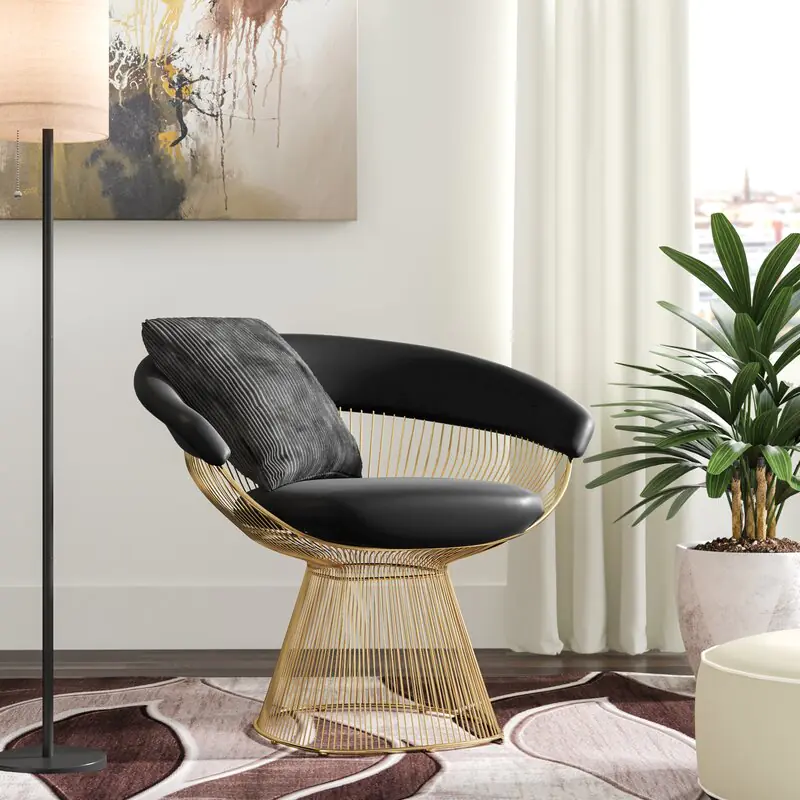 Elegant and stunning mid-century iconic design. Ideal for use as dining, office, or lounge chair.
---
Lyla Gold Upholstery Armchair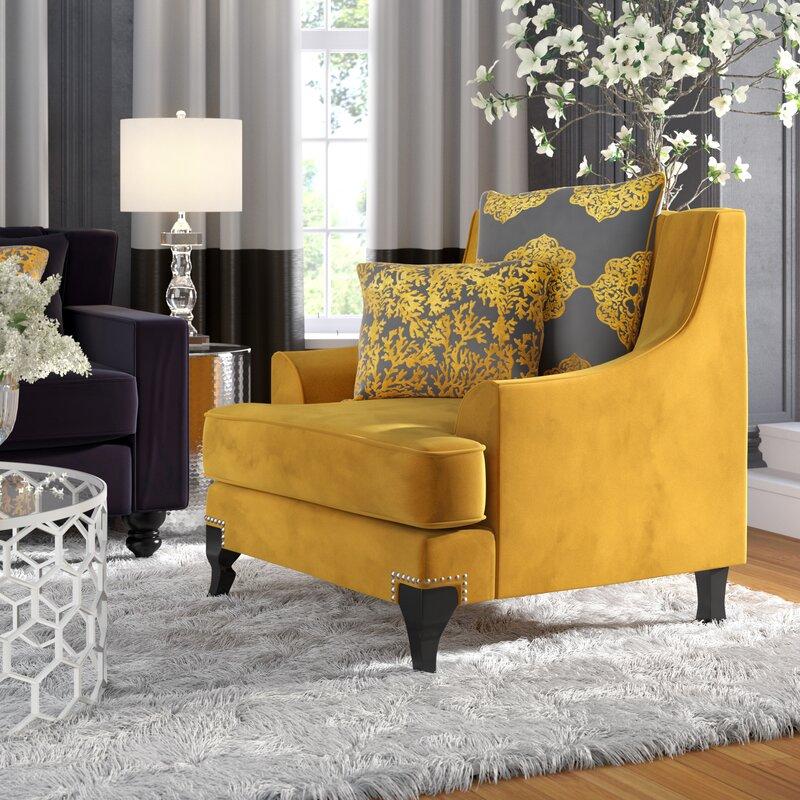 Low sweeping arms and elegant colors will catch your guests' attention. T-cushion seating with no-sag springs offers hours of comfortable relaxation while premium fabric accentuates any traditional home, emphasized with the matching pillow. The soft fabric fully covers the entire piece, offering unending comforting touch. Minimal nailhead trim around the front legs offers a hint of modern accents without overpowering the entire piece.
---
Kole Gold & White Armchair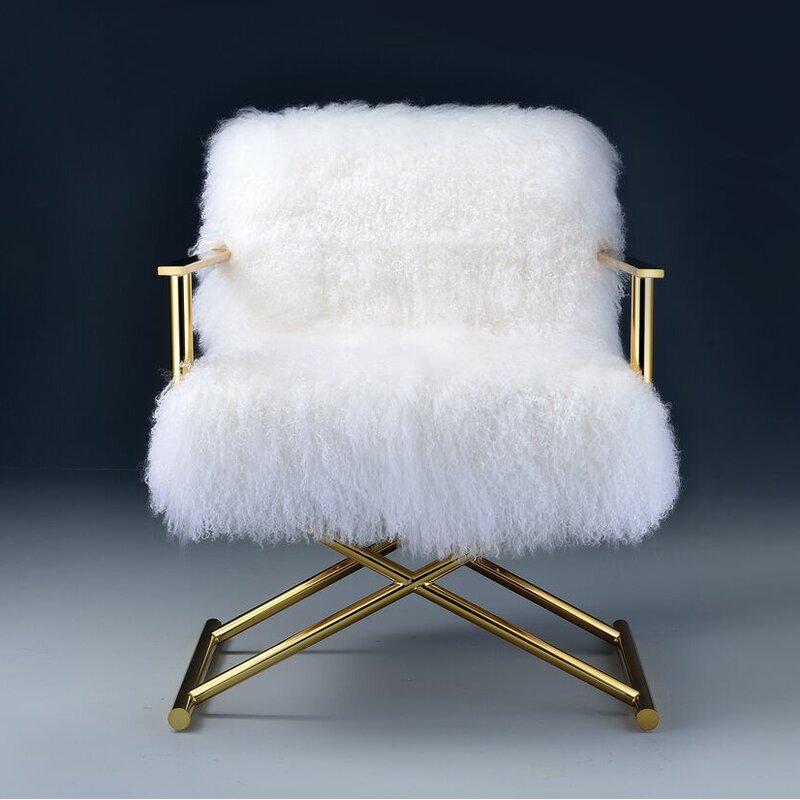 Exceptionally soft, silky, and warm, the Tibetan wool corkscrew curls offer a lush, textural counterpoint with cool gold accents and clean-lined profiles, crafted from lambswool to telegraph relaxed sophistication.
---
Astoria Grand Neece Gold Armchair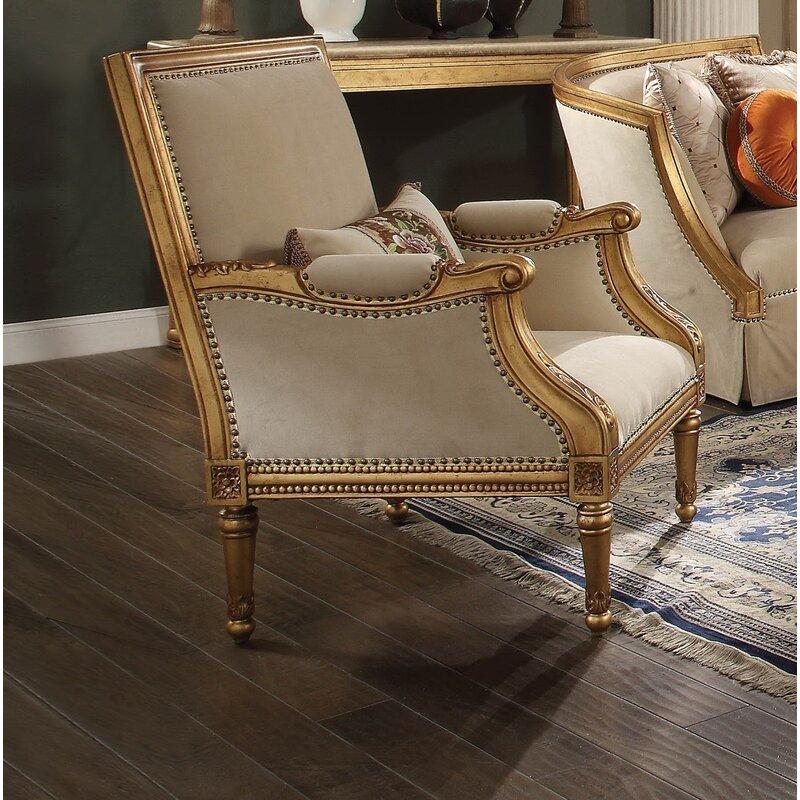 Its soft curve upholstered tight back wrapping around with a half eclipse cut out at the center top. This inviting surround appeal is accented by loose pillows upon coil seat cushions to allow for any configuration for a comfort level desired. This Armchair is highlighted with a solid wood rail that flows into a concave arched front arm which creates a great visual silhouette. The detail of the wood trim is emphasized by sporting a skirted base and allowing the contrasting wood trim to be more prominent.
---
Alto Artificial Leather Gold Armchair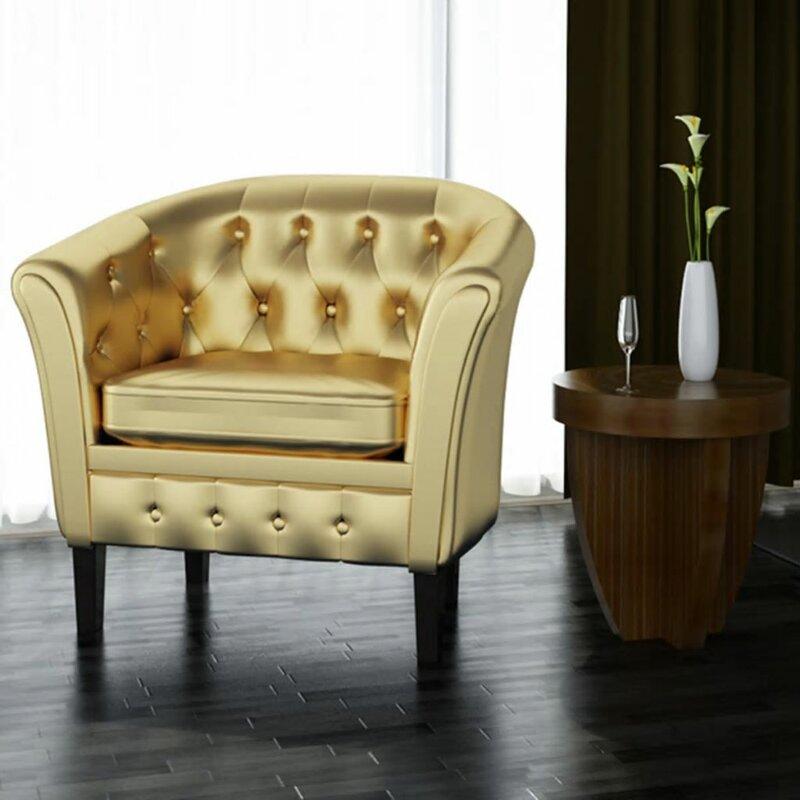 This tub chair will create an elegant ambiance in any living room. With its tufted and studded detailing and gracefully curved arms, this artificial leather gold armchair will instantly add a touch of luxury and class.
---
Oak Hill Gold-Trimmed Upholstered Armchair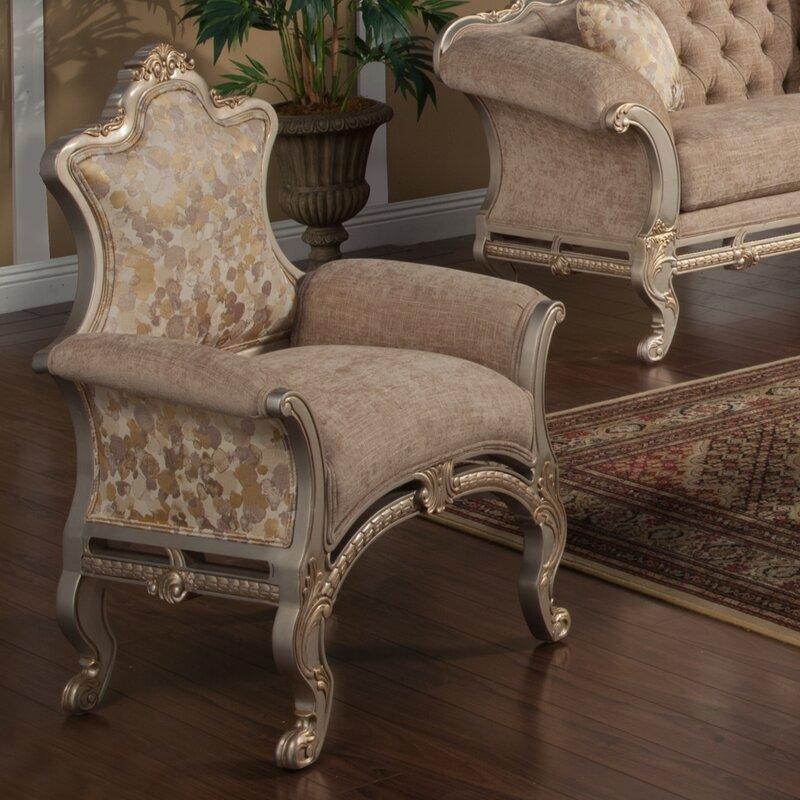 This stylish and elegant upholstered gold-trimmed armchair provides a classic touch of traditional design to any living room setting.
---
Welles Gold Armchair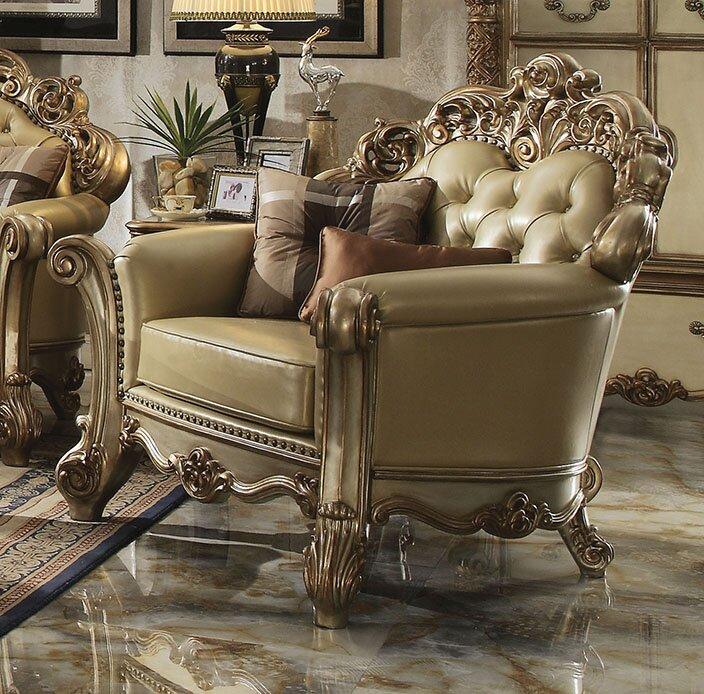 The faux leather upholstery is grand and classy with crystal-like button tufting on the back in a crackled gold patina finish, which is richly accented by champagne gold leaf that is brushed onto each piece by hand.
---
Viscontti Gold Upholstered Armchair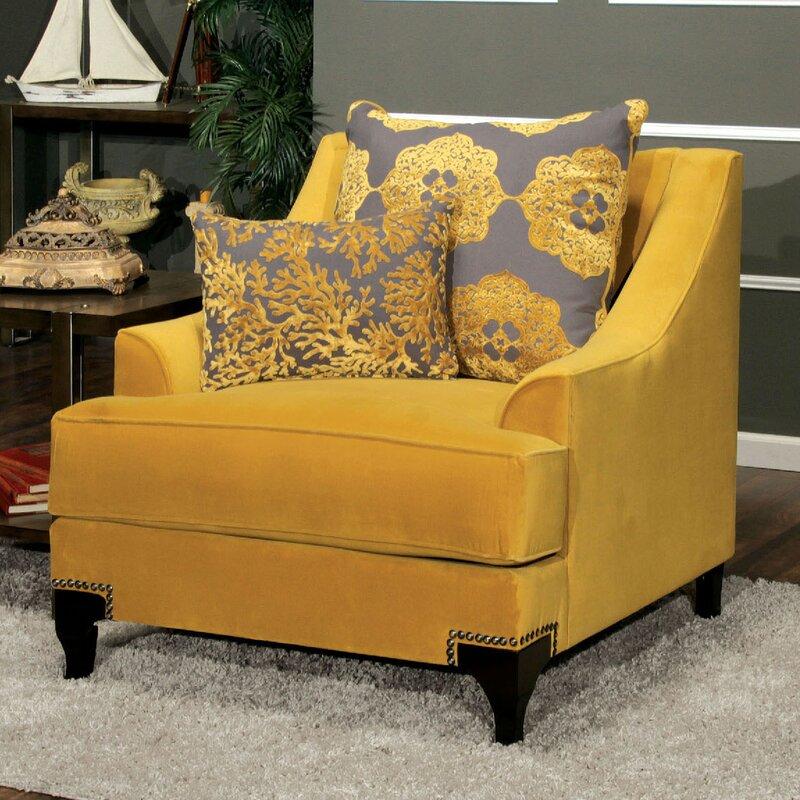 Retro-inspired modern is in the air with this gold upholstered armchair. This minimalist piece showcases impeccable tailoring, soft sloped arms, and richly textured upholstery. Contoured lines give a modern look, while minimal nail heads and beautifully patterned pillow carry just enough retro feel.
---
Jani Black & Gold Armchair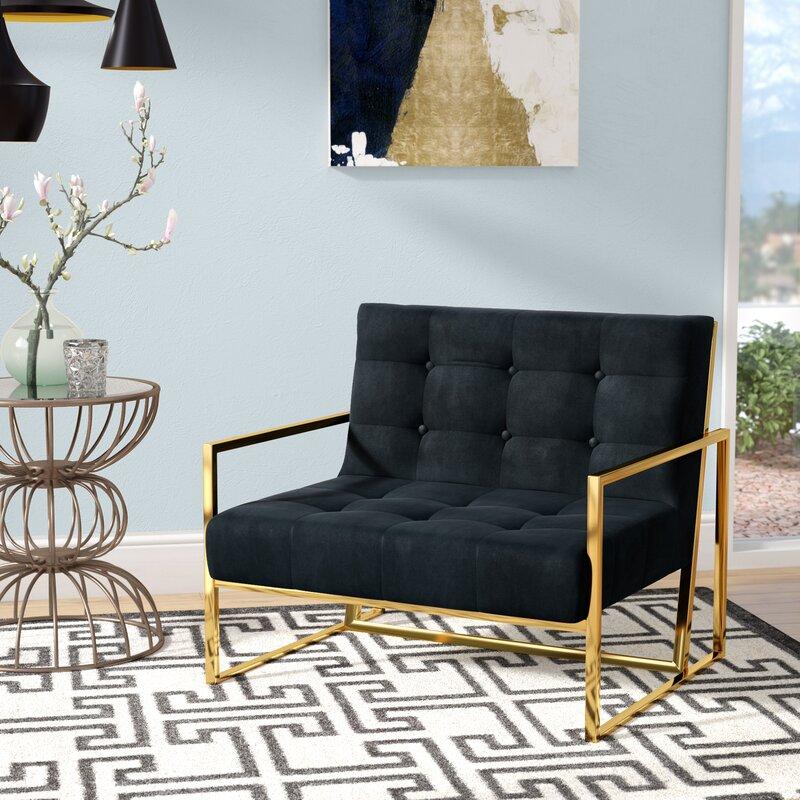 Unafraid of the spotlight, this black and gold armchair offers a trendy twist on bold, Regency style. Its gold-finished frame is unmistakably glam, while button-tufted velvet upholstery ties the whole look together with a nod to traditional design. This delicious armchair is sure to bring fashion to the forefront of your favorite spaces.
---
SHOP ALL GOLD ACCENT CHAIRS >>
---
Gold Coffee Tables

Juliette Gold Coffee Table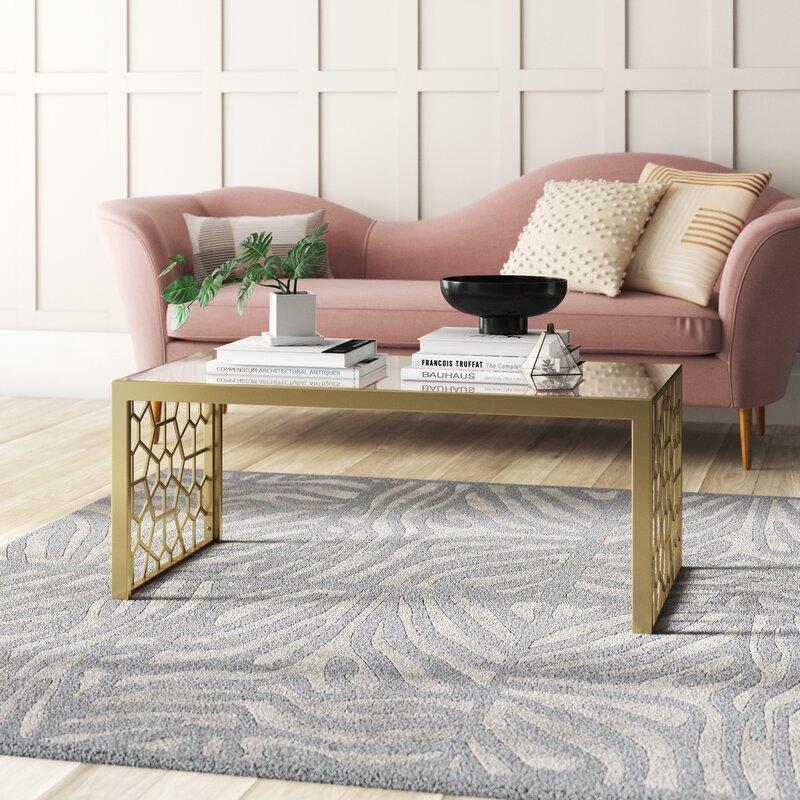 This Juliette Glass Top Coffee Table will slay the design game. With an airy silhouette, geometric cut outs, and minimalist vibe this gold C table is a work of art. Stack your favorite coffee table books and decor accents for a lavish look. Juliette's modern design and artistic side panels will upgrade your space quickly, easily, and affordably.
---
Welliver Solid Wood Gold Patina Coffee Table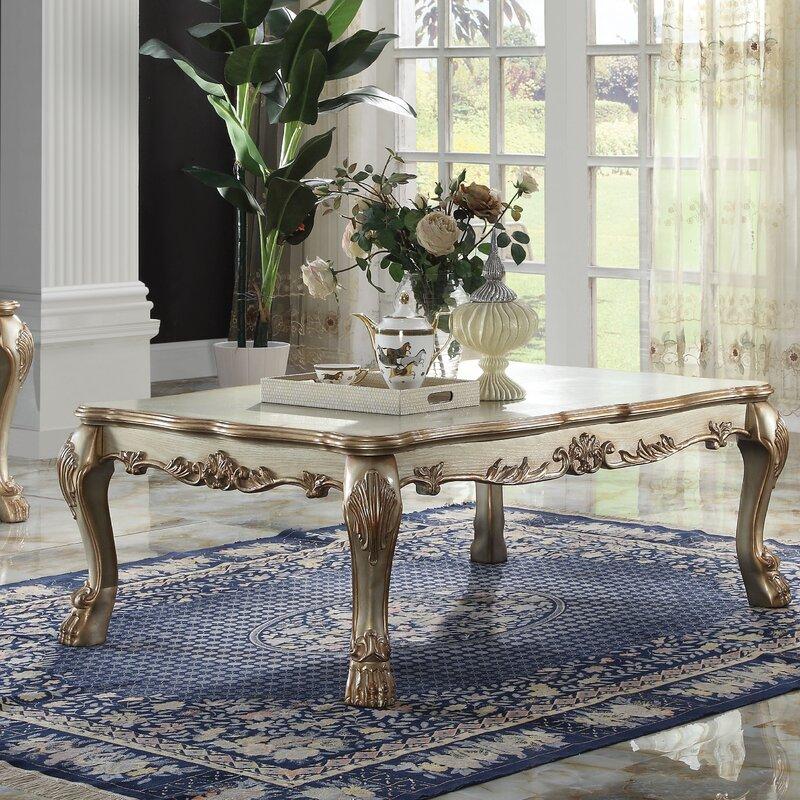 This Coffee Table reflects highly decorative details, oversized claw feet, and decorative carving inlay veneers, all carefully selected in a symphony of material. This gold coffee table will be the show piece of your classically-styled living room.
---
Imel Frame Gold Coffee Table
The geometric shapes of this Imel Gold Coffee Table add to its Hollywood Regency appeal. Form meets function as the lower shelf is stylishly raised to offer additional storage.
---
Gunnar Gold Coffee Table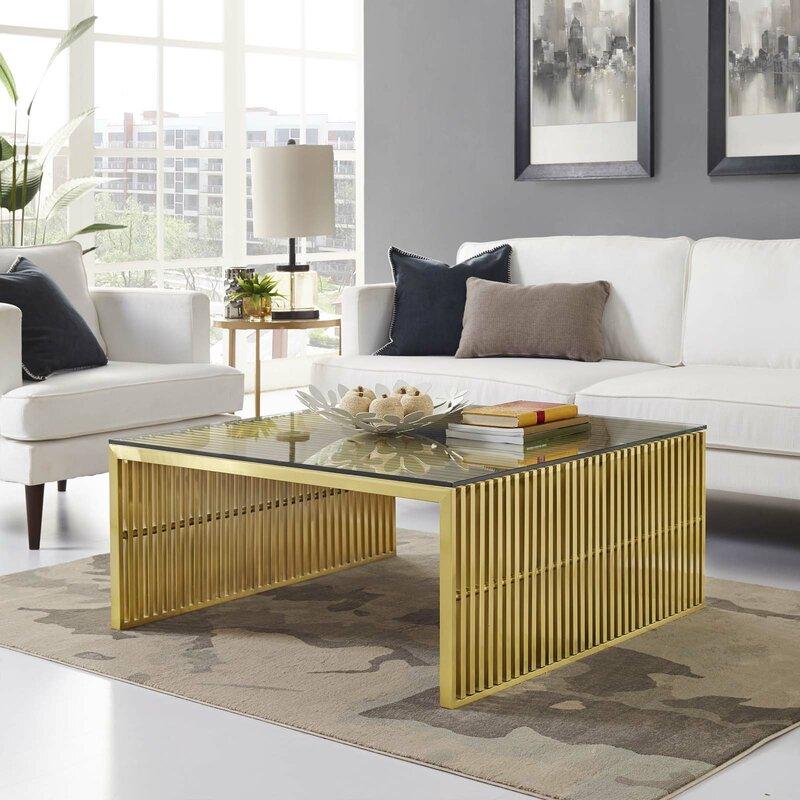 Straight lines were once deemed the realm of strict logic. This conduit design accomplishes something quite profound. It blends linear components with a stylish gold-colored stainless steel for a dramatic tubular effect. This gold coffee table is stunning not just because of its radical shape, but also for the strategic transcendence that it provides.
---
Rhiannon Mid-Century Modern Gold Coffee Table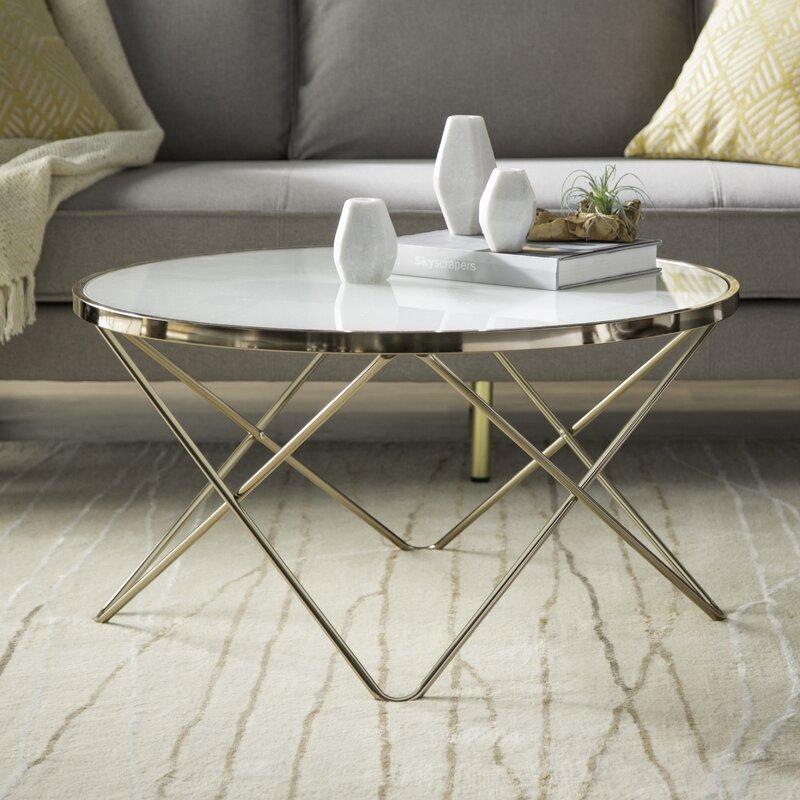 Bring contemporary appeal to your living room with a functional art piece. Founded atop a mid-century inspired metal base, this modern gold coffee table showcases a sleek tempered and frosted glass tabletop for a trendsetting look.
---
Foundstone Frame Gold Circular Coffee Table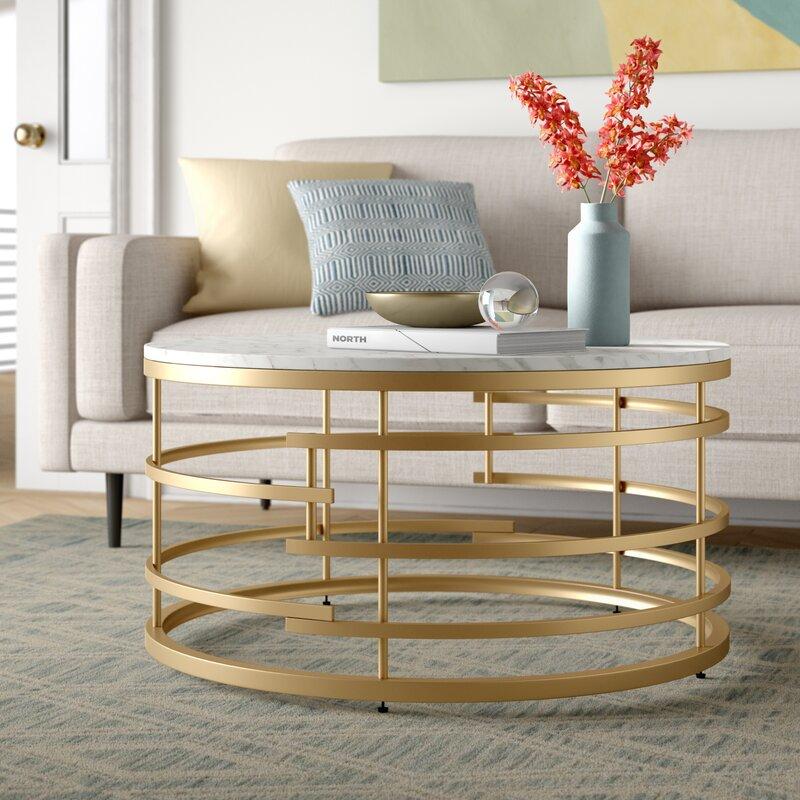 Tie together your lavish living room look with modern style using this eye-catching coffee. Crafted from metal, this circular piece showcases a sleek, open frame and boasts a polished gold finish for a dash of glam.
---
Orren Ellis Teter Gold Coffee Table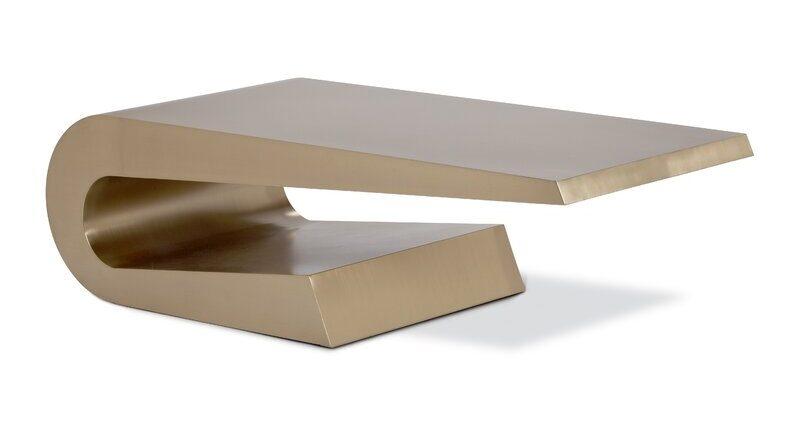 Sleek and ultramodern, this brushed gold stainless steel coffee table adds style to any room. Featuring a unique, dramatic silhouette, its uncluttered lines are classic yet striking.
---
Every Quinn Borton Gold Coffee Table
Add a fashion-forward touch of geometry to your living room with the asymmetrical metal tubing detail of this black mirror coffee table. This contemporary piece sits on a circular metal drum base with a gold finish and lower shelf.
---
Crossley Mirror Top Gold Coffee Table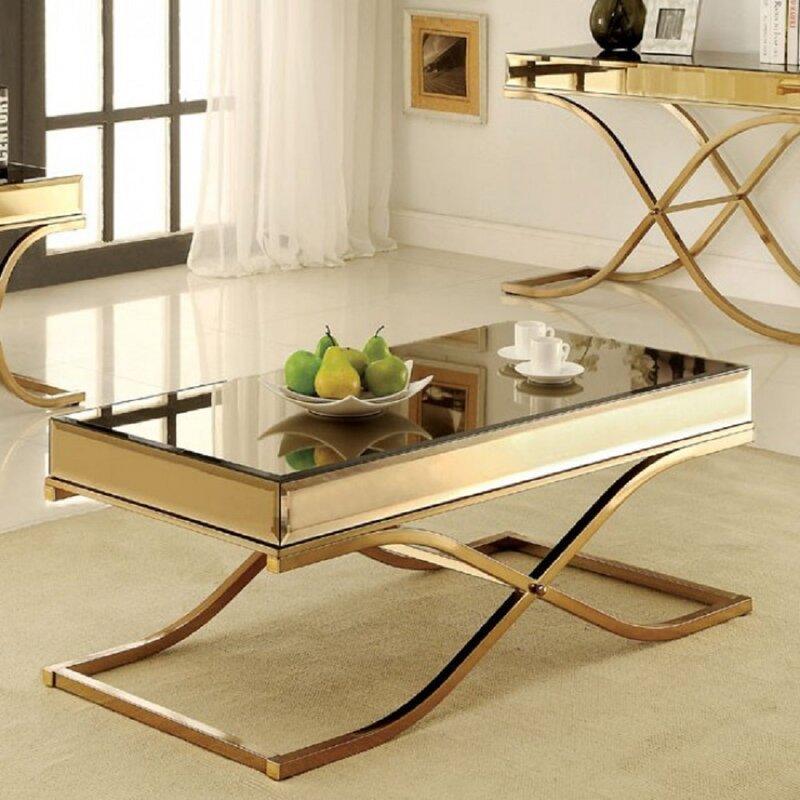 Sleek with carefully curved framework accented by a spacious table top. This piece is detailed with smoke mirror panels to perfectly encompass its unique radiance. The coffee table finish in gold tone while the special x-cross base designing is enough to capture the attention of your guests.
---
Ferdi Rose Gold Coffee Table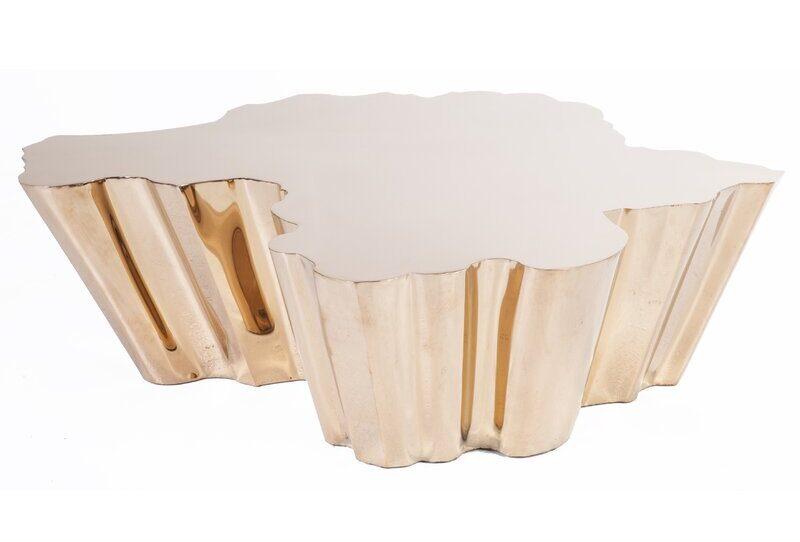 The stunning Ferdi Rose Gold Coffee Table will be a conversation starter in your living room. Its modern, free form design is crafted of stainless steel which is beautifully finished in a striking rose gold.
---
---
Gold End & Side Tables

Stenson Frame Gold End Table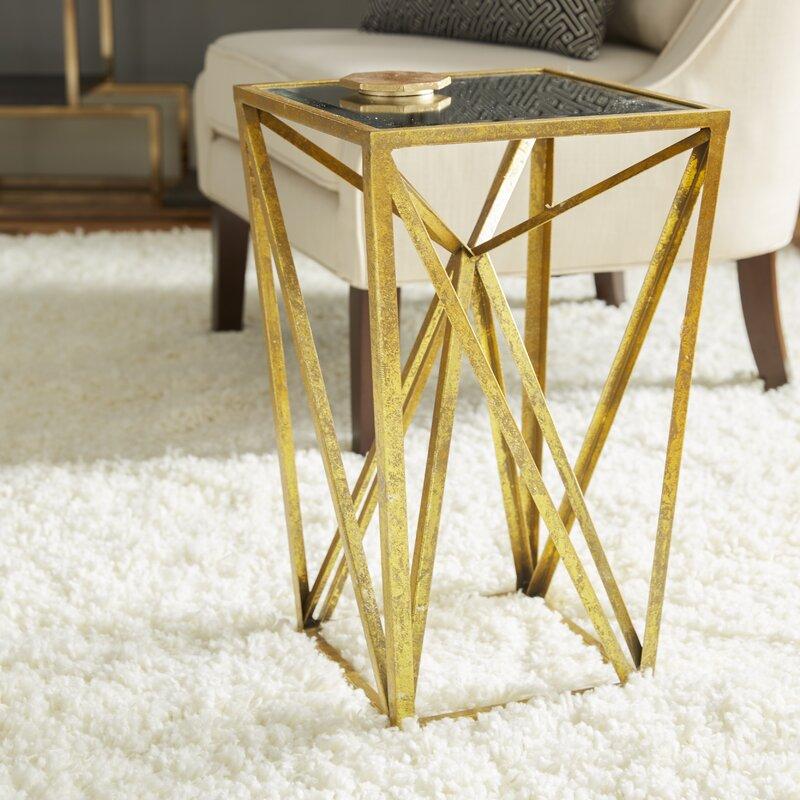 Small in size but brimming with modern appeal, this distinctive gold end table makes a statement as it provides a spot to set snacks, magazines, and more.
---
Aquilar 3 Piece Gold Nesting Tables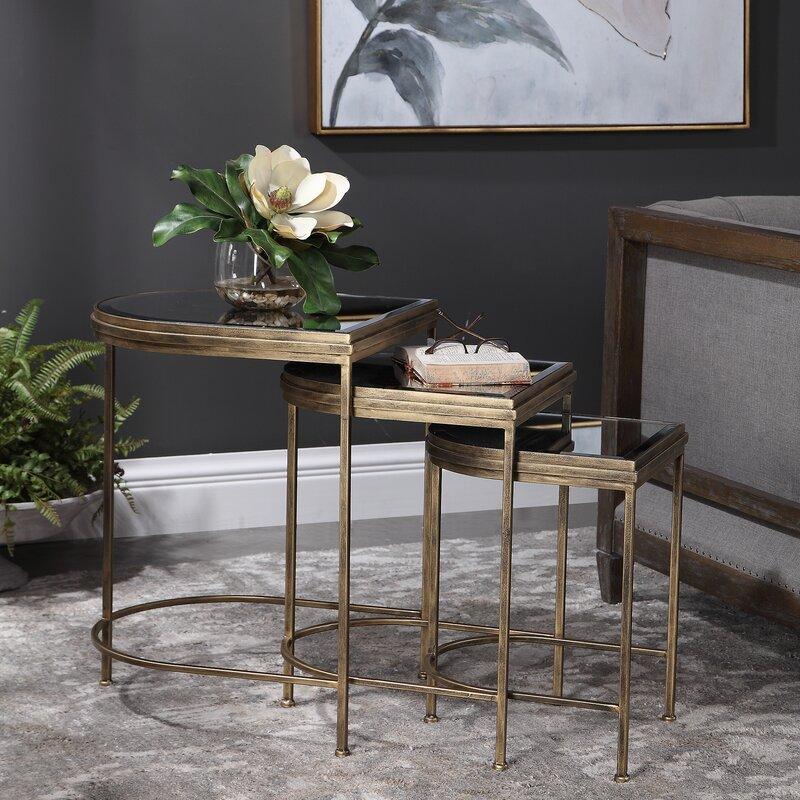 This set of three gold nesting tables feature an elegantly curved, hand forged iron frame that is finished in a gorgeous antique brushed gold and completed by beveled mirror tops.
---
Zadie Gold Drum End Table Set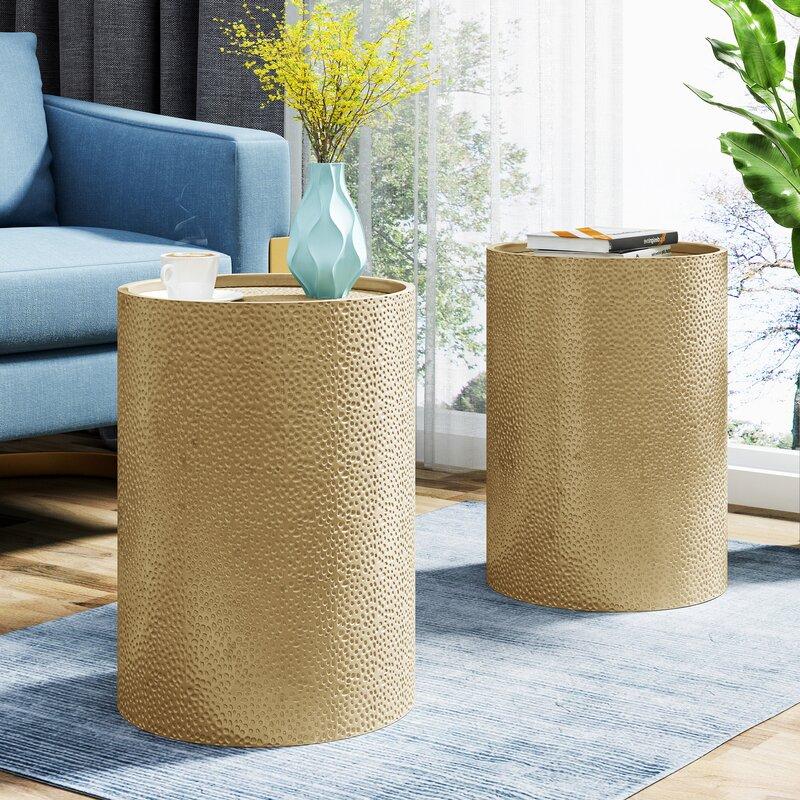 From sleek elegant decor to industrial influences, this gold drum end table set has been crafted to give your existing furniture an extra boost of sophisticated style. Featuring a gorgeous hammered surface, this versatile gold end table set can act a standalone accent piece or can offer up a tray of snacks for your guests. With an iron frame welded together to form a cylindrical silhouette, this showcases a brilliant textured gold finish and a metallic sheen that will enhance the look of your home for years to come.
---
Desiderio Mirrored Champagne Gold End Table with Storage
Sidled up beside your sofa, this end table set is always a stylish stage. Crafted from mirrored glass and metal, its frame features one drawer, and an x-leg design finished in gold tone for a modern yet glam appearance. A rectangular top provides the perfect perch for a gleaming lamp or a stack of glossy magazines.
---
Conlon Bamboo-Look Gold Nesting Tables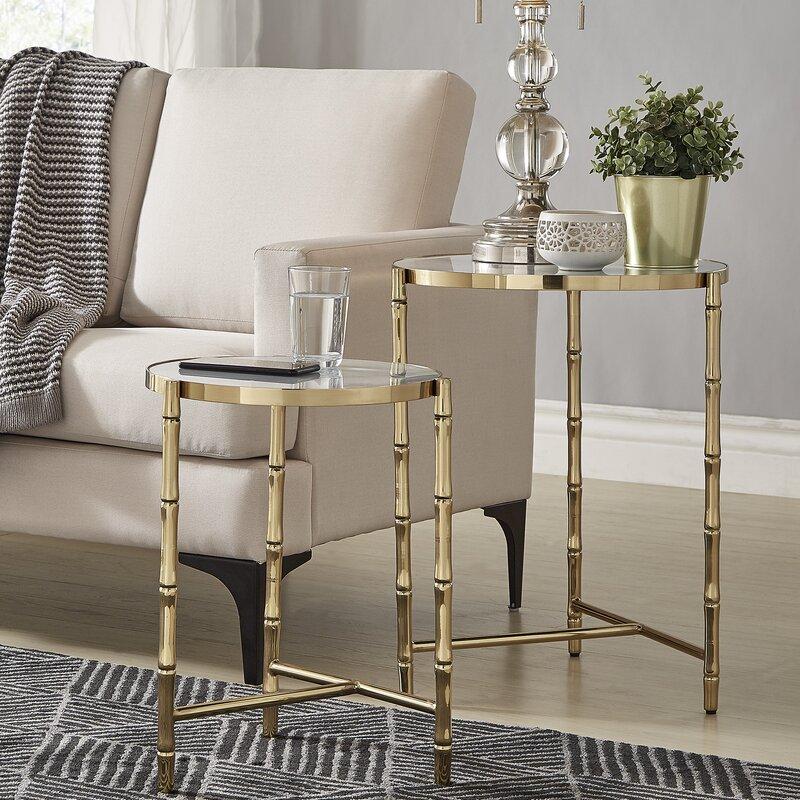 An upscale rainforest aesthetic is easily portrayed in your living space with these Conlon Round Bamboo-look Gold Nesting Tables. Gold, bamboo-inspired stainless steel legs and a mirrored tabletop finish combine to create a luxurious style. Beautiful and functional, this nested set provides plenty of space to display your favorite home goods and accessories.
---
Golden Bronze Cherlyn End Table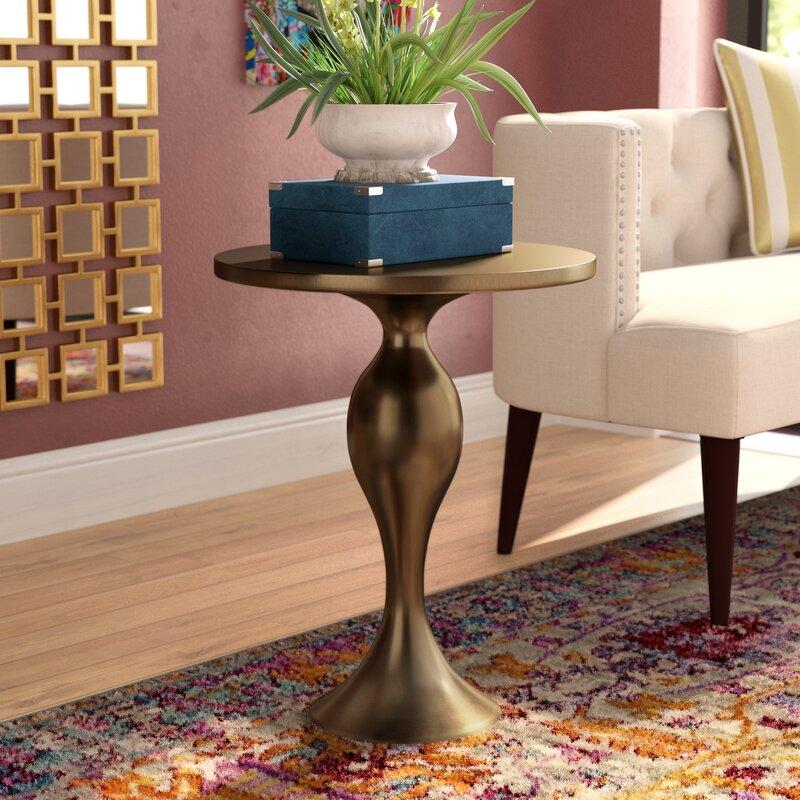 An end table is a handy touch for rounding out any living ensemble in style. Perfect for a glamorous option in any space, it's crafted from a circular metal surface founded on a sweepingly curved pedestal base for a touch of retro-inspired glamour. A gleaming gold finish rounds this piece out with an additional pop of glam.
---
Kessel 2 Piece Gold Drum Nesting Tables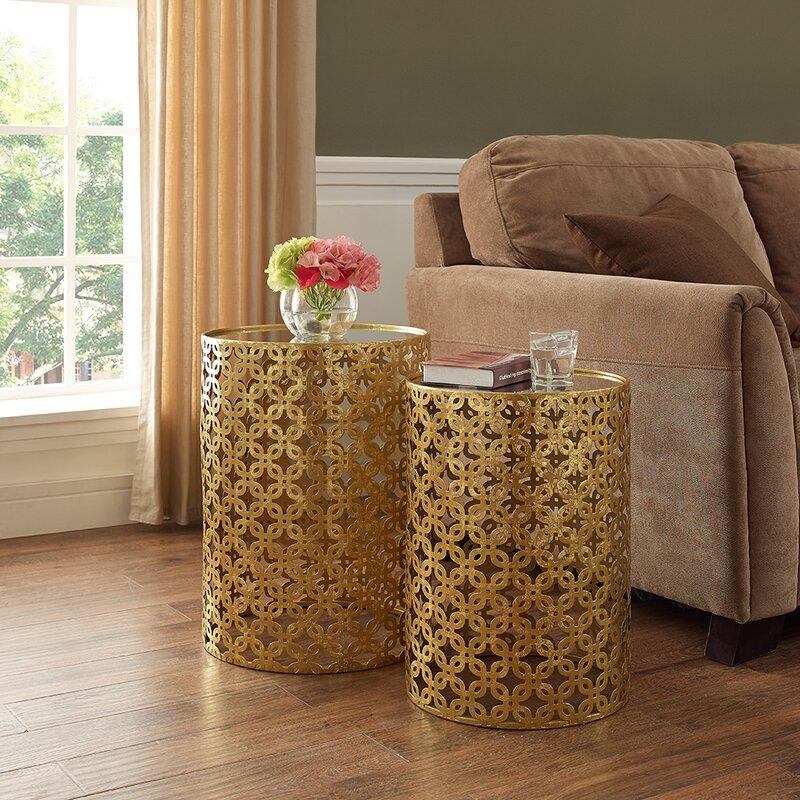 Brimming with elegant style, this openwork nested table set pairs a cylinder silhouette and gold finish for a statement-making look. Use it to add a fashion-forward touch to the living room or pair it with abstract canvas prints for a dynamic display.
---
Layfield Gold End Table
This unique metal end table has just the right amount of sleek modern style and eye-catching flair. The table's base supports a beautiful bamboo-inspired pedestal leg, made up of custom-built identical segments. Topped by a beautiful flawless tabletop, this is the ideal end table for those seeking modern style with a dash of flair.
---
Delmonte Gold End Table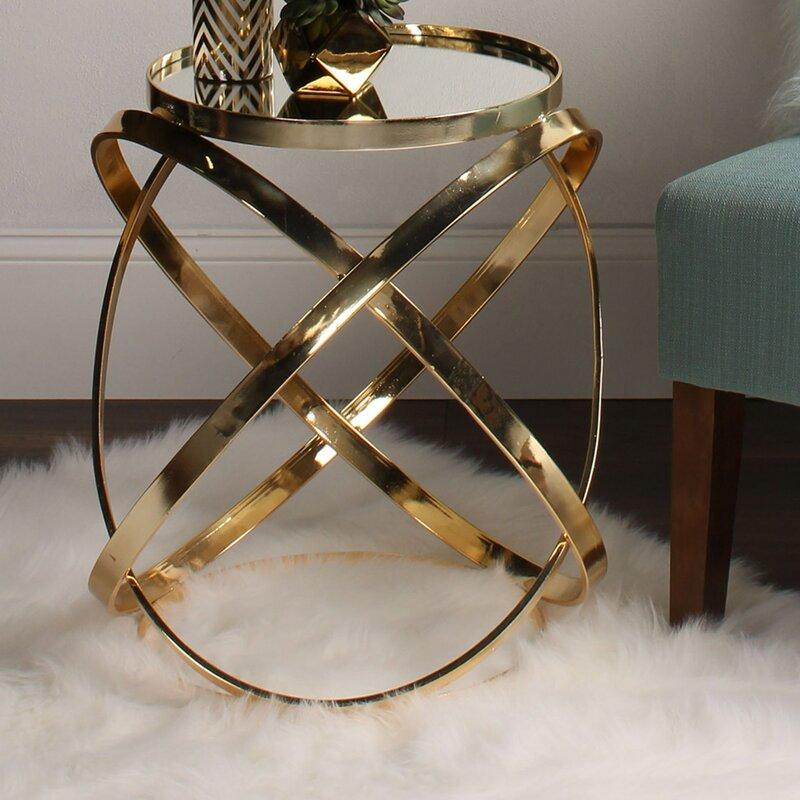 Update your home's decor with this refreshingly modern gold accent table. This round accent table is designed to fit perfectly next to your chair or sofa in your living. The base is crafted of beautiful round swooping curved metal and the mirrored surface top is modern update on the classic tray table.
---
Kaj Black & Gold Square End Table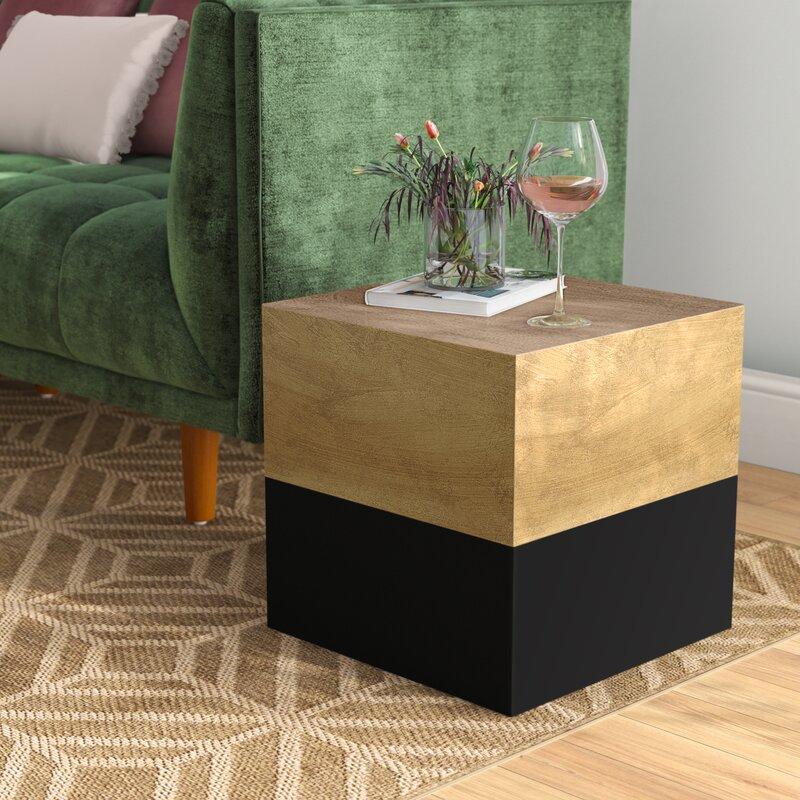 Crafted from solid wood, this piece is a great option for contemporary glamour. Showcasing a two-toned finish in black and gold, this clean-lined table is perfectly proportioned to be easily slotted into many living spaces.
---
Greifenstein Gold Side Table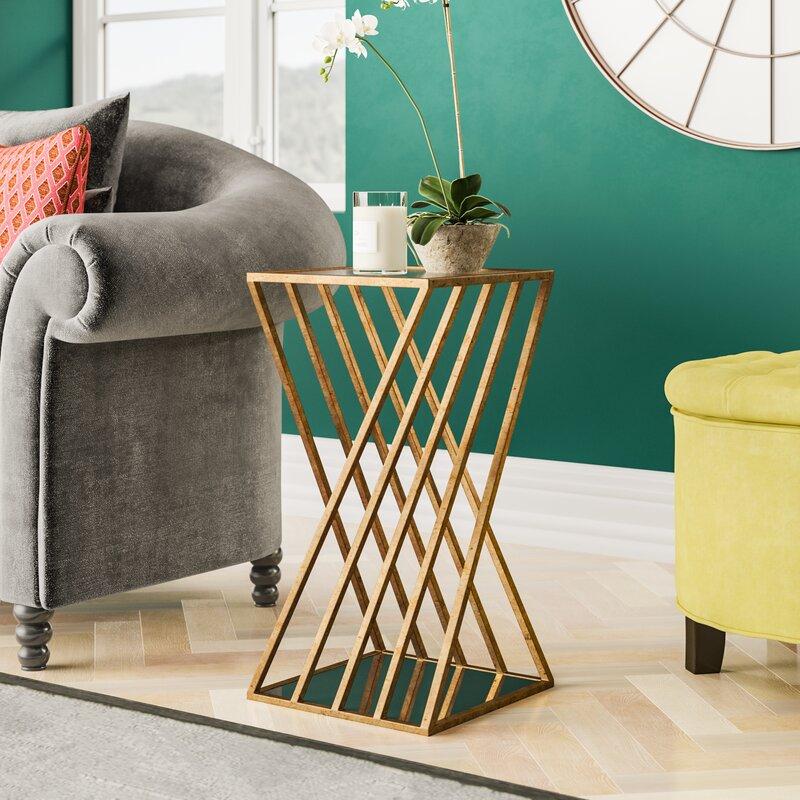 A three-dimensional, angled accent table with a lustrous gold leaf overlay. The top is clear glass with a base featuring an inset plain mirror.
---
Katelynn Round Gold End Table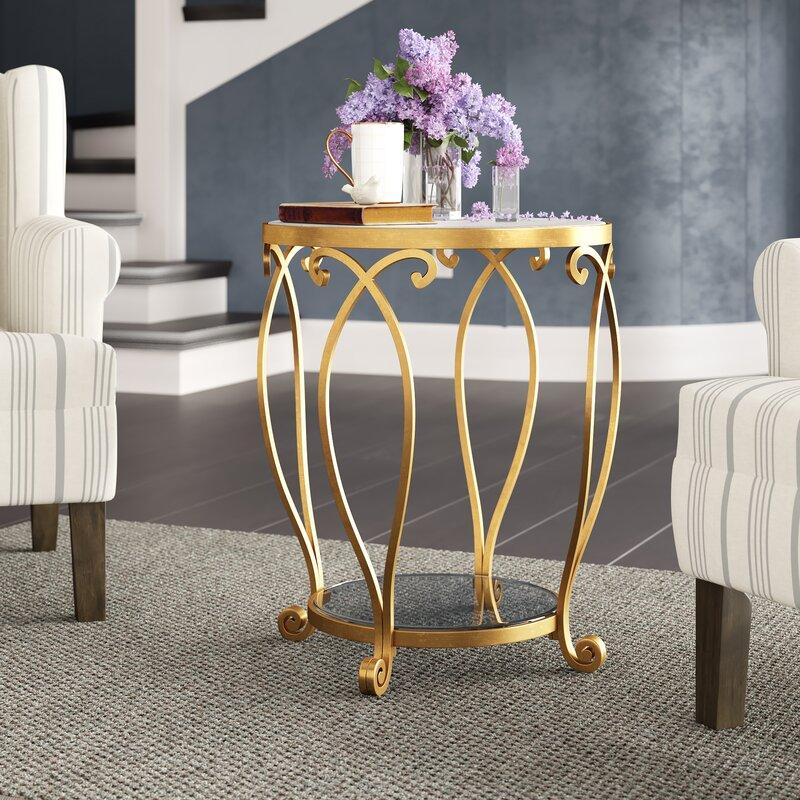 Gracefully hand-forged iron finished in a rich gold leaf with curled accents, featuring hand applied gold leaf glass on top and gallery shelf.
---
Lynton Gold End Table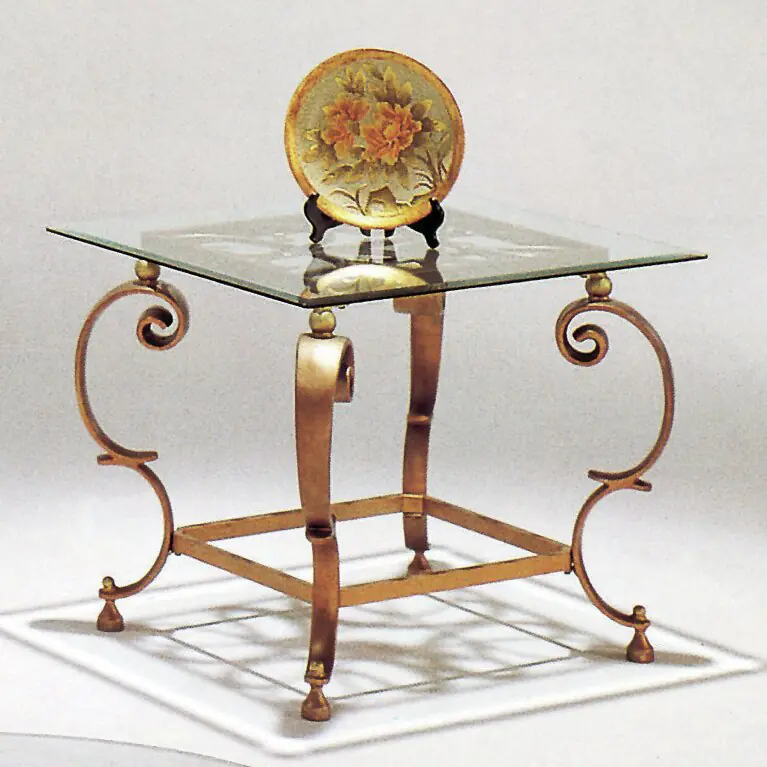 Classic curved metal legs and a bevelled glass top make this end table the perfect addition for a luxurious living room.
---
Jaylan Gold End Table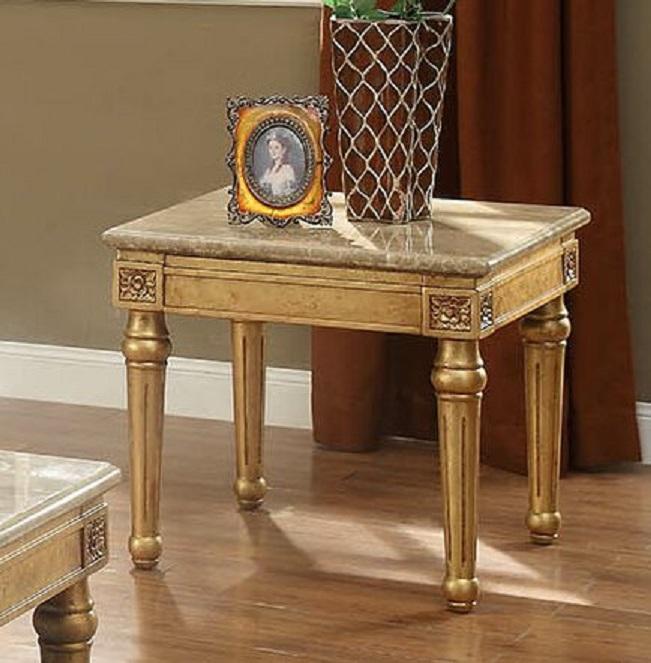 Elaborate old world designs are treated with a distinct modern touch on this gold end table. This elegant wood table features a stunning marble table top and detailed table legs in a spectacular antique gold finish. This unique square table features delicately detailed fluted legs and brushed undertones on its corners with carved floral motifs. With intricate carving detail on the turned table legs and apron the look of this beautiful occasional table is solidified.
---
Valda Gold Floral End Table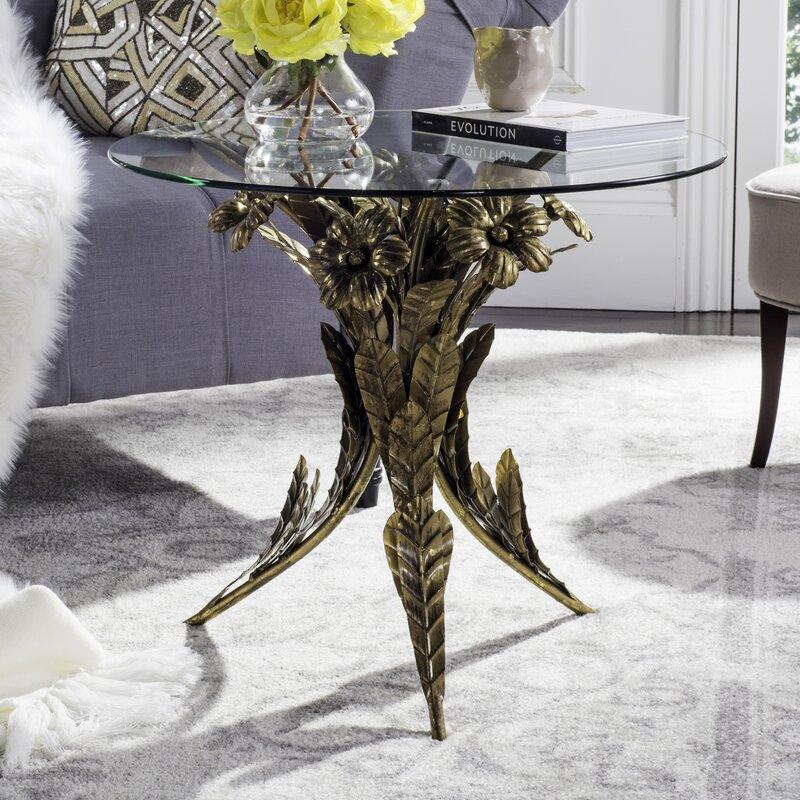 This side table is handcrafted by skilled artisans to give it a unique aesthetic and a distinctive personality, all the while adding to the durability, strength, and stability of this gorgeous gold end table.
---
Welles Traditional Gold Side Table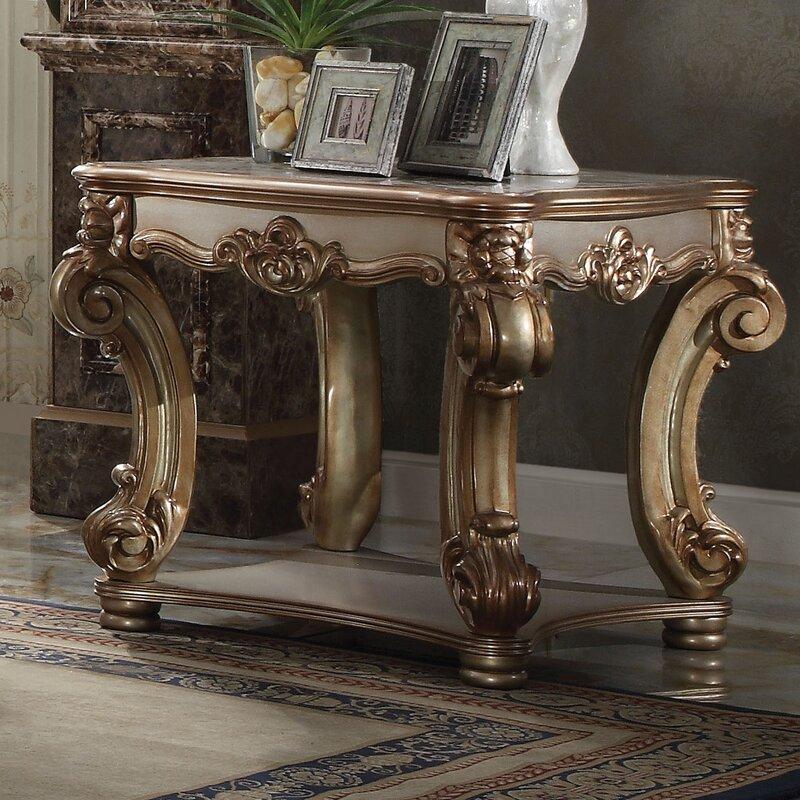 Create an elegant, traditional design in your living with this Welles Traditional Gold Side Table. This hand-crafted piece is inspired by the luxurious design of the past, and features elaborate wood carving details, traditional hardware, and a sophisticated style.
---
---
Gold Bookcases & Shelves

Roy Etagere Gold Bookcase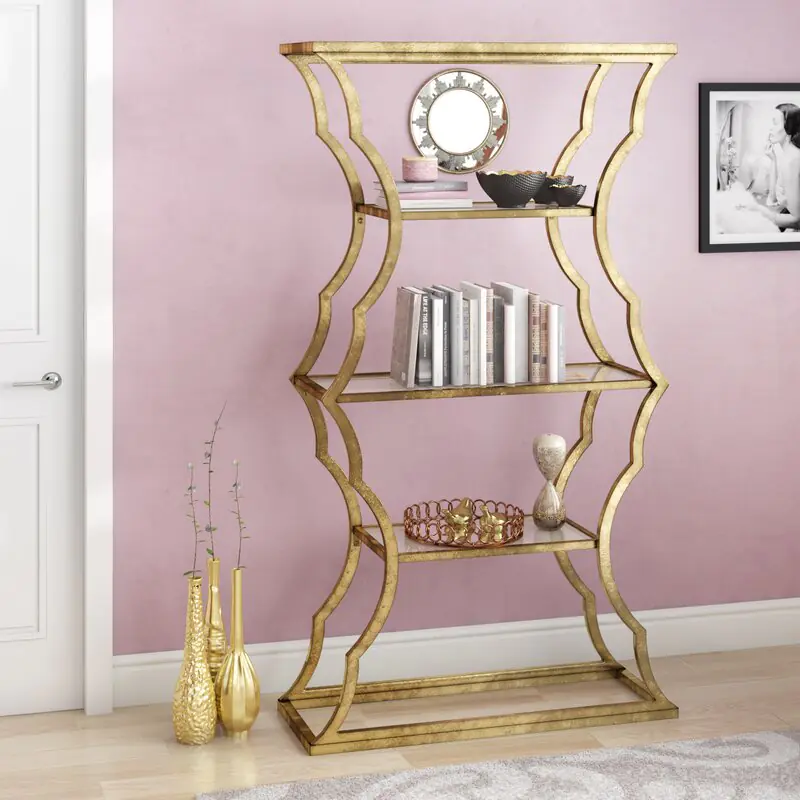 Too many books and not enough space to store them? Don't worry, this bookcase is here to help. Crafted from metal, its frame showcases a curved design, making this piece an instant eye-catcher in your space. Three tempered glass shelves give this piece a sleek motif, while an antique gold finish gives it a pop of glam appeal.
---
Gold Egyptian Etagere Bookcase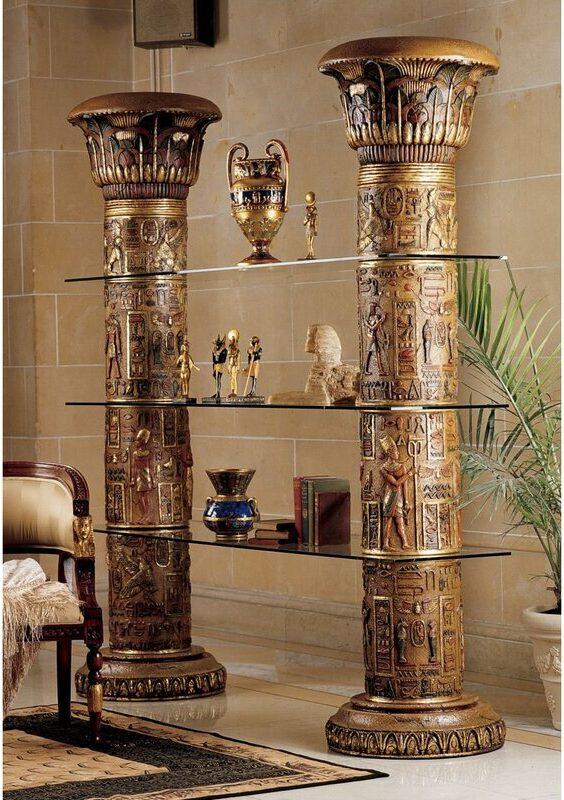 Rising like the famed Egyptian columns for which it's named, the seven-foot-tall work of gold living room furniture art is intricately carved and crowned with lotus leaf capitols. Cast in quality designer resin and dramatically hand-painted with rich hieroglyphics and the figures of antiquity, this gorgeous replica is highlighted by a weathered, faux stone finish.
---
File Etagere Gold Bookcase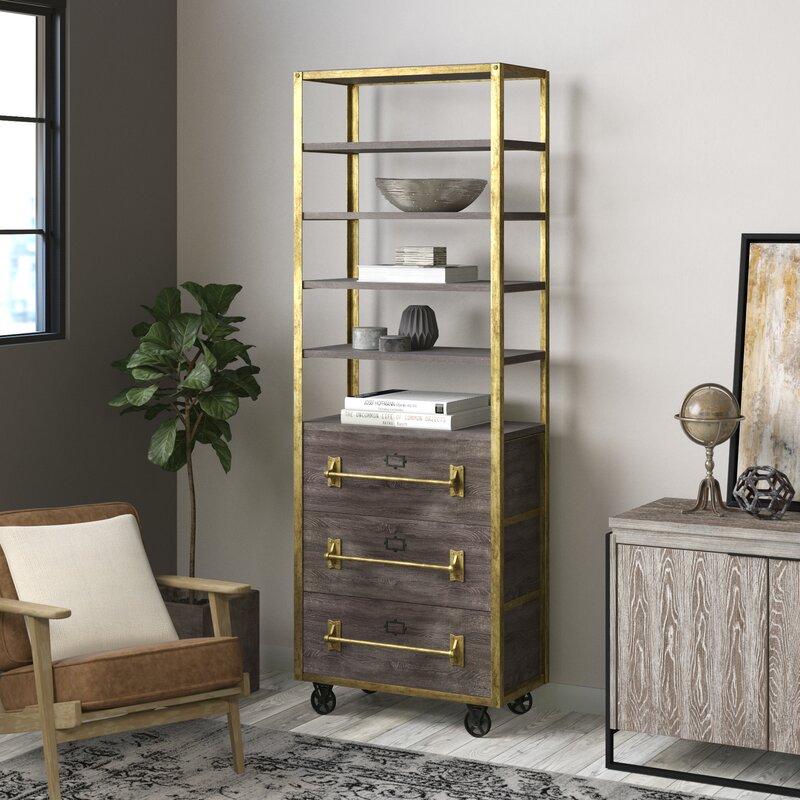 This File Cart Gold Bookcase is an absolutely stunning, vertical shelving unit that features four dark-toned shelves made from durable Indian Mango. The unit also sports three easy sliding drawers with gold-toned pull handles. The entire shelving unit is supported by a sturdy iron frame polished in an antiqued-gold tone with four wheels at the bottom for ease of movement. The wood and gold accents on the File Cart make it a great choice for spaces based on the Industrial design style.
---
Cohan Gold Etagere Bookcase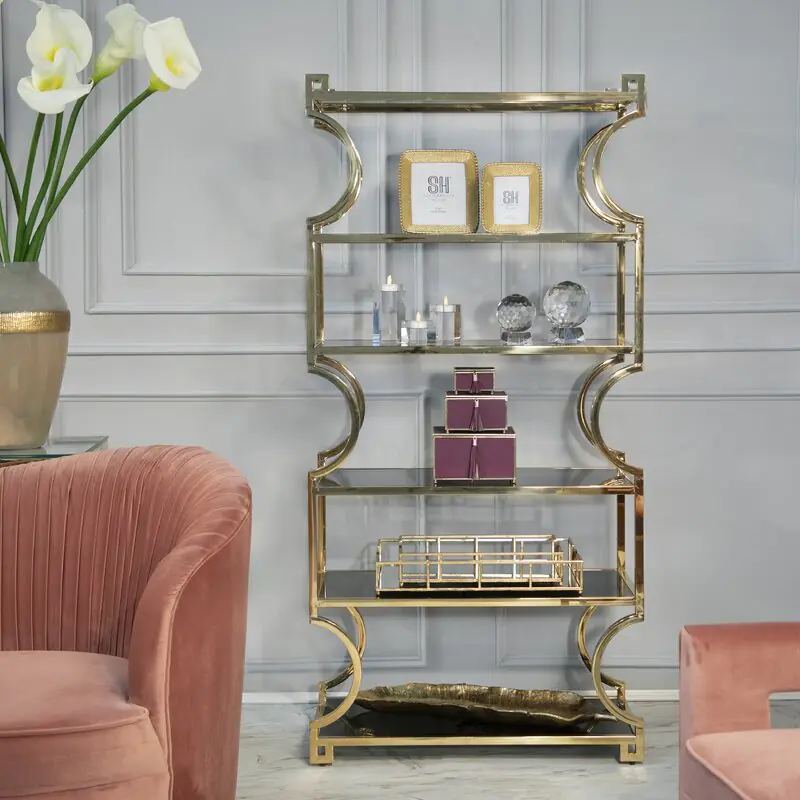 This stunning etagere bookcase is perfect for adding a personal touch to any arrangement in your living room. Constructed from metal, this piece displays clean lines and silhouette with curved accents and 6 glass tiers. A glossy gold finish outfits the open frame for a vintage vibe this tall design offers ample display space while helping you make the most of your square footage.
---
Margo Gold Ladder Bookcase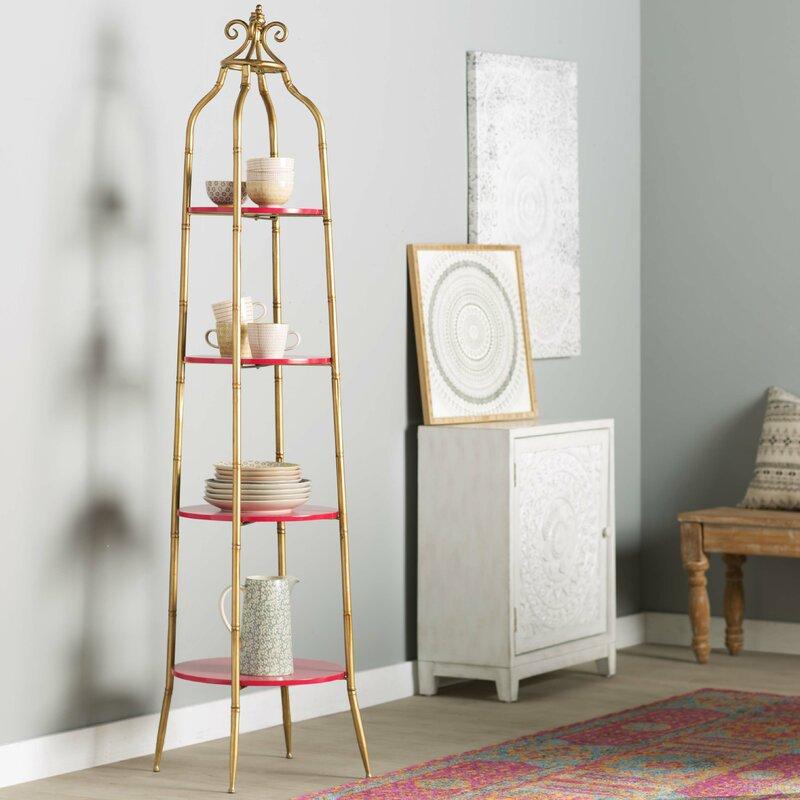 Traditional design gets a glamorous upgrade in this mod display tower. Crafted of metal, this tower strikes an elegant etagere-style silhouette featuring four tubular posts and a scrollwork crown. Made from wood painted glossy red, four open shelves provide perfect platforms for displaying everything form framed photos to collected curios.
---
Moskowitz Ladder Gold Bookcase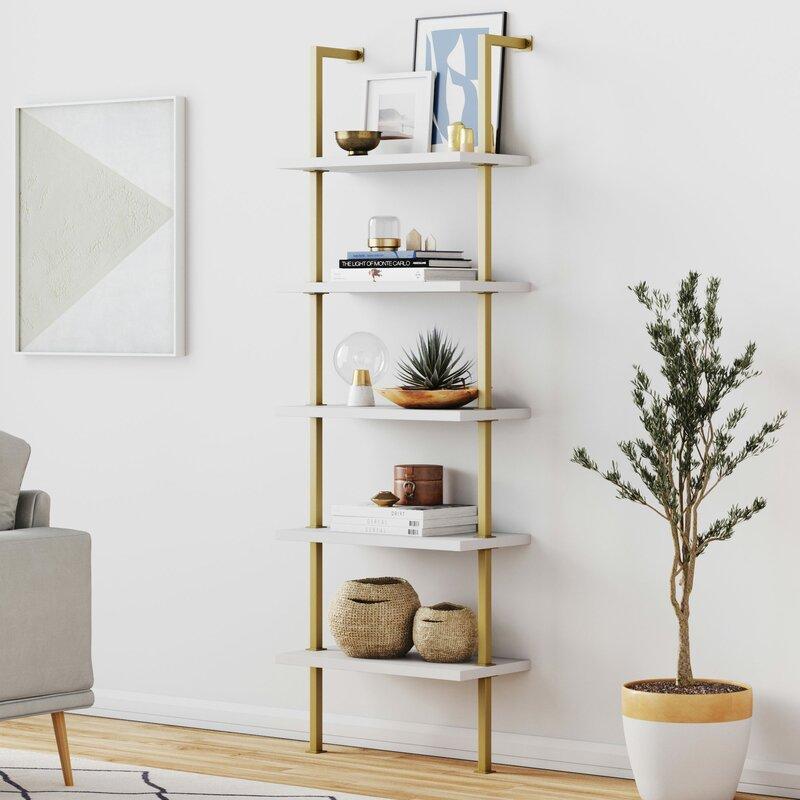 Dress up your living room and save precious space with this Moskowitz Ladder Gold Bookcase. Artfully crafted of wood and metal, it can be mounted practically anywhere. This minimalist design will take your living room to new design heights.
---
Rhys Gold Etagere Bookcase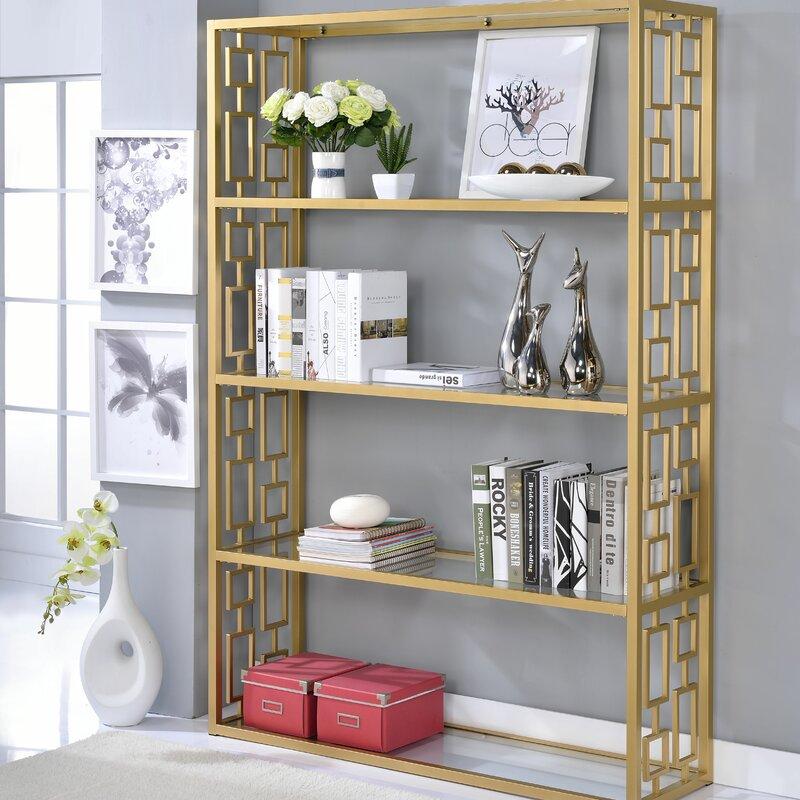 This open bookcase features a trendy gold finish and unique square decorative design on sides. Store and display books, picture frames, and other mementos in style! Featuring five spacious clear glass shelves, this bookcase is perfect fit for any living room.
---
Spinelli Gold Etagere Bookcase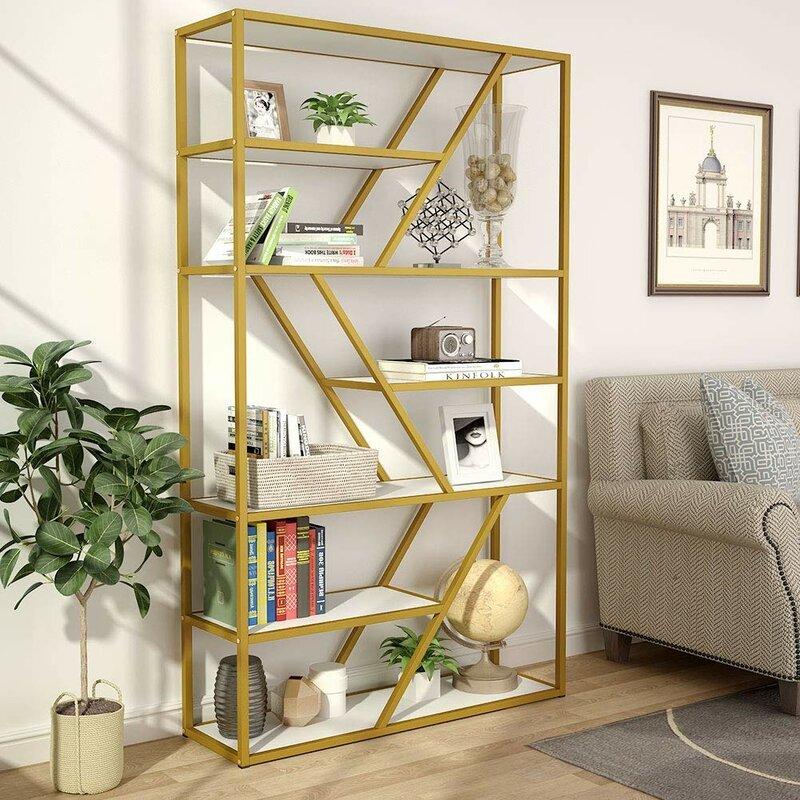 Add a contemporary and glamorous aesthetic to your living room with this beautiful etagere bookcase. Characterized by its gold, open silhouette frame, its timeless staggered shelf design, this piece is the perfect eye-catching addition… no matter where you place it.
---
Drennan Geometric Gold Bookcase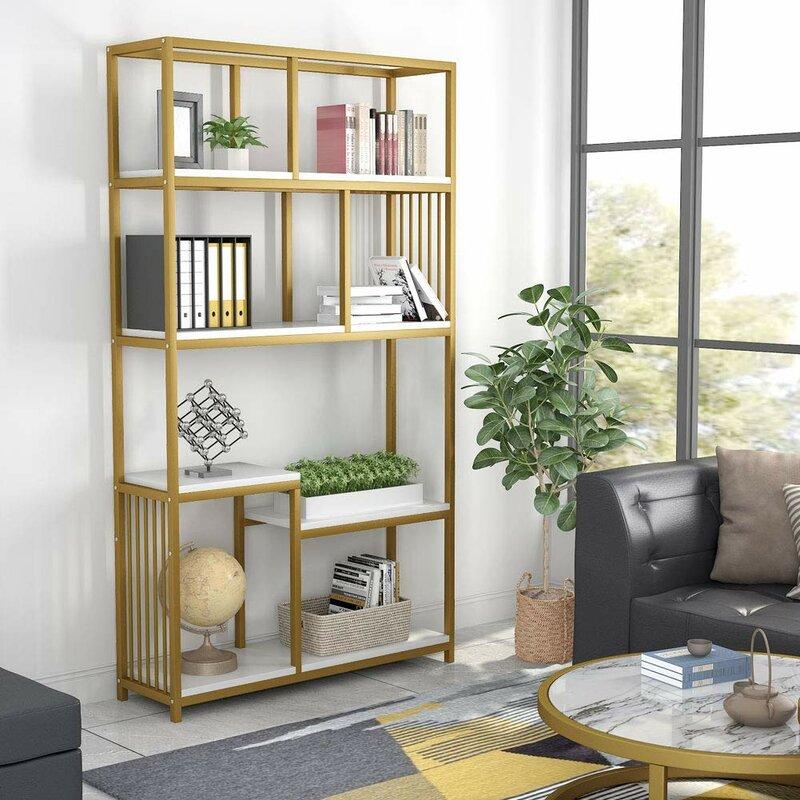 Elegant design meets rustic industrial style in this geometric gold bookcase. Eight open shelves provide perfect platforms for displaying everything from books, to framed photos, to collected curios.
---
Rinker Gold Etagere Bookcase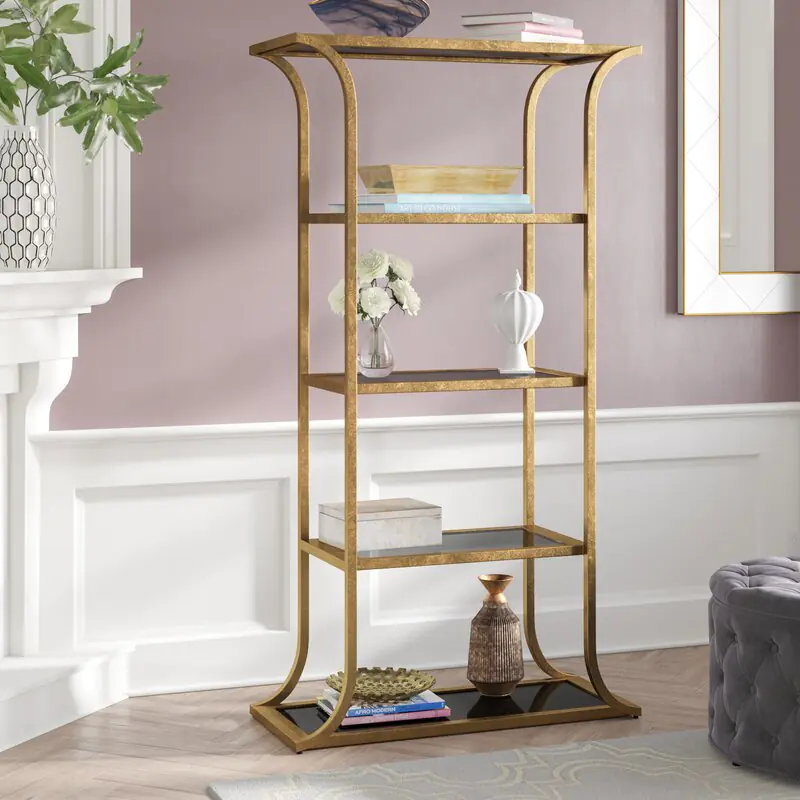 Show off framed family photos, artful accents, and cherished collections on a stylish stage with this etagere bookcase. Crafted with a gold metal frame, this piece features five black glass tiers that provide a place for your favorite books, decorative displays, and beyond. An antique gold leaf finish outfits the open frame for a glint of glamour.
---
Lorenza Etagere Gold X Bookcase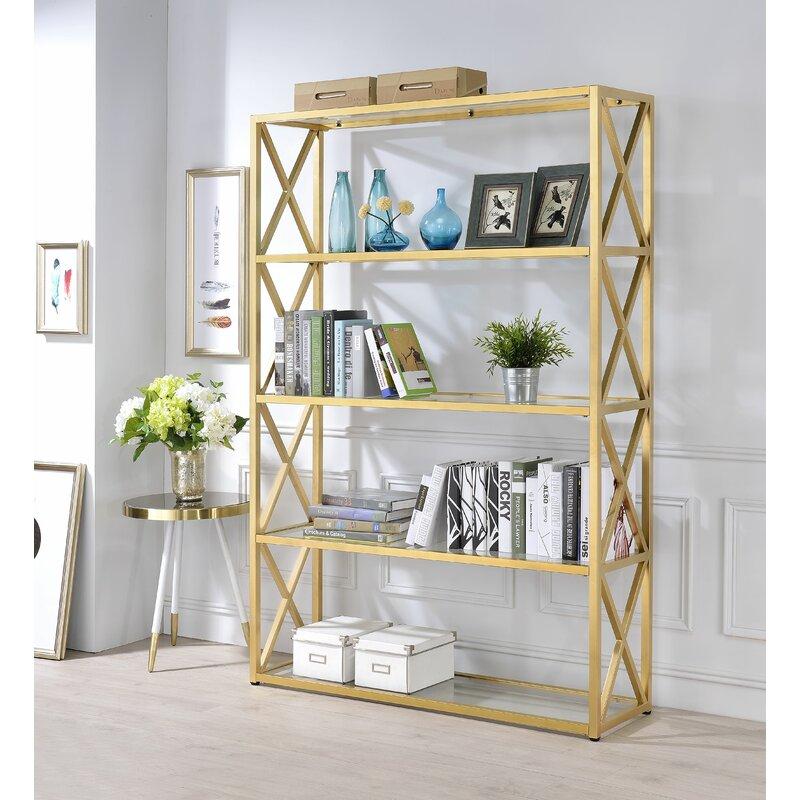 The open bookcase finished in a trendy gold and "X" design on sides. Use this to keep books, picture frames, and other mementos. Features 5 spacious clear glass shelves for storage and display.
---
Tinley White & Gold Etagere Bookcase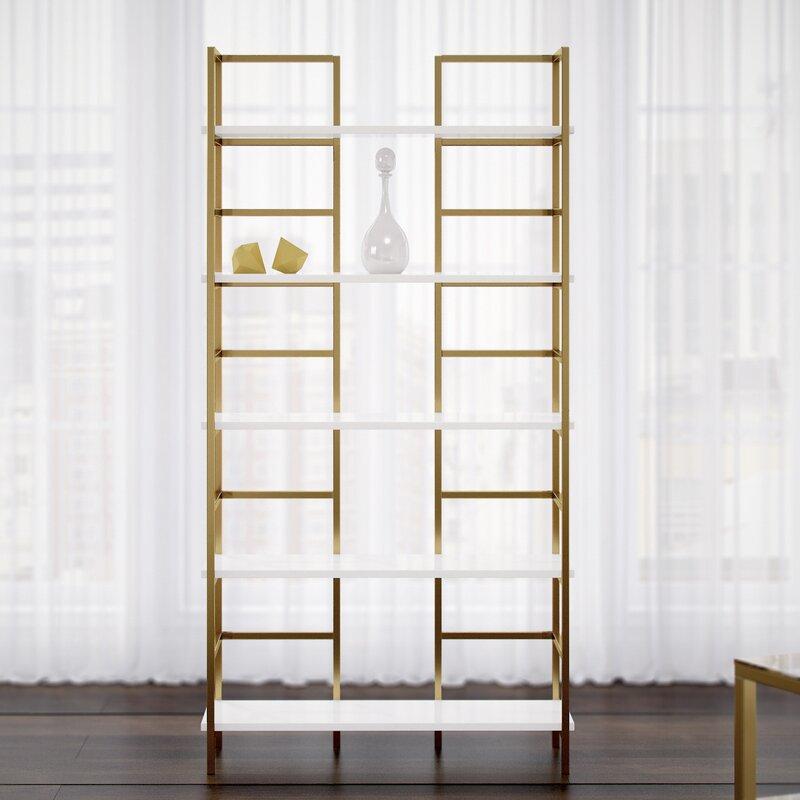 Display your favorite collections in glamorous style with this stunning white & gold etagere bookcase. Crafted of clean-lined tubular metal in a satin gold finish, this bookcase's open frame showcases four ladder-inspired silhouettes. Made from solid and manufactured wood in a glossy white glaze, five shelves provide perfect platforms for displaying everything from your collection of curious and decorative objects to rows of your favorite books.
---
---
No matter which gold living room furniture pieces you select, we hope you enjoy the upgraded style they provide in your home.
In your design, as with life, you should always go for the gold!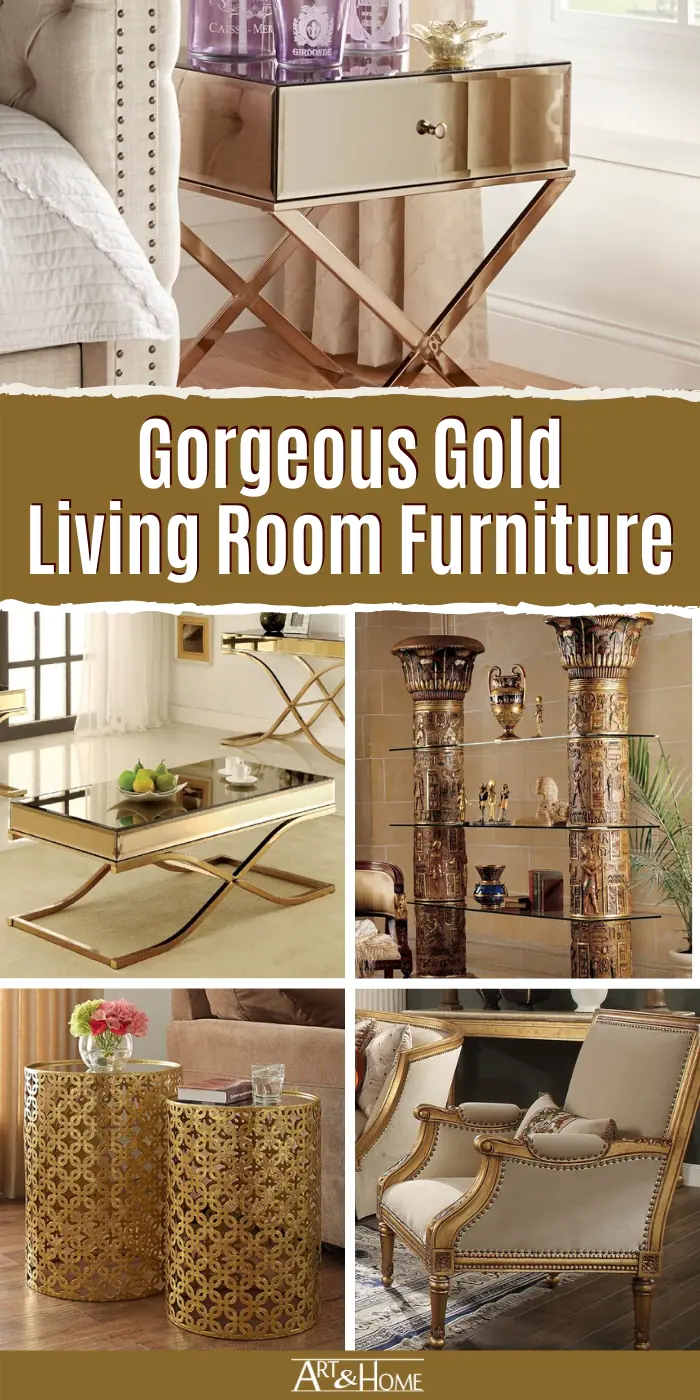 Want Some Inspired Living Room Decor & Design Ideas?
Check Out Our Inspiration Galleries!