As Winter Approaches, It's Nice to Know You Can Bring the Sun Indoors With These Wonderfully Inspired Sun Metal Wall Art Pieces.
The Sun is a wonderful influence on our lives.  It brightens our days – literally – and has always been symbolic for happiness.  As the seasons progress and the days get shorter, now is the time to look at investing in your very own Sun, one that you can put on display year round to enjoy the cheeriness of the Sun whenever you want with Sun Metal Wall Art.
Available in a range of sizes from smaller 18′ accent pieces to larger 40′ statement pieces like the one shown below.
Just looking at this warm and wonderful piece, you can see how easily something like this can cheer up Winter.  Plus, as most of these pieces are custom crafted with high-end metals, you can move them outside in the Summer when you don't need to bring the sun indoors.
Below is just a sample of the Sun Metal Wall Art pieces Art & Home carries, browse through and you'll surely find one that brings you joy.
---
Decorate the walls of your home, office or garden with this wonderful piece of hanging art. It is easy to hang with hidden metal loops.
3-Dimensional detailed, durable and hand-painted beautiful work of art. Hang indoors or outdoors to liven up your living space. A unique paint technique 'patina' using automotive paint will keep your sun metal wall art looking beautiful for years to come.
---
With our windswept sun wall art, you can bring a dramatic, artistic look to an outdoor porch, garden wall or patio.
One of our many outdoor hanging metal sun faces, this one literally looks as though the sun is in flight, and at 26 inches long, it will make a big impression. This Wind and Sun outdoor wall decor also makes a very special gift, and is perfect as a housewarming present. It is made from durable metal with a dark bronze glaze. It also works very well indoors, as a centerpiece on a living room, den or indoor porch wall. Try placing near indoor plants for a warm and inviting nature scene. At GardenFun, we have a bright selection of outdoor sun decorations that would look beautiful on any backyard deck, or as a warm reminder of the natural world when placed in an office setting. This piece honors the sun and the wind.
---
Give your home or patio space an eternally sunny-side-up attitude with our metal Aztec sun face.
This stunning metal wall art can be hung by itself over a table, grouped together with other elements in a niche space, or added to an outside wall This wall art is easy to hang indoors or out Transform an empty wall into a focal point in your home with this wall art decor The puff sun face of this wall art decor is made of metal with a bronze gold-tone finish.
---
A Wind & Weather Exclusive, this stunning piece is handcrafted in Indonesian by local artisans. This exclusive recycled metal moon and sun wall art will be a mystical accent for any porch, patio, wall or garden retreat.
Hand-hammered from reclaimed metal, this celestial wall decor features detailed designs cut into the metal for added texture and interest. The pastel blue moon encircles the copper and verdigris sun for a spiritual piece that will enchant any indoor or outdoor space. Due to its durability, this weather-resistant wall hanging can stay outdoors all season long, so you can see the sun and moon even on cloudy nights.
---
A unique take on the sun metal wall art genre, this unique piece will create striking accent.
Crafted from top-quality metals and measuring 32″ wide, this is a unique and stunning piece that can be used to create a dramatic accent inside or out.
---
I love the mix of the Sun, Moon, and Stars in this piece. So perfectly crafted to add a vibrant touch of celestial decor to your home.
36 inch diameter global inspired textured antique gold finish iron circular celestial sun, moon, stars wall sculpture, open design cutwork, in round frame.
---
A bright way to add whimsical color to your home or garden décor, this Talavera-Style Moon in Sun Metal Wall Art will breathe life into any space.
Full of bold hues and painted with detail, this sun and moon wall décor is cast in iron. It features a crescent moon face accented with stars encircled by a sun with wavy rays. A unique way to celebrate the stars while bringing color to your abode's interior or exterior. Weatherproof glaze protects against the elements.
---
Experience a whole new dimension in light reflective art. RefraXion pieces are laser cut from 18 gauge steel; powder-coated for rust resistance and durable enough to be used indoors or outdoors.
Each piece is hand crafted with a grind pattern that creates a dimension to the piece that is impossible to capture in photos. This effect combines with the vibrancy of our color Infusion process. All the RefraXion pieces have brackets on the back that allow the product to hang away from the wall and the art is designed with pieces that have parts that can be bent out to give it a total 3D effect.
---
3-dimensional detail plus durable, hand-painted craftsmanship combine in this stunning work of metal wall art.
Hang indoors or outdoors and liven up your living space. A unique paint technique 'patina' using automotive paint will keep your sun looking beautiful for years to come. Decorate the walls of your home, office or garden with this wonderful piece of hanging art. It is easy to hang with hidden metal loops.
---
This artistic wall art is designed for you to enjoy.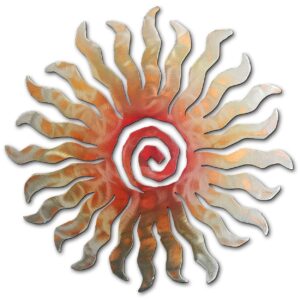 Made in the USA from durable, medium gauge steel, this gorgeous piece is powder-coated and colored with artistic colors that enhance the art and any room.
---
Don't let Winter take away your sun… own one of your very own so that you can enjoy the benefits of these delightful pieces year round.
Not seeing the right Sun Metal Wall Art piece for you?