Looking for a unique art installation that combines the classic beauty of a woven tapestry wall hanging and the dramatic impact of black and white art? Look no further than a Black and White Wall Tapestry.
There is something strikingly beautiful about the drama and simplicity of black and white art. All of the colors are stripped away, leaving the focus entirely on the composition itself. Perfect for telling a story or for adding a layer of texture, pattern, or design into your home's decor, black & white art is a classic decor choice that I can't ever see going out of style.
One of my favorite black and white artists is Ansel Adams. I've always loved his work, and he was probably the first known artists that I ever hung in my own home.
But if you want something with a bit more flare than your typical photographic print or canvas art piece, a black & white wall tapestry is the perfect choice.
These pieces utilize the traditional jacquard weaving process used for centuries to create heirloom-quality works of art that would hang in castles and manor homes and make them available to anyone. Plus, with the updated imagery now available, you can add a dramatic black and white wall tapestry to your home.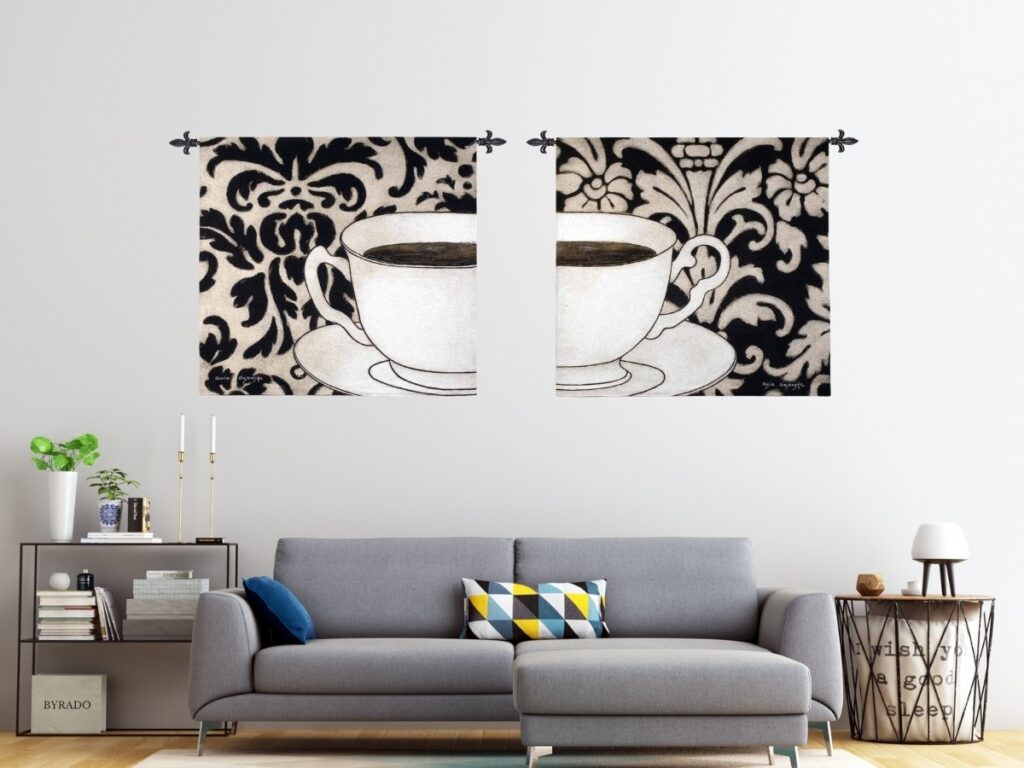 These pieces exude style and elegance in a way that is unlike any other art form. One of the things I love about tapestry wall hangings is the rich texture that you can see and feel. And I don't just say that because Art & Home offers an extensive collection of tapestries, I say this as being one of our own best customers. I own several tapestries and they are my favorite part of my home's decor.
Although tapestries often come in a variety of warm and rich colors, you can also find some dramatic images in classic black & white. These tend to fit best into a transitional or modern home, as opposed to the traditional tapestry wall hangings people are used to visualizing when they think of tapestries.
Whether you are looking for something classy or fun, there is an option for nearly any decor taste or style.
Some of Our Favorite Black & White Wall Tapestries
One of the other things to keep in mind is the acoustic benefits of fabric wall hangings. Unlike other black & white art prints, tapestries are woven from miles of fabric, and then are sewn and backed with additional fabric. When hung on the wall, these tapestries help absorb the errant sounds in the room and create a warmer, cozier, and quieter living space.
That's one of the things that makes tapestries perfect for a family home or apartment.
A Few More Black & White Tapestries
If you're looking for something striking to provide a rich and unique contrast to your home's decor, you really can't go wrong with a tapestry (at least in my opinion). They are unique and beautiful, with a stunning history that dates back for centuries.
Black & White Tapestries For the Budget Conscious
To be fair, a woven tapestry is going to set your decor budget back a bit more than some people can afford. The average cost of a woven tapestry ranges from about $100 – $200, depending on the size and the intricacy of the design.
However, if that's not something you are currently looking to invest into your home's decor, there are more affordable options through printed tapestries.
Amazon (a retail affiliate partner of Art & Home) carries a wide variety of black & white tapestries for a much lower price point. They won't be quite as rich and luxurious as a woven tapestry, but they will certainly do in a pinch.
These printed tapestries are fun and come in a wide variety of designs and sizes. But they are not at the same level of heirloom-quality that you would get from a woven tapestry. Therefore, if you can afford it, I highly recommend investing in a decor piece that you will want to keep in your home for decades instead of one you will want to change as your style aesthetic matures.
Browse our entire collection of Tapestry Wall Hangings >>