Nautical decor is a classic style that takes the elegance & beauty of the sea and distills into crisp colors & clean lines. Here's a complete guide to nautical-inspired design.
Please note that Art & Home has an affiliate relationship with some of the merchants listed below and we may receive a small referral fee – at no cost to you – for any purchases that you make utilizing the links provided. We use those funds to continue building Art & Home's unique collection of home decor articles and inspiration. And, you know, to buy stuff.
Nautical decor evokes images of the sea and sea-faring voyages. From the open expanse of coastal waters, to the soft sands of the beach, to the crisp lines of yachts and sailboats, to driftwood and beyond.
It can be seen as calming and serene, with whitewashed furniture and sea-blue accents, it can be a refined decor style with crisp lines and light colors, or it can be expressed in all of the sea-faring rustic qualities that the ocean has to offer.
Imagine sitting in a living room, overlooking the ocean, watching the crisp lines of ocean liners pass by across the brilliant blue of the ocean. Or imagine a family picnic on a private beach, with nothing but good food, great company, and the beauty of the ocean expanse to fill your day.
Those are the feelings that nautical decor attempts to recreate, and it usually does it very well!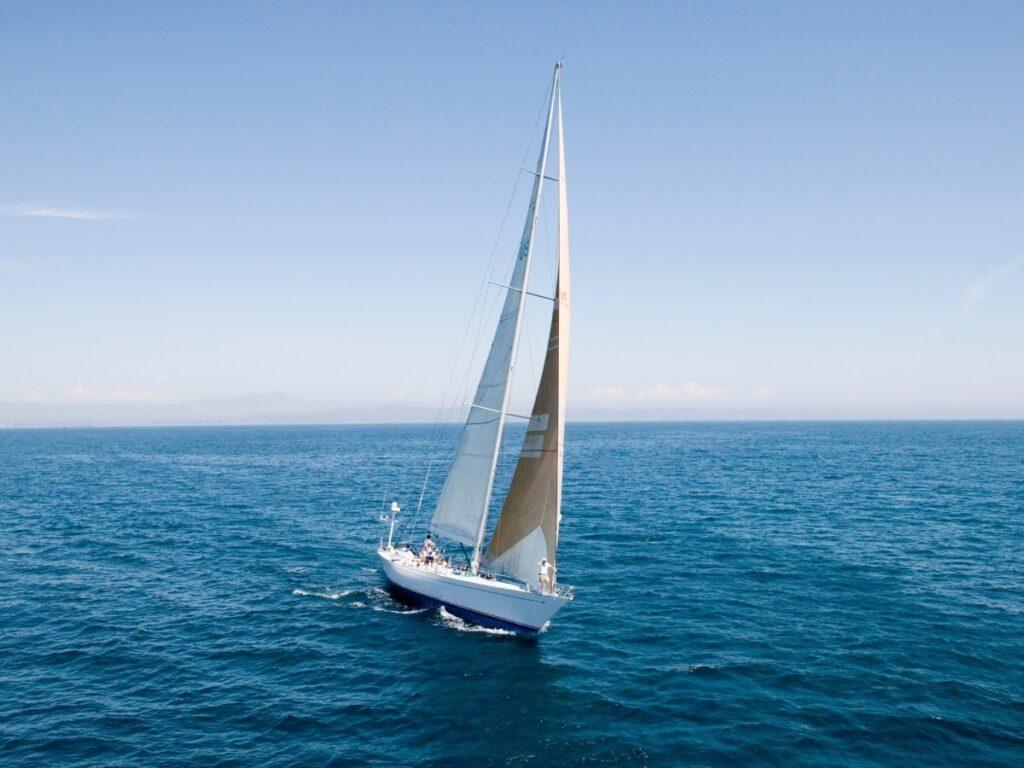 It is easy to understand why people fall in love with this decorating style, even if they live nowhere near the shore. That's because it always manages to evoke a nostalgic sense of fun-filled days at the beach, warm summer winds, relaxing evenings, pleasurable voyages, and good company.
The reason a lot of people choose a nautical theme for their home is that it has the unique ability to make a room feel like a seaside getaway, while maintaining crisp and classy lines.
Nautical Decor Themes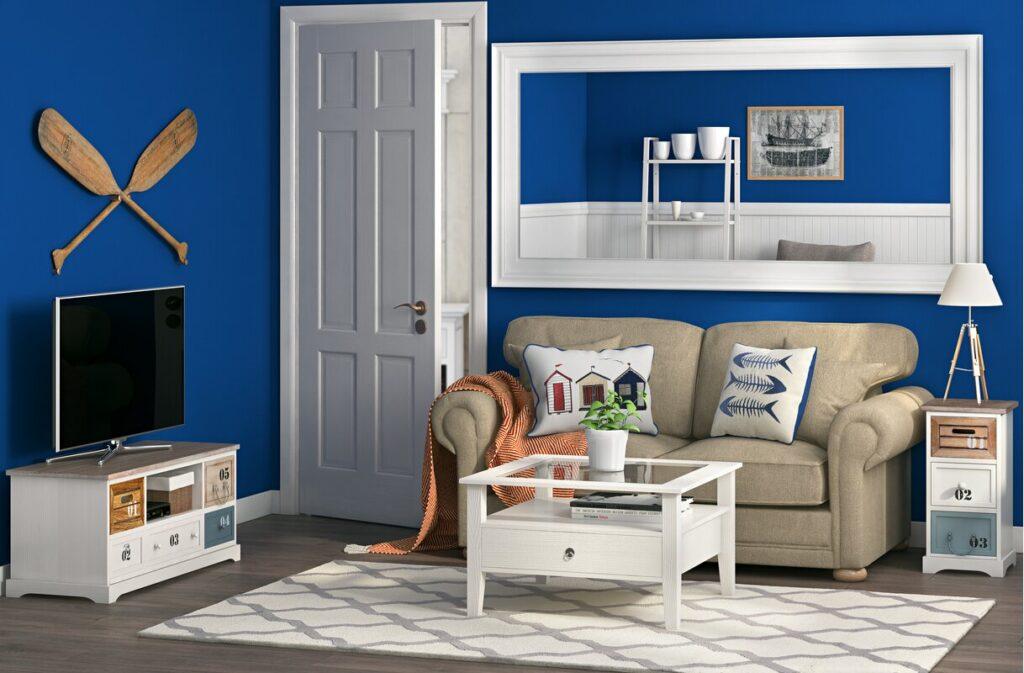 Nautical colors tend to be muted, classic, and the lines are clean and organized – much like a well-run yacht or sailboat. Seashells, anchors, and nautical prints are often used to emphasize the nautical theme. But the choices are as open as the Pacific Ocean.
Nautical decor does a wonderful job of mixing natural materials with intricate details that create a relaxed and charming room that is effortlessly elegant.
But be careful not to go overboard. Although some fun nautical decor accents are perfectly acceptable, any room that takes nautical decor and turns it into a theme park, beach bar, or seafood restaurant feel takes away from that classic feeling and moves easily into kitsch.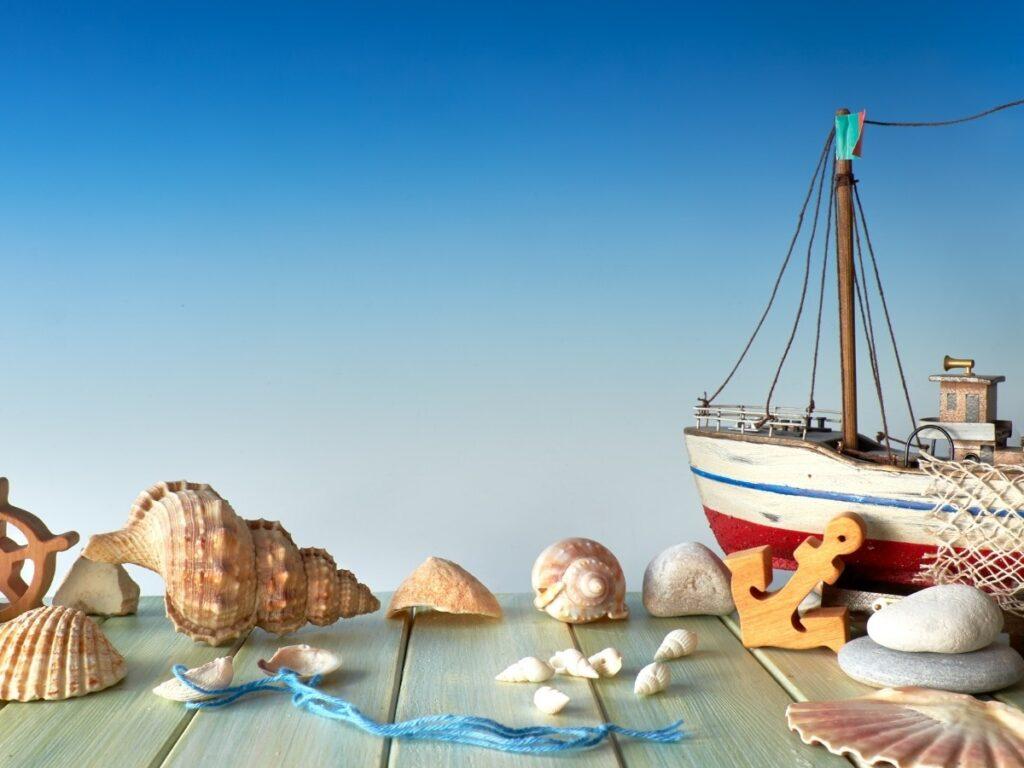 You don't want your living room to look like a tacky tiki hut at a 3-star resort. You want the feeling of a luxurious yacht or a beach house in the Hamptons.
That is why, most often, you will see nautical home designed with muted colors schemes that have been inspired by the sea itself. Sea glass, driftwood, and the sleek lines of sailboats inspire the color palette and the decor aesthetic.
But there are so many elements in the world of nautical decor, that this scheme can be adjusted to your personal taste.
Common Themes in Nautical Decor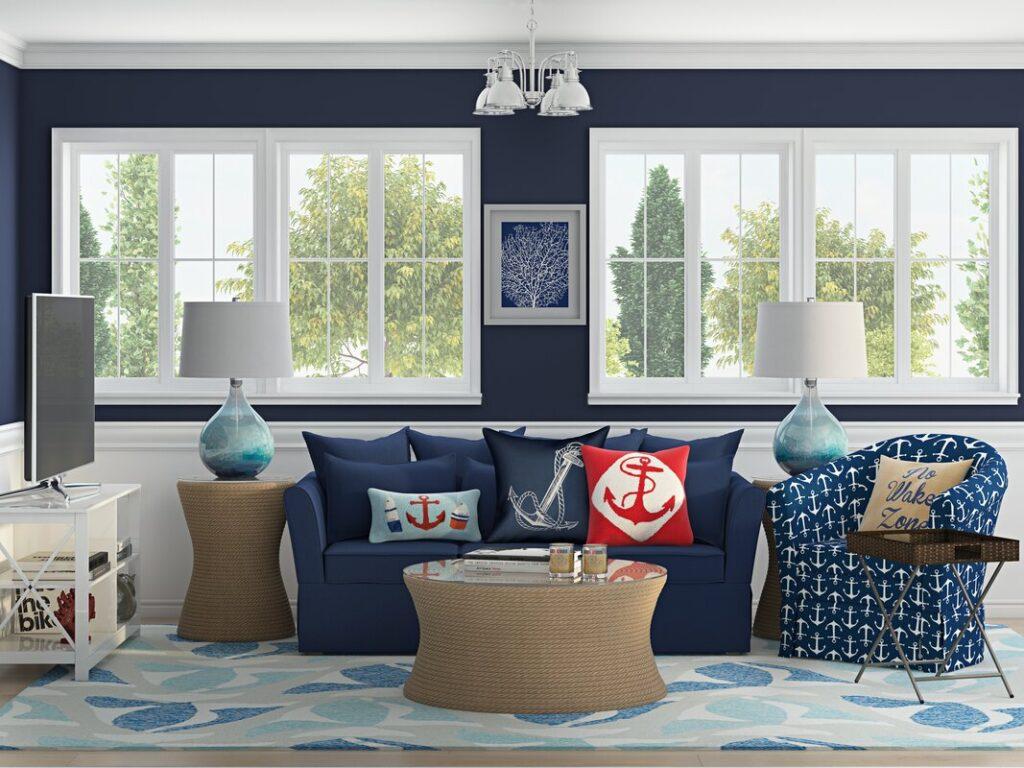 Although not an all-inclusive list, here are some of the most common elements you will find in a nautically decorated homed:
Ropes & knots
Wood (especially teak and driftwood)
Lighthouses
Model ships & sailboats
Canoes & rowboats
Anchors
Oars
Floats and buoys
Portholes
Ship Wheels
Maritime art
Sand
Navigational charts and maps
Compass rose designs
Signal flags
Popular Nautical Decor Colors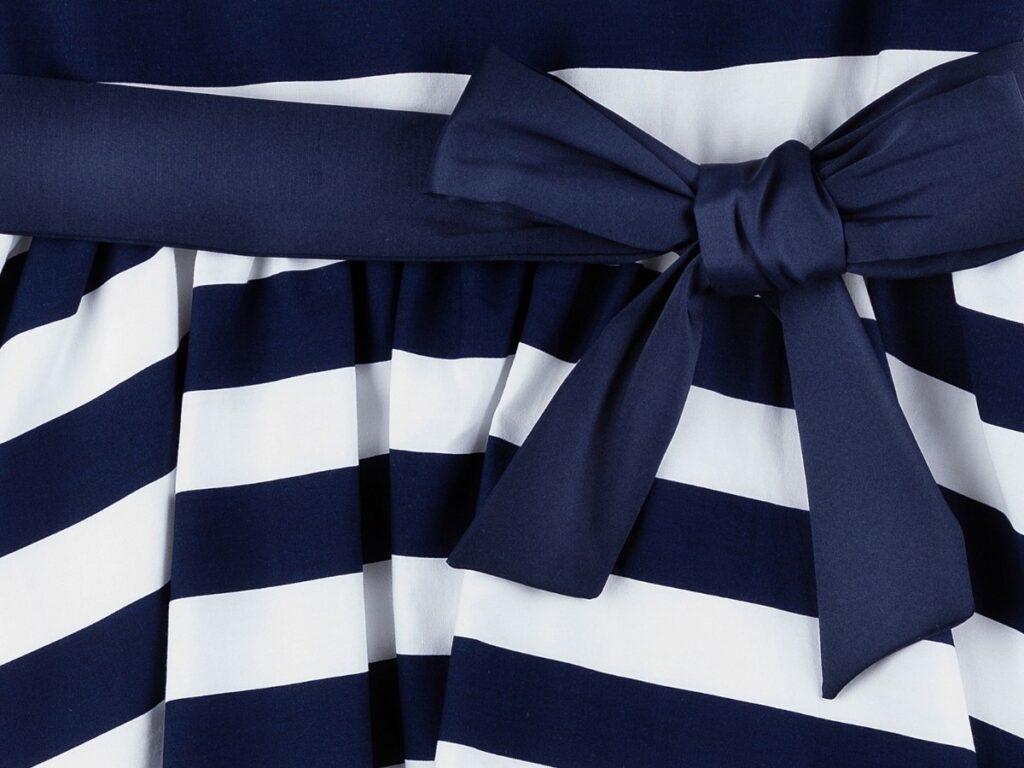 A majority of the color palette in any nautical decor scheme are inspired by the coastal waters and coastlines. They tend to be either bright and lively, or calm and serene, but are almost never dark, romantic, or somber. Sherwin Williams even created what they call the Seaside Retreat Palette of nautical inspired colors. The following are the most popular nautical colors:
Dark Blue – A rich, dark blue color is probably the most common color used in nautical designs
White – Which symbolize the elegance of a yacht or sailboat on the open sea.
Red, Yellow, and Black – From the common colors used on nautical signal flags
Sand – The same as the ocean meets the sand, most nautical decor styles include sand-colored elements, often through rope notes or natural wood accents or furniture.
Coral Pinks & Peaches – Infused with the colors of coral reefs, these are usually reserved for pops of accent color in a nautical home
Turquoise – Inspired by the turquoise blue of tropical fish and ocean water
Light gray – A softer color that allows the rest of your nautical accents shine
Light green – Not all open waters are blue, some shine with a gorgeous and brilliant green that is lovely and serene
In the end, the goal of nautical design is to give off the impression that the ocean is really nearby, even if it's hundreds of miles away.
Nautical vs Tropical vs Coastal Decor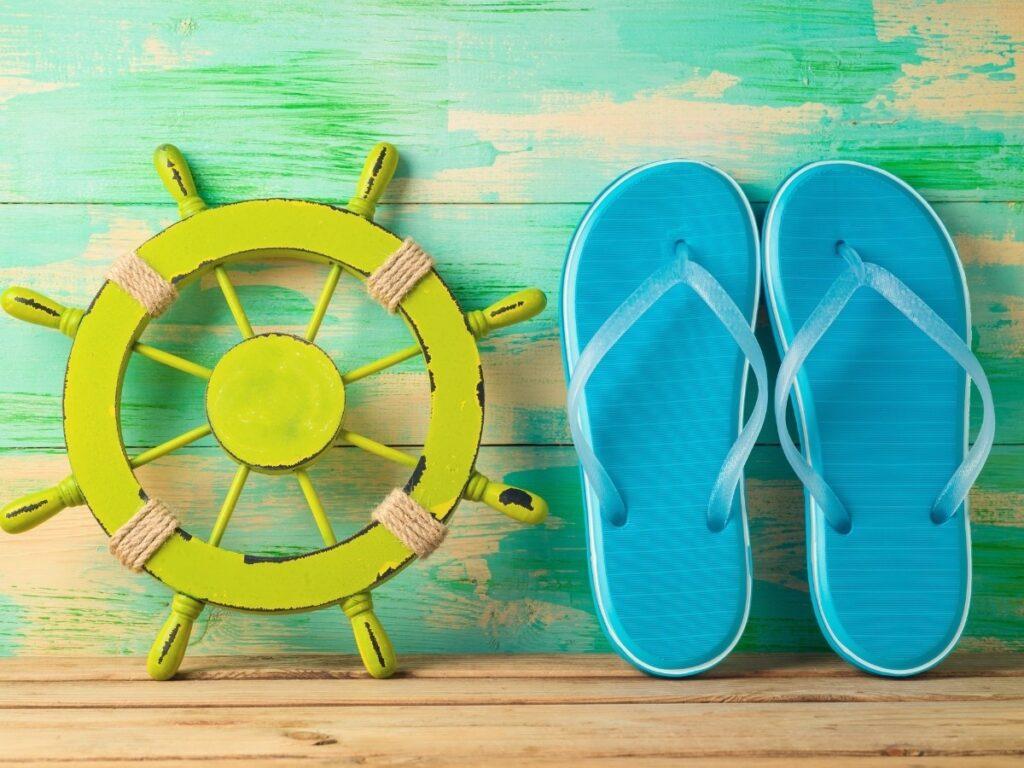 There are a group of decor styles that are often referred to as Shore Styles. These variations on a similar theme, where the sea and the seashore make up a majority of the inspiration for the decorating theme. Sometimes, these styles get intermixed with each other, so it can become a little bit confusing as to which is truly "Nautical Decor".
Nautical and Coastal decor are probably the closest related, although coastal decor tends to take a bit more of its design aesthetic from the beach itself. That's why you'll typically find beach-related decor accents, such as sunhats, umbrellas, or flip-flops in a coastal home and not so much in a nautical home.
Tropical decor takes much more of a departure, because the design style is infused with the colors and materials from a more tropical location, hence its name. The tropical palette uses much more vibrant tones than your typical nautical home, and the wood choices lean toward the more exotic rattan, bamboo, or raffia vs the nautical usage of driftwood and teak.
Nautical Design Inspiration Gallery
Here are some of our favorite Nautical Decor inspired rooms. From living rooms, to bedrooms, to home offices, to kitchens, you can find a way to infuse nautical decor into practically any room in your home!
Source: Wayfair Nautical Room Ideas
Some of Our Favorite Nautical Finds