The kitchen is often considered the heart of a home. A well-thought-out kitchen decor aesthetic improves the quality of life in a home and makes the experience of ownership that much more satisfying. As an added bonus, a well-thought-out design can also increase the home's value and may help the home sell more quickly should it go on the market.
Creating a cohesive kitchen aesthetic or color and design theme can be difficult, especially if it is one's first time doing so. Each choice should be well thought out, as it will influence future changes and decor choices throughout the kitchen. These ideas and general rules of thumb can assist homeowners in creating both a beautiful and functional kitchen that combines art, wood, and color choices that will wow guests and help make a home a restful and comfortable place to be.
Kitchen Decor Tip #1 – Kitchen Cabinet Selection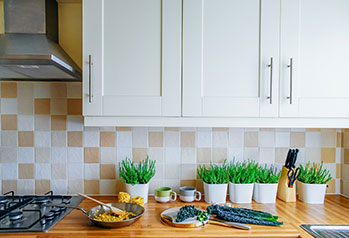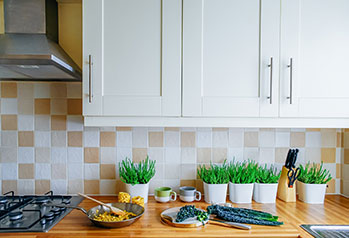 The kitchen cabinets are arguably the most prominent fixtures in any kitchen and should be considered first. The material used to create the cabinets influences the look and mood of the entire room.
Because of this, other aesthetic choices are usually made around the cabinet choice. There are many different styles of cabinets, with a few of the most popular types being:
Modern Kitchen Cabinets: Modern or contemporary cabinets are known to have clean lines and a focus on cabinet hardware, which is usually simple and un-ornamental.
Classic or Traditional Kitchen Cabinets: Classic or traditional cabinets feature ornamental hardware, a blend of curved and angular lines, deep, rich colors, and a focus on wood grains and textures.
Transitional Kitchen Cabinets: Transitional cabinets usually feature a blend of modern and classic styles, often with painted wood, some ornamentation, and clean, angular lines.
An argument can be made for just about any style of cabinetry. Homeowners will benefit from spending some time viewing and comparing several types in many different settings for inspiration.
Kitchen Decor Tip #2 – Color Scheme Choices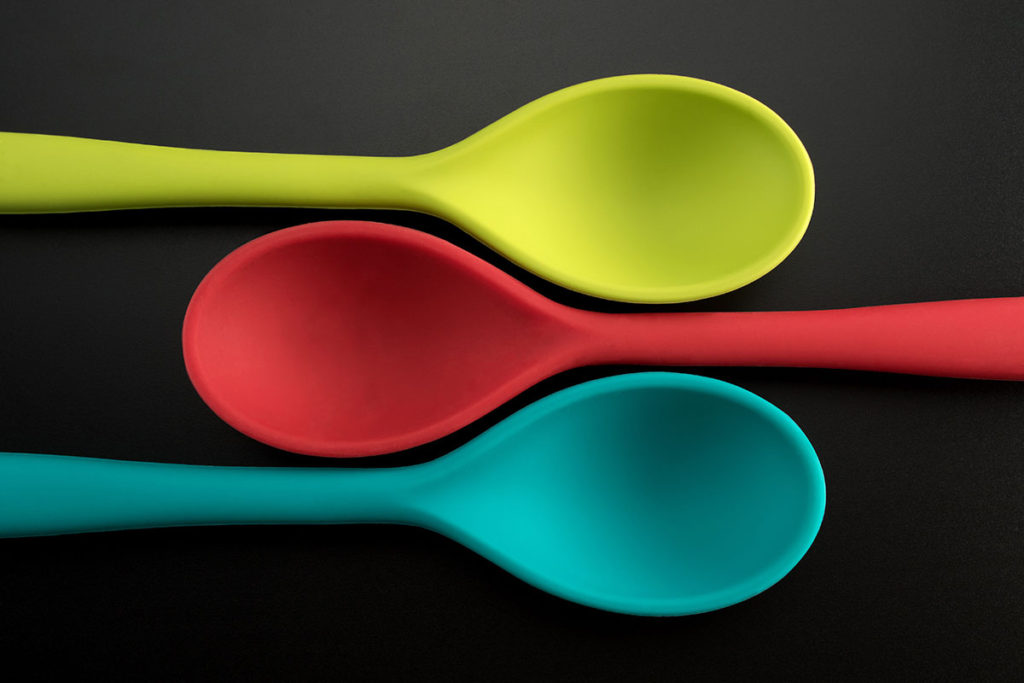 After the cabinets have been chosen and the color scheme is settled, the remaining kitchen decor can be chosen. Color choices can change and enhance the mood of a room, so they are often considered after cabinets have been selected. Homeowners can start by choosing a primary color and then may pick accent colors based on the primary color. The primary color should have a relationship to the cabinet colors so that the entire design holds together.
For example, imagine a homeowner selects rich, medium brown transitional cabinetry for their kitchen. The medium brown has cool undertones and goes well with blacks, grays, and colors that have gray undertones.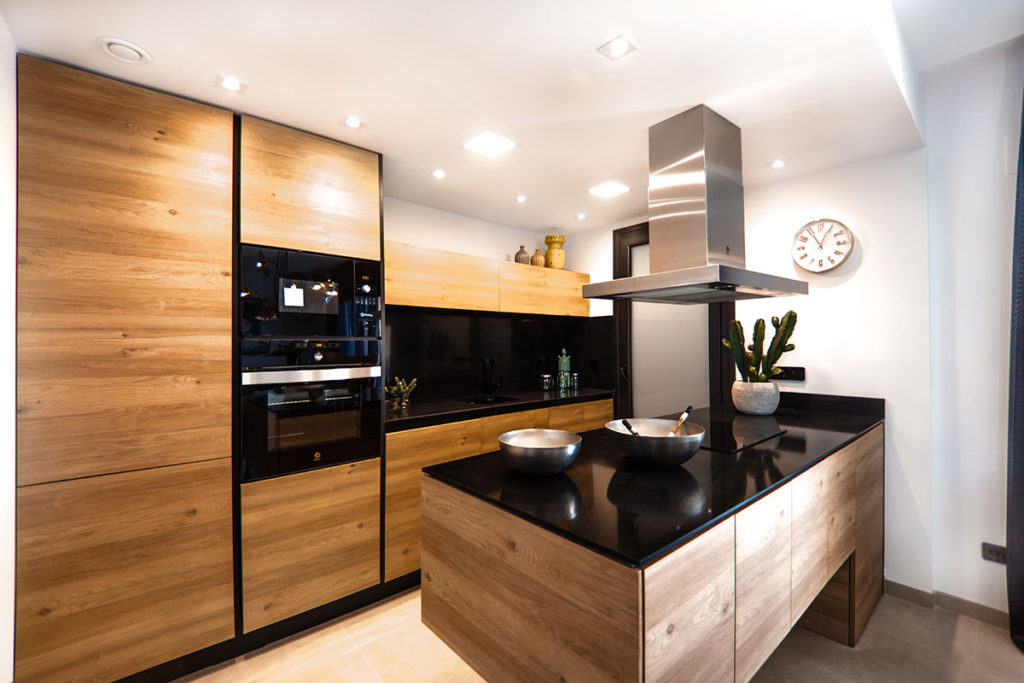 The homeowner chooses a very light gray-blue as the kitchen's primary color because when the homeowner holds up a gray-blue swatch to the cabinet sample, the color combination emanates a very calm, peaceful feeling that they would enjoy. They also want to add some stainless steel accents into the kitchen, and the grey-blue creates that perfect balance.
To act as an accent color, the homeowner chooses a crisp white. Whites come in different tones, with some shades of white being closer to cream and others being closer to blue. This homeowner chooses a white that is in-between, so it is neither too cool nor too warm. For a second accent color, the homeowner chooses a soft, cool gray to split the difference.
To create contrast and finish off the look, the countertops, back-splash, and appliances are all a gloss black.
For kitchens with white cabinetry, the accent colors can be almost any color; reds, blues, or even yellows. This is one reason for the popularity of white cabinets is the ability to choose (and easily change) the accent colors within the kitchen.
Kitchen Decor Tip #3 – Countertop & BackSplash Choices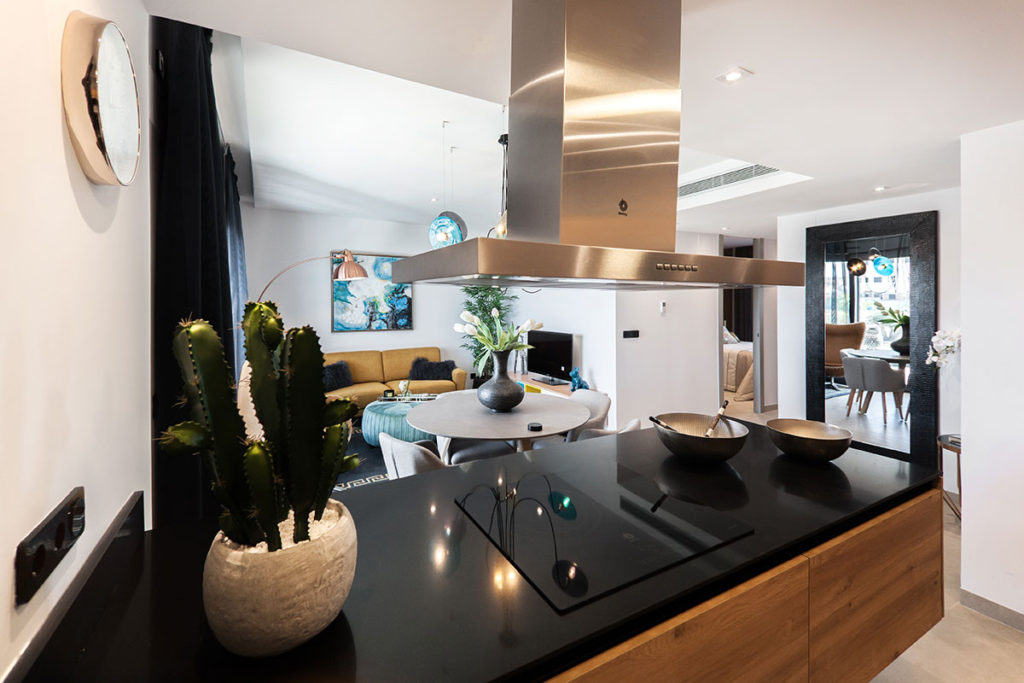 Once the color scheme and the cabinetry has been selected, the homeowners should choose their countertop material. Until recently, the most coveted countertops were those that were made of natural stone, such as granite or marble. While natural stone is still quite popular, the market has seen a greater variety in choice of material lately.
Counters made from recycled glass and even recycled paper are becoming commonplace in homes around the country. These countertops often come in a variety of colors and can be matched to many different cabinet styles.
But among the different types of kitchen countertops, quartz countertops have become arguably more popular than granite in the past few years, and its cost and quality are comparable. Moreover, using quartz countertops from reputable providers in the market comes with several benefits. These can include:
It's durable and tough:

Since a quartz countertop is made from approximately 90% quartz, colored pigments, and binding polymers, they're durable, long-lasting, and resistant from chips, scratches, and stains.

It's nonporous:

Being a nonporous material, a quartz countertop doesn't have any crack or hole where liquids, spills, and even germs can soak in. Also, its nonporous surface can make the kitchen countertop easy to clean.

It's available in various colors and styles:

A quartz countertop can be manufactured in different styles and colors. Whether you want a lime green or a dark black quartz countertop, you can whatever you like for your kitchen.
Indeed, there are several reasons why you should go for a quartz countertop as part of creating a cohesive décor for your kitchen.
Furthermore, another important aspect is selecting the coordinating backsplash.
A backsplash provides an additional element of depth, color, and design, while also providing the functional properties of creating a solid, durable surface in one of the most used – and often abused – parts of your home.
Kitchen Decor Tip #4 – Choose the Flooring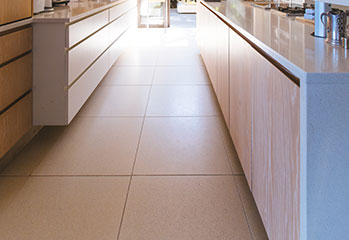 Flooring is often the final component of a kitchen's overall decor aesthetic.
Like countertops, flooring comes in many different forms and can be used to tie together the various other parts of the kitchen's overall design as well as creating a transition to and from the kitchen from other parts of the home.
But design is not the only factor behind picking the right flooring option for your kitchen. As one of the most used rooms in the home, kitchen floors also need to be durable, and easy to clean. A beautiful kitchen floor that is difficult to clean (think natural slate), will quickly become a not-so-beautiful part of the home.
Today's popular kitchen flooring types include:
Tile: Ceramic, Porcelain, and other tile choices are durable, come in many different colors and shapes, and are long-lasting.
Wood: Wood floors are often continued into the kitchen from other parts of the home.
Sheet vinyl: This versatile flooring type can be matched to almost any kitchen color scheme.
Linoleum: This flooring type is popular because it is affordable and long-lasting.
Kitchen Decor Tip #5 – Selecting the Finishing Touches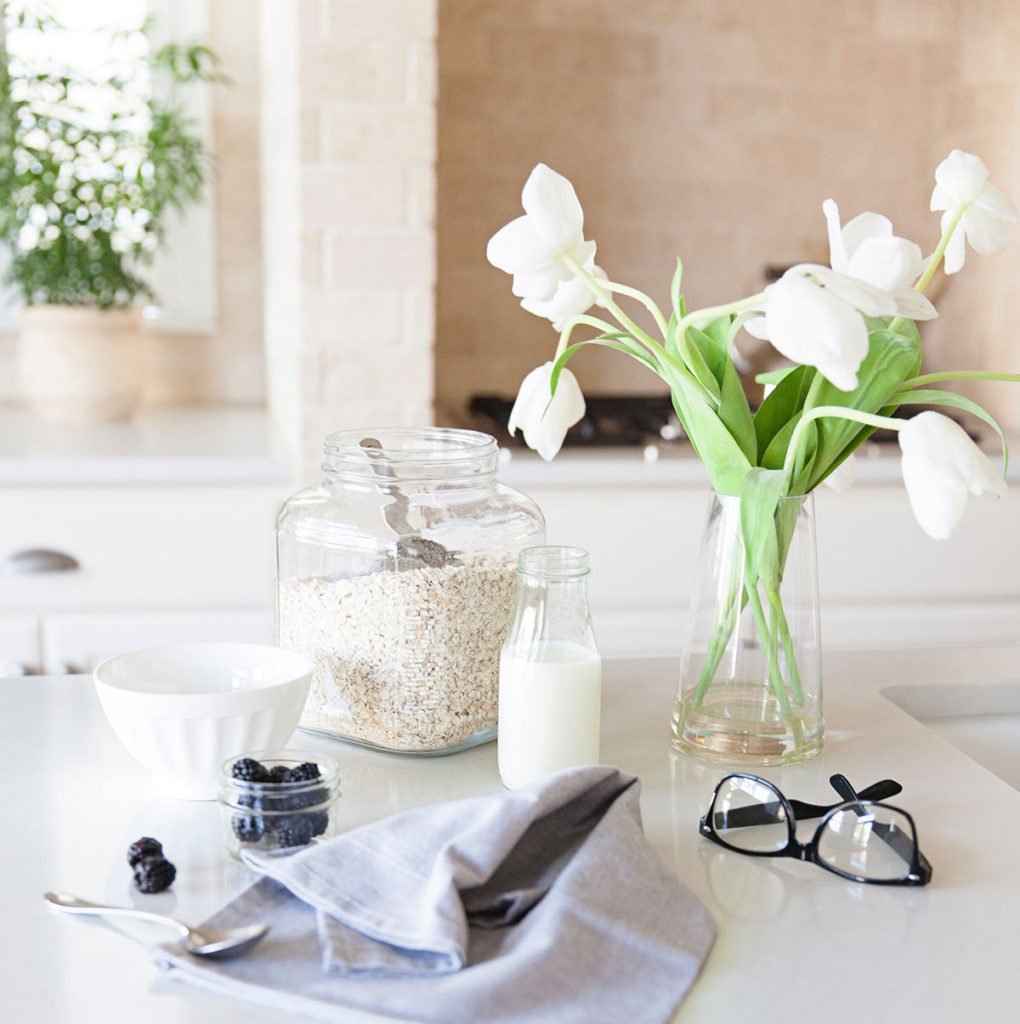 The right kitchen decor accents can help bring the entire look and style of your kitchen together in a cohesive manner. From the kitchen utensils to towels and dishcloths to storage containers and other decorative items.
After all, you don't want to go through all of that work to upgrade the look and feel of your kitchen and have the entire project thrown off-kilter by placing your old, outdated, non-matching kettle on the stove.
They may seem like small details, but selecting the right kitchen decor accessories will create a complete, finished look.
Sometimes, it's the tiniest of details that make all the difference.
Kitchen Decor Tip #6 – Consider Hiring a Professional
If you're a homeowner who would like to remodel your kitchen and is not sure which cabinetry, flooring, counters, and wall colors will look best together, contact a professional remodeler or interior designer to get started. Working with a professional can help you get the right design and layout for your kitchen remodel.
However, it's important to know that not all remodelers or interior designers have your best interests at heart. So, to make sure you work with the right people who can help you create a cohesive kitchen décor, it's best to check their valuable years of experience and track record in interior design or home remodeling. That way, you'll figure out whether your prospective professional can be trusted with your kitchen remodeling needs.
Conclusion
Creating a beautiful and functional kitchen can be a tricky job if you don't know where and how to start. But by keeping some tips mentioned above in mind, you can create a cohesive kitchen décor, which makes the entire space more beautiful and functional.