Working from home is a dream for many people, but it can be difficult to stay productive when you constantly feel like you're at the bottom of the barrel. But these home office decor ideas will help inspire both your decorating and your working self.
According to the Survey of Income and Program Participation, 23% of Americans work from home at least once per week, so it makes sense that more people are looking for ideas on how to create a workspace in their own homes.
Working from home is a dream for many people, but it can be difficult to stay productive when you constantly feel like you're at the bottom of the barrel. But these home office decor ideas will help inspire both your decorating and your working self.
One way to promote productivity in your home office is by decorating with inspiring colors and textures that will make you happy every time you walk into the space.
Perhaps you are lucky enough to have a dedicated room for your home office. Or maybe you have to carve out a space in another room (say the bedroom or the kitchen) to create your productivity workspace.
Either way, it's important that your space be both functional and welcoming in order to create a product workspace at home.
In this article, we'll show you some of our favorite home office decor ideas & tips!
Pick Your Home Office Colors
As with any room in your house, the psychology of color can make a big difference in your home office.
Painting walls bright, bold colors such as orange or red is one way to make sure everyone knows when they walk into your workspace that creativity rules here. But if you're looking for something a bit calmer, you might want to try light gray paint as a way to evoke a sense of productivity without being too bold.
If you don't want your home office decor ideas to be too bold, go for more neutral colors like soft pink or white walls with pale blue accents. The best thing about these types of color schemes is that they work so well together, allowing you room to grow as an artist or writer by adding in items with different hues later on.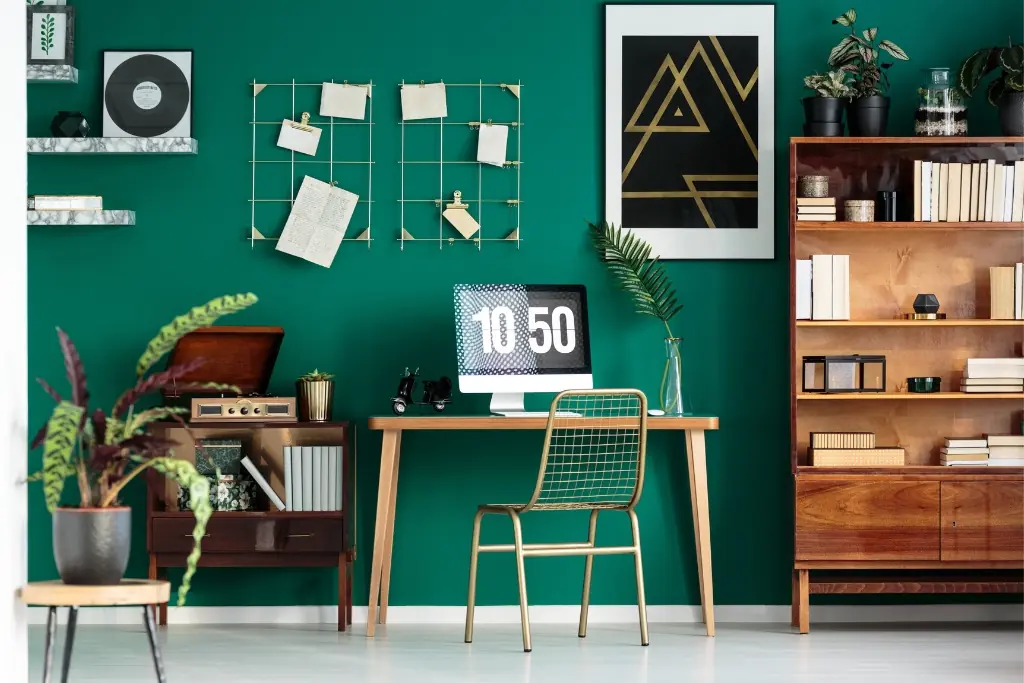 Best colors for a home office:
Of course, there is a wide variety of shades and hues within these color palettes, but these color families are typically the best ones to consider when creating a work-from-home environment.
Blue – cool and calming, blue can help you slow down as well as focus.
Green – the color of money (and nature), green will make your home office feel like a productive space that's also fresh and serene.
Yellow – known for its positive associations with optimism and joy, yellow is another great choice for those who want to keep working in your home office.
Purple – purple is often associated with creativity, so if you want to give off the vibe that you are a creative thinker in your own right, go for some purple walls!
Gray – a perfect color for those who want a calm and productive home office space.
Beige – perfect for those who want a home office that feels like an extension of the rest of their house, beige is a great color to use in any home office.
Consider Your Home Office Furniture
A desk is an essential part of any home office, but cluttered spaces can quickly lead to feeling overwhelmed and stressed out. You need to pick a desk that provides both the form and the function that you need in the space.
On one side of the scale, you might have a large room that is dedicated exclusively to your home office. If that's the case, you can practically go as big and bold with your office furniture as you'd like. On the other side, you may have a small space or a corner within another room. In these situations, I typically recommend a smaller and low-profile desk that minimizes the visual weight that the furniture adds to the room.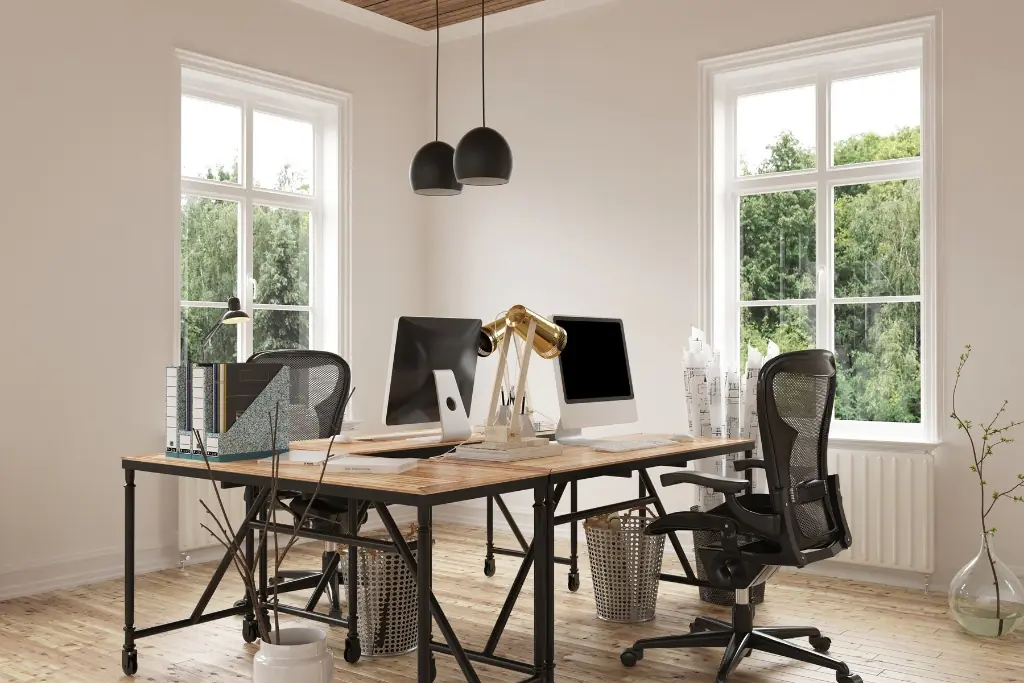 One great way to create a functional workspace is by using a standing desk. If you're not able to or don't want to switch to a standing desk, try adding a comfortable chair that allows you to sit up straight with your feet flat on the ground. This will help promote good posture and keep you from getting cramped up after hours of sitting at your desk.
If you are using a regular desk, it's important that whatever table you choose has plenty of storage options to keep your work organized. Be sure that drawers and shelves can be easily closed so that clutter doesn't overwhelm the space.
L-shaped desks tend to do well in home offices because they provide room for both laptop and desktop computers.
Think About Home Office Design
The home decor for your workspace doesn't have to be boring! In fact, it can showcase your personality and interests to make your home office feel like a true reflection of you.
Wall art is a great way to personalize your workspace and add some inspiration while you work. Look for pieces with motivational quotes that speak to you or your industry. You might also consider using old photos of family or friends as a unique way to display personal images without cluttering the room with frames!
If you're an artist, for example, keeping some supplies on hand will help inspire creativity as well as keep them within reach if inspiration strikes at any moment! It's also important that whatever items you do use in your home office are properly organized so they don't detract from the overall look of the space.
In addition to decorating with color schemes and art supplies, consider adding other fun elements too such as:
Plants – adding plants to your home office is a great way to inject some life into the space and combat feelings of cabin fever. Whether real or faux, house plants will add life to your workspace while simultaneously helping purify the air around you (and we all know cleaner indoor air leads to increased productivity!) Choose a plant that's easy to care for if you're not the green-thumbed type!
Drawings/Artwork – it doesn't have to be expensive to add art to your home office! Hang up some of your favorite pieces from recent projects, a beautiful tapestry, or even drawings and paintings that you created as a child.
Photos – photos of friends, family, or loved ones can help keep you motivated when the work gets tough.
Personal Mementos – whether it's a graduation tassel, a tennis ball from that time you won three games in a row, or an old love letter, adding personal mementos to your home office is a great way to make it feel like yours.
Memo Board – Whether you use a bulletin board, a chalkboard, or a whiteboard, there are fun and easy ways to turn these wall-mounted organizers into fun and inspirational installations in your home office decor.
Accessories – Last but not least, don't forget about home office accessories like desk lamps and wastebasket. These little touches can make all the difference when it comes to keeping your space organized.
Add Storage for an Organized Look
A cluttered desk is not only unappealing but it's also counterproductive when it comes to getting things done. Adding storage solutions into your home office decor is a great way to declutter your workspace and keep everything neatly tucked away.
Storage doesn't have to be ugly or boring, though! There are plenty of stylish storage solutions on the market these days that will add some extra pizazz to your home office decor.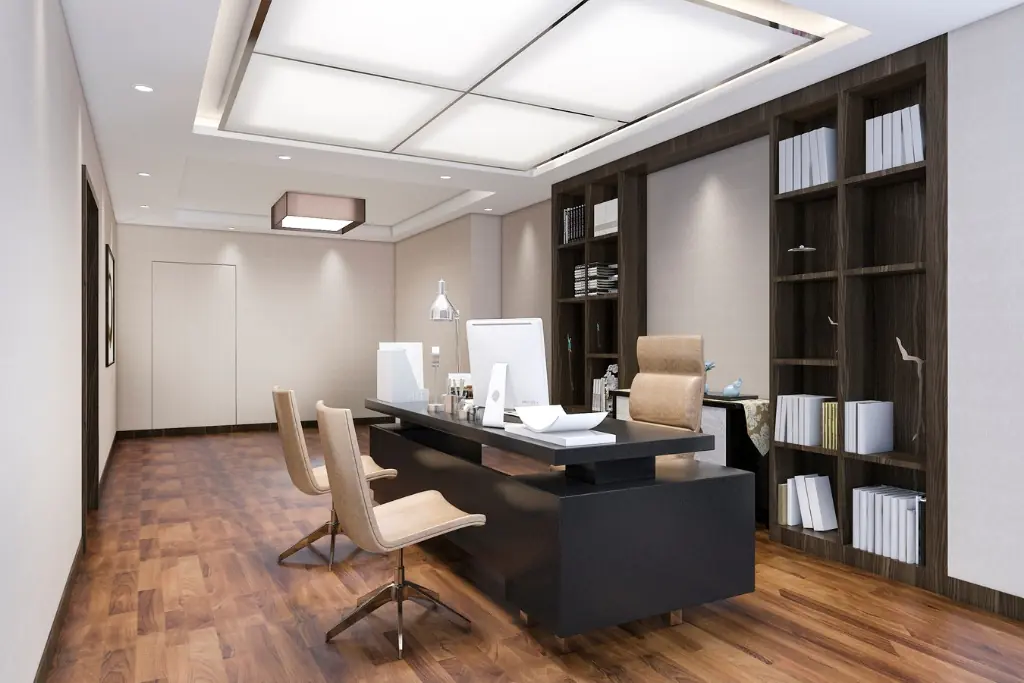 Some ideas for home office storage include:
Shelving – whether you go with open shelving or cabinets, shelves are an easy way to add storage without taking up too much space. For an industrial look, consider some DIY pipe shelves!
Wall Mounted Storage – if you're short on floor space, wall-mounted storage is a great option! You can find all sorts of different types including racks for holding books, baskets for organizing supplies, and even hooks for hanging coats and scarves.
Extra Drawers – adding built-in drawers to your home office desk is an easy way to keep papers, pens, folders, and more all neatly tucked away. Or, try updating an old dresser and tucking it into the corner of your office for extra storage. It's like a filing cabinet, only homier!
Light It Up
The right lighting can make all the difference when it comes to staying productive at home. Adding additional light fixtures throughout your workspace will help ensure there are no dark corners where shadows could lead to distractions.
Plenty of natural light will help you get a great idea of how colors and patterns play together without having to squint or strain your eyes.
If you find yourself almost ready with work but need an extra boost from a little sunlight, consider getting a lamp for your office. You might also try painting one wall a bright color, which will help create an illusion of light in the room.
If too much natural light pours into your home office space, consider blinds or curtains to minimize glare on your workstation. You can always replace the light that you've blocked off with artificial lighting options.
This may sound silly (why block off natural light and replace it with artificial light?), but one of the advantages of lamps vs the sun is that it is easier to control and more consistent. If you rely too much on natural light it can be unpredictable as the days get shorter, or heavy cloud cover suddenly makes your office darker.
You'll also find that a consistent (and properly placed) light source can help you look more professional on Zoom calls. To look your best on zoom calls, you should:
Avoid using overhead lights, as they will deepen the shadows on your face.
Place the primary light source approximately 3 feet away from your face at a 45-degree angle to the left
A second "fill light" the same distance and angle, but on the opposite side
Another thing that I love about lamps and lighting is that it combines both the functionality of electric lights with the decorating beauty of a unique and finely crafted lamp. For example, a beautiful Tiffany stained glass lamp could make for a beautiful focal point in your home office.
Create a Functional Work Space
In addition to the colors you choose for your home office, it's important to think about the overall layout of the space.
Think about the layout of your office and make sure you have everything you need within reach. If you frequently find yourself reaching for a pen or paper that's tucked away in a drawer, consider adding a small desk organizer to your home office decor.
Finally, make sure the lighting in your office is adequate!
Pick Your Home Office Textures
One thing that people don't often think about when considering home office decor is the textures. The texture of items in our home offices can have just as much impact on productivity and creativity as the colors we choose.
Think about adding some lush plants to your home office space, or bringing in a few textured area rugs to help you feel comfortable while you work. If you're someone who likes to be surrounded by inspiration (or if you just want an excuse to buy more art), consider hanging up framed artwork or photographs on your walls. Plus, as I know from experience, a beautiful tapestry wall hanging can create a wonderful addition to a home office (I have one in mine!)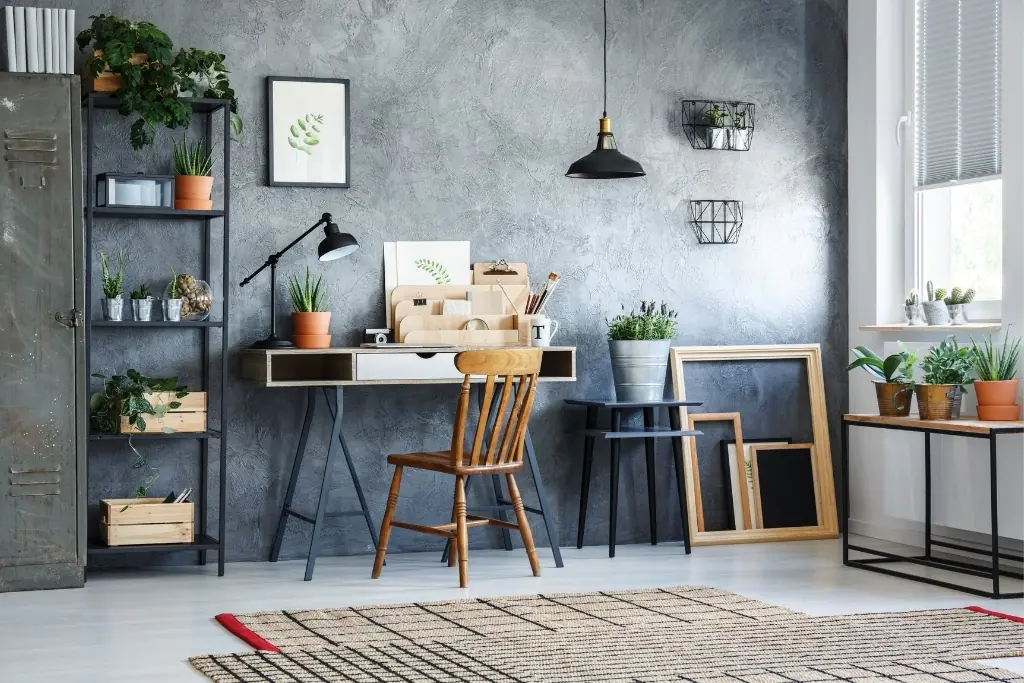 When it comes to textures, it's important that everything in your home office works together so that the space feels like a cohesive whole. This means choosing furniture and decor items with similar finishes, whether they are all wood, all metal, or a mix of both. You might also want to think about how much natural light is coming into your home office; if you like to work with the sun streaming in, try choosing lighter-colored furniture and decor items that won't absorb as much light.
Bringing It All Together
When you're designing your home office space, it's easy to get overwhelmed by all of these ideas about colors and textures. But if you take a moment to sit down and map out what types of things will make up your working environment (the color schemes and textures), then it'll be easier for you to start implementing those elements into your design plan.
Remember: there is no right or wrong way when it comes to home office decorating. You don't have to go full Pinterest on us, but adding just enough inspiration around you can help give shape to the creativity within!
Top Home Office Decor Tips (a recap)
Pick colors that will help you feel inspired based on the color psychology that you need for a work environment.
Keep it organized by adding storage solutions, an office desk organizer, or a filing system.
Don't forget to add plants! Not only do they improve air quality, but adding greenery can also help increase productivity.
Frame your work! If you're feeling inspired, hang up some of your favorite artwork or photographs around your office for a dose of inspiration.
Use natural and artificial light to keep you energized while you're working.
Choose furniture and decor items with similar finishes to create a cohesive look in your home office space.
As you can see, decorating for productivity is all about creating an environment that inspires hard work while still making sure you're enjoying yourself every day. So what are you waiting for? Start brainstorming some home office decor ideas today so you can start working in style tomorrow!
No matter what type of home office decor you choose, make sure it reflects your personality and makes you feel inspired to work! With a little creativity and some elbow grease, you can have the perfect home office that's both stylish and functional.
We hope these home office decor ideas have helped get you started on creating the perfect workspace for you! What are some of your favorite tips? Let us know in the comments below! 🙂
Now that you know how best to decorate a home office – both practically as well aesthetically pleasing – go ahead and get started on making yours look amazing today.
Once you've finished up here be sure to check out some of our other popular posts on interior design inspiration for more great tips on working with different styles including Unique Shelves & Shelving Solutions for Your Home, 37 Awesome DIY Furniture Projects for Your Home, and 50 Nifty DIY Storage Ideas.