If you like the look of the Industrial DIY Pipe Shelves, but (like me) lack the DIY skills to handle the pipes, or the boards, or the nails, or the screws, or the shelves, or the walls… then have I found the product for you!
Please note that Art & Home has an affiliate relationship with some of the merchants listed below and we may receive a small referral fee – at no cost to you – for any purchases that you make utilizing the links provided. We use those funds to continue building Art & Home's unique collection of home decor articles and inspiration. And, you know, to buy stuff.
Some may call it cheating. Others will be amazed by how inventive your DIY pipe shelves look in the kitchen, bathroom, bedroom, or wherever else you decide to install them.
Personally, anything that needs to be assembled and installed BY ME still counts as DIY, even if the boards and the pipes come pre-cut and pre-measured based on the configuration that you want. Ok, maybe it is cheating… a little bit. Or maybe it is totally cheating, but I won't tell if you don't.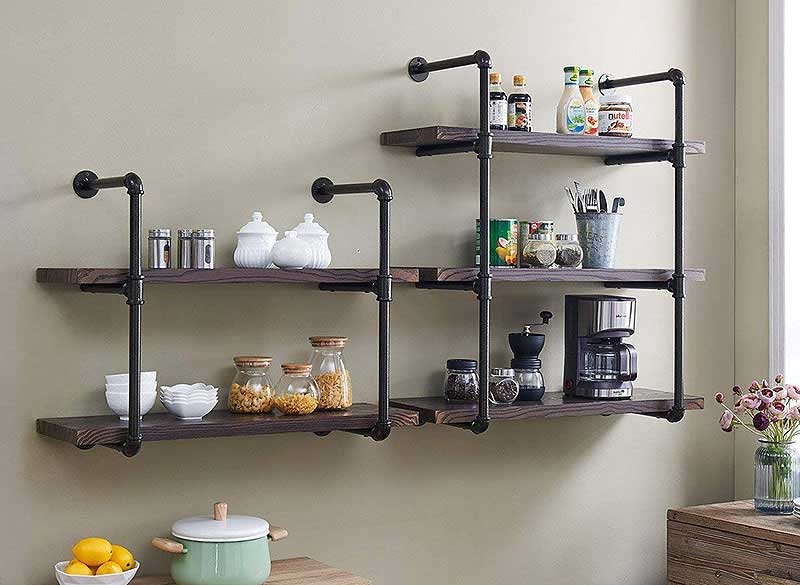 Yes, there's an easy way to get that DIY Pipe Shelves look.
Don't worry, I won't ever tell anyone that you didn't struggle for hours to figure out what to buy, how to cut it, and how to put those shelves together from the bits and pieces you bought at Home Depot.
I won't tell them that buying these pre-made kits was only a little bit more expensive than buying all of the parts individually. I won't tell them that you managed to get these shelves put together and decorated in a fraction of the time it would have taken you if you had gone the full DIY route.
It will be our little secret.
It's not like the difference between a cake made from a mix and a cake made from scratch. These are shelves, you'll never be able to taste the difference. And if you try to taste the difference between these kits and the raw materials, you have far deeper problems than struggling with whether or not to call this a DIY project.
But, even if you don't want to cheat – even a little bit – you can always use these DIY pipe shelf configurations to inspire your own creation!
Either way that you decide to make them, these rustic pieces create a unique and wonderful focal point and storage solution. The first option comes from a company called DIWHY. (I cannot tell you how much I love that name!!)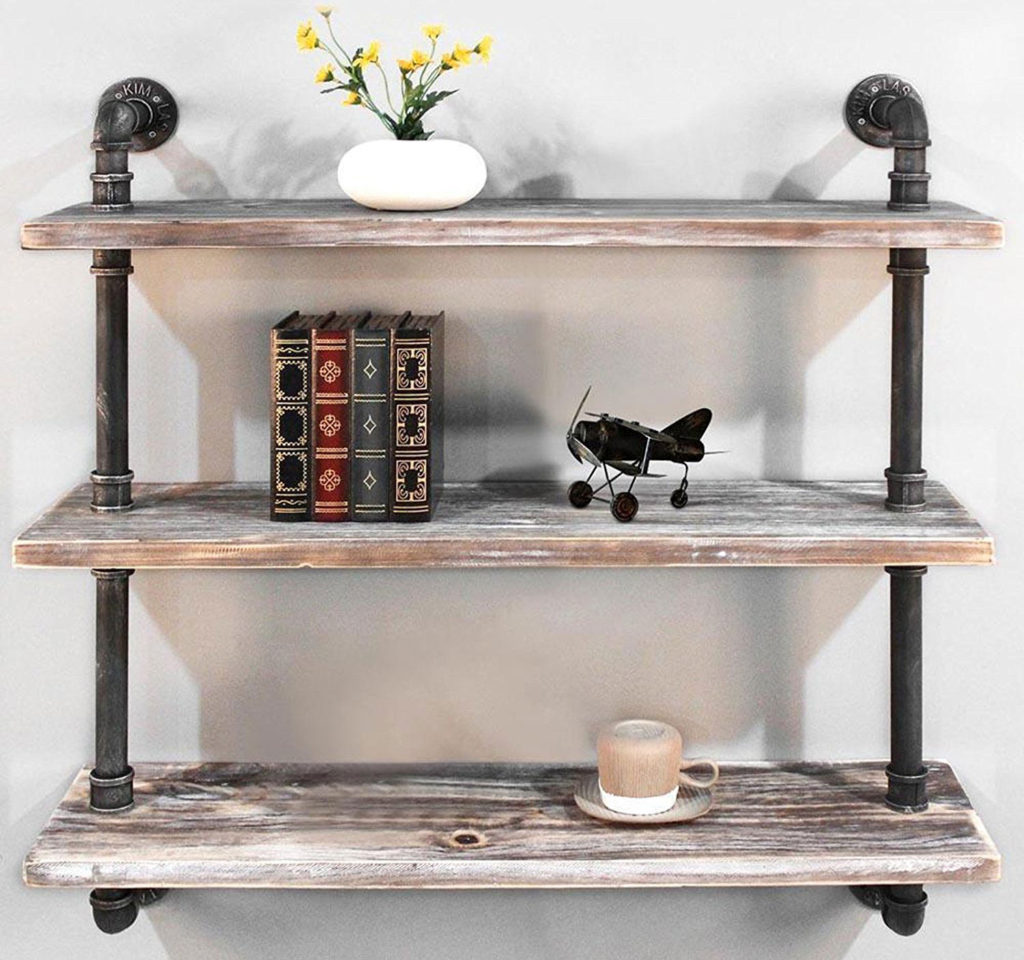 Image: DIWHY Shelves Industrial Shelf with Pipe | 36"
Learn More About This Configuration >>
---
DIY-ish Pipe Shelf Option # 2
This unique set that has multiple layers and can be configured around a corner.
Industrial Rustic Modern Wood Ladder Pipe Wall Shelf 4 Layer Pipe Design Bookshelf DIY Shelving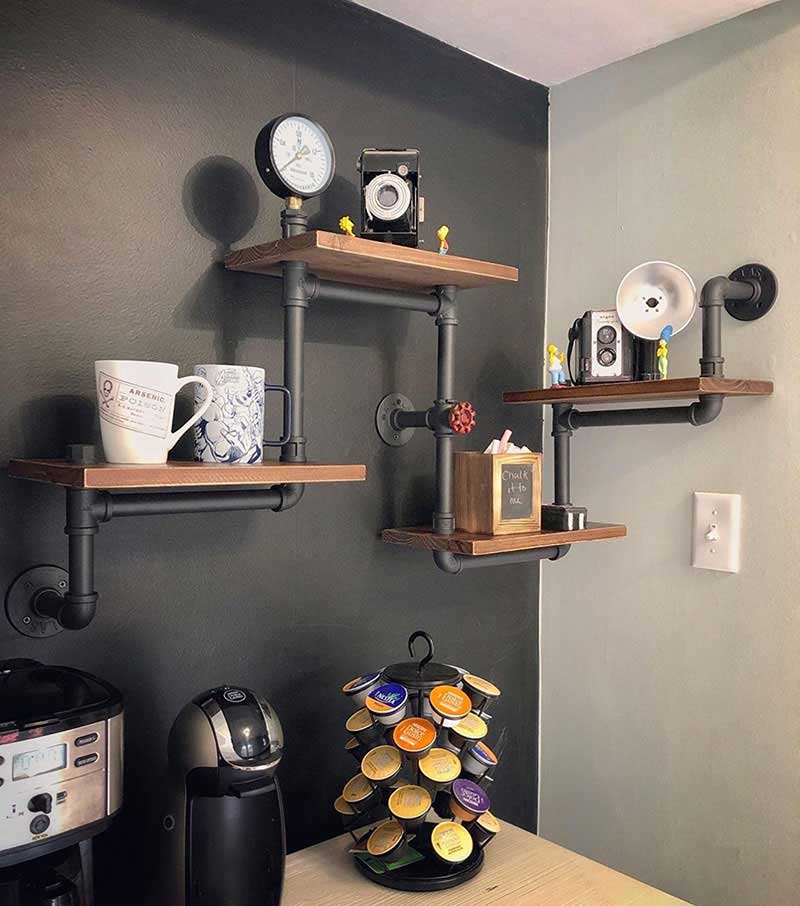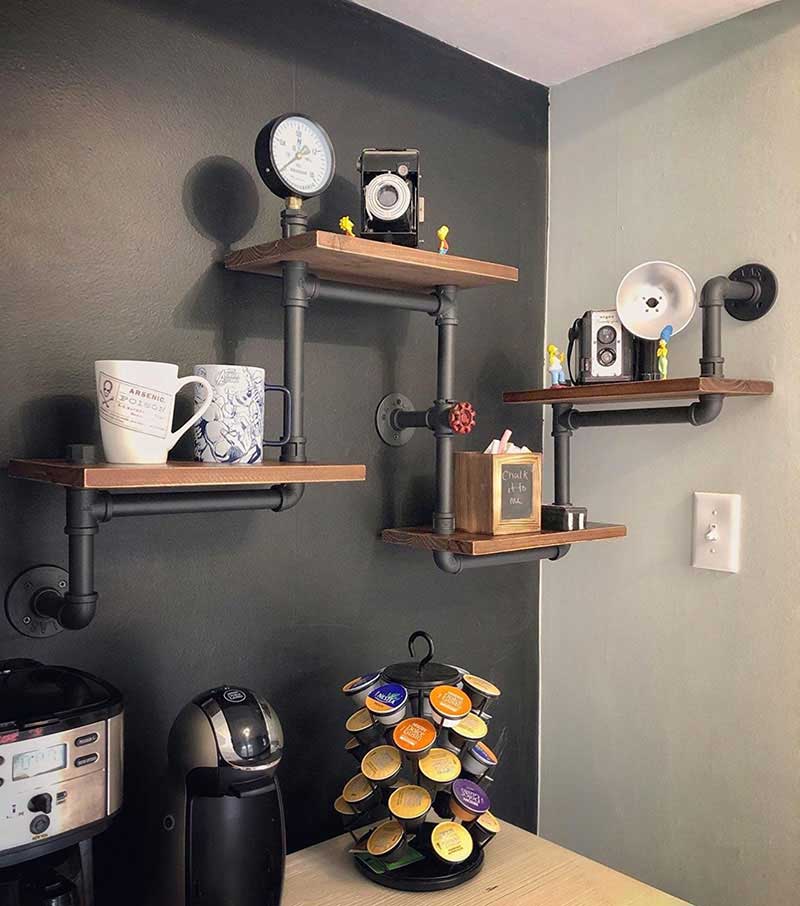 Image: Industrial Rustic 4 Layer Pipe Design Wall Shelf
I love the additional details of the pressure value and the rustic tap handle on that one. It really adds to the overall look.
Learn More About This Configuration >>
---
Mostly, Sort-of DIY Pipe Shelf Option #3
This one is a pretty straight-forward 3 shelf pipe shelving unit. Clean, simple, and wonderfully rustic.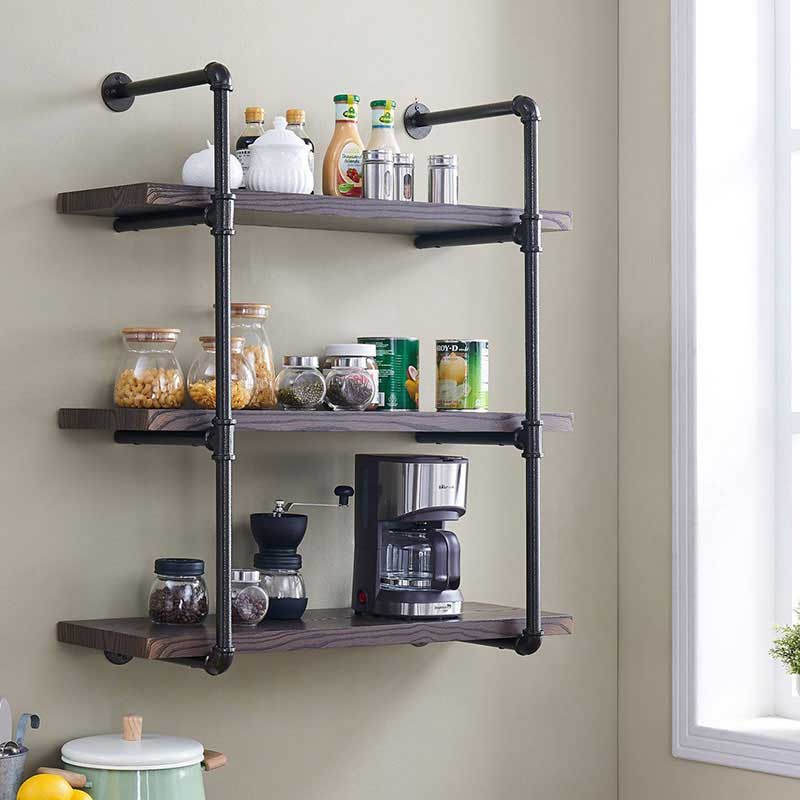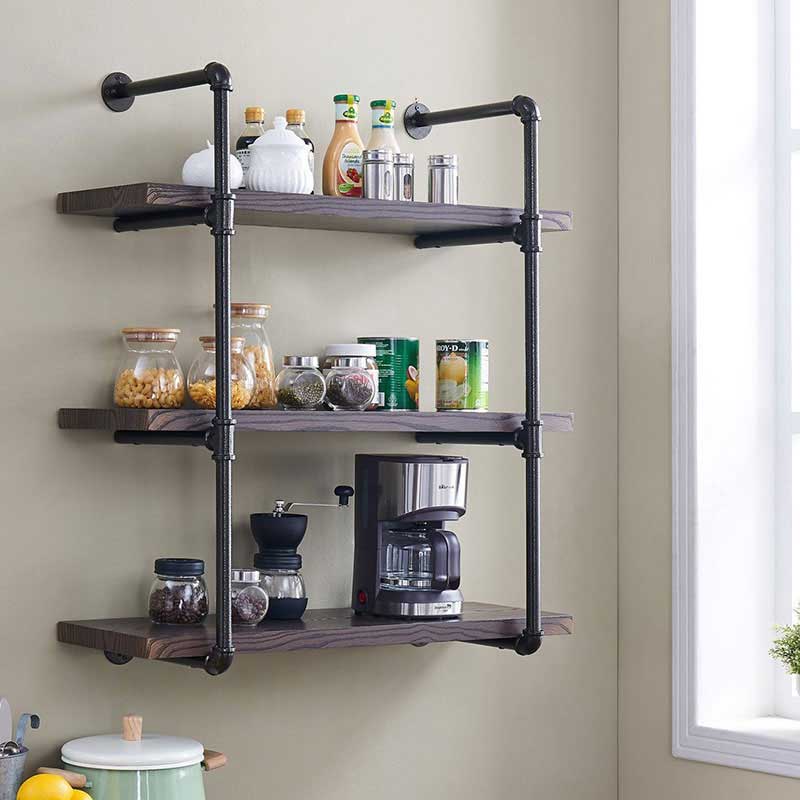 Image: Homissue 3-Shelf Rustic Pipe Shelving Unit with Espresso Shelves
Learn More About This Configuration >>
Which is also available with Retro Brown shelves, in case you want something a little bit different.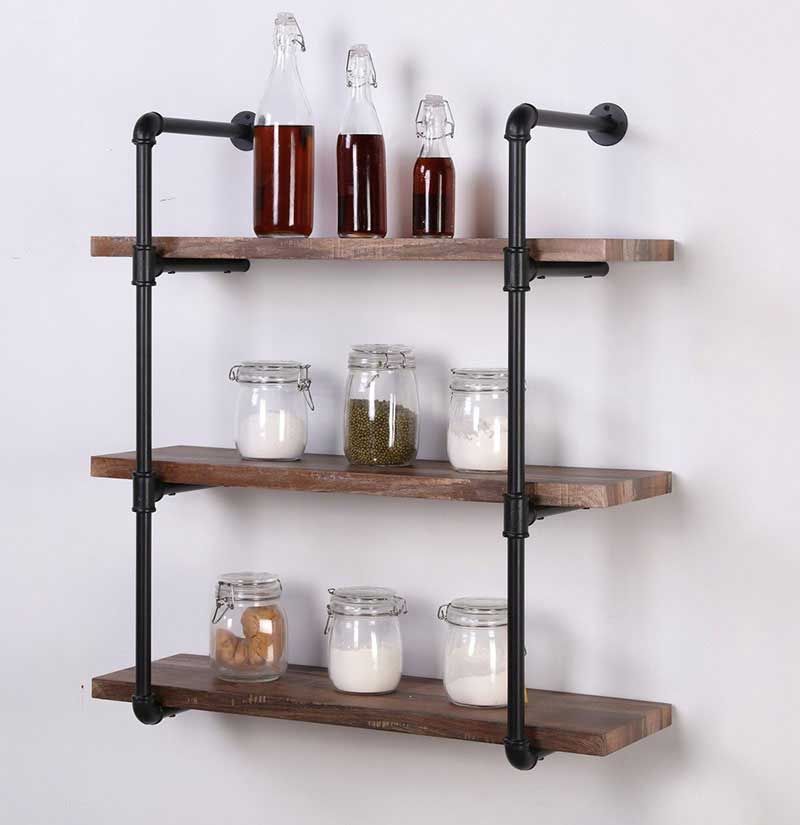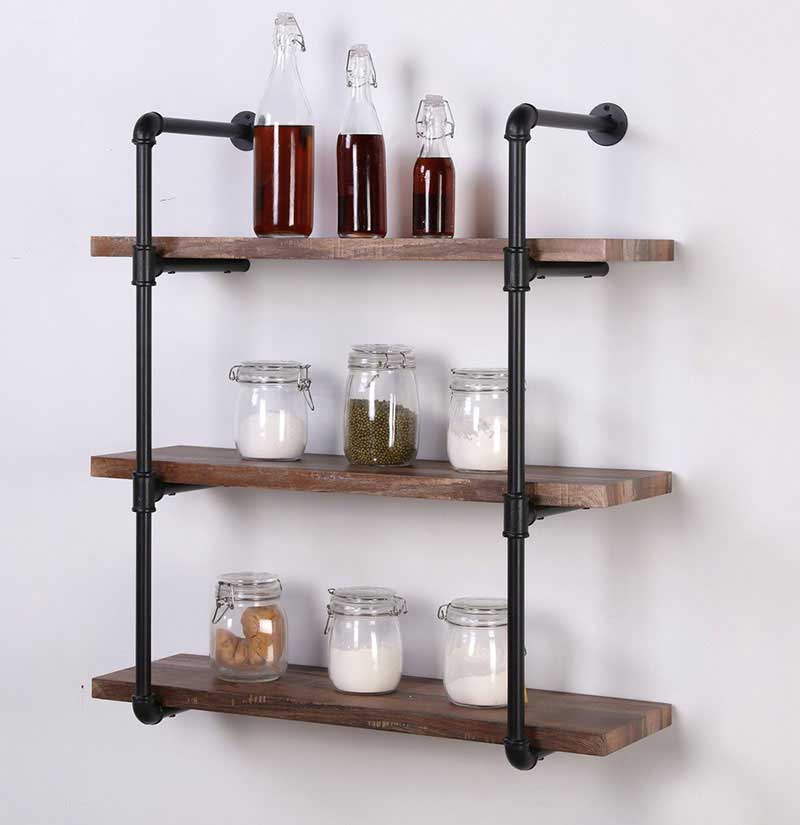 Image: Homissue 3-Shelf Metal Rustic Pipe Shelving Unit with Retro Brown Shelves
Learn More About This Configuration >>
The nice thing about these shelving units is that most of them can be customized to add multiple units together to create taller, wider, or unique shelving systems.
---
I'm Just Going To Pretend It's DIY Small Shelving for Smaller Spaces
If you're looking for something more petite, for the bathroom or powder room (for example), you can find smaller versions that will fit just fine.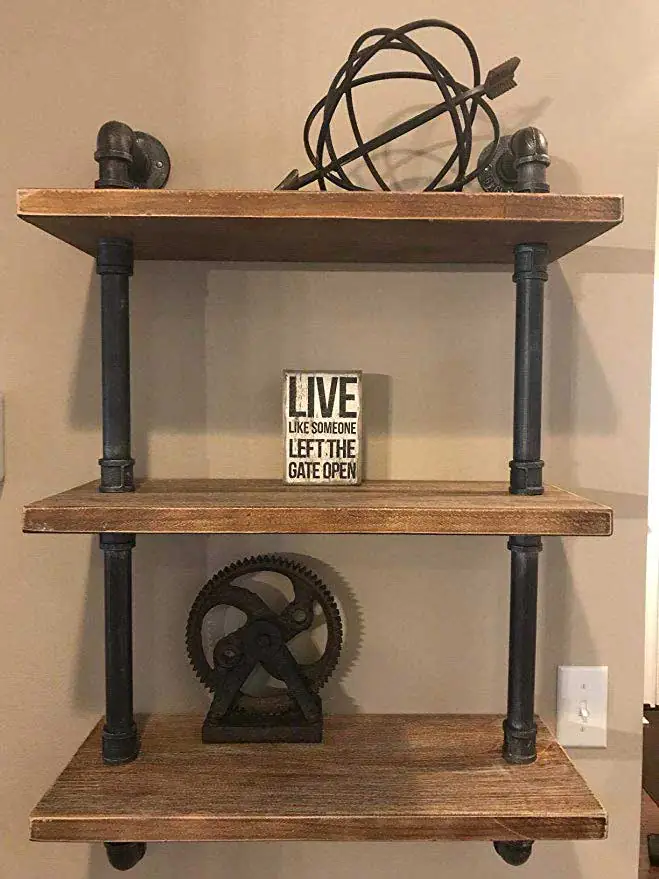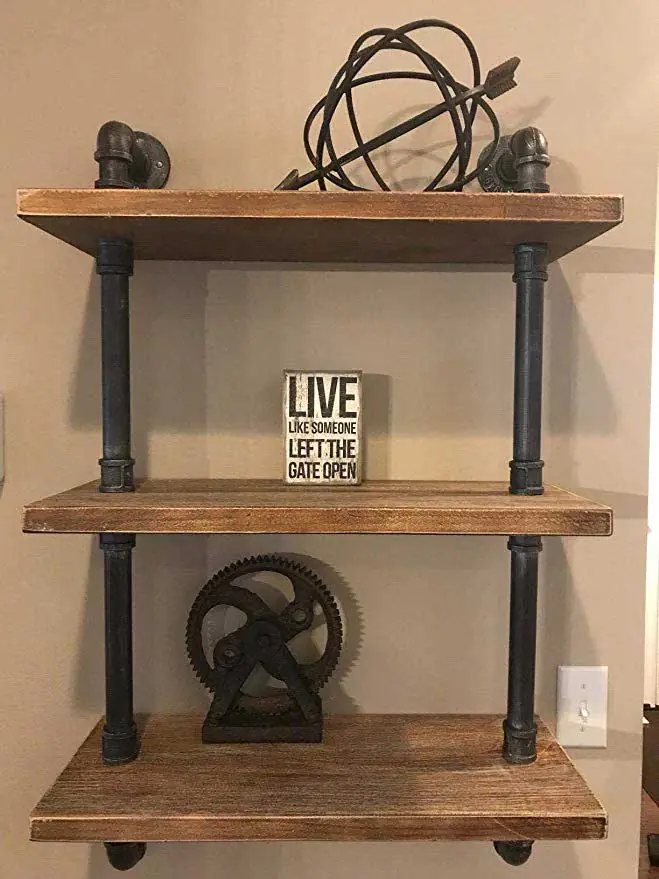 Image: FODUE Industrial Pipe Shelving
Learn More About This Configuration >>
---
Single Almost Totally DIY Pipe Shelf Options
Or, if you want fewer shelves, there are some lovely single-shelf units available as well, such as the 24" Pipe Floating Shelf, also from DIWHY (still LOVE that name).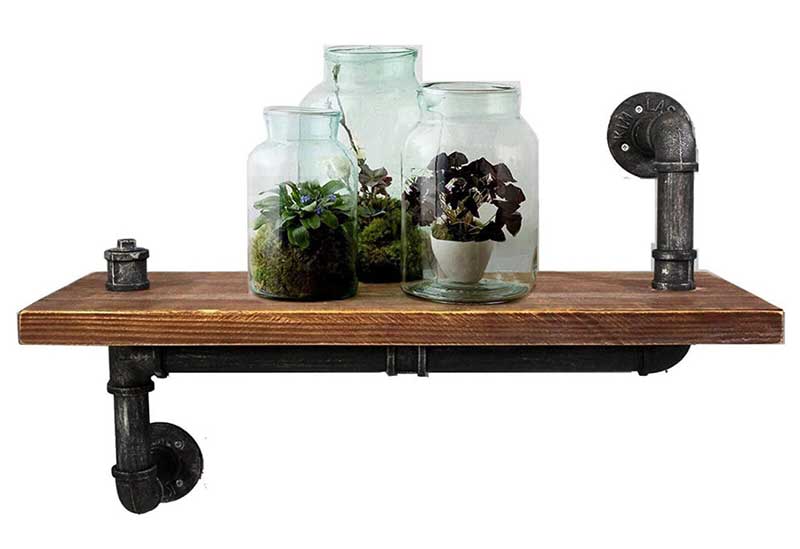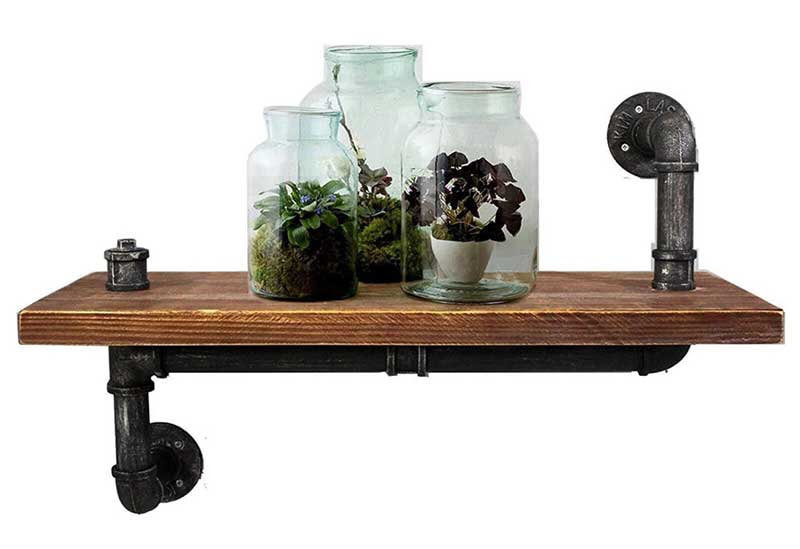 Image: DIWHY Open Industrial Pipe Floating Book Shelf | 24″
Learn More About This Configuration >>
Or this one…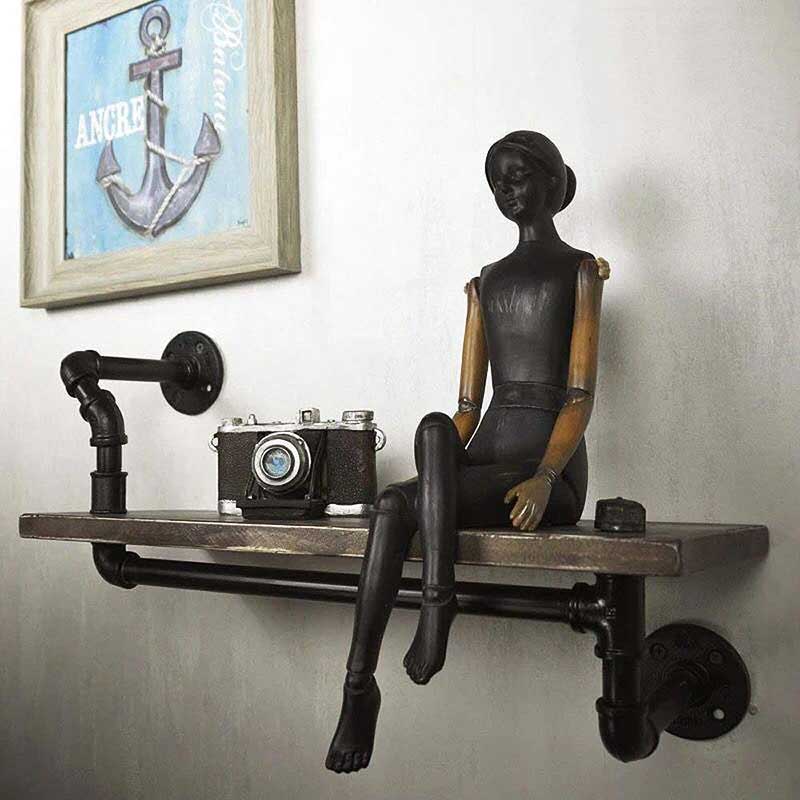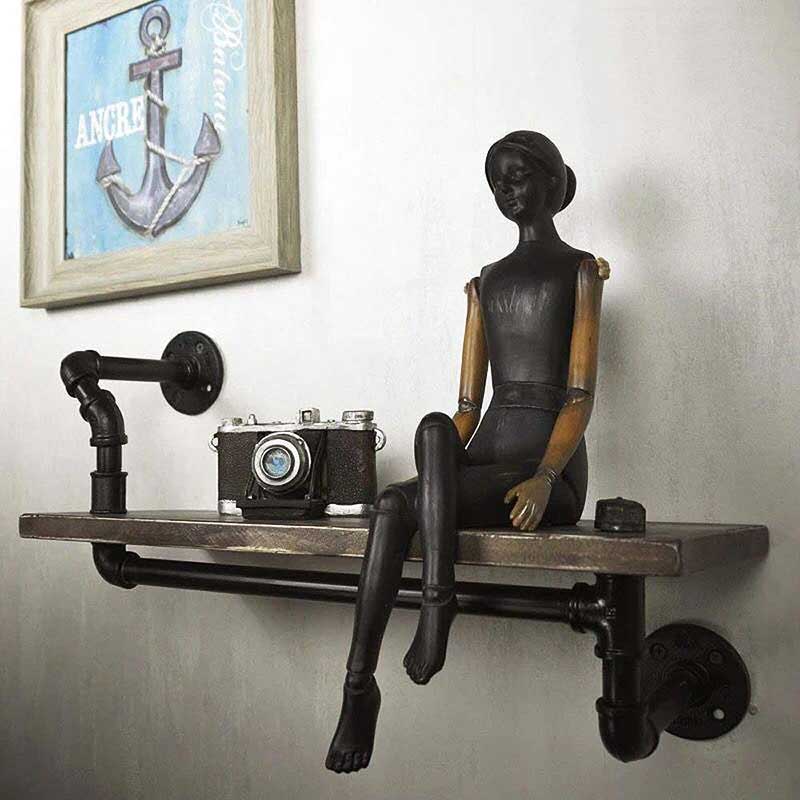 Image: Reclaimed Wood & Industrial DIY Pipe 24" Shelf
Learn More About This Configuration >>
These shelves always seem to suit best with rustic or farmhouse decor pieces, but you can use them to store or display any number of household, kitchen, or bathroom items. Their uses are only limited by your imagination.
---
Ceiling – I Mounted It Myself So That Counts as DIY – Pipe Shelves
Industrial pipe shelves are usually mounted to the wall and/or the ceiling. This configuration includes pipes that go all the way up the ceiling, creating a suspended look.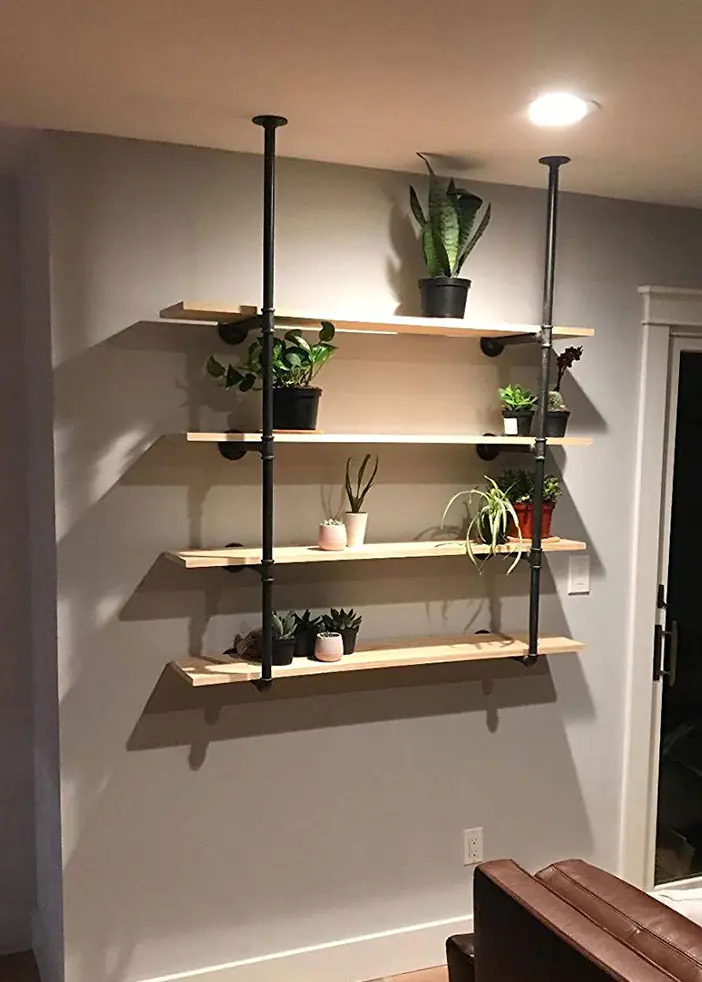 Image: Industrial Retro Wall Mount Iron Pipe Shelf
Learn More About This Configuration >>
---
Putting it All Together from the Parts Provided
From what I can tell, these cost about the same as what it would take out of your pocket to gather the materials from a place like Home Depot, but I didn't price it out piece-by-piece.
And, you get to pull it all together… which, technically, is DIY — isn't it??
Plus, reading through some of the reviews… the instructions have an IKEA-level sketchiness to them, so that will help you pretend it was a true and proper DIY project.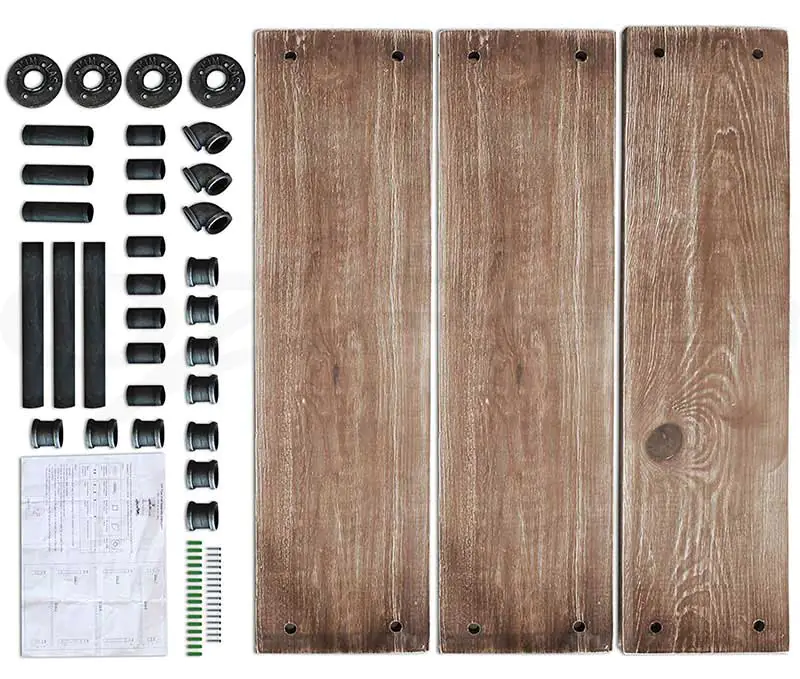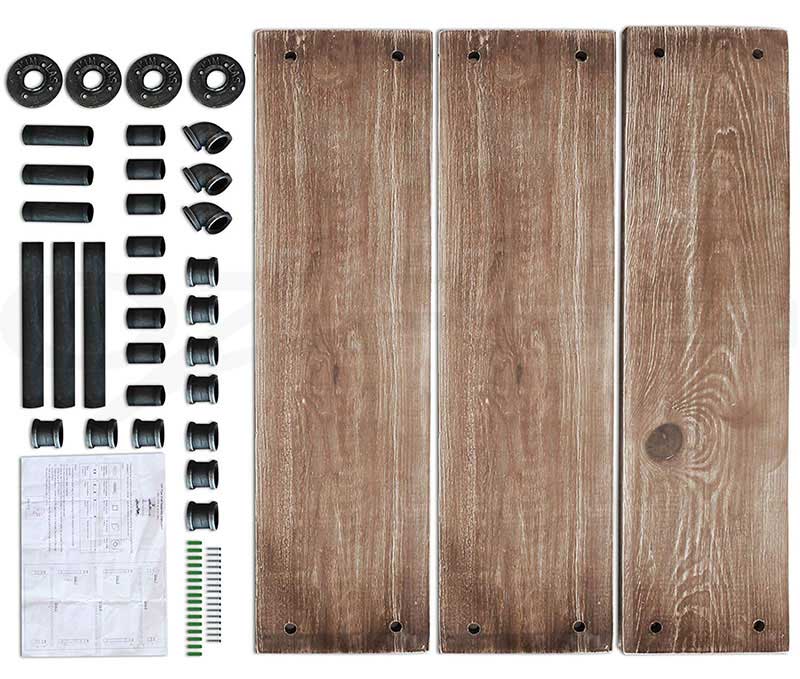 So, if you desire the look but don't possess the skills required to create these DIY Pipe Shelves from scratch, these Amazon products provide a nice little shortcut. And – a shameless plus – these pieces would look fantastic with any of our Rustic & Farmhouse Furniture pieces.
I found all of these through my partnership with Amazon, but there are even more available if you need something different.
---
Additional A Little Bit DIY Pipe Shelf Options