Looking for some inspiration for your next DIY Furniture project? Here are 37 awesome DIY project ideas to help you create your own, unique DIY Furniture items at a fraction of the cost of buying them in store.
A little time. A hint of know-how. A bit of elbow grease. And a touch of inspiration. That's all you need (plus – of course – tools and materials) to craft some wonderful DIY Furniture pieces to help you create a truly unique home.
With 37 ideas curated from some of the best DIY minds on the Internet, this collection provides a wealth of inspiration to help you craft your next DIY furniture project.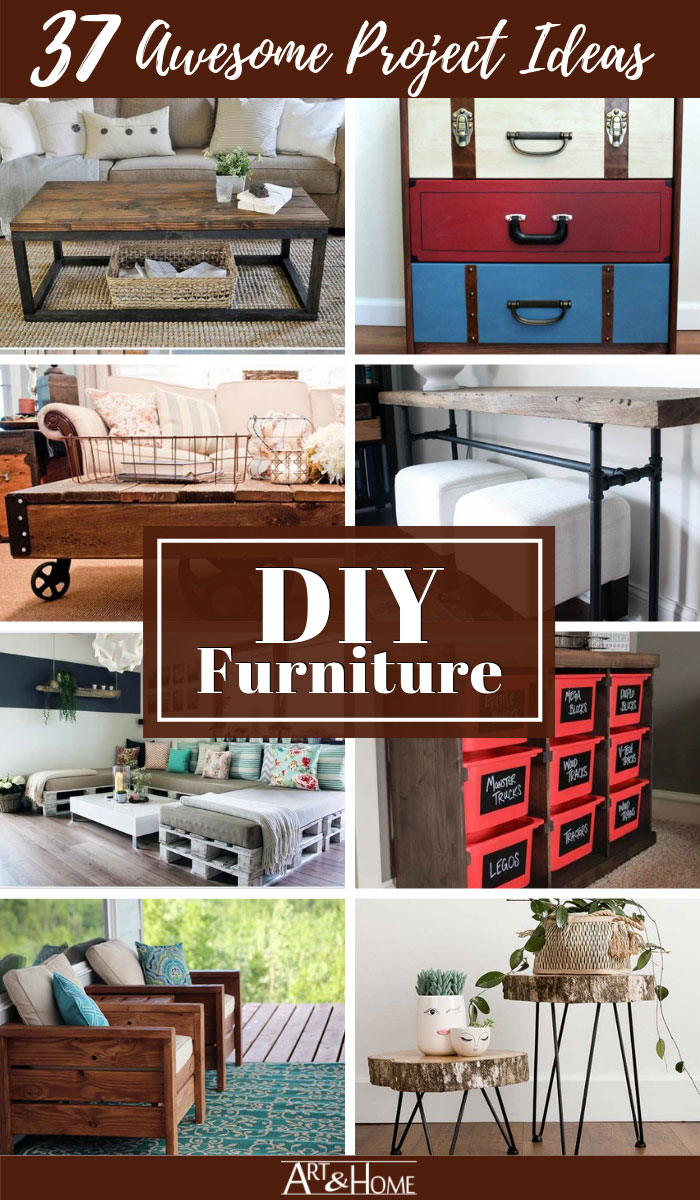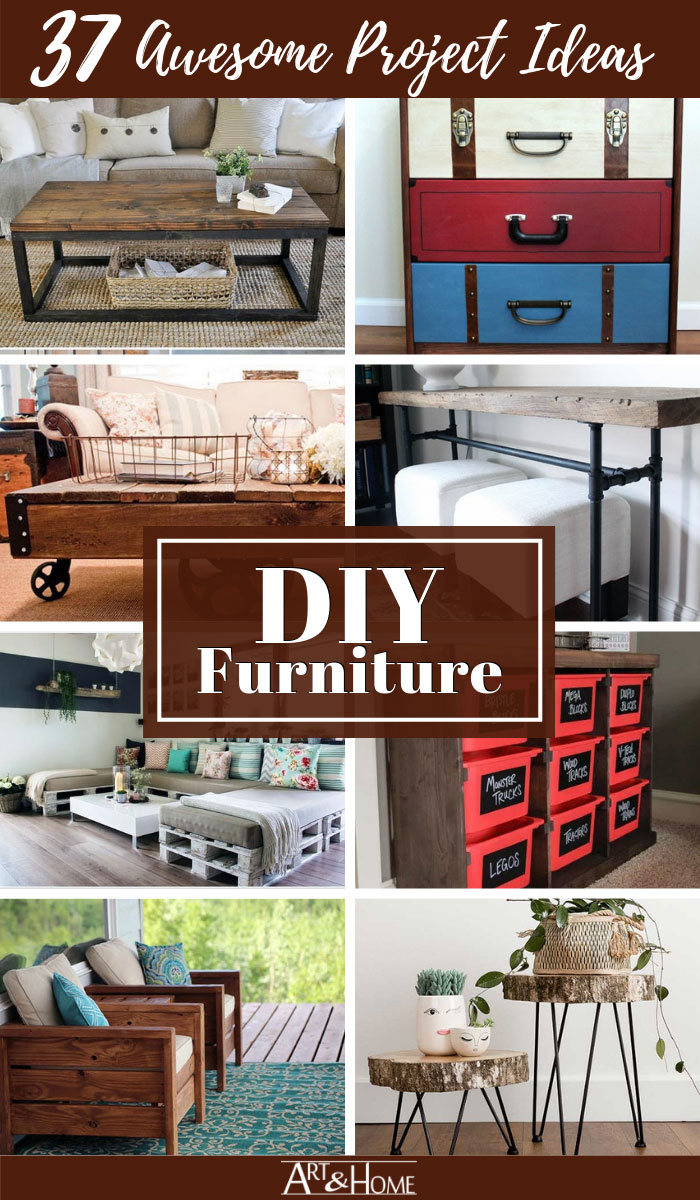 From coffee tables to storage bins to dressers, headboards, and so much more; this collection will give you hours of fun reading about, planning, and creating unique DIY furniture.
So Let's Get Started With 37 Fantastic DIY Furniture Project Ideas
Special thanks to the DIY'ers who dreamed up these beautiful ideas. You can find links to each of them right below each of these beautiful photos!
We hope you enjoy these projects and have many hours of fun creating and then enjoying your very own DIY furniture.
DIY Narrow Console Hall Table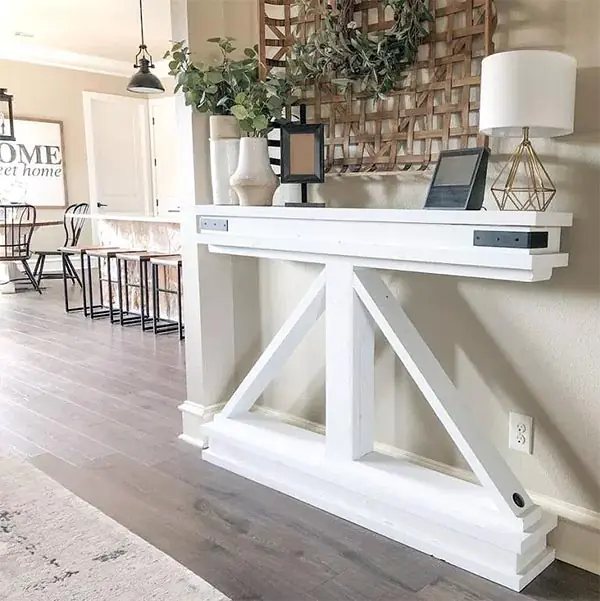 With its slim profile, this DIY furniture piece is perfect when you have limited square footage or a particularly tight spot.
---
DIY Mirrored Console Cabinet
You too can create this glamorous mirrored console cabinet, which adds some charm and class to this family room.
---
DIY Kids Play Table & Storage Stools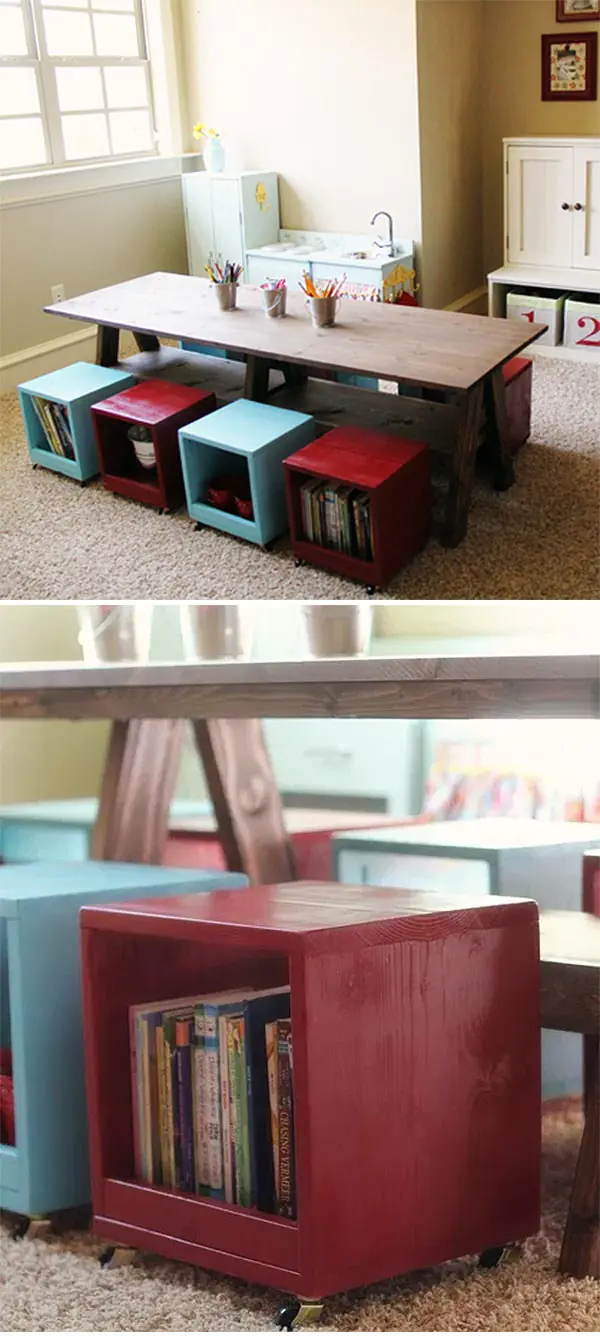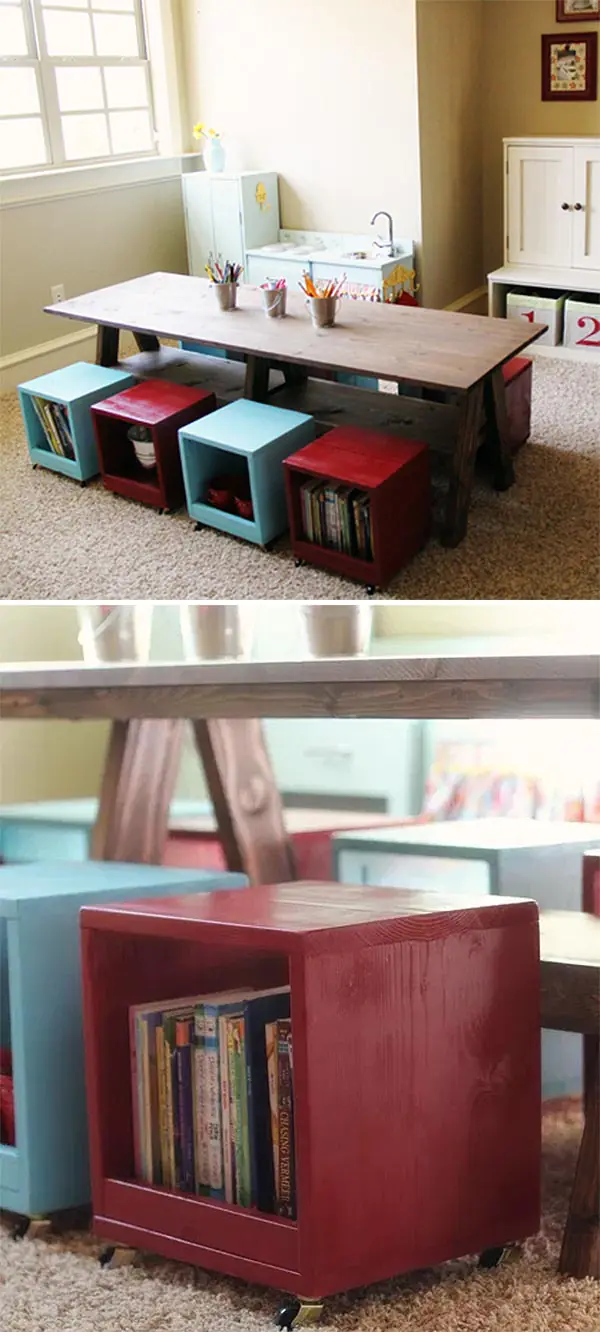 Expand your child's play space with this fantastic DIY play table plus DIY stool cubes that can be used to hold tonnes of storage.
---
---
---
DIY Tilt Out Garbage Bin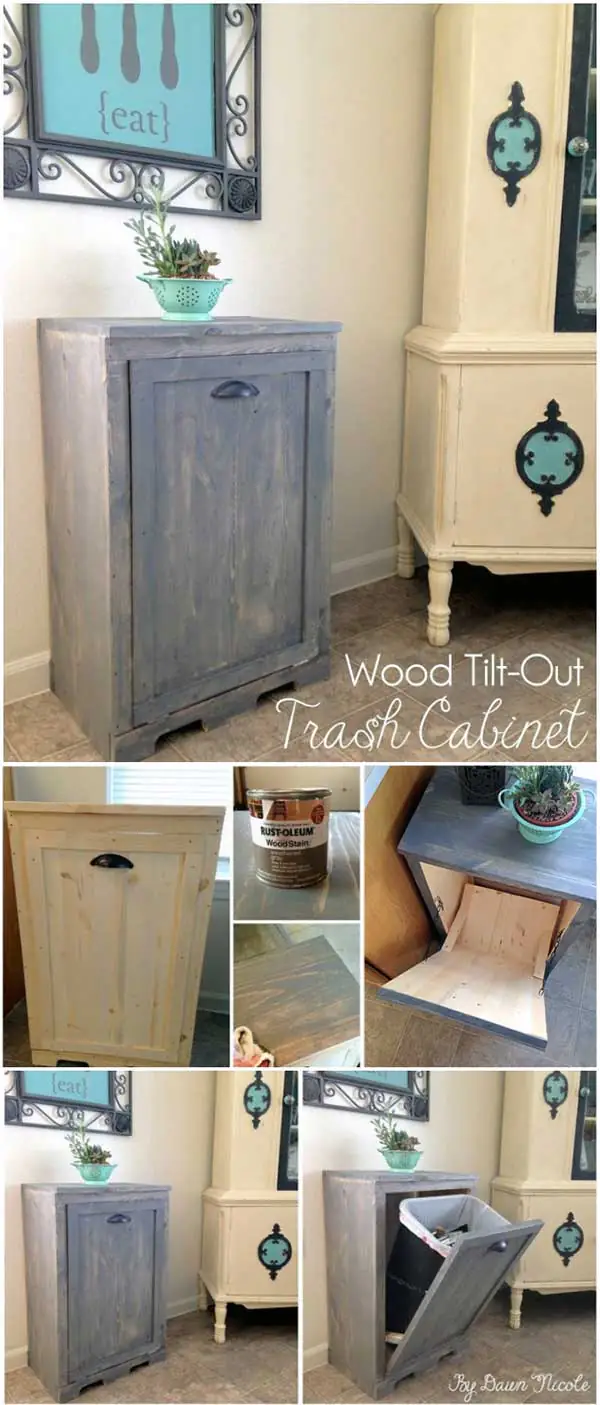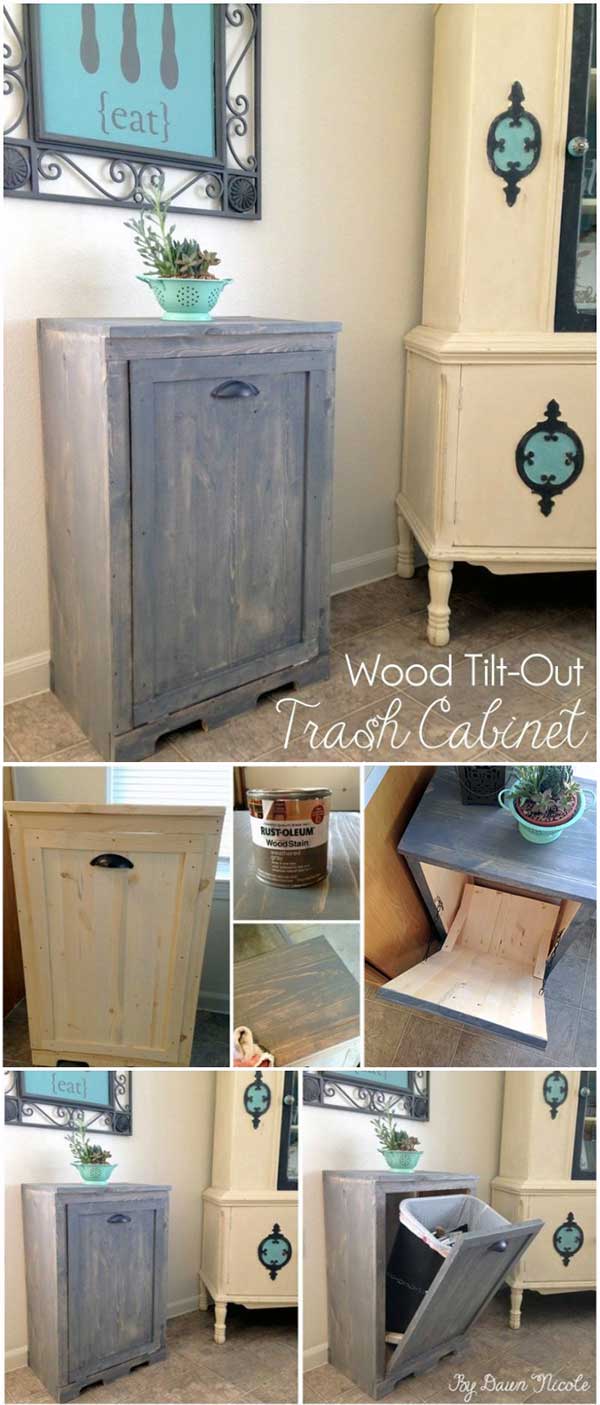 Source: By Dawn Nicole
If you're looking for a better way to tuck your garbage out of sight, this quick and easy DIY Tilt-Out Garbage bin is just the ticket. You can stain it to whatever color you choose to match your kitchen decor.
---
DIY Wood Dog Bed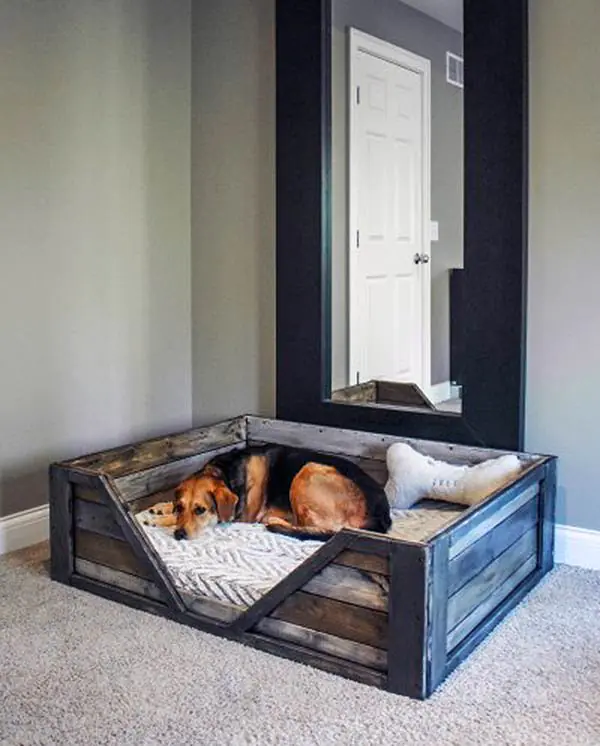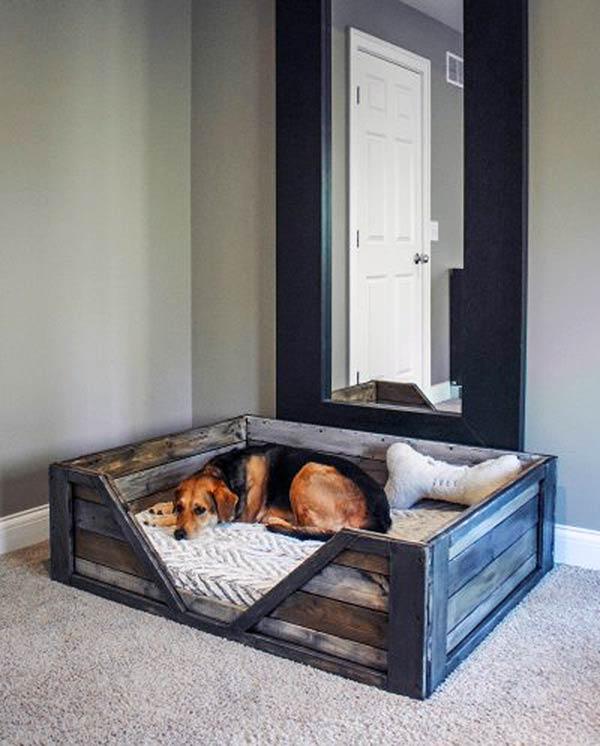 A deconstructed pallet becomes a comfy place for your dog to relax with this easy-to-make DIY wood dog bed.
---
DIY Farmhouse Club Chair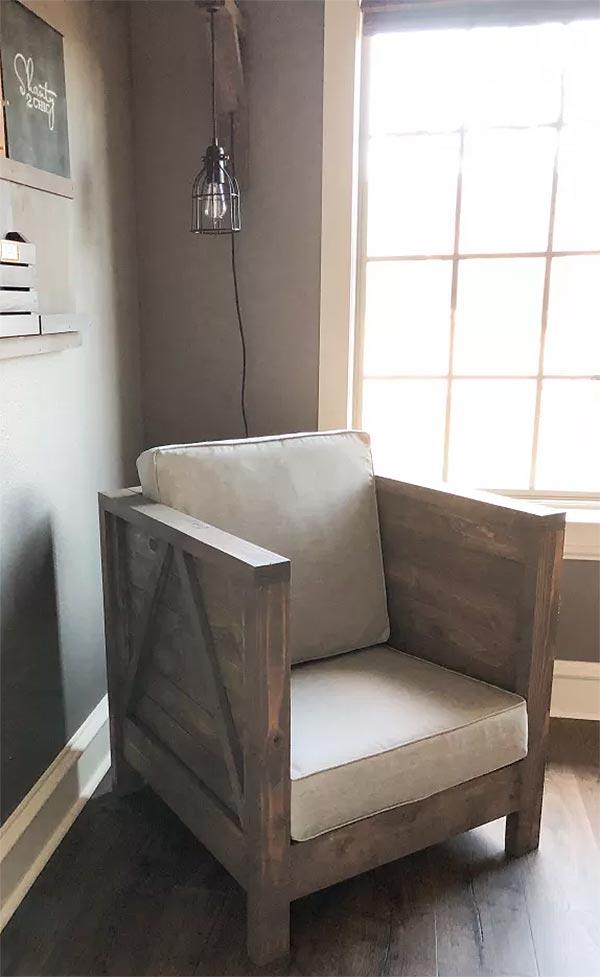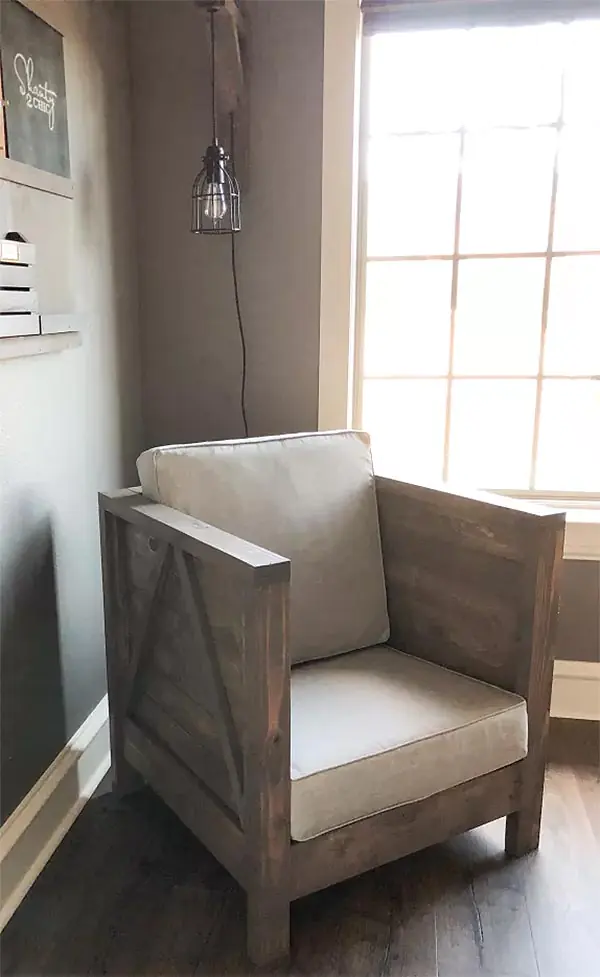 A wonderfully rustic accent chair that you can make yourself.
---
---
Reclaimed Wood Floating Shelves with Storage Drawer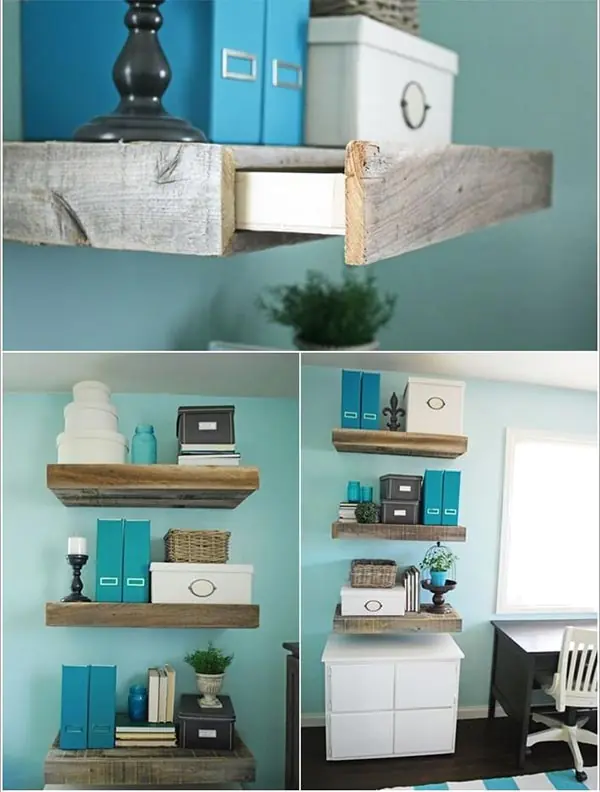 Just like a dresser on the wall, this project combines unique floating shelves with a DIY dresser drawer project to create these unique and handy floating shelves with a hidden drawer.
The secret drawers are great for important papers, USB storage devices, and more… just make sure they are light enough to not overwhelm the drawer.
---
DIY Outdoor Patio Chairs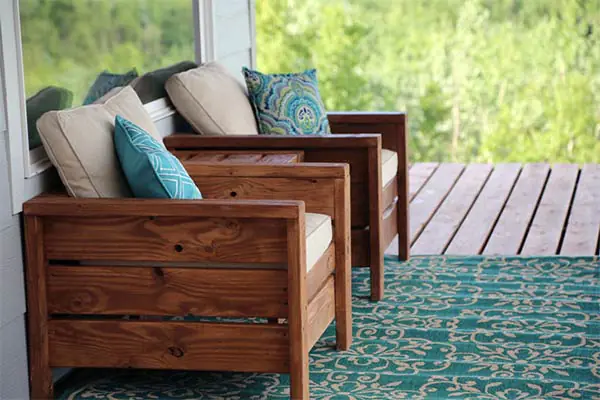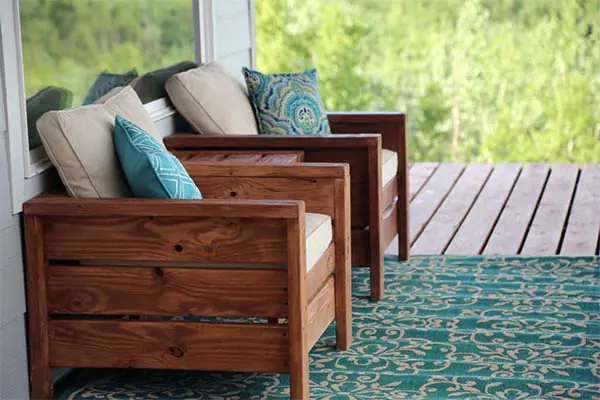 This outdoor DIY outdoor furniture project uses some 2×4 and 2×6 wood boards to create classic, shaker-style chairs that will help spruce up your back yard, porch, or patio.
---
DIY Rustic Industrial Pipe Console Table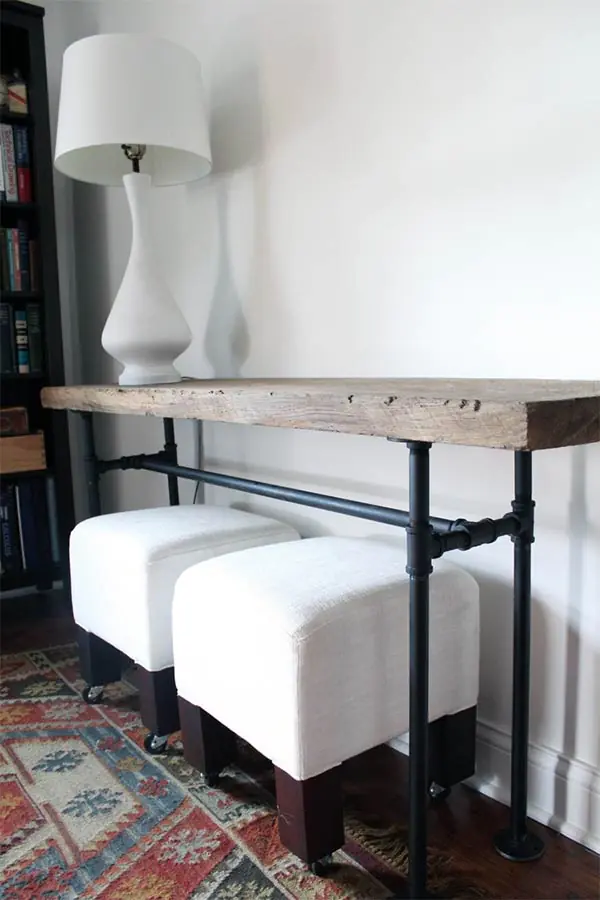 A wonderfully rustic console table is perfect for a country or industrial-style home. A quick and easy project that makes the wood top the star!
---
DIY Storage Bin Dresser with Chalkboard Labels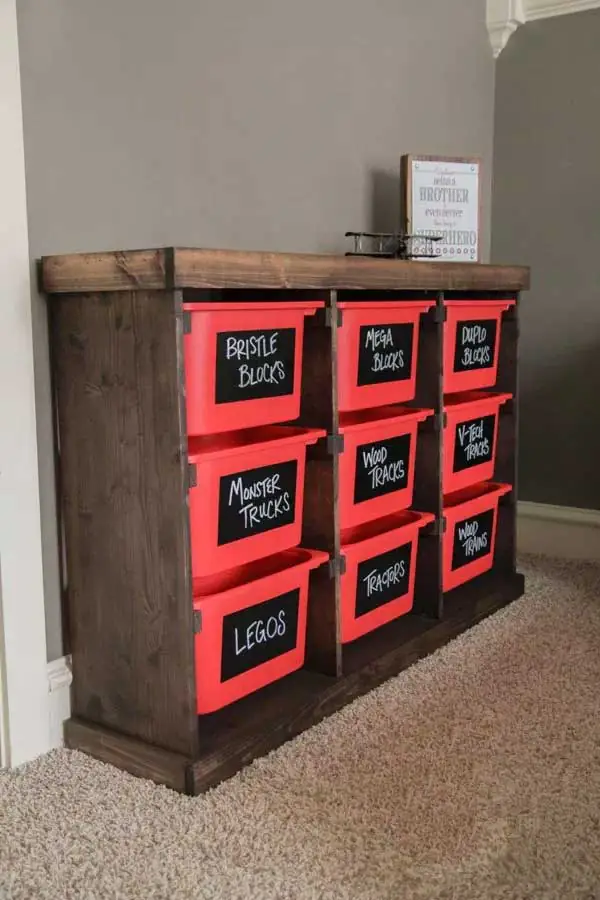 Whether you are using this for toys, school supplies, or even clothes, this handy DIY storage dresser can get everything up off the floor and into cleverly labeled and easy-to-access bins. The use of Chalkboard Contact Paper to help showcase what is inside each bin is truly wonderful!
---
DIY Wood Slice & Hairpin Leg Accent Tables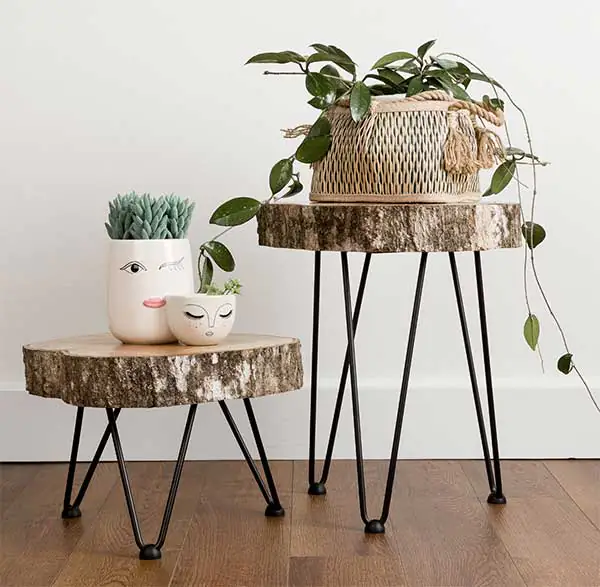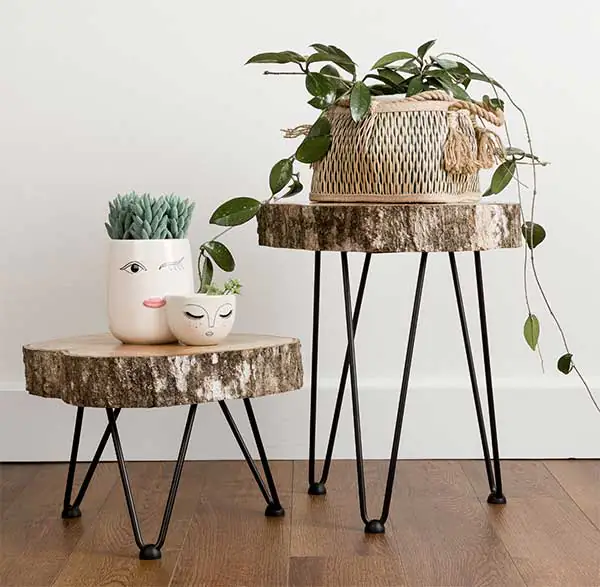 An easy way to take the negative of losing a mature tree from your yard and turning it into a positive is by bringing part of that tree into your home as delightfully rustic accent tables.
Hairpin Legs are the best choice for this type of project because their minimalist nature does not distract from the natural beauty of the wood slice.
---
DIY Farmhouse Platform Bed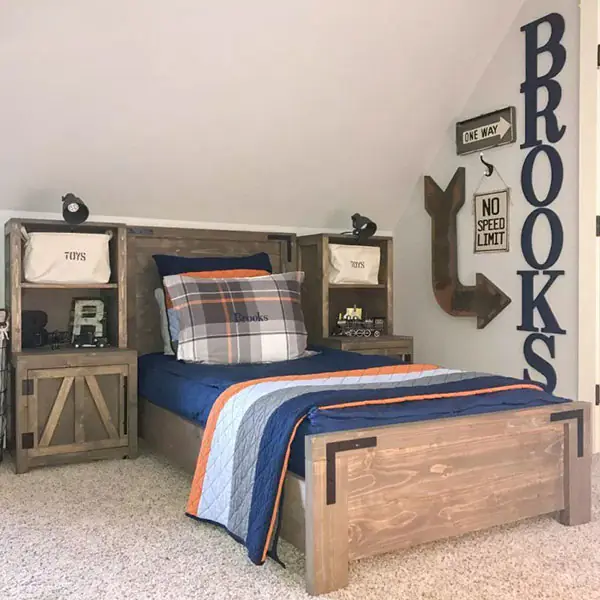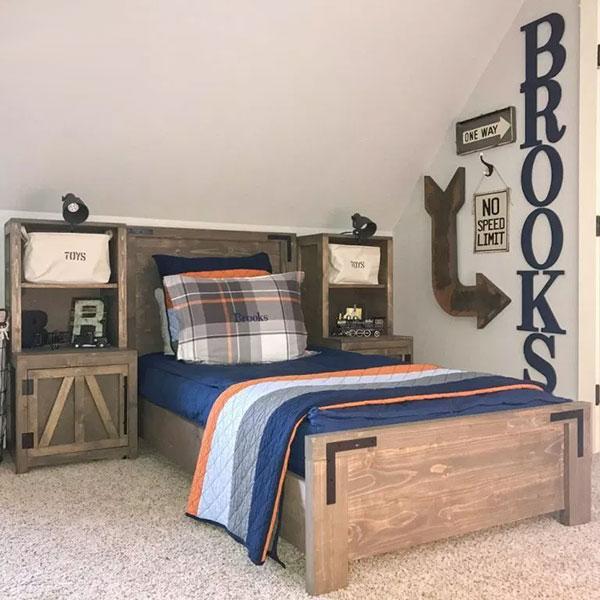 This quaint and rustic bed is perfect for a kid's room or a guest room.
---
DIY Industrial Pipe Shelf Wall Unit

Inspiration Source – The Brick House
Take your DIY Pipe Shelves to the next level with this complete wall unit. This streamlined shelf system provides a clean industrial look while providing a unique way to display your treasured collections.
---
DIY Industrial Coffee Table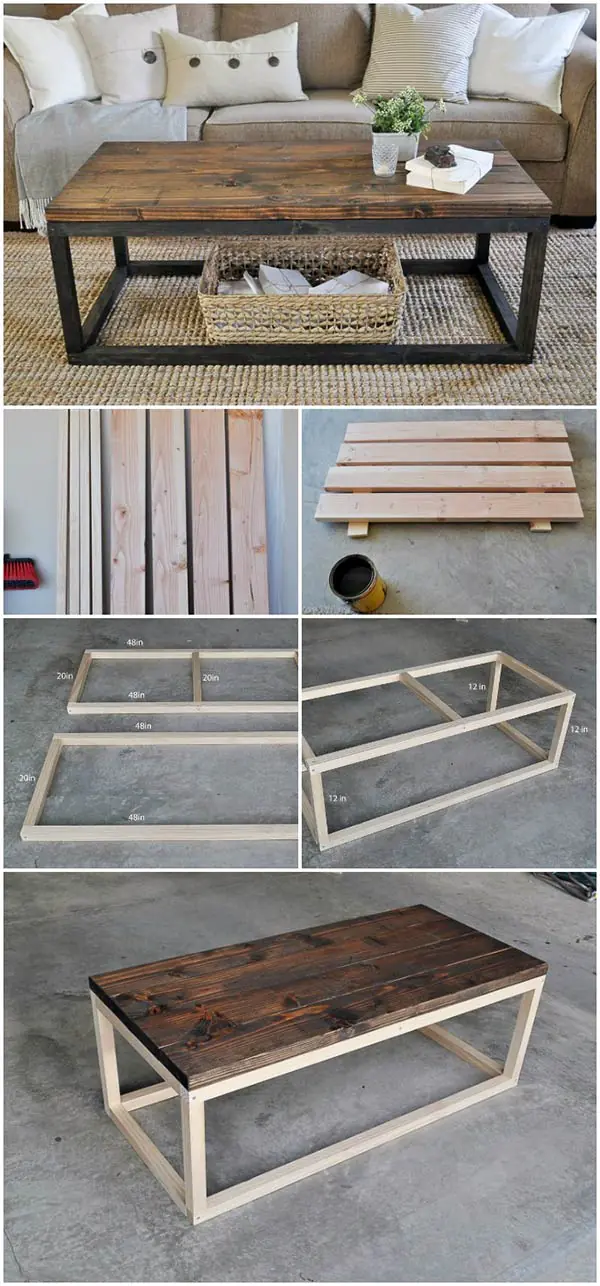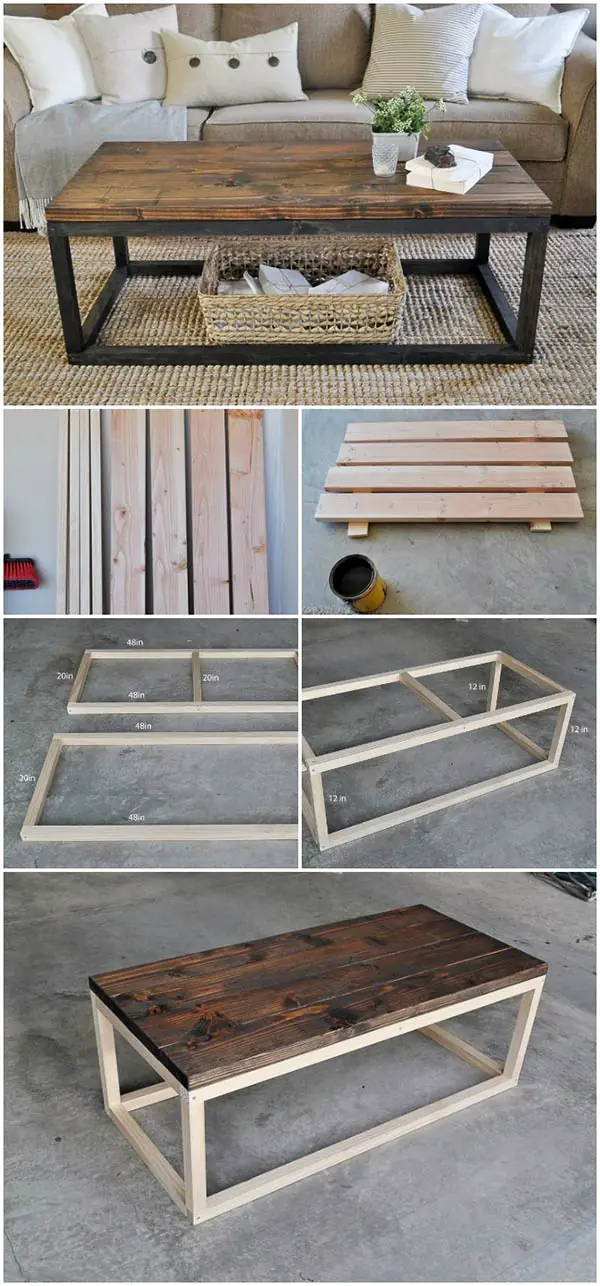 Clean lines and classic stains help bring this DIY coffee table its industrial flair. This DIY furniture project could be completed in a few hours and give you a new coffee table to enjoy for years to come!
---
DIY Produce Bin Stand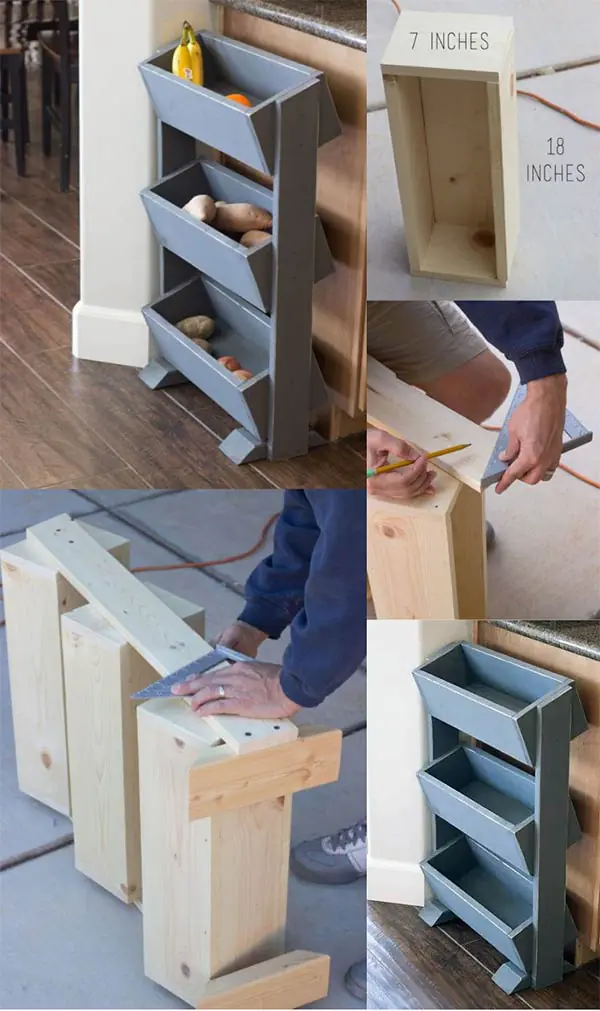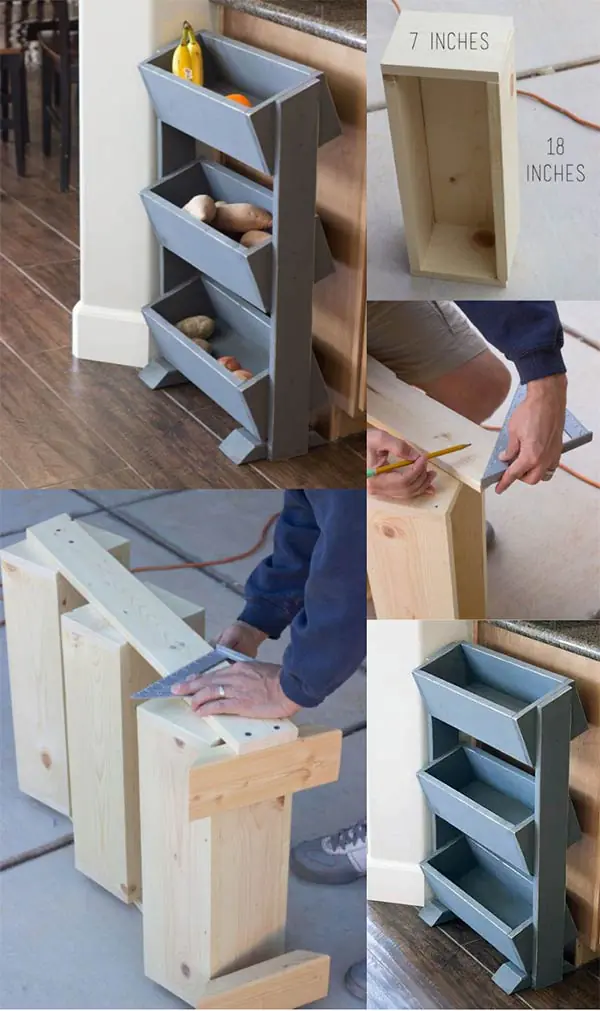 If you're struggling for counter or pantry space, this handy little DIY furniture project may be just what you're looking for. The space-saving design takes up a minimal footprint in the kitchen while providing plenty of additional space to store your fruits and vegetables.
The best part is, the total cost of this DIY furniture project is less than $30!
---
DIY Barn Door Media Cabinet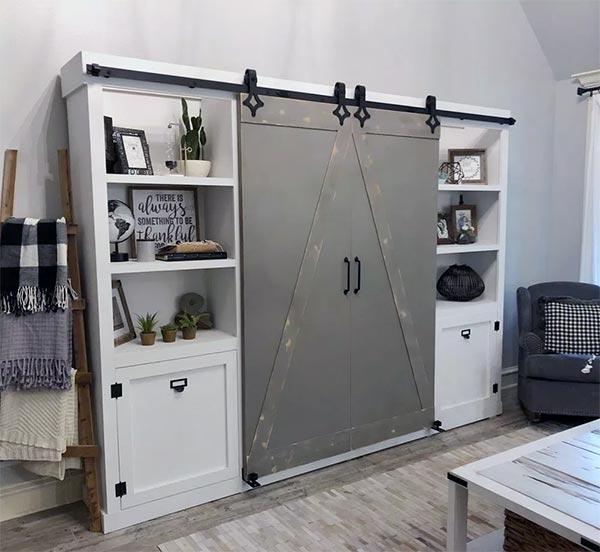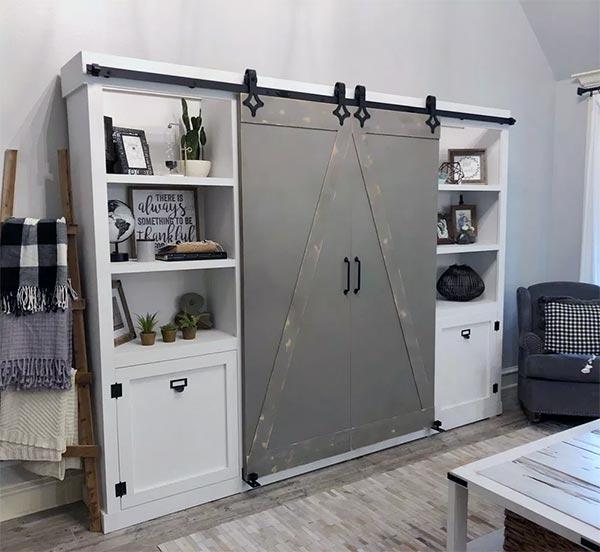 An attractive way to tuck your TV and electronics out of the way when you're not using them. Then, simply slide the doors out of the way when it's time to enjoy some Netflix.
---
---
DIY Used Tire Coffee Table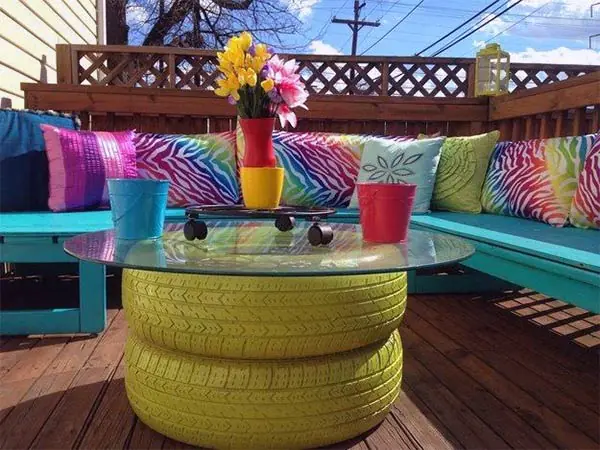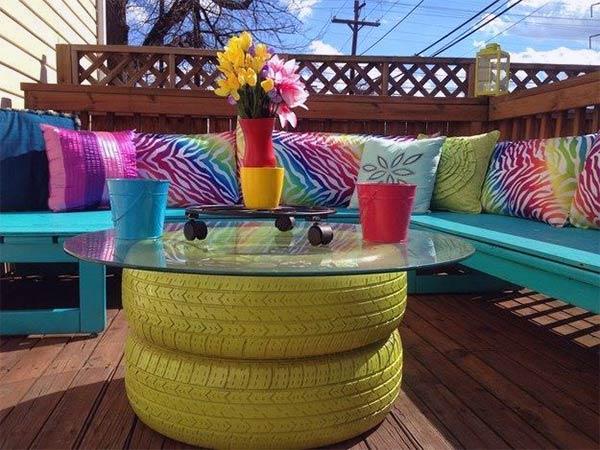 Perfect for the back yard, or in an eclectic living room, this creative project saves a couple of old rubber tires from the landfill and turns them into a unique and colorful glass-top coffee table.
---
DIY Birch Outdoor Lounger


Celebrate nature with this wonderful reclining lounger crafted from a fallen birch tree.
I love the idea of DIY furniture… being able to make something from scratch or take something old and making it something very new.
It's nice to be able to look at a piece of furniture with pride, knowing that you made it yourself and that nobody in the world can have a piece that is exactly the same.
I hope you are enjoying this collection of DIY furniture projects so far. As we enter the final stretch, I feel like we might have saved some of the best for last!
---
DIY Succulent Garden Pallet Table
Featured in our recent DIY Backyard Projects post, this super-simple rustic garden table uses an old crate that has been adjusted to create a living succulent garden in the middle. No need to put out a fancy centerpiece for garden parties when you have a beautiful one growing for you!
---
DIY Barn Door Bathroom Vanity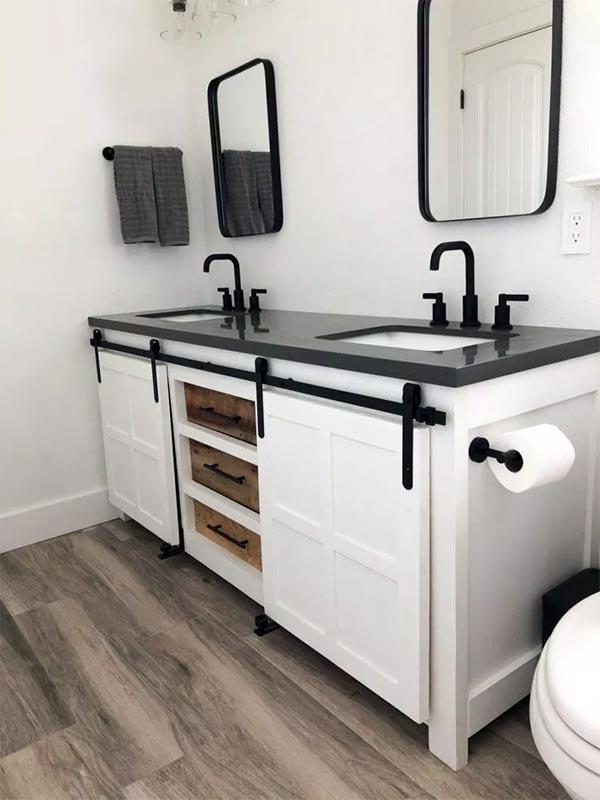 A modern farmhouse bathroom vanity, featuring a set of wide barn doors in crisp white against a black counter and black hardware. Classic and charming!
---
DIY Suitcase Dresser Makeover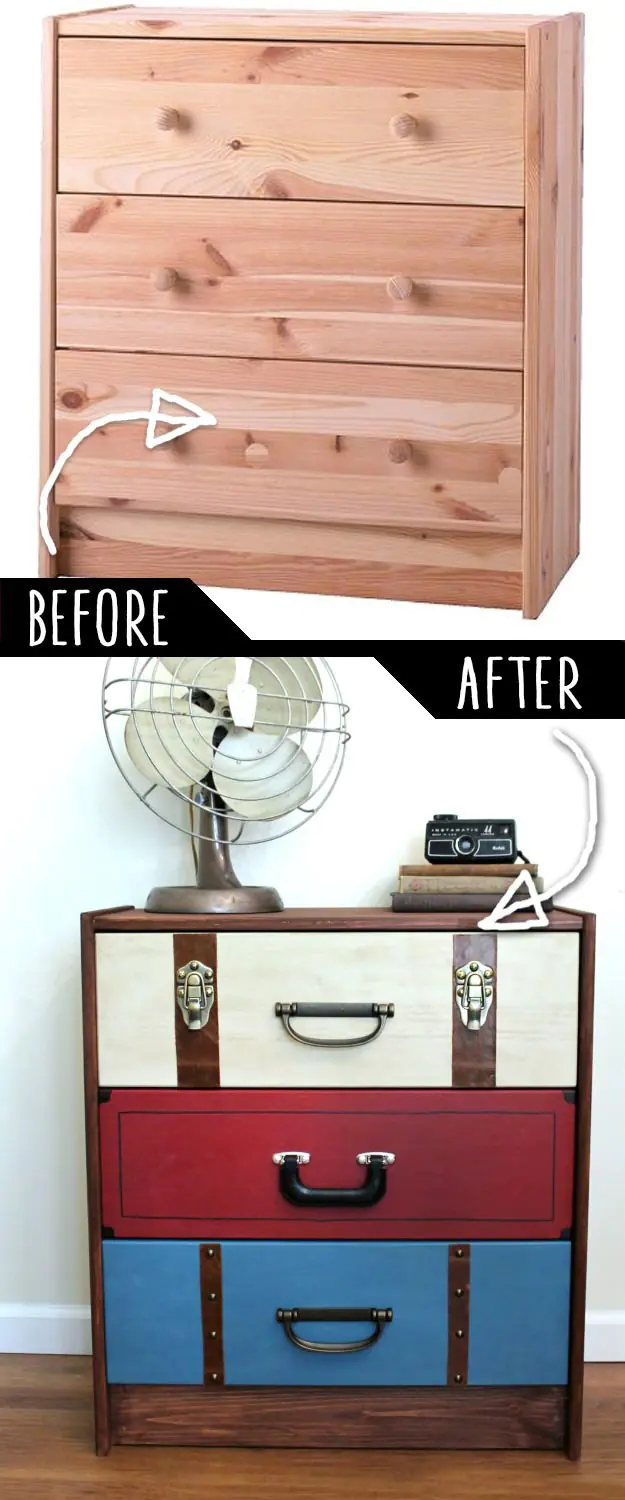 This is more of a furniture makeover DIY hacking a basic IKEA dresser than a complete DIY furniture build, but the end result is truly delightful and NOTHING like how the project started.
---
---
DIY Outdoor Table with Built-in Ice Chests

Keep your cold drinks cold even on the hottest of summer days with this DIY table featuring two built-in ice chests. The secret to this table is the flower planters that are framed off to create these really handy cold storage containers!
---
DIY Farmhouse X Desk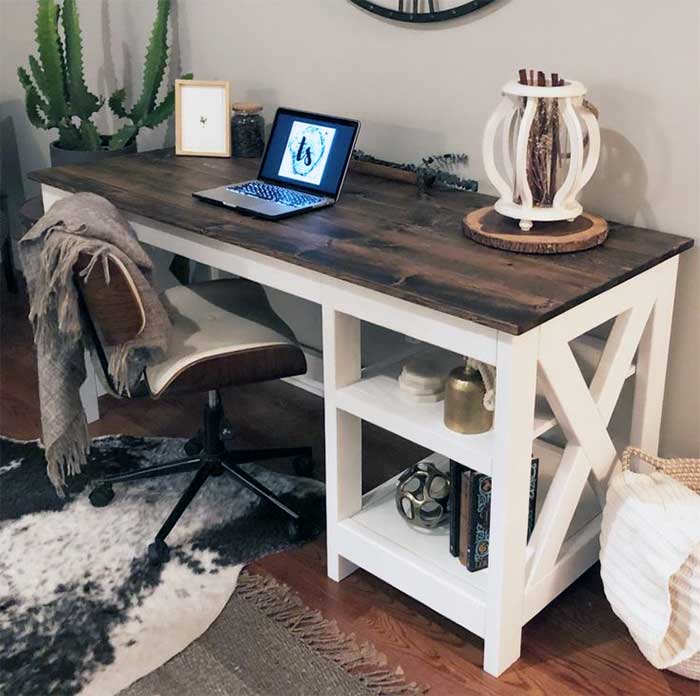 Bring some style to your home office space with this classic Farmhouse X style desk with a rustic wood top.
---
DIY Herringbone Coffee Table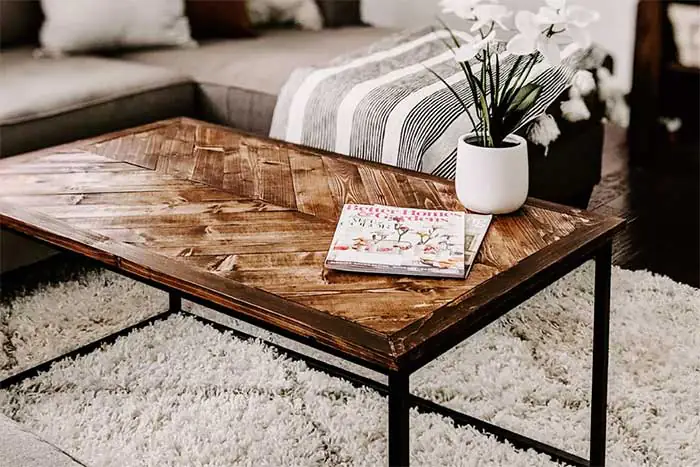 The classic herringbone pattern creates visual interest despite the narrow profile of this chic yet rustic coffee table.
---
DIY Rustic Sofa Table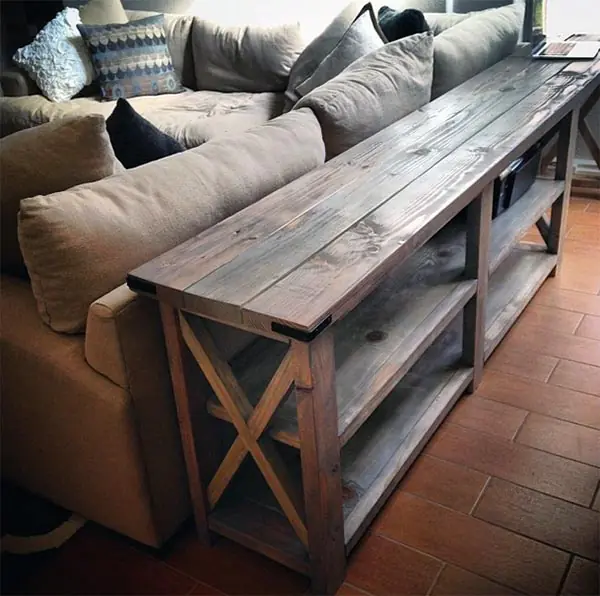 Great for adding a bit of extra storage in the den, for adding a bit of style to the back of your sofa, and for showing off your DIY furniture building skills.
---
DIY Pallet Sectional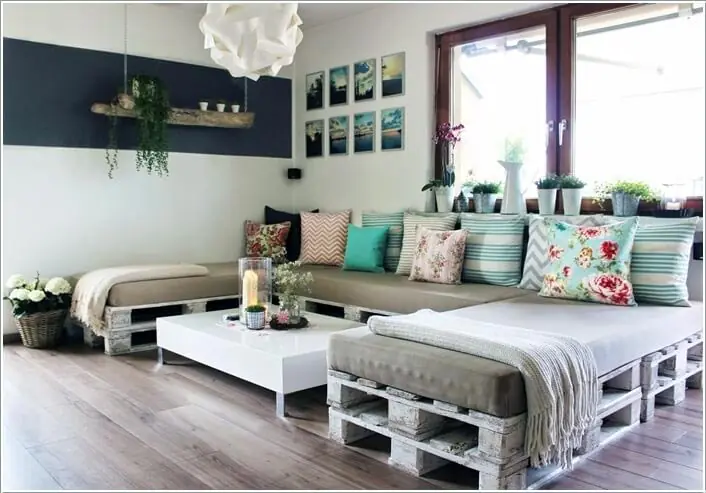 Distressed wood pallets create the base for this unique and rustic sectional sofa.
---
---
DIY Industrial Factory Cart Table

Source: The Blissfull Bee
If you love the look of factory cart tables, but don't love the price tags that usually come attached to them, this DIY furniture tutorial shows you have to make one yourself for less than $150!
---
Industrial Factory Cart Console Table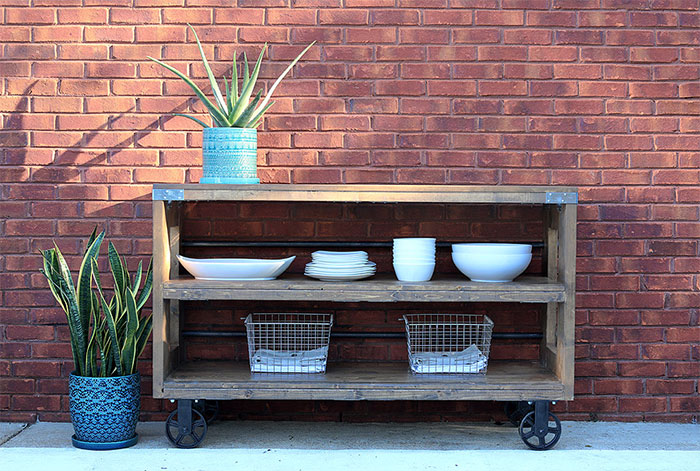 Another great factory cart-inspired DIY design, this console table is great for indoors or outdoors, and – best of all – it rolls!
---
DIY Porch Swing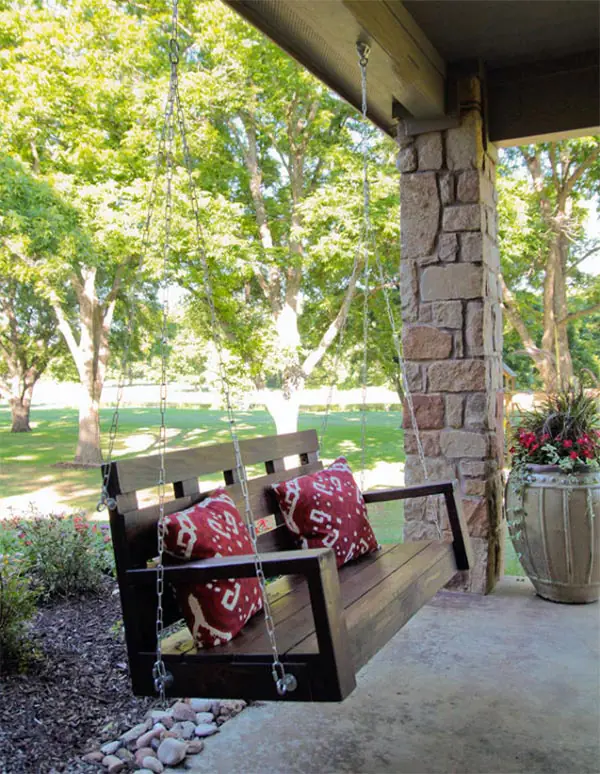 There is something so lovely and welcoming about a porch swing, especially on a warm summer night or a cool fall evening. This simple but beautiful porch swing DIY project would make an amazing addition to any front porch.
---
Outdoor Hanging DayBed Porch Swing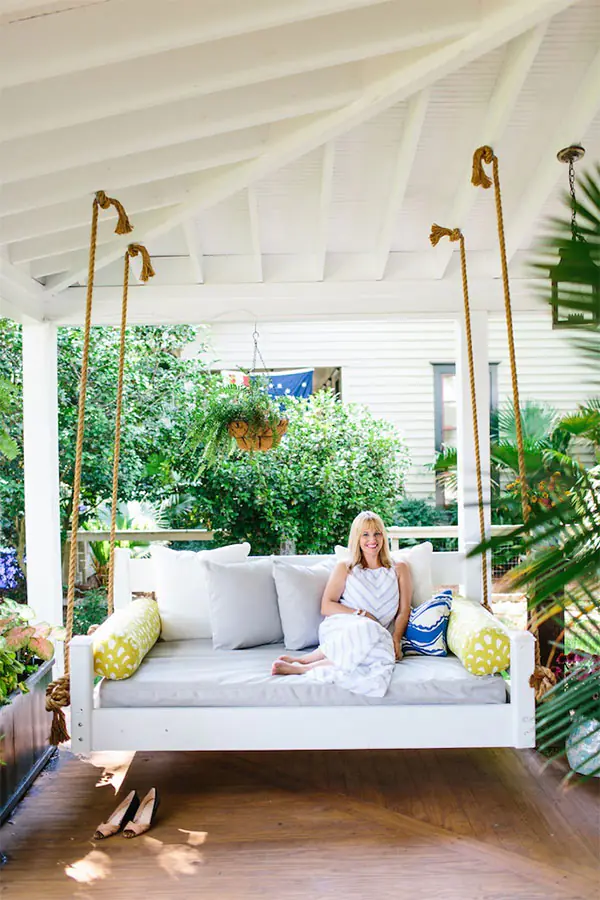 If a simple porch swing will not do, you should check out this hanging daybed, which is like a porch swing on steroids. It fits an entire twin mattress, so there's plenty of room for your to relax and enjoy a beautiful day on the deck, porch, or patio.
Rustic Barn Door Media Console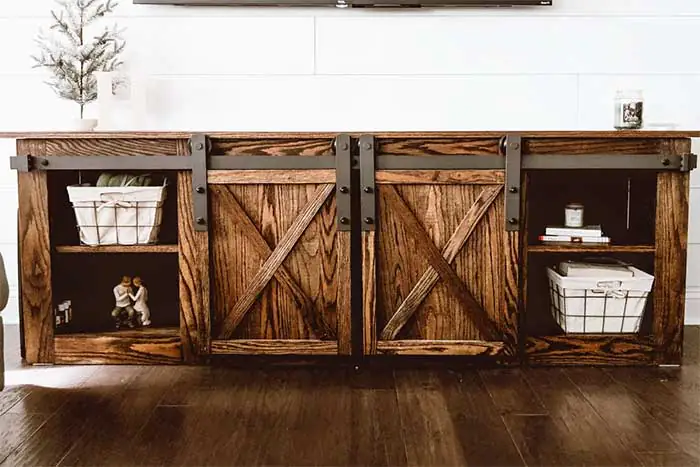 A gorgeous and heavy DIY furniture piece that is built out of solid oak to last for generations. This is that piece of furniture that your great grandkids will cherish as something Papa (or Nana) made 'back in the old days'.
---
---
DIY Farmhouse Table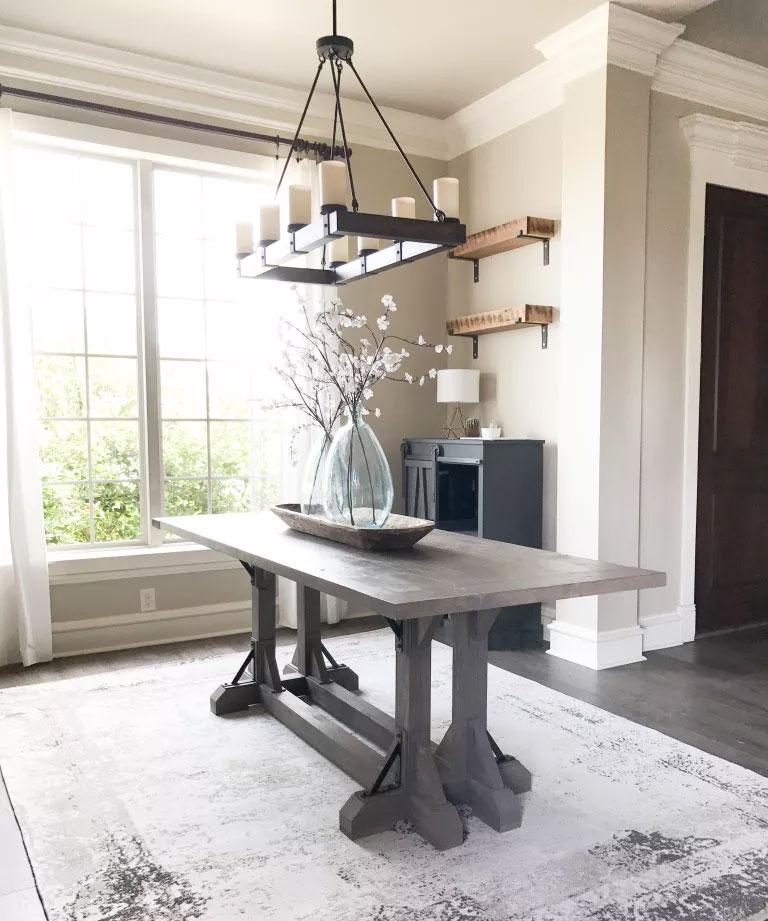 This gorgeous DIY farmhouse table is perfect for the active family. Strong, sturdy, and beautiful!
---
Vintage Tailgate Garden Benches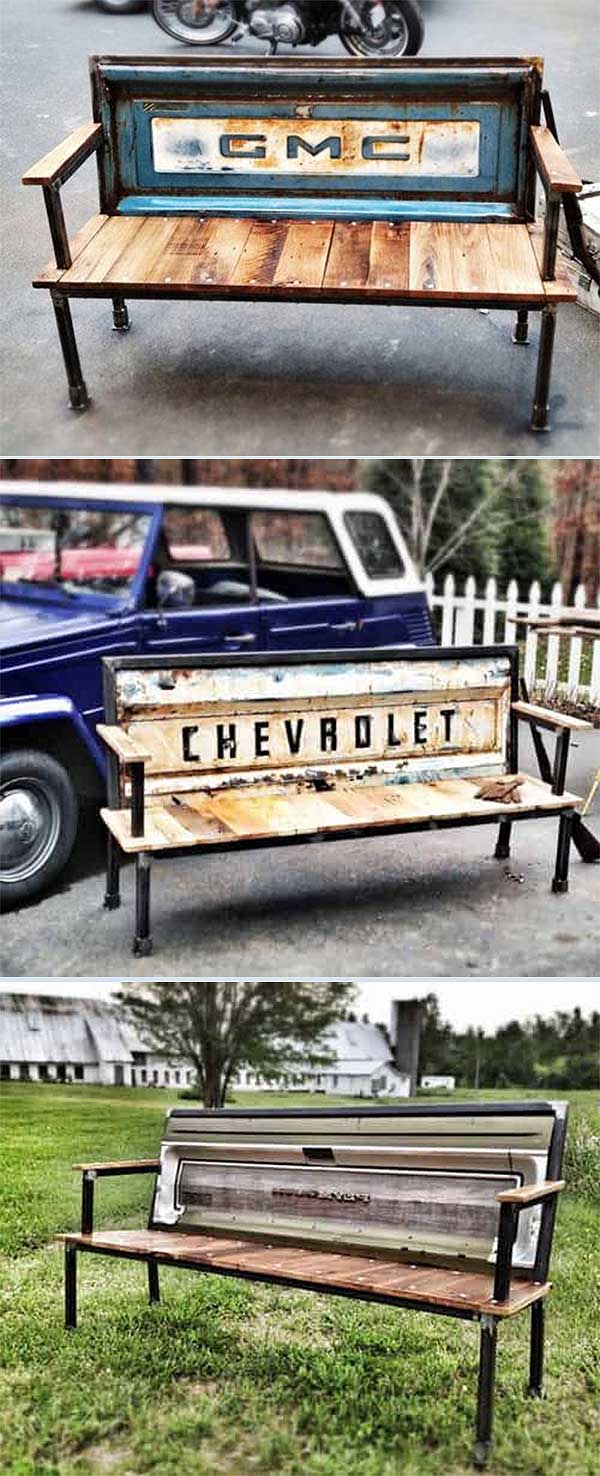 Inspiration Source: recyclart.org
---
Wood Wine Crate Coffee Table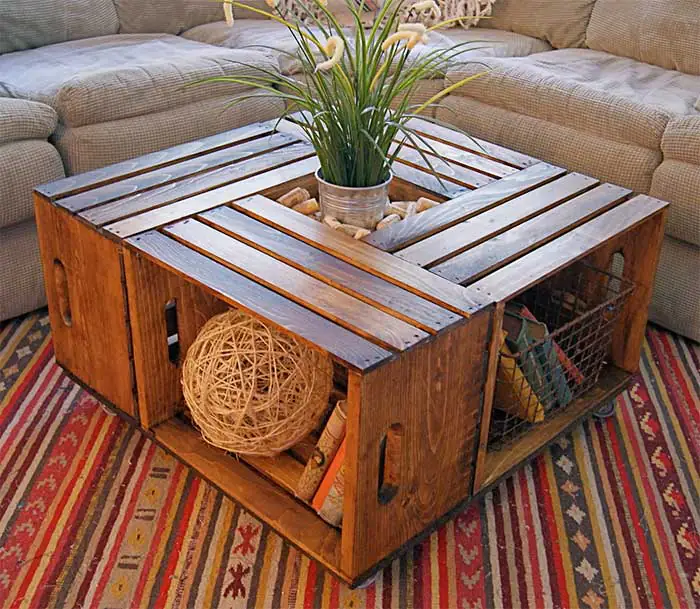 Upcycle some old wood wine crates into this eye-catching DIY coffee table that provides storage, flexibility, and design.
Plus, the base is on wheels… so it moves when and where you want it to.
---
Ombre Nightstand Makeover
A classic nightstand is given an Ombre makeover using some DIY paint and distressing techniques.
---
Red Pallet Coffee Table

Inspiration Source – Pallet List
Bright, bold, and beautiful, this red coffee table is crated out of recycled wood palettes to create a fun and functional coffee table.
---
DIY Furniture Fun!
And there you have it, our collection of 37 awesome DIY furniture projects. We hope you enjoy tackling these projects as much as we enjoyed gathering them together for you.
Granted, if you build all 37 of them… you might need a bigger house!
If you have a piece of DIY furniture that you feel belongs in this list, let us know in the comments below or contact us with additional details.
You never know, you might end up in a future Part II of this series!