If you're looking for home gym decor ideas, then it's time to get creative! A lot of people have the misconception that a home gym needs to be plain and boring – but there are so many amazing ways to decorate your workout space.
You don't need expensive equipment or an elaborate setup (although those things can help) in order to make your workout area feel like a place where you want to put in the work (out). We've compiled some tips on how you can turn any old space into a fabulous home gym with just a few simple design tricks.
The post is divided into three main sections:
Home Gym Equipment
Home Gym Wall Decor
Optional Accessories
Each section has a few subtopics that will help you come up with ideas for home gym decor. The first one is about making your workout space functional, which can be achieved by selecting the right exercise equipment to fit your needs and the space.
Then we have wall decor – this could be painting murals on the walls or hanging pictures, artwork, etc.
Finally, there are some optional accessories sug as rugs, mirrors, lighting, etc. These things aren't always necessary but they can certainly create an atmosphere of comfort and refinement in any home gym area.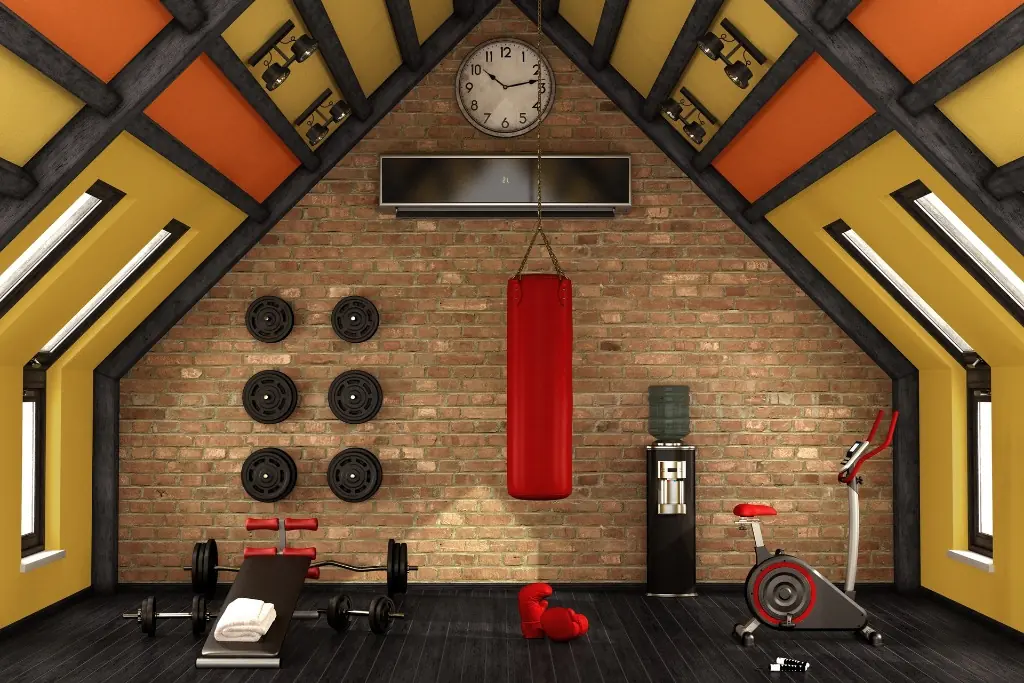 Selecting Your Home Gym Equipment
The first three things that you need to think about when getting ready to create and decorate your home gym are your goals, your budget, and the space that you have available at home.
YOUR HOME GYM GOALS
What are you trying to achieve inside your home gym? Do you want to lose weight, build muscle mass, improve tone & flexibility, or center yourself mentally and physically?
All too often, people create a "one size fits all" home gym where they pack in a variety of equipment and materials that simply take up space.
If you want to lose weight, I have found that the best exercises are those that work all of the major muscle groups and the abdominal muscles. These exercises include:
push-ups & pull-ups
squats & lunges
walking or running on a treadmill
elliptical machines or stair climbers
Low weights at high reps
You don't need a lot of bulky equipment in order to achieve this particular goal. A treadmill, some light weights, and – perhaps – an exercise mat for stretching or other light muscle work.
If you want to build muscle mass, then I would recommend that you invest in a weight lifting bench, some light weights (a few sets), and – perhaps – an exercise mat for stretching or other light muscle work.
All-in-one gyms have their advantages and disadvantages, so you should do your research before you decide if you want to go the weight-system or free-weight route.
If your goal is to improve tone & flexibility, you might need little more than a few yoga mats and some resistance bands. You might want to check out Yoga With Adrienne on YouTube because she has several amazing videos like her 30-Day 180 Challenge which can help improve flexibility big time! This same kind of setup can be used if you're looking for a quiet place for you to reflect and meditate so that you can center yourself mentally and physically. Although you might want to add some meditation cushions to the mix.
That's why it's important to understand what exercises you want – and need – to do inside your home gym before you start shopping. You want to make sure that you have the right pieces to fit the space so that it doesn't end up becoming too crowded. A crowded home gym can be overwhelming, especially to those who are just starting their fitness routine.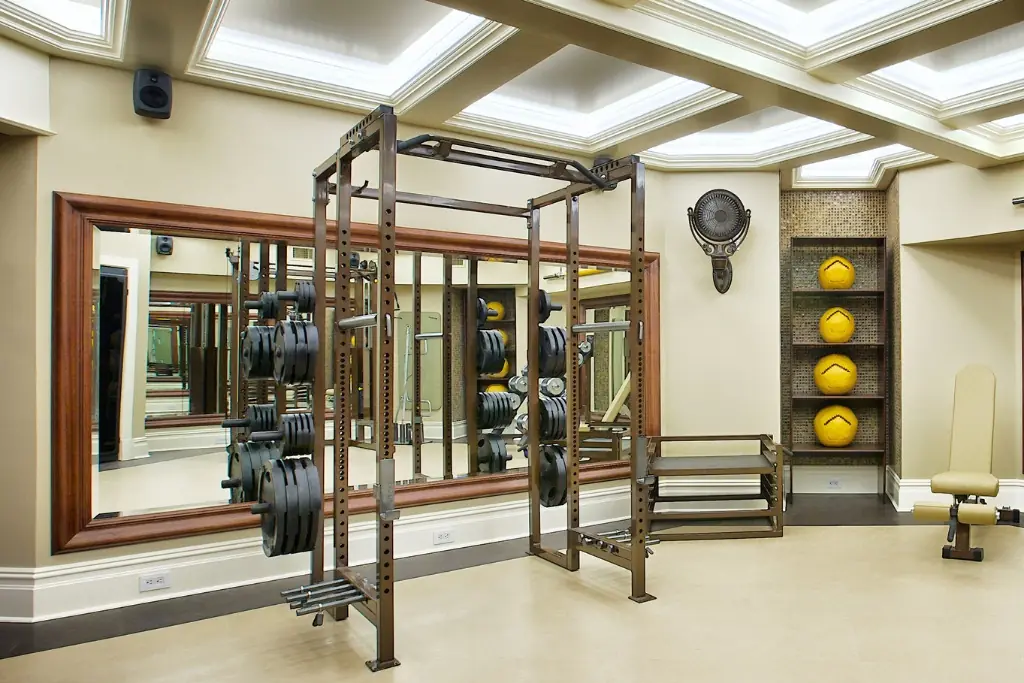 YOUR HOME GYM BUDGET
Once you know what your goals are for your home gym, it's time to think about how much money you want to spend on creating and decorating it. There is no need to break the bank in order to have a beautiful and functional workout area at home – but there are definitely some things that will cost more than others.
Some people choose to go minimalist with their home gyms and only purchase the bare essentials. This could be a treadmill, some light weights, and an exercise mat. If this is your route, you can expect to spend anywhere from $200 – $500 on your home gym equipment.
Others choose to purchase more expensive pieces of equipment and create a more elaborate workout area. For example, if you want to purchase an all-in-one weightlifting machine that could cost you anywhere from $600 – $2000. It really depends on how much money you're willing to spend and the type of equipment that you want in your home gym.
Wall decor and other accessories will usually fall into the "nice to have" category but they aren't always necessary. You can find rugs for as low as $30.00 that will add a pop of color to your space or you can choose to go with something more subtle. You might also want to consider purchasing a plant or two to help brighten up the room and promote better air quality.
But, again, these things aren't always necessary and you should only purchase them if they fit within your budget.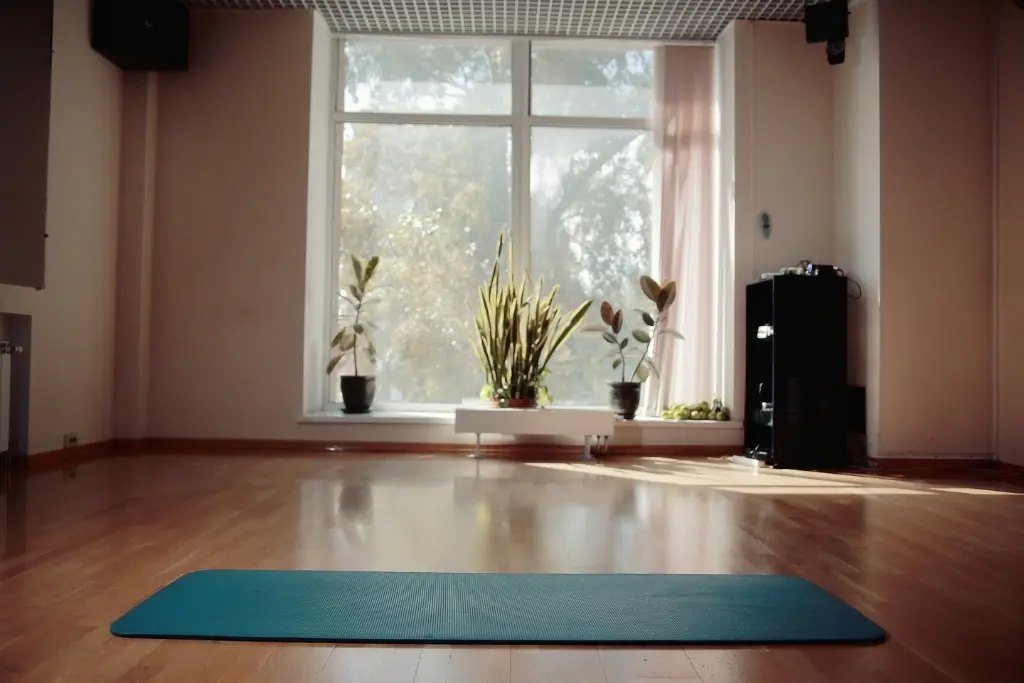 YOUR HOME GYM SPACE
The final piece of the home gym decor puzzle is understanding your space. For the most part, this post assumes that you have a dedicated room in your home that you are converting into a home gym. However, that isn't always the case as not everyone has the luxury of an unused room.
Whichever is your case, you need to scope out how much floor space and wall space that you have so that you can prioritize the equipment and decor that you need to have, versus those that you'd like to have.
That's why it's important that you measure your room and figure out how much square footage there actually is before buying anything big like weights or weightlifting equipment. It would be very frustrating if you purchased all of this stuff only to realize that they don't fit – so make sure that everything fits comfortably within the designated workout space!
One tip that I've always found helpful is to draw the room out first on some grid paper. And then cut out pieces of paper that will represent the equipment and furniture you want to add. As long as everything is to scale, you can quickly rearrange things to see what will fit comfortably.
Always make sure you leave enough room to comfortably move around the equipment, plus a space where you can do your pre-workout and post-workout stretches.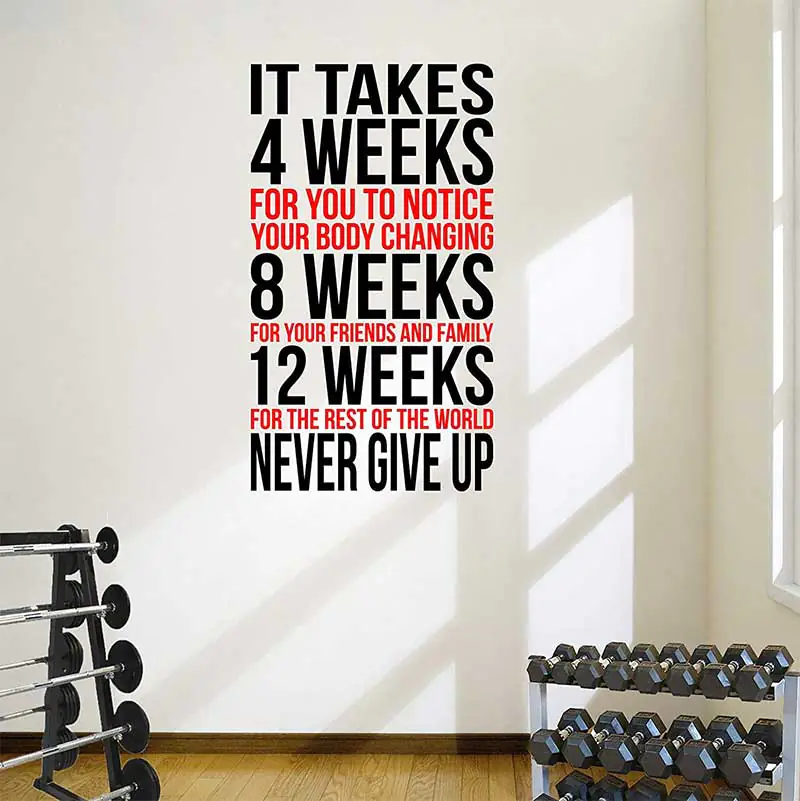 Choosing Home Gym Wall Decor
Wall art is a great way to show off your personality while also adding some function to your home gym wall.
If you don't want to paint or hang anything on the walls, consider using mirrors as an option. They can help make the space feel bigger and brighter. Plus, you can use them to monitor your progress.
You may also find – like many others – that the home gym is one of the best places to hang motivational art. Pick something that inspires you to achieve your goals. Fitness art is all too often ignored when creating a home gym, but that mental stimuli can be very helpful when you need that extra boost to get through your workout.
Although this doesn't – technically – count as wall decor, if you have the space to do so space, consider mounting a TV to keep yourself entertained while you're on the treadmill. Don't want the distraction of a TV, consider adding a speaker system to your home gym instead.
A chalkboard or whiteboard is perfect for keeping track of your workouts and goals. It also serves as a nice decorative touch. We showcased a few of these in our recent post on Home Office Decor Tips, so you can check them out in that post if you'd like.
You can also mount shelves or cabinets in order to store equipment and keep the space tidy. I've always loved the look of DIY Pipe Shelves in a home gym.
As you can see, there are a lot of different ways to decorate the walls of your home gym – it really just depends on what you're comfortable with and what will fit within your budget. As long as you have the essentials, anything else is just icing on the cake! So get creative and have fun with it!
Picking Home Gym Decor Accessories
One of the best things about having a home gym is that you can customize it however you want! If there's something specific that you're looking for, don't be afraid to get creative and make it yourself. Just be sure that it is safe and functional.
One of the handiest accessories is a Weight Stand for those free weights. They are a quick and easy addition to any home gym and help stop that haphazard look of having free weights scattered around the gym.
Rugs or mats are other optional accessories that can add comfort to your home gym. Make sure to pick a rug that is durable and easy to clean.
If you want a place to cool down after your workout, consider including a few oversized meditation pillows in the space.
Don't forget about lighting! A good lamp can help create an inviting atmosphere in your home gym. Plus, it will come in handy when you're working out late at night.
Adding some plants or flowers can brighten up any home gym area and add a touch of nature. Plus, there's the added benefit of a plant's air-purifying qualities, which can come in very handy inside a home gym.
Finally, don't be afraid to get creative with your decorating ideas. As long as it's safe and functional, anything goes! So have fun and experiment until you find the perfect setup for you.
That's all for now – we hope this post has given you some good home gym decor ideas on how to decorate your home gym! Be sure to come back soon for more posts on home decor and lifestyle topics. Happy decorating and may you exceed all of your fitness goals in the coming year!