Colorful Interior Design can be a delight to the senses, especially for the more creative homeowner. But there are some downsides to being colorful, especially when it comes to selling your home or having to update your decor more often.
Ask any realtor, and they will probably tell you to keep your interior design neutral. After all, it's easier to sell a typical beige home than it is one that features unique, bright, bold, and colorful interior design.
Personally, color never mattered to me when I was shopping for a home, but I was always the kind of person who could see past what was on the surface to the bones and the potential of the house.
But I ran into that exact problem when taking my mother house-hunting. Approaching 80, she was looking to downsize to a smaller bungalow and move closer to her children so that we could visit more often.
I – as the one in the family with the best sense of style (yup, I went there) – was in charge of pre-inspections, so that I could narrow down the list of homes to a manageable handful every time she travelled the distance required (about an hour's drive) to see the homes herself.
On more than one occasion, what I thought was the perfect home was declined because she didn't like the color of a particular wall. And no matter how much I tried to convince her that was easily handled with a can of paint and a few hours of my time, there was no convincing her that the poorly painted wall was not a fatal flaw with the home.
And so, I moved on to the next house until she found one that was built – and painted – to her liking. (Yes, she eventually did).
That being said, unless you are planning on putting your house on the market in the VERY near future, there is no reason to live in a resale-ready home for the next 5-10 years.
Colorful interior design can be fun, whimsical, and entirely charming – when done right.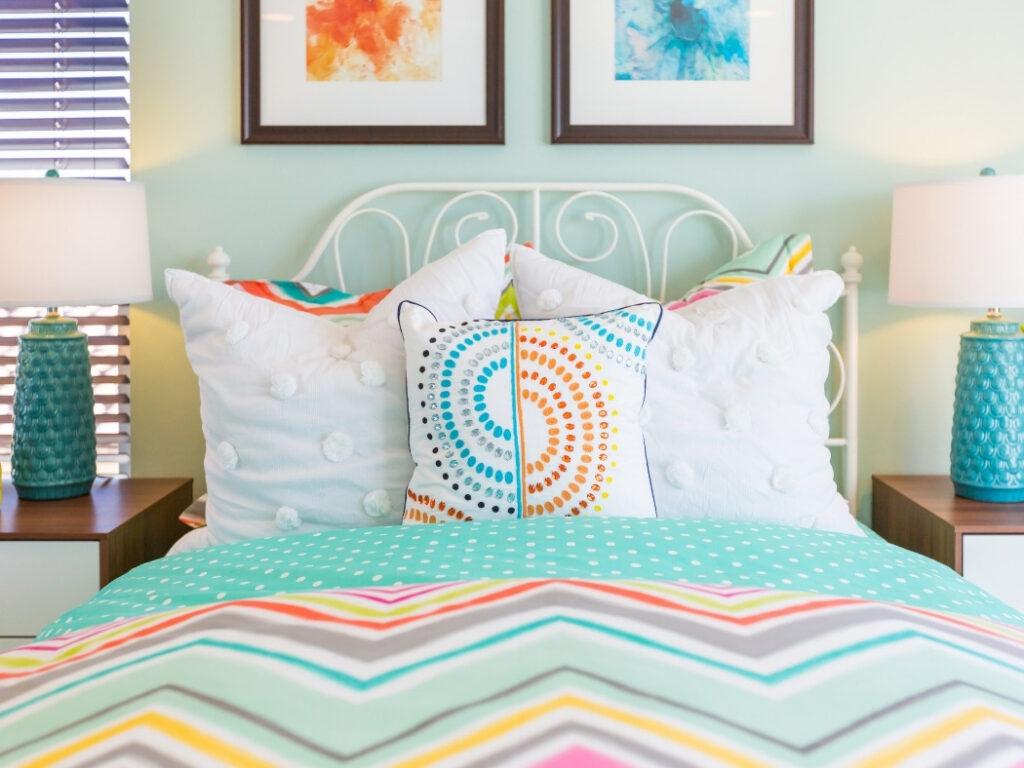 When I'm talking about colorful home decor, I'm not referring to a lovely shade of muted yellow or a hint of pink. I'm talking about those bright, bold, beautiful multi-color homes that give off a sense of whimsy or boho chic.
So, if you want to live in a colorful world for a few years, give yourself permission to do so!
After all, you want your home to a place of joy. A place that reflects you as a person. A place that makes you feel amazing when you walk through the front doors.
As we have all been spending more and more time at home these days, making sure that your home is a refuge from the craziness of the outside world becomes even more important.
The Pros of Colorful Interior Design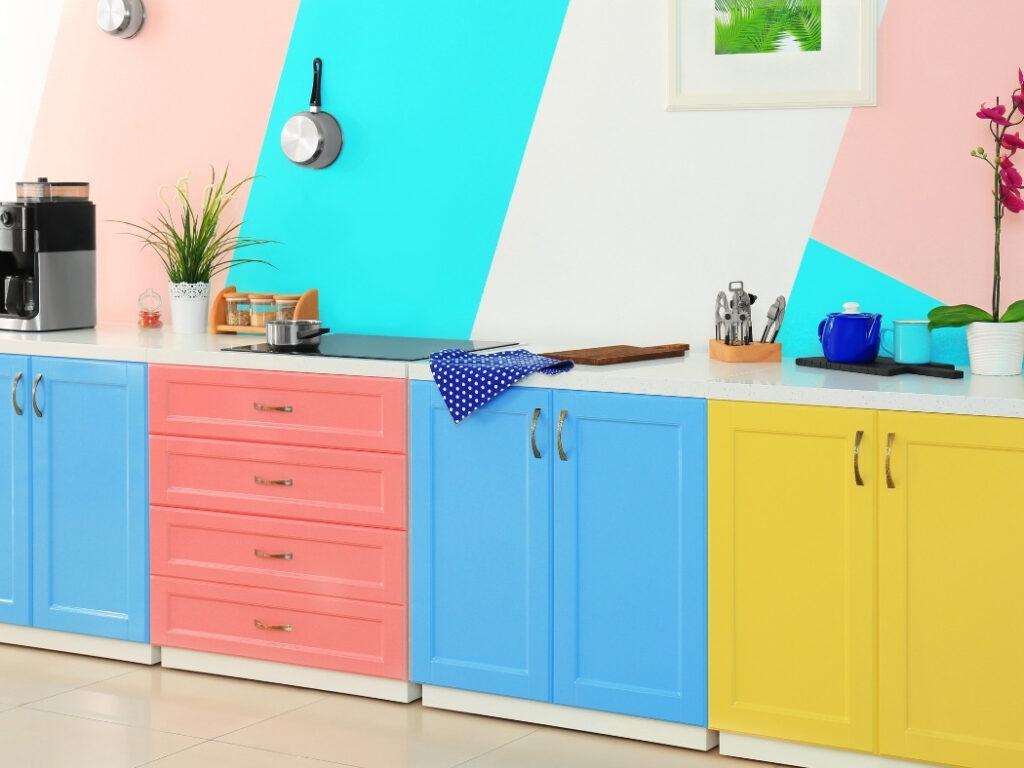 One of the biggest plusses of a colorful home is that it can truly express your personal style. The sky is the limit on creativity, whether you want to add some interesting splashes of color throughout your living room or you want to go bright, bold, and beautiful with a unique kitchen.
The other benefit is that going colorful can help hide other flaws in the decor. For example, if you're stuck with an outdated kitchen and you don't have the $25,000+ required for a complete kitchen makeover just handing around, burning a hole in your bank account, you can upgrade the look of old kitchen cabinets with some interesting colors.
That way, people are too busy looking at the color palette in your kitchen to notice the fact that the cabinet doors are probably about 20 years older than they should be.
How you achieve this is one of the joys of interior design. You can use paints, fabrics, furniture to change any space from drab to delightful.
The Cons of Colorful Interior Design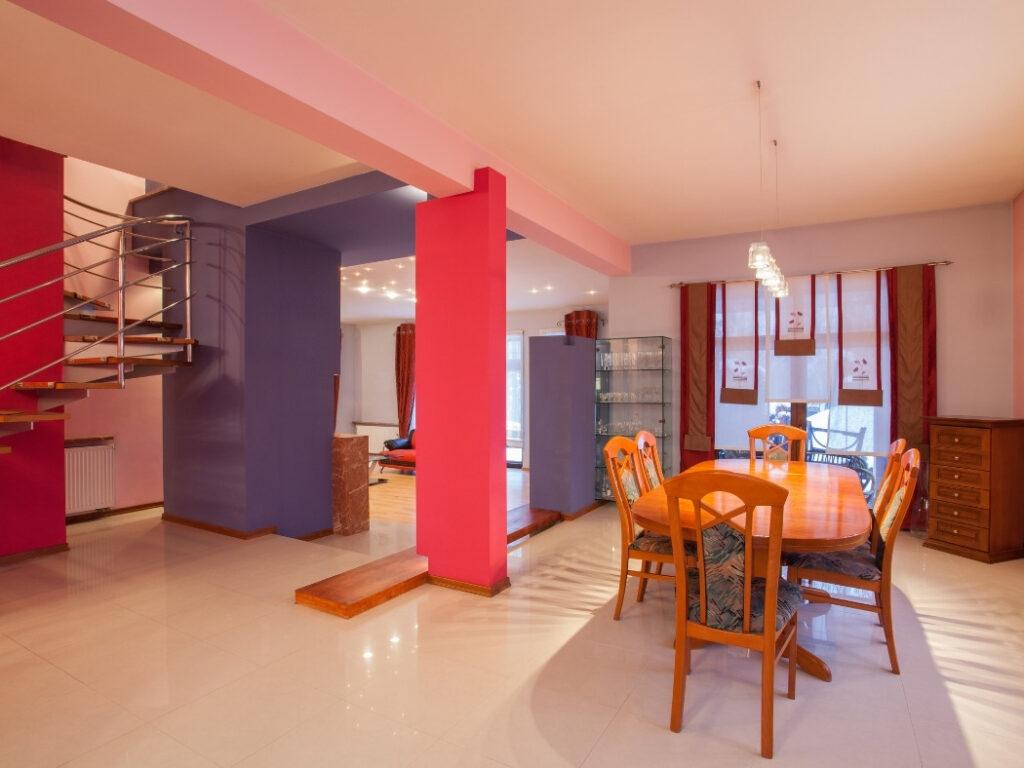 Although expressing your personal style is one of the biggest pros, it can also translate to a con. That's mainly because your personal style might not resonate with guests, family, or friends.
If you are decorating your home to be a showplace, or if you are planning to entertain business associates on a regular basis, it can be safer to stick with a more traditional color palette. Of course, that depends on your business!
If you want to take this approach and go bright, bold, and colorful, you have to accept the fact that not everyone in your life with agree with your particular design aesthetic.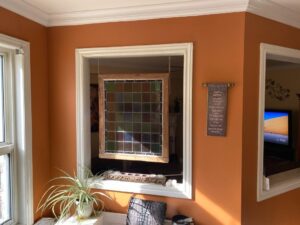 For example, I painted my kitchen this beautiful version of a dark, nutmeg orange. Not quite a burnt orange, but warm and lovely and wonderful. 
It took me a really long time to pick just the right color that would blend into my decor but provide something just a little bit different for the heart of the home. If I had to guess, I probably went through about a dozen sample cans of paint before finally picking this one to spread around the entire room.
I was worried at first, but by the time I was done, I LOVED it. I still do, and I find it to be a truly wonderful upgrade from the boring beige that the kitchen was before. However, I know others who have questioned my color choice.

But as the saying goes (or perhaps sayings)… you can't please everyone all the time, but those who mind don't matter and those who matter don't mind.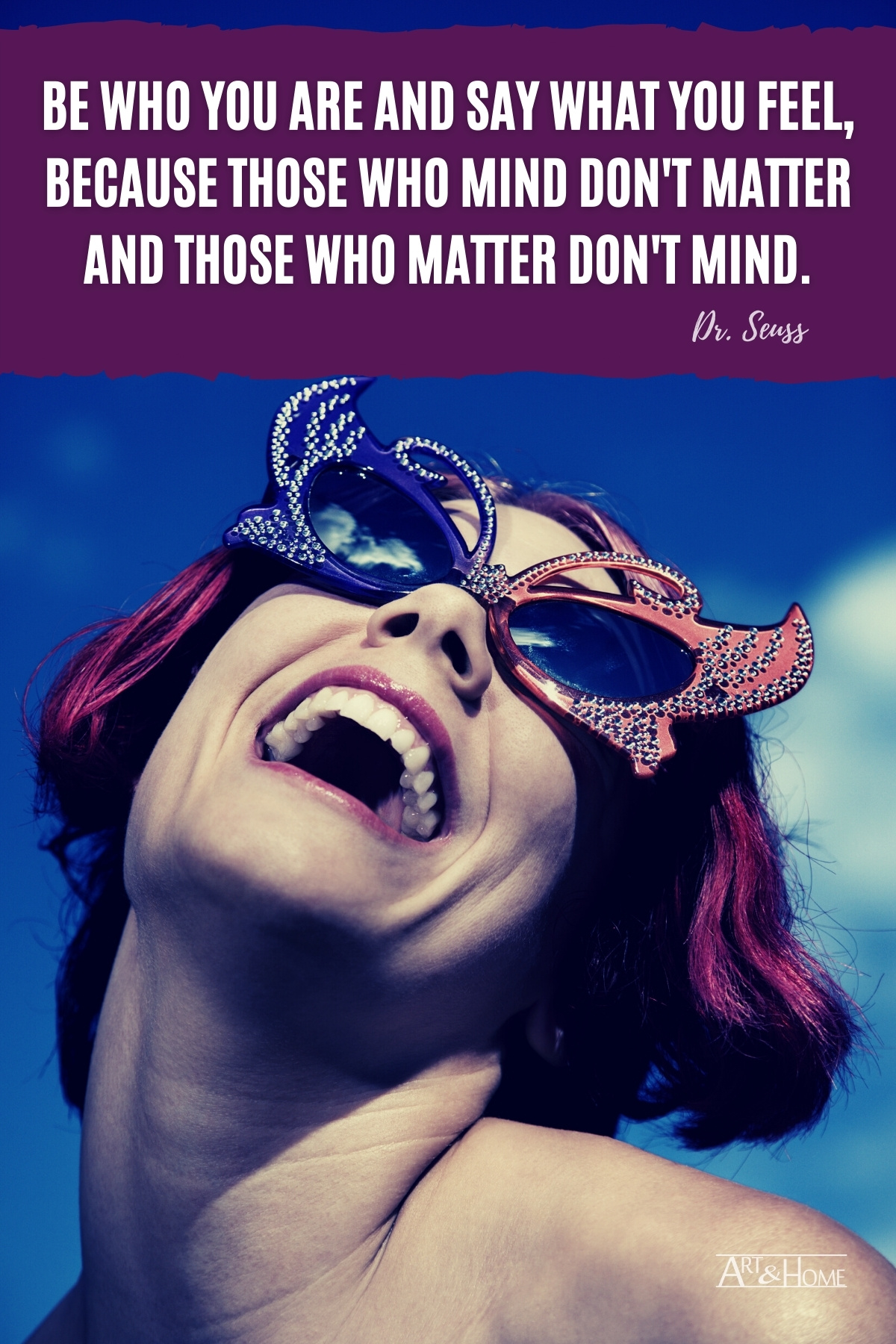 "Be who you are and say what you feel, because those who mind don't matter and those who matter don't mind." – Dr. Seuss
If you're one of those people who design their home for others, a really colorful interior design might not be the right choice. But if you are creating a space for you and you alone, then if the color calls to you, so be it.

One of the other cons with colorful interior design is that it can grow tiresome more quickly. Really leaning into bright bold colors can be amazing for a while, but you might find yourself growing tired of that lime green wall faster than you might a nice, subtle coffee-colored wall. (I do love coffee, in case you haven't figured that out reading some of my other posts, so I am a fan of coffee colors and coffee decor).
Or, perhaps, 2 years down the road you will want to redo everything anyway.
I do think that's one of the reasons I tend to see smaller spaces being decorated with bright, bold colors more often than a family-sized home. Maybe that's because it's much easier to make over a smaller apartment or house every couple of years than a 4-bedroom house overrun with children.

Just maybe.

However, as noted earlier, you do need to be prepared to redo your interior decor if and when the time comes to sell your home anyway, so – hopefully – you won't tire of it before that time comes.
Although I have seen some beautifully designed and very colorful homes sell without an issue, it is a bit more of a challenge to marketing an eccentric home than it is one that fits the masses. Depending on how extreme you go, you may have to be prepared to – maybe – tone down the colors when the time comes to sell your home.
This is probably the biggest con, and one of the things that holds a lot of people back from going colorful with their permanent decor choices. Instead, as an easier approach, they often (and you can as well) opt for colorful area rugs, wall hangings, throw pillows, throw blankets, and other colorful decor accents that can easily be packed away and replaced with something more suitable if or when needed.
Living In a Colorful Home
One of the joys of colorful interior design is you get to be continually surprised by your own color choices.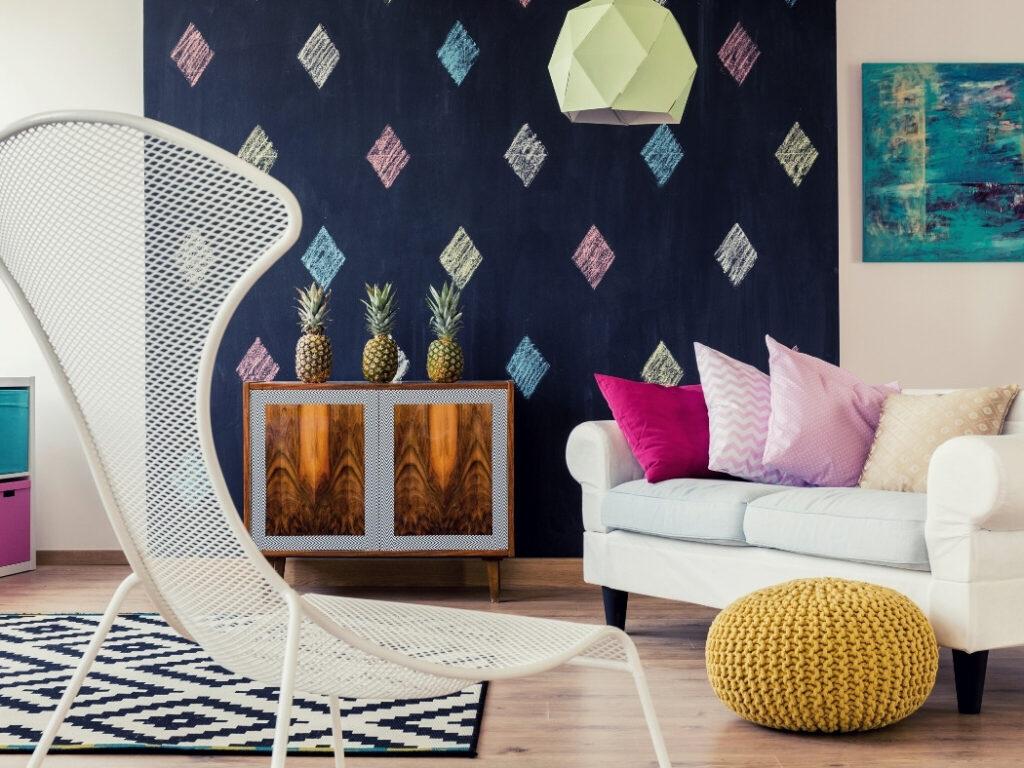 It's a level of self-expression that you can enjoy every morning when you wake up, every night before you go to bed, and all the times in between when you are at home, relaxing and enjoying your surroundings.
Sure, colorful decor may not be for everyone. But your home isn't for everyone, your home is for you.
So, unless you are planning on selling your home in the next two or three years, why live in a blander space than you would enjoy!