If you're looking for Gray Bedroom Design ideas, we've got you covered. On today's We Love Wednesday, we focus on stylish and beautiful gray bedrooms. From modern designs to traditional to glam, you're sure to find some bedroom decor inspiration featuring the color gray inside this unique collection.
If you're looking to create a serene look for your bedroom, the color gray in your bedroom furniture & decor is a great place to start. According to HGTV, Gray has an inherent calmness and sophistication. You can choose a solid gray that symbolizes strength or go for a softer gray that offers a more delicate feeling to the room.
For more details on these stunning bedrooms, check out the Shop the Look links (where available) to view more information and find similar products at our affiliated retailer websites.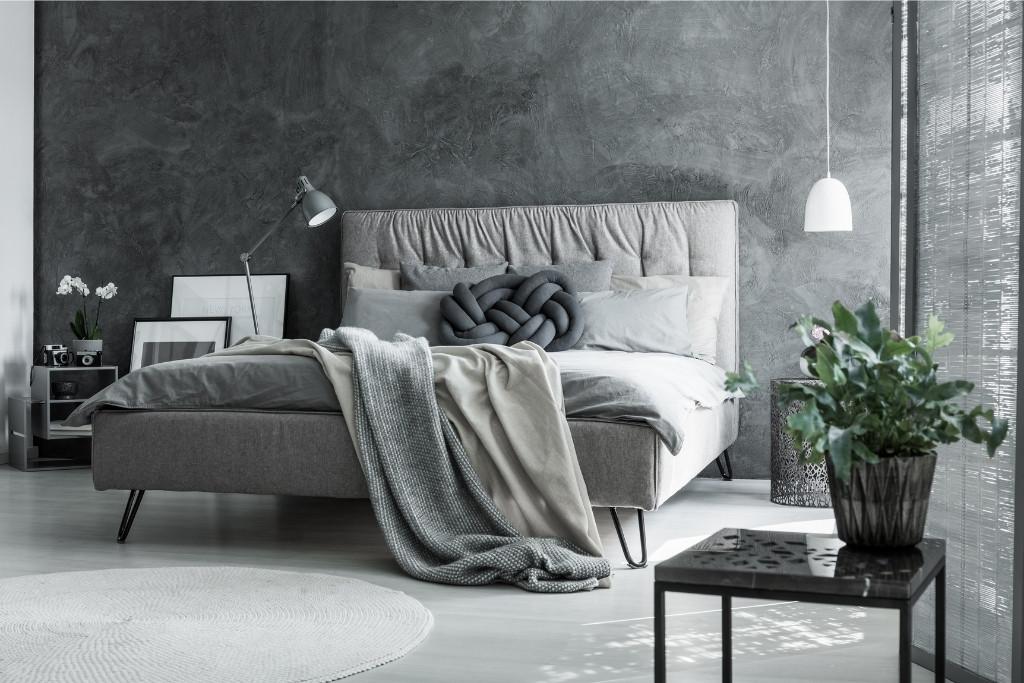 Different Shades of Gray to Consider for Your Bedroom
The color gray is a very versatile shade that can offer many different looks depending on the tone. If you're not exactly sure which one would look best in your bedroom, consider these tips when choosing what type of gray to use for your room:
Light grays are softer and have less contrast than darker shades, making them ideal if you want something soothing or relaxing. If you like bright colors but need some softness in your decor, then light grays may be perfect for this area. These lighter tones also reflect natural light well so they don't make spaces feel dark even with little sunlight entering through windows (or coverings). This makes rooms brighter without having too much artificial light.
Medium grays have a nice balance of light and dark tones so they aren't too stark or harsh, but also carry good contrast for visual interest. These gray bedroom decor ideas are ideal if you want something with some depth in your space without being overly bright or bold.
Darker shades give off more dramatic vibes while creating plenty of moody drama inside spaces that need a chic touch to pull together the overall look better. If you like darker colors or monochromatic color schemes then dark grays may be the best choice for this room area, especially when used as accent colors against lighter colored walls (such as white). This can create dimension and texture within an all-neutral scheme which is always appealing to the eyes.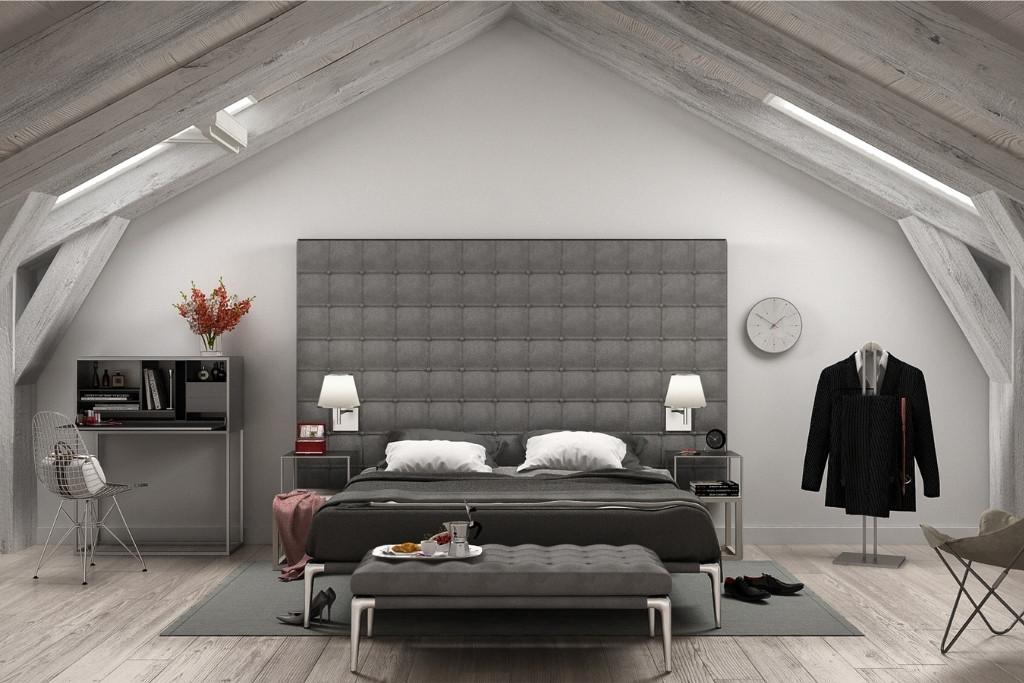 Best Color Combinations With Gray in a Bedroom
Gray goes well with almost any other color. However, if you're looking for some particular styles we recommend the following:
Gray and White
This is a fresh combination that looks clean and modern in bedrooms of all kinds (modern, traditional, etc.) but creates a very sleek look in spaces. If you like to decorate your bedroom with lots of crisp neutrals then light grays work great when paired against lighter shades such as white or cream colors. These two tones complement each other very nicely so they can create an easy yet chic design scheme within any type of room area.
Gray and Yellow
If you like to decorate with more bright colors then consider pairing gray bedroom ideas with yellows as this is a great way to incorporate some brightness into the overall design without making things feel too cheery (which isn't ideal for bedrooms). Yellow works well because it adds warmth which creates balance within such cool-toned spaces, so these two color schemes go hand in hand. You can even use deep grays paired against bolder shades of yellow such as daffodil or saffron hues for an extra pop of interest inside your unique space.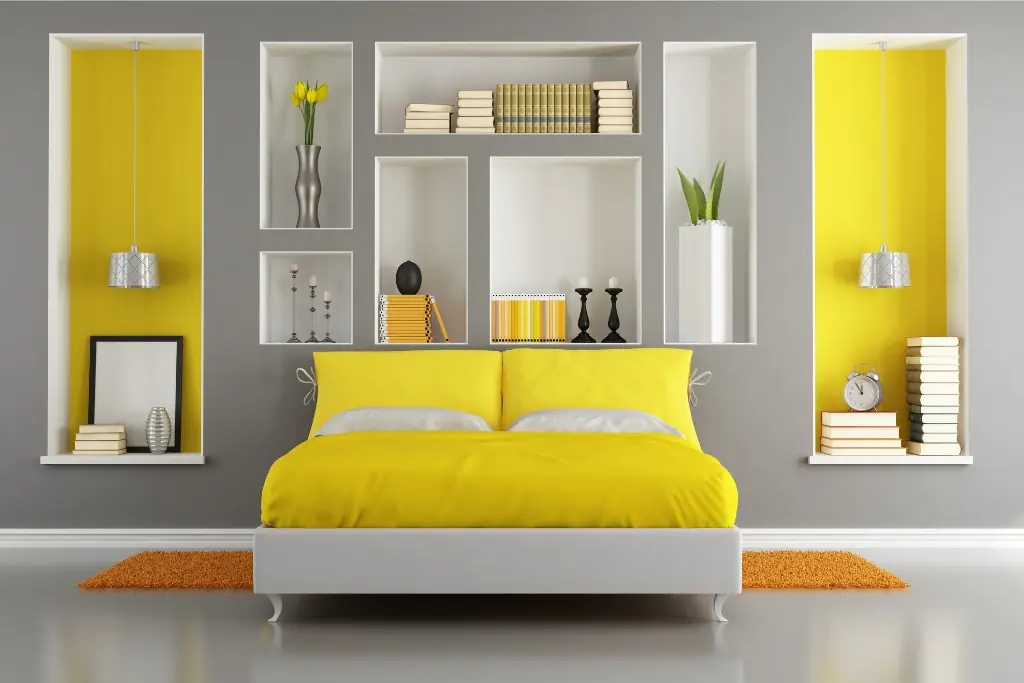 Grey and Purple
Since these two colors fall on opposite ends of the spectrum they work very nicely together when used correctly. If you're looking for something more unique then consider pairing gray bedroom ideas with purples as this is a bold combination that brings together contrasting hues in an eye-catching way. These two colors are very festive and can really create some visual interest inside smaller bedrooms, especially if they have lots of natural light so the purple doesn't appear too dark or drab.
Gray and Black
If you want something with more drama then black is another great option as long as it isn't paired against lighter shades such as white, cream, etc.. This creates an edgy look that's bold but still balances well within spaces because gray tones bring down starker hues without making them appear too harsh (which would be overwhelming).
Gray and Red
If you like using bolder hues then consider red as this is another great option to pair with gray bedroom decor ideas. Like purples, grays work well against deeper shades of red (burgundy) because they even out the overall tone without making them appear too dark or drab. These two colors are both very energetic and lively so they create a dynamic look that adds dimension inside smaller spaces.
Gray & Pastel
A fresh combination that looks clean and modern in bedrooms of all kinds (modern, traditional, etc.) but a very sleek look in spaces. You can even add pops of bright pastel hues into these toned-down rooms to give them more dimension without making things feel too busy or overwhelming.
Gray & Blue
If you like to stick with more pastel hues then consider pairing gray bedroom decor ideas against pale blues such as powder blue, baby blue, etc. This creates a cool and calming design scheme while still being interesting enough to add depth inside your rooms without making them feel too white or beige in color tone.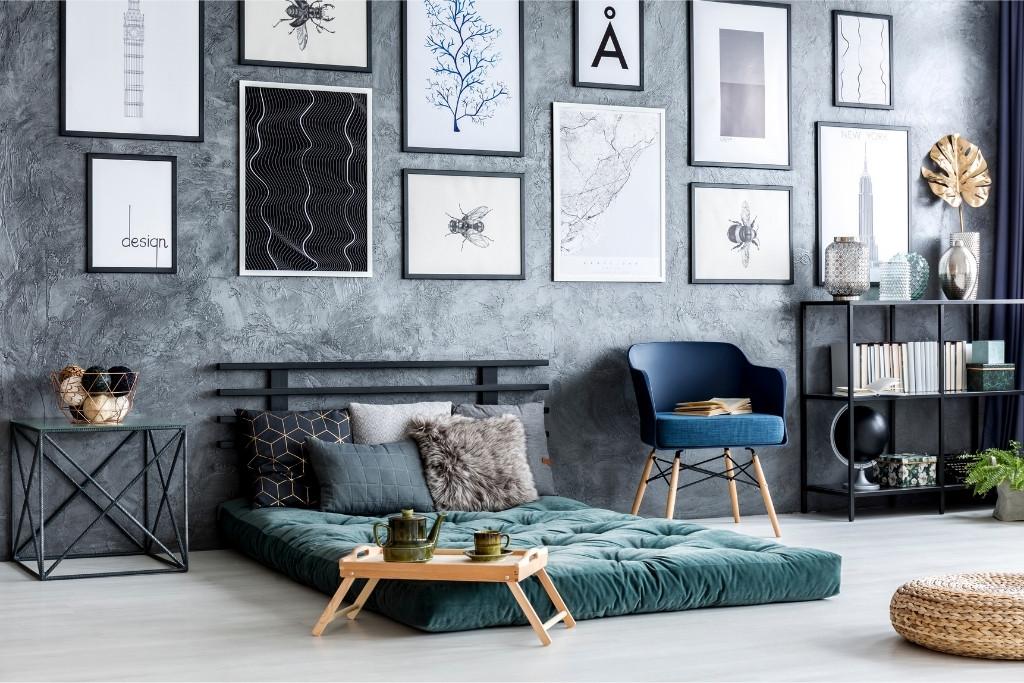 Gray & Green
This is another great option if you like using more pastel hues and want to add some depth into your rooms without making things too overwhelming or dark. Green goes very well with gray because they both create a fresh look that feels light and rejuvenating (which isn't often the case when pairing colors). These two tones complement each other nicely so they can be used inside any type of room area for an easy yet sophisticated design style.
Gray & Brown
While it's not the most typical combination these two colors can look very nice together if done correctly. Consider using gray bedroom ideas paired with browns for a cozy but stylish interior space that has lots of texture from both tones working well together on their own (but also complimenting each other). These are some great combinations that work beautifully when used properly so keep this list in mind whenever you're looking to bring some unique chicness into your bedroom design.
Gray & Cream
If you like to decorate your bedroom with lots of crisp neutrals then light grays work great when paired against lighter shades such as white or cream colors. These two tones complement each other very nicely so they can create an easy yet chic design scheme within any type of room area.
We recommend using grays in all types of bedrooms as this is a versatile color scheme that works well with any type of decor. Gray bedroom ideas will always be popular because they can easily fit into modern, traditional, vintage, and country styles to name a few design concepts.
Luxurious Gray & Black Bedroom Design
The upholstered sleigh bed is wonderfully opulent and works perfectly with the gray, distressed "cement" effect back wall. Now, that's what I call Modern Luxury.
Gray Paneled Bedroom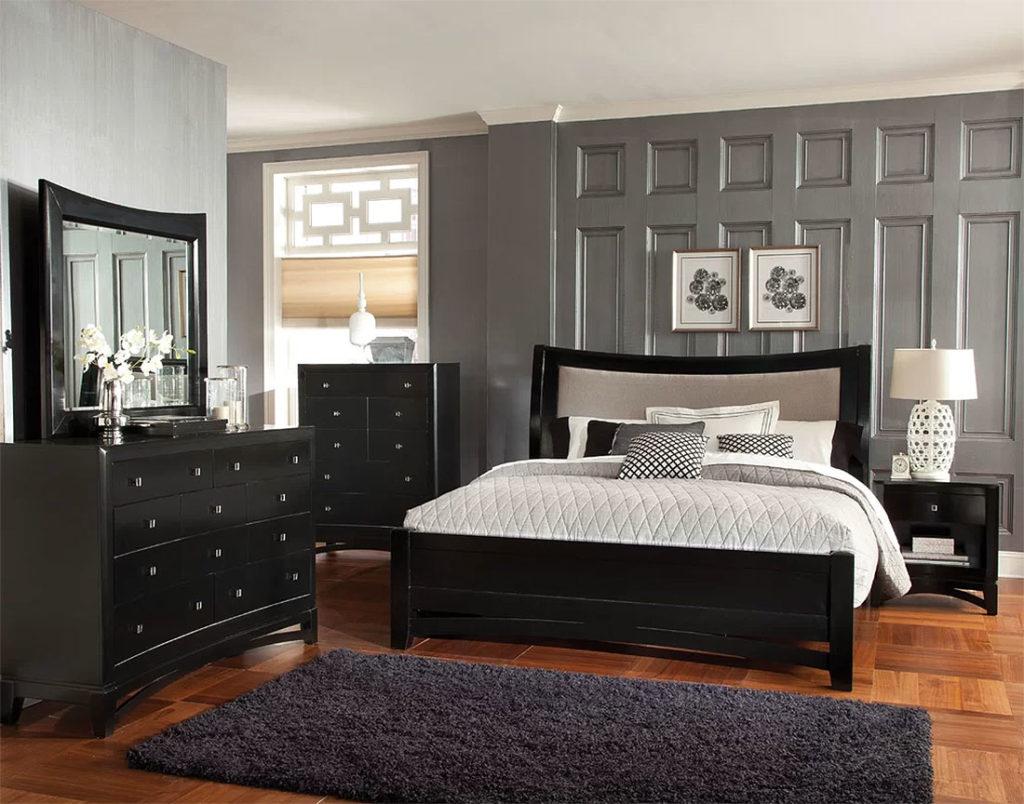 The architectural framework behind the bed creates a gray focal wall that is beautifully offset by the black furniture and the dark gray rug. Lighter gray bedding softens the room beautifully.
Gray Scandinavian Style Bedroom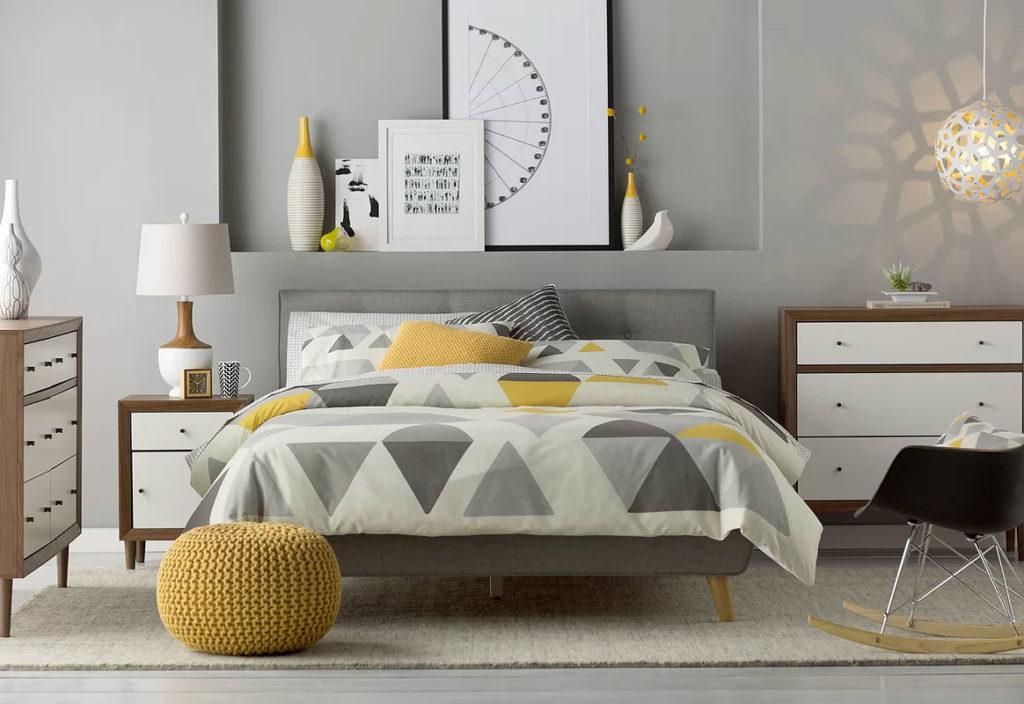 Delightful elements of Scandinavian design infuse this gray Mid-Century modern bedroom, which includes pops of yellow for contrast and interest.
Gray Industrial Teen Bedroom with Exposed Brick Walls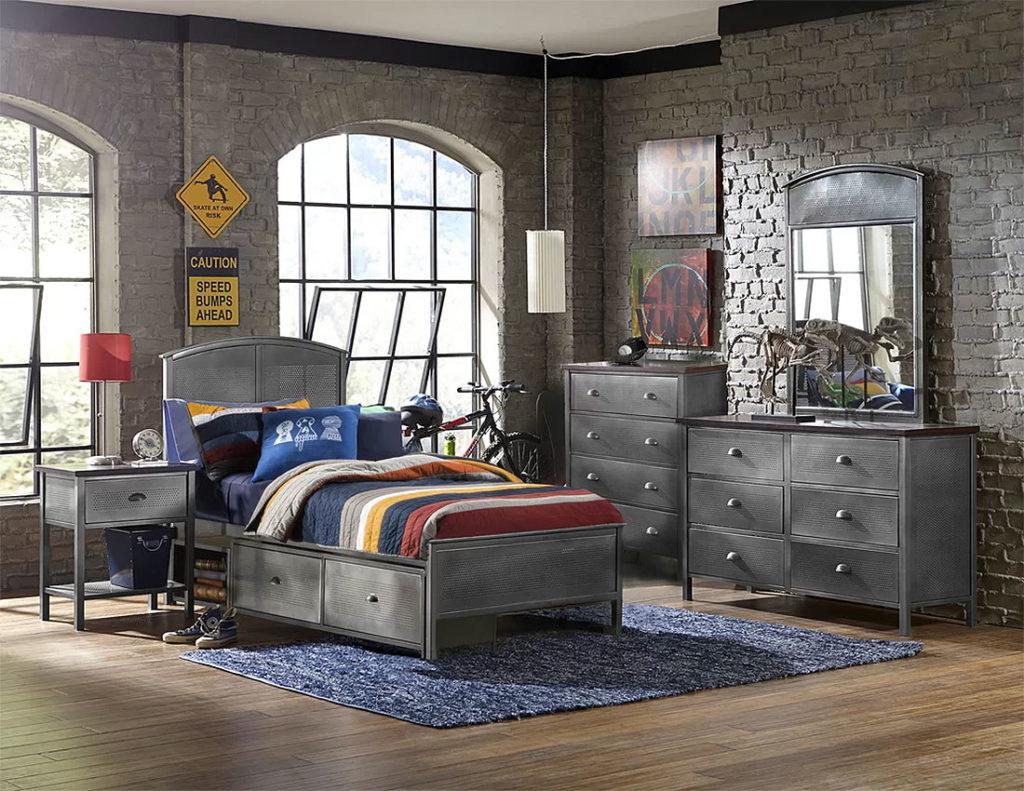 A fantastic industrial-style teen bedroom, the combination of the exposed brick walls and the gray furniture allows the pops of red, blue, and yellow to really stand out.
Glam Gray & Antique White Bedroom Design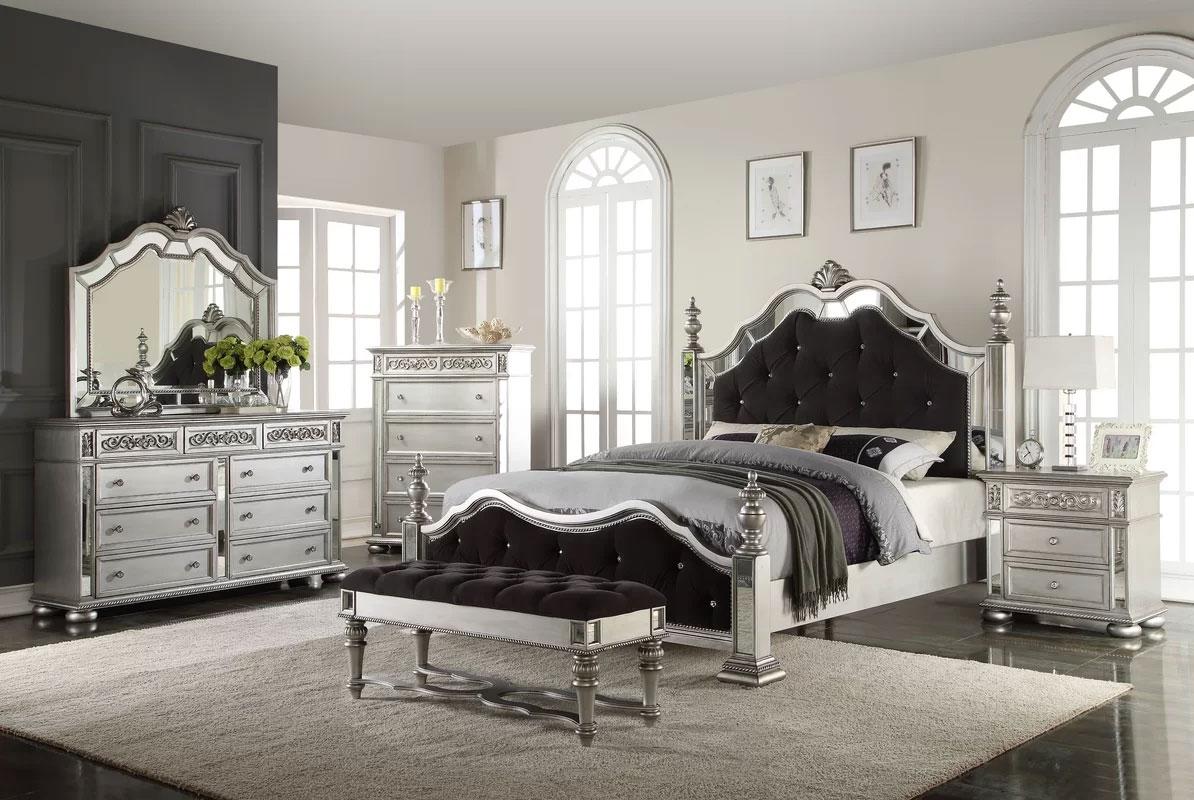 Majestic and elegant, the Wightman Upholstered Bed is the focal point in this luxurious gray & antique white bedroom. The entire design defines grace and traditional comfort. Supremely ornate and highly stylized, this bedroom is sure to be the focal point of your home, in luminous antique white, black, gray, and silver.
Modern Gray Glam Bedroom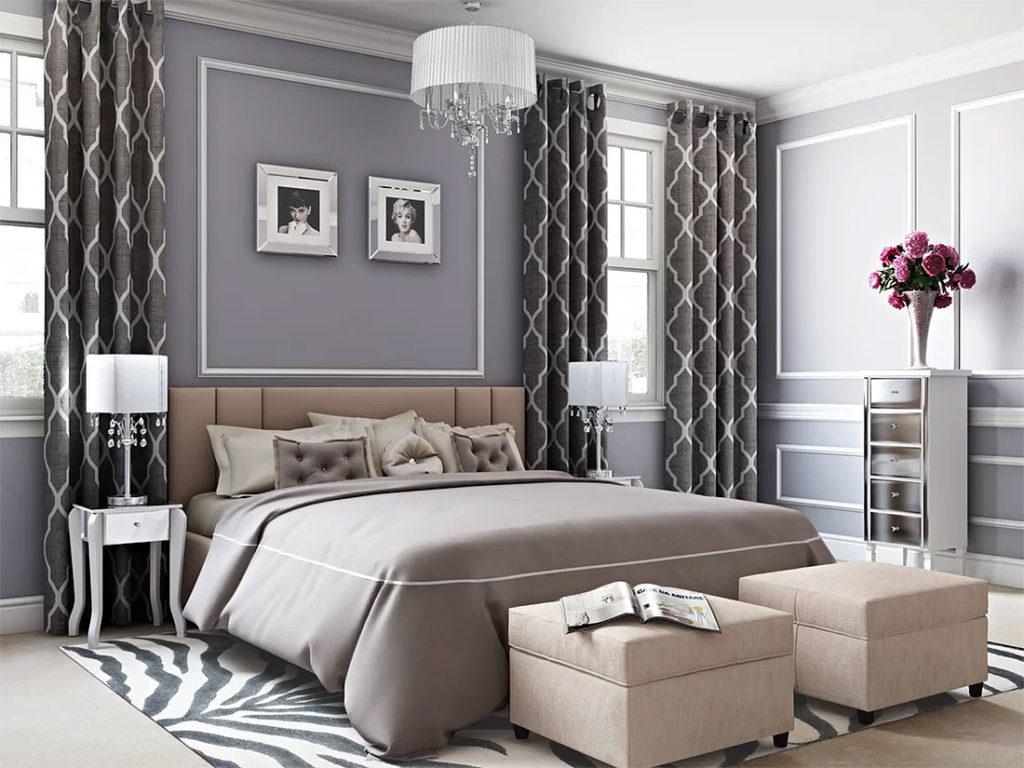 A sleek and sophisticated bedroom design with a touch of Hollywood Glam. The gray & white walls are perfectly accented by darker gray curtains and taupe bedding accents.
White & Gray Modern Bedroom Design
A well-executed use of space with a gray half wall and columns are used to create an extra layer of space in this sleek modern bedroom design.
Modern Glam Gray Bedroom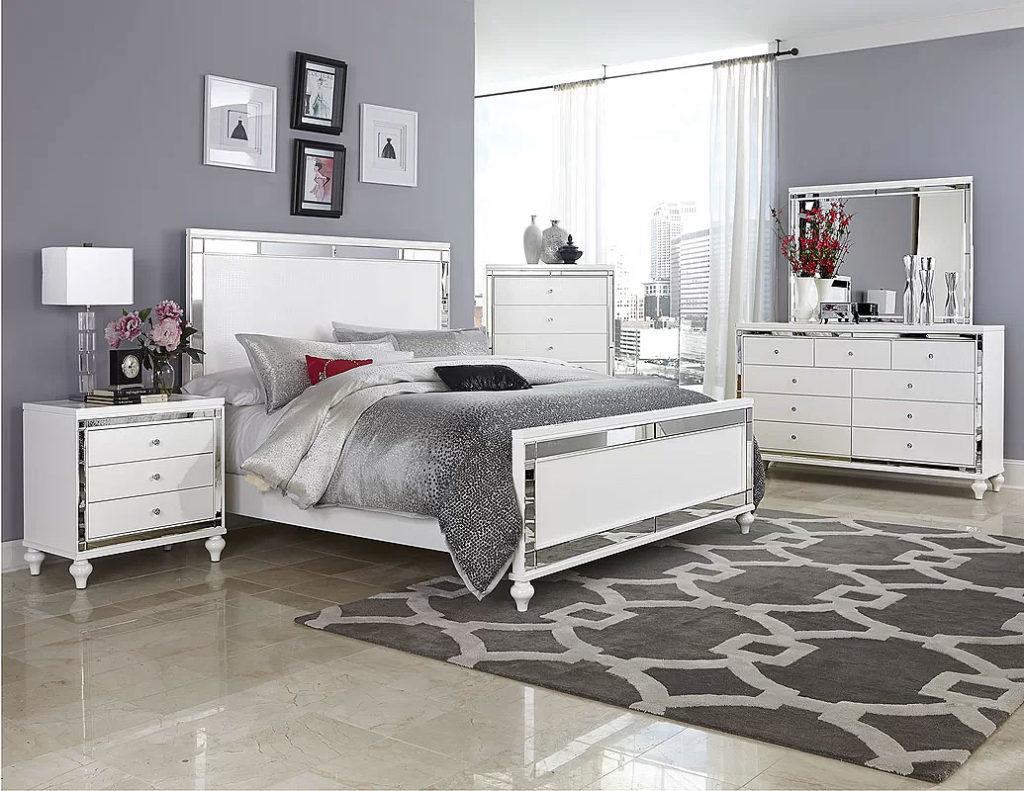 I love the Rivage Dresser, with its mirrored edges, and how it balances against the crisp and cool gray walls. The end result of this room is an inviting yet sophisticated flair.
Dark & Light Gray Bedroom Design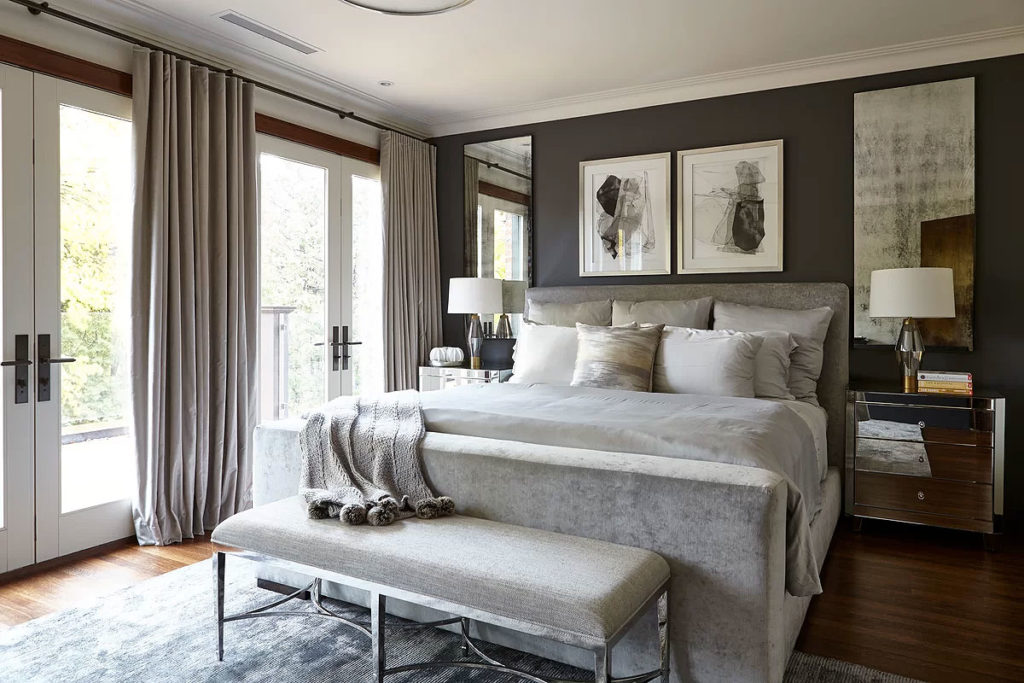 A dark-gray feature wall frames off the light gray bed beautifully. The wall art, lamps, and mirrored end tables help complete the overall look.
French Country Glam Bedroom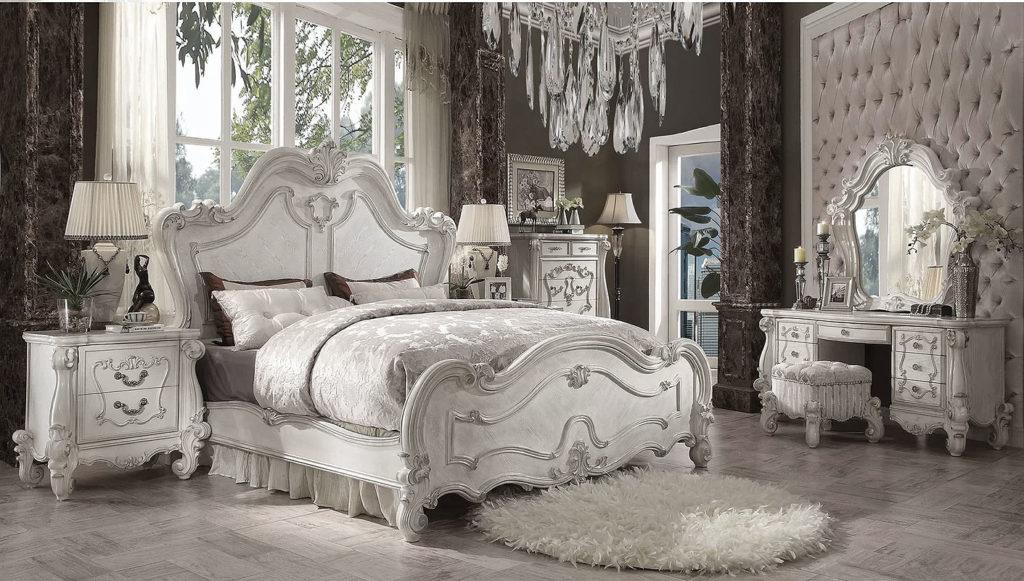 Cool, glamorous, with a touch of French Country flair. This opulent bedroom is sure to impress.
Sophisticated Gray & Cream Bedroom Design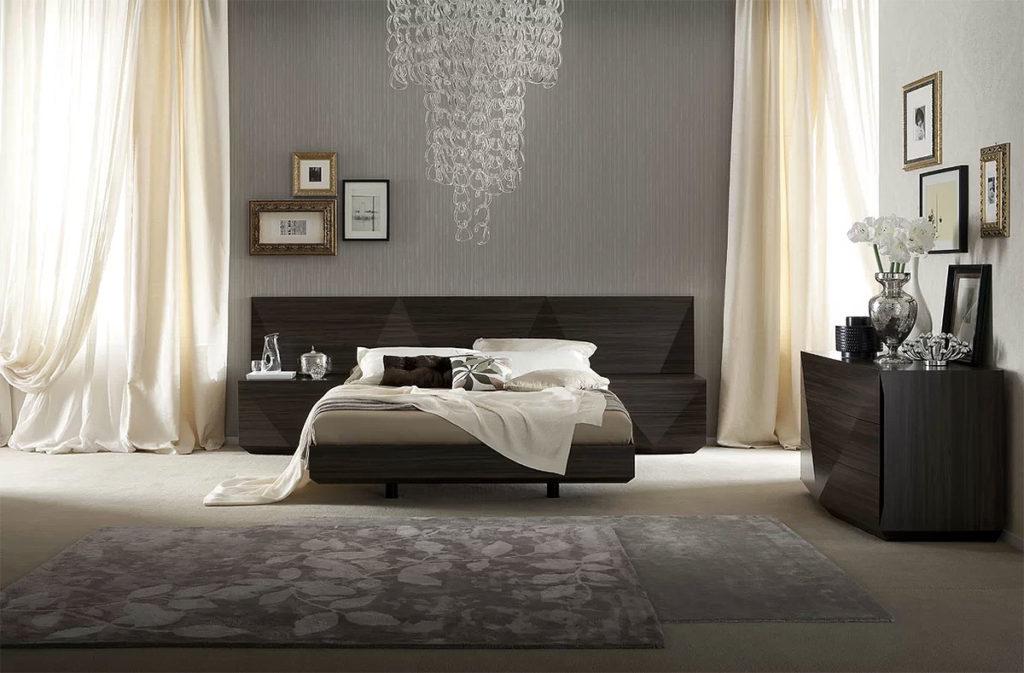 Sleek and sophisticated, this monotone bedroom is absolutely stunning. And, did you notice the light fixture? How could you not!!!
Gray Industrial Bedroom Design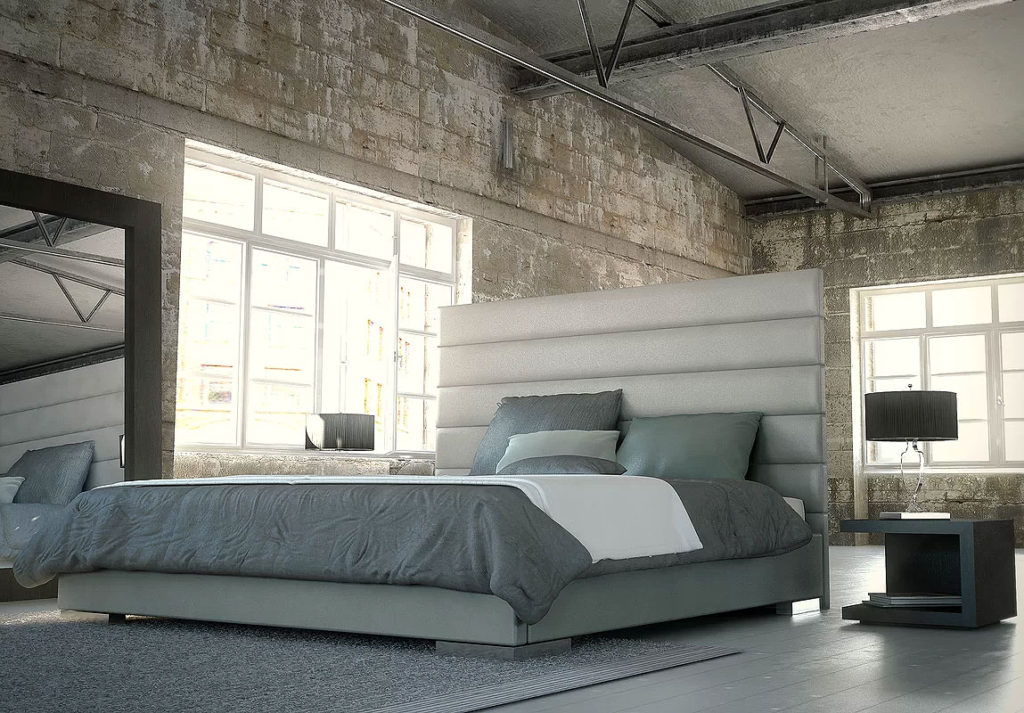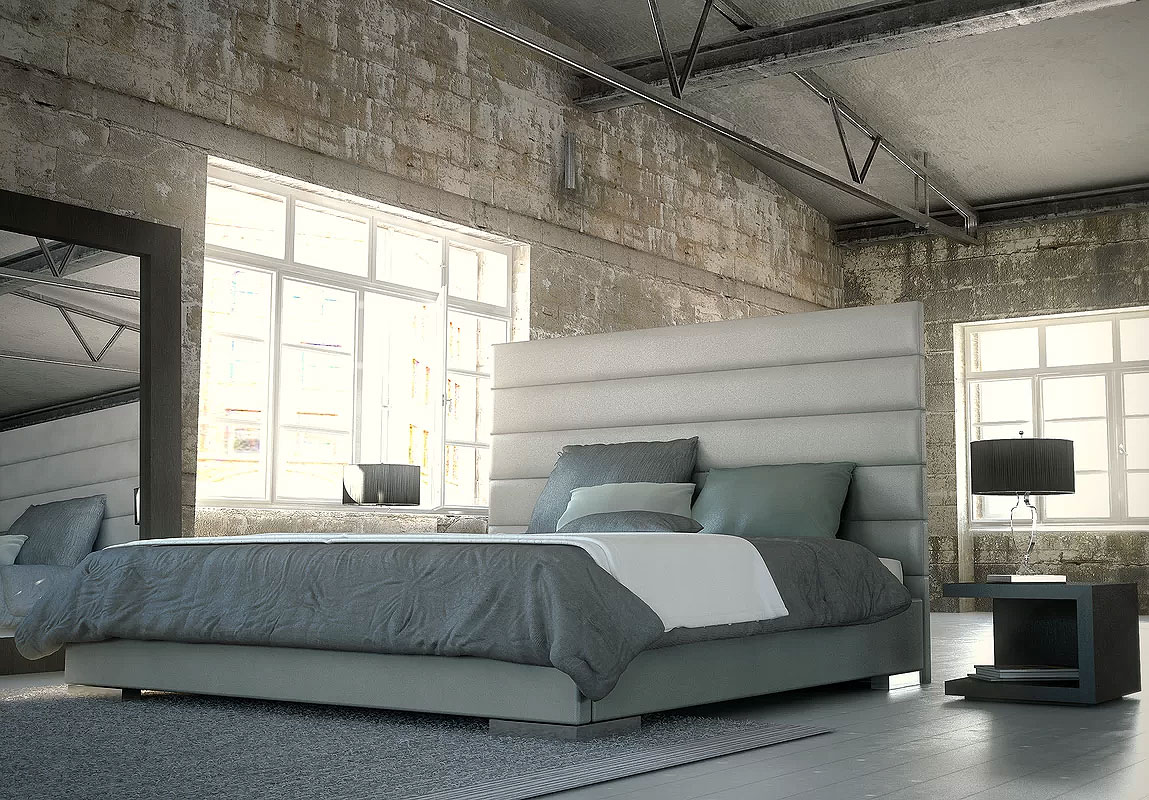 Source: Modloft Bed
A bedroom recently featured in our article on Clever Ways to Feature Exposed Brick & Stone Inside Your Home this stark and industrial modern bedroom creates a very unique and dramatic look.
Sleek & Modern Gray Bedroom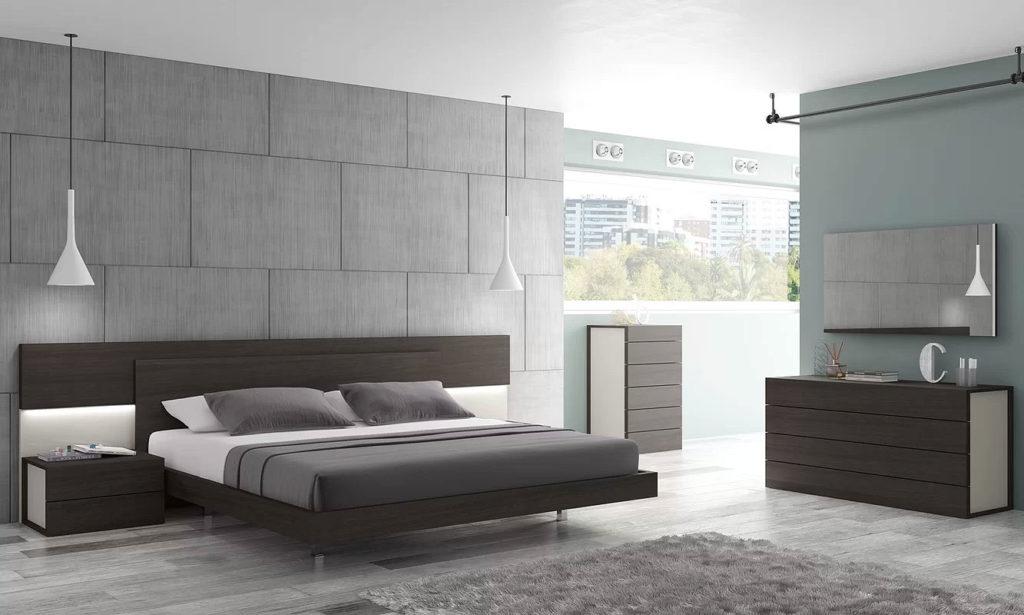 This sleek bedroom is so crisp and wonderful. Slim lines and minimalist decor really let the furniture shine. Love the seafoam accent walls to provide a subtle touch of color.
Graywashed Loft Bedroom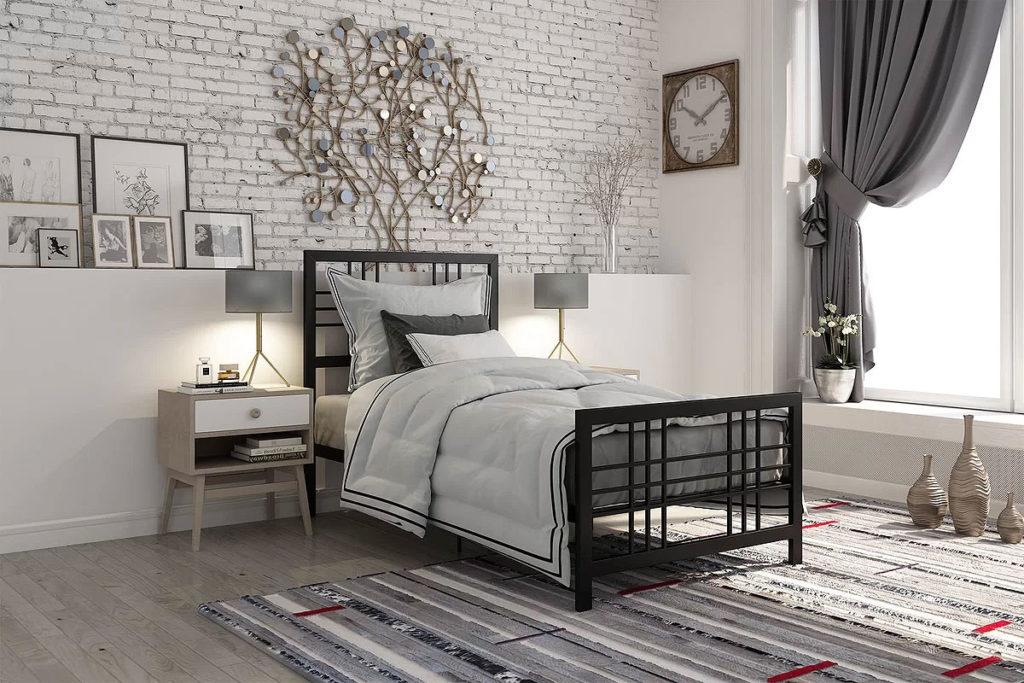 Simple, yet stylish! The Lüders Platform Twin Bed works perfectly in this room, although there was room for a larger size if needed. The half wall in a very pale gray creates a wonderful spot to display artwork against the exposed brick wall.
Elegant Gray & Pink Bedroom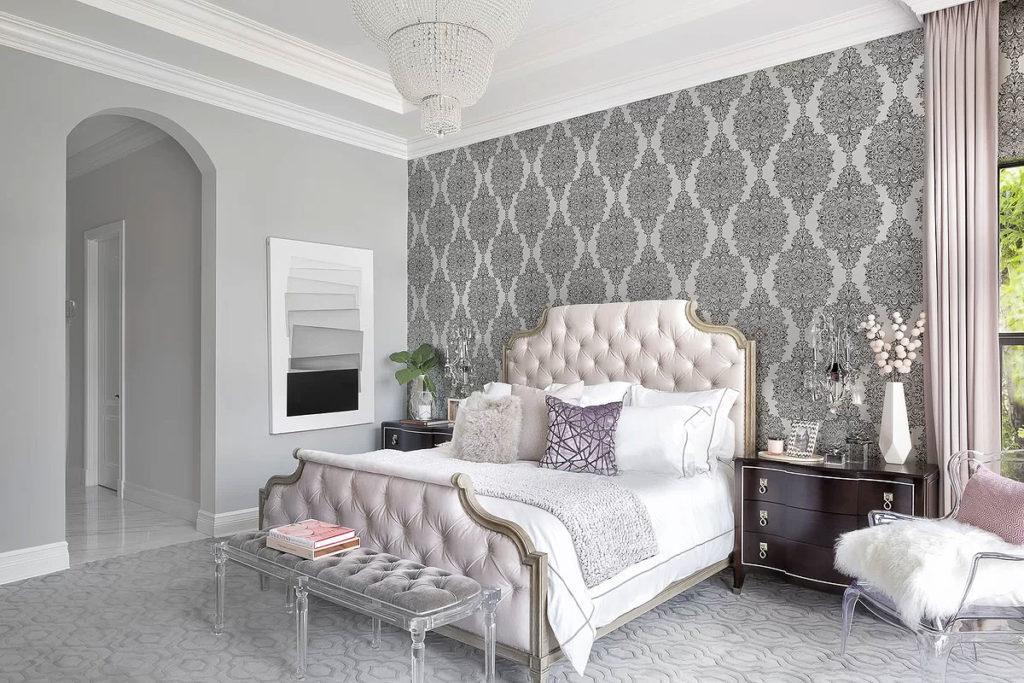 A gentle infusion of very soft pink works perfectly to add a feminine touch to this delightful bedroom design.
Traditional Bedroom Design in Gray & Antique White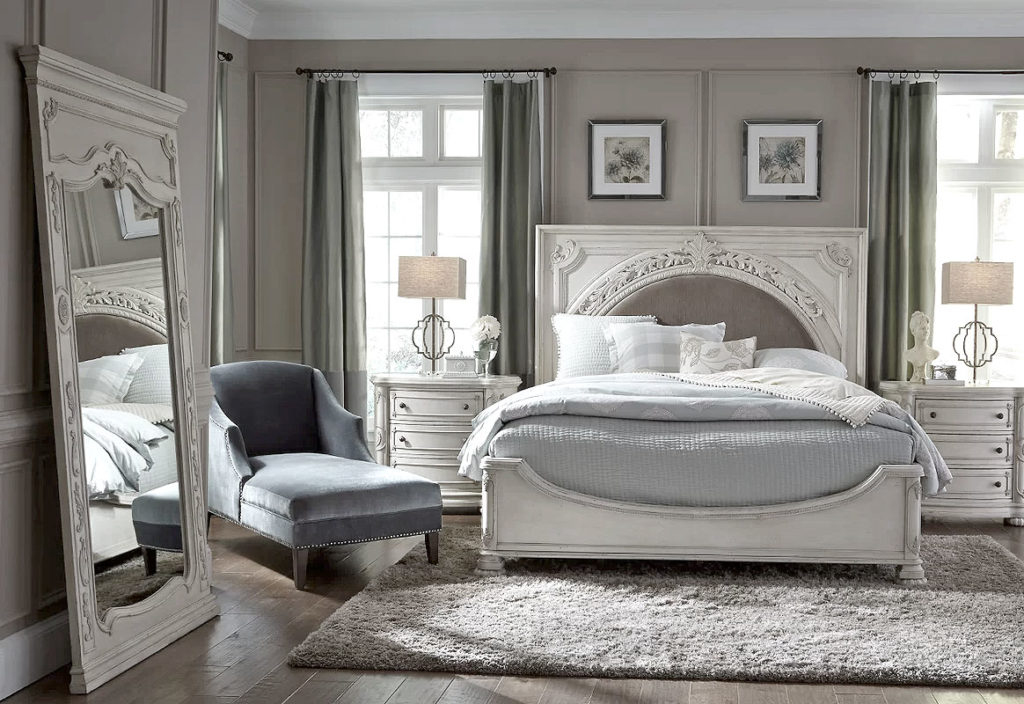 There is something about the Knight Floor Full Length Mirror that creates an extra special touch in this already fabulous traditional style bedroom.
Soft Gray Classic Bedroom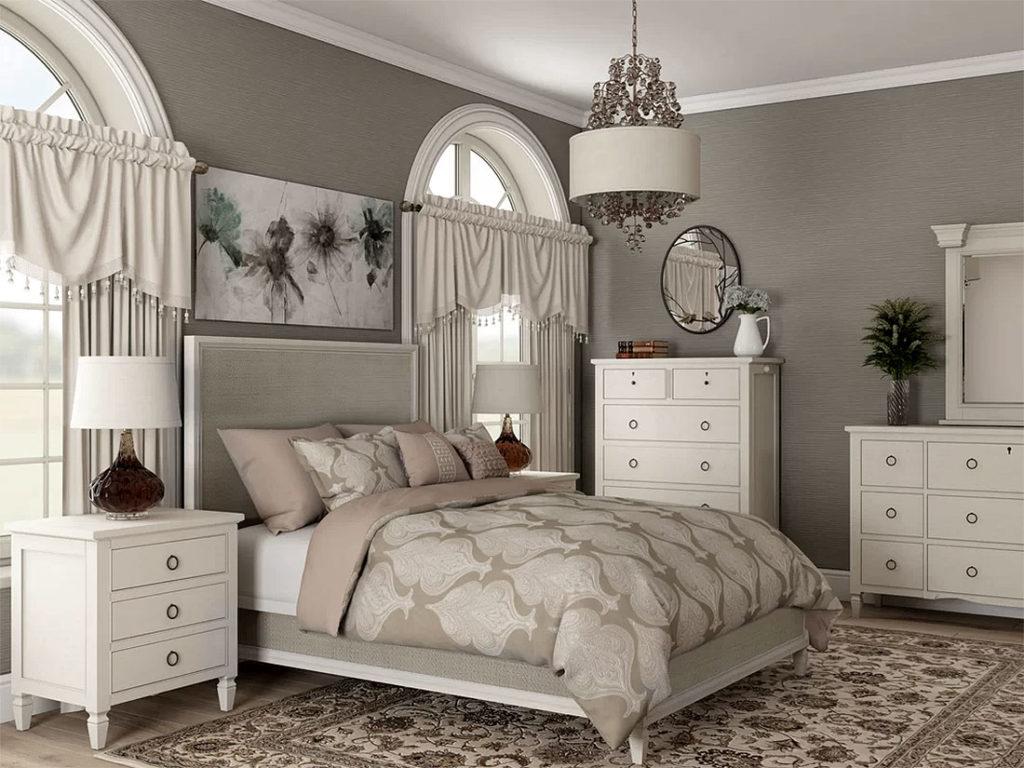 On the softer, warmer side of the Grayscale – almost (but not quite) to a Taupe – this bedroom is warm, inviting, and truly delightful.
Gray Contemporary Bedroom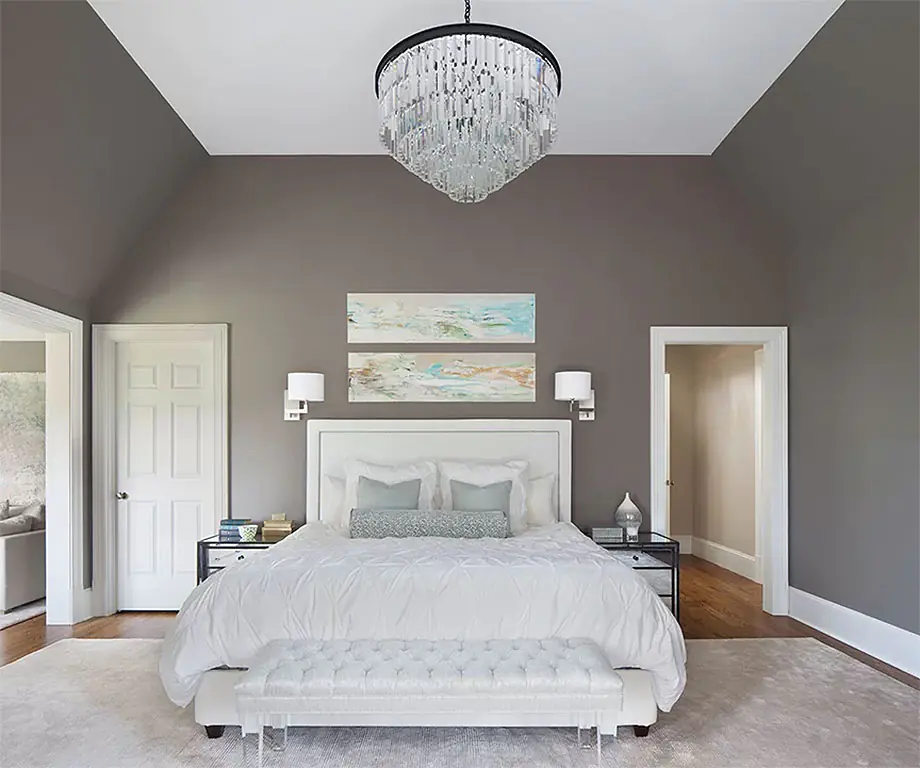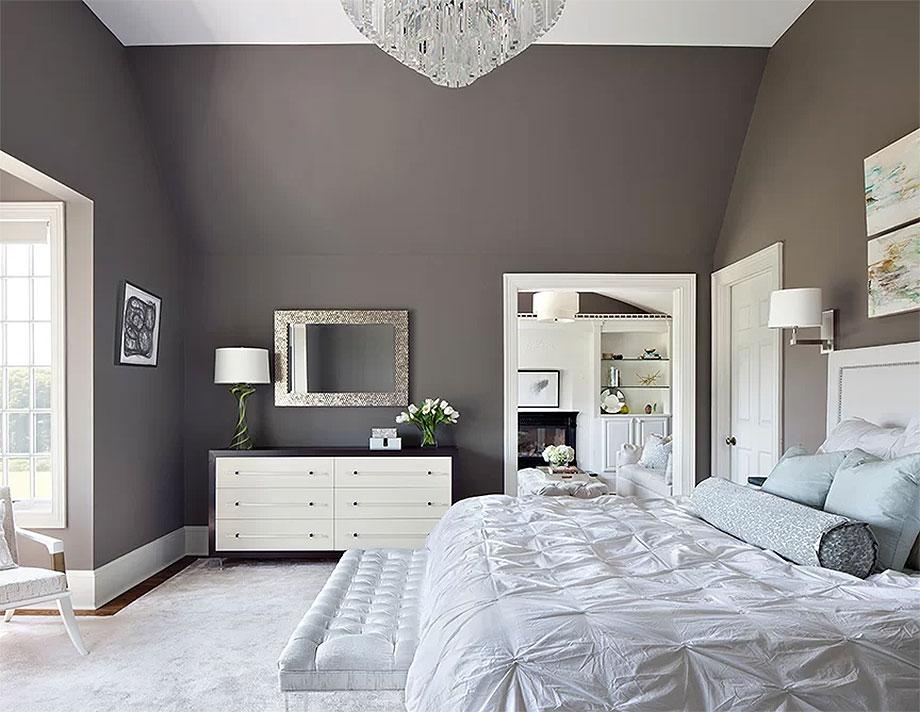 This truly delightful room is full of little details that create a remarkable space.
Opulent Bedroom in Light & Dark Gray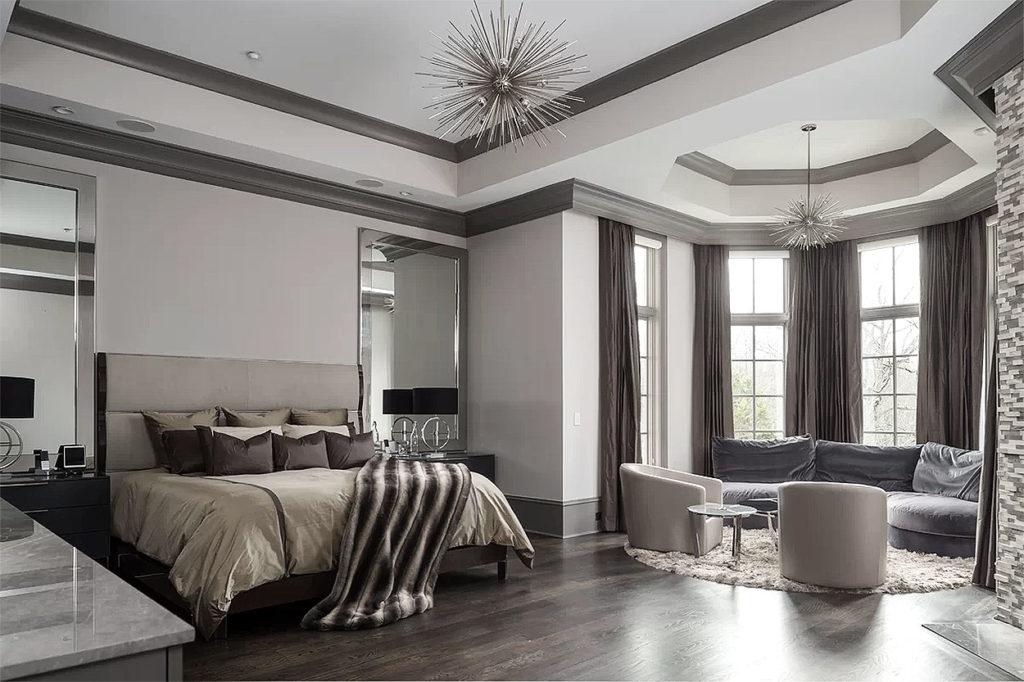 Delightfully decadent, the mix of dark and light gray works perfectly in this room. Every detail flows together, from the light gray walls to the dark gray trim work, to the bed, furniture, alcove sitting area, and beyond. Truly spectacular!
Gray Casual Elegance Bedroom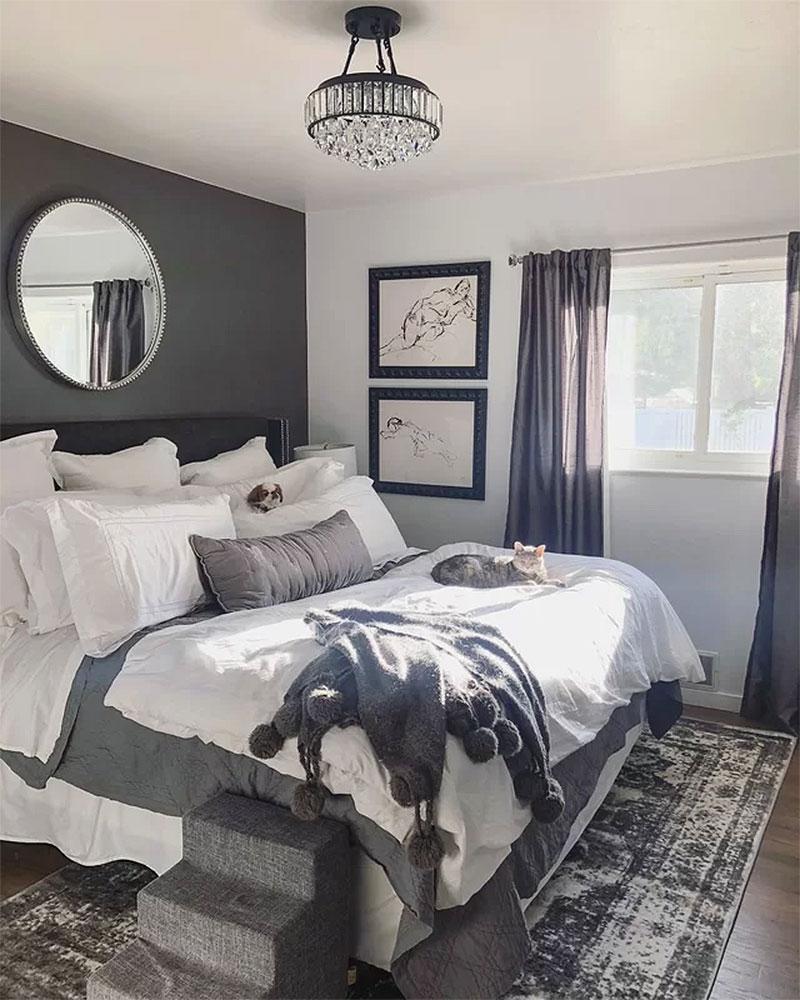 Warm, welcoming, comfortable, and elegant. The colors work perfectly in this room! And you have to love the coordinated mini-stairs for the fur babies.
Cosmopolitan Bedroom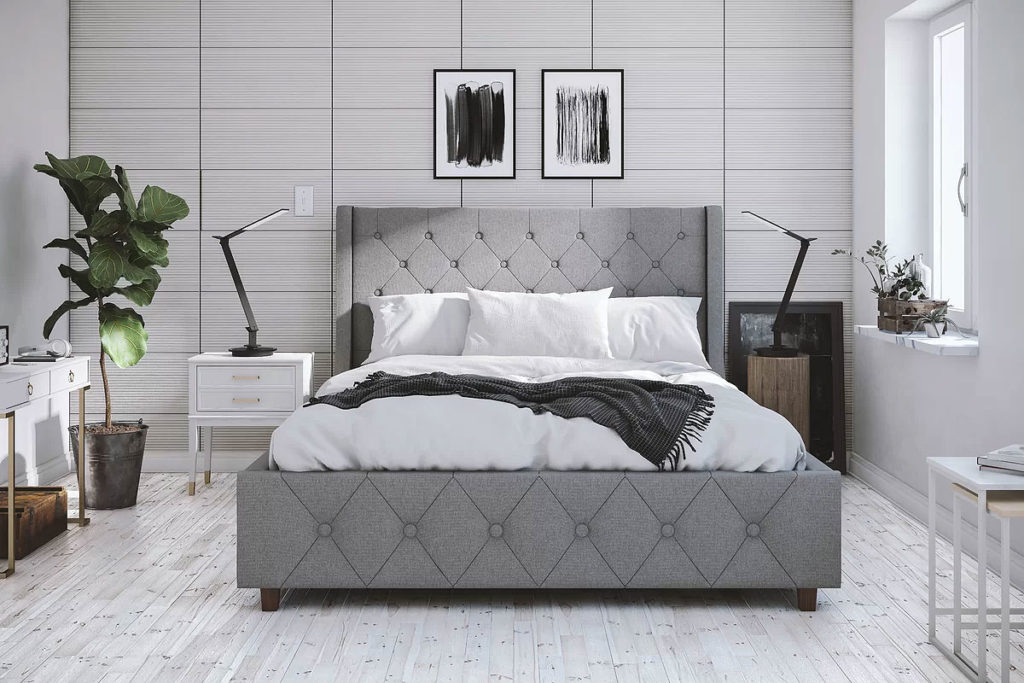 From the design team at CosmoLiving, a fabulous gray bedroom with a flawless aesthetic. You'd almost think this picture was taken in black & white if it weren't for the subtle hints of color.
Traditional Gray & White Bedroom Design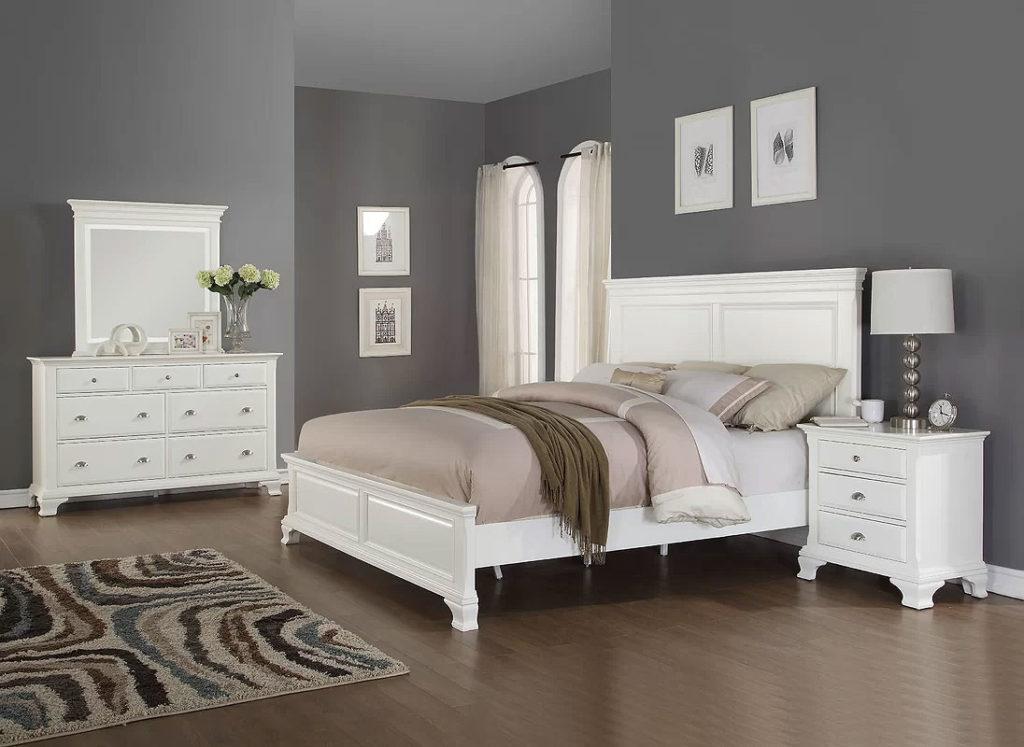 A lovely shade of gray surrounds crisp white furniture in this wonderful, traditional bedroom design.
Modern Black & White Canopy Bed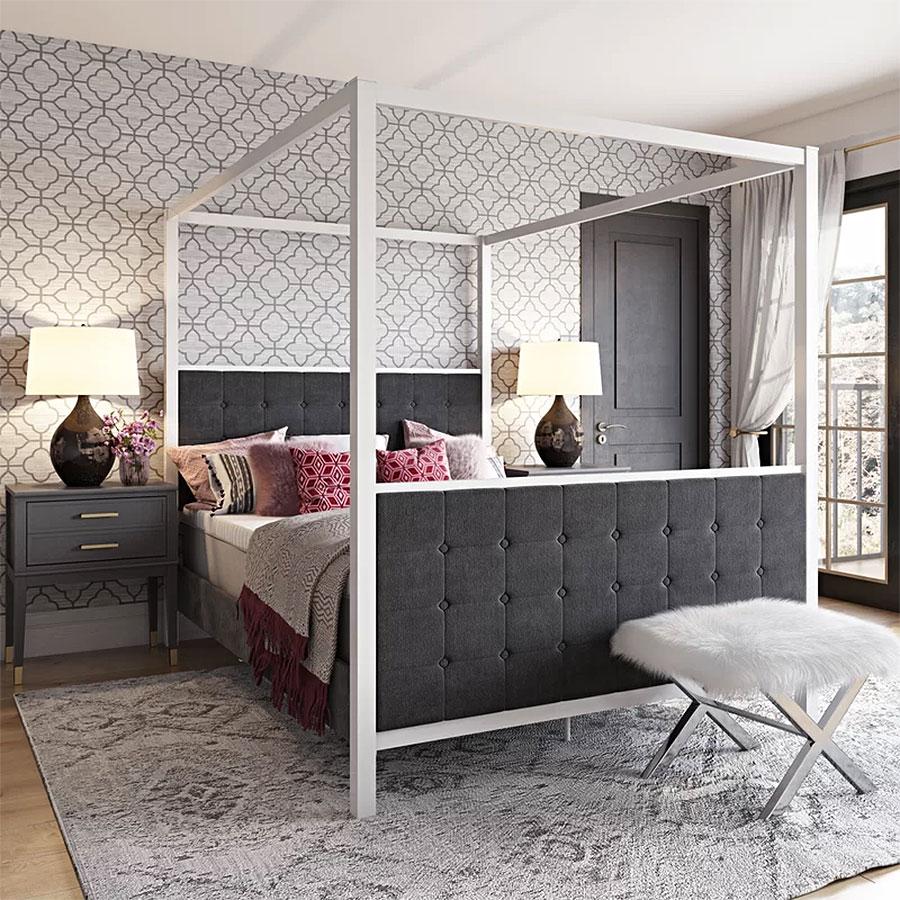 The Bowery Queen Bed, a modern black & white upholstered canopy bed, takes center stage in this wonderfully designed gray bedroom.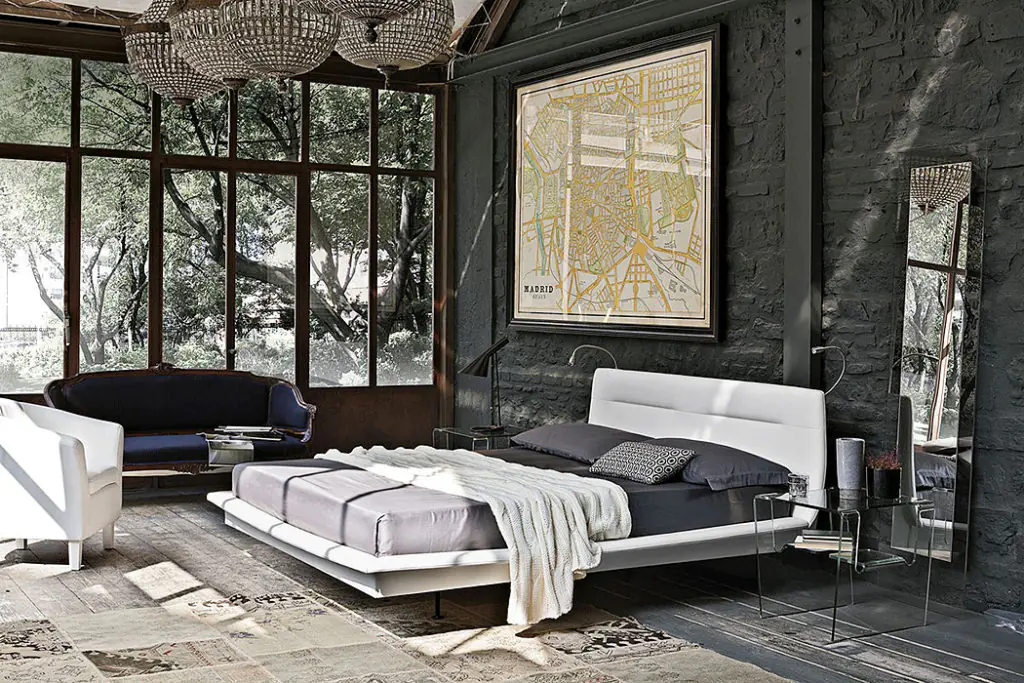 Source: Exposed Brick Walls
I love the blend of old and new that is used to create this eclectic modern bedroom, recently featured in our 50+ Clever Ways to Feature Exposed Brick & Stone Inside Your Home article.
Sophisticated Glam Gray Bedroom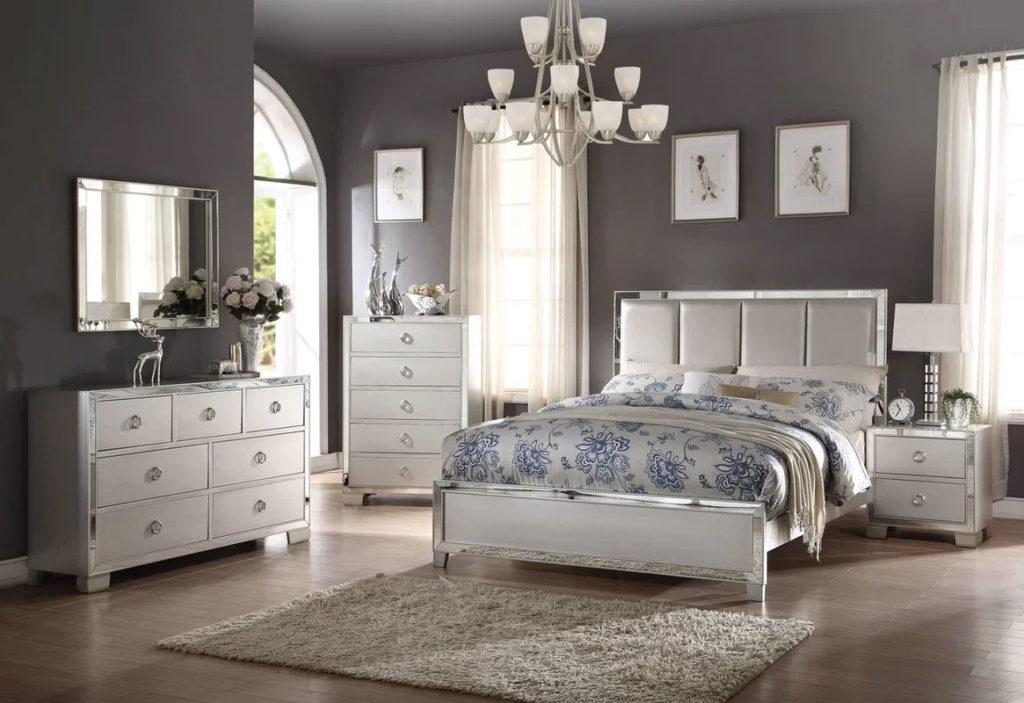 Sleek, sophisticated, and glamorous… this bedroom design oozes style!
Modern Gray & Red Bedroom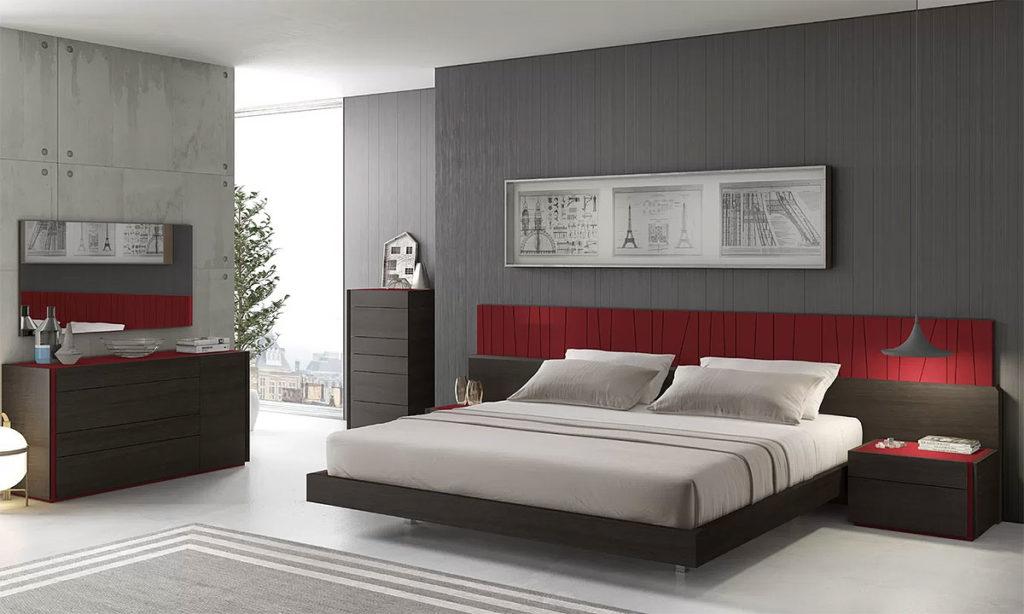 Slate gray, dark gray, and a warm red combine to create this sophisticated bedroom design.
Elegant Bedroom with Multiple Gray Tones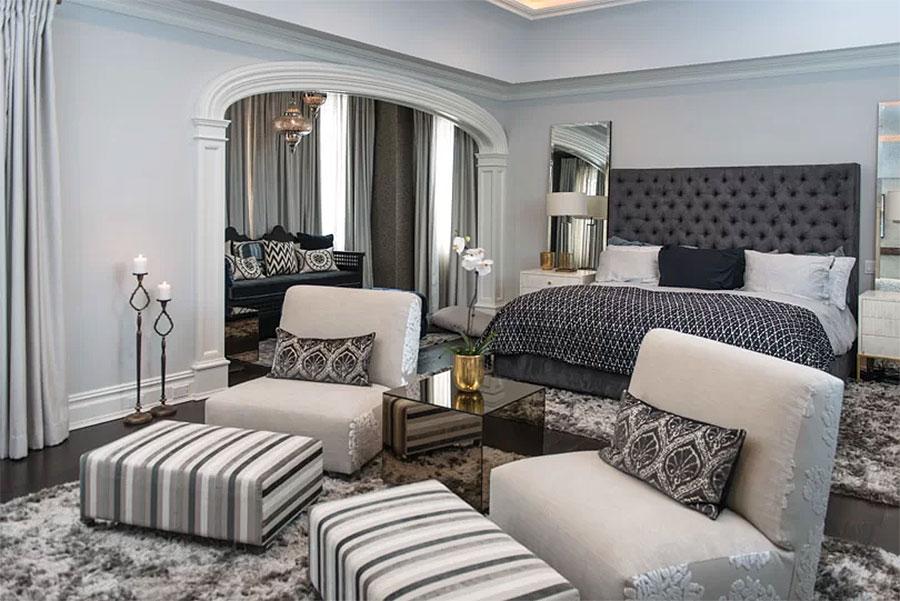 I love the traditional elegance of this beautiful bedroom. The upholstered headboard is in a darker gray, offset by lighter shades in the bedding and the accent chairs. The gray striped ottomans help pull the entire design aesthetic together into a wonderfully cohesive style.
What are some tips for creating beautiful gray bedroom?
Don't overcrowd your space
Too much furniture or accessories within small rooms can make them feel too crowded so try to keep things as open as possible by only bringing in pieces you truly need (and not just random knickknacks). You don't want the walls and floor areas taken up entirely either so leave room near doorways and windows if necessary. The less clutter there is inside unique spaces the better it looks overall since grays already create a clean and polished look on their own.
Keep your bedding as simple as possible
Gray bedroom decor ideas work best when they are paired against light, medium or dark grays so make sure to choose sheets or comforters for your bed that match the color scheme you're going with (instead of opting for brighter hues). This creates a cohesive design throughout your space but still allows everything else inside it to stand out because there aren't too many bold colors competing against one another.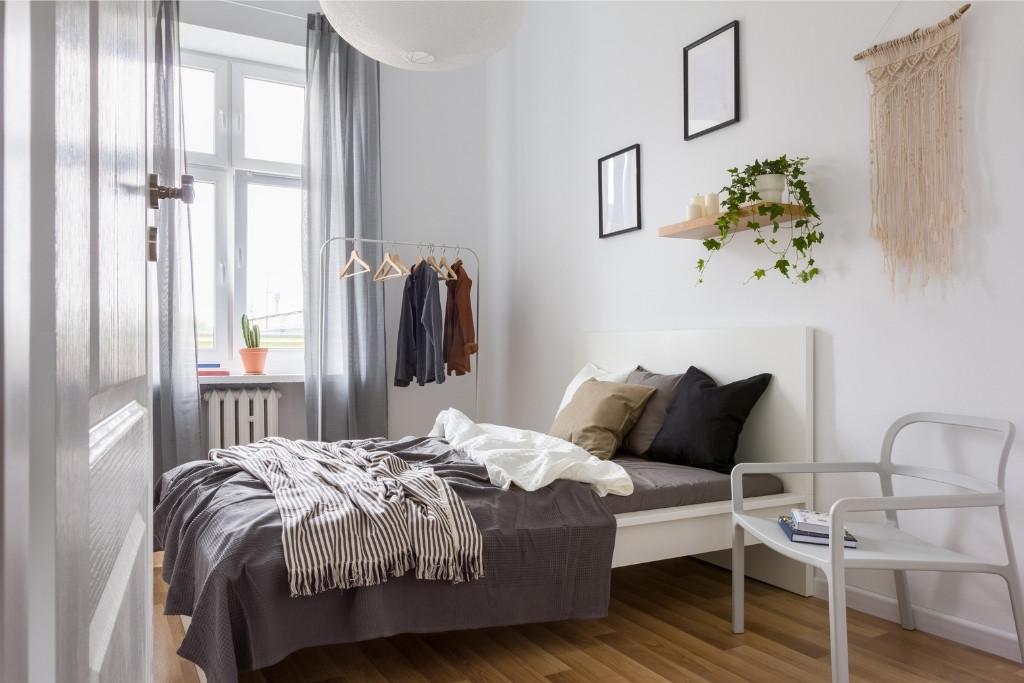 Use plenty of mirrors
Mirrors reflect natural lighting which can brighten up even the darkest gray spaces, especially if placed near windows where sunlight hits them directly during daytime hours. If you want to add some glamour to your bedroom area then you can also put mirrors on some of the walls (such as above the headboard) for an extra decorative touch that makes it appear larger and more open.
Keep your furniture simple
You don't want anything too crazy, colorful, or expensive inside gray bedrooms because this will make it difficult to find matching décor pieces later on down the road when you decide to change up your design scheme again. Try choosing neutral-colored items such as black or white if possible so they blend in better with existing decor while adding a polished look overall.
Looking for More Gray Furniture & Decor?