If you're looking for Gray Bedroom Design ideas, we've got you covered. On today's We Love Wednesday, we focus on stylish and beautiful gray bedrooms. From modern designs to traditional to glam, you're sure to find some bedroom decor inspiration featuring the color gray inside this unique collection.
If you're looking to create a serene look for your bedroom, the color gray in your bedroom furniture & decor is a great place to start. According to HGTV, Gray has an inherent calmness and sophistication. You can choose a solid gray that symbolizes strength, or go for a softer gray that offers a more delicate feeling to the room.
For more details on these stunning bedrooms, check out the Shop the Look links (where available) to view more information and find similar products at our affiliated retailer websites.
Luxurious Gray & Black Bedroom Design
The upholstered sleigh bed is wonderfully opulent, and works perfectly with the gray, distressed "cement" effect back wall. Now, that's what I call Modern Luxury.
Gray Paneled Bedroom
The architectural framework behind the bed creates a gray focal wall that is beautifully offset by the black furniture and the dark gray rug. Lighter gray bedding softens the room beautifully.
Gray Scandinavian Style Bedroom
Delightful elements of Scandinavian design infuse this gray Mid-Century modern bedroom, which includes pops of yellow for contrast and interest.
Gray Industrial Teen Bedroom with Exposed Brick Walls
A fantastic industrial style teen bedroom, the combination of the exposed brick walls and the gray furniture allows the pops of red, blue, and yellow to really stand out.
Glam Gray & Antique White Bedroom Design
Majestic and elegant, the Wightman Upholstered Bed is the focal point in this luxurious gray & antique white bedroom. The entire design defines grace and traditional comfort. Supremely ornate and highly stylized, this bedroom is sure to be the focal point of your home, in luminous antique white, black, gray, and silver.
Modern Gray Glam Bedroom
A sleek and sophisticated bedroom design with a touch of Hollywood Glam. The gray & white walls are perfectly accented by darker gray curtains and taupe bedding accents.
White & Gray Modern Bedroom Design
A well executed use of space with a gray half wall and columns used to create an extra layer of space in this sleek modern bedroom design.
Modern Glam Gray Bedroom
I love the Rivage Dresser, with its mirrored edges, and how it balances against the crisp and cool gray walls. The end result of this room is an inviting yet sophisticated flair.
Dark & Light Gray Bedroom Design
A dark gray feature wall frames off the light gray bed beautifully. The wall art, lamps, and mirrored end tables help complete the overall look.
French Country Glam Bedroom
Cool, glamorous, with a touch of French Country flair. This opulent bedroom is sure to impress.
Sophisticated Gray & Cream Bedroom Design
Sleek and sophisticated, this monotone bedroom is absolutely stunning. And, did you notice the light fixture? How could you not!!!
Gray Industrial Bedroom Design
Source: Modloft Bed
A bedroom recently featured in our article on Clever Ways to Feature Exposed Brick & Stone Inside Your Home this stark and industrial modern bedroom creates a very unique and dramatic look.
Sleek & Modern Gray Bedroom
This sleek bedroom is so crisp and wonderful. Slim lines, an minimalist decor really lets the furniture shine. Love the sea foam accent walls to provide a subtle touch of color.
Graywashed Loft Bedroom
Simple, yet stylish! The Lüders Platform Twin Bed works perfectly in this room, although there was room for a lager size if needed. The half wall in a very pale gray creates a wonderful spot to display artwork against the exposed brick wall.
Elegant Gray & Pink Bedroom
A gentle infusion of very soft pink works perfectly to add a feminine touch to this delightful bedroom design.
Traditional Bedroom Design in Gray & Antique White
There is something about the Knight Floor Full Length Mirror that creates an extra special touch in this already fabulous traditional style bedroom.
Soft Gray Classic Bedroom
On the softer, warmer side of the Gray scale – almost (but not quite) to a Taupe – this bedroom is warm, inviting, and truly delightful.
Gray Contemporary Bedroom
A truly delightful room full of little details that create a remarkable space.
Opulent Bedroom in Light & Dark Gray
Delightfully decadent, the mix of dark and light gray works perfectly in this room. Every detail flows together, from the light gray walls to the dark gray trim work, to the bed, furniture, alcove sitting area, and beyond. Truly spectacular!
Gray Casual Elegance Bedroom
Warm, welcoming, comfortable, and elegant. The colors work perfectly in this room! And you have to love the coordinated mini-stairs for the fur babies.
Plus, I commend the choice of the Dyer 4 Semi-Flush light fixture. It is a truly remarkable piece that can add a touch of modern glamour to any bedroom.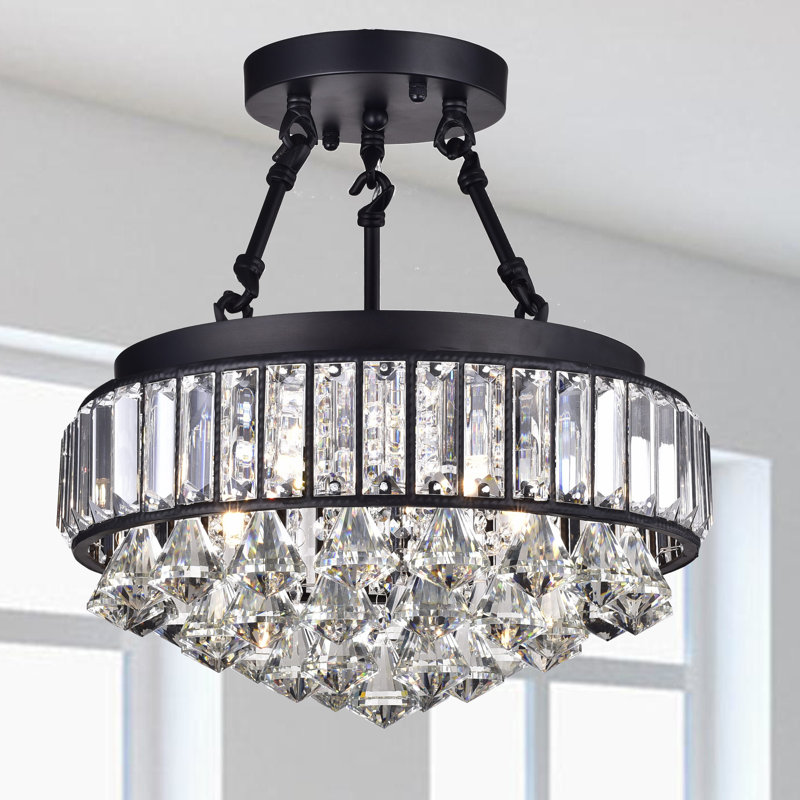 Cosmopolitan Bedroom
From the design team at CosmoLiving, a fabulous gray bedroom with a flawless aesthetic. You'd almost think this picture was taken in black & white if it weren't for the subtle hints of color.
Traditional Gray & White Bedroom Design
A lovely shade of gray surrounds crisp white furniture in this wonderful, traditional bedroom design.
Modern Black & White Canopy Bed
The Bowery Queen Bed, a modern black & white upholstered canopy bed, takes center stage in this wonderfully designed gray bedroom.
Source: Art & Home
I love the blend of old and new that is used to create this eclectic modern bedroom, recently featured in our 50+ Clever Ways to Feature Exposed Brick & Stone Inside Your Home article.
Sophisticated Glam Gray Bedroom
Sleek, sophisticated, and glamorous… this bedroom design oozes style!
Modern Gray & Red Bedroom
Slate gray, dark gray, and a warm red combine to create this sophisticated bedroom design.
Elegant Bedroom with Multiple Gray Tones
I love the traditional elegance of this beautiful bedroom. The upholstered headboard in a darker gray, offset by lighter shades in the bedding and the accent chairs. The gray striped ottomans help pull the entire design aesthetic together into a wonderfully cohesive style.
Looking for More Gray Furniture & Decor?