I find sleigh beds to be extraordinarily elegant. I also find that upholstered beds to be extraordinarily elegant. So, you can imagine how I feel about Upholstered Sleigh Beds.
Upholstered Sleigh Beds take the best of two decor styles and combine them into a single piece of elegance and beauty.
Although there is more than one way to design a Sleigh Bed, they are most often characterized by the graceful curve in the both the headboard and the matching footboard. Layer and additional element of design and elegance by adding upholstery to those graceful curves, and you have the unique beauty that is an Upholstered Sleigh Bed.
The lines of these beds are truly something to behold, and the warmth of an upholstered bed gives these sleigh beds and extra sense of luxury.
The result can range from handsomely luxurious to decadently glamorous.
Classically Elegant Upholstered Sleigh Beds
To showcase some of these unique beautiful Upholstered Sleigh Beds, we have put together a collection of some of the most beautiful examples.
Enjoy!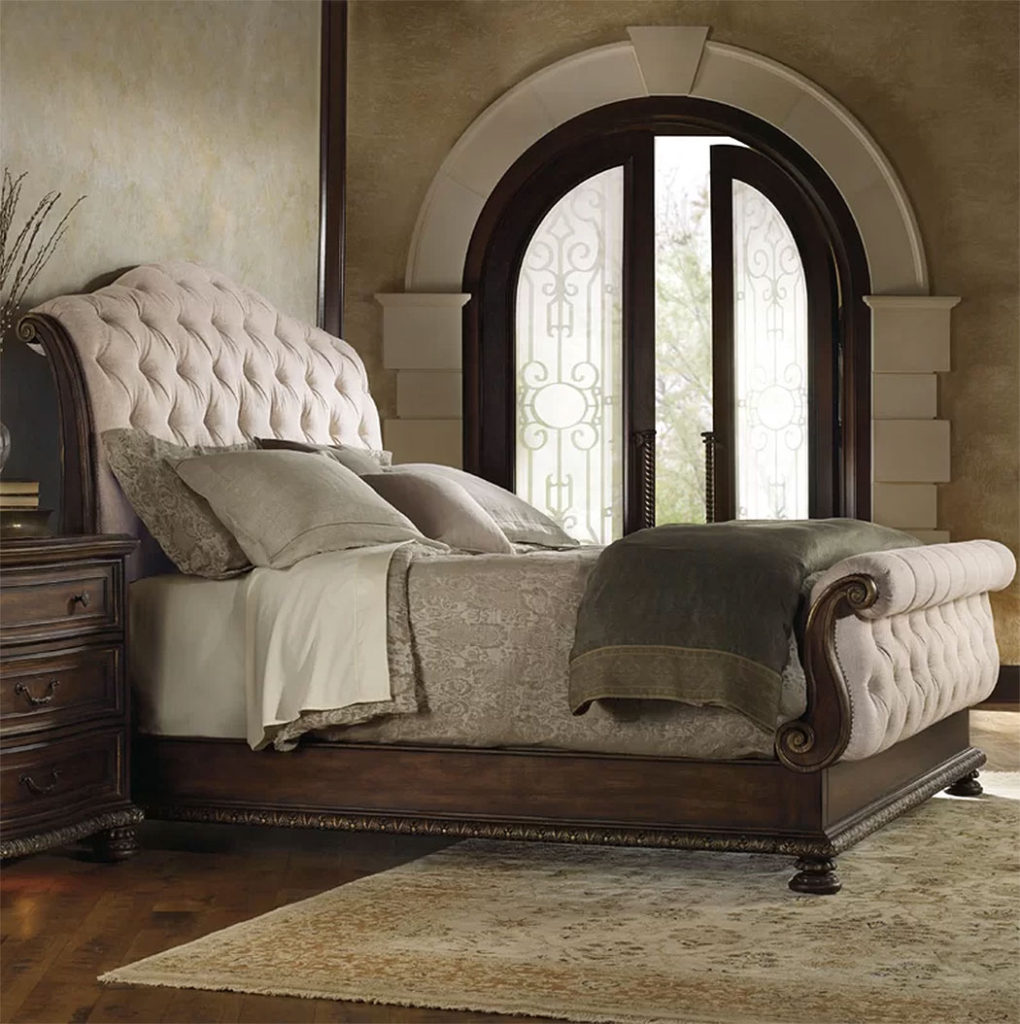 What I find so fascinating is the variety of options that spring to life when you look at the concept of putting upholstery on a sleigh bed. Now you have wood color and upholstery colors to choose. And the different ways that they can play off each other is amazing.
Look at how beautifully this combination of Walnut and Gray come together are in the Taryn Upholstered Sleigh Bed.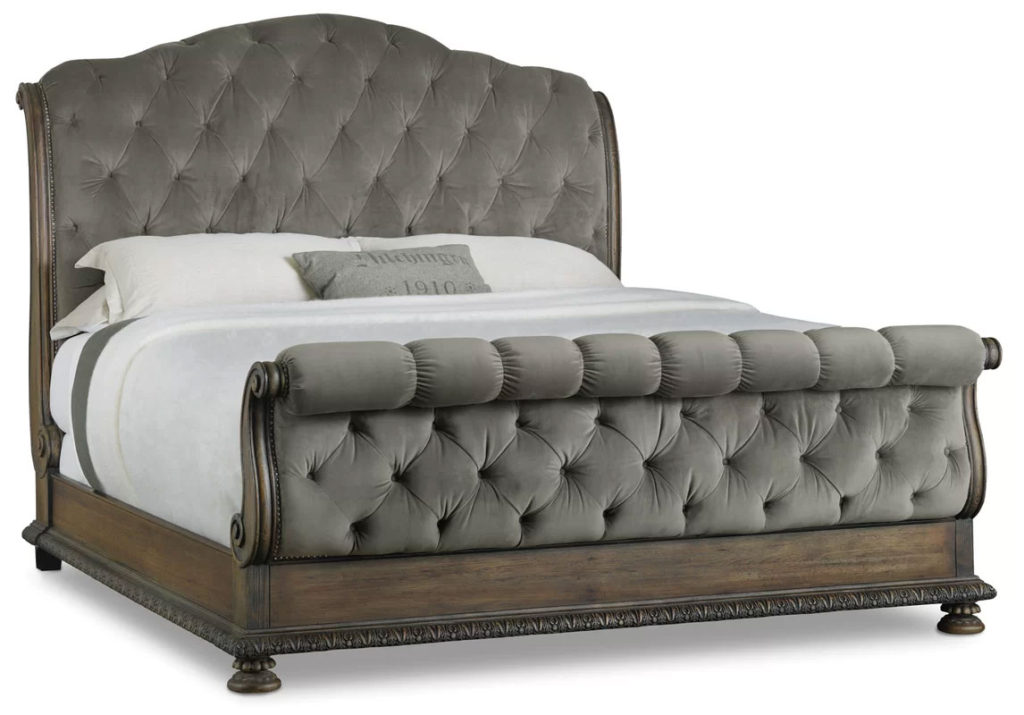 How stunning is that? Even though I am not normally a fan of grey furniture (nothing against it, just not my personal decor preference), this could easily become an exception.
I normally prefer my bedroom furniture choices to be in the warm, wood or earthy colors. And the Tynecastle Sleigh Bed fully delivers.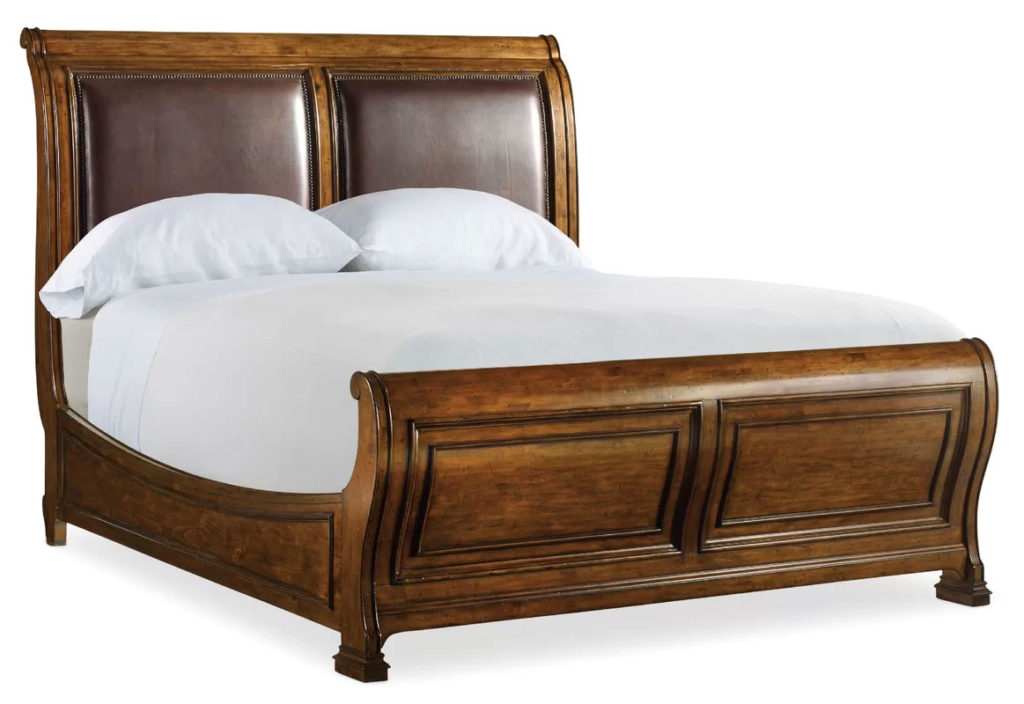 With the Tynecastle, the wood structure definitely takes the lead with the upholstery adding a touch of warmth and comfort to an already beautiful bed.
A Touch of Luxury in the Bedroom
For those who want the bed to be completely upholstered, there are plenty of beautiful options in that direction as well. Take, for example, absolute elegance of the Romriell King Bed.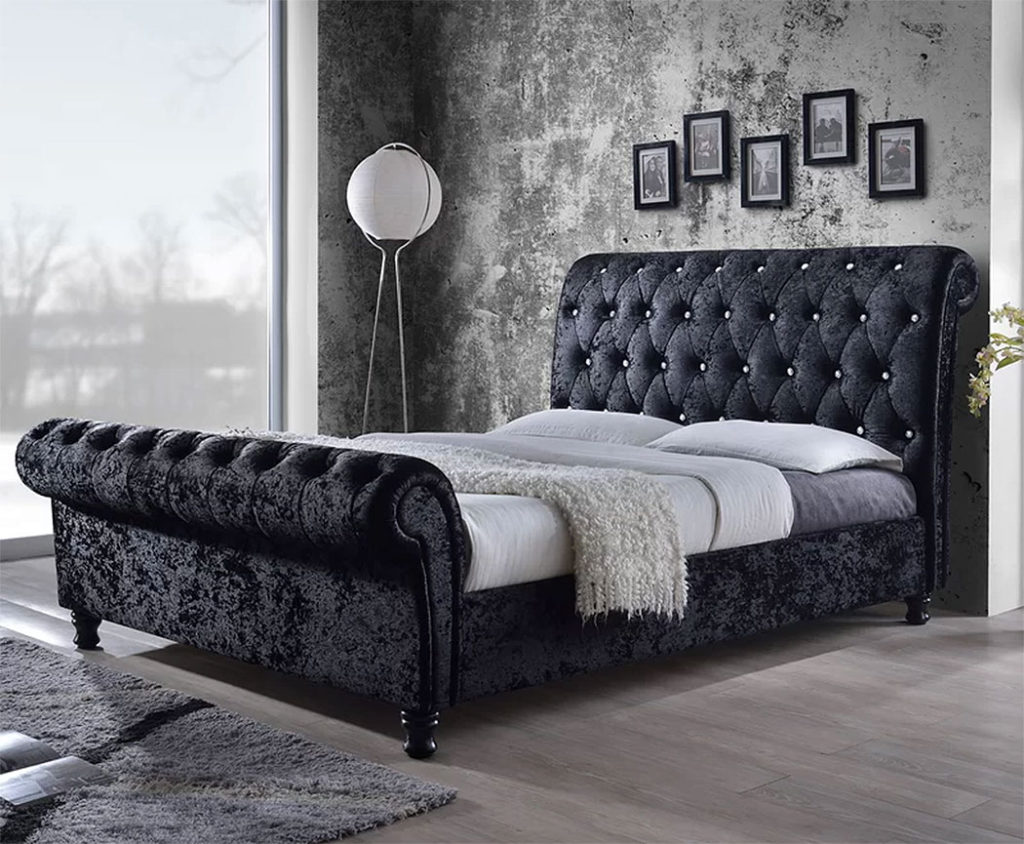 Now, that's what I call LUXURIOUS!
Another gorgeous example of a sleigh bed where the fine wood structure takes the lead is the Martone Sleigh Bed, shown below in Queen.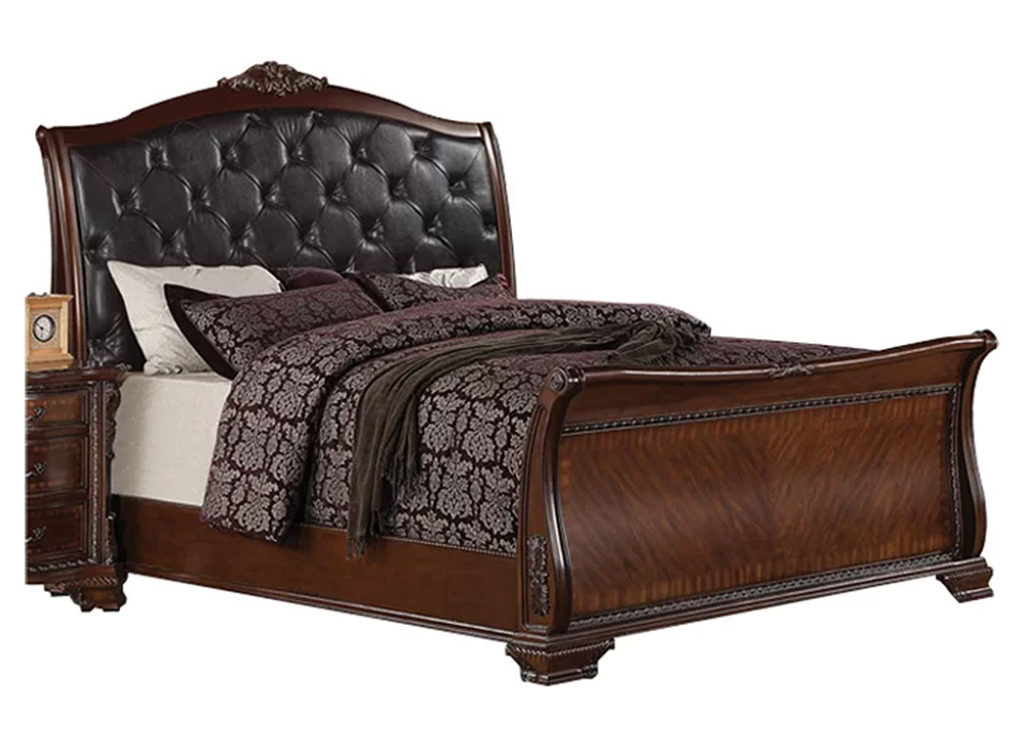 Such a handsome bed, it would compliment any elegant master bedroom.
For those looking for something a little lighter and breezier from a visual standpoint… ask and ye shall receive. Behold the delightful Piland Upholstered Sleigh Bed in King.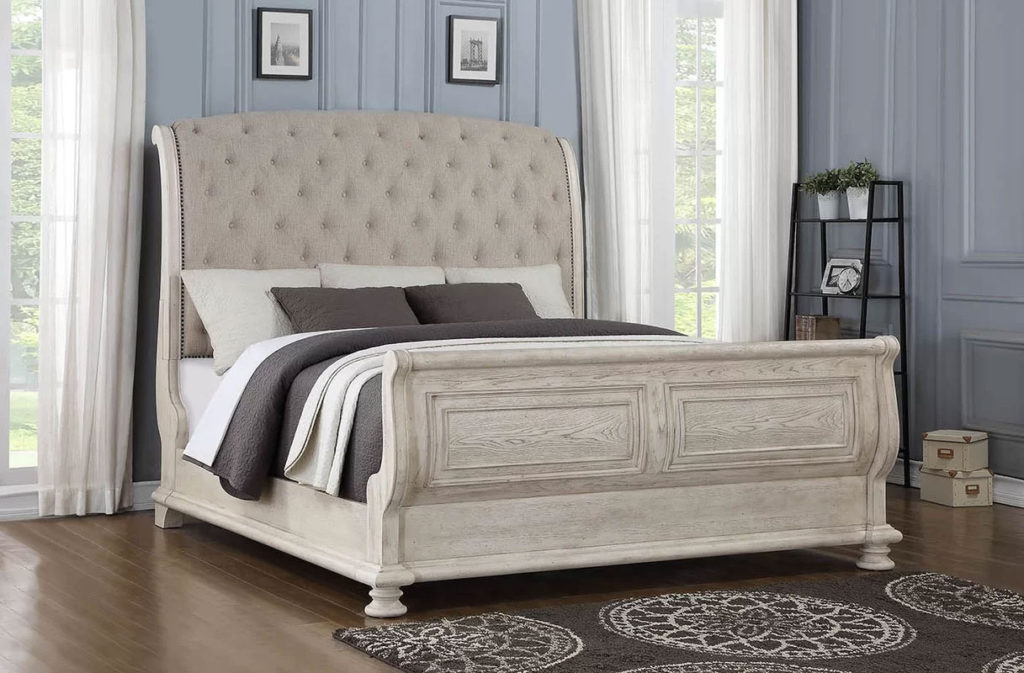 Still extraordinarily elegant, but the lighter finish on the wood and the beige upholstery give it a much airier feeling.
With or Without Footboards, Sleigh Beds are Unmistakeable
Not all sleigh beds include a sleigh footboard. Some rely entirely on a beautifully crafted sleigh headboard to create the sleigh bed look, such as the exquisite Jurapa Sleigh Bed, shown here in Queen.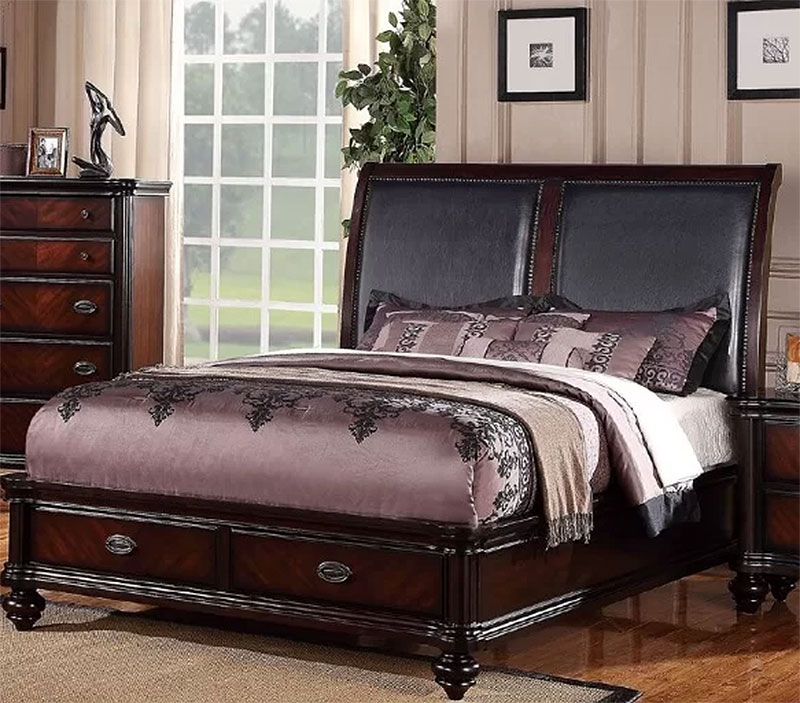 This beautiful bed features an upholstered sleigh headboard, with an intricately detailed wood base and beautiful storage doors integrated into the footboard.  Even though it doesn't have the sleigh footboard, the storage drawers are beautiful enough to more than make up for that. The overall look is classic, solid, and elegant!
A Modern Take on the Classic Sleigh Bed
And now for something COMPLETELY different, a thoroughly modern take on the Upholstered Sleigh Bed.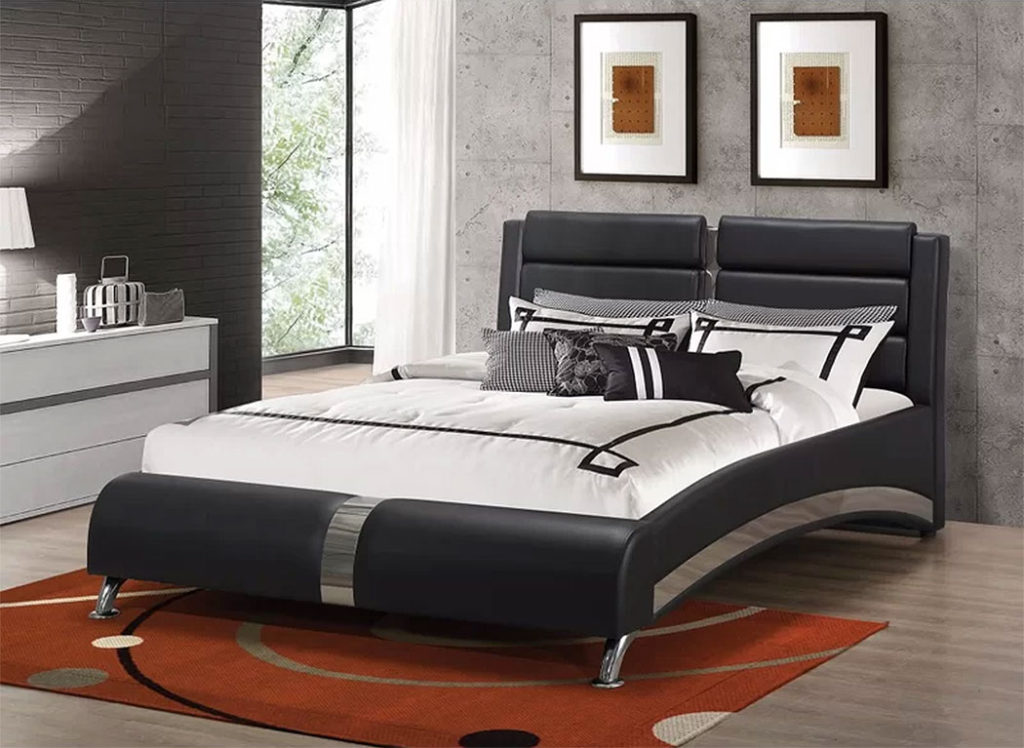 Although the shape of the classic Sleigh Bed is obvious, the modern twist and black and chrome construction make this piece wonderfully unique and completely modern. I love how they reversed the footboard curve to provide the elegant lines of a sleigh bed without the visual obstruction of a tall footboard.
And, of course, Upholstered Sleigh Beds don't always have to be serious. Take this delightful Upholstered Twin Sleigh Bed in brilliant purple.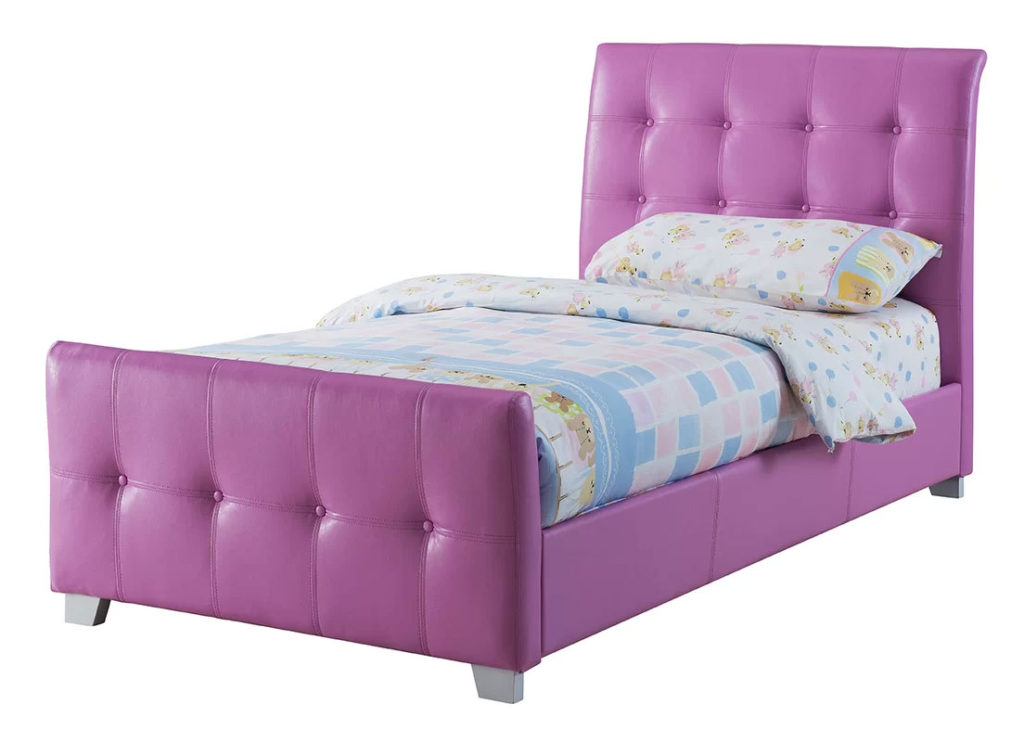 That sleigh bed would be perfect for any Princess!
Or, for the adult version, here's the Hatfield Upholstered Sleigh Bed in a Rich, Royal Blue.
An Amazing Collection of Upholstered Sleigh Beds for your Amazing Home!
And there you have it! Such an amazing collection. If you're not in love with the idea of an Upholstered Sleigh Bed by now… I'm not sure what could convince you.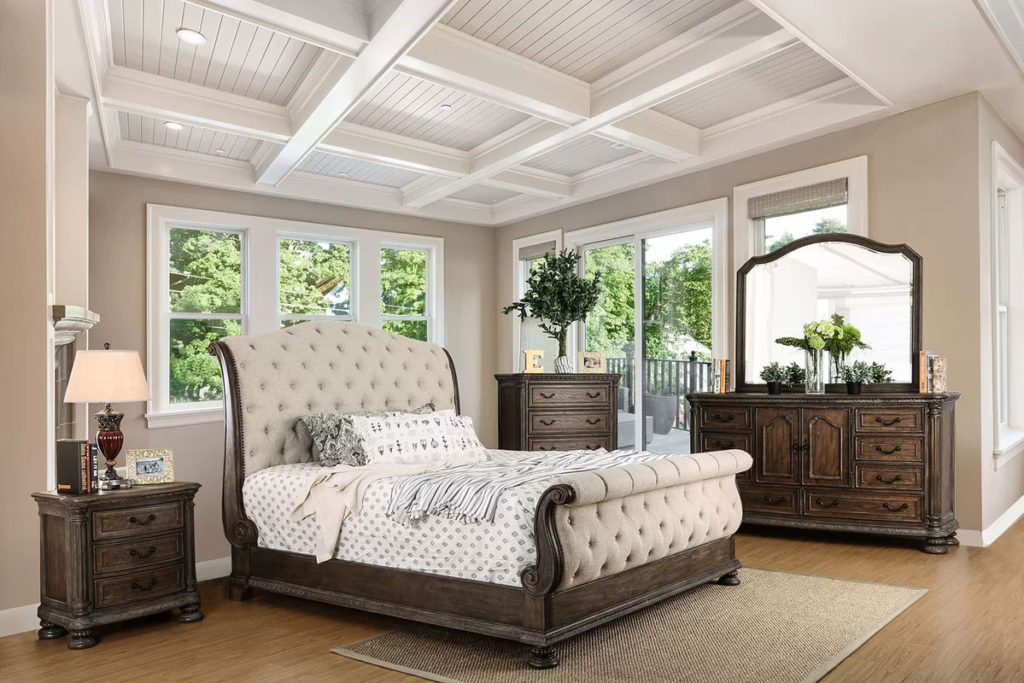 Looking for more Beds & Headboards? The Upholstered Sleigh Beds shown above are just a small sampling of Art & Home's complete Bedroom Furniture collection. At Art & Home, we've teamed up with some of today's leading manufacturers and retailers of beautiful furniture to bring together a unique and wonderful collection.
We hope you enjoyed browsing this collection of Upholstered Sleigh Beds as much as we enjoyed putting it together!