There's something magical about beautiful Canopy Beds. Whether you're looking for the classic elegance or a modern take on these wonderful beds, there's a way to bring the magic and the mystery of a magnificent canopy bed into your home.
Somehow, a well-designed canopy bed manages to pull off the look of being classically beautiful and exotic at the same time. And that doesn't just apply to your traditional Canopy Beds, today's decor aesthetic options means that Canopy Beds are available in a wide range of styles, from Classic to Modern to Farmhouse.
You may think of the canopy bed as being something noble and luxurious, but the original canopy bed came into existence for more utilitarian purposes. The curtains on canopy beds could be closed to provide warmth in the days before central heating. Plus, they afforded a certain amount of privacy as the house staff, servants, and attendants would come in and out of the room on a regular basis. In fact, attendants often shared the sleeping quarters of medieval lords and ladies so that they would be on call when needed, and provided an extra layer of security.
Finally, the mesh canopies were used to keep the bugs at bay, as medieval bedrooms often didn't have windows, and they certainly didn't have screens on those windows.
The earliest canopy beds weren't even designed the way we know them today, as the curtains that surrounded the beds were originally hung from the ceiling.
It wasn't until the 16th century that these beds started to become a decorative accent in the bedroom. But once these beds started being ornately carved and intricately detailed, it became more and more of the norm.
Despite their relatively humble beginnings, today's canopy beds are a luxurious item that makes a statement in the bedroom.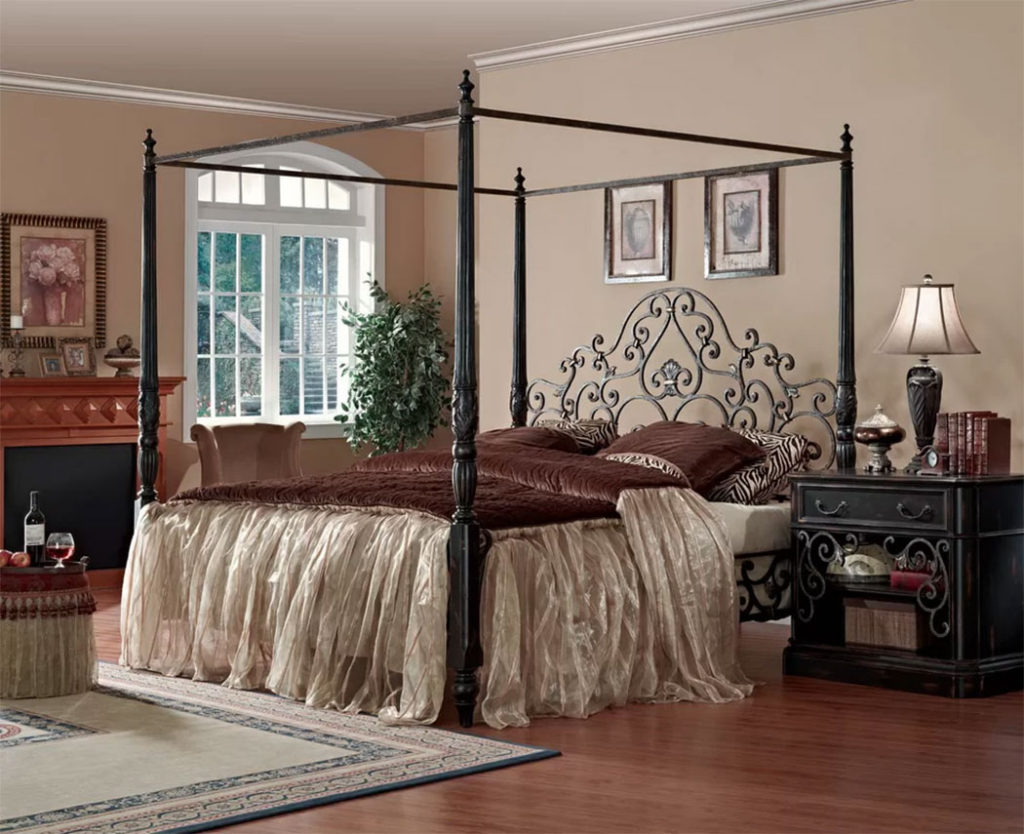 In the 21st century, these beds have taken several different forms. From classically elegant, to rustic, to modern, to fun. They can just as easily be found in a beautifully appointed master bedroom to a streamlined loft to a child's bedroom.
Whatever your design choice, and whether or not you decide to incorporate some type of fabric drapery on the canopy itself, canopy beds can and will make a dramatic impact on any master, kids, or guest bedroom. These beds aren't just for sleeping on, they are for enjoying the stunning visual appeal of your own bedroom retreat.
---
Classically Elegant Canopy Beds
When you think of canopy beds, these are probably the most common ones that come to mind. With classic lines and extraordinary craftsmanship, these impressive pieces of furniture can be a wonder to behold. But, to be fair, some of the more ornate versions aren't going to suit the average suburban bedroom. These Grand Canopy Beds need space to really shine!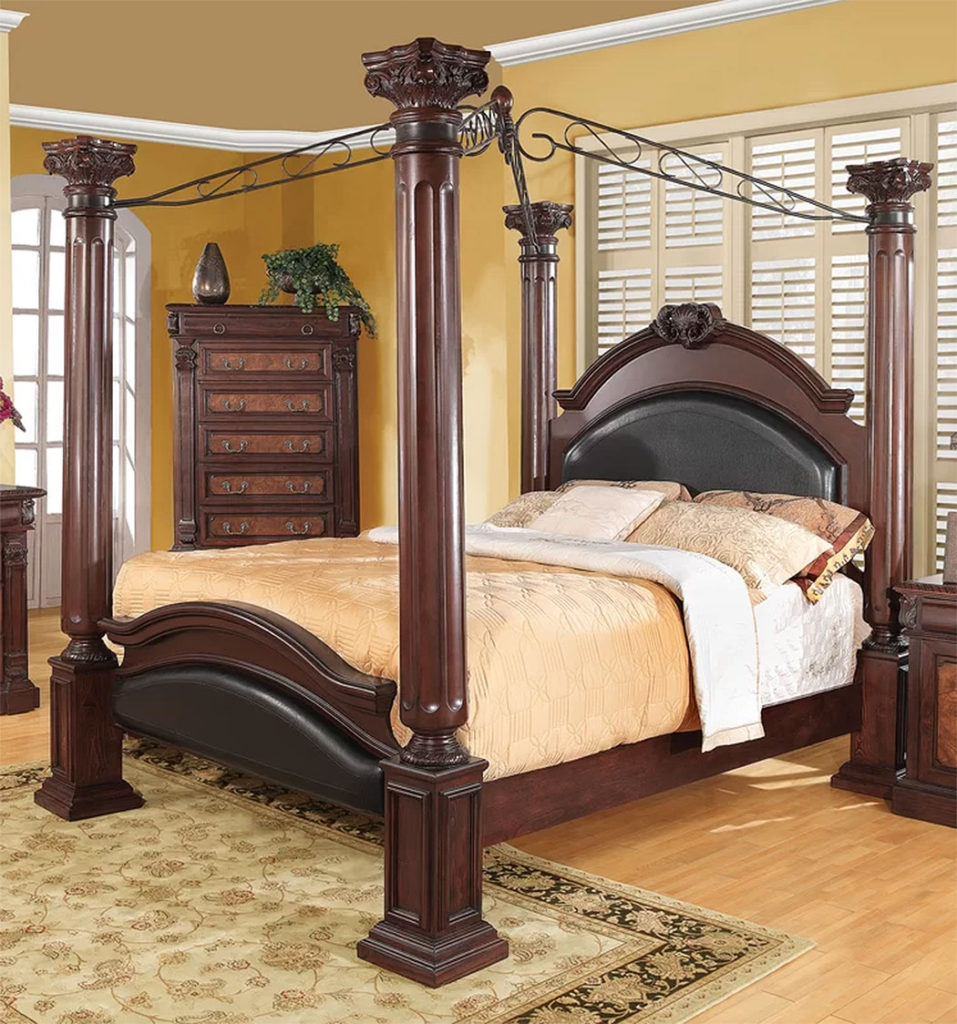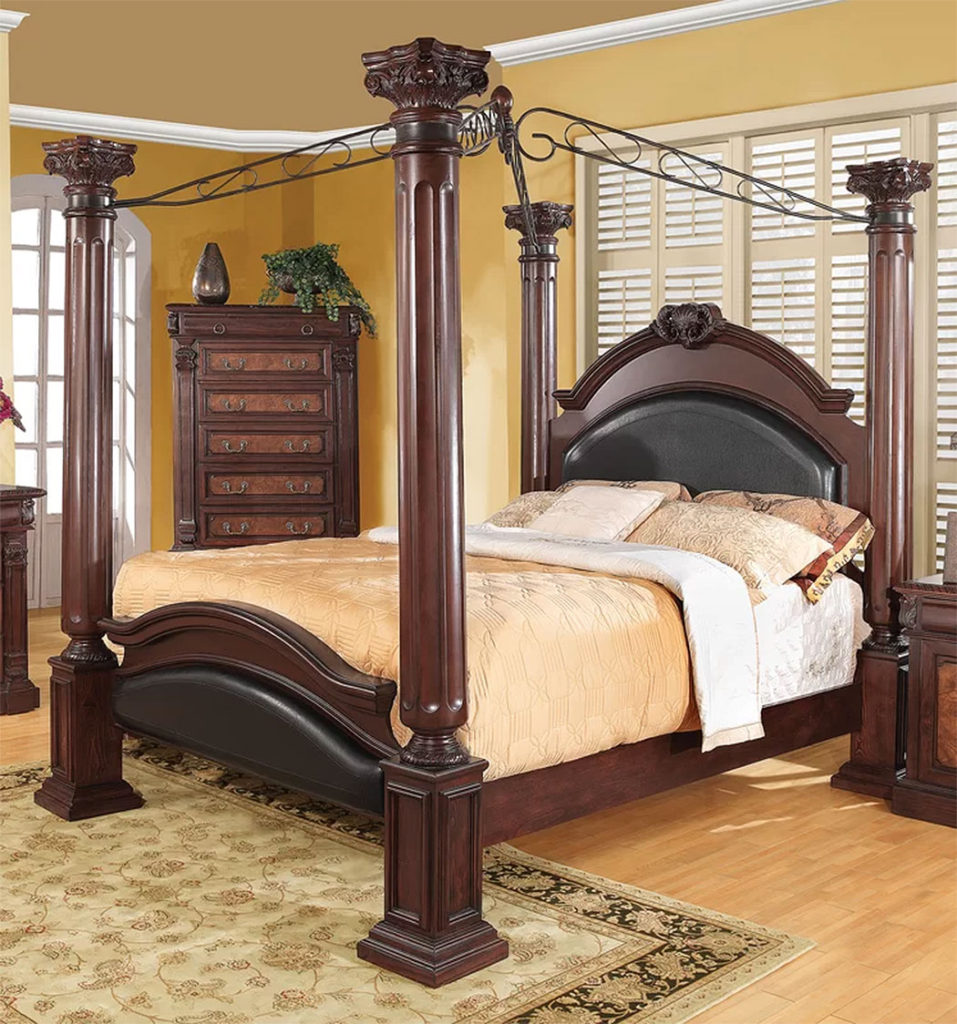 Image: Astoria Grand Fechteler Upholstered Canopy Bed
---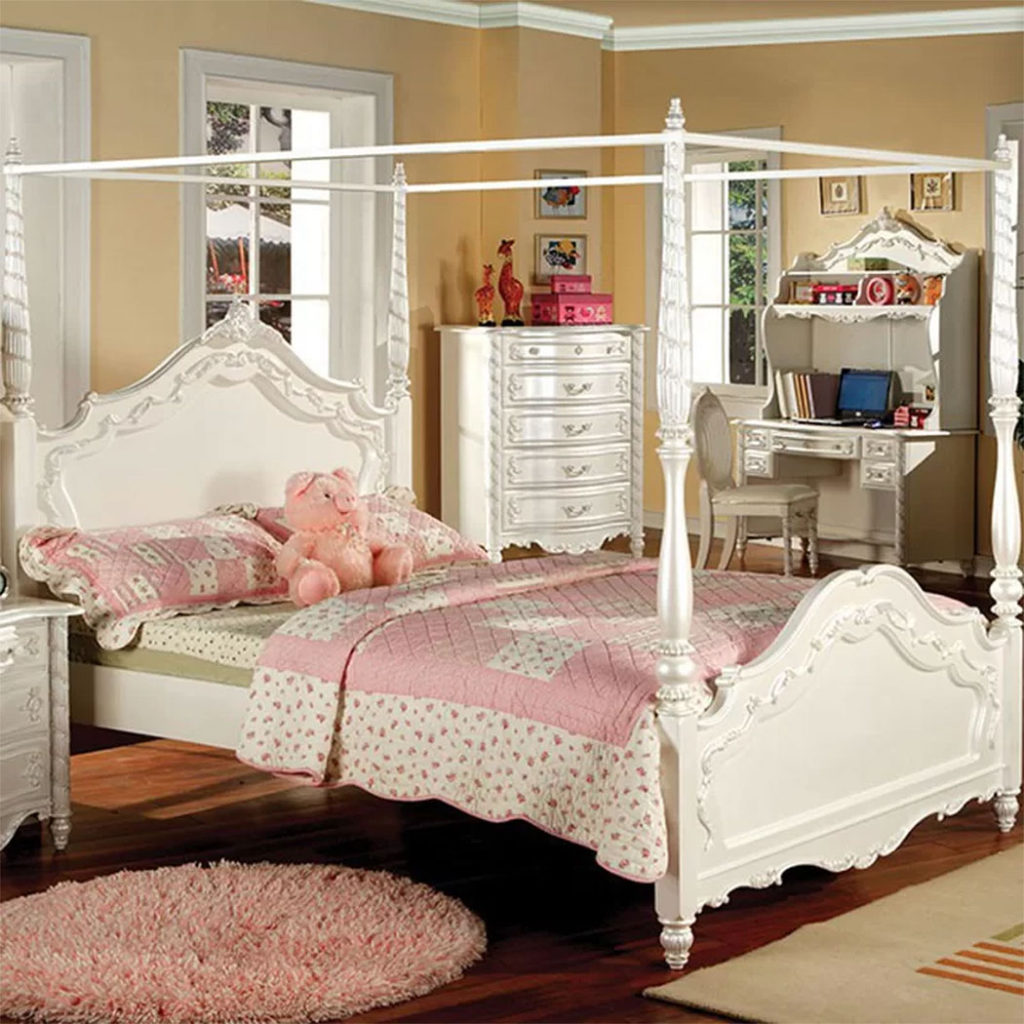 Image: Rosdorf Park Salome Canopy Bed
---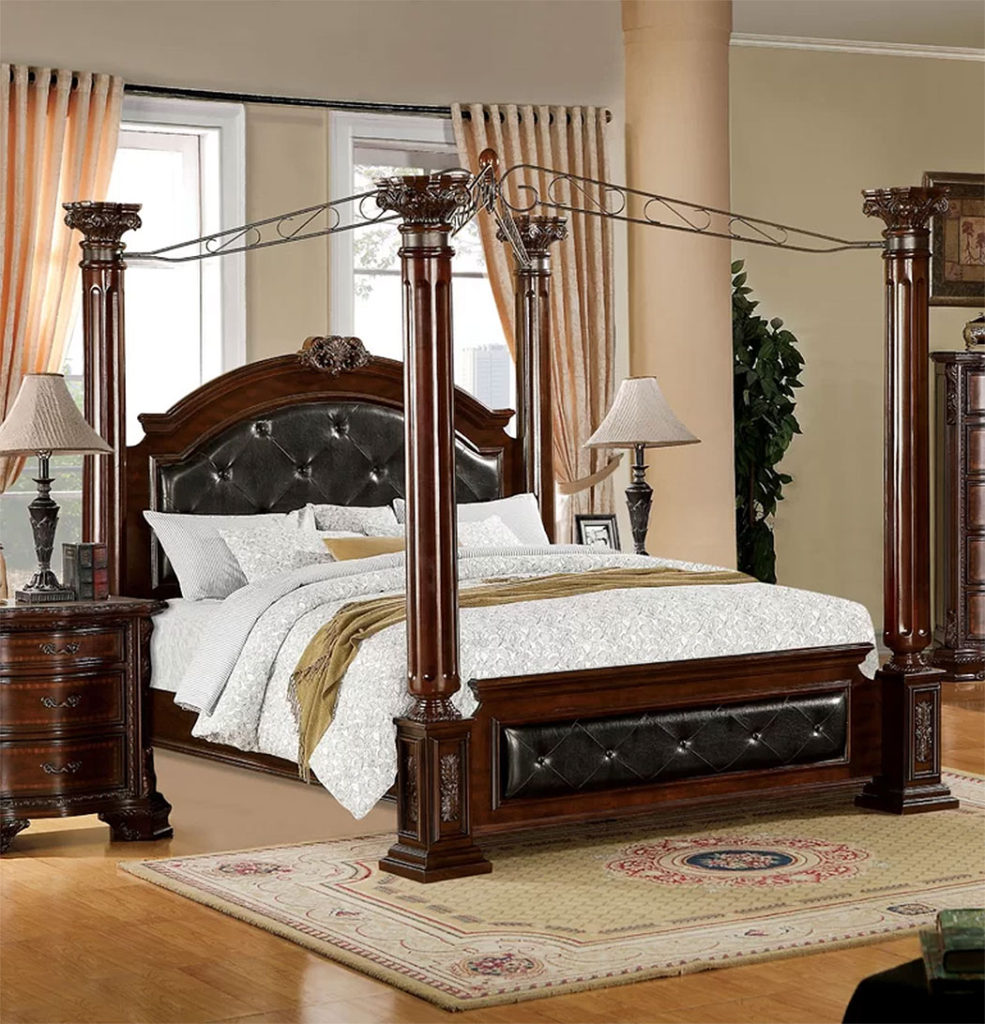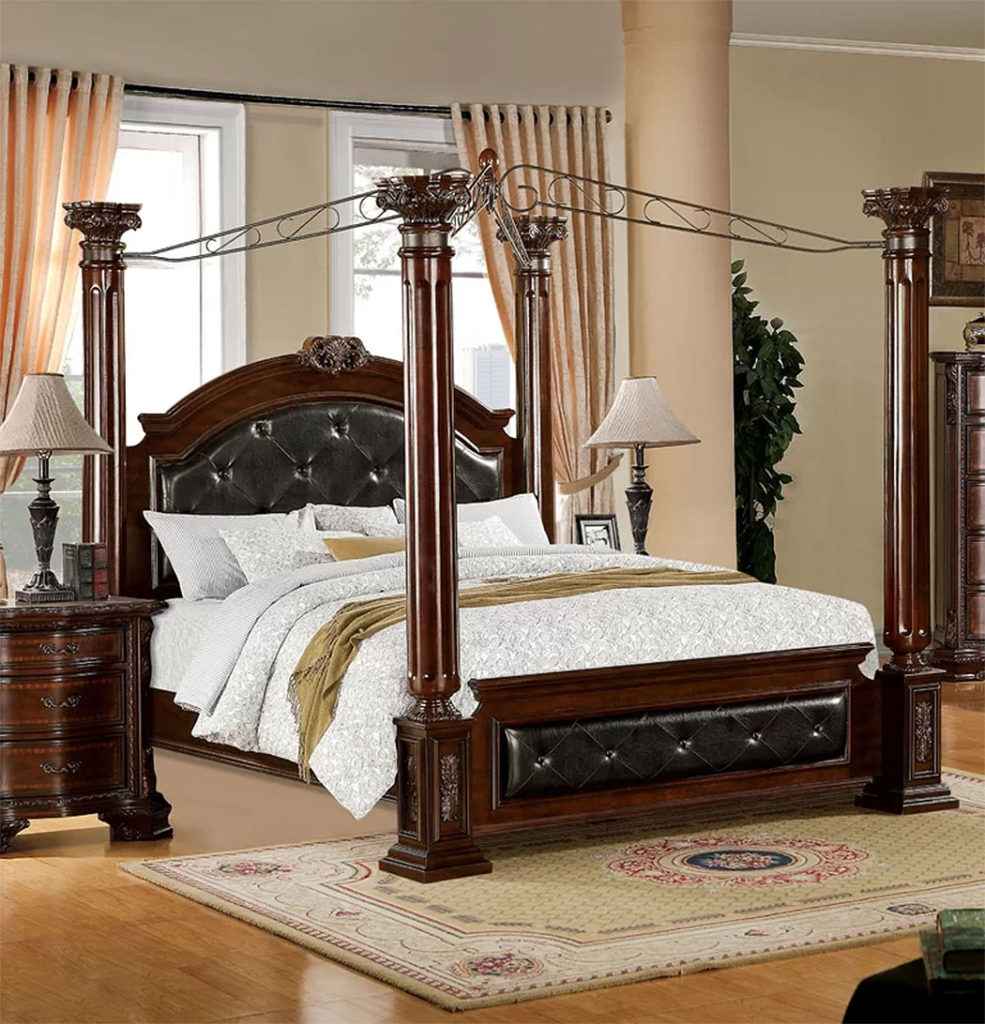 Image: Astoria Grand Edmore Upholstered Canopy Bed
---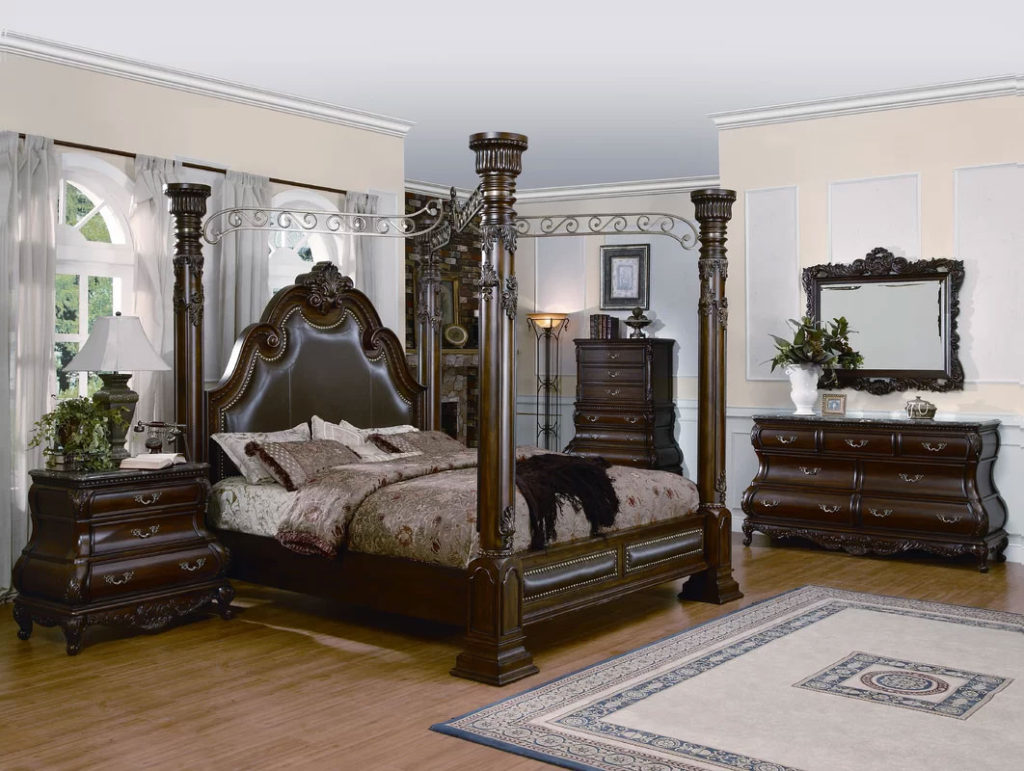 Image: Astoria Grand Alexandria Canopy Bed
---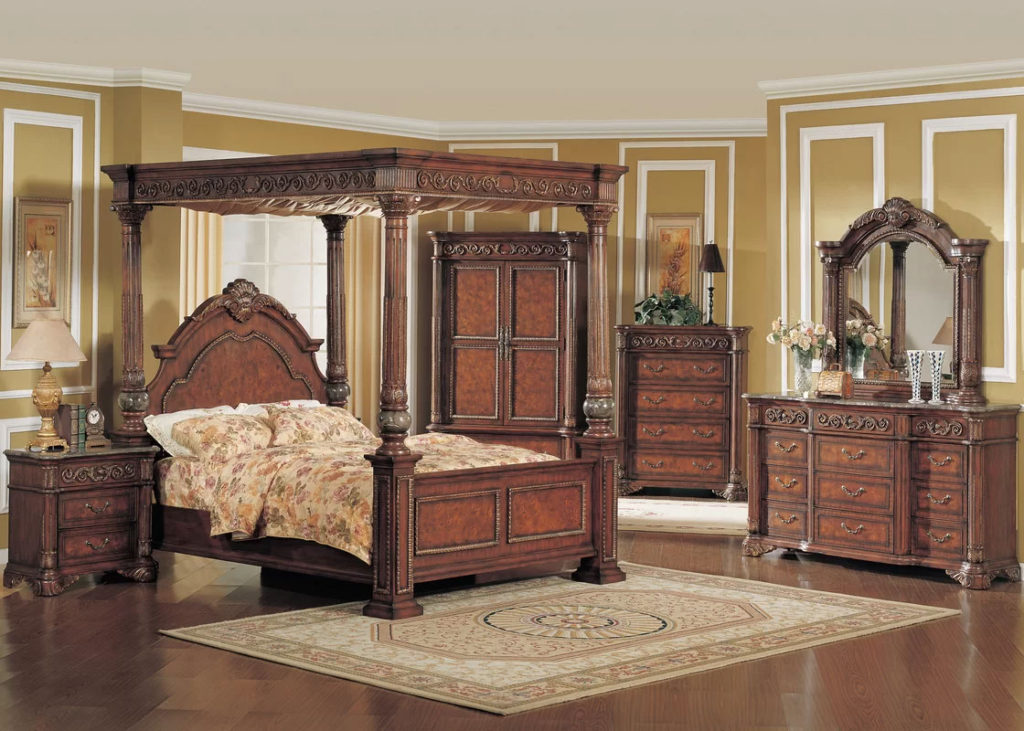 Image: Astoria Grand Alchemist Canopy Bed
---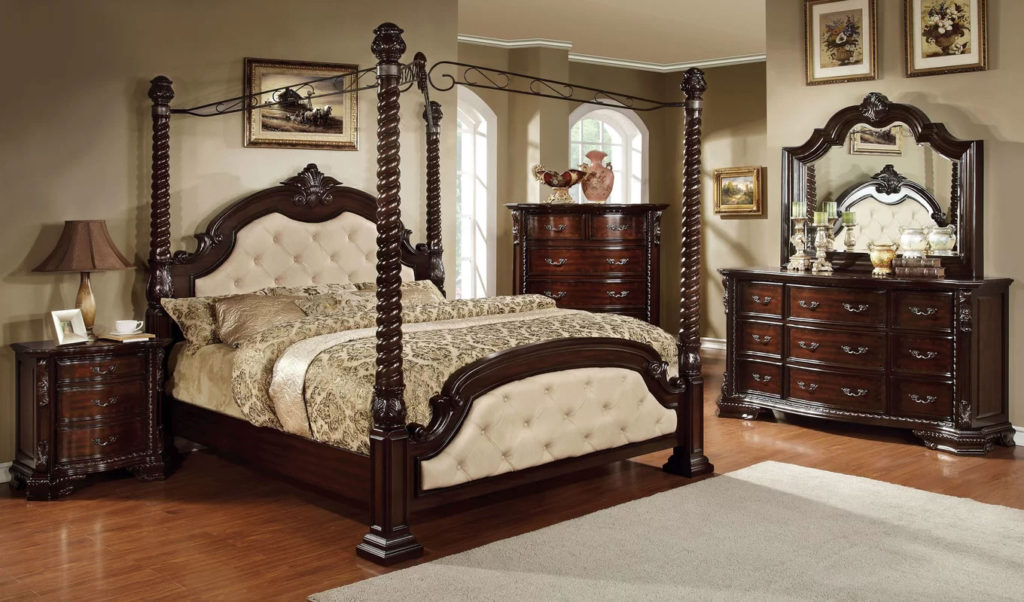 Image: Hokku Designs Upholstered Canopy Bed
---
Rustic & Farmhouse Style Canopy Beds
For those who seek more of a rustic farmhouse or lodge feel to their bedroom, fear not… there can be an exceptional canopy bed in your future as well! These gorgeous rustic & farmhouse style canopy beds take the classic construction of a framed bed but add some unique flair that is singularly rustic.
These designs tend to be far simpler than your traditional version, but they can still create quite a display. You'll also find some astonishing wood grains featured in many Rustic & Farmhouse Canopy Beds.
The other nice thing about the more rustic versions is that they tend to take up a bit less visual space in the bedroom, so they can fit nicely into a normal bedroom than a more opulent version might.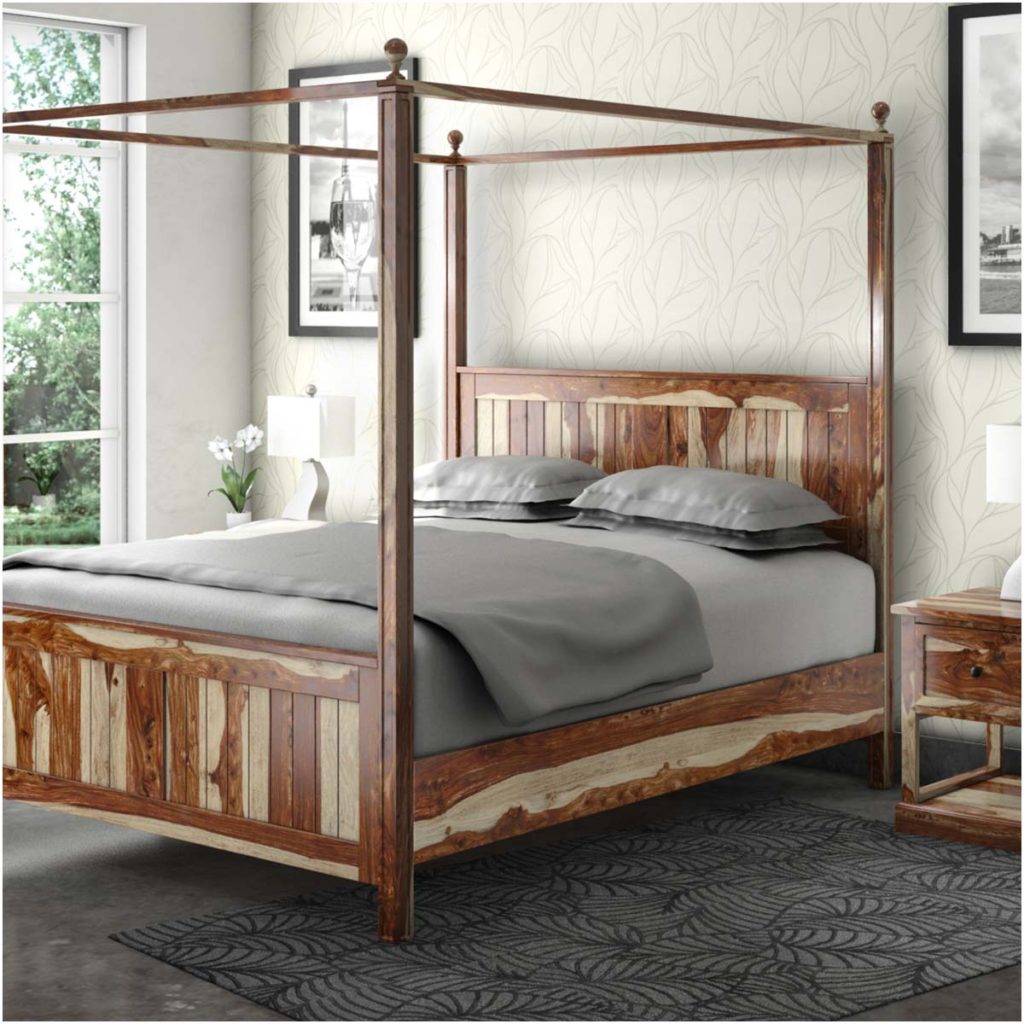 Image Source: Sierra Living Concepts
The combination of clean, simple lines with the dramatic wood grain coloration makes this piece a true Rustic stunner!
---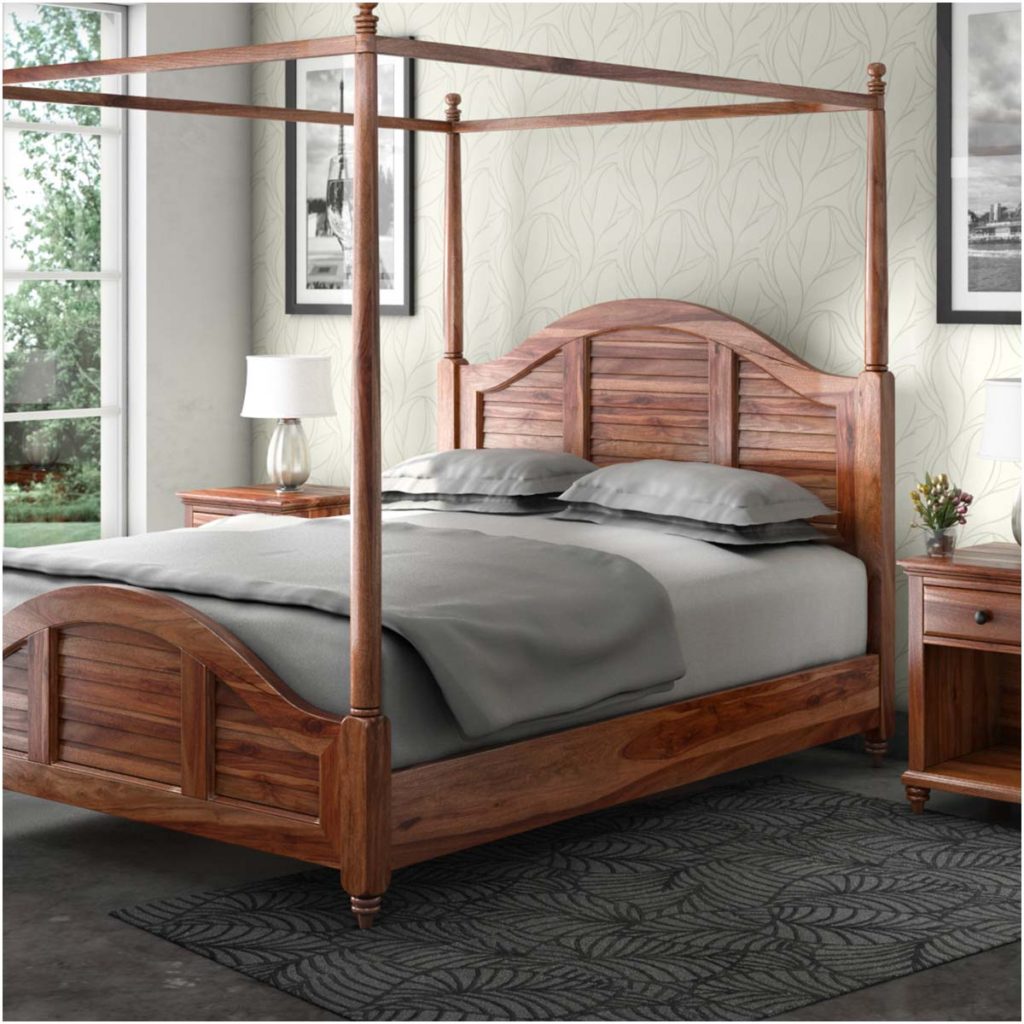 Image Source: Sierra Living Concepts
---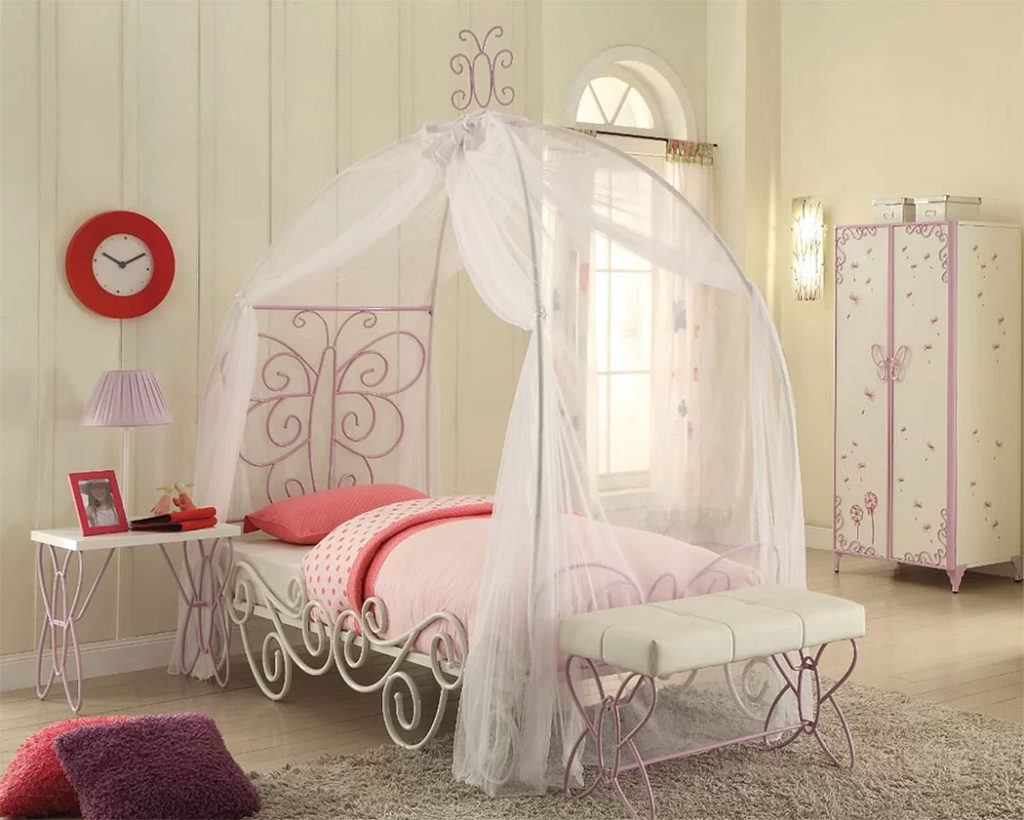 Image: Zoomie Kids Kimes Full Butterfly Canopy Bed
How amazingly delightful! It's what a Canopy Bed would look like if it was designed by a Fairy Princess!
---
Modern Canopy Beds
Today's Modern Canopy Beds take that canopy designs into a modern direction, usually characterized by clean lines and sleek profiles. Despite perhaps what some would consider a minimalist canopy bed, they still have a quiet grandeur that is awe-inspiring.
You'll also find a lot more use of metal in the modern versions than you would in either the traditional or rustic beds.
What I find interesting about the more modern versions is that they are often displayed without any curtains or mesh. The framework itself is considered the accent in the room, and the curtains are just an added piece that may or may not be utilized.
Although I, personally, think that if you're not going to have something on the bed, you might as well stick with a traditional headboard and footboard or a four-poster bed instead. But that is one of the great things about home decor & design, personal preference plays a huge role in the end result.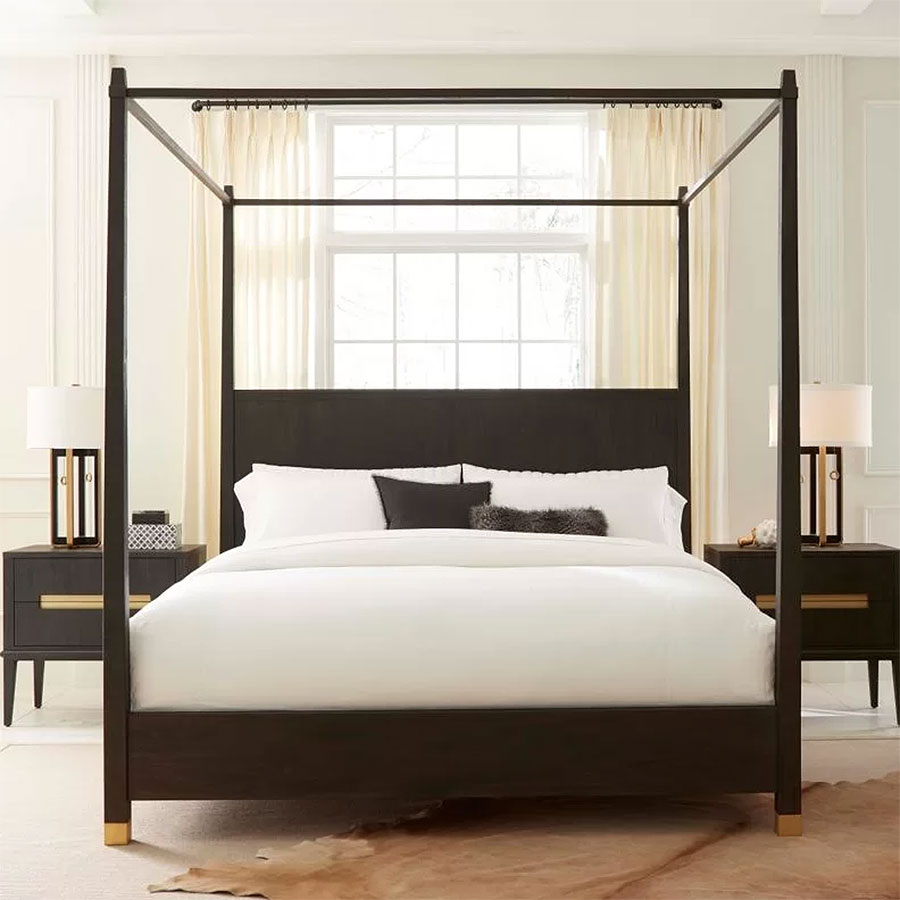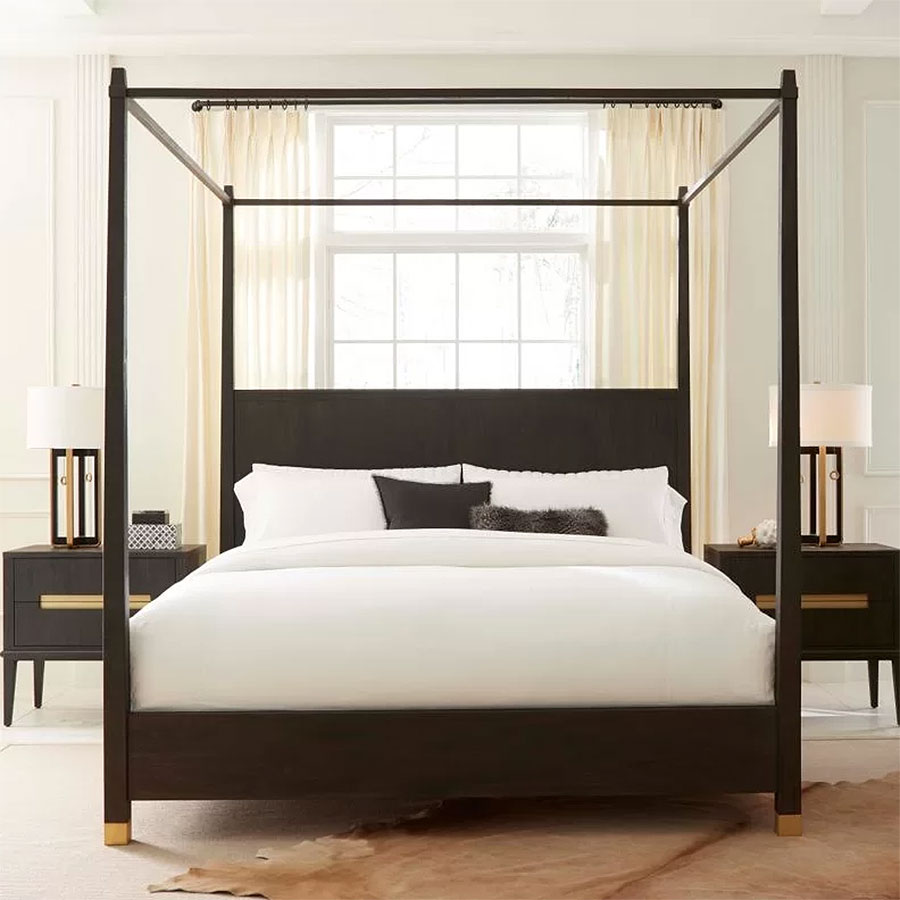 Image: Brownstone Furniture Palmer Modern Canopy Bed
Pure, simple, elegance… in bed form.
---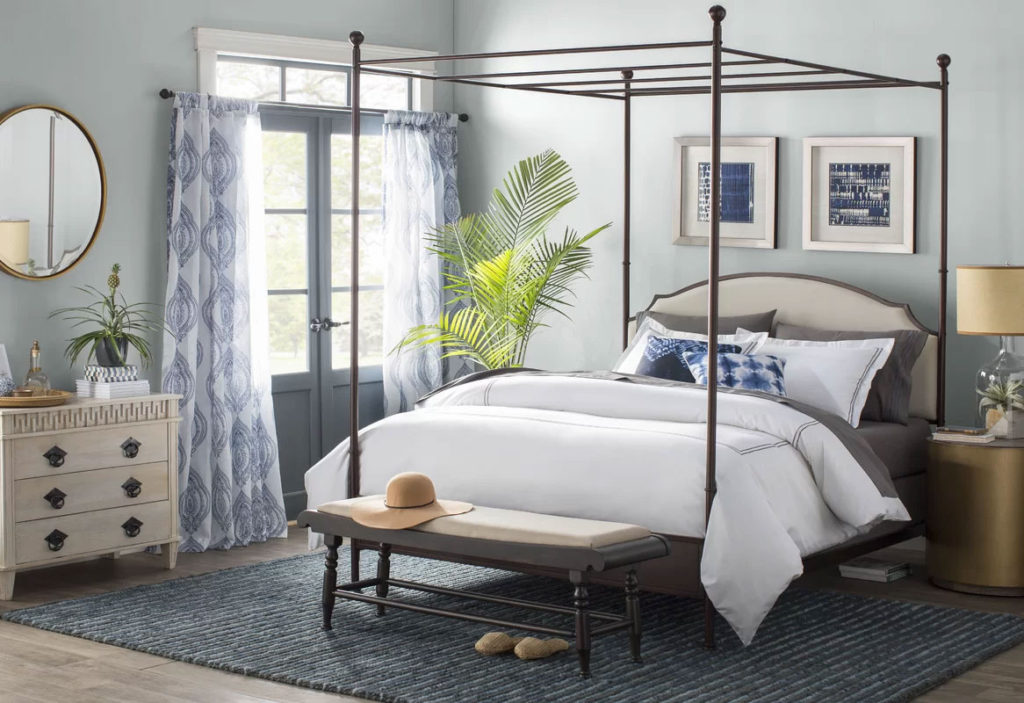 ---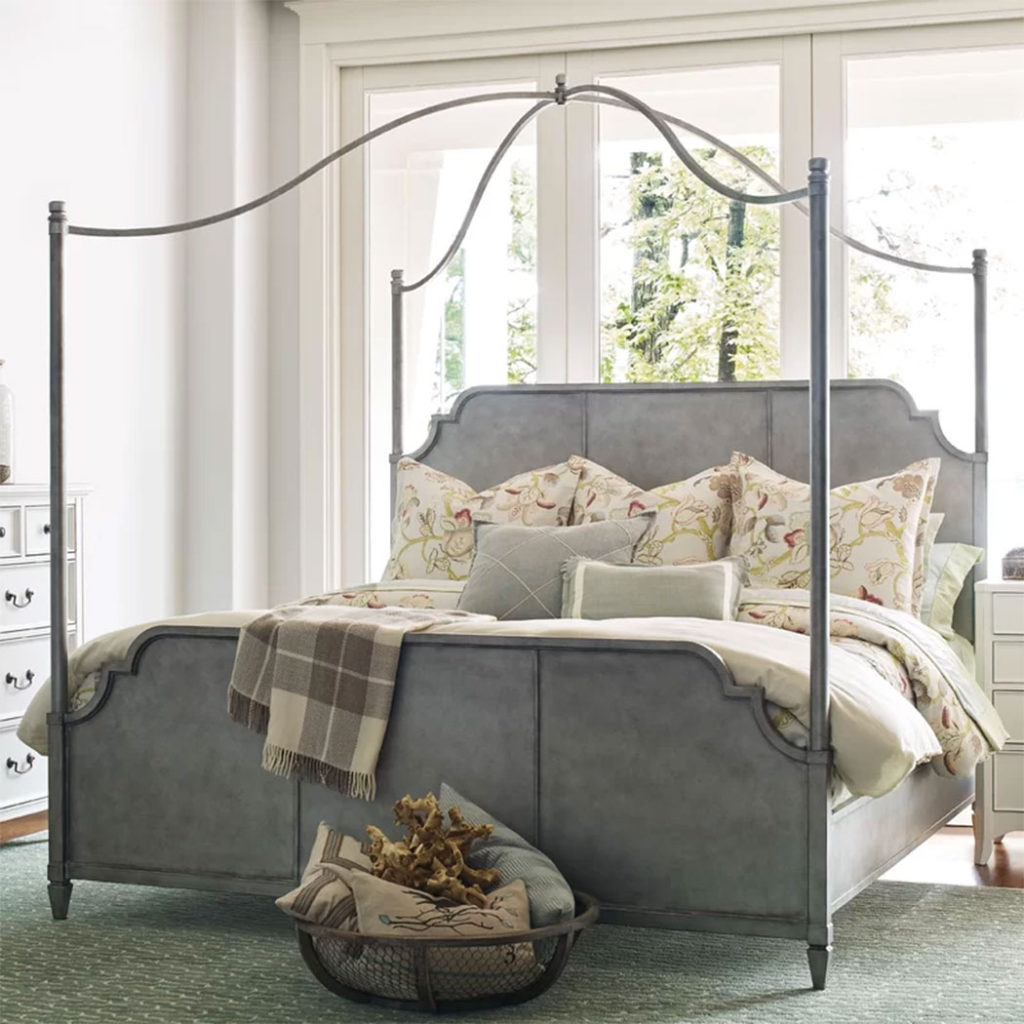 ---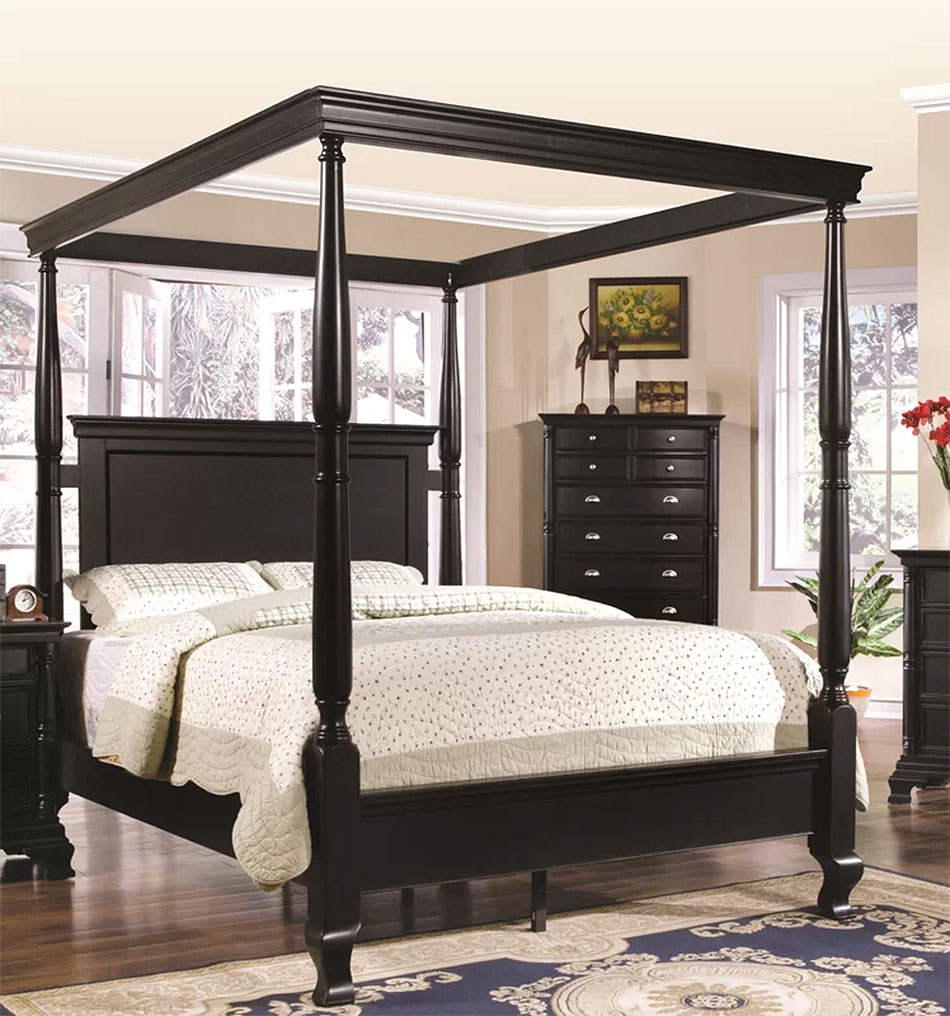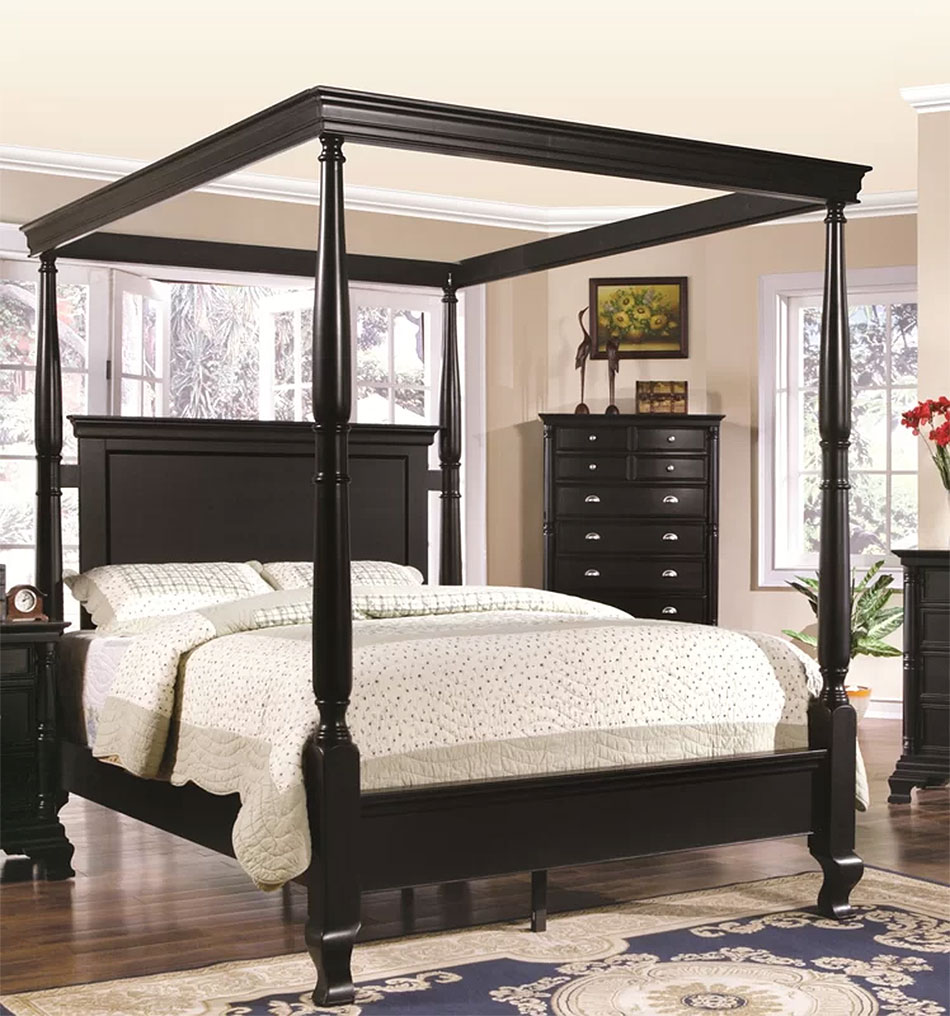 ---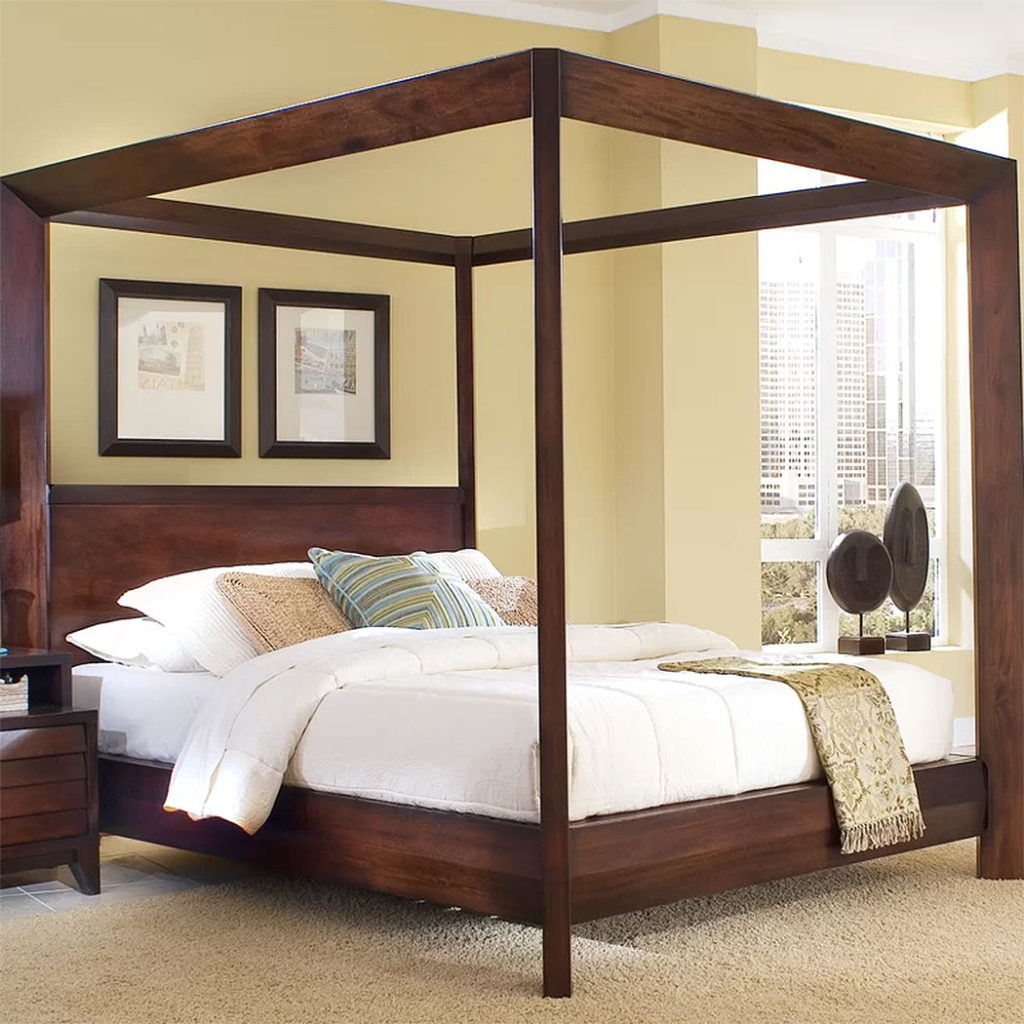 I love absolutely EVERYTHING about this bed!
---
Want more?
Here is a sampling of the wonderful selection of beautiful bedroom furniture from our retail partners. Most of these wonderful canopy beds are available in a variety of styles, finishes, and sizes.
---
Given that canopy beds have been around for hundreds upon hundreds of years, I don't see this particular style of bed going out of style any time soon. Sure, the designs and the construction will change. Sure, people may or may not utilize heavy curtains or mesh to surround themselves while they sleep. And, sure, we will see certain versions come in and out of favor as the years pass.
But the classic concept – whether displayed traditionally or updated with a modern flair – will continue to adorn bedrooms across the country and around the world for many, many years to come.
We hope you enjoyed browsing this collection of Canopy Beds as much as we enjoyed putting it together!
Have a comment to share about one or all of these beds? Use the comments box below to let us know what you think!