Heirloom quality wall tapestries are both a historical treasure and – currently – one of the fastest-growing segments of the wall decor market. Which makes tapestry wall hangings a unique combination of fashion trend and ancient art form.
Tapestry weaving, as an art form, has existed for centuries. Antique specimens of wall tapestries date back to 1500 BC in Egypt and early Greek poetry and paintings on Greek vases show that tapestry weaving was already an important household industry.
From their historic beginnings to one of today's top home decor choices, wall tapestries are an excellent way to add a touch of unique luxury to any home.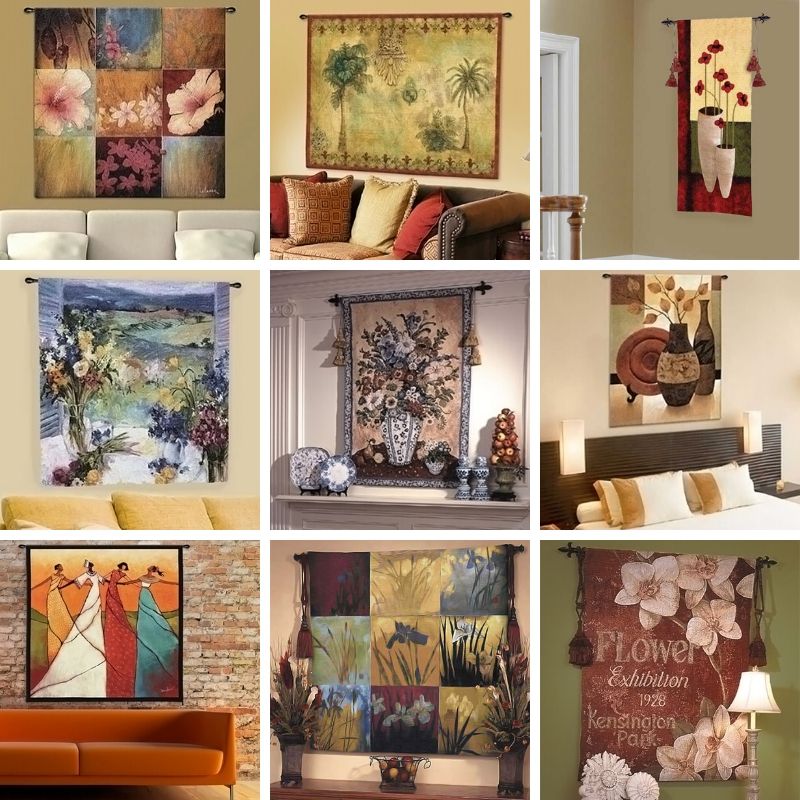 Since the beginning of their history, tapestries have been used as both an art from and a medium for recording historical events.
The famous Beaux Tapestry is a historical account of the Battle of Hastings in 1066. The tapestry was hand woven and took several years to complete.
Through the use of Tapestries, the stories of Homer's Odyssey and Illiad, Virgil's Aneida and Ovid's Metamorphoses were told in brilliant colors and stunning texture. In fact, woven tapestry art has been used to tell the stories of the Greeks, Romans, Medieval, and the Renaissance period as well as the stories from the bible, both the old and the new testament.
In the early fourteenth century, tapestry wall hangings became a symbol of elegance and wealth. Thousands of tapestries have been commissioned as pure works of art, adorning fine homes throughout the ages.
The first wave of tapestry mass production originated in Germany and Switzerland. Over time, the craft expanded to France and the Netherlands.
Arras, France was probably the best known and most respected of these textile towns. During the 14th and 15th centuries, Arras created fine wool tapestries which were used to decorate palaces and castles across Europe.
Although most of these tapestries were destroyed during the French Revolution, the term " Arras" is still used – to this day – to refer to a rich tapestry, no matter where it was woven.
---
Not just Art, Wall Tapestries Are Woven Elegance.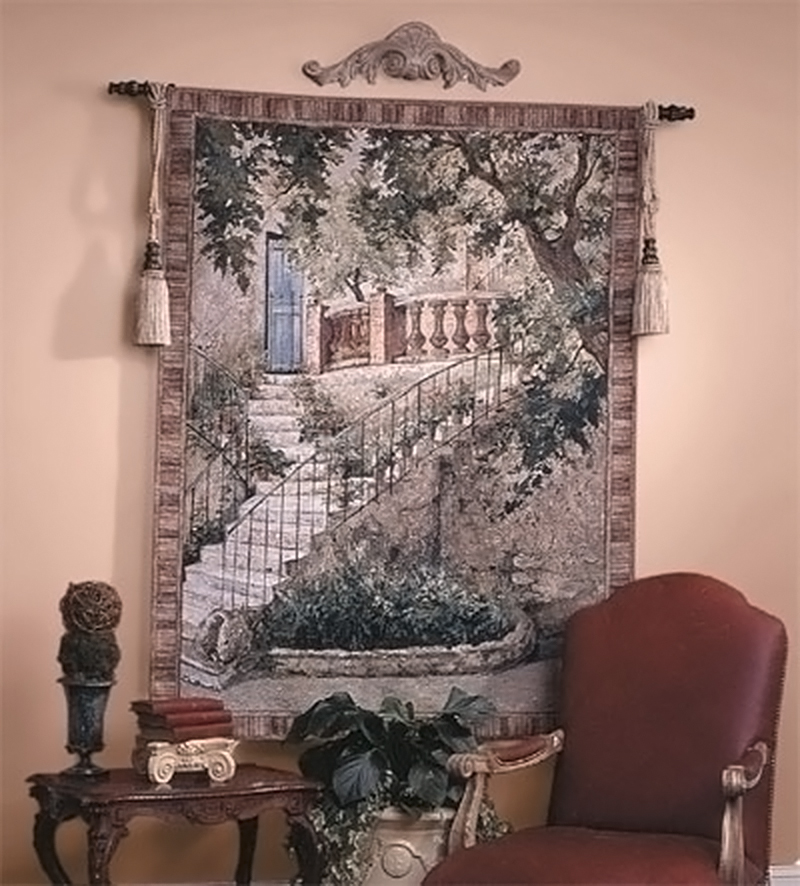 As far back as ancient Greece, hand-woven tapestry art was believed to be an important means for decorating affluent homes and important buildings. Tapestry art was even thought to have covered the walls of the Parthenon.
Tapestries have always graced the walls of fine homes because of their elegance. and because tapestries add an ambiance to a room as the fabric reduces sound vibrations, enhancing the acoustical characteristics of the room in which they are displayed.
Part of the historical success of decorative tapestries can be attributed to their portability. Kings and noblemen could easily roll up tapestry wall hangings in order to transport them from one residence to another. Some tapestries were only displayed on special occasions.
Tapestries were also draped on the walls of castles for insulation during winter.
The combination of visual appeal, acoustic resonance and practicality still give tapestry wall hangings a unique and stunning appeal in any home. No longer are they reserved for the upper echelon of homes, modern weaving techniques have made tapestry wall hangings affordable for any home.
---
Today's wall tapestries are created with a mix of past and present art.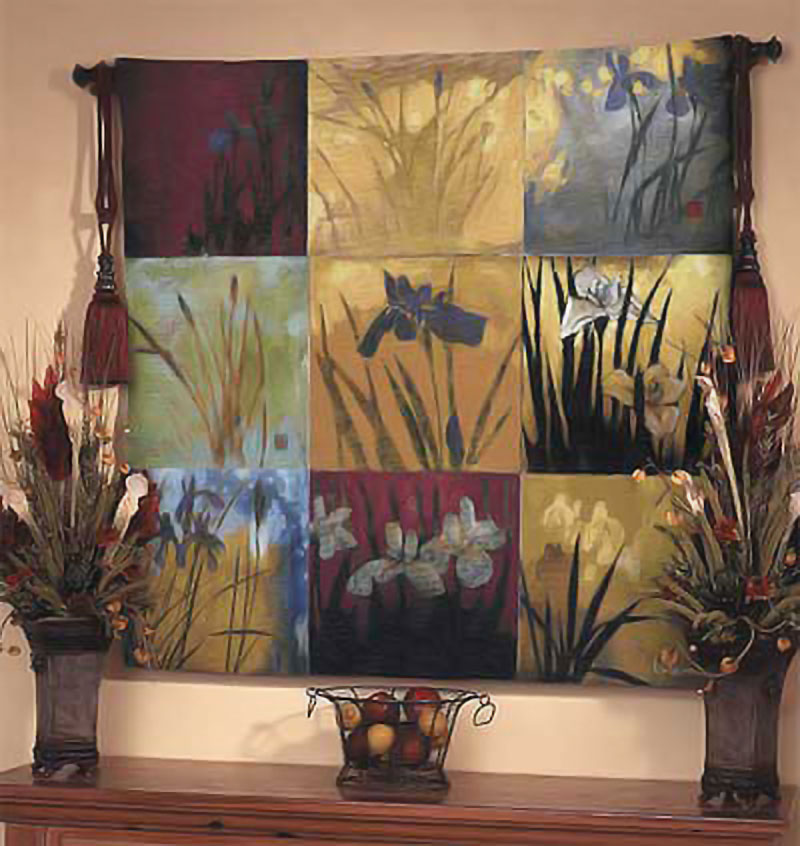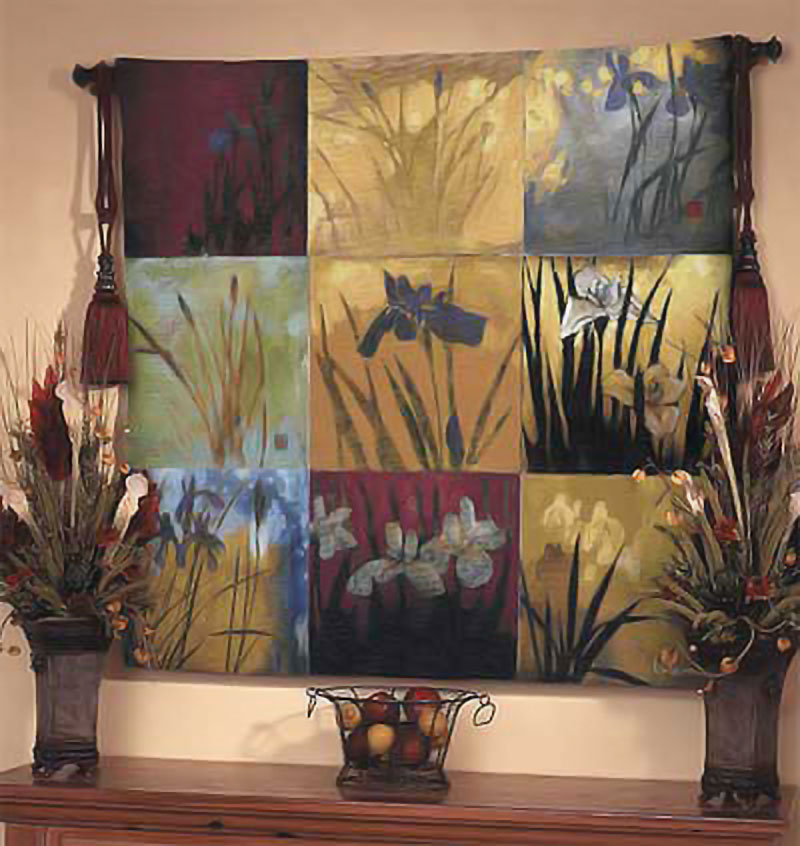 Tapestry Wall Hangings have experienced a rebirth in the 21st century, as many homeowners are looking at them as a stunning alternative to traditional wall decor options. The tactile nature of tapestries, combined with their rich history, has created a warm and stunning appeal for home-owners.
Today's tapestries are available in a wide variety of contemporary and traditional designs.
Traditional Tapestries
Some tapestry buyers prefer the historical aspects of tapestry recreations that include Gothic wall hangings, French Baroque and William Morris' works.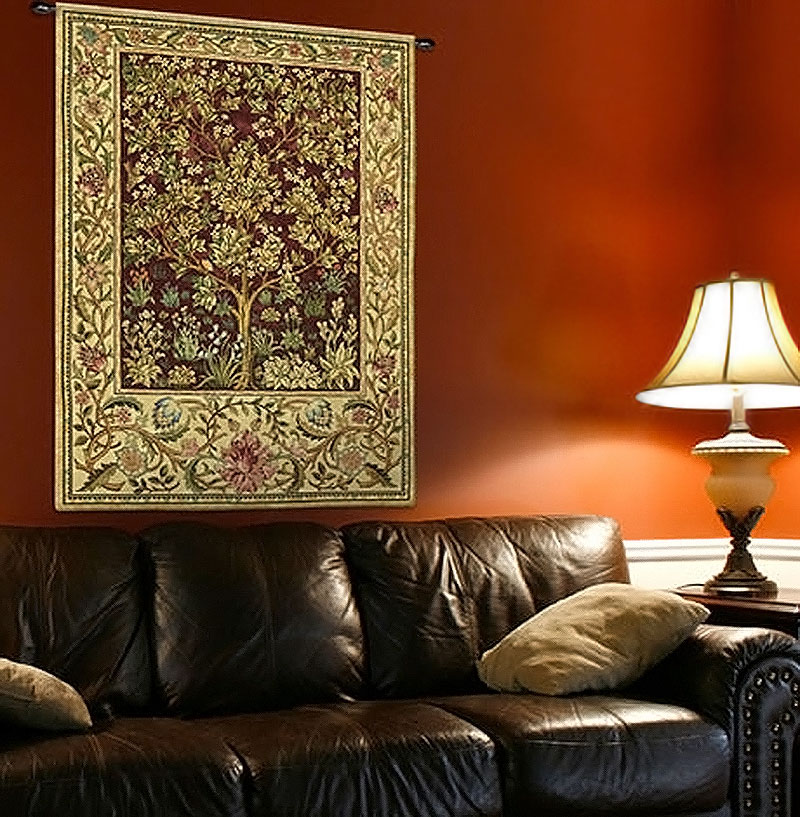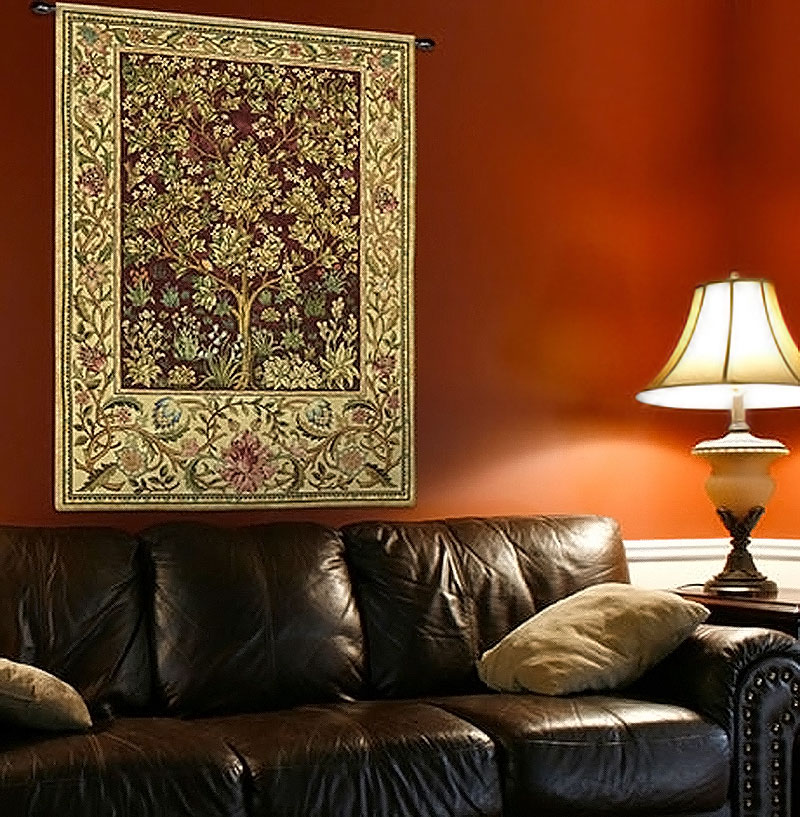 For some, the main appeal of these traditional tapestries is their connection with history… the story behind the artwork. The combination of art and history can be irresistible to art lovers who are looking for more depth in their home decor choices.
Reproductions of these famous, traditional tapestries are proving very popular with today's art lover. These tapestry recreations capture the drama of historical art, perfectly blending it with modern weaving methods. The end result is often very faithful to the original artists' vision, with all the durability and appeal of modern fabrics.
Traditional tapestry designs often surprise contemporary art lovers with their attention to detail, their ability to capture emotion and their exploration of timeless themes such as love and romance.
Contemporary Tapestries
Others are looking at the capability of the art form to produce stunning contemporary tapestries that bring the ancient art form into their modern lifestyle.
Combining bold colors and striking designs with the ancient art form of tapestry weaving produces artworks like nothing seen before. These contemporary tapestry wall hangings showcase the tactile advantages of tapestry wall hangings, while providing a contemporary visual appeal.
Recently, artists have begun licensing their works for recreation as a tapestry wall hanging, including such artists as Max Hayslette, Nancy O'Toole and Will Rafuse… just to name a few.
Florals and landscapes and cityscapes are strong themes in today's contemporary fine art tapestries, while others are created to provide a unique theme, such as playing cards, billiards or fashion.
Rustic Tapestries
Wall tapestries are a great way to add a charming touch of woven decor to any farmhouse, lodge, or country home.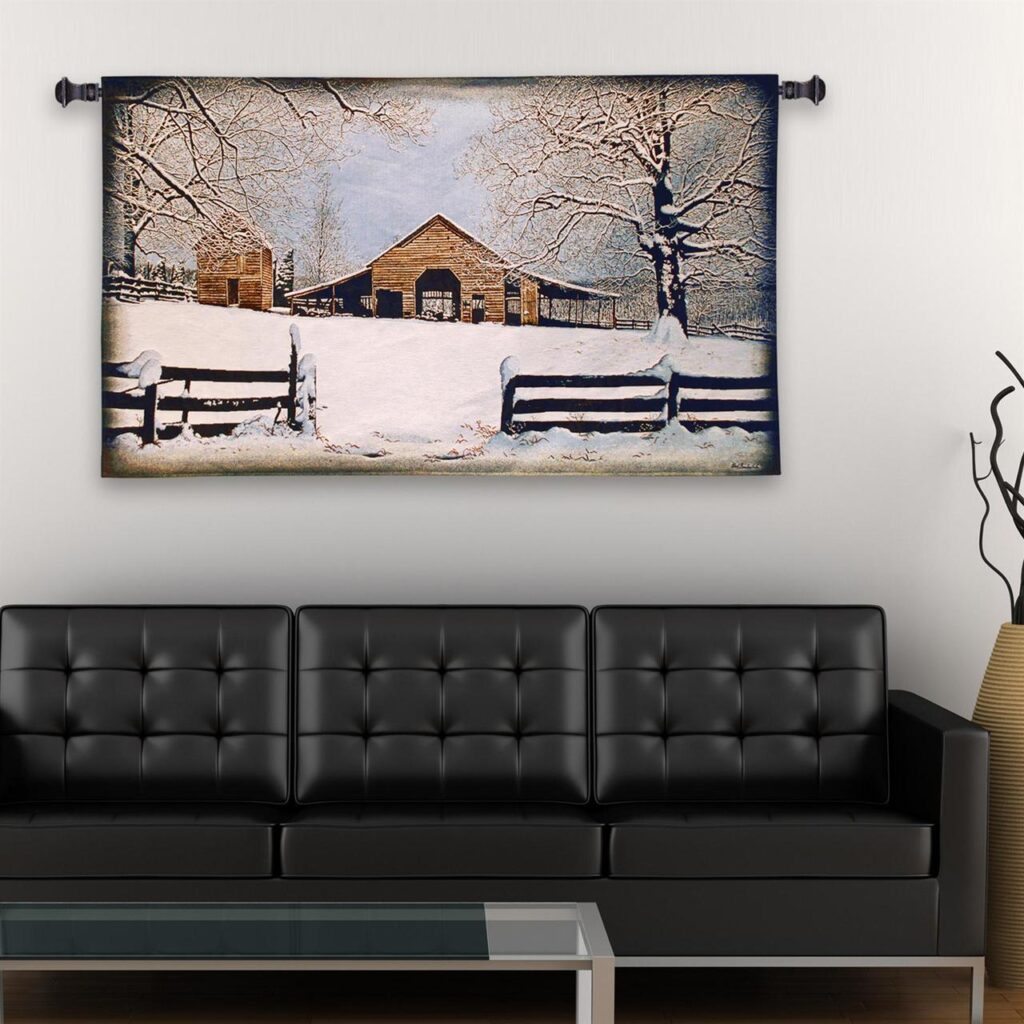 The delightful designs of rustic tapestries, combined with the comforting warmth of woven textiles, creates a perfect blend that works beautifully in country and French Country decor alike.
Traditional, Contemporary or Rustic, Tapestries are Woven Art
True tapestries are woven works of art. Most of today's tapestry artworks are woven on jacquard looms and utilize between nine and seventeen miles of thread in each design.
The color palates of the warp and weft threads work in concert to achieve a broad range of colors on the face of the tapestry.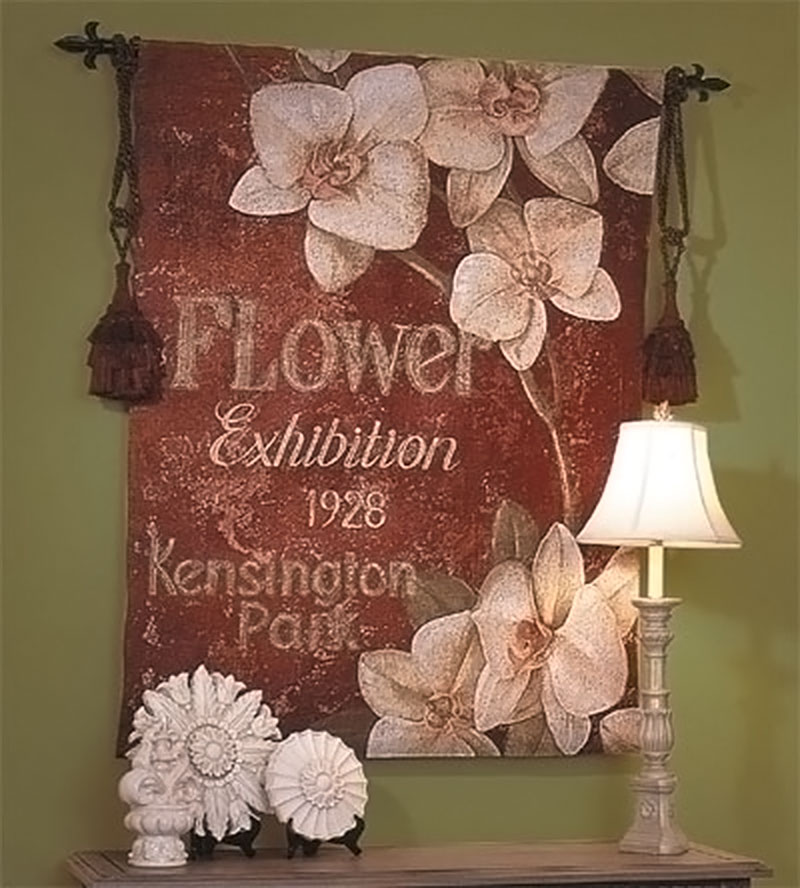 Because of this, tapestries have texture not found in any other art form. The combination of the thread colors and weaves create a unique art experience that changes with each viewing angle.
See for yourself why tapestries have proven their worth for over a thousand years.
Wall Tapestries May Be Hung In Several Ways
Tapestries are meant to be hung from the walls, the manner in which they are hung is a mixture of personal preference and science.
If you have sheetrock walls (sheetrock has a high lime content) do not hang your tapestries directly against the wall. Over time, the lime in the sheetrock will adversely affect your tapestry. Utilize brackets that will keep the tapestry 1-2 inches off the walls.
If you have plaster walls, feel free to hang your tapestry against the wall, or 1-2 inches off the wall, whichever your prefer.
Either way, do not hang a tapestry in direct sunlight. As with any work of art–oil, paper, etc–direct sunlight will fade the art over time.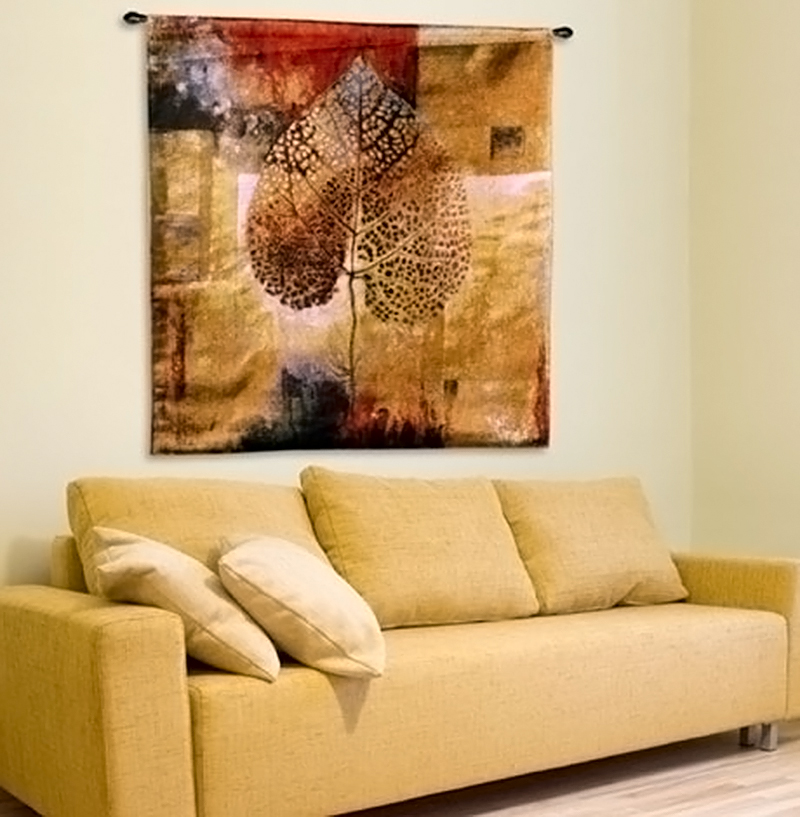 Whatever way you choose to hang your tapestry, you will soon discover the aesthetic and even the acoustic benefits of wall tapestries.
Browse Art & Home's Extensive Collection of Tapestries
Art and Home offers thousands of tapestry wall hangings, so that you can find just the right one for your home.
Here is just a small sample.