An outdoor clock adds a touch of functional decor to your back yard or patio, providing a timely and timeless addition to your outdoor living space.
Creating an outdoor living space combines style, comfort, and convenience in the great outdoors of your own backyard. Adding an outdoor wall clock helps to keep you on track, so that you don't get too lost in your own private oasis. And a clock with a built-in thermometer helps you track the outside conditions so that you can answer the question "is it really THAT hot out???"
But if you're going to add a functional timepiece to such a serene living space, you'd better make it a nice one!
To that end, we've browsed through the selections from our retail affiliate partners at Wayfair, Amazon, and more to hand-pick the best of the best outdoor clocks for your home.
Please note that Art & Home does enjoy an affiliate relationship with the retailers shown below, so we may receive a small referral fee – at no cost to you – for any purchases you make from the links provided. Those funds are used to help support Art & Home, so that we can continue to bring you new and unique home decor and lifestyle articles.
OUTDOOR CLOCKS WITH STYLE
Take your time (pun intended) and browse this wonderful collection of gorgeous outdoor wall clocks and thermometers.
Springfield Precision Instruments All-Weather Clock and Thermometer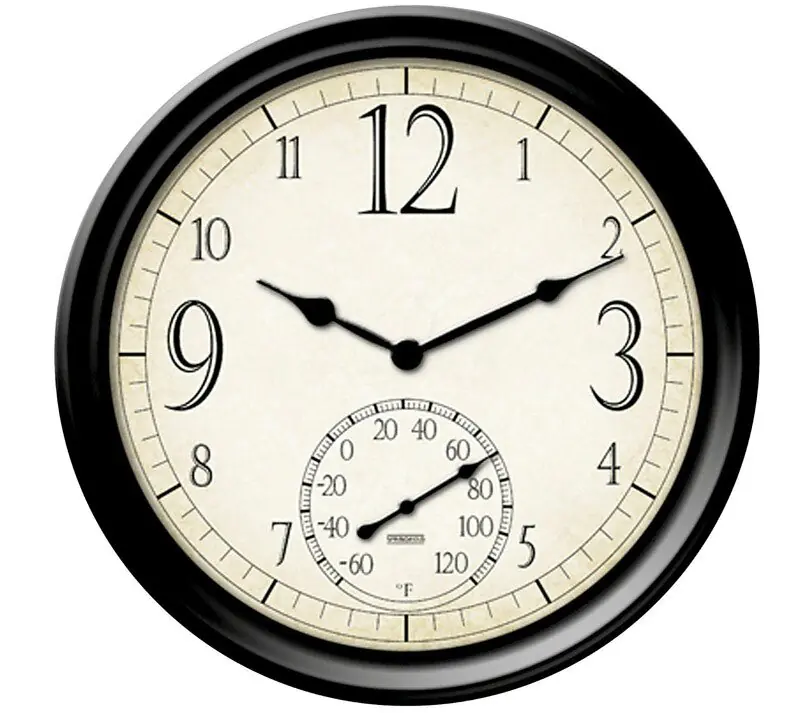 Classic elegance abounds in this distinctive silk-screened Outdoor Clock and Thermometer.
---
Palos Designs Verdigris Medallion Outdoor Clock and Thermometer Set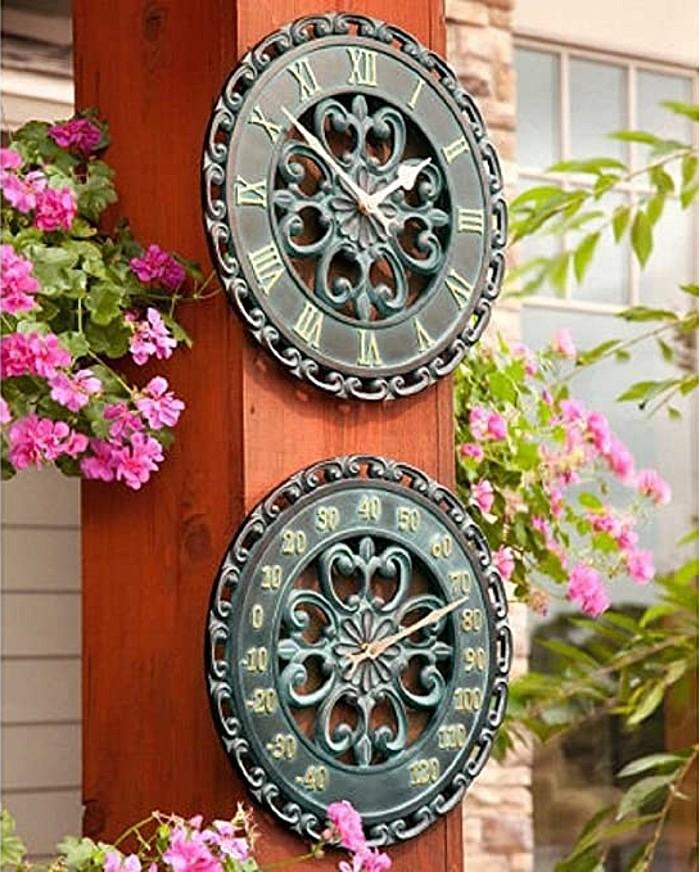 With their distressed verdigris finish and open scrolled center, this decorative clock and thermometer set will be striking and functional outdoor accent.
---
Solstice Wall Clock and Thermometer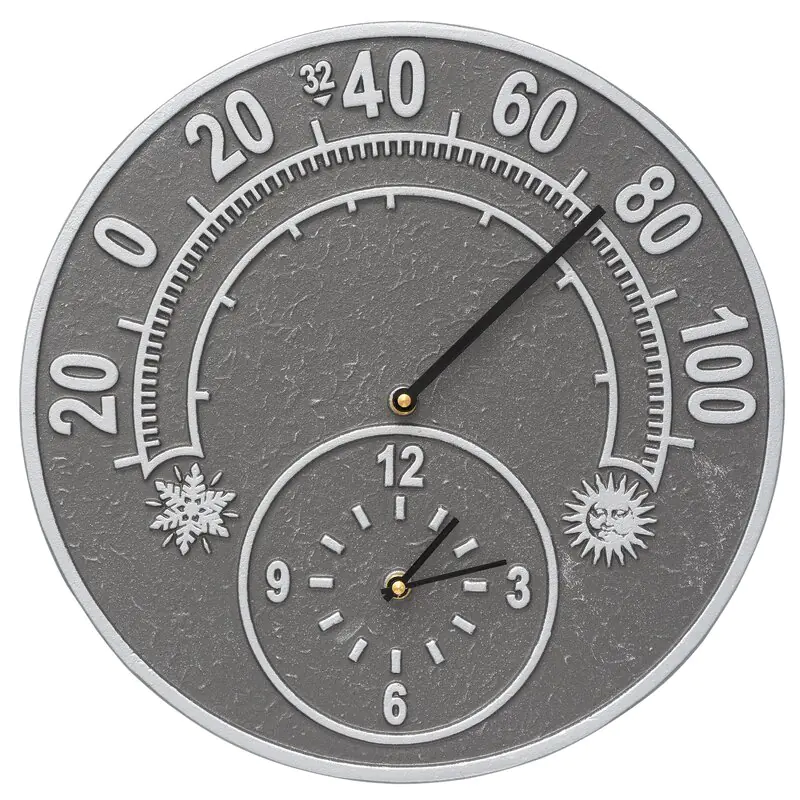 If you're more interested in the temperature than the time, then this wall clock is for you. The traditional style of this combination of clock and thermometer will add a classic elegance to your outdoor living space.
---
Wallcharmers Large Vintage Wall Clock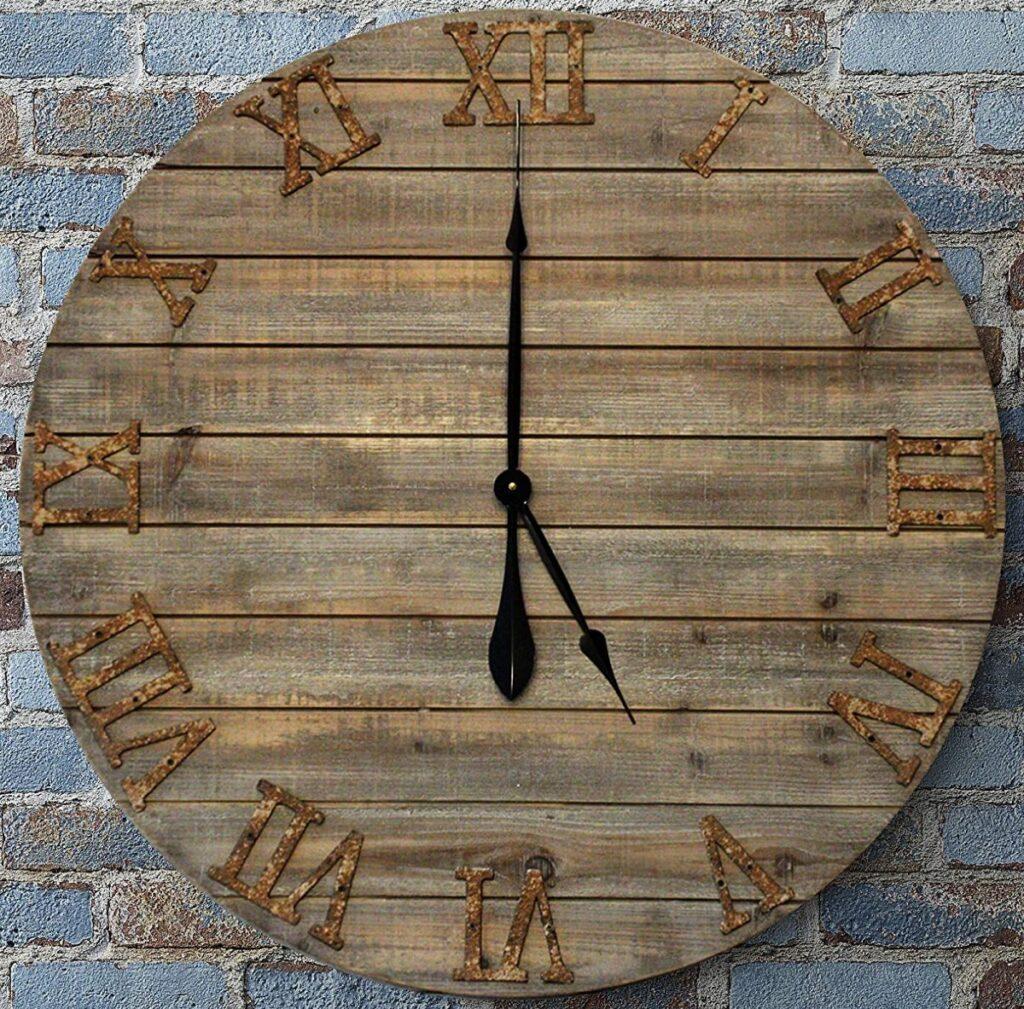 Handmade from reclaimed cedar with cast-iron metal numbers, this beautiful farmhouse-style clock provides a stunningly detailed accent for your farmhouse-style patio.
---
Anchor and Buoy Personalized Nautical Outdoor Wall Clock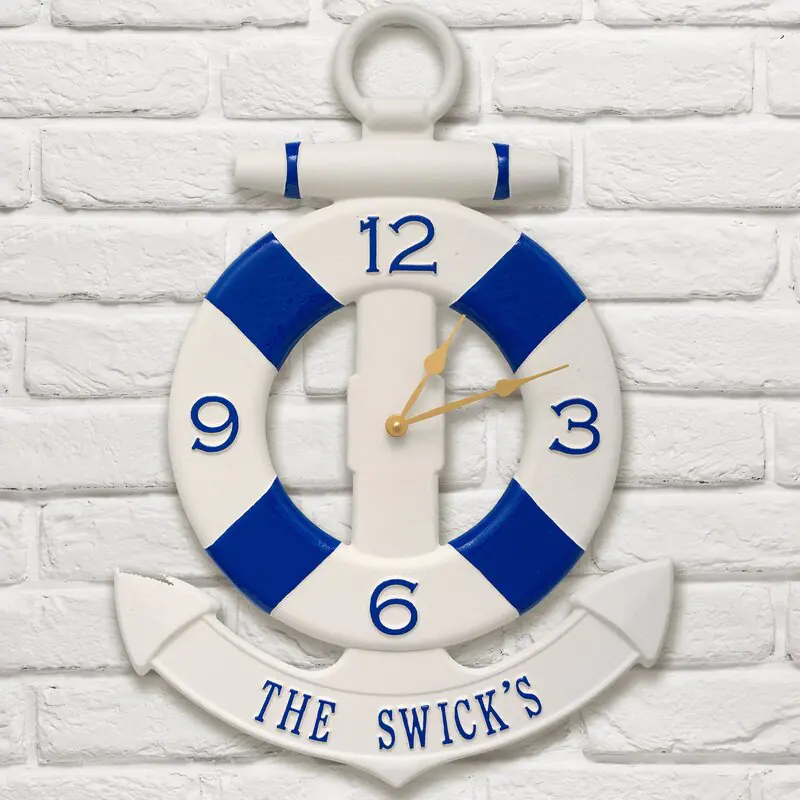 The coastal style of Anchor and Buoy Personalized Clock will add a nautical touch to your back yard or patio. Perfect for the coastal home!
---
Bourbon Barrel Outdoor Clock with Thermometer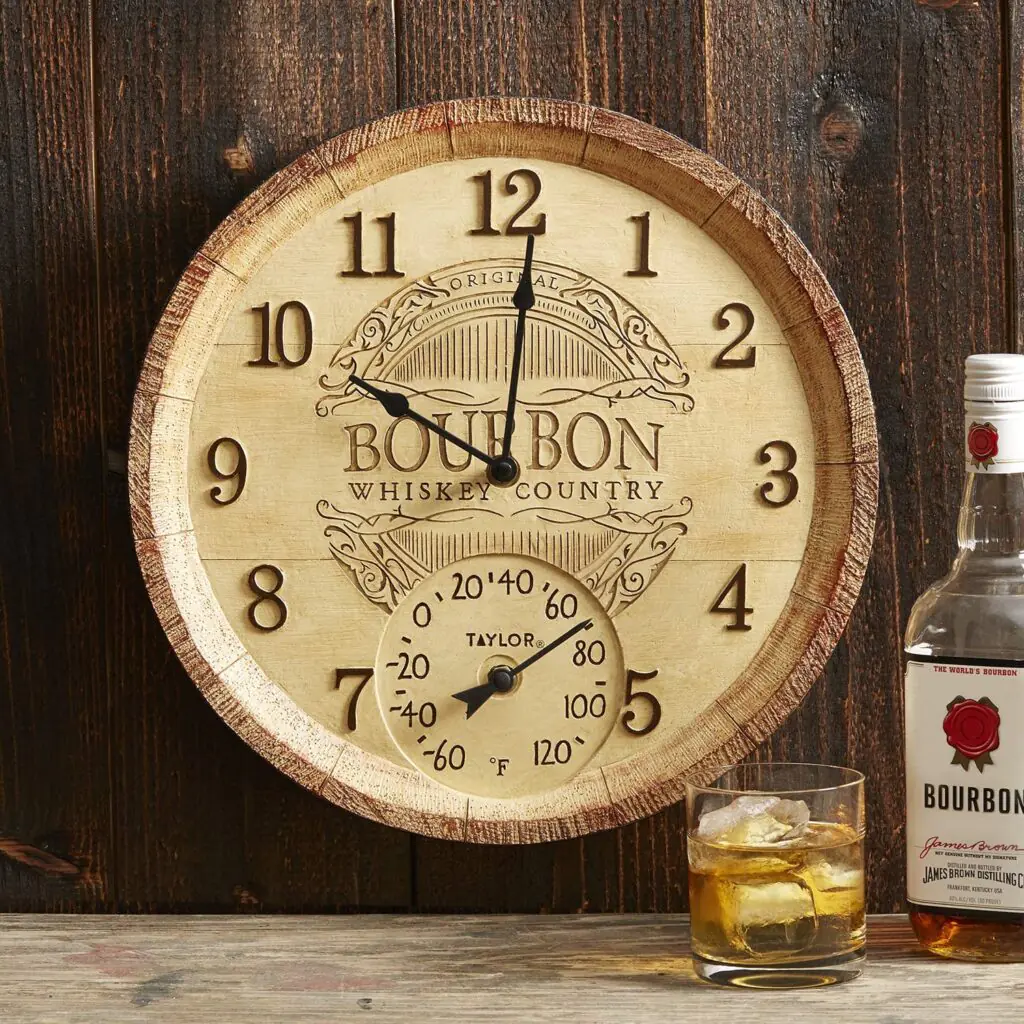 The 14″ Taylor Poly Resin Bourbon Barrel Clock with Thermometer is a beautiful addition to the patio, garden or even basement bar. The rustic bourbon barrel design is hand painted and UV resistant. Precision made coils measure temperature between -60°F to 120°F, making it ideal for indoor or outdoor use. The clock is accurate and reliable due to the precise quartz movement.
---
Plaques 20" Outdoor Wall Clock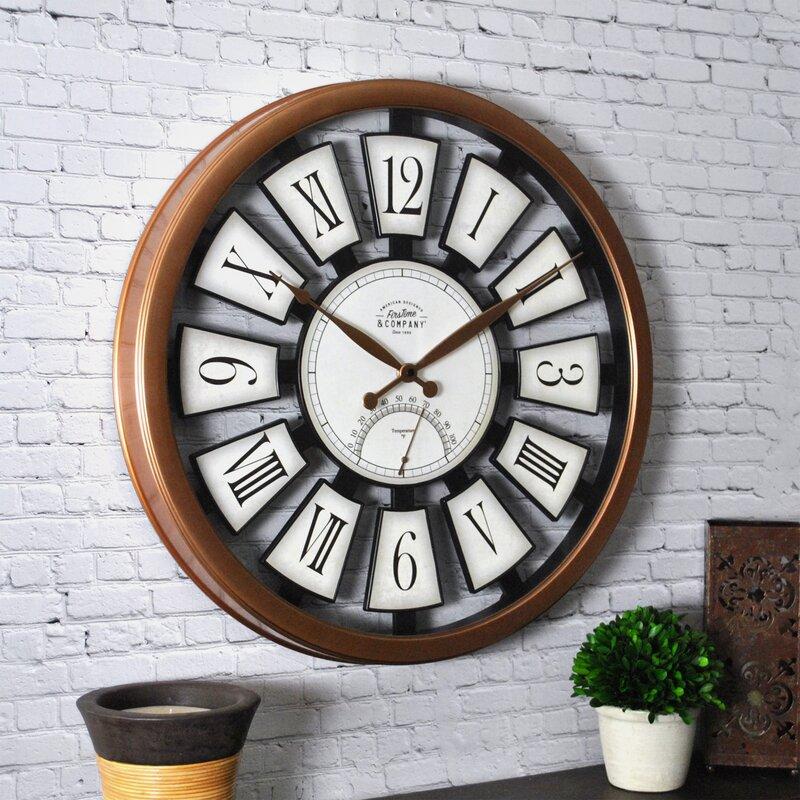 Your outdoor space just got a classic update with this gorgeous Plaques outdoor clock and thermometer. Featuring a thermometer and a mix of Arabic and Roman numerals on cream-colored plaques, this large 20" copper-colored clock is a rich addition and complement to any decor.
---
Stoneybrook Outdoor 14″ Wall Clock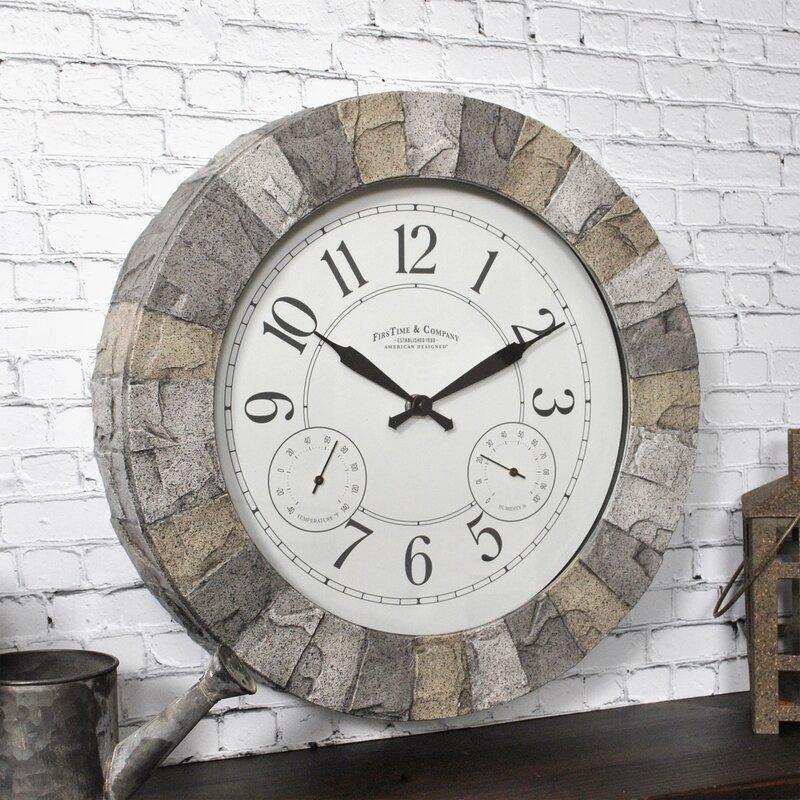 Embellish your outdoor decor with the rustic style of the FirsTime & Co.® Stoneybrook Wall Clock. The textural frame perfectly recreates the traditional charm of stone with its authentic earthy finishes in soft grays. This all-in-one weather station boasts easy-to-read dials and brings a natural element to any indoor or outdoor space.
---
Oversized Gilded Gears 24″ Large Outdoor Clock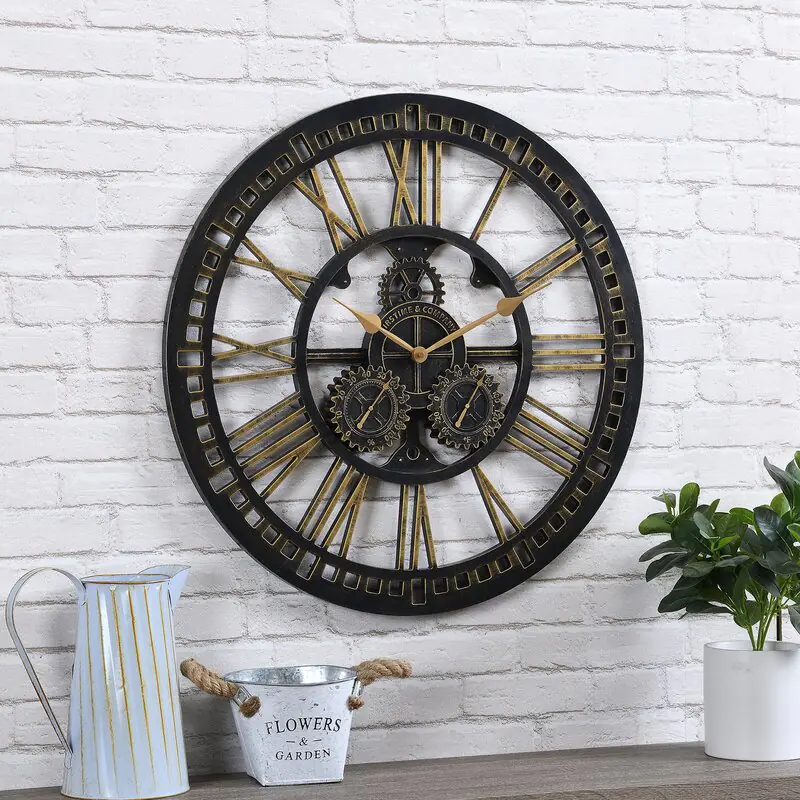 Embellish your indoor or outdoor living decor with the industrial style. This large outdoor clock, with its chic open-backed design, and aged black & gold finish creates a timepiece that combines classic roman numerals and a configuration of stationary gears to create a rustic modern design. This all-in-one weather station boasts temperature and humidity dials and brings a sophisticated element to any garden or patio.
---
Laguna Large Outdoor Clock in 3 Colors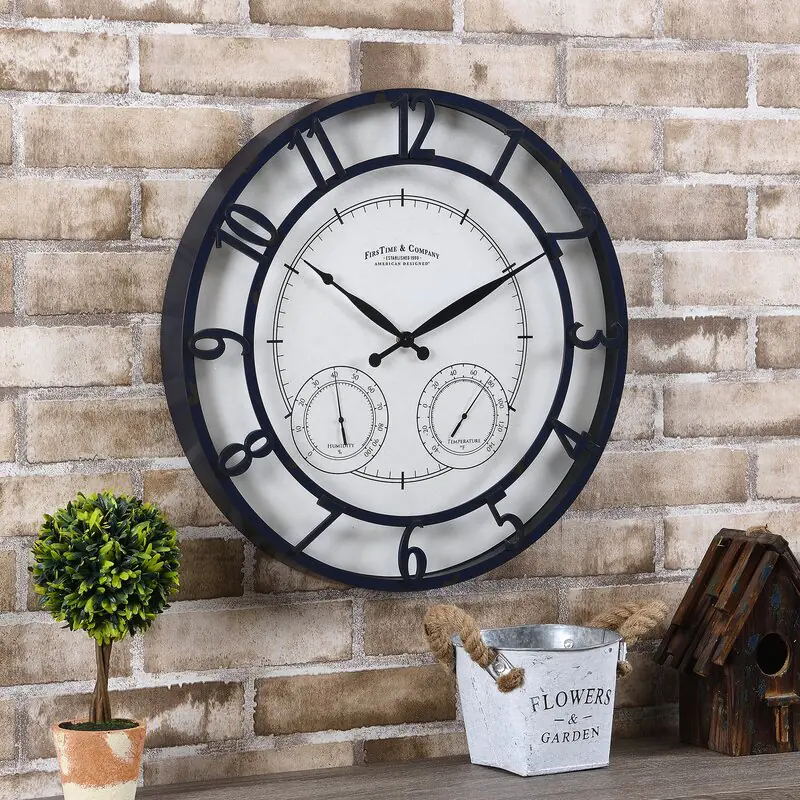 Perfect for indoor or outdoor use, the Laguna 18″ Large Outdoor Wall Clock has three functions in one – featuring a clock, a thermometer, and a hygrometer. With an aged teal finish (also available in oil-rubbed bronze), this multifunctional timepiece has a neutral dial with a raised numeral ring which allows it to blend effortlessly with any style decor.
---
Summer Cottage Farmhouse Style Planks Outdoor Wall Clock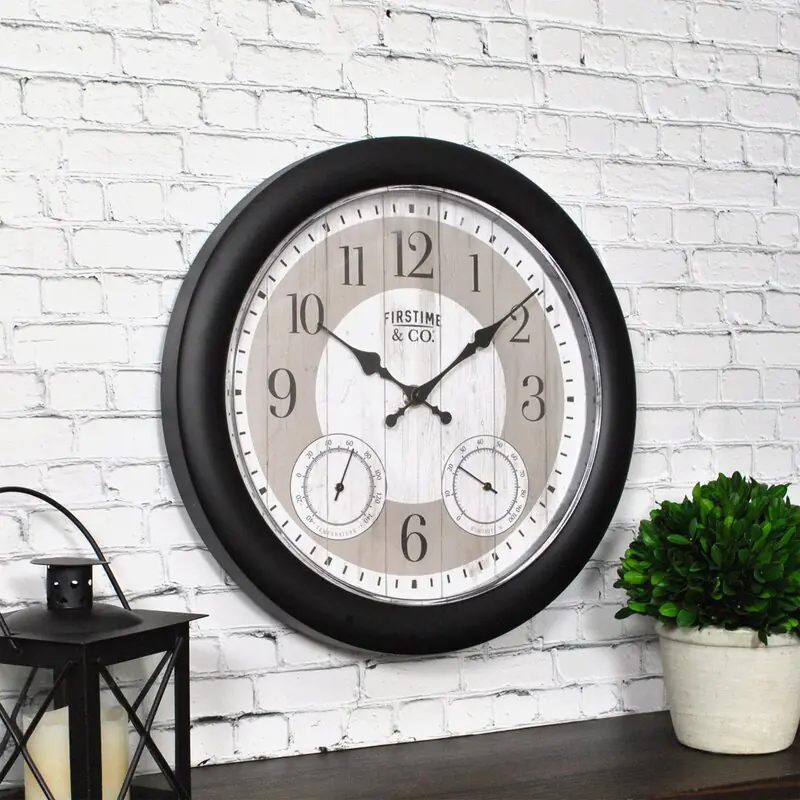 Add farmhouse style to your living space with the FirsTime & Co.® Summer CottageClock. With a rustic two-tone design, the dial artwork resembles perfectly weathered planks. This all-in-one weather station features easy-to-read dials and brings a natural touch to any indoor or outdoor space.
---
More FirsTime & Co.® Outdoor Clocks
Nothing ties a room together better than a great clock, and the one you choose to place in your home should reflect your personality and style. We hear from you. Finding the right clock to suit your style has never been easier thanks to the wide range of beautiful outdoor wall clocks from FirsTime & Co.®.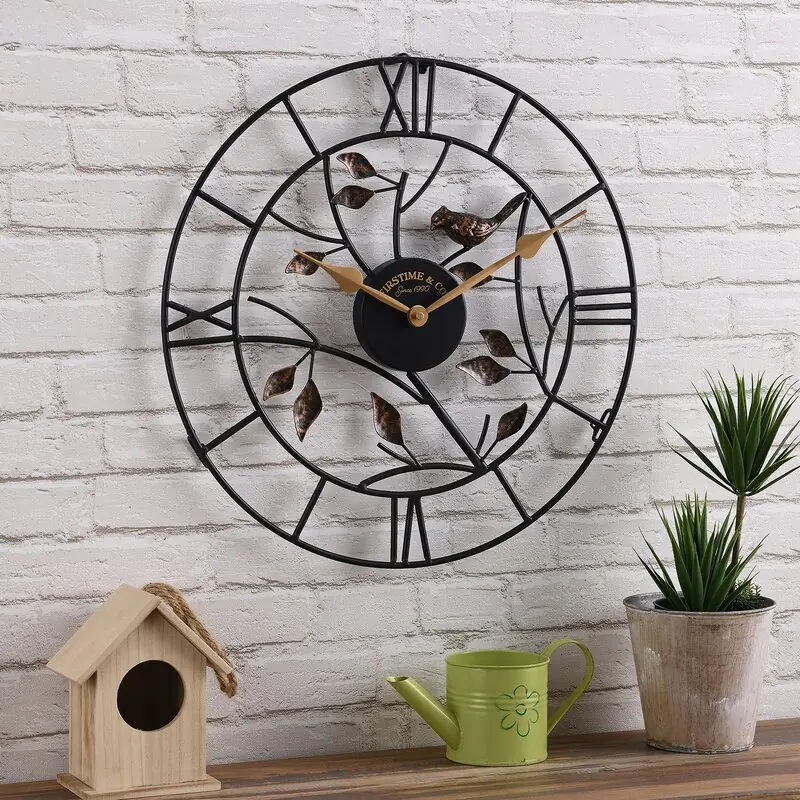 ---
Bulova Gardner Outdoor Wall Clock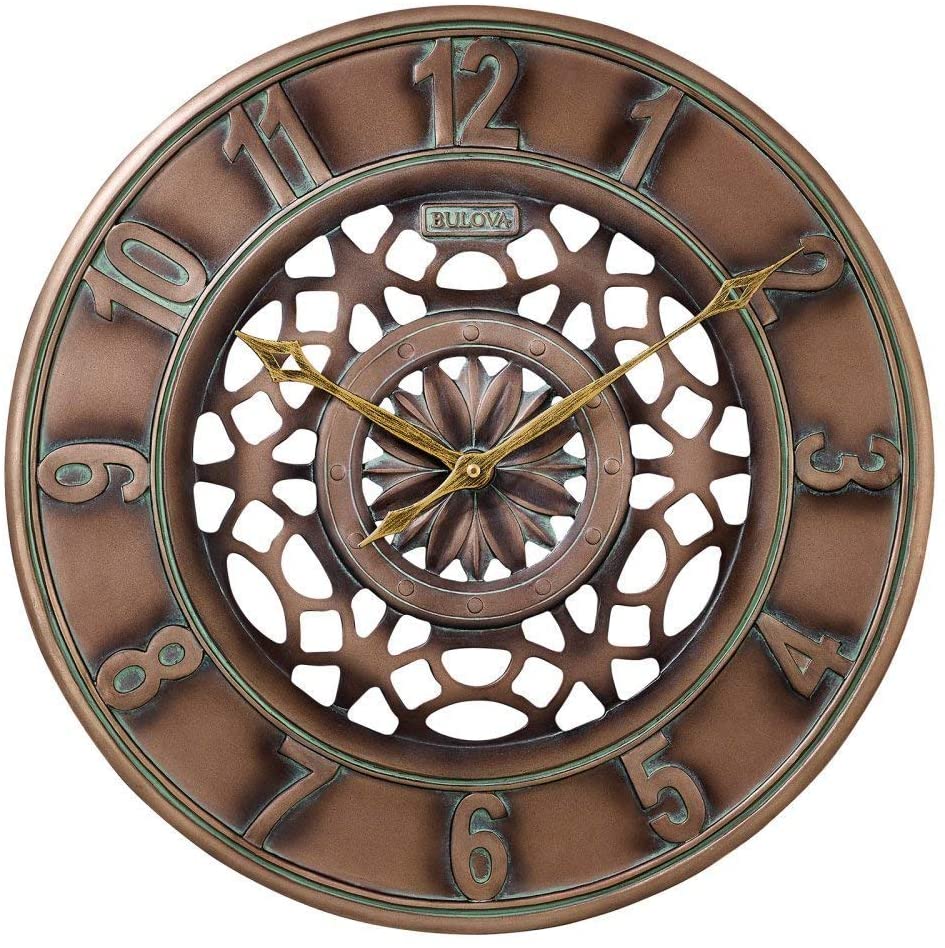 Weather-resistant cast resin case with satin aged bronze finish. Open lattice detail with three-dimensional center floral design and contrasting metal hands. Quartz movement.
---
Whitehall Outdoor Wall Clock in Aged Bronze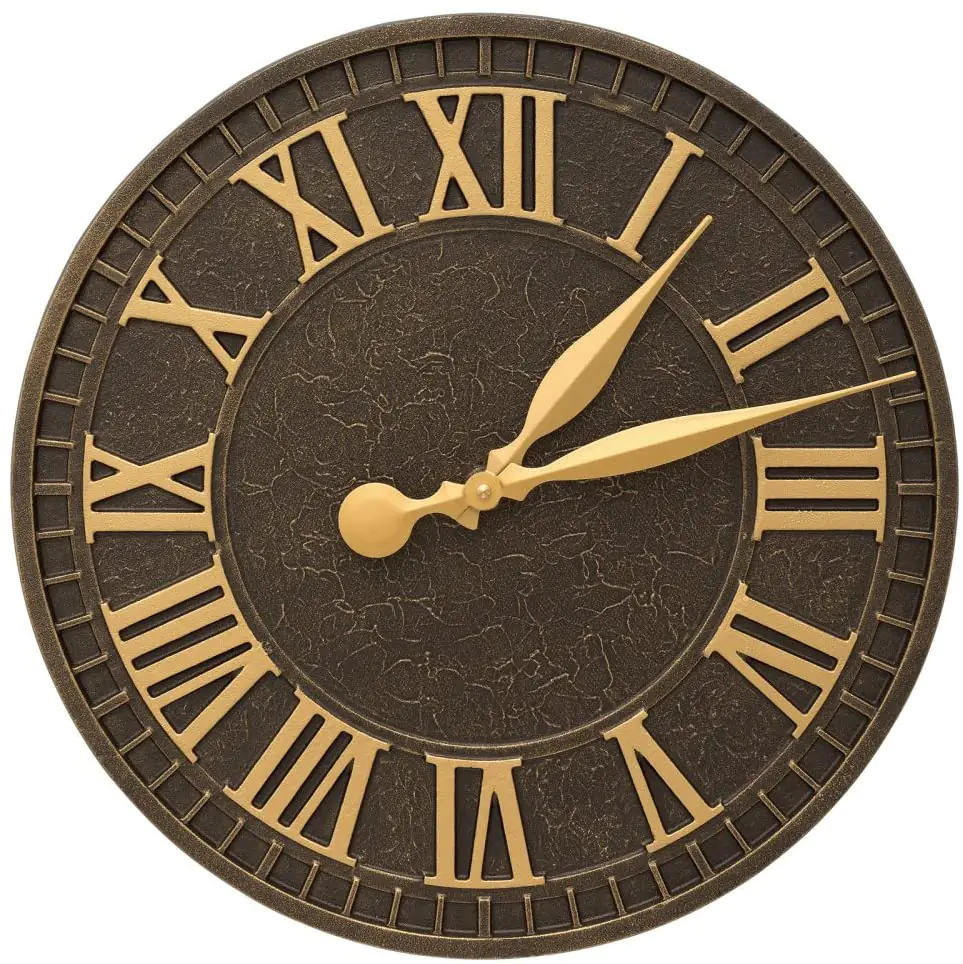 A hand made premium grade aluminum casting that showcases an intricate detailed design, with brass handles and numbers offset against a weathered aged-bronze backdrop. Elegant design combines with high quality movement in this Whitehall exclusive clock.
---
Poolmaster 18″ Silver Porthole Clock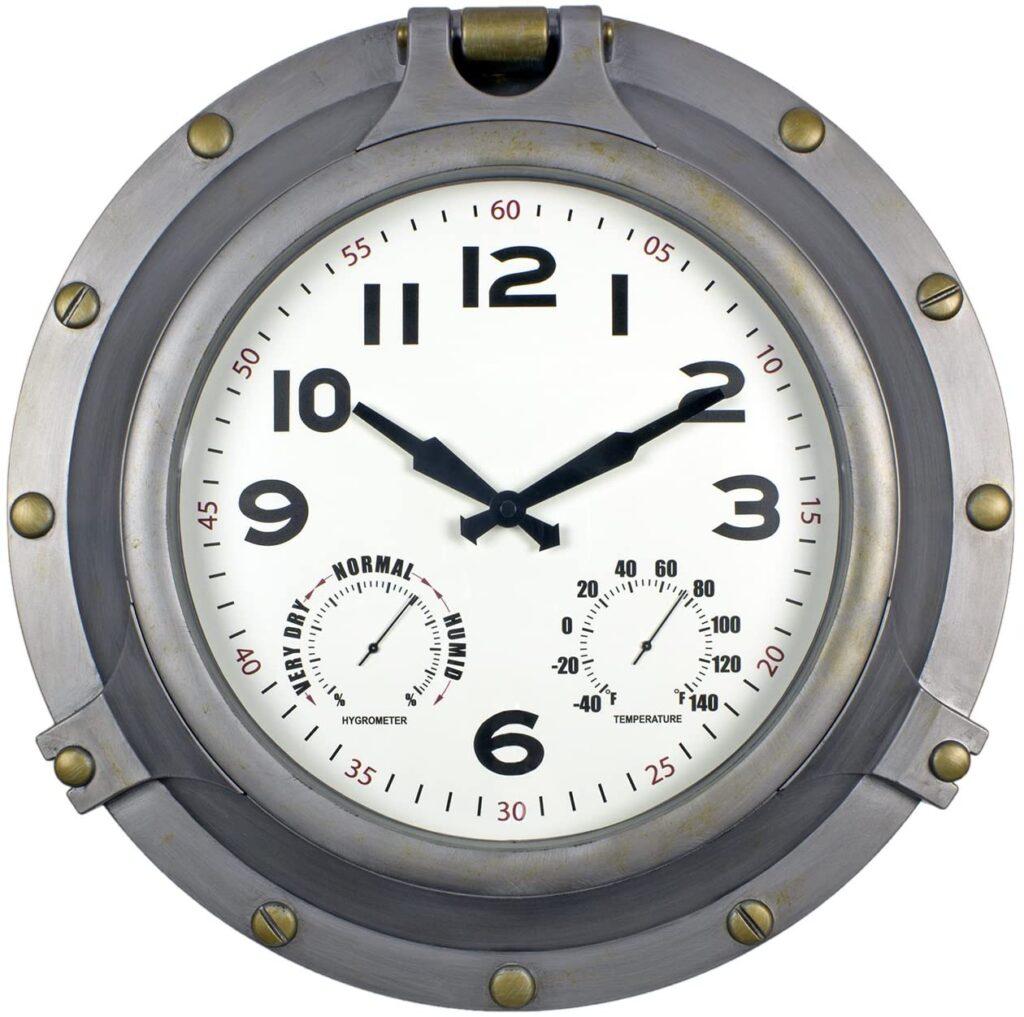 A unique porthole-style clock, perfect for poolside living.
---
Blue Stone Outdoor Wall Clock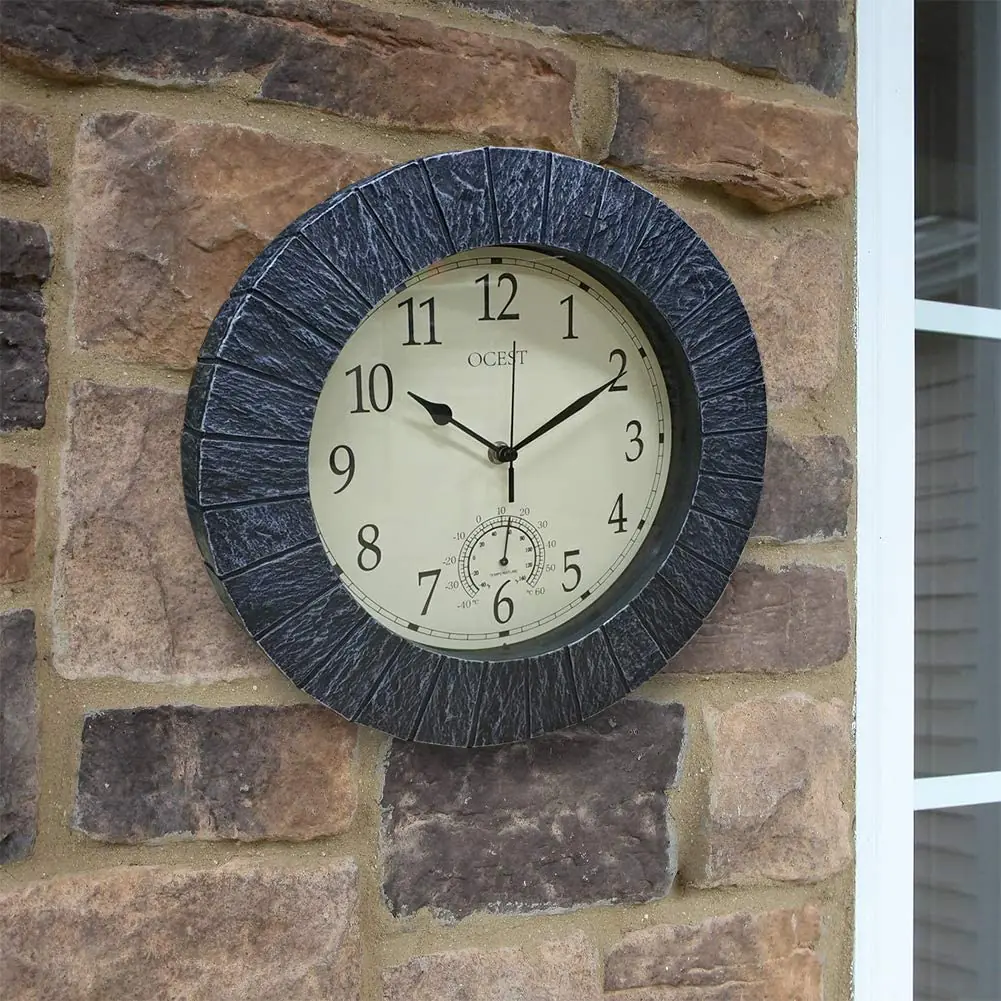 Keeps perfect time while barbecuing on the patio, splashing in the pool, or working in the garden with this 13-Inch outdoor clock and thermometer from OCEST.
---
Black & White Citizens Outdoor Wall Clock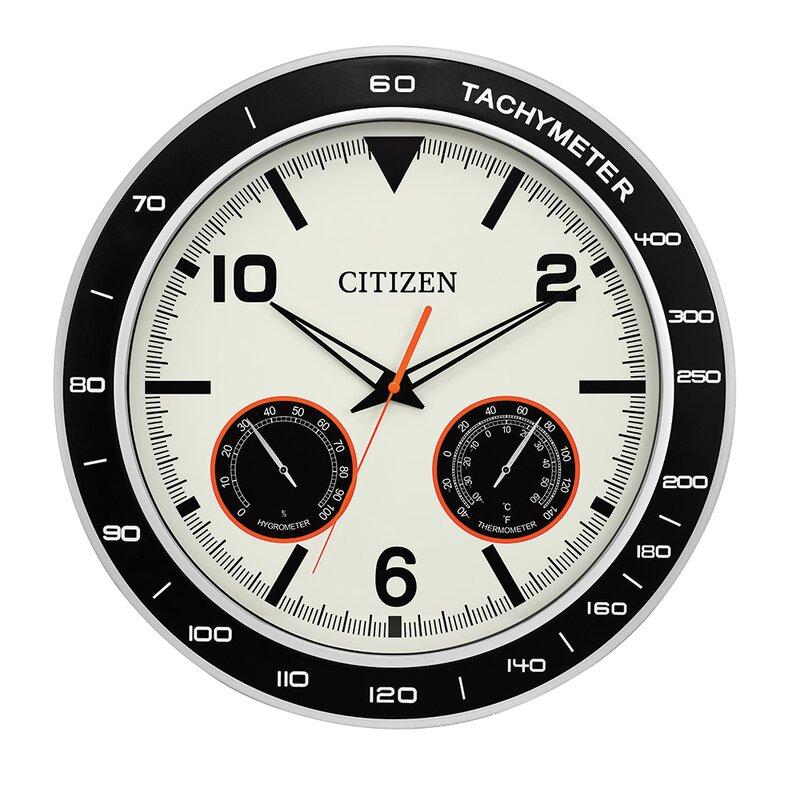 Reminiscent of the classic Citizens watch, this Outdoor Wall Clock is water-resistant and features circular "watch face" clock dial along with a hygrometer and thermometer. Plus, as with any good watch, it includes luminescent hands so that you can see the time, even at night.
---
Howard Miller Luis Quartz Indoor / Outdoor Wall Clock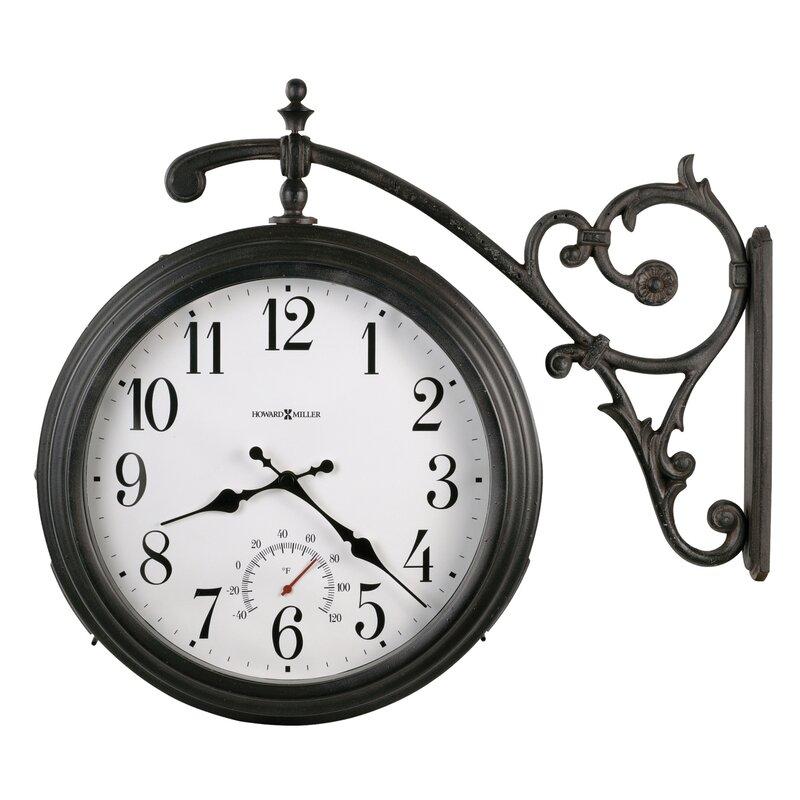 This attractive double – sided wall clock is designed for indoor or outdoor use. A thermometer located above the six positions indicates the temperature in ºF. The off – white dial, with the black hour and minute hands, swivels on a decorative wall bracket. Rotate it for optimal viewing from any angle. The antique iron — finished, powder — coated case is zinc plated and includes stainless steel screws to inhibit rusting.
---
Infinity Instruments Inca II All Weather Clock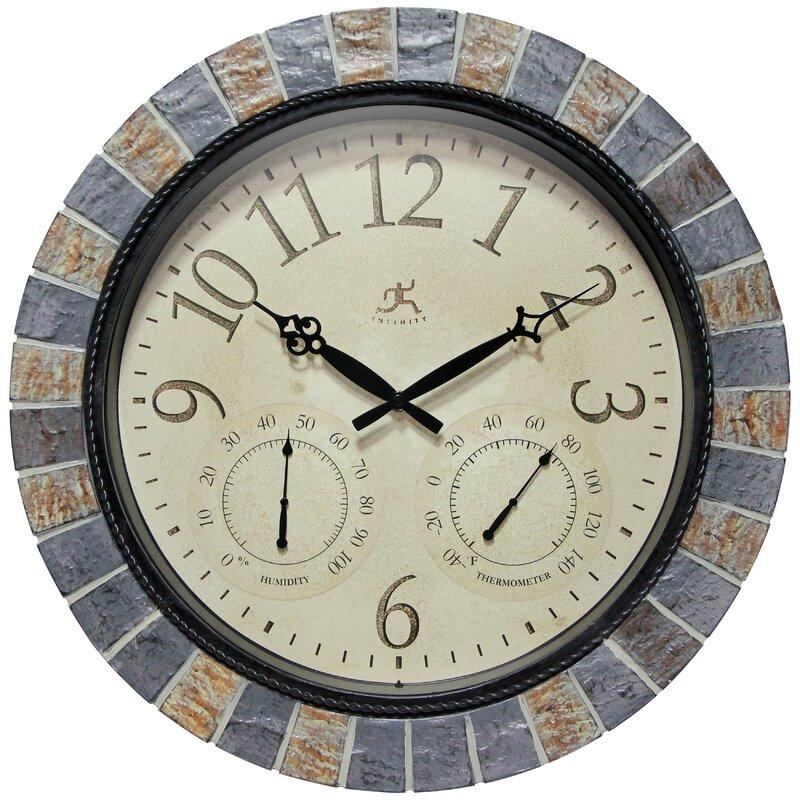 If you are looking for a versatile indoor/outdoor wall clock that is durable and rugged, the Inca II from Infinity Instruments fits the bill. The Inca II features a faux stone-look case, glass lens, off-white face, and sturdy black metal hands. This durable indoor/outdoor wall clock features quartz movement for accurate timekeeping.
---
Cast Iron Indoor/Outdoor Wall Clock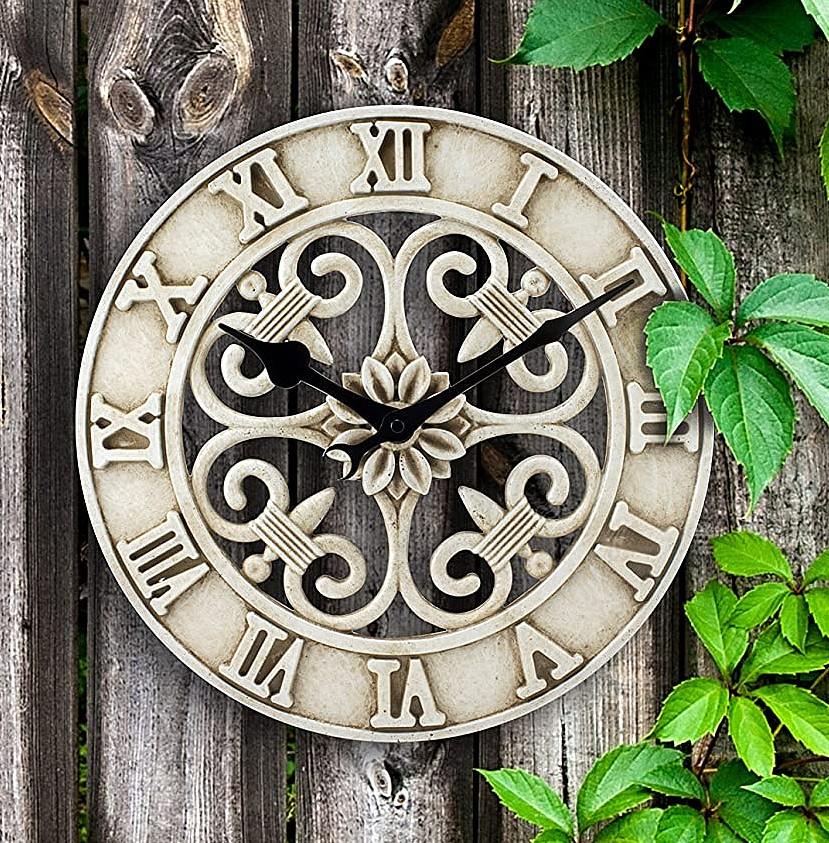 This strong & durable antique white cast iron metal 14″ clock features a fleur-de-lis dial and roman numerals for a distinctive look.
---
Rattan Outdoor Wall Clock with Thermometer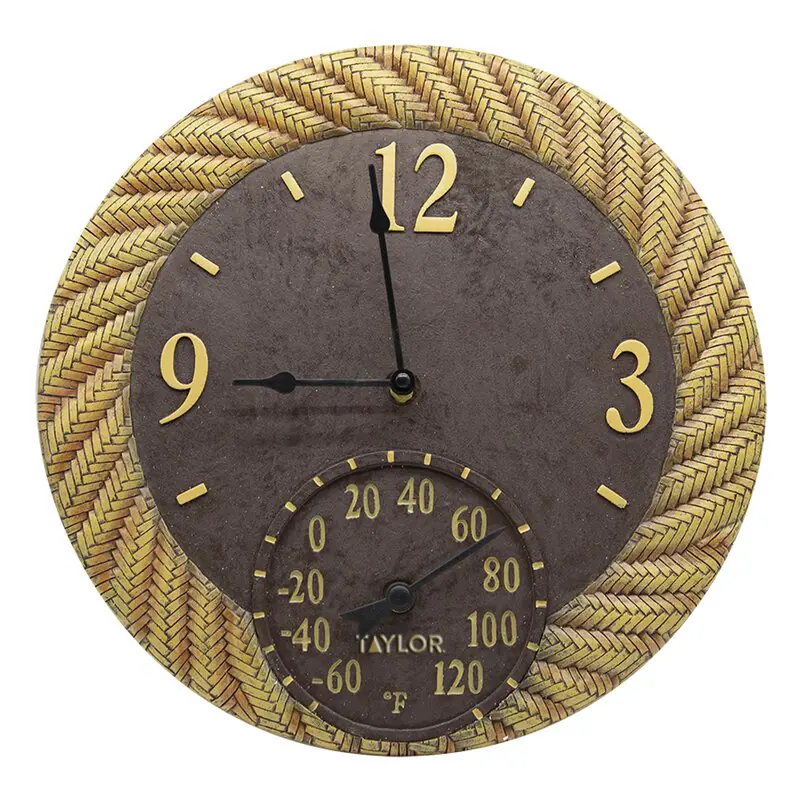 Fade resistant, hand painted designs paired with a thermometer/clock combination blend perfectly to add style and functionality to your décor
---
Sand Dollar Square Clock and Thermometer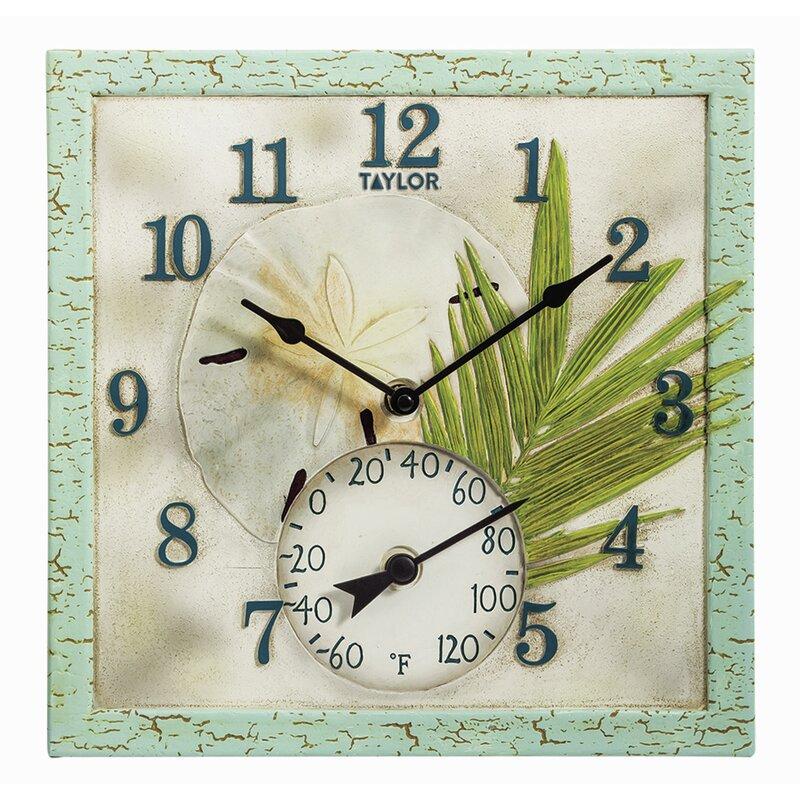 A unique style which is perfect for a coastal-themed outdoor living room, this square outdoor clock and thermometer features a distressed aqua frame with beach-themed embellishments.
---
McKinley Horse Rustic Outdoor Wall Clock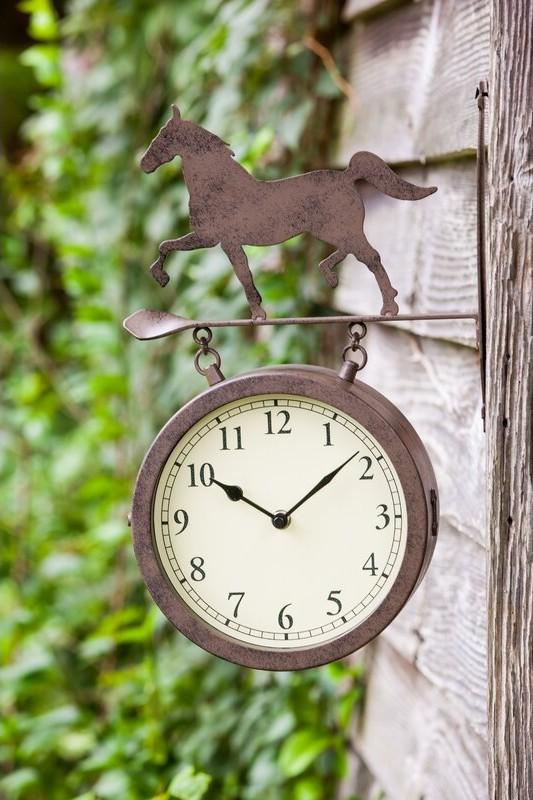 Keep track (see what I did there…) of the time and temperature with this rustic 2-sided clock. Perfect on the back porch of any country home or cabin, this clock features a metal horse icon on top. It is is double sided in a rust finish with an 8-inch round clock face on one side and a thermometer on the other.
---
Frequently Asked Questions About Outdoor Clocks
Are all outdoor clocks weatherproof?
Most outdoor wall clocks are weather resistant, meaning they can handle moderate exposure to the elements but should be kept out of the direct impact of elements, including sun, snow, wind, and rain.
Can I use an indoor clock outdoors if it is in a sheltered area?
Indoor clocks are not considered weather resistant at all, so the exposure to the outdoor heat, humidity and even the small amount of rain that could blow onto the clock will cause potential damage and malfunction.
Do outdoor weather clocks need to be sealed behind glass?
Not necessarily, as long as the mechanism itself is well sealed, and the face of the clock can withstand the elements.
What are outdoor wall clocks powered by?
Most use a battery (typically an AA battery) to run the clock mechanism. Power is not normally required for the thermometer, hydrometer, or barometer (if included). Some outdoor wall clocks, particularly lighted clocks, may require an additional power source.
How are outdoor clocks mounted?
That depends on where you are placing it. Most outdoor wall clocks have a "notch" in the back that lets you hang it off a nail. This is usually good enough for most installations; however, you may want to fasten it more securely if it will be exposed to high winds.
Do all outdoor clocks include thermometers?
Many do… in fact, I would be willing to go out on a limb and say that most do, but certainly not all of them.