Ugly Christmas sweaters have become an endearing tradition over the last few years. And each year, one has to try to out-ugly the ugliest of ugly Christmas sweaters in order to win Christmas.
This year, Art & Home has partnered with Tipsy Elves to present the ugliest sweaters we could find out of their MASSIVE collection of ugly Christmas sweaters for men, women, and children.
We've selected 25 of the most wonderfully heinous of all sweaters from the entire Tipsy Elves collection.
Please note that Art & Home has an affiliate relationship with Tipsy Elves and we may receive a small referral fee – at no cost to you – for any purchases that you make utilizing the links provided. We use those funds to continue building Art & Home's unique collection of home decor articles and inspiration. And, you know, to buy stuff… like ugly sweaters.
Whether you are baking up a batch of Christmas cookies, putting up some delightful DIY Christmas decor, or decorating your beautiful Christmas tree… why not do it all in a ridiculous sweater?
33 Really, Really Ugly Christmas Sweaters for Men & Women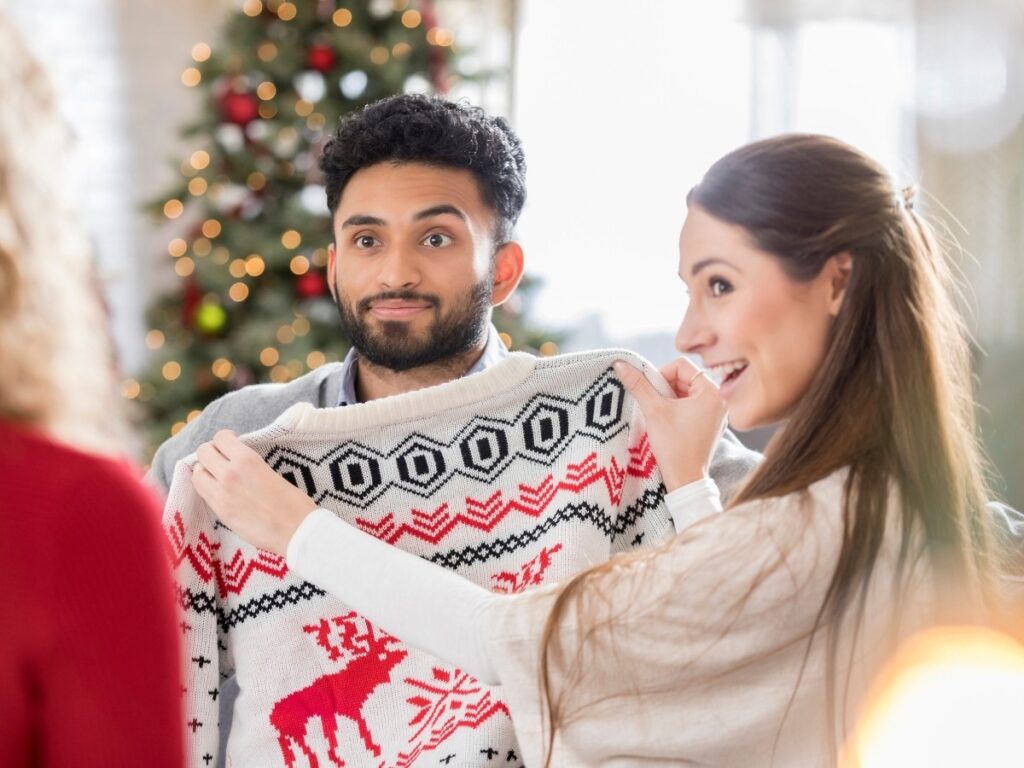 From gaudy to goofy, this collection made us laugh while pulling it together, and we hope it makes you laugh while browsing them. Just imagine showing up to your office Christmas party – even if it is virtual this year – sporting one of these beauties!
And, of course, as with all ugly Christmas sweaters, you are welcome to add even more embellishments, should you so desire.
Perhaps, this year more than ever, we need a little bit more humor in our lives, and I hope this collection gives you some fun and some chuckles.
So, let us begin….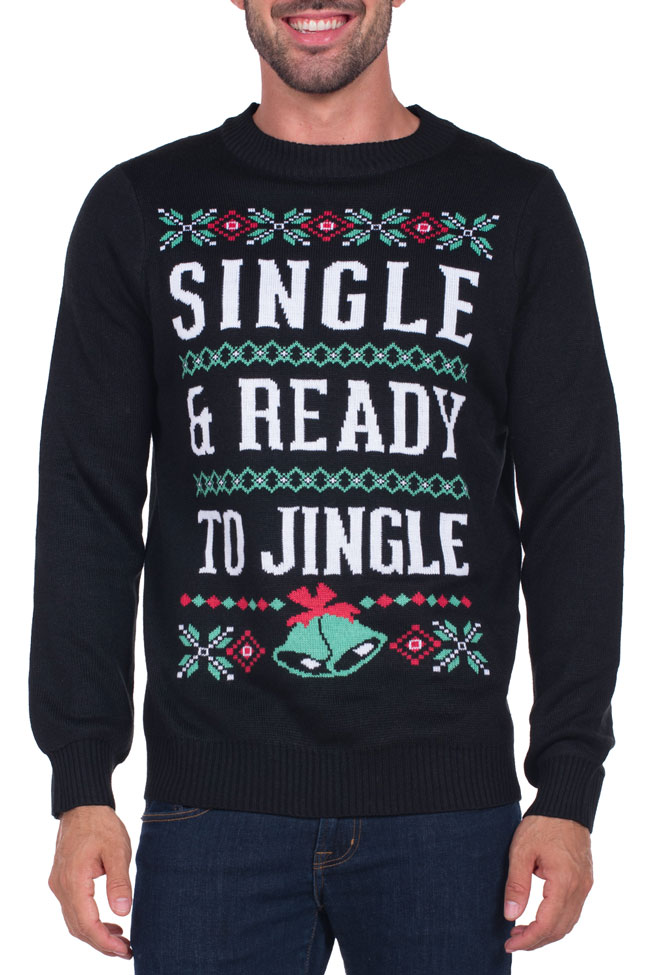 Men's Single & Ready to Jingle Sweater
You might be driving a one-horse sleigh this holiday season, but that's all the more reason to mix, mingle, and jingle around the clock!
---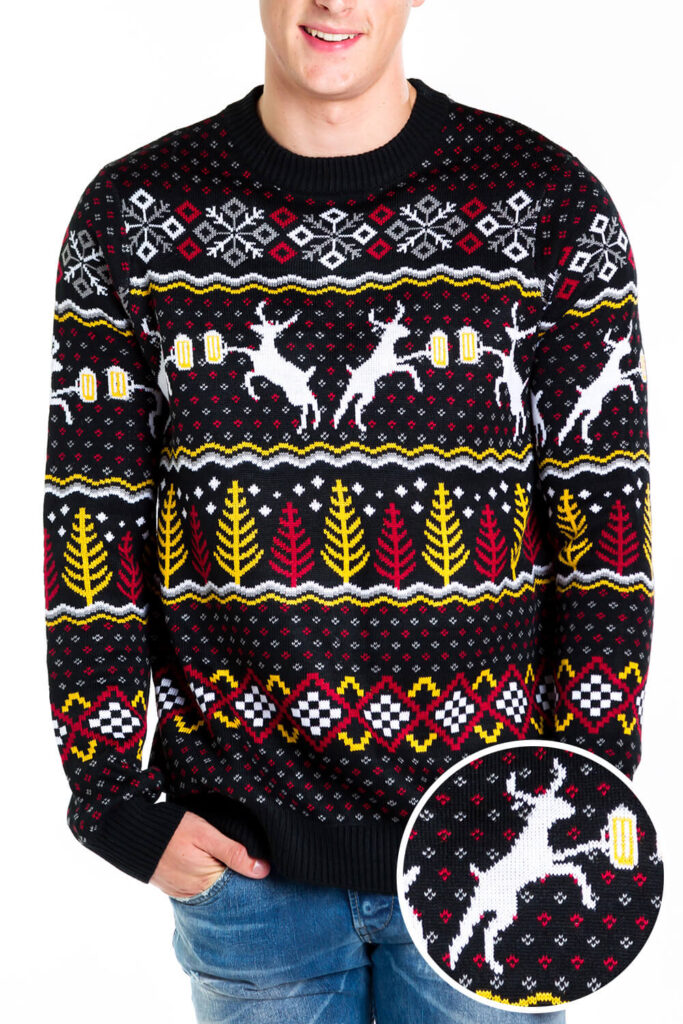 Men's Caribrew Ugly Christmas Sweater
Beer, deer, and cheer – all of these make up the ingredients for one fine lookin' sweater. This Men's Caribrew Sweater (kids, that's Christmas talk for deer) features everything you'd want in an ugly Christmas collection – first and foremost, it's fluffy and cozy AF, but more importantly, it's wonderfully reminiscent of 80s Christmas music videos. With delicate patterns of deer, beer, Christmas trees, and snowflakes, it's almost safe enough to pull out at an awkward family Christmas get-together. 
---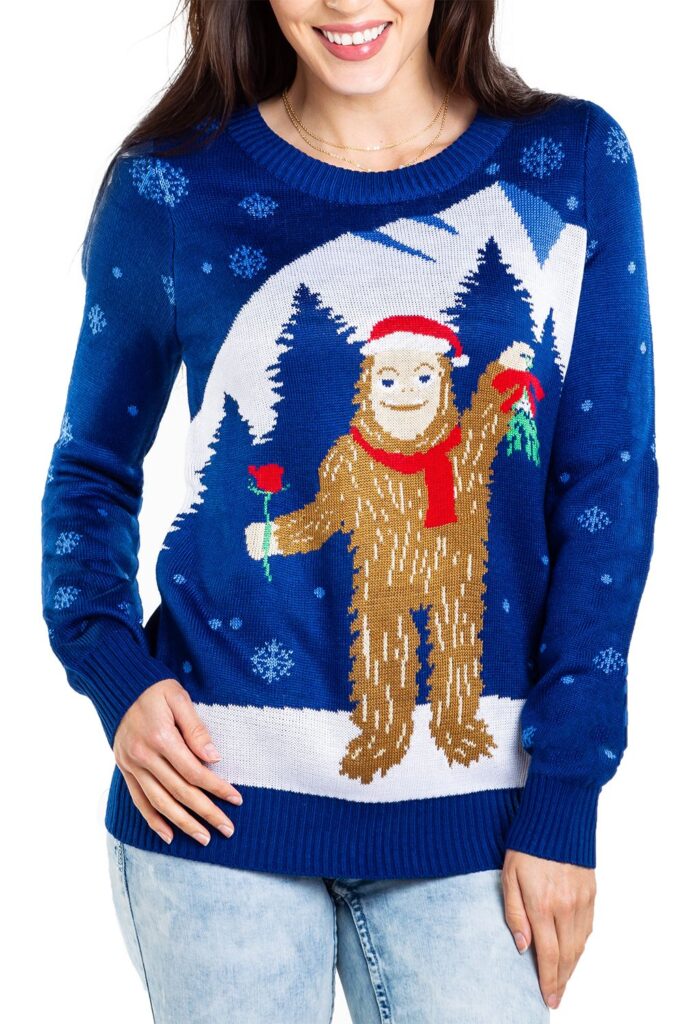 Romantic Sasquatch Ugly Christmas
Who waits under the mistletoe, pining for a kiss from you? With your luck, it's probably someone who bears a striking resemblance to this amorous Sasquatch. He's been waiting in the cold for hours, hoping his lady fair takes this secluded mountain pass on the way to the holiday party. Pair this Big Foot inspired top with furry boots and some jeggings for a memorable wintertime look.
---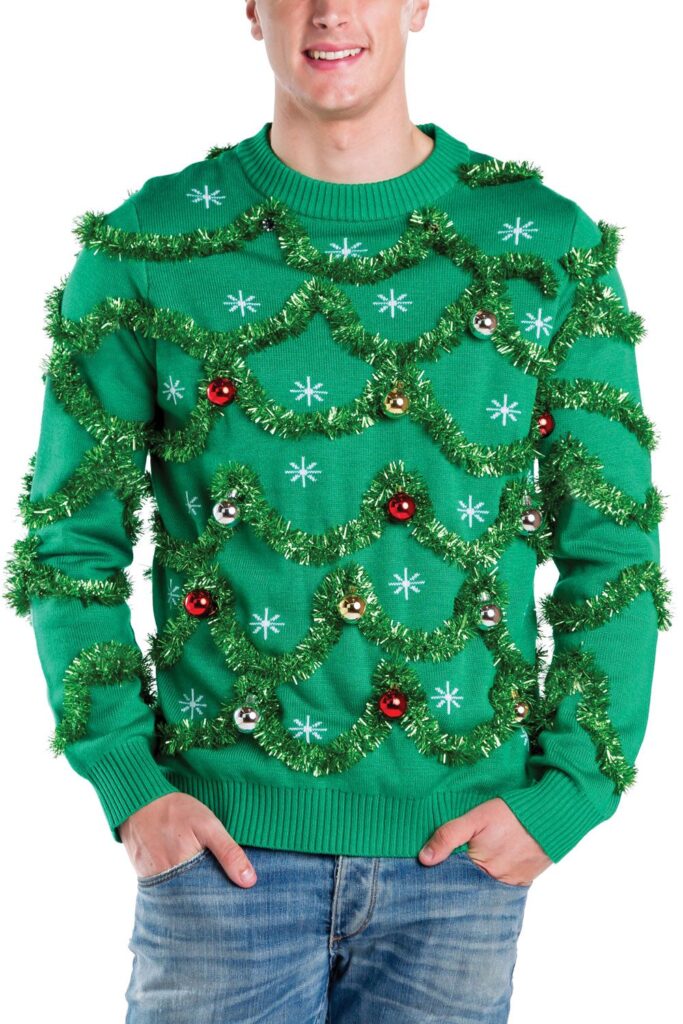 Men's Gaudy Garland Ugly Christmas Sweater
Haul out the holly, because it's time to tinsel the crap out of your holiday wardrobe. This garland bedecked men's sweater is punctuated with baubles that shine and catch the candlelight in a nostalgic way that's almost enough to make your eyes tear up. Actually, this wonderfully tacky design will probably make a lot of people cry.
---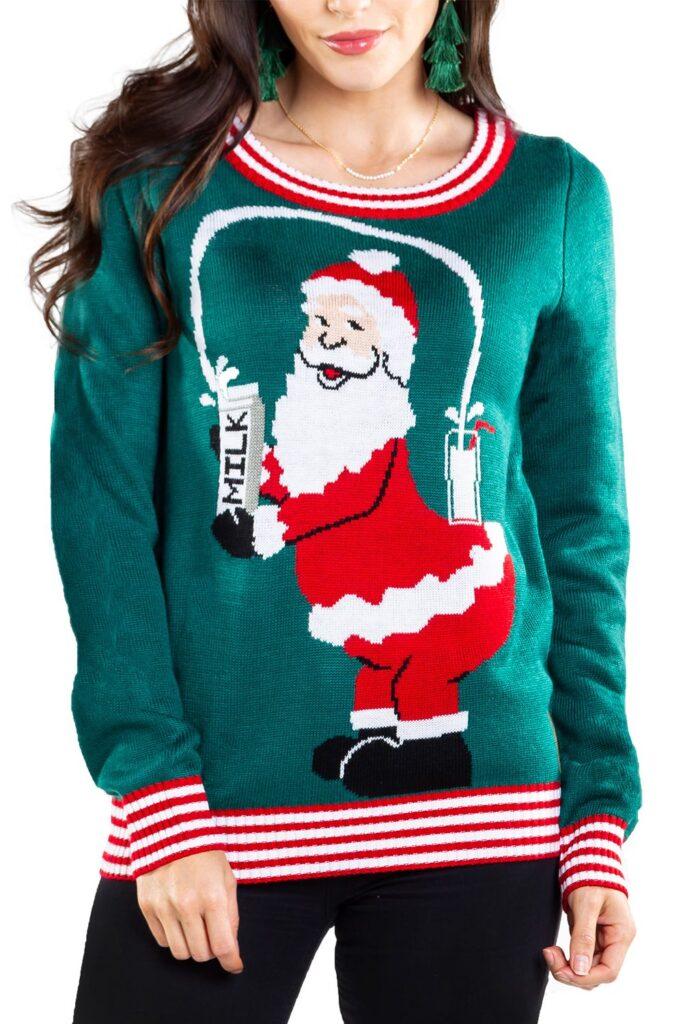 Women's Santa Breaks the Internet Ugly Christmas Sweater
Santa's milkshake brings all the elves to his yard in this horrifically ugly Christmas sweater. Granted, Santa has probably been photo-shopped to within an inch of his life. After all, nobody who eats that many cookies and drinks that much milk could have that kind of booty. But – admit it – you just can't look away.
---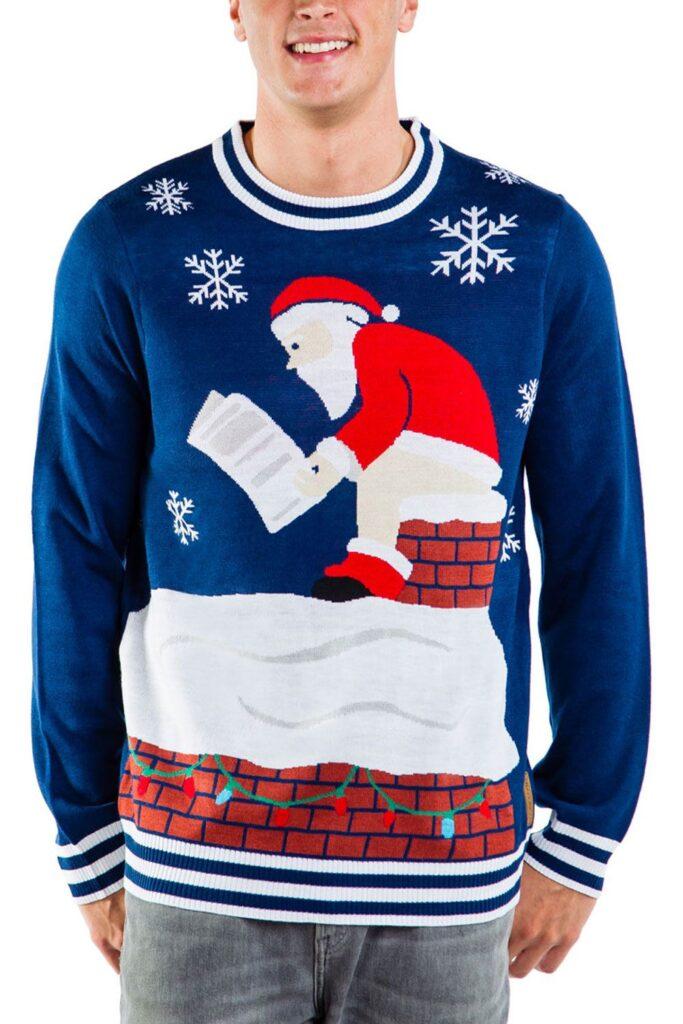 Santa Putting a Log on the Fire Ugly Christmas Sweater
There's nothing we love to see more than one of the nation's favorite old fat dudes doing something inappropriate, and what could be more inappropriate than this Men's Santa Pooping Down the Chimney Sweater? shine and catch the candlelight in a nostalgic way that's almost enough to make your eyes tear up. Actually, this wonderfully tacky design will probably make a lot of people cry.
---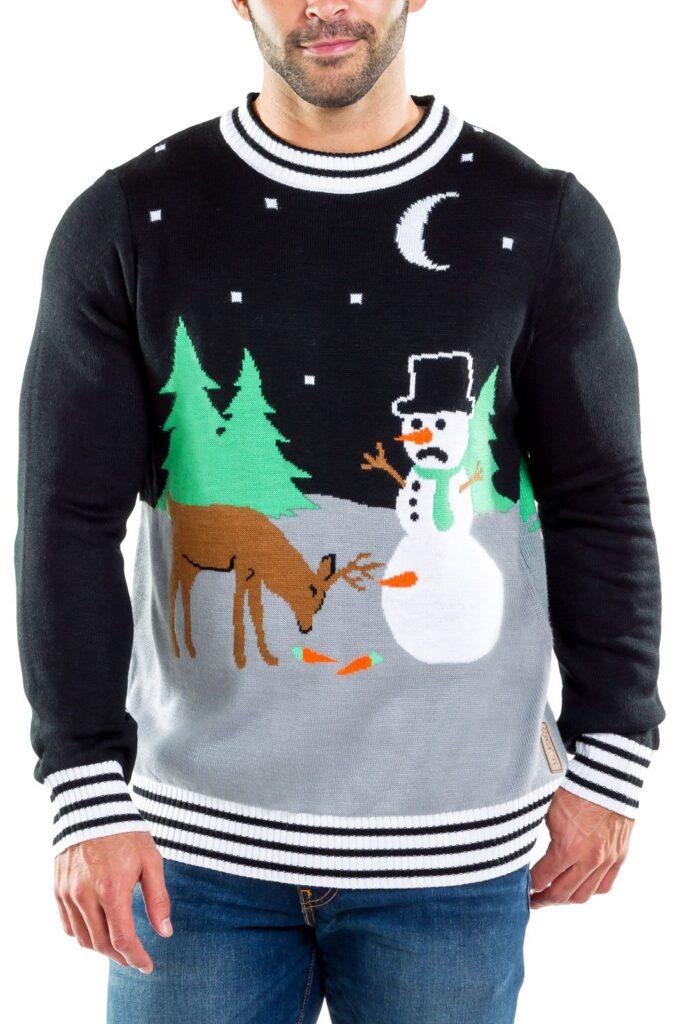 Don't Eat The Carrot Ugly Christmas Sweater
Someone played a very, very bad prank on Mr. Frosty in this men's Xmas sweater. The sense of impending doom is almost palpable. If you're trying to find the perfect sweater for THAT guy in your life, this might just be it!
---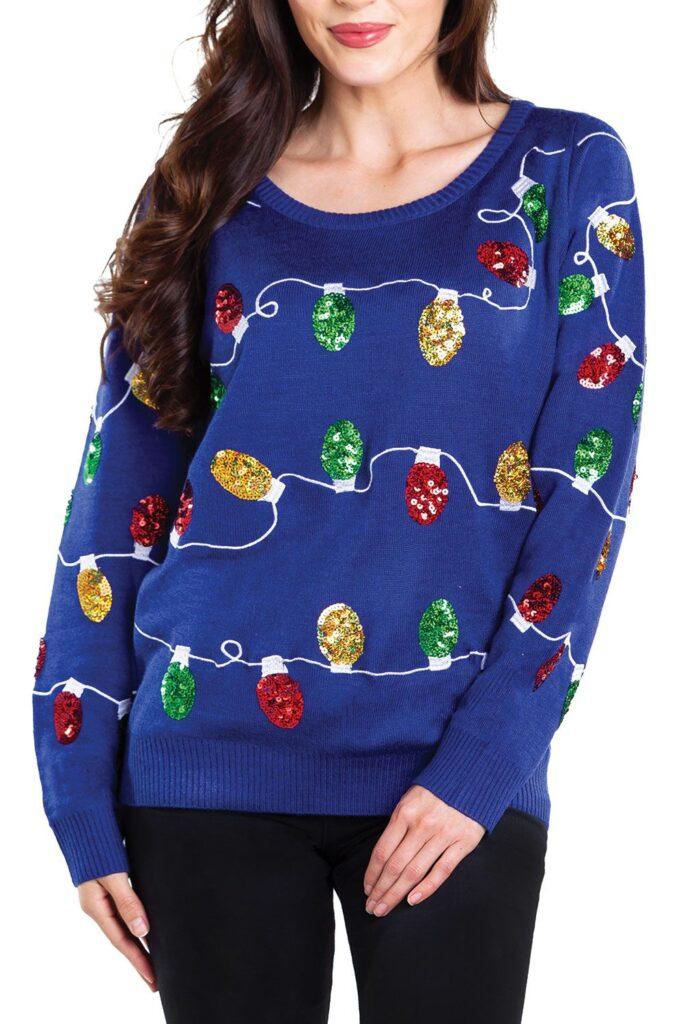 Women's Christmas Lights Ugly Christmas Sweater
Whether you're a fan of the Old Testament or the New, this non-partisan holiday sweater will get you through all 25 days of Christmas. This one uses Christmas lights instead of pom poms to create some non-traditional cheer.
---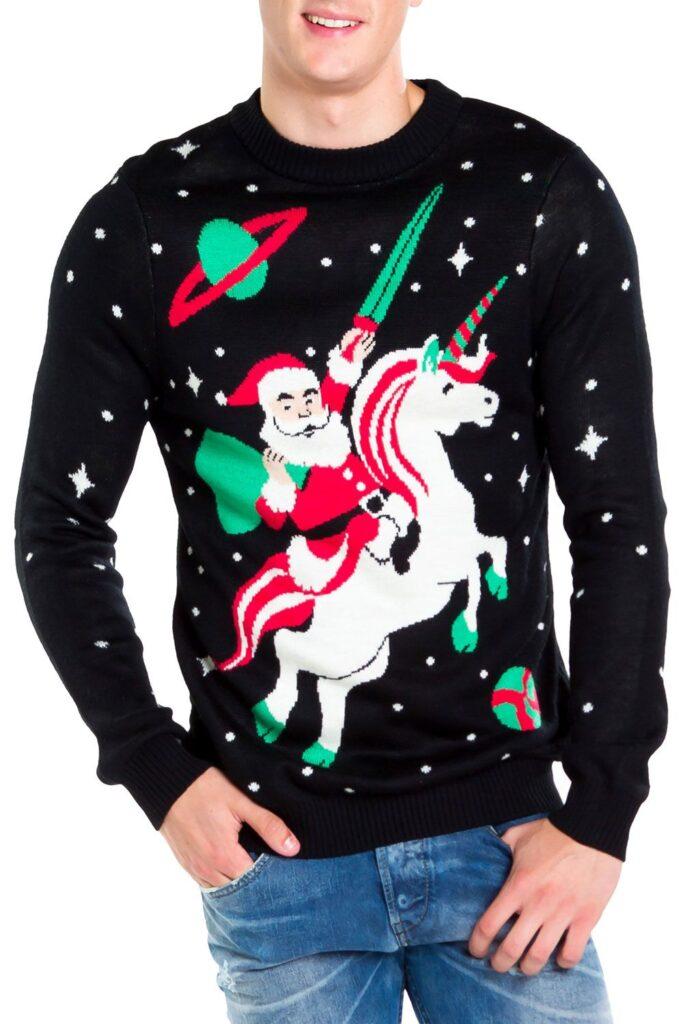 Santa Unicorn Ugly Christmas Sweater
A flying sleigh is kind of the magical equivalent of a minivan. It's great for toting lots of stuff from here to there, but it isn't all that suave. The unicorn is like a cool motorcycle. That's why Santa traded in the sleigh for this fantastic specimen when he was having his latest mid-century crisis.
---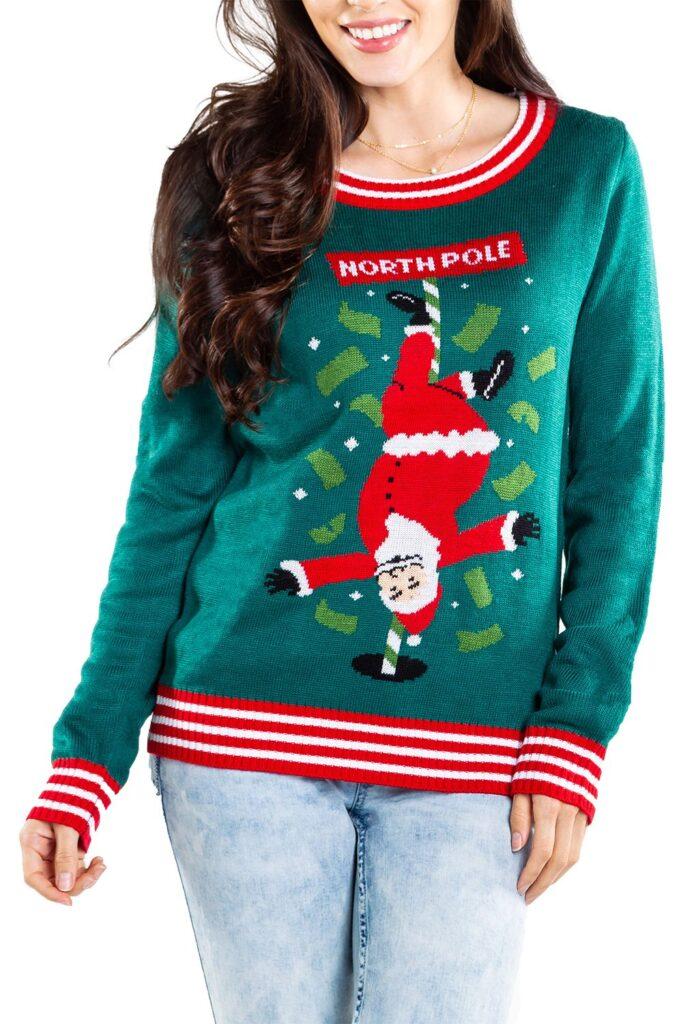 Stripper Santa Women's Ugly Christmas Sweater
You might be letting it snow, but Santa is making it rain. After all, somebody's got to pay for all of those reindeer games! Plus, someone told him that pole dancing was a way to work off all those Christmas cookie calories.
---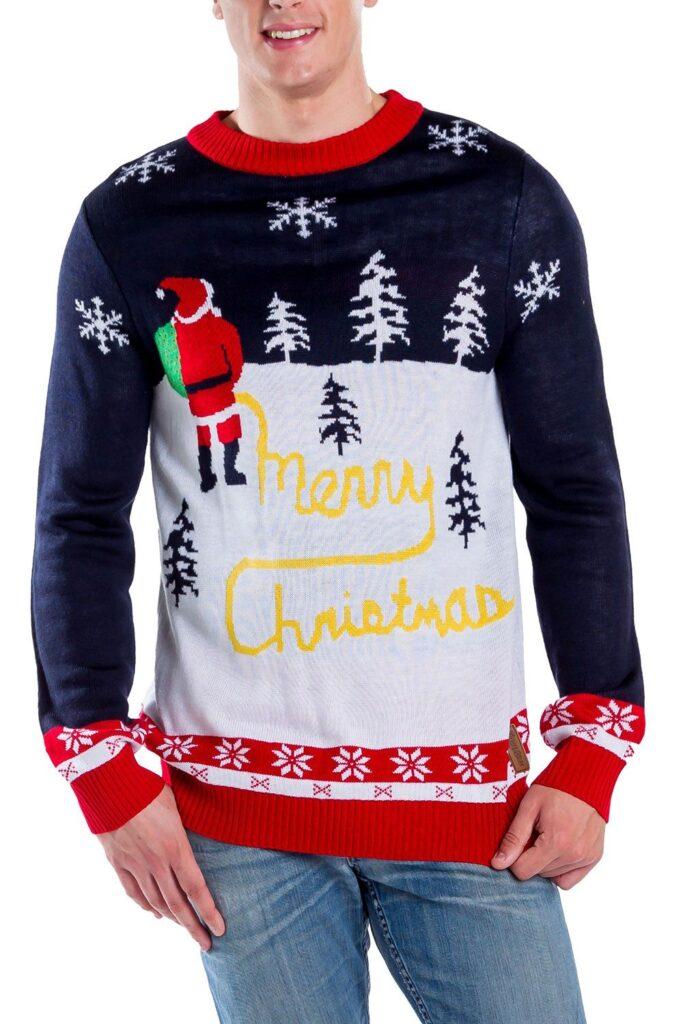 Yellow Snow Christmas Sweater
Even our beloved Santa Claus has to unleash the dragons between present deliveries. Too much boozing on the sleigh and a urinary incontinence problem make for a rough combination for old St. Nick. Santa best wash his hands before touching those fireside cookies. The Yellow Snow Sweater features our good friend Santa peeing the words Merry Christmas in the snow.
---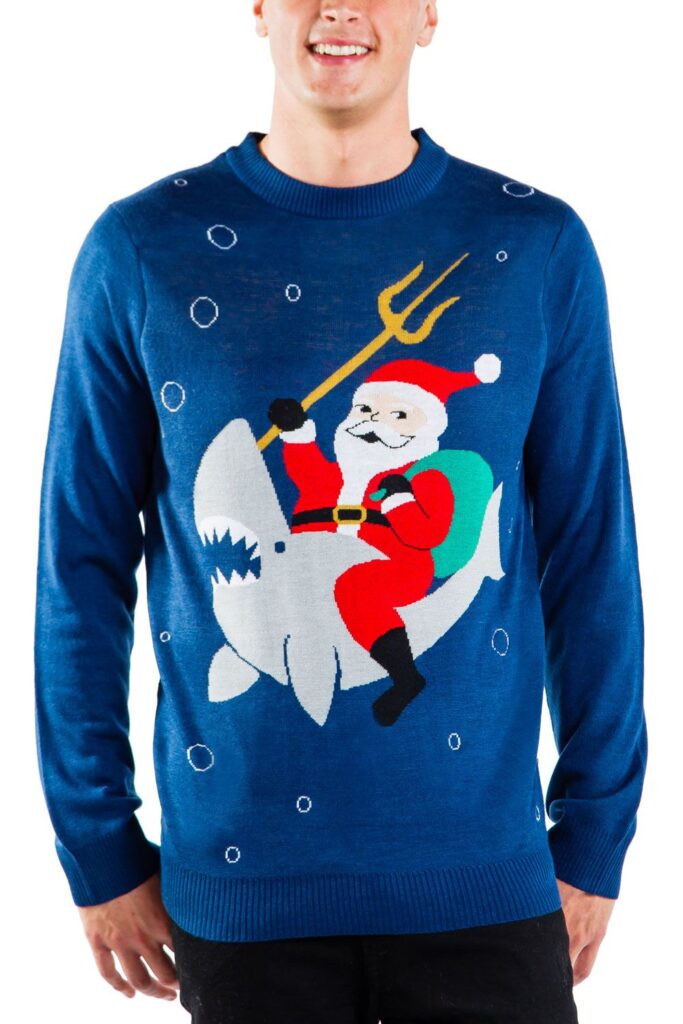 Santa Riding a Shark Christmas Sweater
You say potato, we say Poseidon. Who needs high-quality, cashmere sweaters when you have Santa riding a shark! It's funny how all the old myths start to run together after a while. Santa slays in this sweater, boasting a trident that certainly makes him look more formidable than that pipe he used to carry around. 
---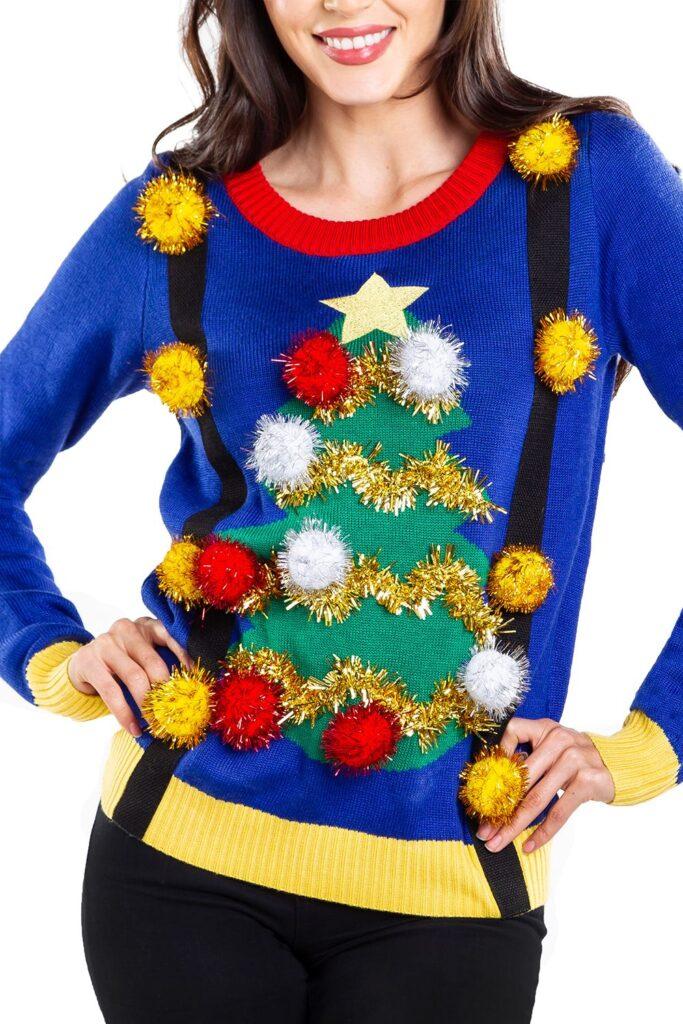 Women's Ugly Christmas Tree Sweater with Suspenders
Sweaters are cozy, but once you add suspenders… well, that's just MAJESTIC!! This adorable women's Christmas sweater brings the two styles together in a cuddly package of awesome and pom poms. The deep blue of the sweater is offset by black suspenders and golden jingle bells, while yellow cuffs and a large Christmas tree on the front of the sweater provide an extra-large helping of holiday cheer.
---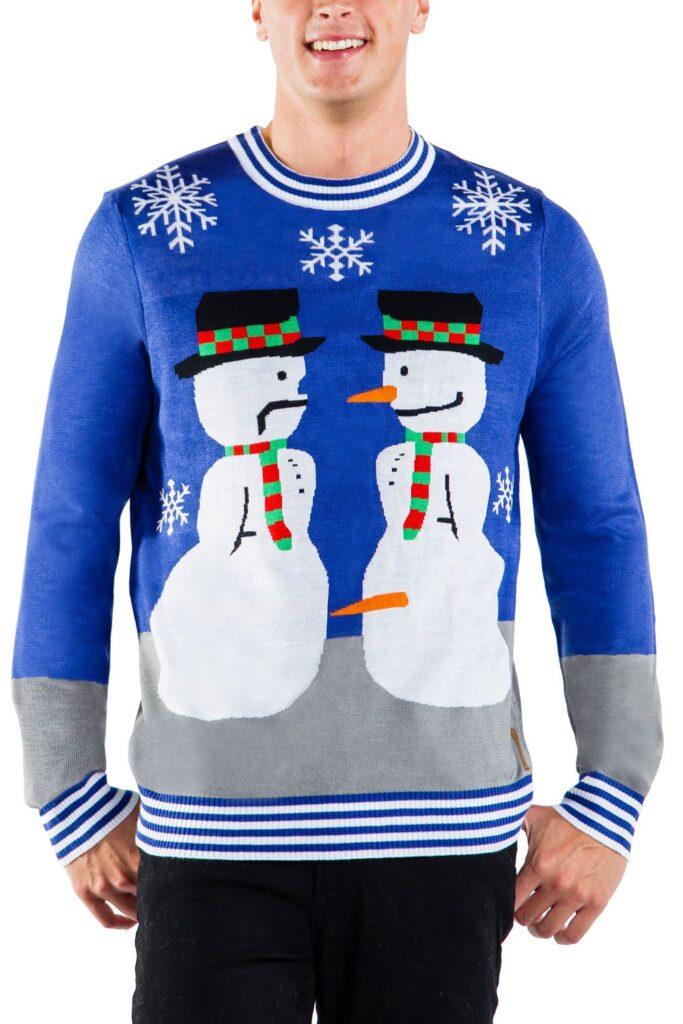 Snowman Nose Thief Ugly Christmas Sweater
Snowman One gets greedy and enhances his lower-half at the expense of the other snowman's nose. This is one misplaced carrot that the greedy snowman is not complaining about. The Snowman Thief Sweater features snowflakes on a bright blue and gray background, one very happy snowman, and one very angry snowman. Did the angry snowman not know about the free shipping?
---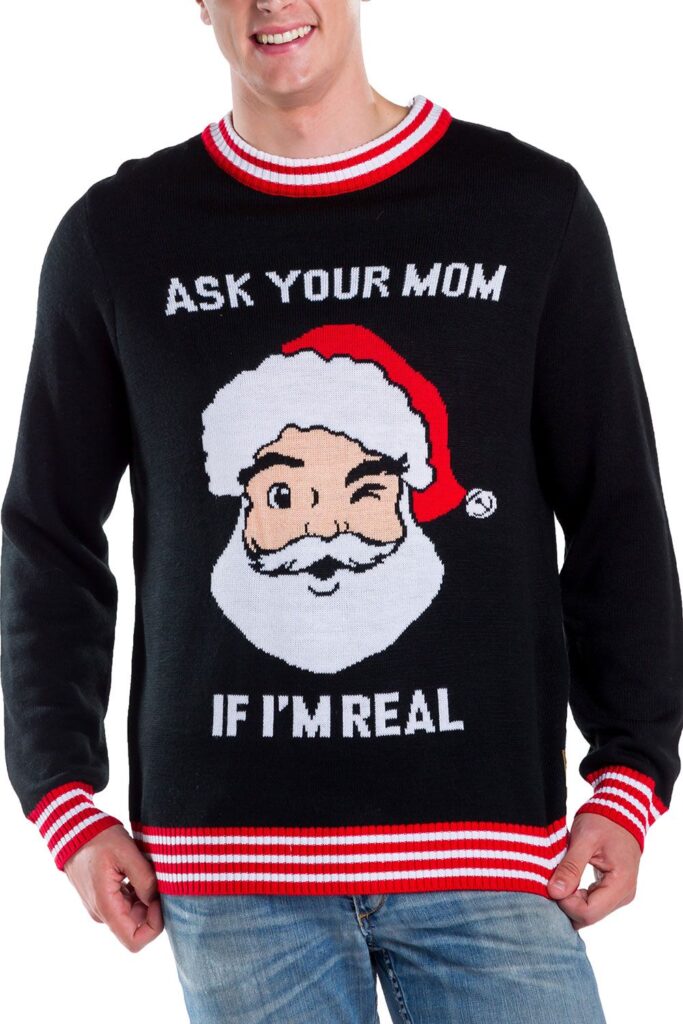 Ask Your Mom Ugly Christmas Sweater
Is Santa Claus real? Or is the real question, "Who's your Daddy?" This naughty Christmas sweater shows the man with the bag giving you a sly wink and inviting you to, "Ask your mom if I'm real." If you emerged from the womb with a full white beard and an insatiable lust for gingerbread, you don't even need to have genetic testing done. We all know the truth.
---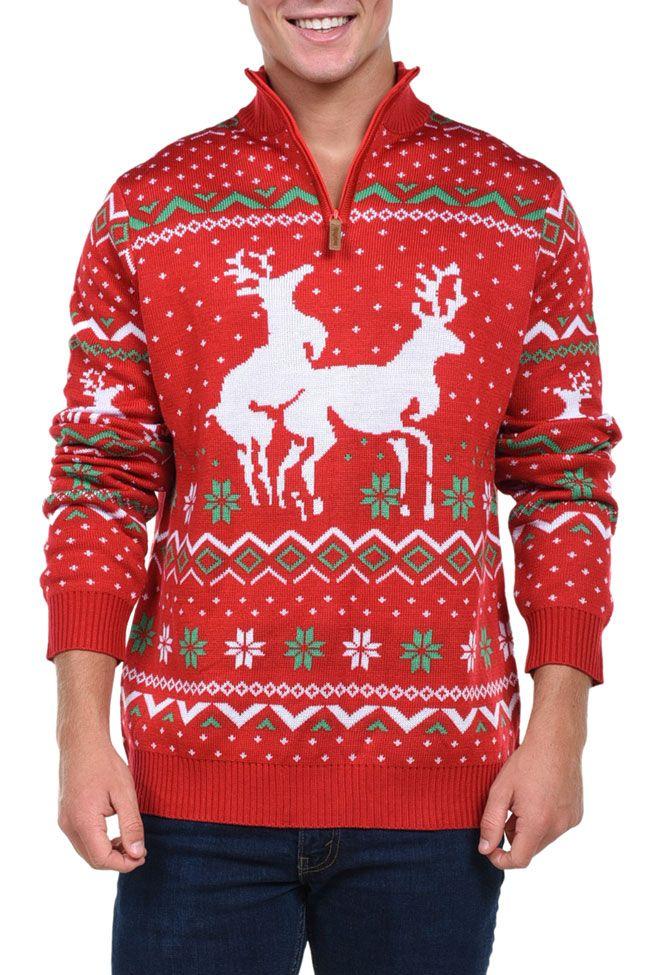 Humping Reindeer Ugly Christmas Sweater
It's getting chilly out there, but these reindeer know what to do to stay warm. Send some not so subliminal messages to your Christmas crush with this toasty getup.
---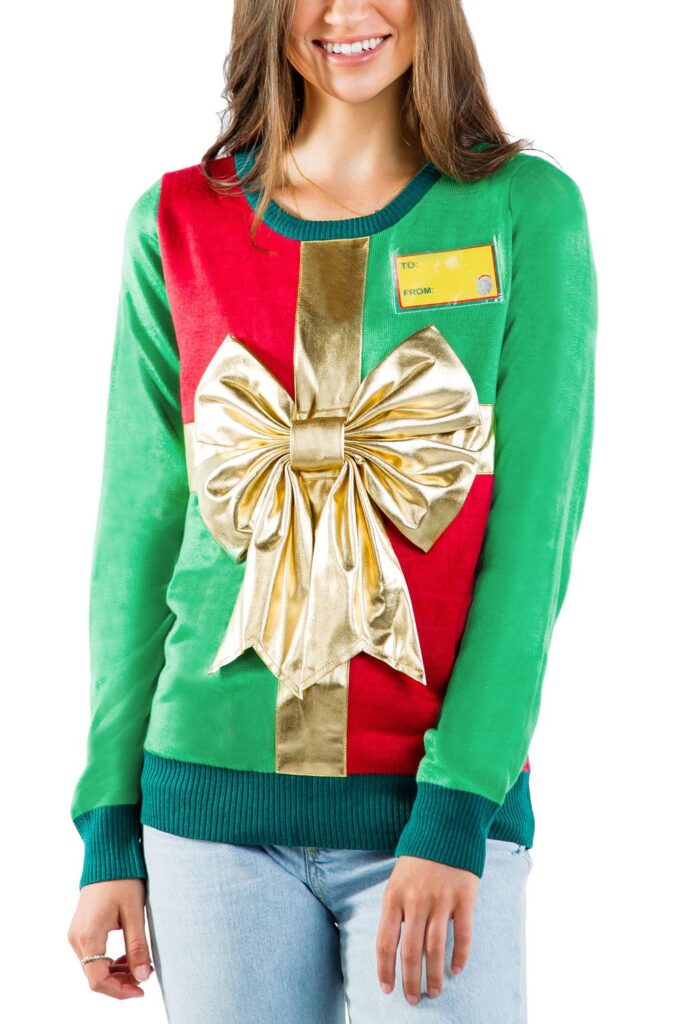 Women's Wrapped Up With a Bow Ugly Christmas Sweater
This ugly Christmas sweater turns you into an actual present – complete with a shiny gold bow and a gift tag.
---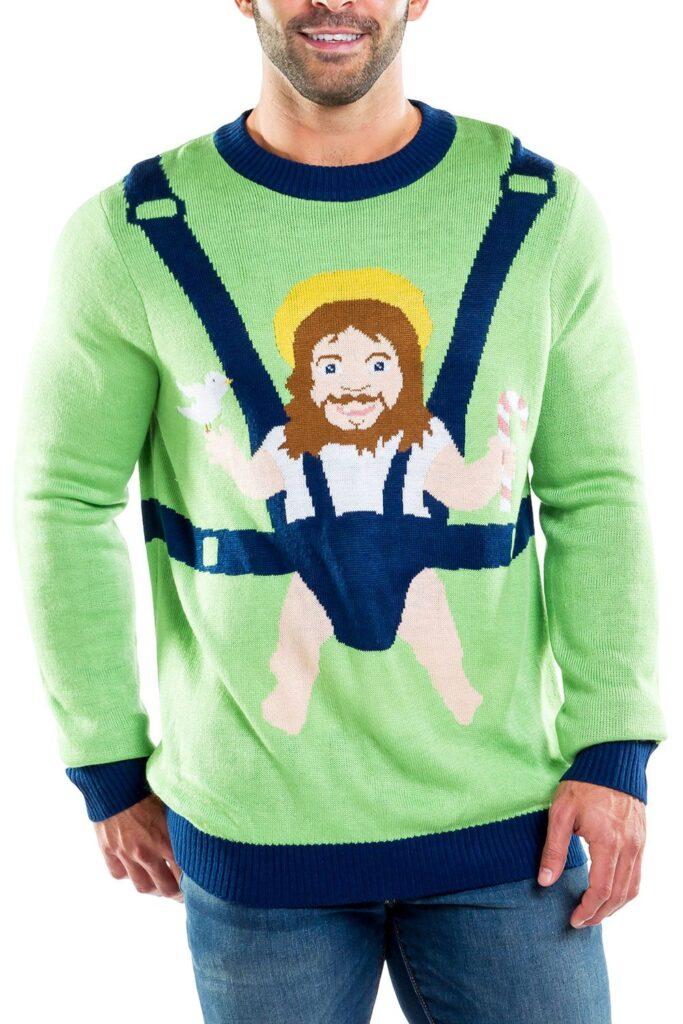 Men's Sweet Baby Jesus Ugly Christmas Sweater
Let's see how this works out. If Jesus is the son of God, and you're carrying sweet baby Jesus around like you're his daddy, who does that make you?
---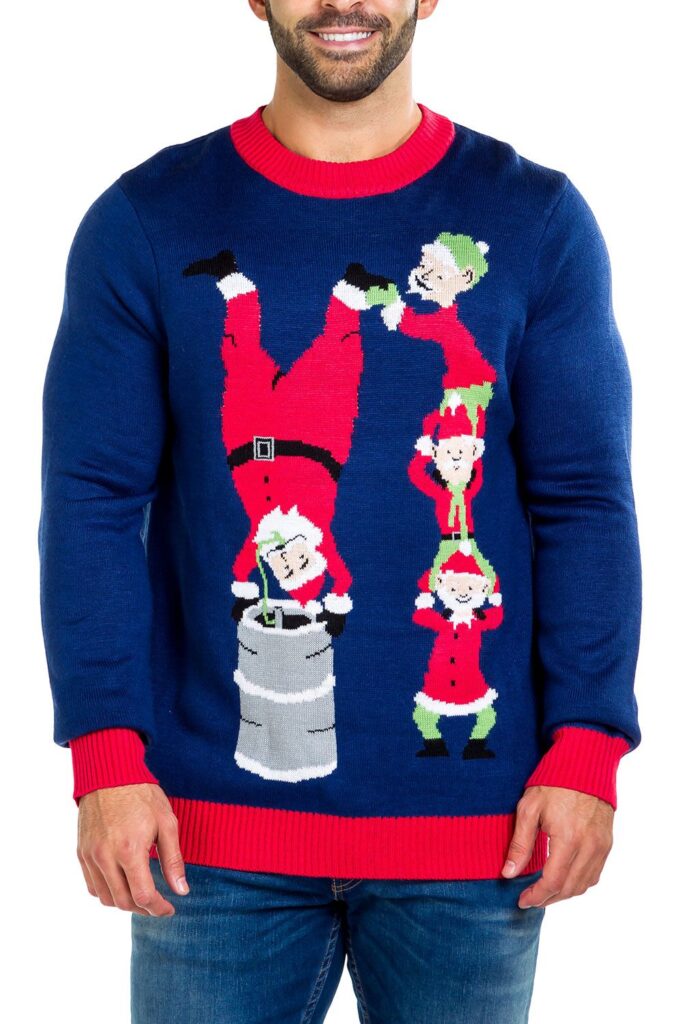 Santa's Keg Ugly Christmas Sweater
Looking for ways to stay in shape this cuddle season? Keg stands are the way to go. Just make sure you have a spotter (or three).
---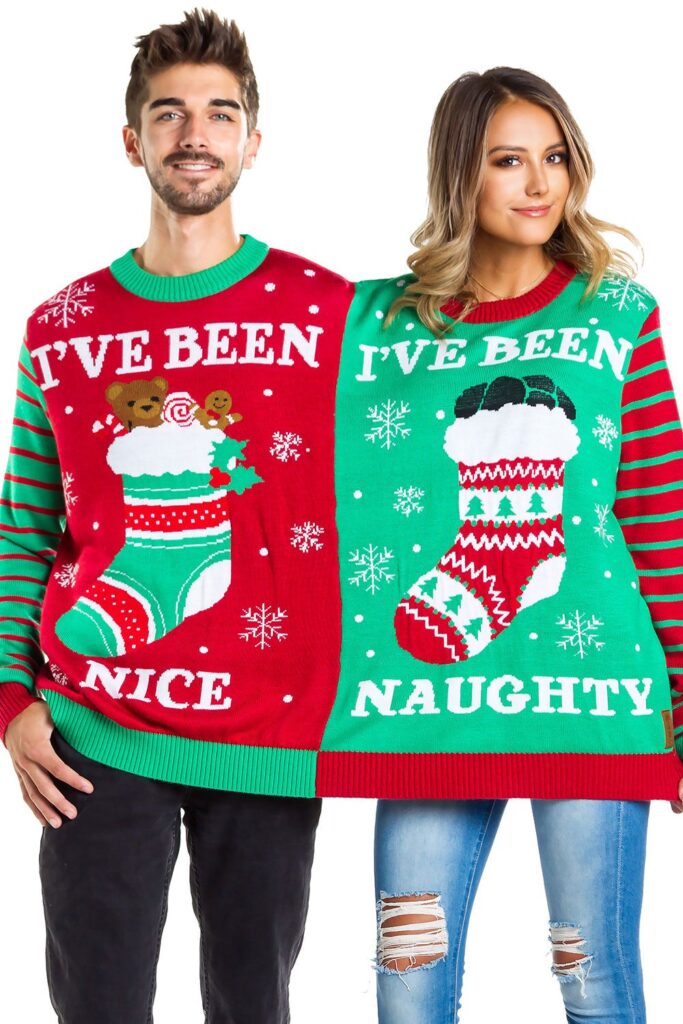 Naughty & Nice Couple's Ugly Christmas Sweater
Why buy two sweaters, when you can get one that fits you both. And, you can decide which of you has been naughty and which of you has been nice.
---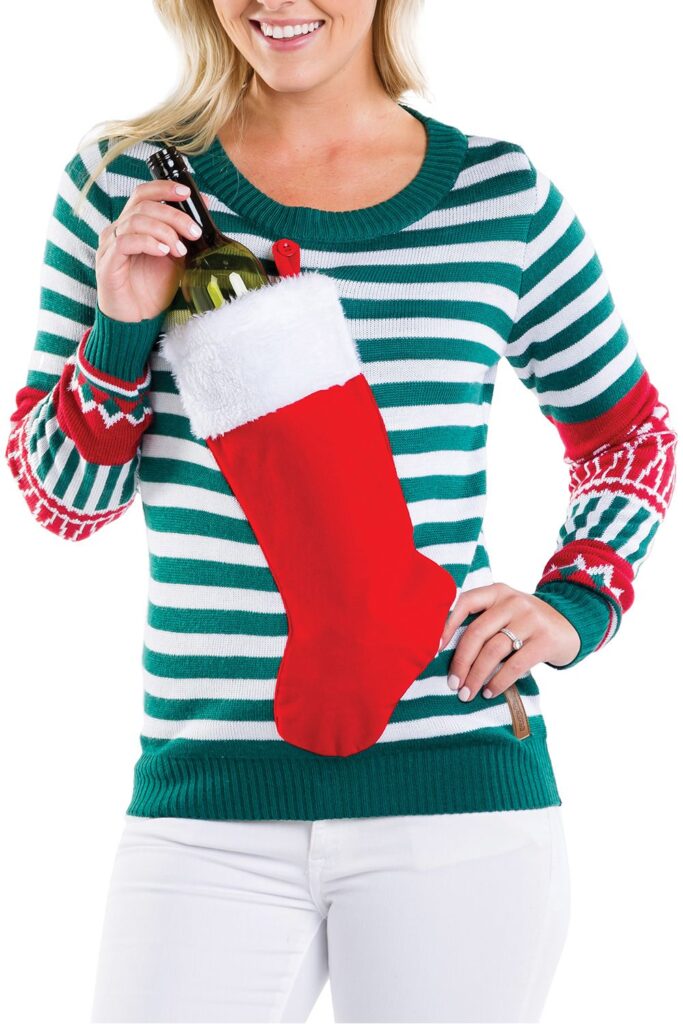 Women's Stocking Stuffer Ugly Christmas Sweater
Do you ever wish that you could still hang a stocking by the fireplace and be confident that it would be brimming with goodies in the morning? Maybe it's not too late for that dream to live again. People will be showering you with compliments on your taste in ugly holiday sweaters when you show up in this nostalgic top.
---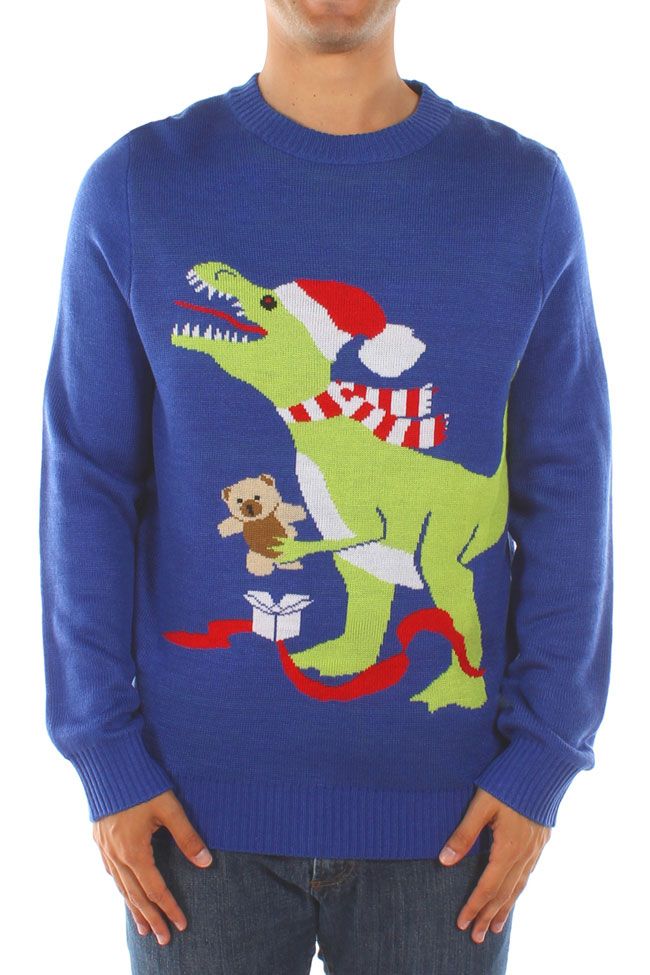 T-Rex Ugly Christmas Sweater
All the T-Rex wanted for Christmas was… a teddy bear? Thanks to Santa, this rampaging reptile got the present of his dreams! This humorous Christmas sweater in deep blue features an overjoyed dinosaur in a Santa hat and striped scarf clutching a teddy in its short arms while trampling the open gift box and ribbon underfoot.
---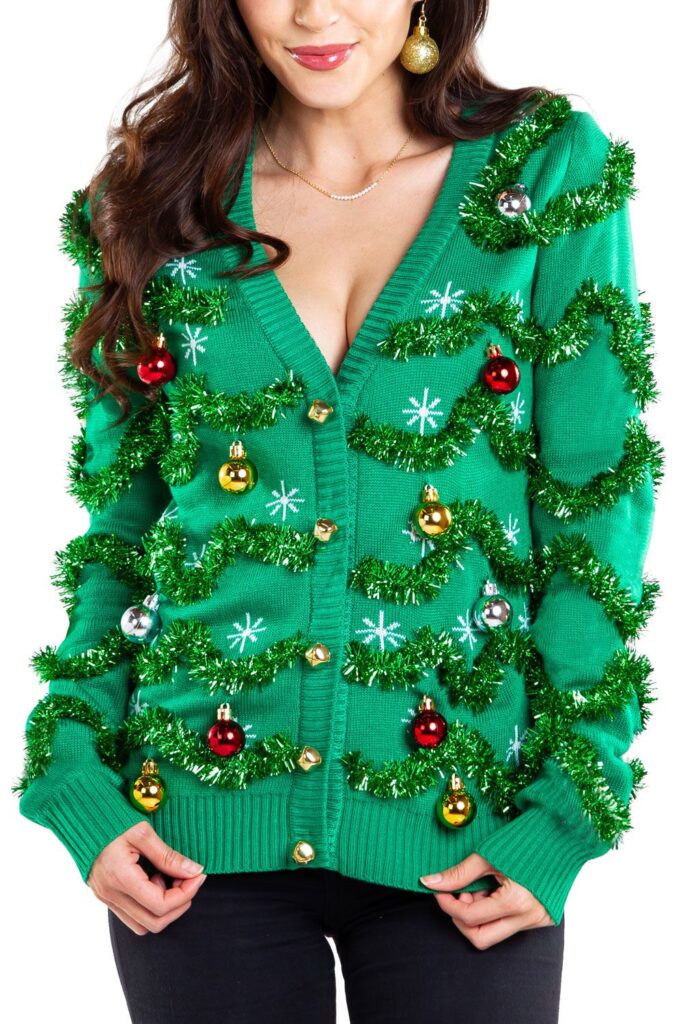 Women's Gaudy Garland Ugly Christmas Cardigan
Most of these ugly sweater designs are available for both men and women, but this one deserved it's own call out. Are you ready for some seriously Gaudy Garland fashion? Our women's sequin cardigan will add a tree-load of glitter to your wardrobe this season. It's got a lot more than tinsel to make you into the ultimate shiny distraction at any holiday party. You won't be able to resist shaking your baubles when you shimmy into this green on green delight.
---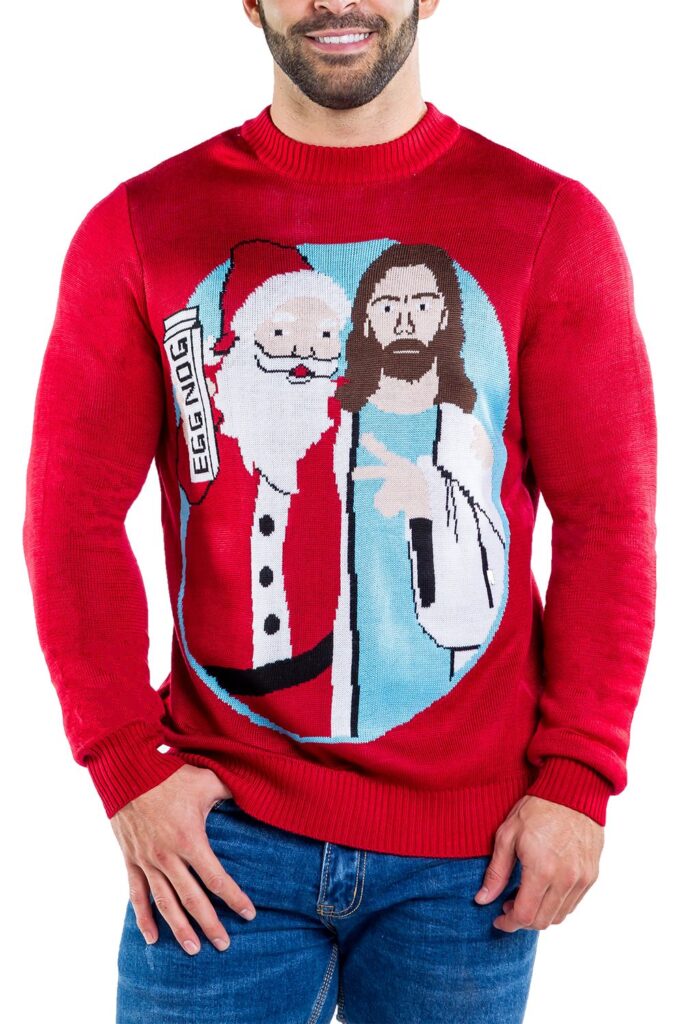 Jingle Bros Santa & Jesus Ugly Christmas Sweater
What's the true meaning of Christmas? We get so confused. Here at the North Pole, we think it's all about Santa because he's a huge egomaniac. But we hear that down south there's a whole other group of people that root for team Jesus. So, we've decided to make everyone happy (or to make everyone super-mad) by pairing our two favorite X-mas heroes on the same ugly holiday sweater!
---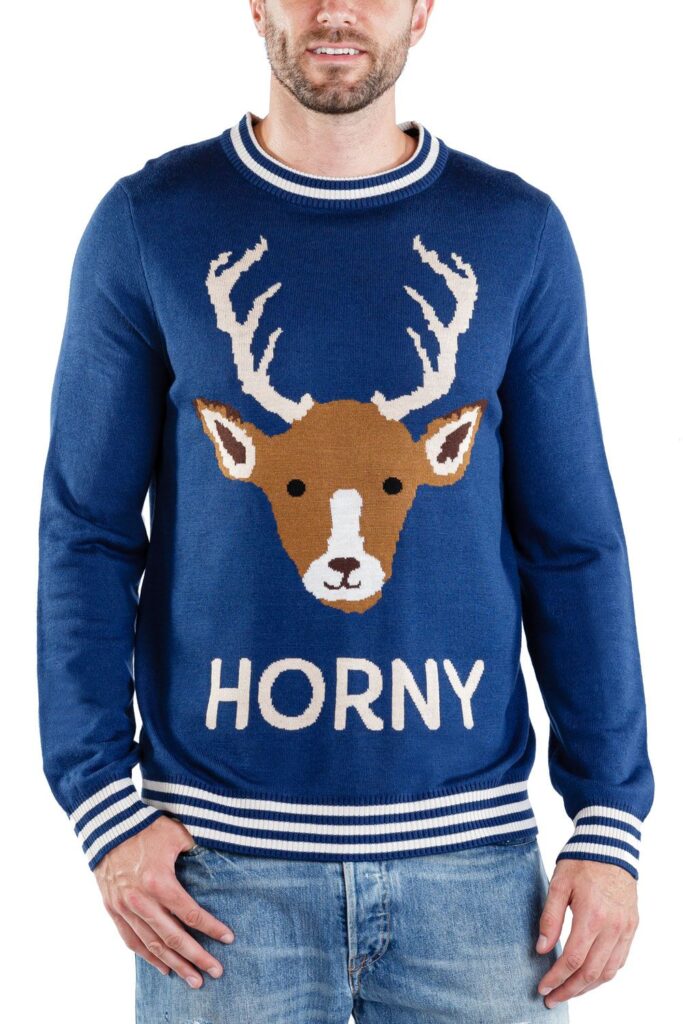 Men's Horny as Buck Ugly Christmas Sweater
Christmas lights, eggnog, drunken parties who said anything about Christmas being subtle? Modesty is for losers, so tell them how you really feel with this head-turning sweater.
---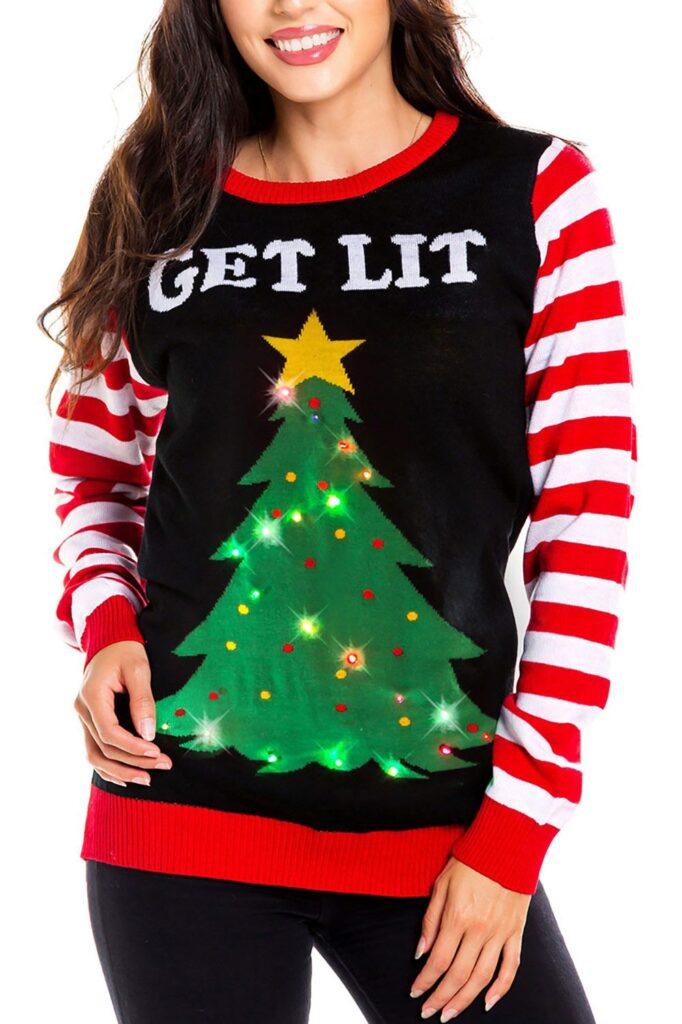 Get Lit Light Up Ugly Christmas Sweater
Rockin' around the Christmas tree was so last year. Our Women's Get Lit Light Up ugly Christmas sweater puts a twist on classic slang. We're no rockin' robin. We're getting lit.
---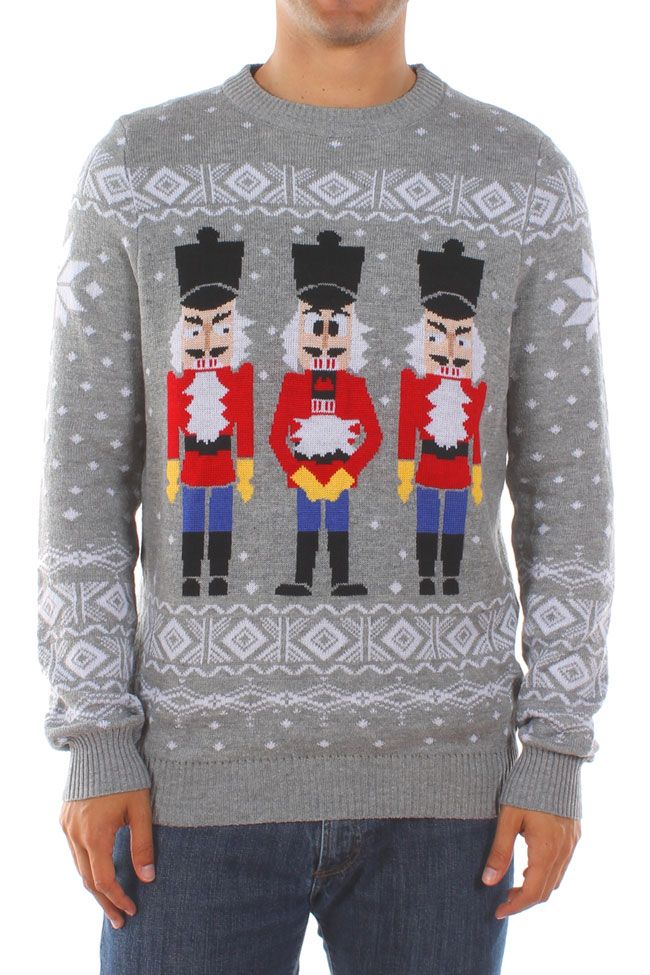 Men's Nutcracker Ugly Christmas Sweater
This trio of Nutcrackers should be a cheerful sight – but it seems that the one in the middle has suffered an unfortunate work-related mishap. From the side ey he's getting via his compatriots, there seems to be at least one guilty party still on-scene!
---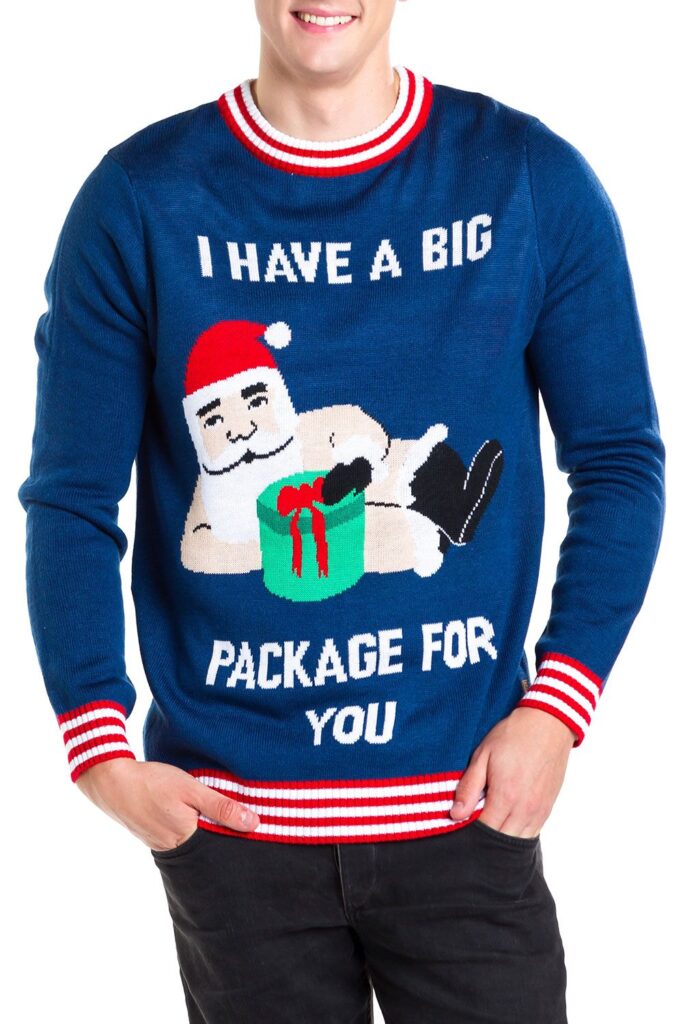 Big Package Ugly Christmas Sweater
Tis the season for the ugly Christmas sweater, and nothing fits that description better than this Men's Santa Big Package Sweater. Traditionally we're used to seeing Old St Nick donning the classic red and drinking soda pop, but this year he's decided to celebrate the birth of Jesus – by wearing his very own birthday suit. Gentlemen, if you want to be the most offensive guest at the office Christmas party, then this "big package" ugly Christmas sweater is the ideal way to go. It's warm; it's snuggly, and it's just enough to make sure boring Susan from accounts never talks to you again. Just don't go asking anybody to sit on your knee – we want to keep our jobs, folks.
---
Women's Tacky Tinsel Christmas Cardigan
Christmas time is no time for subtlety, ladies, so why not turn heads in this Women's Tacky Tinsel Christmas Sweater? When you're all out of Christmas party costume ideas, dressing as a beloved Christmas tree is the only option – and this is one that's been decorated head to toe in delicious tacky silver tinsel.
---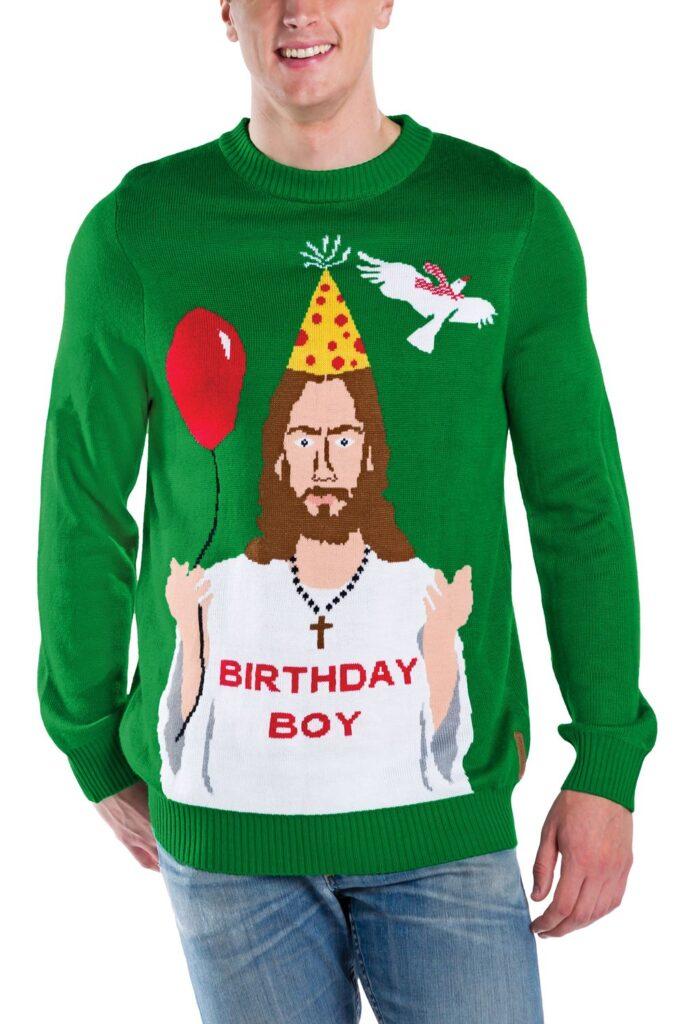 Men's Happy Birthday Jesus Ugly Christmas Sweater
If He's the reason for the season, it's time to celebrate! This Christmas sweater features the Son of God himself, complete with a party balloon. A festive white dove with a red ribbon around its neck soars above, while the Birthday Boy stares solemnly from underneath a rakish party hat. This Christmas sweater has a solid green background.
---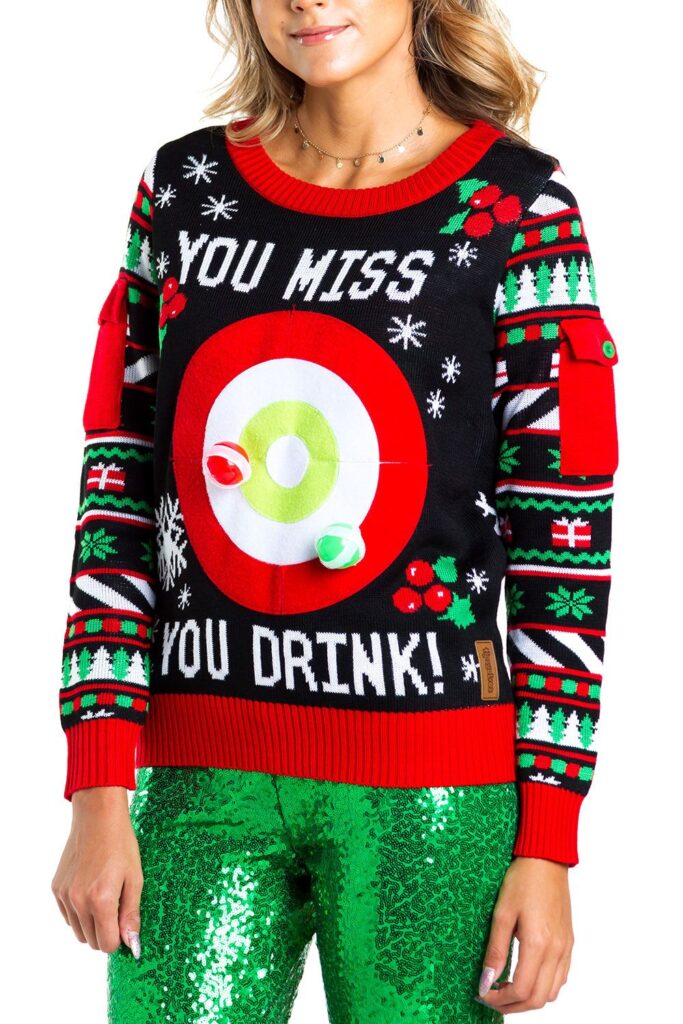 Drinking Game Ugly Christmas Sweater
This sweater isn't just fun for the person wearing it, it's fun for the whole party! It comes with six velcro balls that will stick to the sweater when thrown. It also comes with a rule card that will lay down the law of the Tipsy Elves Drinking Game.
---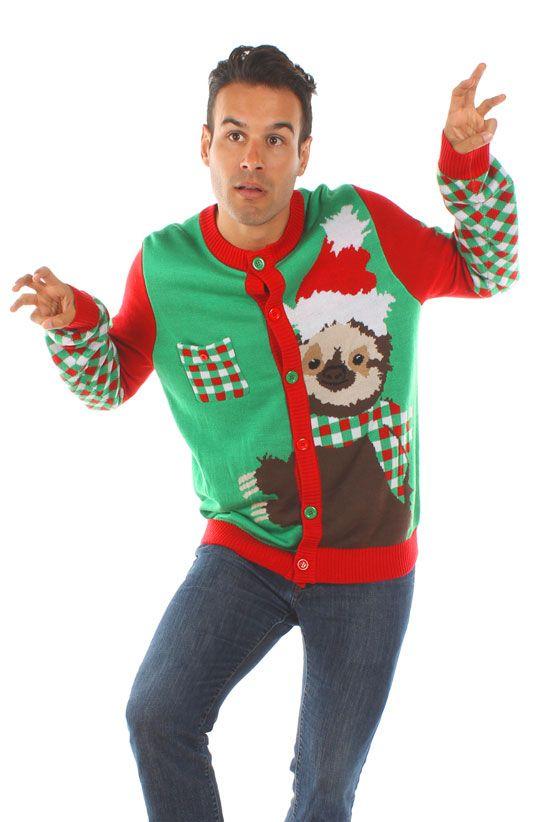 Men's Sloth Ugly Christmas Sweater
Are you a tree hugger at heart? This adorable sweater will melt the hearts of everyone at your next holiday party. Yes, that sloth has an ugly mug. But it's adorable at the same time. In fact, every Christmas tree should be decorated with one of these cute little guys.
---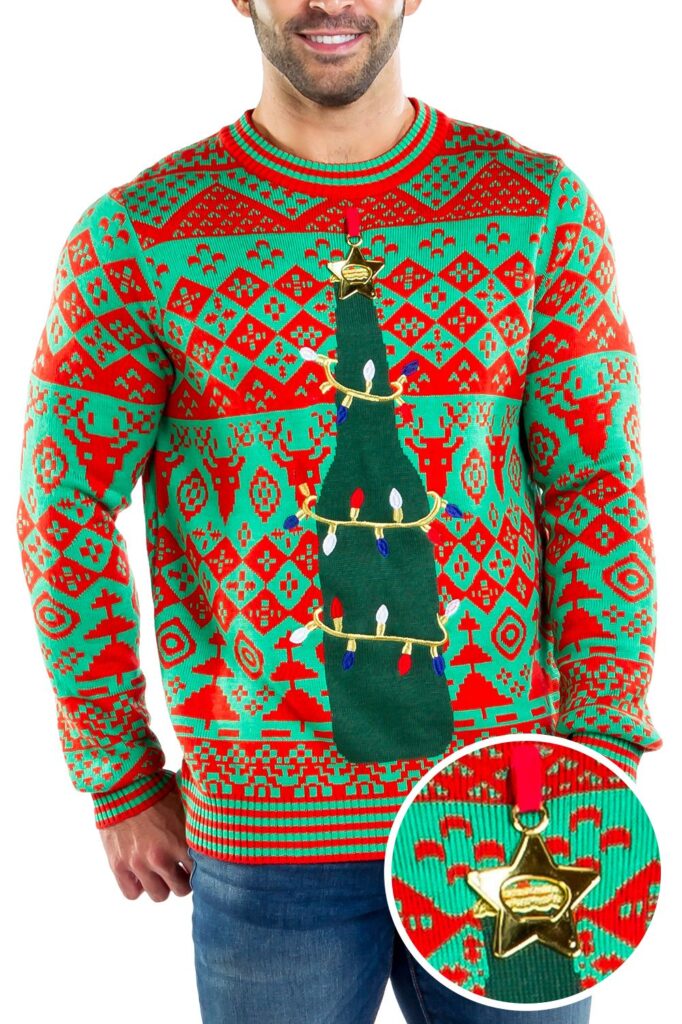 Men's Beer Bottle Ugly Christmas Sweater
Bottles won't be the only things opening for this sweater, if you catch our drift. The Bottle Opener Sweater comes with an attached bottle opener that also serves as the star on top of the Christmas tree. Ugly AND practical, could you ask for anything more?
---
How Did Ugly Christmas Sweaters Become a Thing?
Have you ever wondered to yourself (or with others) how, exactly, this ugly Christmas sweater trend ever started? Me too. Granted, ugly sweaters have been around since the dawn of knitting. Granted, back in the day, these ugly designs were accidental and one was often forced to wear them to be polite.
It wasn't until around 2001, when some random Canadians decided to throw the first official "Ugly Christmas Sweater Party." And the rest is history, and now a long-standing holiday tradition.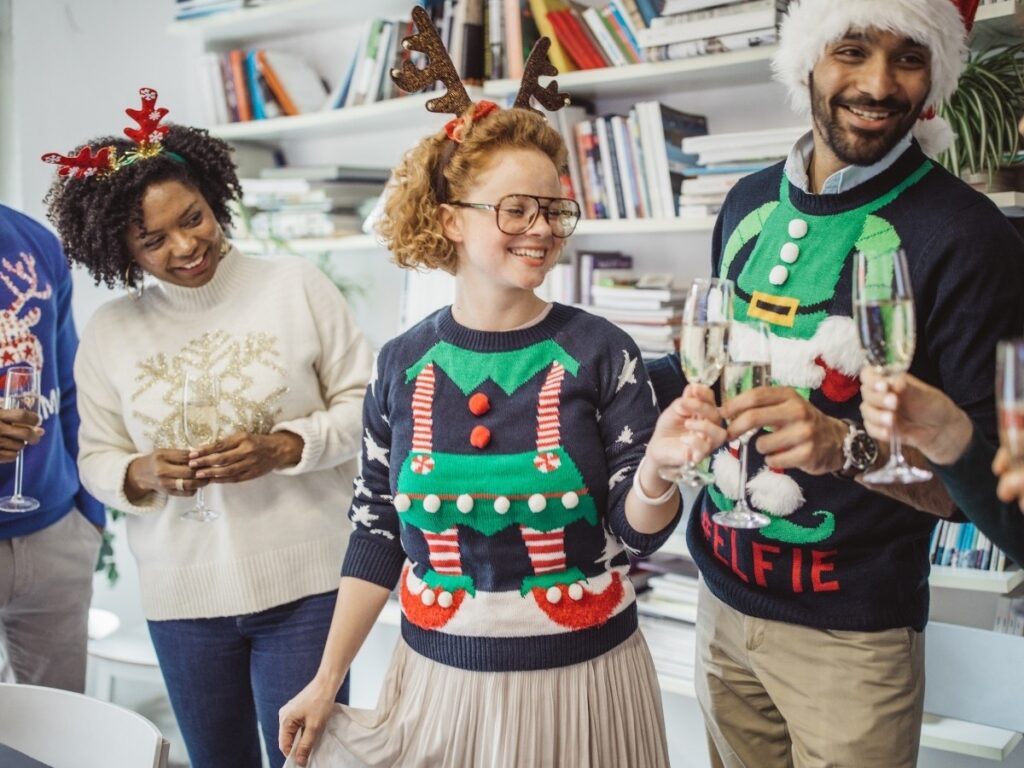 Today, ugly sweater parties are part of the Christmas countdown and the sweater theme is often included at office parties, family gatherings, and charitable events. It has become such an engrained part of Christmas that the 3rd Friday in December has been declared National Ugly Christmas Sweater Day in the USA.
Over time, the competition has become so fierce that it takes nothing less than a hideous masterpiece to claim the top spot. For those who are super-crafty, you can make your own hideous creation using any sort of material and adornments that you like. Fortunately, for the rest of us, the Tipsy Elves design team has been up to the challenge of consistently delivering over-the-top pieces for our customers. Can you tell that we're fans?
Need Even More Ugly Christmas Sweaters?
If those weren't enough to satiate your thirst for ugly Christmas sweaters, the only thing I can recommend is that you head over and browse the complete collection from Tipsy Elves. They have over 300 of them for you to enjoy. Plus a bunch of other ugly Christmas clothing.

And how much FUN would it be to create your very own Ugly Christmas Sweater Advent Calendar! A different sweater every day to help ring in the Holiday season.
Need More Seasonal Inspiration?
Checkout more from Art & Home's collection of seasonal decor, tips, and tricks.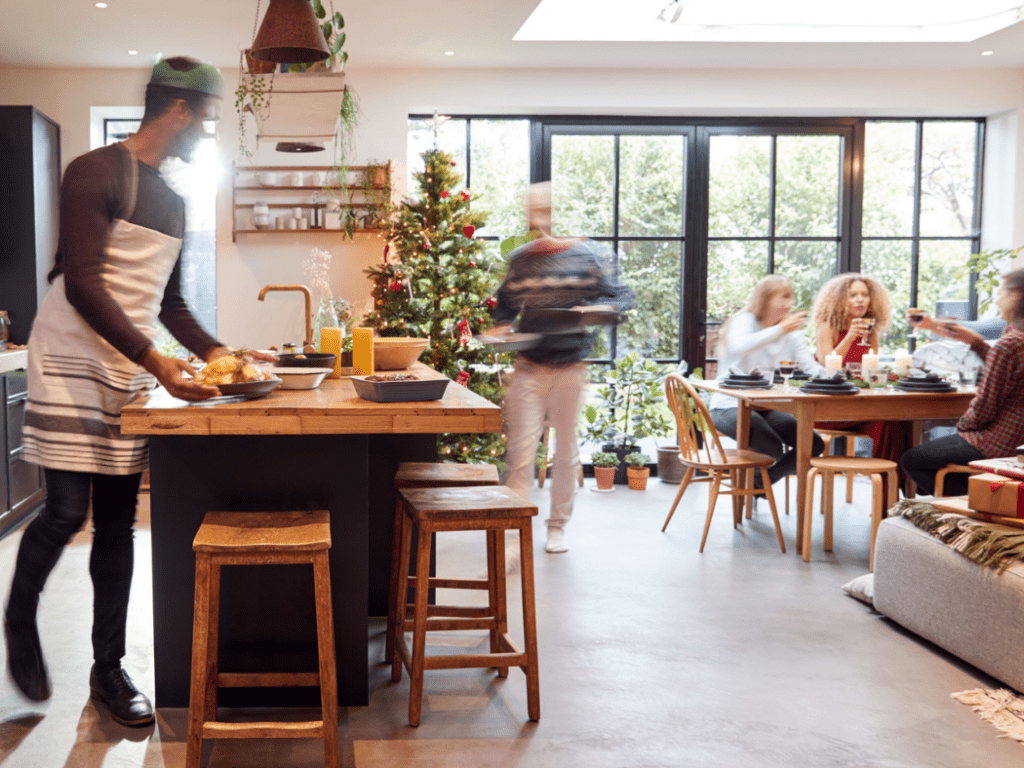 'Tis the season of holiday gatherings, family, fun, and giving. But unexpected plumbing issues can…