DIY Christmas gifts are a fantastic way to give something special to friends and family that takes more time and effort than driving to the nearest store.
With all of the hustle and bustle of Christmas, sometimes it's hard to take the time to create or find the perfect gift to tuck under the Christmas tree for that special someone on your gift list.
Although it can sometimes be easier to spend the day at your local store and find some unique treasures, a very thoughtful gift that you made with your own hands has a personal touch that is hard to match.
That being said, some DIY Christmas gifts are better left on the idea shelf than ever finding themselves wrapped and under a tree.
You know the ones, like the Exercise Gift basket full of motivational books, vitamin water, a pedometer, and supplements. It's the kind of gift that says "Hey, you're fat… do something about it already, would you!!!"
Sorry for calling you out here, Georgie Lee (not sorry)
Even someone who has stated a desire to get back into shape doesn't want to receive a gift like this. I think the only VERY rare exception is if someone specifically asks for fitness stuff for Christmas. I'm not sure who would do that, but – hey – you never know. Maybe someone who just discovered Cross-Fit?
And even if they did so, get them some Fitness Art instead. It still supports their goal but is WAY cooler.
Show you care with one of these amazing DIY Christmas gifts that won't make people cringe.
But not every DIY Christmas gift is the equivalent of your child's gold-painted macaroni pencil holder. Some are quite lovely and will be a pleasure to give and receive.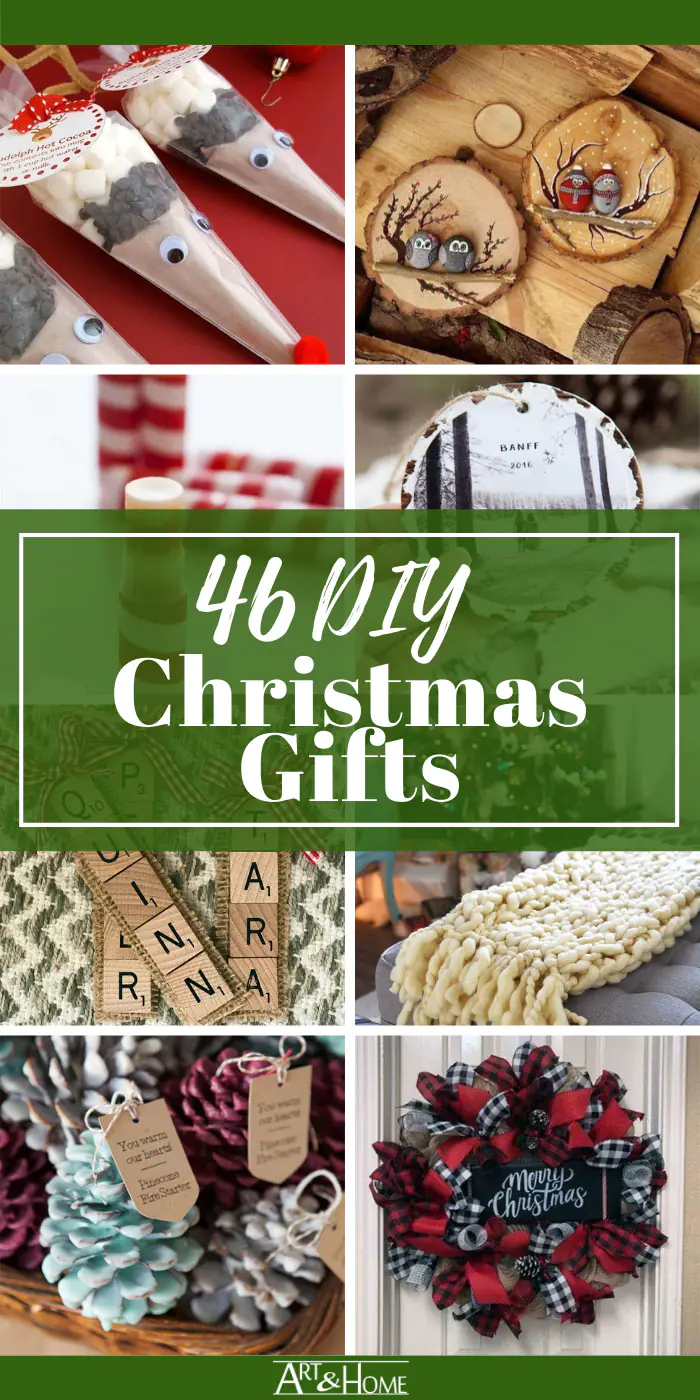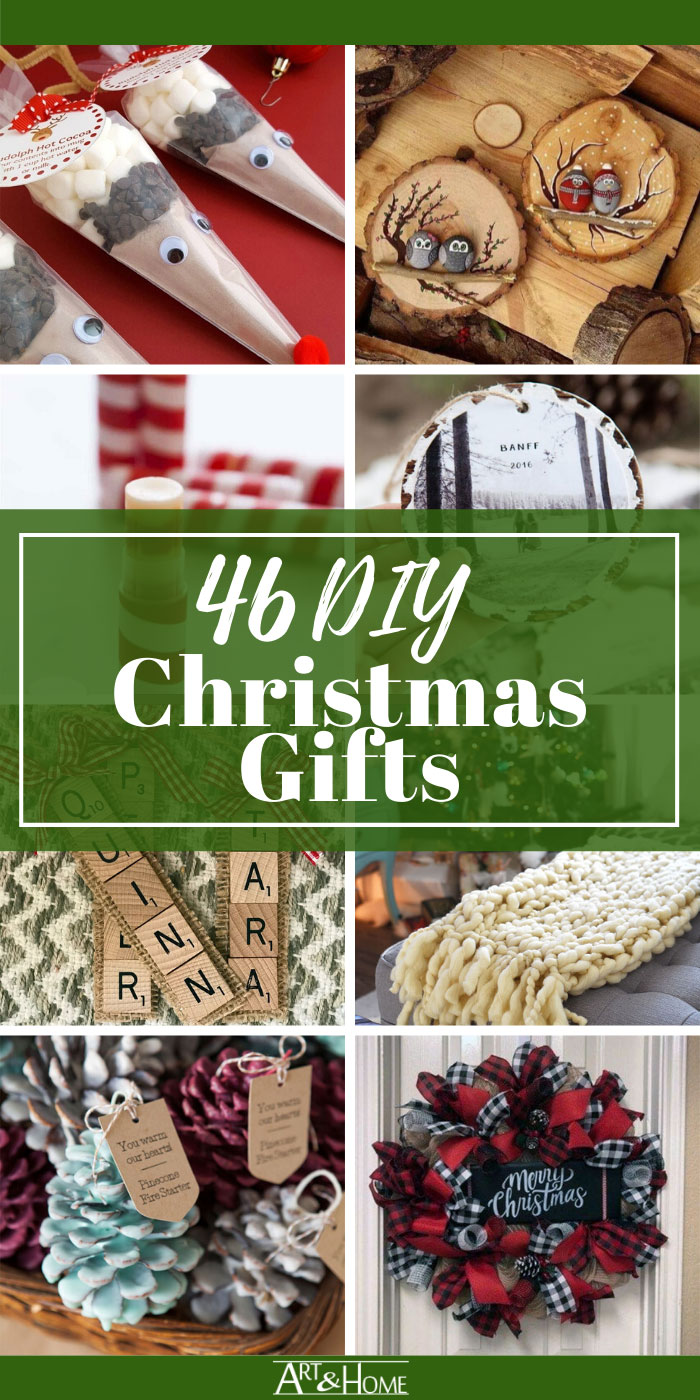 These DIY Christmas gift ideas are wonderfully unique, fun to make, and a delight to give. And you'll enjoy seeing the look of joy on their faces rather than that ever-so-awkward "Gee, Uhm, thanks" look that a bad gift can often generate.
So let's get started. Here are some truly lovely DIY Christmas gifts.
Christmas Sugar Cookie Sack DIY Christmas Gifts
These handcrafted cookie sacks are super simple to make, but they are such a pretty DIY gift because they give the recipient a pre-mixed batch of delicious sugar cookies.
Because everyone knows that measuring out the ingredients is – absolutely – the worst part of baking. These lovely cookie kits are like buying a mix from the store, but soooooo much better!
All they need to add is the final ingredients (e.g. eggs, milk, or butter), the kind of stuff that won't keep well inside a bag under the Christmas tree.
And if you don't happen to have a recipe for Sugar Cookies handy, don't worry. You can pick up a box of ready-mix from the grocery store (nobody will know!).
---
---
Dark Chocolate, Pretzel, & Candy Cane Christmas Bark
A holiday-themed, delicious bark that has a bit of a crunch from the pretzels and a hint of Christmas mint thanks to the chunks of Candy cane. And who doesn't love edible DIY Christmas gifts?
But don't snack on it yourself (well, not too much) or you may need to buy that Fitness Gift Basket for yourself!
---
DIY Flavored Mug Mixers
If you scavenge your local thrift store, you can find a lovely mix of vintage spoons. Then all you have to do is add a spoonful (literally) of melted chocolate (white, milk, and dark for variety) or caramel, then some crushed notes, icing, marshmallow bits, or other melt-able decorations.
Wrap the spoons in cello bags with a bit of string and arrange them on a dollar store tray for display. Voila, a lovely and unique gift they will not find anywhere else!
They can use them to stir their favorite cup of coffee or hot chocolate to add a little something special to their favorite holiday beverage.
---
DIY Christmas Wreath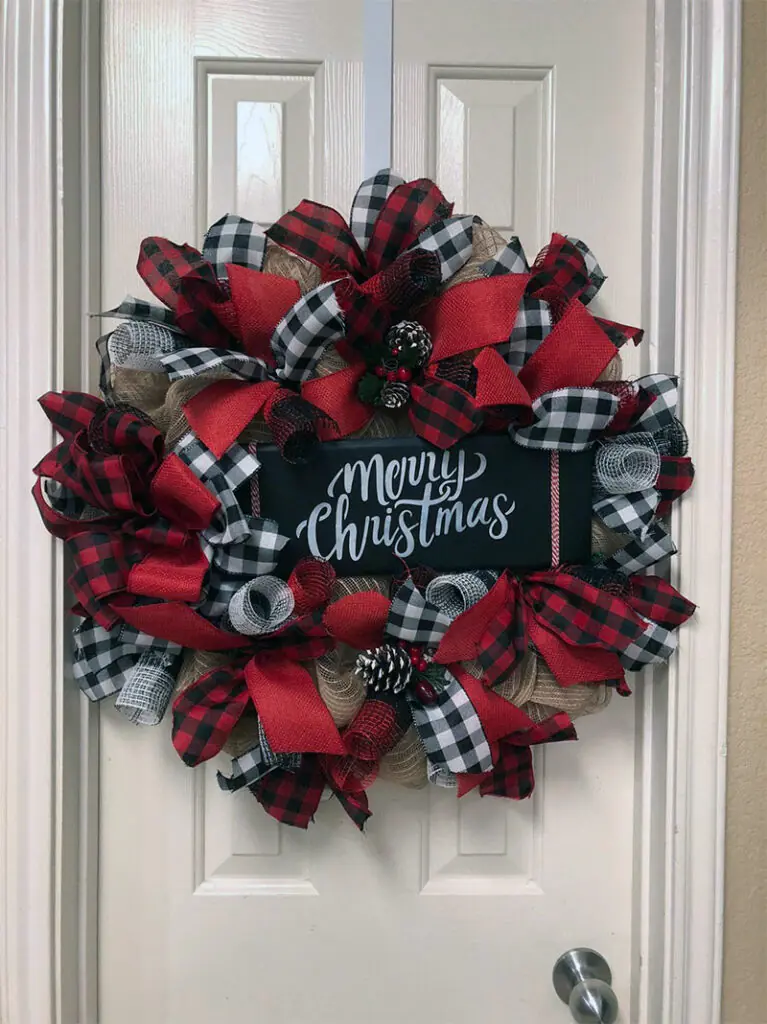 Christmas wreaths that you made yourself can be lovely DIY Christmas gifts because they will be able to revisit them each year as they put up their holiday decoration. Just make sure you know the recipient well enough to understand their Christmas color palette.
After all, you wouldn't want to give a red and green wreath to someone who decorates entirely in silver and blue. That would just be rude. And nobody wants to be rude at Christmas.
---
DIY Framed Quote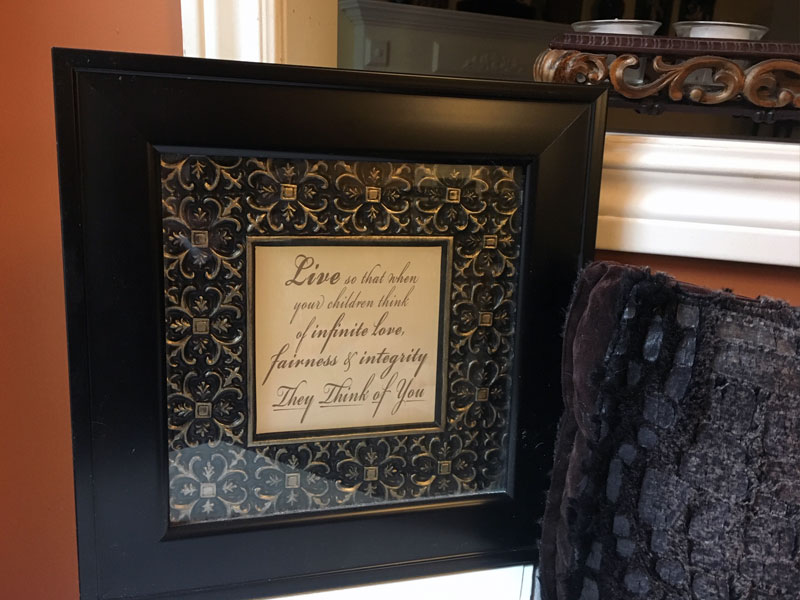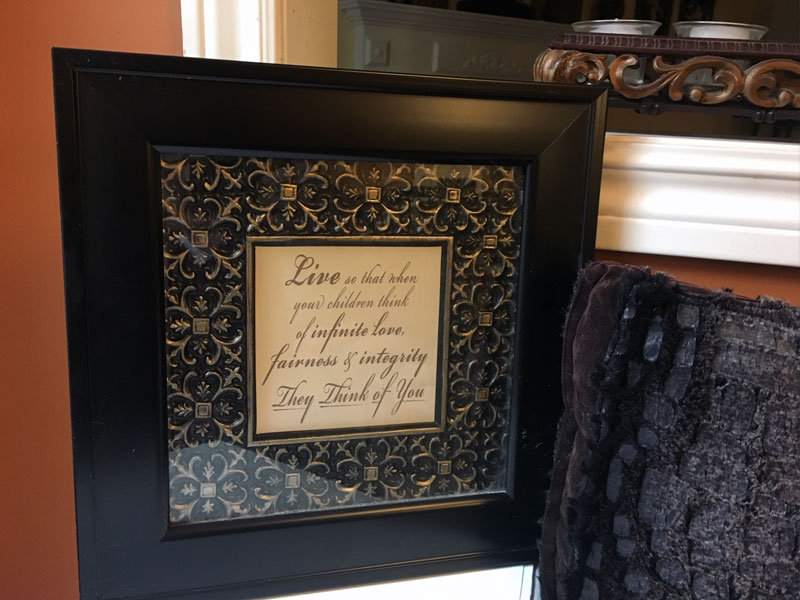 Take a saying with some type of sentimental meaning, print it and frame it in a nice frame for a lovely personalized DIY Christmas gift.
---
---
Gingerbread House Gift for the Family
If you're feeling really creative and ambitious, bake up a beautiful Gingerbread house that you can present to the entire family. It makes a lovely decoration on Christmas day, and a delightful treat that they can snack on for the rest of the Holiday season.
If a Gingerbread house is too grand of an undertaking, perhaps a family of Gingerbread people would do.
---
Nail Polish DIY Watercolor Planters
Yes, you read that right. Turn that bunch of old nail polish that has been hiding in your bathroom (or fridge, if you're anything like my mother) for years and turn it into beautiful watercolor terracotta planters that you can give to friends & family as a beautiful handcrafted Christmas gift.
---
A Plate of Christmas Cookies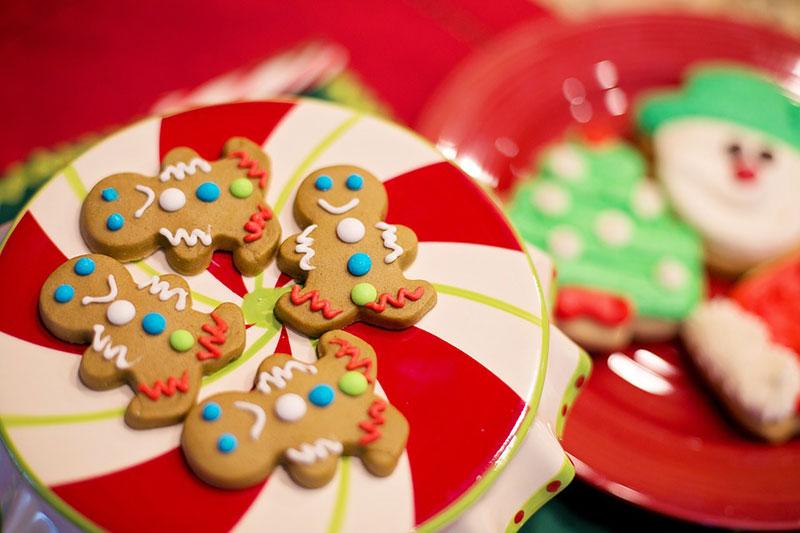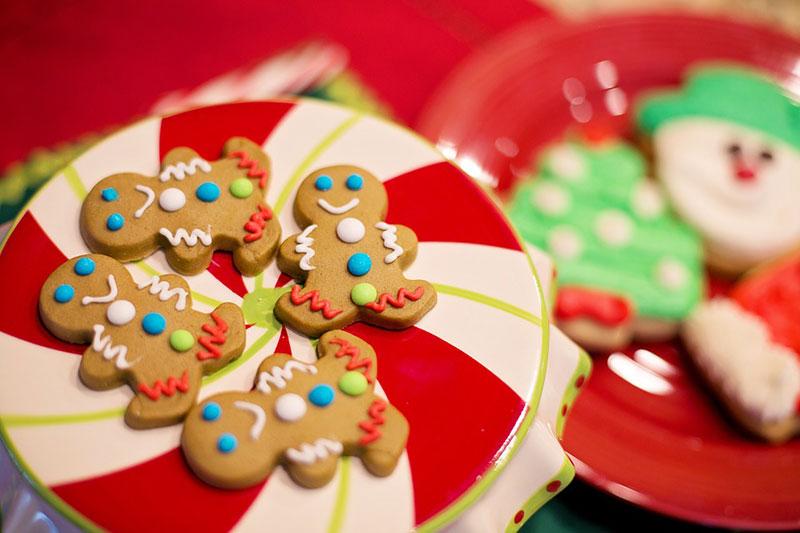 Who doesn't love cute little Christmas cookies! Whether you go with the traditional gingerbread, or some other delightful Christmas Cookie recipes, there are a delight to make and a delicious treat to receive.
---
Framed Christmas Printables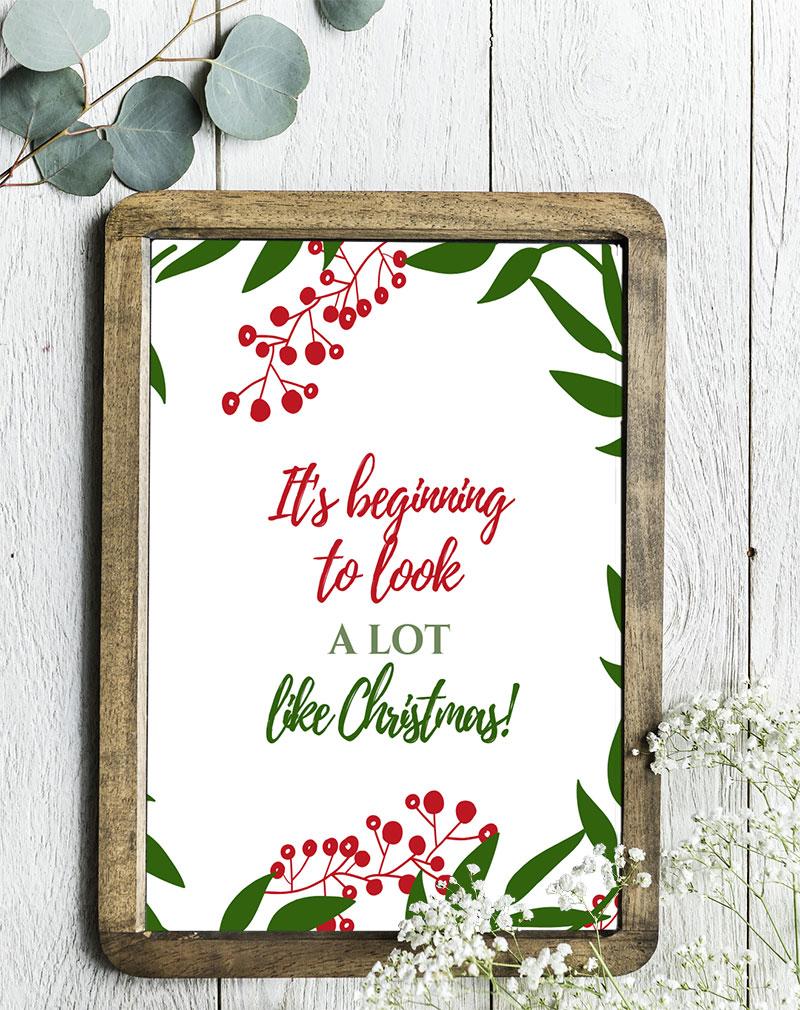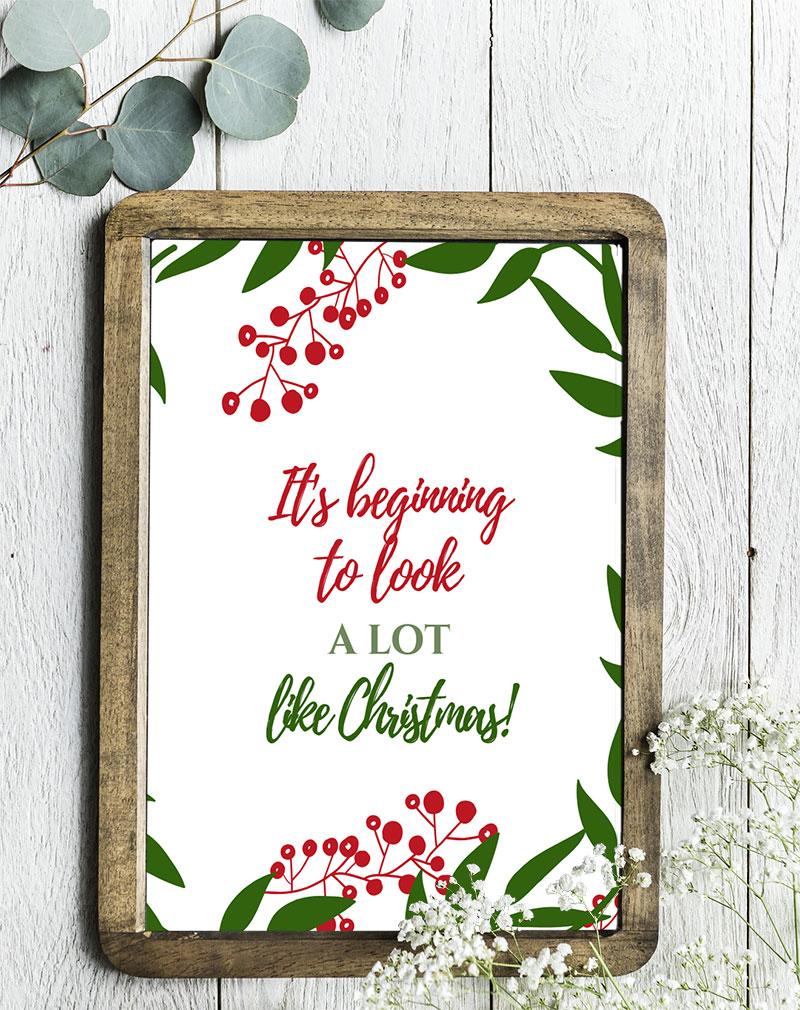 A quick and easy gift, but a delight to receive. Simply download and print a lovely Christmas Printable and place it in an appropriate frame. Suddenly, you have a unique DIY Christmas decor accent that you simply cannot buy in a store.
---
DIY Infused Vodkas
For the adults on your Christmas gift list, you can create some delightful cocktails by infusing some of your favorite flavors into DIY vodka bottles.
I suppose you could also do this white white rum, but why would you want to?
---
Shop the Art & Home Collection of Christmas Tapestries
BROWSE THE COMPLETE CHRISTMAS TAPESTRY COLLECTION >>
---
Gingerbread Fudge DIY Christmas Gifts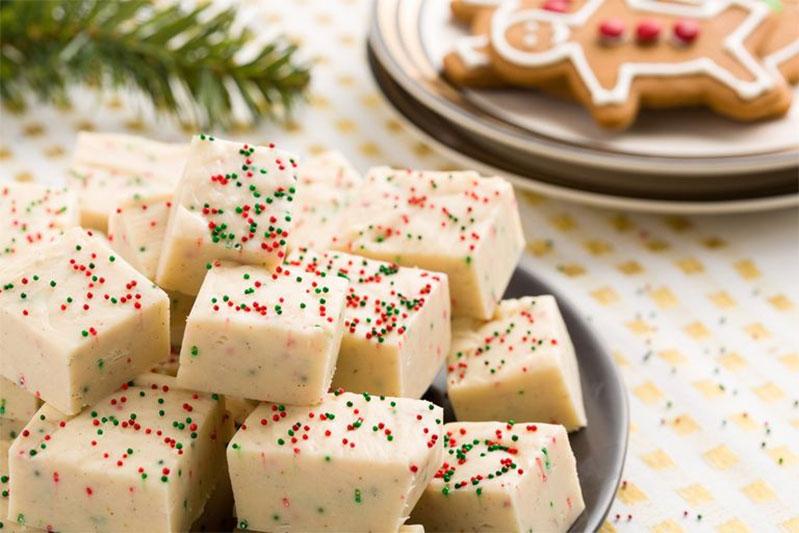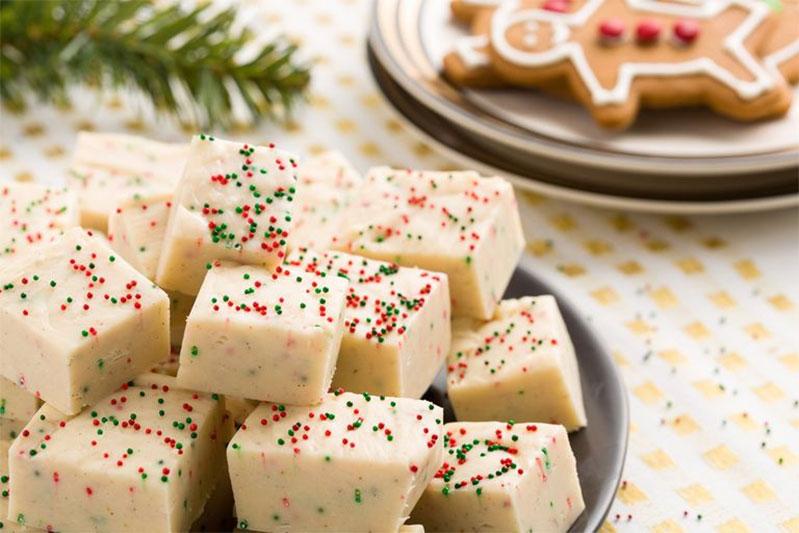 A five-ingredient dish that makes a delightful and fun DIY Christmas gift, when presented on a pretty Christmas plate.
---
DIY Chunky Arm Knit Blanket
See how to make one in less than an hour
A super comfy gift that is perfect for helping keep your loved ones warm on a cold winter's night, and you can make it in less than an hour!
---
DIY Flavored Salts Gift Box
Thanks to Country Living for this idea
A rustic presentation that is perfect for the foodie on your Christmas gift. Fine sea salt is flavored with unique accents including to add some excitement to this table staple.
As a finishing touch package the salt jars in a nice tin with some shredded paper for protection.
---

---
DIY Christmas Candles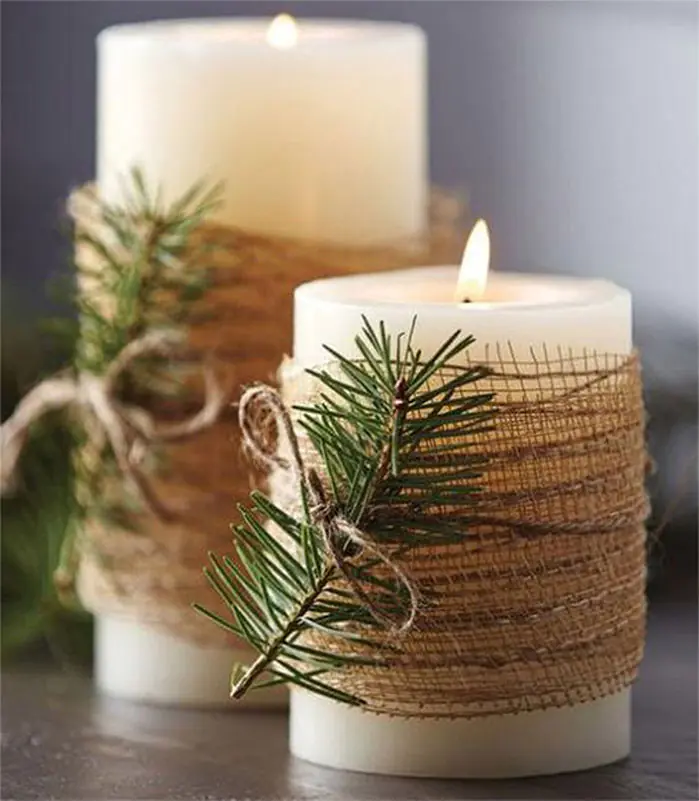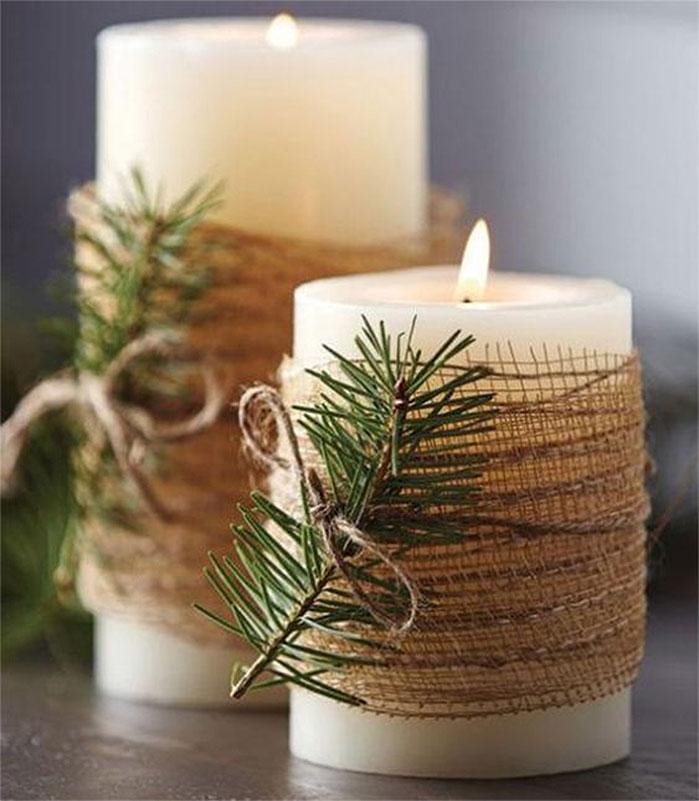 There is something quintessentially Christmas about the warm glow of candle light. You can provide that glow by crafting your very own unique DIY Christmas candles.
The example above uses some basic white pillar candles, a touch of burlap, a sprig of pine and some rough twine to wrap it all together.
Or, if you're feeling truly ambitions, you can create these delightful Pine Scented Christmas Candles from scratch.
Beyond candles, there are so many lovely DIY Christmas decor accents that can be made with a bit of material, some inspiration, & some time and then turned into a lovely DIY Christmas gift.
---
Candy Cane Oreo Truffles DIY Christmas Gifts
Do I really need to say anything more than Candy Cane Oreo Truffles???
---
Mod Podge Christmas Ornaments
These easy-to-make cardboard ornaments are covered using Fabric and Mod Podge to create truly unique Christmas ornaments. You can pick the fabric specifically for the recipient, making each set truly unique.
---
Scrabble Name Ornament
All you need are a bunch of scrabble tiles (check your local thrift store for some old scrabble games), some burlap, some ribbon, twine, and hot glue and you can create these quaint little personalized Christmas ornaments.
If you don't want to tackle making these yourself, you can pick them up from Etsy for about $12.00. Don't worry, we won't tell if you won't.
---
---
Super Cute DIY Animal Memo Holders
You wouldn't believe by how these super cute animal memo holders turned out that they once started as plastic dollar store animal toys. Perfect for the workaholic in your life who needs a bit of fun at the office.
---
Christmas Hot Chocolate DIY Gift Kit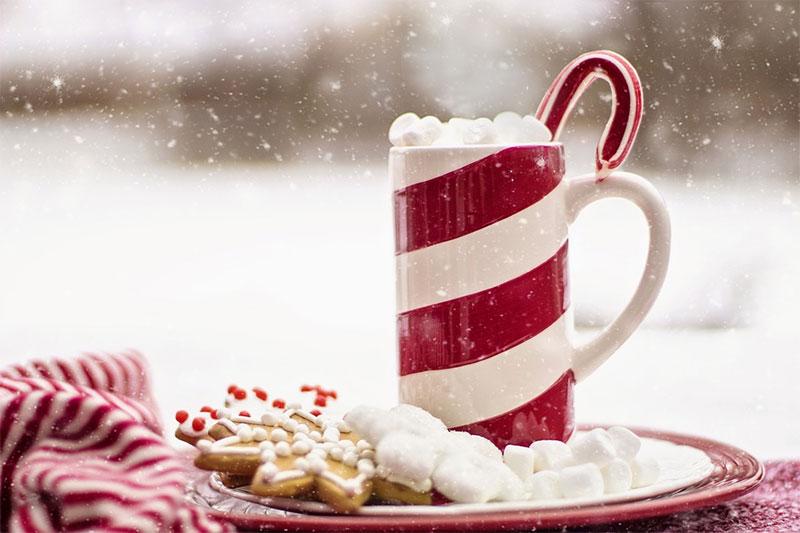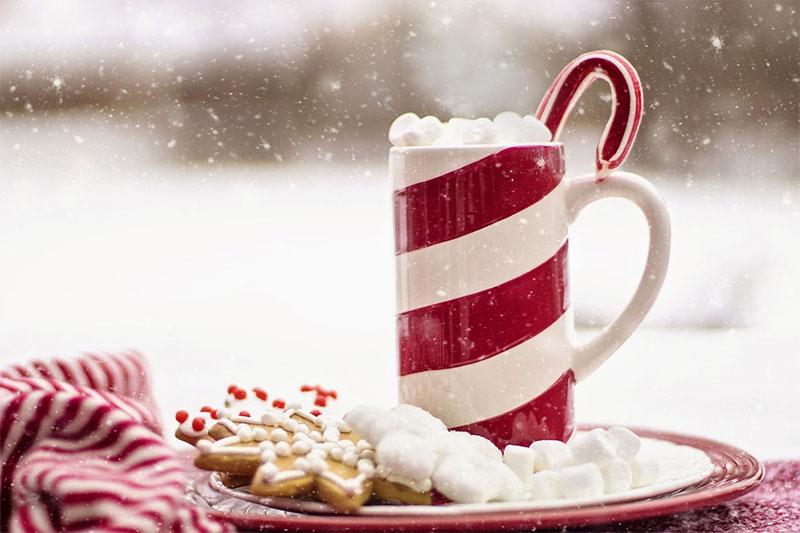 One of the simple joys of winter, and the Holiday season, is a delicious cup of hot chocolate on a cold winter's day. Help them create these magical moments by putting together a Christmas Hot Chocolate Kit.
All you need is:
Christmas Mugs: 1 for each person in the household.
Small Christmas Plates: That match the mugs
Hot chocolate powder: Put it in a nice container for an extra-special touch
Candy Canes: They make a fun and festive stir stick
Marshmallows: You can't have a Hot Chocolate Kit without marshmallows!!
Christmas Cookies: Bake up a batch to add to the kit (or buy if you must)
Or, if you want to get REALLY crafty, you can make these Rudolph Hot Cocoa Gifts instead.
They are super cute and really easy to make.
---
DIY Decorative Pinecone Fire Starters
A handy gift that helps warm up a cold winter's night, these attractive wax-dipped pinecone fire starters make a fun and functional gift.
Santa's ReinBEER
Quickly turn a six-pack of beer bottles into a cute DIY Christmas gift by attaching some pipe-cleaner reindeer horns, red noses, and googly eyes to the bottles.
As we continue our exploration of wonderful DIY Christmas gifts that we believe people will actually want to receive, you'll find even more ideas (over 20 of them) still to explore.
Are you ready for more ideas? I thought so…
DIY Pet Photo Art
Take a picture of their favorite pet (or pets) and then play with the image using a photo editing software. Once you have the effect that you're after, you can print it yourself or send it to a photo printing center, frame it, wrap it, and place it under the tree.
---
DIY Candy Cane Lip Balm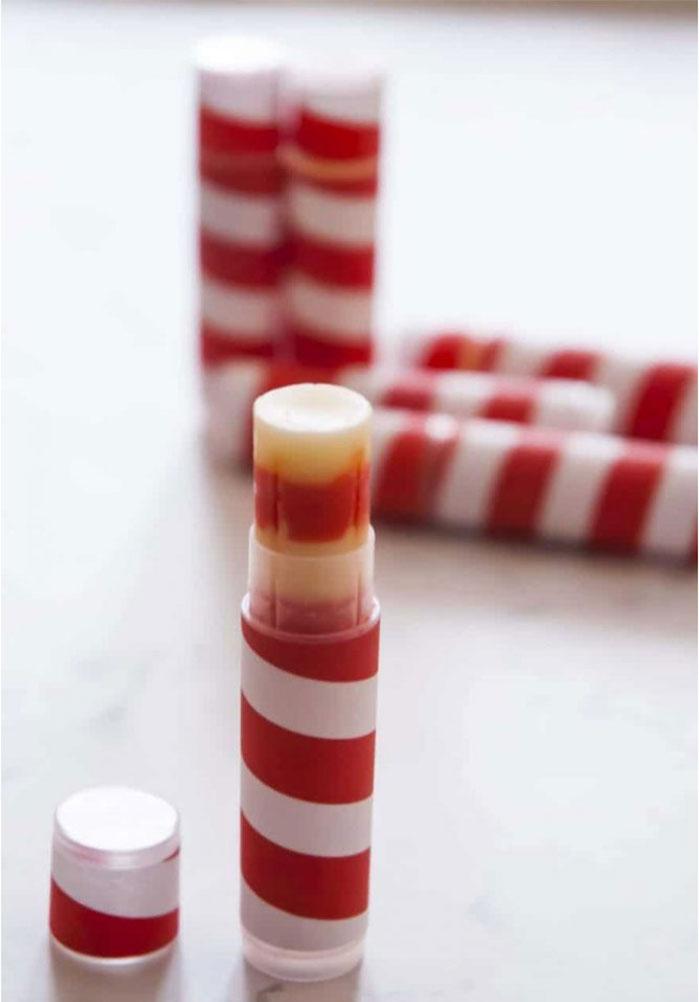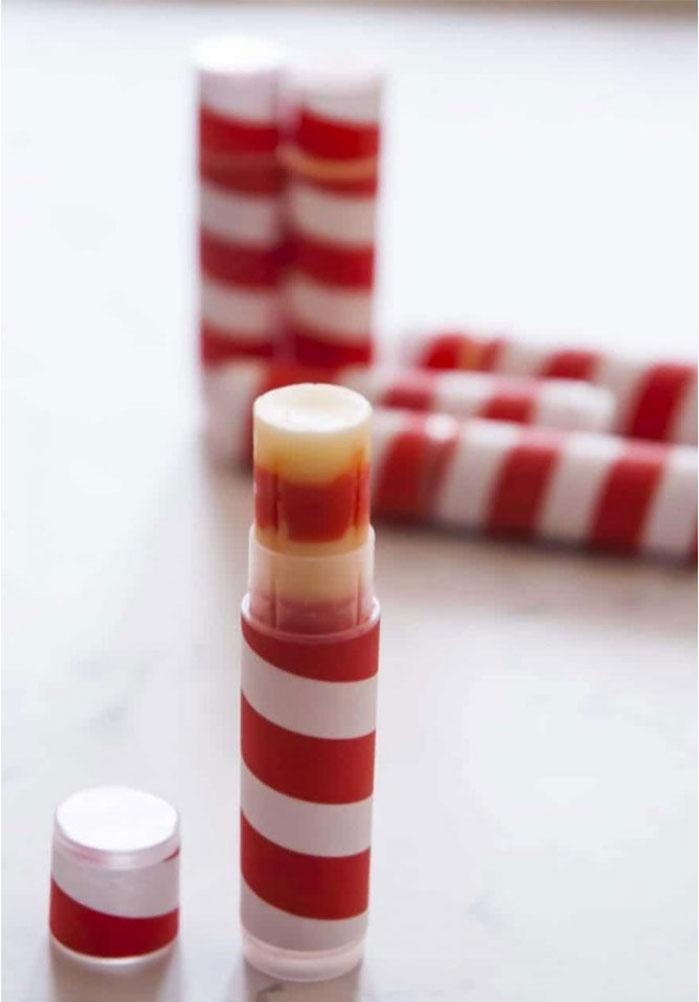 You can fill your own empty lip balm tubes with a custom-made peppermint lip balm using white beeswax, some essential oils, and red mica powder to create the red stripes.
---
Apple Cider Spice Mix DIY Christmas Gifts
Get the recipe & printable label
A delicious mix of spices that the recipient can sprinkle on rice pudding, use in mulled wine, mix into apple cider or add to their baking.
---
DIY Wood Slice & Dried Flower Coasters
These delightfully rustic coasters are crafted using wood slices from a fallen tree branch and some lovely dried flowers. The flowers need to dry for about 6 weeks, so you'd have to start RIGHT NOW if you don't have any dried flowers handy.

Or, perhaps, pin this one for next year when you can plan a bit further in advance.
---
Peace, Love, & Joy Wood Bead Tags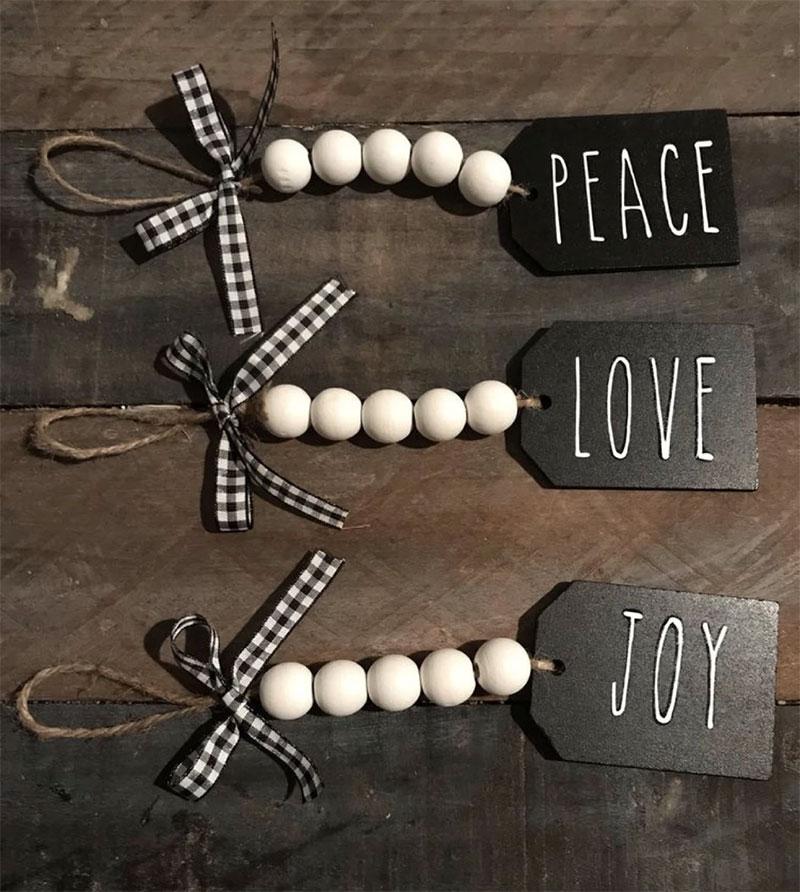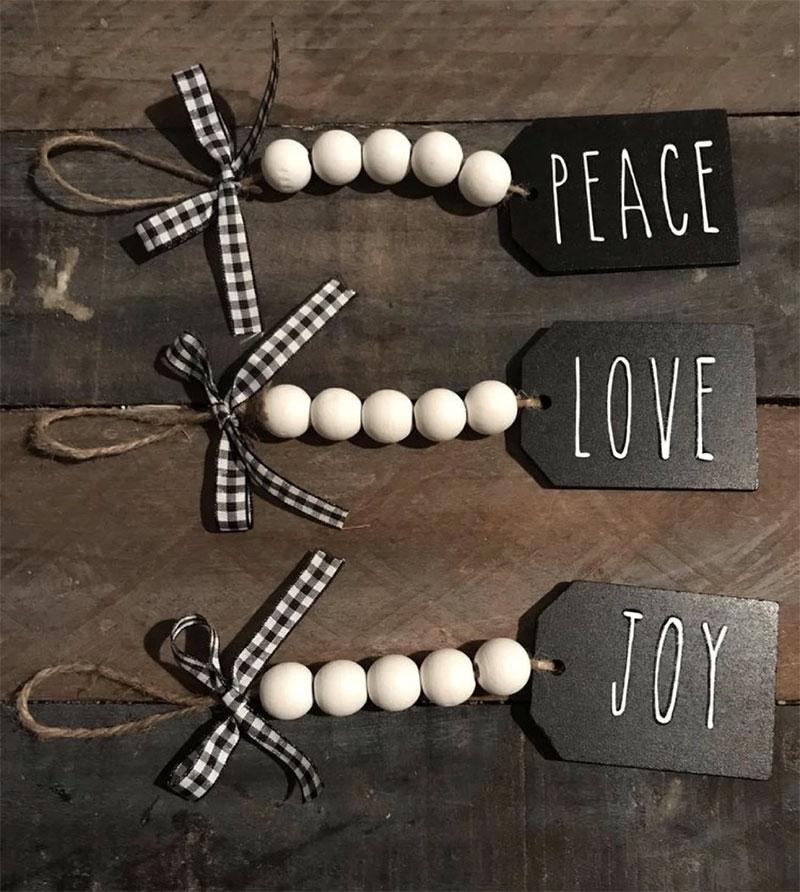 Perfect to adorn anything from a stocking to a bottle of fine wine, these rustic tags are created using some cleverly painted wood tags, some lovely white wooden beads, some twine and bit of ribbon.
---
DIY Paint Dipped Kitchen Utensils
Wooden spoons are a critical part of any kitchen, but it's hard to find ones that properly match your kitchen decor. This fun DIY project lets you turn any plan old ordinary set of wooden spoons into a decorative set that the recipient will be proud to display on their kitchen counter.
---
Peppermint Sugar Scrub DIY Christmas Gifts
Sugar scrubs are great for the skin because they are a fantastic exfoliater, and – with the right ingredients – they smell absolutely delicious!
Or, if you prefer, you can make this Candy Cane version instead.
Whichever you choose, these sugar scrubs are -natural, easy-to-make DIY Christmas gifts that smell delicious!
---
---
DIY Picture Frame Mason Jar Flower Vase
I've said it before, I'll say it again. You simply cannot have a list of DIY projects without at least one that involves a Mason Jar.
This cute craft transforms your typical Mason Jar into a delightful photo frame vase. However, make sure you include a plastic cup insert to hold the flower water, or the picture will quickly be ruined!
---
DIY Tea Bag Christmas Trees
For the tea lover on your list, take some styrofoam cones and individually wrapped bags of specialty tea and create unique tea trees.
---
Fabric-Covered DIY Journals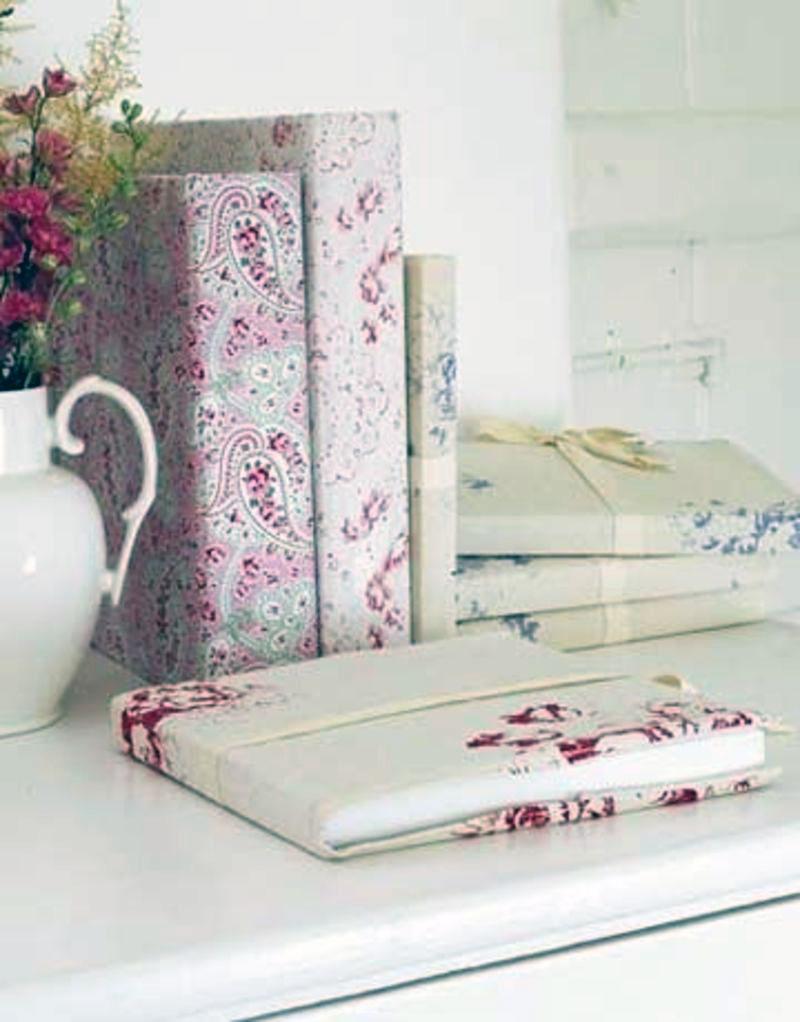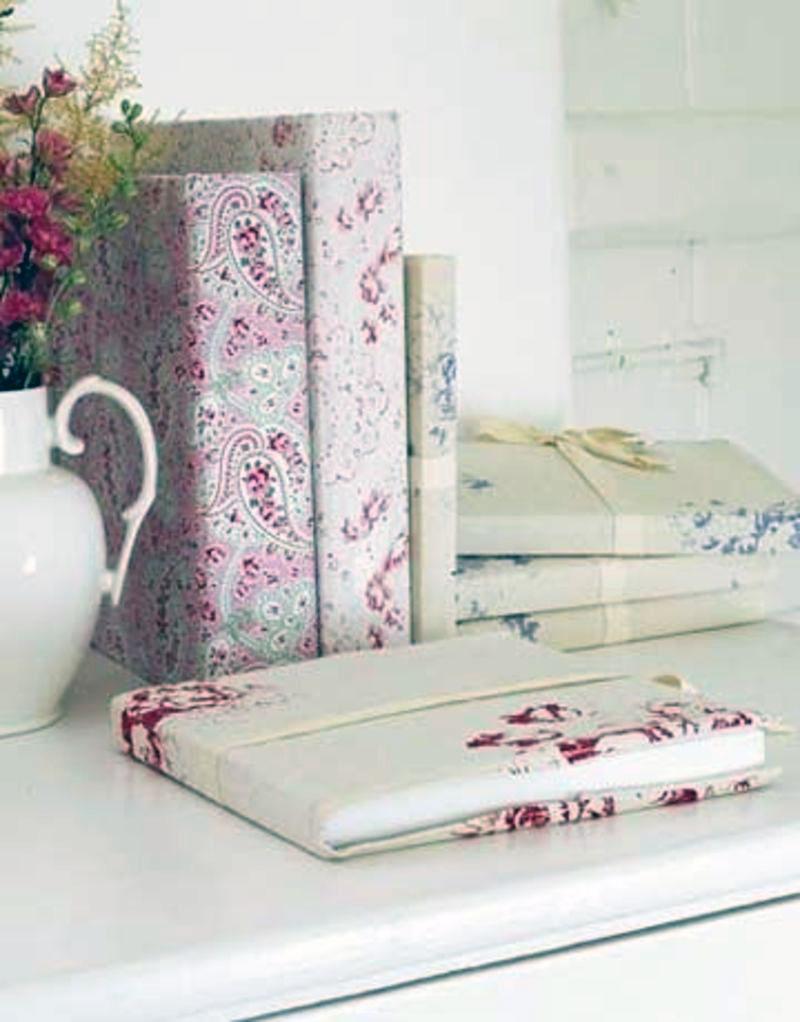 Found in Country Living magazine
A wonderfully personal DIY Christmas gift, these fabric-covered journals are beautiful to look at and provide a lovely spot to write down one's daily musings.
This same approach can also be used for photo albums, for those who still like the tactile feel of printed photos.
---
DIY Chalkboard Mug Christmas Gift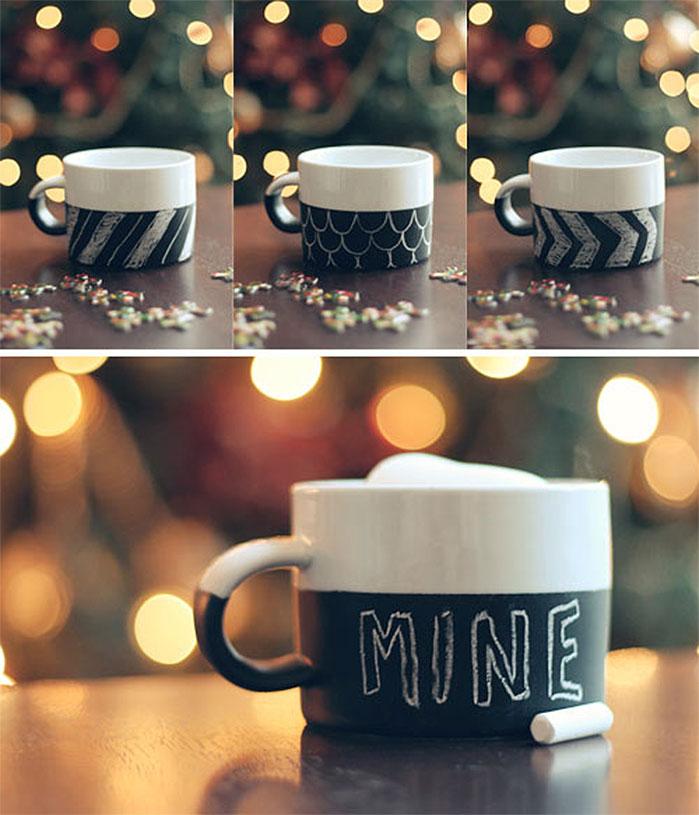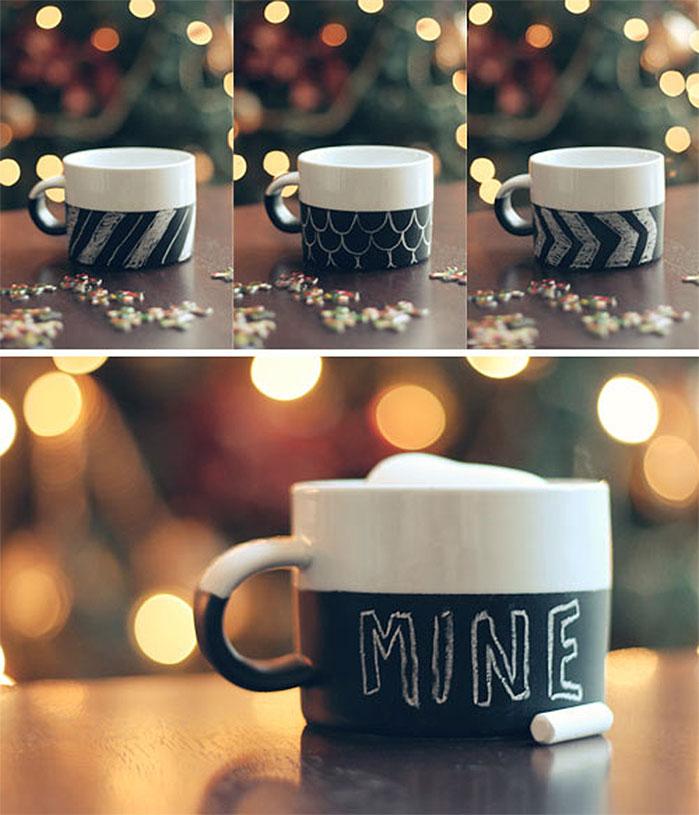 Source: Wit & Whistle
My momma always told me to not play with my food, but she NEVER said anything about my coffee cup! I love the idea of using porcelain chalkboard paint to turn a plain white coffee mug into a delightfully customizable coffee mug that can go with your daily mood.
---
Best SHOT at Merry Christmas DIY Adult Christmas Gift
A fun and easy DIY Christmas gift for the adults on your gift list, this only requires some mini bottles of their favorite liquor, some red solo cup shot glasses and a printed tag you can get from Mama Cheaps.
---
DIY Christmas Card Ornaments
Take old Christmas cards and upcyle them into new and wonderful ornaments for the Christmas tree. An even nicer touch is if you can use the cards sent to you by the person you are giving them to. It's like re-gifting, only wonderful.
---
We WHISK You a Merry KISSmas!
This clever idea uses a handy household whisk and fills it with Hershey's chocolate kisses. Wrap it all up in cellophane and tie it with a lovely bow. For an extra special touch, the printable label design can be purchased from Etsy.
---
DIY Gingerbread Body Butter
Nothing says "I love you enough to not let you dry up into a cracked and flaky mess this winter!" quite like a jar of delicious body butter. Add some gingerbread ingredients to make a unique version that let's you feel and smell like Christmas!
---
---
Lumps of Oreo Coal Funny DIY Christmas Gifts
As a fun gag gift for the person who may have been a little bit more naughty than nice this year (in all of the best ways, of course), bake them up a delicious batch of coal lumps using everyone's favorite cookie.
---
DIY Christmas Ornament Pillows
Finally, beautiful Christmas ornaments that won't break when they drop on the ground. Perfection in Christmas pillows!
---
Wood Slice Bird Ornaments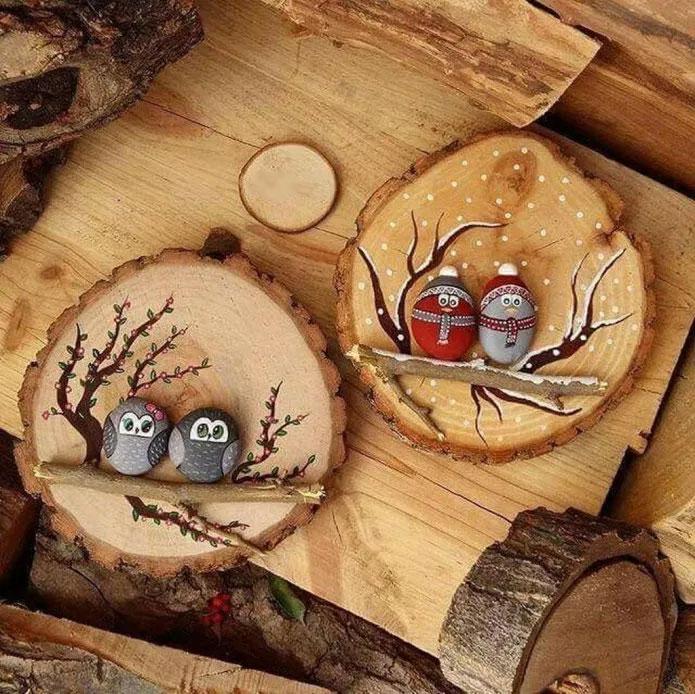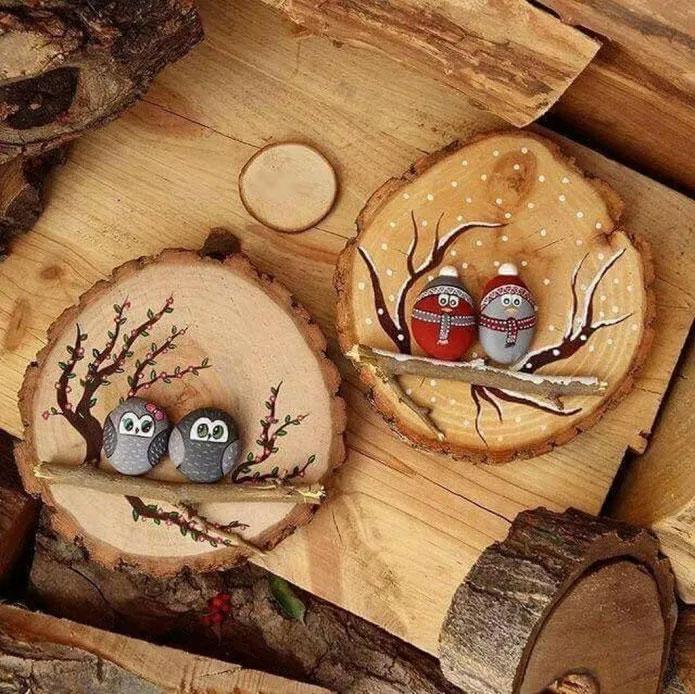 These delightful and intricately painted ornaments are crafted using wood slices, sticks, and a few delicately painted pebbles. Soooooooo cute!!!
---
Ice Cream Sundae Box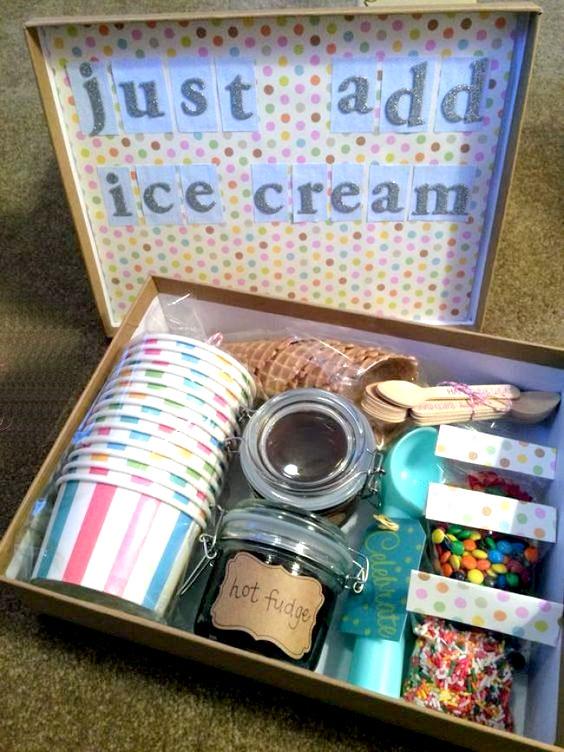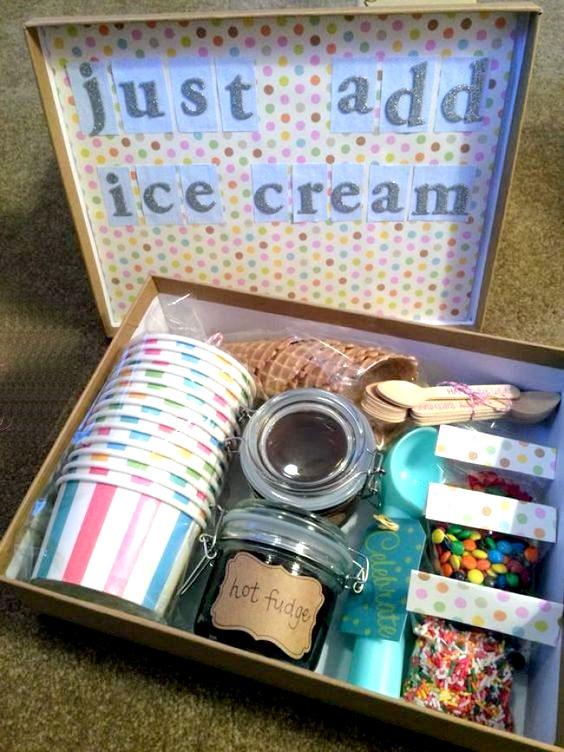 A great DIY Family gift, this box contains all the things you'd need to have a family ice cream sundae party. A cute ice cream scoop, some tubs, cones, wooden spoons, even hot fudge, caramel, and sprinkle toppings!
---
10-Minute DIY Photo Ornaments
You can mod podge your way into some beautiful and personalized photo ornaments using some distressed wood as the base.
---
DIY Bath Bombs
Get this tutorial… it's the bomb!
You'd be surprised how easy it is to make these relaxing bath bombs, in whatever color you could ever possible want or need. Put them in a cute little clawfoot bathtub soap dish for that perfect final touch.
---
Holiday Crack Candy
Yes, it is actually called Holiday Crack Candy. You can't make this shit up!

Rumor has it that this has caused more than one Christmas family feud over the last piece, so be careful who you gift it to. I don't normally recommend DIY Christmas gifts that can cause a family to fight, but I couldn't help it.
Remember, it's actually called Holiday Crack Candy. How could I possibly resist?
---
And there you have it, our collection of wonderful and unique DIY Christmas gifts.
Which ideas was your favorite? Let us know in the comments below!