Few things deck the halls… and the doors, and the windows… quite as well as beautiful Christmas wreaths, and we have 79 ideas to help up your Christmas decoration game.
Whether you are a Do-It-Yourself Christmas decorator, or you prefer to buy your Christmas decorations from the professionals, there are plenty of ways to add the beauty of Christmas wreaths to your home this holiday season.
We've gathered together 79 of the most beautiful wreaths we could find for this season, from across the web.
From DIY designs on Pinterest to beautifully crafted wreaths you can pick up from our retail partners including Wayfair.com, Amazon, and Etsy, you're sure to find just the right piece to add to your Christmas decor.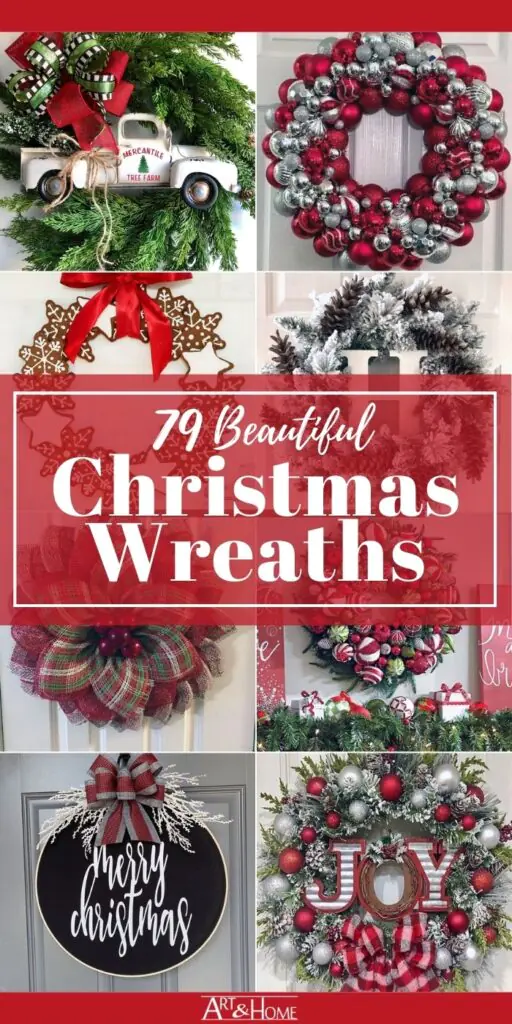 From classic to contemporary to truly unique, you'll find a wide variety of beautiful wreaths to inspire your own Christmas decor.
Let's get started!
---
White Vintage Truck Wreath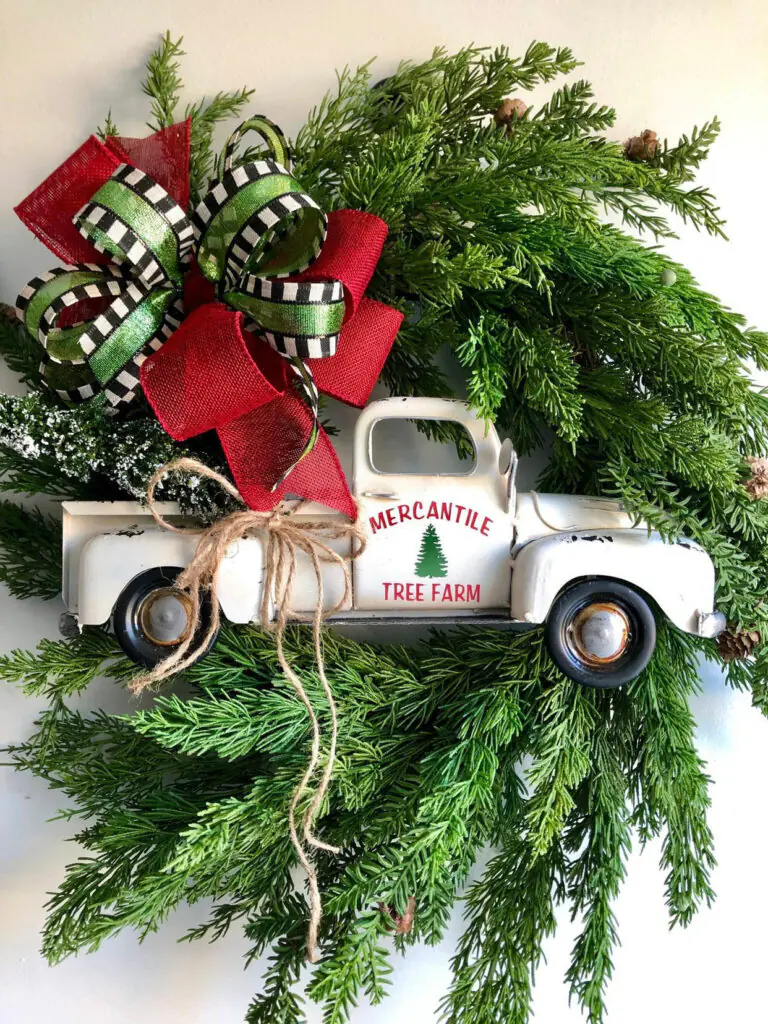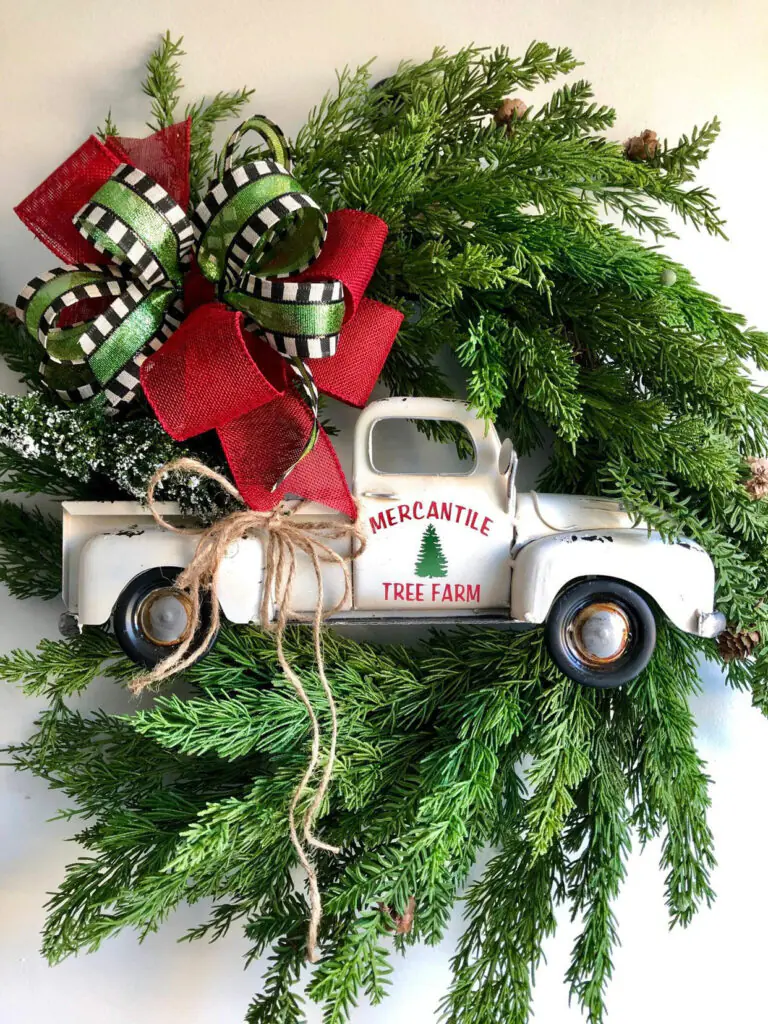 This charming Christmas wreath features an old-fashioned truck parked right in the middle. If you look closely, you can even see a small pine Christmas tree tucked in the bed of the truck!
---
Merry Christmas Buffalo Check Wreath
This wonderful wreath features buffalo check fabric in black, white, and red as well as some burlap and pinecone accents, all surrounding a lovely Merry Christmas plaque.
---
Colorful DIY Christmas Apple Wreath
This colorful and rustic wreath features lots of colorful fruit, including some Christmas apples, all wrapped up with some twigs and pinecones. The final effect is quite lovely, and a different take on the traditional Christmas decoration.
---

---
Snowman Twig Wreath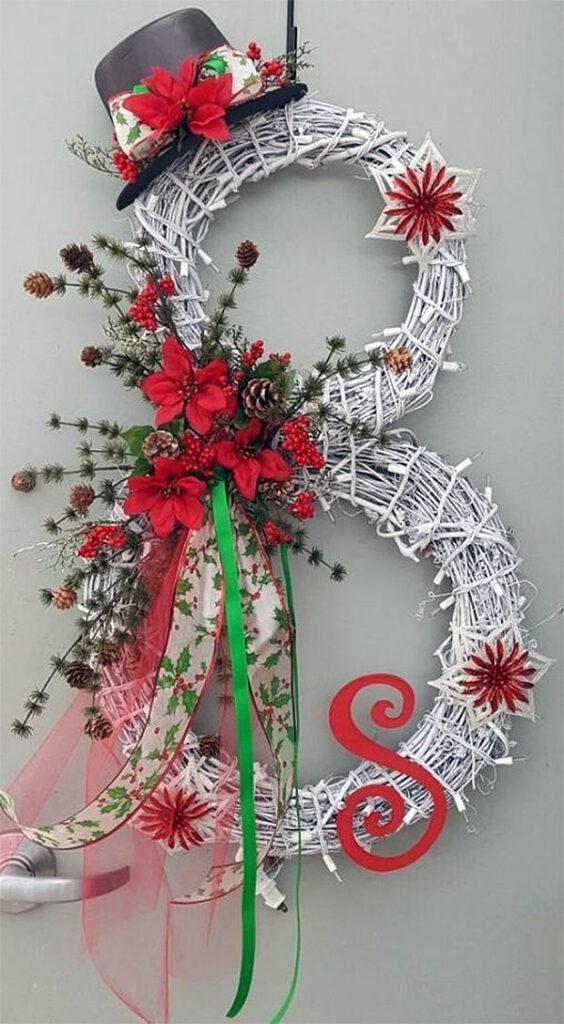 Two grapevine wreaths are painted white and then decorated with white mini lights, some colorful floral sprays, ribbons, and a fabric top hat to complete the look.
---
Red Wrapped Cloth Wreath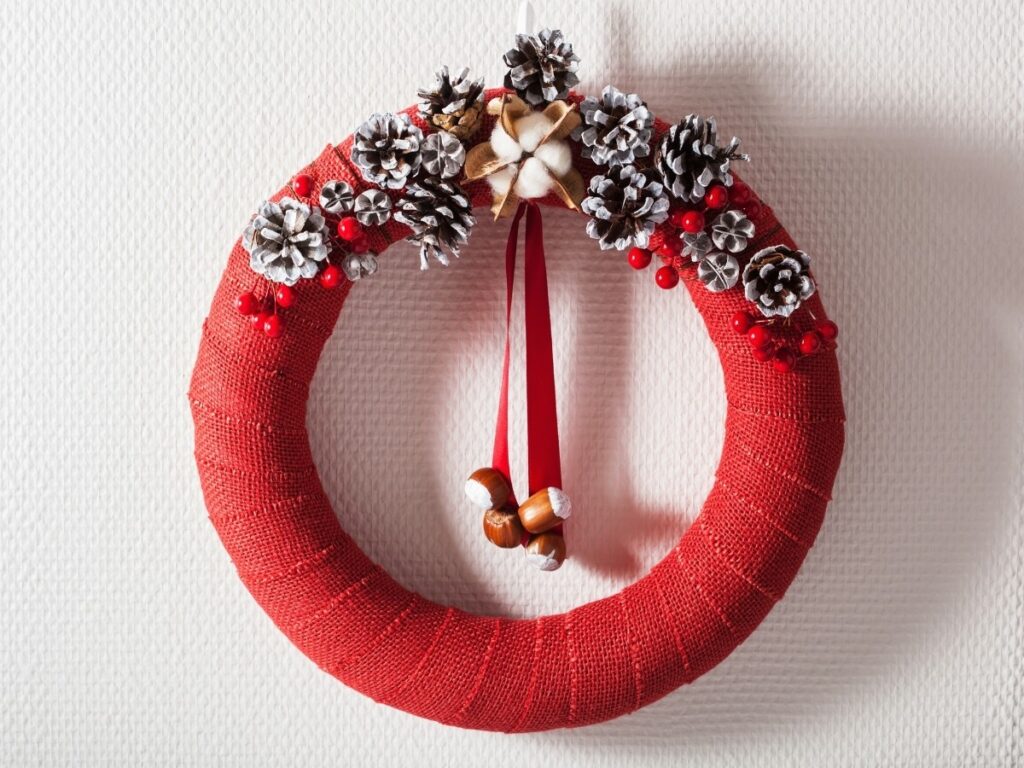 A simple but lovely DIY wreath that uses some rich rod cloth wrapped around a Styrofoam wreath form, which is then adorned with pinecones, berries, cotton, and ribbons.
---
Snowy Bethlehem Star Wreath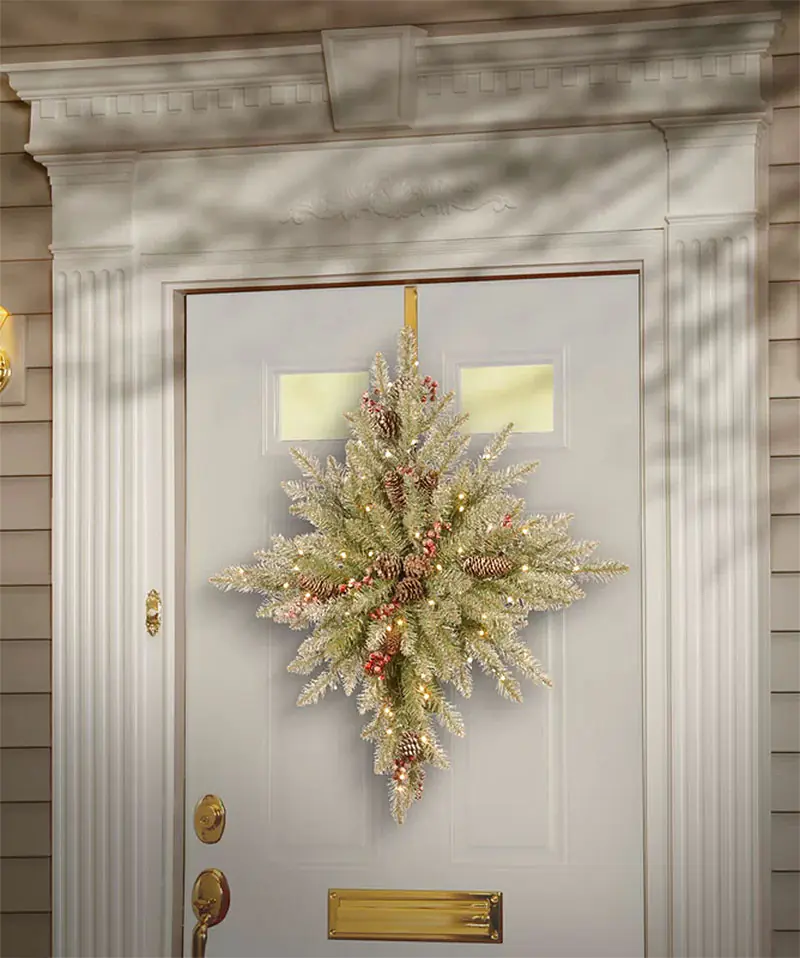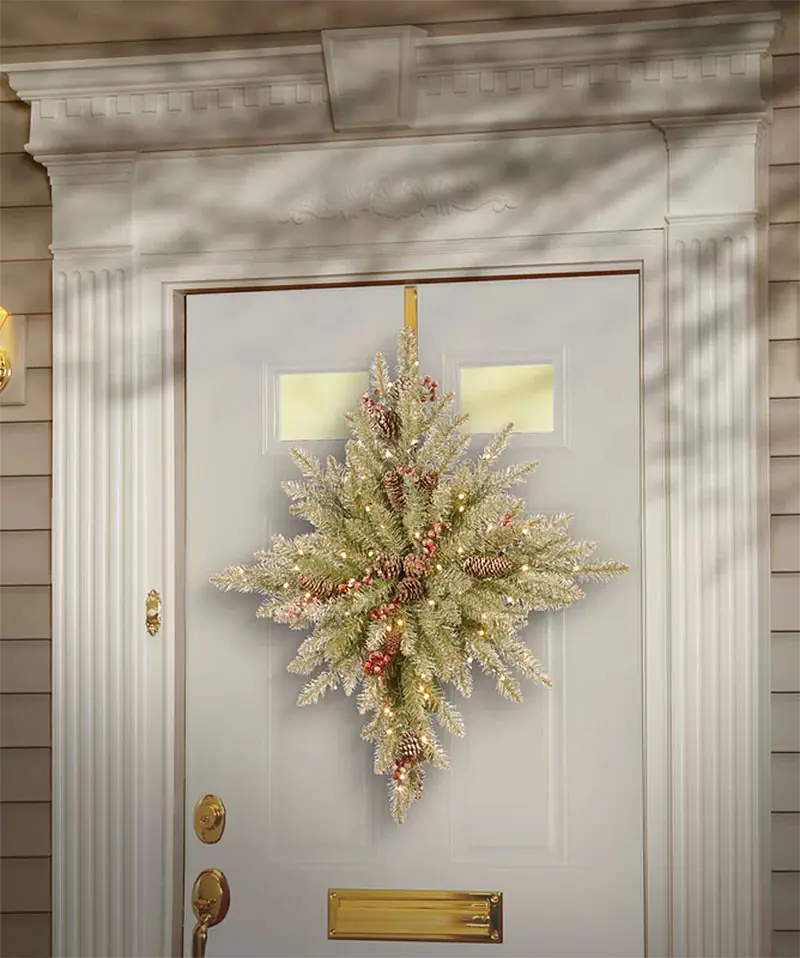 This battery-operated wreath will create quite the display on your front door. With 90 branch tips lit with 50 warm-white LED lights, it's a lovely piece that can be used indoors or outdoors.
---
Shop the Art & Home Collection of Christmas Tapestries
BROWSE THE COMPLETE CHRISTMAS TAPESTRY COLLECTION >>
---
Vintage Photo Collage Wreath
Vintage family photos are attached to a low-profile wreath form to create a unique and personalized holiday decoration.
---
Cute and Easy DIY Christmas Wreath
I love the little details in this cute DIY wreath, including the tiny gingerbread men ornaments.
---
Flocked Sea Grass Winter White Christmas Wreath
This slim-profile wreath is perfect for fitting between your front and your storm door (which many wreaths will not). Simple but effective, this lovely wreath makes a unique addition to your Christmas porch.
---
---
Silver & Red Christmas Ornament Wreath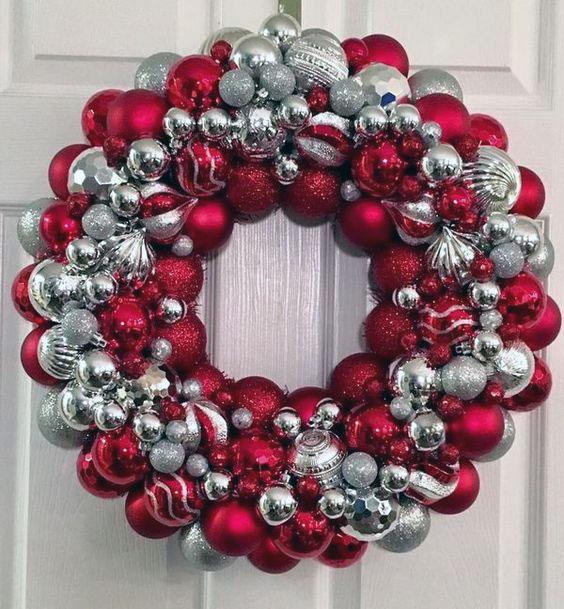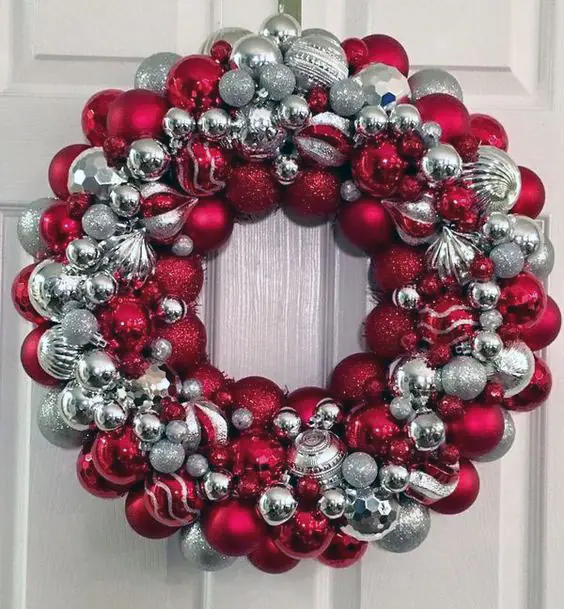 A bright and lovely collection of sparkling red and silver baubles are combined to create this dazzling Christmas wreath.
---
Silver and Pastel Christmas Bauble Wreath
This beautiful wreath is just bursting with soft shades of pink, turquoise, blue, purple, and silver. This is fantastic for those who don't like to follow the traditional Christmas color palette, but also multi-functional because this wreath can also be used in the spring or as a baby shower or birthday wreath.
---
Rustic Wood Slice Wreath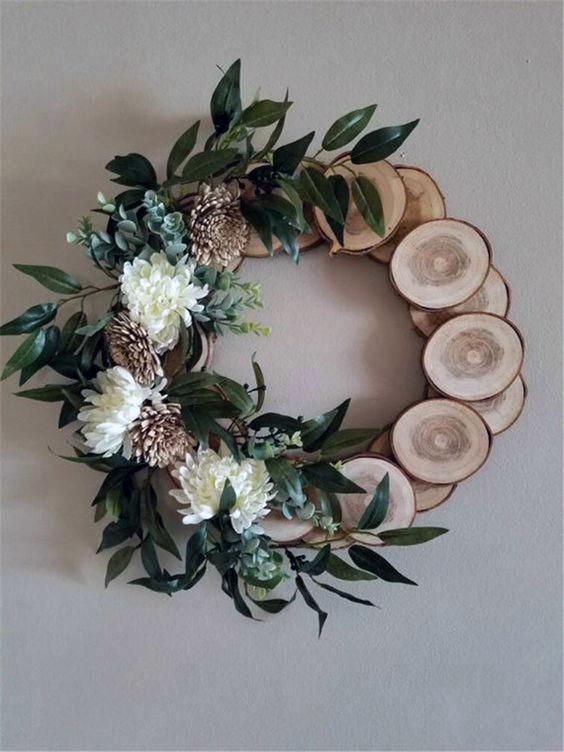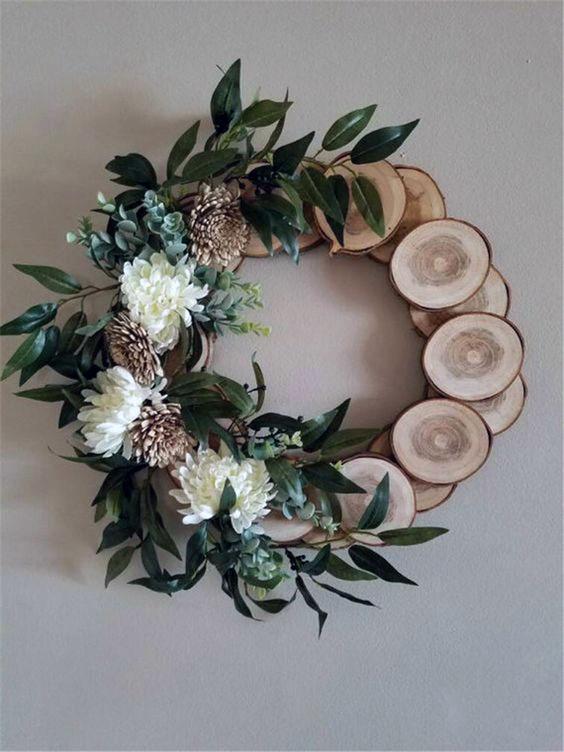 Although this wreath could be at home in a farmhouse or country home year-round, it does make a lovely yet subtle addition to a charming Christmas cottage.
---
---
Cozy Christmas Lighted Wreath
A classic wreath with a twist, this lovely green, red, and gold Christmas wreath features various sizes of ribbons, bows, and baubles PLUS 100 white LED lights to give it that extra sparkle!
---
Colorful Country Christmas Wreath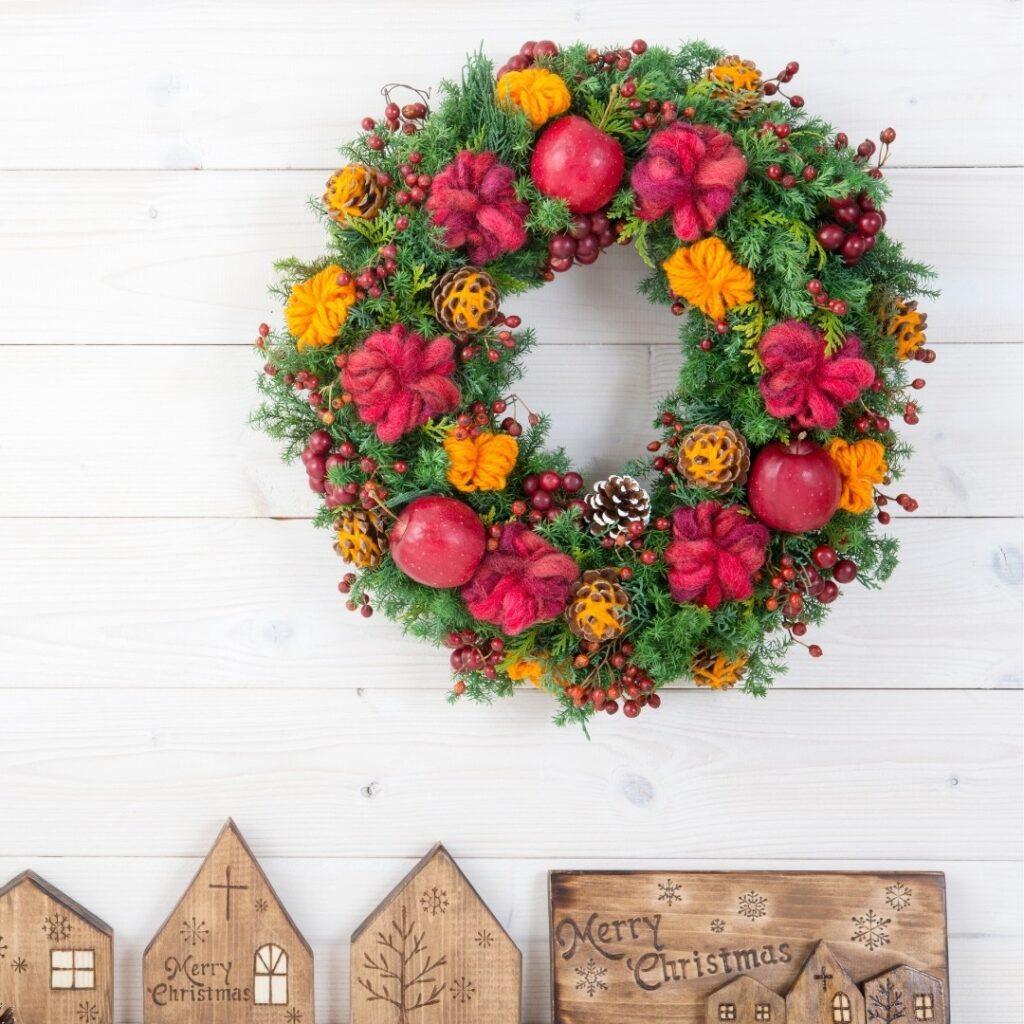 I love the pops of color in this charming Christmas wreath. It's amazing what one can do with a few craft supplies!
---
Poinsettia Christmas Flower Wreath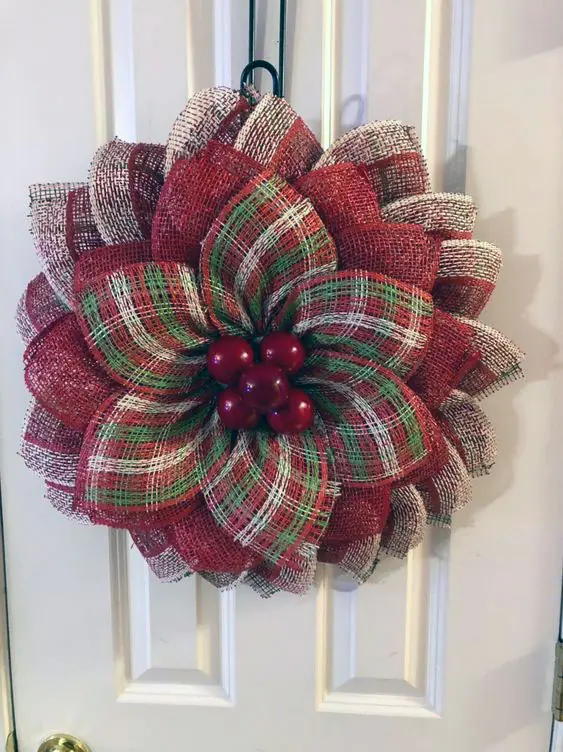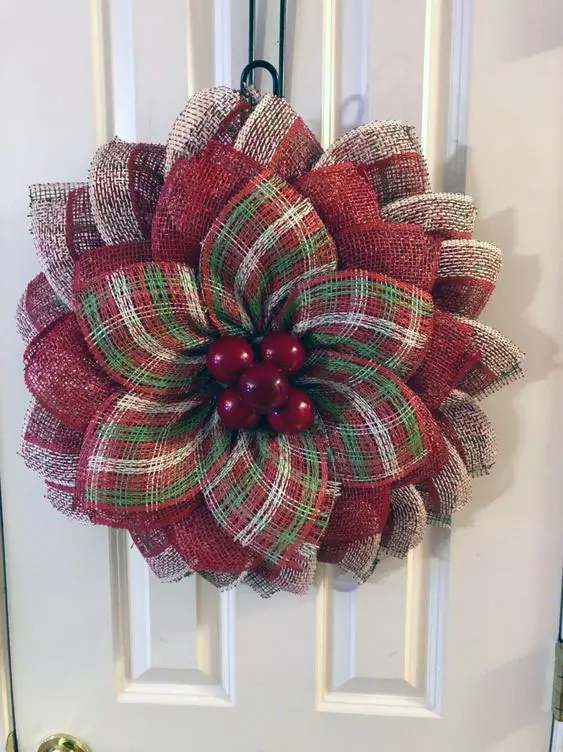 A lovely oversized poinsettia flower is crafted using various colors and patterns of burlap fabric.
---

---
Red Truck Rustic Christmas Wreath
A lovely touch of country charm, this Merry Christmas wreath features a delightful red truck smack dab in the middle of this creation.
---
Fresh Accents DIY Christmas Wreath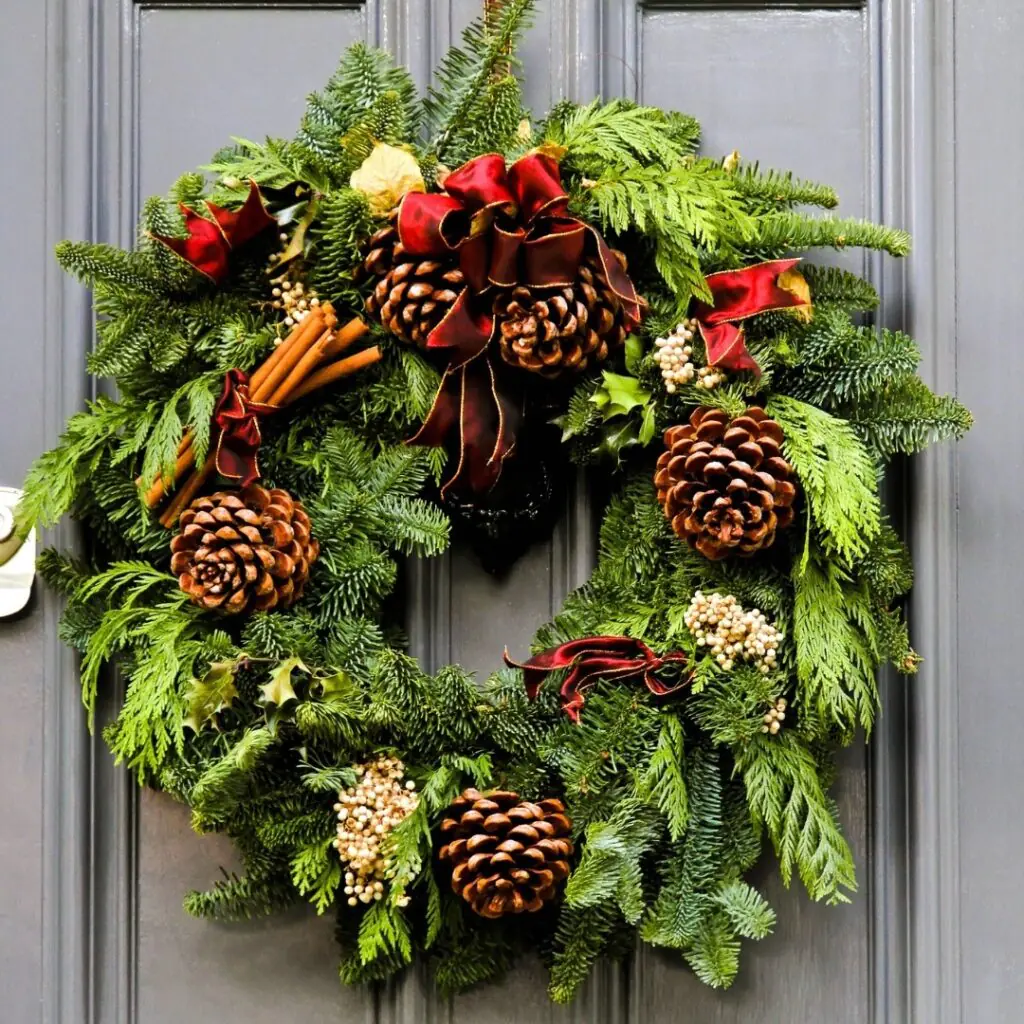 ---
Elegant French Country Christmas Wreath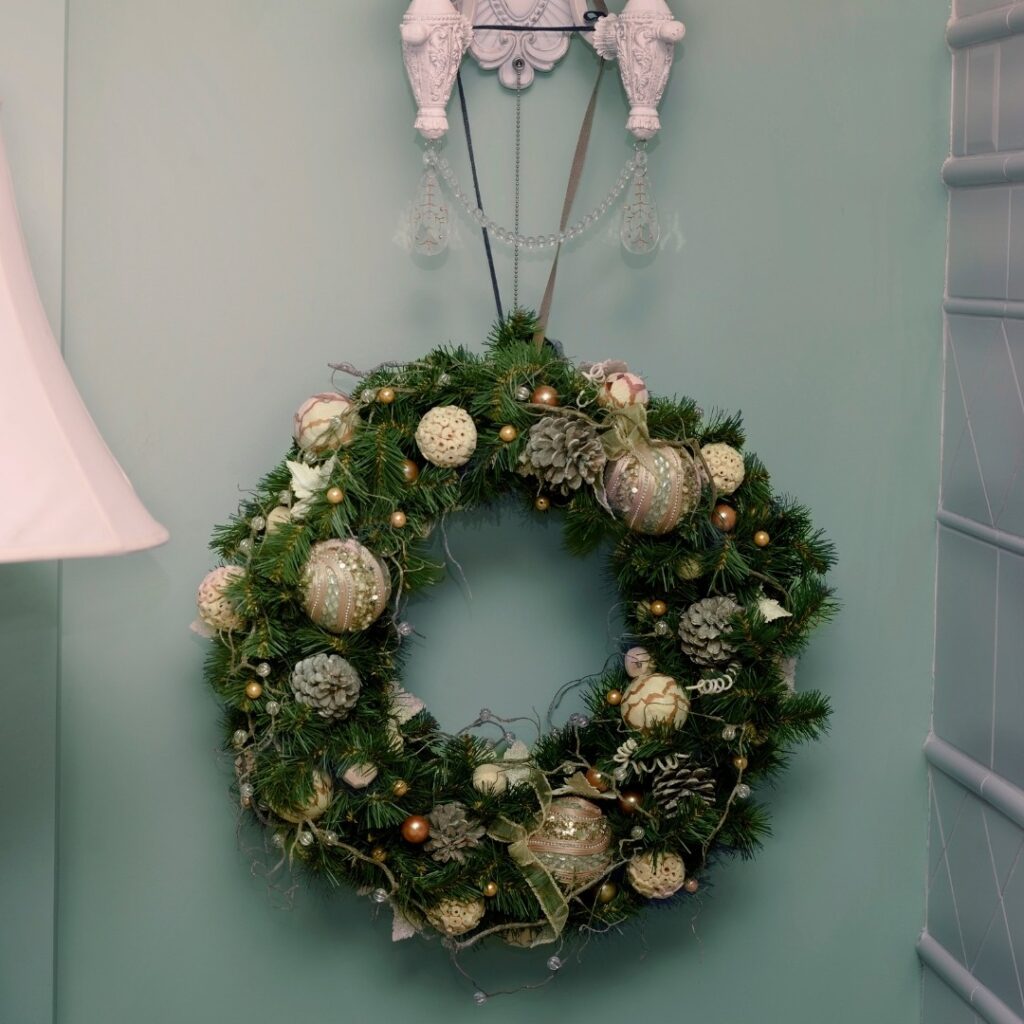 French Country elegance abounds from this delightful but easy-to-make DIY Christmas wreath.
---
Merry Christmas Embroidery Hoop Wreath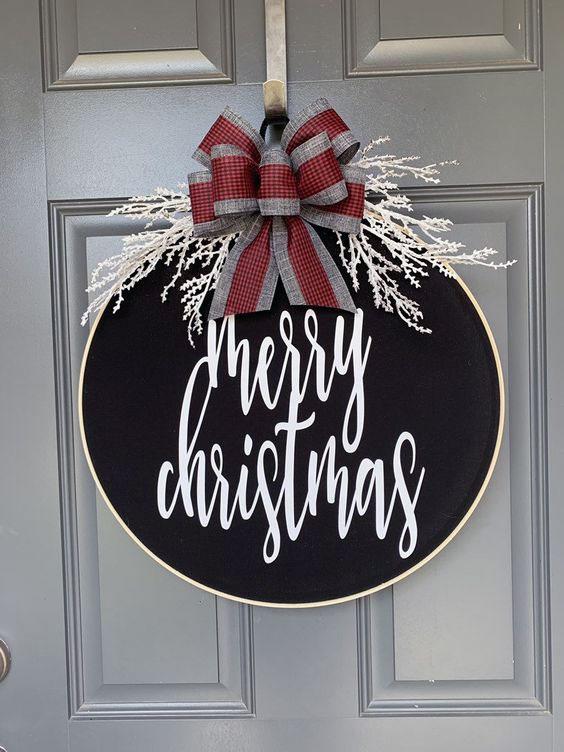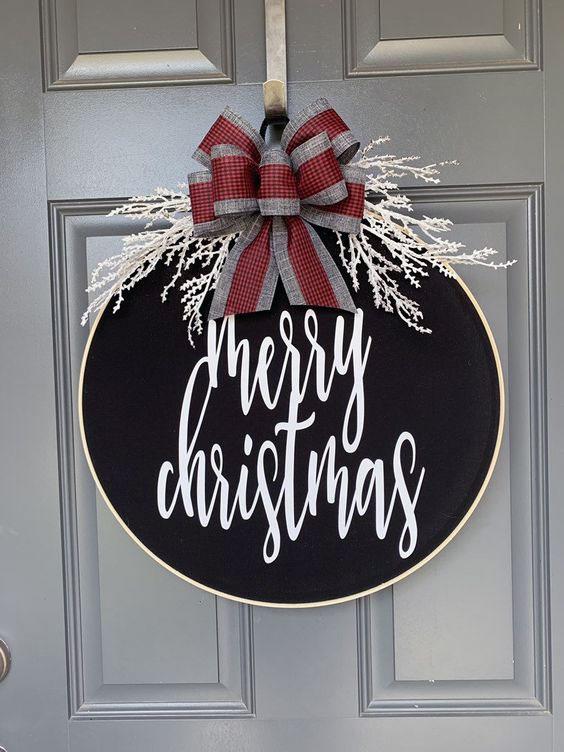 A classic for crafters, this Merry Christmas wreath is fashioned using stretched fabric on a good, old-fashioned embroidery hoop.
---
Red & Gold Christmas Wreath
A bountiful and shimmering design of oversized poinsettia flowers mingled with artificial magnolia, ribbons, gilded berries and lots more for a lush & luxurious presentation.
Heart Shaped Christmas Wreath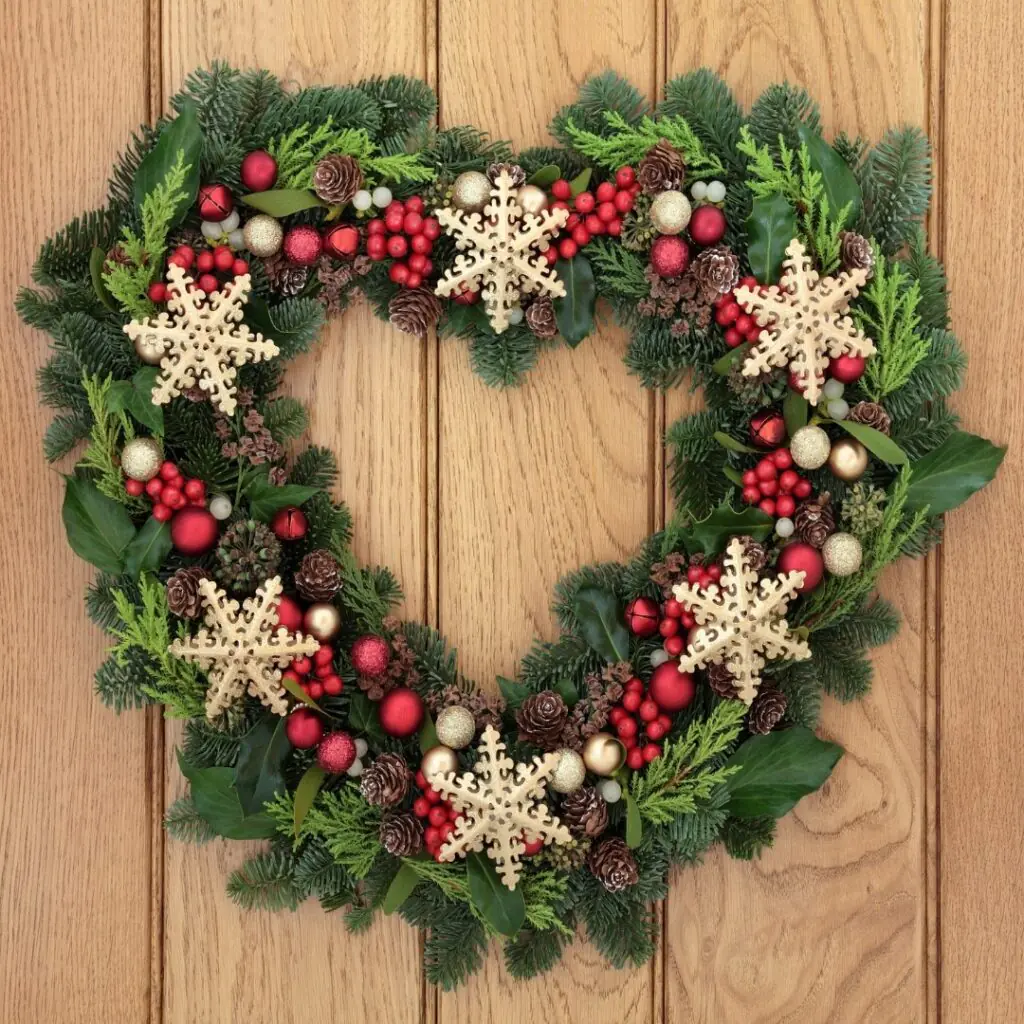 A heart-shaped Christmas wreath is adorned with some dollar store decorations to create a delightful display.
---
Joy Silver and Red DIY Christmas Wreath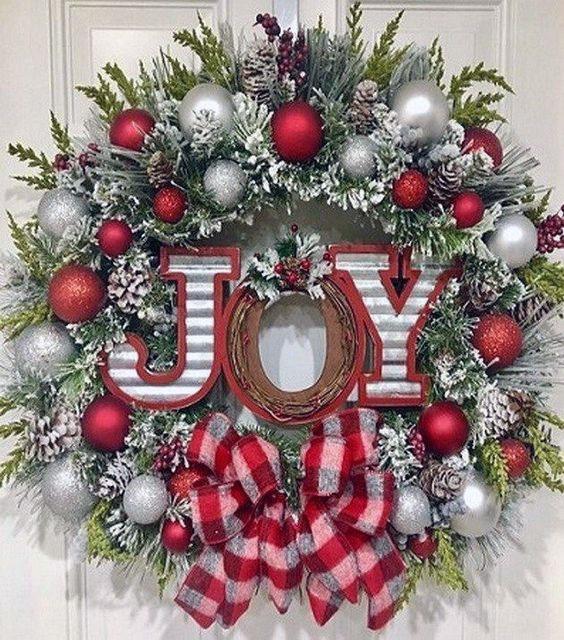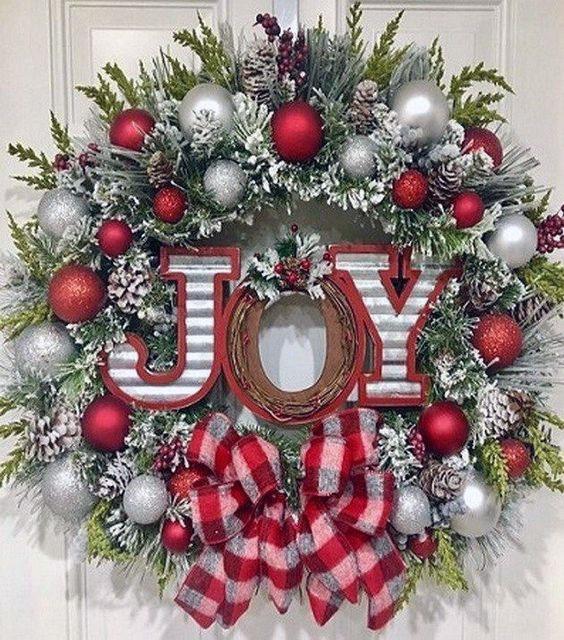 Farmhouse charm exudes from this lovely silver and red wreath with the word "Joy" spelled out using corrugated metal and grapevine.
---
Santa Buckle Wreath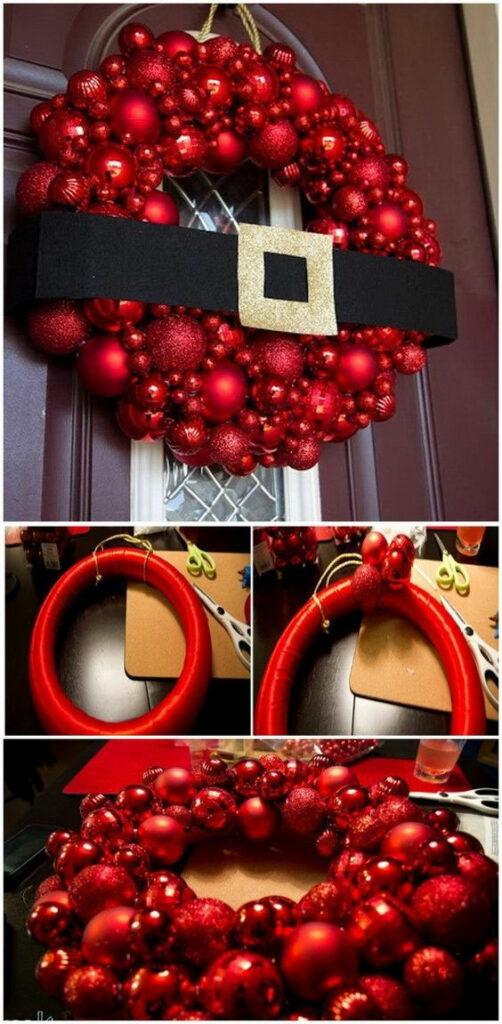 Santa's iconic belt buckle is recreated using red Christmas baubles and some black & gold fabric. Simple, easy to make yourself, and so delightful!
---

---
Dried Lemon Slices Christmas Wreath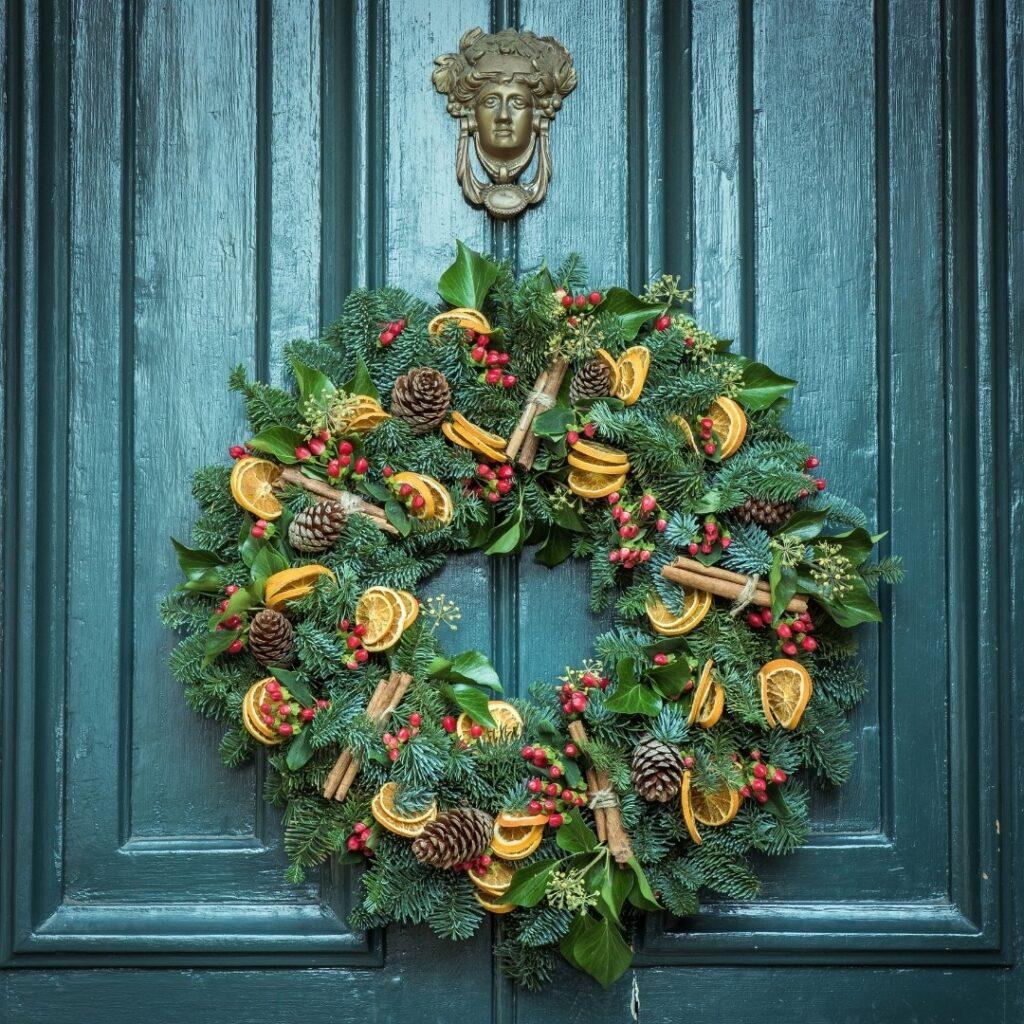 Dried lemon slices and some cinnamon sticks make for an aromatic potpourri of a Christmas wreath. Plus, you have some condiments handy if you happen to run low while you're making tea! (Just kidding!!!)
---
DIY Snow Village Christmas Wreath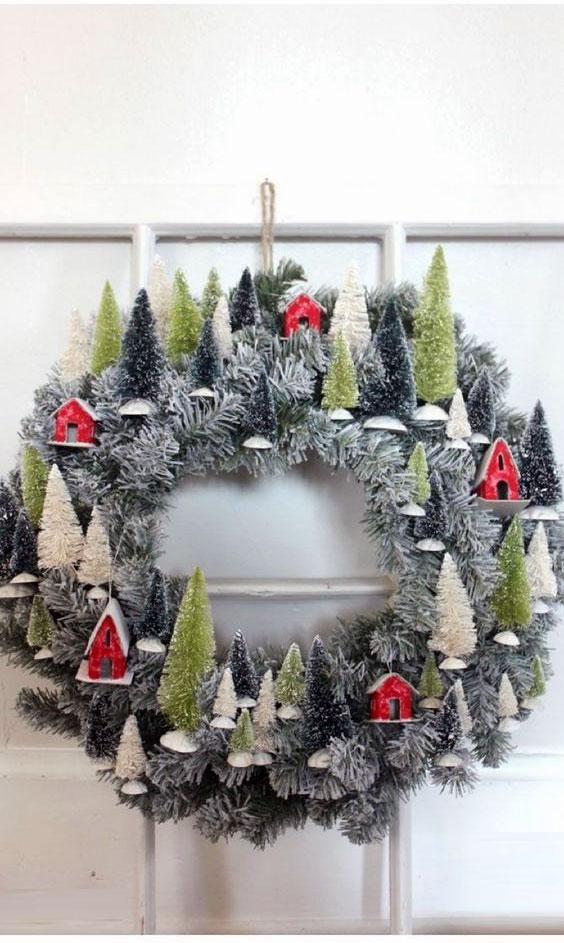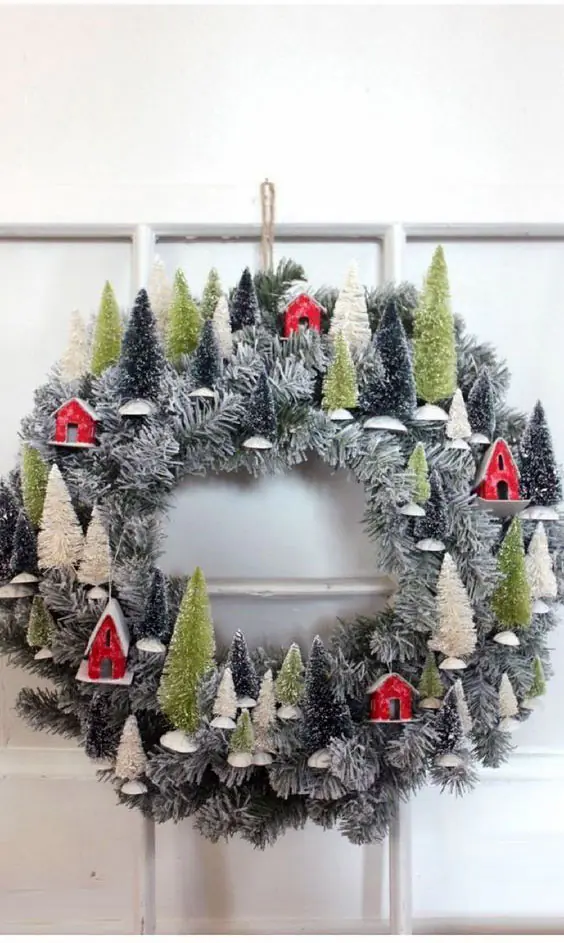 A lovely alpine village is recreated suing various dollar store pine Christmas trees and some tiny little houses and chalets painted in bright white and red for contrast.
---
Amaryllis Grapevine Wreath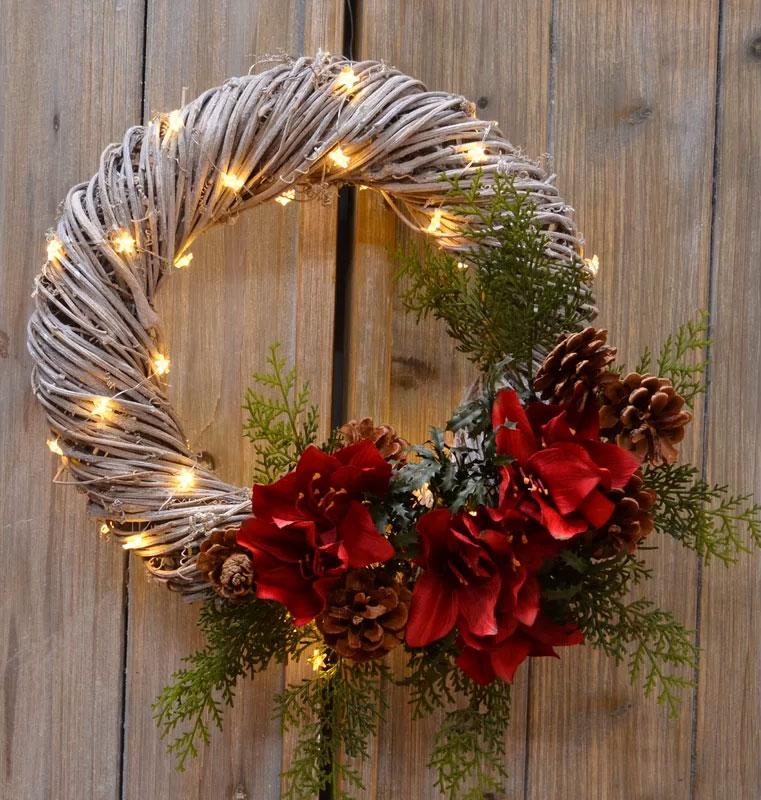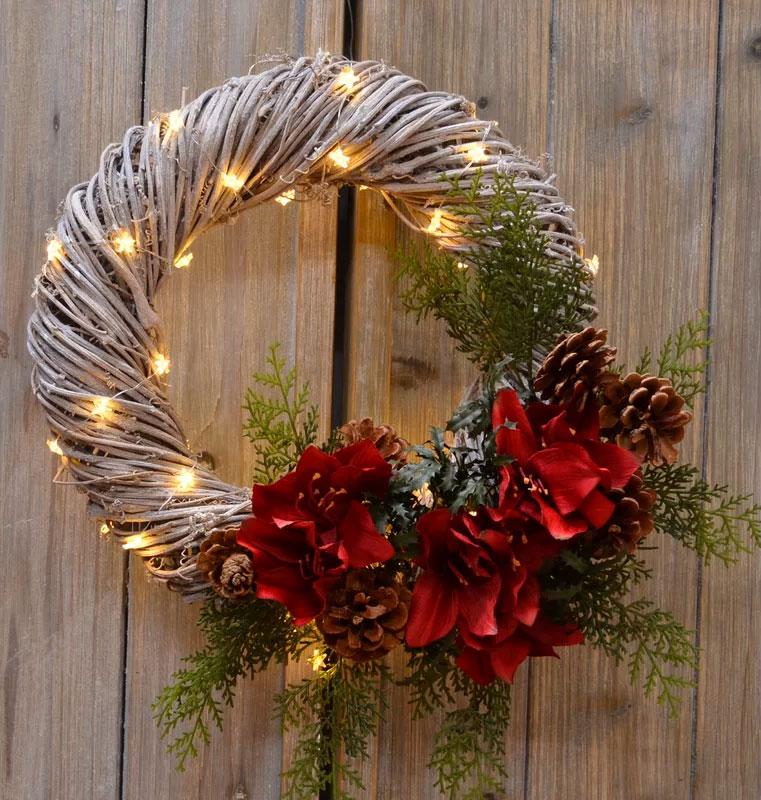 Evoke the trails of the Adirondacks or the ski lodges of the Swiss Alps with this cabin-chic design featuring the Amaryllis, the official flower of Christmas (I just made that up, but if it's not, it really should be. Ok, maybe Poinsettia should be. But that's really more of a plant than a flower. But I digress…)
The grapevine wreath is accented with rich red Amaryllis silk flowers, some pinecones and greenery, and some lovely warm white LED lights.
---
DIY Pinecone Santa Wreath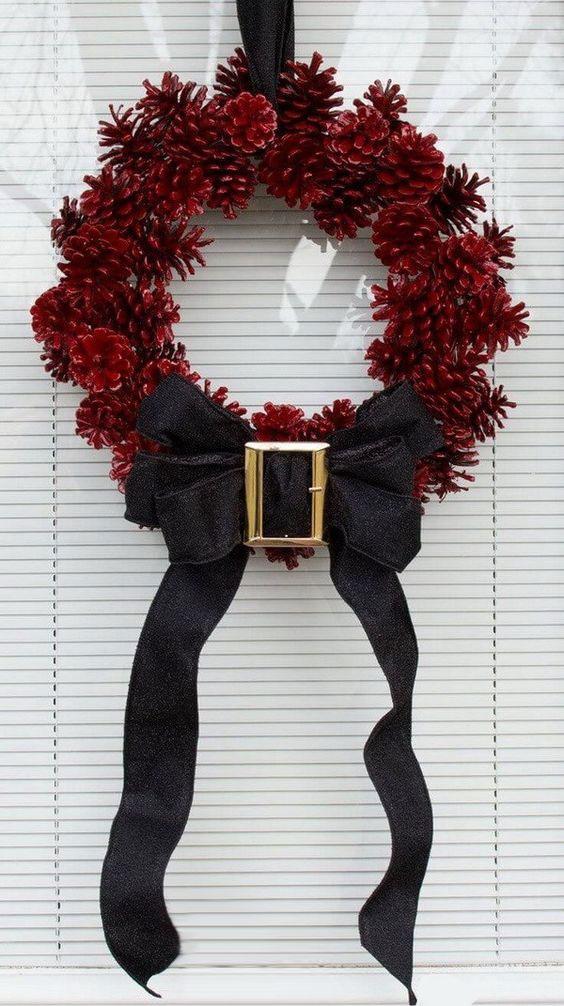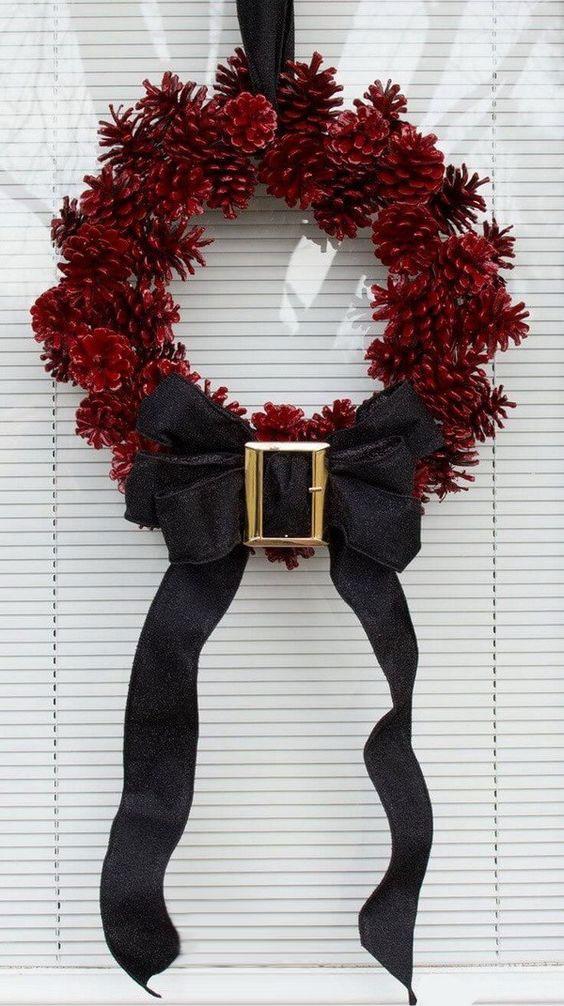 A deep-red pine cone wreath is adorned with a black and gold "belt/bow" to create an homage to the man of Christmas himself… Bob Barker. Kidding, I mean Santa Claus.
---

---
Farmhouse Wood Painted Wreath
This cute door hanger features white-washed wood, buffalo plaid, cotton, and mistletoe in a delightful wreath motif. Simple, but so cute!
---
DIY Toy Nutcracker Wreath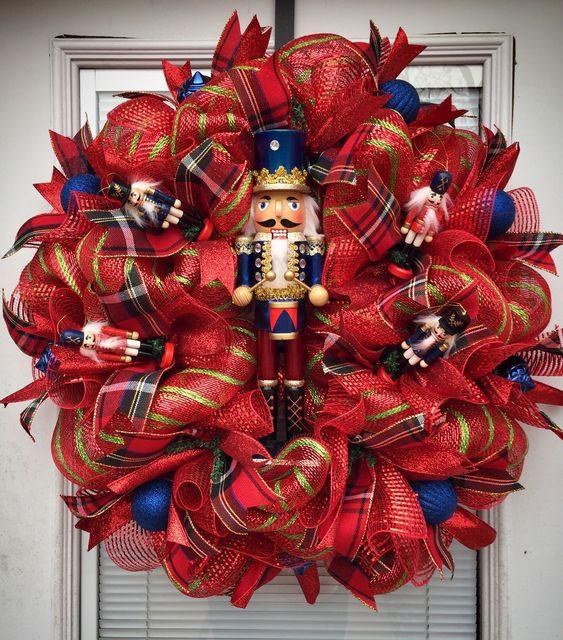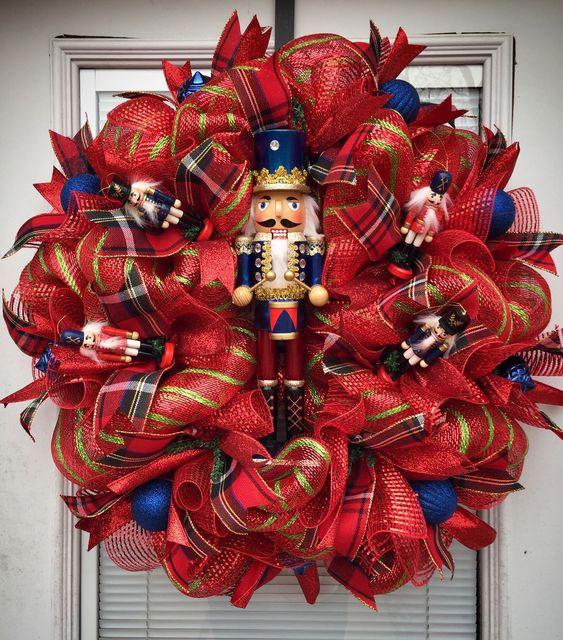 The classic Nutcracker takes center stage in this bright and lively red & blue wreath. Smaller Nutcrackers can be seen circling around the central figure.
---
Cotton & Eva Herb Leaves Wreath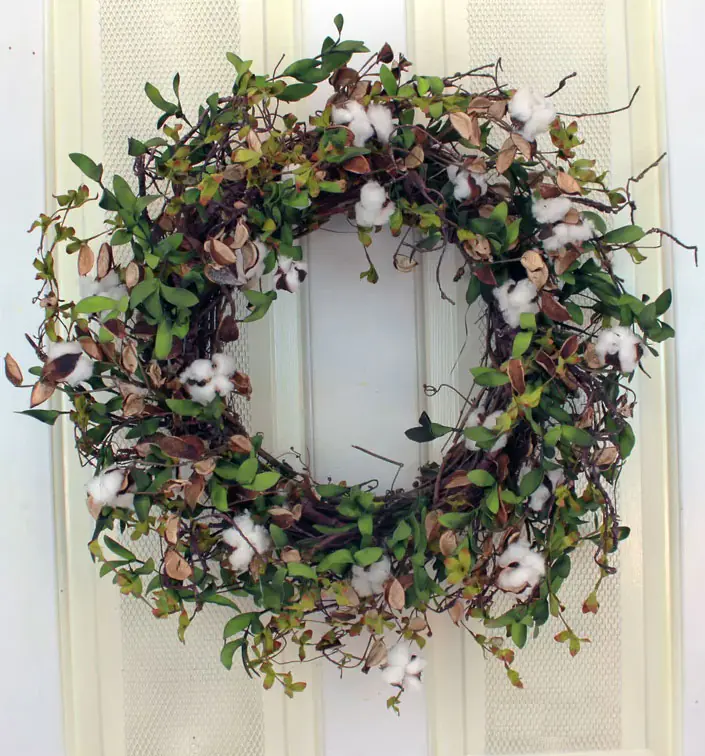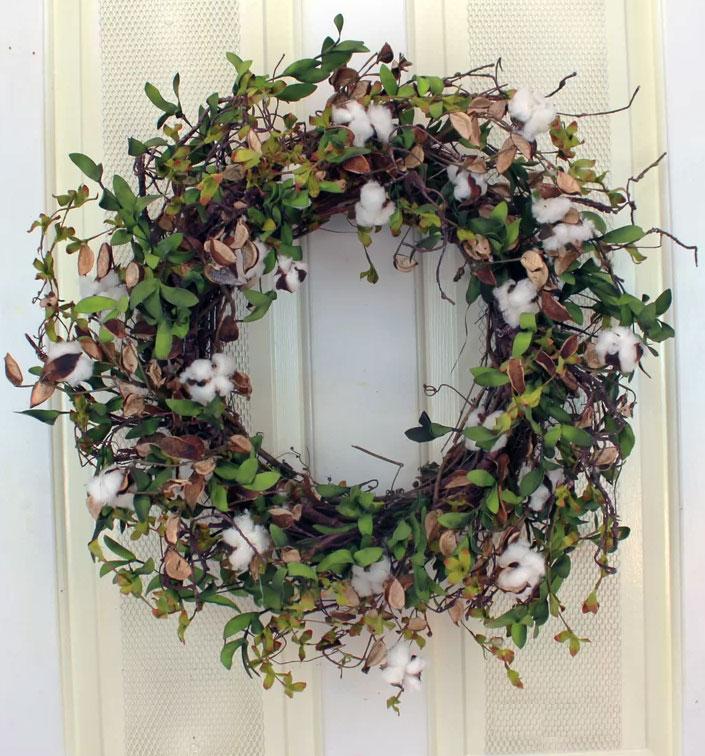 And now for something completely different, this wreath features cotton balls, cotton shells, and foam leaves to create a wonderfully rustic look that could be used year-round, but makes a lovely yet subtle accent during the holiday season.
---
DIY Oversized Poinsettia Wreath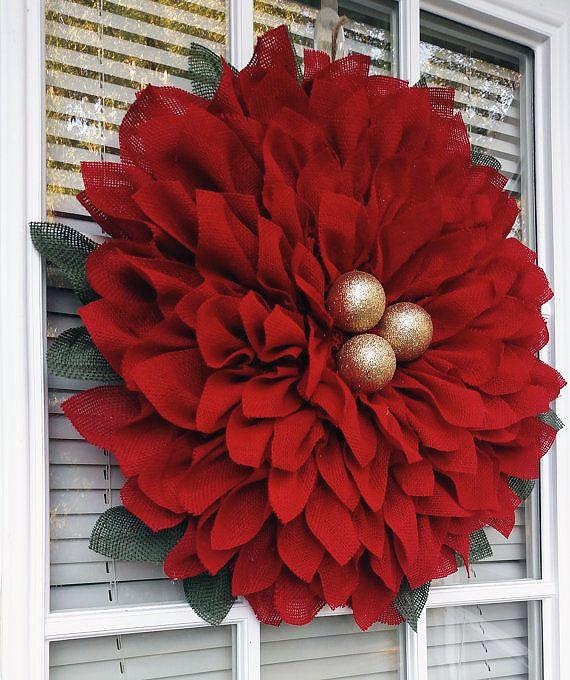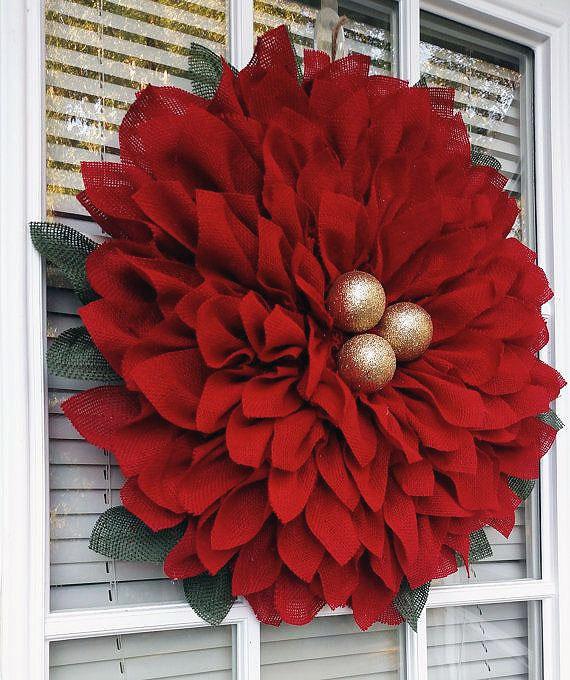 Richly colored burlap fabric in red and green is cut into individual leaves to create this large poinsettia flower. Three gold sparkle balls in the middle complete the flower in a beautiful way.
---
Real Cotton Farmhouse Christmas Wreath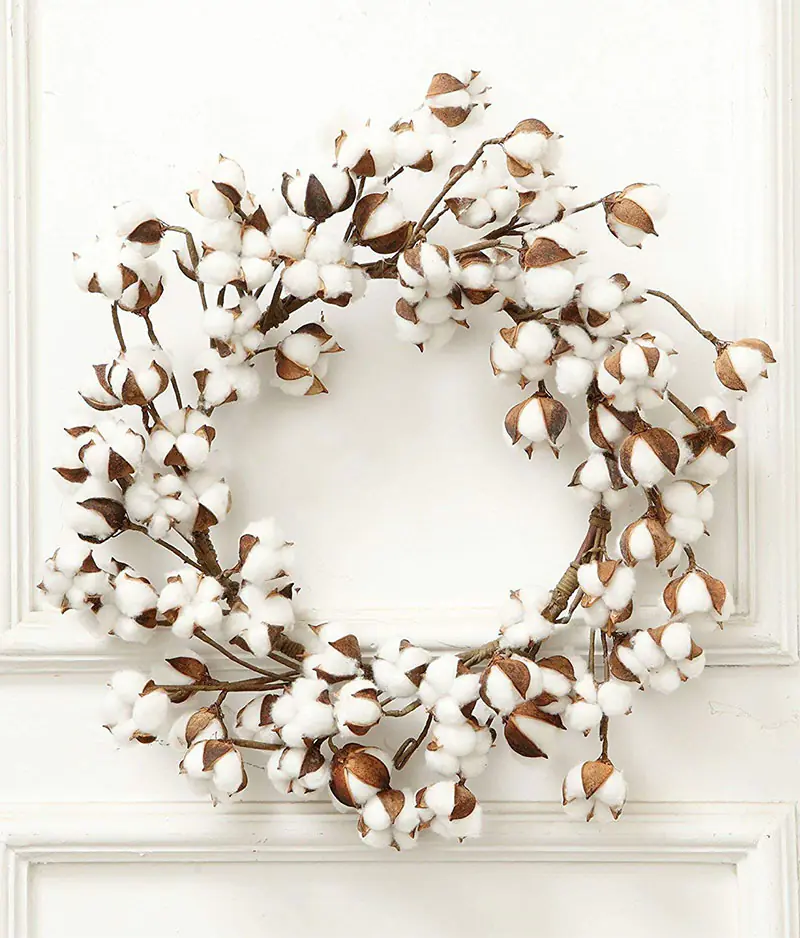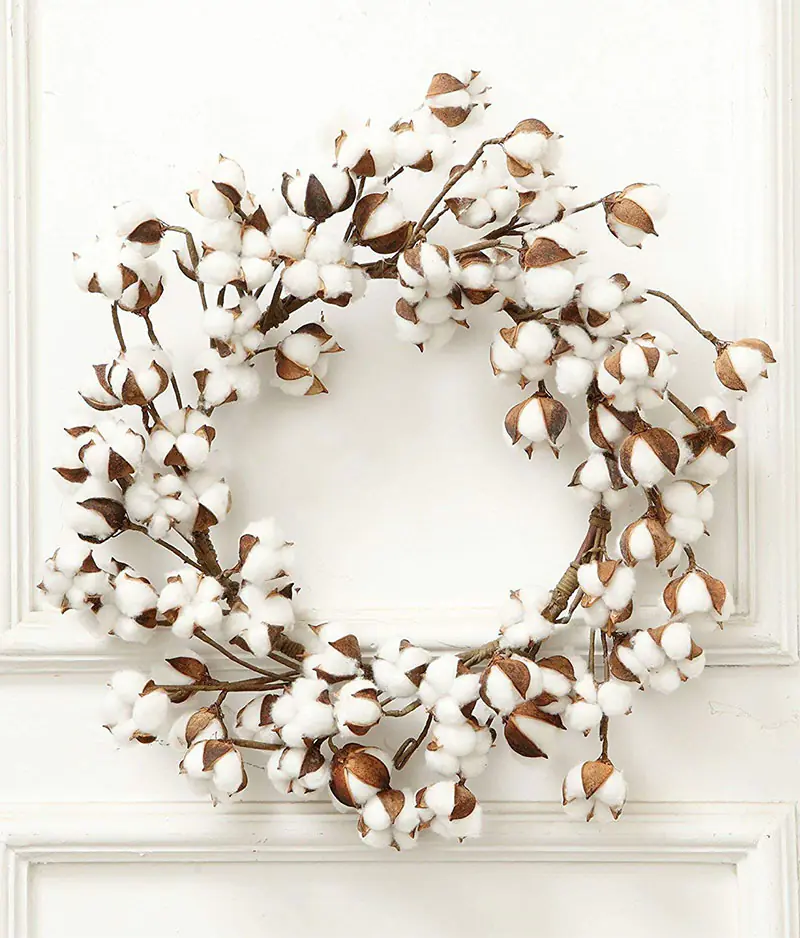 Another entry into the "Cotton is not just for bedsheets anymore" this shabby-chic design uses natural cotton to create a whimsical yet elegant display.
---
---
Elf Butt DIY Christmas Wreath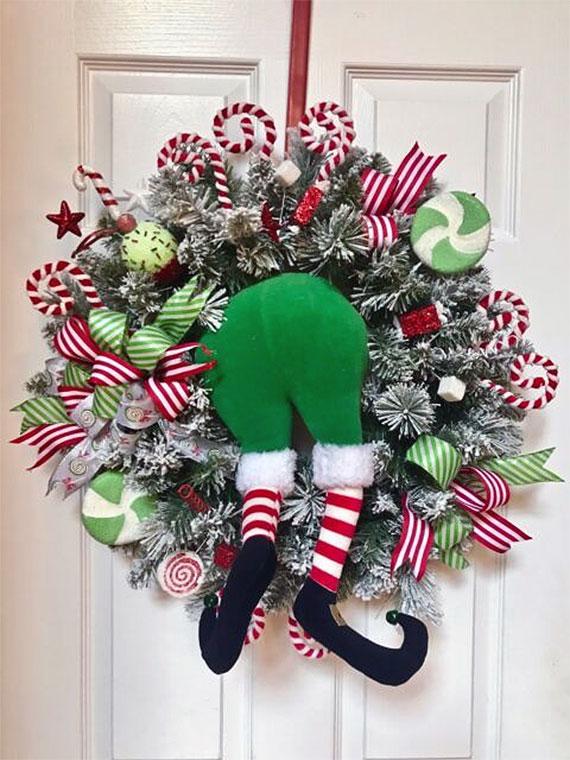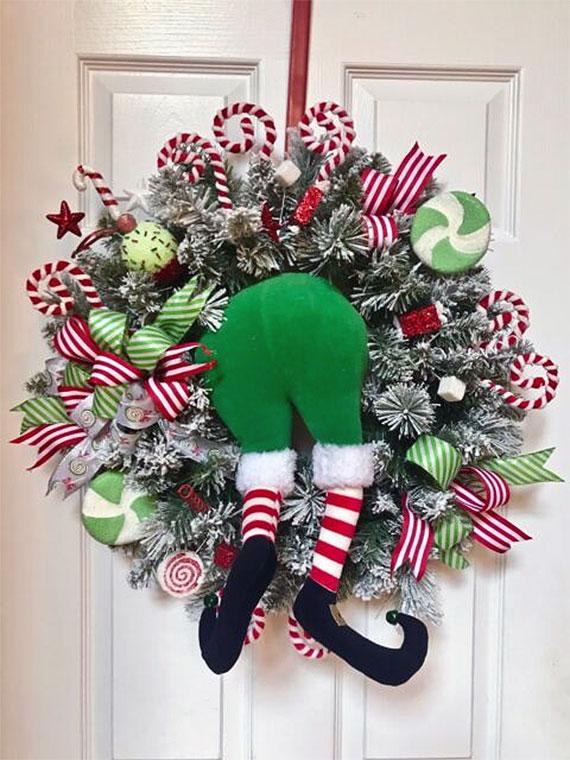 This festive DIY Christmas wreath looks like one of Santa's helpers got stuck trying to climb in through the front door. A cute Christmas accent that's perfect for the family and for those with a bit of a sense of humor.
---
Stained Glass Framed Christmas Wreath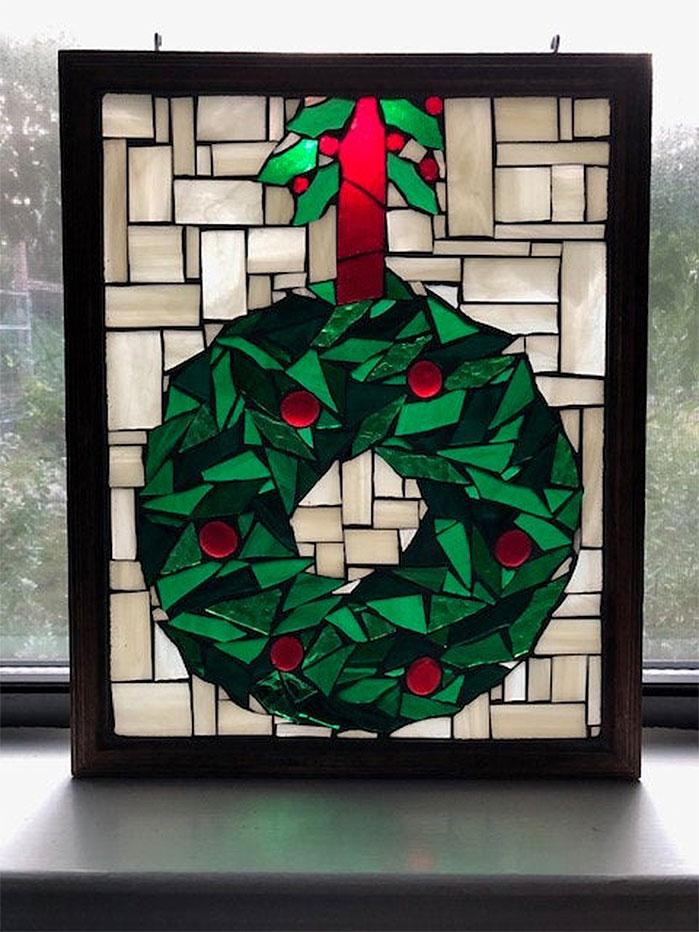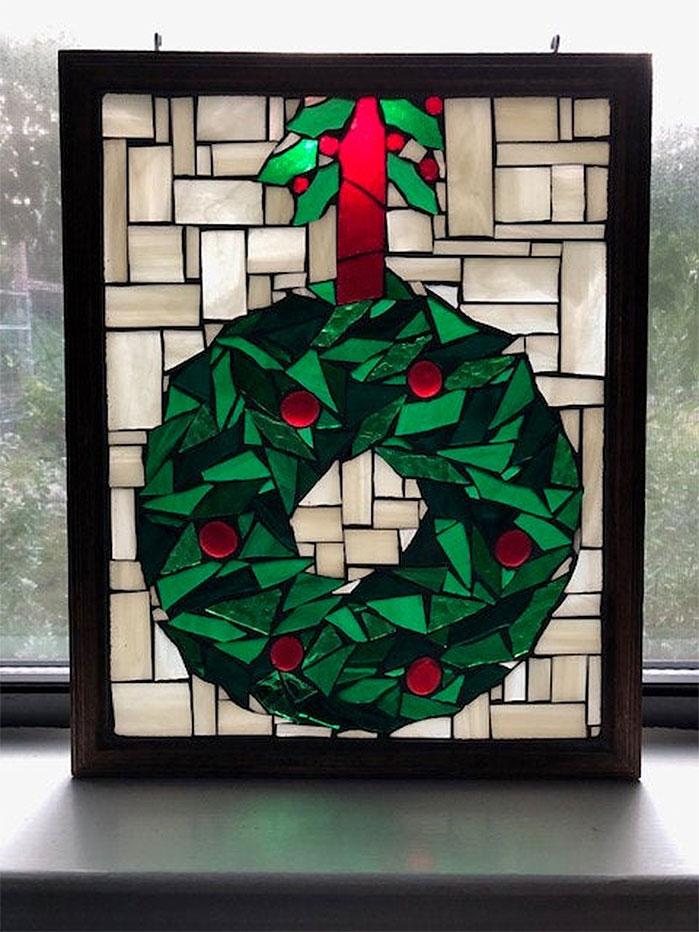 This unique take on the traditional Christmas wreath is made with shades of green, hanging from a red ribbon, with holly at the top. It is set against a beautiful white art glass background. Bright red glass gems are throughout the wreath. Perfect for hanging in a window that gets lots of sun!
---
Frosty Pinecones DIY Christmas Wreath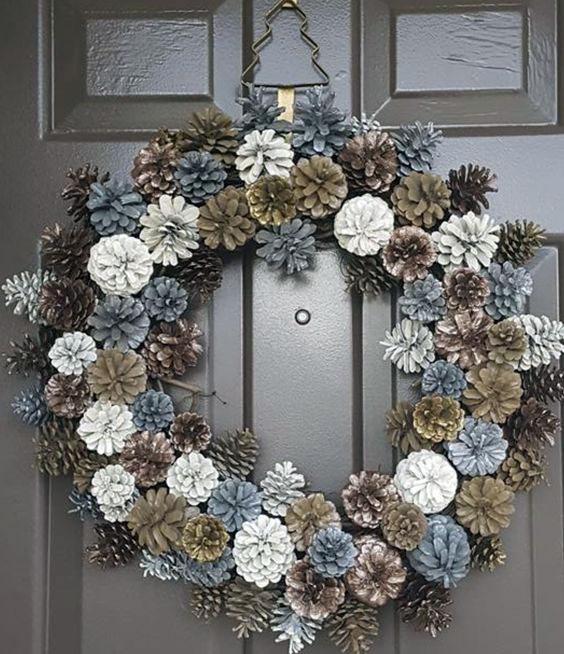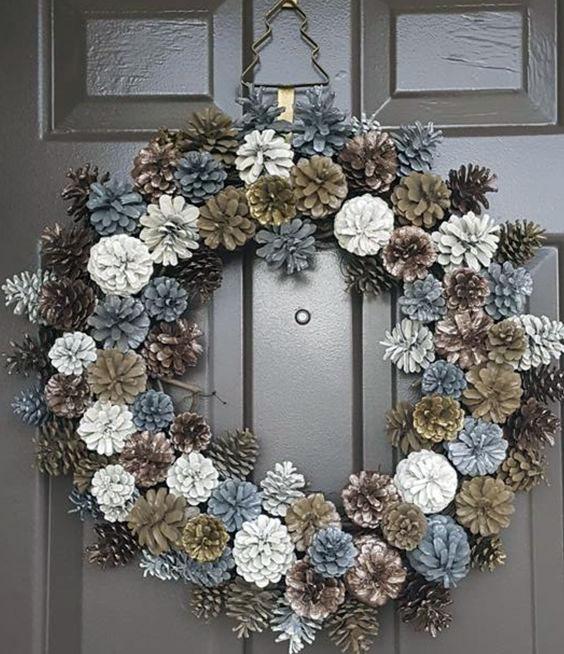 A delightful collection of pine cones painted in different jewel tones creates a wonderfully elegant yet rustic wreath that's perfect for the front door.
---
Cardinals & Pinecones Wreath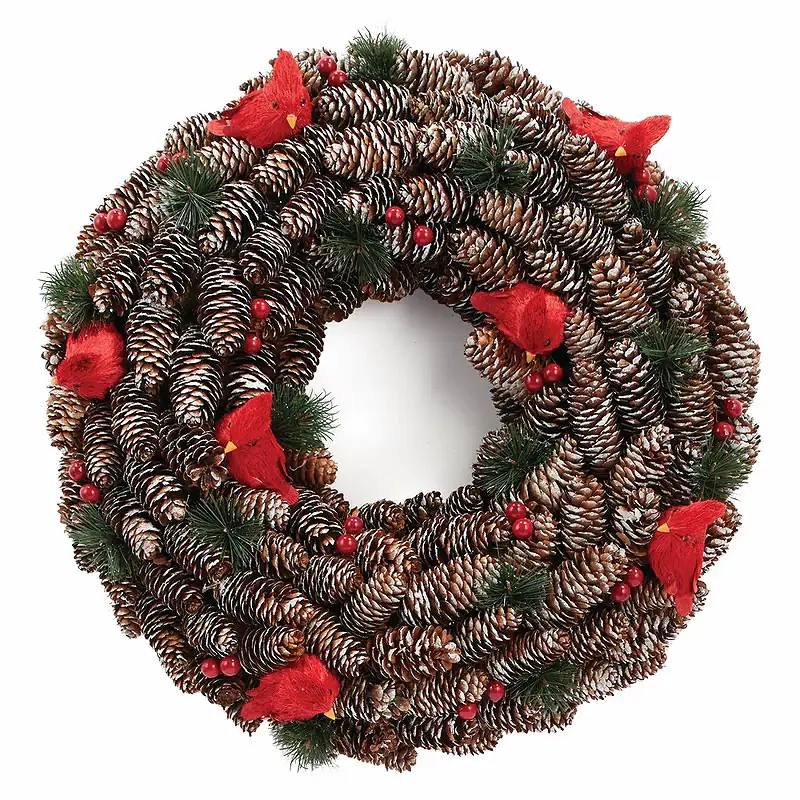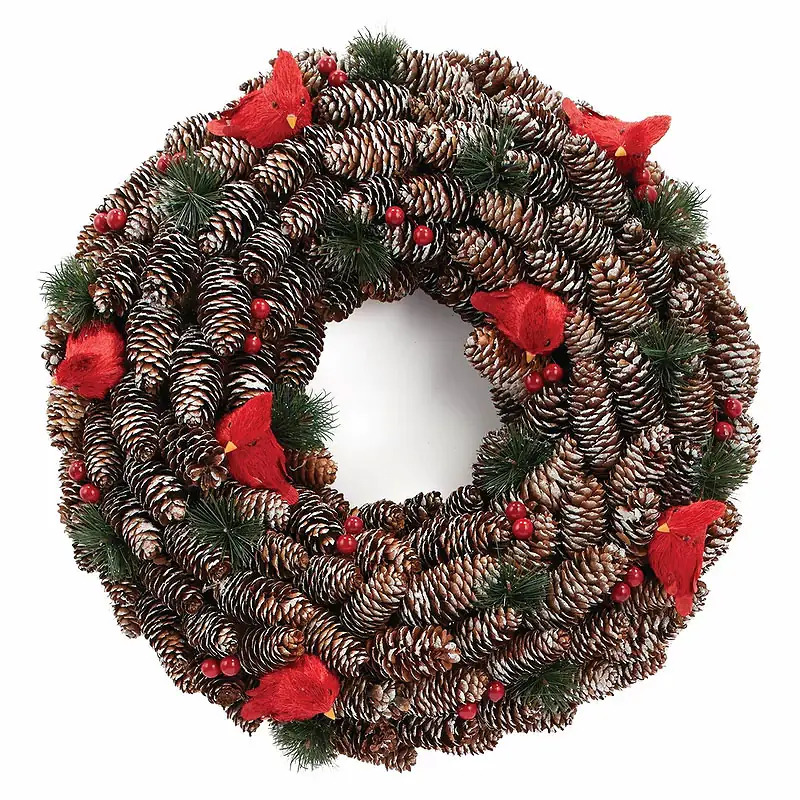 Pine cones, the official cone of Christmas, and Cardinals, the official bird of Christmas (yes, I made both of those up as well) combine to create this lovely Christmas wreath, with just a hint of greenery sprinkled throughout.
---

---
DIY Rustic Pine Trees Wreath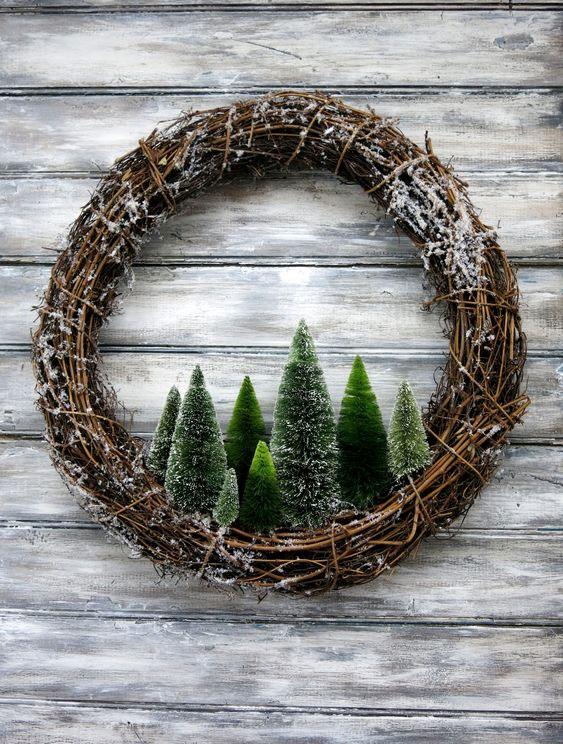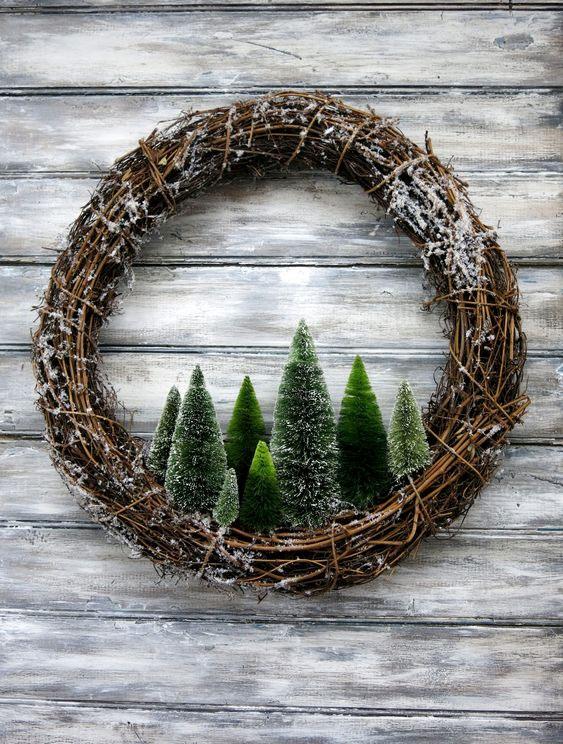 A rustic grapevine wreath is dusted with artificial snow and then a forest of artificial trees has been planted in the base of the wreath using a bunch of hot glue.
A perfectly understated wreath that would match Farmhouse or Cottage Christmases perfectly!
---
Rustic Bayleaf & Pine Christmas Wreath
This handmade Christmas wreath features Winter premium faux pine, bay leaf, red berry bunches, and twigs along with some pine cones for good measure. The bay leaves give a unique look to this wreath and would be perfect to adorn the front door of any foodie's home.
---
DIY Red, White, & Green Christmas Wreath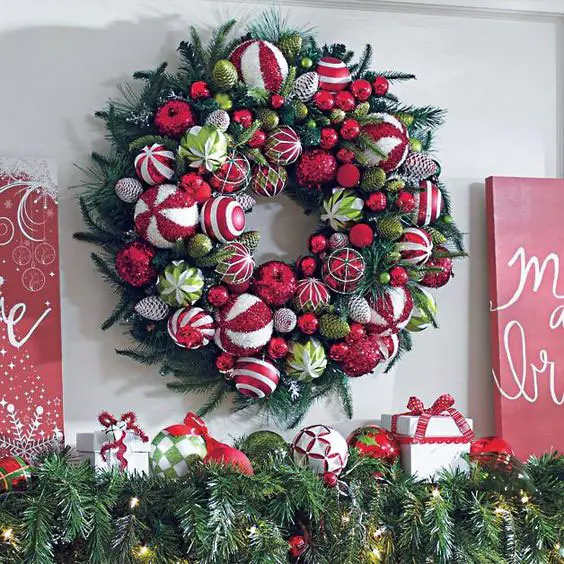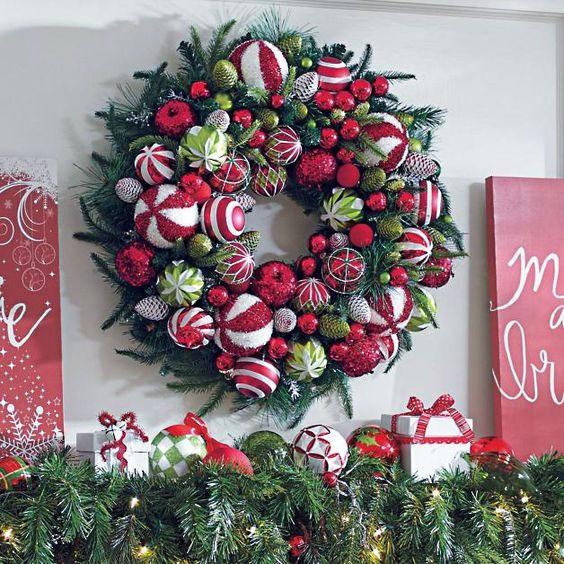 For those who want to forgo understated elegance and want balls-to-the-wall (literally, in this case) Christmas!!! (Yes, Christmas with 3 exclamation marks) this project is meant for you!
---
---
Santa Hat Christmas Wreath Cone
Picks of poinsettia, red berries, and gypsophila fill an inverted Santa hat to create a unique Christmas display.
---
Gold Snowman DIY Christmas Wreath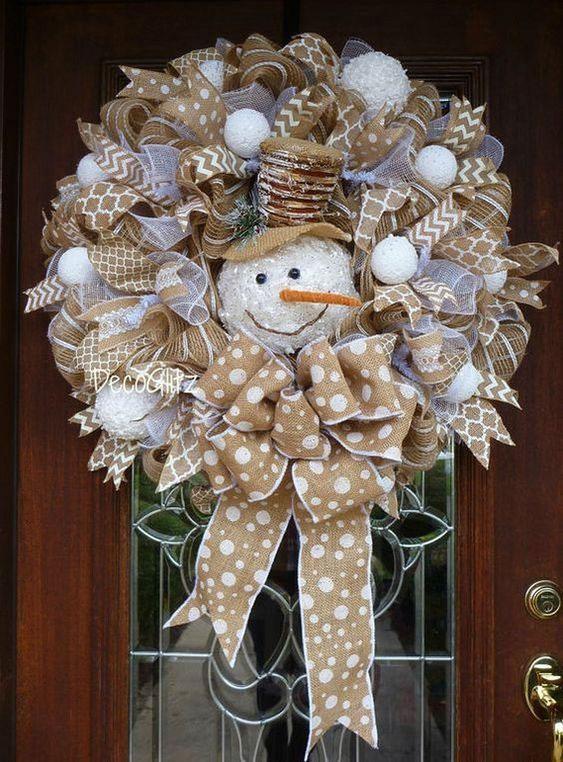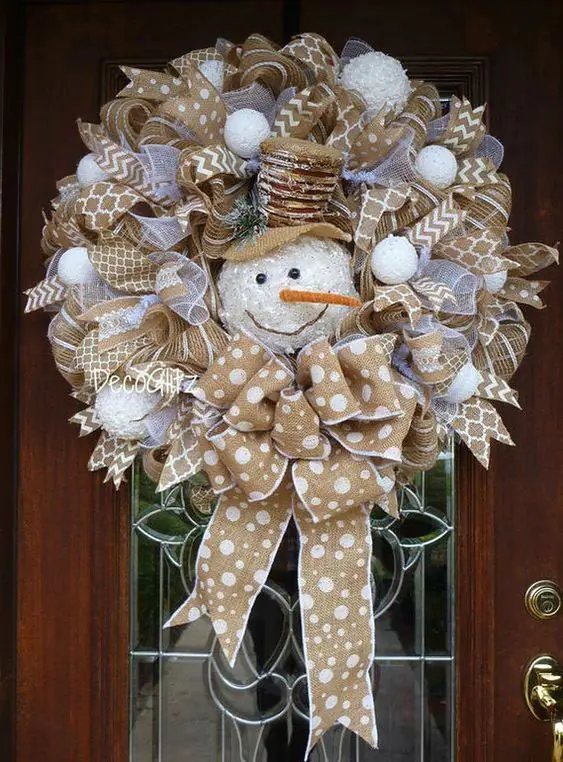 An adorable snowman is surrounded by lots of gold and white ribbons and baubles to create this delightful DIY Christmas wreath.
---
Pine Cone and Ribbon Christmas Wreath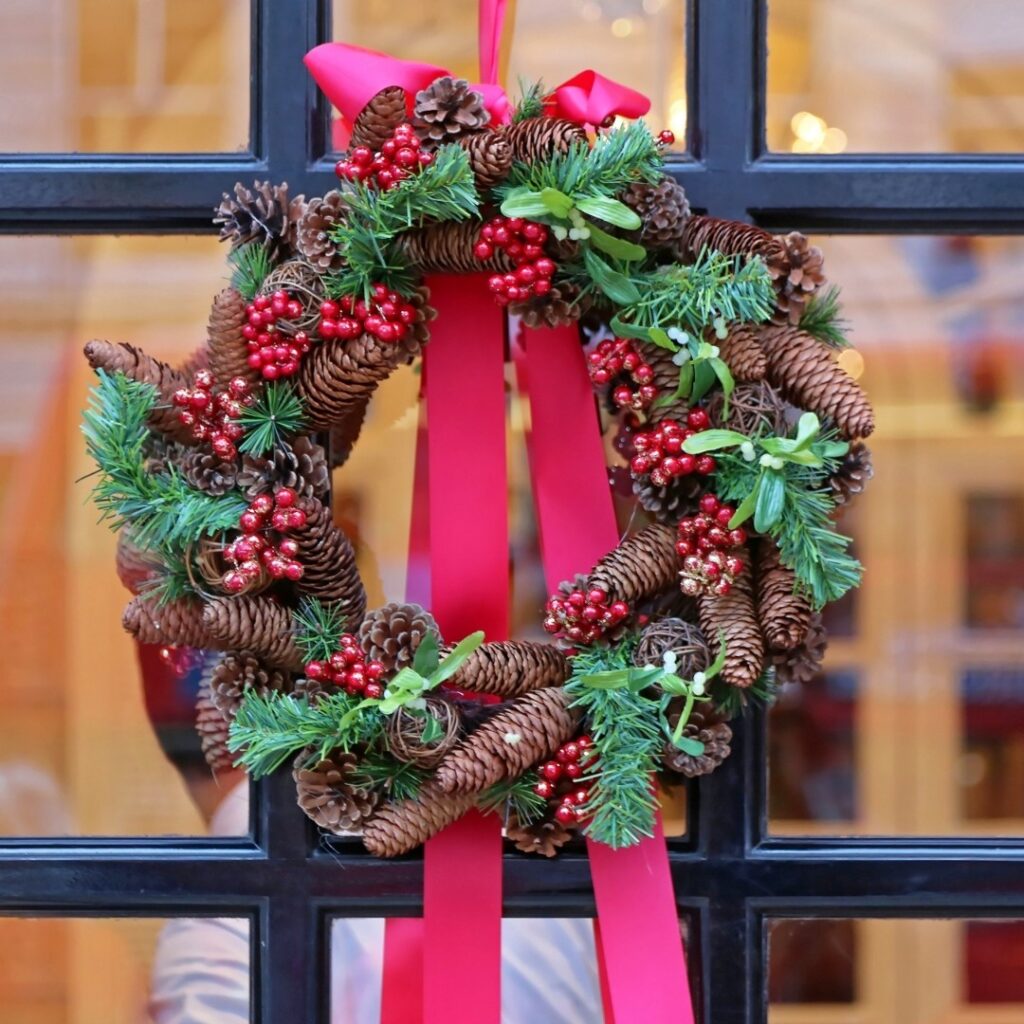 A simple but lovely Christmas wreath that features rustic pinecones, some pine branches, and a bright ribbon to add a touch of bright color.
---
Red Berry Wreath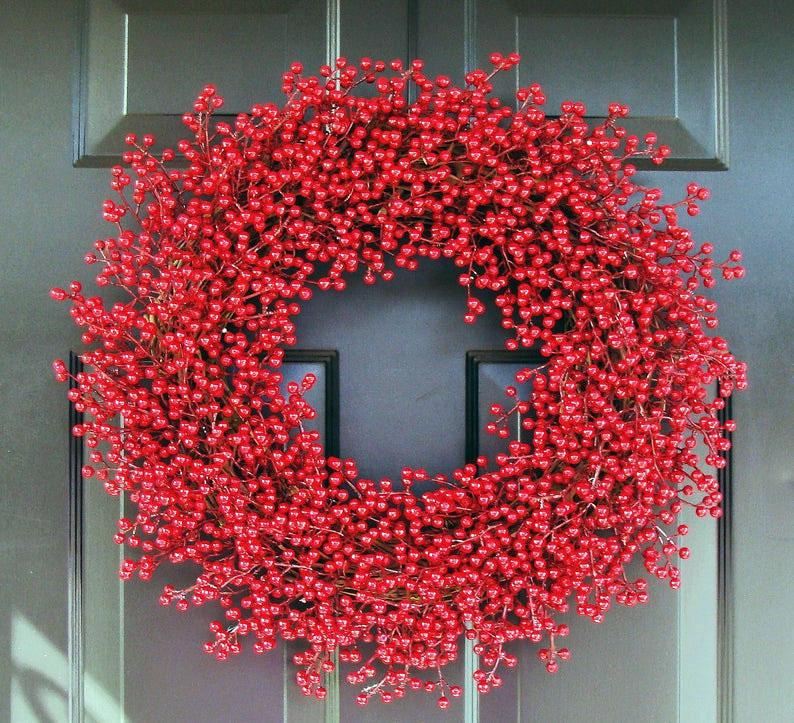 A bright splash of color that is perfect for the holiday season, this extra full winter wreath is loaded with over 1,000 artificial red berries.
---

---
Joy Embroidery Hoop Christmas Wreath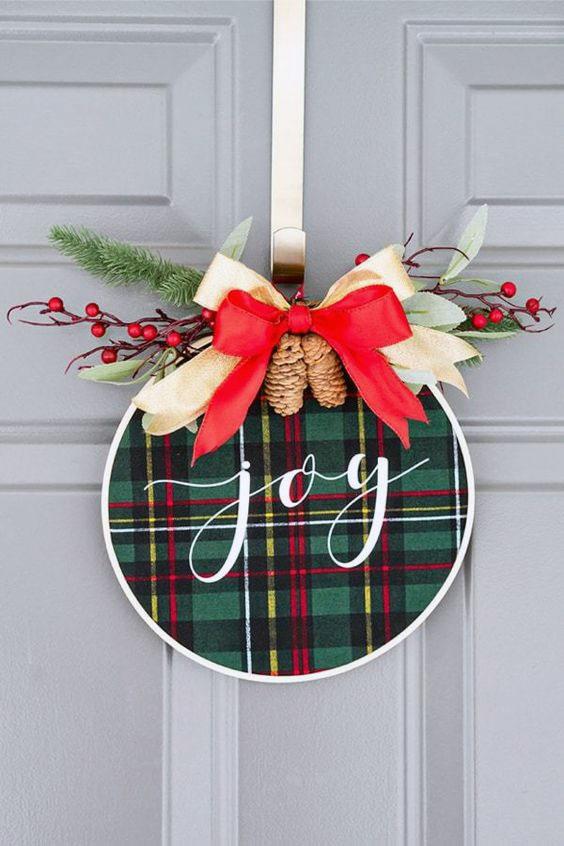 Green, red, white, and gold plaid fabric creates the base for this joyous embroidery hoop wreath.
---
Preserved Handcrafted Wood Wreath
This festive wreath is constructed of assorted pine cones, pine bark, wood chips, and other preserved pieces of nature. Combined, it makes a delightfully rustic accent.
---
Red Sticks Christmas Wreath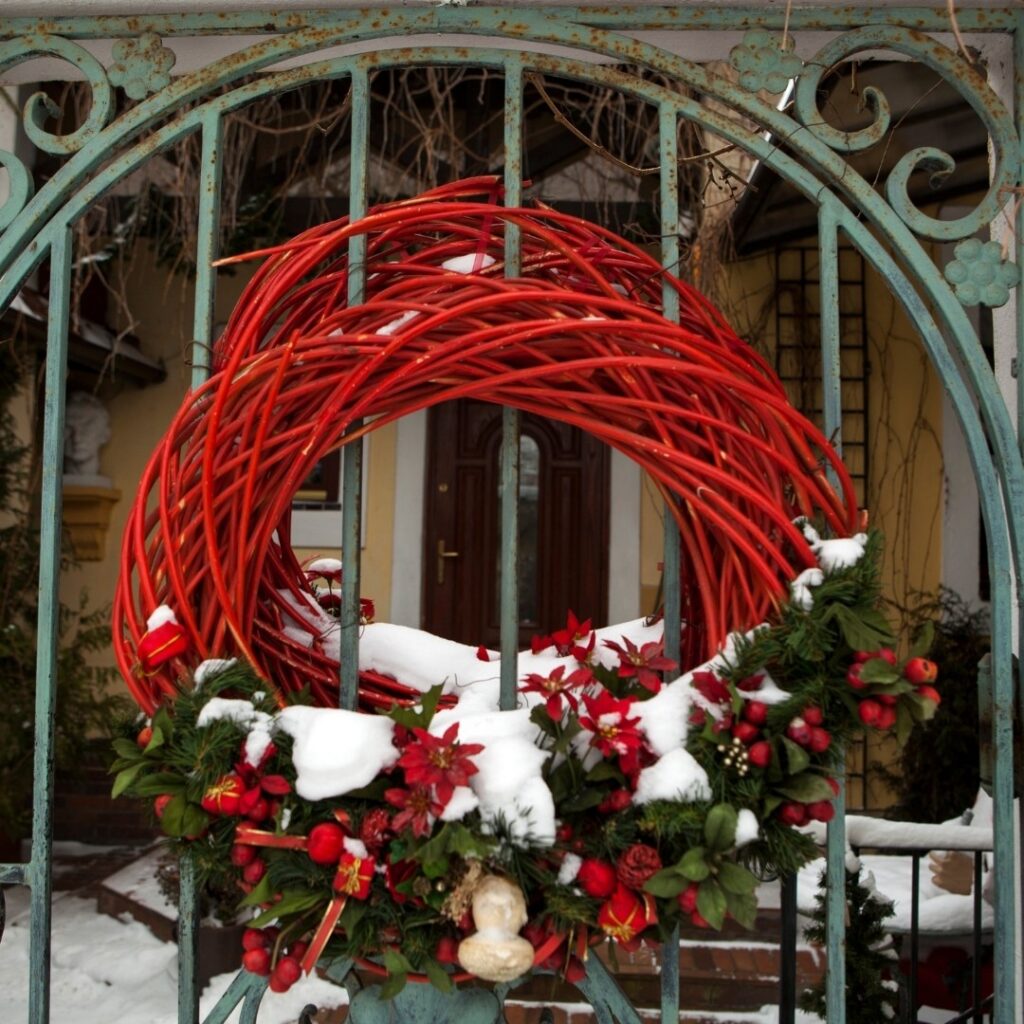 I love the drama of the red sticks in this Christmas wreath, especially when it can be used outdoors where they will provide a stunning contrast against the snowy exterior.
---
---
DIY Hot Cocoa Wreath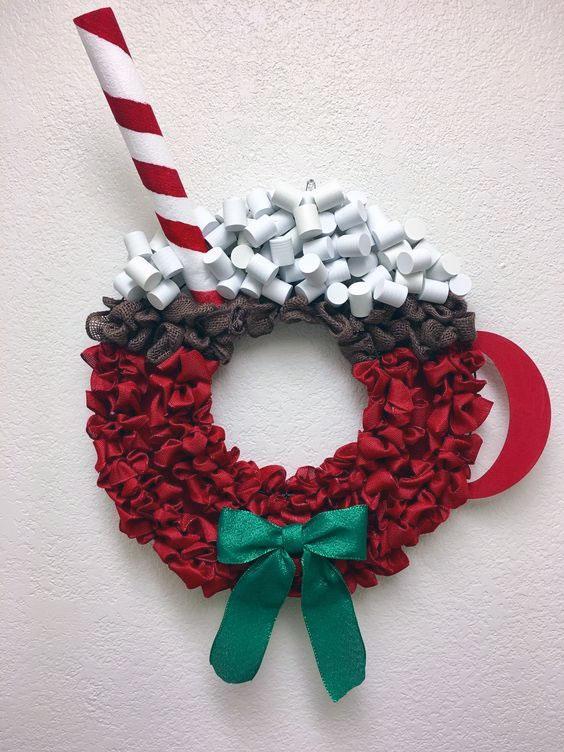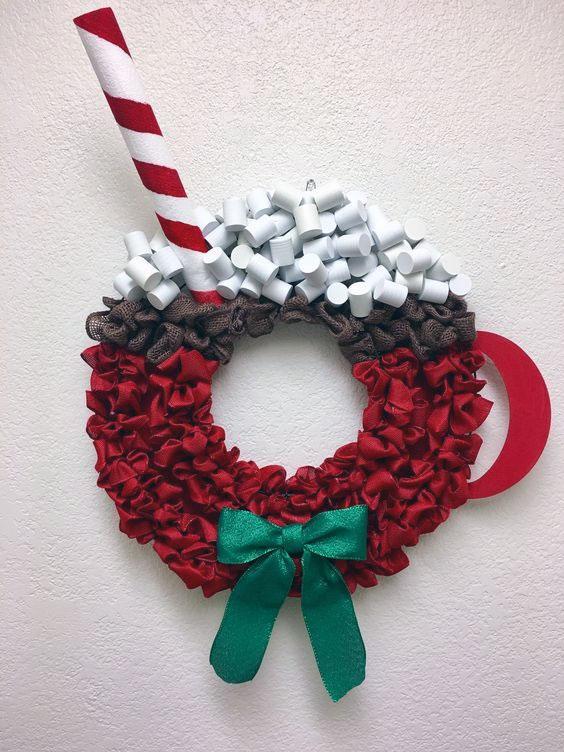 A wonderful DIY wreath project, your standard wreath form is transformed into an overflowing cup of Hot Cocoa, the official Hot Beverage of Christmas (yes, I know, I have to stop making this stuff up!!)
---
Red, Green, and Silver Christmas Ornament Wreath
A lovely collection of red, green, and silver Christmas baubles are combined into a compact yet beautiful wreath form.
---
Adorable Owl Wreath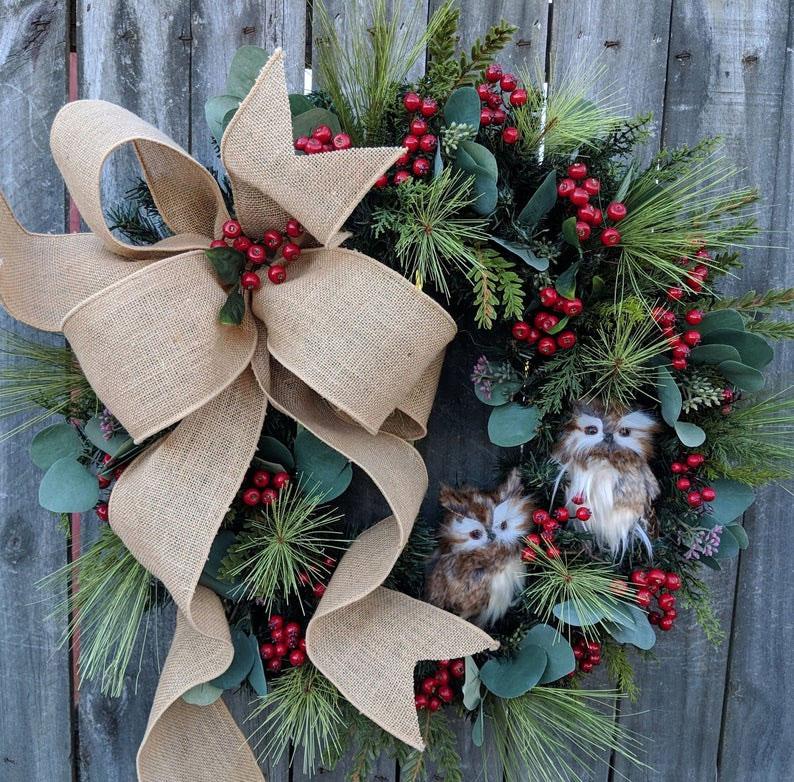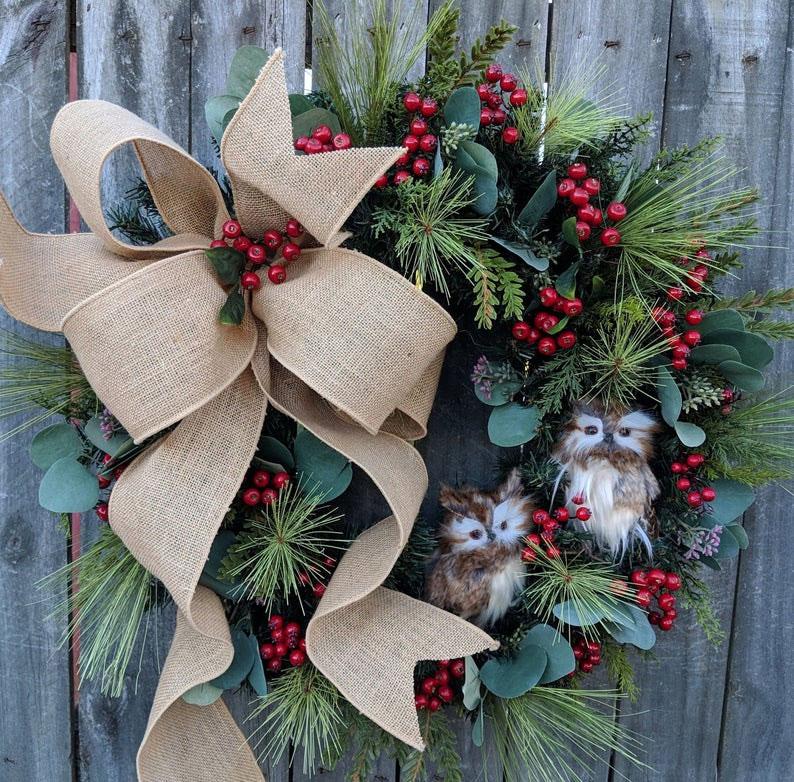 For those looking for something a little bit different, this wintertime wreath features a lovely burlap bow and a pair of adorable owls that are the focal point. Beautiful greenery, berries, and pine cones create the rich backdrop, making this wreath is perfect for use during Christmas and throughout winter.
---
Ribbon Wrapped DIY Christmas Wreath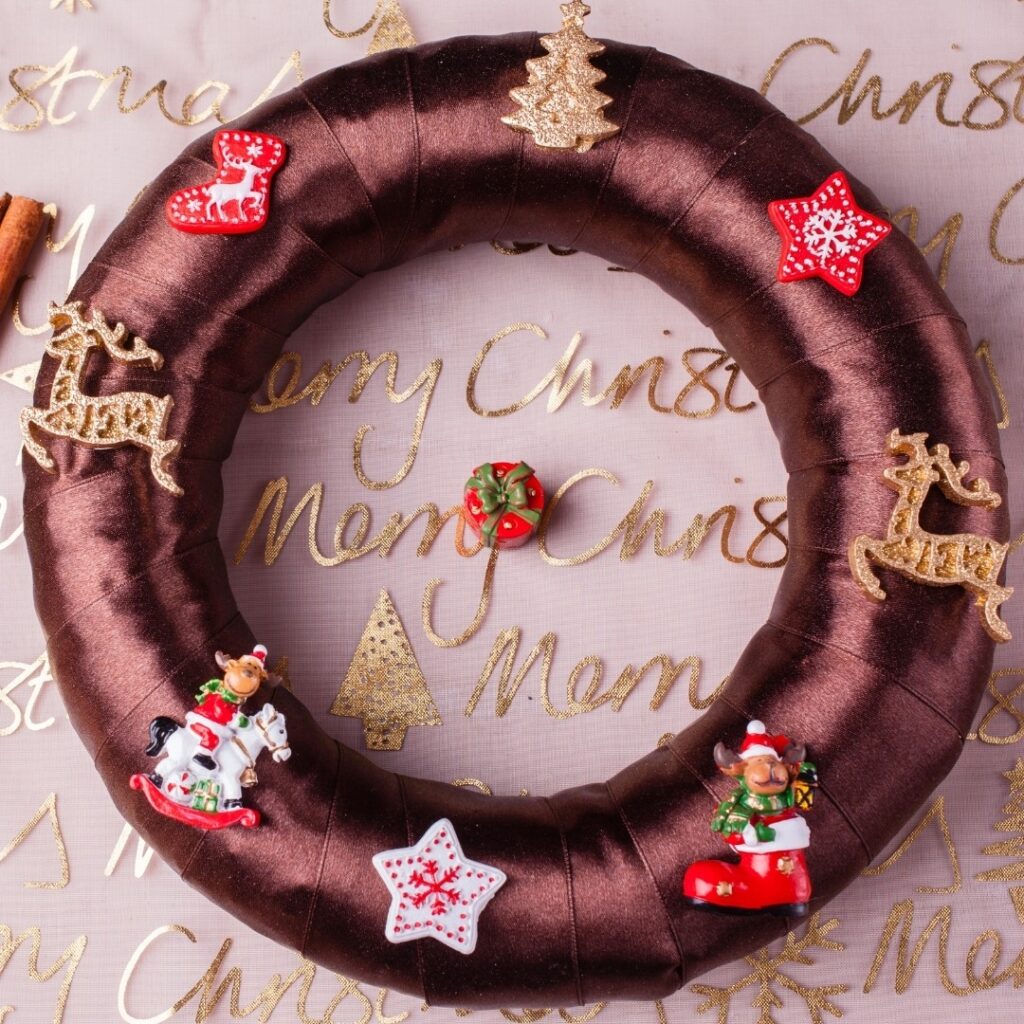 A super-simple DIY Christmas wreath that uses some ribbon fabric and small, dollar store decor ornaments to create a fun and fanciful wreath.
---

---
Buffalo Check Fabric Merry Christmas Wreath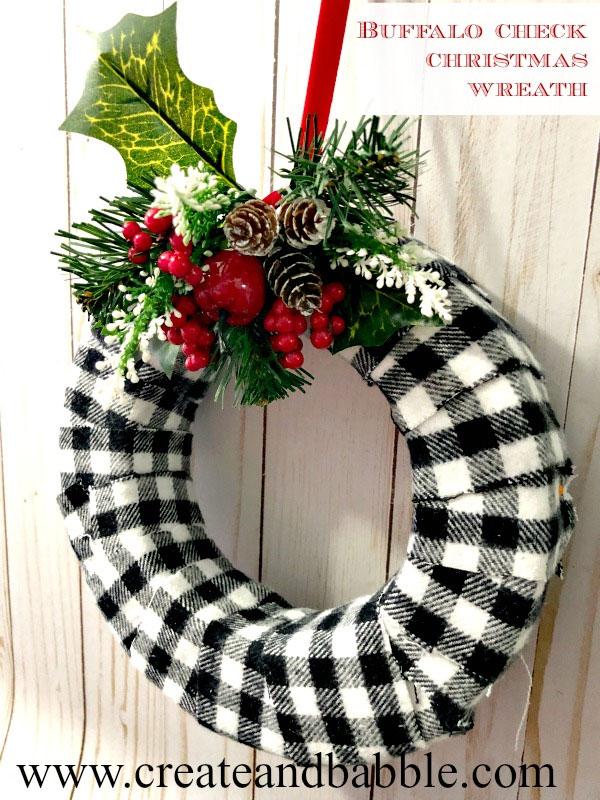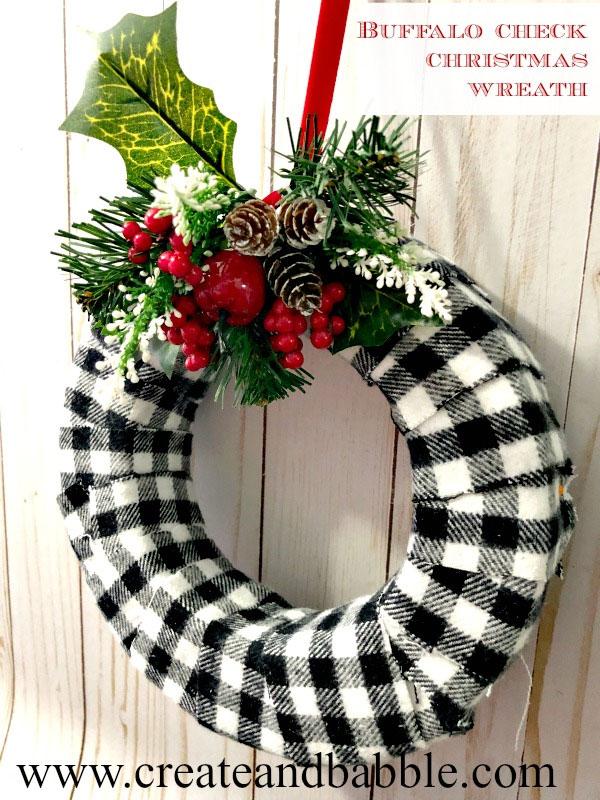 There is something about buffalo check that is so much fun when used in Christmas decorations!
---
Snowy Pine Wreath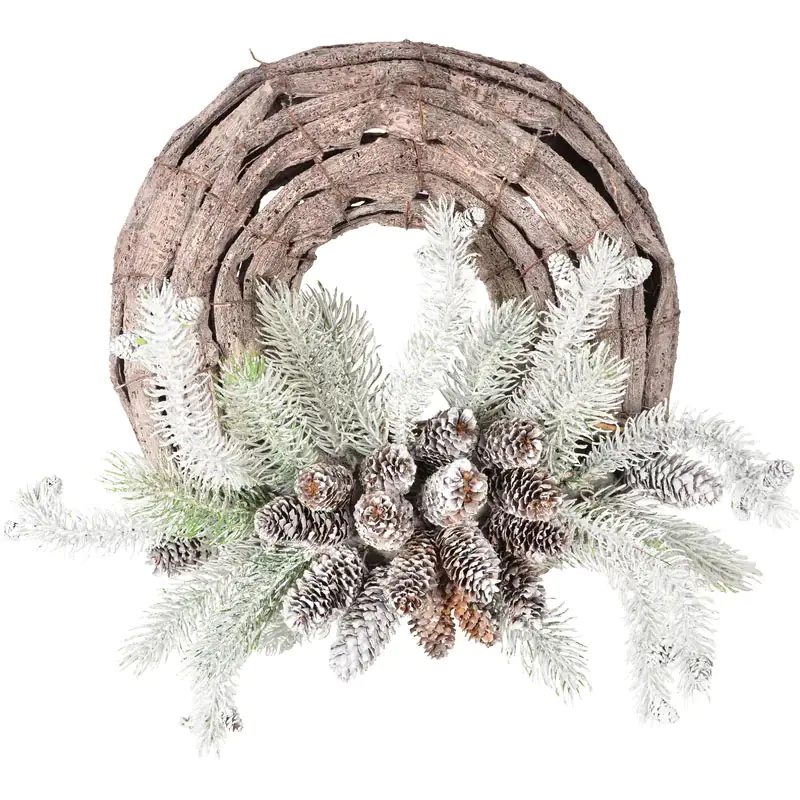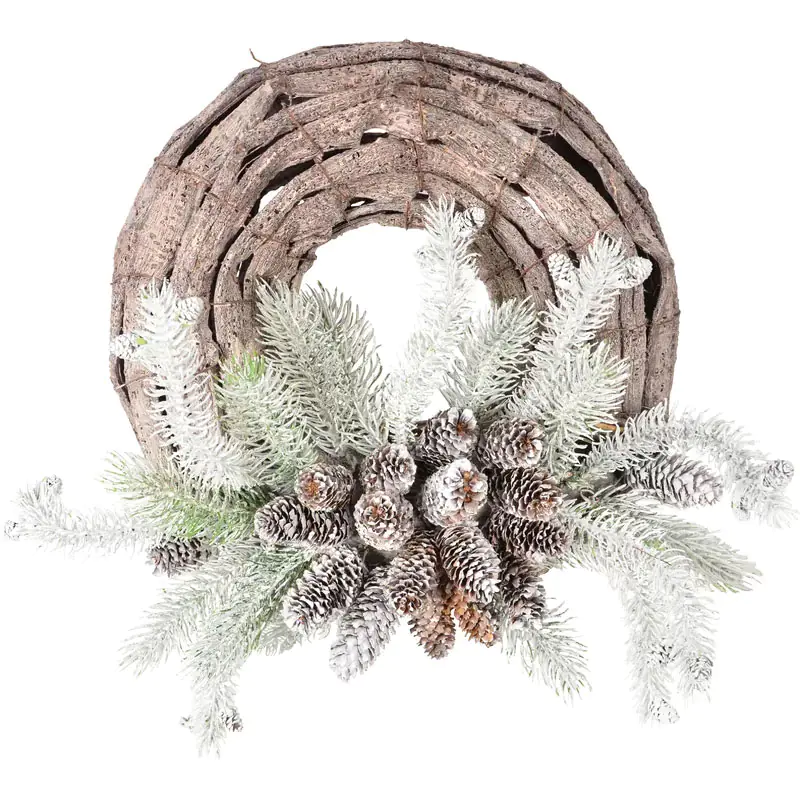 Farmhouse charm exudes from this simple but beautiful Christmas wreath featuring a spray of snowy pine branches and pine cones.
---
DIY Burlap Rudolph the Red-Nosed Reindeer Wreath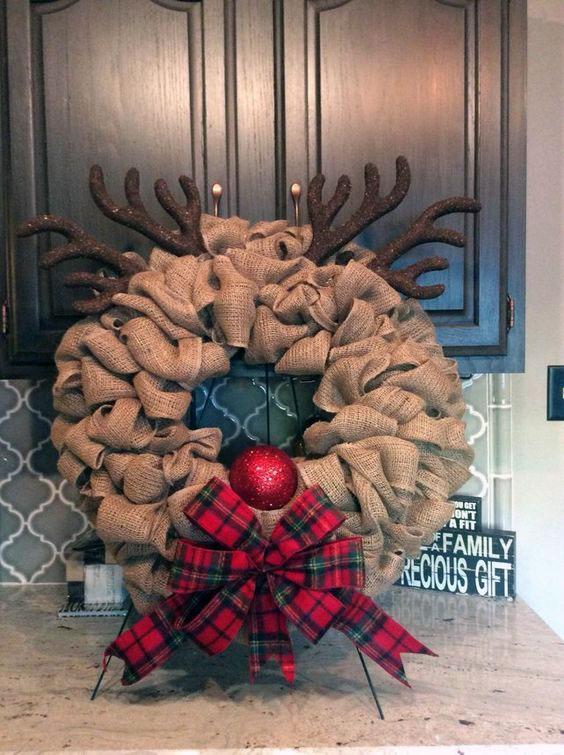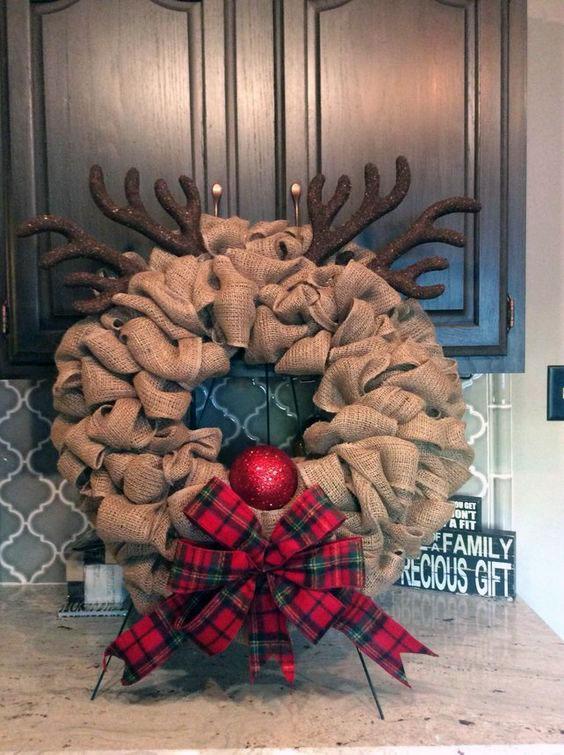 This reindeer-inspired wreath (Rudolph, of course… as he is the only one who had a very shiny nose) is simple but delightful. You would even say it glows!
---
Country Charm Christmas Wreath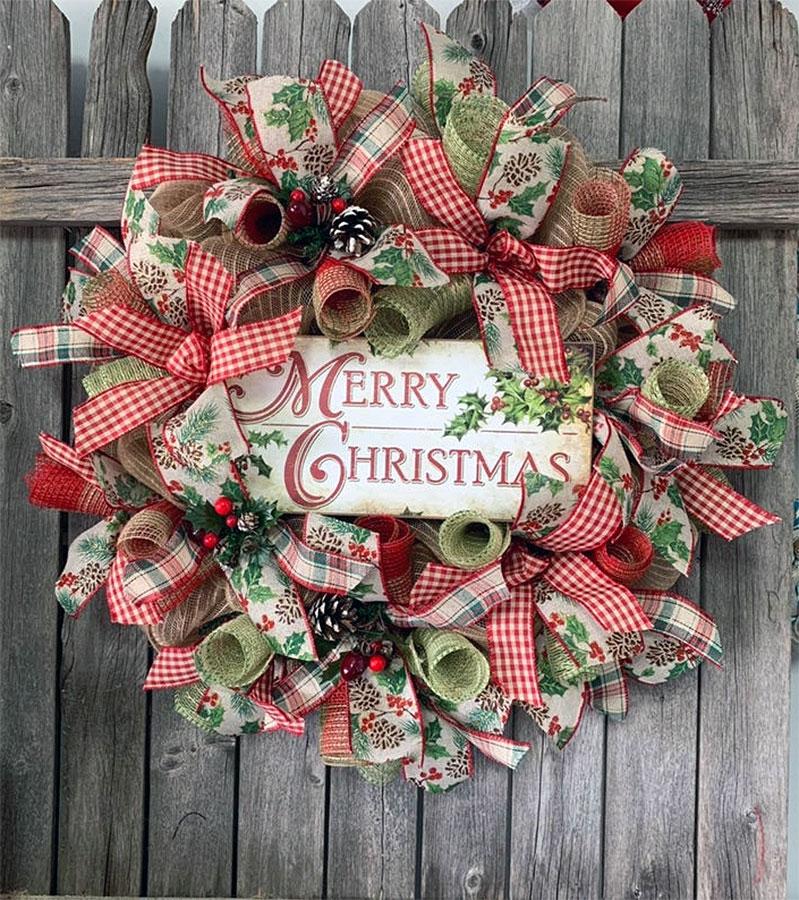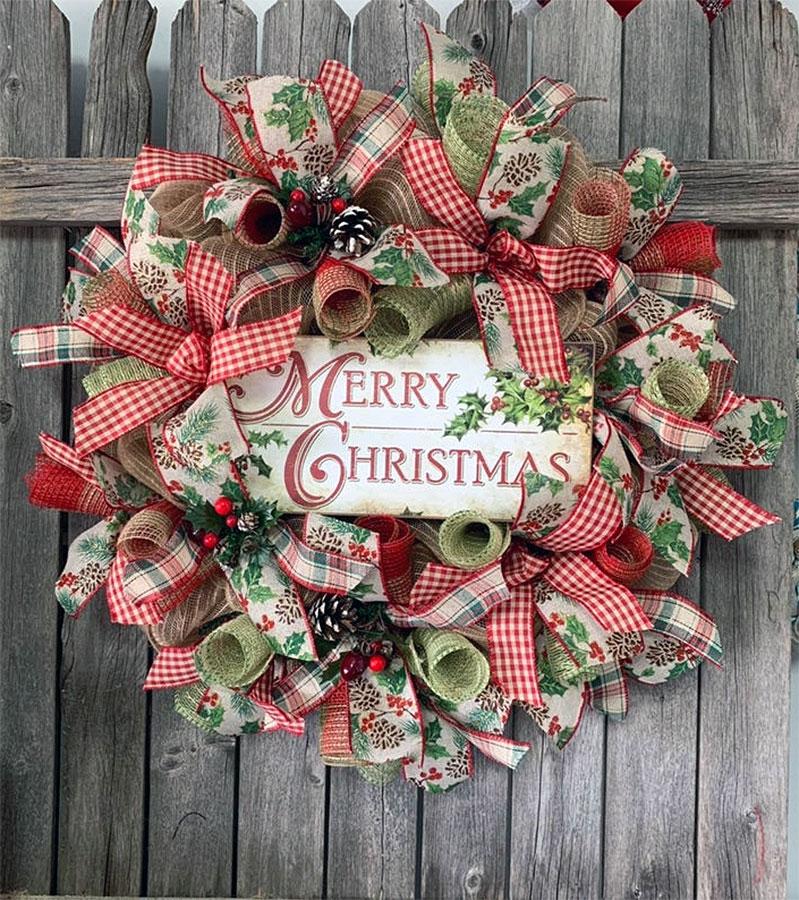 Warm and inviting country tones and patterns are infused throughout this lovely wreath, with a wood Merry Christmas sign tucked right in the middle for good measure.
A very welcoming Christmas wreath indeed!
---

---
Joy DIY Clothespin Wreath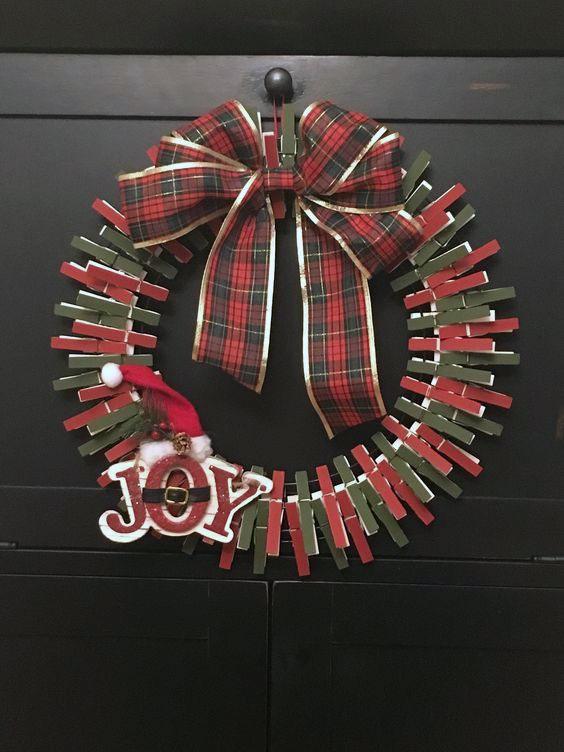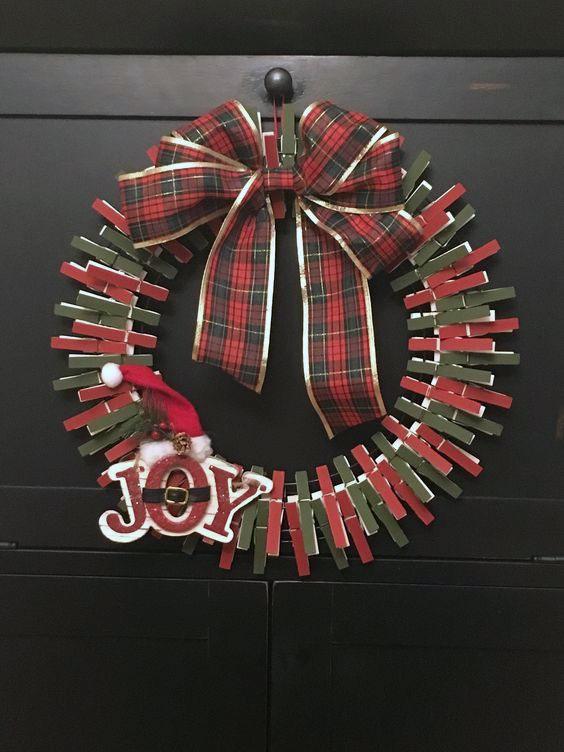 This quaint little DIY clothespin wreath uses wooden clothespins that have been painted in alternating colors of red and green, finished off with a lovely plaid boy and a dollar store "Joy" decorative emblem.
---
Twigs and Berries Christmas Wreath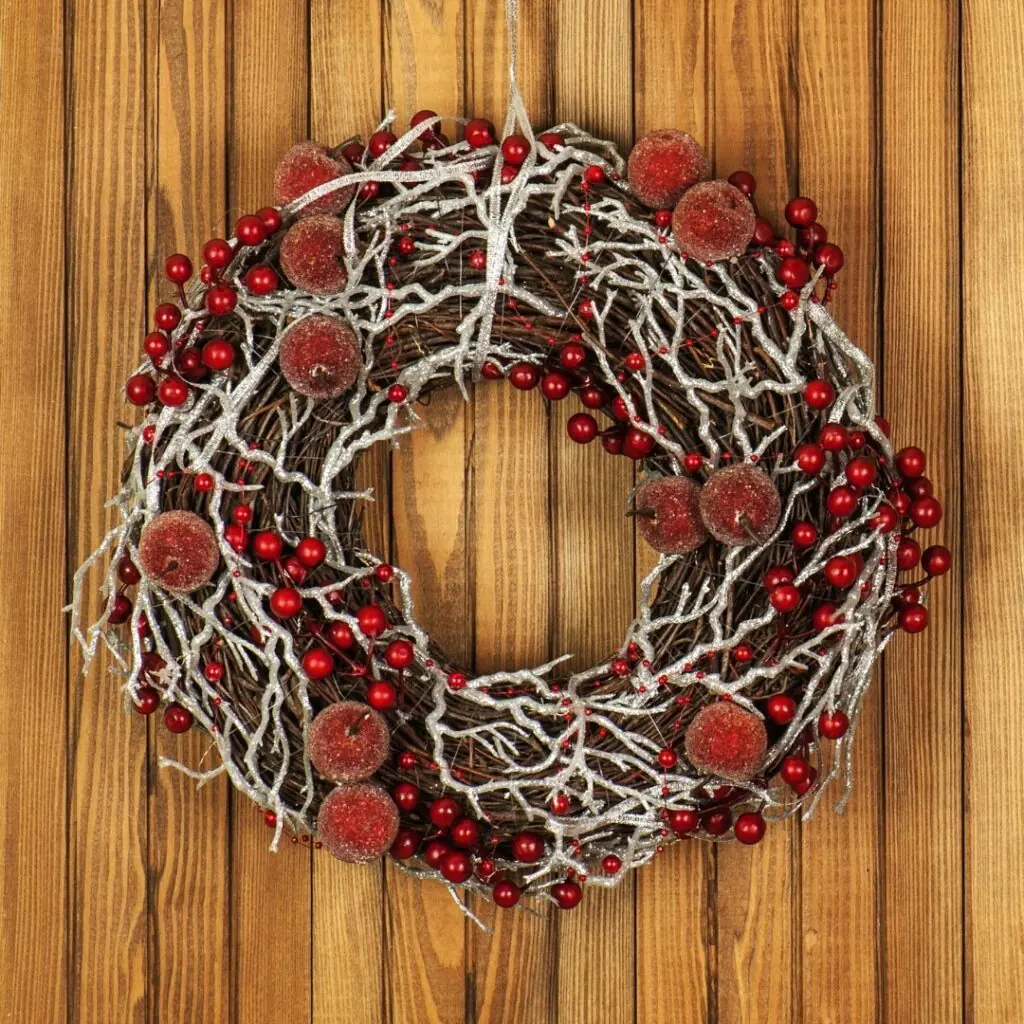 I love the rustic charm of this wreath. A bit more complicated from a DIY perspective, but a talented crafter could easily duplicate this look.
---
Christmas Sheet Music Wreath
The red paper flowers contrast against the white pages and sprigs of artificial pine, looking fresh with the adorable black and white gingham ribbon.
Of course, this is NOT a wreath that would be suitable for outdoor use as one storm and this would quickly become a droopy and soggy mess!
Candy Cane DIY Christmas Wreath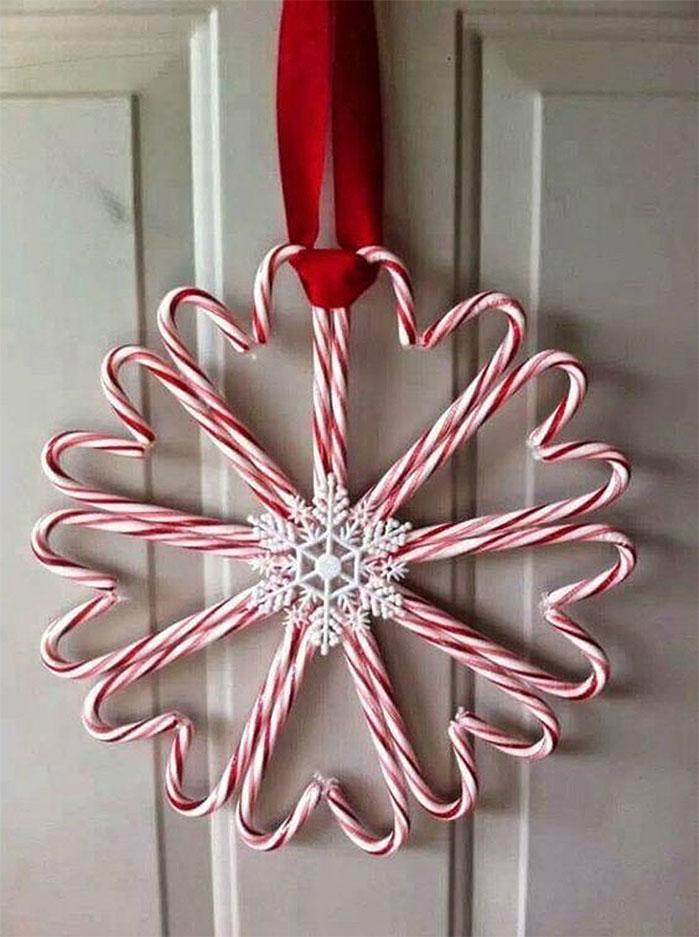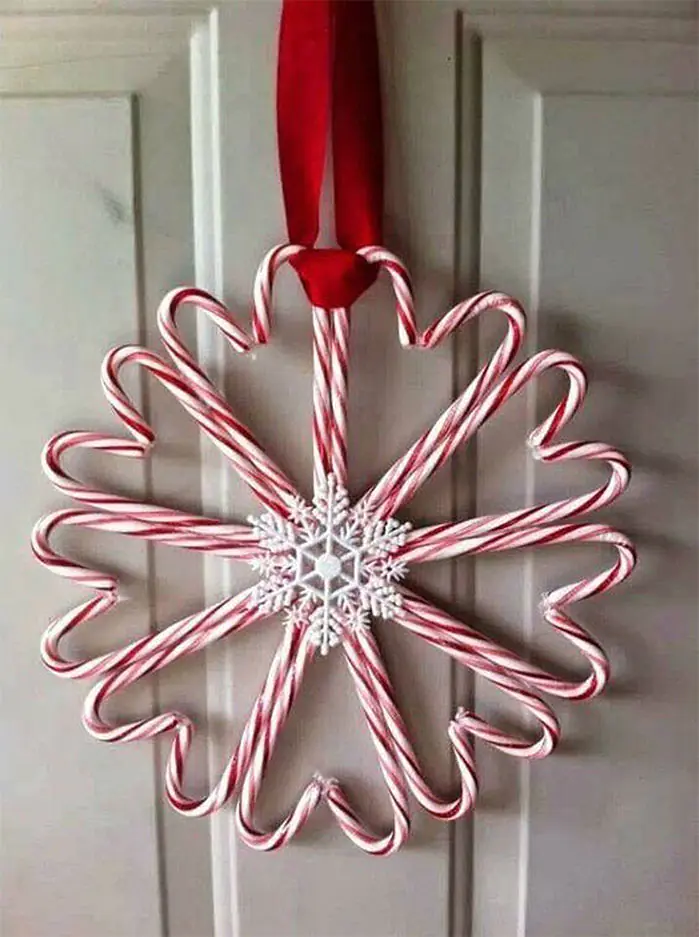 An edible arrangement, this cute little wreath is fashioned using a collection of classic red and white candy canes.
---
Colorful Cedar Wreath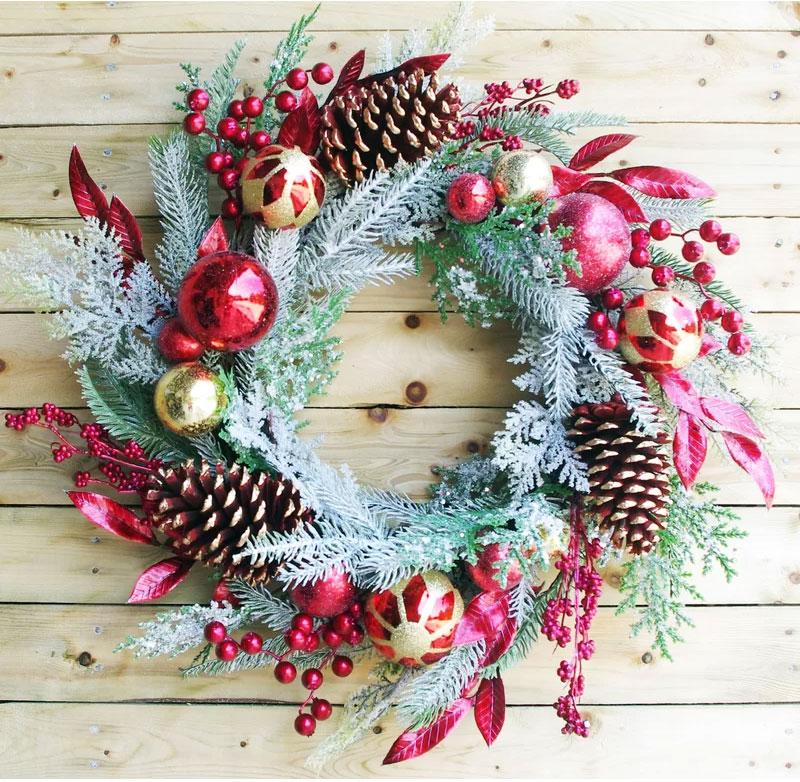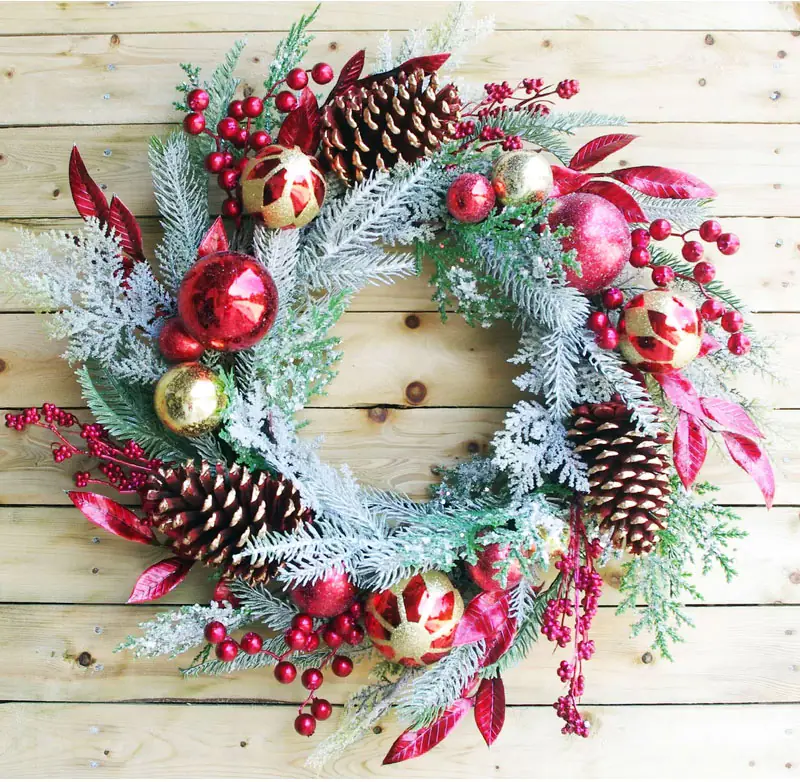 Lively and colorful, this creation is both bright and wonderful for the Holiday season. I love the pops of red and gold against the more muted frosted pines.
---
White Star Mini Christmas Wreath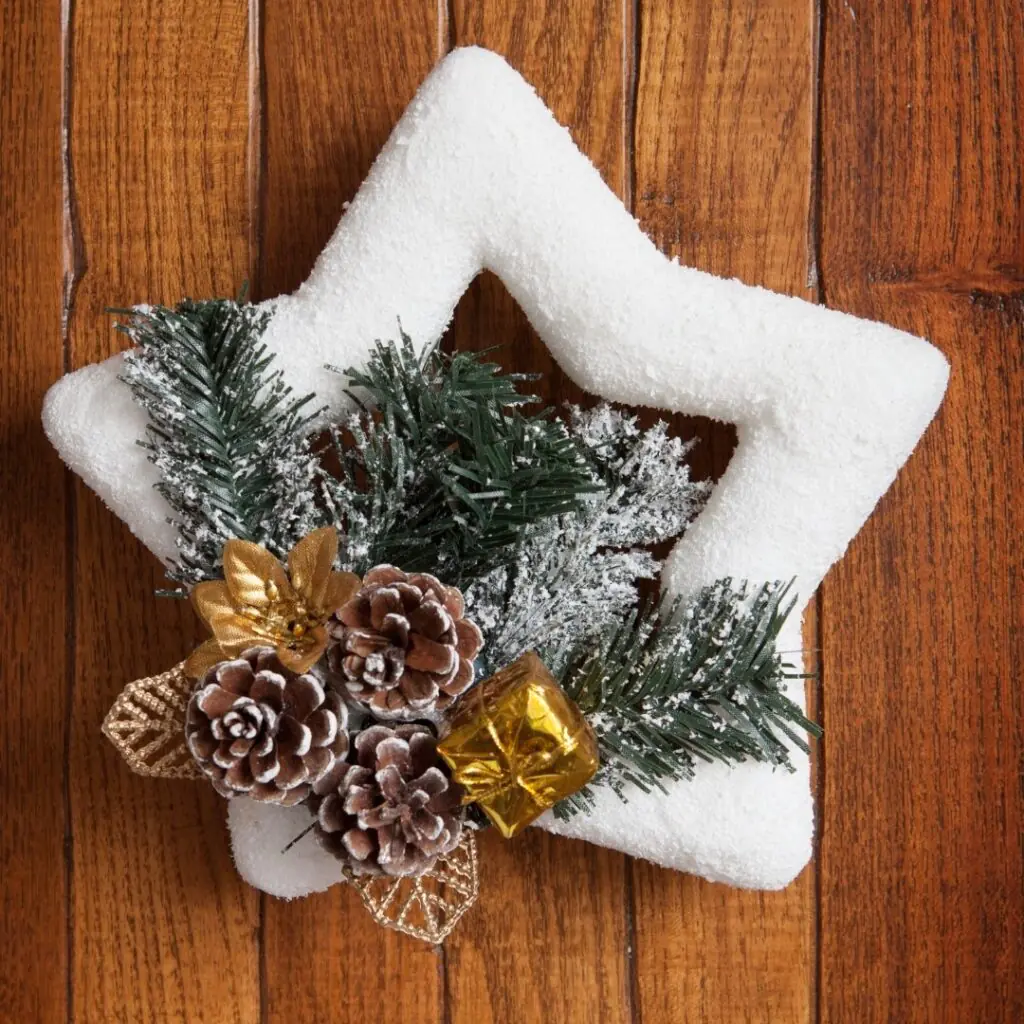 A small frosted star creates the perfect background for this mini decorative Christmas wreath.
---
DIY Playful Cat Wreath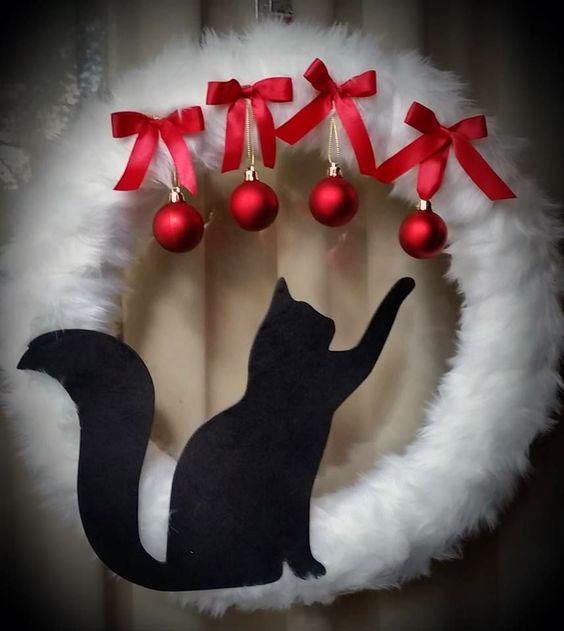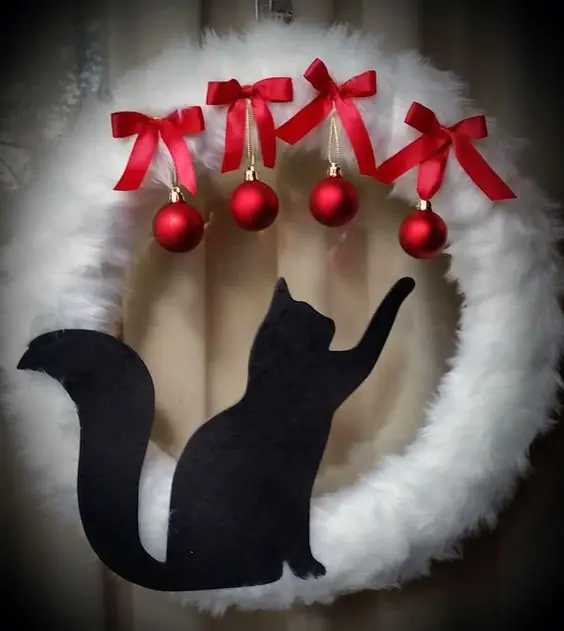 Pay homage to the destroyer of Christmas trees with this fun and fanciful wreath. It's pretty easy to make once you create (or buy) the cat cut out.
---

---
DIY Christmas Gingerbread Cookie Wreath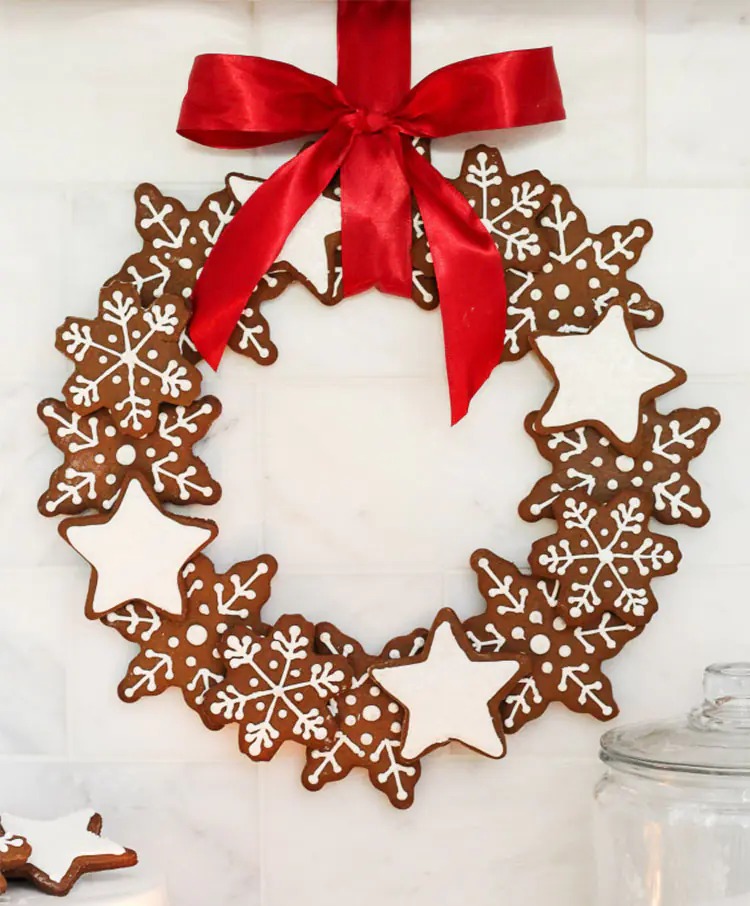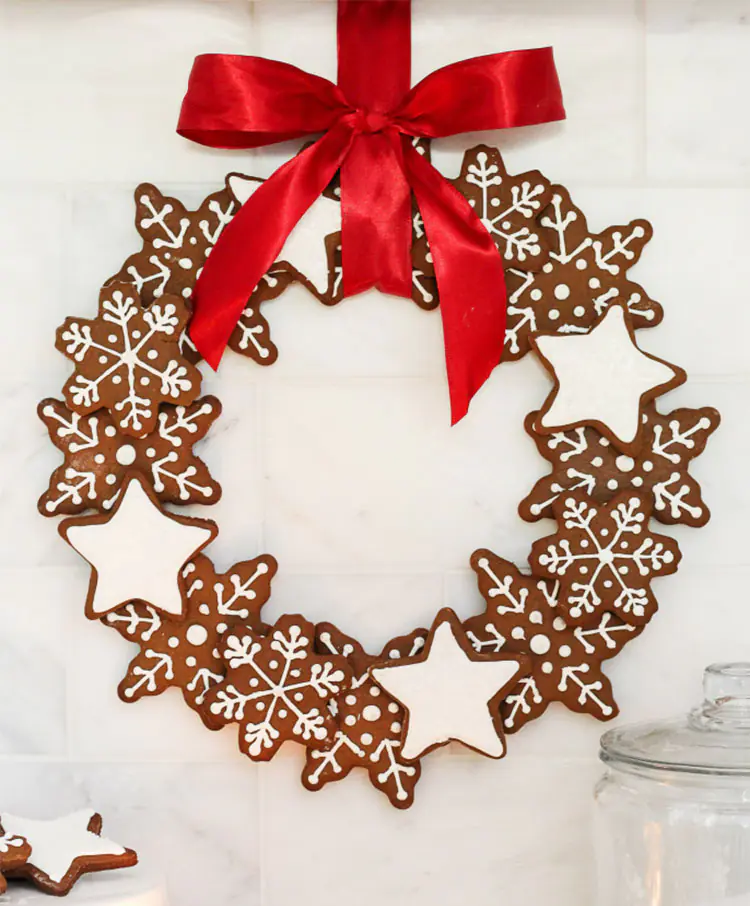 Found on Sincerely Marie Designs
Perhaps you've baked too many gingerbread cookies? Or maybe your beautiful gingerbread house needed one less wing? Or, perhaps, you just really like the look of this subtle but homey design. Either way, this DIY project is as fun to make as it is to eat (later, after Christmas, of course).
---
Monogram Boxwood & Burlap Wreath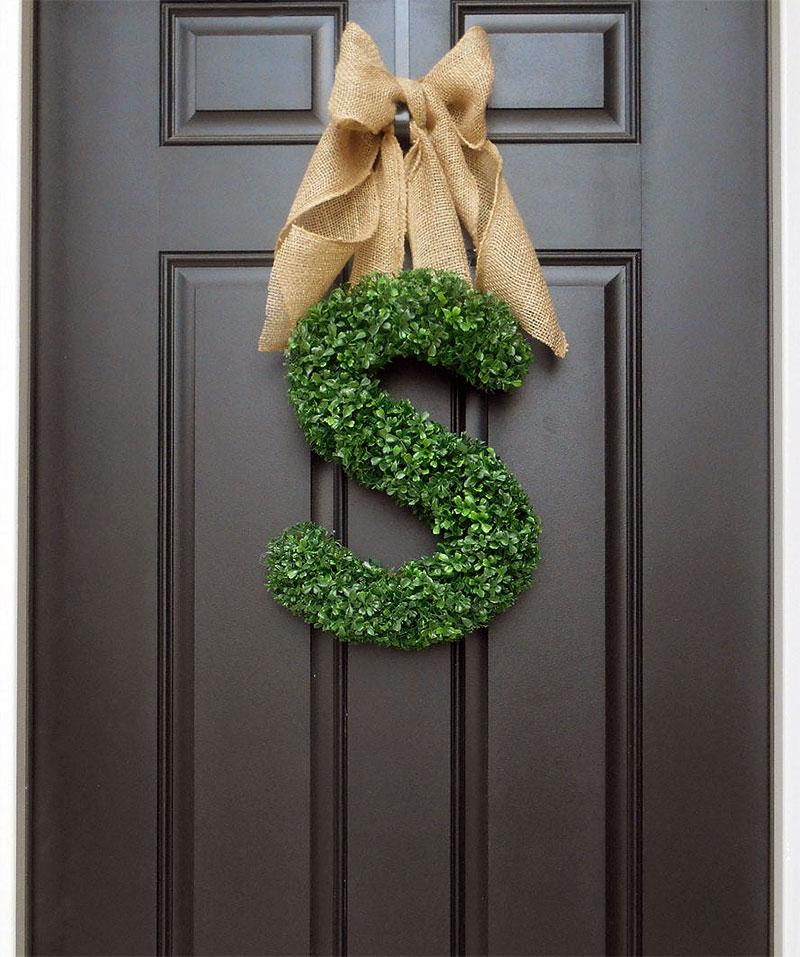 Personalize your front door with your own family initial with this monogram wreath crafted using artificial boxwood and real burlap.
Simple, but classy!
---
DIY Grinch Wreath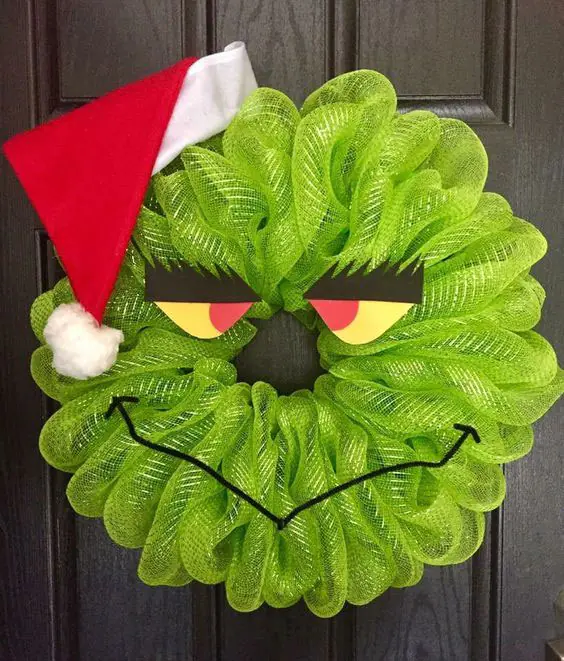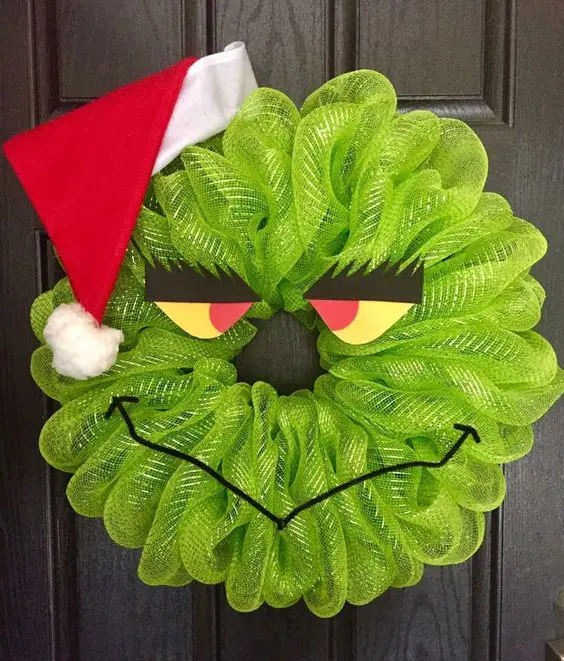 A simple but effective DIY masterpiece celebrating Dr. Seuss' The Grinch, the official Grinch of Christmas.
---
Thomas Kinkade Victorian Christmas Village Wreath
Victorian vignettes festoon this adorable Christmas wreath with lots of personality. Each is meticulously handcrafted and hand-painted by skilled artisans, recreating the nostalgic Victorian charm of Thomas Kinkade's luminous artistry.
---
---
DIY Let It Snow Wreath

A fun DIY project using some red plaid fabric, white "snow" fabric, some wood slices and artificial trees to create a winter wonderland you can hang on your door.
---
White Twigs and Berries Mini Christmas Wreath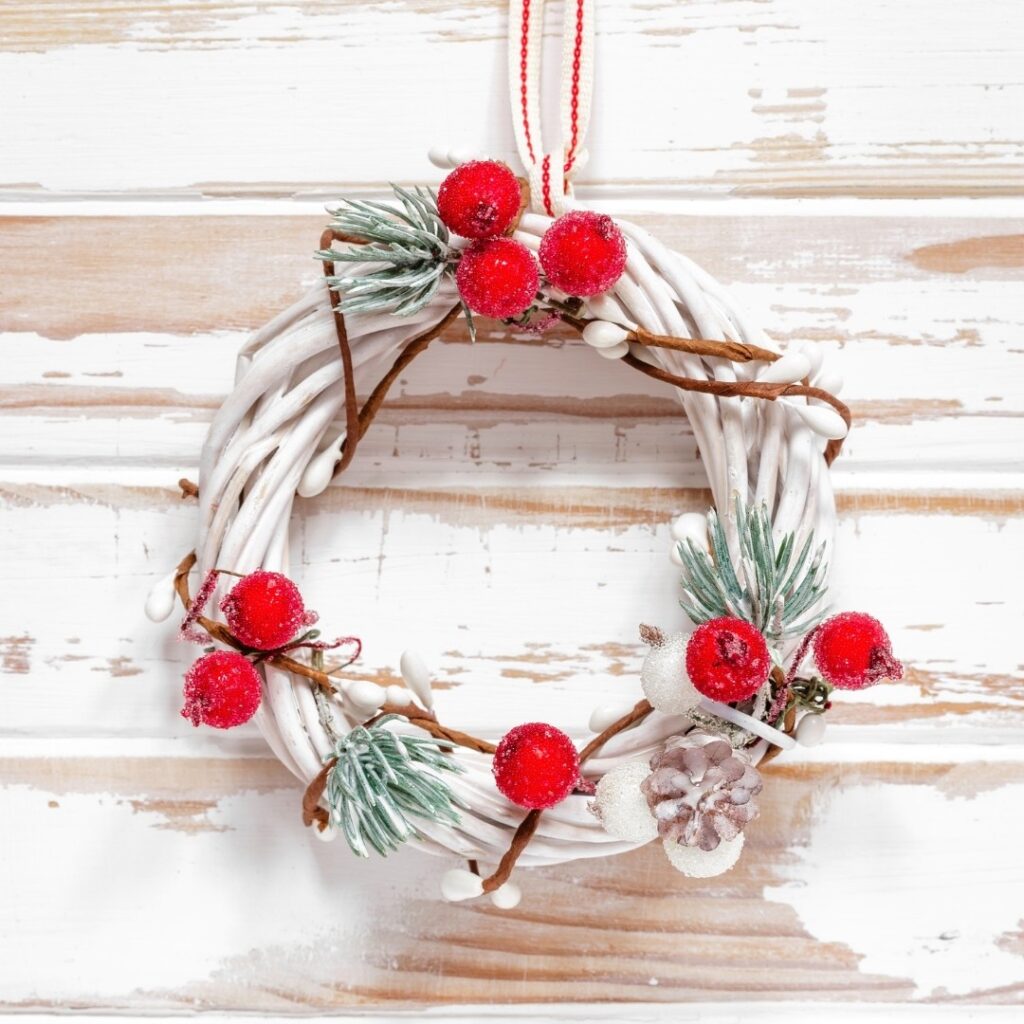 The simple contrast of the bright white berries against the snow white wood wreath makes for a lovely and eye-catching display.
---
Let It Snow Christmas Wreath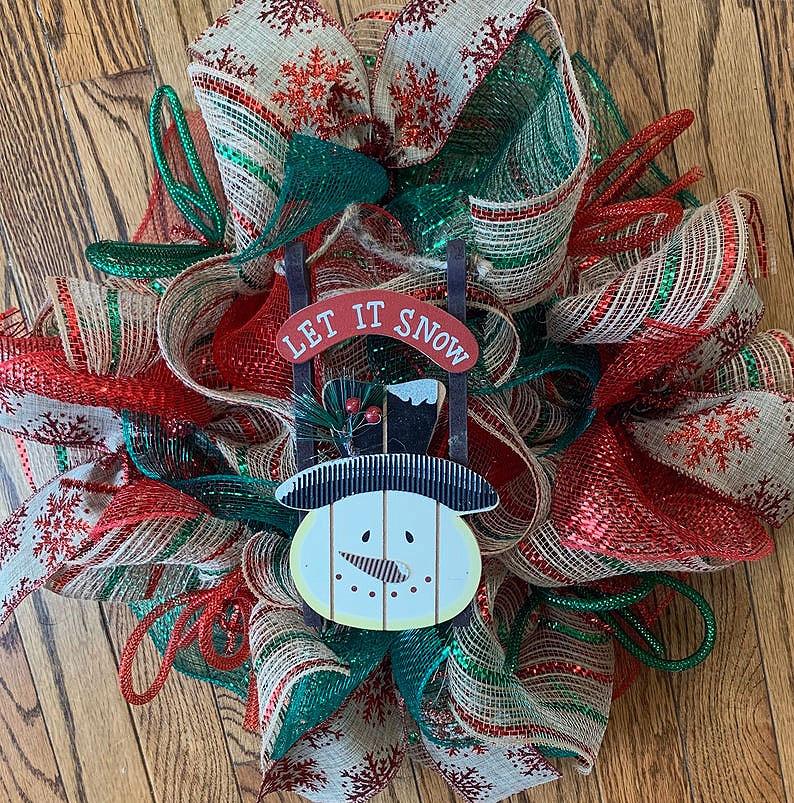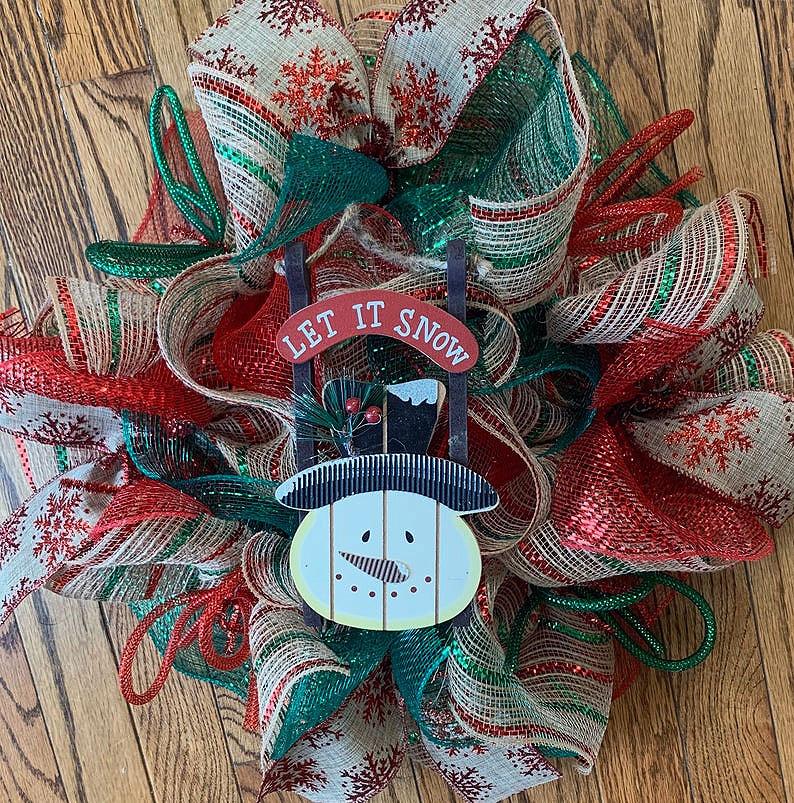 This adorable wreath features a snowman sleigh with the words Let It Snow emblazoned across the top, surrounded by wonderful and festive ribbons and rope.
---
DIY Merry Wreath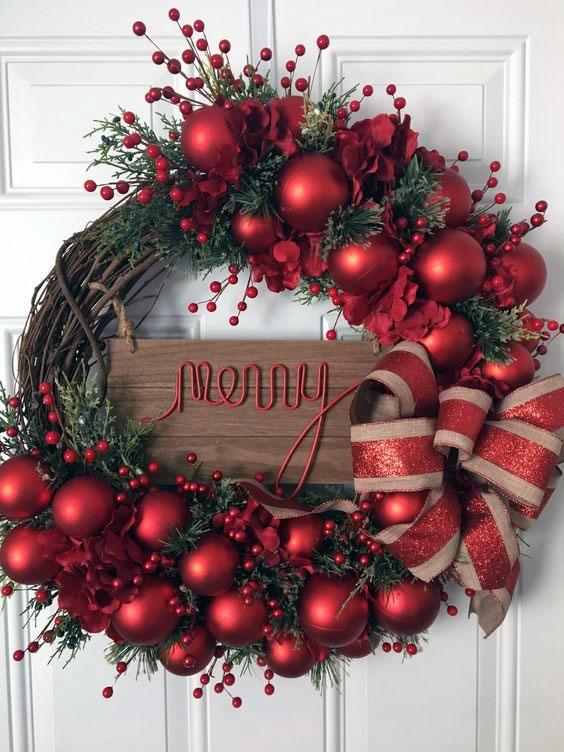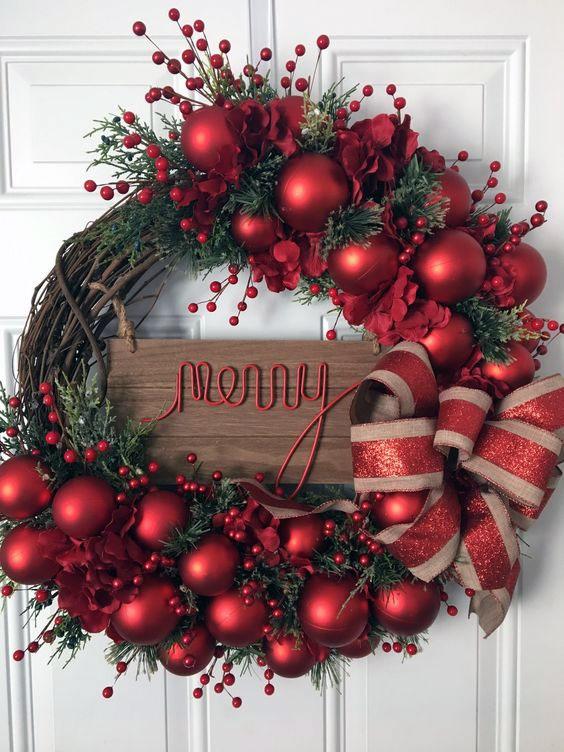 This lovely grapevine wreath is absolutely bursting with red. From the red ornaments to red & beige ribbon, to the red berries. And to finish it off, a wood plaque with a sculpted "Merry" sign right smack dab in them middle of all this glorious redness.
---

---
Festive Holiday Wreath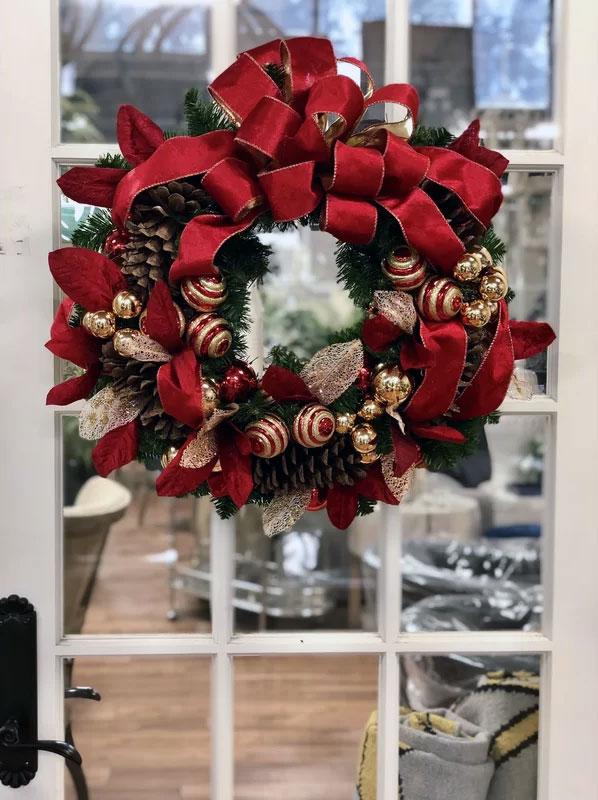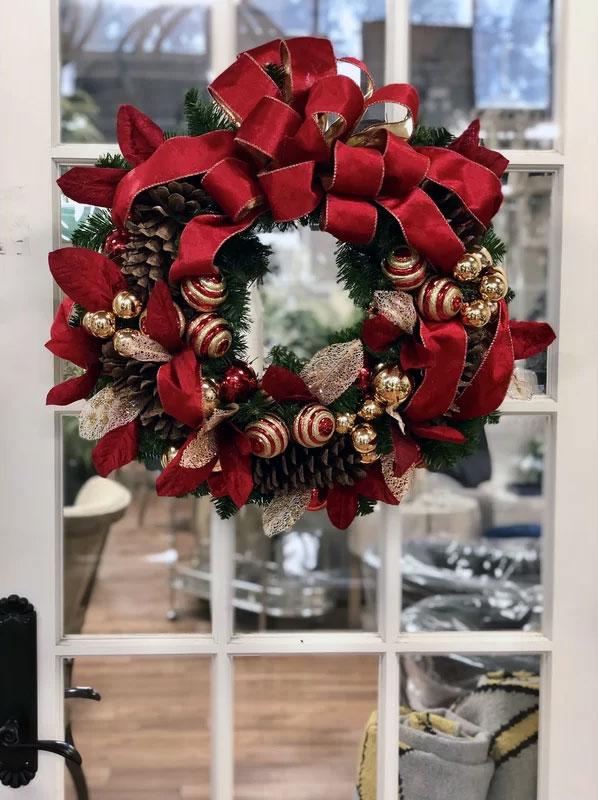 This festive evergreen and pine wreath is accented with a variety of red and gold ornaments, natural pine cones, red and gold leaves, and red and gold ribbon.
This holiday wreath with its big ribbons and pops of color will enhance your home or office for the holidays.
---
DIY Monogram Wreath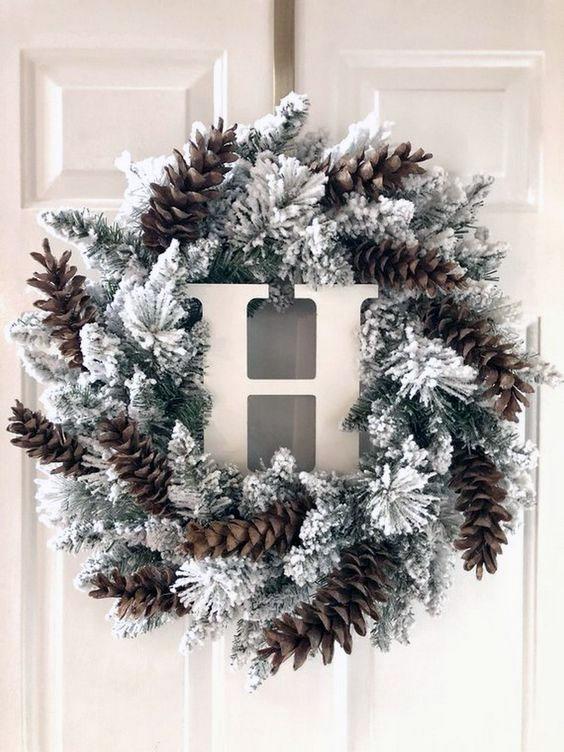 This lovely DIY Christmas wreath uses a mixture of frosted pine branches and pine cones, all surrounding the monogram in a classic and clean white.
Of course, if you're making this for your own family, you may want to consider changing the letter to something that better represents your own family name. Maybe.
---
Personalized Christmas Grapevine Wreath
A beautiful wired linen finish ribbon with a Christmas script print makes an elegant bow when combined with a lovely narrow faux silk.
Boughs of mixed greenery, berries, roses, ranunculus, and hydrangea create a beautiful backdrop. This wreath's flowers and berries have a light and airy feel with the grapevine base peaking through.
---
Gingerbread Kisses Christmas Wreath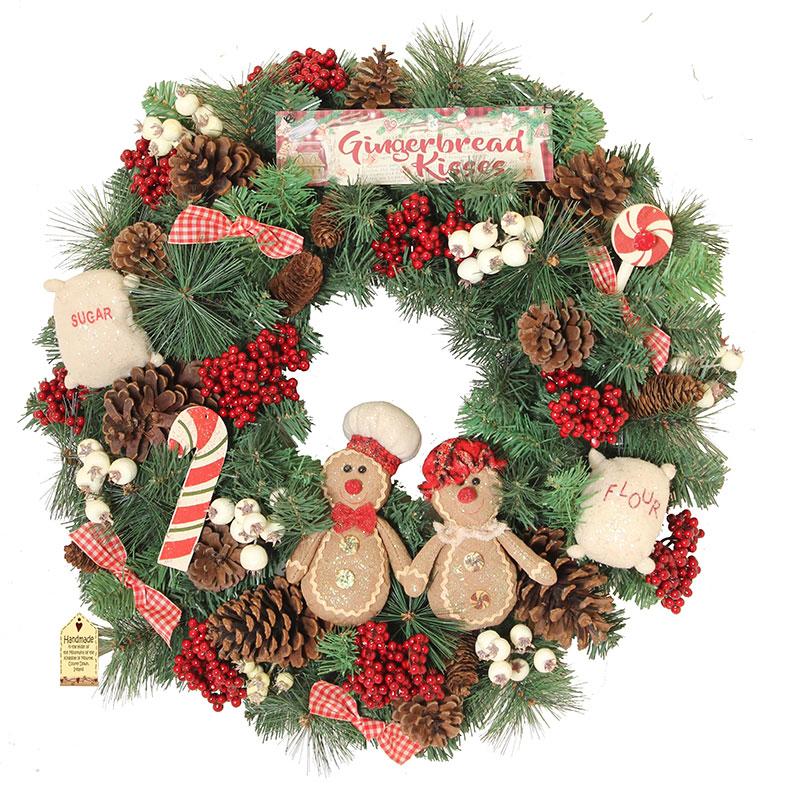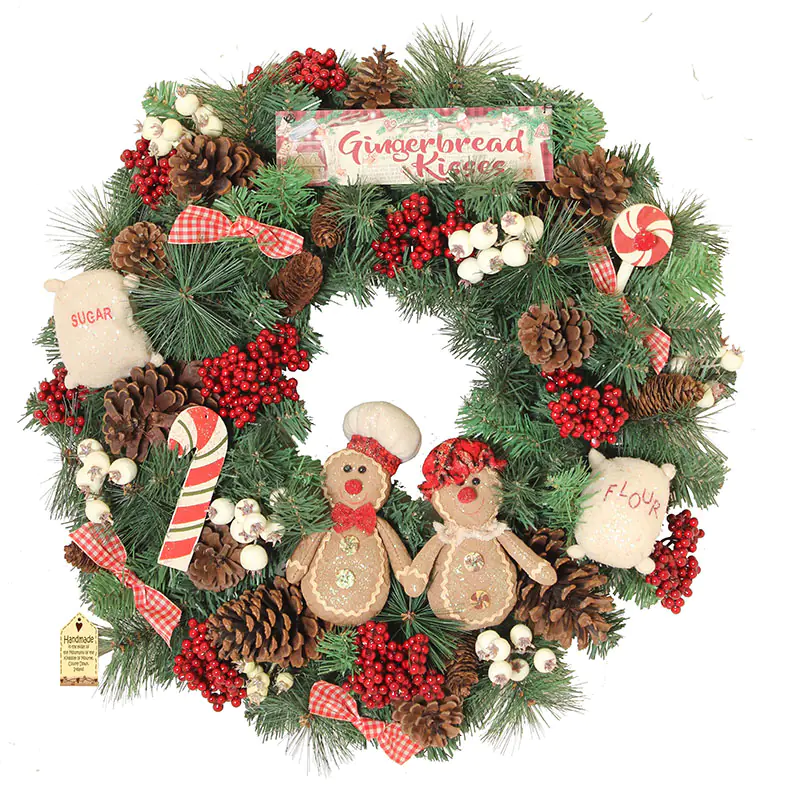 A super cute feast of gingerbread loveliness, the official Cookie of Christmas.
---
---
DIY Snowman Pom Pom Wreath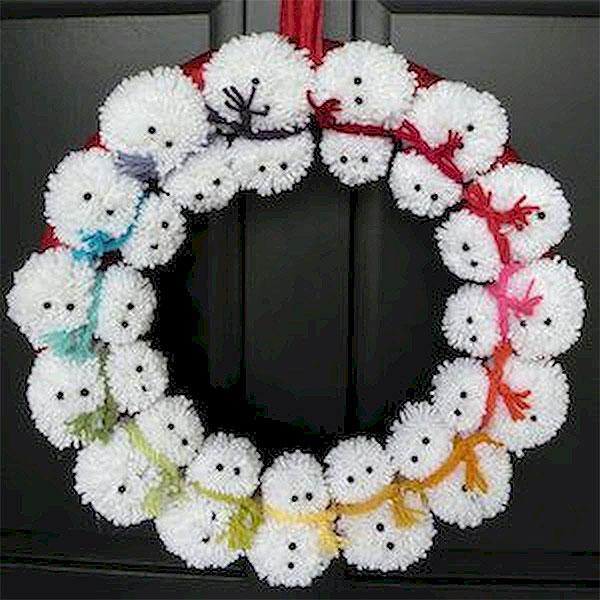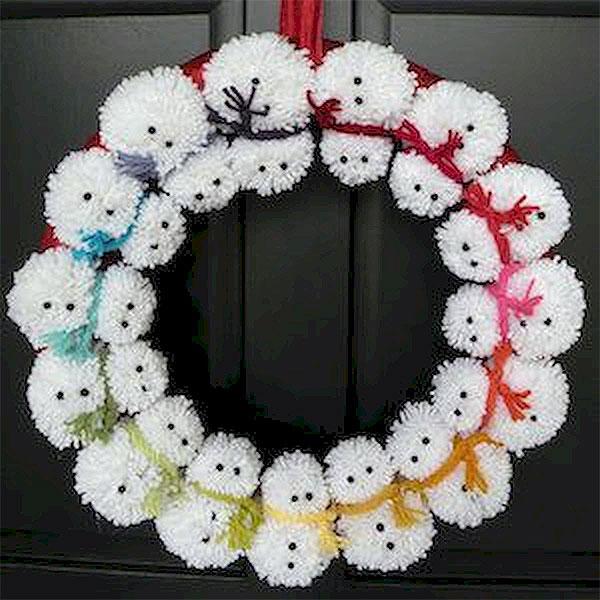 This adorable wreath uses pom poms and some colored yarn to create a circle of snowmen for your front door.
---
Flocked Pinecone and Antler Wreath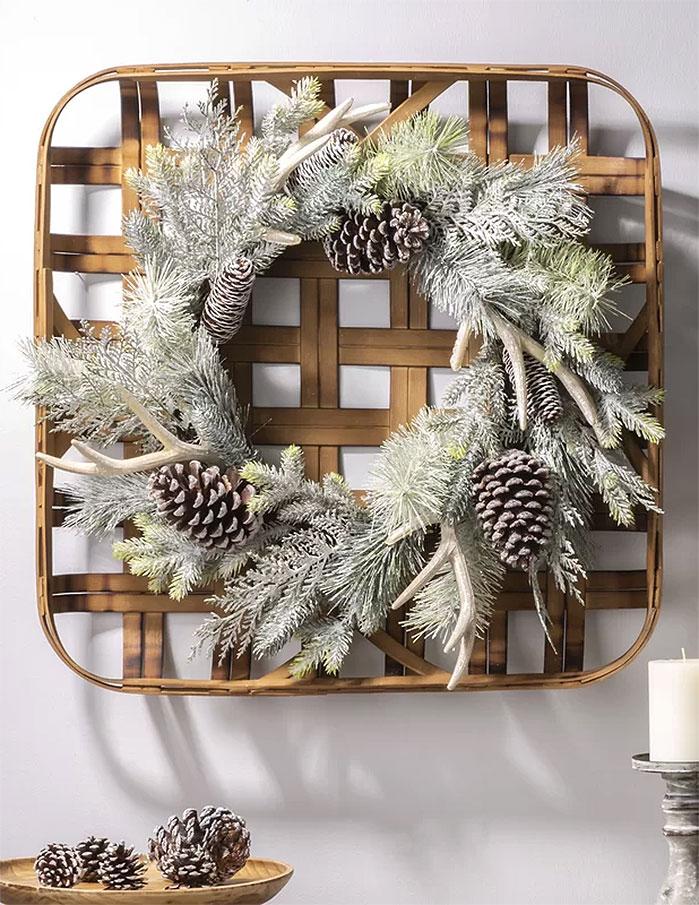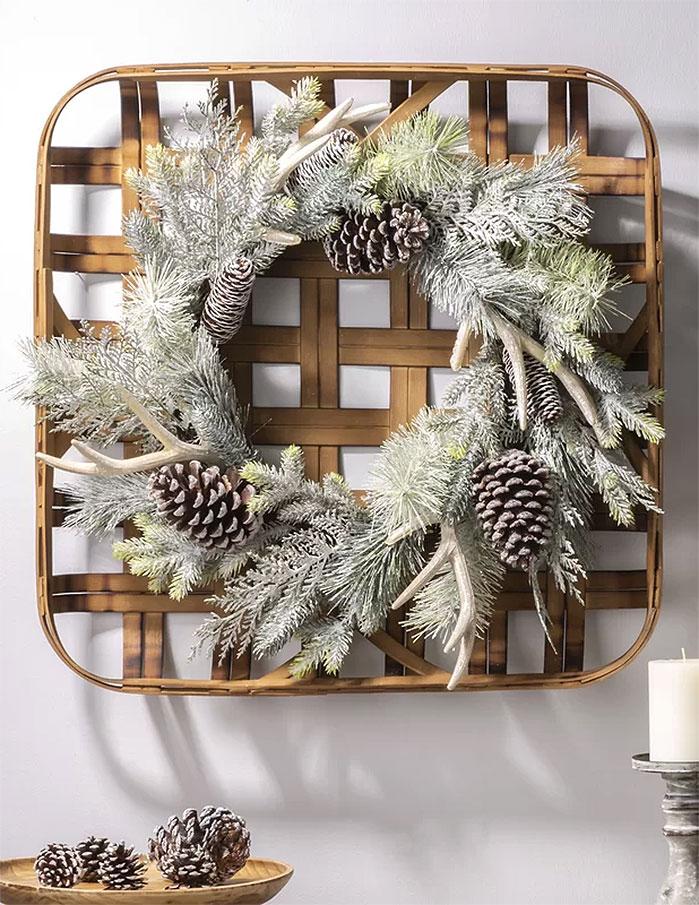 For a touch of country charm, you can add this to your seasonal porch display or Christmas entryway. This unique and rustic wreath can also be used a winter holiday tabletop centerpiece on a small Christmas Hall table or put several together to create a unique Christmas tablescape.
---
DIY Nativity Wreath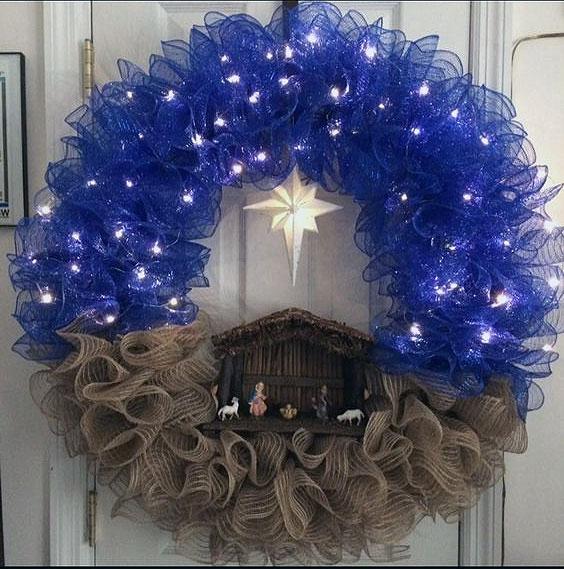 A wreath that celebrates the birth of Christ, the official baby of Christmas.
---
DIY Wine Cork Christmas Wreath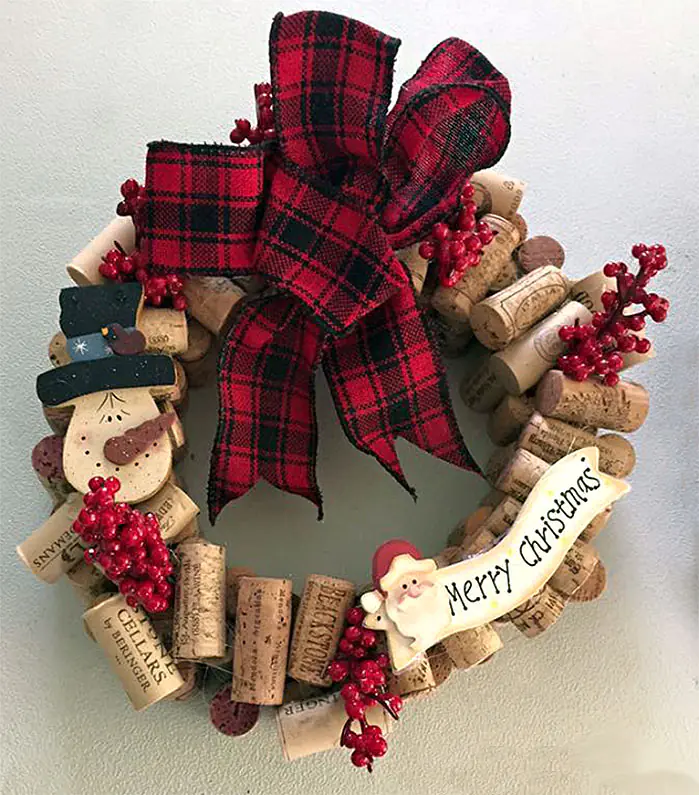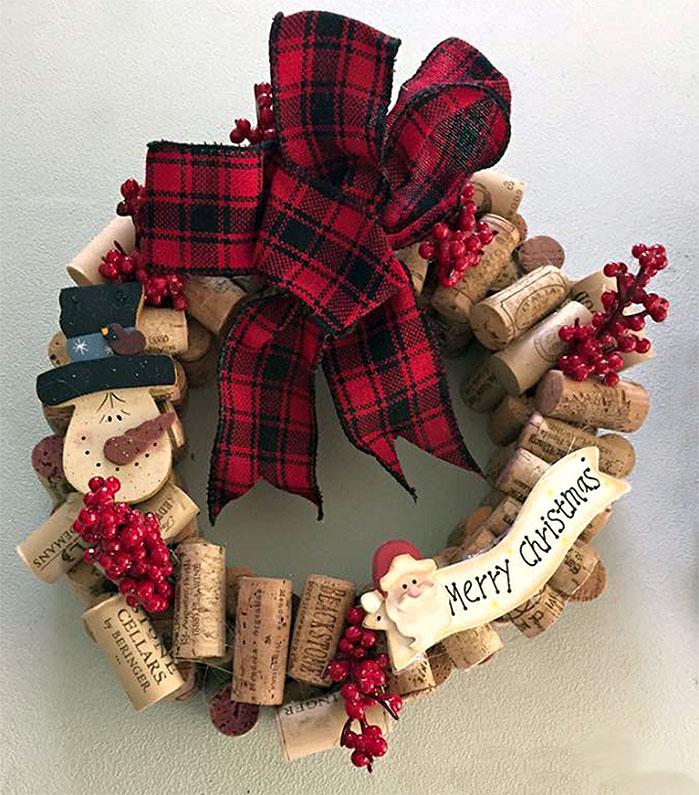 For the wine enthusiast, a great way to combine your love of wine with your love of Christmas, and with your love of wine. Did I already mention wine?
---

---
Christmas Peony Wreath
This stunning and unique wreath features a round grapevine wreath covered with 9 beautiful artificial dark red, green and cream peonies… which are not (yet) the official flower of Christmas. Yet.
I love the idea of this wreath, especially for warmer climates where a traditional pine wreath may look out of place. This floral take on the traditional Christmas wreath gives you the pop of Christmas color in a unique and wonderful way.
---
JOY Buffalo Check Fabric Embroidery Hoop Wreaths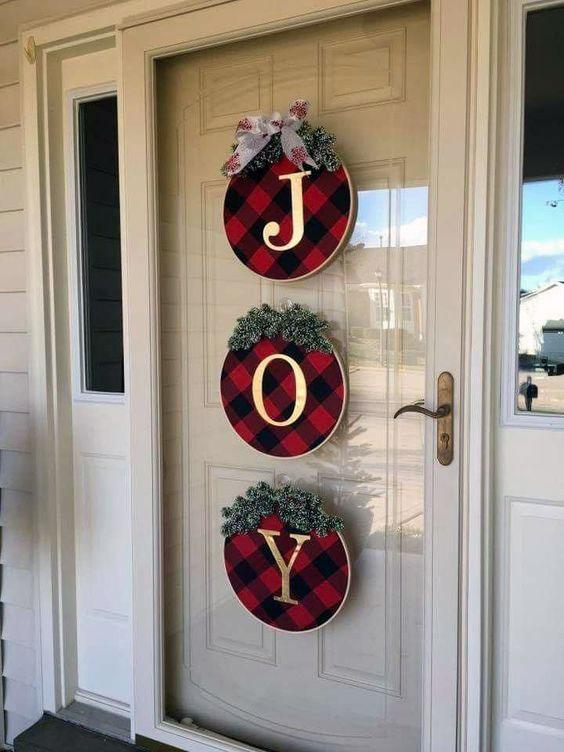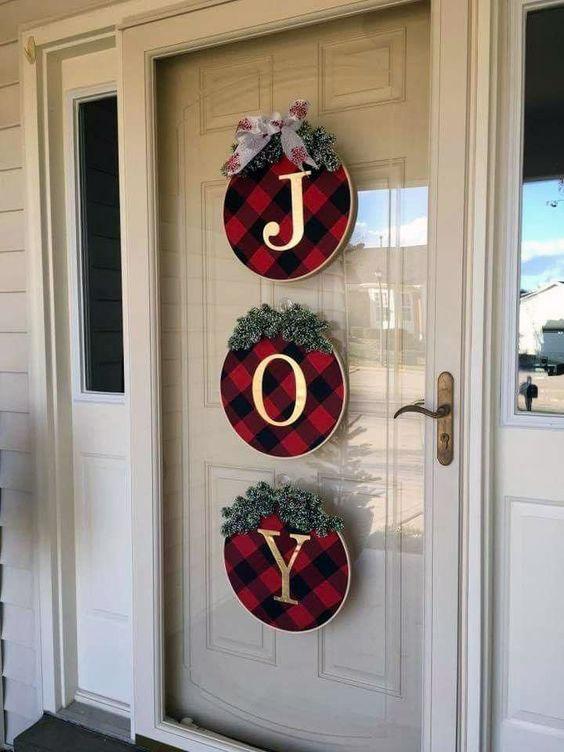 This three-part Christmas wreath set spells out the word "JOY" in gold letters on black and red buffalo check fabric, all neatly held by three embroidery hoops.
---
Which is your favorite Christmas Wreath?
Do you have a favorite from the list above? Or maybe two?
If so, let us know in the comments below… we'd love to hear from you.
Oh, weird, that rhymed!