As the snow begins to fall – heavily – outside my living room window, it is starting to feel a lot like Christmas. So much so that I want to cozy up in one of these Christmas onesies and watch Christmas movies for the next few hours, or maybe days. Or maybe until Spring.
You've decked the halls with all of your favorite DIY Christmas decorations, the egg nog is mixed and ready, and you have a Christmas party that you need to attend – with bells on (literally)!
This year, Art & Home has partnered with Tipsy Elves to present some of the most adorable and fun Christmas onesies we could find out of their collection of onesies for men, women, and children. We also showcased some of their truly horrendous Christmas Sweaters, in case you really want to show off your Christmas spirit!
If you're looking for some fun loungewear to keep you warm and cozy this holiday season, look no further than these delightful Christmas onesies!
We've selected our Top 10 Favorite Christmas onesies from the entire Tipsy Elves collection.
Please note that Art & Home has an affiliate relationship with Tipsy Elves and we may receive a small referral fee – at no cost to you – for any purchases that you make utilizing the links provided. We use those funds to continue building Art & Home's unique collection of home decor articles and inspiration. And, you know, to buy stuff… like Christmas Onesies.
Whether you are baking up a batch of Christmas cookies, putting up some delightful DIY Christmas decor, or decorating your beautiful Christmas tree… why not do it all in a cozy Christmas Onesie?
11 Super-Cute Christmas Onesies for Men & Women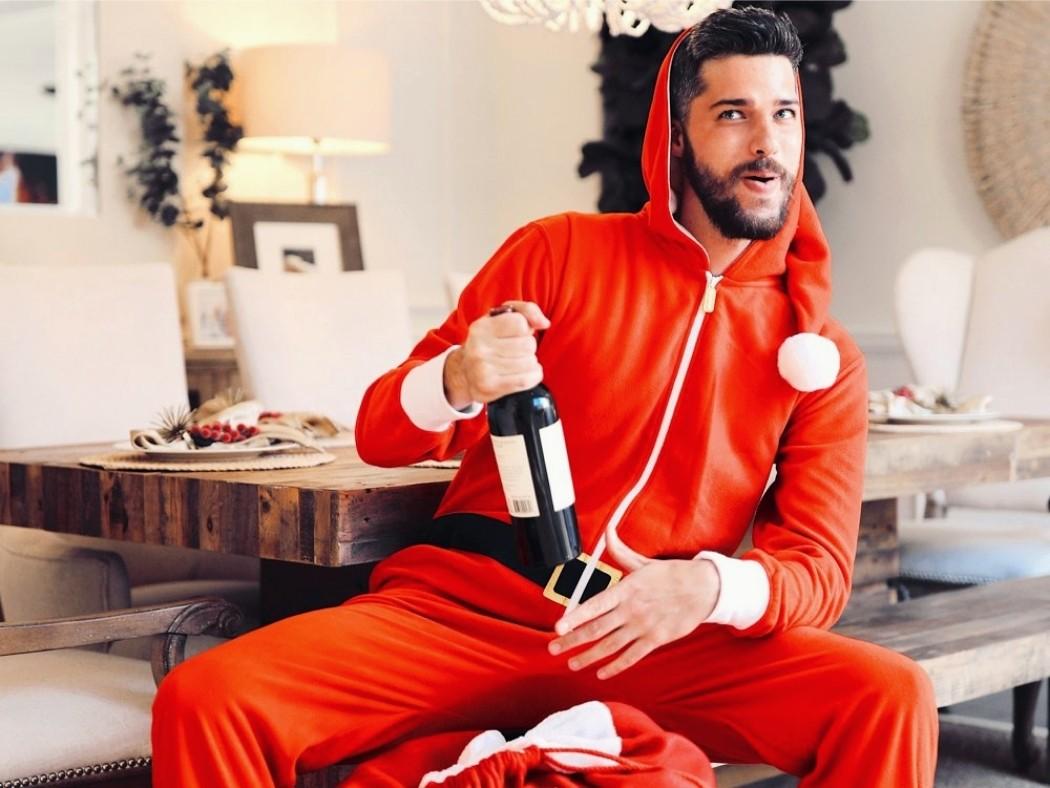 We will admit that these are not the kind of outfit that is right for your next job interview, but they are perfect for spending time with friends and family in a super-cute and super-comfortable way.
And if you can't be comfortable after pounding back 3 – 4 pounds of turkey, when can you be comfortable? (Asking for a friend….)
Perhaps, this year more than ever, we need a little bit more comfort. Therefore, I hope this collection gives you comfort and joy, or – at least – some fun and a few giggles.
So, let us begin….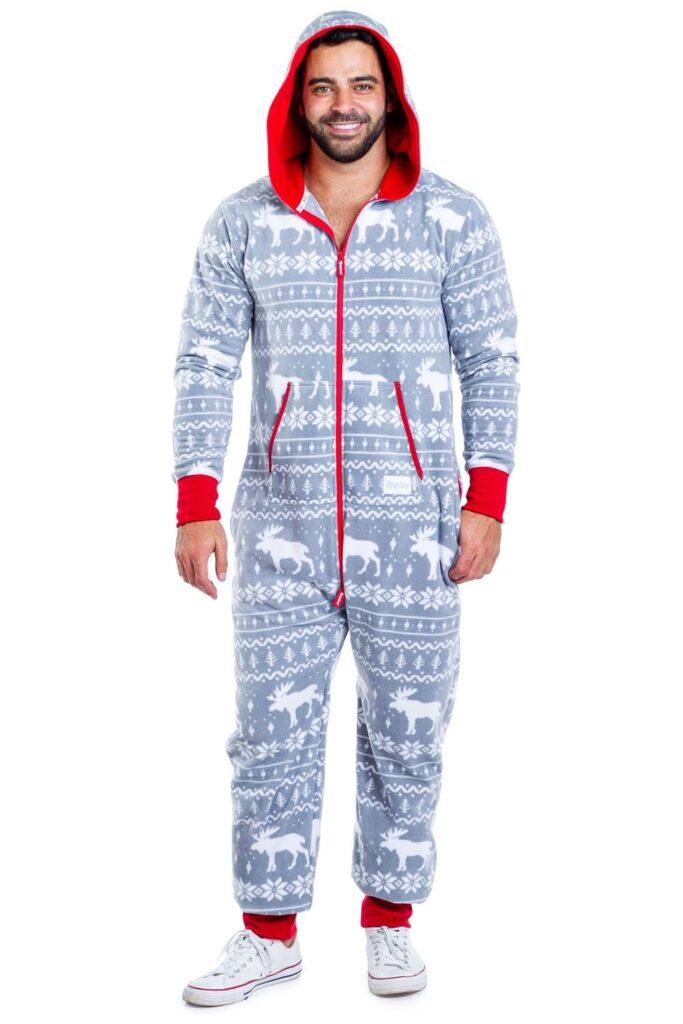 Men's Grey Moose Christmas Onesie
Heading to the slopes this holiday season? Mimic all of your favorite 80s and 90s Christmas music videos with your own skiing-inspired outfit. This Men's Grey Moose Christmas Onesie is rocking the best of the classic Fair Isle Christmas jumper design, this time with moose making their way around your legs and torso with snowflakes in tow.
Perfect for lounging around while you're opening presents, the grey moose Christmas onesie is warm and snug and features convenient hand and feet holes to pull yourself into it easily after one too many eggnogs. It's also got two front pockets, perfect for storing your smartphone, hipflask, or whatever else gets you through seeing the family at Christmas.
---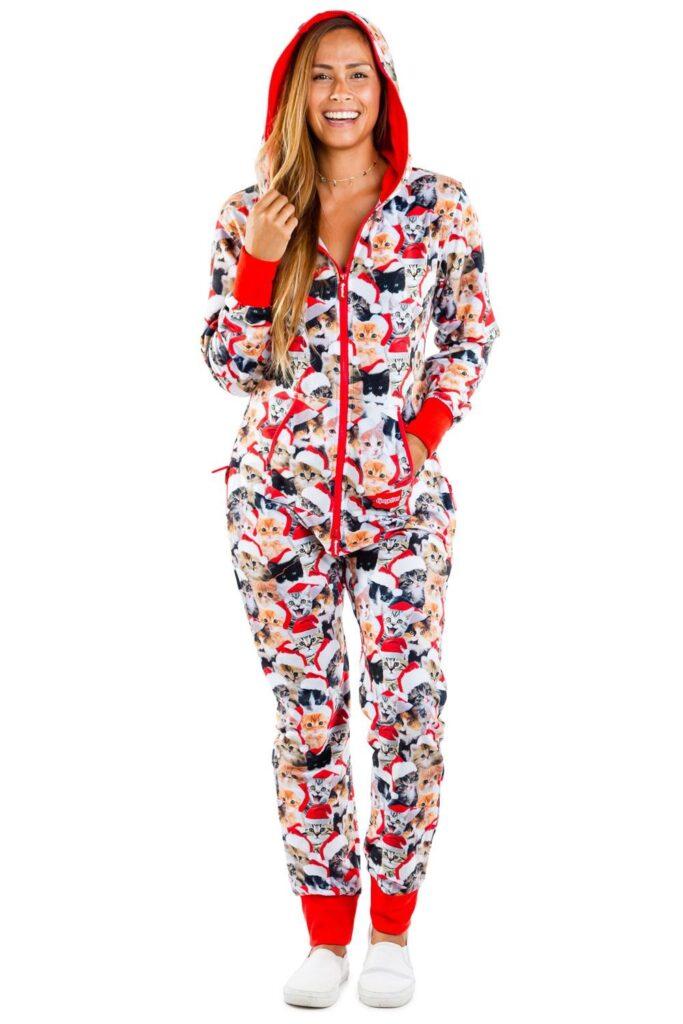 Women's Christmas Cat Onesie
It's a very Meowy Christmas and a happy New Year to you with this epic Feline Navidad outfit. Our Christmas cat jumpsuit won't give you the power to fall three stories and land on your feet. But it will give you a strange craving for catnip and a fascination with small, furry objects. Also, you'll get in trouble for obsessively batting at the tinsel on the tree.
But it's all worth it to be dressed up in this fabulously festive cat onesie. Check out all those adorable furry faces, just waiting to see what Santa is going to bring them this year. The truth is, St. Nick doesn't like cats. He's more of a reindeer person. But don't let that stop you from adopting the thousands of felines on this jumpsuit. They need a good home, and they each come with their own cute Santa hat. How can you resist their purring?
---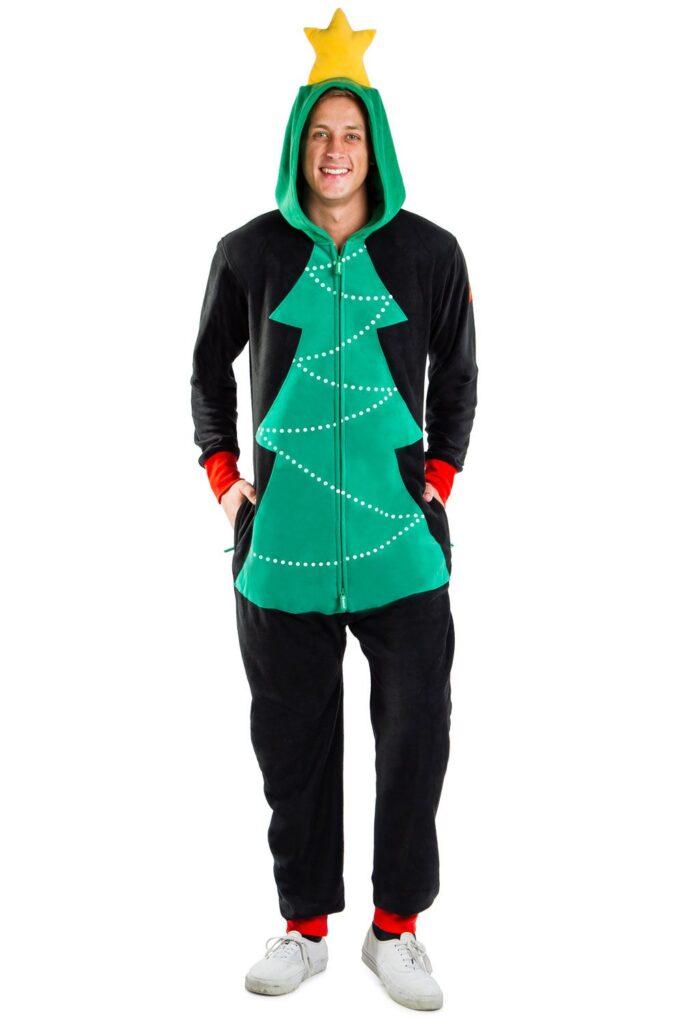 Men's Christmas Tree Toss Game Onesie
It's every party boy's worst nightmare. You rock up to a Christmas party full of good cheer, and it's dull AF. Thank the lucky stars we've got this Men's Christmas Tree Toss Game jumpsuit.
Not only is it an epic jumpsuit, but it's also a ball game! Get all the ladies and gents involved as they try to throw Christmas light balls at you and see what sticks. It's got a super toasty hood, ideal for those out of nowhere blizzards, and a convenient long zip for bathroom breaks. The party never stops when you've got this on. We hope you're ready.
---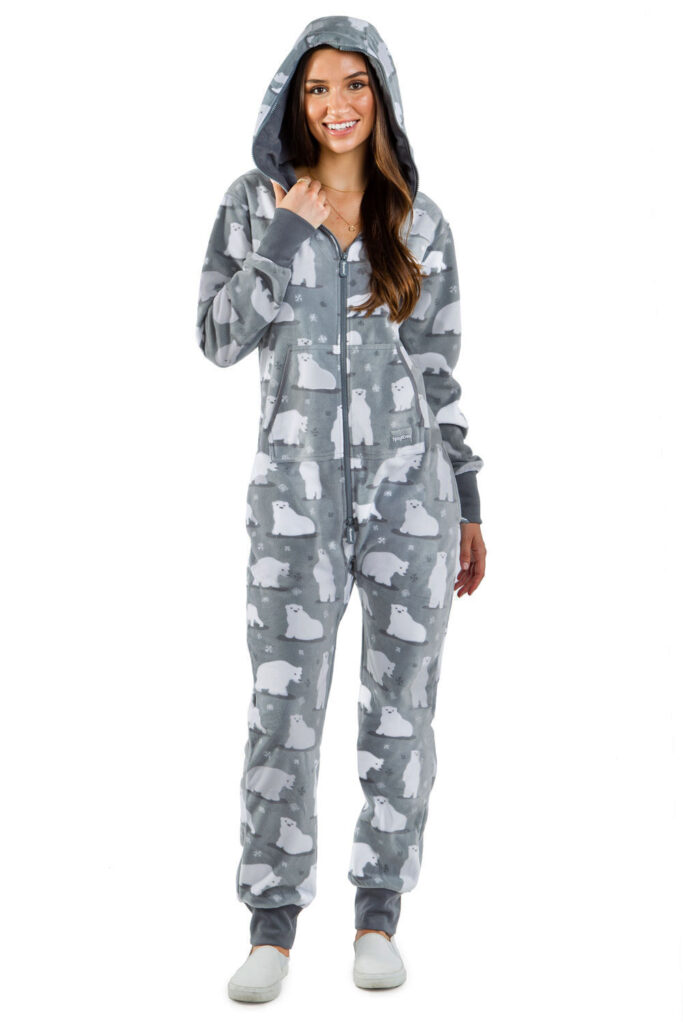 Women's Polar Bear Onesie
Name the cutest Christmas animal – we dare you. Is it a robin? Is it a reindeer? Is it an elf? Nope – it's the humble, North Pole-dwelling polar bear. These majestic creatures are often overlooked in Christmas wear. This year, we're giving them a platform with our Women's Polar Bear jumpsuit.
This grey one-piece features our fluffy friends rolling around in the snow getting up to all kinds of mischief. It's got a super-toasty hood for when it does get a little like the North Pole outside and is great for curling up with a hangover. Or a good book. Whatever.
---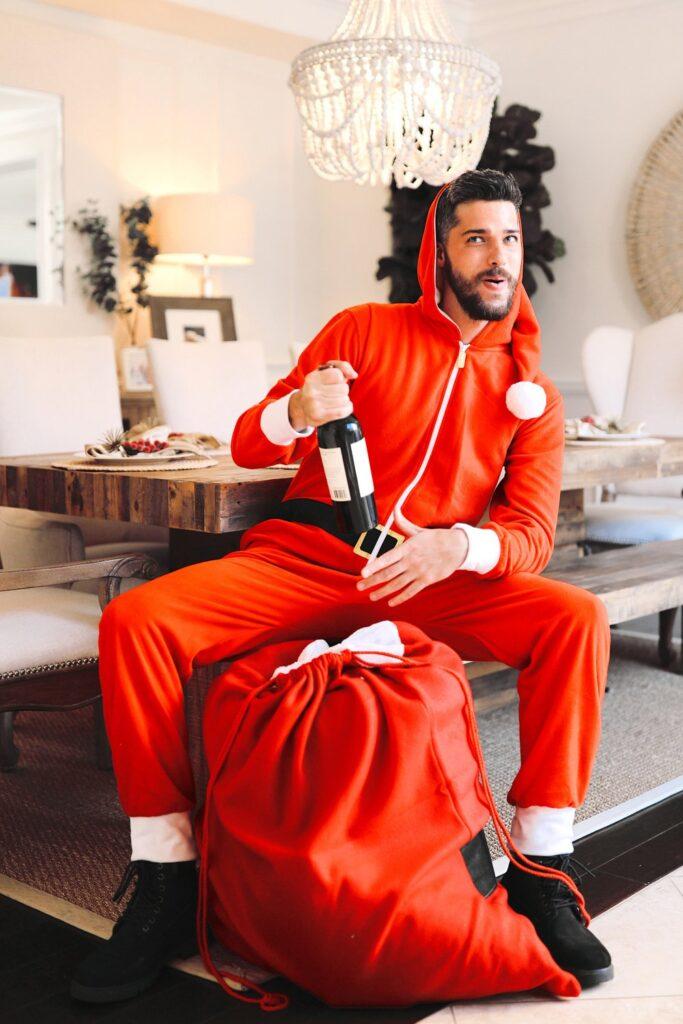 Men's Santa Suit Christmas Onesie
Ever wonder who covers for Santa Claus when he calls in sick? With the Men's Santa Jumpsuit you can see what it's like to step in for Mr. Claus, because who's going to take care of all the chicks on the naughty list when he's away?
---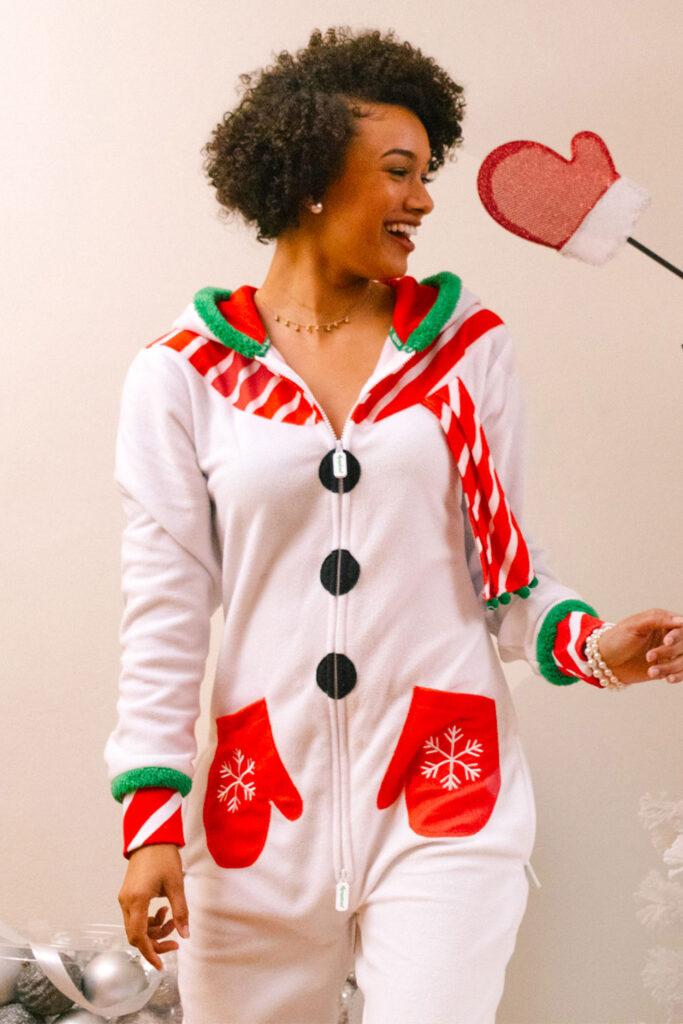 Women's Snowman Christmas Onesie
Feeling frosty this Christmas? Get toasty in this awesome Women's Snowman jumpsuit. This super cute Christmas onesie is made with polar fleece fabric, so even though it may give off chilly vibes, it feels like those chestnuts on an open fire on the inside. Slide your mitts into the super cute glove pockets and chill
---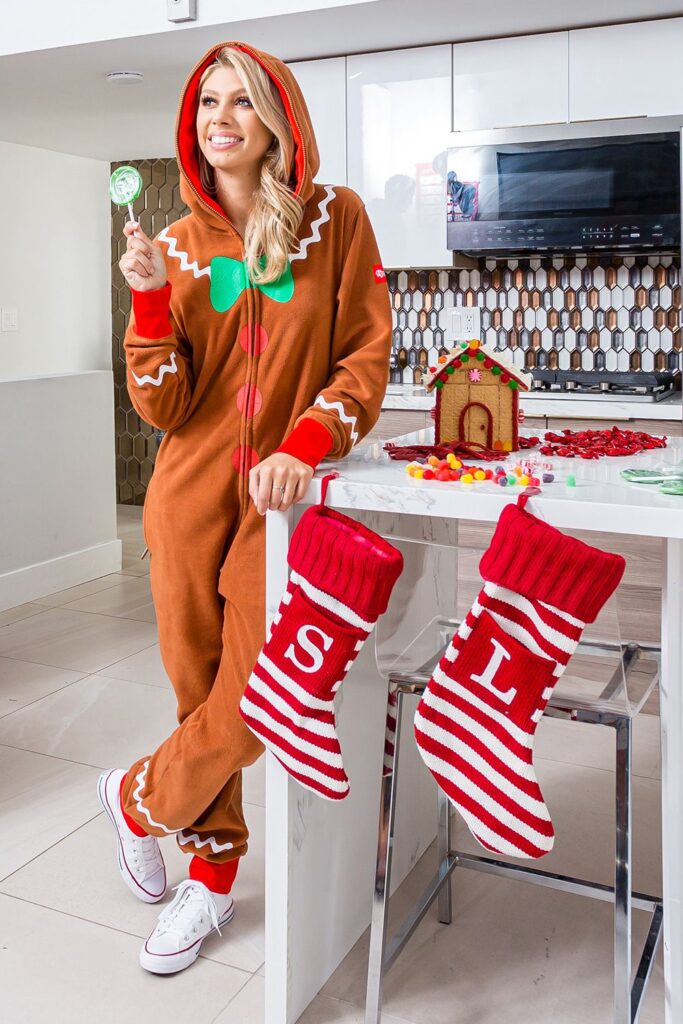 Women's Gingerbread Jumpsuit
Ladies – love a sweet treat but can't bake? We hear ya. That's why we've turned our Christmas costumes into your favorite festive desserts. Bonus points – your pants still fit and you get to keep your teeth!
This Women's Gingerbread jumpsuit will make the perfect addition to any Christmas scene. It's not often you can rock up to the office in what is basically pajama wear, so embrace it. The jumpsuit features a hood to fight off any blizzards, and a candy motif for that authentic gingerbread look. Hot and fresh out the oven.
---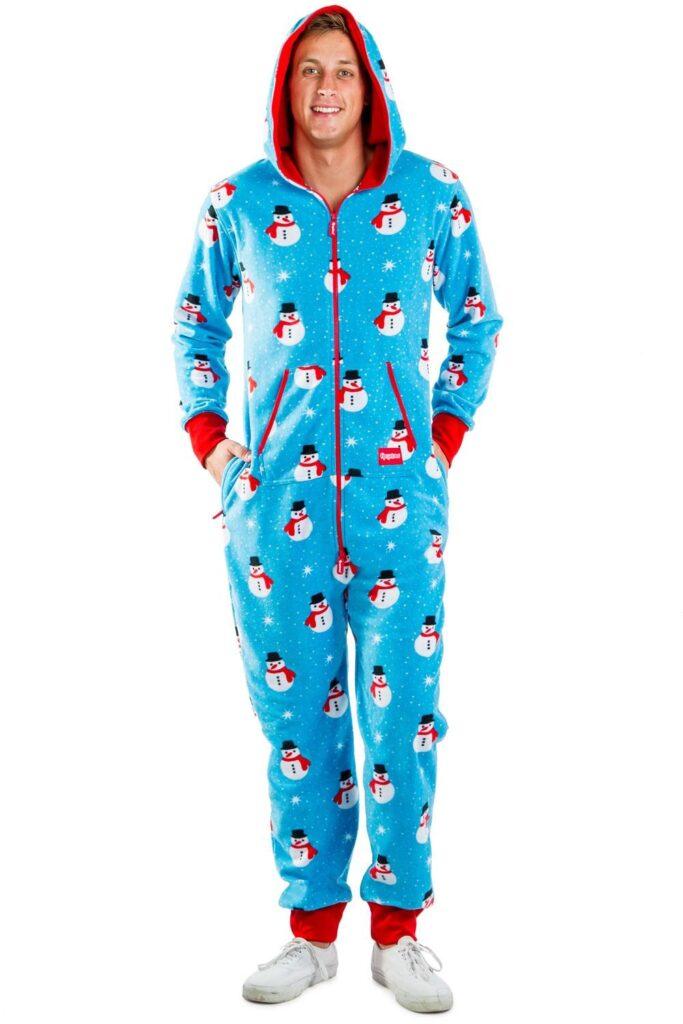 Men's Snowman Onesie
No man is an island – a common phrase dating back centuries as used by famous poets. It's also ripe for a snowman Christmas onesie pun, so here it goes: snowman is an island!
You can have that one for free – use this Men's Blue Snowman onesie with your back catalog of Christmas jokes to keep everybody smiling this Christmas. If you feel like lounging around after too many turkey legs, it's got a forgiving, slouchy fit that will leave room for that "festive pudding" look we all know and love. And hey, if you feel like wearing it through January instead of hitting the gym, that's totally cool with us.
---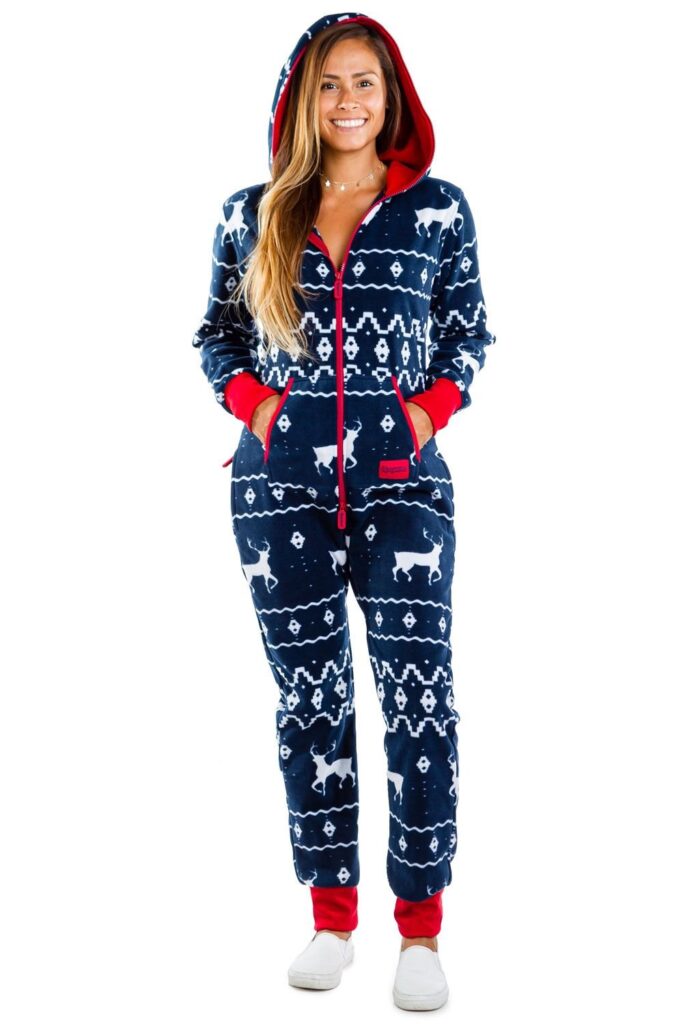 Women's Blue Reindeer Christmas Onesie
Bored with standard pajamas that everybody seems to have? This holiday inspired jumpsuit is ideal for feeling comfortable regardless of where you are or what you are doing during the holiday!
The bold blue background features a white Fair Isle design complete with grazing reindeer for good measure. The front pockets include a zipper for security purposes and the Christmas jumpsuit features a holiday red accent color.
---
Men's Lumberjack Onesie
Have you ever cut down an entire forest? We haven't either. But you can wear a onesie so prolific it'll make you feel like you just grew Tom Selleck's mustache.
Whether you're carving a turkey, or want to see what it's like to be a Hipster for a day, the Lumber Jack Jumpsuit is the product for you.
---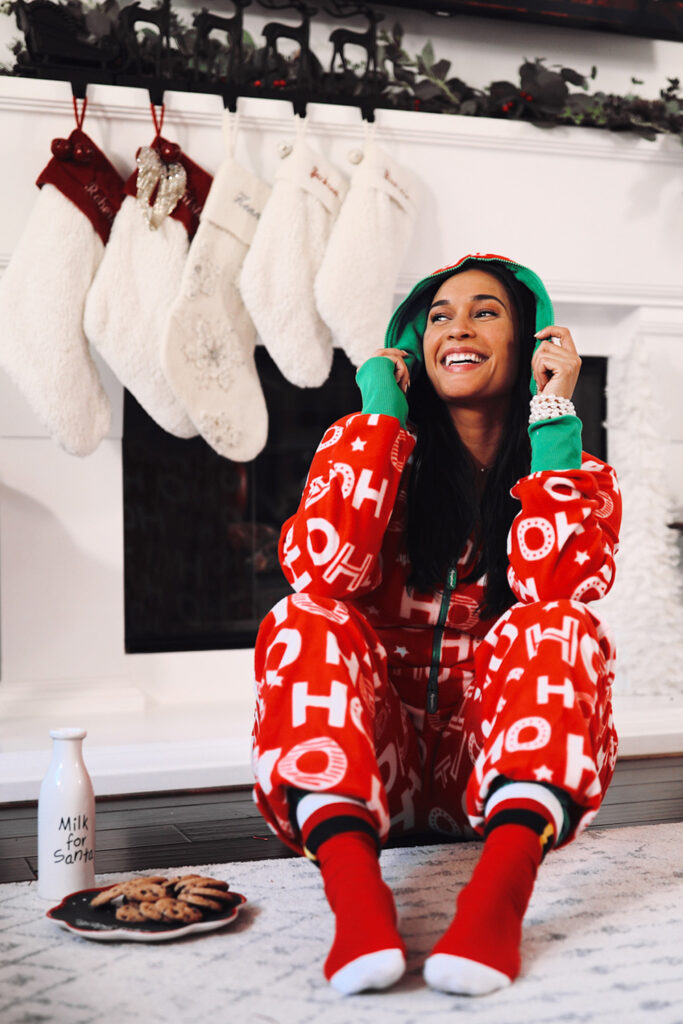 Women's Ho Ho Ho Onesie
Leave the crummy puns to the losers this Christmas – this Ho Ho Ho jumpsuit may cause a few snickers, but you'll look so effortlessly festive you'll be having the last laugh.
The hallmark of any good Santa Claus, a good ho ho ho will be thrown around with gay abandon this holiday season, so why not regale your friends with our favorite slogan in written form? This red and green holiday Christmas onesie is available for both men and women, paying tribute to the jollier of Christmas characters with a simple colorful design. It's perfect for lounging around the house after you've eaten too much, and it's far cheerier than rocking a Christmas onesie that's covered with "bah humbug."
---
All of Christmas Onesies, and Christmas Onesies for All!
And there you have it, some of the best, cutest, most adorable Christmas onesies you could ever hope to find, all courtesy of our friends over at Tipsy Elves!
But, be warned, from what I've heard these are SUPER popular this year, so you may find your favorite selling out before you know it!
Need Even More Fun Christmas Clothing?
If those weren't enough to satiate your thirst for Christmas clothing, the only thing I can recommend is that you head over and browse the complete collection from Tipsy Elves. They have tons for you to explore!

And how much FUN would it be to create your very own Dress-Up Advent Calendar! A different piece of Christmas clothing every day to help ring in the Holiday season.
Need More Seasonal Inspiration?
Checkout more from Art & Home's collection of seasonal decor, tips, and tricks.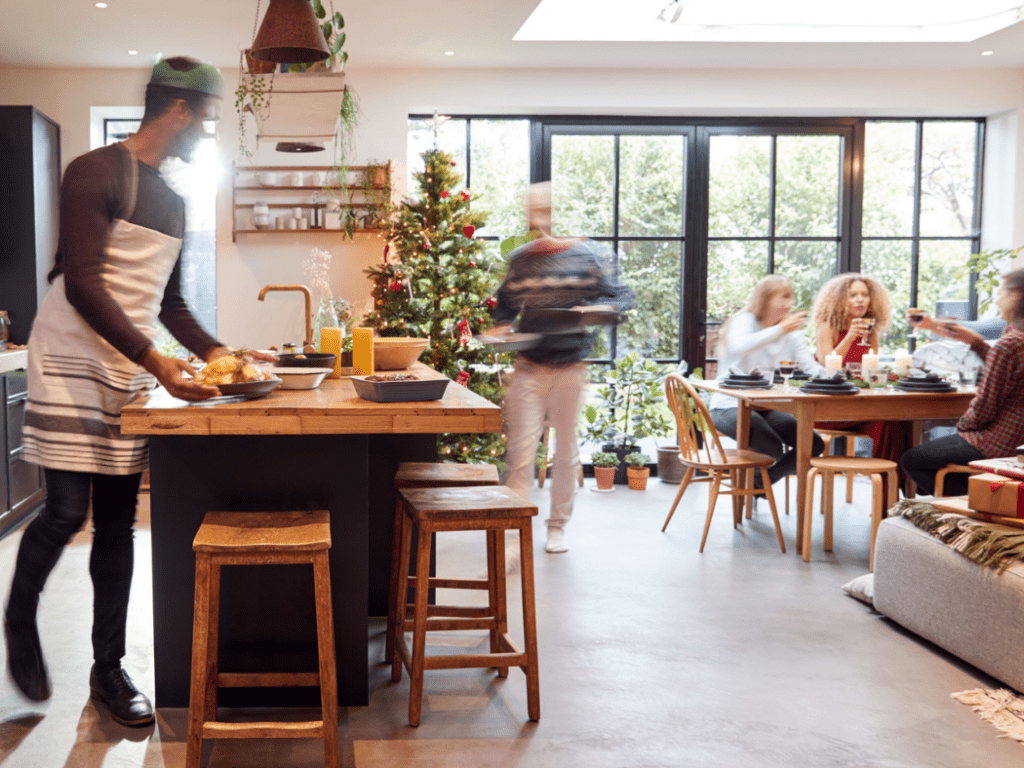 'Tis the season of holiday gatherings, family, fun, and giving. But unexpected plumbing issues can…