Attractive home gym decor and motivational fitness art can be a great way to decorate the home gym while giving you inspiration during your workouts.
I am totally into Fitness. Fitness whole pizza in my mouth!!!
Ok, all joking aside, as my years advanced… so did my waist line. The ability to eat anything I wanted to and not gain a single pound seemed to leave me in my early 30s.
Admittedly, my dietary habits were pretty freaking bad. In my very busy 20s – between school and work and life – I would often enjoy a lunch that consisted of a large bag of potato chips (sour cream and onion were my favorite) and a bottle of pop. So it really was only a matter of time before that kind of eating habits caught up to me.
And yet I always managed to stay at the same weight from the day I reached full maturity until shortly after my 30th birthday.
Then, during a business trip a few years ago, I finally realized the extended girth that I had achieved and decided I had to do something about it.
I am no gym rat and you will never see me on the cover of Sports Illustrated, but – with time and determination – I managed to trim back to very close to the weight and waist size from my mid-20s.
If I can do it, anybody can!
One thing that really helped me was surrounding myself with positive reinforcement and inspirational images, especially in my little home gym.
The Reinforcing Benefit of Fitness Art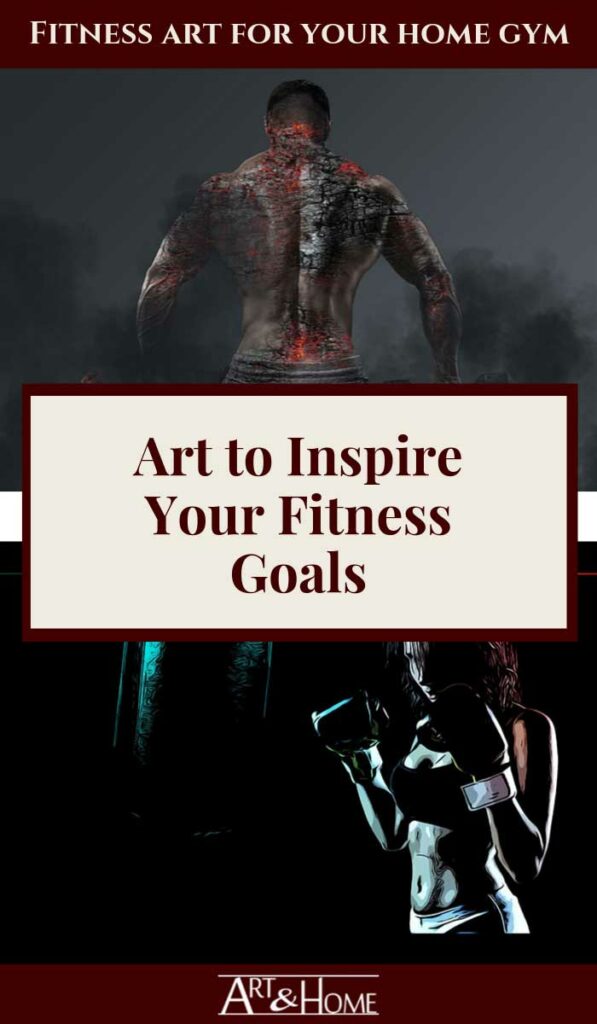 For both men and women, fitness art can be a great source of inspiration as it allows you to visualize your goals.
They can also serve to remind you that what you want to achieve – whatever your fitness goal may be – is achievable if you put in the work and determination.
Fitness Art can range from posters or prints that epitomize the look you are trying to achieve, to motivational sayings, or iconic images that symbolize strength and endurance.
Here are just a few examples of our favorite fitness-inspired artworks available from our retail partners that would be perfect in any home gym.
---
Feel the Burn Fitness Art Print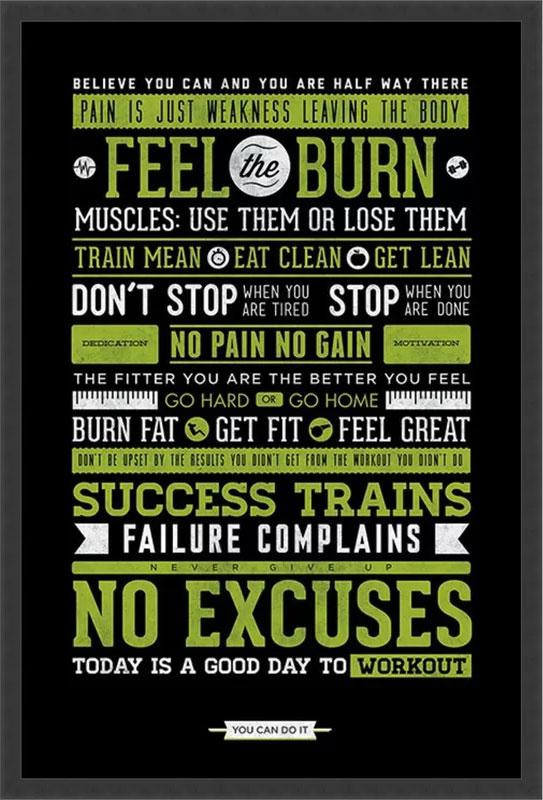 Whether you are a fitness buff or a beginner, this framed print will help motivate you with common expressions about working hard, getting fit, and feeling good.
---
Gym-Themed Art Set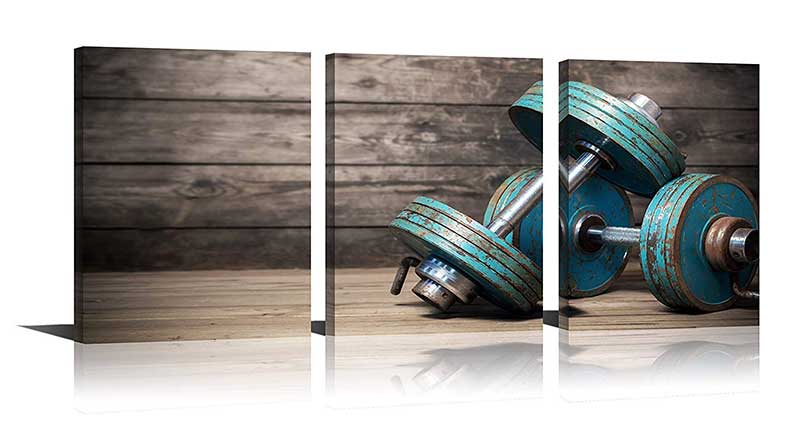 Either of these weight-themed art sets would be perfect hanging in the home gym. I love the rustic look of the worn and well used set of modular dumbbells, and the anticipation that is captured in the black and white image is inspiring.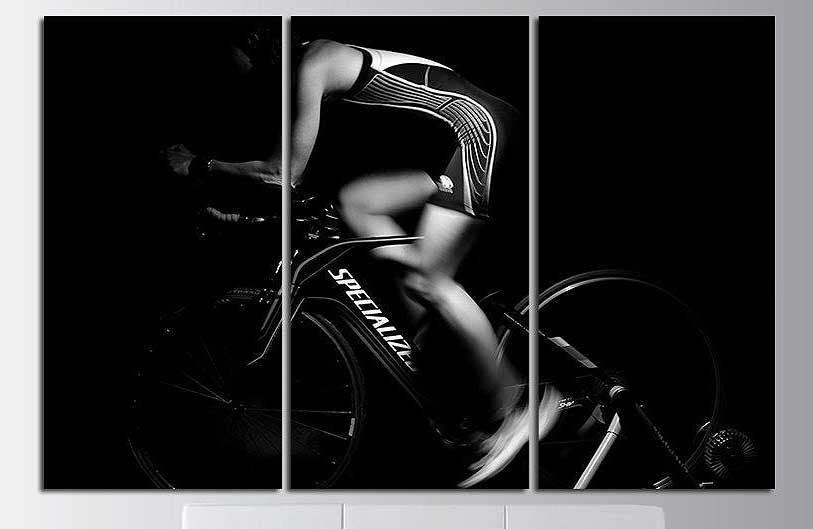 For the cardio enthusiast (because who doesn't LOVE cardio?????), this black and white canvas art set captures the dynamic motion of a biker perfectly. You can almost feel like you are riding along with them.
Of course, what gym art collection would be complete without at least one piece dedicated to CrossFit?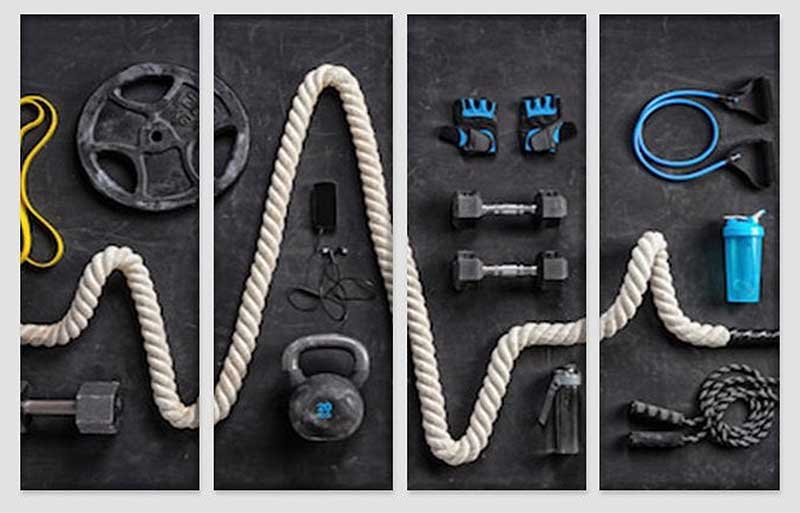 And lastly, for more of a zen approach for the home Yoga enthusiast, the Seaside Yoga set would help set the perfect mood.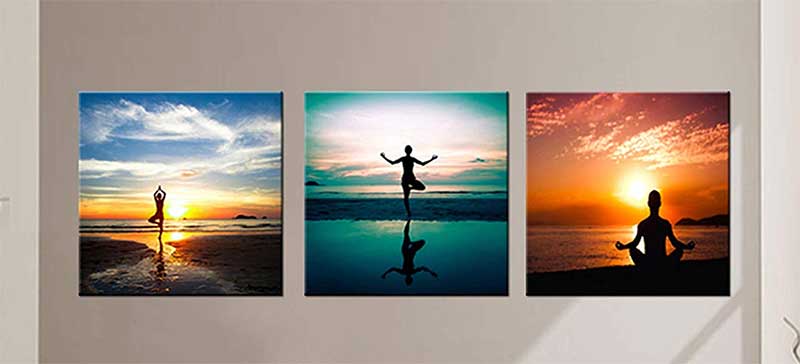 Whichever route you decide to go, adding some canvas art to your gym can provide both beautiful decor and functional inspiration.
Female Boxing Gym Framed Painting
Female empowerment and fitness combine into this delightful framed artwork.
---
Beast Mode On Fitness Motivational Gym Wall Decal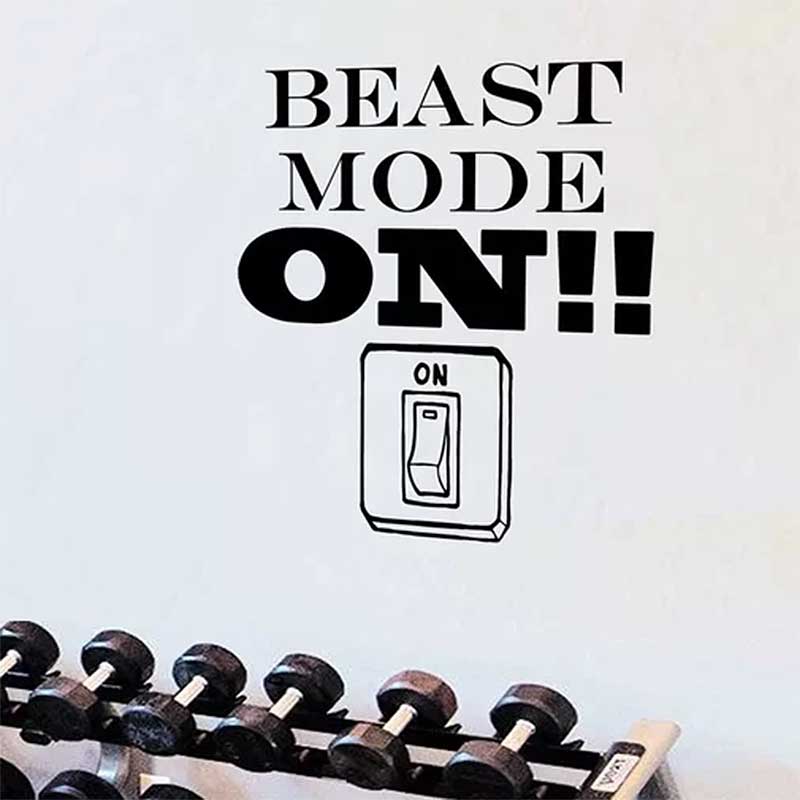 This peel and stick wall decal will help get the energy and the enthusiasm pumping. Just remember to turn Beast Mode off when you're done, otherwise your trip to the grocery store later could turn ugly.
Never Give Up Gym Wall Decal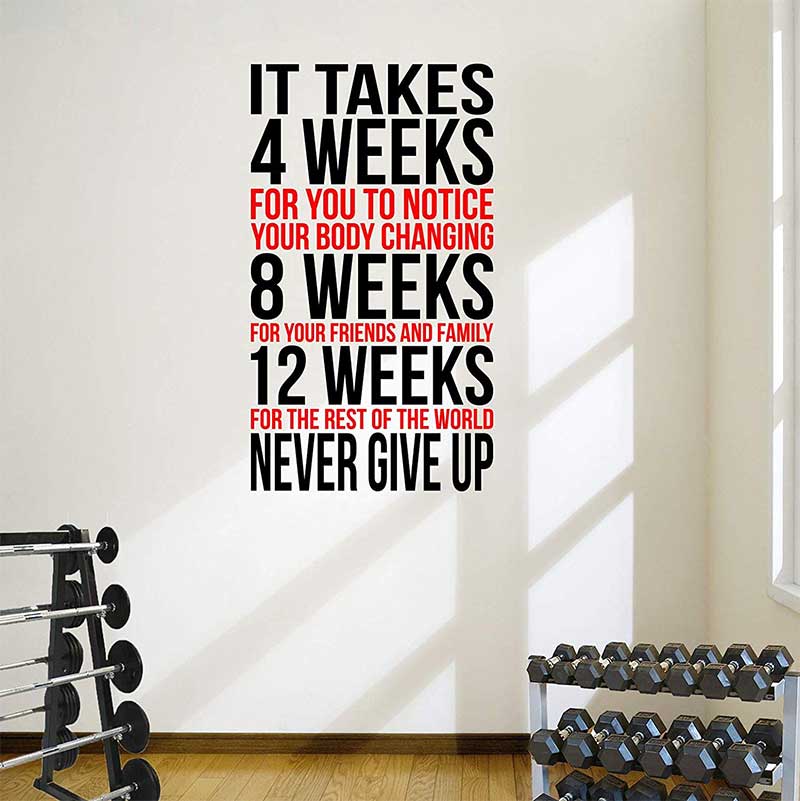 This is another great decal for the home gym, as it helps remind you that progress can be slow sometimes but you have to keep going or you'll never make it.
Whether you are a seasoned gym enthusiast who is looking to spice up your home gym style, or a beginner hoping to get back to fighting shape, we hope this collection of fitness art will help adorn your home gym and inspire your fitness goals.
How Home Gym Decor Can Inspire Your Fitness Goals
A home gym can be a great place to get in shape, but it's also important that you enjoy the space. A good home gym should be a place where you feel motivated and inspired when you go in there. If it's drab or uninviting, this won't happen and will likely deter you from going in and getting a workout done. This is why having some great decor is so important for this space.
Here are some more decorating ideas for your home gym:
We've already discussed inspirational posters on the walls. Choose things that motivate you, such as a picture of someone doing bicep curls or jumping rope. You can also keep motivational quotes around to inspire and remind yourself why it is so important to work out in this space.

If you have a wall where there isn't anything hanging, consider painting it with chalkboard paint and using this as an area to write down notes about your workout routine or challenges that you're facing while working out at home. This will be motivational too! The benefit of writing these things down is that when they're written somewhere visible like this, then you'll see them every time you enter the room.

Keep an aspirational outfit in your home gym, such as a pair of jeans or a dress that you want to fit into when you reach your goal. That way, every time you're about to work out you can see the item (or items) and remember why it's important for you to work out today since they are there staring at you! This will be a good reminder of the benefits working out brings as well.

Bring in a plant to keep the space fresh and lively. This is also good for you since having plants around has been shown to reduce stress, so this will help with keeping your workout routine as something that's low stress and enjoyable all at once!

Establish an attractive way to store your exercise equipment, such as free weights, yoga mats, or other items that you want to be able to access. If you have a place to store it that isn't visible, consider getting some drawer organizers and putting your items in there so they're easy to find but out of sight when you don't need them.
---

---
Your Home Gym Is Your Space
A home gym is an important part of fitness for many people because having this space gives them the freedom to work out whenever they want without needing to worry about being at the mercy of crowded gyms or paying monthly fees. Giving yourself inspiration with decor can help keep you motivated as well!
Keep these decorating tips in mind when creating your home gym. You can do it on a budget by getting creative and using items from around the house or buying inexpensive things at stores like Target or Ikea instead of going out and spending hundreds of dollars on expensive decorations right away before even knowing if they'll work for you.
Don't forget that YOU are what makes your workout space special and unique. If you're enjoying it then others will too–they just might not know exactly how much until they come in there with you for a session or two.