Looking for inspiration for what to bake this holiday season? We've done the research for you and collected 50 of the best, most amazing recipes for Christmas Cookies on Pinterest.
Christmas cookies are one of the most important Christmas traditions. They have been a part of Christmas celebrations for centuries, and they will continue to be so for many more.
Christmas cookies are often decorated in different ways depending on where you live, what your family tradition is, or if you're celebrating Christmas with friends who celebrate differently than you do. Christmas cookies aren't just a tradition though, they are also the perfect Christmas treat to share with your family and friends. Plus, they make for super-fun, pretty, and edible DIY Christmas decorations.
One of the best things about Christmas cookies is that most recipes can be made ahead of time so you have one less thing on your mind when Christmas arrives. Christmas cookies will not only delight your guests but will leave them feeling satisfied after a big Christmas dinner!
Leave it to the Internet to be an unending source for amazing recipes, and it does not let us down when it comes to sourcing fantastic recipes for Christmas cookies.
From classic gingerbread to spectacular chocolate creations, you're sure to find inspiration for your next batch of baking inside this delicious collection.
Browse through the collection, pick the Christmas cookies that interest you the most, and follow the link to the recipe.
You can make these up for yourself and your family, or bake a batch and give them away as a wonderful DIY Christmas gift.
Happy Baking and Merry Christmas!!!
White Chocolate Gingerdoodles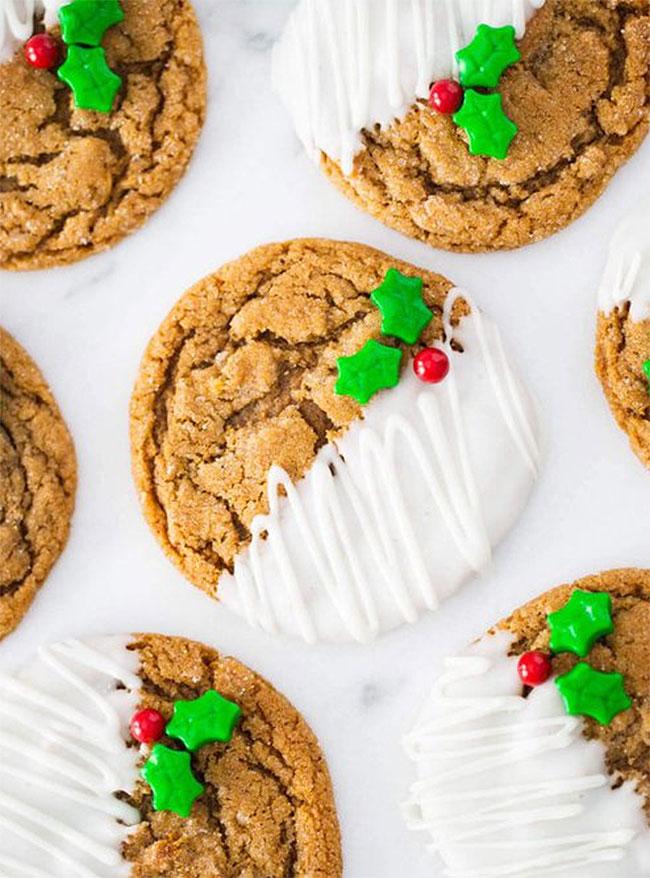 Soft and chewy on the inside but crisp around the edges, these ginger & molasses cookies are full of all the flavors of Christmas. Except for Turkey, because that would be gross in a cookie.
---
No-Bake Christmas Oreo Cookie Truffles
This no-bake recipe is awesome for creating colorful and delicious cookie treats on the fly!
---
The Grinch Sugar Cookies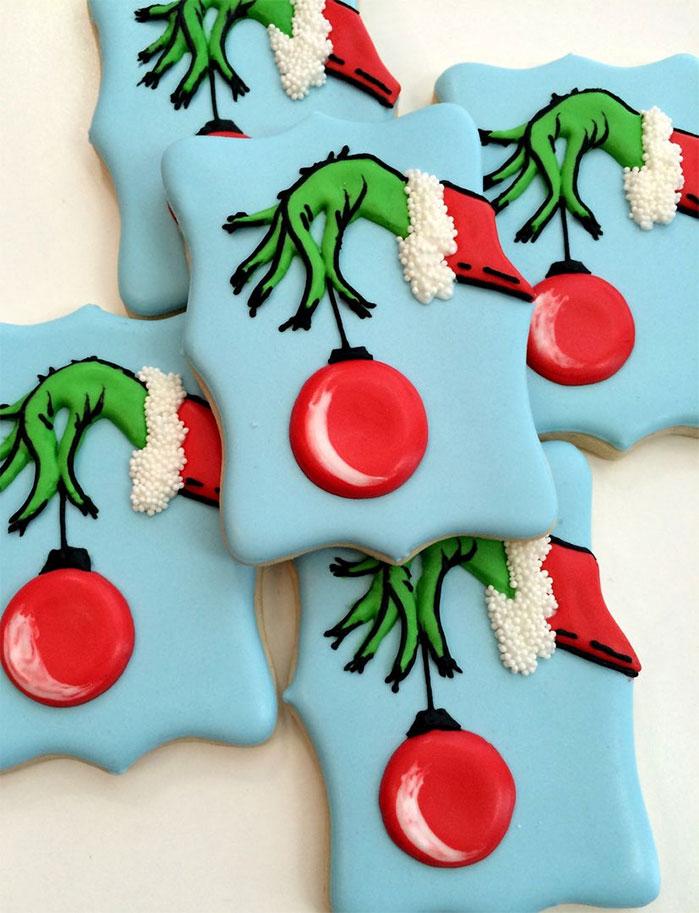 Your basic sugar cookie is escalated using this amazing Grinch-themed design. I couldn't find the original recipe for this, I found the cookie design on Pinterest but it was far too cute to not include. However, thanks to one of our readers who were able to identify this design as belonging to June Bug & Moo from Austin, Texas. Amazing work!!!
---
---
Gooey Christmas Butter Cookies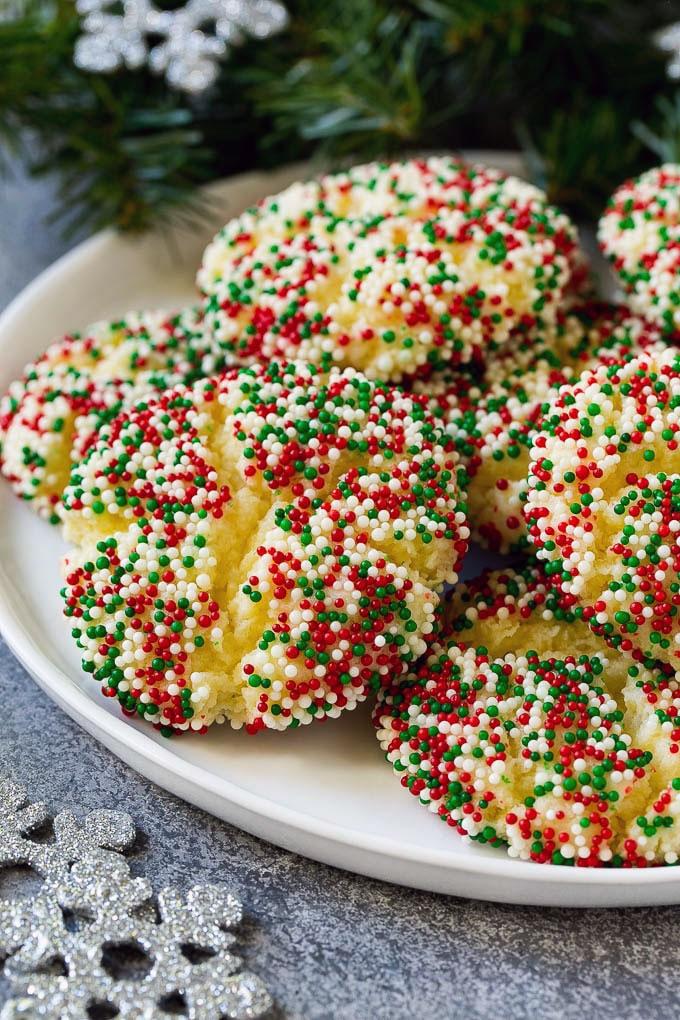 How can you NOT love a recipe that uses the word "Gooey" in the title? Unless you're cooking turkey. I feel like a Gooey turkey would be all sorts of wrong.
So let me rephrase that… how can you NOT love a Christmas Cookie recipe that uses the word "Gooey" in the title. Yes, that's much better!
---
Christmas Chocolate Crinkle Cookies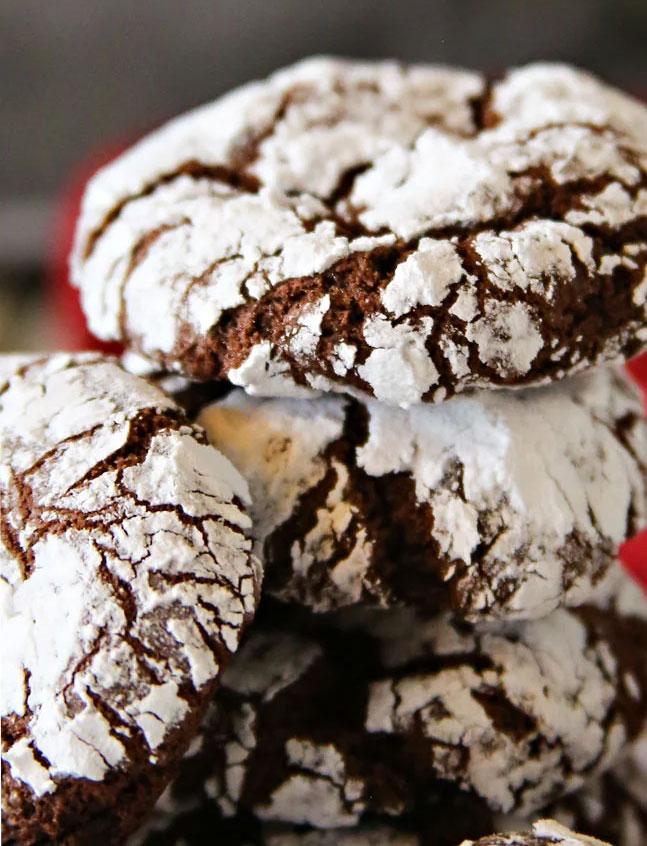 A Christmas classic, this soft & chewy chocolate cookie is smothered in confectioners sugar
---
---
Hot Chocolate Cookies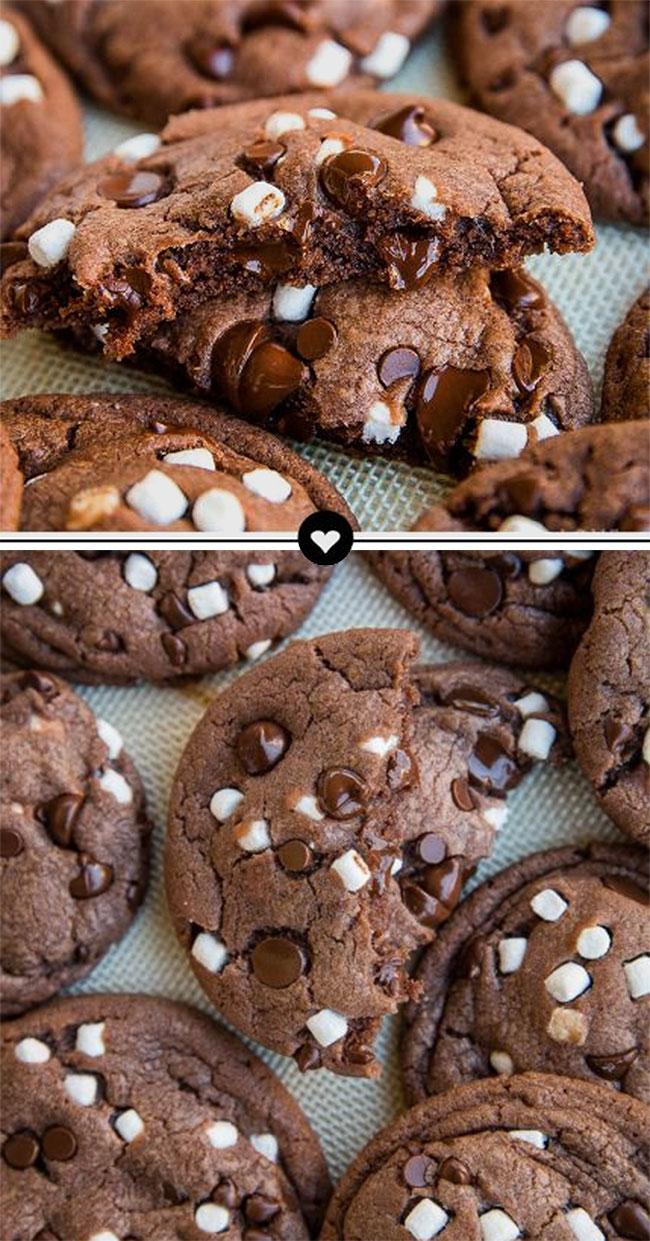 Like a cup of hot cocoa in cookie form, these cookies are truly scrumptious.
---
Reese's Peanut Butter Cup Stuffed Snowball Cookies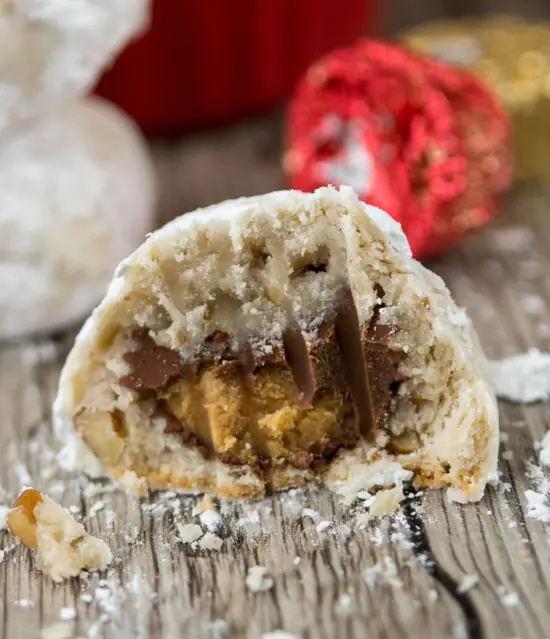 A classic snowball cookie recipe gets stuffed with Reese's Peanut Butter Cups. The result, Christmas cookie deliciousness.
---
Christmas Sugar Cookie Truffles
If you can't decide between sugar cookies or truffles, fear not my fellow Christmas over-eater, now you can combine the best of both worlds into one delicious cookie treat.
---
Strawberry Thumbprint Cookies
A Christmas classic, thumbprint cookies used to be my least favorite type of Christmas cookie, until now. These look like delicious tiny Danishes, don't they?
---
Shop the Art & Home Collection of Christmas Tapestries
BROWSE THE COMPLETE CHRISTMAS TAPESTRY COLLECTION >>
---
Whipped Shortbread Cookies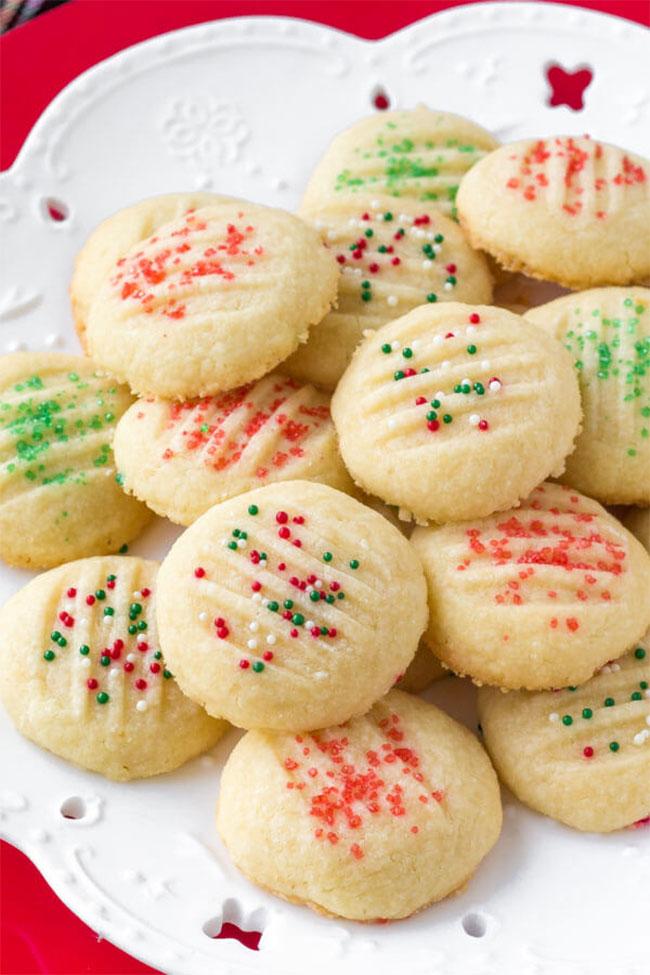 I know, who makes shortbread at Christmas? Pretty much everyone! This version whips up (pun fully intended) a batch of cookies that are light as air with a delicious buttery flavor.
And I feel like because they are so light and fluffy, they have to be less fattening… right????
---
Eggnog Snickerdoodles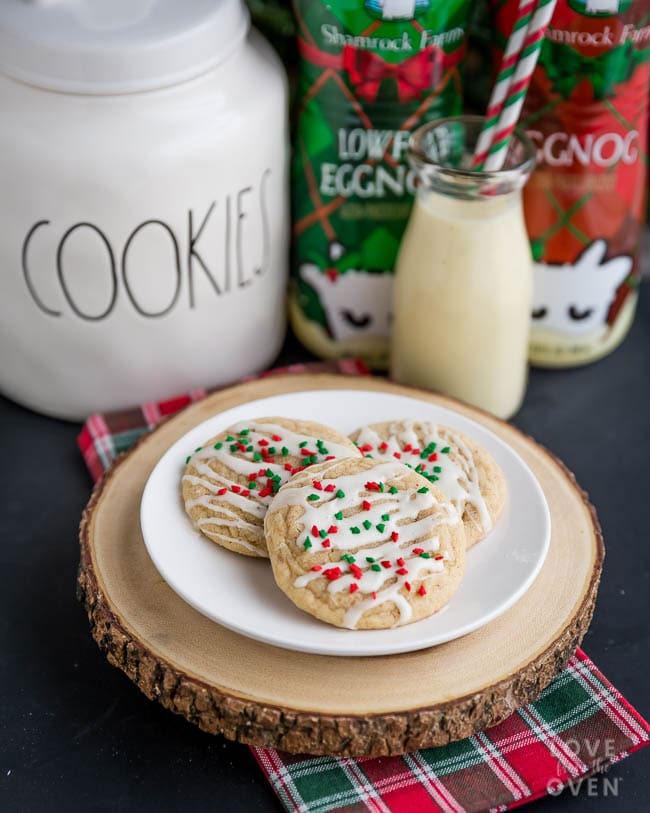 Love from the Oven, have you been reading my diary????
Of course, if you don't like eggnog or snickerdoodles, this recipe is definitely not for you. Then again, neither is joy or laughter (just guessing, I could be wrong).
---
---
Christmas Lights Cookies
One of the prettiest parts of Christmas is all of the houses decked out with Christmas lights. With these cookies, you get all of the joy of beauty of Christmas lights without all of the hassles of untangling 600 feet of wire.
And they are far more energy-efficient, so by eating these cookies you are actually reducing your carbon footprint. Just saying.
---
3D Gingerbread Cookie Christmas Tree

Technically, all cookies are 3D, but it sounds more impressive when you call out the fact that this cookie tower is fully edible and completely cute.
Now, this is an alternative Christmas tree that I can really get behind (and get into my belly).
---
---
Christmas Dipped Oreos
Don't feel like baking cookies from scratch? It's ok, I've been there. You can still make a batch of beautiful Christmas cookies by simply taking a classic base (such as Oreos) and dipping and decorating them into masterpieces that you can claim as your own.
---
Hot Chocolate Cookie Cups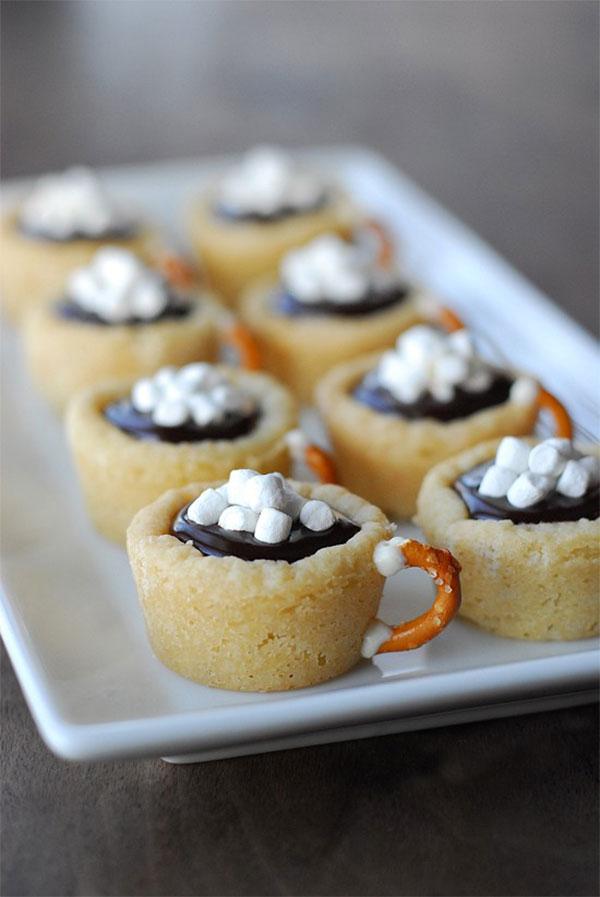 A super cute recipe that uses sugar cookie dough, chocolate ganache, mini marshmallows and pretzels (yes, pretzels) to create mini and fully-edible hot chocolate cookie cups.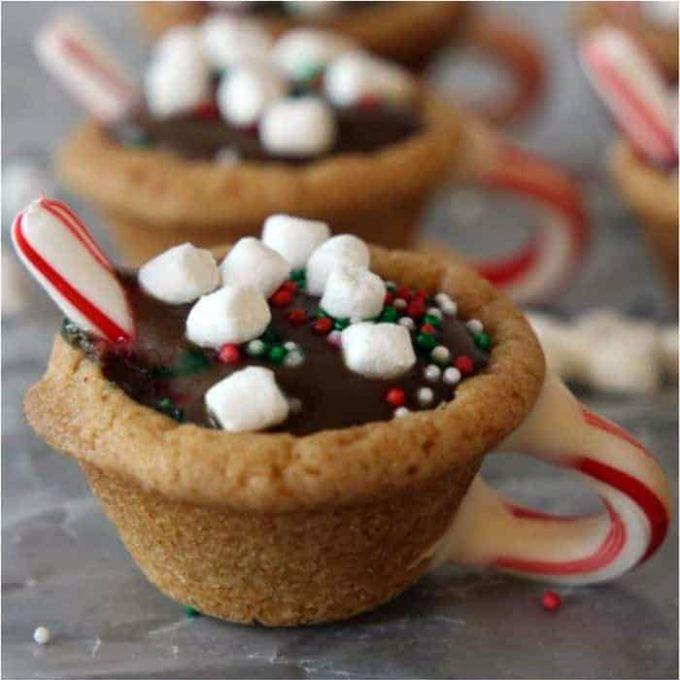 You can also use candy canes for the handle if you so desire. They are both super cute, but I guess the candy cane version has a slight edge when it comes to Christmas cookies because it's a bit more – you know – Christmassy.
---
Melted Snowman Cookies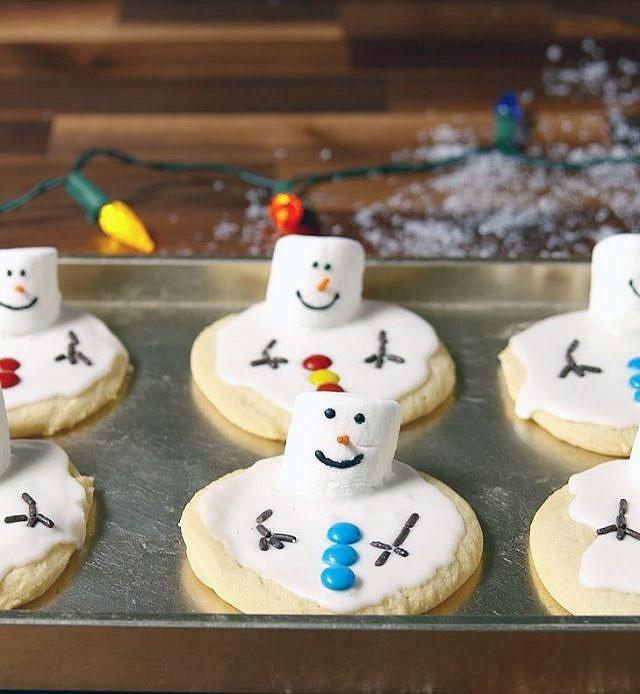 For those with an ever-so-slightly morbid sense of humor, these cookies celebrate Frosty's day after the sun has risen a bit too high in the sky.
Although the recipe does beg one important question… what the fudge is a Jimmy??
---
Soft Baked Cake Batter Christmas Cookies
Another wonderful hybrid, these Christmas cookies have all of the flavors of a confetti cake but are bit-sized (maybe 2 bites if you're all delicate and stuff and don't like shoving an entire cookie in your mouth like a normal person) as a cookie should be.
---
---
Peanut Butter Christmas Buckeye Balls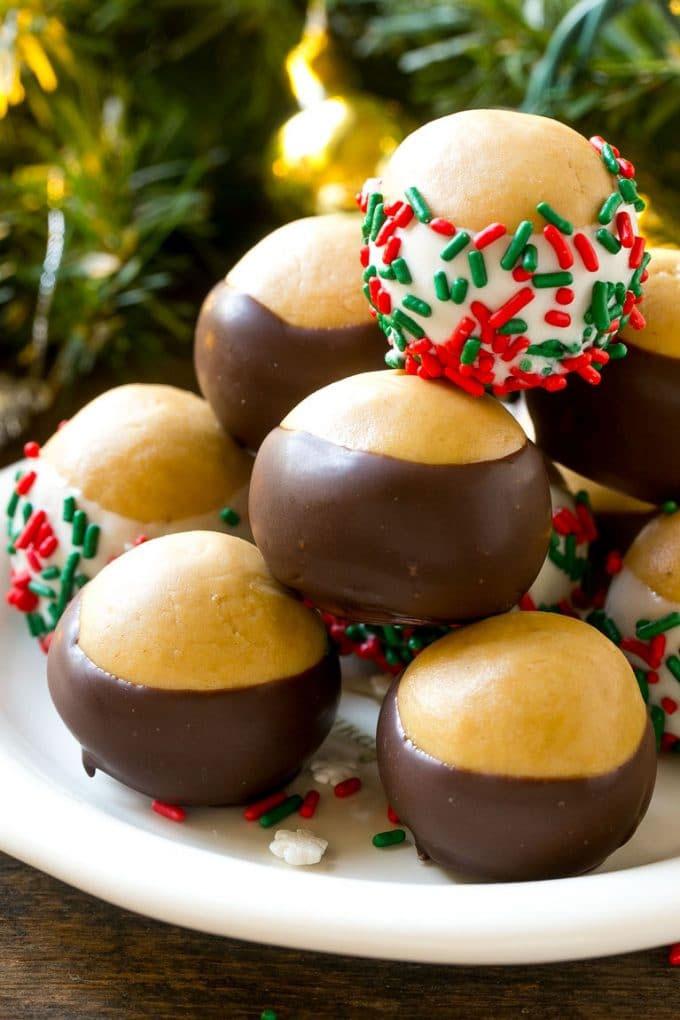 A seasonal twist on a classic cookie favorite, these buckeye balls (such a funny cookie name!!) are alternately dipped in dark chocolate vs white chocolate with sprinkles to provide so Christmas colors.
They remind me of one of my favorite Christmas treats, Chocolate Salty Balls, but with a bit more peanut butter and extra sprinkles!
---
Dark Chocolate Candy Cane Cookies
A black and white cookie that mixes the richness of dark chocolate with the minty goodness of candy canes. Together they create a wonderful and festive treat.
---
---
Disney Christmas Cookies

What's Christmas with a little hint of Disney magic??
---
Polar Bear Oreos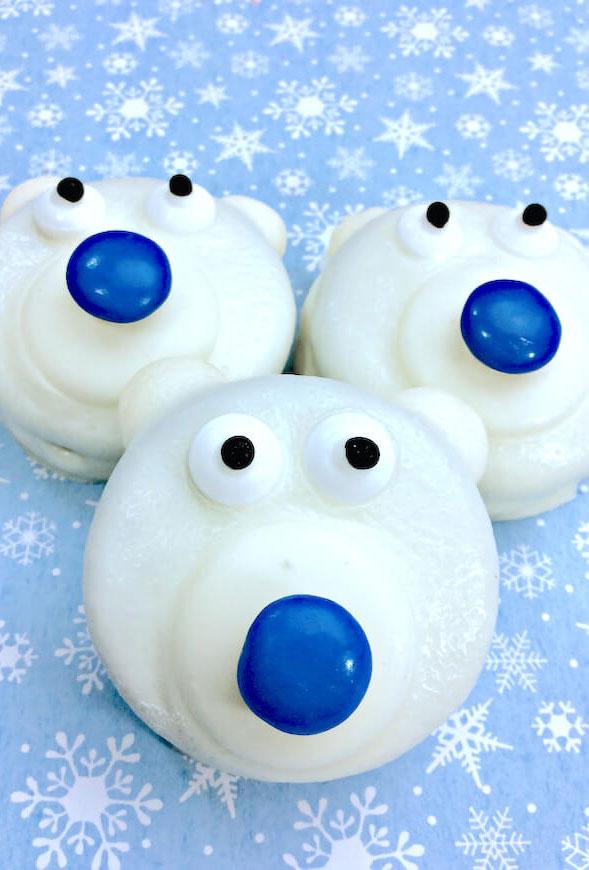 Polar Bears have become as much of a symbol of the Christmas season as Reindeer. Ok, maybe that's taking it too far. But they're definitely on par with Penguins when it comes to Christmas animals. And way, way higher than Raccoons.
These quick and easy-dipped Oreo Polar Bears pay homage to one of Santa's (and Coca-Cola's) favorite Christmas animals.
---
Santa's Favorite Chocolate Chip Cookies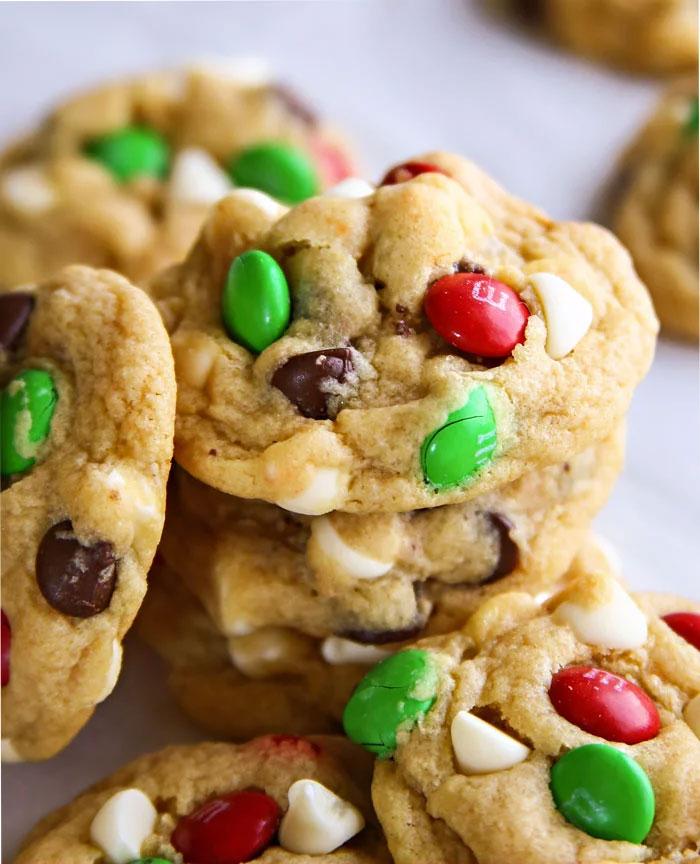 Quite the bold claim! I mean, they do look delicious with all of those dark & white chocolate chips, plus red & green M&Ms.
But to claim them as Santa's favorite?? I might have to bake up a batch of them for Christmas Eve and test that theory out for myself.
---
---
Peppermint Bark Pretzel Bites
These little cookie bites use a pretzel-based topped with melted Hershey Candy Cane Crunch Kisses, red & white M&Ms, and some colorful sprinkles.
---
Gingerbread Cookie Bites
I love these little Gingerbread cookie bites because I get to enjoy all of the pleasures of gingerbread without that ever-so-slightly-creepy feeling of biting a gingerbread person's body parts off.
Plus they're far easier to make than an elaborate gingerbread house.