When selecting wall art for your home, decorative metal art is often an excellent choice. These beautiful pieces of art come in a wide variety of styles and subjects and can be used very effectively to create a focal point within any room of your home. Whether your decorating style leans more towards traditional designs, or you prefer modern decor, you will be able to find a piece of decorative metal art that will blend in perfectly.
Setting a Theme with Metal Wall Decor
You can set an overall theme for your room or patio area, simply by starting with the inspiration of a piece of wall art. For example, if you would like to create a specific look, be it contemporary, rustic, or SouthWestern, choosing different pieces of metal wall decor that follow that same theme can help you create a cohesive look.
If you prefer to mix different styles within the same room, decorative metal wall art can also blend together well with other types of decor.
Be sure to choose a piece that is large enough for its intended space in your home. This will ensure that it makes an impact on the overall style and appearance of your decorating scheme without becoming lost or overpowering when placed into position. You will find many designs available in sizes ranging from very small to much larger pieces that are ideal for hanging above sofas, beds, headboards, dressers, or mantles. It is best not to hang smaller-sized decorative metal art over tables unless they have been created specifically for items such as lamps or vases which may be too tall otherwise.
Here are just a few of those themes.
Southwestern Metal Wall Decor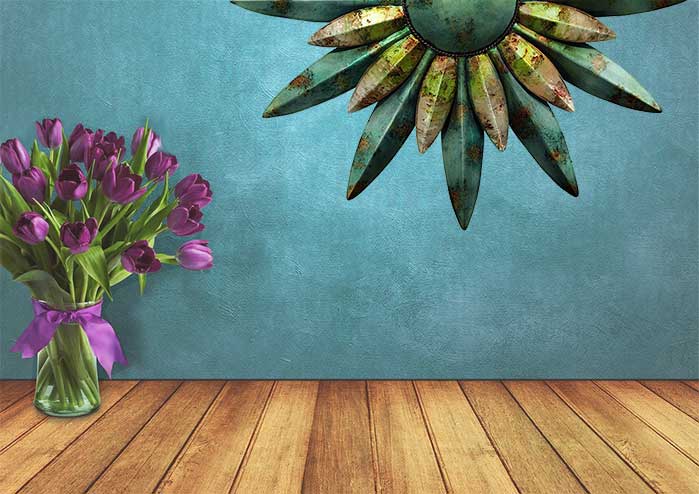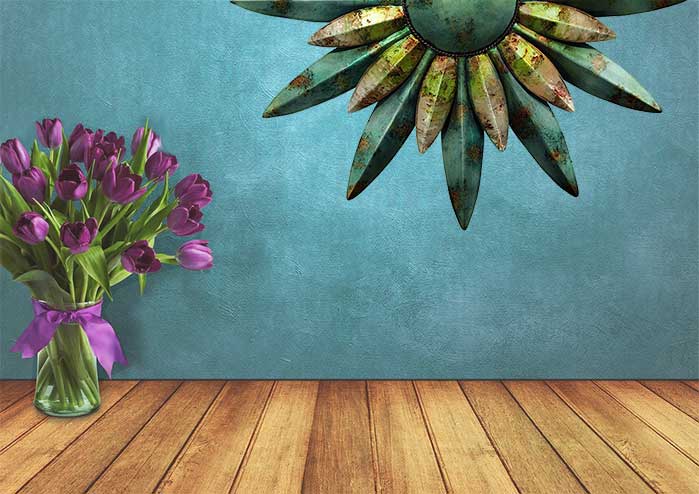 Image: 29″ Aqua Sunburst Flower Sun Metal Wall Art
For that desert theme, choosing a wonderful piece of Southwestern metal wall decor will do just the trick.  You'll see a lot of turquoises, aqua, green colors used as well as warm reds, oranges, and yellows in many Southwestern metal wall decor pieces. Themes within this category range from desert-scapes, to cacti, to the delightful gecko.
Country & Rustic Metal Wall Decor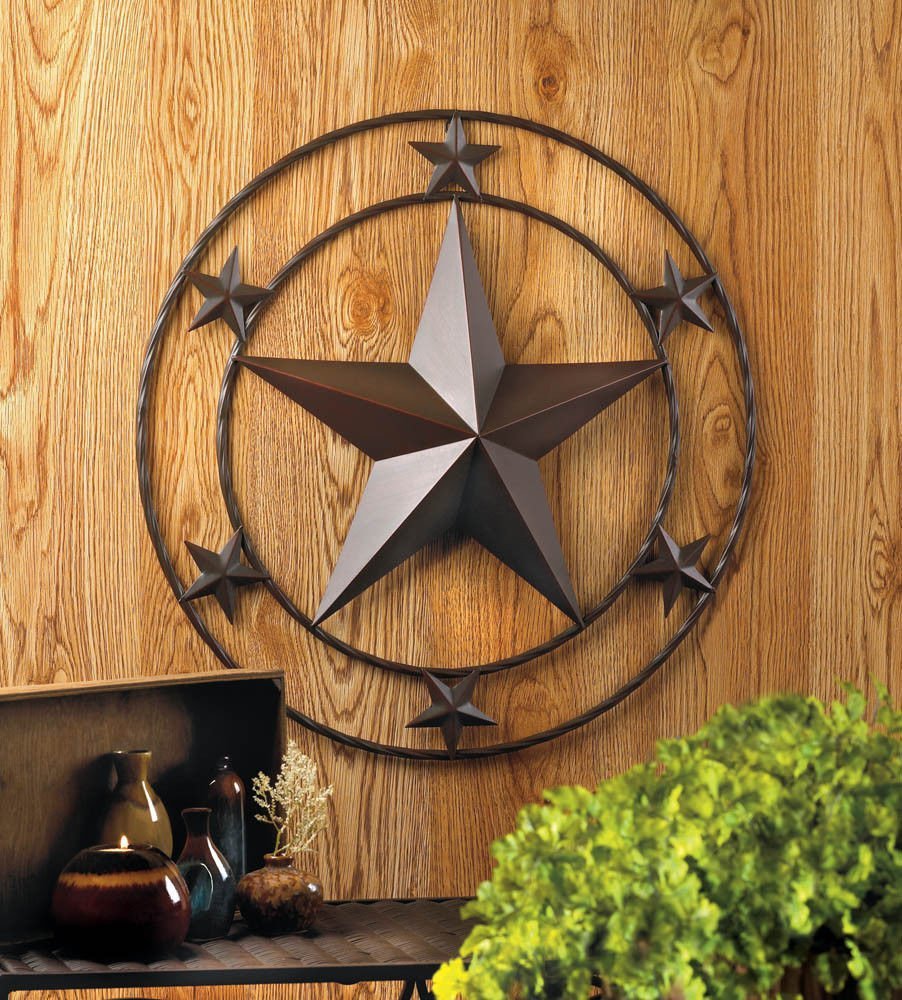 Image: Texas Lone Star Rustic Metal Wall Decor
For a rustic look, perfect for any country home, cabin, or lodge, select a piece of Rustic metal wall decor. These pieces focus on animals & nature, as well as quaint farmhouse motifs.
Contemporary Metal Wall Decor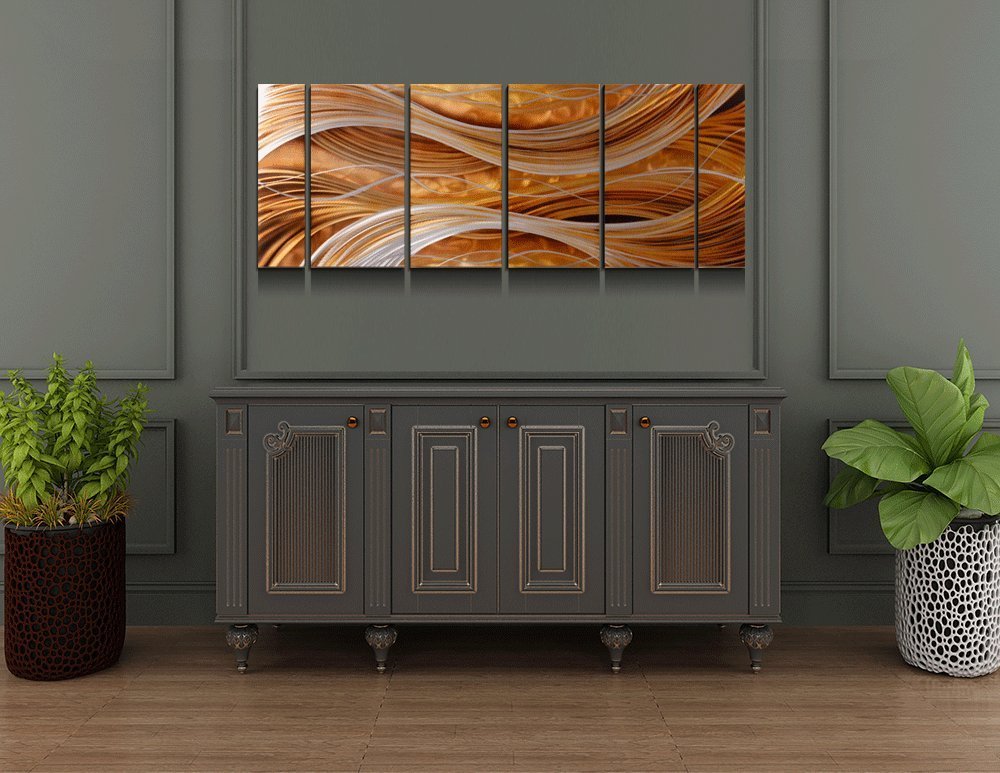 Image: Yihui Arts Abstract Copper Metal Wall Art
If you prefer a more contemporary style, you can find wall art that uses metal in interesting geometric designs. Mixed metals are often used to create unique looks as well which will give your decor an industrial feel.
For the modern home, Contemporary metal wall decor is usually more appropriate. The sky is the limit within this category from a theme perspective, but they often employ a bolder use of lines and colors.
Using Metal Wall Decor Indoors & Out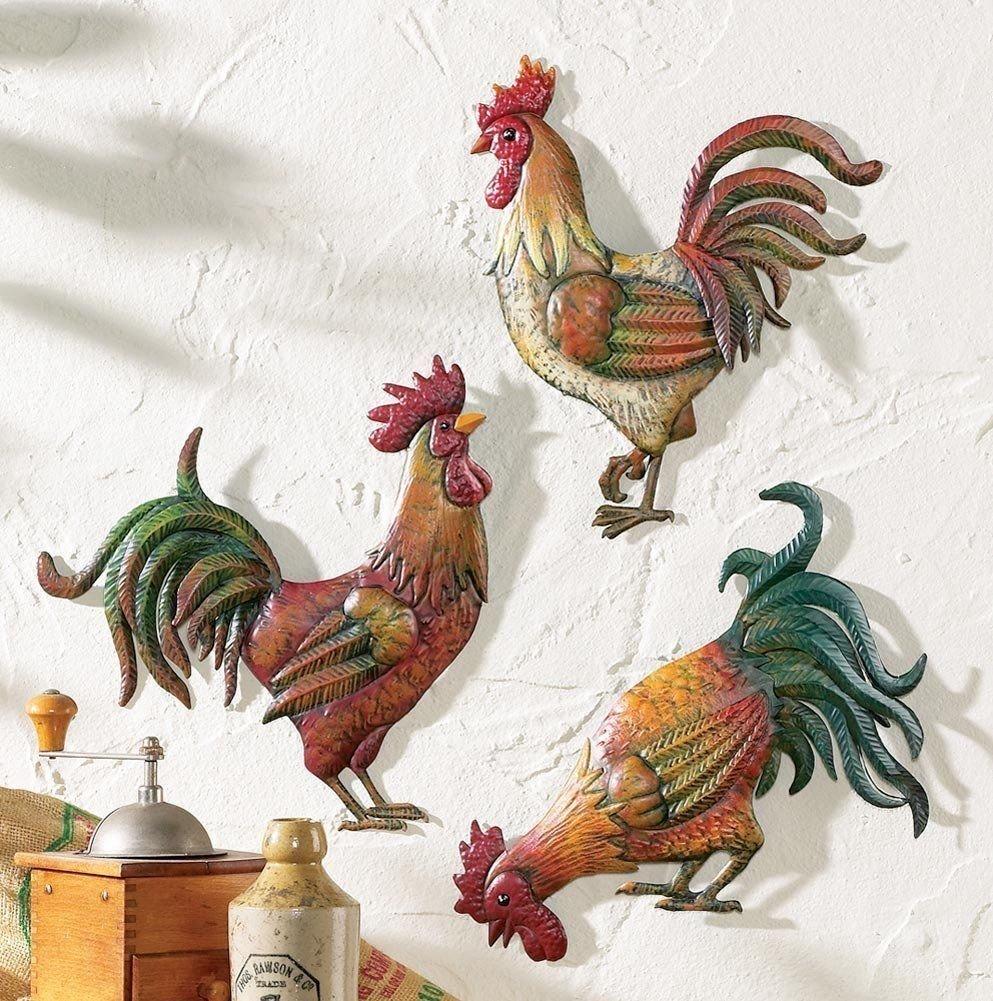 Image: French Country Rooster Metal Wall Art Trio
With most pieces of metal wall decor (and I say "most" because not every single piece is suitable for outdoor placement). Therefore, you can decorate an outdoor patio with any of the themes (and more) noted above, depending on your personal decor style.
It is important to note, however, that any piece of decor that is exposed to the elements will naturally weather over time. Maintaining your metal wall decor regularly, for example providing a fresh coat of clear, weatherproof lacquer, will help you maintain the original design and colors of the piece for as long as possible.
Decorating with Wrought Iron Wall Decor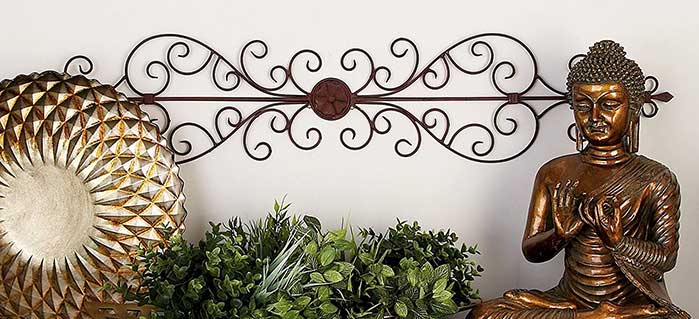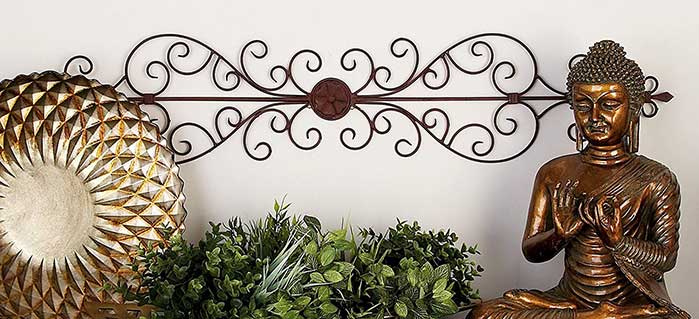 Beautiful panels and decorations made from wrought iron are also a good way to incorporate metal art into your home and patio areas. These types of pieces make stunning wall displays and can be used individually or in groups. These decorative pieces can also be used effectively in garden areas, perhaps as a backdrop for plants, or even to serve as a trellis for vines. Depending on your preferences, you can choose between simple patterns or those which are more ornate and decorative. In addition to panels, you could also choose decorative wrought iron squares designed in ornate patterns, either displayed as a single piece or even as a collection for added visual emphasis.
The Versatility of Metal Wall Decor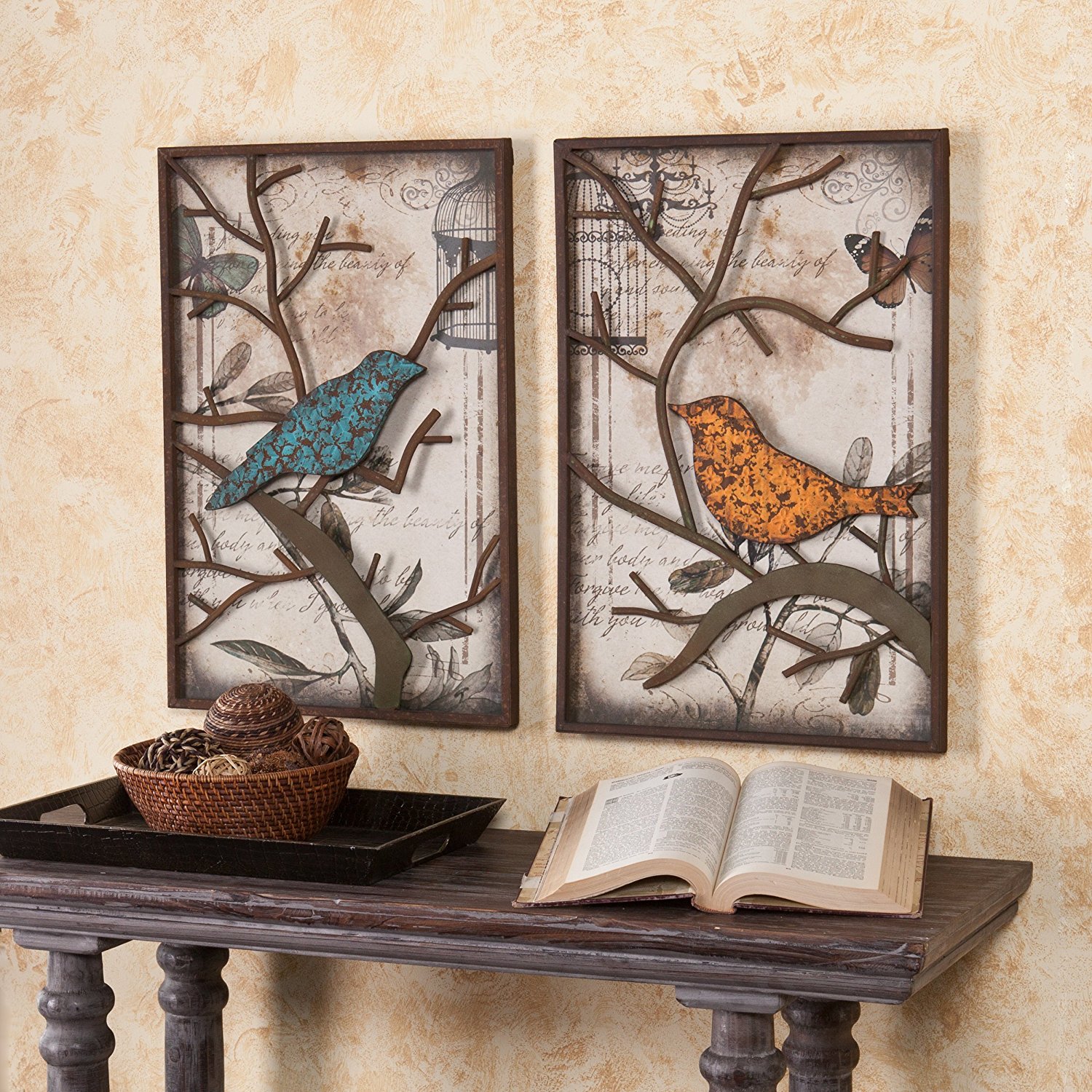 Image: Vintage Bird Panels Metal Wall Decor | Set of 2
Metal wall decor can often be used to set a country or rustic theme in a room. However, it can also be used effectively in rooms that are decorated in a contemporary or modern fashion. Metal can take on so many different forms that, depending on the technique used and the finish of the metal, it can look either quaint and rustic, or sleekly modern. Plain geometric shapes, such as a star or a panel with free-form geometric shapes can be used quite effectively in many different settings.
There is no limit to the types of decorative metal art available for purchase so be sure to spend some time browsing through our options before making any decisions on what pieces would work best within your home's design scheme or color palette.
You will find that once you start decorating with metal wall decor, there is just no end to the different effects you can create.
Benefits of Metal Wall Decor
Metal wall decor is not only beautiful to look at but can also be very practical. The durability of metal art makes it suitable for outdoor use in decks and patios where the elements are likely to take their toll on lighter-weight materials quite quickly.
The beauty of decorative metal art pieces is that they can fit into almost any style or color scheme, making them an excellent choice when you're looking to add something different without changing your overall design plan too much. These stunning works of art serve as a great way to bring together areas that have been decorated using various styles so that each room complements each other perfectly while still being unique enough to stand out on its own.
Handcrafted items are often a good choice as well because they can be made to order. This gives you the opportunity to customize your design preferences so that you have exactly what you need for any given space or decorating project.
In addition, metal wall art is also available in a variety of finishes and textures which will further enhance its appearance. Copper, silver, and bronze are just some examples of these materials being used at their best within the world of modern home design schemes that aim to impress with both style and substance.
Decorative metal wall panels may feature simple designs such as geometric shapes such as squares, rectangles, and circles to more elaborate patterns like floral arrangements or even animals depending on your personal tastes. The combination of decorative metals along with other elements such as glass mosaics, mirrors, and other wall art can create a stunning effect that is sure to impress.