Decorating hacks are creative ways to improve the appearance of a room without spending a lot of money. There are a number of different ways to hack your decor, from using paint to create color blocking to incorporating living plants into your decor.
Anyone who loves design wants to live in a beautiful space, however, not everyone can afford costly makeovers or decor items to make their vision a reality.
So, how can you bring your decor ideas to life without blowing your budget, or have a beautiful, stylish home that is still kid-friendly and comfortable? By sticking to certain design fundamentals, you can redo an entire space and get the look that you want, even if it is a small room or an old house.
We have gathered some decorating hacks that you can implement in your home to bring your style up to date with modern trends. These hacks are not a one-size-fits-all and you can get creative with them to make your space feel just right for you.
8 Decorating Hacks to Improve your Home
1) Color Blocking
Color Blocking is a popular trend right now and can be used throughout your house in almost any room. The first step to color blocking is to select a single color and stick with it. You can match your wall color to your furniture, and paint an entire wall a different color to create an accent wall.
Or you can keep the walls and large furniture items one color, and add pops of color and patterns throughout the room, like adding colorful throw pillows to your couch, or a bright vase on the dining room table.
There are a few things to keep in mind when incorporating color blocking into your home decor.
First, choose colors that complement each other. You don't want colors that clash, as this will create a jarring look. Instead, opt for colors that are in the same family or have similar tones.
Second, consider the proportion of each color you use. Too much of one color can make a space feel unbalanced, so be sure to use a variety of colors in your scheme.
Finally, think about the overall mood you want to create with your color palette. Colors can affect our emotions, so choose those that will create the feeling you're going for in your home.
With these tips in mind, you're ready to start incorporating color blocking into your home decor. Get creative and have fun with it! There are no rules when it comes to this trend, so let your imagination run wild.
Always keep in mind that the purpose of color blocking is to add visual interest and let your eyes flow across the entire room.
2) Use fresh flowers and plants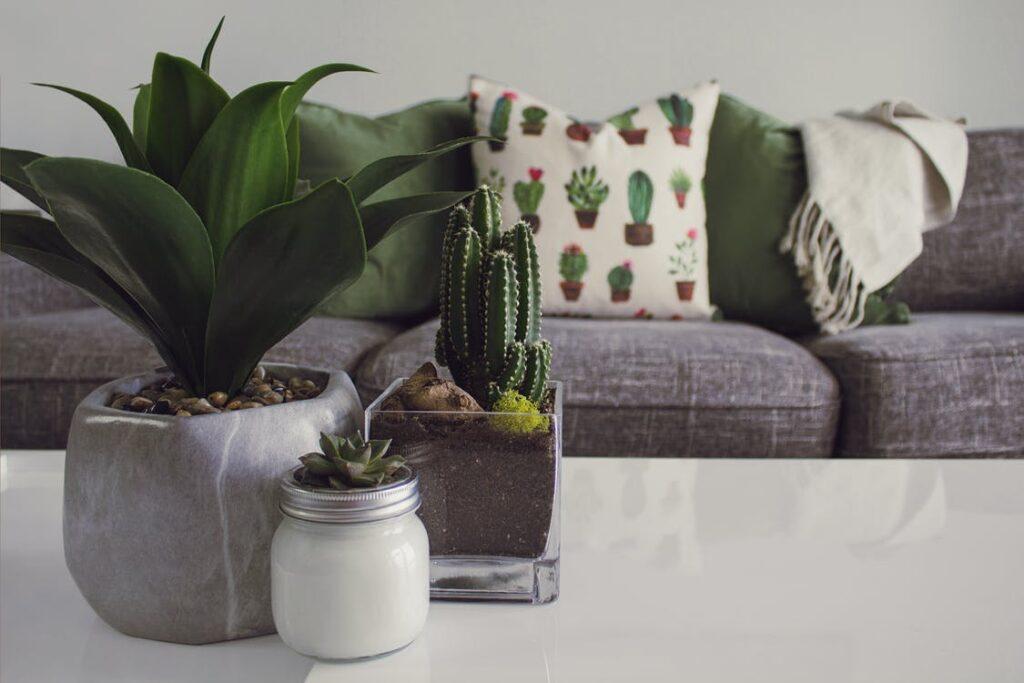 Bringing the outside indoors is a sure way to upgrade a dead space or fill an empty space with life.
Fresh flowers that are regularly changed will bring the perfect finishing touch to any room in your house, and you can play around with different colored flowers to constantly change the room feel.
If you don't like cutting flowers, then you can decorate with live plants throughout the house. Leafy plants, creepers or succulents dotted around your rooms will have people questioning whether you instilled the help of an interior designer.
There are many benefits to decorating with plants, including:
Standard benefits:
Live plants are a great way to spruce up any space.
Plants can make your home feel more alive and inviting.
Emotional benefits:
Perfect for someone who loves nature or gardening as they make you feel more connected to the living world around you.
Having plants in your home can increase your productivity & reduce stress levels.
3) Do the unexpected
Doing the unexpected when it comes to painting and colors is an easy way to instantly upgrade your home. By placing paints and patterns in places where you would not expect it, like painting your front door or adding a spray paint finish to coffee tables, you will immediately give your home a new feel.
If you are building a new house, ask the contractor to guide you in where to put unexpected paint finishes. You can compare different home builders to find someone that suits your individual needs.
If you need some inspiration, spend a weekend watching some of the best home makeover shows, including:
Fixer Upper
Flip or Flop
This Old House
Property Brothers
Love It or List It
Rehab Addict
House Hunters
Tiny House Hunters
Queer Eye
Trading Spaces
4) Use drapes to create drama
There are a few key things to remember when hanging drapes. First, be sure to measure the window and the desired length of the drapes. Once you have the measurements, add 6 inches to both the width and the length to allow for hemming. Then purchase drapes that are that size.
When it comes time to hang the drapes, mark where you want them to hang on the wall with a pencil. Use a level to make sure the marks are straight. Then use a drill or screwdriver to put nails or screws into the wall at those marks. Hang the drapes on the nails or screws, and hem if necessary.
With these tips in mind, you should be able to hang drapes like a pro!
Pro Tip: If you have a small room with tiny windows, you can use drapes and curtains to your benefit. By hanging the drapes at the top of the wall, against the ceiling, you will give the room the illusion of being taller than it is. This will add drama to your room, and if you use a bold color curtain, your room will be instantly elevated.
5) Play with colors
Opposite to color blocking where you stick to one color palette and bring in pops of color, you can also combine different colors to elevate a space. A fresh coat of paint on the walls, complemented with picture frames and bright furniture, will immediately make your home look stylish and modern.
You should also use complementary color combinations, like variations of red and blue, or black and white, for a sleek finish in the whole room.
6) Use accessories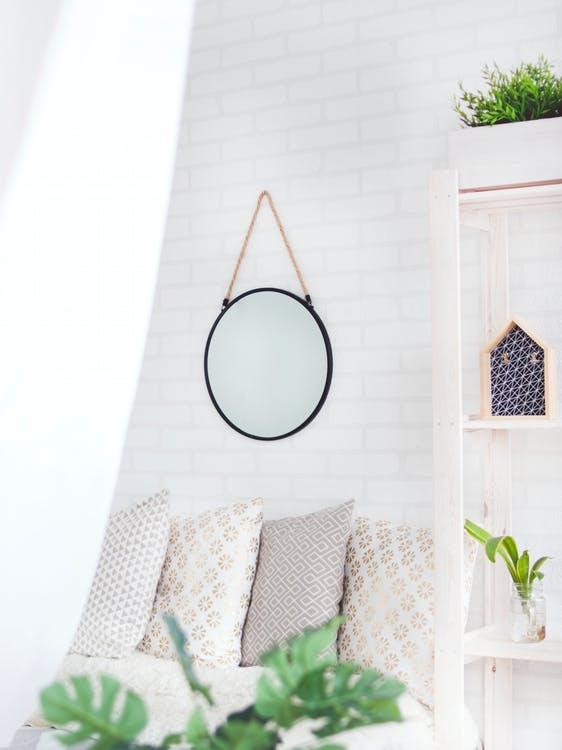 Accessories will change an entire room feel. Crisp new pillow covers or warm and wonderful throw blankets can drastically alter a room, as can small mirrors that bounce natural light around the room.
A delicate light fixture in a corner will give just a hint of sophistication to any room, while coffee table books, an area rug, or candles will give a room a more lived-in feel.
One way to create the illusion of space in a small room is to use mirrors. Mirrors can make a room feel bigger because they reflect light and make the space seem brighter and larger. You can place mirrors on opposite walls to create the illusion of depth, or you can place them on adjacent walls to create the illusion of width.
7) Depend on art pieces
You can select a large statement piece such as a large tapestry wall hanging as a focal point in your room or create a unique gallery wall.
Your style of art should match the decor in the room, whether the pieces are small or large.
Here are 6 tips for selecting wall art:
Consider the size of your wall art. Make sure to select a size that complements the space.
Select a style that you love. Wall art can be a great way to add personality to a room.
Choose a color or pattern that will complement your décor.
Think about your personal style. Do you prefer bold or subtle wall art?
Consider the mood you want to create in the room. Are you looking for something calming or energizing?
Decide what kind of statement you want your wall art to make.
You can also go for functional art pieces to save space and avoid clutter, like a designer coffee table or geometric shelving.
8) Get rid of clutter
The easiest decor hack to make your house look beautiful is to get rid of anything necessary. By decluttering a space and only keeping the essentials, you will instantly elevate the room styling.
Keep shelves, counters, and tabletops clear of books and appliances to improve the interior design of your home. You may have to come up with some smart storage solutions in a smaller home, so find something that works for you.
Here are 5 tips to help you tackle that clutter:
Start small: Don't try to declutter your entire house in one go. Start with a specific area, like your desk or bedroom, and work your way through it gradually.
Create a plan: Have an idea of what you want to achieve before you start decluttering. This will help you stay focused and avoid getting overwhelmed.
Be ruthless: When decluttering, be ruthless and get rid of anything you don't need or use. If you haven't used it in the past year, chances are you won't miss it.
Be patient: It may take some time to get your space completely decluttered, but be patient and keep at it. It's worth it in the end!
Enjoy the process: Decluttering can be therapeutic, so try to enjoy it. Don't focus on the end goal, but instead take pleasure in decluttering each individual item.
Final thoughts
How you decide to decorate your home is entirely up to your individual style, but we hope the eight hacks above will spark your creativity and make you excited to get involved in home decor.