Housewarming gifts are an essential part of the new home experience, but it can often be a challenge to come up with the perfect idea to help celebrate the newest chapter in your friend's or family member's life.
We're here to help with a helpful list of housewarming gifts that can help you find the perfect gift to honor their new home.
Please note that Art & Home has an affiliate relationship with some of the merchants listed below and we may receive a small referral fee – at no cost to you – for any purchases that you make utilizing the links provided. We use those funds to continue building Art & Home's unique collection of home decor articles and inspiration. And, you know, to buy stuff.
What type of gift to get?
Moving into a new home, especially if it is your first, is a very exciting time. And it's important to help celebrate that special time in an appropriate way that represents your relationship without breaking the bank.
As the old saying goes – and one of our favorites from our collection of home quotes – A house is made with walls and beams. A home is made with love and dreams.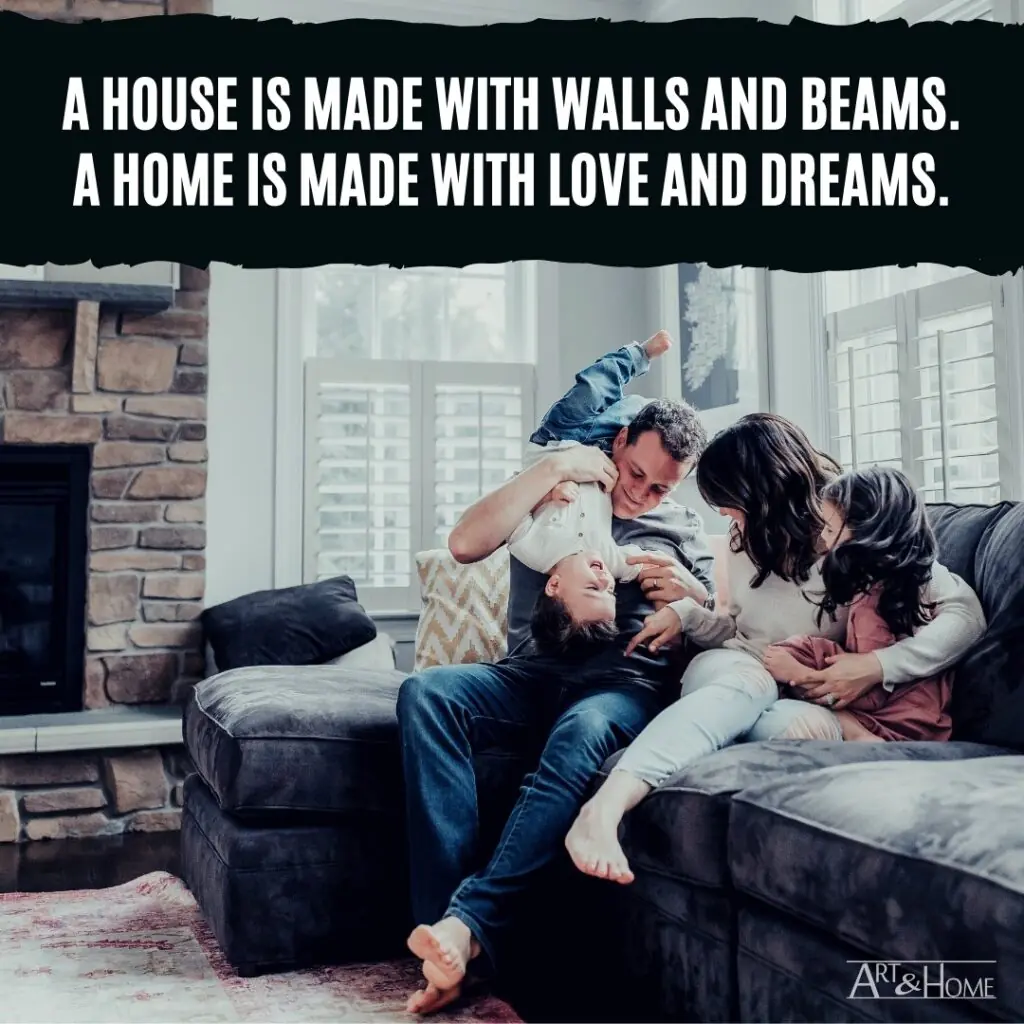 As your friend or family member begins to transfer their new house into their new home, it's a lovely opportunity to become part of that process.
Setting your housewarming gift budget
Part of determining the right kind of housewarming gift depends on how close you are to the new home buyer.
Housewarming gifts are a nice gesture but are not obligatory, so any amount that you feel comfortable spending is probably the right amount. 
However, if you're really concerned about spending the right amount, the following is a general guideline on how much to spend on a housewarming gift based on your relationship to the new homeowner. 
I have also found that the spending depends on homeownership.  If they are renting, aim for the lower end of the scale. If they are buying their first home, aim for the higher end of the scale. If this is their third home upgrade, you may be able to get away with a nice bottle of wine for all levels. 
How much to spend on a Housewarming Gift by Relationship
| | |
| --- | --- |
| Co-Worker | $10 – $20 |
| Acquaintance | $20 – $30 |
| Close Friend | $30 – $50 |
| Extended Family | $50 – $100 |
| Immediate Family | $100 – $500 |
Of course, there are ALWAYS mitigating factors. If, for example, that "Co-Worker" is a partner at your law farm and it is important to make a good impression, you may want to consider adjusting that budget appropriately.
Other common factors that can impact your Housewarming Gift giving budget
#1 – Your personal financial situation – If you can afford to spend more, then spend more. If your own budget constraints don't allow you to do so, then aim for something cost-effective but personal. A thoughtful gift should not create a hardship for the gift-giver.
#2 – Their financial situation – If they are a young couple buying their first home, consider splurging on something they wouldn't be able to afford to buy for themselves. However, if they are well-established home buyers they probably don't need as much.
#3 – First Home vs Upsizing or Downsizing – I (personally) believe that the housewarming gift budget for someone's first home should be substantially larger than if they are moving into their second or third home.
#4 – Your relationship – Even within the categories above, there are variations. A parent will often spend more on a housewarming gift than a sibling would. And close friends who see each other regularly will often splurge on something that someone else might not.
#5 – It's the thought that counts – Always remember that it is not the $ amount that you spent, but the thoughtful gesture that will be remembered.
A Handy Housewarming Gift Budget Guide Infographic
To help guide the budget setting, we created a little Infographic to highlight the key points.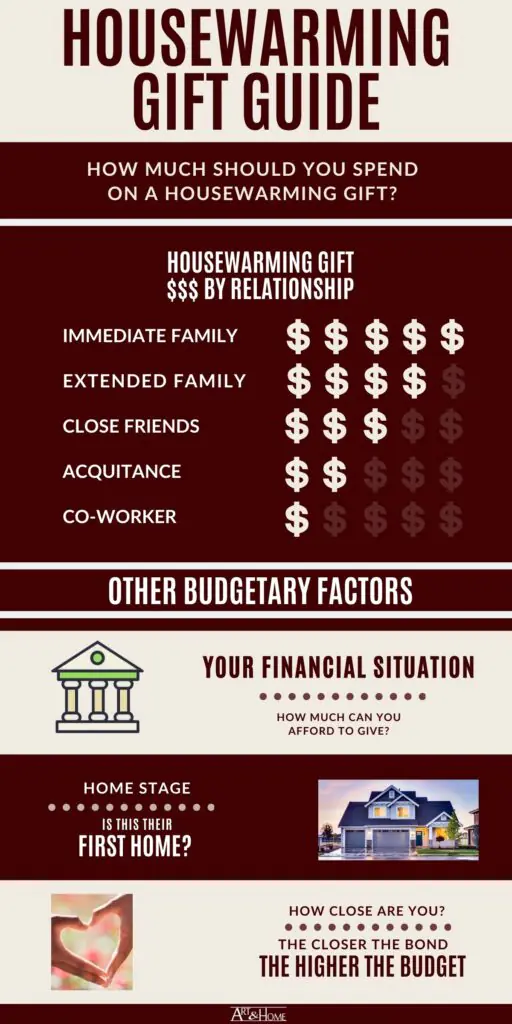 ---
Timing of Your Housewarming Gifts
Picking the right housewarming gift also depends on WHEN you will be presenting the gift to the recipients.
If you are seeing their new home immediately after they take possession, that opens up a different set of options versus attending an official housewarming party months after he/she/they have settled into their new home.
Excellent Options for Housewarming Gifts
Want some ideas for the best housewarming gifts? Here is a list of our top XX recommended housewarming gifts (with some additional info provided below).
Welcome sign
Starter tool kit
Fire & safety needs
Scented candles
Potted houseplant
Kitchen essentials
Decorative food storage containers
Quality key chain and/or key hook
Baked goods – homemade or store-bought
Vase of flowers
Classic movies (the older and more classic the better)
Welcome mat
Personalized address plaque
Gift cards
Amazon Prime membership
Your favorite cookbook
Bottle of wine
---
Why we picked these as the best housewarming gifts.
Below we've outlined why these items made it to our list of the best options when it comes to meaningful yet affordable housewarming gifts.
We'd love to hear your thoughts on these ideas, or additional ideas you may have. Let us know in the comments below!
---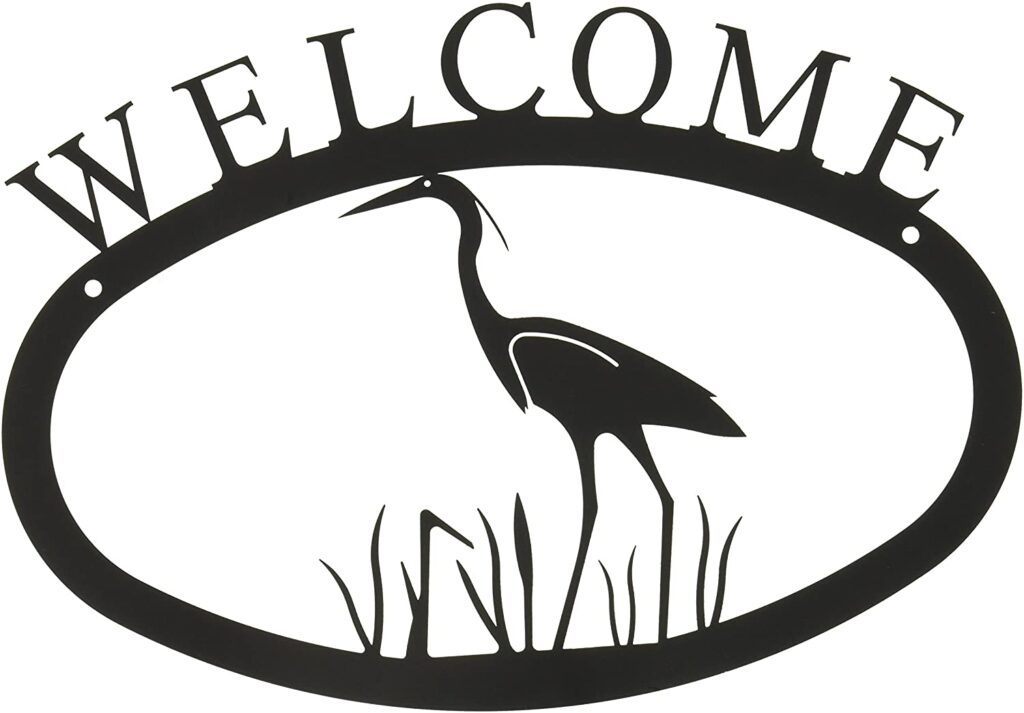 A welcome sign
A welcome sign makes the perfect gift for a new homeowner. Plus, if you can find something symbolic such as the heron wrought iron welcome sign, it can mean even more.
Most people know that the heron is known as a symbol of stillness and tranquility, which is not a bad thing for a new home. However, the heron also symbolizes a sense of independence, which makes it perfect to welcome people to a brand new home – particularly if it is their first home.
---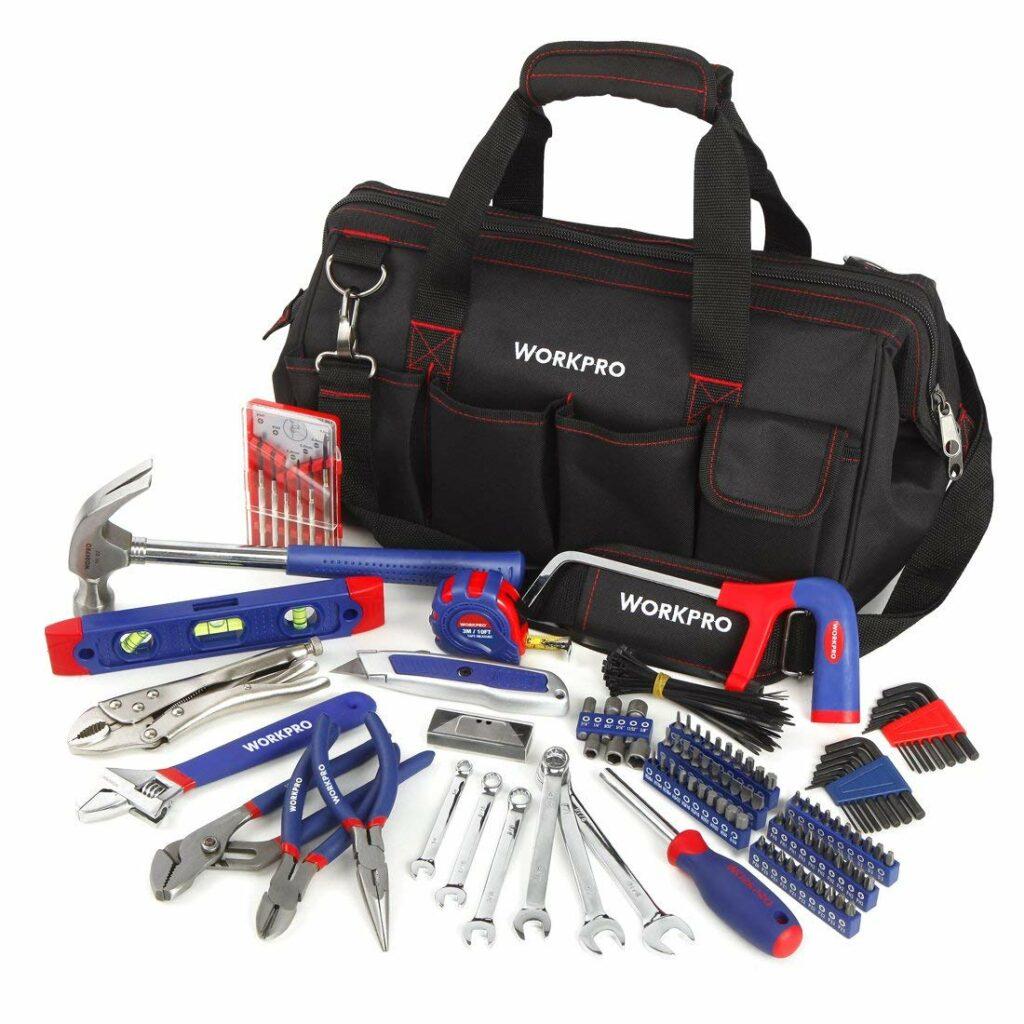 A starter tool kit
Everyone needs your basic tools (except for a professional contractor who likely has these things already), especially new homeowners who are trying to get settled into their home.
The size of the tool kit & the quality of the tools can depend on your budget but should include a handy case, a hammer, measuring tape, screwdriver, flashlight, pliers, and a wrench. You might also want to consider some handy add-in such as Duct Tape, a picture hanging kit, a variety pack of nails and screws, plumbing tape, electrical tape, etc.
---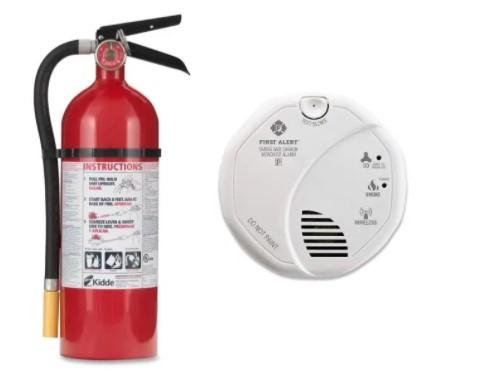 Fire & safety needs
Staying in the practical lane for a moment, these fire & safety essentials are the keys to keeping a home safe and sound.
Certainly not the most exciting or glamorous housewarming gift, however, these items could literally save their life one day. A fire extinguisher, smoke detector, and carbon monoxide detector are things that every home needs, but not every home has.
---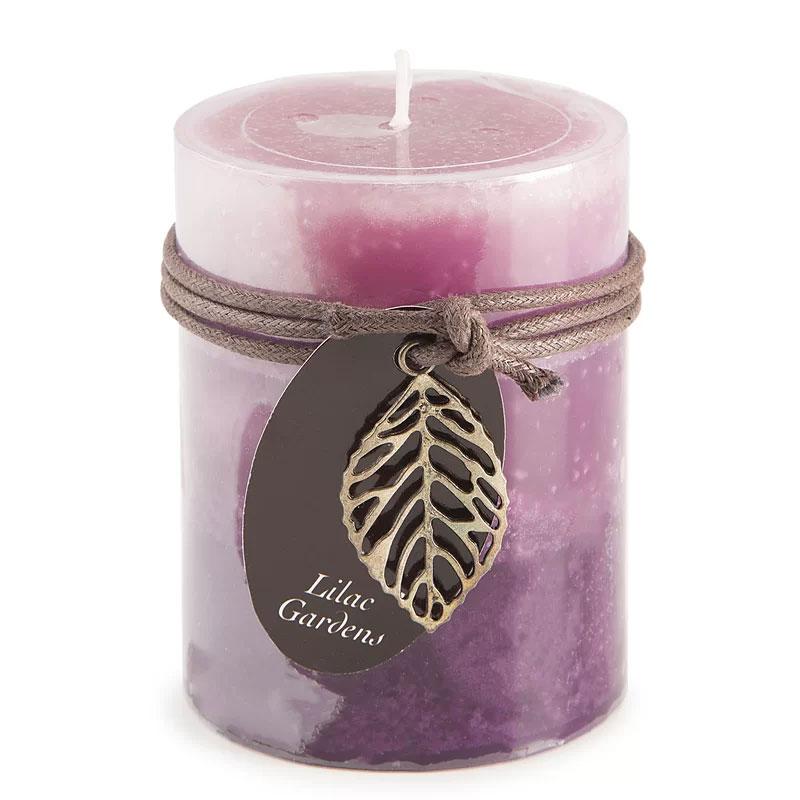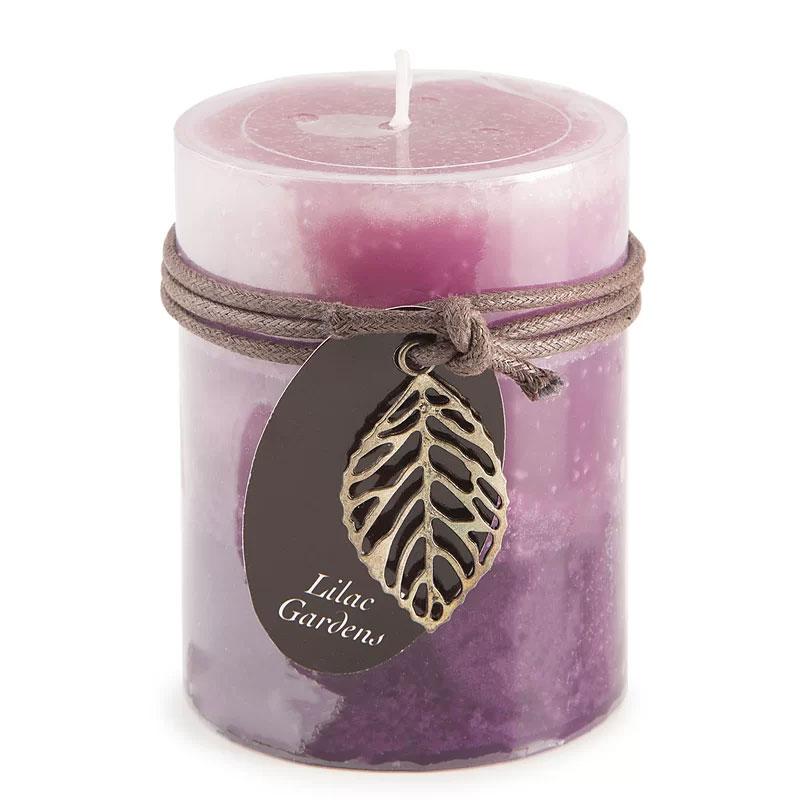 Scented candles
Candles are a safe bet and help evoke the warm feelings of a new home and a fresh start. Aim for something with a nice but subtle scent, as scents can be taken differently by different people.
If you know their color palette, you can pick one that matches. Include a lighter with your gift, since there are few things more frustrating than wanting to light a candle and not being able to find a lighter.
---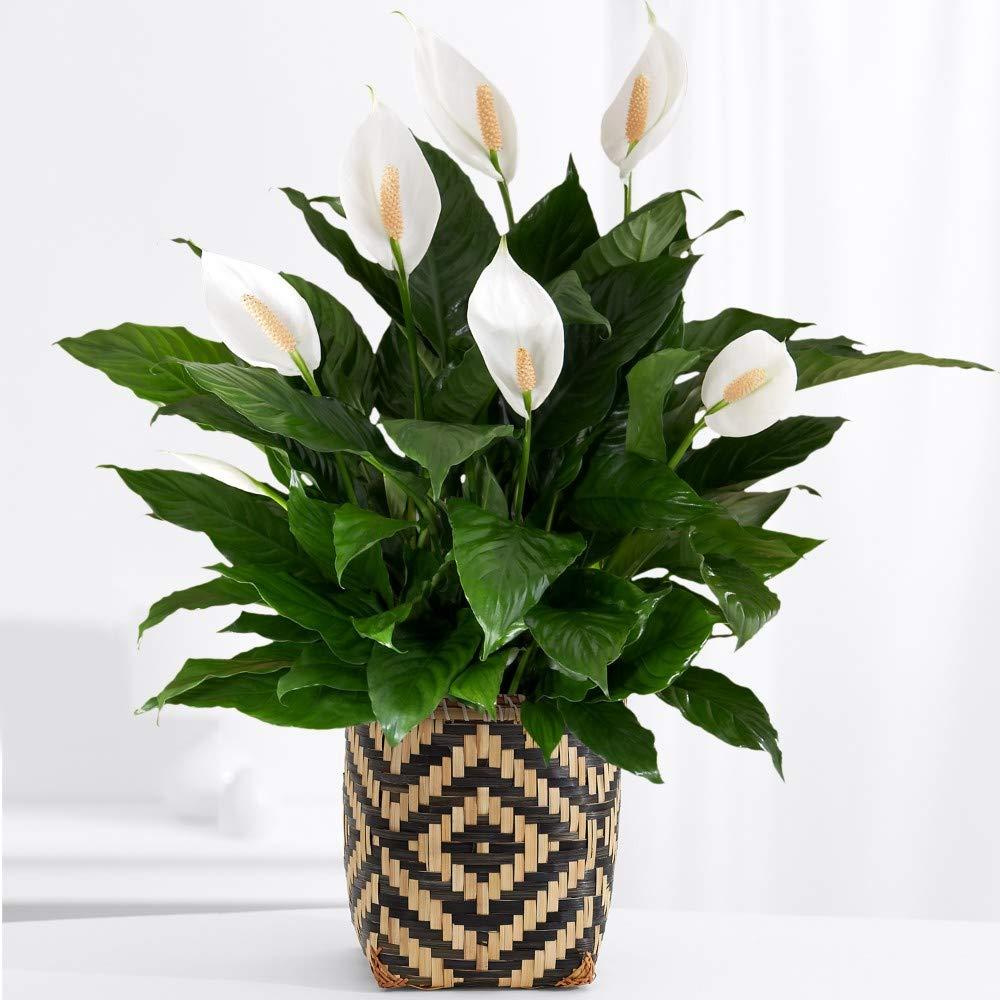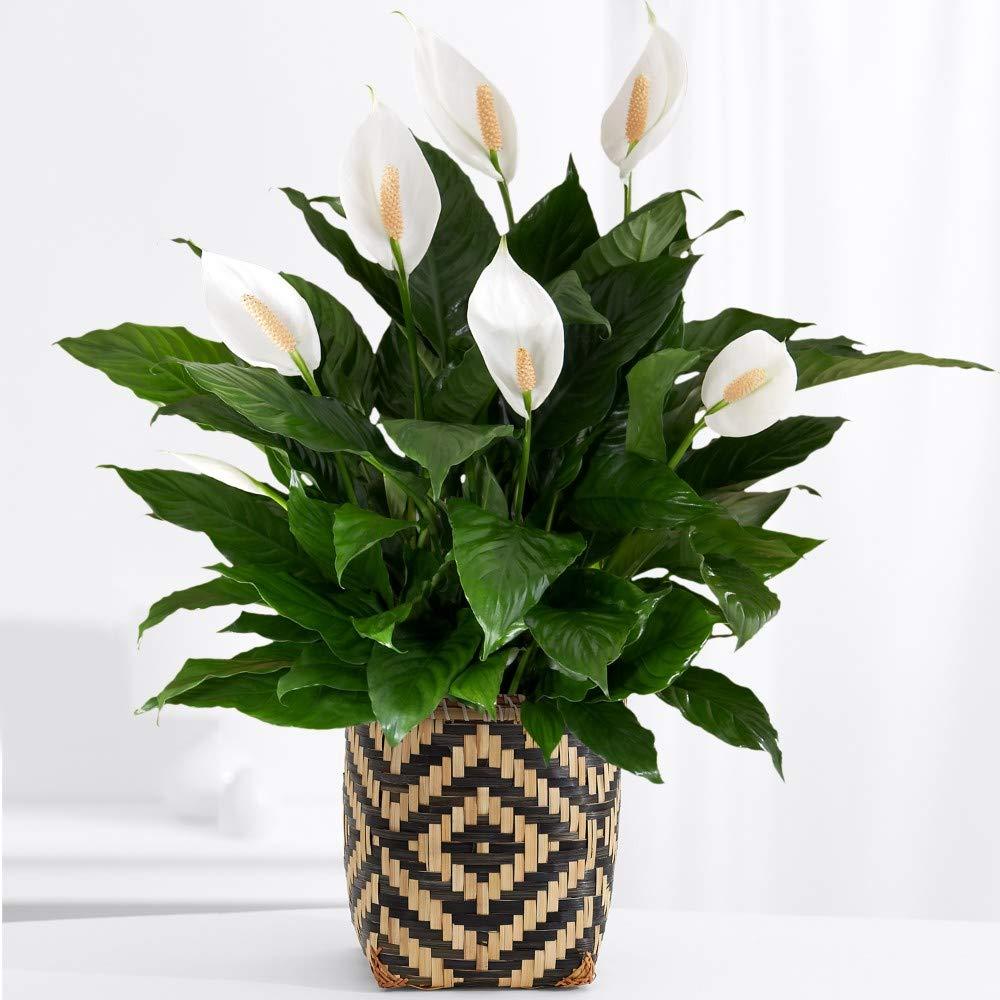 A potted houseplant
Houseplants are a nice way to bring some immediate life into a new home and will last longer than your typical floral arrangement.
Houseplants also help improve the indoor air quality, so they are a gift that will keep on giving! Make sure you keep allergies and pets in mind when determining what kind of houseplant to buy!
---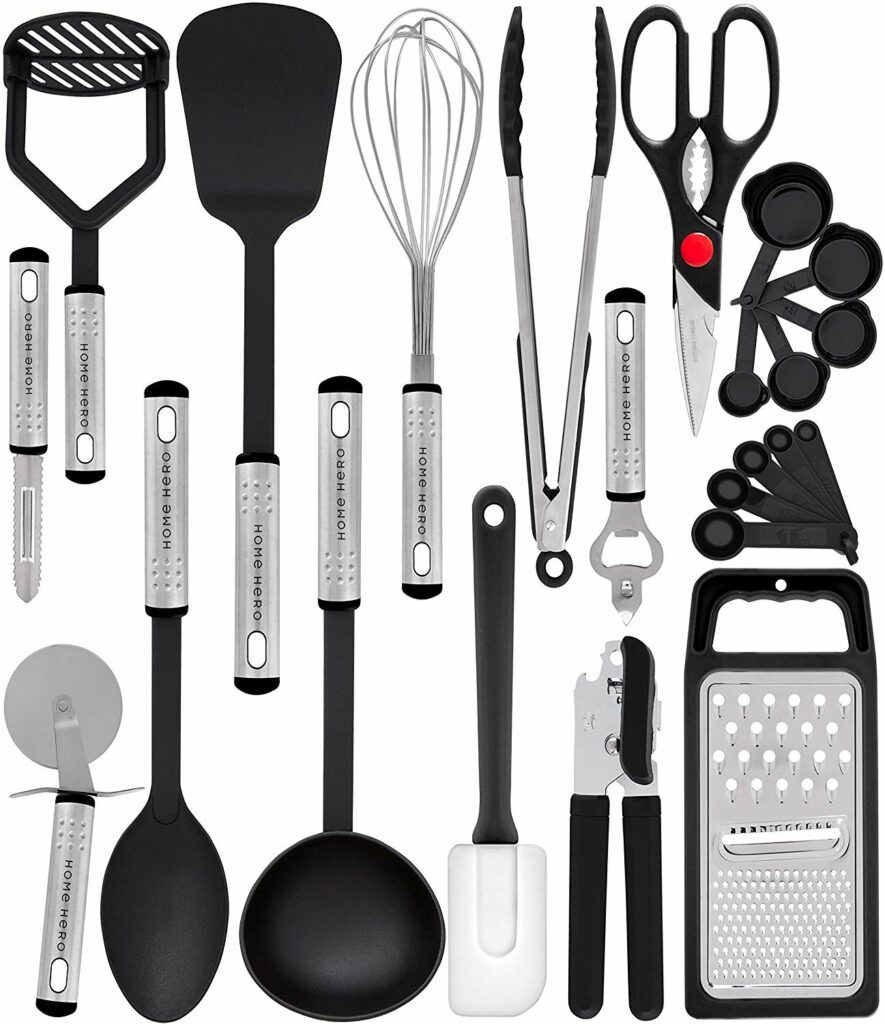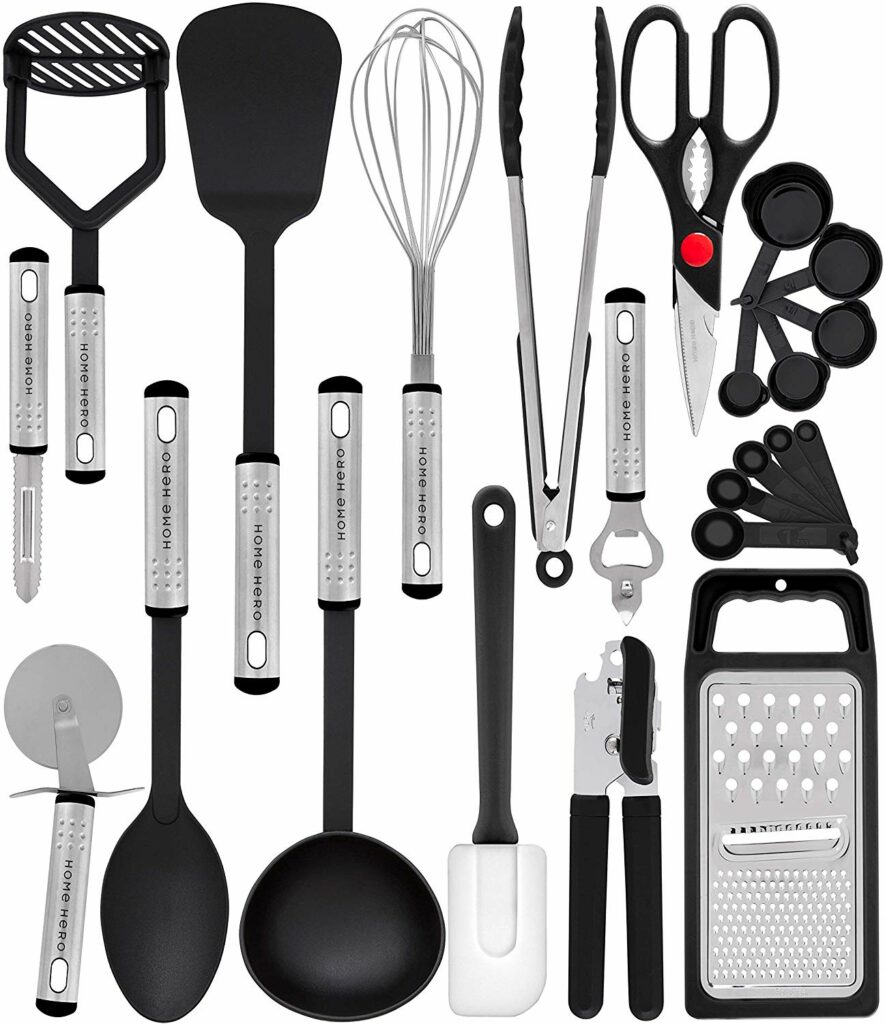 Kitchen essentials
Many people moving into their new home don't have the absolute basics, which makes the first few days in their home a bit of a challenge.
If you are one of their first visitors, consider putting together a Kitchen Essentials Gift Basket full of the things people often take for granted. A can opener, corkscrew (to open those bottles of wine they will likely get as a gift), spatula, or even a good quality pair of kitchen scissors.
---
Decorative food storage containers
Keeping within the kitchen theme, an attractive set of food storage containers can be a lovely housewarming gift that is both decorative and will help them get their home organized as they unpack. Aim for a versatile set that they can use in their pantry or cabinets, and/or a decorative set (for coffee & tea, or flour & sugar) that they can use on their counters.
If you go for the Coffee & Tea set, consider including some delicious coffee and tea samples so that they have something to put into the container AND serve to their guests while they get settled.
---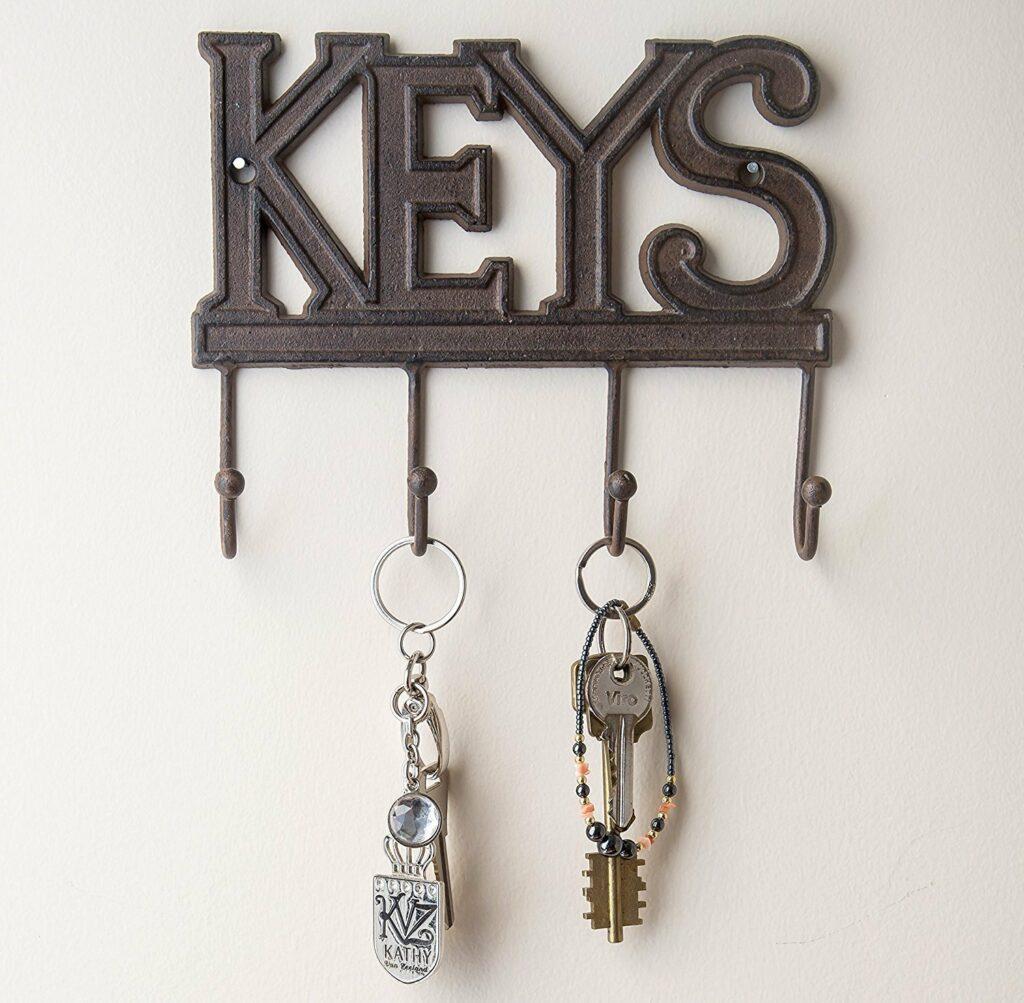 A quality key chain and/or key hook
A key chain is a great gift because it's something they will use often, and will think of you every time they take out their house keys. Something that matches their style and personality is the best, and they can even be personalized.
You can add to that – depending on your budget – with a decorative key hook so that they have a place to put their keys when they get home so they won't end up with the perennial "I've lost my keys" moments.
---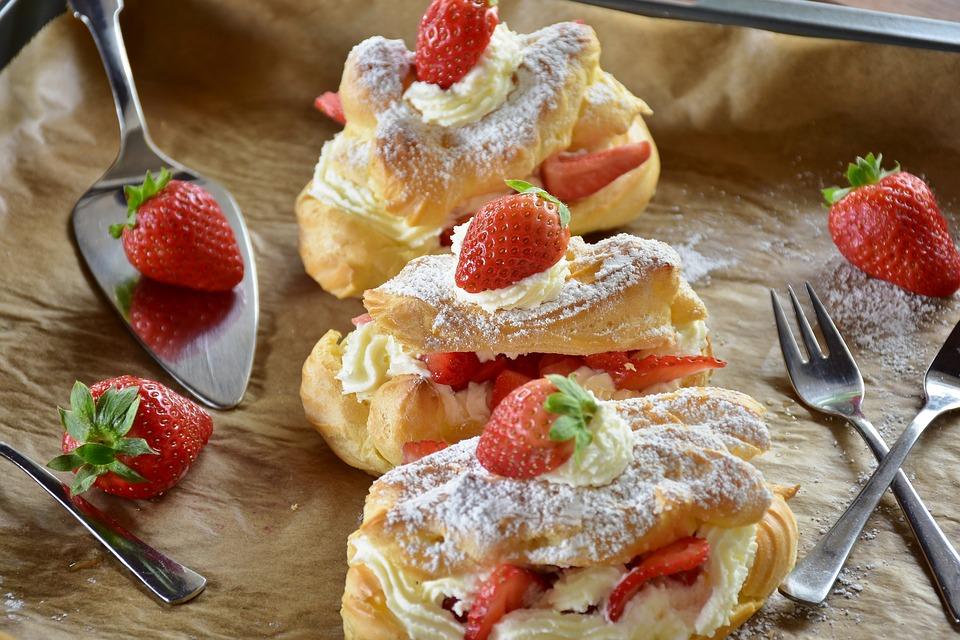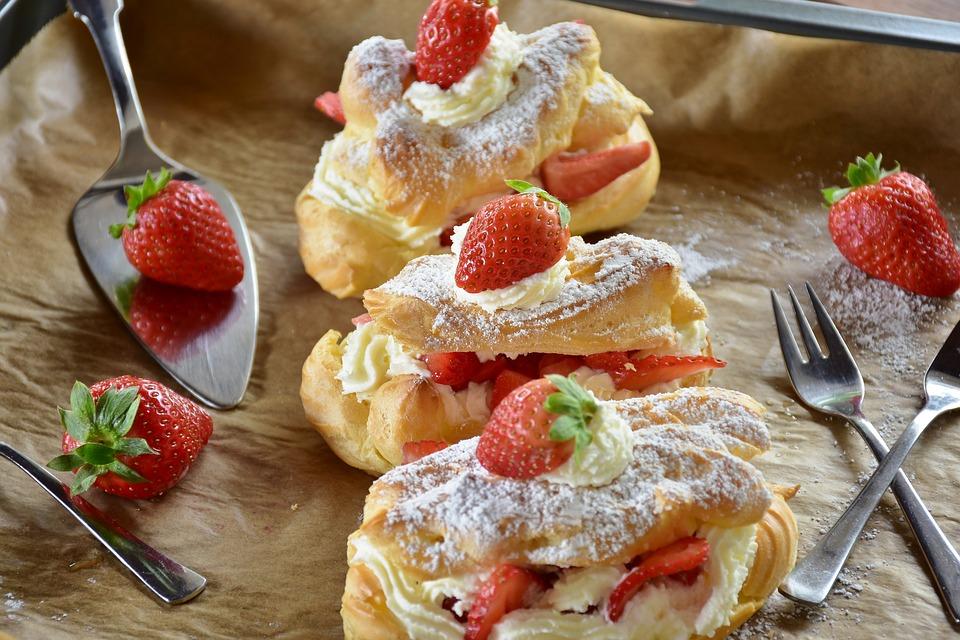 Baked goods – homemade or store bought
What situation in life can't be made better with fresh baked goods? If you're a baker, make something yourself, as it's more personal and budget-friendly.
For example, you can use our decadent chocolate cheesecake recipe, which is sure to please any chocolate lover.
If you're not a baker, you can pop into a local bakery – ideally one that is near their new home – for a box of deliciousness.
Be careful of food allergies or sensitives. I once gave a home-baked chocolate cheesecake as a housewarming gift to a new neighbor, only to discover that they were lactose intolerant.
---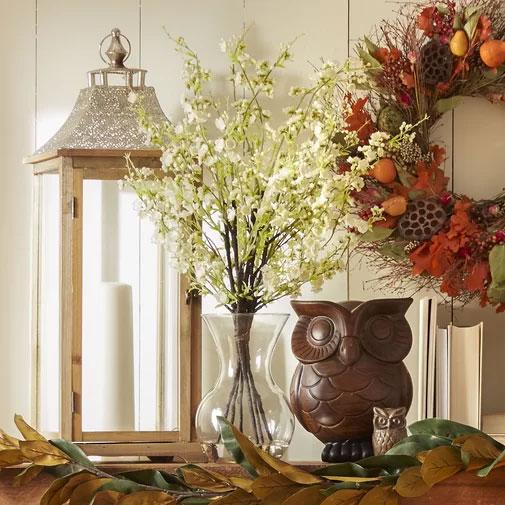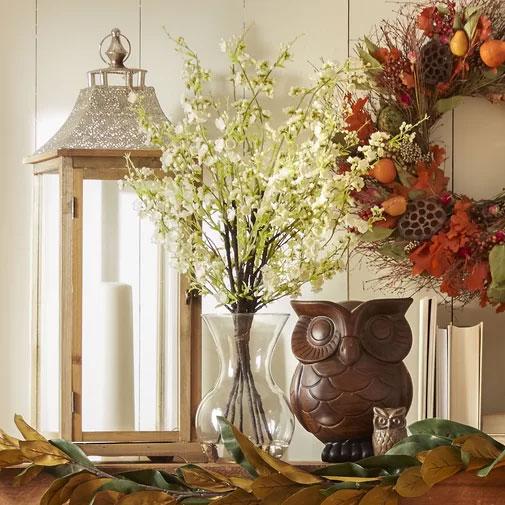 A vase of flowers
Flowers are a lovely way to liven up their new home and add an instant splash of color to a place they may not have had a chance to decorate yet.
Pick an attractive vase that they can reuse long after the original flowers have faded. According to Moving.com, being around flowers can also help reduce moving-related stress.
---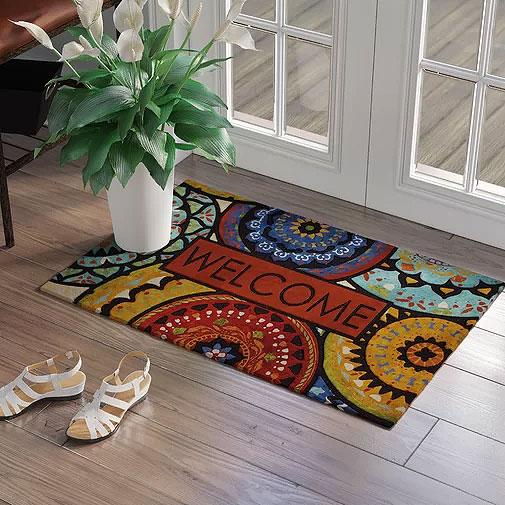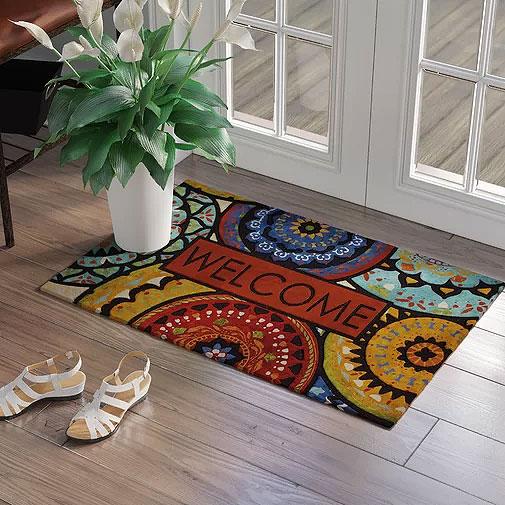 Welcome mat
Help them step into their new home in style with a brand new welcome mat.
From classy to sassy, these welcome mats come in a variety of styles and designs so that you can fit one that perfectly suits the homeowner(s) aesthetic & personality.
---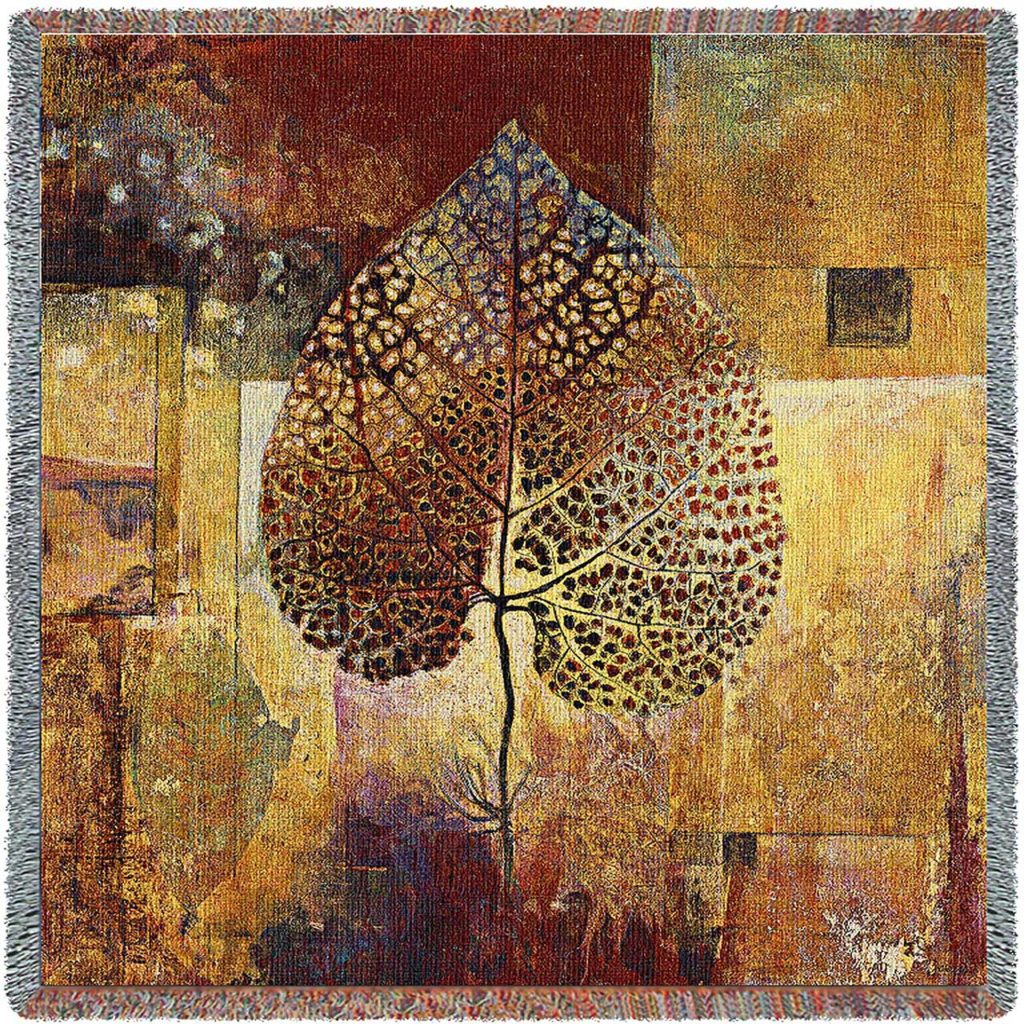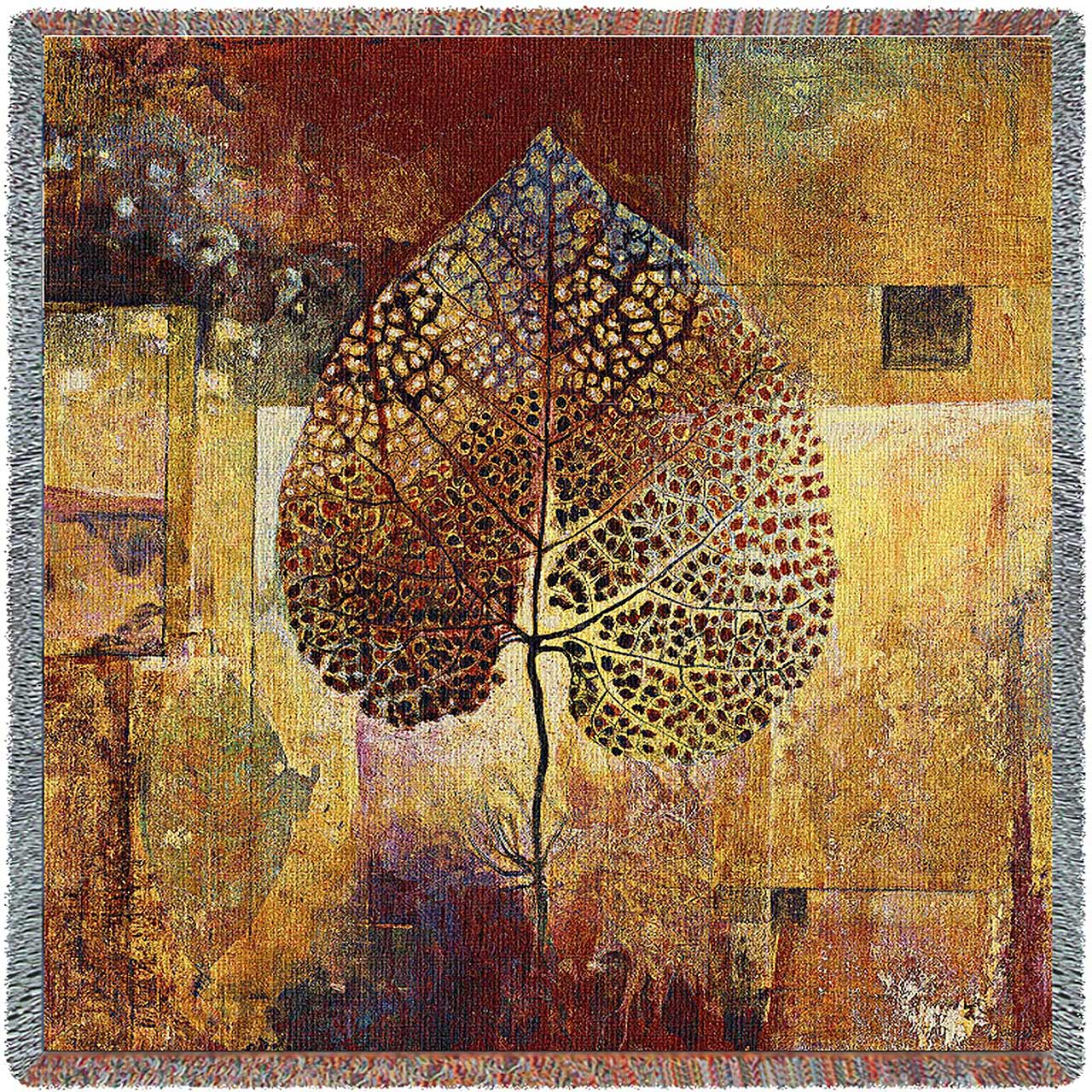 A soft & cozy throw blanket
Help them cozy up their new home with a soft & decorative throw blanket they'll love curling up under. I especially love tapestry throw blankets, because they combine the luxurious feel of pure cotton with the beautiful designs of jacquard woven tapestries.
Help them cozy up to their new home with a soft & decorative throw blanket they'll love curling up under. I especially love tapestry throw blankets, because they combine the luxurious feel of pure cotton with the beautiful designs of jacquard woven tapestries.
Intricately woven in a variety of styles and patterns from contemporary to country & rustic, these tapestry throw blankets and afghans add charm to any room and provide a stunning mix of comfort, warmth, and beauty.
---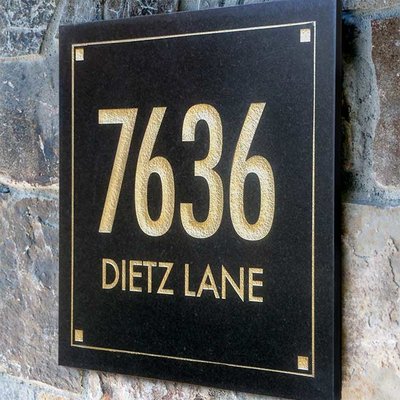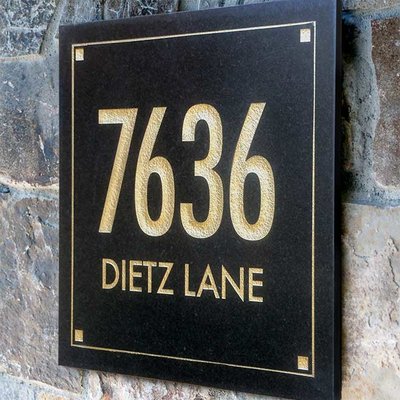 A personalized address plaque
Another way to help spruce up the curb appeal of their new home is a personalized address plaque. Although a bit on the pricier side, these pieces are built to last.
You might want to check the house first to make sure that they don't already have something in place, but we have found that people often go basic with their house numbering, when a little investment in a custom address plaque can make a big difference on a house's first impression.
---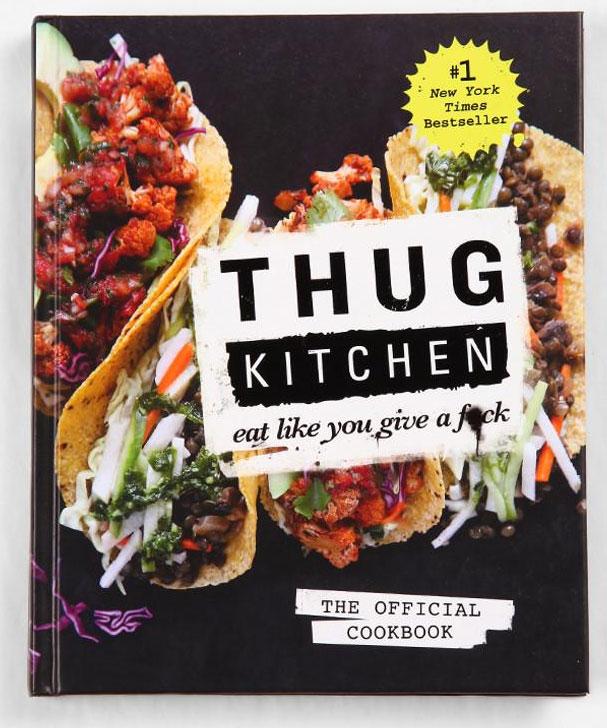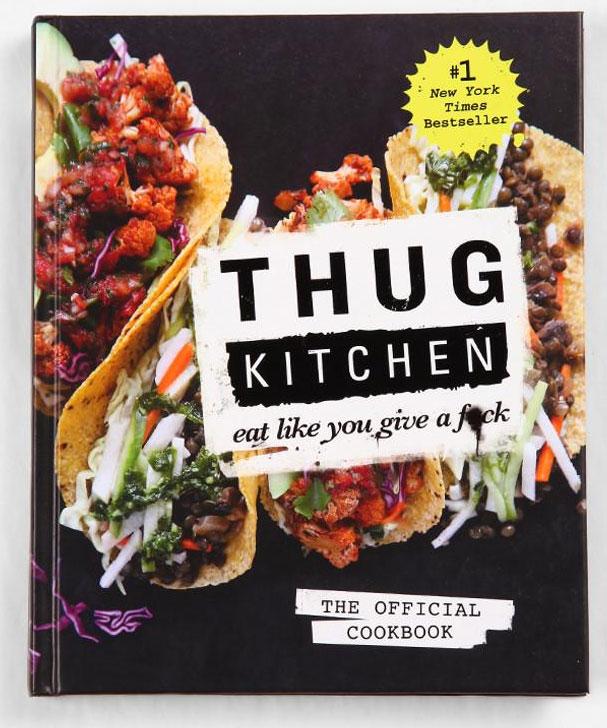 Your favorite cookbook
Help them break in their new kitchen with some new cooking inspiration. Giving them a cookbook that you have come to rely on to create delicious meals helps make it even more personal!
If you don't have a favorite cookbook, do a little bit of research to find one that would be essential for home cooks, or one that celebrates a certain style of cooking that you know they would love.
---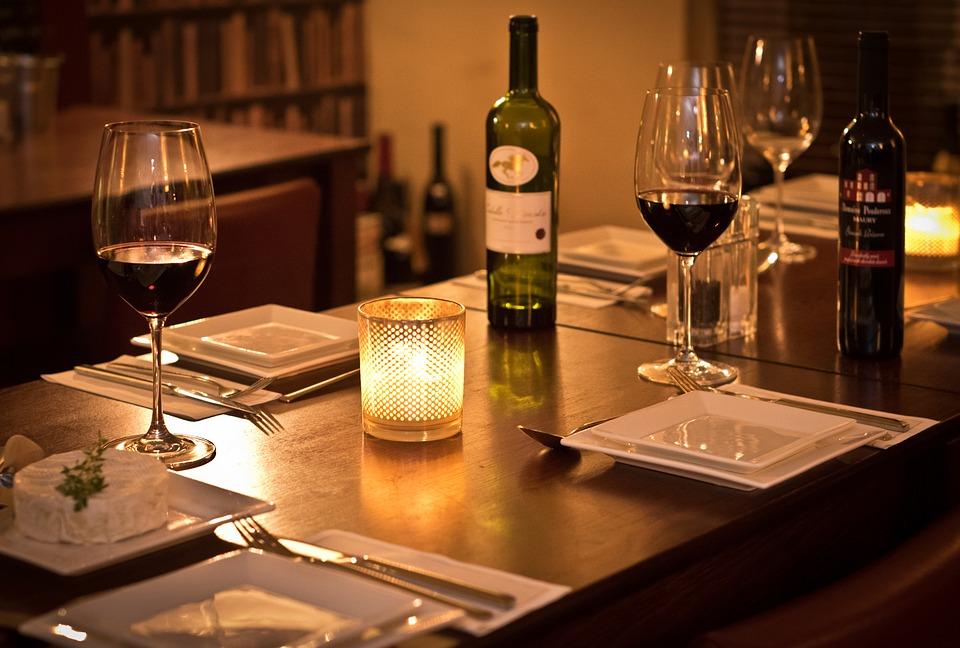 A nice bottle of wine
If all else fails, head to the liquor store and pick up a nice bottle of wine. You can create a lovely wine gift basket that includes a corkscrew, wine glasses, and a decanter if you want to go that extra mile.
If they are not wine drinkers, a nice liqueur or bottle of their favorite brand of spirits works just as well.
---
Gift cards galore!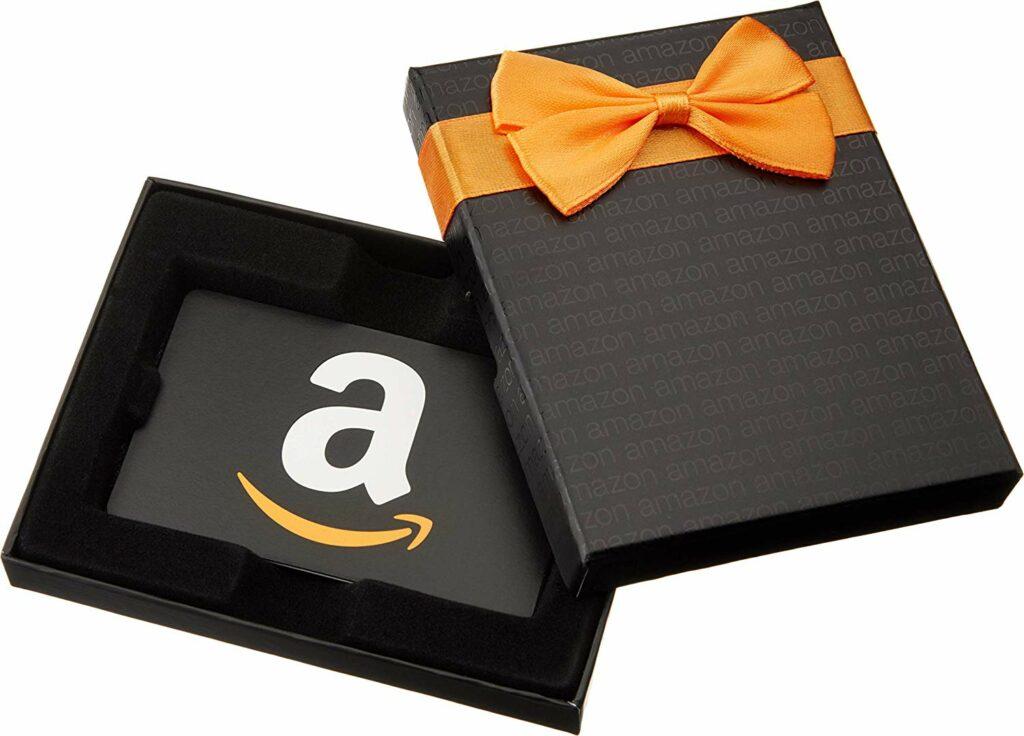 One thing that is almost universal about new homeowners, they never have enough money for everything that they need.  That's why a well-selected gift card can be a very thoughtful and appreciated gift.
The one downside of gift cards is that it is instantly obvious how much you spent on their housewarming gift, so keep that in mind while selecting both the card and the dollar amount to provide.
There are a variety of gift card types that could be suitable for the new homeowner.

Home Goods Gift Cards
A gift card for the local home improvements store, home decor store, and online shops such as Amazon or Wayfair, or even the nearest Target or Walmart could come in VERY handy as they are setting up and decorating their new home.

Home Services Gift Certificates
Moving is a dirty business, and nobody likes to celebrate a dirty home. Cross one thing off their list by hiring the services of a cleaning company to give the house a solid once-over to make everything spic and span!

Personal Care Gift Certificates
Moving is also an exhausting business, so a gift certificate for a massage or a manicure could be a lovely way to let them pamper themselves after all the hard work is done.

Food Gift Cards
It's very hard to cook in a kitchen full of boxes, so a gift card for a local restaurant or their favorite takeout will keep them fed and fueled for all of the work ahead.

Labor of Love Gift Certificates
Last – but certainly not least – you can offer your time. A certificate for an hour, or two (or 12, depending on your commitment levels) of unpacking and/or organizing services will be much appreciated. This is an especially handy gift if your own budget constraints preclude other options.
---
Amazon Prime membership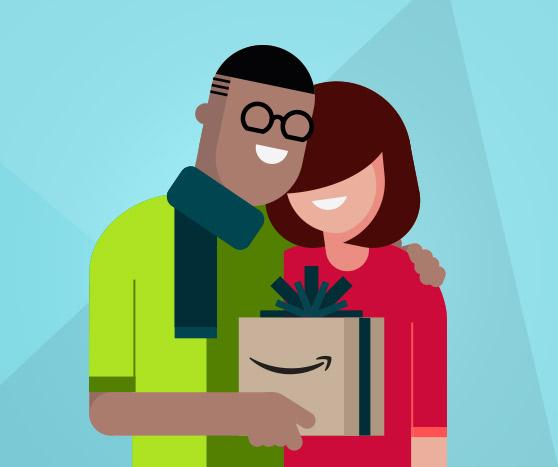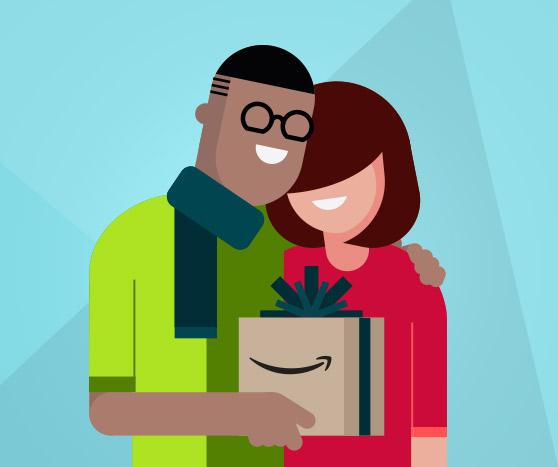 A new house means shopping. Lots and lots of shopping, for a variety of things large and small.
Give the Gift of Amazon Prime
Giving the new homeowners a 3 month (from $39) or a one year (from $119) subscription to Amazon Prime could help them with their shopping needs by providing FREE Two-Day Shipping on over 100 million items, thousands of movies and TV shows to watch on Prime Video when they are exhausted at the end of a packing, painting or decorating day, plus millions of songs they can stream from thousands of playlists.
As a nice added feature, if the recipient is already a Prime member, they can easily exchange the prime membership for an Amazon.com Gift Card of the equivalent value.
---
Remember why you are giving the housewarming gift
Housewarming gifts are meant to help celebrate a new home and a fresh start.  For that reason, it is far more important that your gift reflects them and your relationship with them than what you bought or how much you spent on it. 
A thoughtful gift will always be remembered more fondly than an expensive but impersonal gift.
I always thought this classic housewarming toast from It's a Wonderful Life (one of my favorite Christmas movies) was a lovely way to welcome someone to their new castle.