Whether you are a true wine connoisseur or one who enjoys the casual glass of Rosé on a Friday evening, you might want to take your wine storage up a notch with one of these unique wine racks & cabinets.
And, just for fun, we've poured in a few of our favorite Wine Puns along the way!
Adulting makes me wine.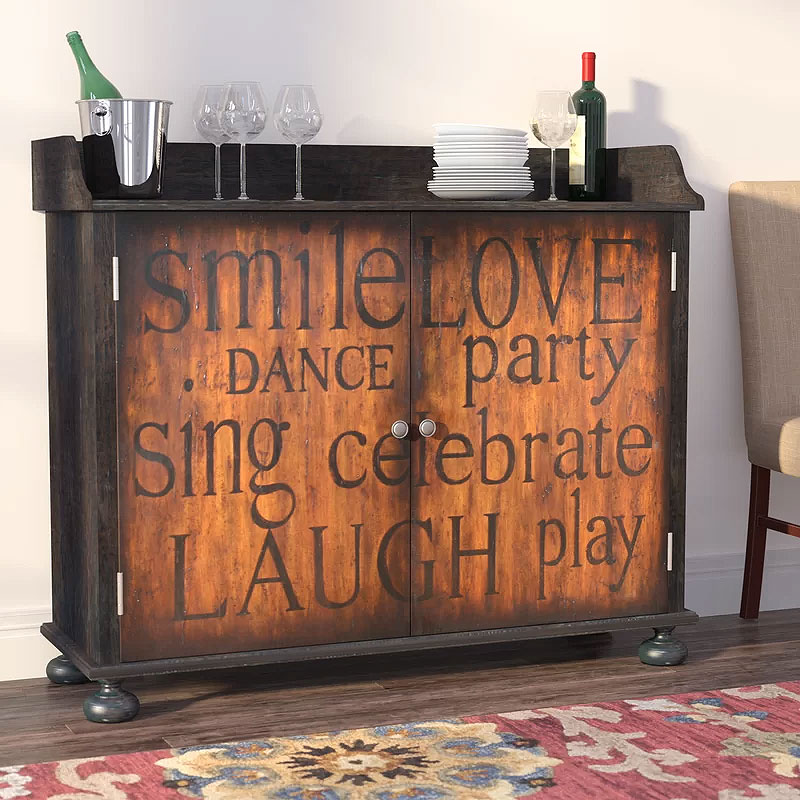 Red Barrel Studio | Firefly Hollow Bar Cabinet with Wine Storage
Defined by its typographic details and hand-painted natural color palette, this handsome bar cabinet is a must-have addition to your entertaining space. Its distressed details add an antiqued touch to your decor while its brown and black hues are perfect set against a crisp white wall for a contrasting use.
---
Alcohol you later.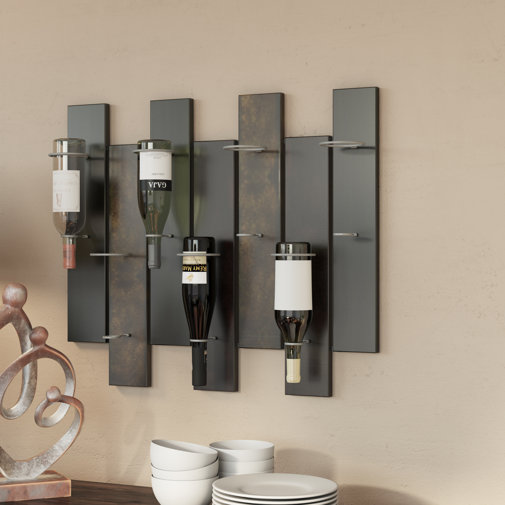 Arakaki 7 Bottle Wall Mounted Wine Rack
Wall-mounted unique wine racks take visual impact and space-saving design and combine them into one stunning piece.
Whether you've been all the way to Bordeaux for your bottles or you're sipping spirits from a more local vineyard, this wine rack lets you show off a few of your favorites in style. Crafted of metal finished in distressed earth tones, it showcases a series of uneven slats with openwork loops to hold up to seven bottles. Though mainly intended for space-saving storage, this piece also doubles as an artful accent.
---
Chardonnay or should I go now?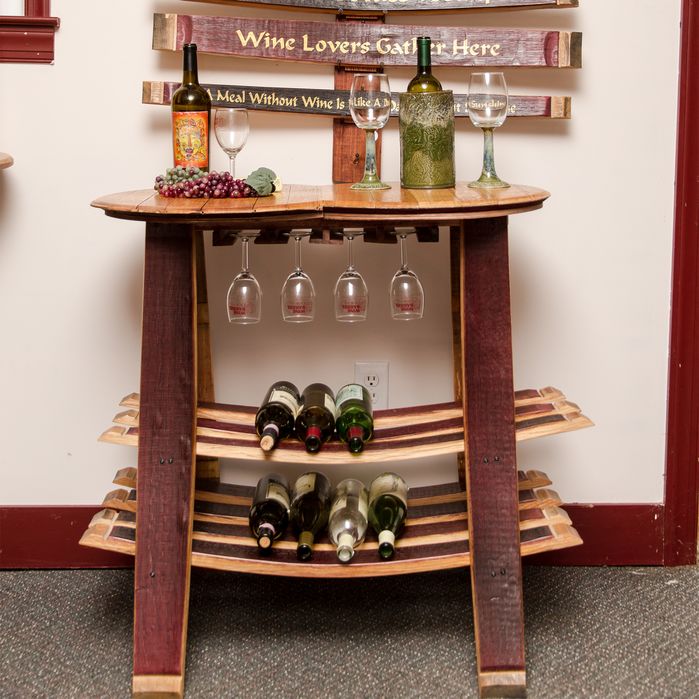 Napa East Collection | Barrel Head 16 Bottle Floor Wine Rack
Napa East Collection is a unique line of wine-inspired furnishings. Their barrels began life handcrafted with pride from the finest French and American Oaks, and they continue that theme when hand selecting them and giving them new life as beautiful one-of-a-kind works of art.
Just like the rest of our collection of unique wine racks, no two pieces are alike, giving you a look that stands out, and a story to tell. Napa East Collection hopes you enjoy your new decor.
---
Don't ask me why I love wine. I have my Rieslings.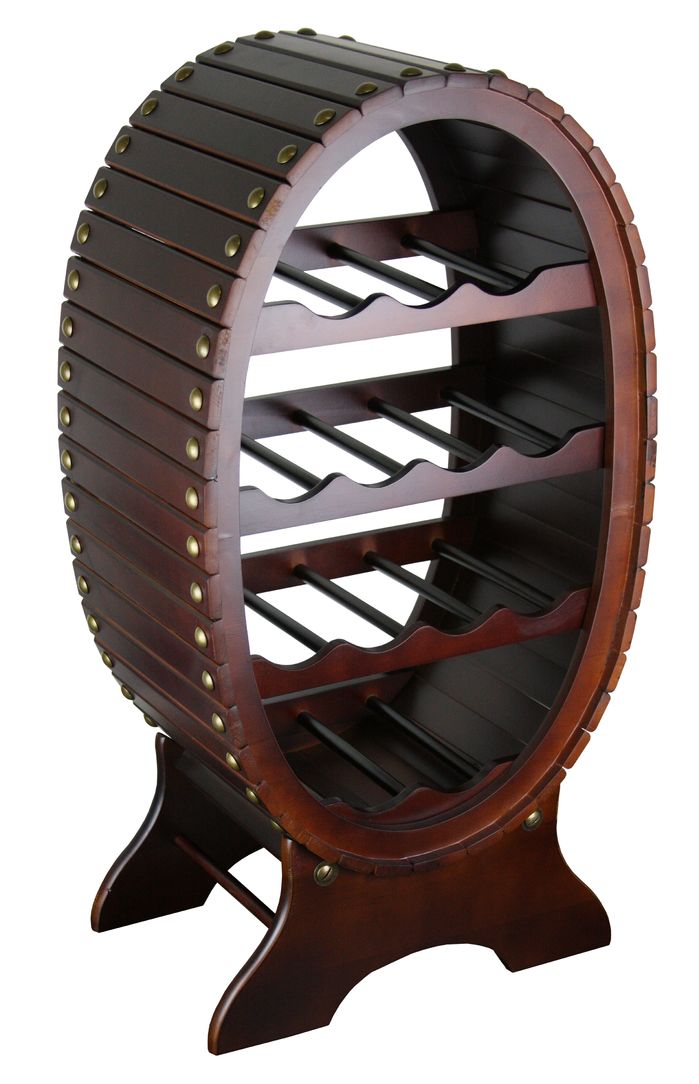 Red Barrel Studio | Frieda 13 Bottle Floor Wine Bottle Rack
This Italian-inspired wine rack is perfect for home decor or the office. With its cherry-pressed wood finish and metallic gold accents, this will make a refined and elegant addition to any place.
---
Giving you more reasons to wine.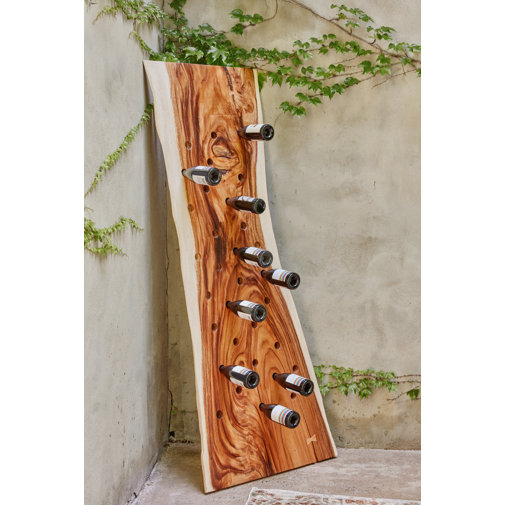 Union Rustic | Daniella 25 Bottle Live Edge Floor Wine Rack
Thios wonderfully rustic wine rack is made from solid chamcha wood. Due to its handmade nature, variations in size and color can be expected and are an intentional and desirable aspect of this product.
When you're looking for unique wine racks, you can't beat a naturally crafted, live-edge piece for true uniqueness.
---
Great minds drink alike.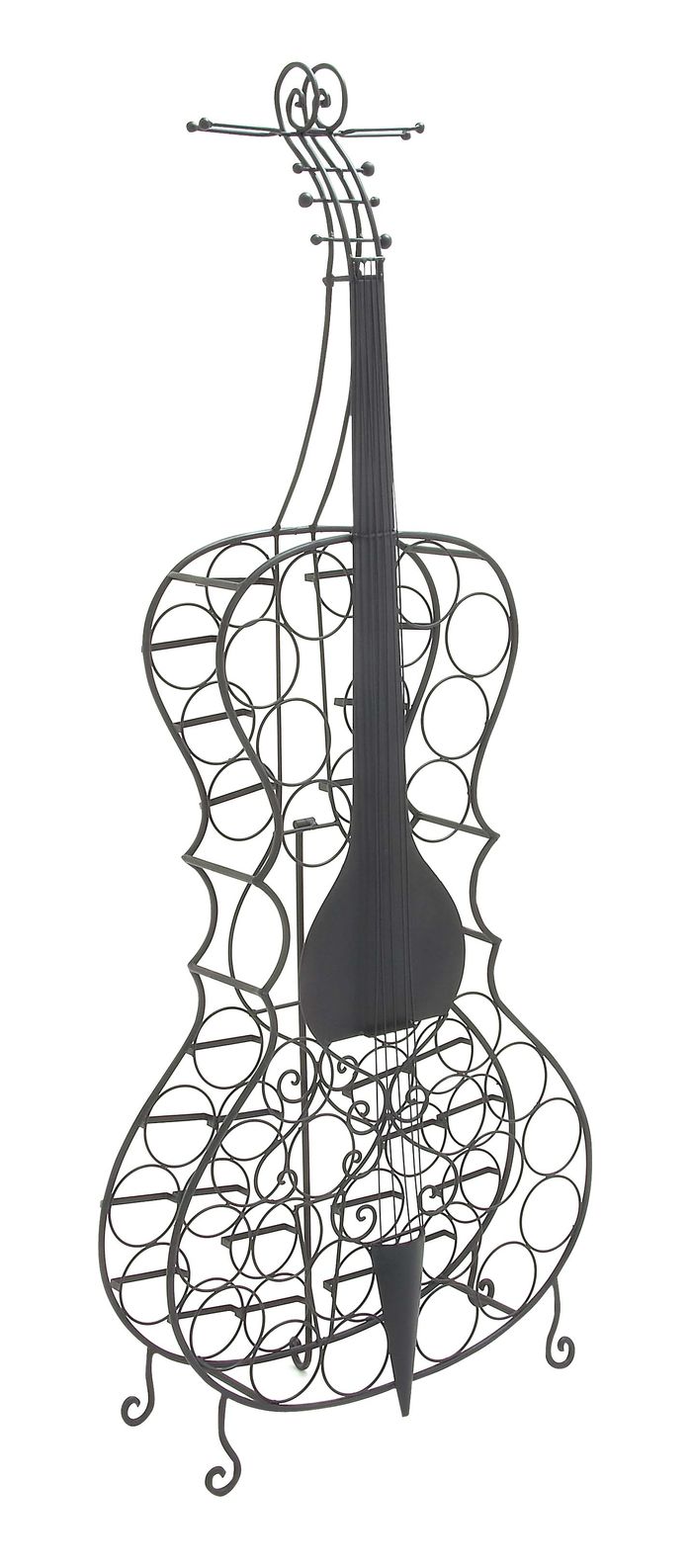 Cole & Grey | Metal 30 Bottle Floor Cello Shaped Wine Rack
For the wine & music lover, the Glitz rustic metal 30-bottle floor wine rack features a delightful black wrought tin cello outline and solid fingerboard and strings, tuning pegs, and round wire ring bottle cradles.
---
I like my wine sweet and my humor dry.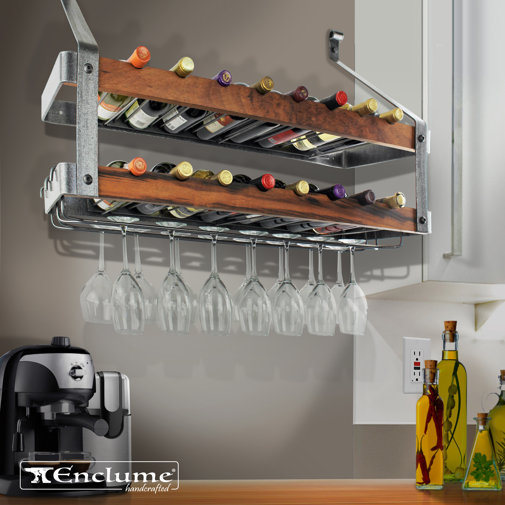 Signature Double 16 Bottle Wall Mounted Wine Rack
Inspired by French tradition and proudly made in the USA, Enclume brings innovation and design to their legendary bookshelf pot rack creating a uniquely authentic, beautiful, and functional new wine rack with a glass holder. Each signature series product is handcrafted integrating the fines materials including Enclume's legendary hammered steel and FSC-certified tiger wood.
---
I make pour decisions.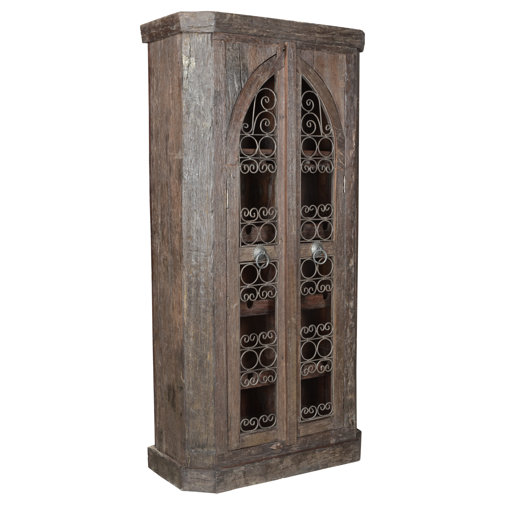 Steptoe Sleeper Bar Cabinet
Add dramatic and functional space to your home with this stunning wine sleeper cabinet with maximum storage capacity for 15 bottles (750 ML to 1.5 L). It adds a unique flair to the space and is perfect for storing precious wine collections. This bar cabinet is crafted from 100% hand-selected recycled solid mango wood combined with cast iron metal to ornament the cabinet doors, handcrafted by a master artisan to add beauty to this already unique vintage finish one-of-a-kind wine cabinet.
---
I need to re-wine my life.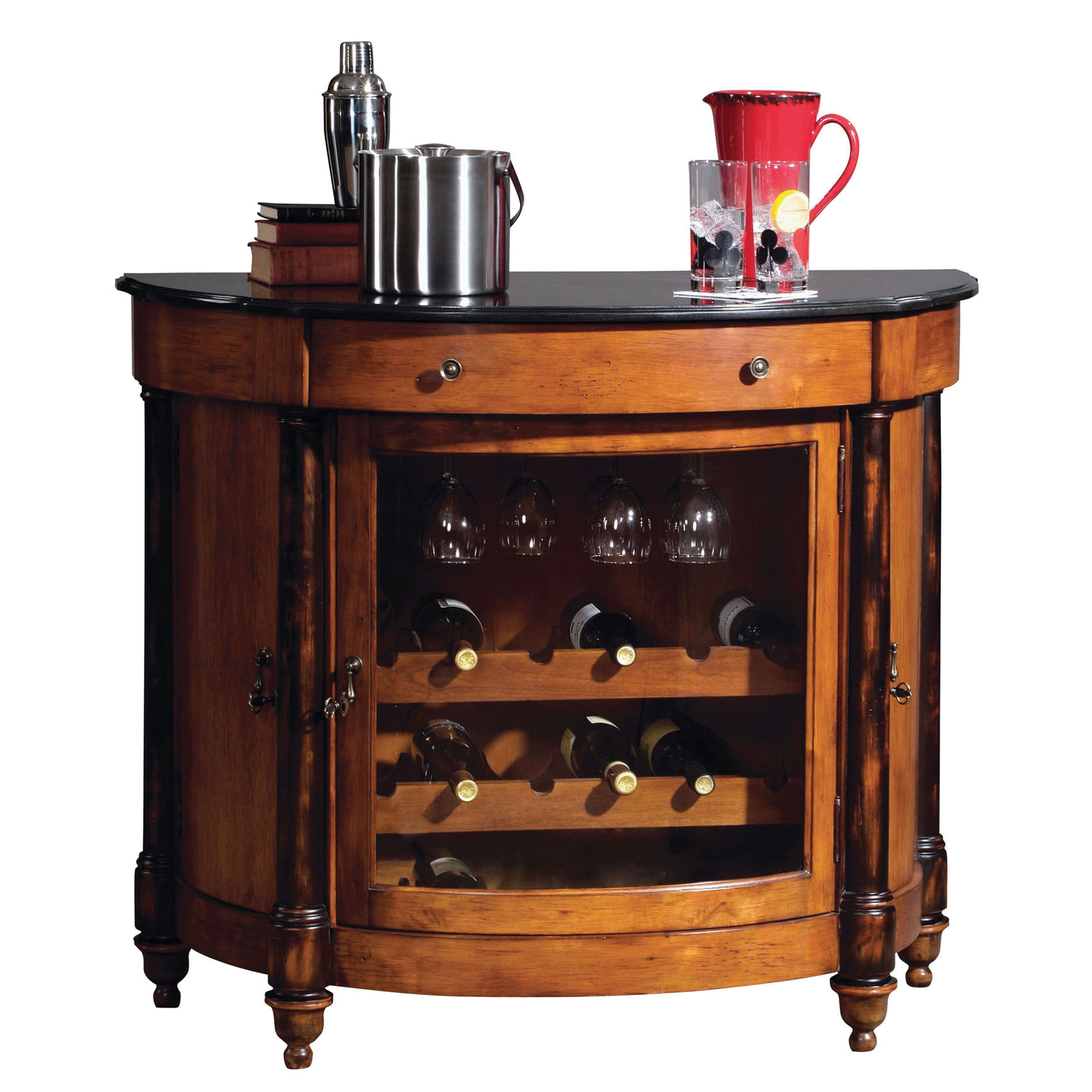 Howard Miller Merlot Valley Wine and Bar Cabinet
This Wine and Bar cabinet has a distressed Vintage Umber finish and Worn Black finished posts, this half-moon-shaped console offers plenty of character.
The front door features curved glass. A wood wine rack with a capacity for 18 bottles and a wood stemware rack are included within the cabinet.
---
It isn't good to keep things bottled up.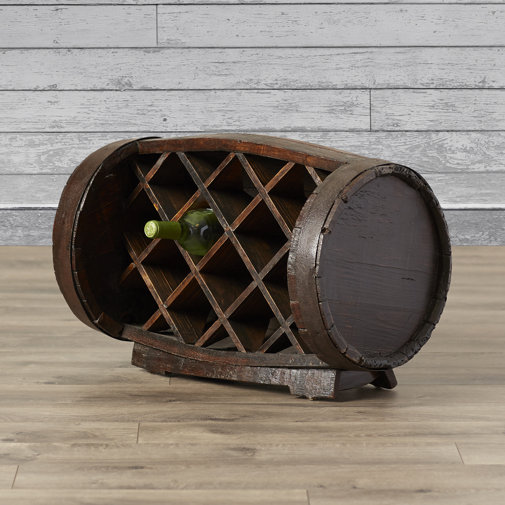 Agassic 11 Bottle Tabletop Wine Rack
A perfect gift for any wine connoisseur, the Loon Peak Agassic 11 Bottle Barrel Wine Rack has a traditional and robust element, which is hard to miss. Shaped to resemble a wine barrel, it is constructed out of solid wood for optimal durability. It has a natural gloss finish, which retains the rusticity of wood and imparts a robust character to it. The Loon Peak Barrel Wine Rack is crafted to hold 11 bottles and can be kept at your home bar to give it a personalized touch.
---
You're the wine that I want.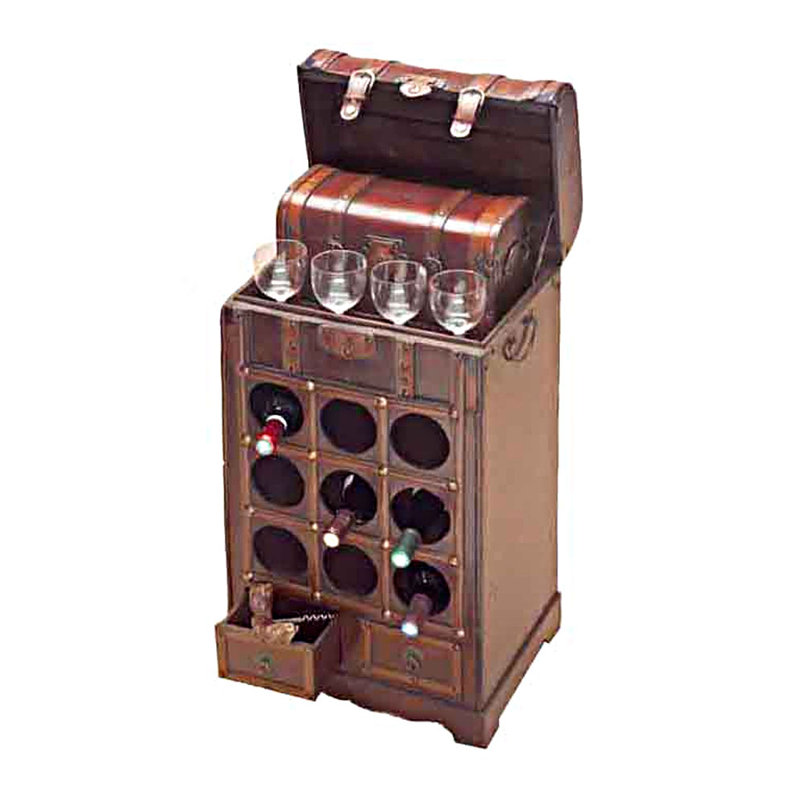 Halethorpe Wooden 9 Bottle Tabletop Wine Rack
This wine bottle rack gives a unique touch to your home and enhances the style of the room. Show off your favorite wines while adding character with this beautiful yet functional piece.
---
Love the wine you're with.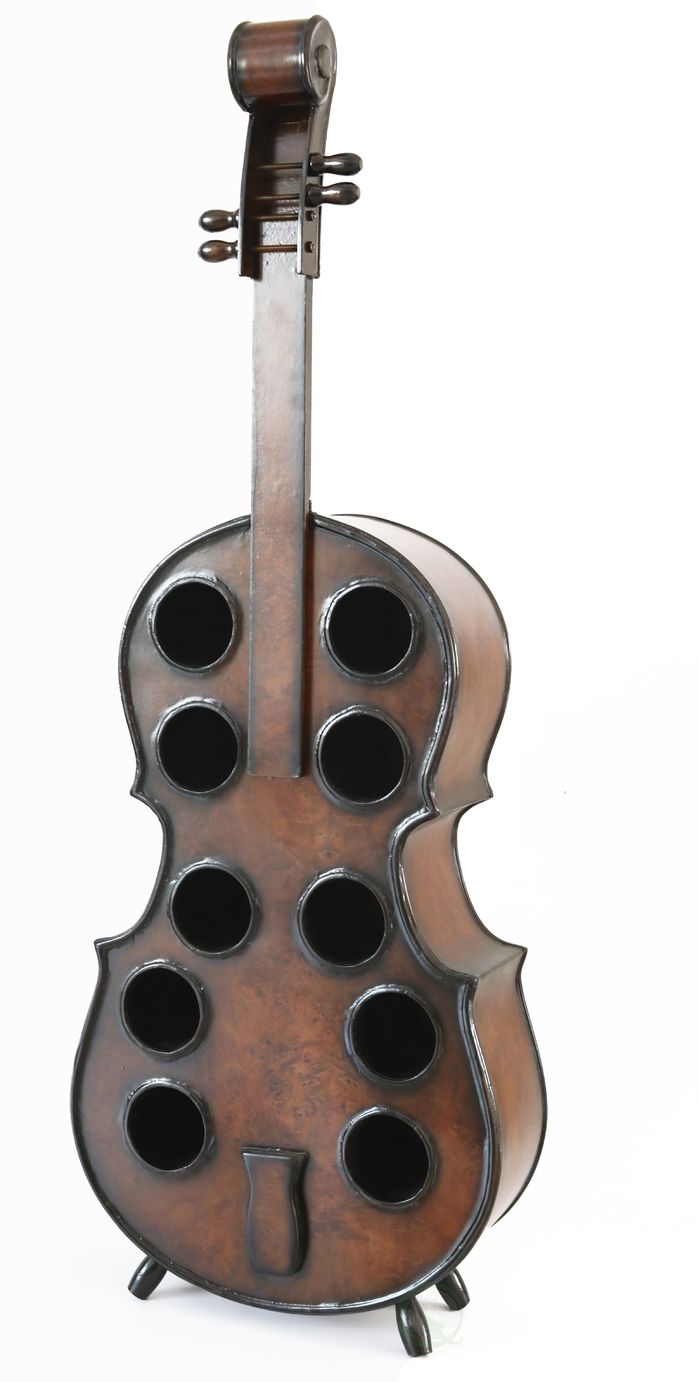 Fleur De Lis Living | Gumbs Wooden Violin 10 Bottle Floor Wine Rack
This Gumbs Wooden Violin 10 Bottle Floor Wine Rack will add a final touch to your dining room or wine caller. Designed to hold up to 10 bottles and wine glasses, it provides convenient and practical storage as well as a classic elegant style. The freestanding design keeps the wine stand steady and your wine Gumbs Wooden Violin 10 Bottle Floor Wine Rack secure.
A few of our unique wine racks have a musical theme, and there's nothing wrong with that!
---
On cloud wine.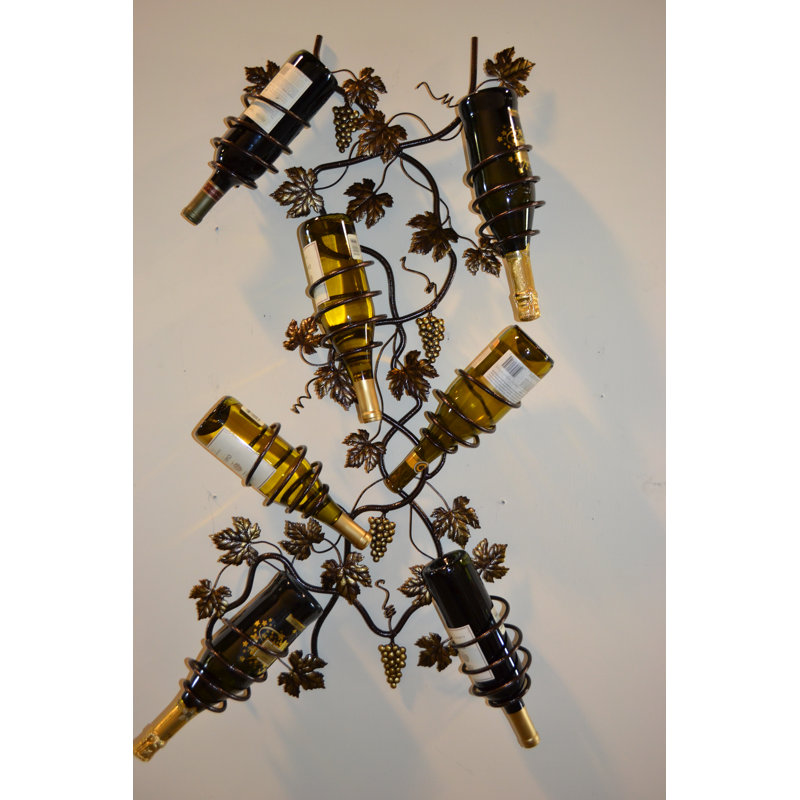 7 Bottle Grapevine Wall Mounted Wine Rack
The vertical vine wall wine holder is a classic luxurious design. Your seven selected wine bottles will be complemented by the metal antique gold grapes and leaves. Securely hidden mounts on the back hold your bottles safely to the wall. The sturdy iron is cured under heat to produce a durable bronze powder-coat finish.
---
Read between the wines.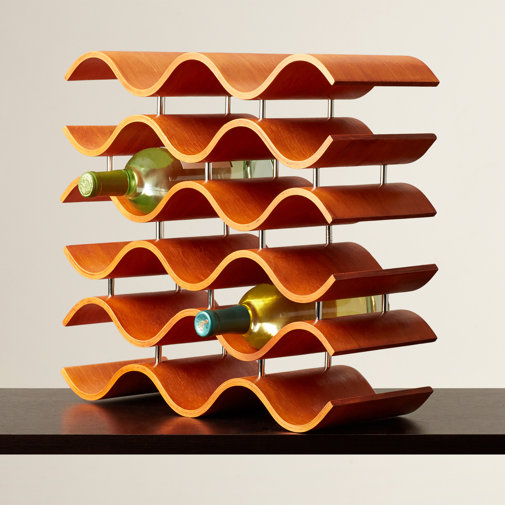 Helfrich 15 Bottle Bent Rubberwood Tabletop Wine Rack
Keep all your wine organized and within reach with this ultra contemporary tabletop wine rack. Crafted of bent rubberwood in a rich, spiced pumpkin stain, six wavy shelves cradle up to 15 bottles of your favorite fruit-forward reds, oaky whites, and bubbly champagnes, while a series of gleaming chrome metal tube posts support the structure.
Part of the tabletop section of our unique wine racks collection, because variety is the spice of life.
---
Say you'll be wine.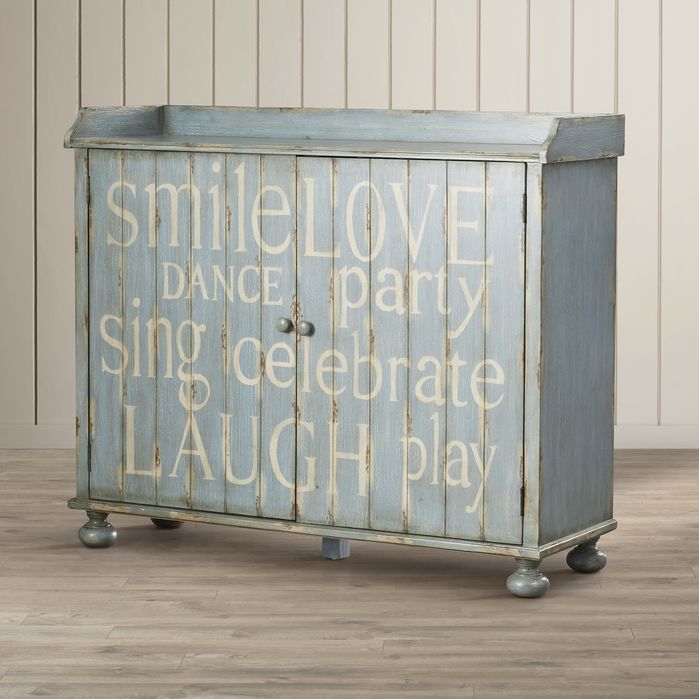 Beachcrest Home | Melody 17 Bottle Floor Wine Cabinet
There's no reason all furniture has to be serious. Brighten up your cabinetry with this positive piece. Constructed of a blend of solid and manufactured wood with a rustic, rubbed blue finish, this piece is perfect for styles from modern farmhouse to coastal and beyond.
Its plank-style doors are painted with positive words and open to reveal the perfect wine storage set.
---
Some people like beer goggles. I prefer wine glasses.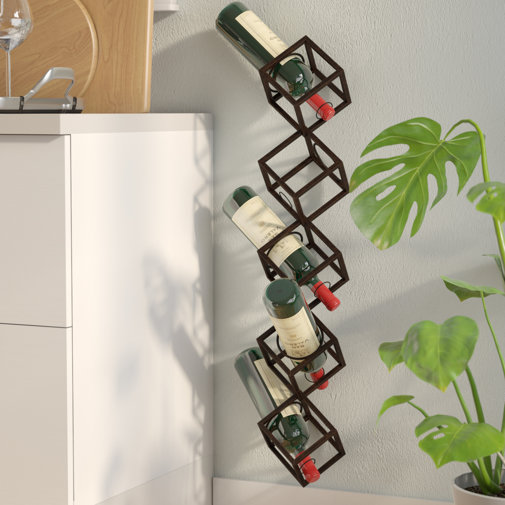 Kirwan 5 Bottle Cubes Wine Rack
Why sacrifice style when adding storage space to your ensemble? A wine rack like this is a great option for adding a spot for your favorite bottles while delivering plenty of contemporary appeal.
It features a playful, stacked 3-D cube design for an eye-catching look. Showcasing a brushed metal finish, this piece can be easily added to a variety of color schemes and design aesthetics.
---
Stop and smell the Rosé.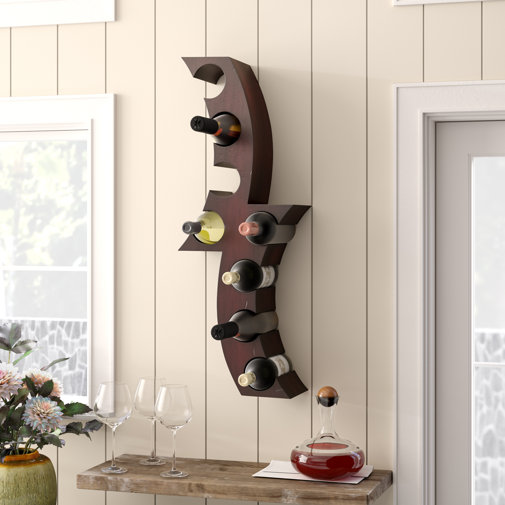 Unzueta 8 Bottle Wall Mounted Wine Rack
This wine rack is the answer to organizing, storing, and displaying all of your adult beverages. Offering both staging and storage space, this wine rack is a must-have for your home. Crafted of solid wood, this wall-mounted wine rack features a hand-painted rust finish. It accommodates eight bottles of your favorite wine. Perfectly at home in traditional and eclectic aesthetics, this piece arrives in wall mounting hardware.
---
Why have a mer little when you can have a merlot?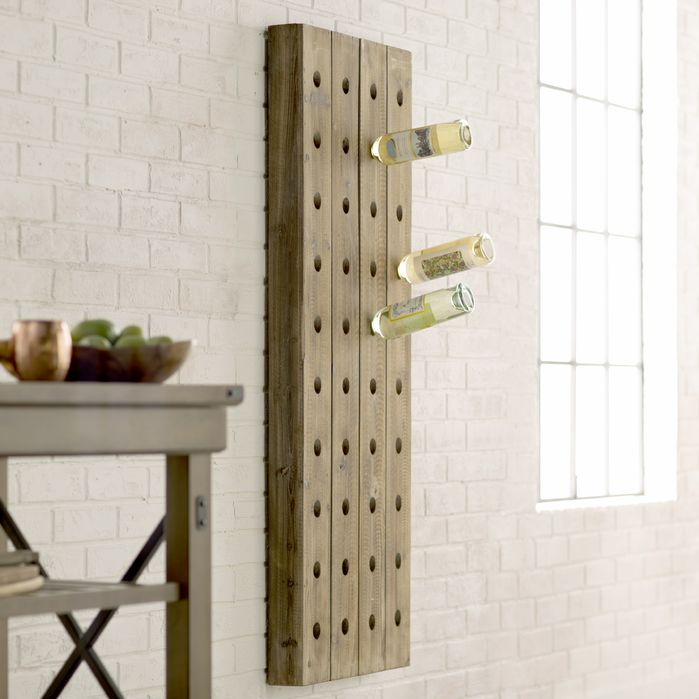 Wolpert 40 Bottle Wall Mounted Wine Rack
Measuring 57" H x 21" W x 4" D, this wine rack offers space for up to 40 bottles, making it perfect for both displaying and serving. Made from solid fir wood, its appearance is versatile with a clean-lined silhouette and a natural brown finish.
A wall-mounted design allows it to exist without taking up too much square footage.
Careful installation is required for this product, but it arrives in tact – no assembly needed!
---
Wine if you must. It's not good to bottle up your emotions.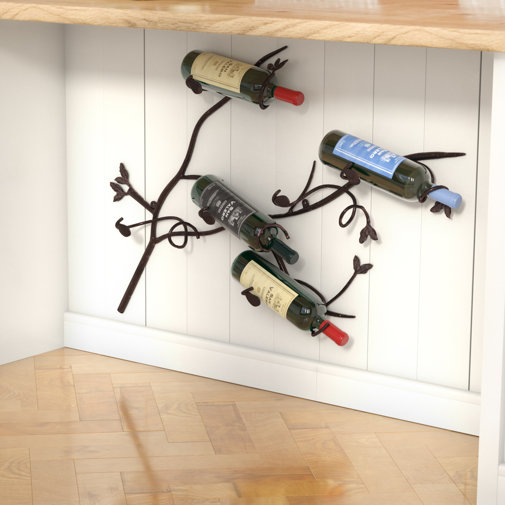 Bomberger 6 Bottle Wall Mounted Wine Rack
Display your favorite vintages on a shelf you'll enjoy almost as much with this tasteful wall-mounted wine rack, doubling as an artful accent and a practical piece. Drawing inspiration from nature, this metal rack features a branch-like framework with leaf accents and twigs stemming out to wrap around six bottles.
I love unique wine racks that look just as good without as they do with a bottle of wine in them.
---
You can't sip with us.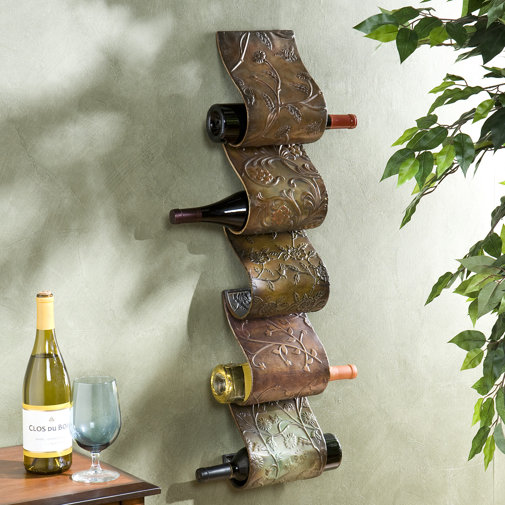 Barbury 5 Bottle Wall Mounted Wine Rack
Store your favorite vintages in wine cellar-inspired elegance with this eye-catching wall rack, showcasing ornate botanical embossing and space for five bottles. Mount it in your kitchen to keep cooking wines close at hand, or set it by your home bar for easy serving.
As far as unique wine racks go, this one takes to the wall in a stylish way.
Constructed out of metal for durability, it has intricate embossing in floral and nature motifs. Flaunting a traditional style, it has a multi-colored hand-painted finish, which seamlessly blends with most backdrops.
---
You had me at merlot.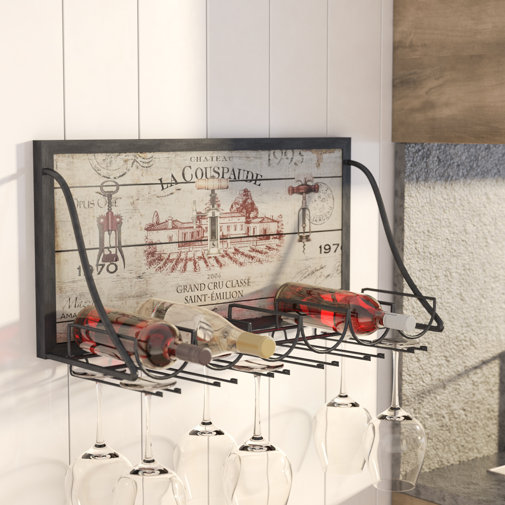 Mickael Vineyard 6 Bottle Wall Mounted Wine Rack
Perfect for adding a touch of extra storage to your home bar or kitchen, a wall-mounted wine rack like this is a great option for adding a decorative touch and handy organization all in one space-conscious piece. Crafted from metal with a wood-look decorative accent, this piece features storage for up to six bottles of wine and 12 pieces of stemware. And with a print inspired by the French countryside, this piece is sure to add a touch of Provencal style to your ensemble.
---

It's wine o'clock.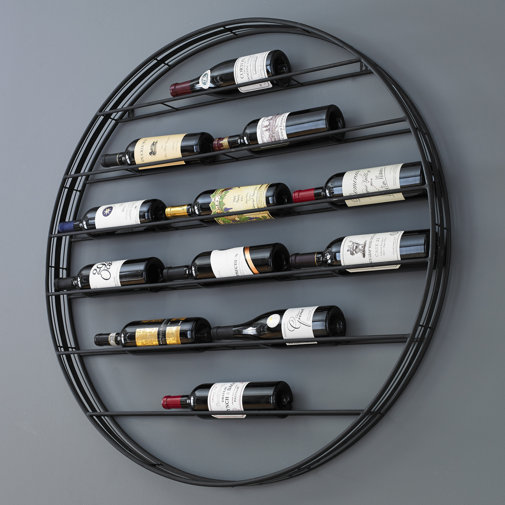 Label View 12 Bottle Wall Mounted Wine Rack
Combine the space-saving design of a wall-mounted wine rack, the unique "Label View" presentation, and the striking black metal frame and you get this wonderfully unique wine rack.
---