There are a few things that I cook really well, and this Dark Chocolate Cheesecake is one of them. The best part is that this recipe is far easier to make than you might imagine.
Jump to Recipe
An in-demand dish, this decadent Dark Chocolate Fudge Truffle Cheesecake is a luxurious dessert that combines the richness of dark chocolate with the velvety texture of cheesecake.
I am a fan of all things cheesecake, and I have been for many years. Cherry used to be my favorite, until I started to discover all of the rich and wonderful varieties that were available. After being a connoisseur of cheesecakes for many years, I decided to try my hand at baking one. I did the typical cherry cheesecake first, both baked and chilled versions. But I found that there really wasn't anything special about my cheesecake vs. what I could get practically anywhere.
Then I tried this dark chocolate cheesecake. I wasn't sure what to expect, because the recipe was so simple. But the result was absolutely delicious.
Fast forward many years and I am still making this dark chocolate cheesecake for myself, my family, and my friends. I don't want to admit exactly how many years, but suffice it to say that I was far, far, far younger when I first made this recipe. But there is something so rich and wonderful about this dark chocolate cheesecake that I keep coming back to it year after year (after year, after year).
And even if I decided that I didn't want to make this cheesecake again, I don't think the people I know and love would let me get away with such nonsense.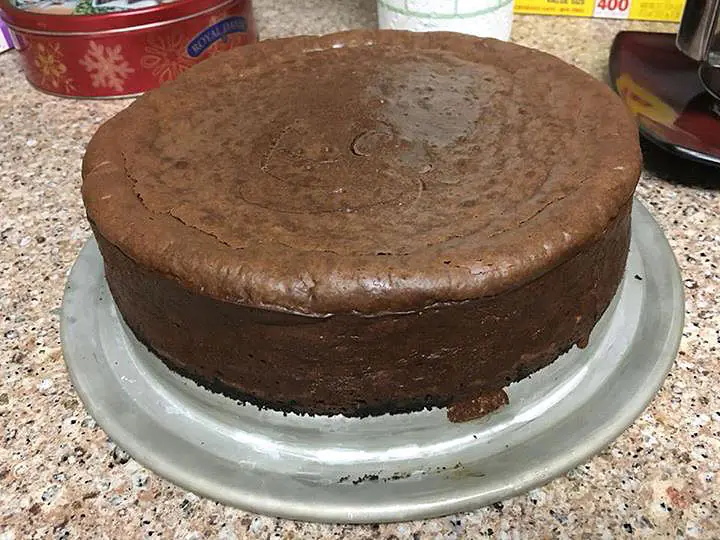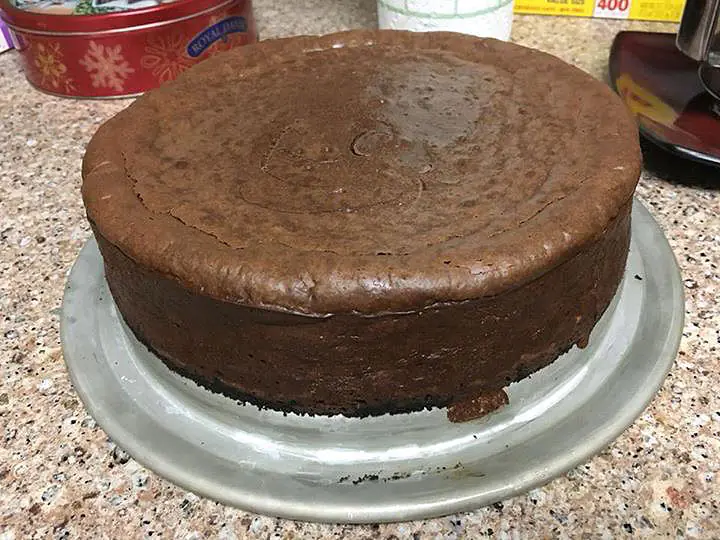 What I present here today isn't the same dark chocolate cheesecake as it was when I first started making it. As I think any chef or baker does, over time I have made some tweaks to both the recipe and the presentation. But the base does remain pretty too to this classic chocolate cheesecake recipe because – after all – if it ain't broke, don't fix it.
This recipe will make one full-size cheesecake, but – we warned – it is VERY rich, so unless you are expecting a lot of company, making one big cheesecake may be too much. The recipe also splits into two very nicely, using two 6″ Springform Pans instead of one 9″ pan. That way, you can have one for yourself and give one to someone else. Or keep them both yourself, I won't judge.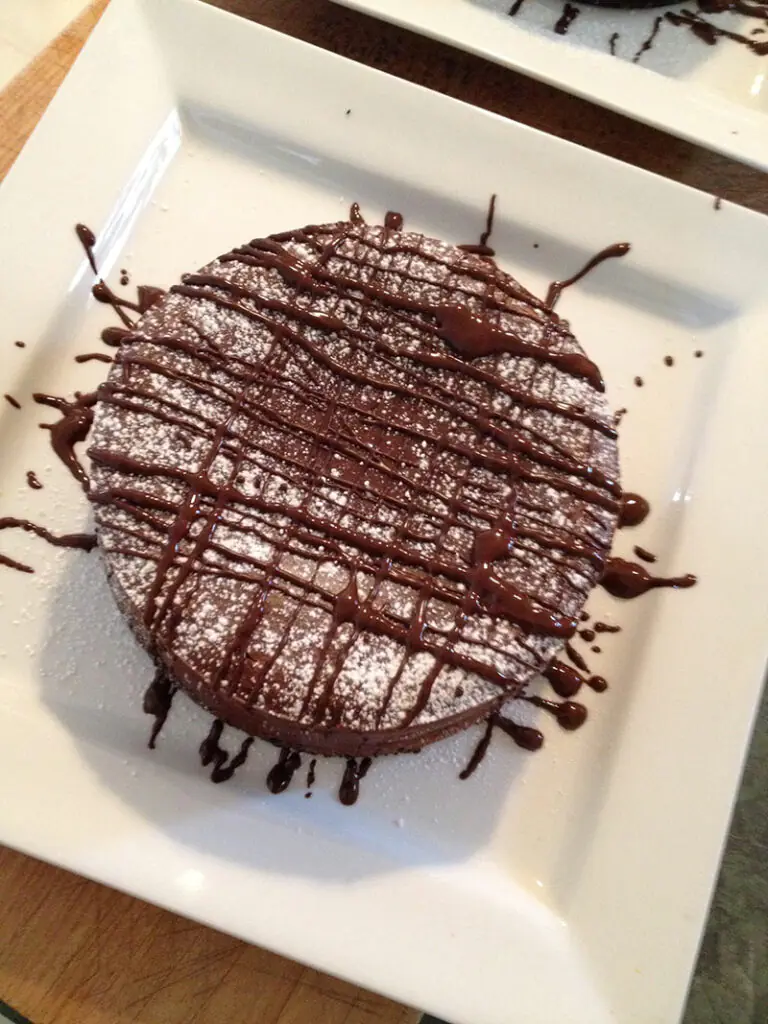 The smaller ones are perfect for an intimate dinner party or to bring as a gift for a housewarming gift.
And just a word of caution, from someone who experienced this first hand, this may not be an appropriate housewarming gift for anyone who is on a diet, is lactose intolerant, gluten fee, or diabetic. I made that mistake once.
A few years ago, new neighbors moved in and I wanted to say "Hi" with something special. I decided to whip up my dark chocolate cheesecake and deliver it with a "Welcome!" note. Little did I know that half the family was gluten free, and the other half was lactose intolerant. My cake was a huge bust, and I've never made that mistake again.
Baking Your Own Dark Chocolate Cheesecake
Once you have the basics of the cheesecake recipe down, I encourage you to start playing with the recipe. I've added a hint of mint before, or there is the version below which is loaded (inside and out) with chocolate-covered toffee bits. Although I will admit that I always end up reverting the original, classic version.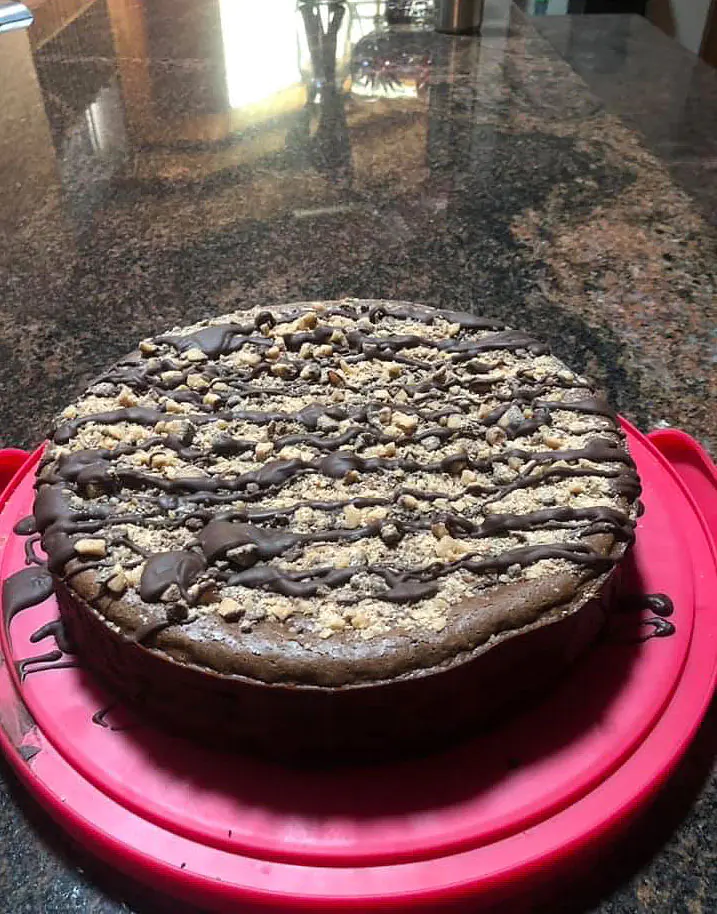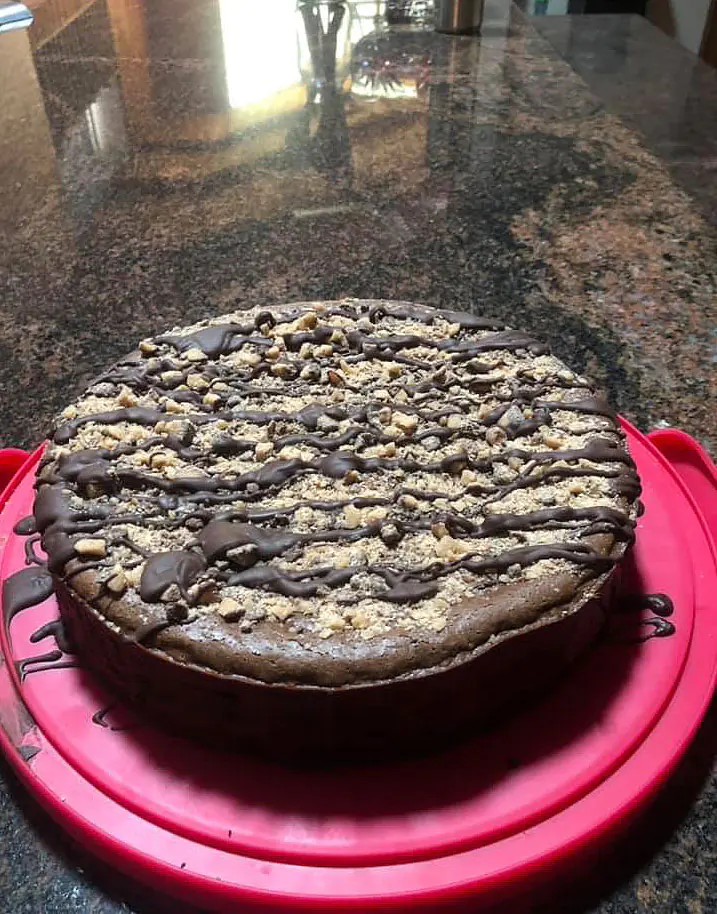 I have – on occasion – had trouble finding the chocolate baking crumbs. In a pinch, you can by two ready-made Oreo® Chocolate Pie Crusts and use them (it take about 1 1/2 of those) to make the cheesecake crust. Or, with a bit of patience, you can pull apart and blend Oreo cookies to create your own crumbs. In case you need it, here is a recipe for Homemade Chocolate Cookie Crumbs.
A Make It Now, Enjoy It Later Dark Chocolate Cheesecake
One of the best parts of this cheesecake is that it freezes beautifully. This goes back to making two small cakes instead of one big one, because you can freeze one of them for future use, if you so desire. But if you do bake a full-sized cheesecake, you can also slice it up and freeze the individual slices. A friend of mine, who I see once a year, insists that I bake one of these cheesecakes for her. We then slice it up into quarters so she can free them and take one out every few months.
That way, it's like I'm visiting every few months instead of only once a year. Or, at least, my chocolate cheesecake is.
A Tip for Serving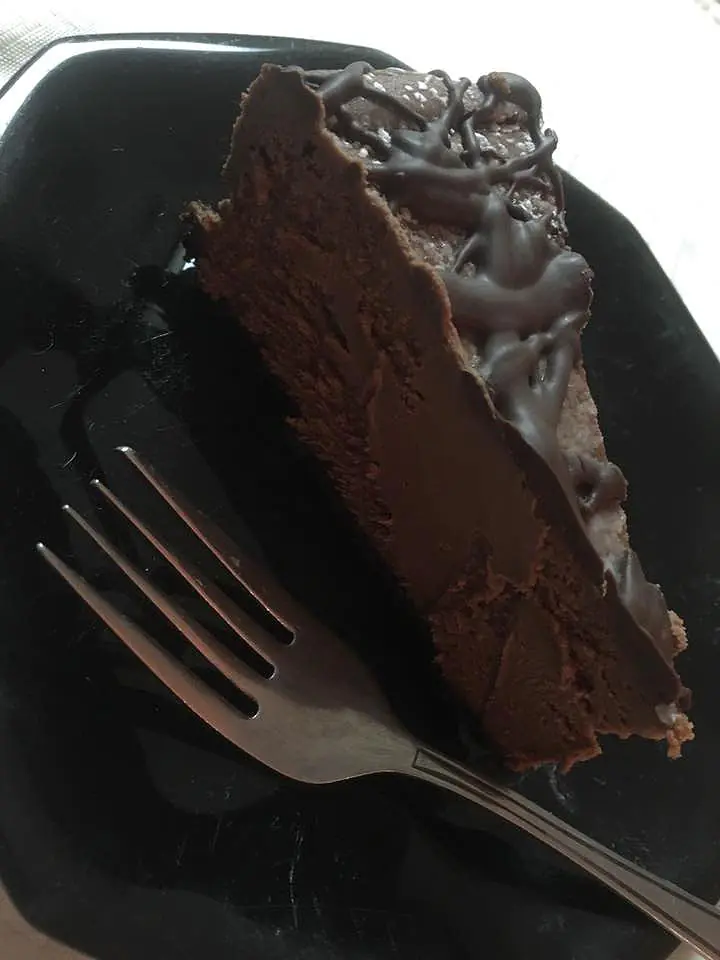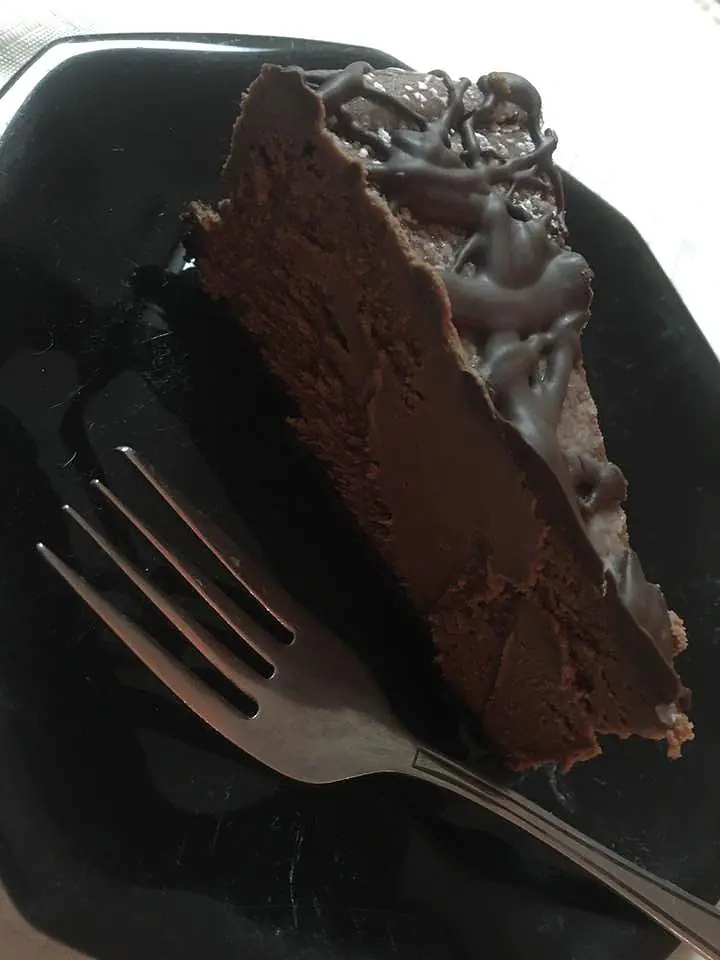 This dark chocolate cheesecake is VERY rich, so don't be afraid the keep the portions sizes on the smaller side. People can always come back for second!
---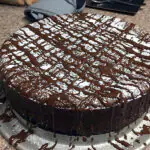 Print Recipe
Decadent Dark Chocolate Fudge Truffle Cheesecake
An in-demand dish, this decadent Dark Chocolate Fudge Truffle Cheesecake is a luxurious dessert that combines the richness of dark chocolate with the velvety texture of cheesecake.
Equipment
Hand or Stand Mixer

Mixing Bowls

Springform Pan

Measuring Cups & Spoons
Ingredients
Cheesecake Crust
1 1/4

cups

Chocolate Baking Crumbs

1/4

cup

Melted Butter
Cheesecake Filling
4

Eggs

At room temperature

3

pkgs

Cream Cheese

At room temperature or softened

2

cups

Semi-Sweet Chocolate Chips

1

can

Sweetened Condensed Milk

2

tsp

vanilla
Cheesecake Topping
1/2

cup

Semi-Sweet Chocolate Chips

1

tbsp

Coconut Oil

Vegetable oil will do in a pinch

1

tbsp

Confectioners Sugar
Instructions
Making the Chocolate Crust
In a small bowl, mix chocolate baking crumbs with melted butter until well mixed

Press crumbs into bottom of greased springform pan(s)
Making the Dark Chocolate Cheesecake Filling
Slowly blend softened cream cheese and eggs, careful not to over beat because additional air bubbles can cause the cheesecake to crack

Add can of sweetened condensed milk

Melt chocolate chips and add slowly. Mix until blended thoroughly, you should not see any chunks of cream cheese left

Pour completed mixture on top of chocolate crust in prepared Springform pan
Baking the Chocolate Cheesecake
Allow the cheesecake to settle while preheating oven to 350° F

Place a shallow baking tin with water on the rack below where you will be baking the cheesecake

Place cheesecake in the oven and bake for 55 minutes. Use a toothpick to test the center to make sure it comes out clean

Allow the cheesecake to cool on the counter completely before placing in the refrigerator
Creating the Topping (Optional)
Melt additional chocolate chips

Mix in coconut oil until the chocolate is thin enough that you can drizzle it (but not too thin or it won't harden)

Dust the top of the cheesecake with confectioners sugar and then drizzle the chocolate mixture on top.

Place the cheesecake back in the refrigerator so it can cool and the chocolate can harden