Do you need to give your home a funny touch? A funny home decor accent can be the perfect way to add something interesting and slightly humorous to your home.
Please note that Art & Home has an affiliate relationship with some of the merchants listed below and we may receive a small referral fee – at no cost to you – for any purchases that you make utilizing the links provided. We use those funds to continue building Art & Home's unique collection of home decor articles and inspiration. And, you know, to buy stuff.
From funny plaques, artwork, framed memes, or even just funny-looking plants, there are many ways that humor can be added to the decor of your home. In this article, we will talk about why adding funny things around your house is so important and how it can help you look at the lighter side of life.
Funny Home Decor is More Popular Than Ever
Everyone has a unique decor style. Some like a relaxed and calming vibe in their homes. Others prefer a more eclectic look. And others still might light a bold and modern style.
But what seems to have crept into nearly every decor style is a way to add a personal bit of whimsy to the home. It's not at all unusual to find a cute little saying framed up and sitting on a table in a farmhouse-style home. Or, tucked in a corner of a Scandinavian-style home, you might find a unique and funny figurine.
Today, funny home décor has become very popular because it allows people to bring something humorous into their lives which can make everything feel less serious or stressful.
People are choosing funny things around their house instead of your more commonplace decor accents.
Funny Home Decor Can Improve Your Mood
Let's face it, when you see something funny on your wall every time you enter the room, it can bring on and an instant smile. And anything that can make us smile is important, especially these days. But funny home decor isn't just for people who are going through a hard time and need something funny to cheer them up.
It can touch on something you truly love above life. For example, I have this little wall sign in the kitchen that suits my love of coffee, and my lack of love for mornings, quite perfectly!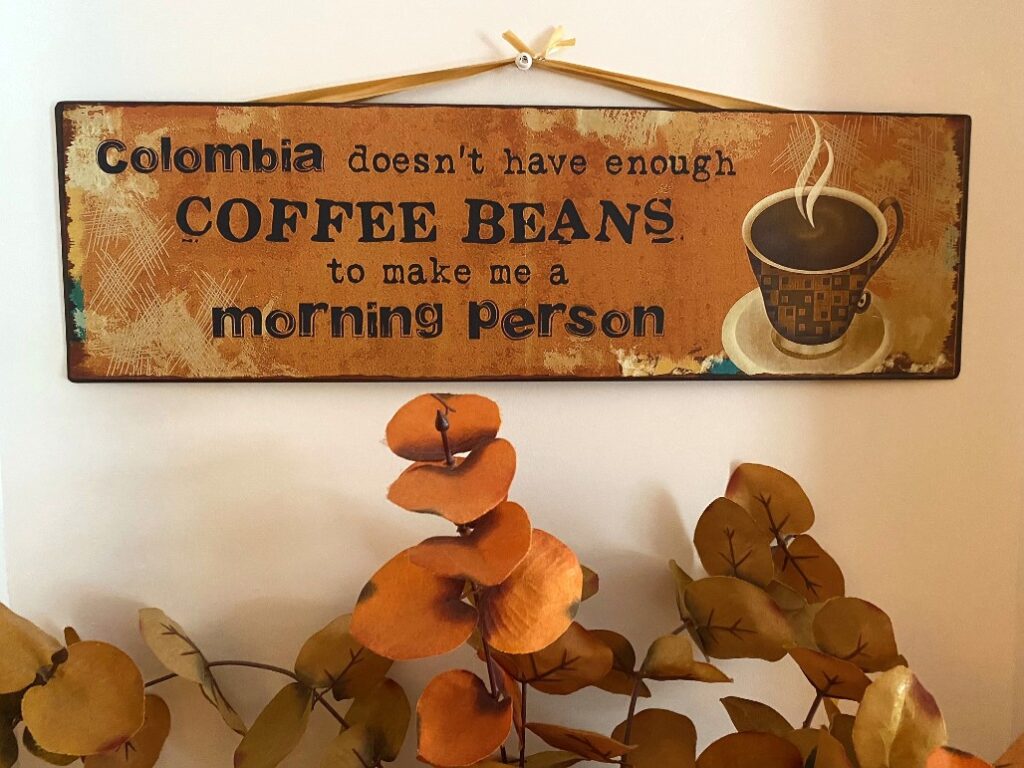 And, yes, it really does make me smile nearly every time I see it.
And what's wrong with a smile every once in a while?
The Benefits of Humor
Humor can help reduce stress and even pain. Humor is also known to improve your mood and even reduce anxiety. One study shows that laughter for just ten minutes can result in an increase of natural killer cells, which are crucial components of our immune system because they fight off viruses and bacteria within the body.
Additionally, laughter has been found to reduce cortisol levels and decrease the stress hormone.
Key benefits of humor include improving your mood, reducing stress and anxiety, helping you sleep better at night, increasing creativity.
Humor can also improve your concentration and memory. Think about it: when you see something funny, either in a book or film, do you ever find yourself concentrating more on what is being said? If your mind is fully engaged with what you are watching or reading, you are more likely to retain that information in your memory banks.
The focus, concentration, and memory benefits all come from the idea that if something interests us enough to make us laugh, then we will want to pay attention to it. And, like any other muscle in your body, exercising the brain is good for your overall health. That's why people love riddles and dad jokes so much!
So now that you know how funny home decor can help improve your mood, concentration, and memory benefits. The next time you are out shopping for unique home decor accents or funny things to put in your house – do not forget about the benefits of humor!
Funny Plaques Make Perfect Accessories for the Home
After all that talk about how much finding funny home decor can improve your life overall, it's time to think about finding some fun plaques or accessories for around the house!
When looking online there are many companies offering unique pieces of art with witty sayings on them. And they make great gifts if you know someone who needs a laugh in their lives too!
And since funny wall decor just makes people smile whenever they see it, you are constantly surrounded by happy thoughts when funny home accessories are placed around the house.
Here are just a few of my favorite funny wall plaques from our partners at Amazon.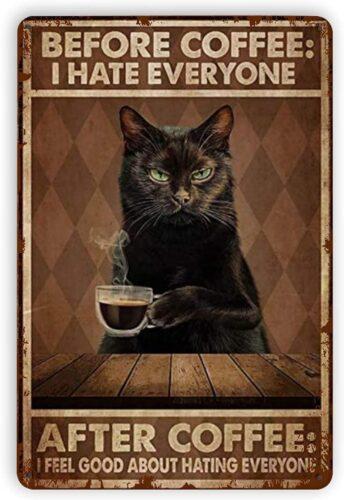 Before Coffee / After Coffee Tin Wall Sign
Perfect for cat and coffee lovers alike, this funny sign takes a dark (like black coffee dark) look at how a cat sees life. If you're a cat person or a person who feels like they should have been born as a cat, this sign is perfect for you.
Many Have Eaten, Few Have Died Kitchen Wall Plaque
Both a humorous statement on your cooking skills and a legally binding (just kidding) warning about health and safety, this sign is perfect for the person who loves to cook, but may not be the best at it.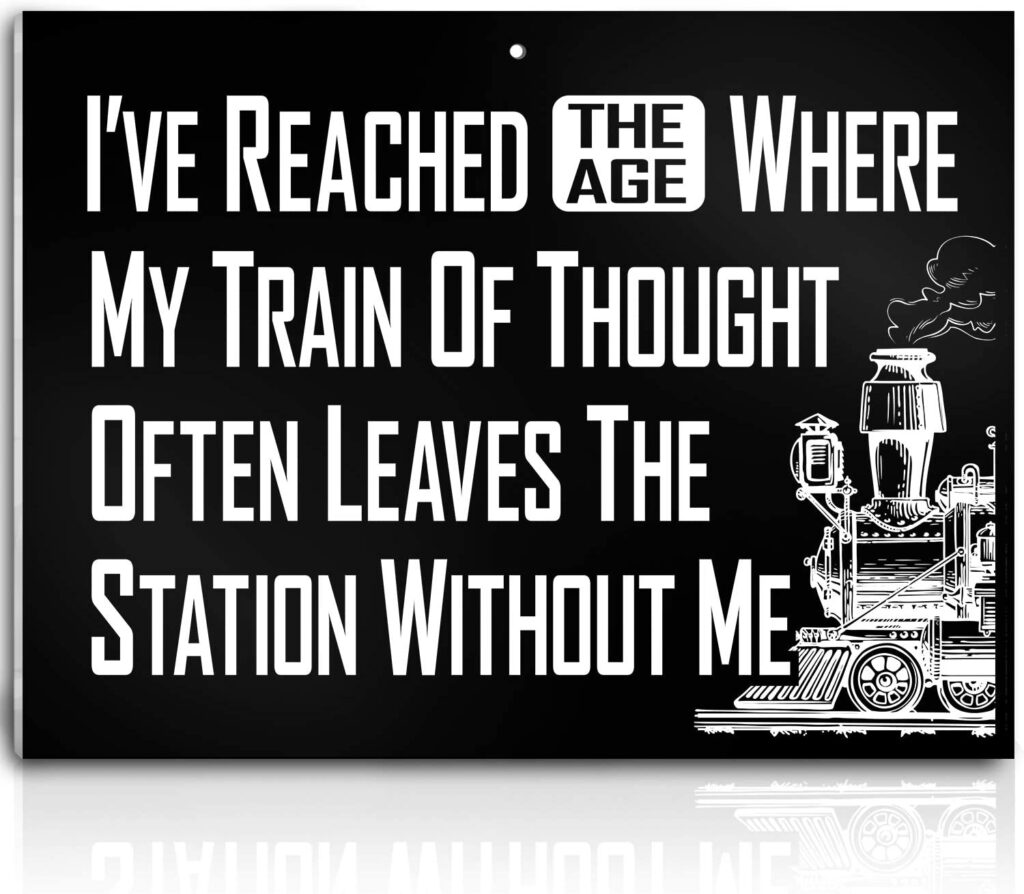 I've Reached the Age Wall Plaque
Let's be honest, we're all a little forgetful from time to time. When there's nothing interesting going on around you, it's difficult not to go into la-la land, although your friends and family may make fun of you for it.
This funny wall sign is just the thing if you spend too much time in your head. It will undoubtedly make you and visitors chuckle while also providing a gentle nudge to focus on the job at hand.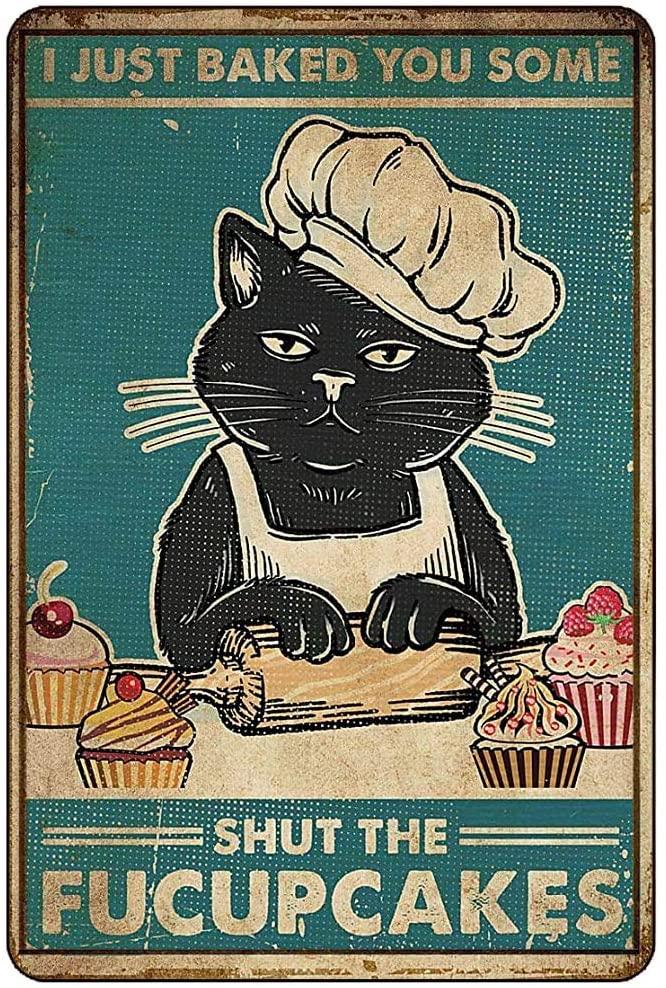 I Just Baked You Some Shut The Fucupcakes Tin Sign
Another one for cat lovers, this sign is perfect for the kitchen. It features a not-so-friendly cat baking a lovely batch of fucupcakes for everyone around them.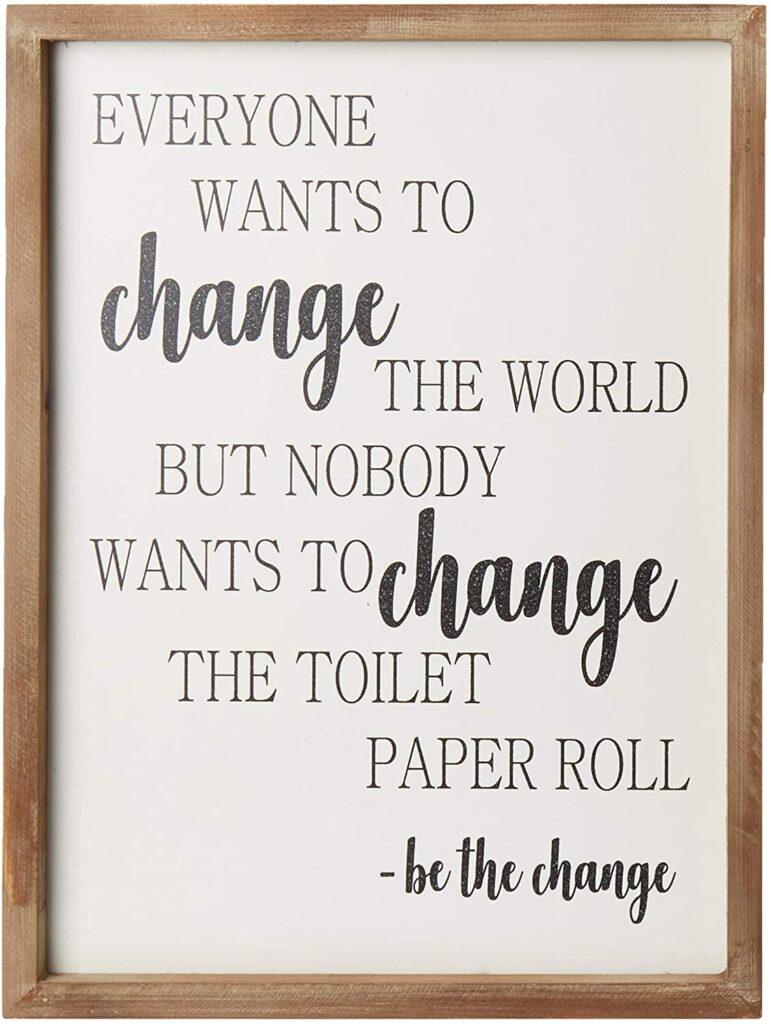 Change the Toilet Paper Bathroom Sign
The struggle is real! This framed bathroom sign is perfect if you're tired of reminding people, day after day after day after day, to change the freaking toilet paper roll.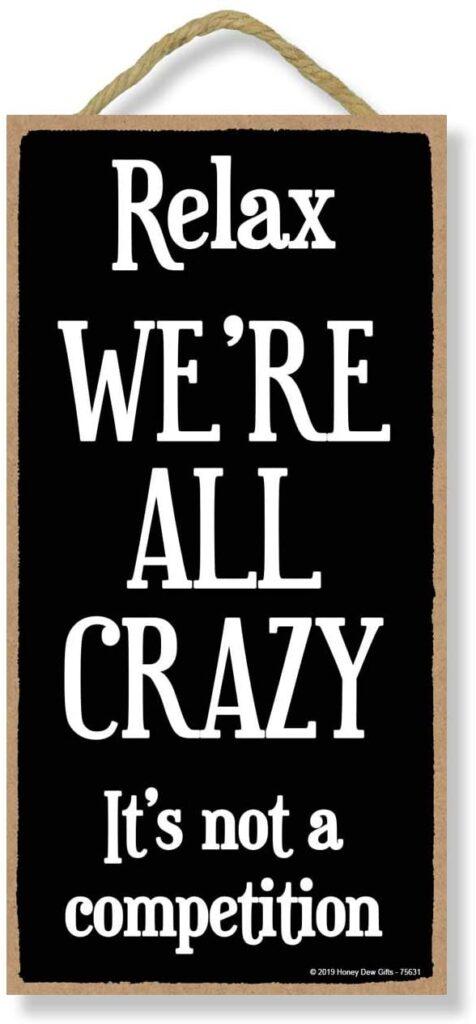 Relax, We're All Crazy Wall Plaque
This one suits pretty much every room in your house. In fact, if you really wanted to, you could get one for every single room in your house. But that might be overkill. Maybe.
Funny Home Decor Isn't Just Funny Sayings
Although some of these wall plaques are quite humorous, you don't have to be that literal when it comes to funny home decor.
Funny artwork is also a great option if you're looking for some humor in your home.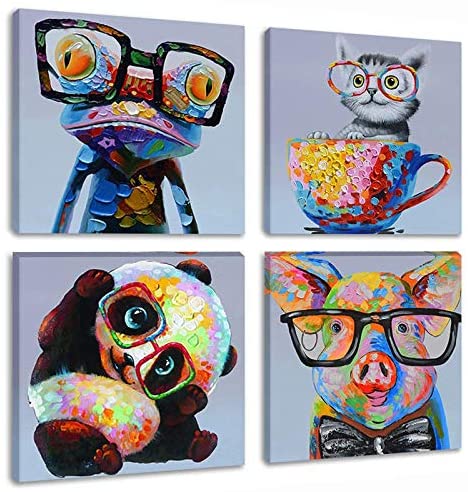 Funny Animal Prints
This collection of animals wearing glasses is fun and whimsical and colorful, what could be better than that!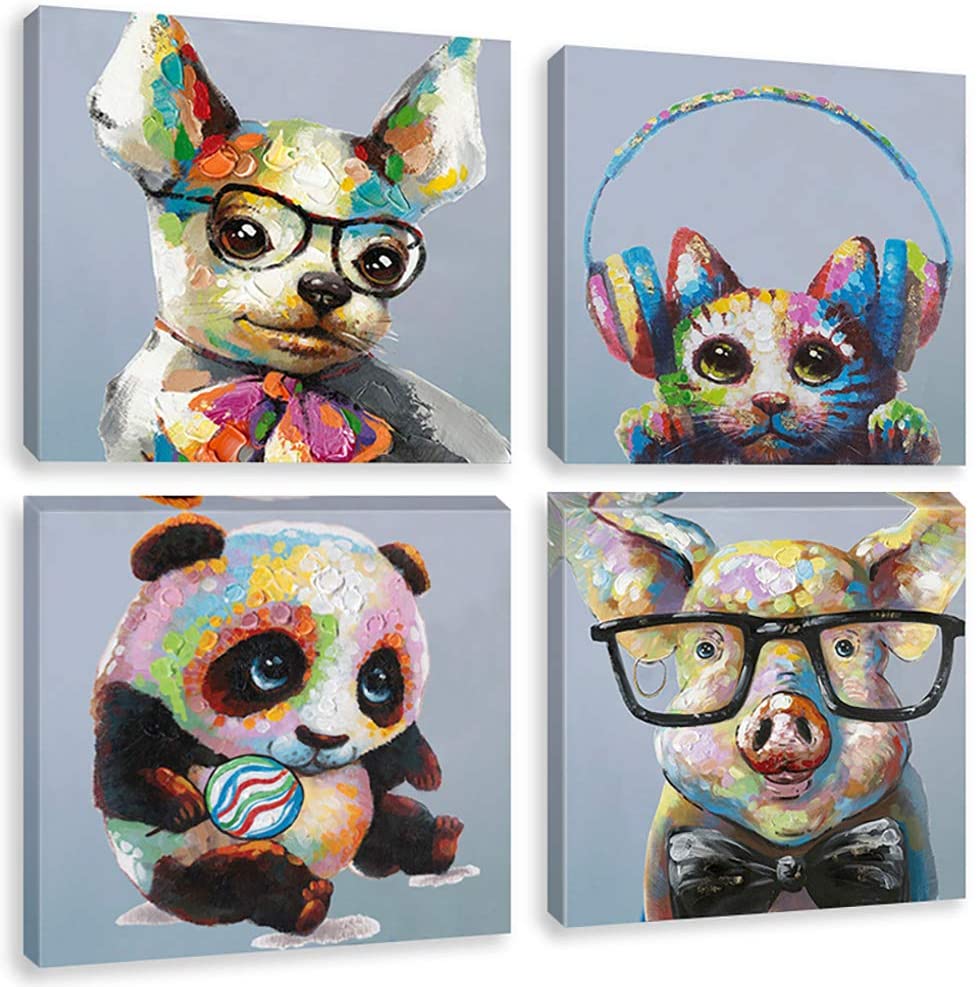 Baby Animal Prints
And they get even cuter when they are babies!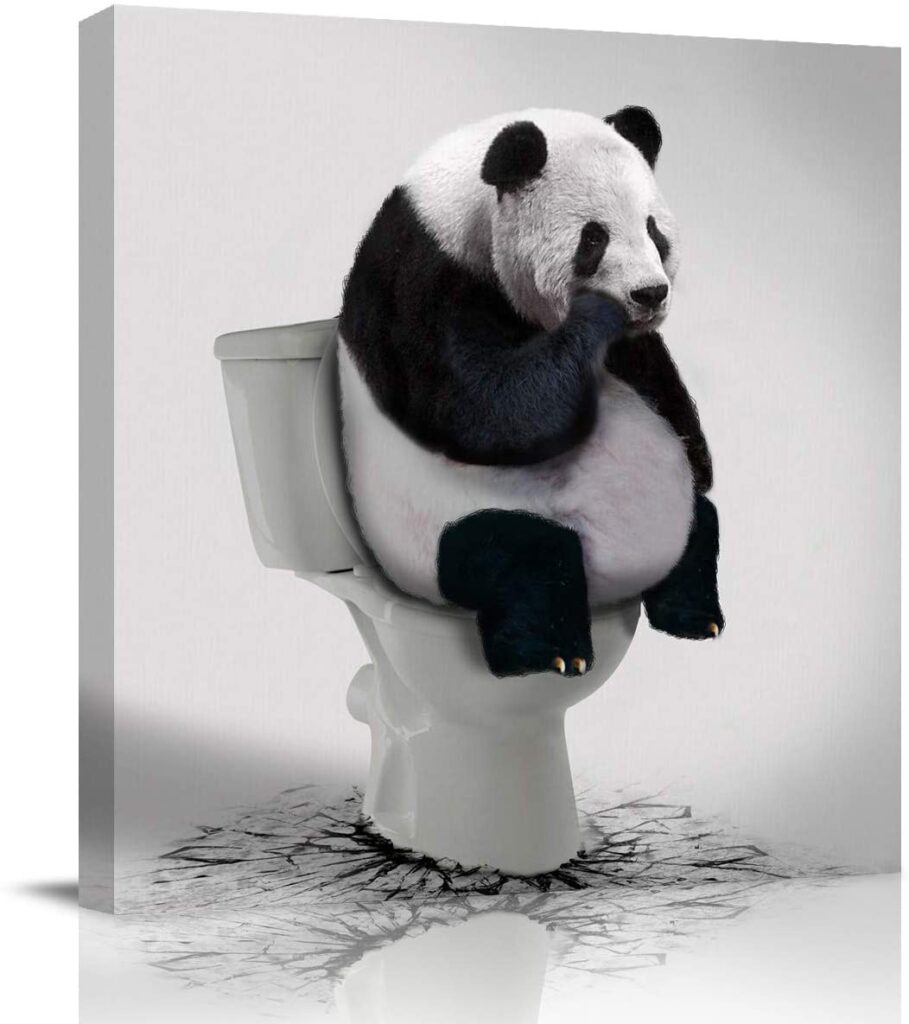 Panda Pooping Bathroom Wall Art
Want something fun for your bathroom. What can be more fun than a pooping panda?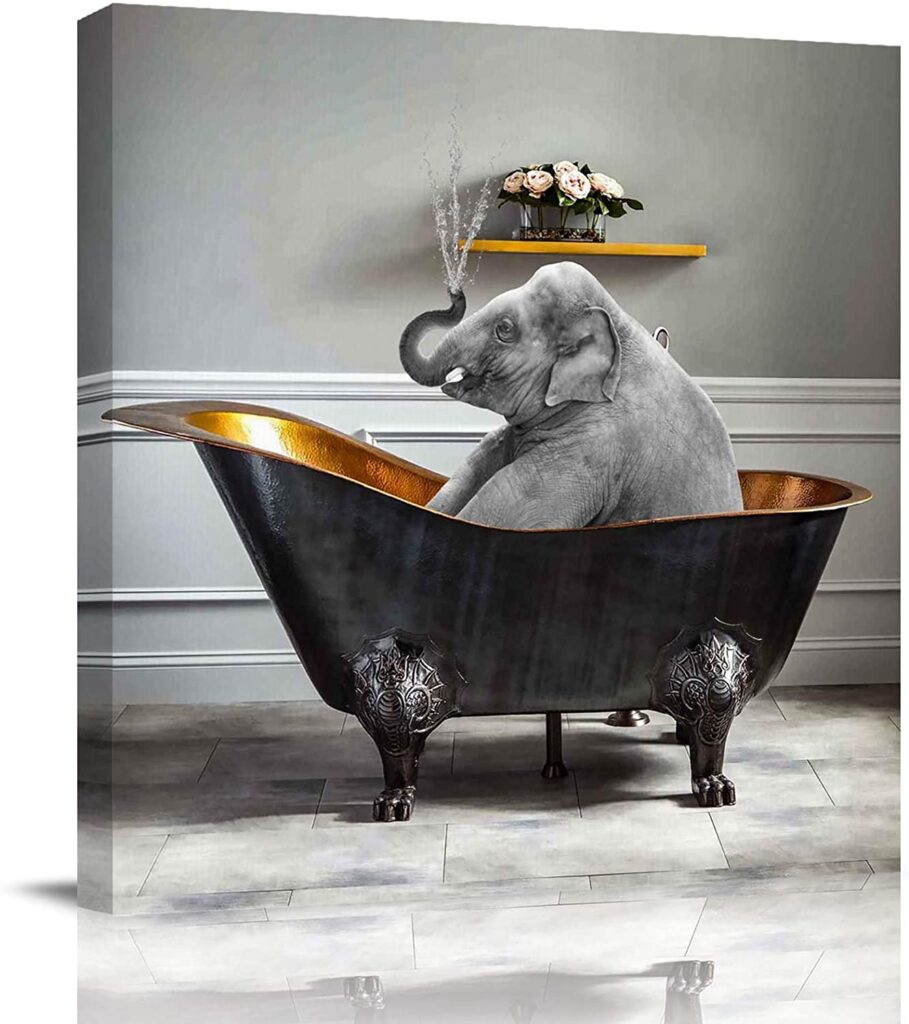 Bathing Elephant Art Print
Maybe this elephant having a bath? Maybe…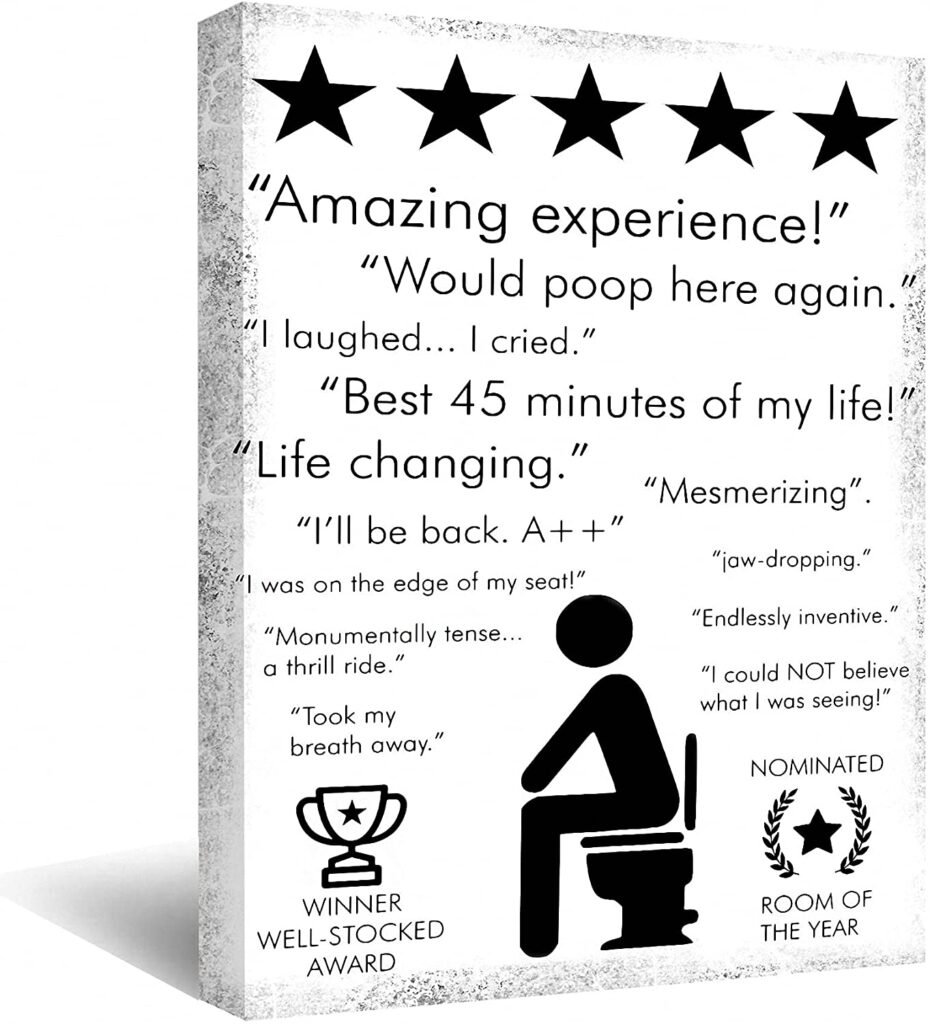 Funny Bathroom Review Wall Art
You've worked really hard to design and decorate your bathroom. Why not show off what a "life-changing" and "jaw-dropping" experience it can be for people to relieve themselves in your tiny little oasis.
Funny Statues for Inside and Outside Your Home
If you want something that's really off the wall (literally), you can find a wide variety of funny statues that you can place in your home and garden.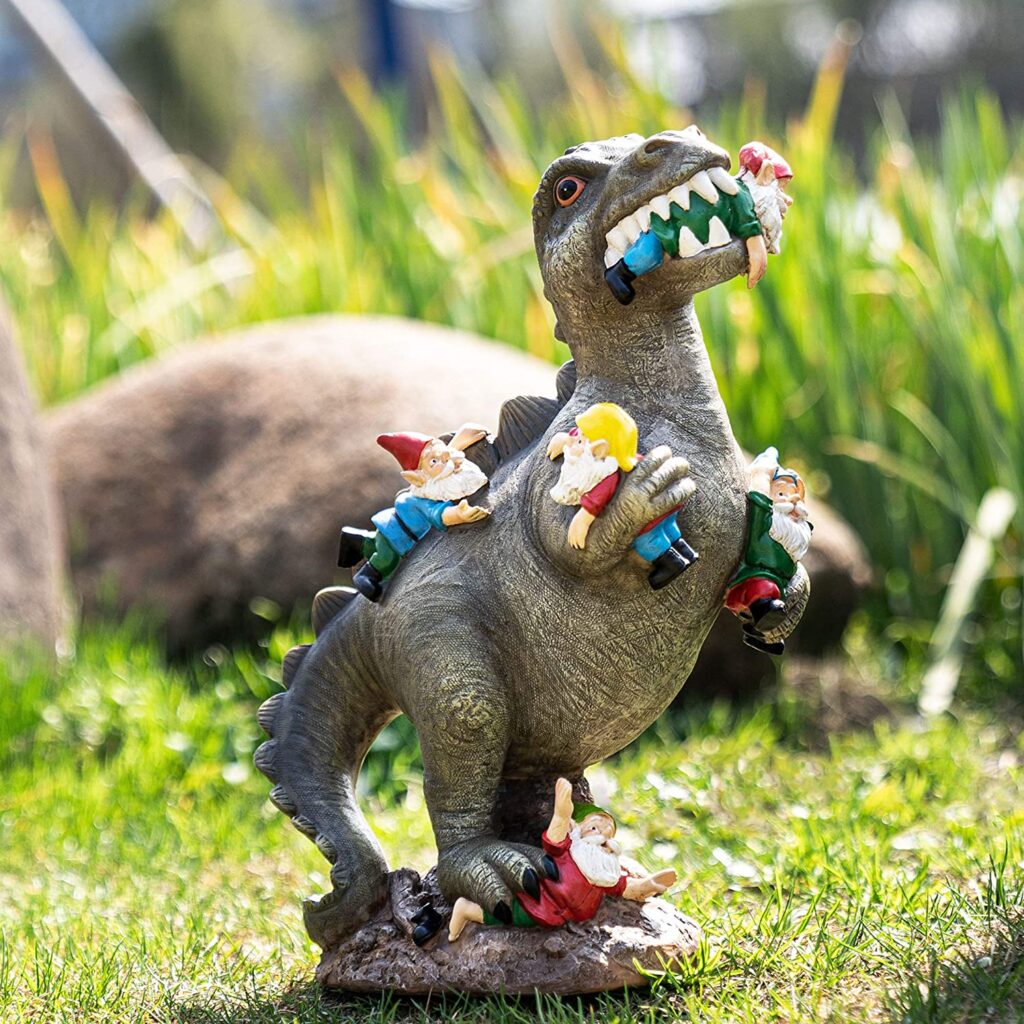 Garden Gnomes vs Dinosaur Statue
In a land before time, when dinosaurs and gnomes roamed the earth, there was a great battle of good vs evil. Luckily the good dinosaur triumphed over the evil gnomes and all was well with the world… until (well, you know).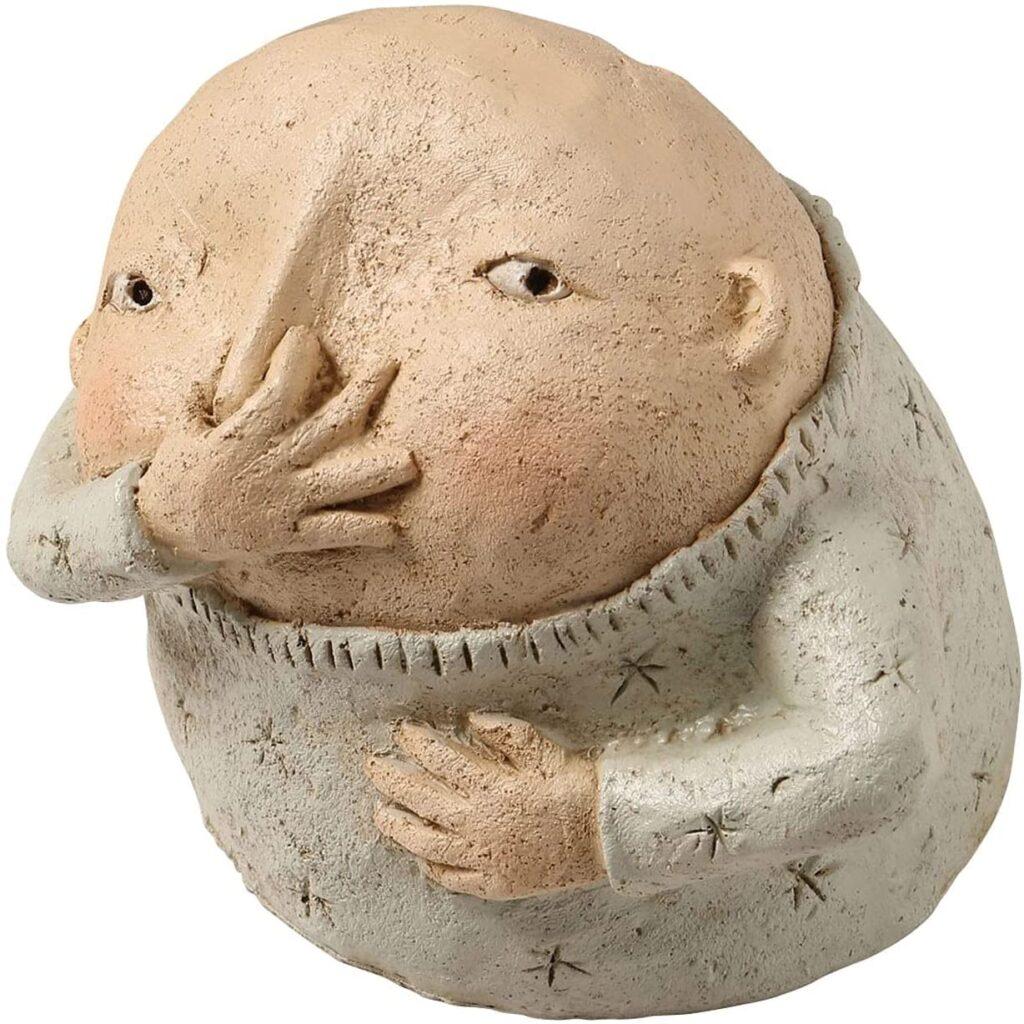 Boy Holding Nose Kitschy Figurine
A little humor for the loo? His expression is priceless as he's plugging his nose in silent commentary on the state of your digestive process.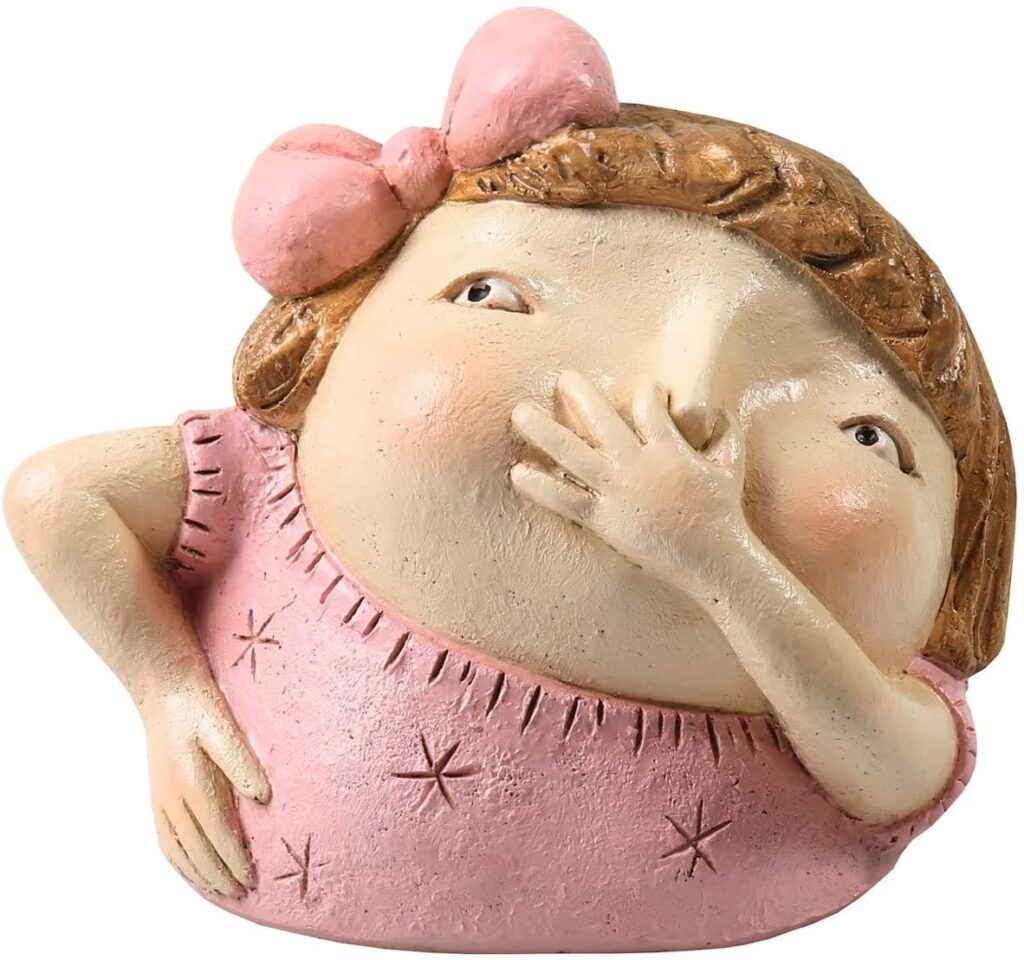 Girl Holding Nose Kitschy Figurine
And she's just as appalled by what appears to have crawled up and died inside you. These lightweight painted resin figurines are a fun addition to a bathroom shelf or vanity.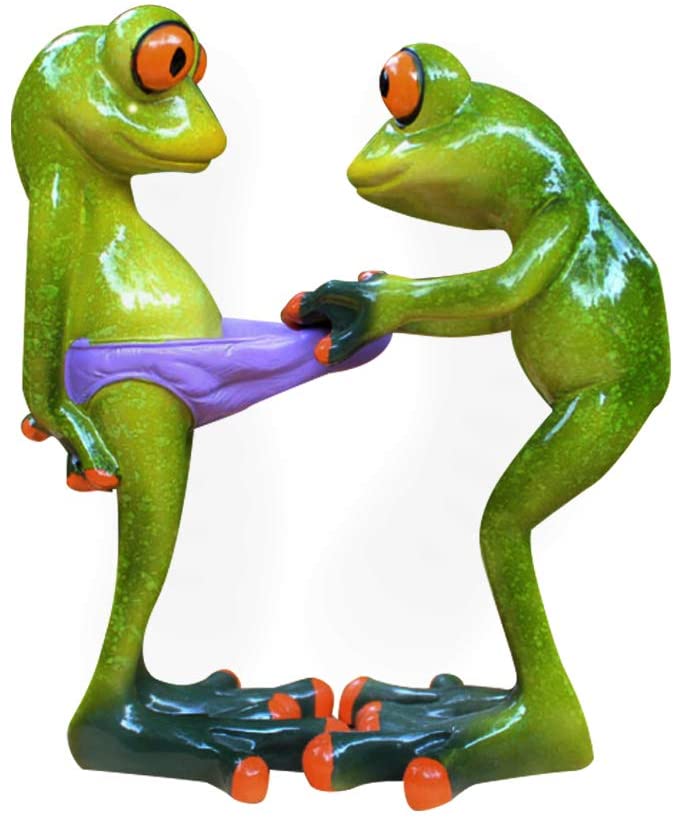 Flirty Frog Figurines
Few things are as fun and funny as frogs. Yes, I did that on purpose… who can resist a little bit of alliteration! Perfect for adding a little bit of whimsy to any corner in your home. And there is a tonne of options to choose from!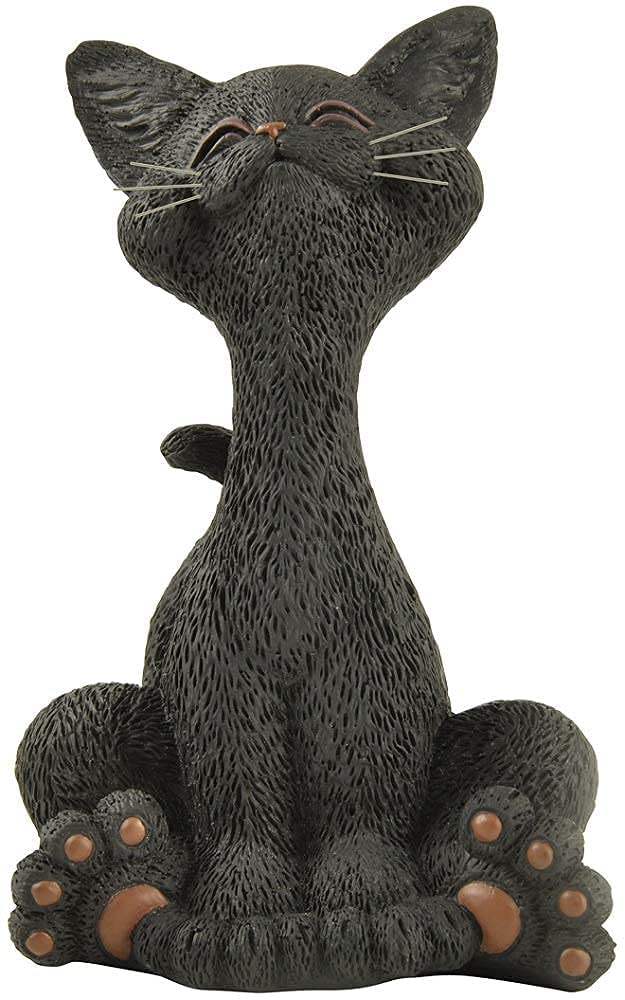 Happy Cat Figurine
Just in case you thought all funny cat decor items had to be angry cats, here is a super-cute figurine to prove you wrong. Just looking at this smiling cat makes you want to smile, doesn't it!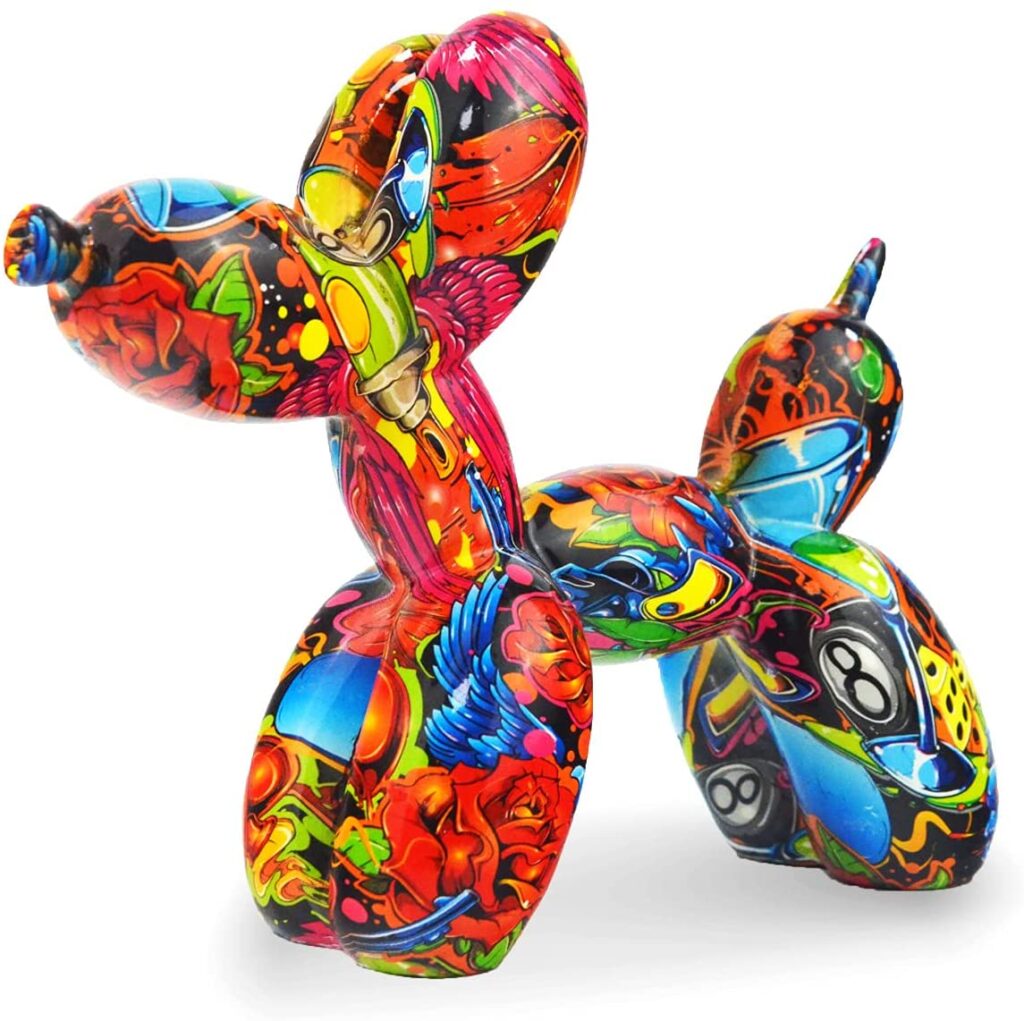 Balloon Dog Sculpture
If you're more of a dog person, this super-fun balloon animal dog will stay "inflated" far longer than the real thing.
Funny Decor You Can Grow
If you want to combine the air-purifying quality of houseplants with the soul-purifying quality of laughter, you've come to the right place. These humorous plant pots combine all the fun of a whimsical decor piece with the living greenery of live plants (for as long as you can keep them alive).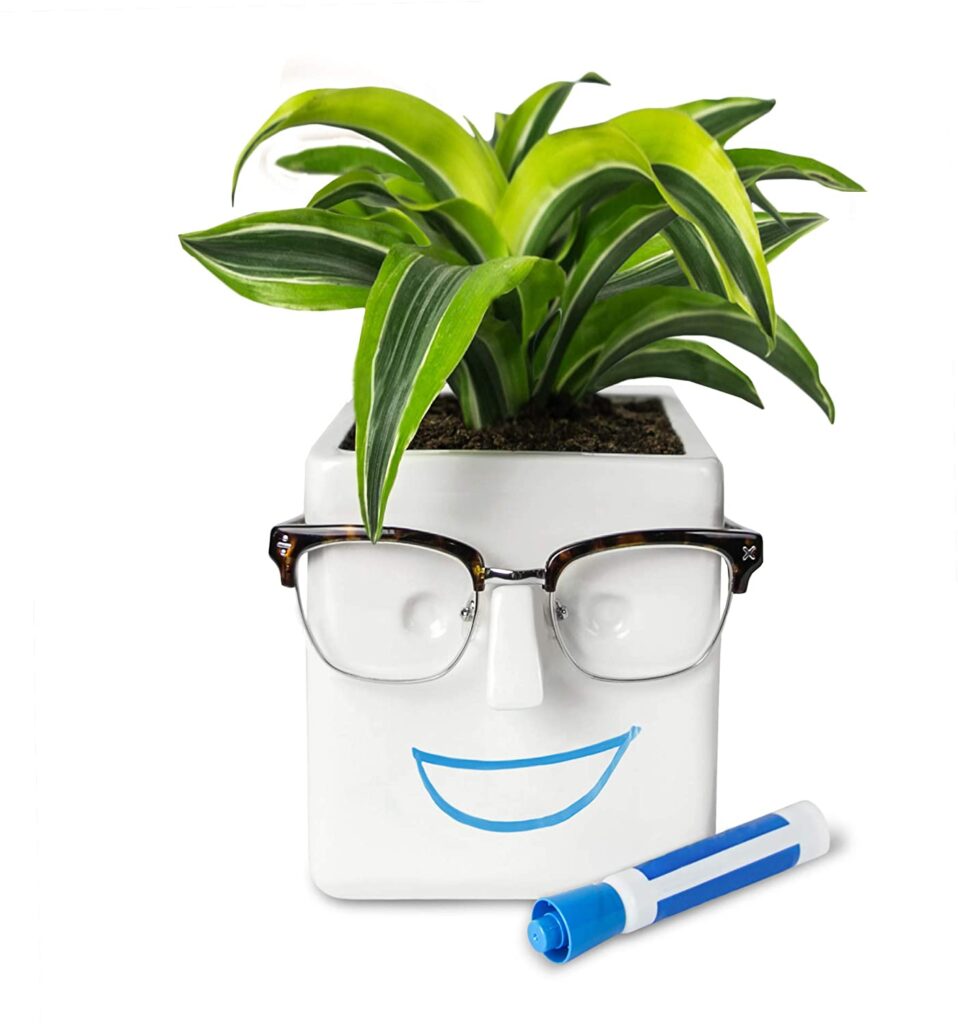 Face Planter
Finally, a house plant that does more than just sit there until the day it dies. The Face Planter keeps both your plant and glasses safe and cozy and does it with a quirky personality. It also makes a ridiculously awesome glasses holder.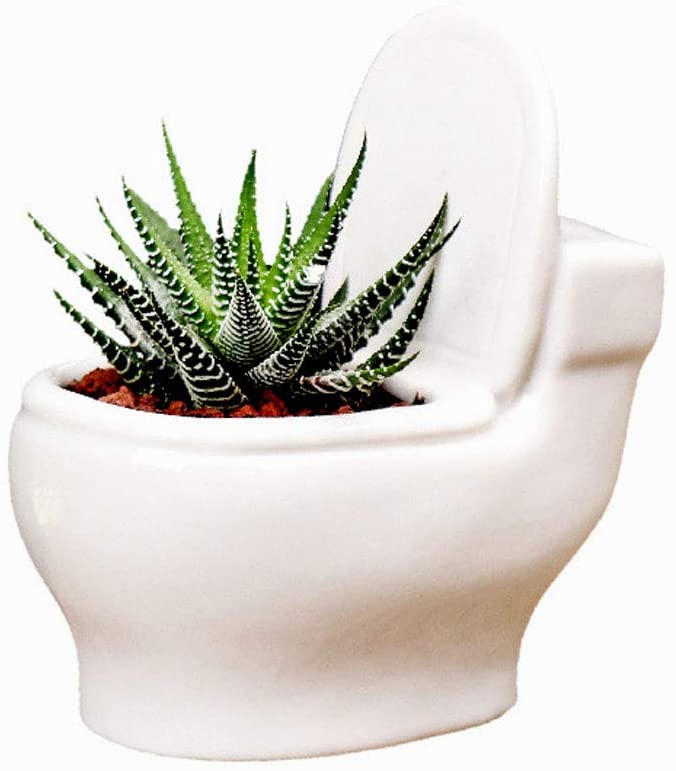 Ceramic Toilet Plant Pot
I know that I'd much rather have a plant growing in my toilet than all of the other bacteria that can grow there. But since we can't actually grow plants in our toilets, this is a close second.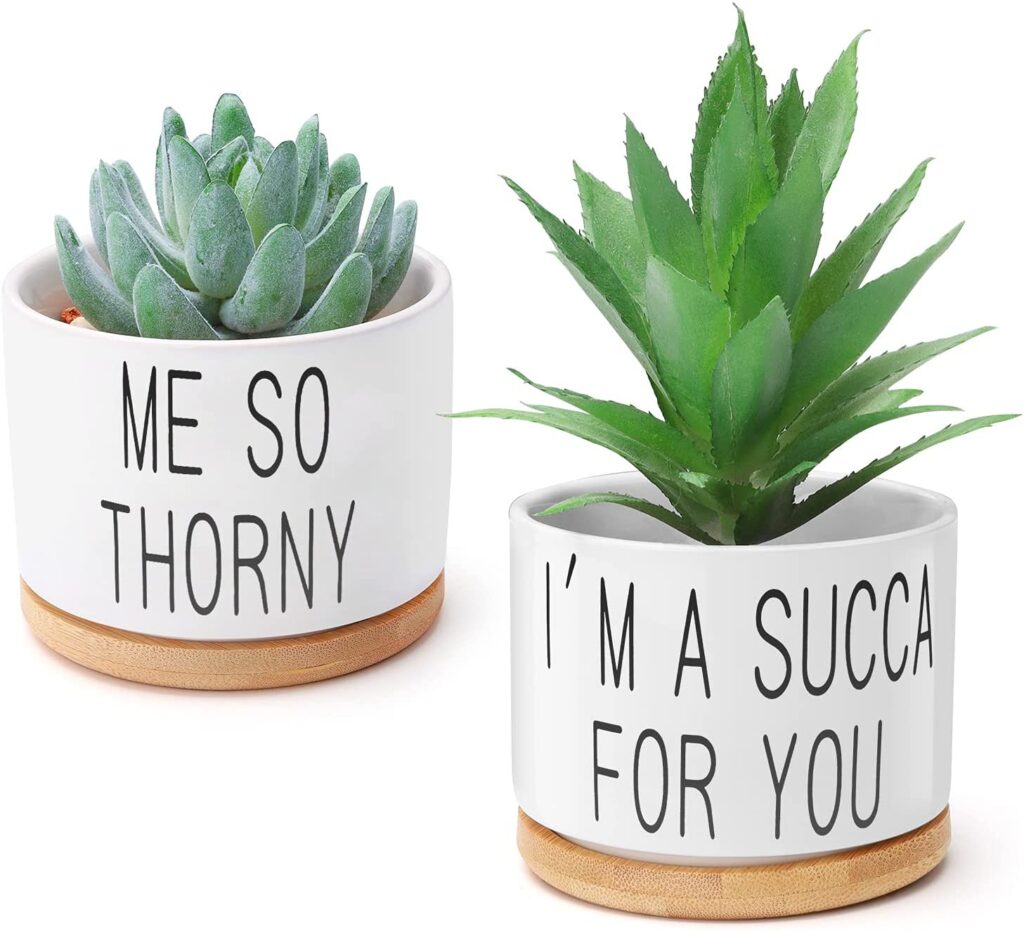 Funny Succulent Pots
With a variety of sayings to choose from, these are perfect to create a funny way to grow your succulent plants.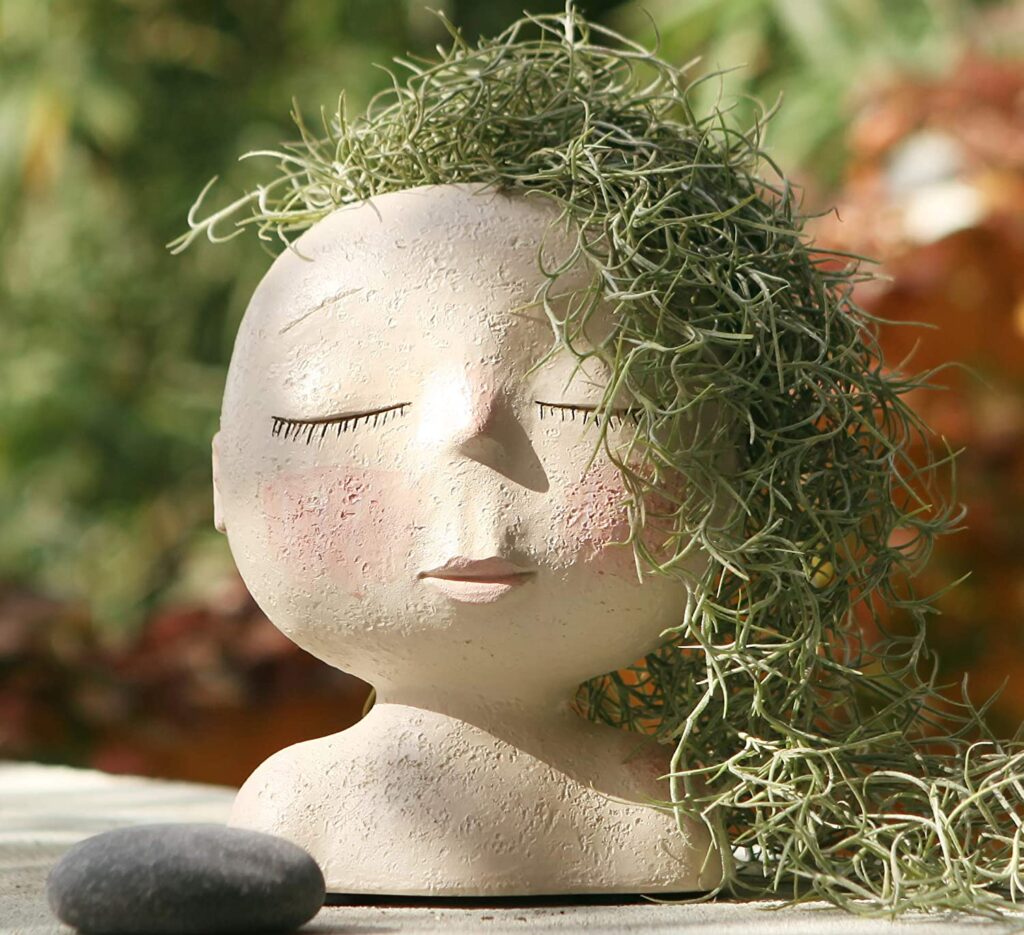 How's Your Head Planters
If you can't grow the hair on your head, you can turn your attention to growing the hair on these head-shaped planters. There are so many head-turning designs to choose from too!
And there are lots of options to choose from!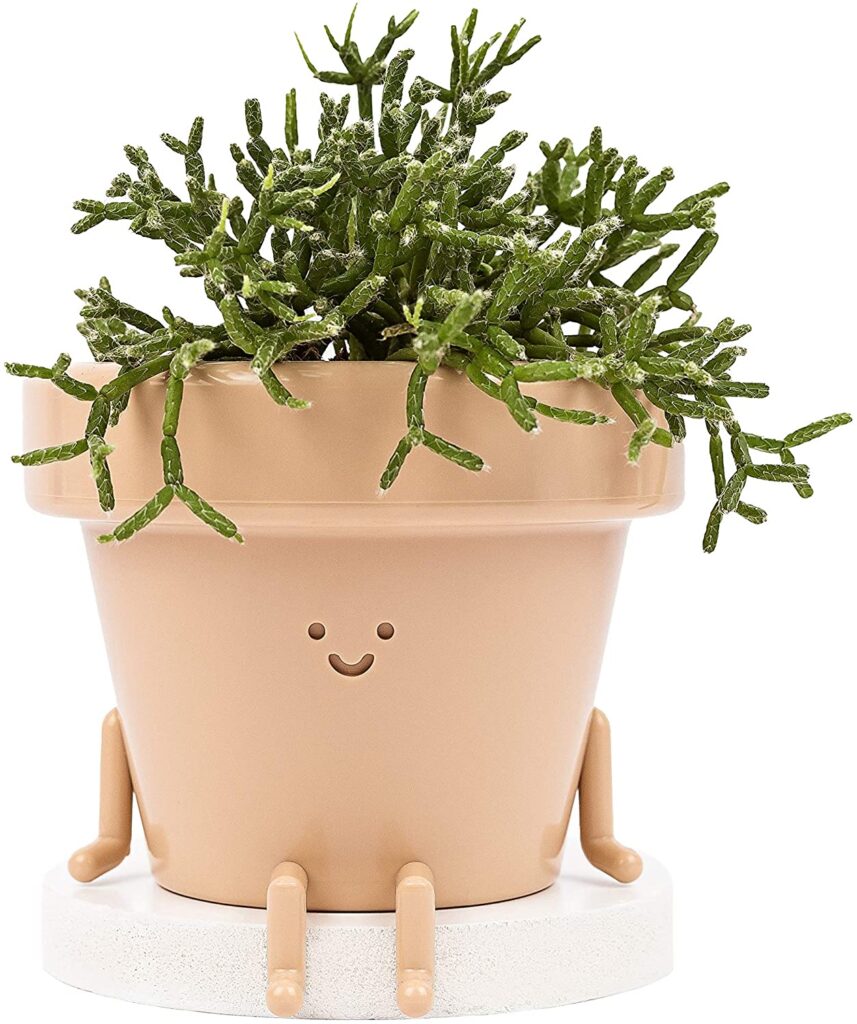 Take a Seat Plant Pot
This super-cute plant pot is certain to make you smile every time you water your plants. Maybe that will help keep them alive!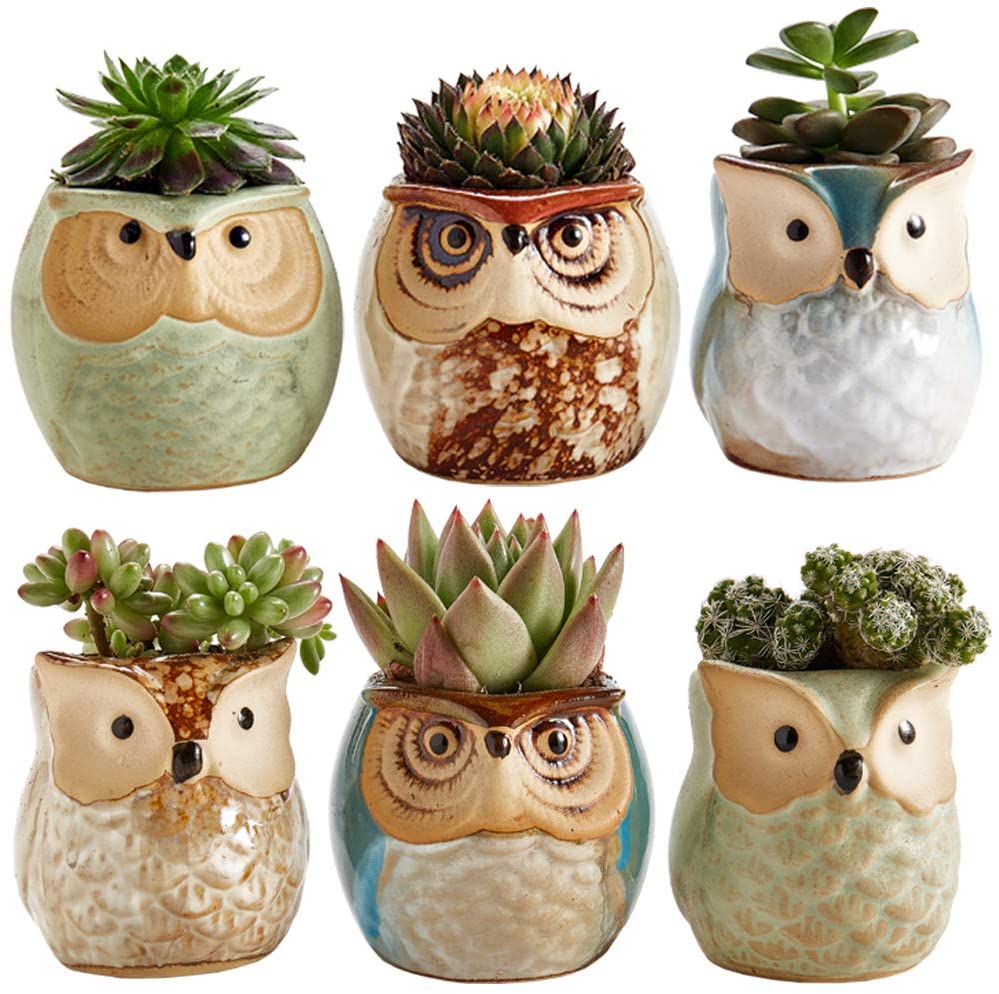 Funny Owls Ceramic Plant Pots
Ideal for adding a dash of owly fun to your home, these super-cute owls have such a fun expression on their faces and are perfect for housing your collection of cacti.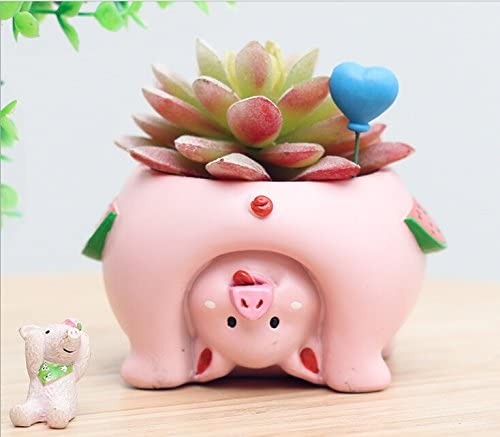 Peak-a-Boo Pig Planter
How much more fun could a single plater pot be? I do not know. I'm not sure I even want to know.
Funny Home Decor Adds Whimsy & Humor to Our Daily Lives
So think about adding some fun and funny things around your house. If you're going through a tough time, it might just bring on some relief! Even if you're not having a difficult time, it can help add just a little bit more joy to your surroundings. And who doesn't want more joy?
What Kind of Funny Home Decor Should You Try? There are so many funny home decor options out there that one could be forgiven for being overwhelmed at all the choices available. But don't let this stop you from finding something perfect – whether it's funny figurines or humorous art prints!
The most important thing is not what kind of funny things you get but that they mean something special to YOU. After all, funny things around your house are supposed to bring you joy!