Scandinavian interior design is clean, inviting, and airy and can give your space a minimalist appeal without feeling cold or drab.
This interior design is also often the basis for other forms of modern residential design. Whether you're remodeling your kitchen or creating a new living space from scratch, there are several ways in which you can incorporate this design style into your home. Interior design firms can assist you with building an interior for your home that utilizes these design elements to create a comfortable and practical environment with universal appeal.
The Scandinavian design originates from Sweden, Denmark, and Norway, but incorporates elements of interior design from the other Nordic countries. This includes Iceland, Finland, and the Faroe Islands. The unique landscapes and weather in these countries play a part in the origination of Scandinavian interior design, as does the lifestyle of the citizens of these countries. The style collectively prioritizes cozy furnishings and open, airy spaces with a higher degree of practical, flexible value.
This article will review the defining characteristics of Nordic and Scandinavian interiors and discuss how you can incorporate these design elements into your space. Whether you're planning a short remodeling task or embarking on a custom home design project, you'll want to consider these interior design options to create a space that is both modern and timeless.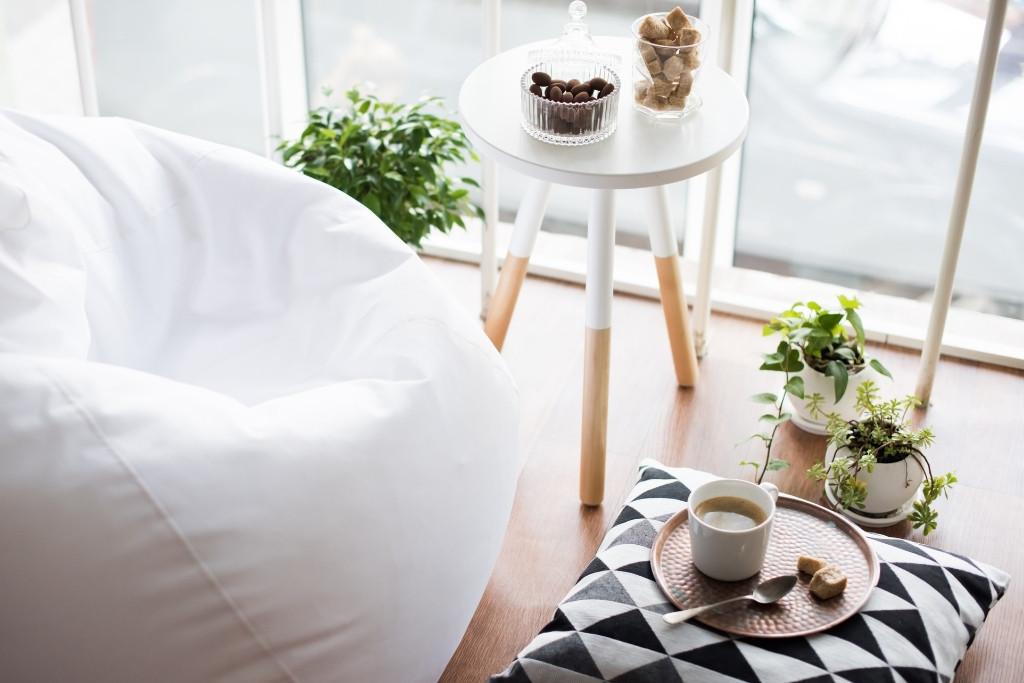 History of Scandinavian Interior Design
Scandinavian Interior Design is a relatively new concept that has emerged in North America over the past few decades. The Scandinavian design aesthetic was initially popularized by Swedish designer, IKEA founder Ingvar Kamprad, who wanted to base his furniture company on simple and practical designs for everyday life. Today, many people are following this trend with their own homes because of its simplicity and affordability.
Scandinavian Interior Design is a concept that can be traced back to the 19th century in Scandinavia when people wanted more modern homes with open floor plans, lots of natural light, and clean lines.
Scandinavian design has influenced North American designs by creating room spaces that are often integrated into one large space rather than separated rooms, such as a kitchen separate from a dining room separate from the living room.
They also tend to have fewer built-in furnishings and decorate their walls with contemporary art pieces displaying their own personal taste instead of following traditional styles or trends. Scandinavian interior design brings freshness and simplicity into your home which allows you to display your personality through artwork or other small touches without being cluttered.
Designers have been influenced by Scandinavian designs because it is simple, fresh and affordable.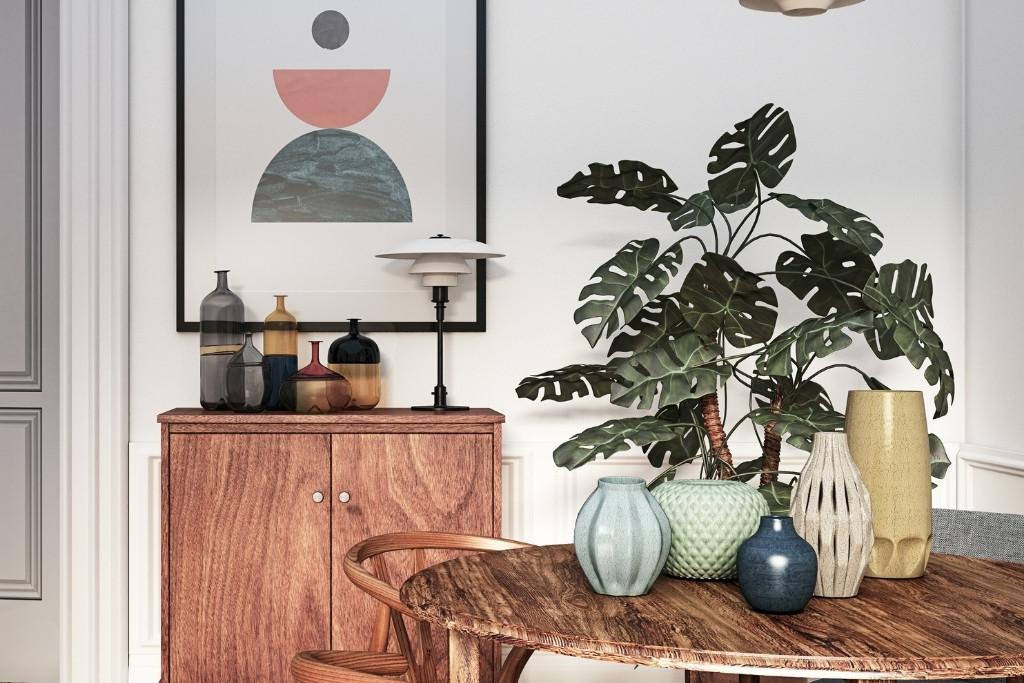 Elements of Scandinavian Decor
North American designers are now incorporating Scandinavian designs into their own work, which is why it has become more popular in recent years.
Scandinavian design has definitely impacted how many architects and interior designers approach home building today. The main idea behind this type of architecture is to create homes that incorporate the natural environment around them so they seamlessly blend inside and out. This concept can be seen throughout Scandinavia where homes tend to have large windows with panoramic views of forests or oceans nearby.
Scandinavian design is a great way for anyone to incorporate their personality into their home and create a unique space that makes them happy. Scandinavian interior designers tend to enjoy using natural elements in the décor such as materials like wood, stone, leather, and fur because they are easy on the eye but also add warmth.
Many people find it difficult when designing their own homes so there are many companies out there who offer this service at an affordable price! The next time you're searching around your favorite furniture store, don't be surprised if something looks familiar because Scandinavian designs have made their mark in North American culture.
Neutral Light Colors
No matter which space you're choosing to design with Scandinavian principles in mind, you'll want to stick with a light (but not bright) color palette. White and light wood colors are often the most popular choices within this design space. Modern Nordic homes also typically use a warmer grey and a cooler blue color throughout the area. White laminate or marble countertops are popular choices in kitchens. Grey and blue couches are chairs that are popular for living rooms. White or light wood finishes for windows and baseboards are also great for maintaining a minimalist Scandinavian interior.
In almost all cases, a Scandinavian interior design stays away from bright reds and yellows, except for smaller color contrasts. Green works well as an accent color for these designs, though it rarely forms the basis for any larger decor or furniture pieces. The goal of this color palette is to keep the space bright, even when there isn't a lot of natural light coming in from outside.
Because the weather in Nordic countries is often colder and darker than most of Europe and North America, the interior design originating from these locations often capitalizes on any available natural light. The collection of colors that are most frequently used in Nordic homes are essentially designed to keep the space bright and lightweight despite colder temperatures, cloud cover, or darkness.
Modernized Light Fixtures
The light fixtures within any minimalist interior often serve as a standout centerpiece that draws the eye. These lighting centerpieces stick with modern designs, with minimal curves and sharper edges than traditional ones. These modernized light fixtures are an opportunity for including a more creative-looking element in an otherwise simplified space. Don't forget the practical values associated with your light fixtures, particularly if you are designing or redesigning your kitchen.
Rugs, Not Carpet
Scandinavian interior design includes wood or laminate flooring with a selection of smaller area rugs that accent the furniture of each individual location within the home. Carpeting is exceptionally rare for Nordic homes and allows for minimal flexibility when designing each space. However, although most homes don't use carpeting, you should still remove your shoes before entering someone's home.
Large Windows & Natural Light
Scandinavian homes typically have larger windows designed to gather as much natural light as possible. Patterns and window frame designs are often kept to a minimum, with only a few basic lattice designs across a smaller number of frames. Half windows that are higher up on the wall are popular for bedrooms and bathrooms. Windows with a triangular peak along the top rather than a standard rectangle are great for living rooms, kitchens, and offices.
Many modern Nordic homes utilize floor-to-ceiling windows to great effect, essentially creating a window to the outdoors. However, these larger windows typically work best when you have some distance from your neighbors. For more urban areas, windows along an elongated roof or a few additional skylights are popular for bringing more natural light into the space.
Plants and Greenery
Many designers add houseplants and other greenery to accent wood fixtures and finishes to maintain a natural appearance throughout the space. Modern Scandinavian designs only include plants in the central focal points of the room. This means they often make for fantastic minimalist centerpieces for dining or end tables.
Minimalist Layouts and Designs
Minimalism and simplicity are perhaps the most important defining features of Scandinavian interior design. Designers leave plenty of room between furniture pieces and keep spaces as clutter-free as possible. If an item isn't a practical necessity for the room, it probably doesn't belong there. Furniture designs that work for these layouts are rarely complicated, tending to prioritize functionality and comfort in equal measure.
Open space throughout your home is essential for creating an authentic modern Scandinavian design. It gives your home an airy and light feeling throughout that utilizes natural light to great effect. Make sure to stick with a neutral color palette throughout your home. If you're designing a custom home with modern Scandinavian architecture, make sure to include as many windows as is reasonable based on the proximity of your neighbors, to activate the design of your space with natural light.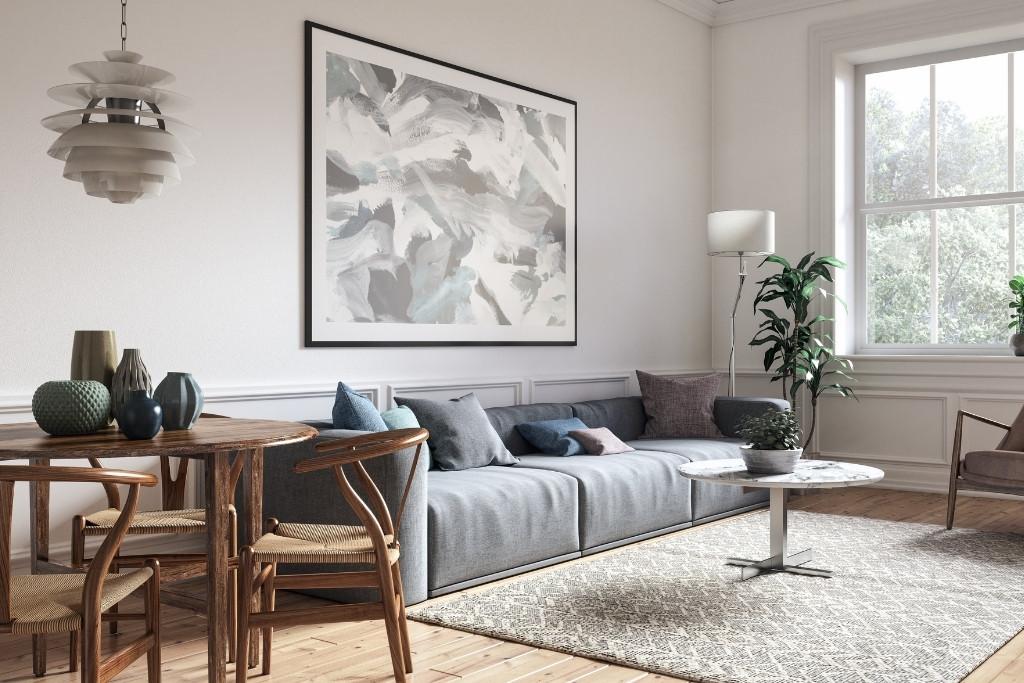 Conclusion – What is Scandinavian Interior Design?
Scandinavian interior designs are crisp and clean, maintaining a simplified, cozy atmosphere throughout the space. A professional interior designer can assist you with including these Nordic design principles within your home, whether you're building an entire custom home or simply remodeling a portion of your space. 
The main principle of Scandinavian design is that everything should be functional and practical. The house itself shouldn't take a front seat but rather blend in to the background, serving as a place to relax and escape from everyday stressors.
Scandinavian designs are also known for using natural materials such as wood and stone to create a warm, cozy atmosphere.
If you're hoping to incorporate Scandinavian interior design into your own space but aren't sure where to start, there are many different resources available that can help! Pinterest is always a great source of inspiration, but if you need more in-depth help, consider hiring an interior designer. Many companies offer fully customizable packages so they will work within your budget or style preferences with ease. These types of services may cost more than doing it yourself however the return on investment is often well worth it!
Nowadays we all want our homes to be unique and reflect who we really are as people. A professional designer can make this dream come true by helping you achieve an aesthetically pleasing look while still remaining functional and practical in everyday life.