As summer draws to a close, it's time to pull out the sweaters and the beautiful pieces of fall decor that help make this transition into Winter so beautiful. We've pulled together 45 warm & wonderful fall decor ideas to help provide some inspiration.
Fall decor is all about the deep, rich colors and the wonderful textures that celebrate the changing of the season and the fall harvest. The bright blues and sunshine yellows of summer get replaced with warm red, purple, orange, brown, and deep yellow.
As much as I love summer (and I really do love summer), there is something warm, welcoming, and beautiful about the fall season. As soon as the night catches a bit of a chill, you can start to see the leaves changing colors.
Assuming, of course, that you live in a part of the world where the seasons change and the fall colors are bountiful. If you do, take time between bouts of decorating to go for a long drive through the changing colors or partaking in other fun & family-friendly fall activities.
Fall is when fireplaces roar back into life. Fall is cozy nights watching TV and enjoying a cup of hot chocolate. Fall is a beautiful time of the year that includes harvest festivals, Thanksgiving, and Halloween.
Fall is also a time of baking, as the nights are finally cool enough to start baking pies, turning overripe bananas into banana bread, making chocolate cheesecake, and whipping up a delicious batch of chocolate chip cookies. And don't forget about pumpkin pie & pumpkin soup!
When it comes to your home decor, this is the time of the year when the bright and lively displays that represent summer are replaced with the warm, earth-toned celebrations of nature's bounty.
Pumpkins, gourds, straw, and fall flowers abound in beautiful collections that make home feel even more homey.
One thing that I often notice is that fall decor can give the impression of being scattered — like the fallen leaves after an autumn wind has tossed them around the yard. However, more often than note, there is meticulous thought and planning that has gone into creating that haphazard look.
These are just a handful of some beautiful autumn-infused decor displays to help inspire the DIY decor enthusiast inside all of us!
If this is your first time tackling an autumn makeover in your home, hopefully these will help spark your own creativity. And we'd LOVE to see the final result!
---
What are the most common fall decorations?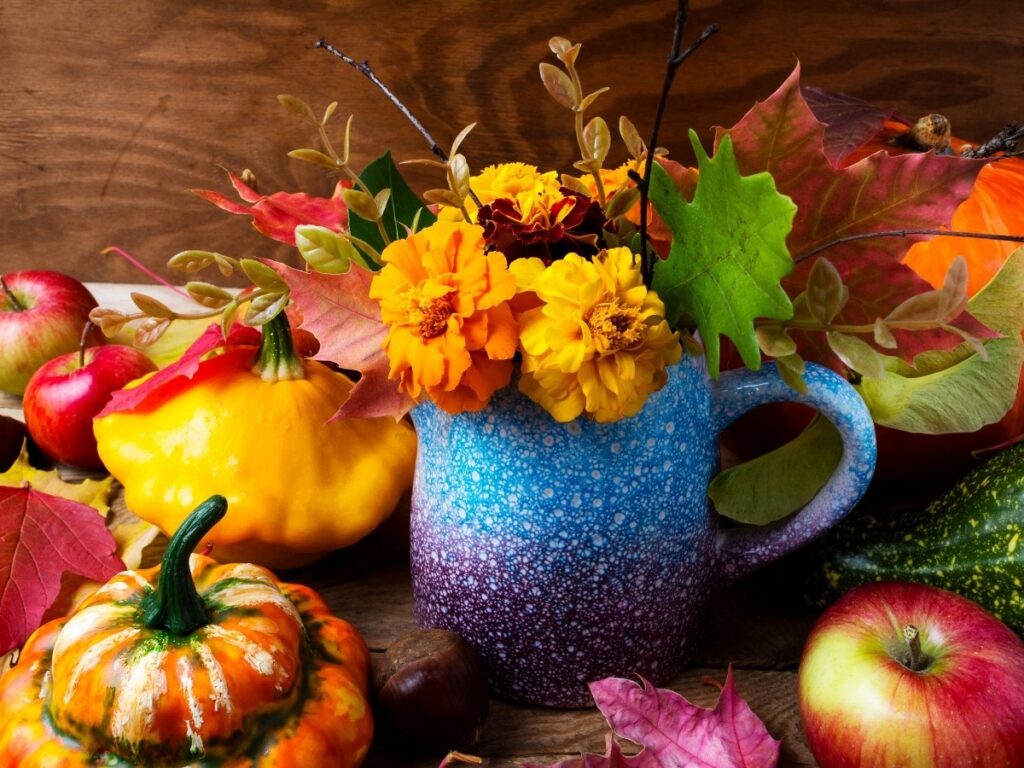 Although individual styles and tastes may vary, these are the most common elements used for fall decor.
Pumpkins & Gourds
Fallen Leaves (Natural & Artificial)
Straw & Hay Bales
Indian Corn
Garden mums & other fall flowers (potted, cut, or dried)
Fall fruit, including cranberries, apples, pears, etc.
Baskets & Cornucopias
Lanterns & Candles
Sticks, twigs, and branches
Pinecones, acorns, and other tree nuts
Scarecrows and Straw Dolls
Plaques & Signs
Of course, you can decorate with any material you want! The trick with classic fall decor is that it needs to feel – for the most part – natural, homey, and earthy. But rules are ALWAYS made to be broken. Such as these looks with buck the traditional harvest feel for something a touch more modern.
---
What are the most common fall decor colors?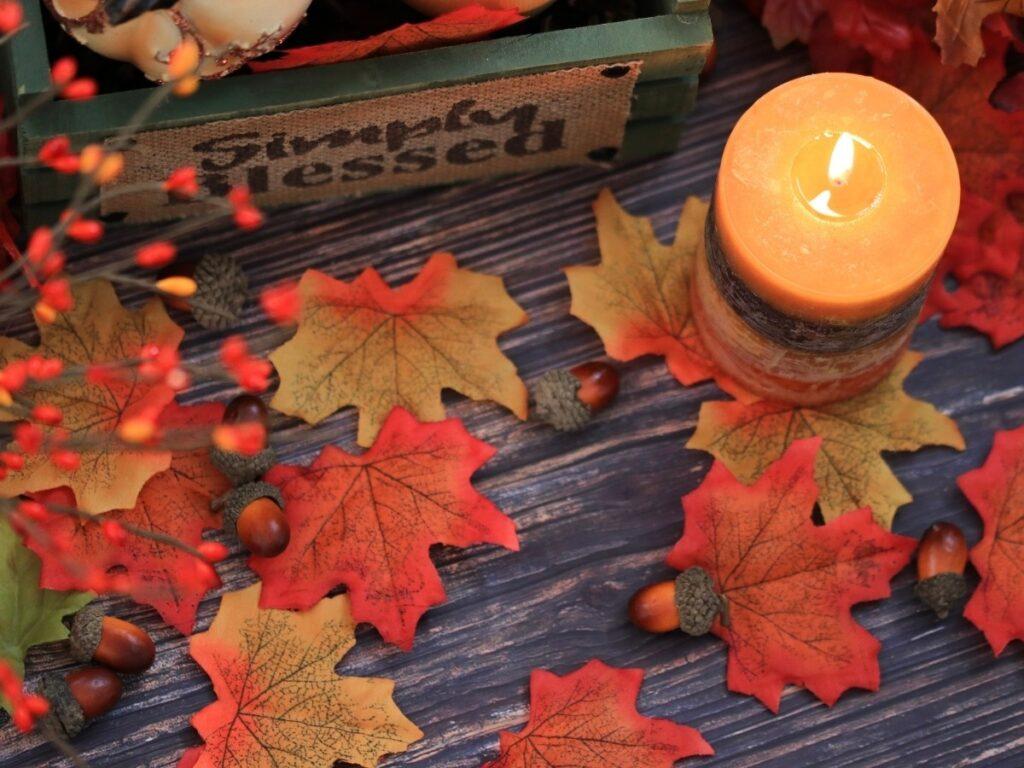 When decorating for the fall, both indoors and out, these are the most commonly used colors.
Brilliant Red – Like the gorgeous fall colors of the Autumn Blaze Maple
Earthy Brown – Inspired by rich soil and textured wood
Rich Orange – Think pumpkins!
Warm Yellow – Inspired by fallen leaves and glorious sunsets
Deep Purple – Such as beautiful purple mums
Elegant Burgundy
Rich Gold
Warm Green – An olive green can add a nice backdrop for your fall decor palette
But, like the decorative accents you can choose, you really can decorate with any color you want to create a fall display. The colors above are classics, so you really can't go wrong with them, but there is always room to experiment with style and color when decorating your own home. Take these off-color examples…
---
Changing Season, Changing Wardrobe, and Changing Decor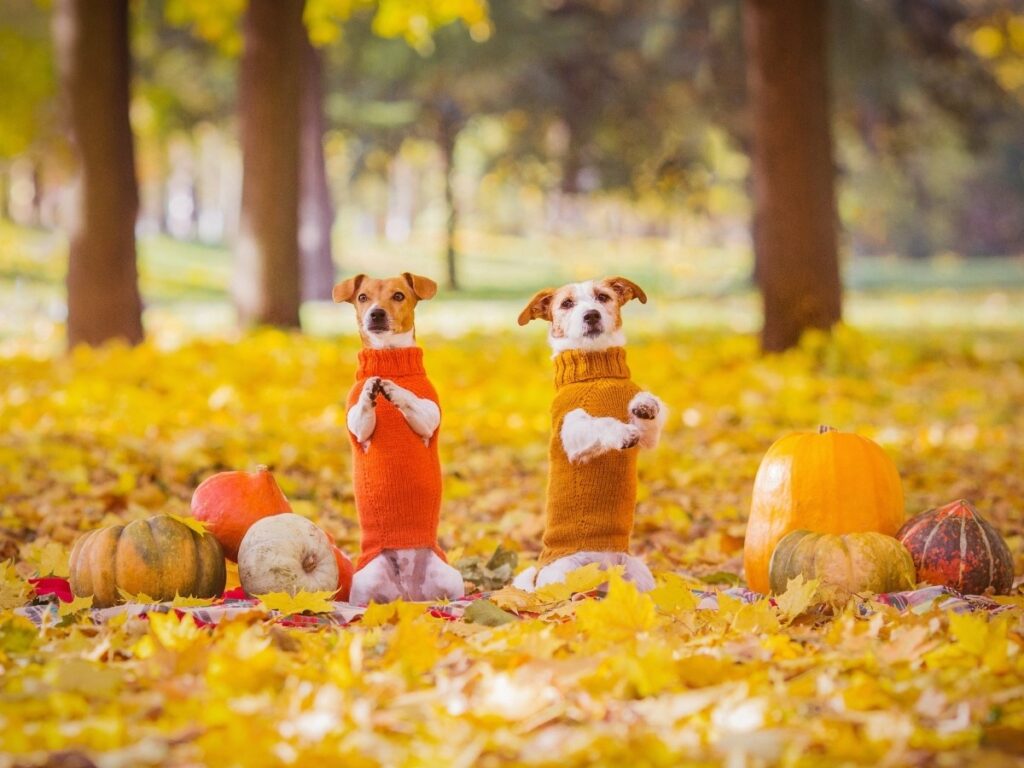 The season and your decor aren't the only things to change when fall arrives. This is a really fun time to pull out those gorgeous warm and woolly sweaters, those terrific jackets, and – of course – those amazing boots that you haven't worn since the spring.
The wardrobe changeover is probably just as exciting – for me – as the decor changeover. Plus, there's something really nice about being able to hide some personal imperfections underneath a nice, bulky sweater.