My mom used to bake banana bread. And her banana bread recipe was a staple of my childhood.
It's hard to imagine any recipe beating one of your mother's tried-and-true recipes, but when I started playing around with baking, I ended up making some adjustments to my mom's base recipe that – in my opinion – actually topped the original.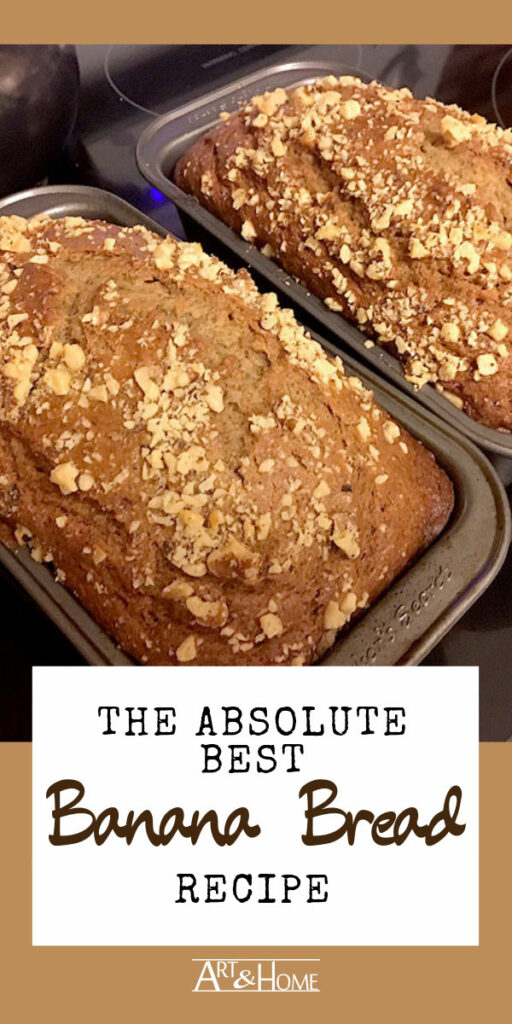 The basics are about the same, but there are a couple of tweaks that made ALL the difference.
For one, I like a bit of crunch to my banana bread, but I'm not a fan of having fruit or nuts throughout the entire loaf of bread, so I simply topped the bread before baking with some crushed walnuts. They add just the right amount of crunch to the crust while leaving the inside of the loaf tender and moist.
Secondly, my "secret" ingredients to this banana bread recipe include a teaspoon of ground cinnamon and a tablespoon of vanilla yogurt. Combined, they add just the right amount of additional flavor.
Finally, I put a LOT of bananas in it. My mom's banana bread recipe called for 3 ripe bananas. I put in a full cup… which is closer to 5 or 6 bananas.
When it comes to the bananas, you don't (and probably shouldn't) but them fresh from the store before making your banana bread.
Fully ripened, sometimes over-ripened, bananas are best for making this banana bread recipe.
Luckily, bananas can freeze – peel and all. So, when you have some bananas that are past their best-before date for fresh eating, simply through them into the freezer – peel and all – and then pull them out, thaw them, peel them, and mush them up for your banana bread.
Also, my local grocery store will often through their older bananas on sale for way, way, way cheaper than fresh bananas. This way, you can buy them in bulk when they are cheapest, freeze them, and use them as needed.

This one time, the store had entire BAGS of ripe bananas on sale for 50 cents a bag. I bought soooooo many bananas that I ended up making 36 loaves of banana bread… and I still had some leftover bananas that I froze for later use.
Anyway, without further ado, here is…
The Absolute Best Banana Bread Recipe EVER (at least in my opinion)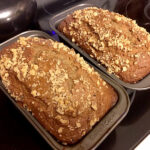 Print Recipe
Absolute Best Banana Bread EVER
An updated version of my Mom's classic banana bread, with a few tweaks that make it the best banana bread I have ever baked.
Equipment
Mixing Bowls

Blender

Measuring Cups & Spoons

Spatula

9 x 5 Loaf Pan
Ingredients
1

cup

Granulated Sugar

1/2

cup

Butter

Room Temperature

2

large

Eggs

1

cup

Ripe Bananas

Mashed

1

tbsp

Milk

1

tbsp

Vanilla Yogurt

(Regular, Not Greek)

1

tsp

Ground Cinnamon

2

cups

All Purpose Flour

1

tsp

Baking Powder

1

tsp

Baking Soda

1/4

cup

Crushed Walnuts
Instructions
Getting Things Ready
Spray a 9 x 5 x 3 inch loaf pan with non-stick cooking spray
Mixing the Ingredients
Using a hand or stand mixer, cream sugar and butter together in a large mixing bowl until the mixture is light and fluffy.

Add each egg, one at a time, and beat well after each egg is added

In a second, smaller bowl, mix the mashed bananas with the milk, yogurt, and cinnamon with a whisk.

In a third bowl, mix together the rest of the dry ingredients including the flour, baking soda, and baking powder

Add the creamed sugar mixture and the banana mixture together and mix until fully combined.

Add the dry ingredients and mix until the flour is mixed into the batter (do not over-mix)
Baking Your Banana Bread
Pour completed mixture into prepared loaf pan

Sprinkle crushed walnuts on top

Bake in the oven for 1 hour & 10 minutes, or until a toothpick inserted into the center of the loaf comes out clean

Allow to cool on a baking rack for 20 minutes before removing the brad from the pan.
And there you have it.
Once baked and cooled, you can serve the banana bread right away, or wrap it up in plastic wrap and freeze it for another day.
If you tried this recipe for yourself, we'd love to know how it it turned out for you. Let us know in the comments below!